Milan Fashion Week – pánsky prehliadkový týždeň módy – 15. – 17. január 2022, časť I.
Pandémia koronavírusu narušila už druhý rok sezónu svetových prehliadkových týždňov. Týždeň pánskej módy sa odohrával obyčajne v mesiaci január v štyroch svetových metropolách. Súčasná situácia však opäť zamiešala karty a Londýn svoje prehliadky kvôli novému variantu omicron zrušil. Predvádzanie nových kolekcií pánskej módy pre budúcu zimnú sezónu 2022 sa tak odohralo iba v mekkách módy Miláno a Paríž. Pozrime sa na Milan Fashion Week a jeho predchodcu Pitti Immagine Uomo – týždeň mužskej módy, ktorý sa odohral v čase od 11. do 13. januára 2022.
Nárast prípadov infekcie omicron a s tým súvisiace reštrikcie viedli k zrušeniu harmonogramu mnohých značiek ako Brunello Cucinelli a hosťujúcej značky Ann Demeulemeester. Napriek tomuto však značka Kiton predstavila po prvýkrát svoj ležérny rad KTN, značkaPaul & Shark potvrdila svoj záväzok k udržateľnosti a britská značka Connolly debutovala s kolekciou Sporting.
MILAN FASHION WEEK- 15. – 17. január 2022
Po Pitti Immagine Uomo módnom týždni, veľtrhu vo Florencii prišiel očakávaný týždeň pánskej módy Milan Fashion Week, no s množstvom prehliadok konaných opäť online.
Veľa gigantických a rýchlo sa rozvíjajúcich značiek predstavilo fyzické aj online predstavenia z hlavného mesta Talianska, no svoju fyzickú účasť zrušili značky Giorgio Armani, Emporio Armani, Gucci, MSGM, Ermenegild Zegna a JW Anderson, ktorý mal v Taliansku predstaviť svoju prvú módnu prehliadku pánskeho oblečenia. Tá bola presunutá a uskutoční sa v júni 2022.
Niektorí lídri ako Fendi, Prada a Dolce & Gabbana svoje kolekcie predviedli formou klasickej fyzickej prehliadky za dodržania prísnych protipandemických opatrení. Dizajnérka Miuccia Prada a Raf Simons predstavili pod spoločným kreatívnym vedením prvú kolekciu pánskeho oblečenia Prada – Jeseň / Zima 2022. Módna značka DSquared2 oslávila svoj osobný návrat po prestávke spôsobenej Covid-19.
Milánsky týždeň pánskej módy pre sezónu Jeseň / Zima 2022 predviedol mólo posiate hollywoodskymi hviezdami, nové erotogénne zóny pánskeho oblečenia a moderný pohľad na klasické siluety. Dizajnéri brali do úvahy dôležitosť šitia oblečenia na mieru a trvalú silu uvoľnených siluet.
PRADA
V milánskej značke postavili tento koncept na hlavu, vyhýbajúc sa zdanlivo nekonečným rozhovorom o pohodlí a spoločenskom oblečení, v prospech šatníka pevne zakoreneného v práci. "Jazyk vycibreného krajčírstva a formalita, ktorá dodáva dôležitosť", uvádza sa v tlačovej správe značky Prada o kolekcii.
Talianska módna značka Prada prilákala túto zimnú sezónu na mólo hollywoodskych hercov vrátane Kylea MacLachlana z Twin Peaks, Jeffa Goldbluma (neoficiálneho maskota Prady), Ashtona Sandersa z Moonlight a Otisa Butterfielda zo sexuálnej výchovy.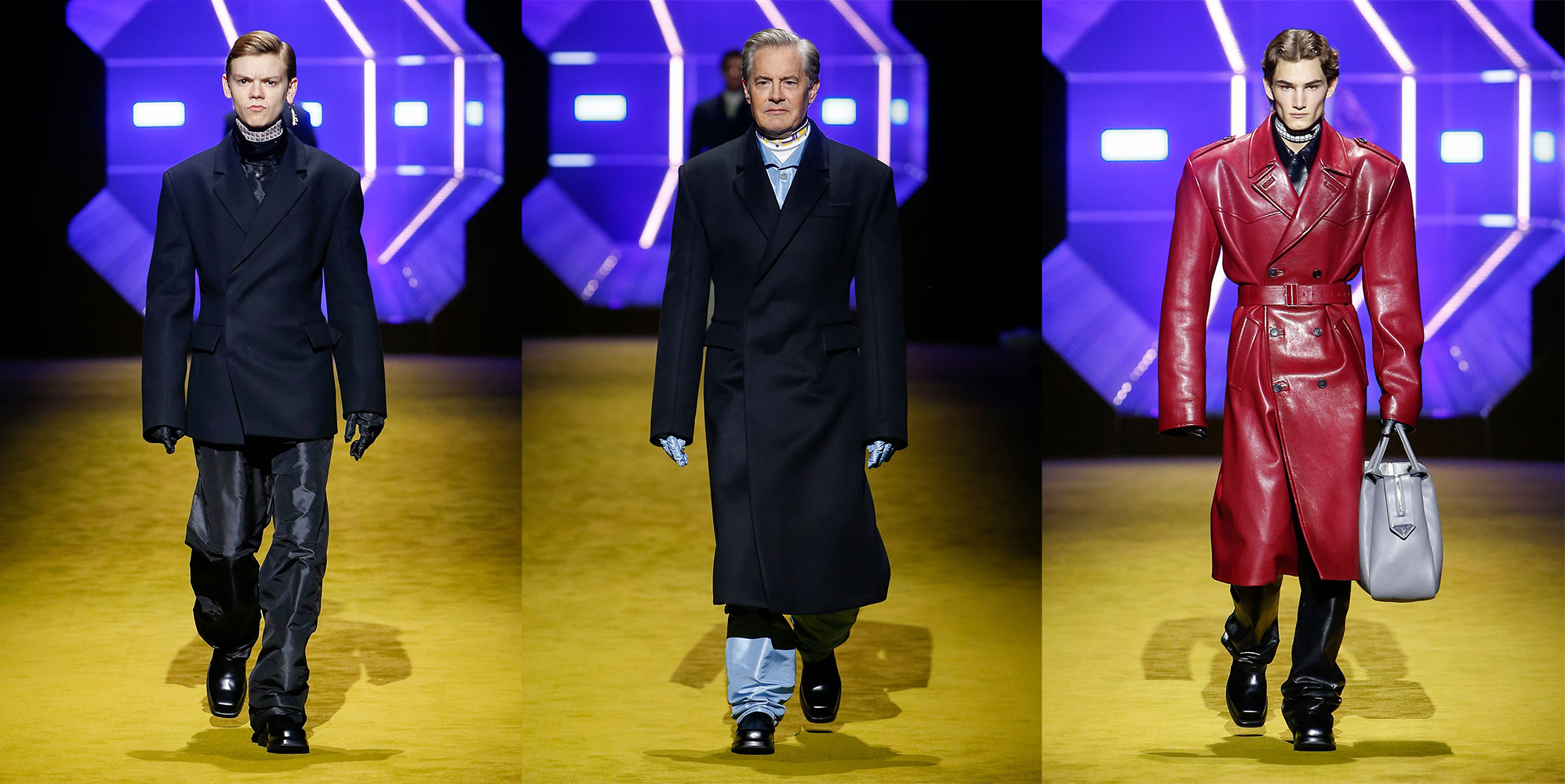 Hostia ostali v nemom úžase, keď sa z futuristického osvetleného tunela vynorili celebrity odeté v najnovších modeloch z kolekcie Prada pre zimnú sezónu 2022.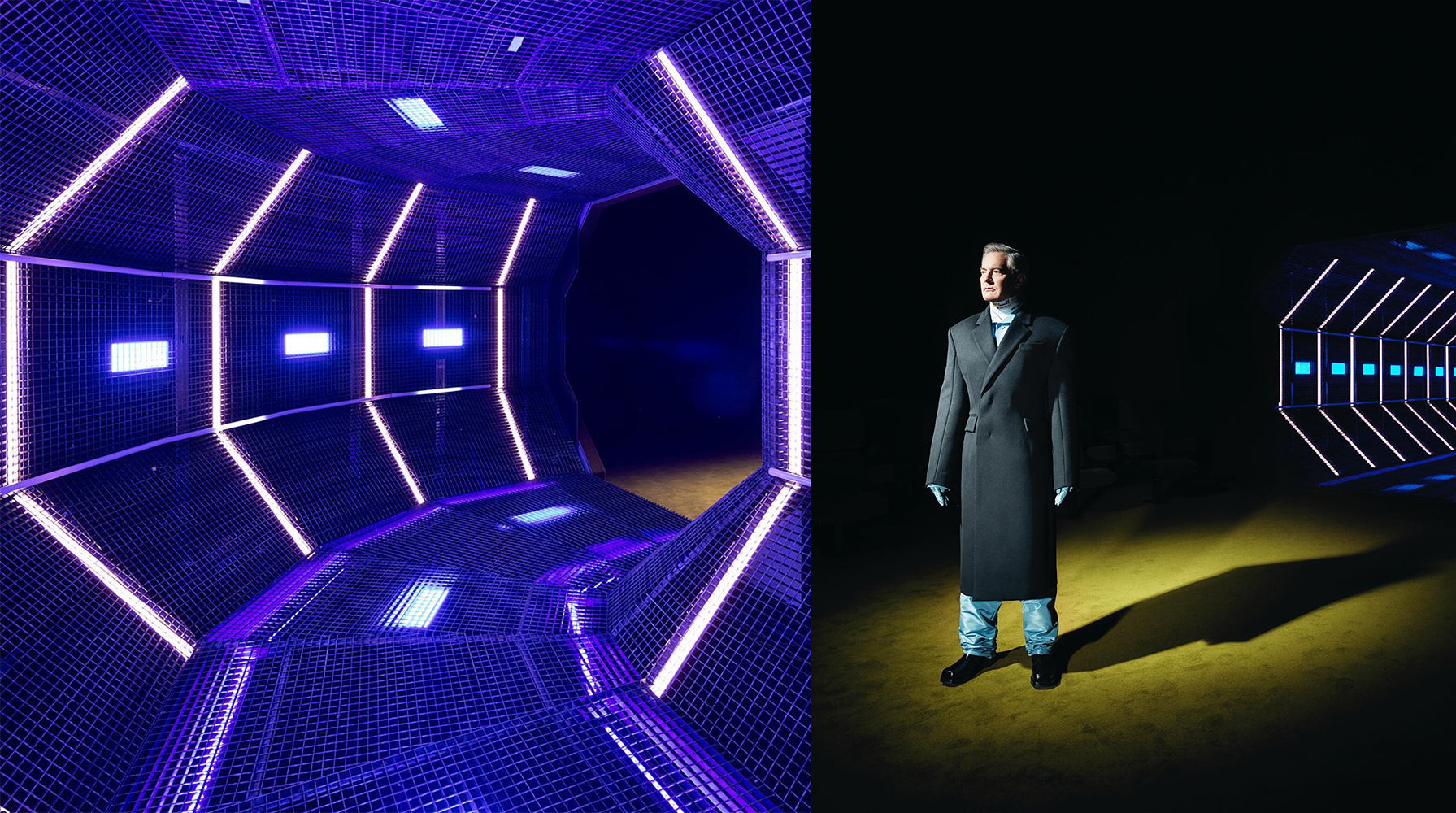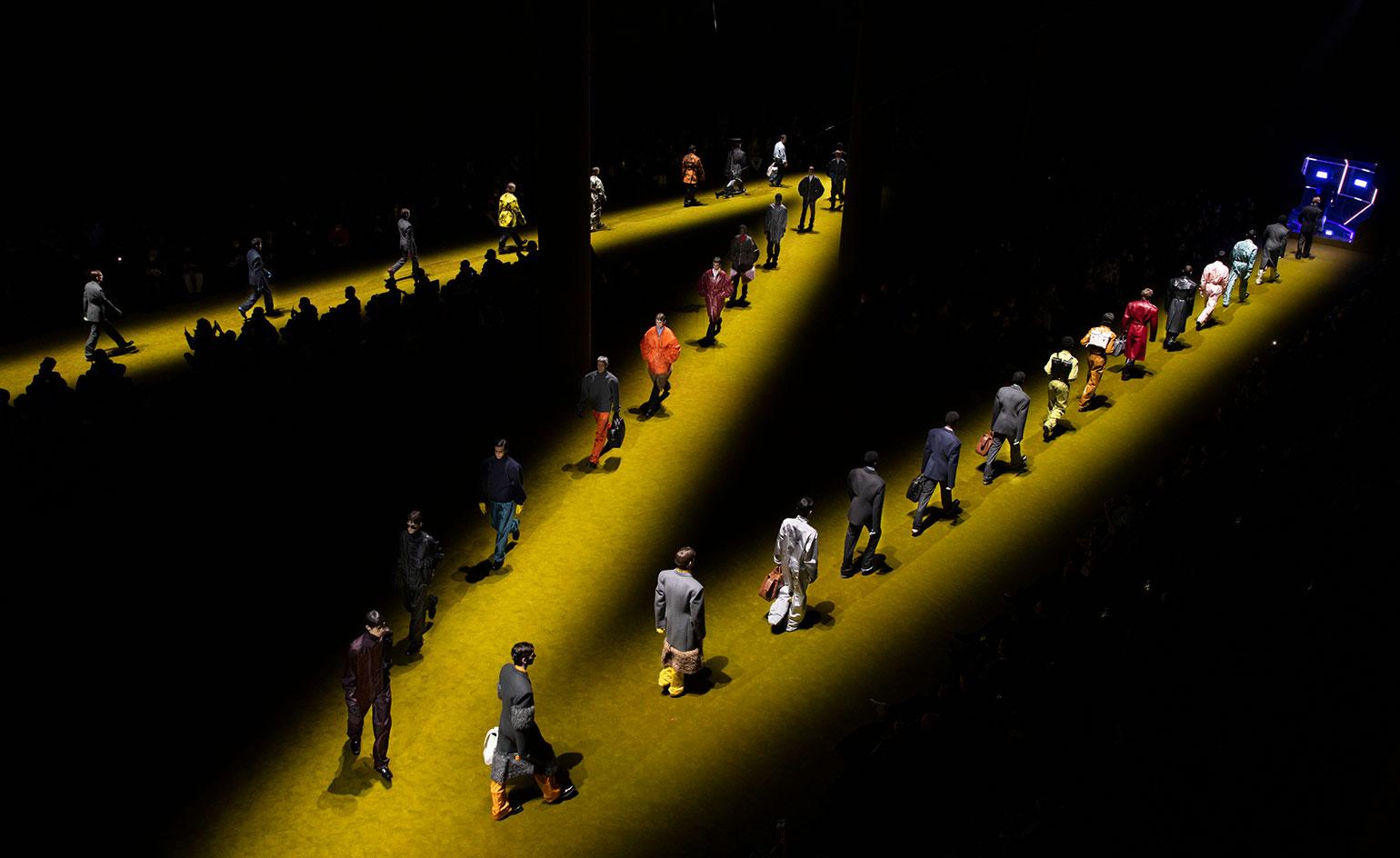 Kolekcia pre Jeseň / Zimu 2022 spája výkonné s úžitkovým, obsahuje prehnané kožené trenčkoty, asymetrické blejzre zvýraznené strihajúcimi sa páskami na rukávoch, nohavice s nebezpečným odtieňom a lesklé bojlery.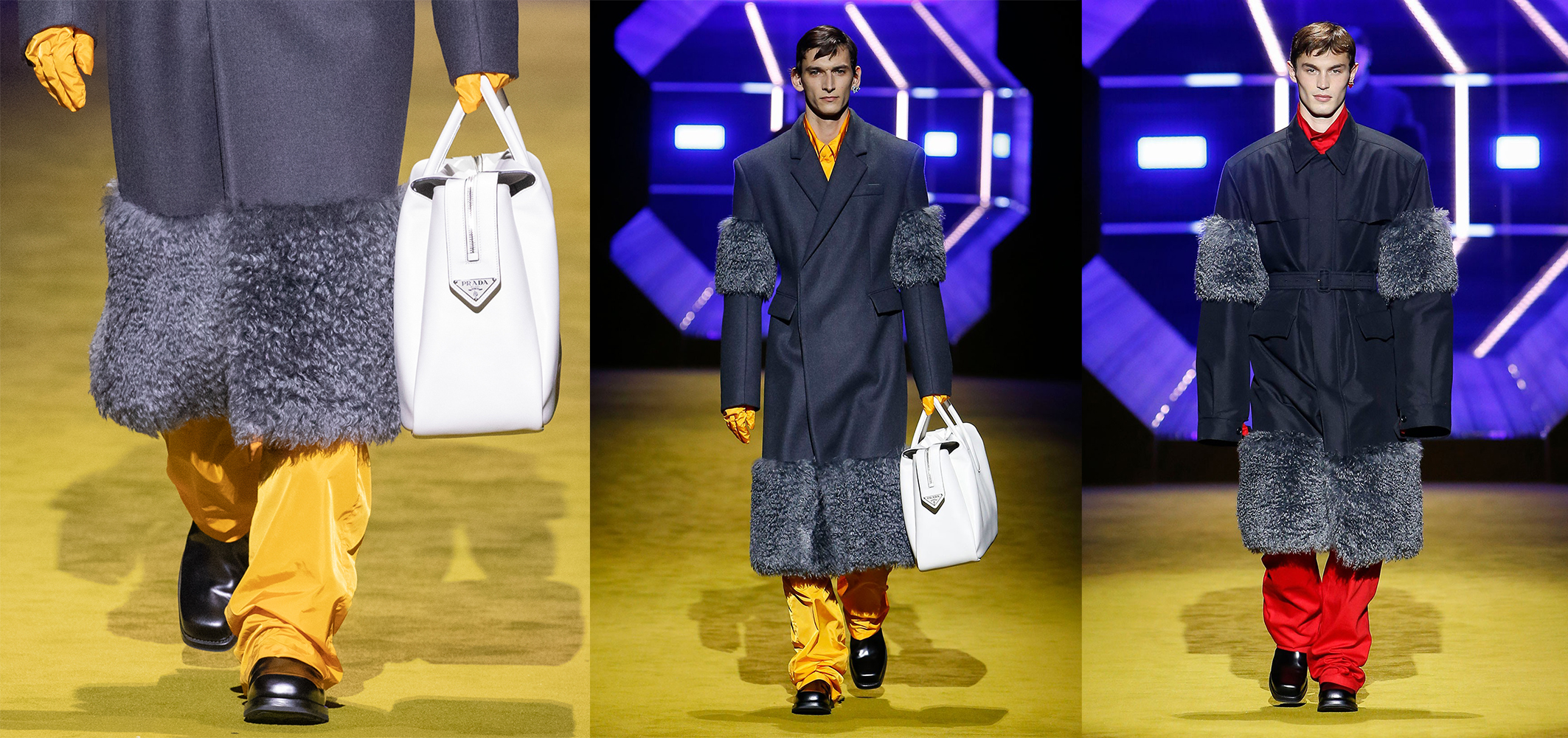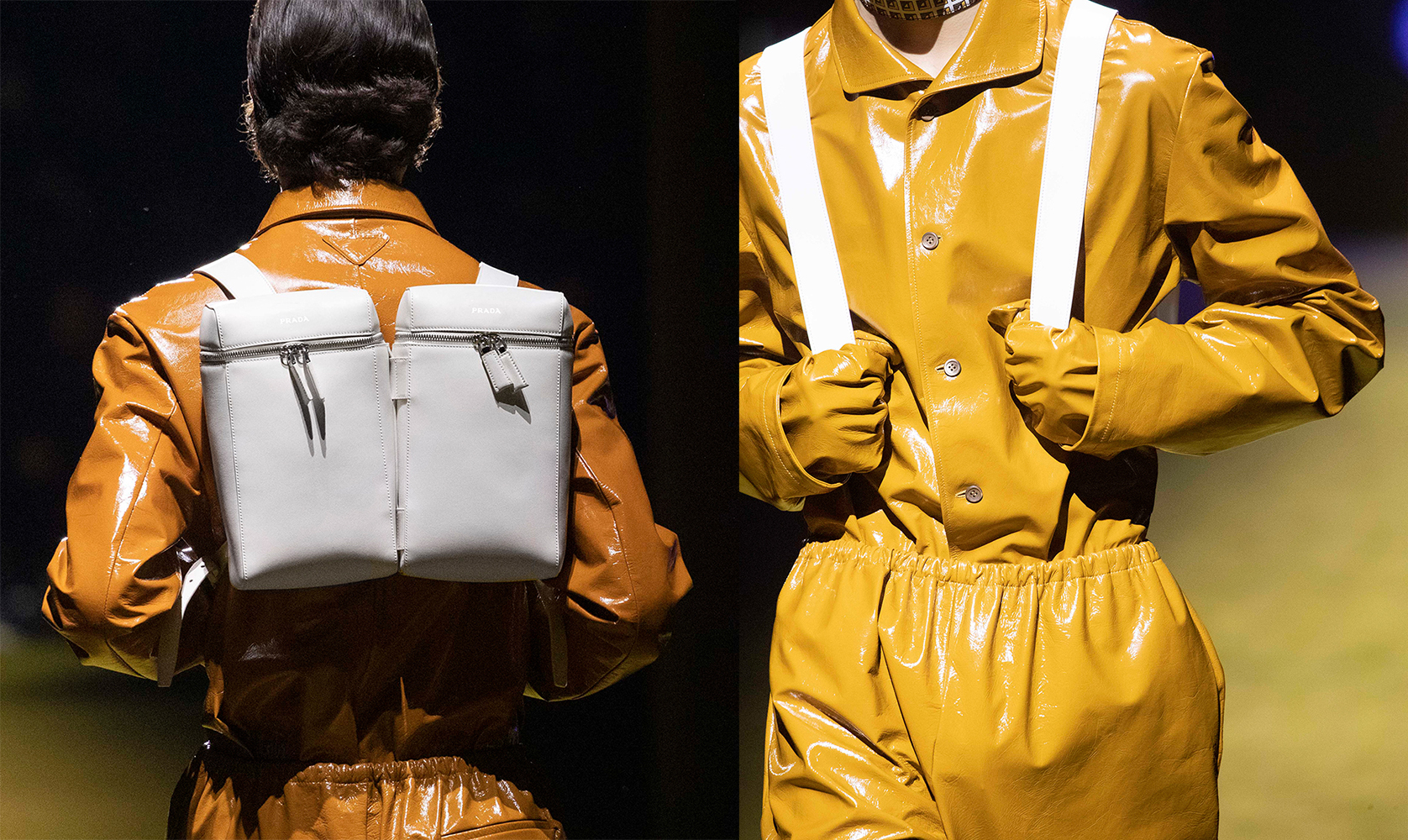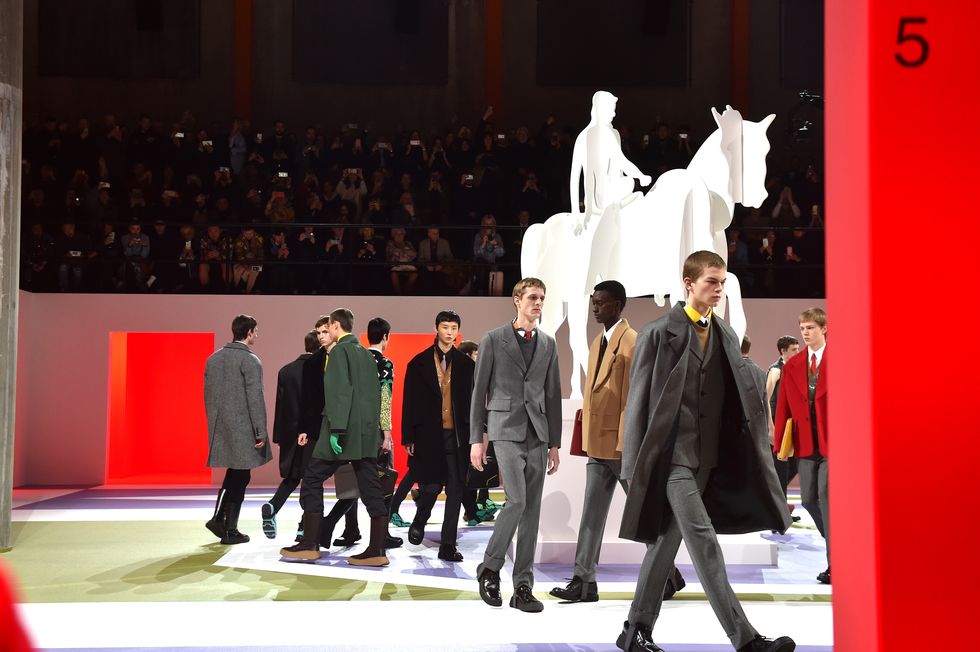 Dôležitým doplnkom sa stáva peňaženka na mince s trojuholníkovým motívom pripevnená k pracke na opasku.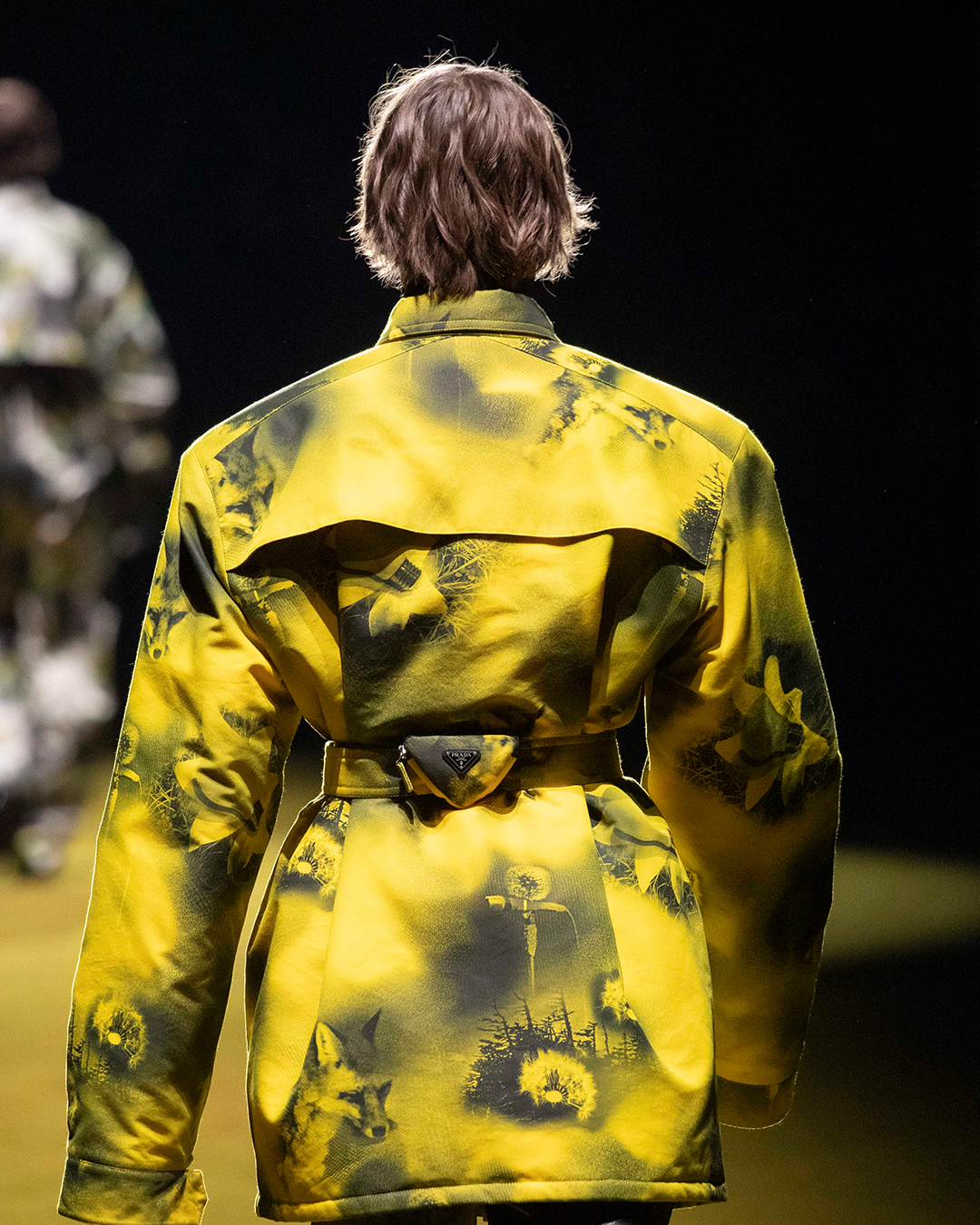 SILA V RAMENÁCH
Dizajnéri sa v mužskej móde pre sezónu Jeseň / Zima 2022 nezaoberali bezpečnými proporciami, ale naservírovali nápadné siluety so silnými ramenami. Keď budete v kancelárii, budete si musieť dávať pozor na pracovné trenčkoty Prada s mocnými ramenami.
Dolce and Gabbana – pánska kolekcia mužskej módy, Jeseň / Zima 2022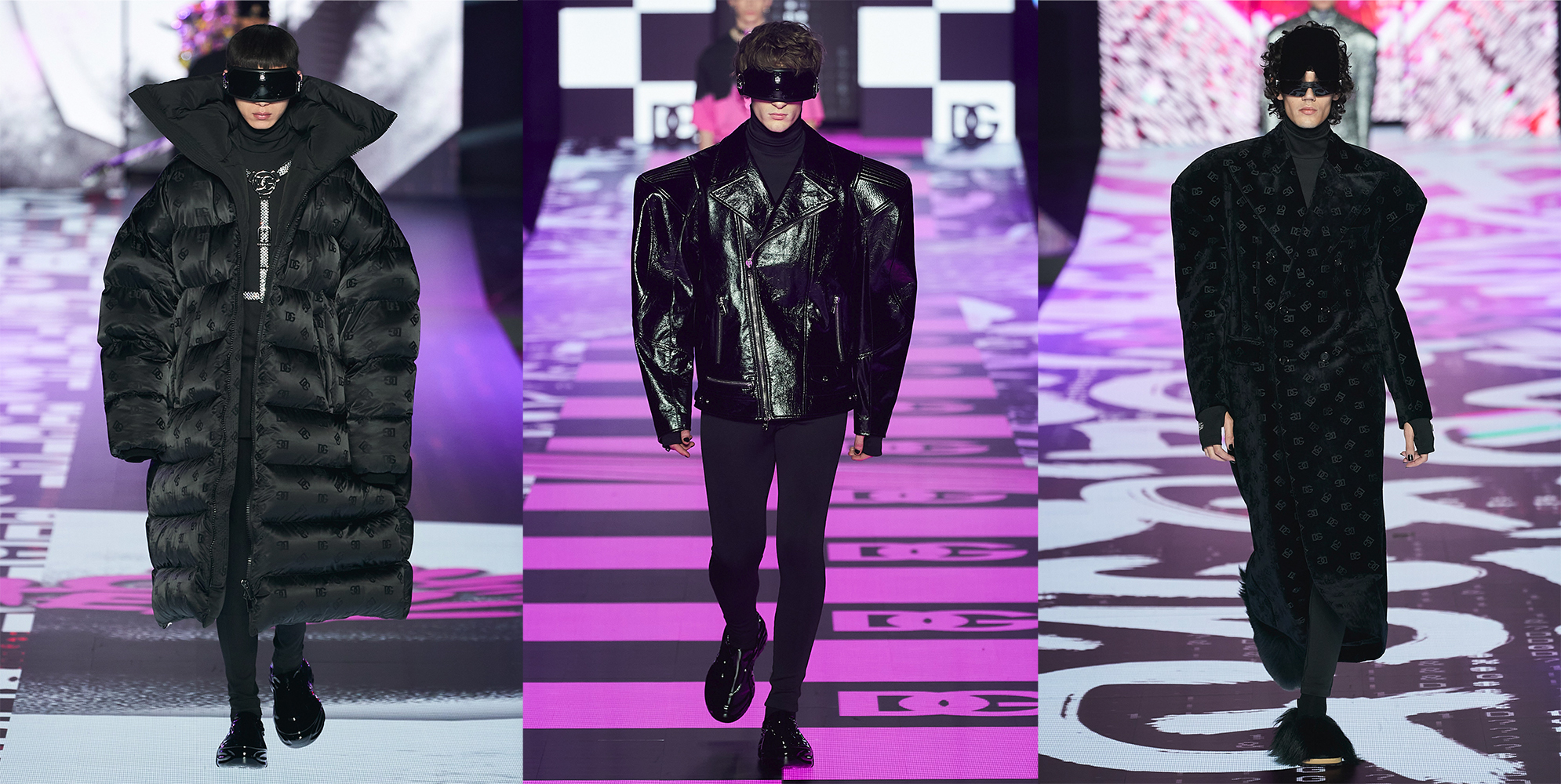 ARDUSSE´S GAETANO COLLUCCI
Silnými ramenami sa nechala inšpirovať aj značka Ardusse's Gaetano Colucci. Kolekcia tejto značky sa pohybovala medzi desaťročiami a čerpala z nariasených plesových košieľ zo 70-tych rokov, grungey tričiek s dlhými rukávmi a štýlu Ivy League z 90-tych rokov a krajčírskych úprav na ramenách z rokov 80-tych s odvážnymi nafúknutými károvanými mohérovými kabátmi v štvorcovej siluete.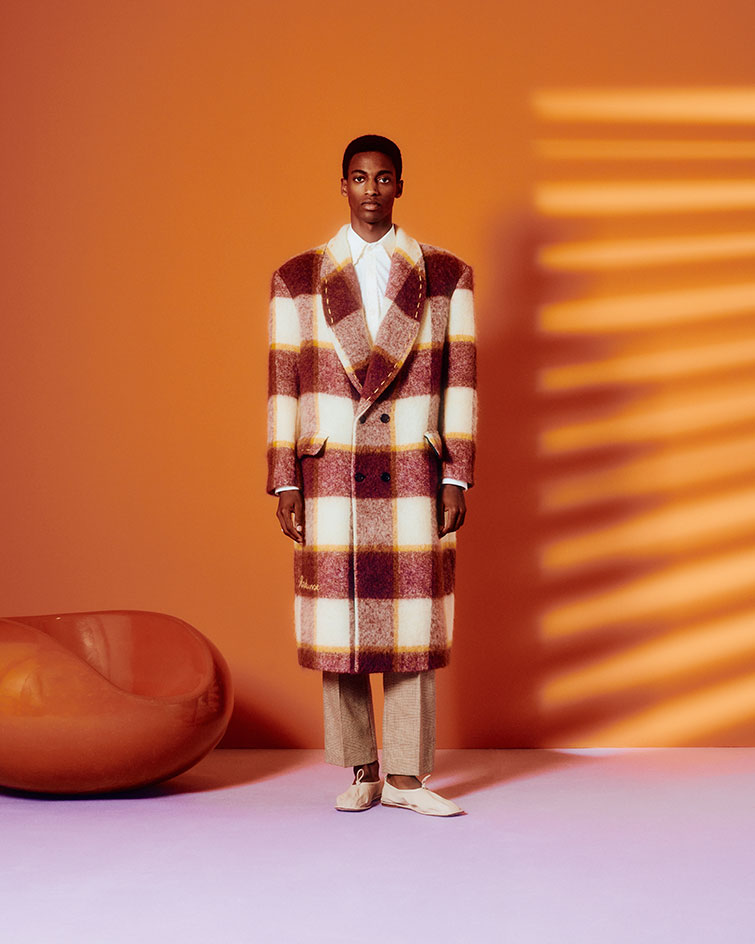 FENDI
Módnu návrhárku Silviu Fenturini Fendi uchvátili pre budúcu sezónu pojmy klasicizmu. Rímsky dom predstavil "poklad budúceho dedičstva", ktorý zvýraznil eleganciu a sofistikovanosť siluet starého sveta – kárované tvídové kabáty, hranaté skrátené smokingy, pilotné saká a krátke obleky v malinovej, mocha, šedej a bielej farbe.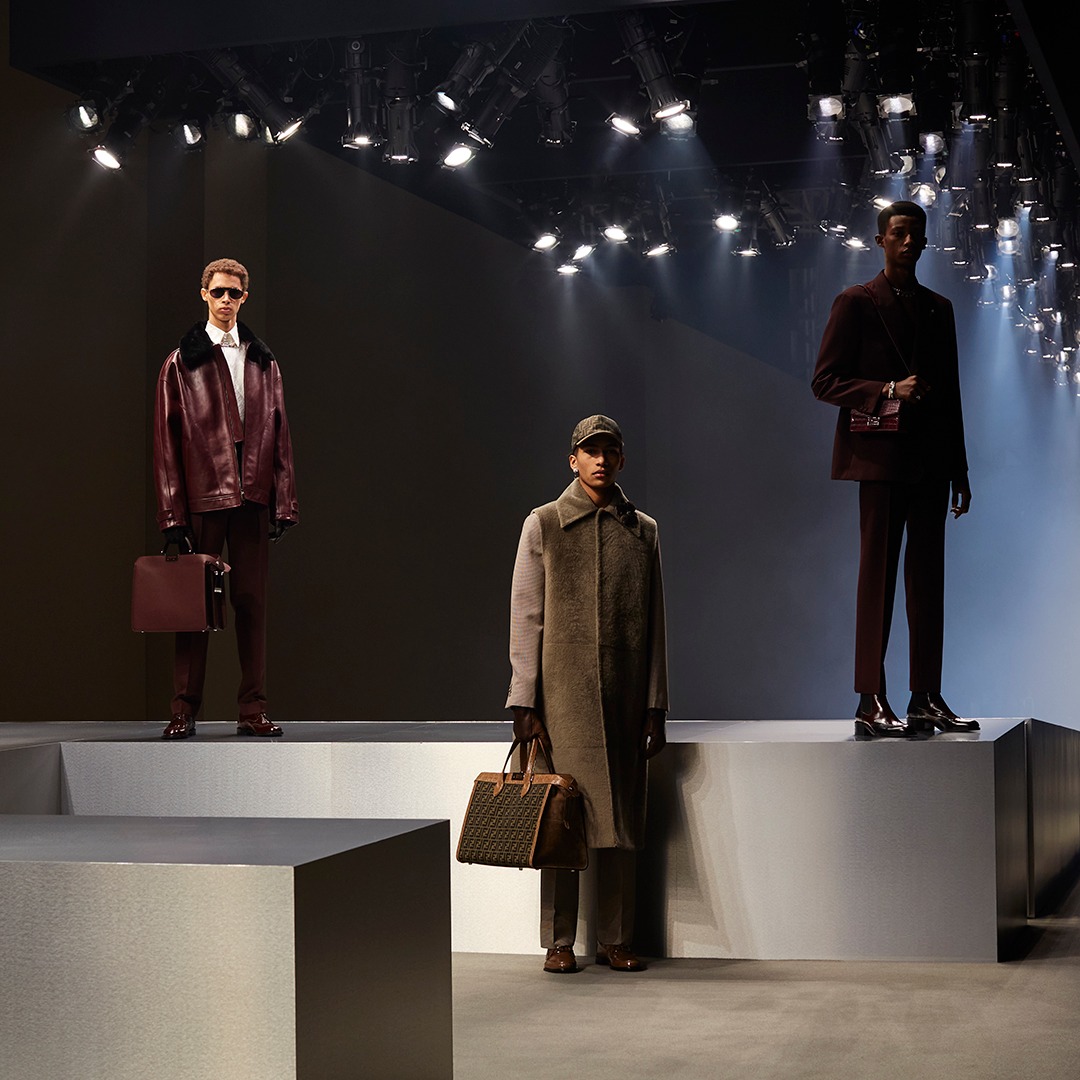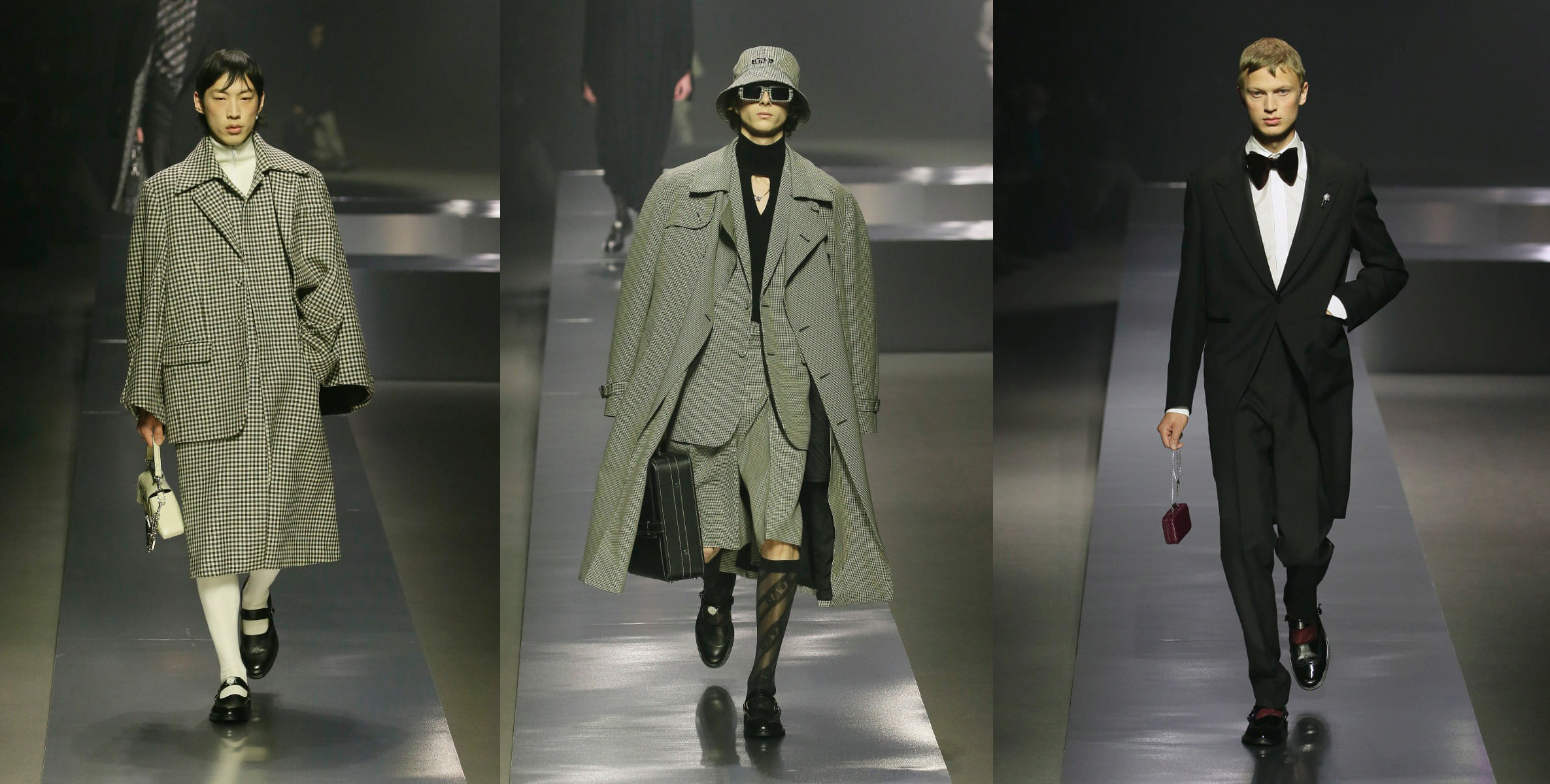 Strhujúcim prvkom kolekcie Fendi – Jeseň / Zima 2022-23 boli kabáty prišpendlené strihanými živôtikmi, návleky Mary Jane prepásané remienkami na náramkových hodinkách a tašky s večerným nádychom.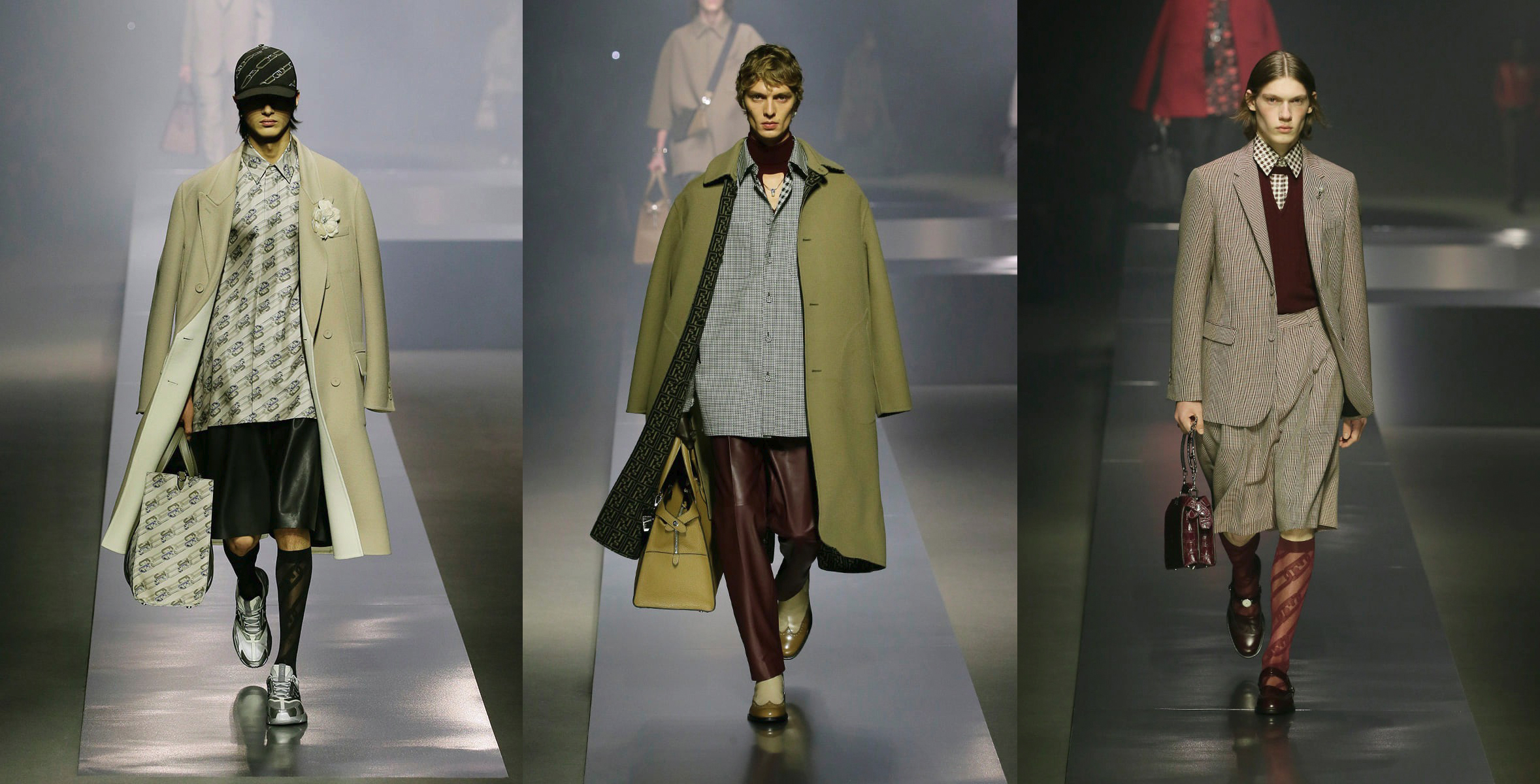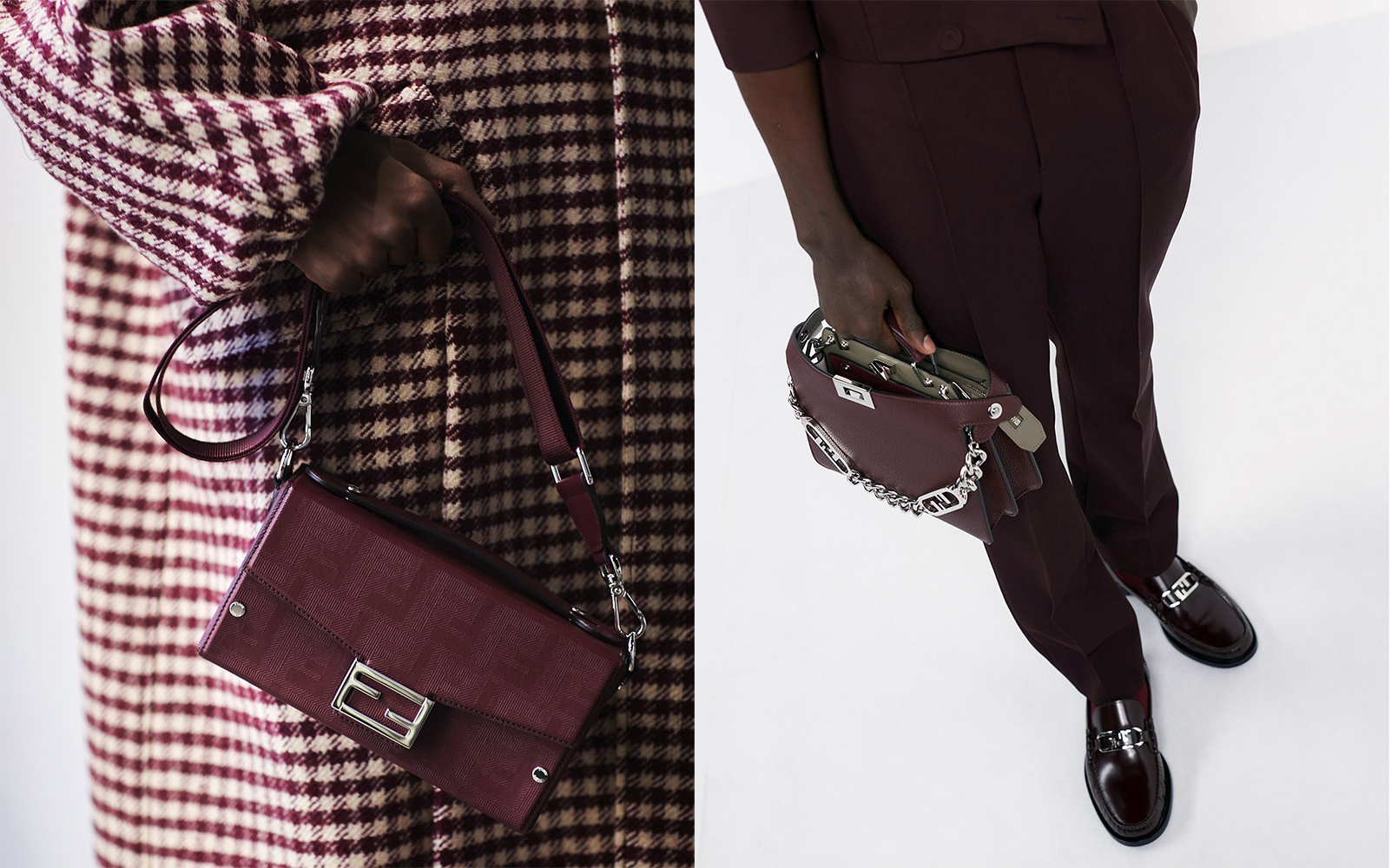 Vo Fendi značke pokračovalo experimentovanie so svetom technického príslušenstva – značka sa spojila s Ledger Nano X a vytvorila bagetový tvar kabelky, ktorý obsahuje digitálnu hardvérovú peňaženku pre kryptomenu.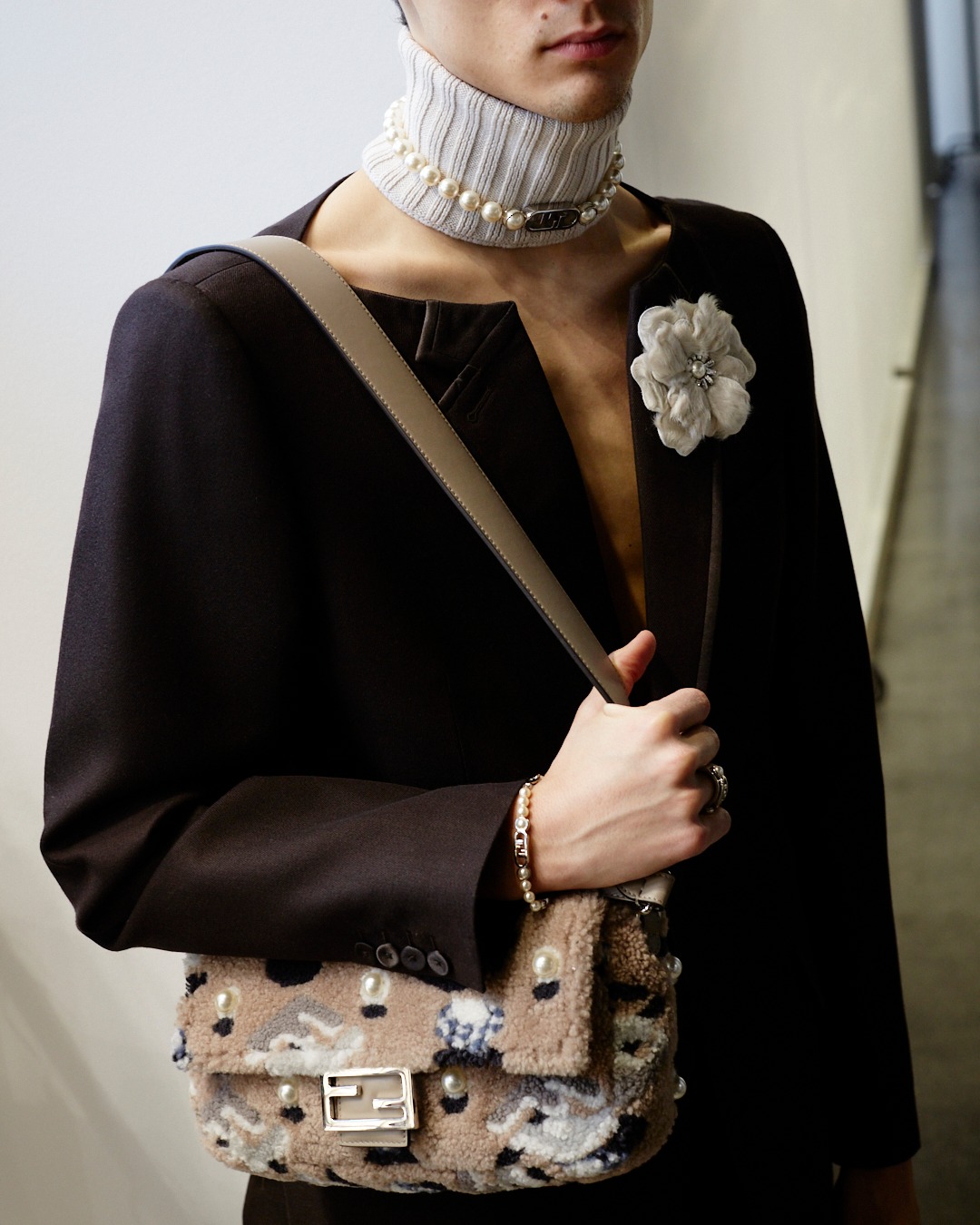 Ústredným prvkom dizajnérskych kolekcií pre sezónu mužskej módy Jeseň/Zima 2022-23 bola pokožka, ktorá pôsobí extrovertne. Žeby erotogénna zóna novej voľby pre nadchádzajúcu sezónu? V značke Fendi sa rozhodli pre sexi kúsok hrudníka, ktorý bol na modeloch demonštrovaný výrezmi v tvare srdca na rolákových výstrihoch a výstrihoch do tvaru "v" v kriketovo bielej a trblietavej malinovej farbe.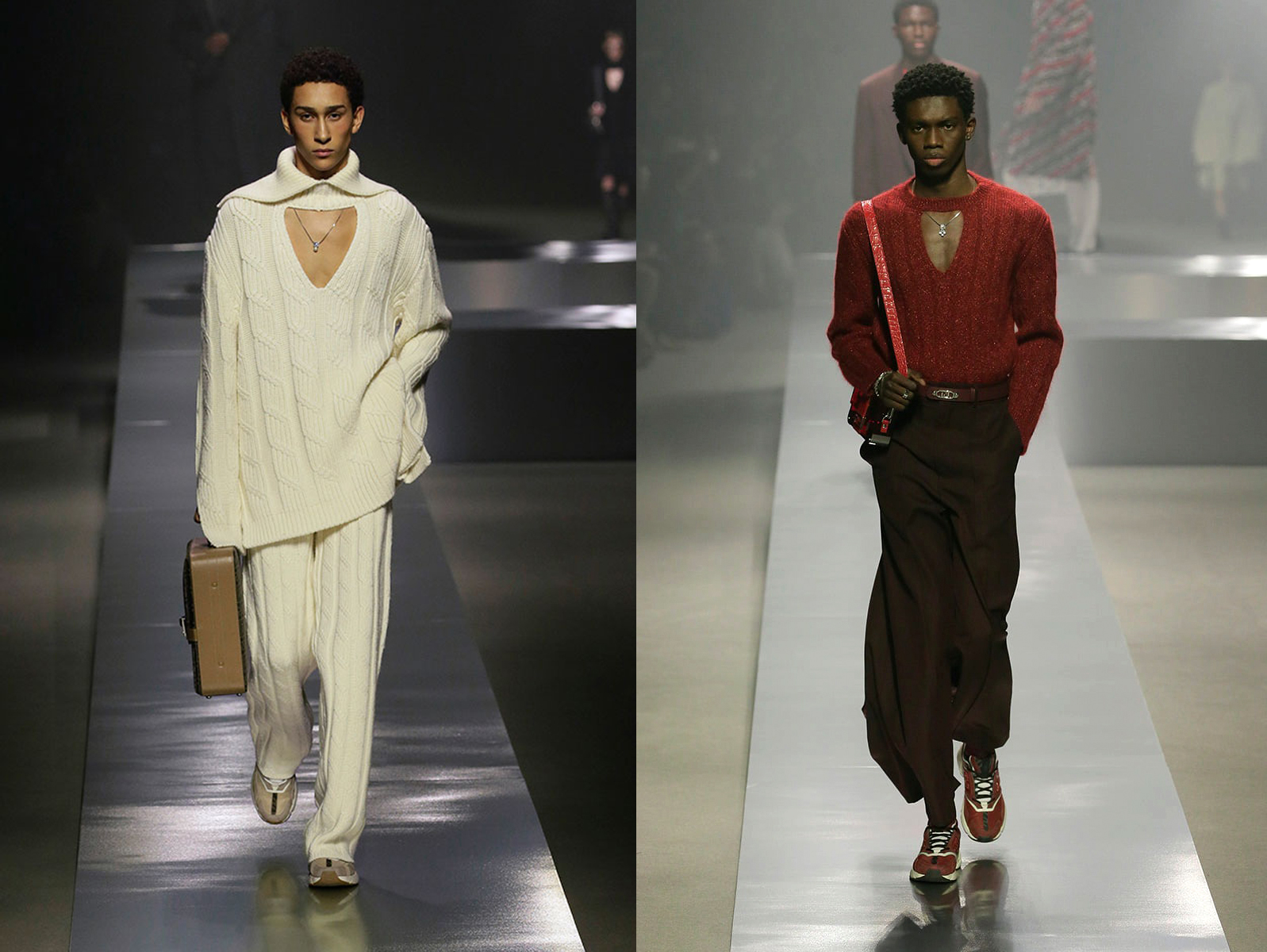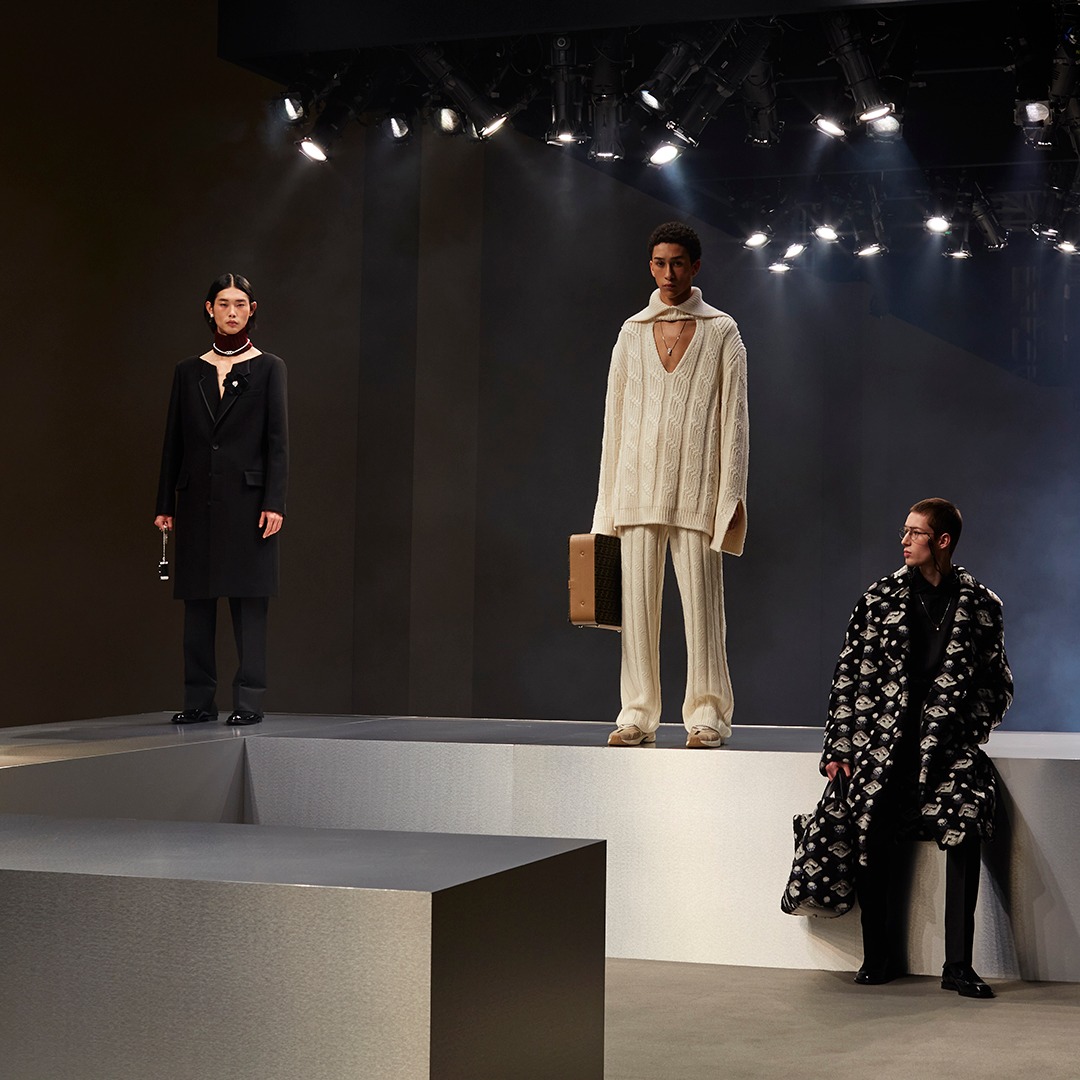 Rovnako odhalenú hruď môžeme nájsť v značke JW Anderson na úplete prepletanom do mohutných slučiek a hula hoop topánkach s dolným lemom v jasných farebných tónoch.
DOLCE & GABBANA
Talianske dizajnérske duo Domenico Dolce a Stefano Gabbana oslovilo fanúšikov generácie Z vystúpením guľometu Kellyho vo flitrových oblekoch.
Milan Fashion Week, pánsky prehliadkový týždeň priniesol v kolekciách dizajnérov tiež množstvo gýčových, pixelovaných potlačí. Jasným príkladom je značka Dolce and Gabbana – kolekcia Jeseň / Zima 2022 so šachovnicou a graffiti potlačami na odevoch.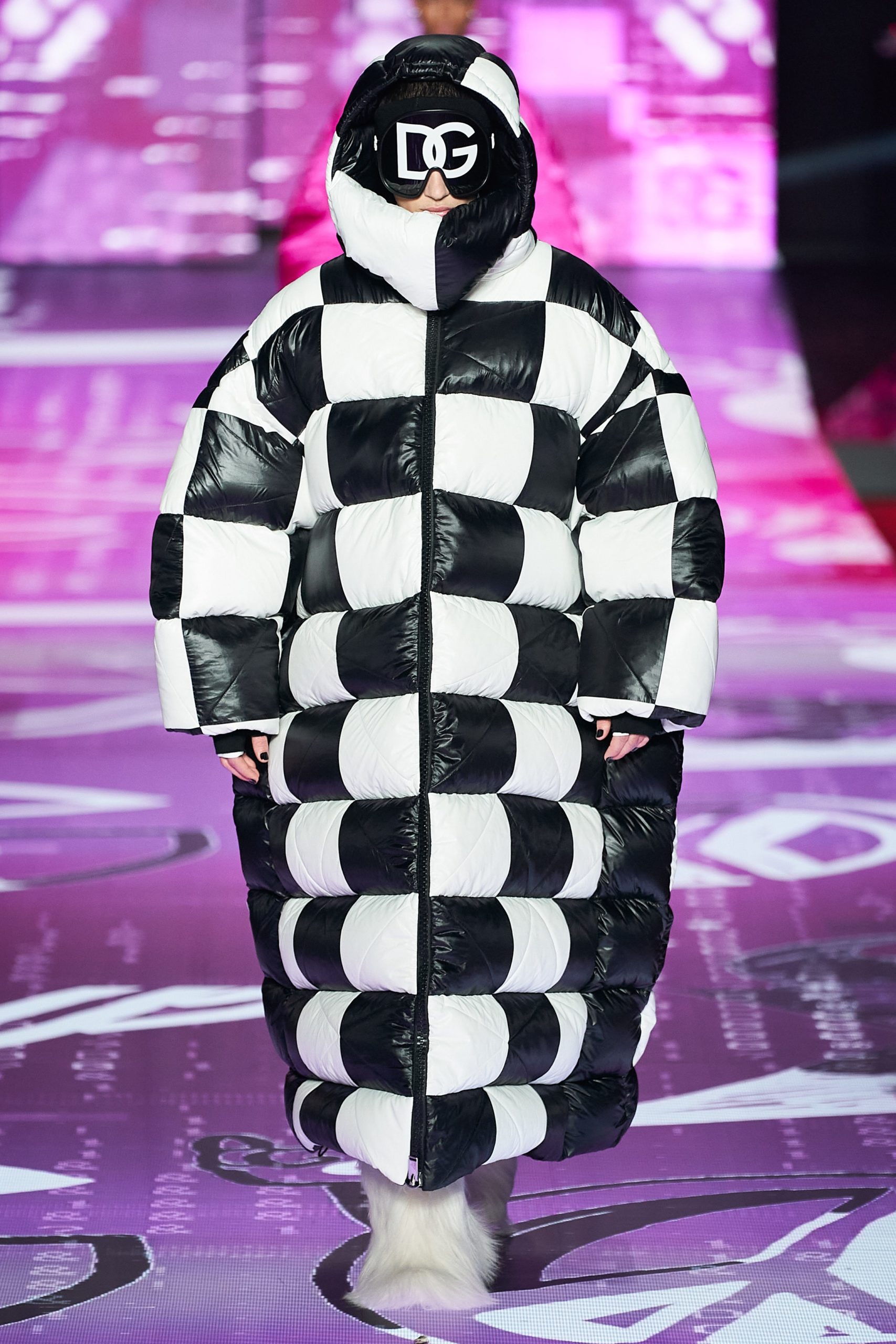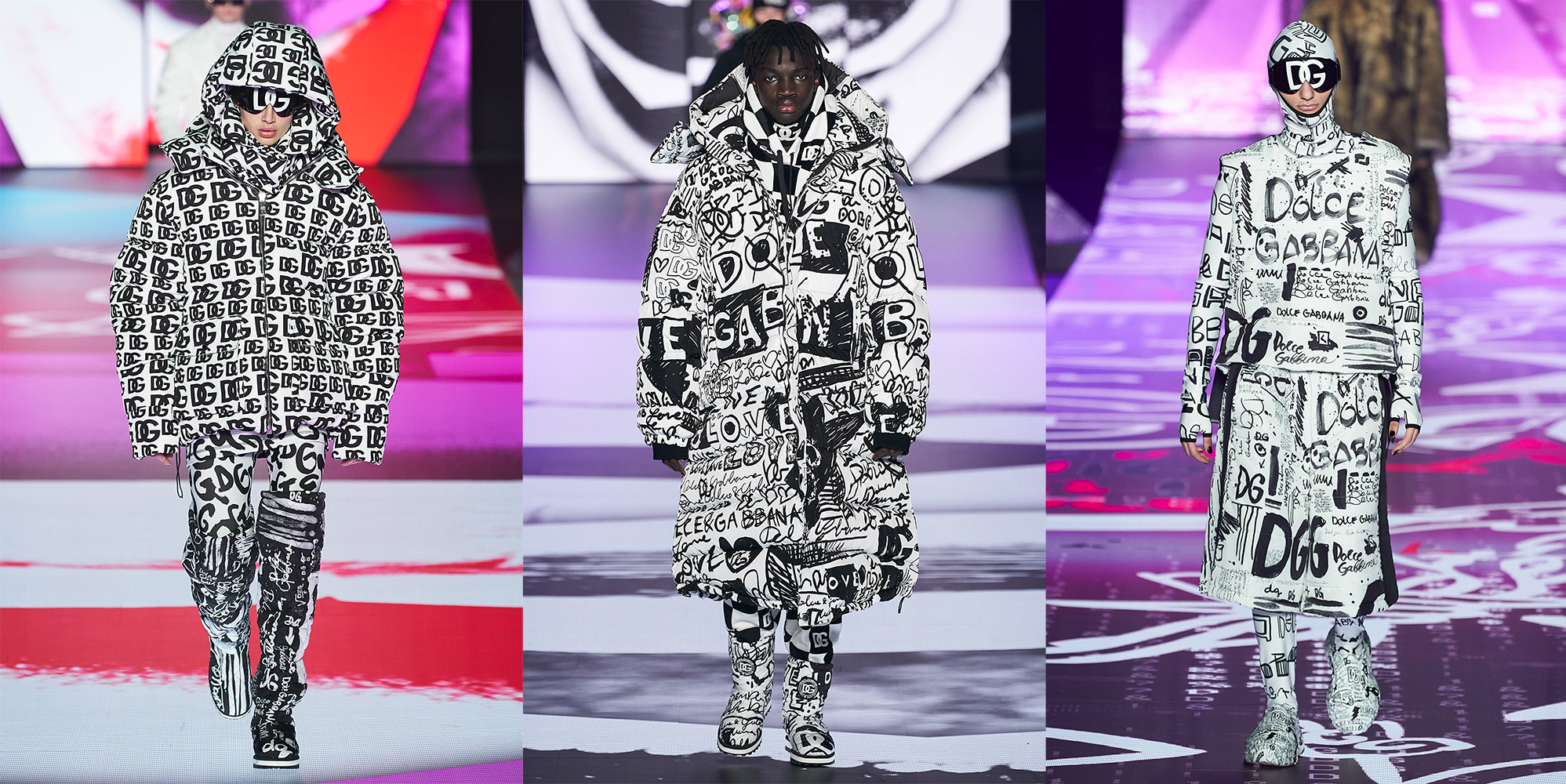 Značky pokračujú v experimentovaní s fyzickým a online svetom. Okrem Dolce & Gabbana toto nastalo tiež v značke JW Anderson.
Druhú časť článku na pokračovanie o mužskej móde predvedenej vrámci Milan Fashion Weeku pre sezónu Jeseň/Zima 2022-23 čítajte ďalej na tomto blogu.
obrázky: © Fendi, Prada, Dolce and Gabbana, Vogue, Ardusse's Gaetano Colucci
Sledujte Facebook stránku: Mya Mirell Fashionista a Instagram: mya_mirell .