Pozoruhodné kolekcie a trendy z Milan Fashion Weeku, Jeseň / Zima 2019 – 20, Móda Ženy – Anteprima, Gucci, Armani, Marni, Alberta Ferretti, Alexandra Moura, Tod´s – časť III.
V módnom svete sa tieto dni (január 2020) všetky zraky pozorne upierajú na práve prebiehajúce týždne módy a to konkrétne na prehliadku mužskej kolekcie . Po Miláne sa pozornosť presmerovala do Paríža, ktorý tradične uzatvára svetové Fashion Weeky, tieto týždne venované mužom. Predvádzajú zvučné módne značky, velikáni ako Givenchy, Louis Vuitton, Dior a iní.
Pred blížiacou sa sezónou ženskej módy v Miláne, ktorá sa bude konať od 18. februára 2020, si pripomeňme stále aktuálne trendy kraľujúce tejto zime od jesene 2019 nastavené módnymi značkami počas Milan Fashion Weeku, v jeho predošlom ročníku (Mfw 02/2019).
GUCCI
Alessandro Michele, kreatívny riaditeľ a dizajnér značky Gucci opät zapôsobil psychedelickou show, kde na zrkadlovom móle predvádzali šialené kreácie s ostňami na krku a maskami na tvárach modeli proti blýskavému svetlu, ktoré oslepovalo divákov.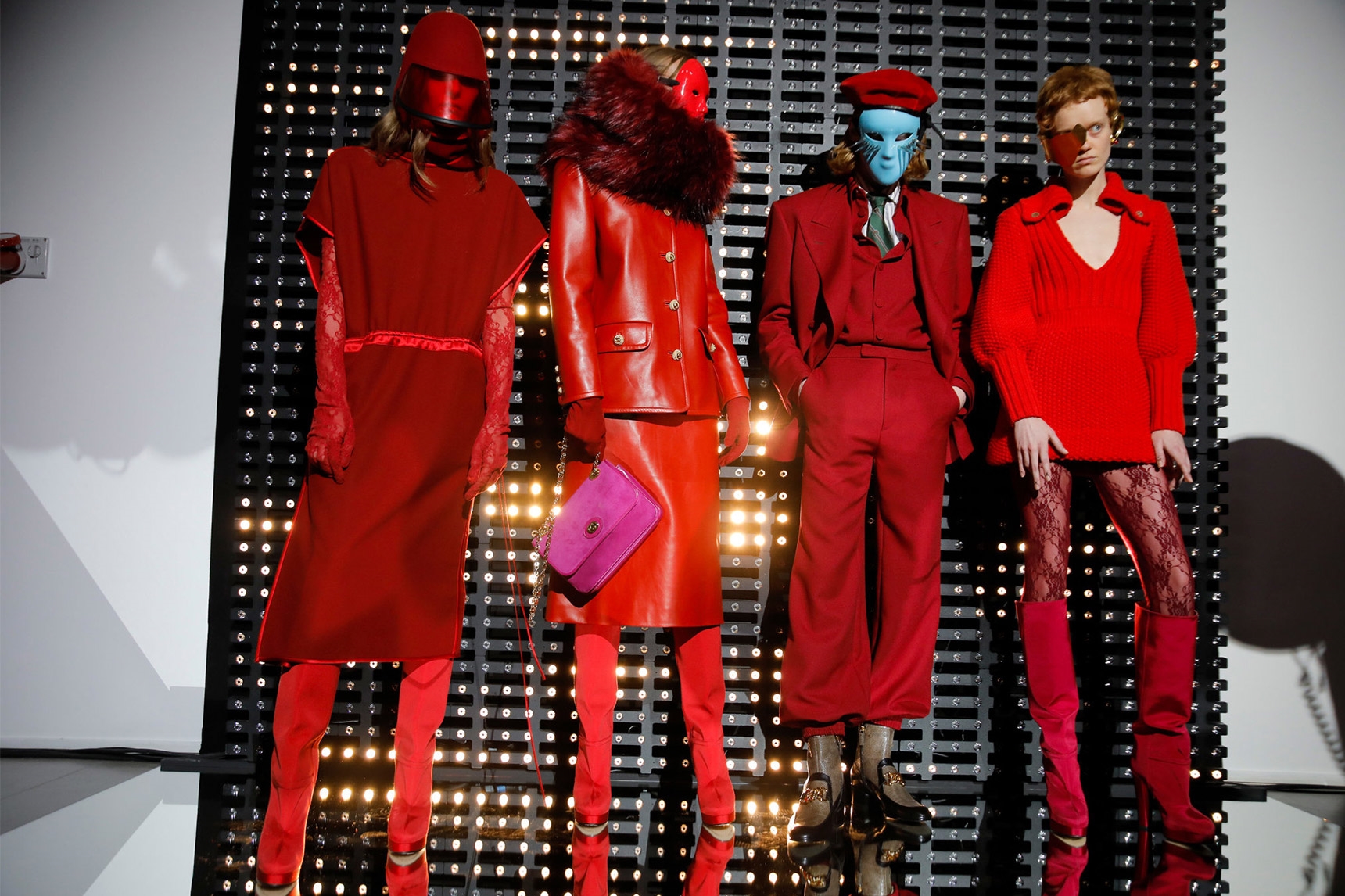 Značka Gucci predstavila niekoľko pozoruhodných detailov a to nový trend – klobúky s dlhým farebným šiltom vo forme transparentného priezoru – čítaj článok Trendy z Milan Fashion Weeku pre sezónu Jeseň / Zima 2019 -20 – časť II.
Zatiaľ čo New York Fashion Week je týždeň módy známy viac pre komerčný prístup a street style , Londýn je zameraný na objavovanie nových talentov, Milan Fashion Week má renomé dedičstva luxusu, prezentujúc old-school bohatstvo, ktoré tradične zachovávajú známe značky.
Pre tento ročník ženskej módy predvedený dizajnérmi počas Milan Fashion Weeku, sezóna Jeseň / Zima 2019 -20, možno vyjadriť zhodnotenie, že Miláno vcelku prinieslo v prehliadkach kolekcií farby od ružovej cez červenú – v značke Gucci, Marni alebo Prada, modrú a žltú – v kolekcii módneho domu Max Mara po zelenú – v kolekcii módneho domu Versace. Miláno vsadilo v celku na výrazné farby. Čo prinesie ďalší ročník ženskej módy Milan Fashion Weeku, Moda Donna, sa s napätím očakáva , začína čochvíľa od 18. februára 2020.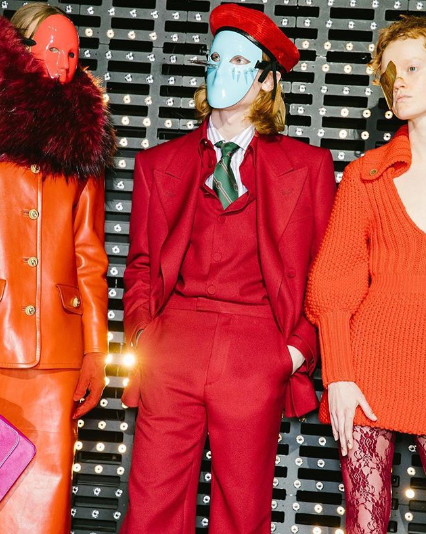 Kolekcia značky GUCII pre sezónu Jeseň / Zima 2019 -20 priniesla výraznú červenú farbu, šokujúce ostne na modeloch a maskách a ďalšie trendové detaily.
Hrozivo vyzerajúce ostne na lemoch odevov a okolo krku kolekcie značky Gucci – Jeseň / Zima 2019 -20 neskôr vystriedali MAŠĽOVÉ GOLIERE – MÓDNY TREND ZIMA 2019 – 20.
Tie sa objavili taktiež v značke Fendi s citeľným rukopisom nedávno zosnulého dizajnérskeho mága Karla Lagerfelda a v prehliadkach kolekcií ostatných značiek – VIVETTA, MSGM, v miernej obmene na šatách so sexi výstrihmi zdobenými mašľami – v značke PRADA.
KÁRO AKO MÓDNY TREND ZIMA 2019 – 20
V kolekciách talianskych dizajnérov bolo badať obľúbené káro, ktoré sa stalo trendom pre sezónu – Jeseň / Zima 2019 – 20. Módny dom GUCCI pod vedením kreatívneho riaditeľa a dizajnéra Alessandra Michele aplikoval károvaný vzor na oblekoch . Zvýraznil ramená, pridal ostne na lemoch, niekde priznal pás, inde ponechal široký, tzv. nadrozmerný strih saka a výsledný look dotvoril novým Gucci prvkom – širokými nohavicami s elastickým ukončením spodného lemu na parašutistický štýl.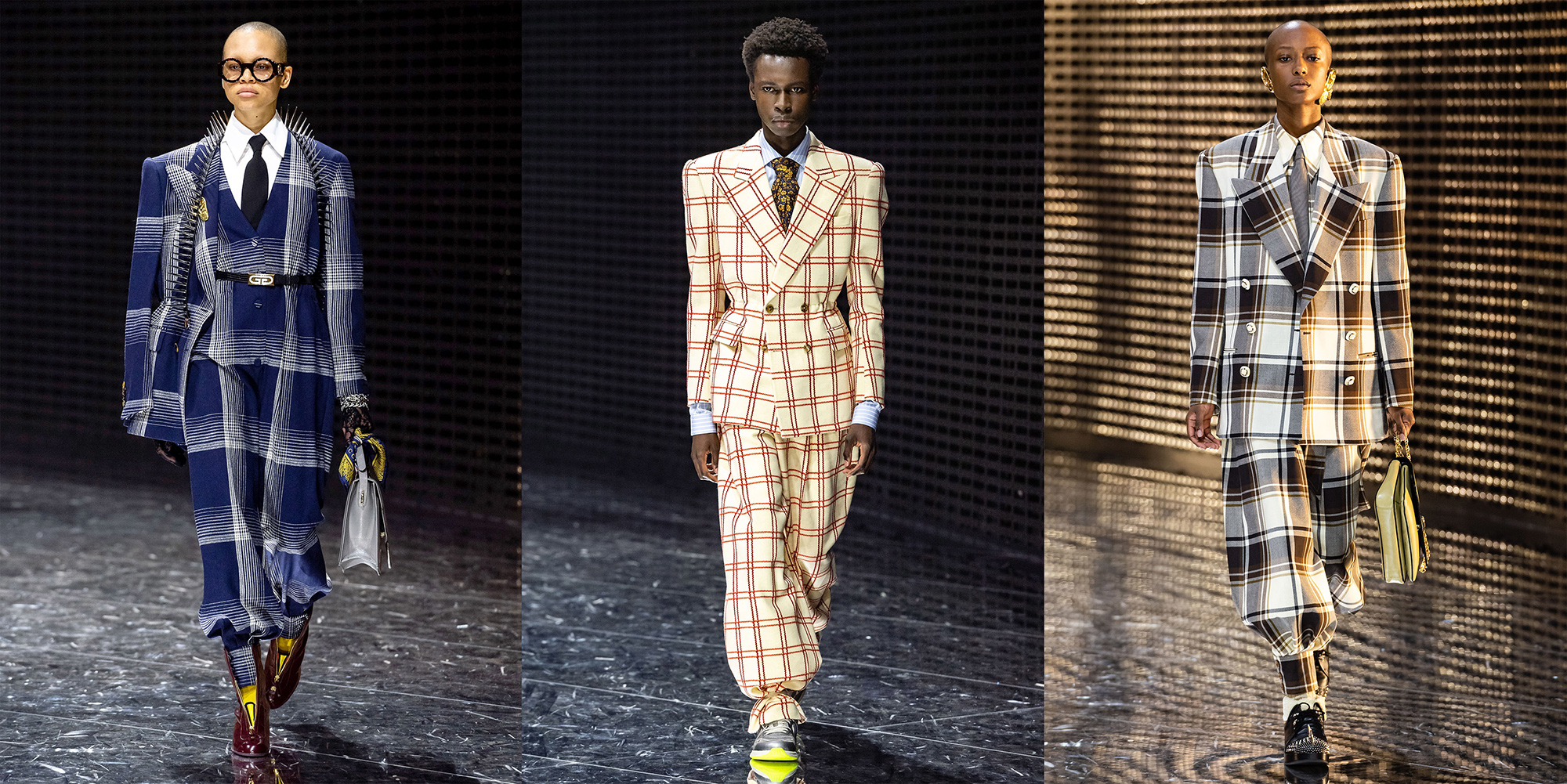 Gucci trend kolekcie Jeseň / Zima 2019 -20 – elastické ukončenia širokých nohavíc s parašutistickým efektom.
EMPORIO ARMANI
Károvaný vzor predviedol aj módny dom ARMANI v zimnej kolekcii 2019 -20 a to v polo transparentnom prevedení. Objavil sa na blúzkach, sakách, v kombinácii s riflovinou a na sukniach.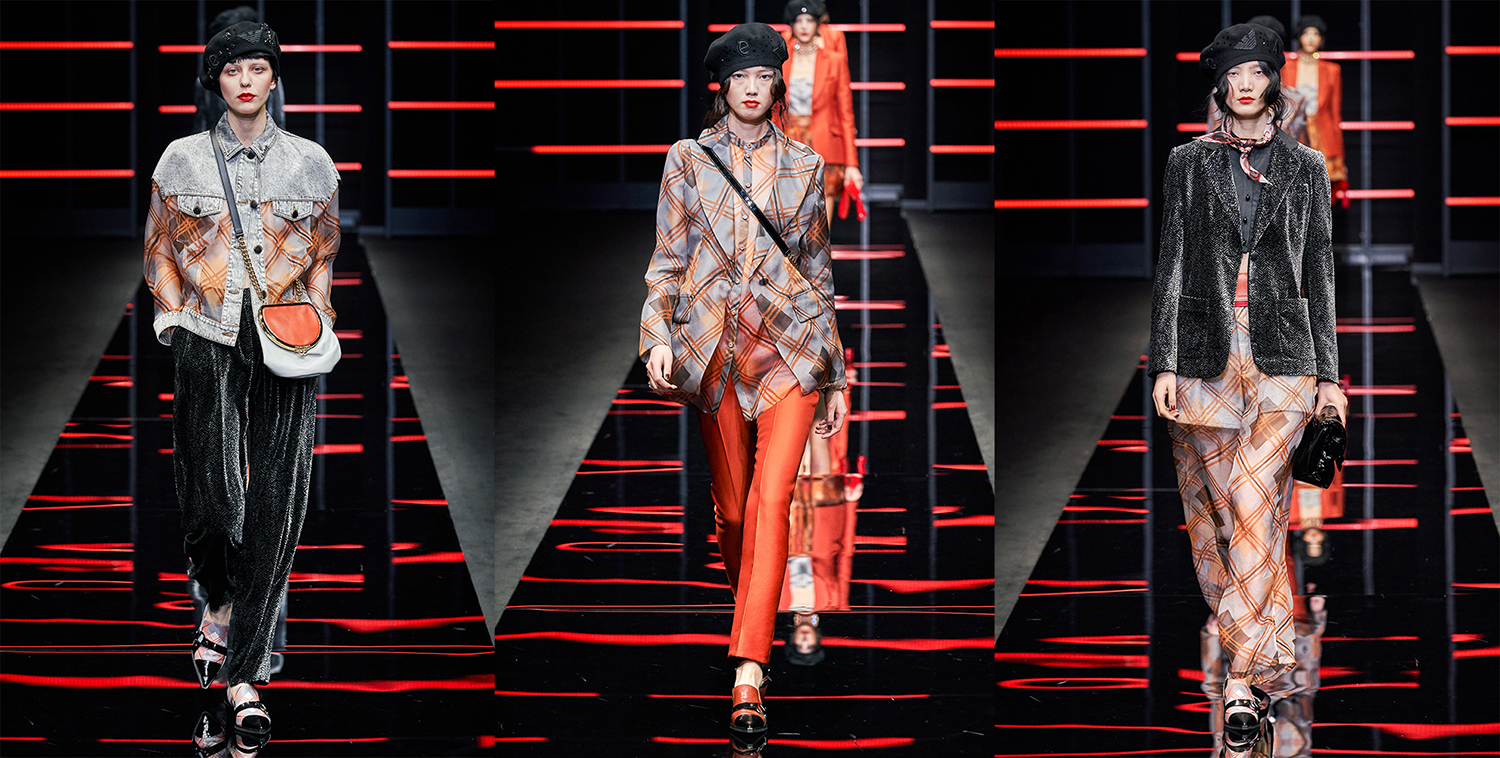 MARNI
Káro včlenila do svojej kolekcie aj ďalšia talianska značka MARNI, ktorá ho oživila výraznou červenou farbou.
Červená v kombinácii so šedou v podobe kára pôsobí veľmi zaujímavo. Značka Marni pridala skladané a plisované detaily a ozdobné retiazky.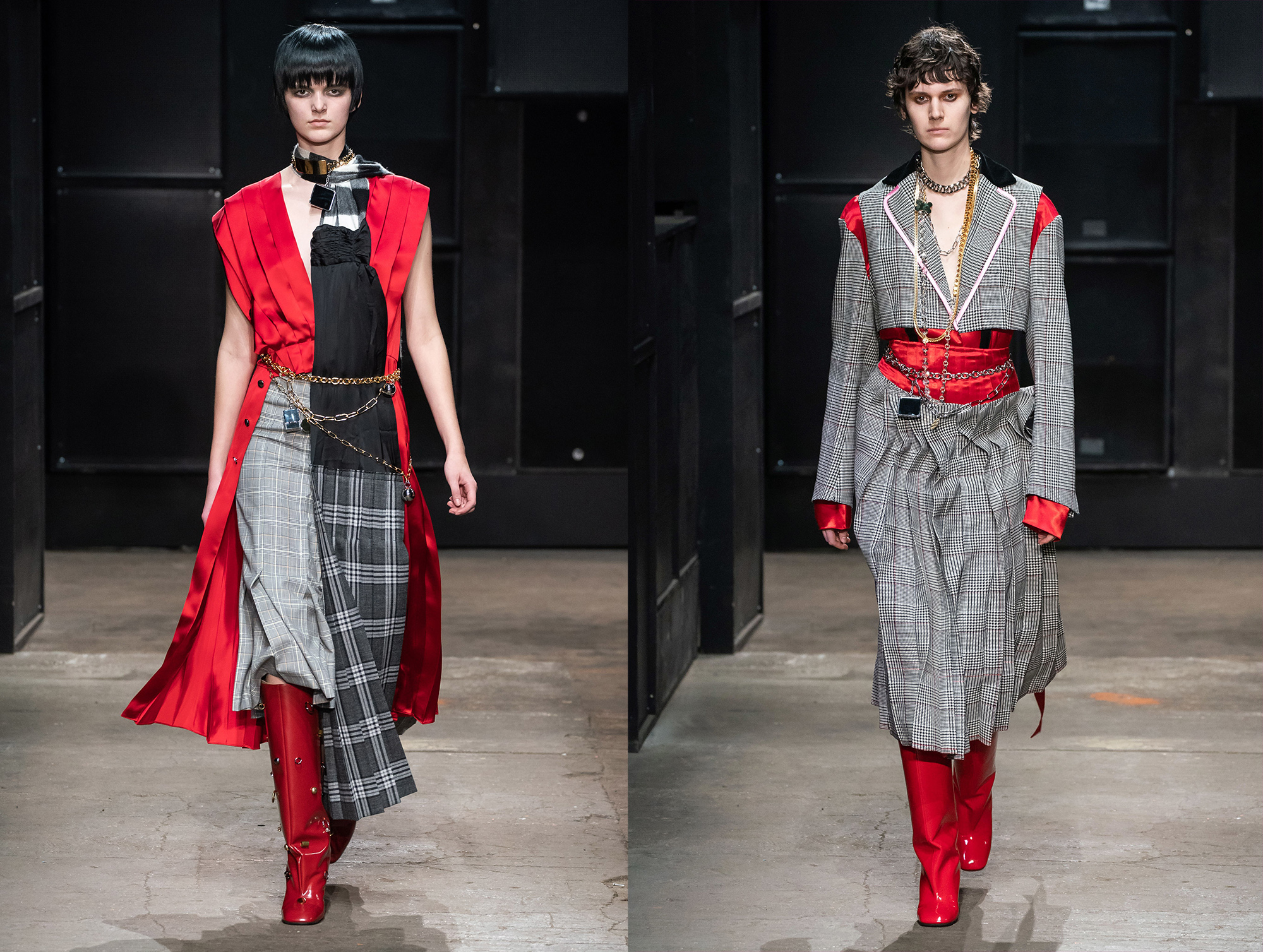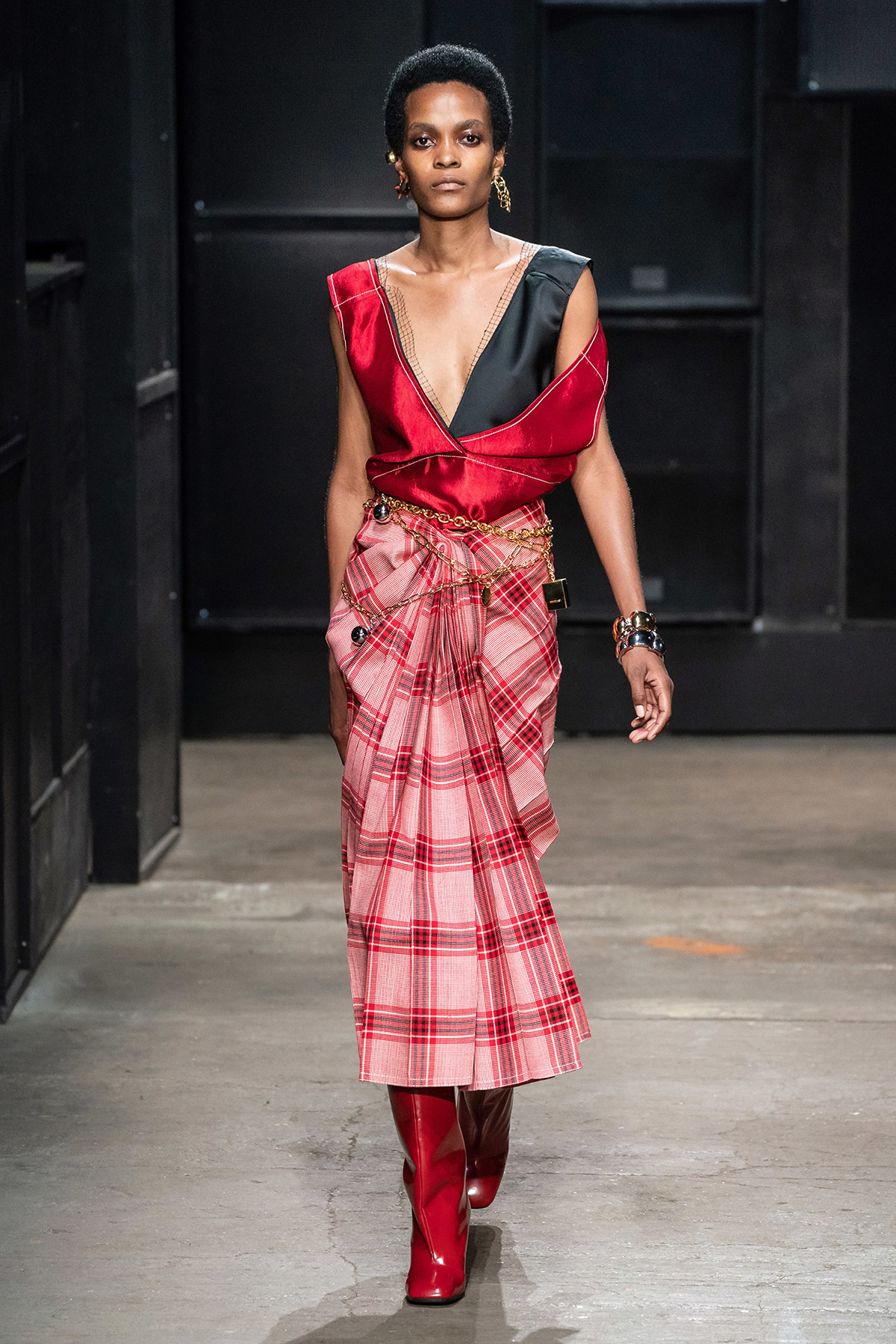 Ružovo-šedá farebná kombinácia károvaného kostýmu od značky Marni taktiež pôsobí zaujímavým, veľmi nositeľným a ľúbivým dojmom.
ALEXANDRA MOURA
Károvanému vzoru sa počas Milan Fashion Weeku, v sezóne Ženská Móda darilo a k tomuto trendu sa pridala svojou kolekciou aj ďalšia značka predvádzajúca vo februári 2019, ktorá naopak stavila na zemité a tmavé farby. Vytvorila zaujímavý farebne kombinovaný ženský oblek, ktorý rozdeľoval navyše aj materiál na dve odlišne vyzerajúce časti.
80-te ROKY, KOŽA, MATRIX ŠTÝL – TREND ZIMA 2019 -20
ALBERTA FERRETTI
Do 80. rokov sa vrátila značka ALBERTA FERRETTI pod vedením talianskej dizajnérky prezývanej aj návrhárkou svetových celebrít a hviezd červeného koberca a to v zimnej kolekcii 2019 -20. Obsahuje množstvo nositeľných modelov na bežný deň. Charakterizujú ju vysoké pásy, faldy na nohaviciach s bočnými vreckami, široký strih nohavíc, z materiálov vypratý šúchaný denim, semiš na čižmách, semišové patchwork trenchcoaty, metalická koža, objavili sa kožené nohavice, volnejšie pletené svetre zapravené do nohavíc a nohavice do čižiem a tiež klobúky so širokými šiltami. Túto nositeľnú časť prehliadky prestriedala jej druhá polovica – večerná kolekcia zmyselného zrelého pôvabu v lesklých materiáloch.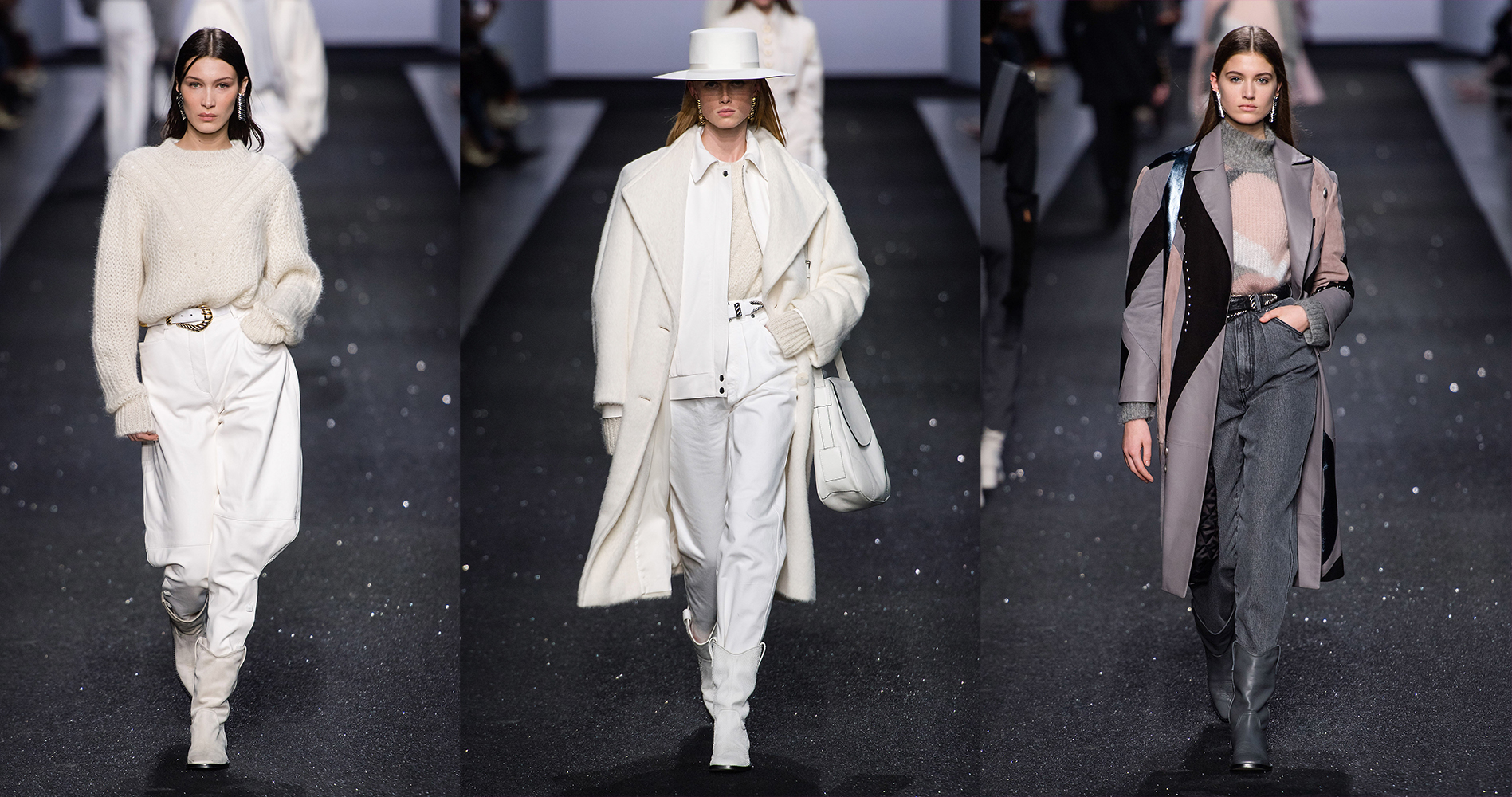 Matrix štýl ako pri značke BOTTEGA VENETA (čítaj článok Bottega Veneta – estetika matrixu ako nový trend pre jeseň / zimu 2019 -20, Milan Fashion Week, február 2020, Móda Ženy) prevedený v koži bol pri značke Alberta Ferretti oživený leitmotívom kolekcie, rokmi 80-tymi, doplnený semišovými čižmami širšieho strihu do polovice lýtok na nohaviciach.
ANTEPRIMA
ANTEPRIMA vo svojej zimnej kolekcii 2019 – 20 inovovala klasiku, priniesla taktiež vysoké zvýraznené pásy s korzetmi na sukniach a nohaviciach, svieže potlače na zamate, mokasínové topánky, mini vozíkové kabelky a retro klobúky so šiltom zakrývajúce uši a zátylok s abstraktnými florálnymi sviežimi potlačami. Tiež sa objavilo káro a pepito a krížové prešívanie.
Vo všeobecnosti možno povedať, že Milan Fashion Week pre zimnú sezónu Jeseň / Zima 2019 -20 priniesol luxusné materiály, zdobenia a živé farby.
TOD´S
Talianska luxusná značka TOD´S je neustále verná koži a v tomto materiáli predstavila svoju kolekciu Jeseň / Zima 2019 -20, ktorú tvorili charakteristické bermuda krátke nohavice, tubové sukne a členkové čižmy.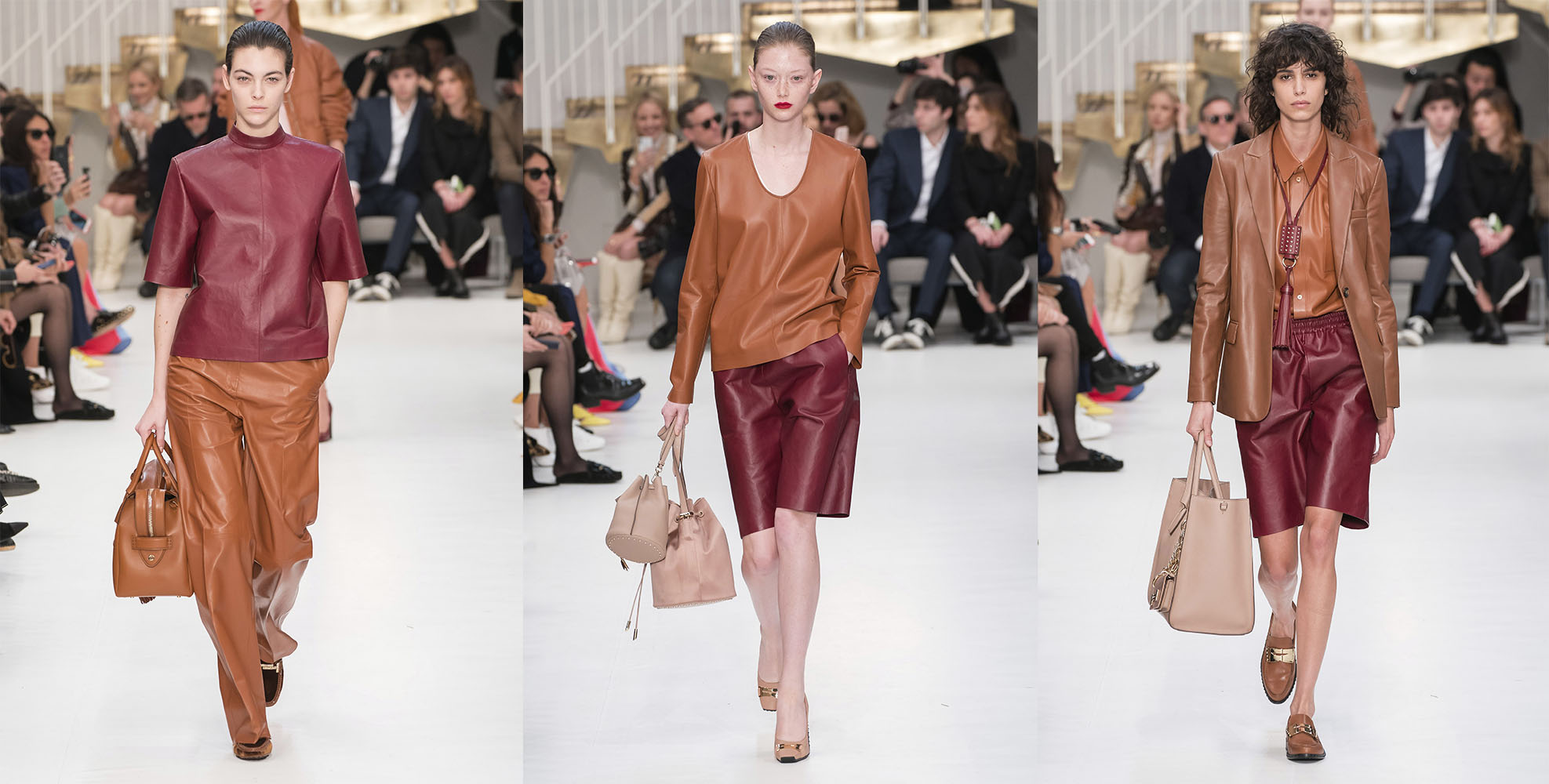 Nechýbali kožené kabáty, trenchcoaty a saká, vidieľné tiež pri značke SALVATORE FERRAGAMO (čítaj článok Módne trendy jeseň / zima 2019 -20 od talianskych dizajnérov – Prada, Salvatore Ferragamo, Alberta Ferretti, Missoni, Etro).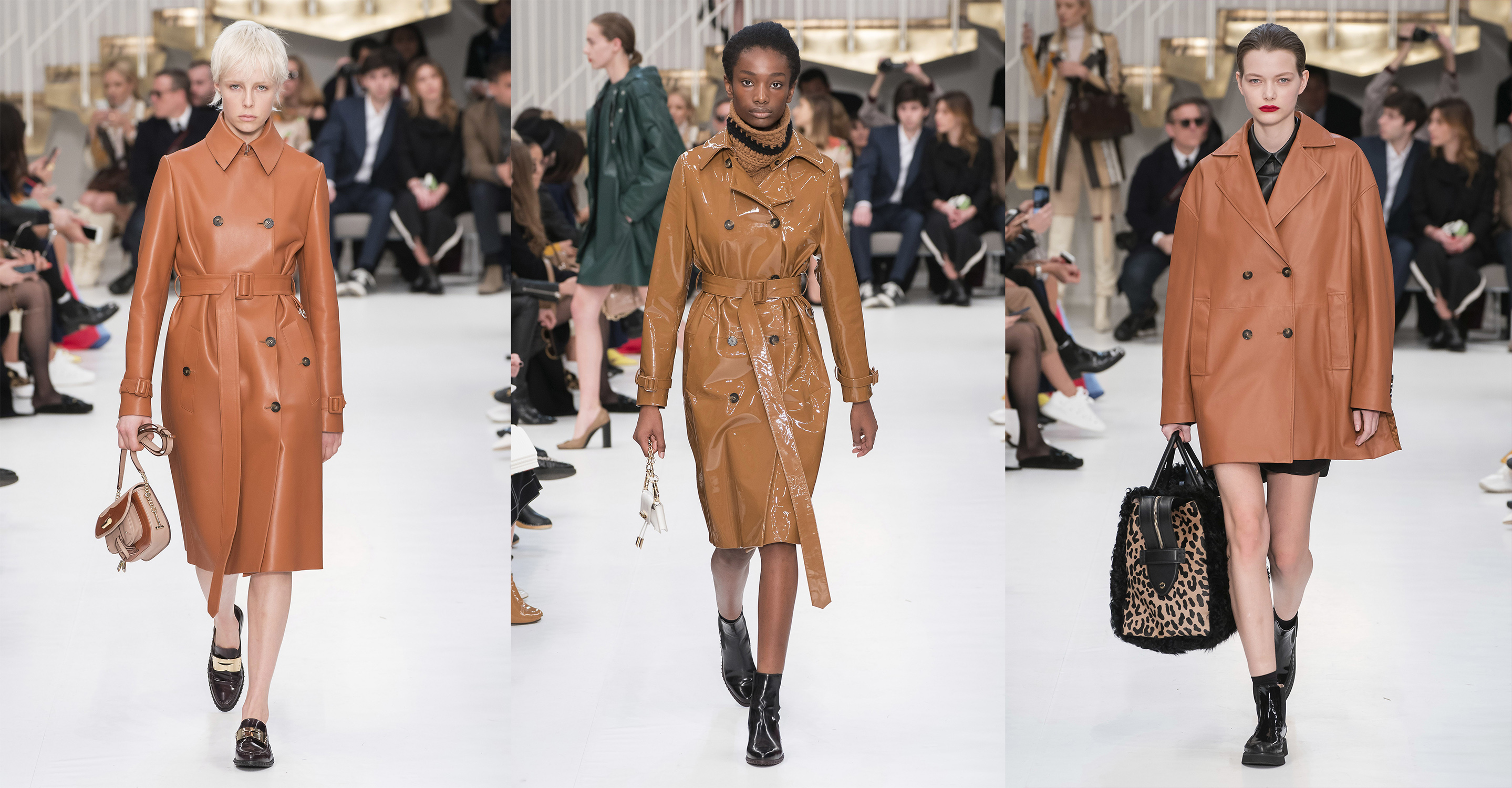 Zimná sezóna predošlého ročníka Milan Fashion Weeku, Móda Ženy, konaná vo februári 2019, na ktorom predstavili svoje novinky svetoví dizajnéri, bola doposiaľ najväčšia. Tvorilo ju 179 nových kolekcií predvedených počas prehliadok v nabitom harmonograme módneho týždňa. Je známy tým, že si udržiava scénu módneho diania doma. Počas tohto týždňa módy predvádzajú prevažne talianski dizajnéri a tie najväčšie značky svoje kolekcie uvádzajú v tradičných priestoroch. Spoločne tak vytvárajú tzv. milánsku módnu scénu v rodinných pomeroch.
O trendoch, ktoré priniesol Milan Fashion Week pre sezónu jeseň / zima 2019 – 20, ako aj o celkovom zhodnotení, si prečítate aj v predošlých článkoch na pokračovanie v histórii na tomto blogu. Nezabudnite sledovať facebook stránku blogu s názvom Mya Mirell Fashionista, kde nájdete viac fotografií, módnych inšpirácií, zaujímavostí, celebrít, street stylu, modeliek a aj videí z týždňov módy.
zdroj obrázkov: Vogue com, Anteprima,
foto: Ambra Vernuccio, Valerio Mezzanotti
Sleduj ma na:
2 Instagramy: myamirell ,
mya_mirell
Facebook: Mya Mirell Fashionista,
Mya Mirell