26. ROČNÍK UDEĽOVANIA SAG AWARDS – MÓDA Z ČERVENÉHO KOBERCA, HERCI, CELEBRITY A NEZABUDNUTEĽNÉ MOMENTY, LOS ANGELES, KALIFORNIA
20. januára 2020 sa v americkom Los Angeles v Shrine Auditorium konalo prestížne odovzdávanie filmových cien amerického Združenia filmových a televíznych hercov SAG Awards 2020 (Screen Actors Guild). Tento už v poradí 26. ročník je predskokanom prestížnych a očakávaných Oskarov a zúčastňujú sa ho významné svetové hviezdy. SAG Awards 2020 sa stal rozhodne nezabudnuteľnou udalosťou najmä vďaka dojemnému stretnutiu hereckých celebrít Brada Pitta a Jennifer Aniston po viacerých rokoch.
Pozrime sa, aké róby vyniesli hviezdy na červenom koberci a ako v nich zažiarili .
Jednou z hlavných hviezd galavečera a tiež jednou z ocenených za najlepší herecký výkon v dramatickom seriáli bola herečka JENNIFER ANISTON za The Morning Show. Predviedla krémové šaty značky DIOR od návrhára Johna Galliana, ktoré spôsobili okamžité internetové ovácie. Všetky oči počas početných interview, ktoré rozdávala, spočívali na nej, čo potvrdili aj odborní módni kritici v diskusných reláciách. Tí ju vyniesli do nebies. Jennifer sa tak stala najdiskutovanejšou celebritou nielen vďaka oceneniu, ale aj vďaka spoločnému stretnutiu s niekdajším manželom hercom Bradom Pittom, no predovšetkým kvôli sexi šatám, ktoré si obliekla na ostro. Počas slávnostnej reči na pódiu pri preberaní sošky Jennifer s presvitajúcim dekoltom predviedla všetkým pozorovateľom vztýčené bradavky.
Jennifer vraj vytiahla tieto šaty zo svojho šatníka a urobila dobre. Nielen, že majú krásny krémovo-zlatistý odtieň a ženský strih, ktorý jemne kopíruje krivky, celkovo jej pristanú a bola v nich rozhodne neprehliadnuteľná hviezda večera. Získala si priazeň módnych expertov a pozitívne reakcie širokej verejnosti na celom svete. A nielen tej. Samotný Brad Pitt sa zdal byť jej zjavom očarený, ako rozoberajú mnohé médiá. Jennifer nedávno oslávila 50 rokov, čo na nej nie je skutočne vôbec poznať. Jej skvelá forma a štíhla postava z nej v týchto šatách robia divu. U mňa má ale o bodíky menej za priesvitný vršok, ktorý sa zračil pri pohybe a v mnohých interview. A taktiež mi trošku vadí strih v oblasti panvy v tvare trojuholníka, ktorý bol na fotkách jasne definovaný na stred. Malý rozpačitý detail, preto Jenn nedávam 10 bodov z 10, ale hodnotím ju známkou 9.
Galavečera sa zúčastnili veľké herecké hviezdy ako ROBERT DE NIRO a herečka MERRYL STREEP, ktorých radostné zvítanie zachytili prítomní fotografi takto. Robert De Niro si z tohto podujatia odniesol Cenu za celoživotné dielo.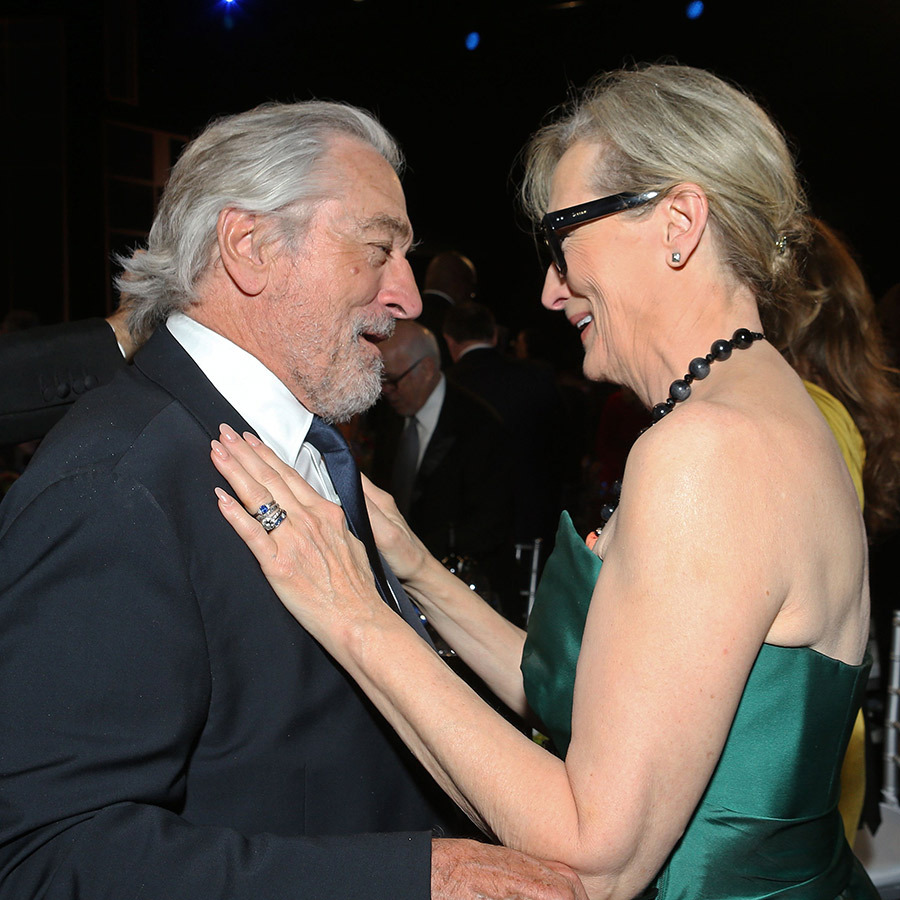 Screen Actors Guild Awards (SAG), patrí od roku 1995 k najväčším udalostiam Hollywoodu. Ide o ocenenie za filmovú a televíznu tvorbu a za herecké stvárnenie postáv.
Na tomto ročníku si herec Robert De Niro odniesol cenu za celoživotné dielo.
Toto podujatie bolo taktiež prehliadkou módnych kreácií, v ktorých sa hviezdy snažili ako vždy, čo najviac zaujať. Väčšina dám nechce nič pokaziť a tak siaha po jednoduchosti až minimalizme, no tie odvážne z nich sa vyberú cestou výrazných rób. Nie vždy sa ale očakávané predstavy stanú uchvacujúcou realitou.
NAJVAČŠIA HVIEZDA VEČERA
Najväčšou hviezdou večera bola pre mňa paradoxne pred tým na podobnom podujatí kritizovaná herečka SCARLETT JOHANSSON, ktorá na tomto červenom koberci zažiarila ako kométa v modrozelených šatách značky ARMANI. Šaty menili pri rôznom svetle a bleskoch fotografov odtieň, mali farbu petrolejovú, tyrkysovú s metalickým odleskom. Nádherný strih, ktorý herečke sedel na mieru presne, dal vyniknúť pekným ženským krivkám. Zdobil ich hlboký výstrih v oblasti dekoltu s pekne riešenými prechodmi do ramienok a výstrih v oblasti chrbta s kamienkovými ramienkami, ktorý odhalil jej tetovanie. Scarlett mala k týmto šatám vynikajúco prispôsobený make-up, jemne bronzová prežiarená pleť a krásne zvýraznené plné pery oranžovo-červeným sýtym rúžom, ktorý nádherne ladil k zeleno-modrej farbe šiat ju robili očarujúcou a výraznou hviezdou večera.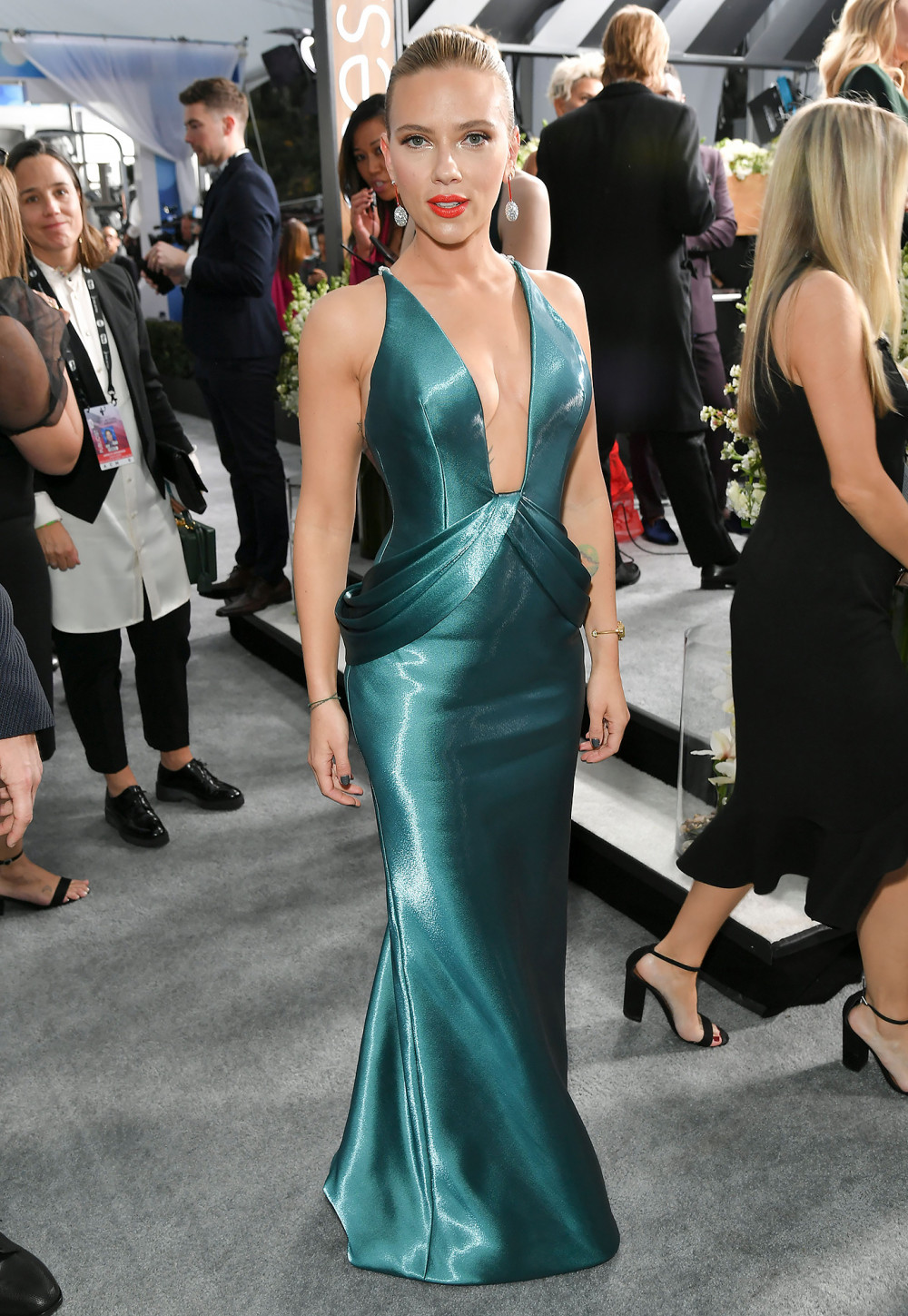 Fantastický look predviedla pre mňa absolútna hviezda večera, herečka Scarlett Johansson. Šaty pri zábere v inom svetle nadobudli nádherný odtieň, ladiaci s oranžovo-červeným rúžom a prežiarenou tvárou herečky, ktorá model značky ARMANI vyniesla do výšin.
V inom svetle šaty nadobúdajú viac petrolejový tmavší odtieň s metalickým odleskom, čo ich opäť robí zaujímavé. Tentokrát mala aj inak zvolený účes s nadýchanejším drdolom a pôsobila ako dáma.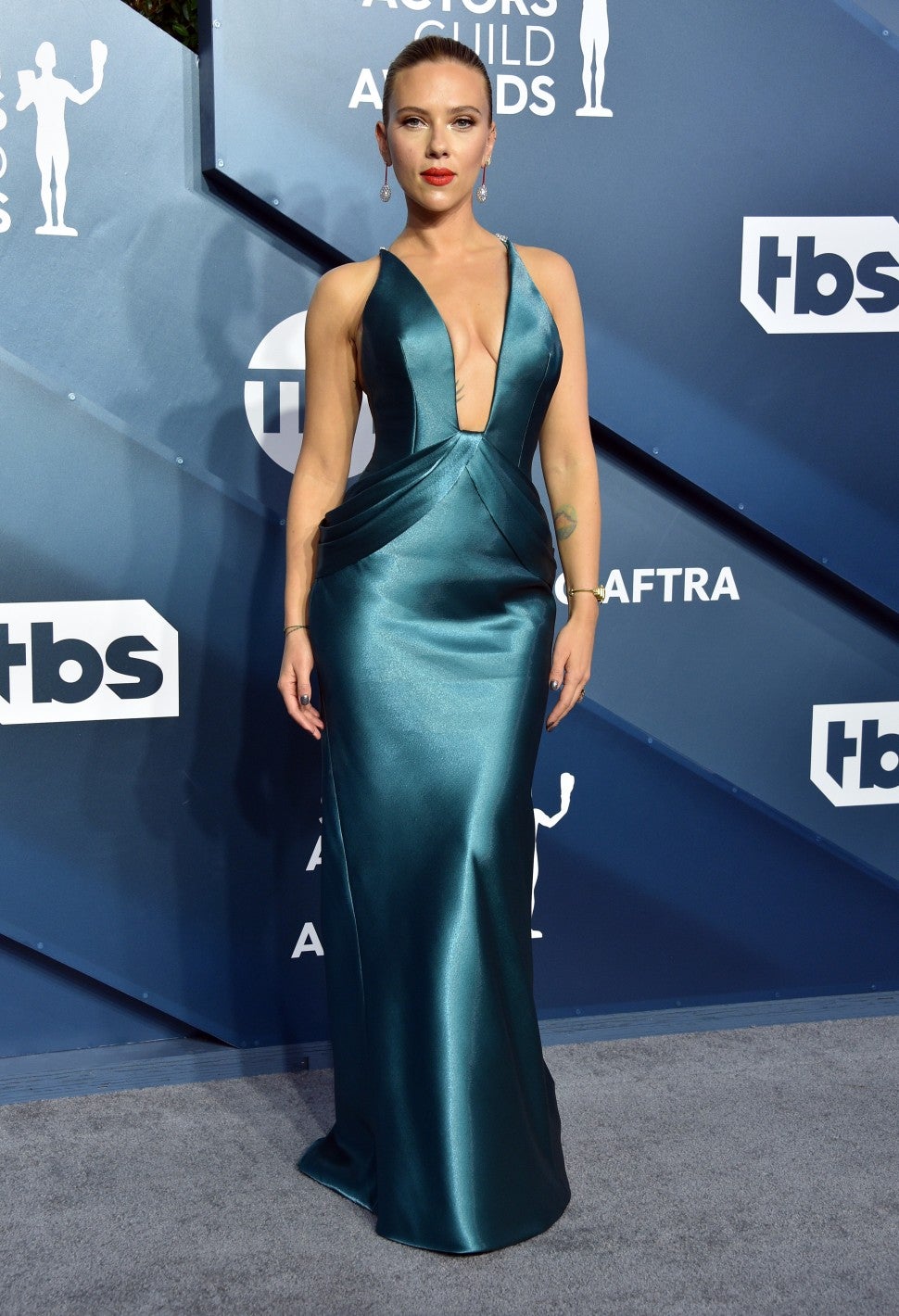 Ďalšou hviezdou večera spomedzi zúčastnených bola austrálska herečka NICOLE KIDMAN.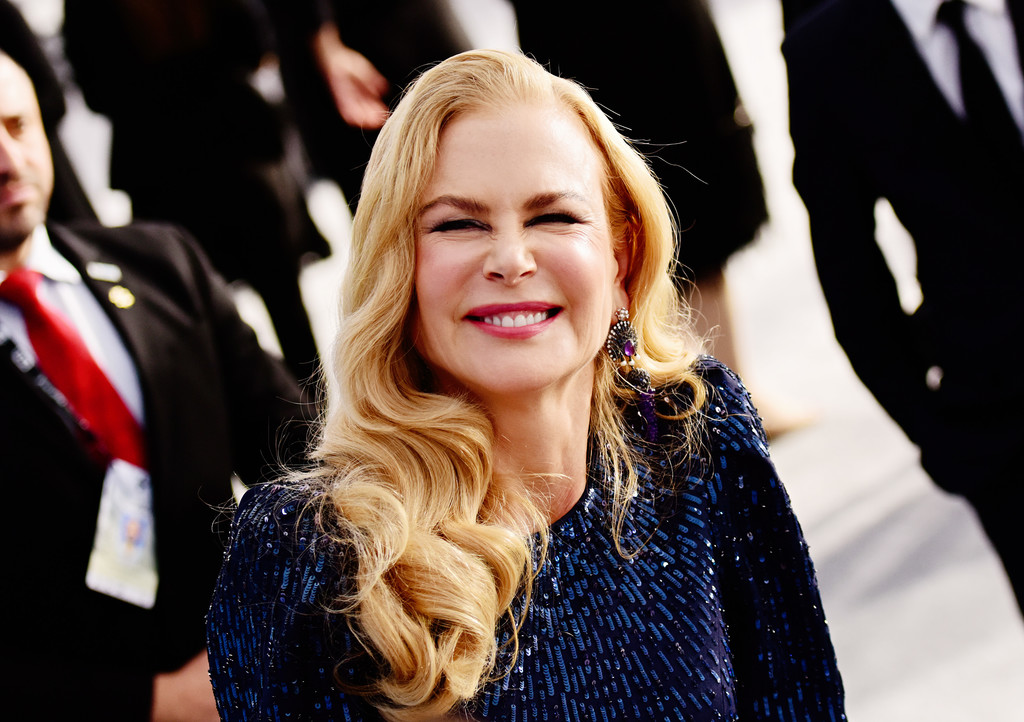 Nicole Kidmanová si zvolila tmavomodrú flitrovanú róbu s vlečkou s vysokým rázporkom a volánom na frontálnej časti od amerického návrhára MICHAEL KORS. Mňa nijako zvlášť týmto výberom šiat neočarila, rovnako ako ani vlasovým stylingom. Šaty boli príliš temné. Počas večera sa hviezdy fotili a pózovali navzájom a až tu bolo vidno, aké sú medzi nimi výškové rozdiely. Možno by to inak divák ani nepostrehol.
Na fotografii je austrálska herečka NICOLE KIDMAN (vľavo) s herečkou JENNIFER ANISTON (vpravo). Jennifer má okolo 164 cm, pričom Nicol meria až 180 cm.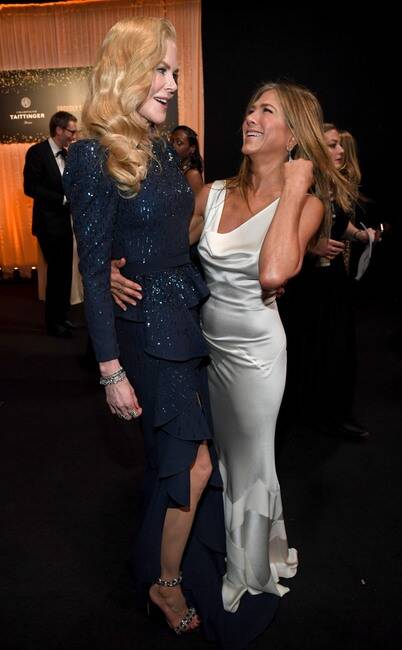 JENNIFER ANISTON a BRAD PITT OPAŤ PO ROKOCH SPOLU
26. ročník SAG Awards 2020 priniesol niekoľko zaujímavých momentov, ktoré sa zapísali do histórie. Najväčšou udalosťou, ktorú rozoberali všetky svetové média, bolo spoločné stretnutie niekdajších manželov Jennifer Aniston a Brada Pitta, ktorí si odniesli aj cennú sošku. Prvýkrát boli spoločne videní na nedávnom udeľovaní cien Golden Globes 2020, kde sedeli celkom blízko seba a taktiež podliehali značnému drobnohľadu paparazzi.
V zákulisí tohto galavečera sa ich cesty konečne stretli, navzájom sa pozdravili a fotografie, ktoré z tohto stretnutia vznikli, hovoria veľavravnou rečou. Rozoberali ich viacerí odborníci na neverbálnu komunikáciu a panujú nádeje, že sa tento sympatický pár, kde obaja sú nateraz slobodní, dá opäť dokopy. Podporovalo by to aj zverejnené video, na ktorom je vidno, ako Brad oddane sleduje obrazovku monitoru, počas ďakovnej reči Jennifer pri preberaní ceny. Okamžite sa zdvihla vlna špekulácií, že títo dvaja sú si jednoducho súdení a stará láska, ako sa vraví , nehrdzavie. Ostatne posúďte sami.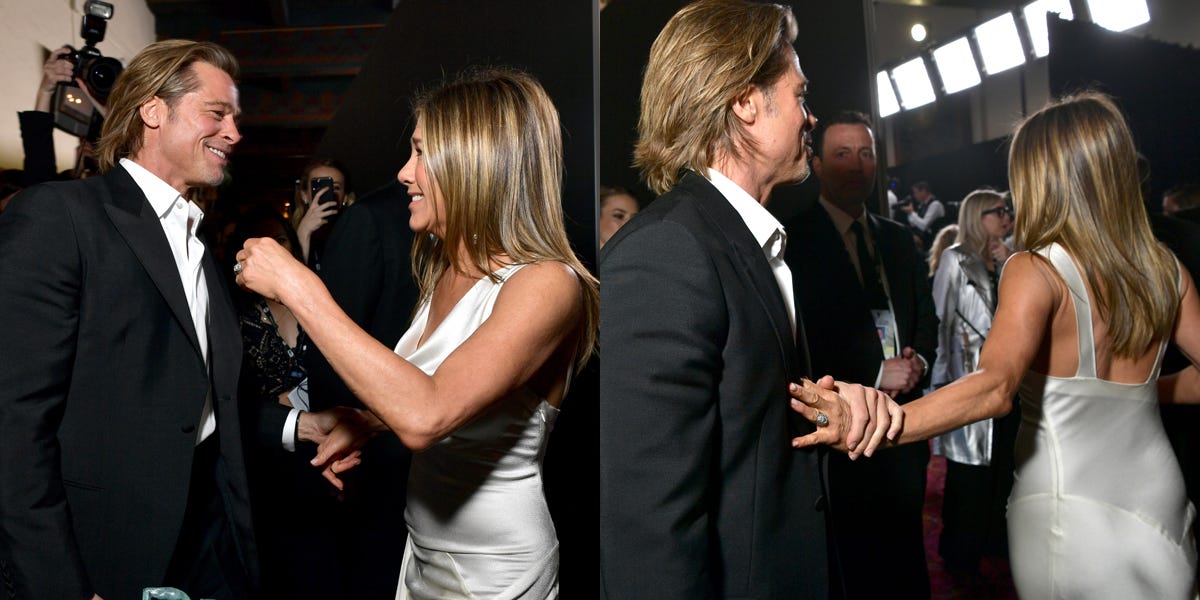 Brad Pitt drží herečkinu ruku, zatiaľčo Jennifer je už pripravená na odchod. Amerika tomuto opätovnému stretnutiu a oceneniu oboch hercov na SAG Awards 2020 venovala niekoľko diskusií, kde rozoberajú, či sú tieto znaky z večera predzvesťou návratu slávneho páru na spoločnú cestu životom. Herec si dokonca pri preberaní ceny zavtipkoval o vlastnom neúspešnom manželstve s herečkou Angelinou Jolie v metafore o podobnosti medzi jeho postavou a manželským fiaskom a potom sa bavil na afterparty s ex-manželskou Jennifer Aniston. Fotografie z večera a z afterparty plné dotykov a vrúcnych objatí rozhodne napovedajú niečo o vzájomnom iskrení. Rozvirujú špekulácie médií, z ktorých niektoré priamo uvádzajú, že si slávny pár našiel opäť cestu k sebe. Brad Pitt sa tiež zúčastnil Jenniferiných 50. narodenín, aj vianočného večierku. Žeby tieto detaily naozaj smerovali k návratu slávneho páru k sebe ?
ZAOSTRENÉ NA MÓDU Z RED CARPET
Šaty mladej herečky KATHRYN NEWTON pochádzali z dielne VALENTINO , z najnovšej kolekcie Jar / Leto 2020. Majú hranatý hlboký výstrih na prednej aj zadnej časti, čo značne deformuje ženské tvary, najmä ak je nositeľka útlejšia. No nijako ma to neprivádza do rozpačitých pocitov a negatívneho hodnotenia tejto voľby. Sú to šaty priamo z móla z nedávnej prehliadky značky Valentino, ktorá bola očarujúca a pristanú najmä mladým ženám. Ešte viac v nich rozžiaria ich mladícku energiu a fluidum.
Model si nevyžaduje väčšie prednosti, naopak, tie by celkom svojím strihom nezvládol. Mne sa šaty veľmi páčili a Kathryn tento mladícky odvážny volánový model veľmi pristane. Niektoré kritiky sa vyslovili, že šaty vyzerajú, akoby ich mala nositeľka oblečené naopak. Za seba dávam 9 bodov za odvahu, mladícku radosť a neformálnosť, ktorú týmto Kathryn poprela a ktorú predviedla väčšina konzervatívne naladených hviezd. Tie však zažiarili iba vlažne. Tento model naopak žiaril už z diaľky aj svojou farbou, aj svojou energiou, ktorú rozviroval a mladej blondínke veľmi svedčil.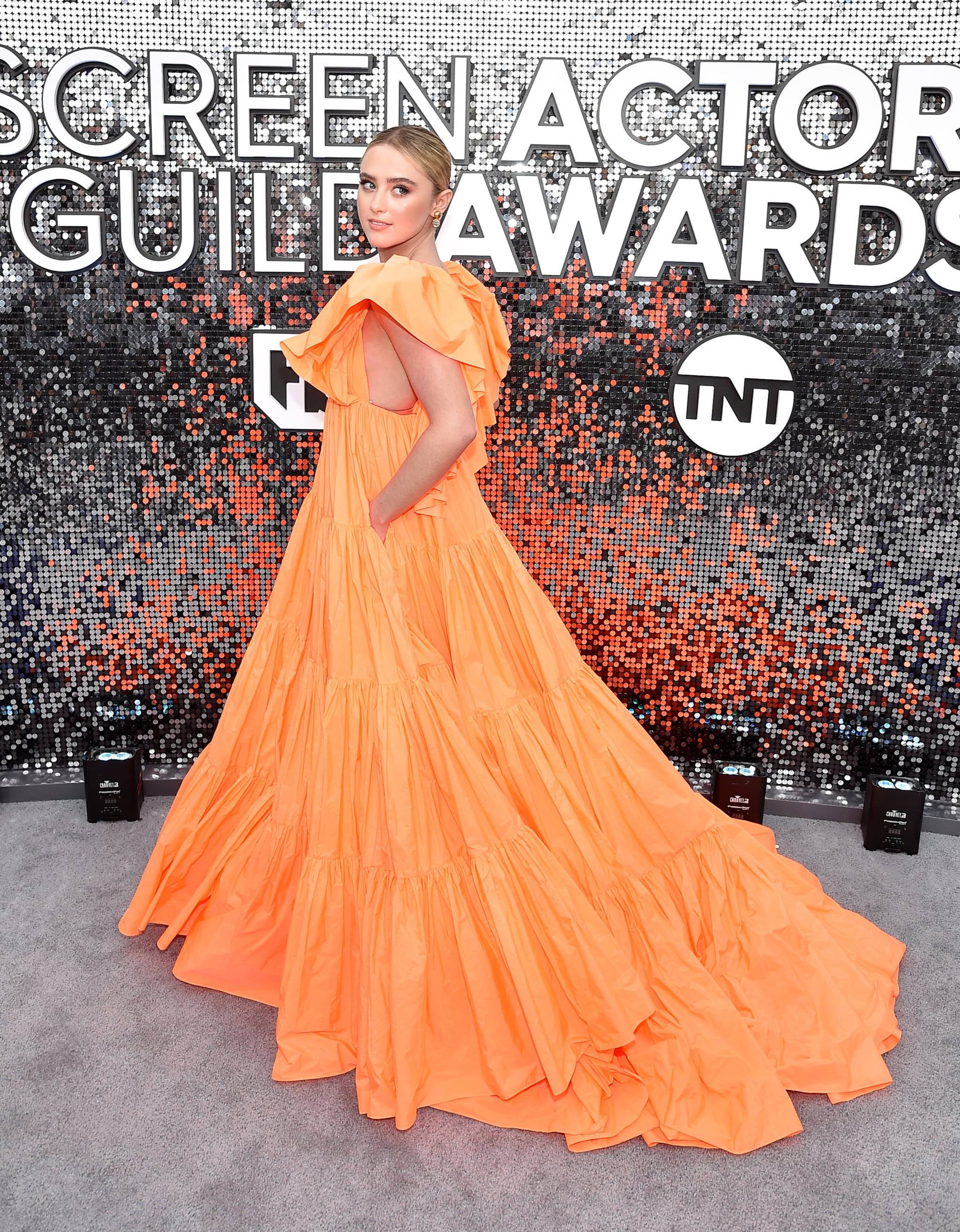 Niektoré ďalšie hviezdy sa snažili vyhnúť jednoduchosti a konzervatívnosti a predviedli rovnako nadýchané honosné róby s masívnymi sukňami, čo hodnotím pozitívne. Ďalšou z nich bola aj herečka CAMERONE PARKER McCULLOCH v zaujímavých fialovo-šedých šatách značky MIKAEL D COUTURE. Veľmi pekný model s kombinovaným štruktúrovaným živôtikom a sukňou z akoby páperia, z herečky spravil princeznú. I keď s krátkymi vlasmi, Camerone Parker McCulloh princeznovský nadýchaný model šiat fantasticky pristal a zaujal okolie.
Podobne sa so vzdušnými ženskými šatami s obrovskou sukňovou časťou rozšantila pri pózovaní aj herečka KELTIE KNIGHT. Obliekla model z dielne MIKAEL D , ktorý sa mi taktiež veľmi páčil. Je ženský, nádherne strihaný, pri pohybe ladne splýva na postave a sukňová časť sa rozvíri ako vlny na mori. Žena v ňom vyzerá ladne, predovšetkým krehko žensky a cíti sa nadšene. Čo je ostatne na herečke vidieť. Jedine negatívum a bodíky dole dávam za platformové sandále na hrubom opätku, síce v rovnakej farbe s meniacim sa odleskom. No čakala by som jemne subtílnejší , ladnejší tvar sandálov ako mohutný, vzhľadom na jemnosť materiálu šiat, ktoré vyzerajú sťaby ušité z vánku. Tiež bod dolu za účes na stred, ktorý herečke deformuje a zužuje tvár. Pri interview bolo rovnako vidno, že vrchná ozdobná volánová penová časť mierne odstáva, čo je tiež drobný nedostatok. Inak nádherný model na túto spoločenskú udalosť.
Veľmi pekný elegantný model v tmavej burgundy predviedla herečka ALEXIS BLEDEL , ktorej nenútený , ale žiarivý slušivý look, ma dostal. Šaty sú z dielne TEMPERLEY LONDON. Zatiaľčo ostatné hviezdy v jednoduchých šatách zvolili trblietanie od hlavy po päty, čo mi príde nudné a prvoplánové bez štipky invencie, niekedy až lacné riešenie, tento model mal vertikálne zdobenie v podobe žiarivých "lúčov", ktoré ho ozvláštňovalo a robilo unikátnym. Z môjho ponímania je tento model takmer dokonalým ihneď po šatách Scarlett Johansson. Jediná rozpačitá chybička na ňom a pol bodíka dolu sú volániky v oblasti lakťov v úrovni línie pásu. Inak takmer plných 10 bodov.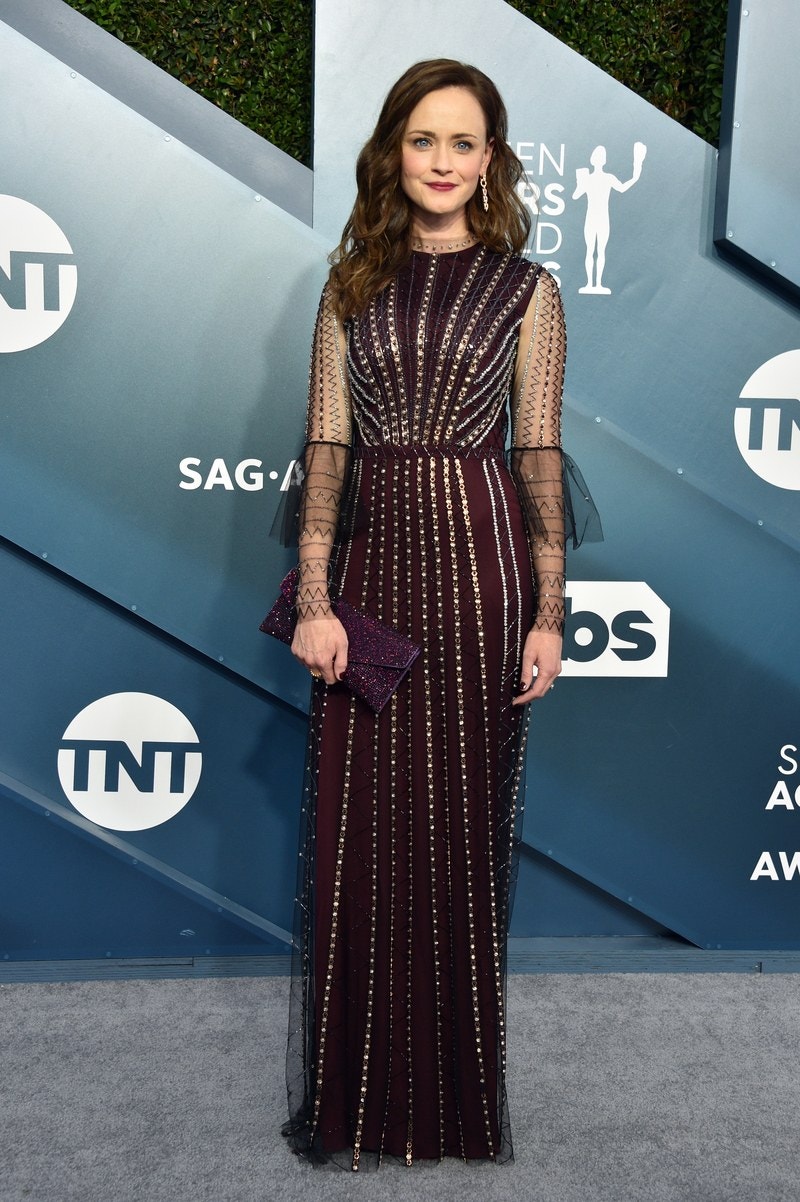 Herečka SOPHIE TURNER svietila ako barbie v cukríkovo žiarivom modeli od LOUIS VUITTON, ktorý jej fantasticky sedel. Očaril zrejme viacerých aj módne magazíny, aj mužské publikum. No pri niektorých pohyboch a na fotografiách vidno, že prsia majú čo robiť, aby ostali na svojom mieste. Pre mňa veľmi vyzývavý strih v topovej časti, odvážny až vulgárny a preto pár bodíkov dolu. I keď model je veľmi pekný aj farbou aj strihom, herečka v ňom krásne žiari, privítala by som iný strih topovej časti.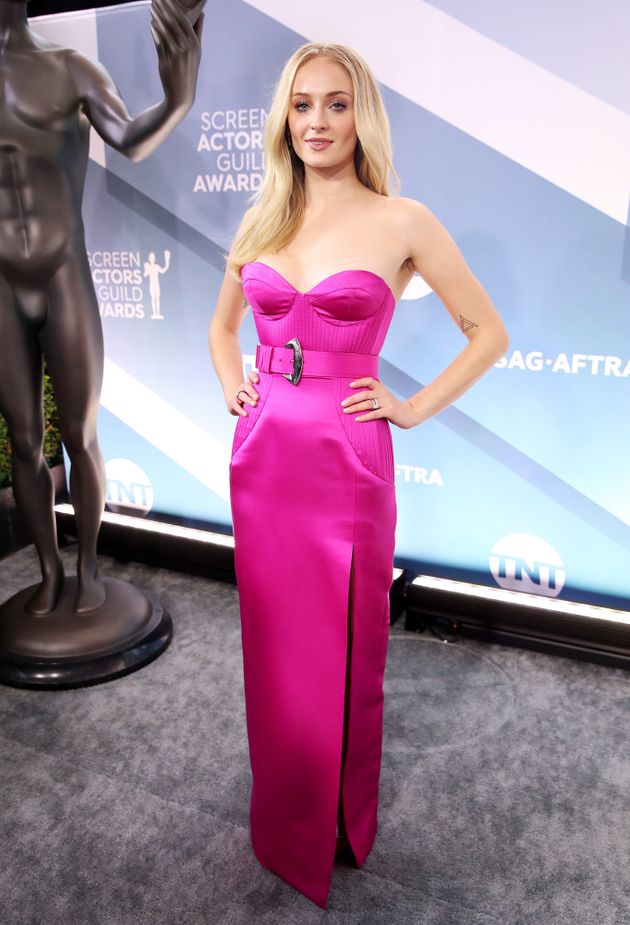 V tomto modeli azda len sotva pozerali prítomní muži herečke do tváre.
Herečka ZOE KRAVITZOVÁ si obliekla marhuľové šaty bez ramienok od OSCAR DE LA RENTA s bielymi rukavičkami. Model pôsobil minimalistickým dojmom aj vďaka jemným šperkom a získal si pozitívne reakcie módnych expertov. Mňa až tak tento model neočaril, hoci ako u jej ďalšej hereckej kolegyni, vychádzala inšpirácia tiež z ikonickej krásy a čias herecky slávnej Audrey Hepburn. Ostatne herečka vyzerá úplne, akoby jej z oka vypadla aj krátkym učesom, akoby priamo zo slávneho filmu My Fair Lady.
Na fotografii s herečkou CHARLIZE THERON, ktorá si na červený koberec SAG Awards 2020 obliekla model značky GIVENCHY s oddeleným crop topom od sukňovej časti. Tento model svedčí skôr flaškovejším postavám, ako postavám s rovným pásom, i keď Charlize je vo svojom veku stále veľmi štíhla. Pôsobila na mňa ako špagetka a preto sa mi tento model na nej nepáčil. Je síce honosný, elegantný, diamatový crop top luxusný, no pôsobí až príliš formálne, nežensky a tento štýl v nej podčiarkuje mužské rysy. Tie najviac zvýrazňuje rovný tričkový strih crop topu bez prestrihnutia v oblasti pŕs, ktorý vyzerá ako bandáž, necháva vyniknúť hranatým ramenám a tiež nevhodný krátky účes. Krátke vlasy mala uhladené stylingovým prípravkom so snahou o umelo vyzerajúce predĺženie na stred, z rôznych uhlov mi to prišlo zvláštne. V strede pri vyrastajúcom viditeľom odraste, ktorý je stále moderný, jej cestičku zdobili diamanty. Toto vídať tiež počas Milan Fashion Weekov, u dlhých vlasov sa mi to naopak páči. Ani zvolený make-up s jemnými hnedými tieňmi na celom viečku bez zrýraznenia očnej línie, aspoň jemného podčiarknutia tvaru, ktorý by dával oku iskru, otvoril ho, nedáva vyniknúť kráse Charlize. Naopak, robí ju viac staršou, unavenou a smutnou. Pre mňa pôsobí v tomto líčení ako nevyspatá s červenými očami.
Ženy v istom veku a najmä blondínky s nevýraznými riasami, obočím a vlasmi by potrebovali trošku farby do tváre. To isté platí aj pre herečku Nicole Kidman, ktorá vďaka svojej bielej pleti v krvavých červených alebo ružových šatách pôsobila nedávno ako riaditeľka vápenky. Niekdajšia rusovláska nezaprie svoju pravú farbu, i keď je teraz blondína a tam treba byť výrazne opatrný pri voľbe broskyňových, lososových a ružových odtieňov najmä v kombinácii s tónom pleti.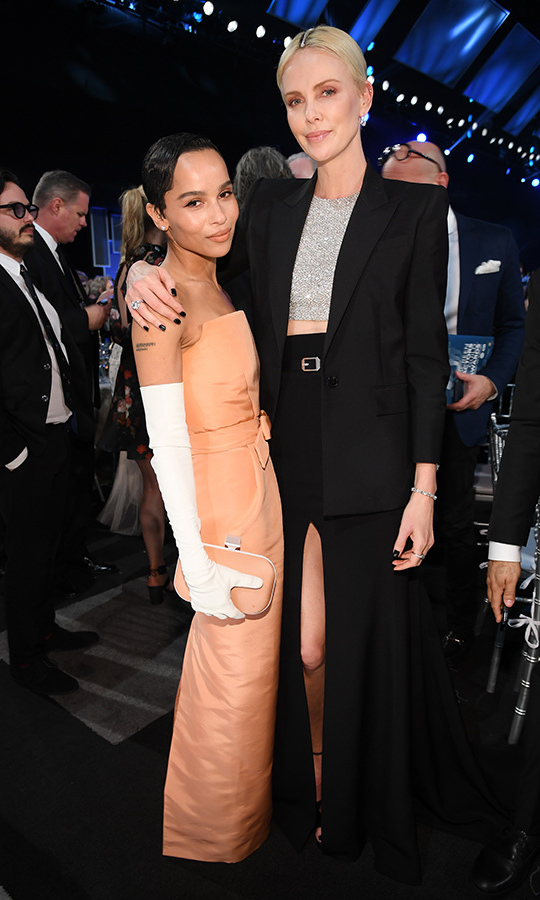 Tričkový strih luxusného kamienkového crop topu a oddelená vrchná časť od spodnej pri vysokej eklektickej postave akou je Charlize Theron podľa môjho názoru nevyzrá dobre. Crop top vyzerá ako bandáž, potláča ženskosť a nepochopila som ani vysoký sukňový pás, niečo tam dĺžkovo nesedí, keď už to malo byť oddelené. Rozhodne nie na rovnej vysokej špagetovej postave. Zachraňuje to iba sako na iných fotografiách.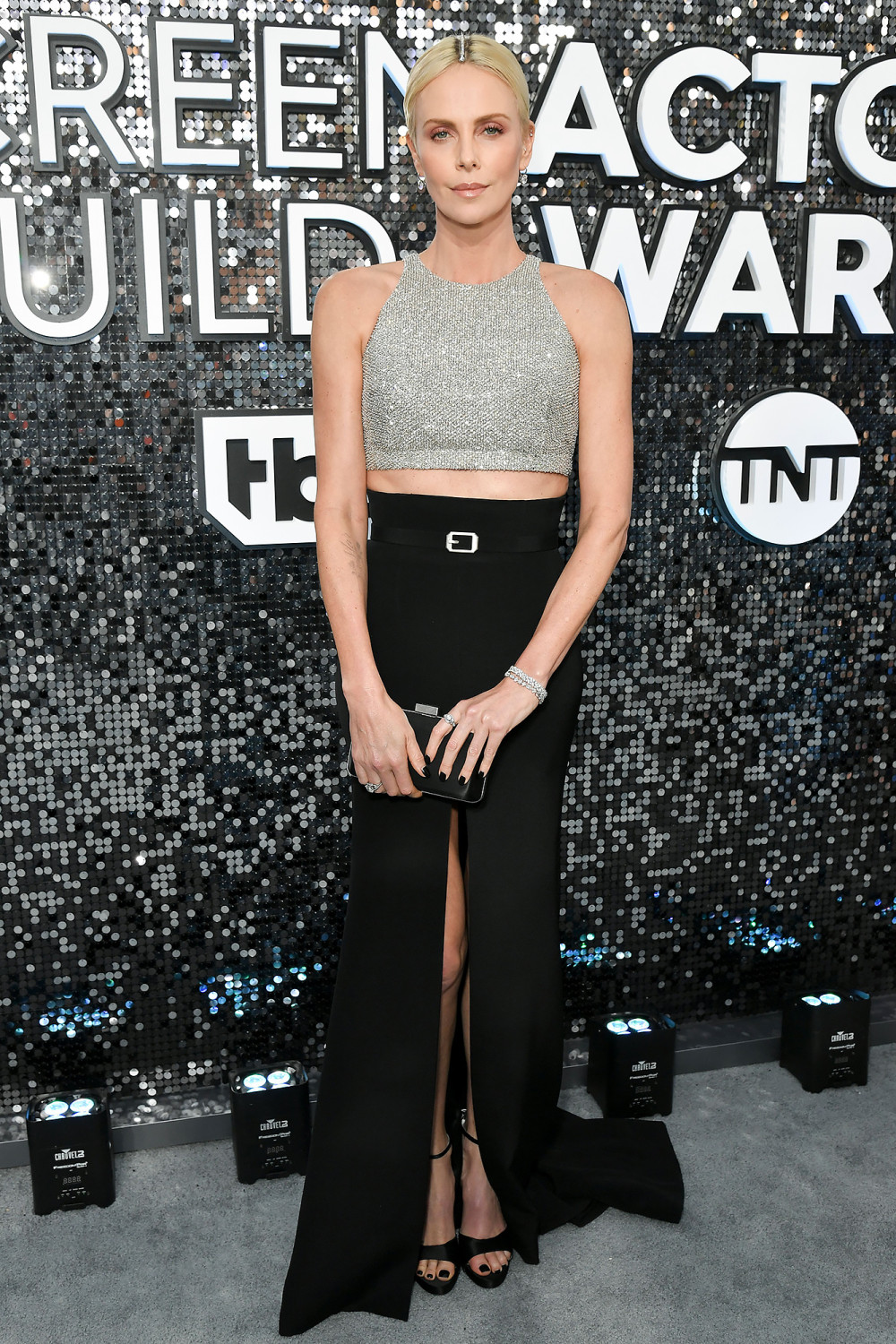 Charlize Theron s hercom Bradom Pittom. Brad v tomto nedbalom účese s dlhými vlasmi na mňa pôsobí mierne ako neupravený muž z ulice, no ženy ho isto milujú v akomkoľvek účese a looku. Charlize v tomto dvojfázovom oddelenom modeli mierne vylieza koža pri pohybe z trupu a pásu, čo nepôsobí pekne. Frontálny rázporok je vhodnejší u fľaškovitých postavách , nie u ženách s rovným pásom a rovnými nohami bez bokov.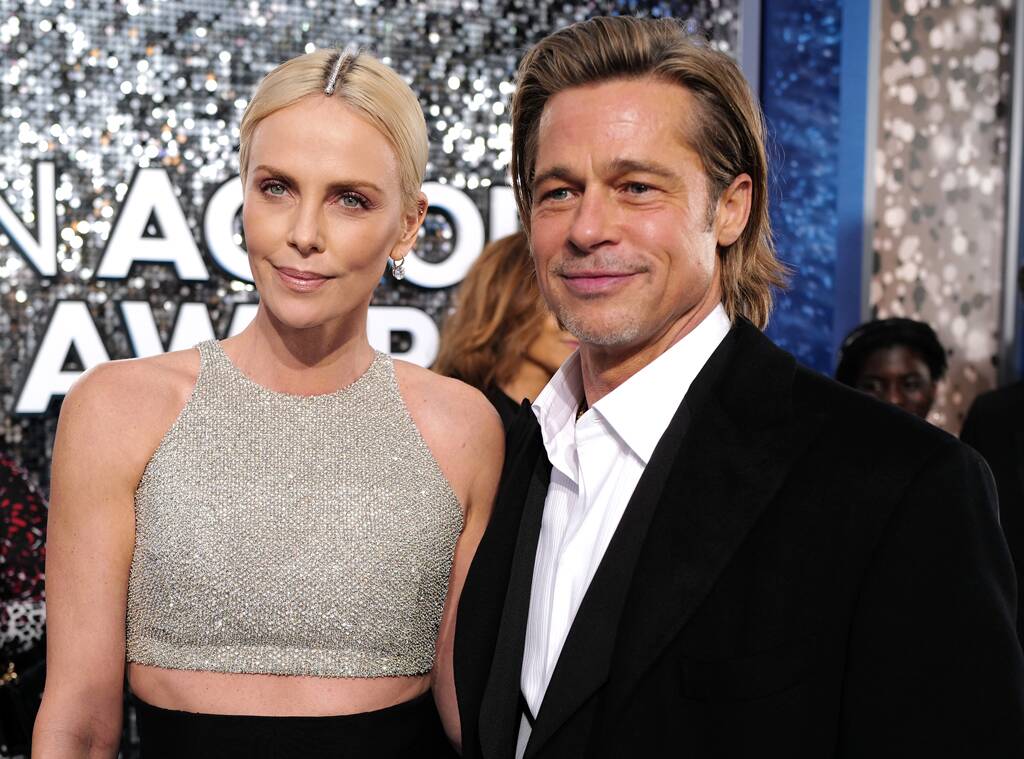 Herečka RENÉE ZELLWEGER si zo SAG Awards 2020 odniesla Cenu za najlepší herecký výkon v hlavnej úlohe. Predviedla sa v modrých saténových šatách značky MAISON MARGIELA, ktoré mali v topovej časti skladaný živôtik. Šaty tubového strihu bez ramienok dali vyniknúť jej vypracovaným ramenám a rukám, ovšem model nijako zvlášť neočaril. Pri pohybe a podpisovaní pôsobila ako upnutá, akoby jej mali šaty každú chvíľu prasknúť.
Šaty na mňa pôsobili ako na stužkovú slávnosť. Účes herečky mal byť zrejme nedbalý dievčenský look, avšak tieto copíky z jemného páperia nepovažujem vhodné na akúkoľvek významnú udalosť. Lepšia voľba je nejaký typ slušivého drdolu. Toto by som videla tak na letné volánové šaty a na večernú plážovú promenádu, drink a zmrzlinu.
Krátko pred touto udalosťou počas Golden Globes 2020 speváčka a herečka JENNIFER LOPEZ vsadila na mašľové detaily a obrovskú mašľu, pričom tieto sa jej asi stali srdcu blízke. A tak ani tento model mašľu nevyníma. Inšpirácia v tomto prípade vychádza tiež, ako u predošlej kolegyni, z ikonickej krásy a herectva slávnej herečky Audrey Hepburn. Tentokrát vsadila na čiernu klasiku s odhaleným chrbtom a padnutými ramenami značky GEORGES HOBEIKA s mašľovou vlečkou. Mašľové detaily ako som spomínala v iných článkoch, sa stali túto a aj minulú sezónu trendovými, priniesol ich napríklad nedávno zosnulý návrhár Karl Lagerfeld vo svojej poslednej Fendi kolekcii počas Milan Fashion Weeku. Mašle tak môžeme nachádzať v kolekciách dizajnérov stále častejšie.
Model nechal vyniknúť speváčkinej šiji, ramenám a najmä oslňujúcim šperkom Harryho Winstona v závratnej hodnote. Ani tentokrát, ako ani na Golden Globes 2020, ma výber šiat a celkový look Jenn neoslnil. Rovnako ako ani make-up, i keď je to hviezda a vo svojom veku vyzerá fantasticky. Tento look na SAG Awards 2020 bol o niečo lepšie zvládnutý ako ten mašľový z Golden Globes 2020, elegantný a noblesný.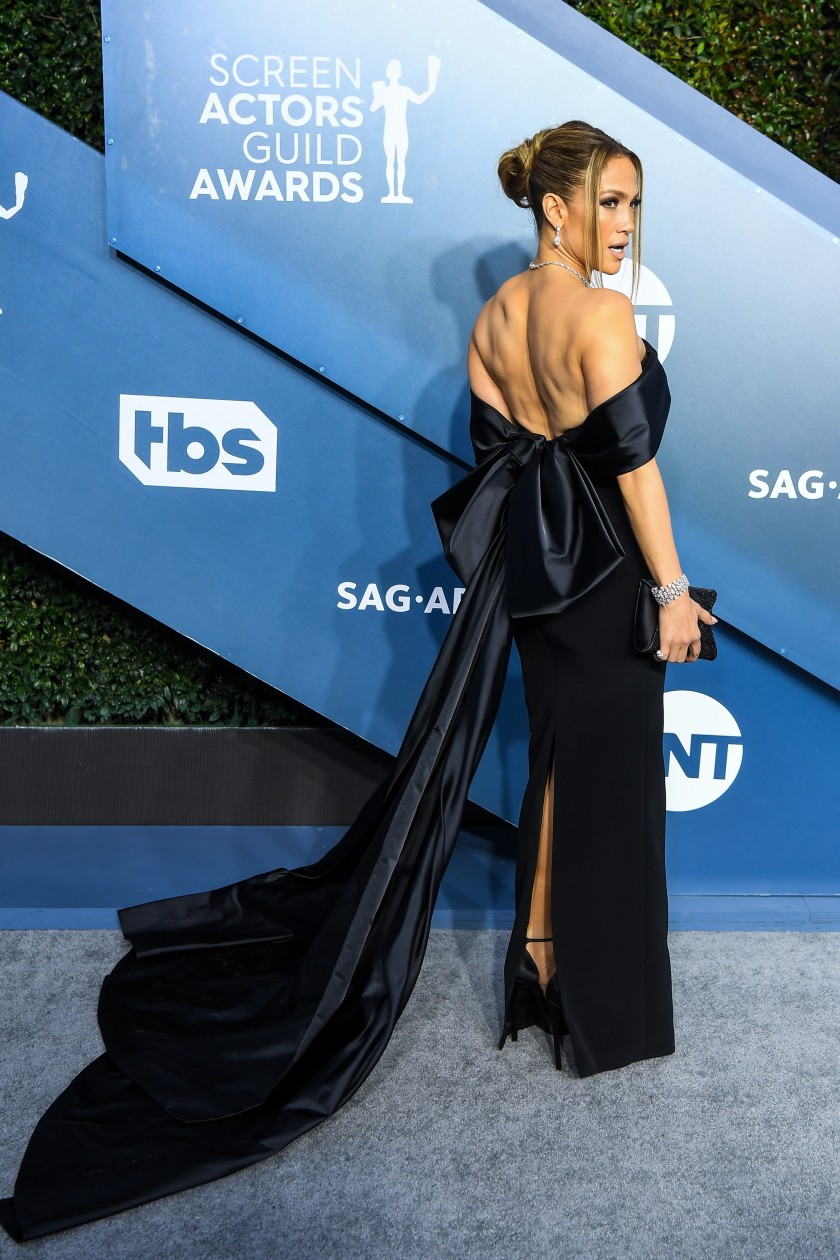 Stále preferujúci opálený jednotný vzhľad make-upu pôsobí na mňa tak, že herečku robí staršou a fádnou. Opak je make-up Scarlett Johansson, ktorý má prežiarenú jemne bronzovú tvár so zvýraznením iskry v očiach. Jenn neustále preferuje tmavú bronzovú pleť, v tom istom tóne tmavé očné tiene a nevýrazné ústa s linkou vždy nad jej líniu pier a všetko na mňa pôsobí mdlým dojmom.
Prekvapením večera bola herečka MILLIE BOBBY BROWNOVÁ, ktorá zažiarila v bielom dvojdielnom nohavicovom komplete. Model by bol celkom zaujímavý, avšak pôsobil mierne svadobným dojmom aj farbou, strihom a kvetinovou aplikáciou. Rušivé na ňom boli najmä nohavice. Celkový look herečke značne pridal roky, človek by veru nepovedal, že má iba pätnásť.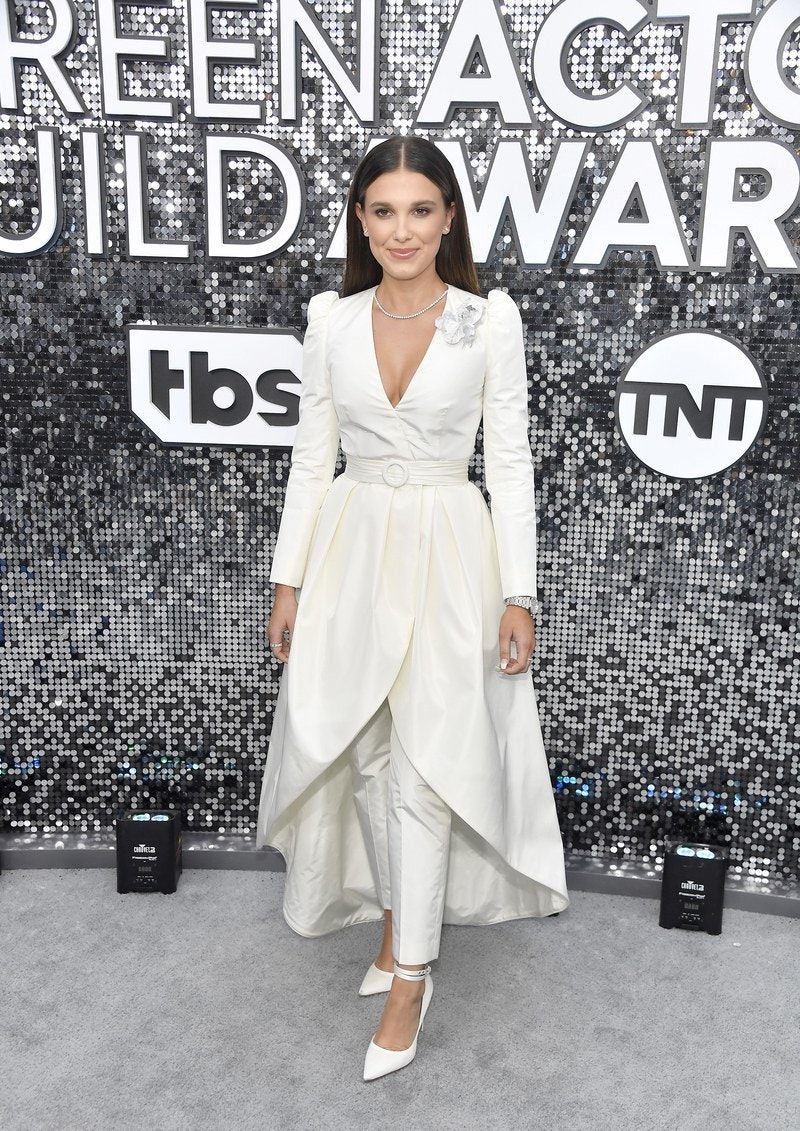 WINONA RYDER v modeli DIOR COUTURE vyzerá veľmi zaujímavo, i keď tento model niektoré kritiky hodnotili negatívne. Ja naopak vyjadrujem pozitívny názor, celkovo mi spolu všetko ladí, nepríde mi nič prekombinované. Celkový dojem mi kazí iba účes, ktorý chcel byť zdá sa, nedbalo zahladený dozadu. Na vlasoch, ktoré nie sú prirodzene kučeravné, sa niekedy ťažko robí nedbalý ležérny styling a v tomto prípade sa nepodaril. Rukami povyťahované pramene s viditeľným prelakovaním pôsobia miestami nedokonalo.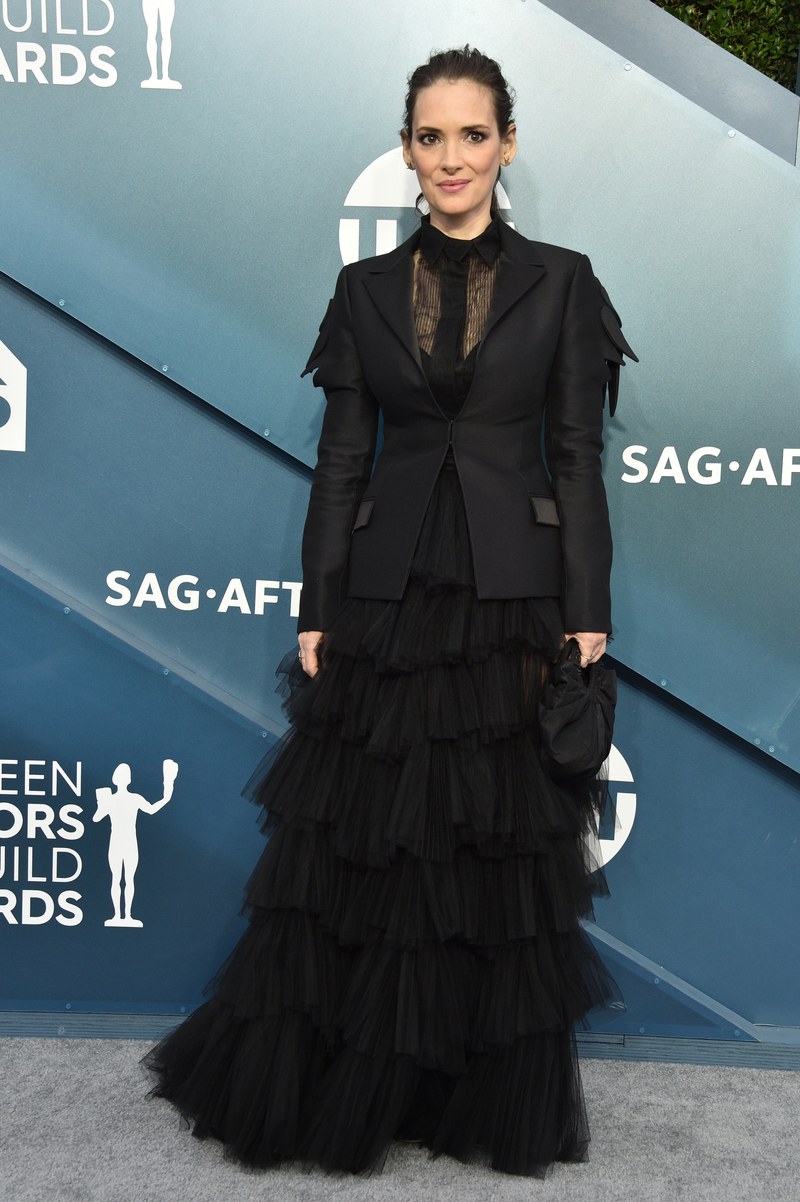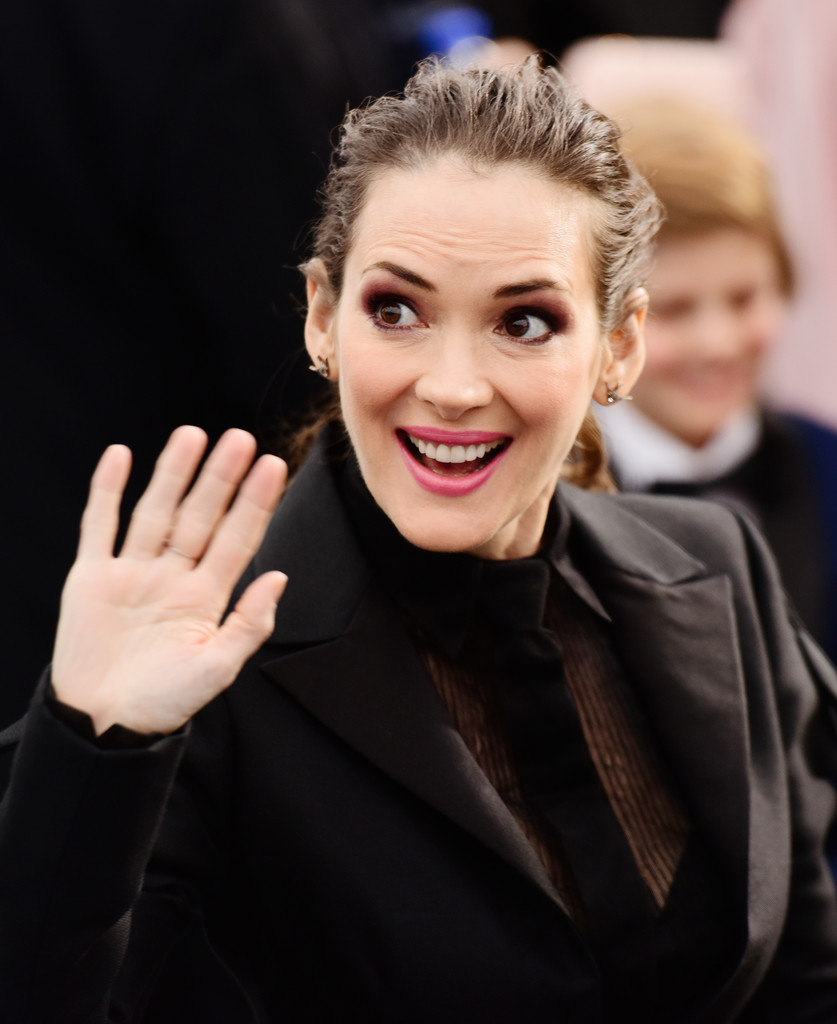 MARGARET QUALLEY predviedla ultra štíhlu dievčenskú postavu v modeli CHANEL s perleťovým odleskom. Elegancia, grácia, slušivosť na danú udalosť boli zaručené a kvetinová brošňa dodala celkovému looku povestnú čerešničku na torte. Jeden z top modelov večera ako mala Scarlett Johansson a pár hviezd.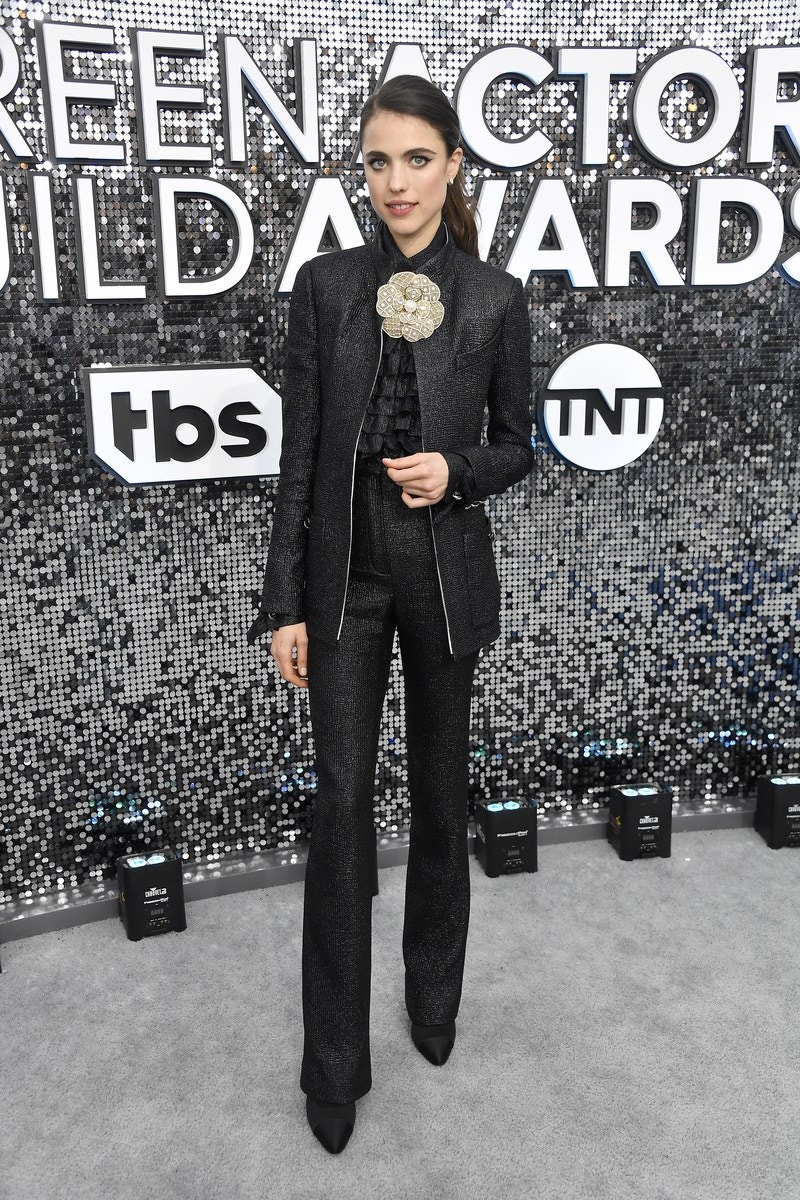 RACHEL BROSNAHAN predviedla kobaltový model šiat z dielne návrhárky STELLA McCARTNEY. Podobne ako ostatné celebrity siahla po výraznej farbe, šaty doplnila lodičkami Christian Louboutin. Šaty azda mali pôsobiť minimalistickým dojmom, naznačuje to hádam aj tvar sukňovej časti, ovšem kamienkové zdobenie dekoltu prechádzajúce v pásoch až na rukávy dáva šatám mierne rozpačité vyžarovanie. Sukňová časť mi príde jemne neforemná, každopádne mladej herečke strih a farba svedčí. Môj pocit z nich je skôr priemerný look ako strhujúci.
CENY SAG AWARDS
Cenu Screen Actors Guild-American Federation of Television and Radio Artists (SAG-AFTRA) 2020 si za najlepšie herecké obsadenie odniesol juhokórejský film Parazit , Parasite (odporúčam), Herec v hlavnej úlohe – Joaquin Phoenix za film Joker, Herečka v hlavnej úlohe – Renée Zellweger za Judy, Herec vo vedľajšej úlohe – Brad Pitt za film Vtedy v Hollywoode a Herečka vo vedľajšej úlohe – Laura Dern za film Manželská história.
Hviezda Robert De Niro si na tomto galavečere odniesol Cenu za celoživotné dielo.
Herečka Jennifer Aniston pri slávnostnej reči a preberaní sošky za SAG Awards 2020.
Sošku si prvý raz prevzal americký herec JOAQUIN PHOENIX za bravúrne stvárnenie hlavnej postavy vo filme Joker, kde mal váhu ako anokrektik (odporúčam zhliadnuť).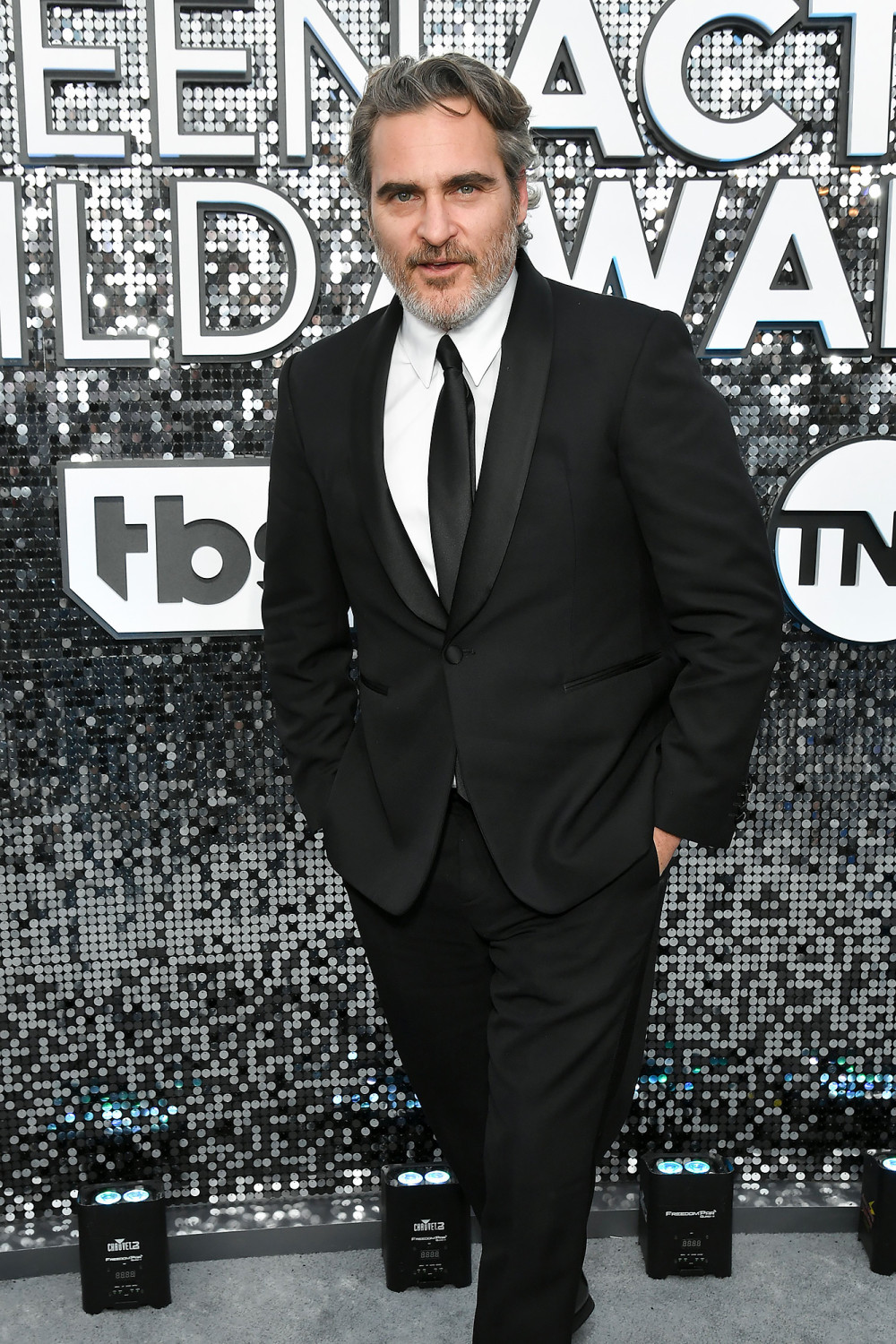 Look mužských hereckých hviezd bol slávnostne elegantný.
Seriály v televíznych kategóriách, ktoré boli ocenené: Koruna (2016) a The Marvelous Mrs. Maisel (2017) . Ceny za herecké výkony v televízii si prebrali Peter Dinklage za Hru o tróny, Jennifer Aniston za The Morning Show, Phoebe Waller-Bridge za Potvora, Sam Rockwell a Michelle Williams Fosse/Verdon.
Zdroj fotografií: Jordan Strauss / Invision / AP, Getty Images, Schutterstock
O ostatných outfitoch zo slávnostného udeľovania cien SAG Awards 2020 sa dočítate v pokračovaní v ďalšom článku.
Sleduj ma na:
2 Instagramy: myamirell ,
mya_mirell
Facebook: Mya Mirell Fashionista,
Mya Mirell