Moschino – kolekcia Jungle Red, Jeseň/Zima 2021-2022, Milan Fashion Week, zimná sezóna
Ako nám chýba živá zábava! Ukazujú to posledné sezóny prehliadkových módnych týždňov, ktoré si už tak žiadajú tradičný formát prezentovaný vo fyzickej rovine s hosťami a zástupmi fanúšikov módy. No s týmto sa módny svet musel na čas rozlúčiť. Posledné sezóny svetových týždňov módy prebiehali v digitálnej rovine miestami kombinovanej s tradičnou formou ruka v ruke idúc s uvoľňovaním protipandemických opatrení. Pandémia koronavírusu trvajúca už druhý rok silno zasiahla módny priemysel a nielen ten. Život spoločnosti a jeho kultúrna rovina sa na čas značne obmedzil, ba miestami až úplne ochromil.
Prehliadka talianskej značky Moschino , Jeseň/Zima 2021-2022 s názvom Jungle Red, bola vtipnou divadelnou produkciou doplnenou o javisko, celebrity a módu. Hoci je dizajnér Jeremy Scott úplne digitálny, počas Milan Fashion Weeku, jeho zimnej sezóny sa mu podarilo poskytnúť strhujúci divadelný zážitok ako na prehliadkovom móle.
Kreatívny riaditeľ značky Moschino, Jeremy Scott nezvykne hrávať podľa pravidiel. Nepodriaďuje sa trendom ani zeitgeistu, či politickému prostrediu. Vedie predstavenie. Predstavenie tak báječné, ako ďaleko ho jeho fantázia dokáže zaviesť. "Nikto mi nič nepovie. Počul som príbehy dizajnérov z iných veľkých módnych domov, ktorí musia prezentovať svoju prácu majiteľovi, aby získali schválenie témy, a potom túto tému odmietnu. Šokuje ma to. V tomto smere som zo starej školy. Som dizajnér, mám víziu a my ideme za mojou víziou až po n-tý stupeň. A taký je zákon." vyjadril sa Jerremy Scott v interview pre módne magazíny.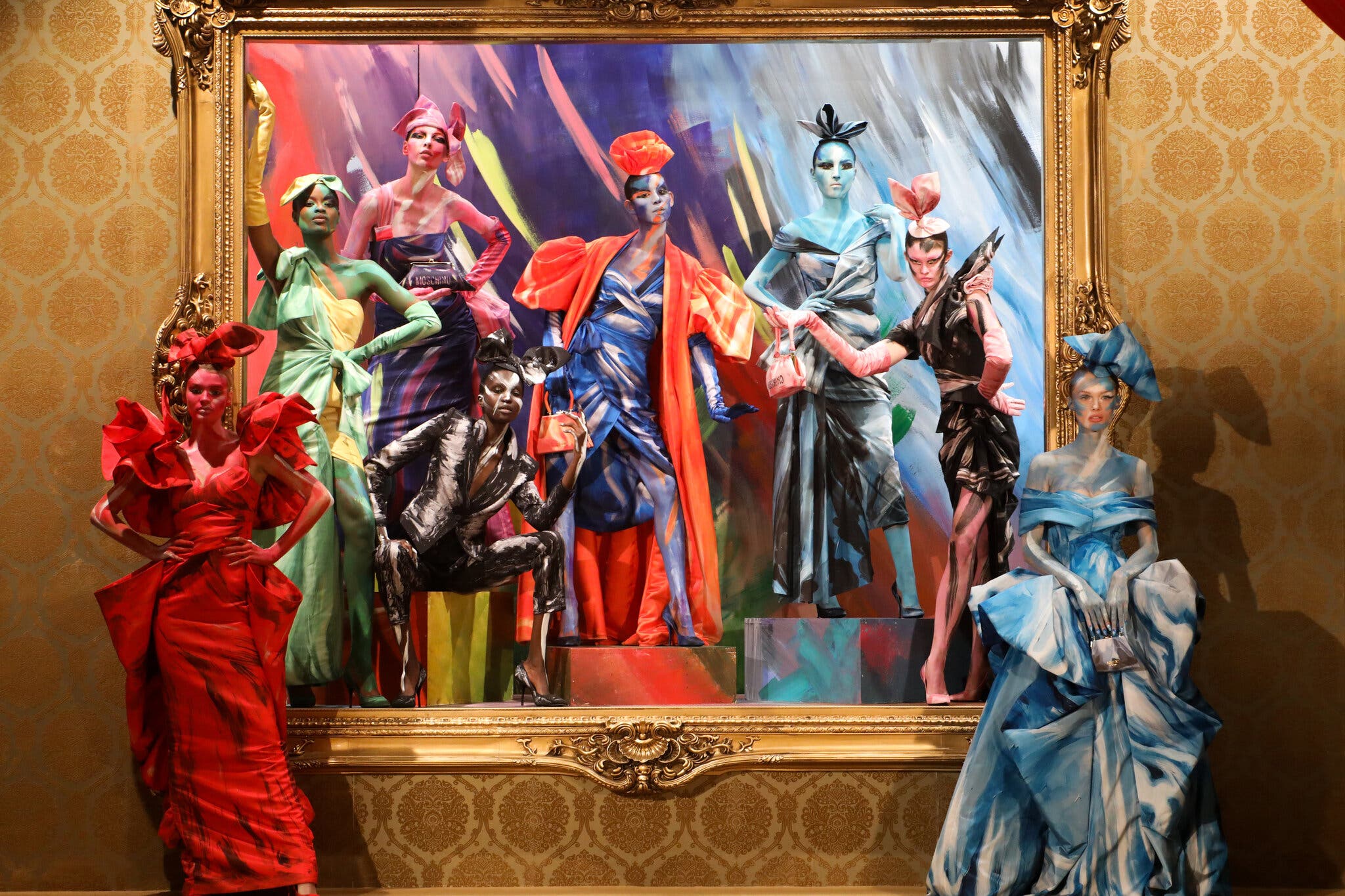 MOSCHINO JUNGLE RED KOLEKCIA – KRÁTKY FILM JEREMY SCOTTA, HOLLYWOOD, ROKY 50-TE
Tento Moschino zákon, ktorý Scott zdedil od majstra výsmechu Franca Moschina v roku 2013, predstavuje presvedčivý príklad pre satiru v každej sezóne. Pre zimnú sezónu 2021, je jeho vysnívaným prostredím Jungle Red, štylizovaná salónna show, ktorá ctí a žartuje o Hollywoode a 50. rokoch minulého storočia.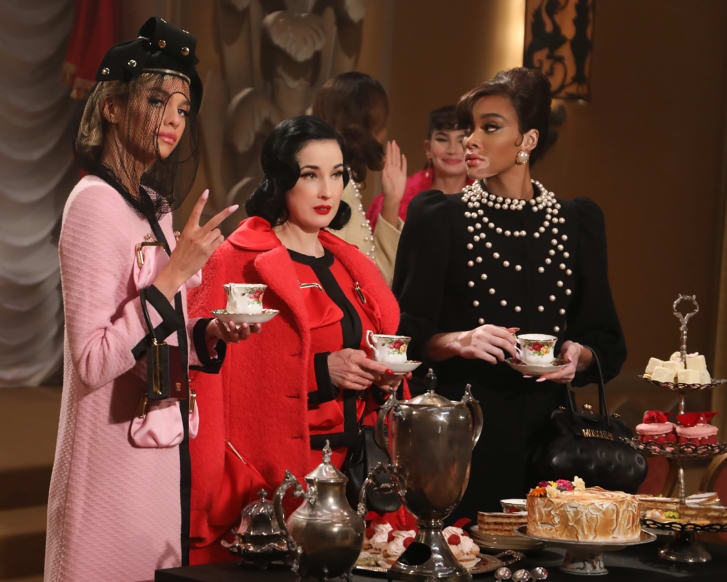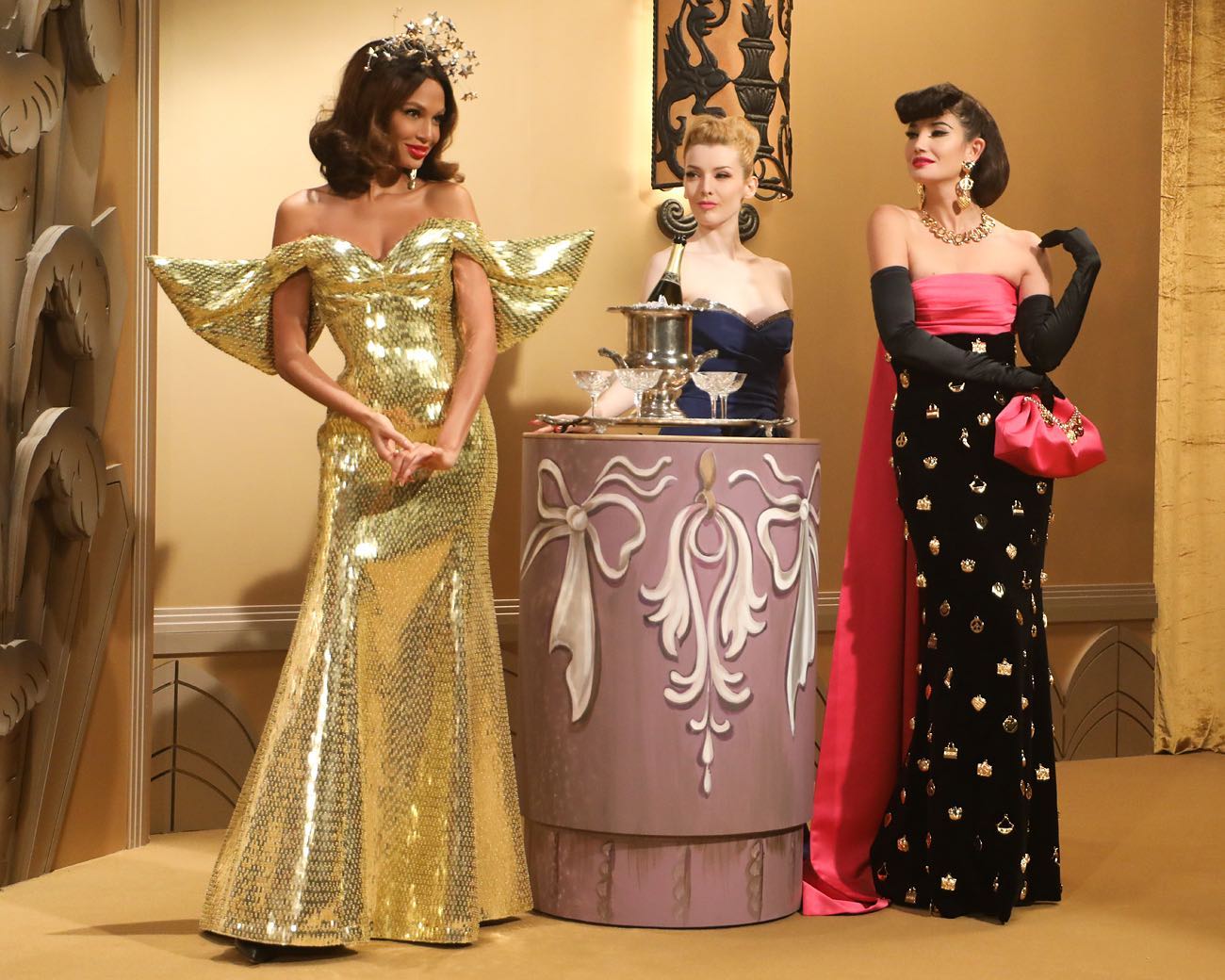 Názov pochádza z neslávne známej farby laku na nechty vo filme Ženy z roku 1939. Filmy tejto doby sú ikonicky dekadentné. Hlavný hrdina oblečený v zamatovej róbe, ktorý sa dramaticky opieral o mramorové schodisko predtým, ako usporiadal vznešené večierky, bol prakticky nevyhnutný pre každý scenár.
KRÁTKY FILM JEREMY SCOTTA – ODKAZ NA FILM GEORGEA CUKORA, ROZKVET ZLATÉHO VEKU HOLLYWOODU
Krátky film, ktorý si vysníval sám Jeremy Scott, je odkazom na film Georgea Cukora z roku 1939 The Women. Táto komediálna dráma vydaná v rozkvete Zlatého veku Hollywoodu sledovala životy rôznych žien v manhattanskej vysokej spoločnosti. Samotný film možno opísať ako výnimočne výstredný kvôli skutočnosti, že jediná mužská postava nie je nikdy videná ani počutá. Film zameraný na módu a je uctievaný pre svoju šesťminútovú sekvenciu módnych prehliadok.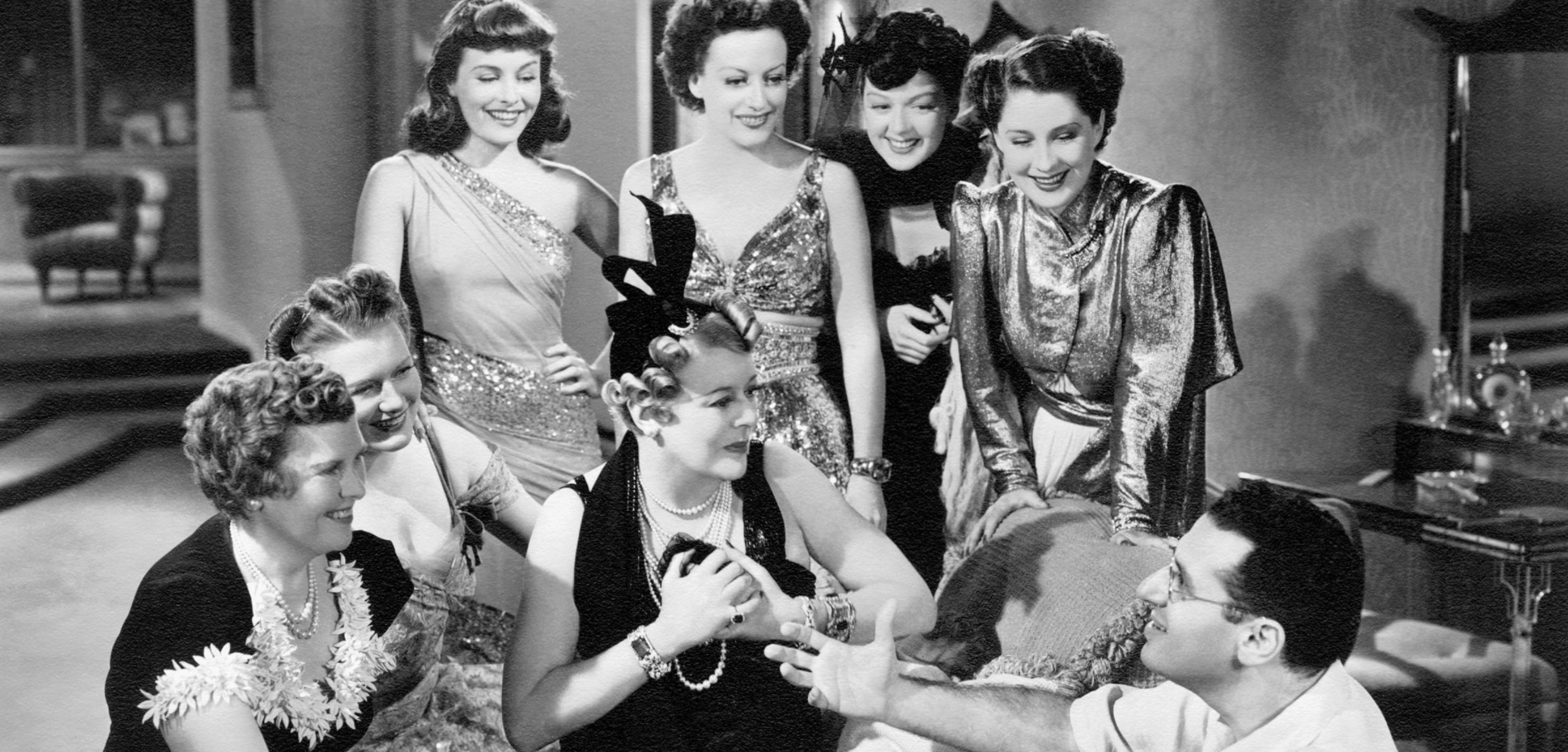 Ako pocta k filmu The Women bola zamýšľaná prehliadka kolekcie Moschino's Jungle Red – Zima 2021-22, ktorá preto obsadila takmer 40 modeliek zvučných mien. Precious Lee, Dita Von Teese, Hailey Bieber a Winnie Harlow, tu striedavo stelesňovali rôzne ženské archetypy prostredníctvom štýlu obliekania. Krátky film prezentovaný v piatich častiach zachytáva mnohorozmerný život bežnej ženy, od úspešnej podnikateľky až po bohatú manželku.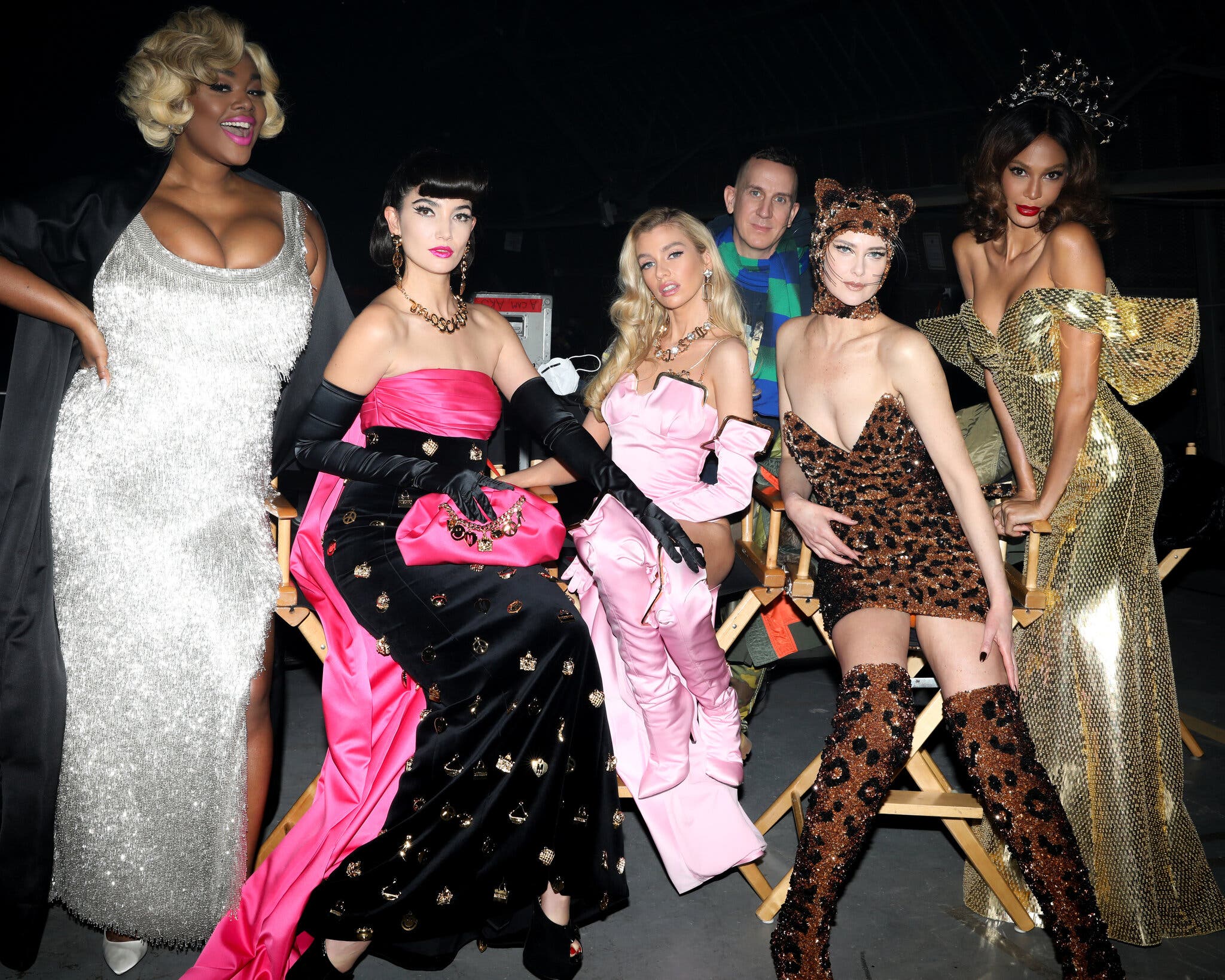 Otáčavý svet javiska pôsobil ako určujúci moment, kedy prechádzal z panorámy Manhattanu do pastierskej prírody, kultúrneho múzea, do "nákupného safari" a nakoniec sa usadil v oslnivom divadle. Maľované kulisy boli veľmi elegantné a vyzerali ako karikatúrne, keď boli spárované s kempingovým dizajnom Moschino. Je to štýl, ktorý Scottovi dobre funguje a neustále prináša aplaus a wau efekt.
svet oslnivej prírody v kolekcii Moschino – Jeseň/Zima 2021 – 2022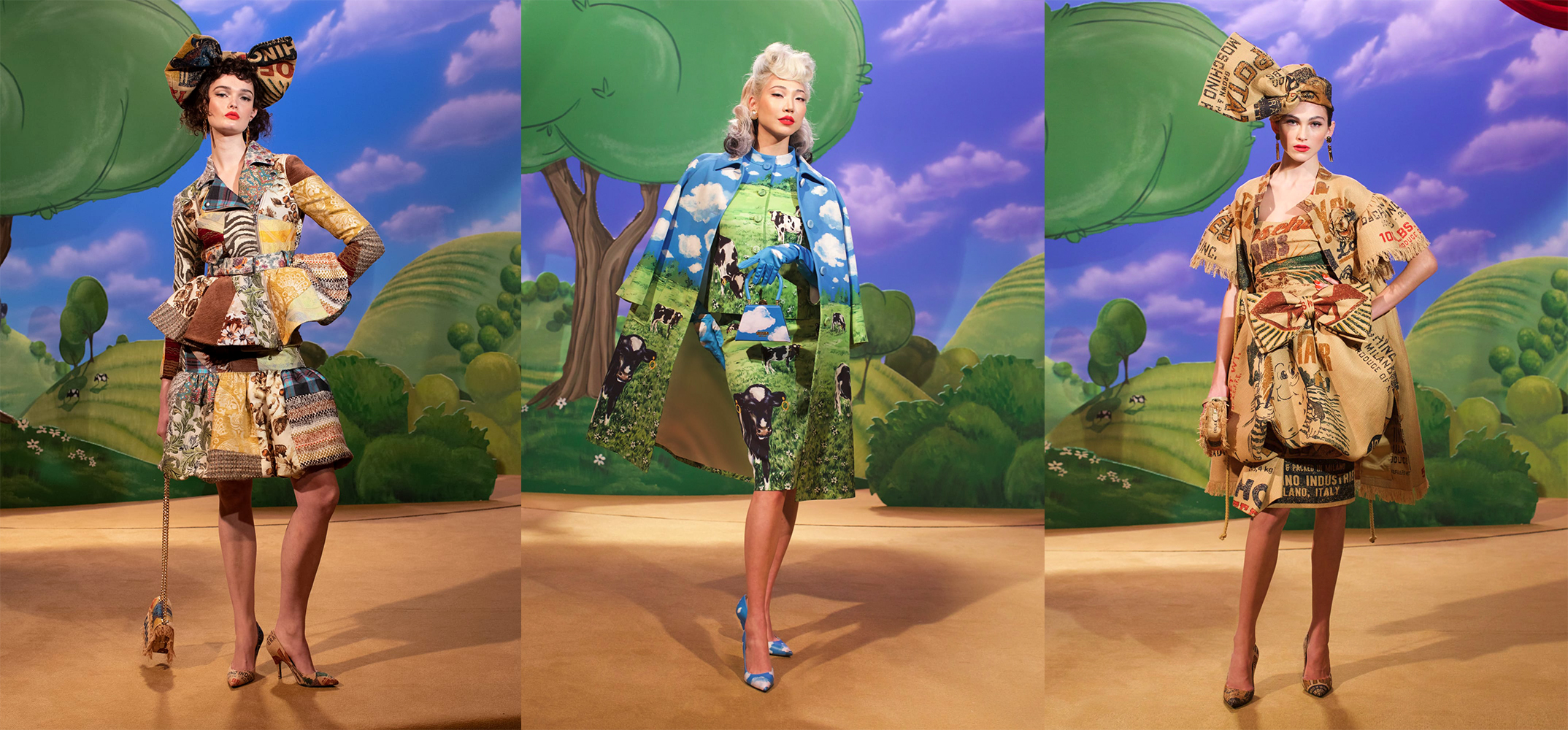 safari téma v kolekcii Moschino – Jeseň/Zima 2021 – 2022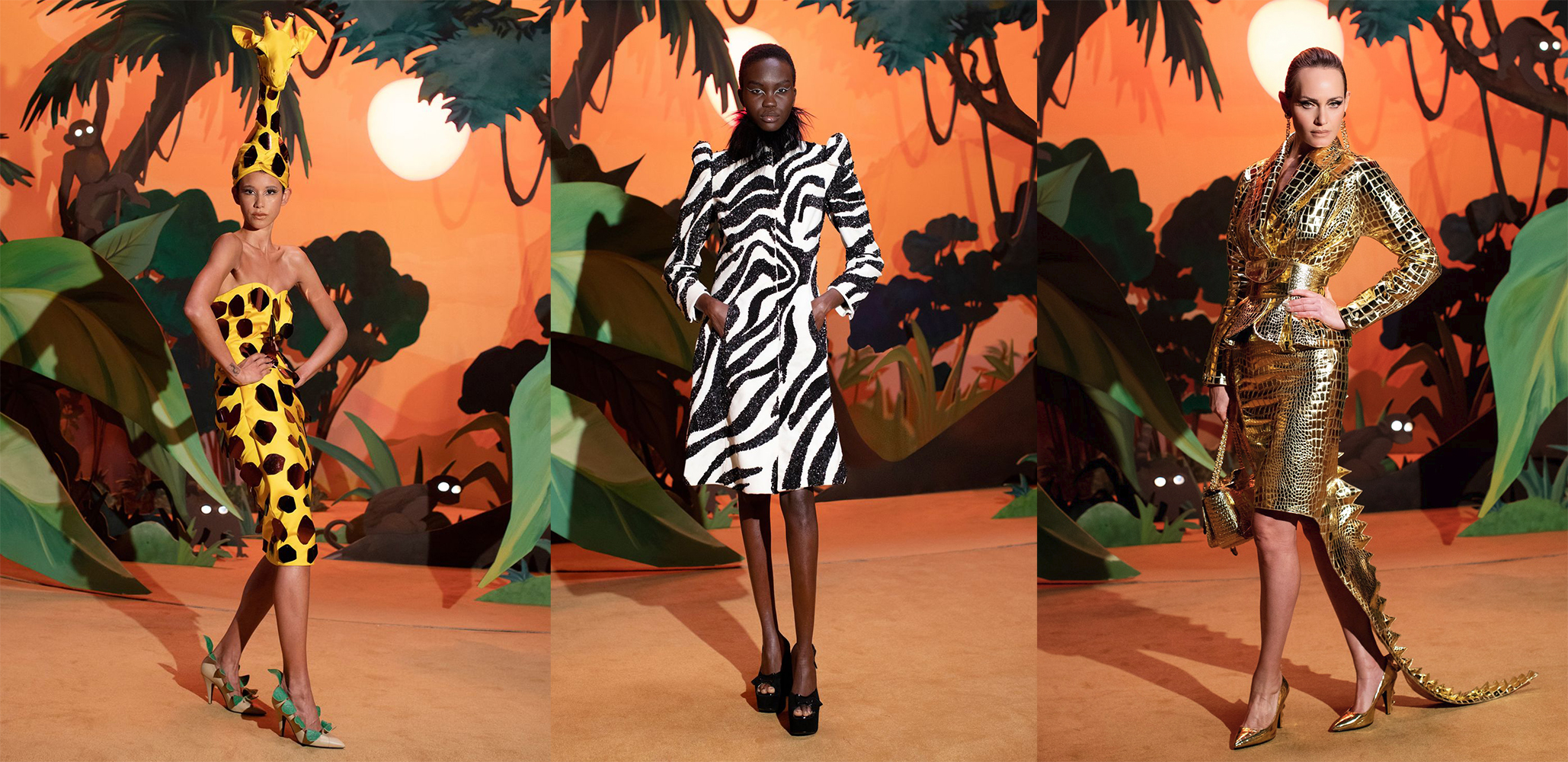 Ďalej je tu Hailey Bieber v obleku s krátkymi prúžkami Sinatra a platformách Astaire brogues.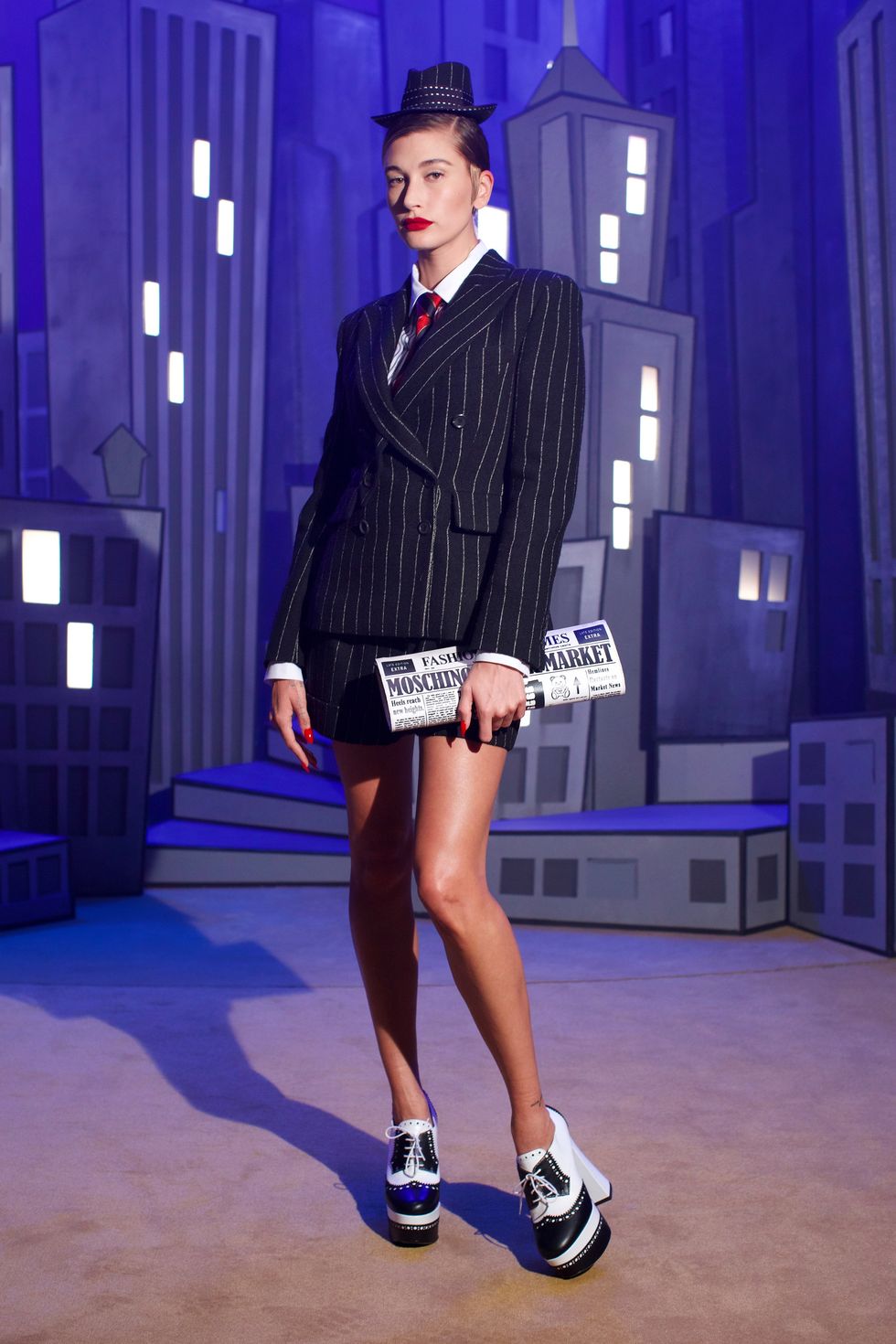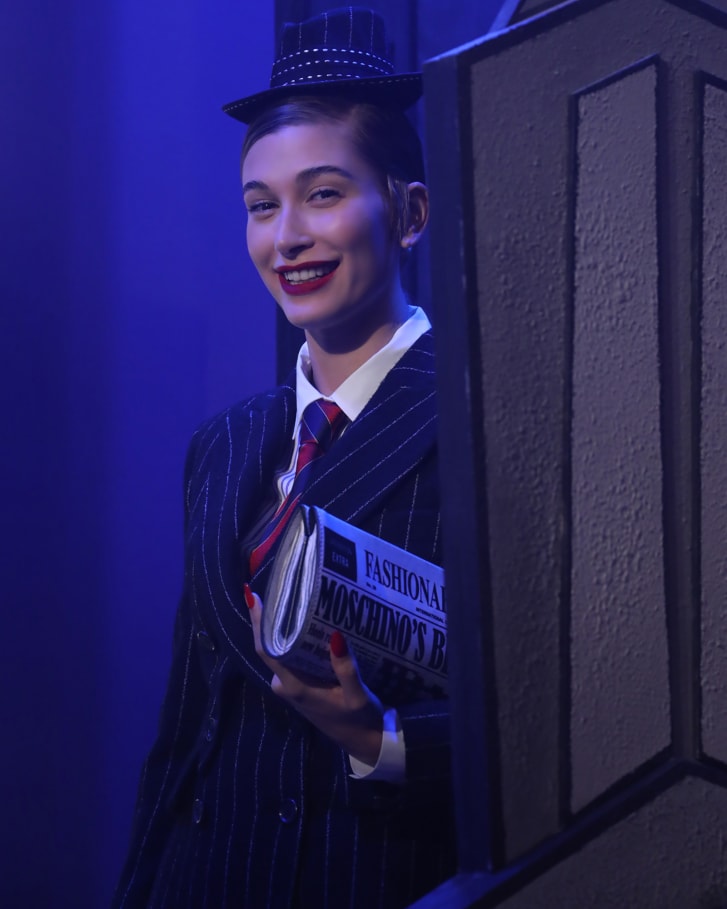 Moschino uvádza Winnie Harlow v čiernych šatách s rybím chvostom s perlami prehodenými ružovou čiapkou Chantilly.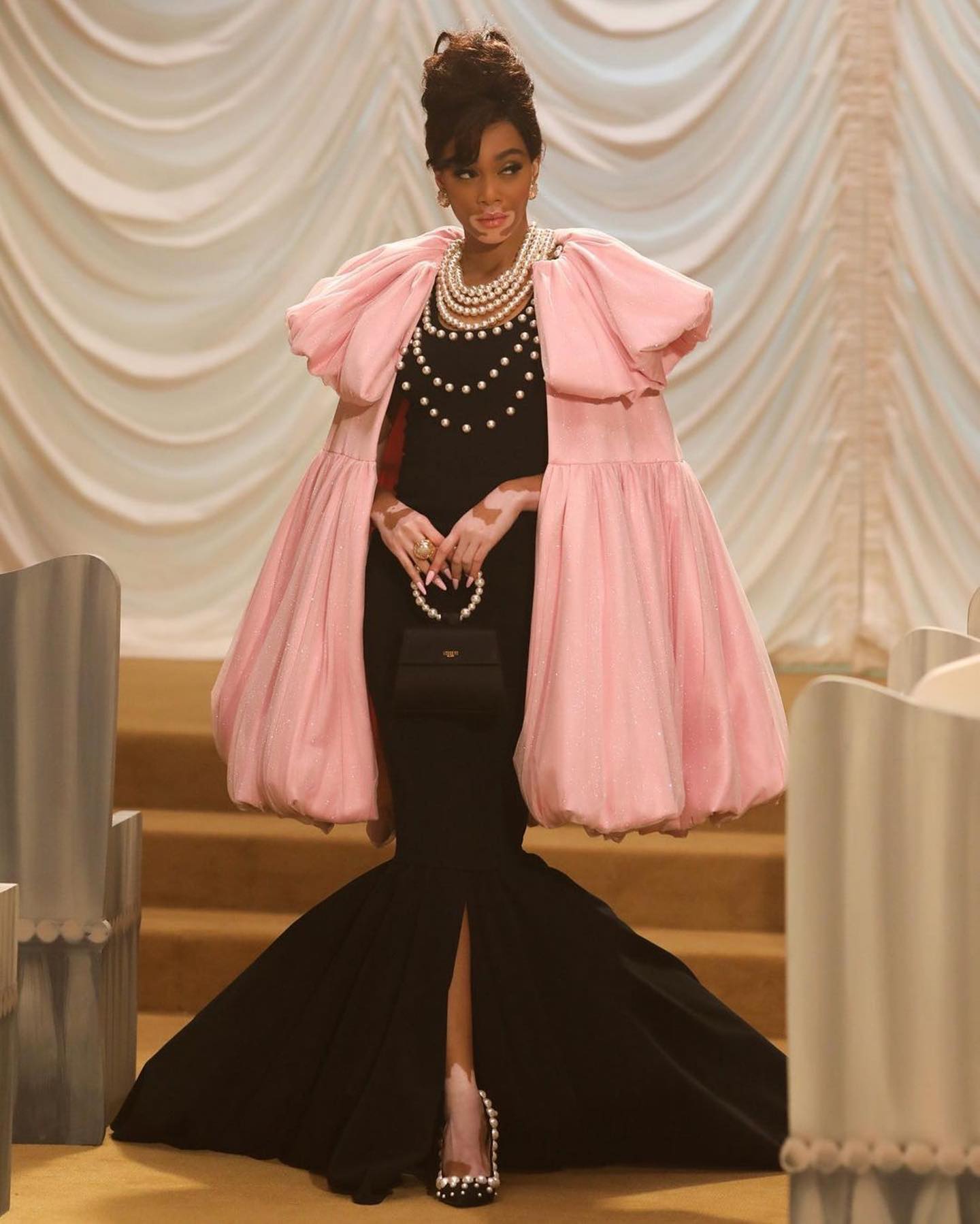 Na farmárskom dvore trompe l'oeil Oklahoma je Victoria´s Secret modelka Miranda Kerr so šatami doplnenými o veľmi žiadanú kabelku.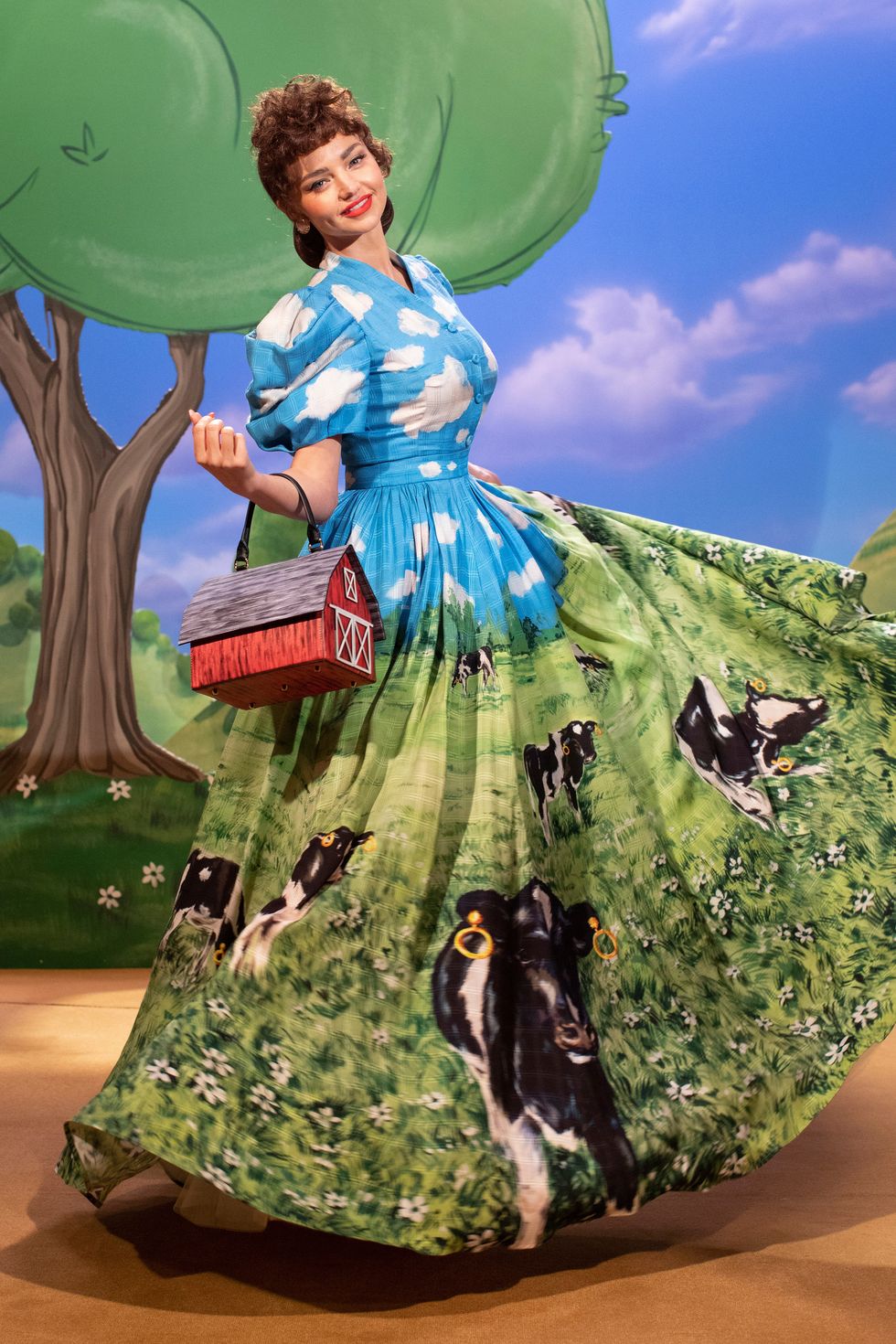 Je tu Precious Lee v charlestonskom čísle.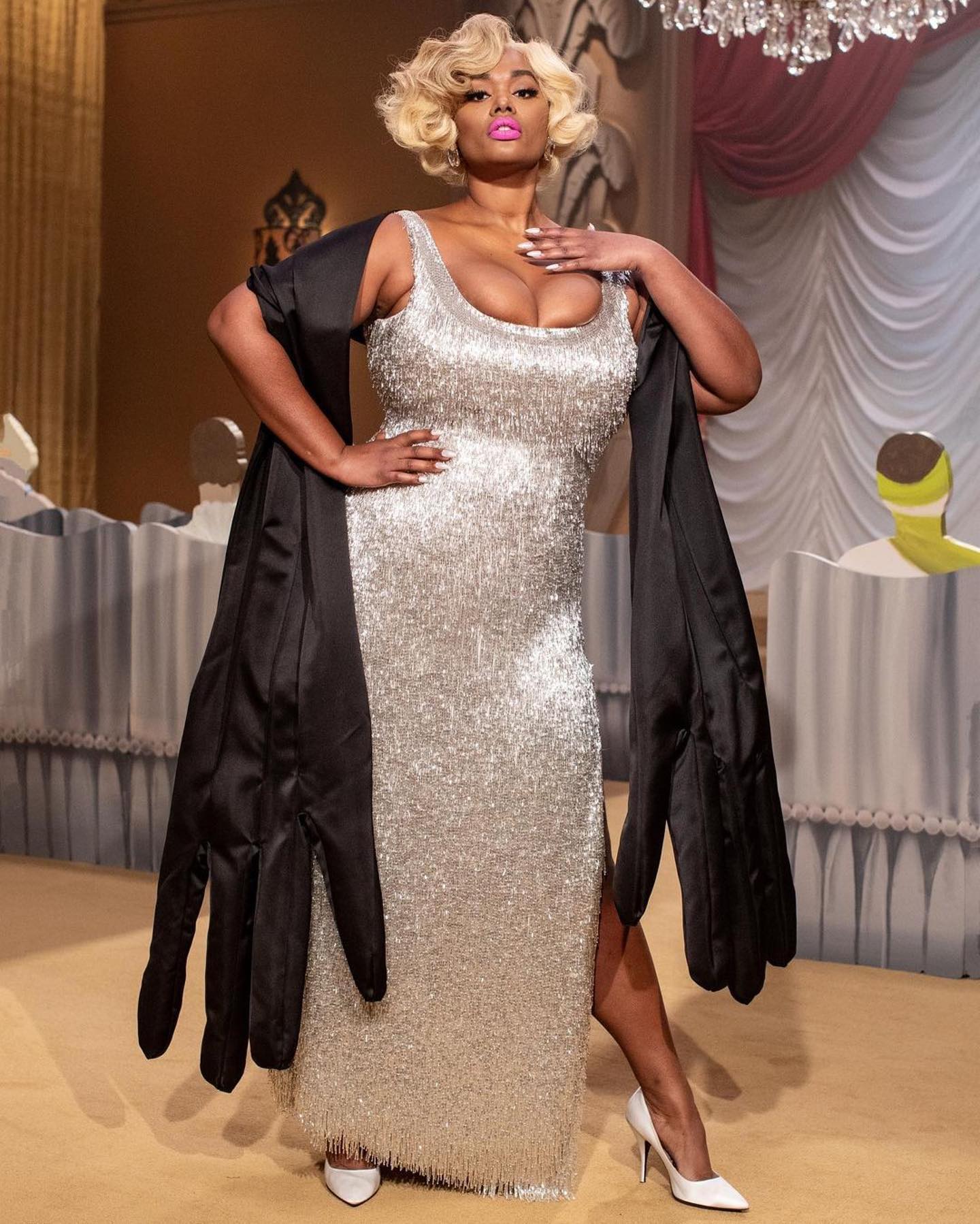 Modelka Amber Valetta ako pozlátená zlatá sukňa z krokodílej ceruzky s geniálnym ostnatým chvostom.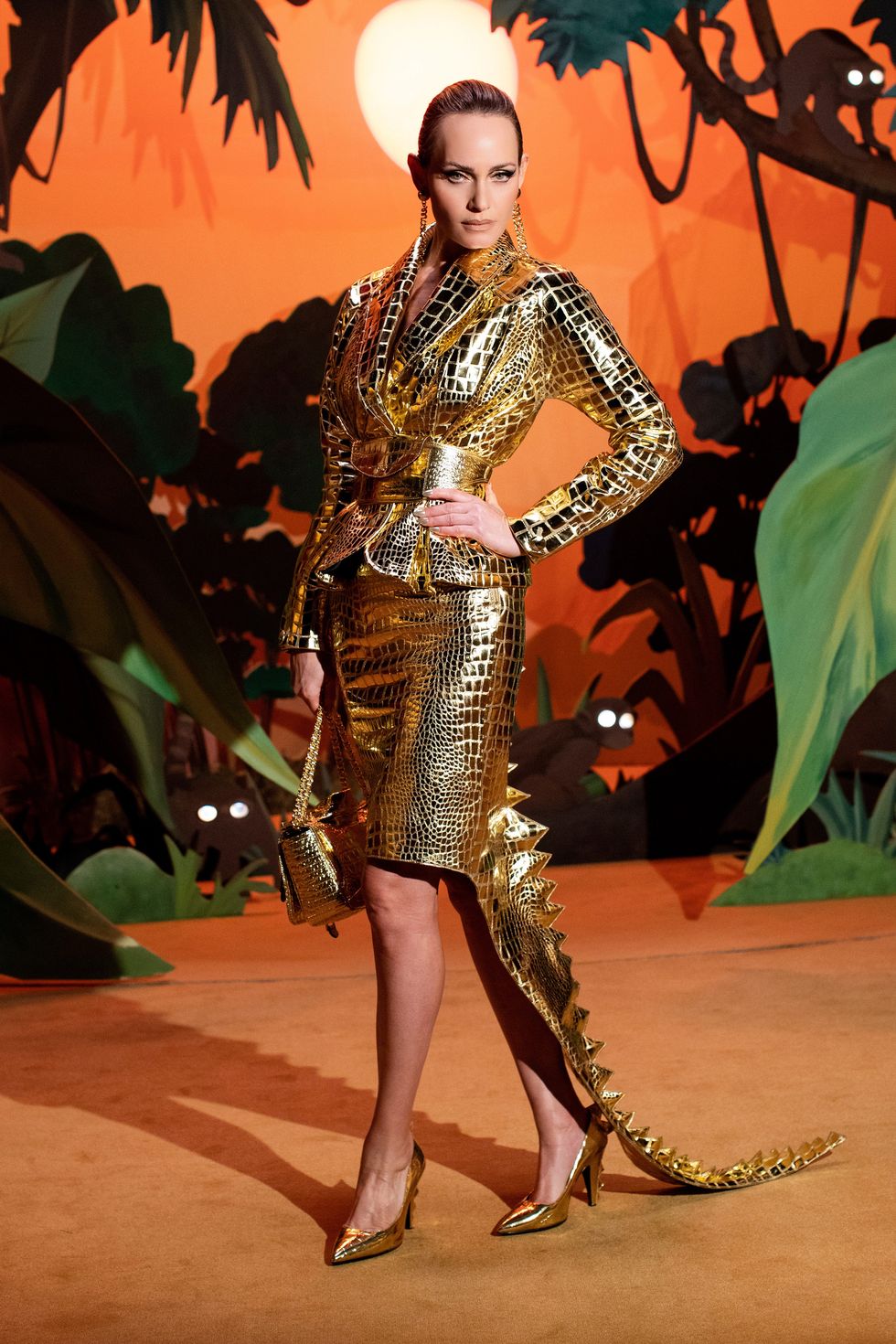 Je tu Shalom Harlow ako gepard s flitrami v zodpovedajúcich vysokých čižmách po stehná. A potom sú tu cinched peplum dvojdielne vyrobené zo starých potlačí vrecúšok na zemiaky.
Moschino potom na scénu pozýva ďalšie zvučné modelky, mená ako Joan Smalls, Lily Aldridge, Taylor Hill, Stella Maxwell, pričom zoznam pokračuje.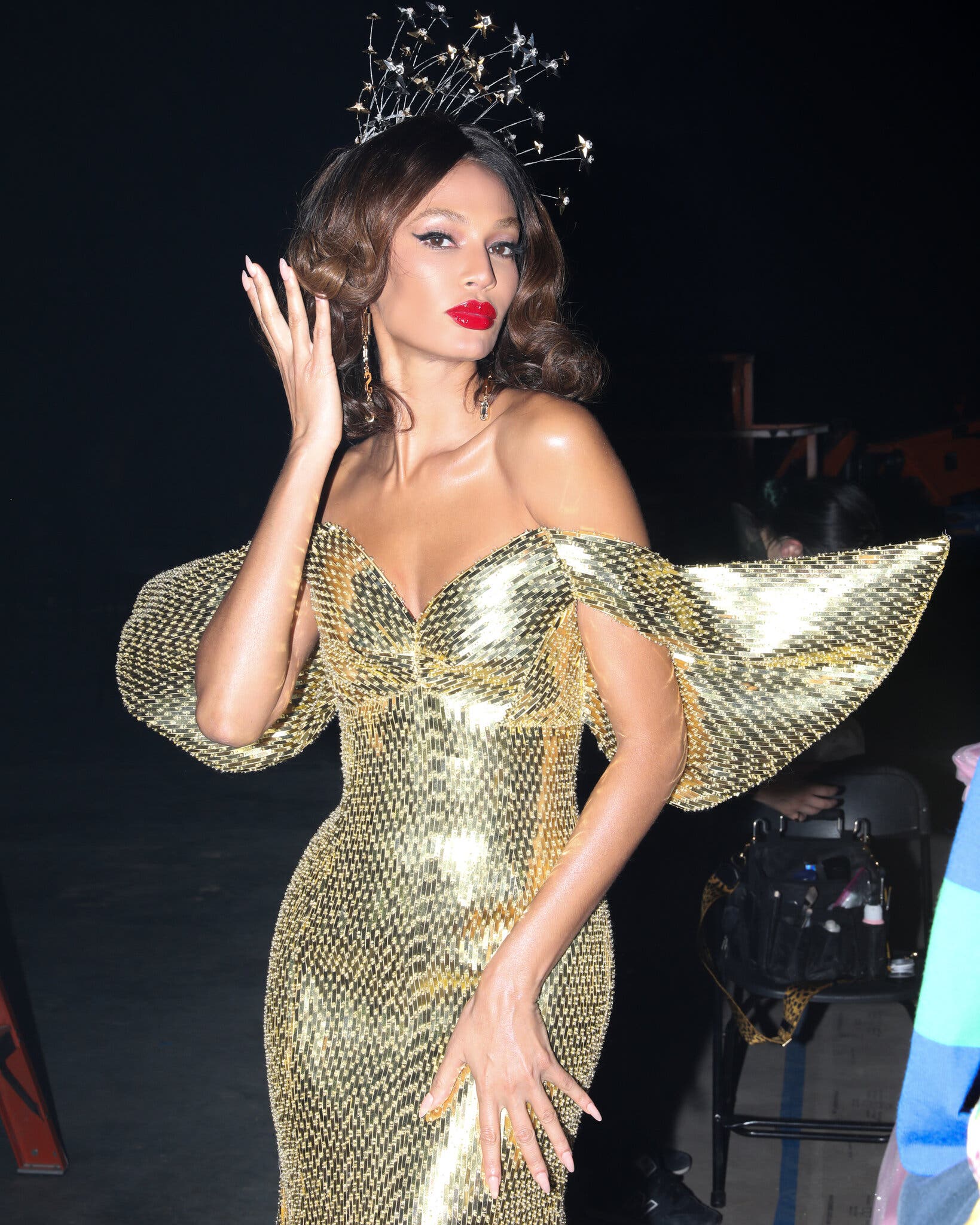 modelka Joan Smalls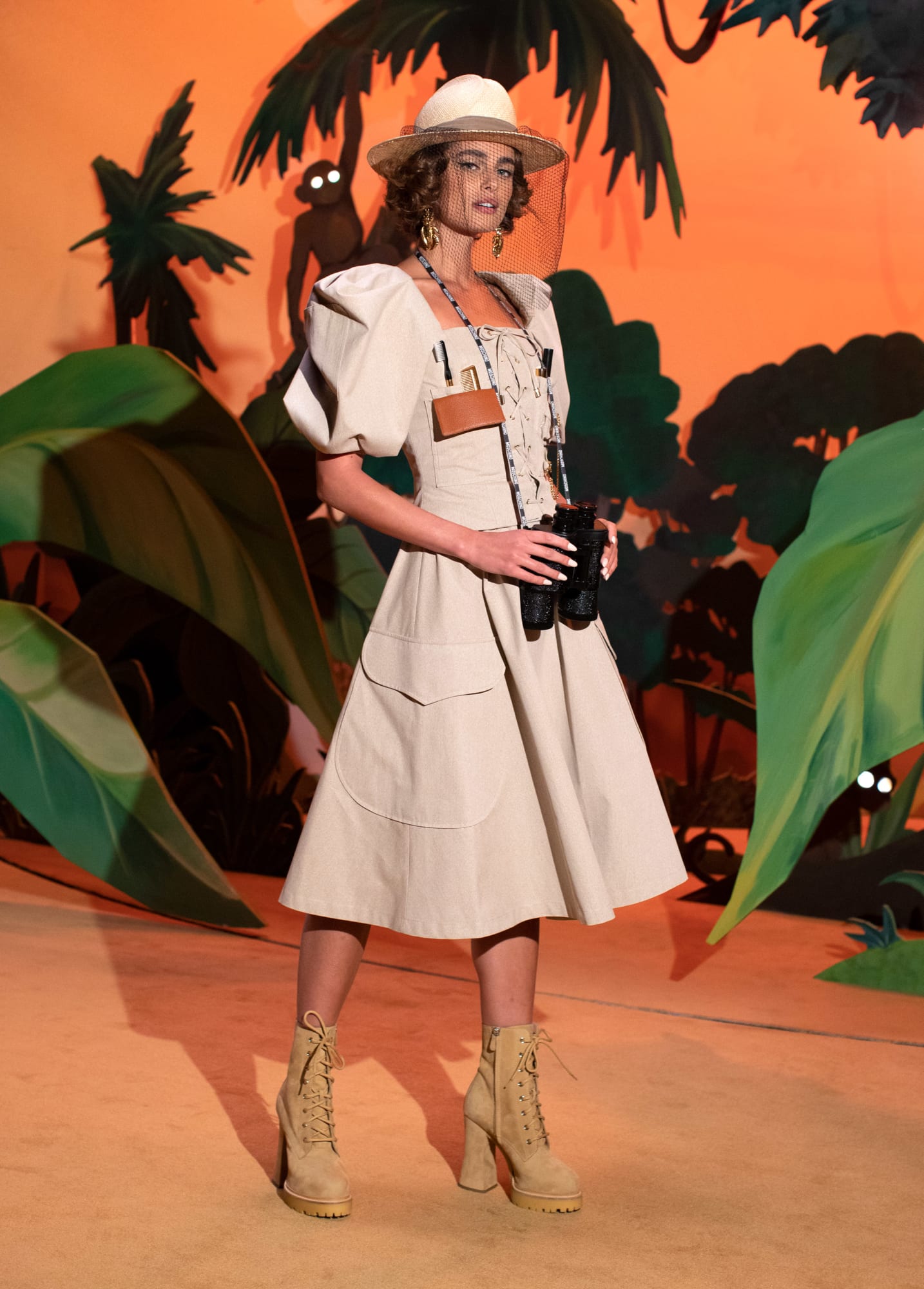 modelka Taylor Hill
Maître d' (herec a model) spolu s Maye Musk predstavujú každé módne prostredie – pracovný deň, vidiek, múzeum, "nákupné safari" v kvetnatých detailoch a toto všetko sa vyvíja hýrivo a očarujúco skrz diskurz filmu. Film končí Ditou Von Teese v saténových šatách Queen of Hearts dlhých až po zem.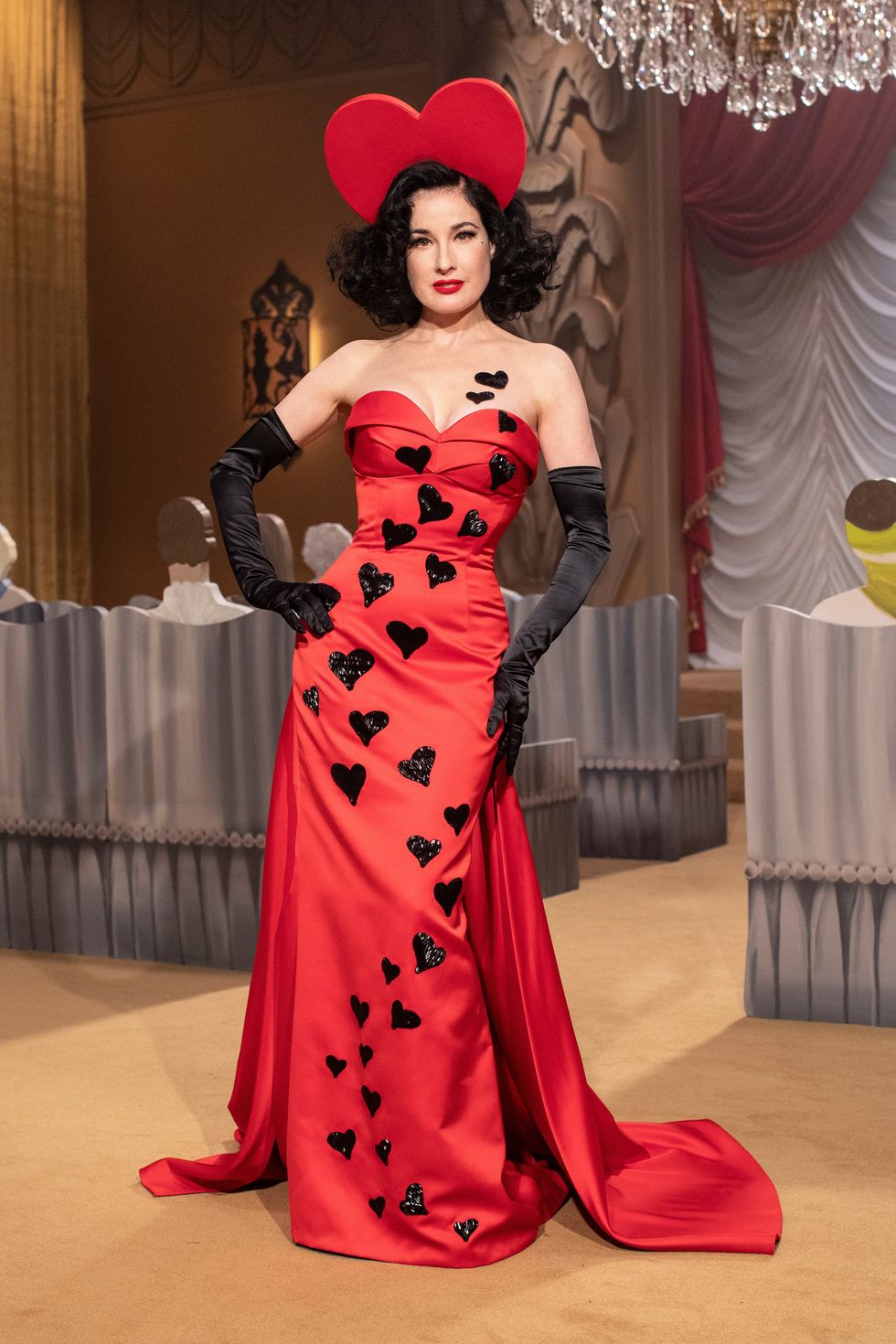 Značke Moschino nie je cudzia ani výstredná móda. S Jungle Red kolekciou značka dokázala, že aj keď čelí pandémii, jej kreatívna vízia sa stále môže prejaviť. V dizajne sa ako v celku zameriava na myšlienku vlastnej identity prostredníctvom módy. S ohľadom na zdôraznenie tohto posolstva módny dom navrhol skutočne jedinečný a veľkolepý vzhľad. V Moschino Jungle Red kolekcii badať silný vplyv módy rokov 50-tych a 60-tych a to na tvídových súpravách, klobúkových sochárskych lookoch, očarujúcich koktejlových šatách a dokonca aj v óde na neslávne známe šaty z vreca na zemiaky Marilyn Monroe.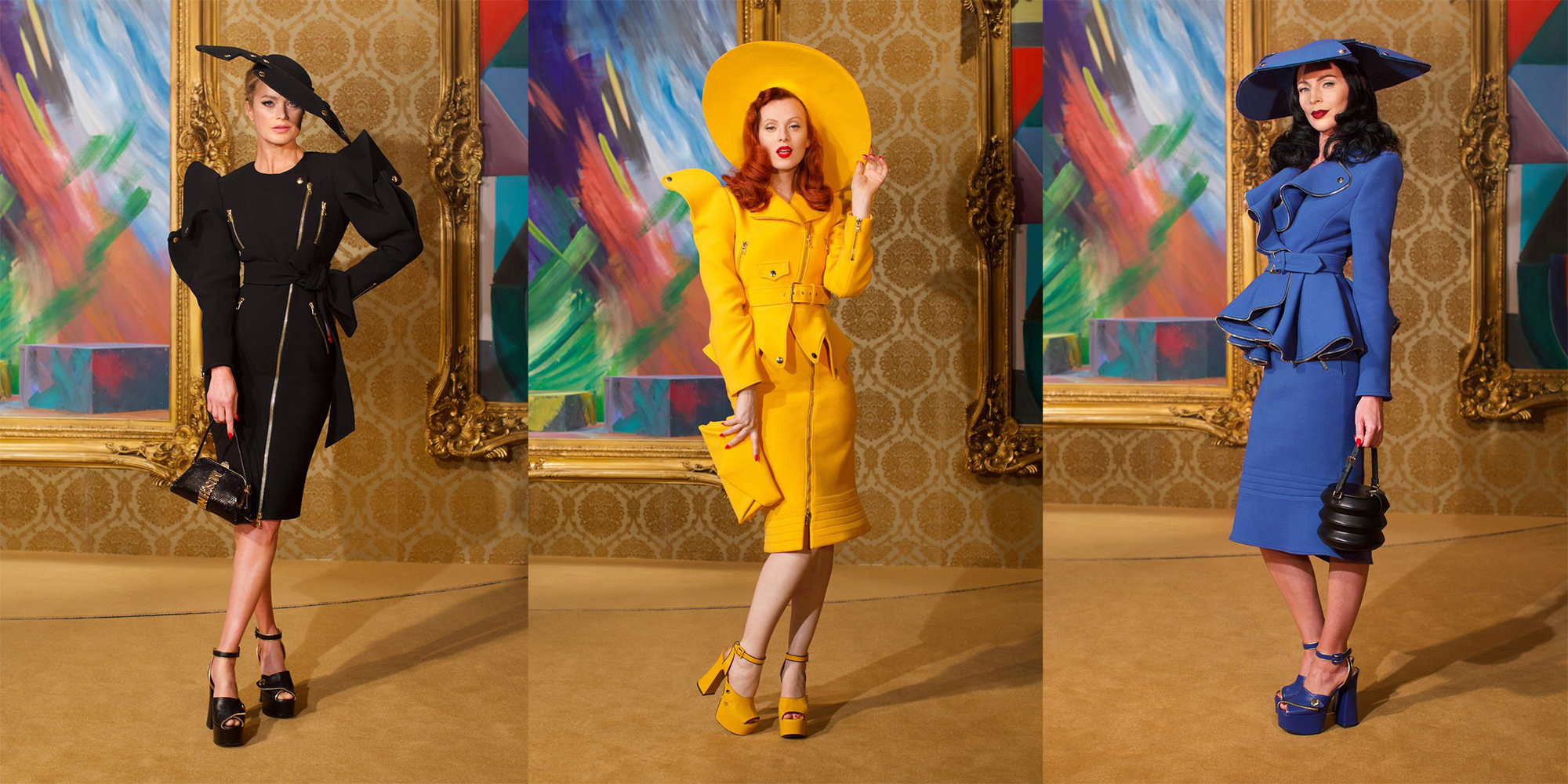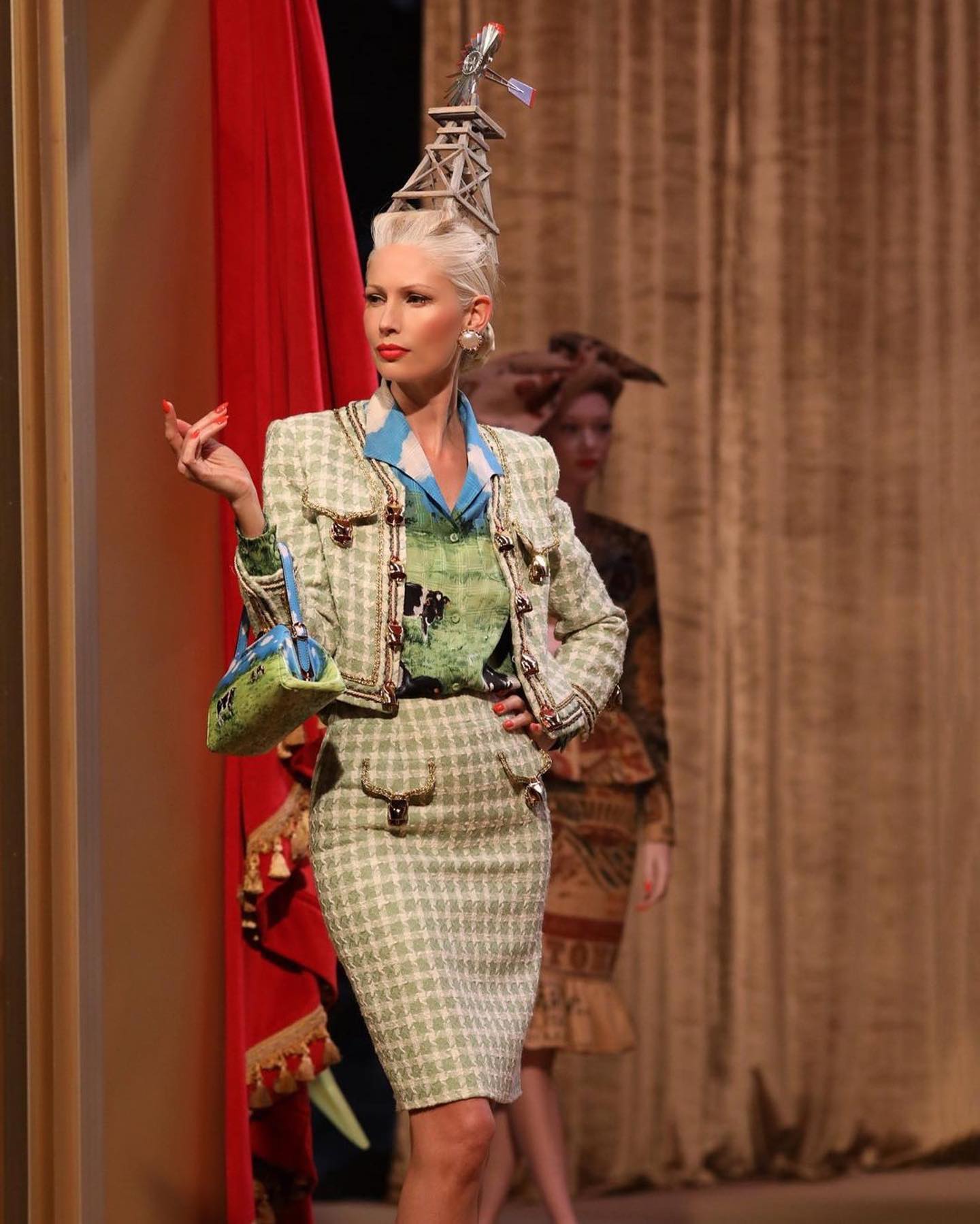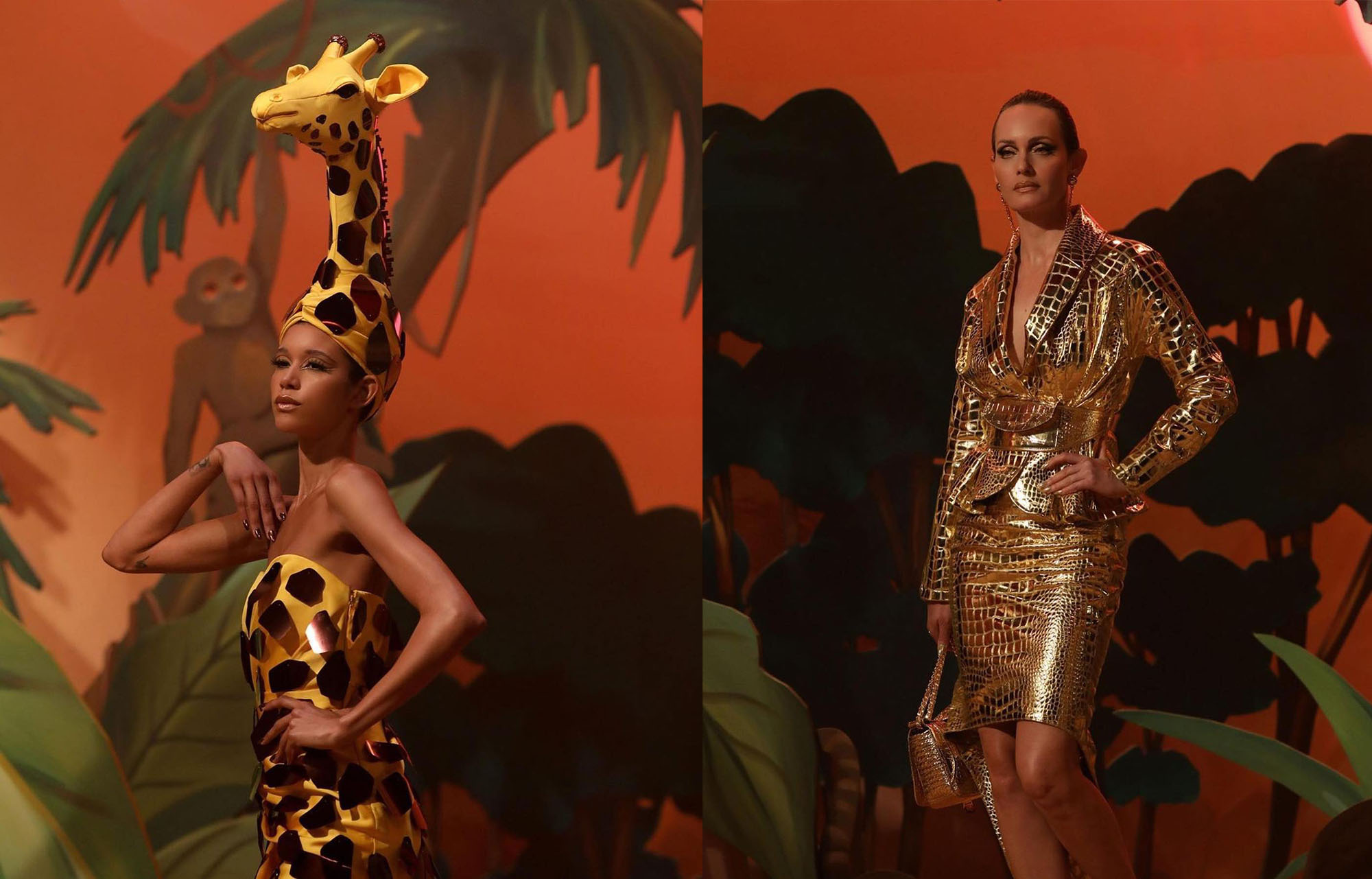 No jadrom tejto kolekcie zostáva zdôraznenie ženskej postavy. V kolekcii môžeme vidieť výnimočné kúsky ako sú nadrozmerná kombinácia kravaty a korzetu, safari úžitková vesta prerobená do rôznych viazaných súprav, koktejlové šaty v štýle peňaženky a výstrih na zadok v tvare srdca, všetko prvky, ktoré ukazujú dynamickú a hravú povahu značky Moschino.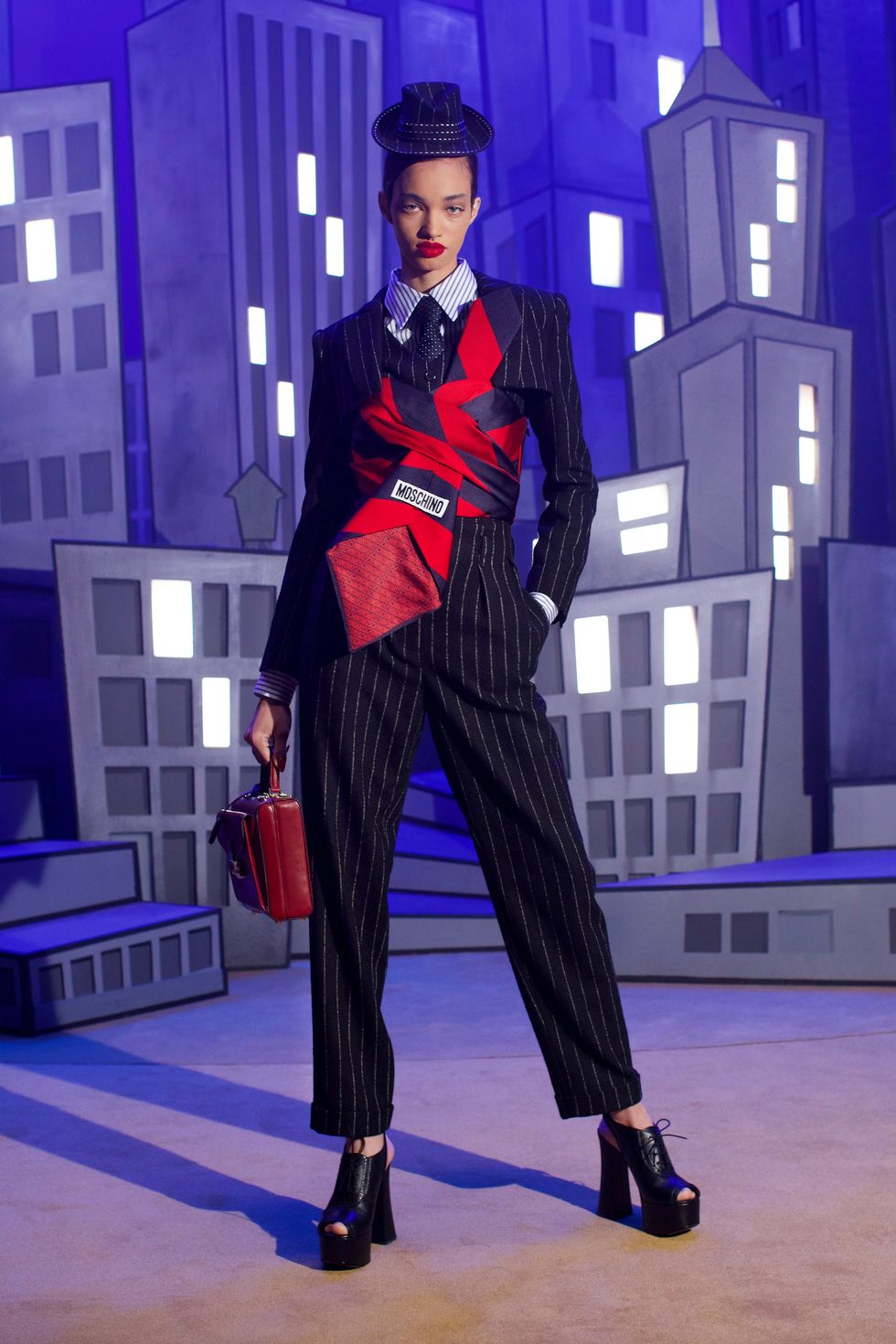 Je to zvláštne a podmanivé. Surrealistické v doslovnom zmysle slova, obrazy odhaľujúce skutočný život, modelky oblečené ako žirafy a klobúky ako veterné mlyny.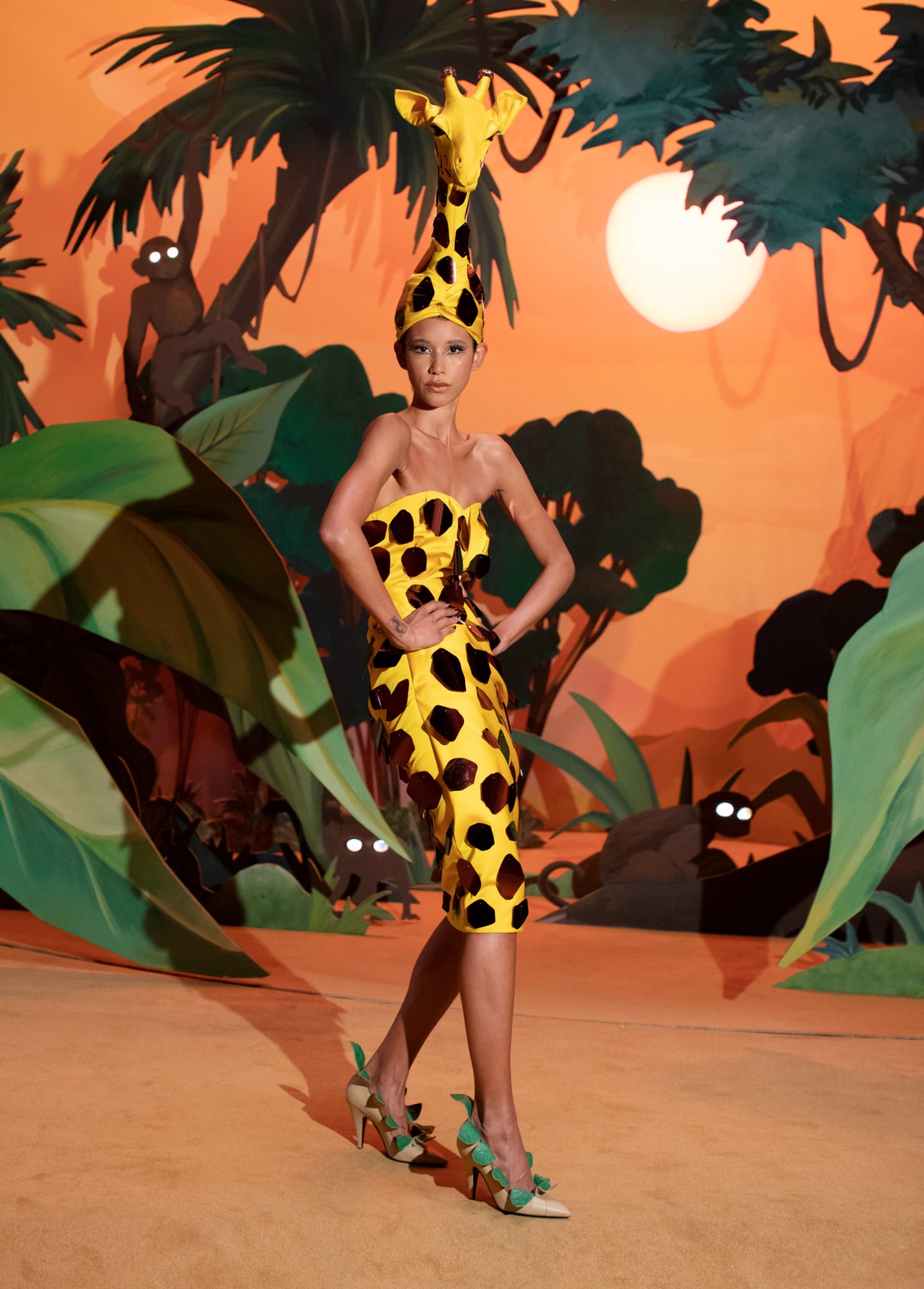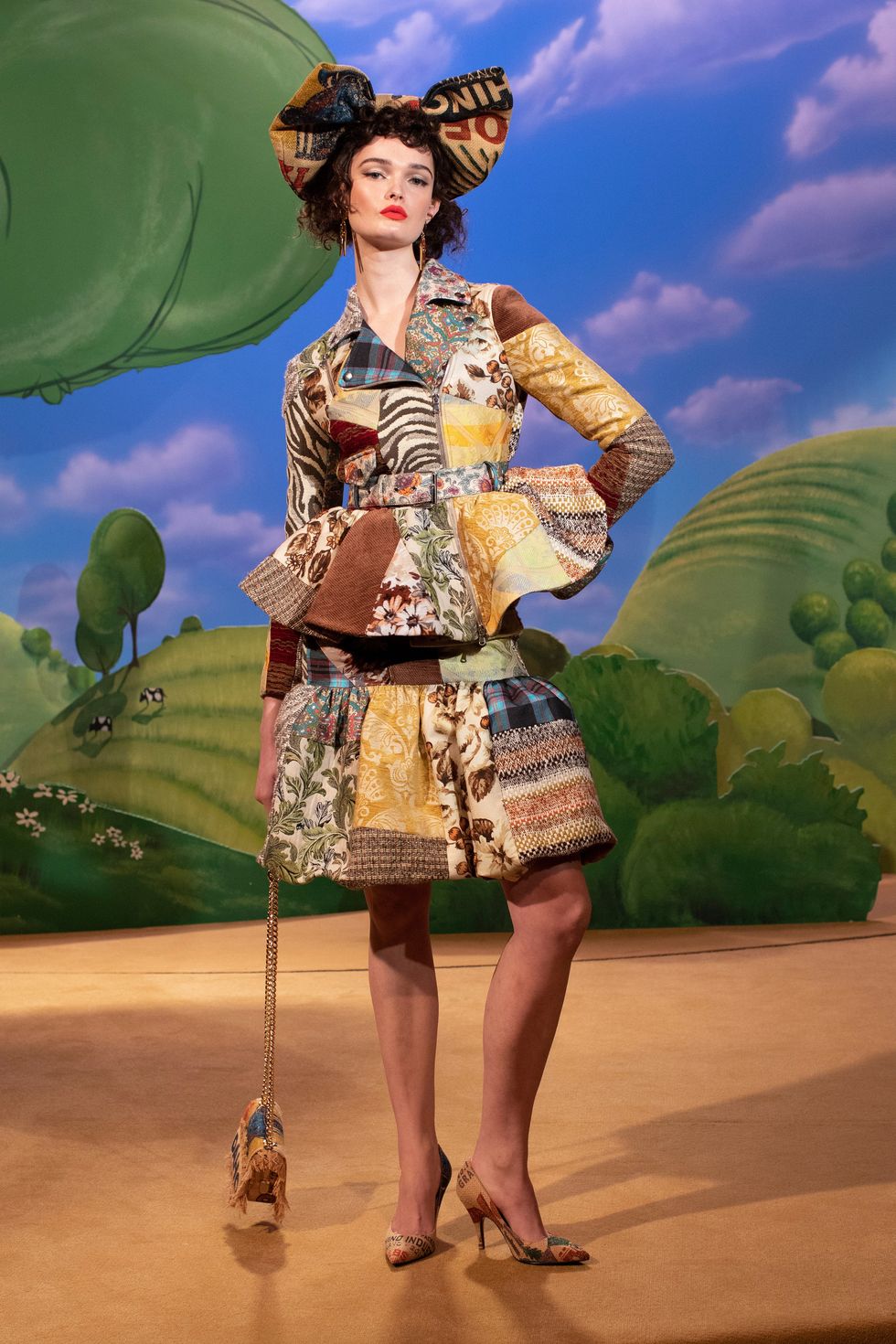 A všetko sa deje presne tak, ako to Scott zamýšľal. Módny návrhár Jeremy Scott pretína svoje premyslené kostýmy do svojho rozprávania tak sympaticky, že je ťažké povedať, čo bolo prvé, vzhľad alebo koncept. Jednotlivé modely sú oslnivé a bohaté na fantáziu, takže len jedno zhliadnutie filmu zaiste nestačí.
"To, čo teraz potrebujeme viac ako kedykoľvek predtým, je fantázia, pôvab a veci, vďaka ktorým sa budete cítiť úžasne, a to podľa mňa tepláky nerobia." povedal Scott.
Oblečenie neznamená len sortiment dámskeho oblečenia, dôležitým aspektom je, že túto rozmanitosť prezentujú aj samotné modelky, nositeľky lookov. Slávnostná majsterka lookov a mature modelka (modelky vo veku) 72-ročná modelka a odborníčka na výživu Maye Musk počas celého filmu poukazuje na "rozmanitosť medzi pohlaviami, rasami a vekovú rozmanitosť".
Hoci je zimná kolekcia Moschino 2021-2022 zabalená do veselej hry s módou a štýlom, dôležitým je ukázať na to, že "ženy všetkých veľkostí, vekových kategórií a rás môžu byť úžasné."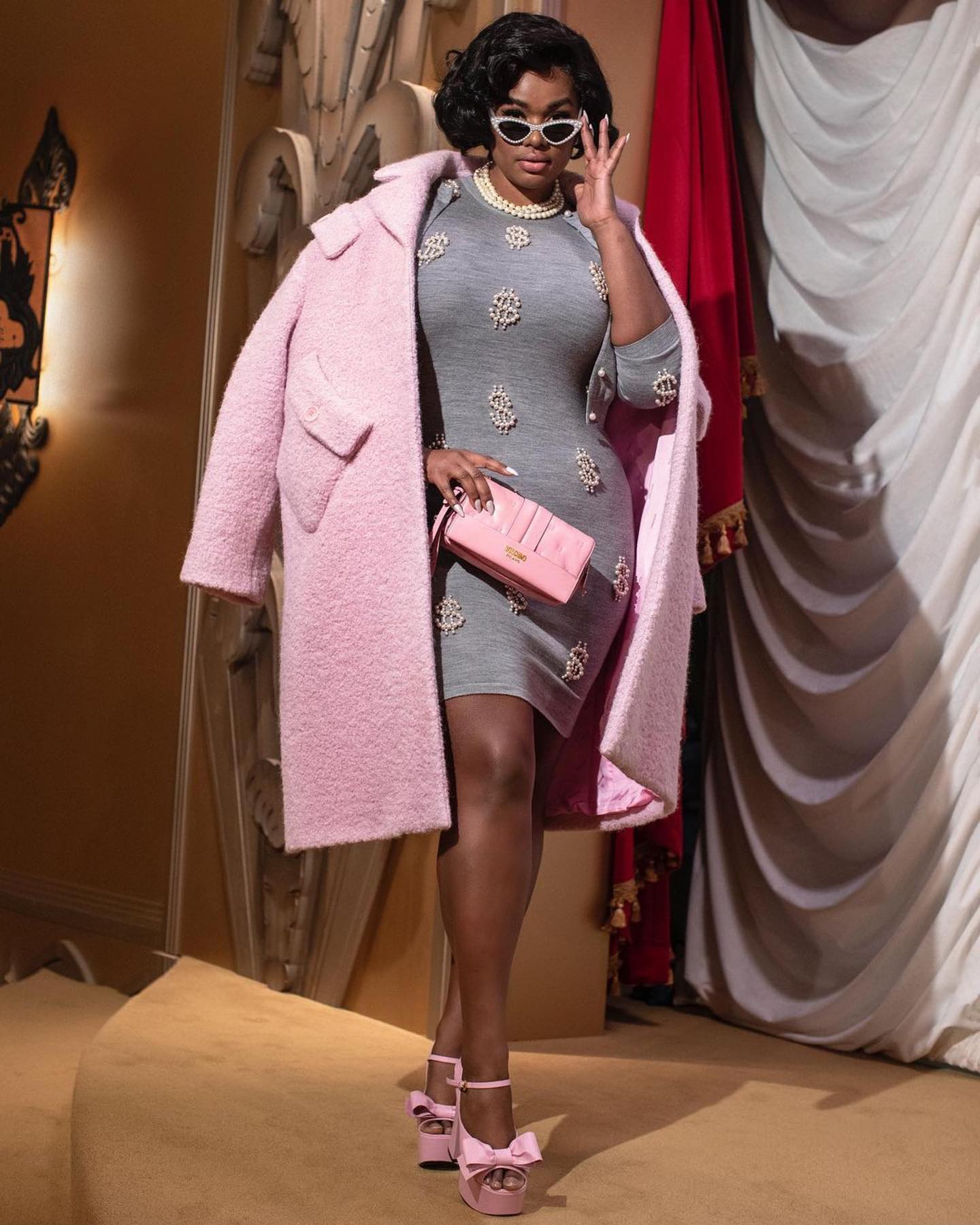 V rozhovore pre New York Times Jeremy Scott prirovnáva svoju kreativitu k "vode v džbáne" a hovorí: "Mohol by som to naliať do pohára, mohol by som to naliať do misky, mohol by som to naliať do vázy, mohol by som to naliať do bazéna, mohol by som ho naliať do štrbín chodníka, stále je to voda, stále je to kreativita. Len nalievam svoju kreativitu do ďalšej tvarovanej nádoby." Je zrejmé, že digitálny formát na týždni módy v Miláne, ktorému sa museli dizajnéri prispôsobiť nenarušil Scottov kreatívny tok. Kolekcia Jeseň/Zima 2021-2022 za jej schopnosť rozjasniť náš deň svojou svojráznou a nostalgickou tvorbou.
obrázky: © Jeremy Eichenbaum, Moschino
Sledujte Facebook stránku: Mya Mirell Fashionista a Instagram: mya_mirell .