Moschino, Milan Fashion Week – Móda Ženy, 18. – 24. september 2018, kolekcia jar/leto 2019, 20.september 2018
MOSCHINO
Svet Moschino od čias dizajnéra Jemery Scotta nepozná kategóriu komerčný tovar. V jeho tvorbe dominujú šialené kreácie zhotovené z kartónov, plastov, metalické výtvory, kedy sme mohli vidieť na hlavách modeliek svietniky, koleso od bicykla, recyklovaný vrchnák od kontajnera a to na prehliadke kolekcie pre jeseň/zima 2017 počas Milan Fashion Weeku.
KOLEKCIA JAR – LETO 2019
Najnovšiu kolekciu pre jar/leto 2019 predstavil módny návrhár Jeremmy Scot opäť v hravom zábavnom duchu. Na mólo vyslal celý ateliér modeliek so šatami s nožnicami, krajčírskymi metrami a látkami zakomponovanými priamo v dizajne. Jeremy Scott popustil uzdu svojej fantázii, ktorej má zrejme neúrekom opäť naplno. Milan Fashion Week zažil skutočnú módnu show v pravom slova zmysle, zábavnú prehliadku plnú počmáraných modelov, zaujímavé strihy a kreácie, tak príznačné pre Jeremy Scotta. Na videu v hd kvalite si môžete prehliadku pozieť tu: https://www.youtube.com/watch?v=vTOTKp1QA04&t=499s
Počmáraná móda od hlavy po päty hrala prím, stala sa horúcou novinkou z dielne značky Moschino, rovnako ako aj plastické materiály.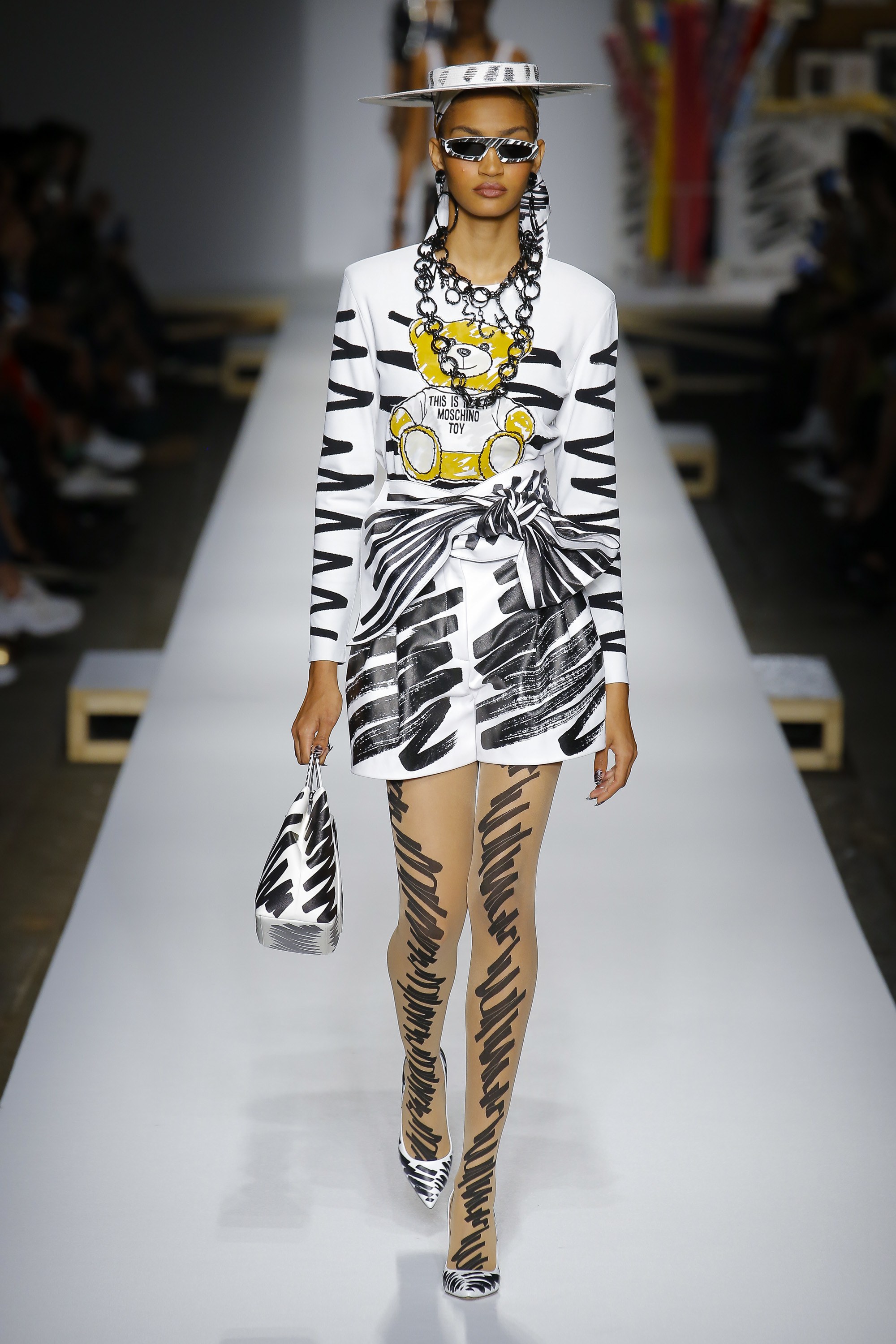 Modelky vyzerali ako
figuríny vyšrafované ceruzkou, nedbalo počmárané fixkou, kolekcia obsahovala záplavu pastelových farieb a vtipných modelov. Prevažovala ružová, žltá, nebeská modrá s fuchsiovými, fialovými a červenými bodkami. Farebná škála obsahovala okrem výrazných letných farieb aj niektoré modely v bielej, čiernej a béžovej. Doplnkami boli kabelky do ruky alebo cez rameno nesúce grafickú tému, ktorá dominovala celej kolekcii a taška cez rameno s obľúbeným motívom medvedíka.
Modelka Bella Hadid predviedla sexi korzetový transparentný overal s grafickou štruktúrou a ihelničkou ako klobúčikom na hlave.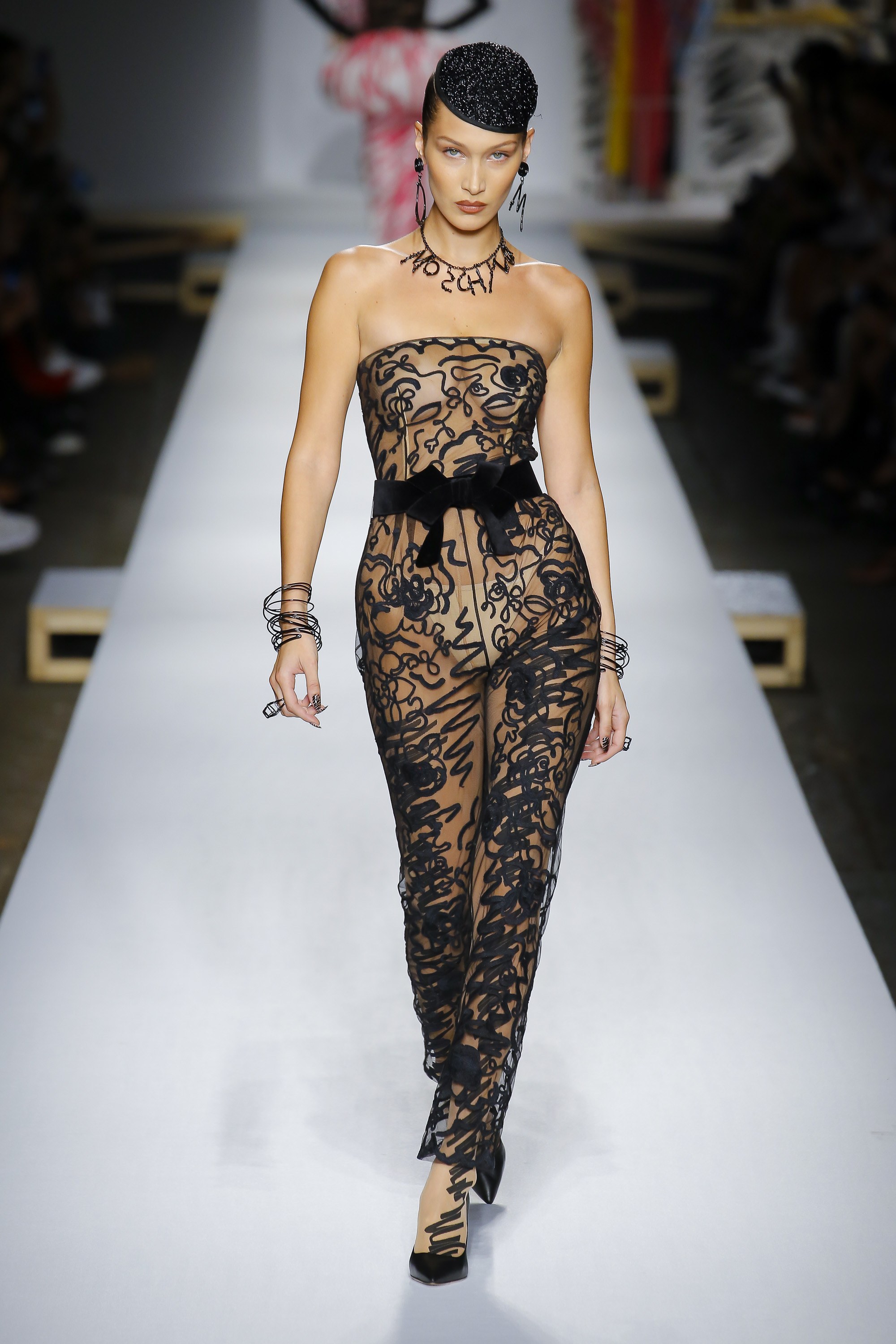 Hravo a veselo, to je motto tejto najnovšej kolekcie, v ktorej sa môžeme predvádzať počas tohtoročného leta.
V kolekci Moschino pre sezónu jar/leto 2019 bolo cítiť závan detskej hravosti, farebnej infantility a najmä kretívneho ducha. Nechýbali vtipné pokrývky hlavy dokonale ladiace s celkovým outfitom a mólo zaplavil prílev radosti.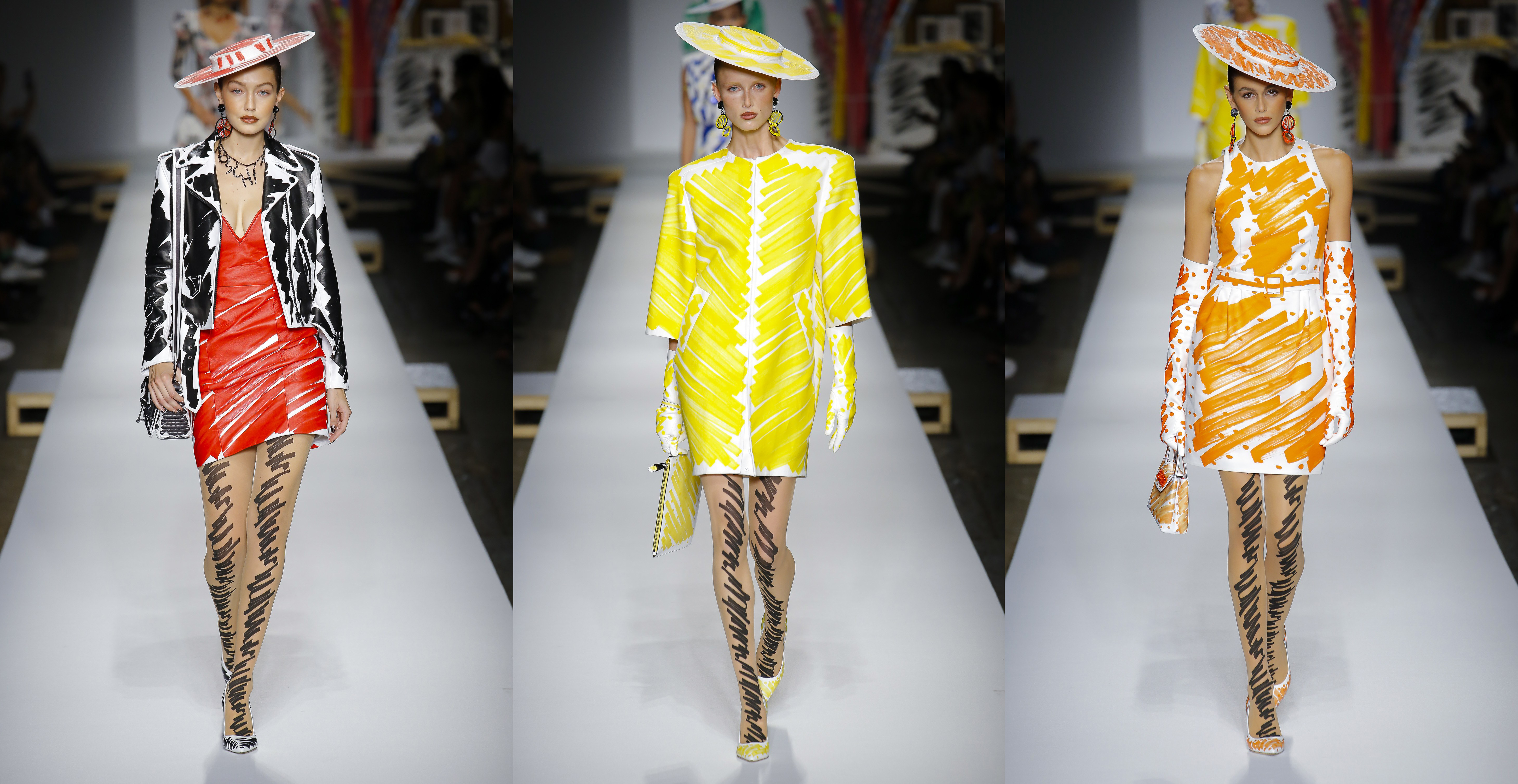 Modely pôsobili akoby nedbalo postriekané na papieri, naivne pokreslené, kolekcia obsahovala počmárané šaty s pančuškami a grafika prechádzala dokonca až na topánky a klobúčiky. Značka Moschino predviedla kultúru pop a limitované edície.
Módne výstrelky najnovšej kolekcie Moschino pre jar/leto 2019 tvorili tentokrát vtipné klobúčiky na hlavách modeliek, ktoré práve vyšli z ateliéru v tvare krajčírskych náprstkov, ihelničky, kusy látok akoby nedokončených na šatách a obrovský krajčírsky meter vinúci sa ako šál a závoj na celotelovom overale s kuklou.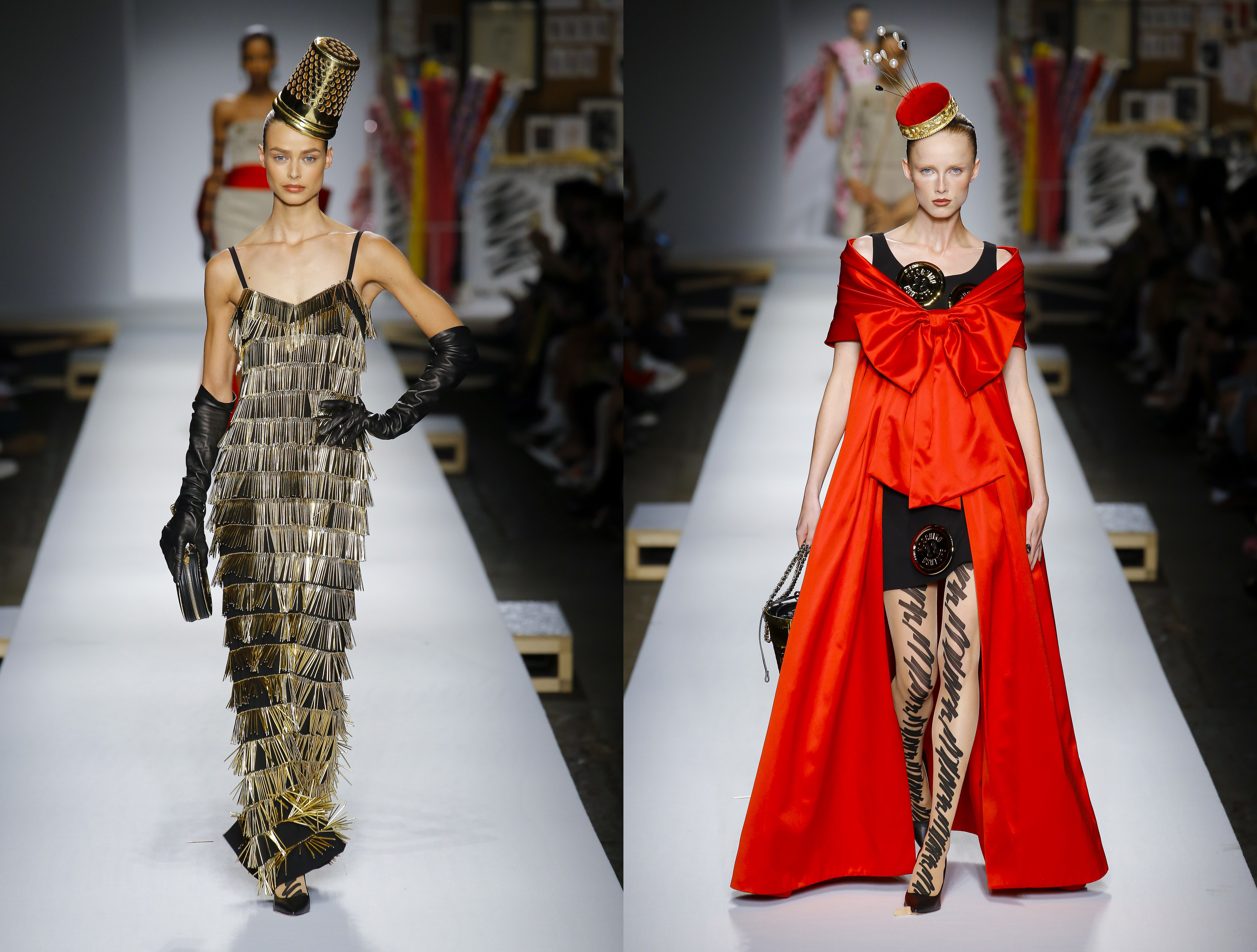 Nožnice sa stali maxi dekorom dlhých čiernych šiat.
Na móle sa striedali vtipné návrhárske kreácie. Znamenitý záver predviedla modelka Bella Hadid, ktorá sa zjavila v bielych balónových svadobných minišatách s dlhou 3D vlečkou doprevádzanou húfom poletujúcich farebných motýľov. Tú jej pomáhalo niesť pár pomocníkov. Svadobné šaty a 3D divadlo bolo veľmi efektnou bodkou za vydarenou módnou show, potlesk pre Jeremmy Scota !