Rozžiarte váš osobný kolorit – Mya Mirell letná outfitová inšpirácia, jemné broskyňové pohladenie
Každá nová sezóna a rok prináša so sebou aj nové farby, ktoré sa stávajú trendami. Môžeme to vídať na prehliadkových mólach v kolekciách módnych dizajnérov. Deje sa tak v najmä počas svetových týždňov módy, ktoré prebiehajú v New Yorku, v Londýne, v Miláne a v Paríži , kde sa rodia módne trendy. Tento rok však vďaka koronavírusovej celosvetovej pandémii bola situácia celkom odlišná a prehliadkové móla v svetových metropolách módy zívali letnú sezónu prázdnotou. Až v mesiaci september (09/2020) sa módna scéna pokúsila o fashion reštart , o akési prvé oživenie módneho biznisu za celý čas trvania pandémie znovuzrodeným týždňom módy v Miláne, ktorý sa udial aj vo fyzickej rovine – čítajte viac v článkoch v kategórii Fashion.
Farbou roka 2019 sa stala podľa spoločnosti Pantone, ktorá každú sezónu stanovuje Pantone fashion color report, "living coral" – farba živých korálov. Pantone tiež analyzuje módne prehliadky, tzv. street style, pouličnú módu, sleduje internet a hľadá najobľúbenejšie a najpozitívnejšie vnímané farby. Minulý rok sa teda kráľovnou farieb stal odtieň oranžovej farby so zlatistým podtónom. V tejto outfitovej inšpirácii prinášam moju letnú nádielku vo farebnej vízii živých korálov, ktorá môže inšpirovať a oživiť aj váš šatník. Oživenie a pripomenutie módnych trendov a obľuba farieb, ktoré sedia vášmu osobnému farebnému koloritu, je hravou inšpiráciou a sviežou tematickou vsuvkou leta. Je úžasné, ak si nájdete svoj osobný štýl, farby, strihy, materiály a kombinácie, ktoré k vám pasujú osobnostne a vytvárajú váš kreatívny šatník.
Viac mojich outfitových inšpirácií nájdete na Facebook fan stránke: Mya Mirell.
Ak ste chceli siahnuť po výraznej letnej farbe, akými boli neónové, krikľavé farby sezóny 2018, ktoré však vydržali aj nasledujúcu sezónu (najmä v plavkovom dizajne),
jednoznačnou kráľovnou sezóny – leta 2019, bola farba sýta žltá. Viac sa o tejto trendovej farbe tohto leta dočítate v predchádzajúcom článku s názvom Žltá, osika zlata.
Okrem sýtej žltej farby leta 2019 (ktorá je ostatne mojou najobľúbenejšou farbou často spomínanou v článkoch na tomto blogu) a živej koralovej farby roku 2019, som si v šatníku zaobstarala a obľúbila aj jemnejšiu letnú verziu, farbu broskyňovú. Tieto nádherné volánové šaty s asymetricky riešeným topom bez jedného rukávu sú v dokonalom súzvuku s letom, slnkom, morom tak, ako aj jemný bronzovo-zlatistý make-up a broskyňové opálenie. Pripomeňme si letné záblesky, ktoré nám v týchto časoch budú chýbať ako pocit pohody a blaha.
Tvary a zdobenia na vrchnej časti výstrihu v podobe výšivky a flitrov korešpondujú s rozvoľnenými volánovými ukončeniami šiat a sú v rytme s jemným šantiacim vánkom. Ideálna letná inšpirácia, ktorá je zároveň pohodlná, je doplnená o zlaté šperky a korálky od handmade obľúbenej krétskej šperkárky.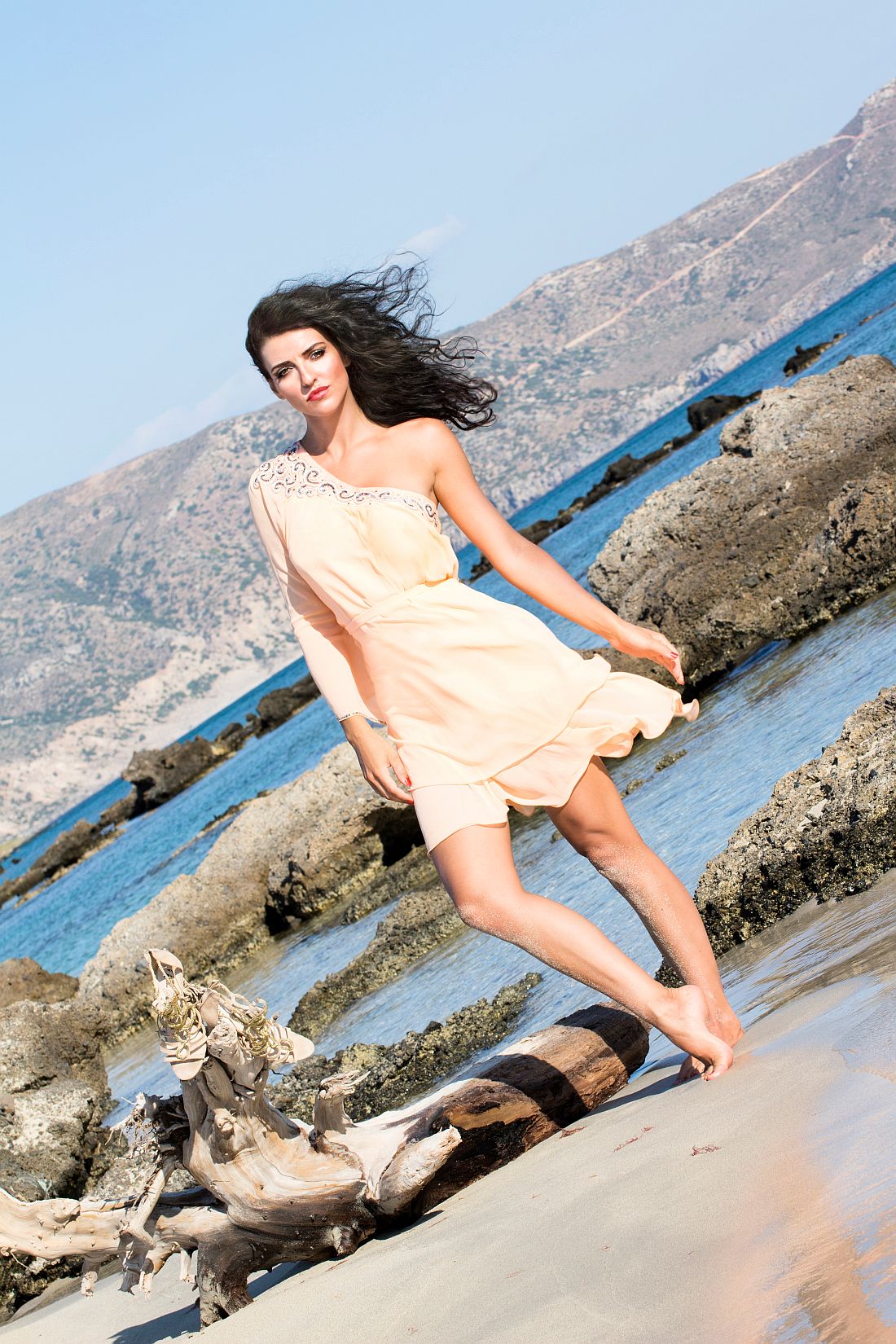 Jemná broskyňová farba na volánových šatách nechá vyniknúť letné opálenie a zlatisto-bronzový make-up. V kontraste s tmavými vlasmi, doplnkami a elegantným beauty lookom, ktorý môžete zvoliť, im dáva pridanú hodnotu luxusného nádychu.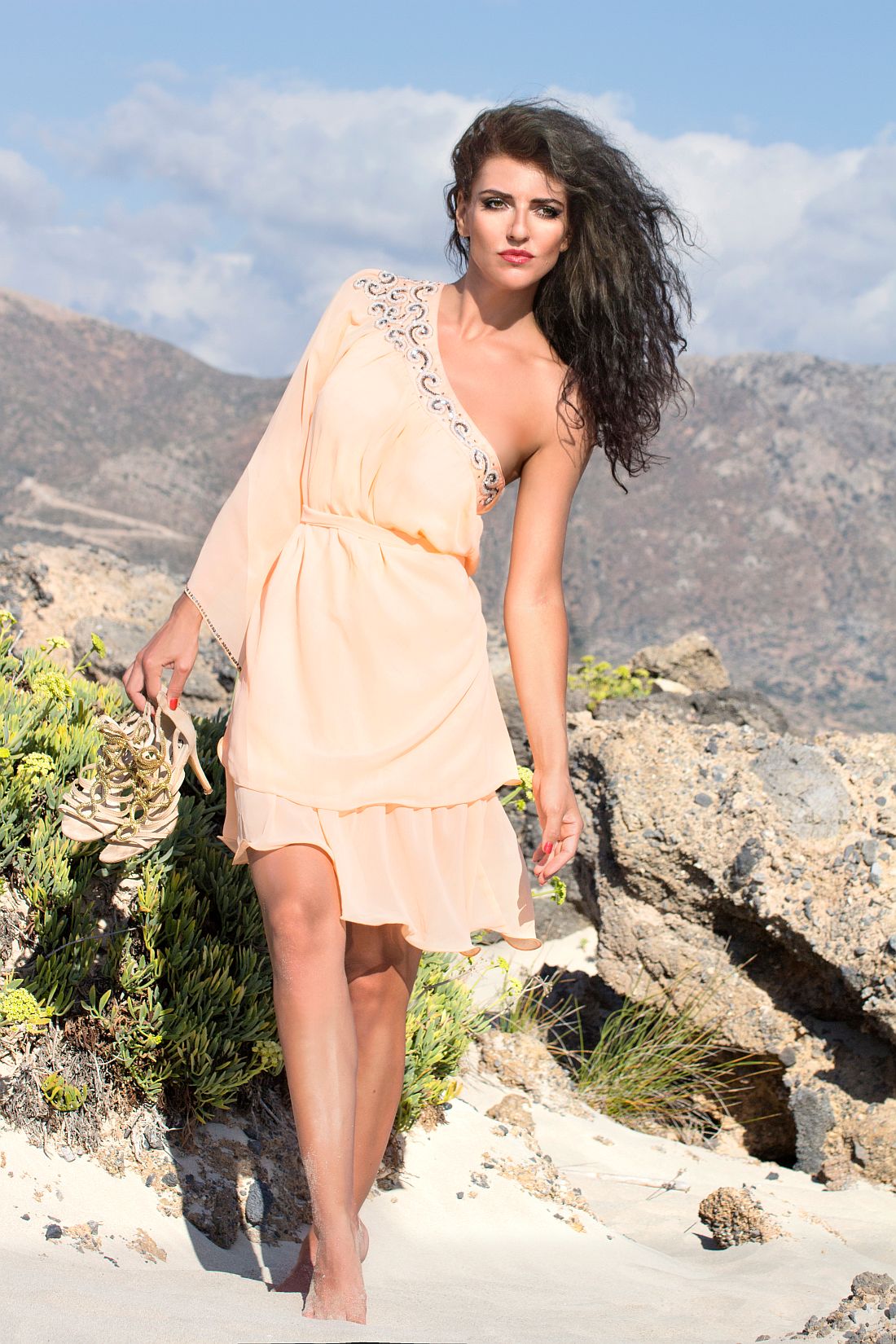 ROZNE PODOBY KORALOVEJ FARBY
Koralová farba je odvodená od morského korálu a má bohatú farebnú škálu. Rozmanitosť tejto palety je veľká, tvoria ju odtiene ružovej, broskyňovej, perlovej, terakotovej, načervenalej či nahnedlej farby a tiež malinové odtiene. V roku 2019 sme si teda mohli v lete či v zime vyberať z obrovskej farebnej palety.
Farba roku 2019 živé korály vyjadrovala optimizmus a radosť. Jemná koralová farba v odtieni zrelej broskyne je ideálna pre ázijské typy, brunetky, pri ktorých zdôrazní ich krehkosť, jemnosť kože a vyzdvihne jas očí.
Koralové, lososové či broskyňové farby a ich odtiene sú veľmi jemné a elegantné vo výzore a v pôsobení. Najčastejšie ich využijeme práve v letnom období. Tieto farby a ich tóny by zaručene nemali chýbať vo vašom letnom šatníku. No s podobnou farbou vyšla túto sezónu počas prehliadky na Paris Fashion Weeku aj značka Dior vo svojej letnej kolekcii 2021.
Pozor však pri výbere vhodného odtieňa. Pri tejto voľbe veľmi záleží na tóne vašej pleti, farbe vlasov i očí. Správne zvolená farba dokáže vyzdvihnúť vašu prirodzenú krásu, atraktivitu, sviežosť a energetické vyžarovanie. Celkom jasne to môžete vidieť pri pohľade do zrkadla pri skúšaní módnych kúskov. Musíte mať pritom však vhodné prirodzené svetlo.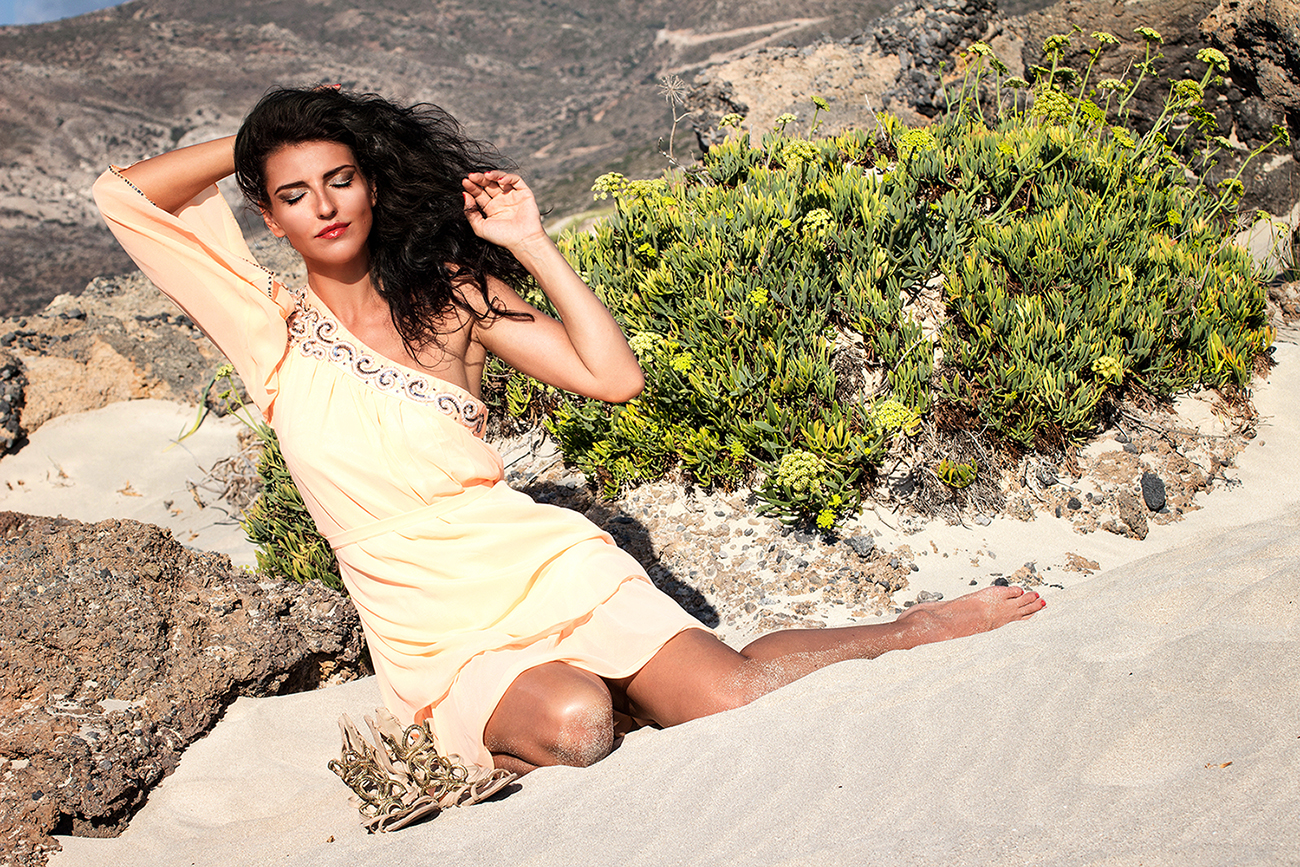 Vyskúšajte v lete nežnú broskyňovú farbu. Rozžiari vašu tvár, podčiarkne ženskosť a najlepšie pristane opálenej pokožke.
FAREBNÁ PSYCHOLÓGIA – VPLYV A POSOBENIE FARIEB
Farby, ktoré každodenne nosíme, majú vplyv na naše vyžarovanie, cítenie, ovplyvňujú náladu, ba dokonca majú vplyv na to, ako vyzeráme a pôsobíme na druhých. Vedia podčiarknuť a vyzdvihnúť našu prirodzenú krásu, individualitu a u žien ženskosť a zmyselnosť. To je psychológia farieb a k jej dokonalému ovládaniu treba poznať, či rozumieť farebnej typológii a práci s farbami. Zdá sa to priam veda, no niekomu stačí iba pozorne preciťovať a vnímať.
Koralová farba roku 2019 pristala tmavovláskam, u blondínok je treba s výberom vhodného odtieňa narábať opatrnejšie, aby nepôsobili príliš fádne. Táto farba je tiež nevyhovujúca pre ryšavky, na ktorých môže s ich ružovým odtieňom pleti pôsobiť farba koralová ako aj svetlo červená jednotvárne až agresívne. Jemný broskyňový odtieň farby koralovej pristane brunetkám a tmavovláskam o to viac s letným opálením.
Nechajte rozžiariť správnymi odtieňmi svoju krásu, oči, pleť, pery, vlasy a počúvajte, vnímajte ich pôsobenie. Farba, ktorá ladí, pristane vašej individualite, vás nabije. Váš osobný farebný kolorit môže tak zažiariť v lete, kedy nám pristane krásne bronzové, či orieškovo-zlatisté opálenie, ako aj v zime. Naučte sa s farbami žiť a precíťte ich zmyselnú krásu. Najlepšie ak začnete skúšať úplne sami priamo pred zrkadlom a vycibríte si tak cit na vnímanie farieb.
Viac o osobnostných typoch a výbere vhodných farieb v nasledujúcich článkoch.
Sleduj ma na:
2 Instagramy: myamirell ,
mya_mirell
Facebook: Mya Mirell Fashionista,
Mya Mirell