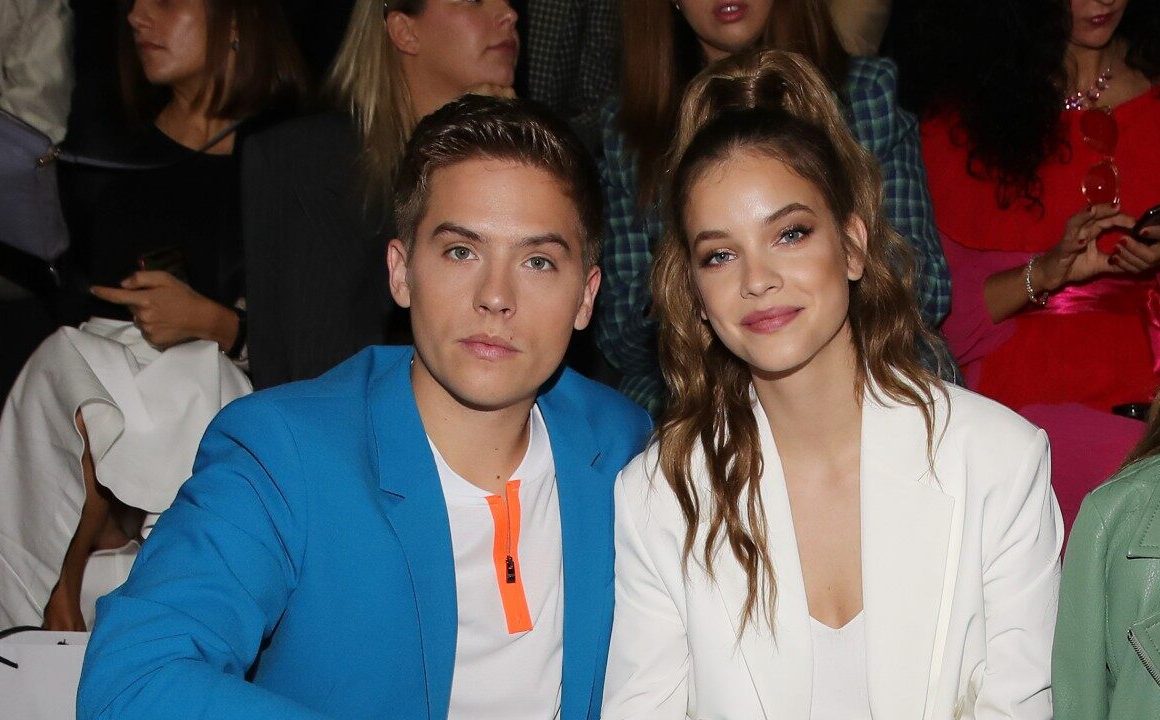 S Victoria Secret Anjelikom Barbarou Palvin na prehliadke značky Hugo Boss, Milan Fashion Week, Móda Ženy, Jar / Leto 2020, 22. september 2019
Svetové týždne módy prebiehajúce v metropolách New York, Londýn, Miláno a Paríž sú magnetom na celebrity a známe tváre, ktoré si túto udalosť nenechajú každoročne ujsť. Stretnúť slávnu osobnosť tohto formátu zo sveta showbiznisu, herečku, herca, režiséra, modelku, známu tvár, okrem osobností z oblasti módy a najvýznamnejších kritikov a hlasov ovplyvňujúcich módny svet, nie je nič nečakané. Azda najväčšiemu úspechu a počtu fanúšikov sa tešia celebrity, ktorých sláva prerástla do obrovských rozmerov podčiarknutých na sociálnych sieťach. Sú to predovšetkým modelky, módne ikony, fashionistky udávajúce módne trendy.
Stretnúť topmodelku z prehliadkových mól, sledovanú hviezdu, idol naživo, je snom mnohých nielen mladých ľudí, ale vrámci fashion weekov tých, ktorých zaujíma svet módy a módne dianie.
Milan Fashion Week je práve pôdou, kde sa to hemží takýmito osobnosťami, krásnymi ženami, modelkami, stylistami, fashionistami a v ich pätách večne poľujúcimi fotografmi. Je to zaujímavé módne divadlo, ktoré prebieha priamo v uliciach. Keďže je to udalosť masívne sledovaná ľuďmi z celého sveta, mnohé topmodelky, instagramovo populárne modelky a známe tváre, musia byť často sprevádzané osobnými strážcami. Jednou z modeliek, ktorej krása je svetovo preslávená a to krása európska , je aj modelka BARBARA PALVIN.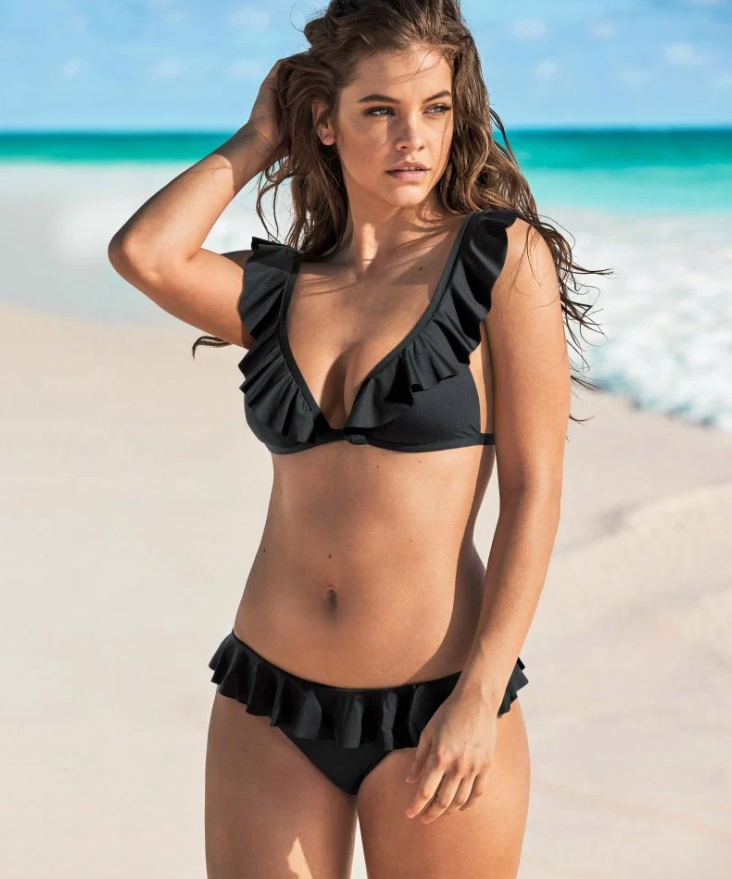 zdroj: grazia it
Kto by nepoznal sladkú a chutnú modelku s maďarskými koreňmi Barbaru Palvin? Trošku baculatejších kriviek, no nežná ženská krása tejto nie príliš vysokej hnedovlásky (ako som neraz videla) je nesporne zjavná a púta najmä pánsku pozornosť.
Mladučká modelka však vie zaujať aj ženské publikum. Mnohé dievčatá sa nevedia vynadívať na jej nádherné fotografie, ku ktorým vzhliadajú ako ku svojmu idolu. Prispieva k tomu v súčasnosti aj novodobý fenomém sociálnych sietí a popularita, ktorú niektoré modelky dosahujú v obrovských rozmeroch. A tou sa okrem krásy a milého zjavu môže popýšiť aj slávna modelka Barbara Palvin s aktuálne 13 miliónmi fanúšikov na instagrame.
Maďarská 25-ročná modelka s rozkošným úsmevom ako dievčatko a sexi postavou s krivkami a nie vyrysovaným telom fitnesky hviezdila na stránkach magazínu Sports Illustrated magazínu, pre ktorý pred pár rokmi nafotila plavkový špeciál. Okrem toho je slávna modelka od roku 2019 aj tvárou značky Victoria Secret, ktorá je obľúbenou nielen u mladších dievčat. Anjelik Victoria Secret žiari tiež v kampani značky Calzedonia a usmieva sa na nás takmer z každého módneho časopisu, reklamných banerov po celom svete. Stala sa nedávnym najnovším anjelikom tejto značky a modelkou v kategórii plus size model.
Módna značka HUGO BOSS hostila počas septembrového Milan Fashion Weeku (09/2019), v sezóne Jar/Leto 2020, v prednej rade, v tzv. front row modelku Victoria´s Secret Angel – anjelika BARBARU PALVIN spolu s priateľom Dylanom. Na tejto prehliadke som bola účastná sediac priamo za ňou v červeno-ružových šatách, pričom krátko po mojom neskoršom príchode nastalo fotenie celebrít vo front row, ako tomu býva na svetových týždňoch módy zvykom.
Môj príchod na prehliadku pred začatím prehliadky a fotenie celebrít som zaznamenala na video, ktoré je publikované v insta stories na instagrame mya_mirell (publikované všetko z Milan fashion Weekov) pod názvom Barbara Palvin , kde podo mnou sedí krásna modelka v športovo-elegantnom modeli značky Hugo Boss. Jej priateľ Dylam má na sebe takisto model tejto značky a spolu im to nádherne ladí. Barbara si k tomu obula módne biele tenisky, ktoré jej pridávali na výške. Video nájdete tu: https://www.instagram.com/stories/highlights/17861394601498140/
Celebrity obyčajne mávajú oblečené modely z posledných kolekcií značiek, na ktoré sú pozvané. Barbara má aktuálne krátky módny zostrih vlasov a jej hustá hrivu zdobí príčesok v podobe vysoko vyčesaného konského chvosta.
Anjelik značky Victoria Secret, maďarská modelka Barbara Palvin s priateľom Dylanom Sprouse , ktorí spolu vyzerajú podobne, takmer ako súrodenci, zdroj: getty images, Elle com
Fotografie publikoval aj Elle magazín, ktorý v článku zachytáva aj ostatné celebrity z milánskeho fashion weeku pozvané na prehliadky v predných radách : https://www.elle.com/fashion/celebrity-style/g29109748/celebrities-milan-fashion-week-spring-2020-front-row/?slide=1
Počas septembrového ročníka Milan Fashion Weeku (Mfw 09/2019), v sezóne Jar / Leto 2020, hostila populárnu topmodelku Victoria´Secret Angel aj módna značka Hugo Boss. Barbara Palvin bola so svojím priateľom jednou z pozvaných celebrít, ktoré dostávajú miesta vo front row, v tzv. predných radách. zdroj: getty images, Elle com, zimbio, pinterest, shutterstock
Na prehliadke sa zúčastnila aj známa americká módna ikona OLIVIA PALERMO, ktorá sa teší taktiež obrovskej popularite a záujmu médií a fotografov.
Akosi som si pri samotnej príprave na show nestihla všimnúť slávnu modelku Barbara Palvin sediacu priamo podo mnou. Zaiste by so s ňou spravila zopár zaujímavých fotografií, možno rozhovor, ak by bola na to príhodná chvíľa a to bola. Stáli sme pri rovnakej fashion stene pred vstupom na módnu show, kde sa obyčajne ľudia fotografujú.
Ostatní významní pozvaní hostia módnej značky Hugo Boss, ktorá bola nováčikom na tohtoročnej milánskej módnej scéne.
Stretnúť Barbaru Palvin naživo je snom mnohých jej priaznivcov a neraz vidím počas Milan Fashion Weeku, aká je popularita svetovo známych osobností , modeliek náročná. Mladá modelka a nielen ona, i ďalšie topmodelky s obrovským záujmom večne čakajúcich fanúšikom, má totiž vždy problém dostať sa z módnych show. Bodyguardi mávajú plné ruky práce so zvládaním a odolávaním davu nadšených fotografov, fanúšikov, reportérov a parazzi, čo môžete vidieť v mojom videu.
Nebolo tomu inak ani tentokrát v Miláne po skončení módnej show Hugo Boss, kde som spolu s ňou vychádzala von, načo začal dav nadšením kričať. Celé video z príchodu na show až po následný hon na modelku v uliciach Milána a nepodarený módny report talianskeho novinára, si môžete pozrieť na facebook stránke blogu s názvom Mya Mirell Fashionista spolu s ďalšími videami.
Street foto report z ulíc Milána po skončení módnej show zachytávajúci modelku Barbara Palvin :
Mladý pár mal značne sťaženú cestu k autu, ktoré ich čakalo obďaleč, čo skomplikovalo aj moju cestu na ďalšiu módnu show, ktorú som nestihla. Harmonogram milánskeho fashion weeku zvykne bývať značne nabytý v krkolomných časových intervaloch, ktoré nie je možné vždy stihnúť.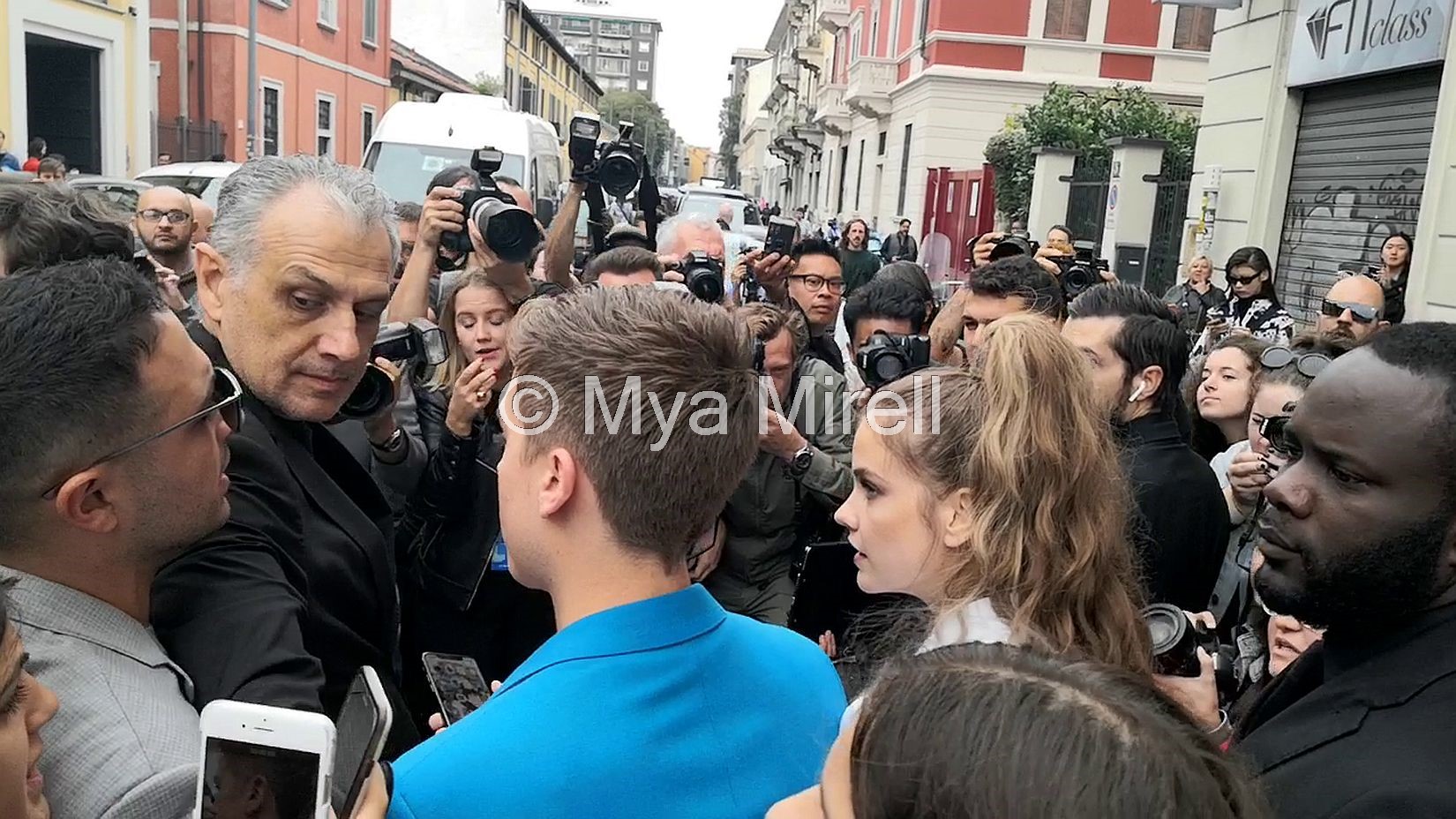 Európsku krásu okrem niektorých slovenských a českých modeliek, ktoré som stretla na niektorých prehliadkach vrámci Milan Fashion Weeku zastupuje aj maďarská topmodelka Barbara Palvin. Nielen, že sa počas svetového týždňa módy blysne na móle mnohých značiek, ako napríklad Dolce and Gabbana počas minulej letnej sezóny (Mfw 09/2018), kedy na ňu opäť čakali davy paparazzi, reportérov a fanúšikov, objavuje sa aj ako pozvaný hosť na mnohých ďalších prehliadkach.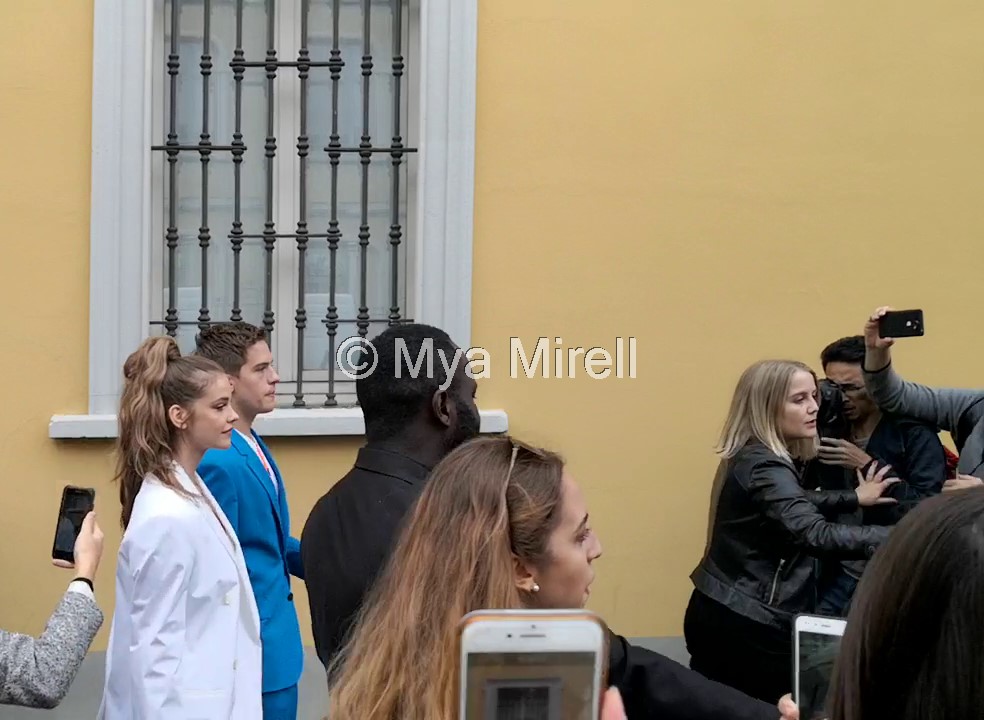 Niektorým mojim známym a kamarátom fotografom sa podarilo zachytiť Barbaru aj na detailných fotografiách v kvalitných záberoch. Vyžadovalo to ale značne rezkú chôdzu v tlačenici fanúšikov, čo je vždy dosť náročné. Rozhodne pre mňa pokiaľ som v štýlovom outfite vo vysokých opätkoch.
zdroj: twitter, pinterest
Modelka Victoria Secret´s Angel sa počas tohtoročnej septembrovej sezóny Milan Fashion Weeku (Mfw 09/2019) zjavila aj na prehliadke slávneho talianskeho Kráľa Módy – Re di Moda – ako ho Taliani nazývaju, GIORGIO ARMANI, 21. septembra 2019 v šedo-modrom modeli elegantných šiat. Ani tento elegantný strih pre dámy jej neubral na dievčenskej kráse. Vlasy mala krásne vytočené smerom von a zažiarila v najnovšom trendovom krátkom vlasovom zostrihu, ktorý jej náramne pristal.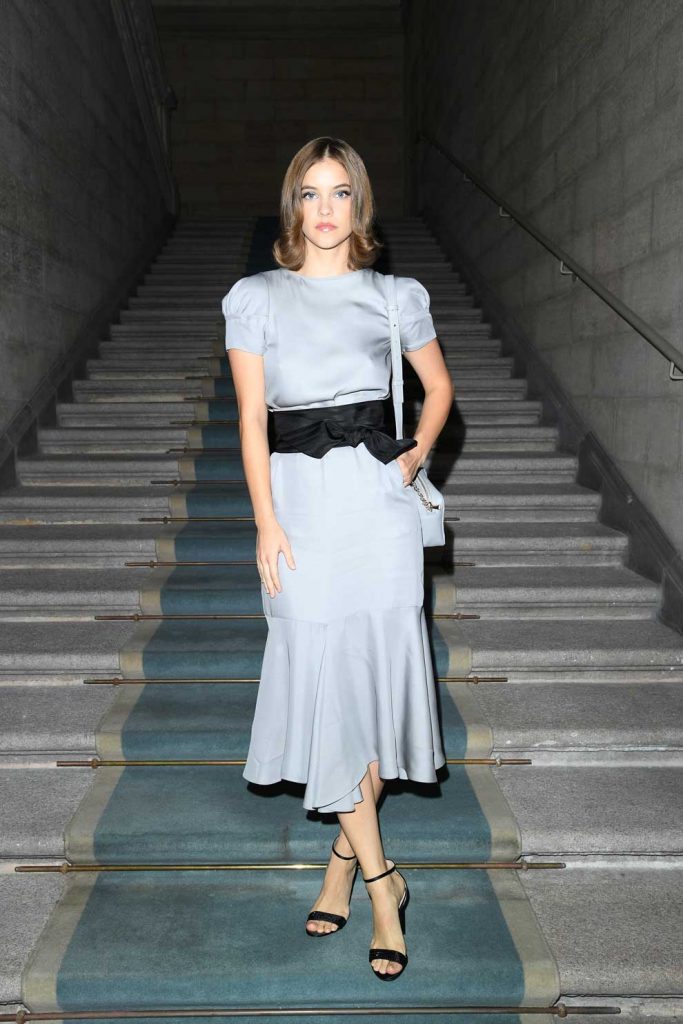 zdroj: Elle com uk
Na záver módneho týždňa, vo finálny deň počas odovzdávania cien milánskeho Green Carpet Fashion Awards bol jej vzhľad v skutku neprehliadnuteľný. Mačacie oči zvýraznené líčením a detsky krásna tvár s akutálne vyformovanou opäť štíhlou postavou, ktorá vynikla v tomto modeli, z nej robia ozdobu módnej scény a fashion weekov.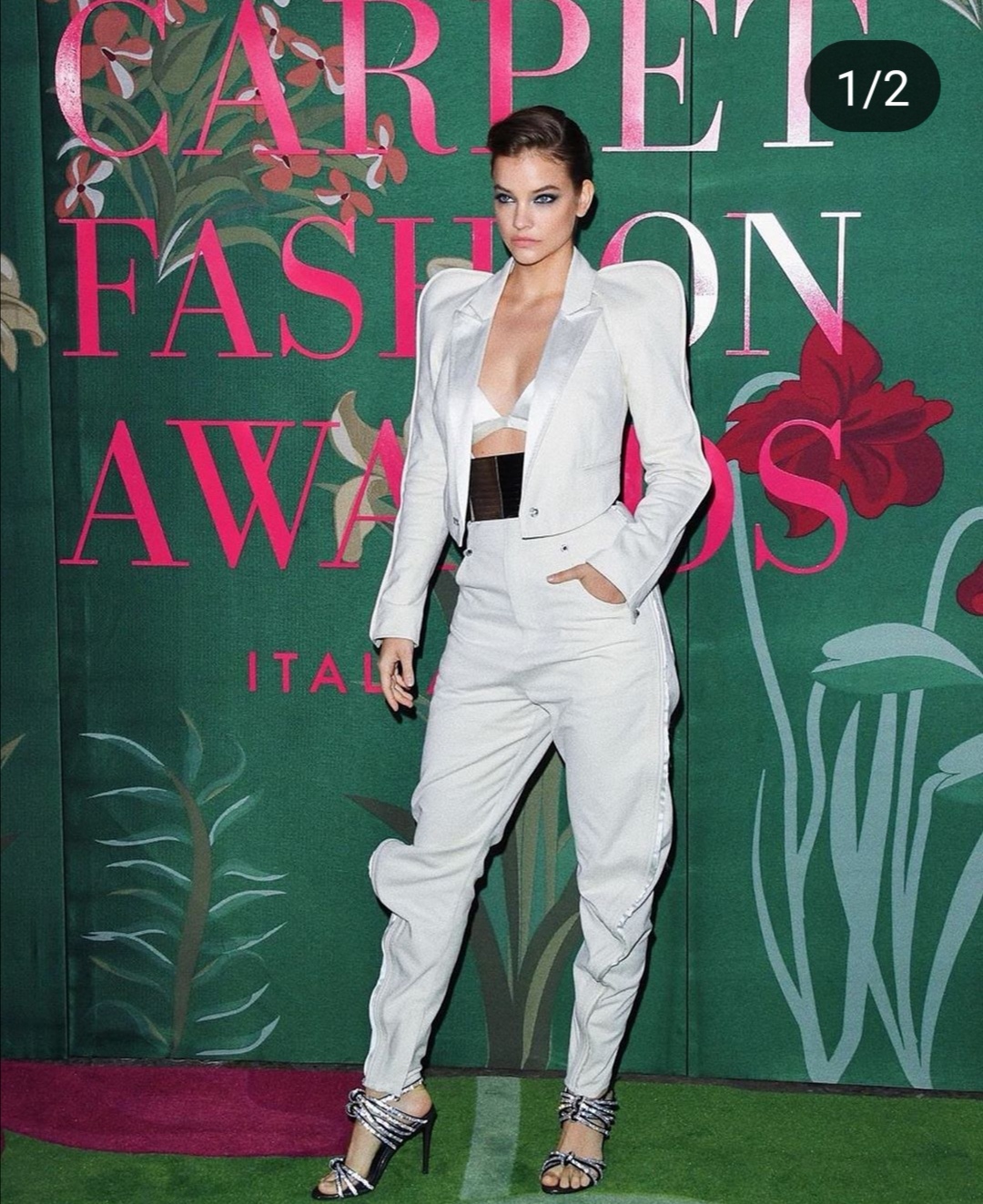 zdroj: Barbara Palvin instagram
KOLEKCIA HUGO BOSS
Najnovšia kolekcia značky HUGO BOSS niesla znaky elegancie, ktorú značka osviežila pre sezónu Jar / Leto 2020 jarnými a letnými farbami a pridala tak na uvoľnenosti štýlu. Podrobnejšie o jednotlivých prehliadkach a kolekciách značiek z Milan Fashion Weeku sa dočítate v predchádzajúcich článkoch.
Po úvodnom fotení celebrít nasledovala prehliadka najnovšej kolekcie značky Hugo Boss, ktorá bola radená a ladená do jednotlivých farieb. Viac sa o tejto kolekcii dočítate v nasledujúcom článku. Video z tejto módnej prehliadky nájdete na facebook stránke Mya Mirell Fashionista a tiež instagrame mya_mirell .
Viac fotografií a videí, zaujímavostí z Milan Fashion Weekov – sleduj facebook stránku blogu : Mya Mirell Fashionista
2 instagramy: myamirell (osobný profil ) a mya_mirell (venovaný Milan Fashion Weeku a módnym týždňom) .