Najžiarivejšie vianočné stromčeky európskych metropol – symbol vianočných sviatkov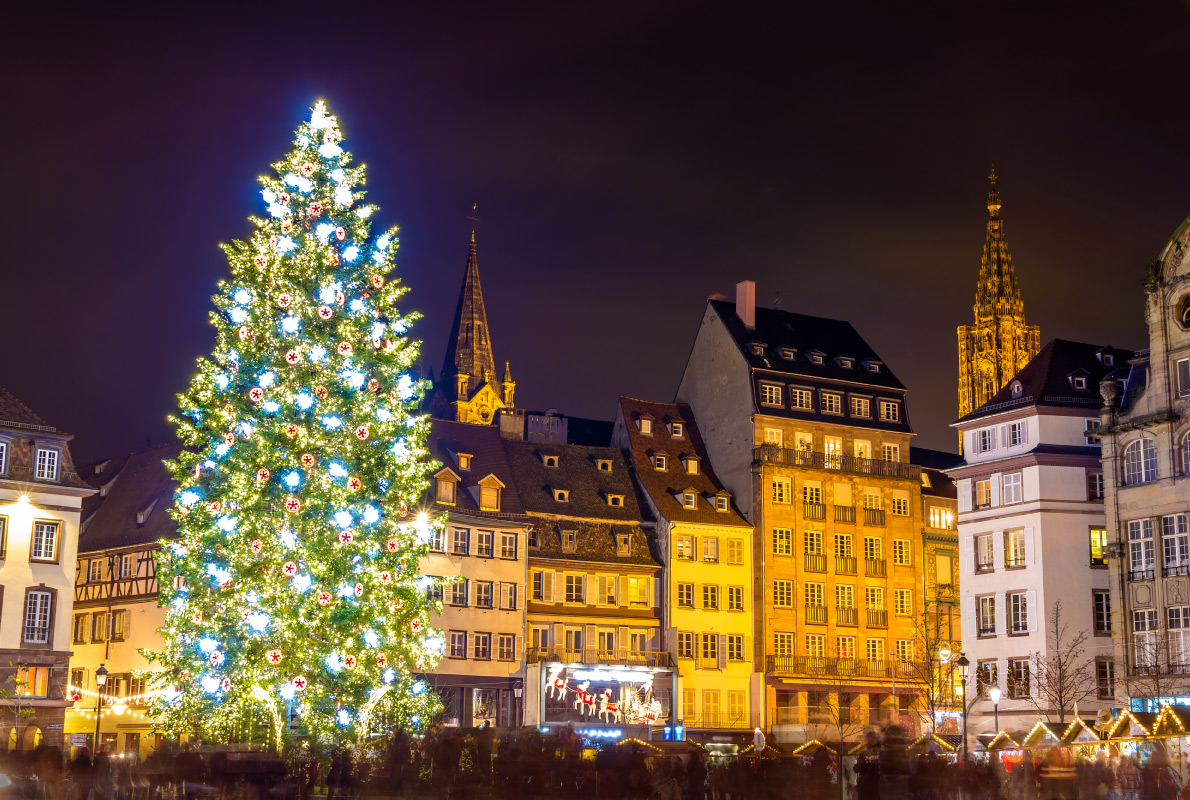 Vianočné stromčeky v hlavných mestách symbolizujú na celom svete vianočné sviatky so svojimi betlehemami, vareným vínom, pečivom a trhmi. Každé mesto je hrdé na ten svoj a pre obyvateľov a návštevníkov chystá každoročnú vianočnú atmosféru. Či už ste sa rozhodli osláviť Vianoce v Nemecku, Francúzsku, Rakúsku, Spojenom kráľovstve, Belgicku, Poľsku, Švajčiarsku, Španielsku, Taliansku alebo kdekoľvek inde v Európe, nenechajte si ujsť túto príležitosť a objavte najžiarivejšie vianočné stromčeky v Európe. Pandemická situácia však opäť zariadila, že veľa vianočných trhov spojených s hromadnou oslavou vianočnej atmosféry nekonalo, no stále môžeme obdivovať vianočné stromčeky európskych metropol.
GHAJNSIELEM – OSTROV GOZO, MALTA
Pre slnečné a ekologické Vianoce ste si tento rok mohli zájsť do mesta Għajnsielem na ostrove Gozo v súostroví Malta. Na ozdobenie tohto jedinečného vianočného stromčeka na svete bolo potrebných 4500 recyklovaných fliaš. Zimné slnečné svetlo Malty (presnejšie Gozo) preniká cez deň do tejto jedle, pričom v noci ju rozsvecuje, čím ponúka ešte veľkolepejšie predstavenie. Brilantný ekologický nápad navyše nesie posolstvo nádeje a svetla v čistej kresťanskej tradícii.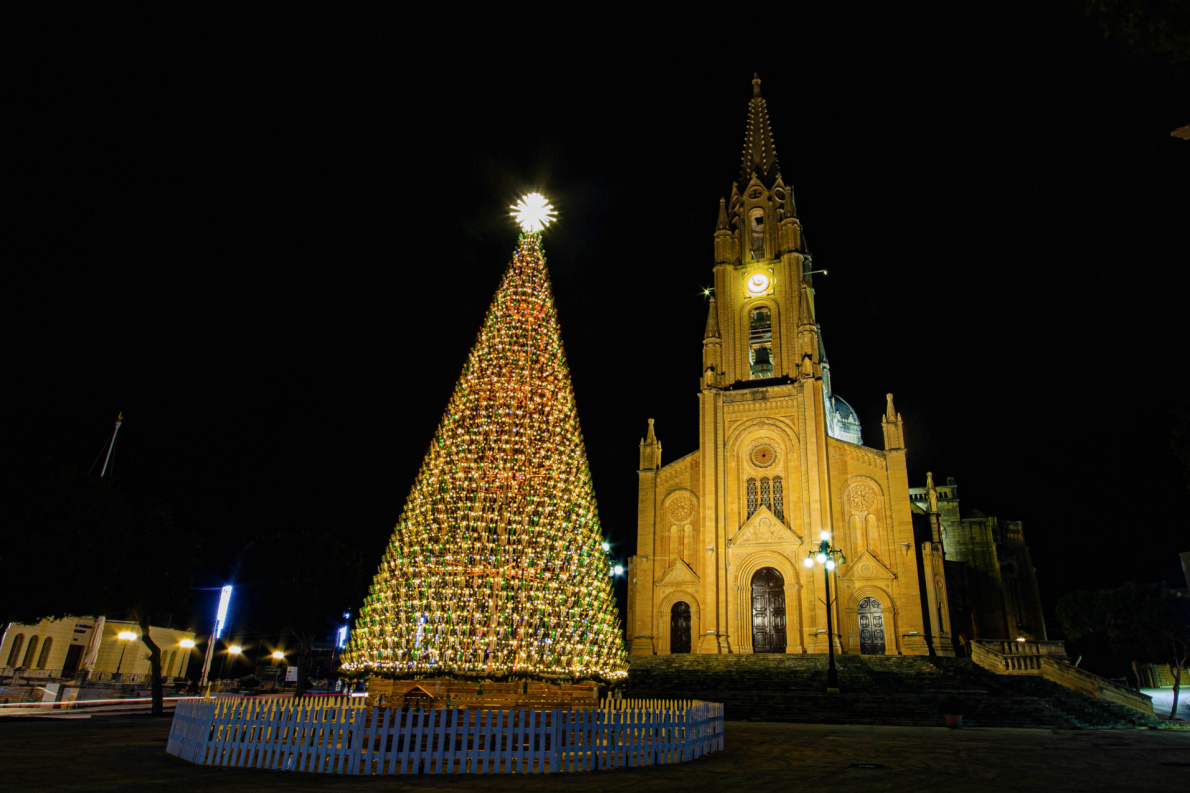 Tento vianočný stromček z Għajnsielem by sa zaiste veľmi páčil umelcovi Marcelovi Duchampovi (v náväznosti na jeho prácu s názvom Držiaky na fľaše).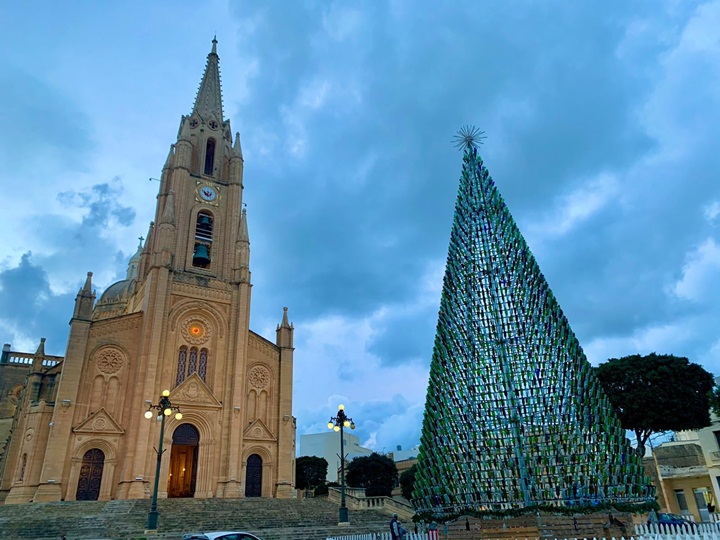 Pre tých, ktorí majú vieru, alebo ju hľadajú, alebo si jednoducho užívajú divokú prírodu, bohaté náboženské a kultúrne dedičstvo, či sa chcú v zime načerpať vitamínom D , je Għajnsielem určite miestom, kde môžu zažiť skvelú dovolenku i v decembri.
RÍM – TALIANSKO
Svetová metropola dýchajúca sama o sebe počas roka neskutočnou a bohatou históriou je počas Vianoc úplným rozprávkovým snom. Samotné mesto vyzerá ako živé jasličky. Ulice a uličky zdobia svetielka, sú plné kňazov, biskupov a tradične ľudí nasávajúcich a vychutnávajúcich si kresťanskú vianočnú atmosféru. Vianočný trh na Námestí Piazza Navona je jedným z najkrajších miest v Ríme, pričom všade po meste nájdete obchodíky a predavačov tradičných talianskych dobrôt, ktoré miluje, či chce ochutnať hádam každý.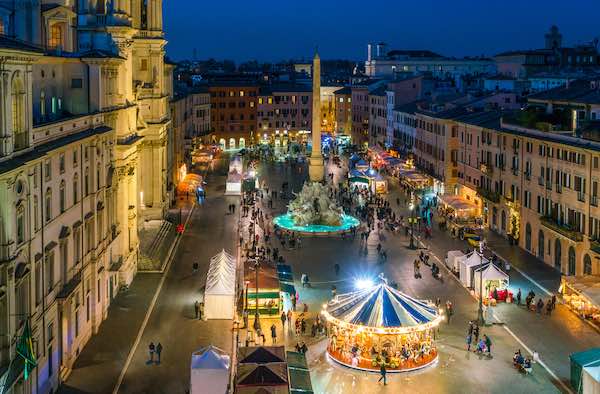 Mesto Rím zdobí niekoľko vianočných stromčekov situovaných v rôznych významných lokalitách.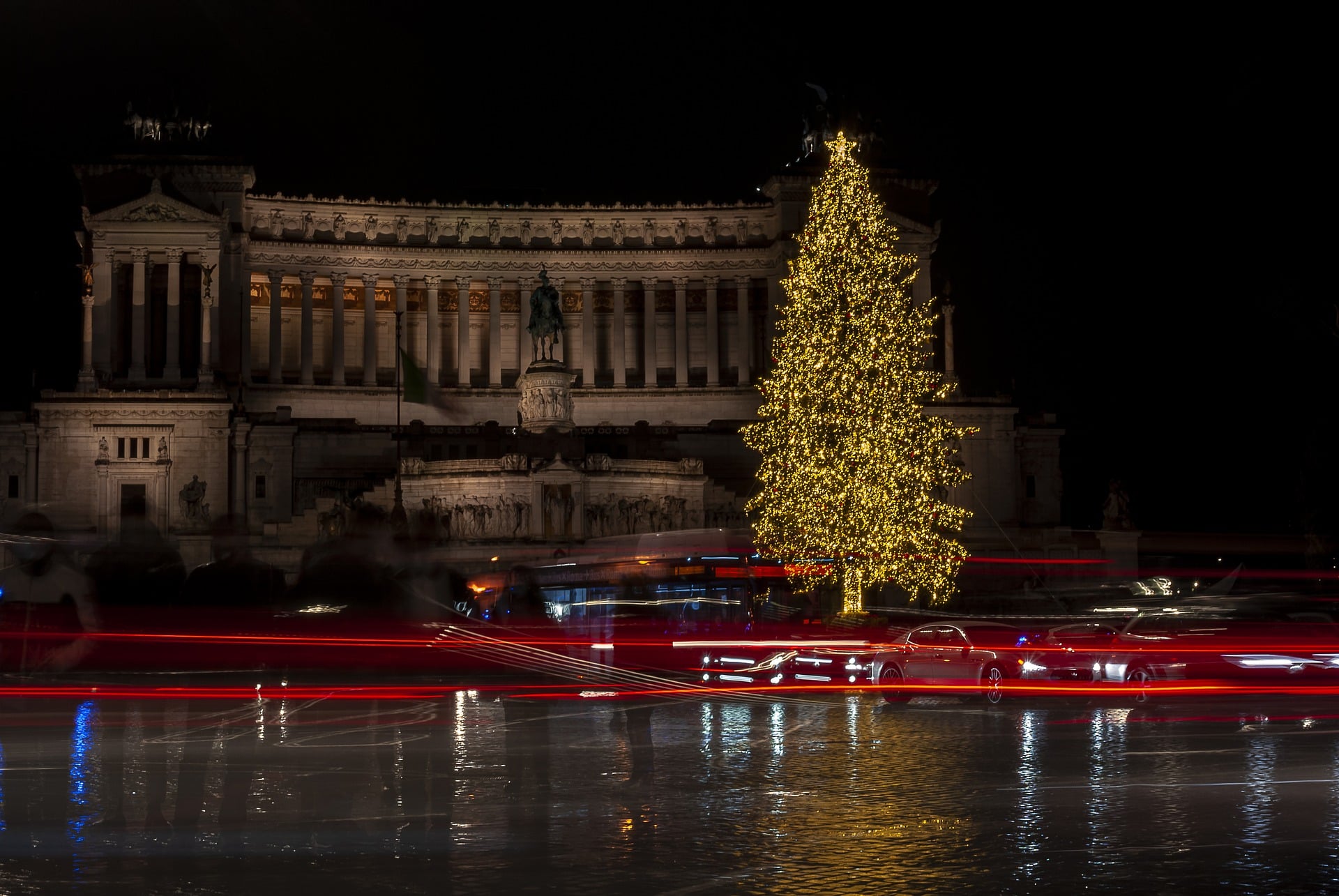 ŠTRASBURG – FRANCÚZSKO
Štrasburg je hlavným mestom Vianoc, ktoré sa často napodobňuje, no nikdy sa mu nevyrovná. Je to ideálna destinácia na oslavu tohto nádherného času. Jeho tradičný vianočný trh s osvetlením má nezabudnuteľnú atmosféru.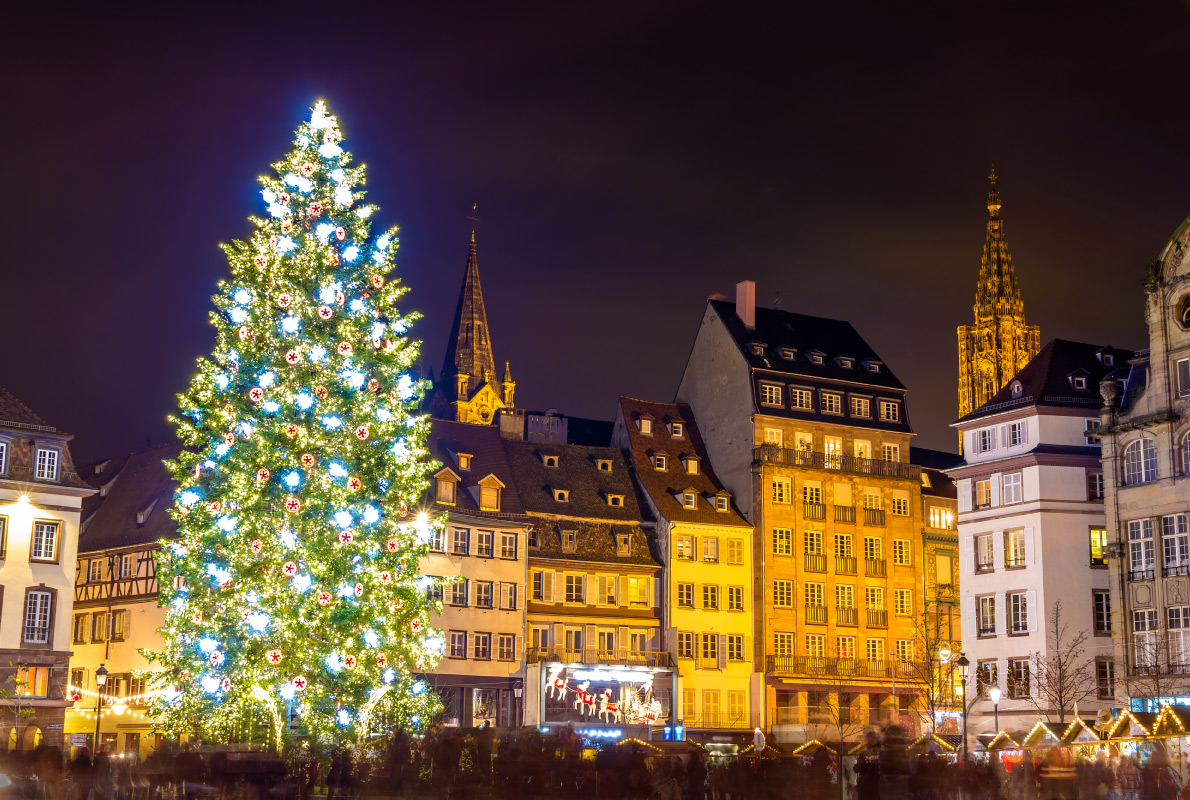 Príchod vianočného stromčeka v Štrasburgu je určite jednou z najdôležitejších udalostí roka a znamená spustenie vianočného trhu. Je to jeden z najväčších vianočných stromčekov v Európe a jeden z najkrajších.
LISABON – PORTUGALSKO
Máte chuť na Vianoce pod slnkom v jednom z jediných európskych hlavných miest s výhľadom na oceán? Objavte najkrajšie miesta v Lisabone, akými sú je Castelo Sao Jorge alebo palác Pena v Sintre, ako aj pláže Cascais. Tento strom, považovaný za najvyšší vianočný stromček v Európe (Guiness World Records), je tiež ekologickým vianočným stromčekom vyrobeným z LED diód. Je úplne umelý a používa sa každý rok. Je vysoký 76 metrov a je viditeľný z veľkej diaľky, dokonca aj z Cristo Rei, jedného z ďalších ikonických symbolov Lisabonu. Postavením ešte väčšieho vianočného stromčeka sa snažila konkurovať Bukurešť, no Lisabon si aj naďalej udržal svoj titul najväčšieho vianočného stromčeka v Európe. K videniu je od 1. decembra 2021 do 6. januára 2022.
Hoci sú Portugalci veľmi katolícki, zatiaľ si nevyvinuli silnú kultúru vianočných trhov . No veci sa postupne menia a Lisabon, podobne ako Porto, v posledných rokoch vytvára väčšiu trhovú ponuku Vianoc. Za výlet však stoja rozhodne dva portugalské vianočné trhy však stoja za výlet – vianočné trhy Obidos a Madeira. To najkrajšie, čo v krajine je v čase Vianoc je spojené s osvetlením, ohňostrojom, početnými chatami, výzdobou a živou hudbou. Reštrikcie v mnohých krajinách v dôsledku pandémie koronavírusu však spôsobili, že sa namiesto vychutnávania si vianočných trhov a s tým spojenej atmosféry môžeme oddať iba obdivu vianočných stromčekov a výzdoby. Ale aj tie sú samozrejme samy o sebe nádherné a mnohým poskytnú tie pravé vianočné chvíle prechádzkach mestom.
BUDAPEŠŤ – MAĎARSKO
Ak hľadáte autentické miesto, kde ešte stále nájdete ducha Vianoc, zabudnite na Londýn a Paríž a objavte na Vianoce Budapešť. Mesto u našich blízkych susedov sa stáva na Vianoce jedným z najkrajších miest v Európe. Budapešť je na Vianoce naozaj čarovná. Každoročne investuje do výzdoby najkrajších pamiatok, ulíc, tepien ale aj električiek a verejných priestranstiev.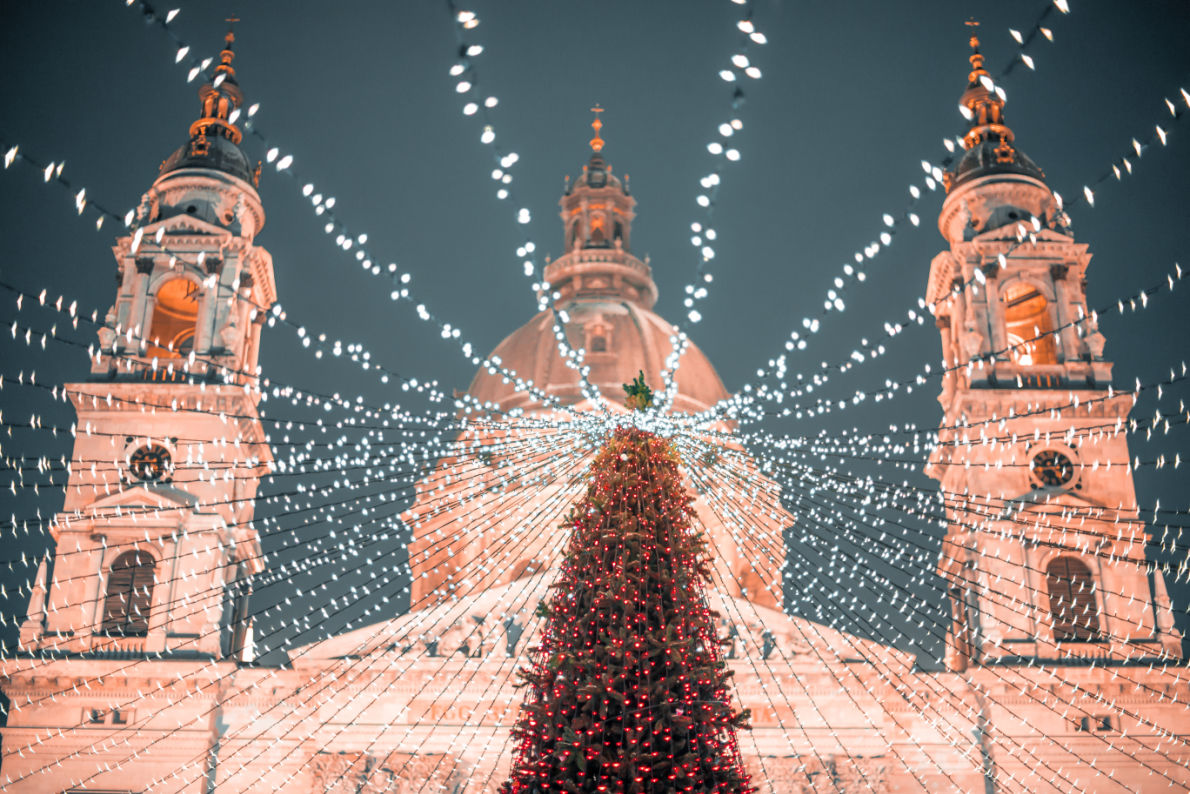 Nádherný vianočný stromček situovaný pred maďarským parlamentom je ideálnym východiskovým bodom na prechádzky po Budapešti a obdivovanie krás dekorácií a osvetlenia maďarského hlavného mesta. Tento rok ho zdobí v čase od 19. novembra 2021 až do 2. januára 2022. Zájazdy a aktivity v Budapešti sa dali objednať napríklad aj ako 2-hodinová plavba po Dunaji so živou hudbou.
VILNIUS – LITVA
Tohtoročný vianočný stromček sa týči nad Katedrálnym námestím vo výške 27 metrov a má 96 obrovských kópií skutočných snehových vločiek so zložitými vzormi. Inštaláciu zdobí aj 3 000 umelých konárov, 200 m2 zrkadiel, 900 m girlánd a vyše 2 000 m reťazových svetiel. Mesto skrášľuje od 27. novembra do 2. januára 2022.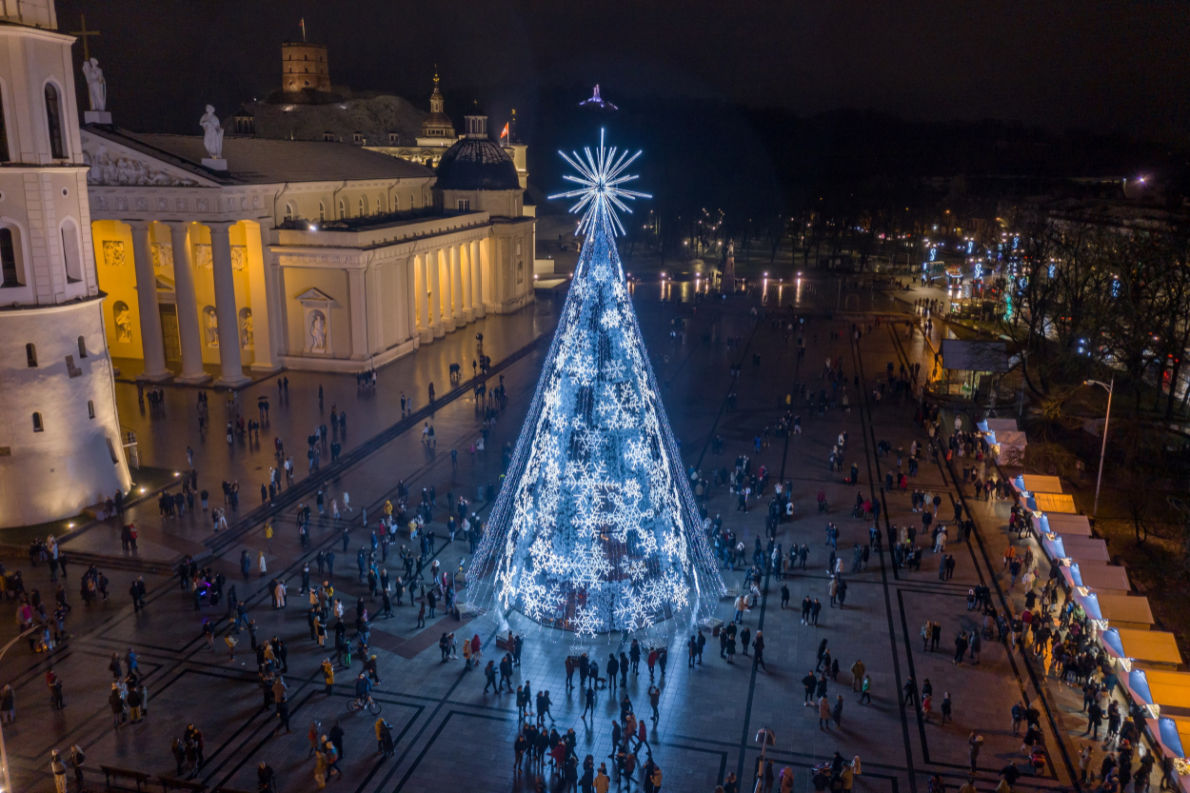 Podľa Dominykasa Koncevičiusa, dizajnéra Vianočného stromčeka 2021, bol tohtoročný koncept inšpirovaný minulou zimou, ktorá bola mimoriadne biela, studená a mrazivá. Tohtoročný vianočný stromček má preto presne presnú reprodukciu skutočných snehových vločiek, ktoré sú tisícnásobne zväčšené a premenené na veľké atmosferické sochy.
VIEDEŇ – RAKÚSKO
Viedeň na Vianoce každoročne objavuje čoraz viac návštevníkov. Vo Viedni je viac ako jeden vianočný trh a všade v uliciach sú mini vianočné pohostenia so svojimi trblietavými svetlami a patričnou atmosférou. Obzvlášť nádherný je obrovský vianočný stromček situovaný pred neogotickou Viedenskou radnicou na Rathausplatz.
KOLÍN NAD RÝNOM – NEMECKO
Kolín je jednou z obľúbených destinácií vianočných cestovateľov. Toto mesto je ako stvorené na Vianoce. Je to jeden z najautentickejších a najkrajších vianočných trhov v Nemecku. Uličkami sa nesie vôňa pečených jabĺk, škoricových sušienok a vareného vína a mnohé rôzne tematické vianočné trhy pozývajú ľudí na prechádzky, nákupy a objavovanie.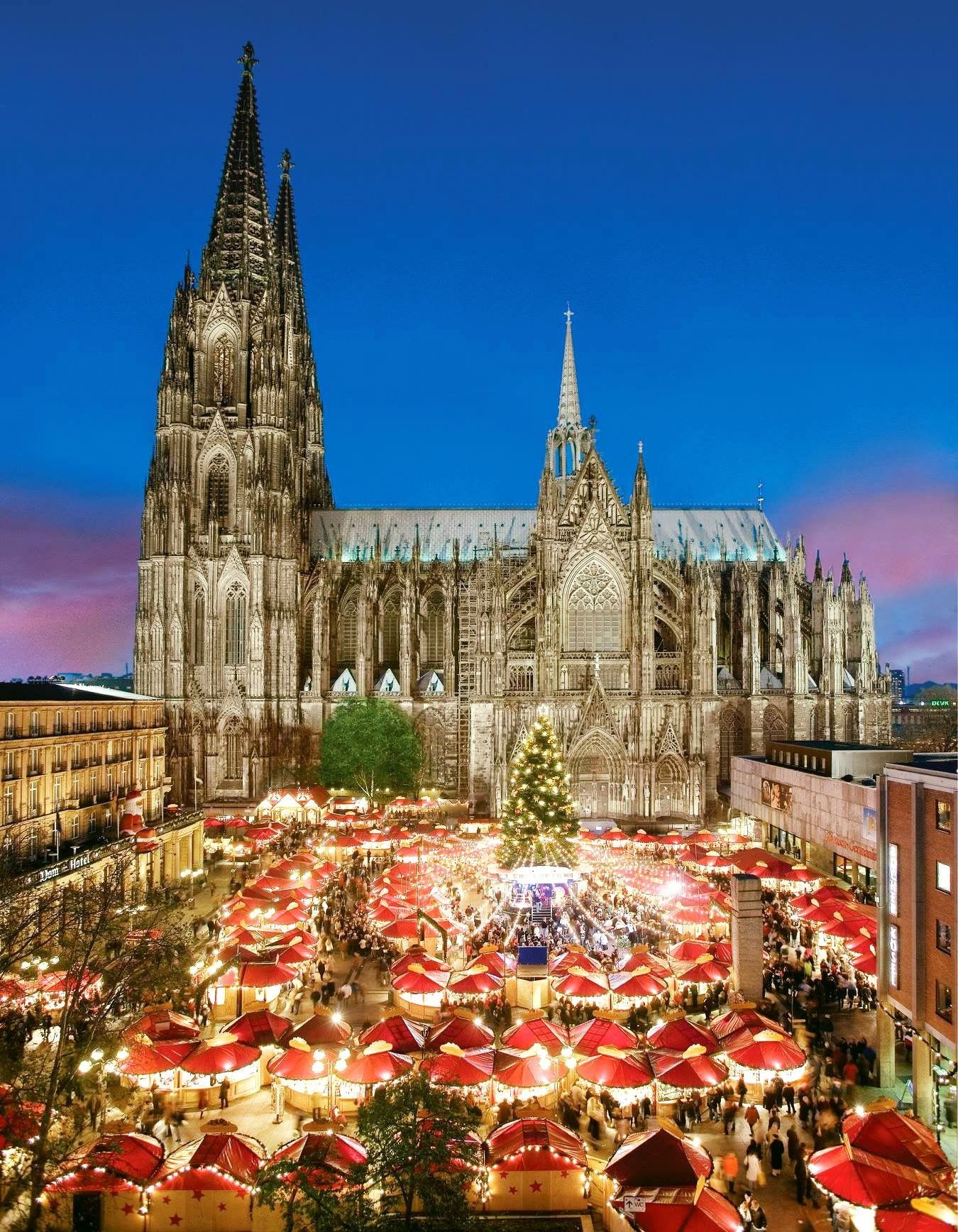 Väčšie vianočné trhy sa konajú v centre Kolína nad Rýnom, ale môžete tu nájsť aj menšie vianočné trhy, ktoré tiež majú návštevníkom čo ponúknuť.
TBILISI – GRUZÍNSKO
Hlavné mesto Gruzínska Tbilisi sa postupne stáva jednou z najnavštevovanejších destinácií pre zimnú sezónu. Vidno to najmä v období Vianoc, keď vysvietené a rozprávkovo vyzdobené Tbilisi s magickou sviatočnou atmosférou poskytuje príjemnú náladu každému návštevníkovi mesta. Chodníky lemujú nespočetné svetielka a bohato zdobené vianočné stromčeky.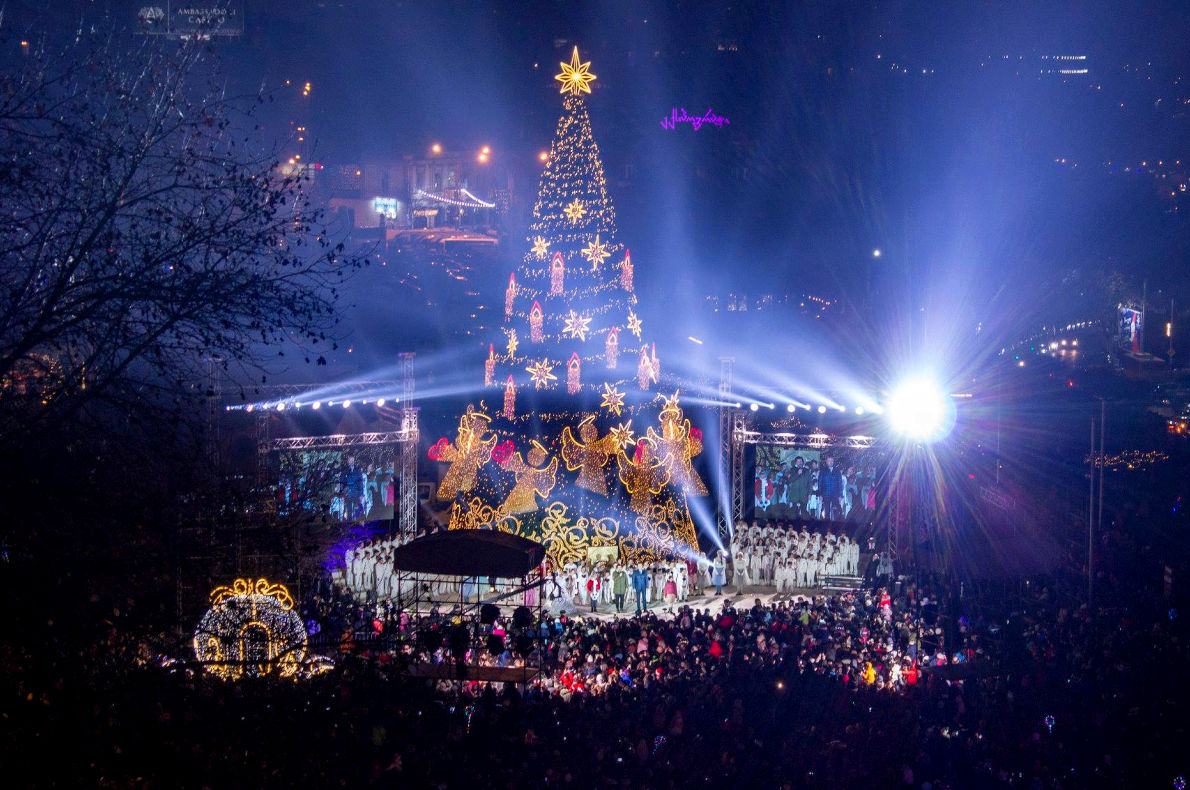 Vianočné trhy sa konajú takmer na každom rohu hlavného mesta, kde miestni podnikatelia a start-upy predávajú svoje remeselné predmety a suveníry, vianočné dobroty, pouličné jedlo, gruzínske cukríky a varené víno. Miesto, ktoré sa nachádza na Námestí prvej republiky, v blízkosti Rustaveli Avenue, hostí návštevníkov všetkých vekových kategórií a pozýva tradične na divadelné, hudobné a filmové predstavenia, oslavu nádherného vianočného stromčeka a vianočnej atmosféry dotvorenej drevenými chatrčami s farebnými svetlami.
Na Vianoce, ráno (7. januára) , sa tisíce ľudí zúčastňujú na tradičnom vianočnom pochode s názvom Alilo, kde pri prechádzaní ulicami Tbilisi zbierajú jedlo a sladkosti, ktoré sa neskôr rozdajú ľuďom v núdzi a sirotincom.
KYJEV – UKRAJINA
Hlavné mesto Ukrajiny je perfektnou destináciou pre cestovateľov, ktorí hľadajú autentickosť, sneh a tradície. V Kyjeve nie je len jeden, ale hneď niekoľko vianočných trhov. Jeden z najkrajších vianočných stromčekov v Európe môžete obdivovať na Námestí sv. Sofie. Tento skutočný strom zdobia desiatky kilometrov girlánd. Vianočný trh je pre návštevníkov otvorený od 14. decembra 2021 do 20. januára 2022.
INNSBRUCK – RAKÚSKO
Vianočný trh v Innsbrucku, nazývaný Vianočný trh Altstadt, je jedným z najromantickejších vianočných trhov v Európe. Je to raj pre najmenších ale aj pre dospelých, ktorí sa zhromažďujú uprostred hlavného námestia mesta okolo veľkolepého vianočného stromčeka.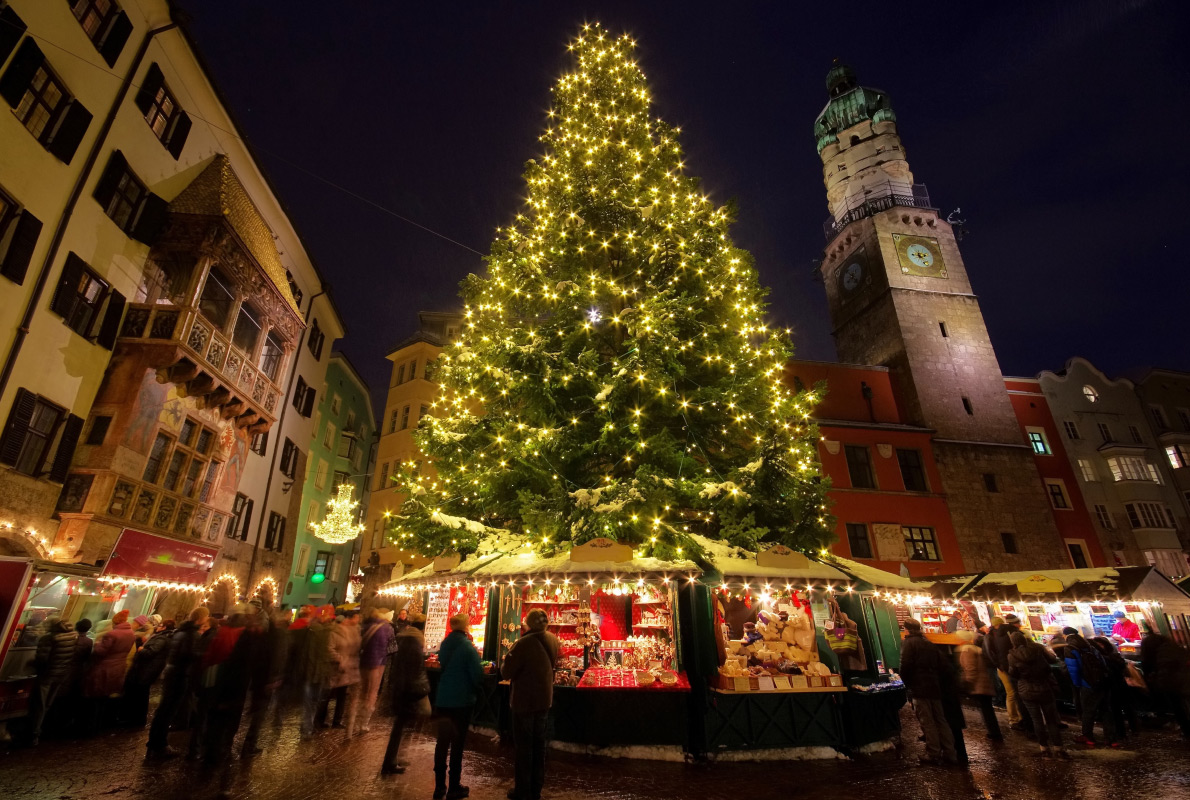 BRUSEL – BELGICKO
Brusel má jeden z najkrajších vianočných trhov v Európe. Na Vianoce je celé mesto vyzdobené blikajúcimi svetlami a víta návštevníkov z celého sveta. Strom sa nachádza na jednom z najkrajších miest mesta, na námestí Grand Place a zdobí ho od 26. novembra 2021 do 2. januára 2022. Ako návštevník Belgicka musíte rozhodne ochutnať lahodné belgické čokolády, pozrieť si workshop výroby waflí, či čokoládový workshop.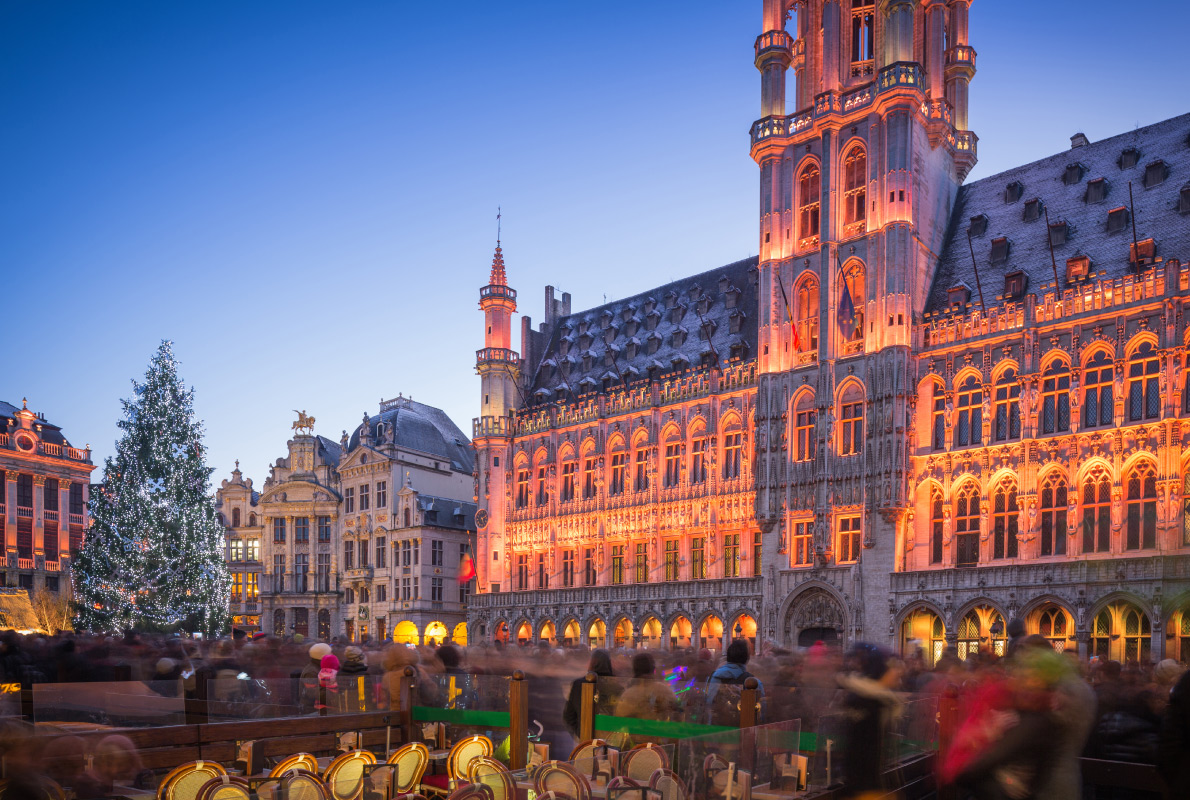 Druhú časť článku na pokračovanie o Najkrajších vianočných stromčekoch v Euroópe čítajte ďalej na tomto blogu.
obrázky: © pinterest, Shutterstock
Sledujte Facebook stránku: Mya Mirell Fashionista a Instagram: mya_mirell .