41. ročník udeľovania ocenení z britskej a medzinárodnej hudby Brit Awards 2021, to najlepšie z červeného koberca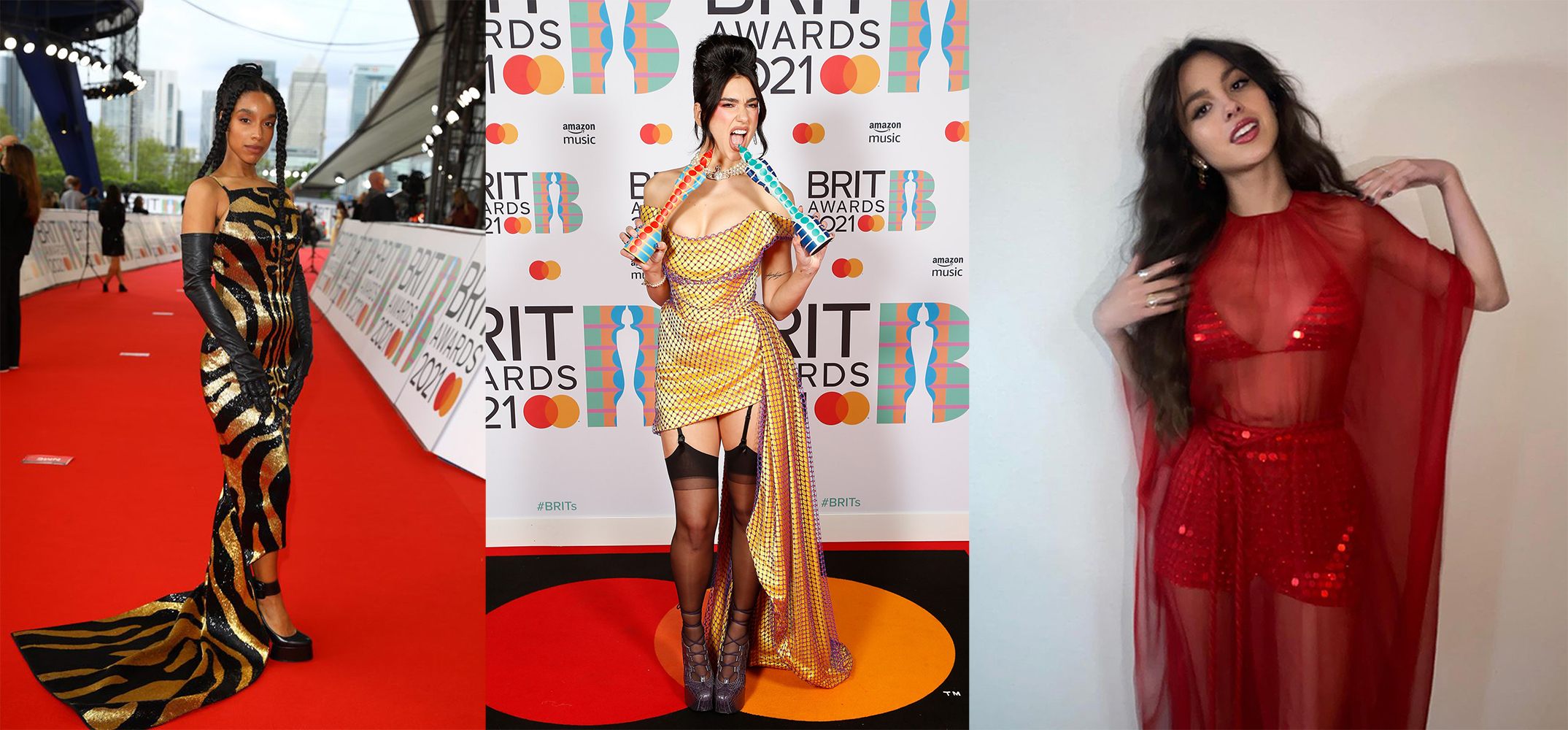 Po roku obmedzení a zákazov bol návrat cien BRIT Awards v plnej paráde nabitý hviezdami, ako si len možno predstaviť. 11. mája 2021 sa uskutočnil 41. ročník udeľovania cien Brit Awards, slávnostný večer s oceňovaním toho najlepšieho z britskej a medzinárodnej hudby. Obyčajne sa toto podujatie uskutočňuje vo februári, ale tak ako aj ostatné filmové galavečery, bol ceremoniál odložený kvôli pandémii covidu-19. Zúčastnili sa ho najväčšie mená hudby ako Dua Lipa, Olivia Rodrigo, Griff, ktoré osobne vystúpili na šou v londýnskej O2 aréne.
Slávnostný ceremoniál bol súčasťou vládneho procesu živých udalostí, v ktorom sa skúmalo, ako môžu koncerty a podujatia fungovať po skončení pandémie. Hviezdy mali teda dovolené osobne sa udalosti zúčastniť, prevziať si ceny pred živým publikom, kráčať po červenom koberci, pričom sa nemuseli dodržiavať odstupy ani používať rúška. Išlo o prvú britskú hudobnú udalosť vo vnútorných priestoroch. Mnohí zúčastnení využili túto príležitosť, aby sa po roku virtuálnych udalostí predviedli v štýlových outfitoch a vychutnali si skutočnú atmosféru večera.
Ak existuje jedna vec, ktorú zábavný priemysel miluje, je to večierok a hviezdy na galavečere v outfitoch od rôznych dizajnérov, ktoré tentokrát predviedli všehochuť. Predviedli outfity od veľkých hráčov z módneho pola, zvučných mien ako Vivienne Westwood , Gucci , pútali červené šaty Olivie Rodrigo od Dior , či šaty Balmaina. No zjavili sa aj nové mená ako Harris Reed, Susan Fang a Robert Wun.
Pozrime sa na tie najzaujímavejšie módne inšpirácie hviezd, ktoré sa blysli na červenom koberci Brit Awards 2021.
RINA SAWAYAMA
V záplave volánov z orgovánového tylu od Balmain Couture ohromila na červenom koberci japonsko-britská speváčka Rina Sawayama, ktorá vsadila na éterický vzhľad. Model z kolekcie Balmain couture Jar/Leto 2019 doplnila šperkami, ktoré neprebili celkovo dramatický vzhľad, pričom upustila od náhrdelníka. Pri prenášaní šiat, ktoré boli samostné šperkom a presúvaní sa cez O2 arénu však drobná speváčka potrebovala pomoc.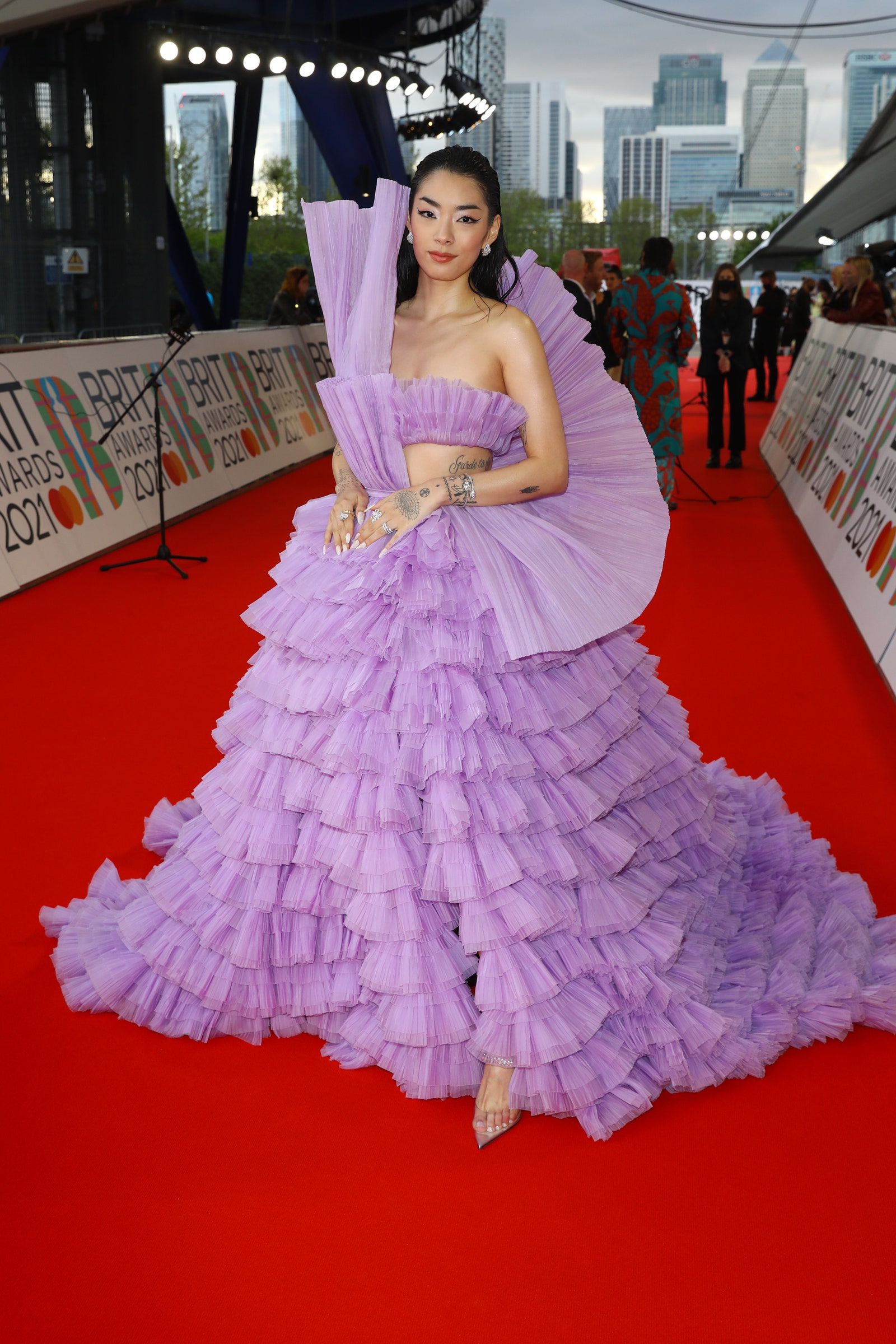 HARRY STYLES
Spevák, ktorý si odniesol ocenenie Mastercard British single za titul Watermelon Sugar sa na červenom koberci blysol v obleku v štýle 70. rokov z talianskej dielne Gucci . Kostým s geometrickým vzorom v kombinácii farieb bordovej, krémovej, oranžovej a v ich odtieňoch zaujal azda najviac. Harry Styles k modelu zvolil koženú kabelku s typickou preslávenou Gucci bambusovou rukoväťou a semišové topánky. Zdá sa, že svojou štýlovou bezkonkurenčnosťou vyrazil všetkým prítomným dych.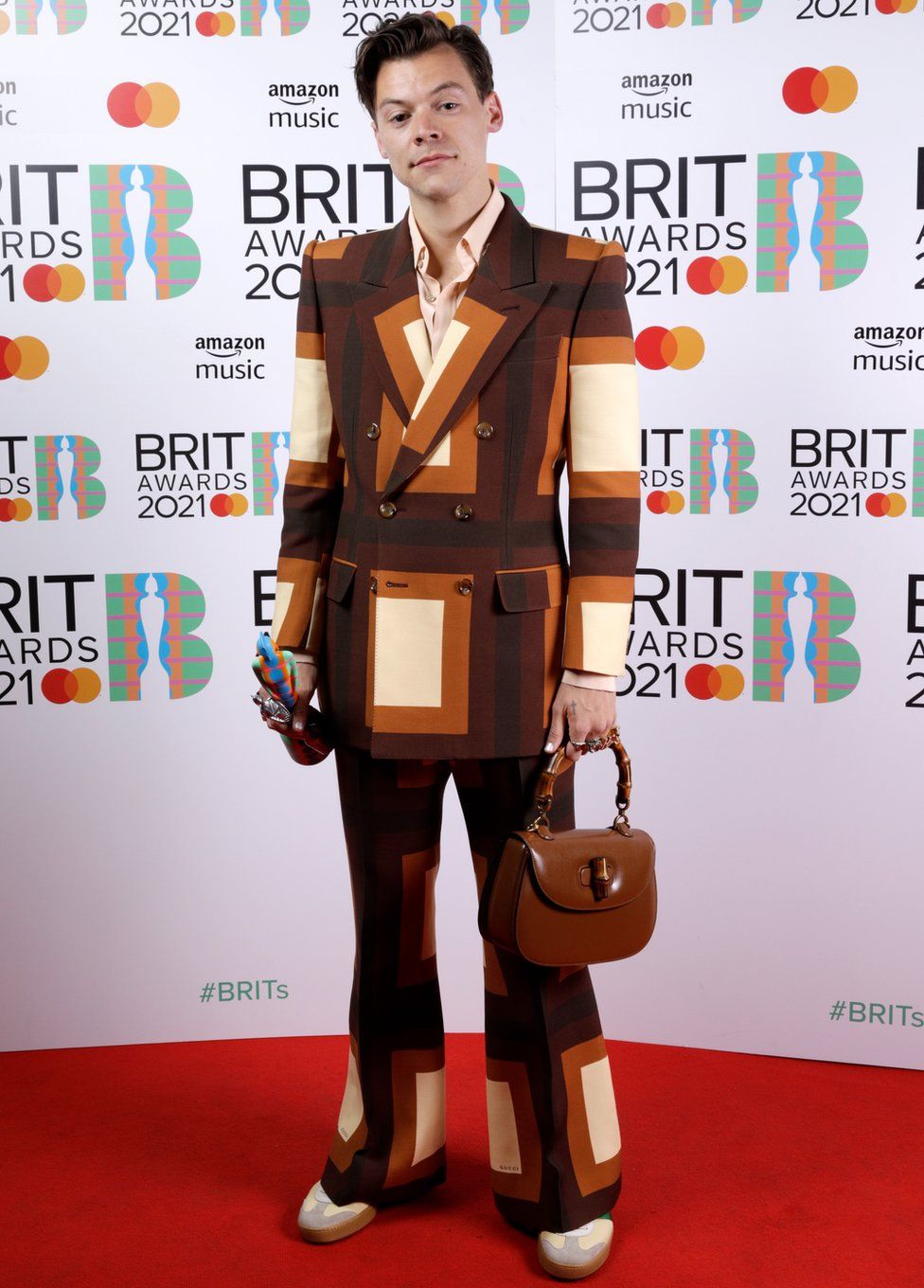 DUA LIPA
Populárna speváčka Dua Lipa sa objavila v outfite na mieru od britskej dizajnérky Vivienne Westwood. Odniesla si pritom ocenenie za za britský album a britskú sólovú umelkyňu na BRIT Awards. Retro vzhľadom pripomínala zosnulú speváčku Amy Winehouse.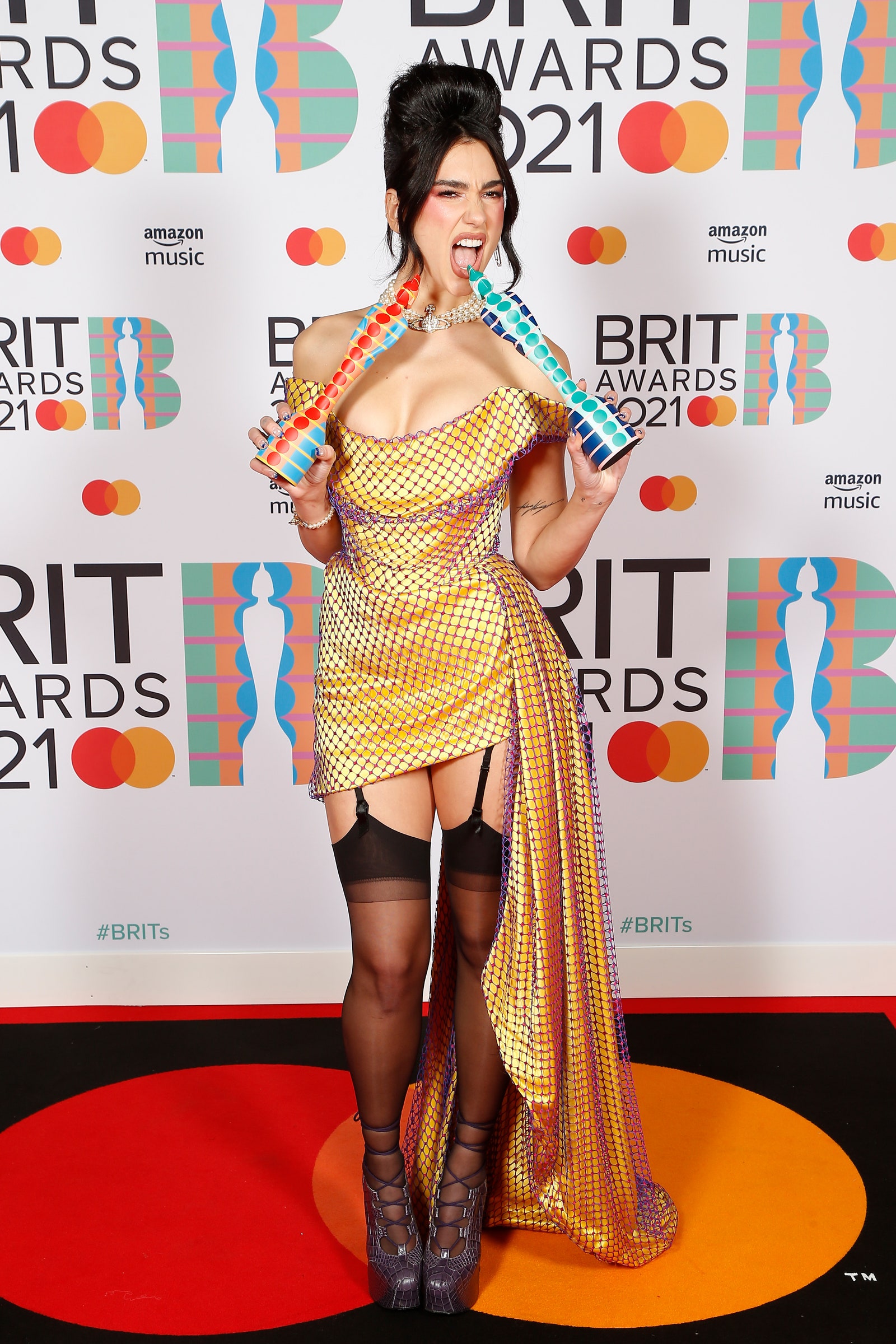 OLIVIA RODRIGO
18-ročná americká herečka a speváčka Olivia Rodrigo pútala svojím zjavom, keď zaspievala v krvavých transparentných šatách Dior, v očarujúcom modely, ktorý na červenom koberci zamenila na dievčensky slušivý zelený model s plisovaním.
TAYLOR SWIFT
Jemná kráska zvolila na mieru zhotovený dvojdielny set v striebornej farbe od Miu Miu, bohato zdobený kamienkami. Odniesla si pritom cenu Global Icon Award.
MAYA JAMA
Zaujímavé mini šaty s hlbokým v výstrihom a  rafinovanými otvormi zdobené kamienkovými retiazkami zvolila na galavečer televízna moderátorka Maya Jama. Komplet s detailne vybavenými radmi trblietavých retiazkových ozdôb dopĺňali lodičky do špica a výrazný náhrdelník.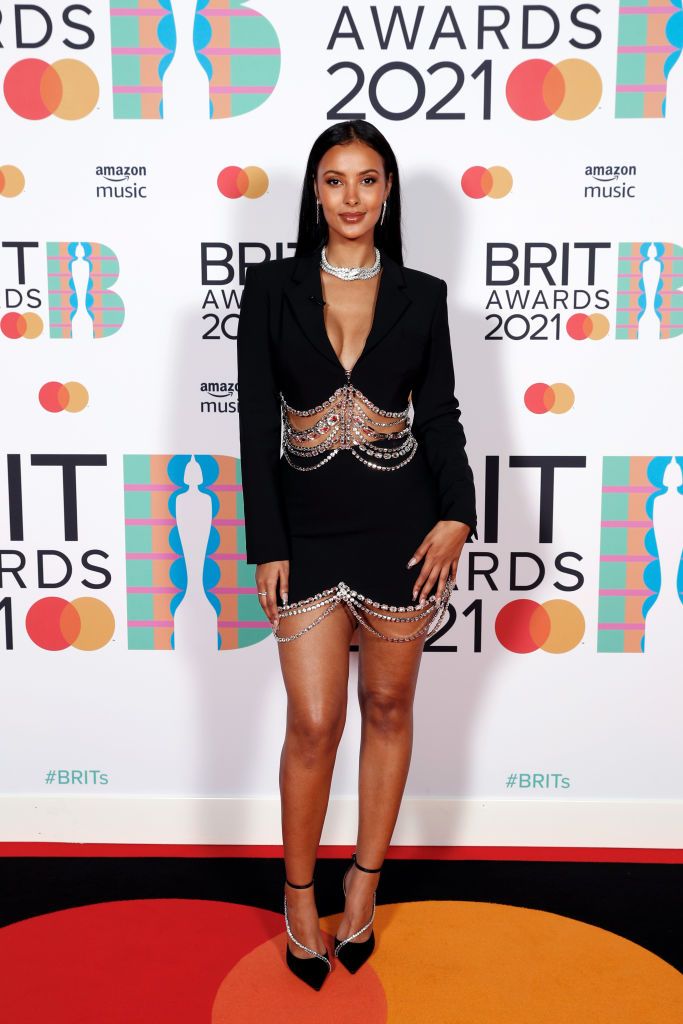 CELESTE
Speváčka zvolila monochromatické šaty v čiernej farbe s veľkou operenou časťou na jemných kamienkových ramienkach, v ktorých pôsobila ako čierna labuť. Model doplnila čelenkou s bielym perím od Ashley Williams.
LITTLE MIX
Tehotné krásky ohúrili v bielom – tehotná Leigh-Anne Pinnock, ktorá ktorá získala ocenenie British Group zvolila model od Maison Margiella, Jade Thirlwallová model od Vivienne Westwood a tehotná Perrie Edwardsová dala prednosť modelu od Davida Komu. Spolu trio pôsobilo ako spanilé nežné víly.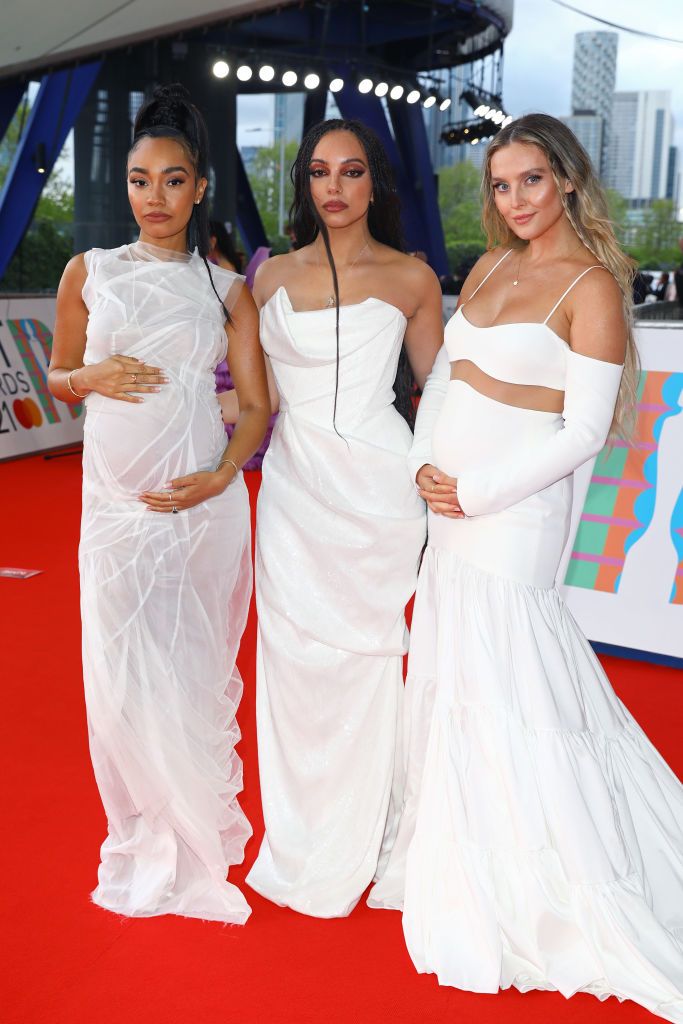 RAYE
Speváčka ohúrila v odvážnej cyklámenovej róbe bez ramien ušitej na mieru od talianskeho módneho domu Etro. S hlbokými výstrihmi na dekolte a chrbáte a rozparkom vysoko odhaľujúcim stehno bola v tomto odvážnom sexi modeli zaiste na červenom koberci neprehliadnuteľná.
OLIVIA RODRIGO
Olivia Rodrigo mala na sebe na odovzdávaní cien BRIT Awards 2021 zelené tylové šaty s plisovaním. Pôsobila nežne a dievčensky.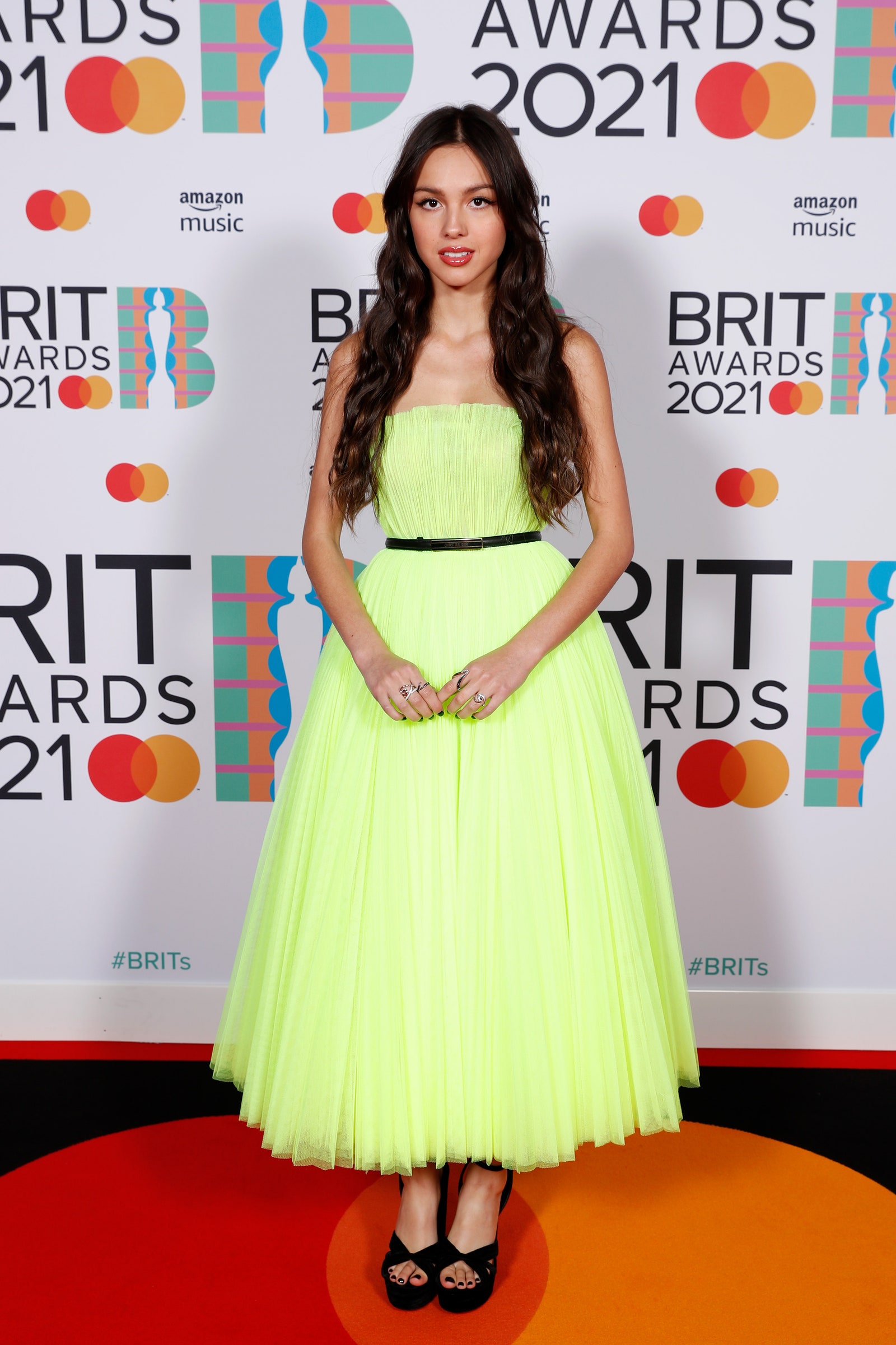 LIANNA LA HAVAS
Anglická speváčka zvolila na červený koberec zvieraciu potlač od hlavy po päty z dielne Schiaparelli s koženými opernými rukavicami. Jej otec bol Grék a matka Jamajčanka a tak Lianna vzdala hold svojím koreňom a k modelu doplnila copíkový vlasový jamajský štýl.
ARLO PARKS
Britská speváčka, skladateľka a poetka si na galavečer obliekla slušivý tlmený červený dámsky oblek, ku ktorému doplnila ružovú košeľu. Celkom netradične outfit doplnila traktorovými masívnymi topánkami.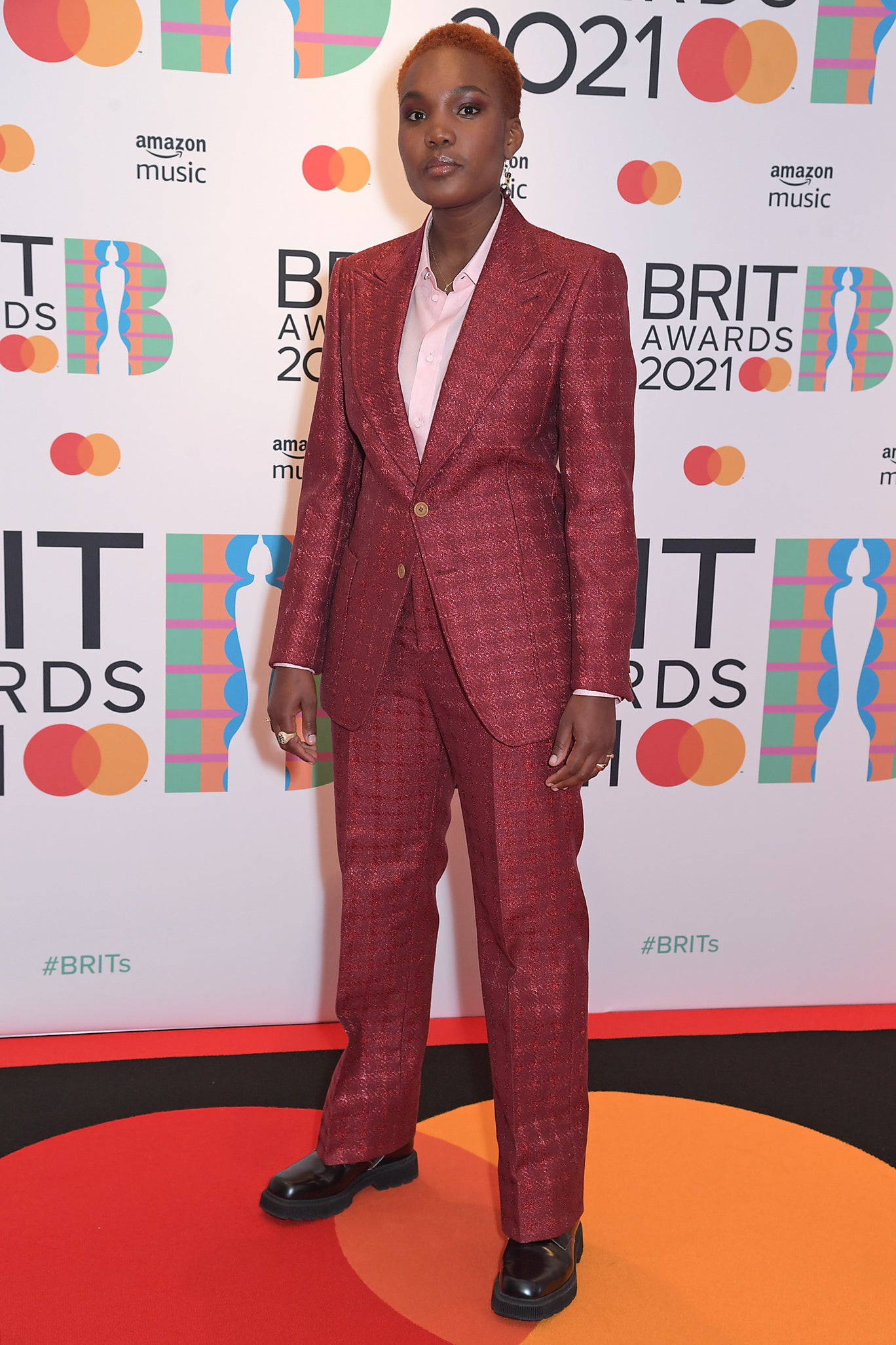 HEADIE ONE
Britský raper, spevák a skladateľ zvolil na galavečer šedo-strieborný elegantný plášť z dielne Louis Vuitton.
OLLY ALEXANDER
Anglický herec, scénarista a hudobník Olly Alexander ako ďalší mužský protagonista zvolil outfit z talianskej dielne Gucci. Výrazný čiernobiely komplet s hviezdičkovou potlačou s modrou košeľou a striebornou sponou v páse bol zdobený perovými manžetami a na lemoch nohavíc ostňami. Skutočne bizarný look z pera nemenej presláveného talianskeho dizajnéra Alessandra Michele značky Gucci, ktorá sa vyznačuje ugly chic štýlom a najmä jedinečnosťou , luxusom a jasnou čitateľnosťou, rozpoznateľnosťou.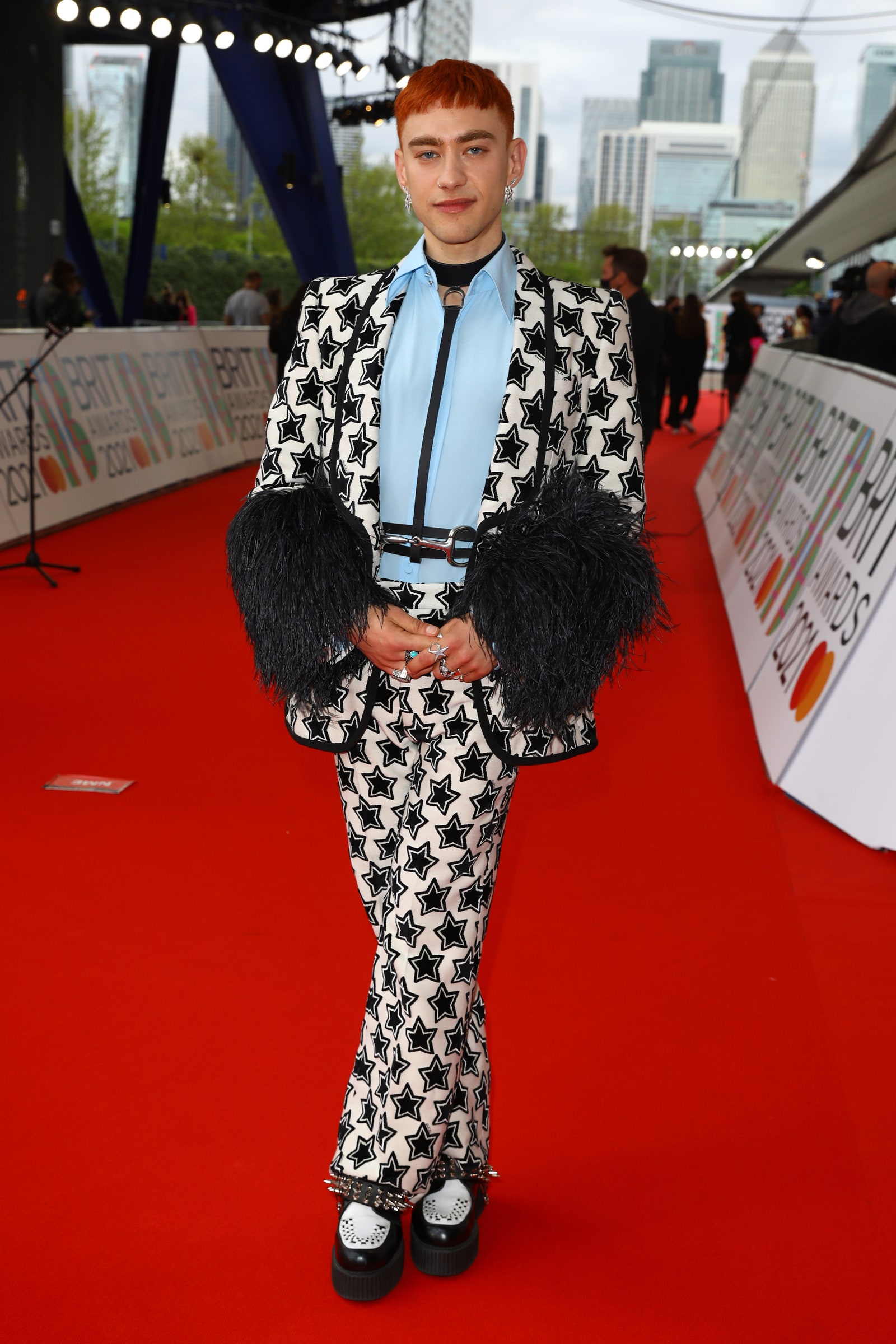 zdroj obrázkov: getty images, popsugar, elle, Dior
Sledujte Facebook stránku: Mya Mirell Fashionista a Instagram: mya_mirell .