Najšialenejšie módne show Paris Fashion Weeku a pozoruhodné momenty z prehliadkových mól – Jar / Leto 2020, Chanel, Valentino, Dior, Louis Vuitton, 23. september – 1. október 2019
Paris Fashion Week je udalosťou, kde najlepšie módne domy, značky a návrhári predstavujú svoje kolekcie, spolupráce a produkty. Ukončuje mesiac trvajúci maratón prepracovaných show, ktoré začínajú New Yorkom, pokračujú Londýnom, Milánom a končia práve v Paríži.
Koncom septembra priniesol Paris Fashion Week opäť zaujímavé módne novinky, ktoré predviedli ikonické módne domy Chanel, Valentino, Louis Vuitton, Dior a ďalší. Prehľad najpozoruhodnejších módnych show a momentov tohto týžďňa módy pre sezónu Jar – Leto 2019 vám prinášam v krátkom zhodnotení.
VALENTINO
Krajčírska romantika od Pierpaolo Piccioli zobrazená v modernom prostredí ako rozprávka. Na úvod dizajnér predstavil bielu romantiku na košeľových šatách, krátkych šortkách, ktorá postupne prekvitla do žiarivých neónových modelov.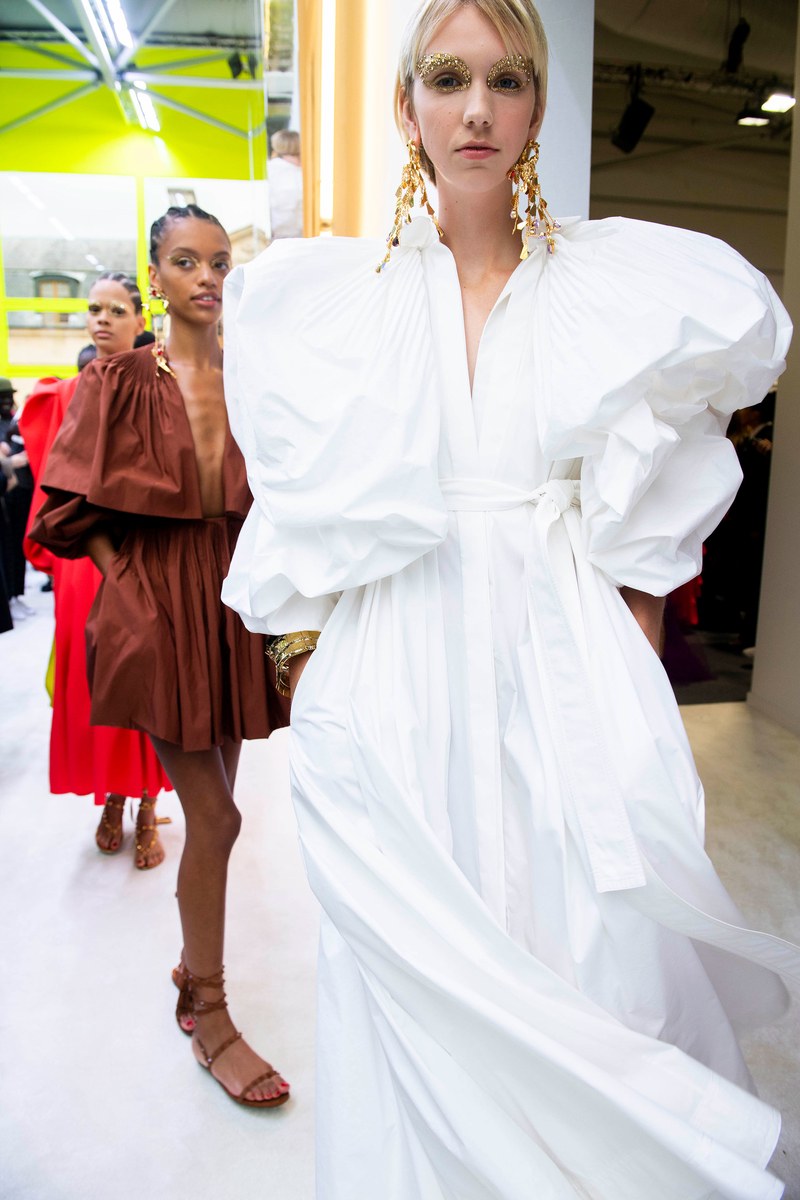 Foto – Jason Lloyd-Evans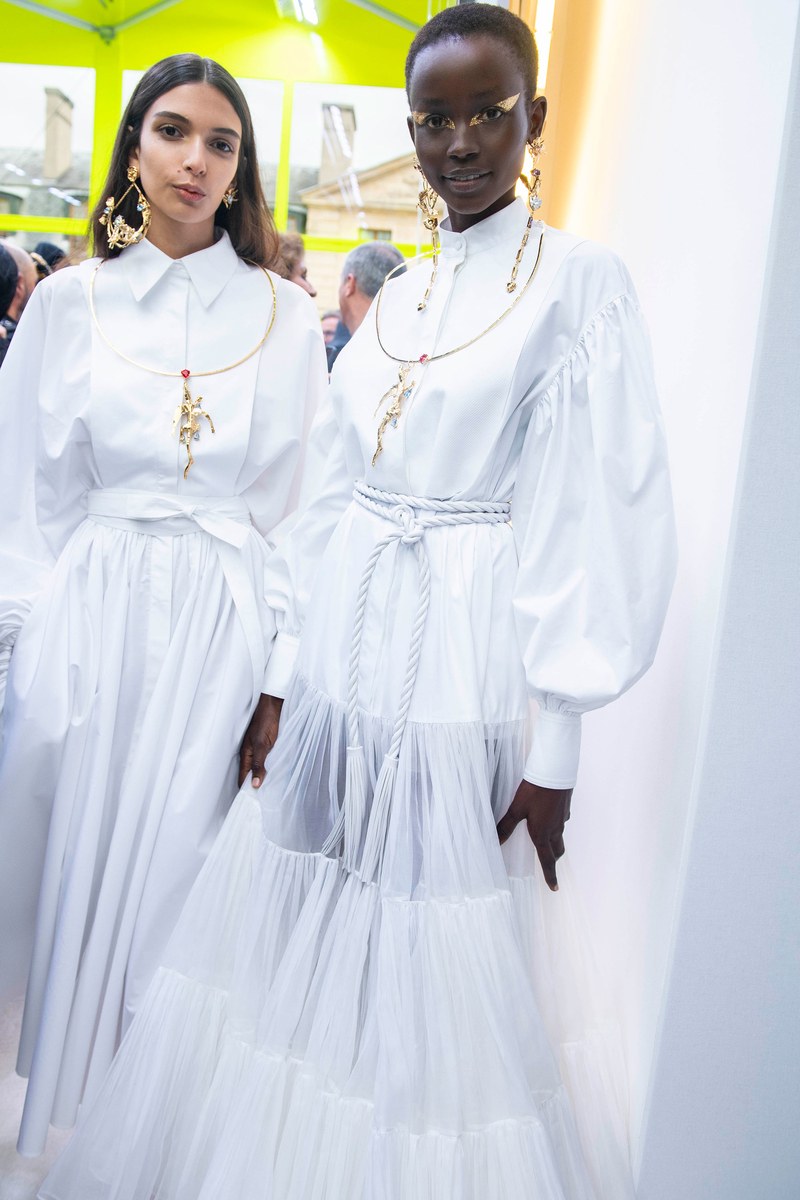 Foto – Jason Lloyd-Evans
Ženské strihy, transparentné materiály na modeloch odvážne odhaľujúcich kúsky kože, no krásnym spôsobom za použitia fantázie, splývavé materiály na šatách dĺžky po zem, či šatách ako rúcho, sa spolupodielali na éterickosti a magickej romantickej atmosfére najnovšej kolekcie značky Valentino pre sezónu Jar / Leto 2020.
Foto – Jason Lloyd-Evans
Nová kolekcia značky Valentino pre Jar / Leto 2020 žiarila farbami a objavili sa tiež pralesné potlače, kvetinové vzory, flitre, tak ako u dizajnérov predchádzajúceho týždňa módy, Milan Fashion Weeku.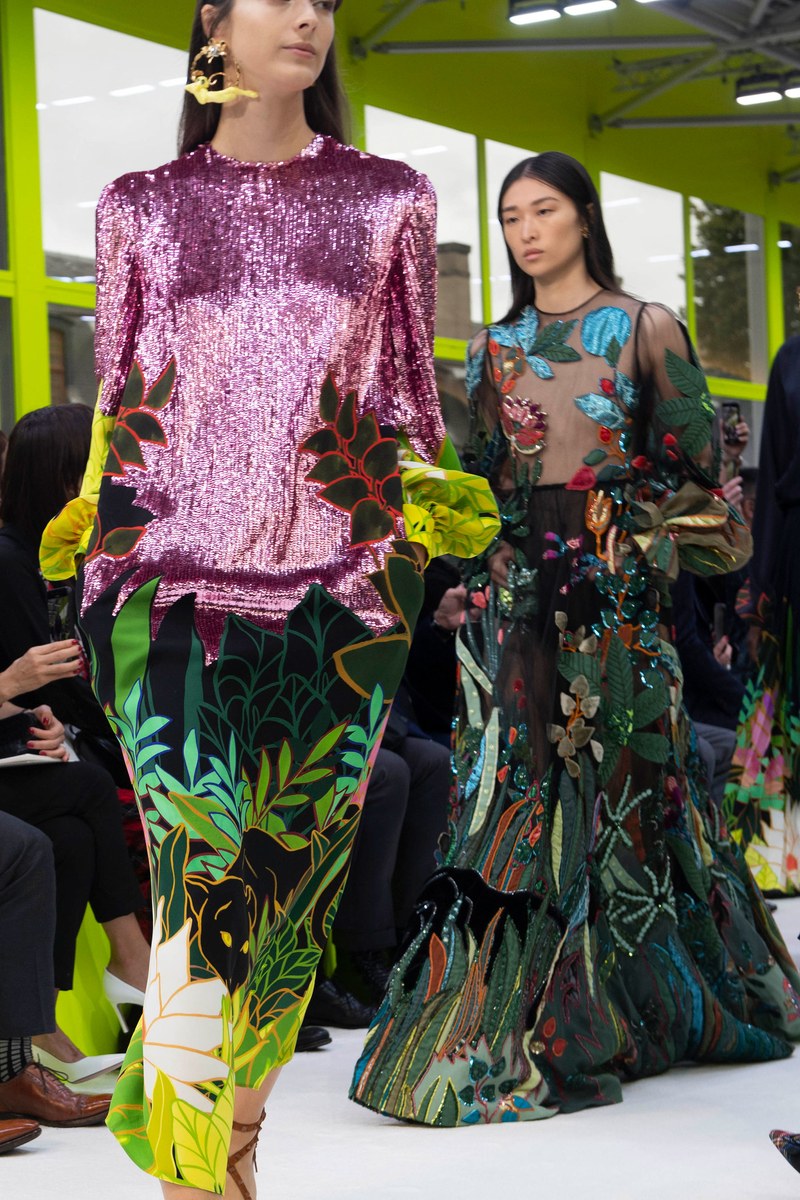 Foto – Jason Lloyd-Evans
Módnu show zakončil dlhotrvajúci standing ovation.
CHANEL
Prehliadka luxusnej značky Chanel sa uskutočnila v netradičnom prostredí, na streche jednej z parížskych budov, čo ju robilo unikátnou. Módny dom pod vedením dizajnérky Virginie Viard predviedol v novej kolekcii Jar / Leto 2020 krátke sukne, nohavice, nastolil mladistvý parížsky duch z čias rokov 50tych.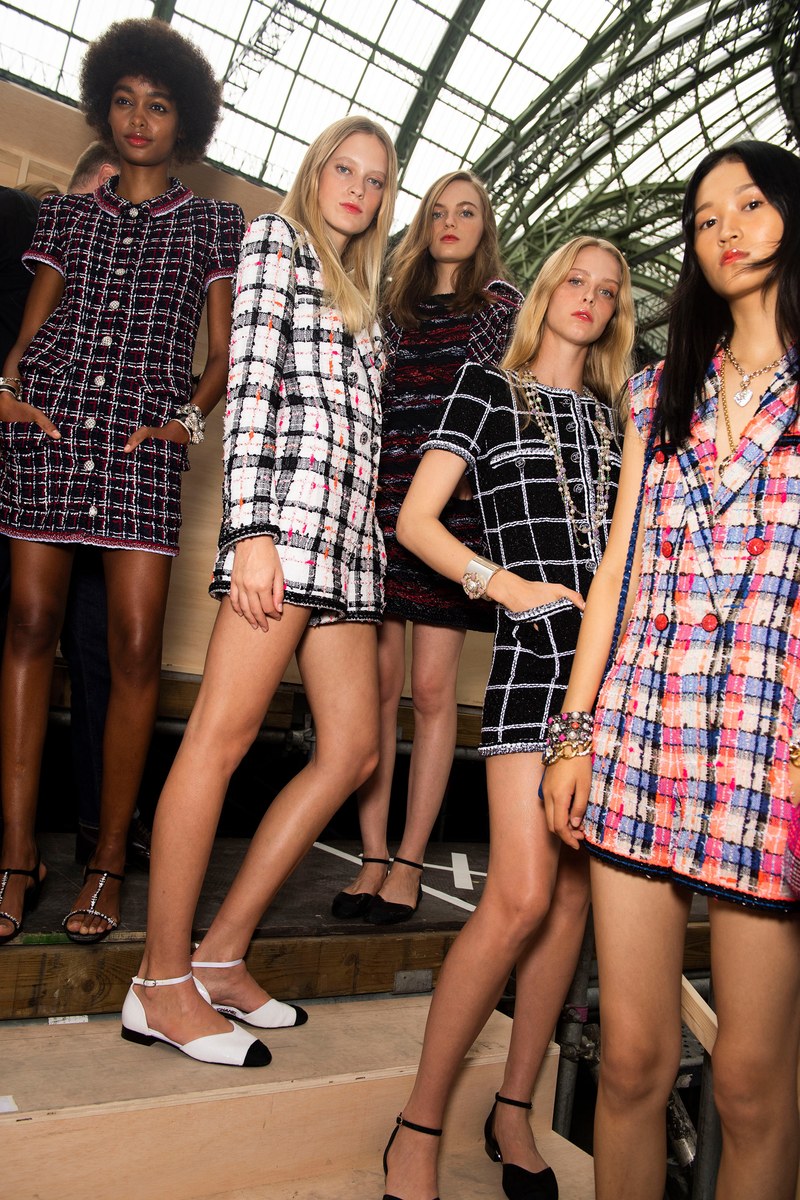 Foto – Jason Lloyd-Evans
Materiály niesli farebné grafické potlače striech, čo bolo novým a netradičným Chanel prvkom, no kolekcia obsahovala aj tradičné znaky módneho domu. Tie tvorili materiály ako tvíd predvedené na modeloch v elegantných siluetách spolu s doplnkami – pančuchami, retiazkami a perlami.
Foto – Jason Lloyd-Evans
Foto – Jason Lloyd-Evans
Nečakané divadlo spôsobila francúzska youtuberka, ktorá vstúpila na mólo počas záverečného defilé modeliek a narušila choreografiu prehliadky. Niektorí pozvaní hostia však prekvapivo v rozhovoroch ocenili aj takýto trúfalý počin ako zaujímavú a zábavnú vsuvku. Youtuberku spacifikovala americká modelka Gigi Hadid, ktorá ju odtisla do zákulisia. Video si môžete pozrieť na facebook stránke Mya Mirell Fashionista.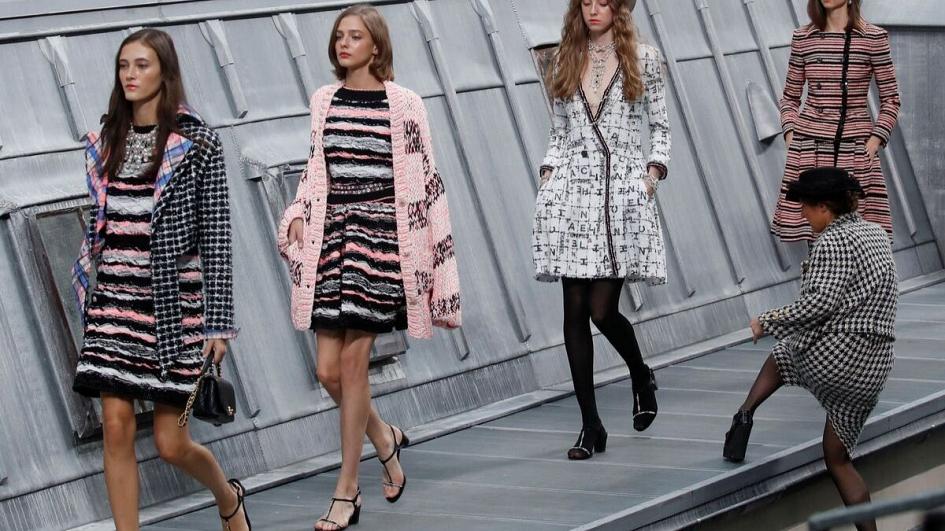 source: euronews. com
LOUIS VUITTON
Prehliadka tejto značky ukončovala Paris Fashion Week a to s patričným standing ovation. Módny návrhár Nicolas Ghesquére sa vo svojej emocionálnej módnej show pre Jar / Leto 2020 navrátil k minulosti a k obdodiu Art Nouveau.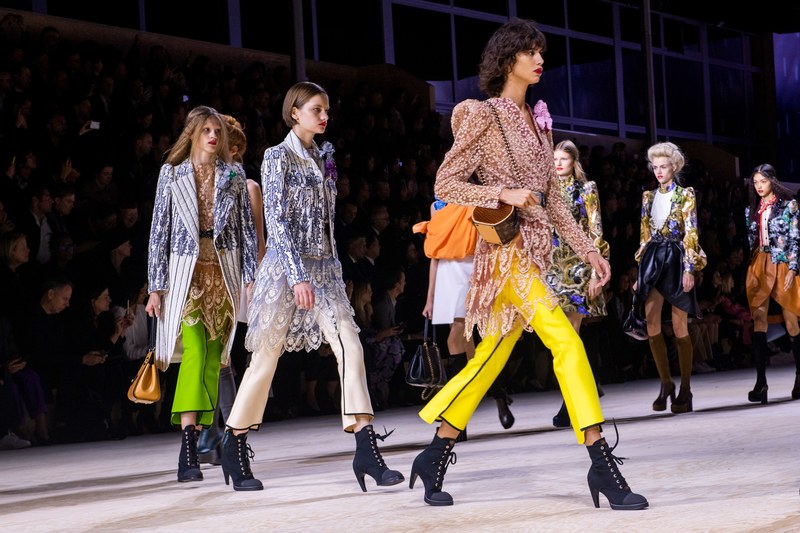 zdroj: Vogue com, foto Jason Lloyd-Evans
Nasýtená farebná paleta najnovšej kolekcie obsahovala pečať tradičného rukopisu značky Louis Vuitton, mix krajčírstva rokov 70tych s elektrizujúcimi detailami akými boli hypnotizujúce potlače na blúzkach so žiarivými farbami a zrezané nohavicové obleky.
zdroj: Vogue com, foto Jason Lloyd-Evans
DIOR
Módna dizajnérka značky Dior, Talianka Maria Grazia Chiuri nastavila latku veľmi vysoko. Túto sezónu sa zamerala na ochranu prírody, udržateľnosť, biodiverzitu a záchranu planéty Zem. Módna show odohrávajúca sa v stane, ktorý sa premenil na záhradu, obrovský labyrint so stromami plánovanými vysadiť v okolí Paríža, bola prepracovaná do najmenších detailov. Dôraz bol kladený na nulový odpad a znovu recyklovateľnosť. V skutku aktuálna a pálčivá tematika.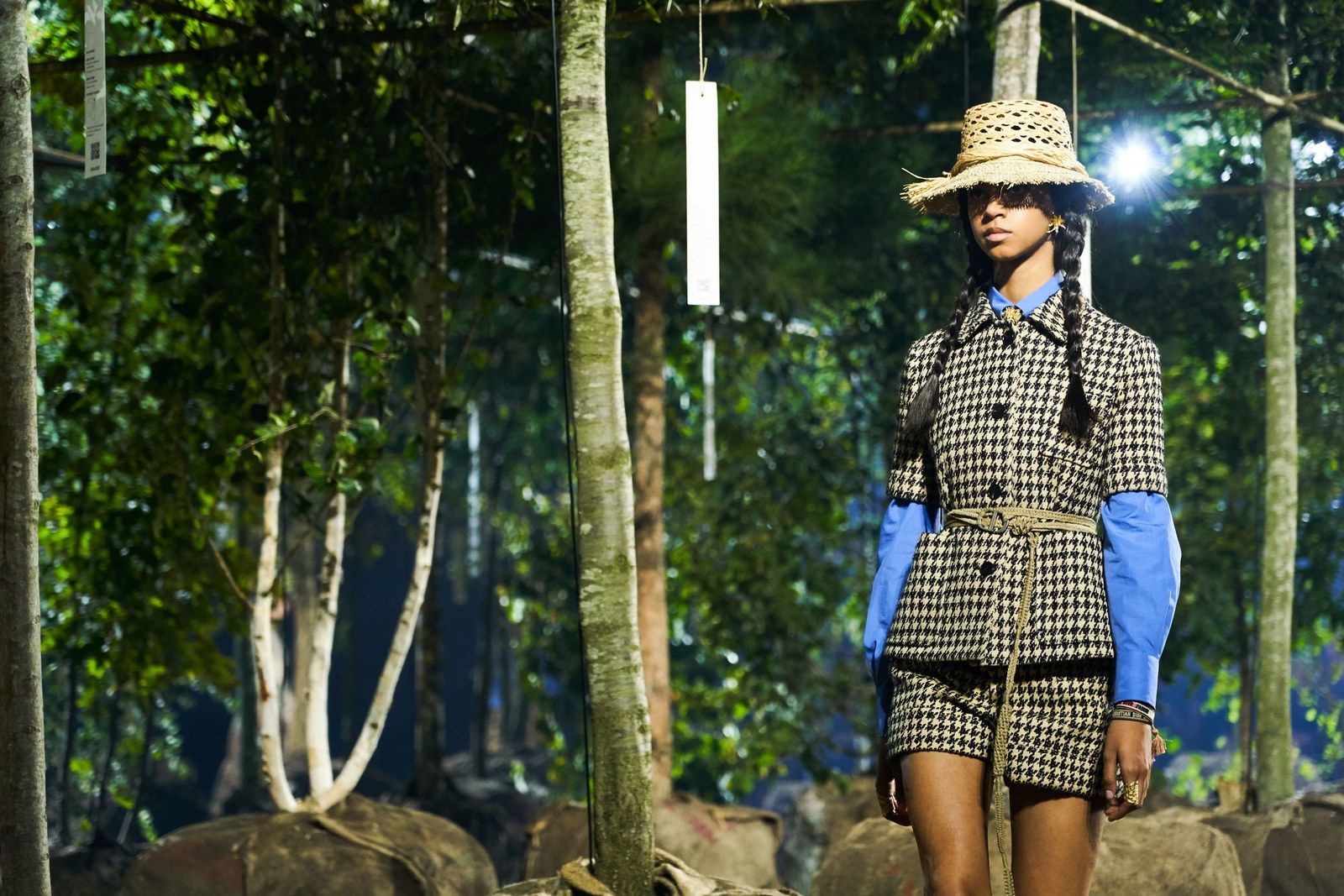 zdroj: Vogue com
Toto však nebolo jedinou inšpiráciou. Prehliadka bola poctou osobnosti Catherine Dior, sestre Christiana Dior, ktorá zaujala nielen návrhárku, ale o jej príbehu sa čoskoro dozvieme aj z pera odchádzajúcej šéfredaktorky Harper´s Bazaar UK v najnovšej knihe.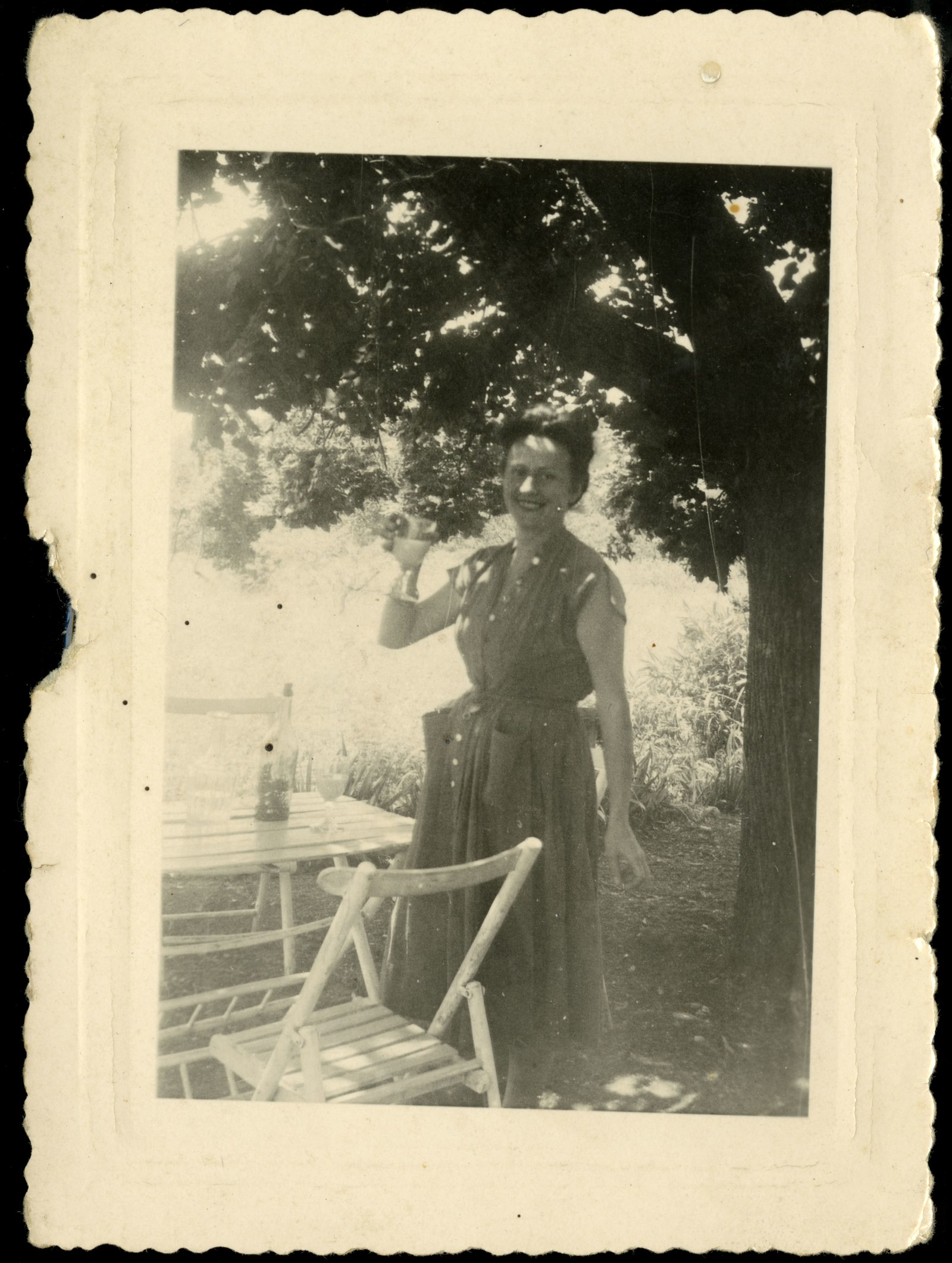 zdroj: Catherine Dior, photo by Courtesy of Collection Parfums Christian Dior, Paris
Foto – Jason Lloyd-Evans
Kolekcia bola zemská a lesná, na móle sa striedali zaujímavé modely od vyšívaných motívov vegetácie na šatách a textúrových sukniach z rafia prírodného materiálu, po skutočné stromy ako materiál použité na setoch.
Foto – Jason Lloyd-Evans
BALENCIAGA
Módny návrhár Demn Gvasali sa vo svojej tvorbe posledný čas zameriava na ironický dizajn . Jeho najnovšia kolekcia je ešte viac preexponovaná, poňatá s poriadnym zveličením a riadnou dávkou irónie ako kedykoľvek predtým. Pitoreskné predstavenie sa odvíjalo od samotného vzhľadu modeliek, ktoré pripomínali nevydarené plastické úpravy a skrášlenia, cez obľubu oversize sák s extra širokými ramenami, ktoré pohlcovali samotného človeka. Tomuto dizajnu dominovali 80. roky. Zvláštne modely dotvárali aj doplnky – topánky s hranatým tvarom.
Dizajnéra topánok značky Balenciaga Davida Beauciela, ktorý navrhol zvláštne topánky pripomínajúce niečo medzi potápačskými plutvami a vtákopyskom, zrejme opantal vodný motív . Dizajn v skutku netradičný, no ako sa v tom chodí modelkám, je už otázne.
Groteskné, až pitoreskne vyzerajúce modely víria v skutočných zrealizovaných predstavách dizajnéra značky Balenciaga Demn Gvasali, ktorý aj počas tejto sezóny Paris Fashion Weeku naservíroval takéto zvláštne módne divadlo.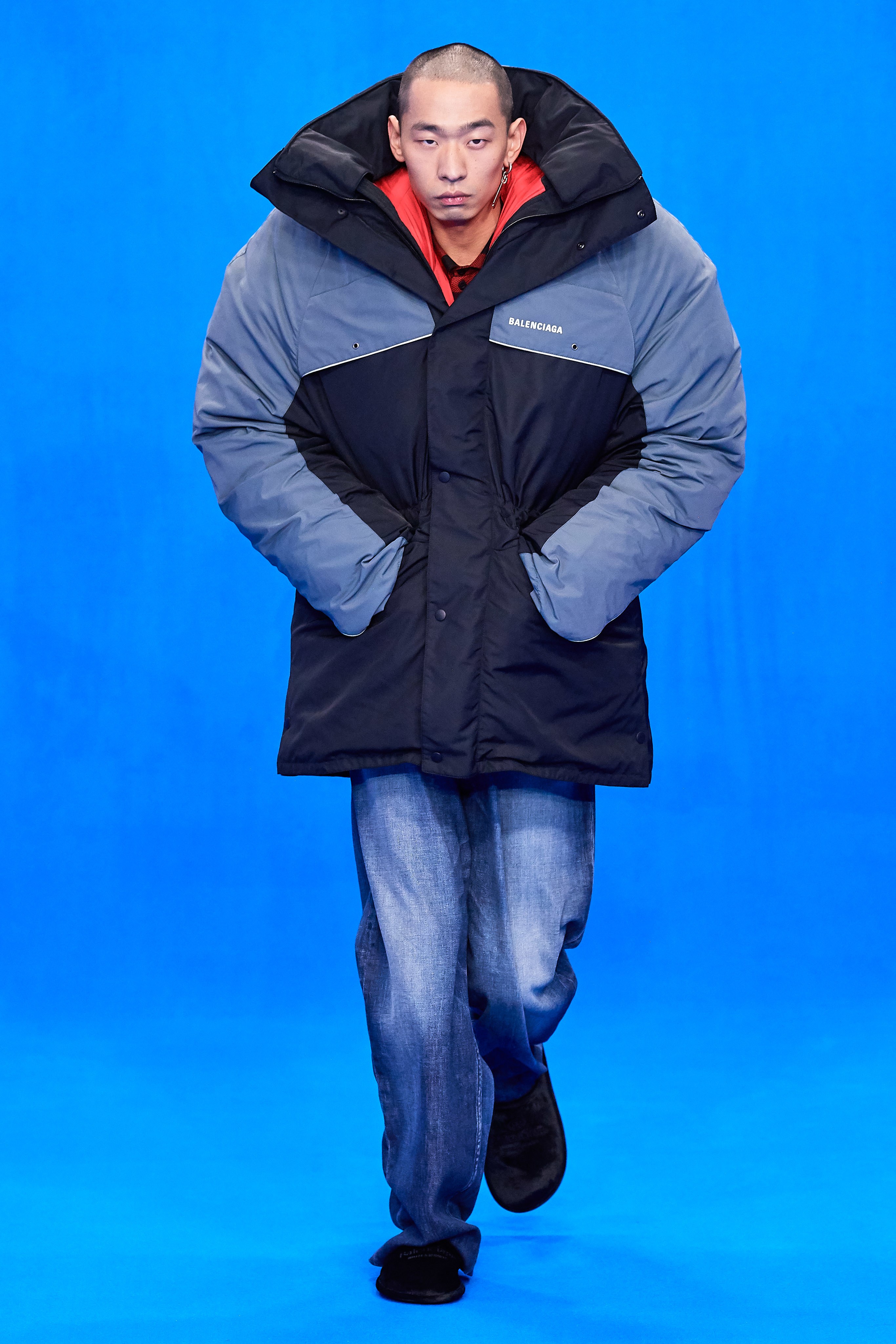 zdroj: Vogue com
Mňa azda najviac zaujal expresívny červený model Balenciaga – dámsky elastický overal s tigrovaným vzorom potiahnutý od hlavy po päty flitrami a spojený s topánkami.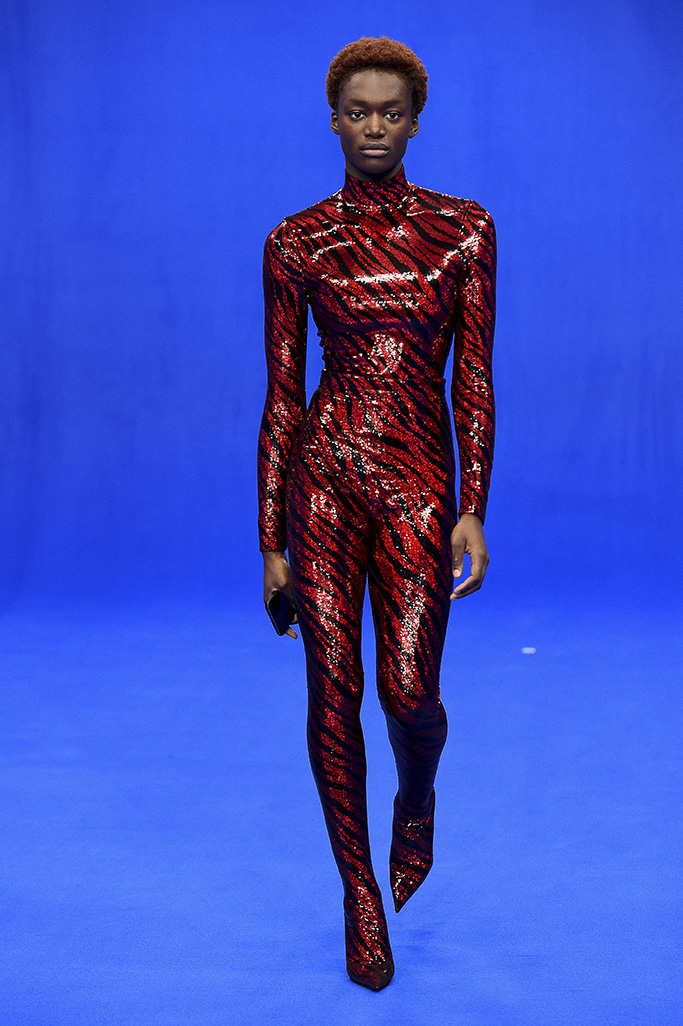 Mandatory Credit: Photo by PIXELFORMULA/SIPA/Shutterstock (10429984fs)
Model on the catwalk Balenciaga show, Runway, Spring Summer 2020, Paris Fashion Week, France – 29 Sep 2019
Pokračovanie v ďalšej časti.
Sleduj ma na:
2 Instagramy: myamirell ,
mya_mirell
Facebook: Mya Mirell Fashionista,
Mya Mirell