Milan Fashion Week – Móda Ženy, najpozoruhodnejšie momenty z prehliadkových mól, 17. – 23. september 2019, časť II.
Štvorica svetových týždňov módy zavrela svoje brány finálnym Paris Fashion Weekom dnešným dňom 1. októbra 2019 a my sa pozrime opäť na jeden z nich – Milan Fashion Week, sezónu Jar/Leto 2020 a najúžasnejšie momenty a novinky.
GUCCI – UNIFORMITA A NOVÝ BEAUTY TREND
Gucci módna show na záver prehliadkového týždňa Milan Fashion Weeku vnútri tradičného Gucci Hubu, bola taktiež mimoriadnym módnym zážitkom ako aj iné prehliadky. Módny návrhár značky Alessandro Michele je známy svojím expresívnym prejavom s výraznými prvkami originality, ktorý sa nie vždy stretne s pochopením širokej verejnosti. No teší sa veľkému zástupu fanúšikov, klientov. Jeho prehliadky sú mimoriadne teatrálne prevedené, ako sme na to zvyknutí aj u predošlých show a tendencia "ugly chic" štýlu je vyšperkovaná na najvyššiu úroveň. Pri bližšom pohľade na hĺbku zámeru, však vieme odčítať konkrétne znaky módneho dizajnu a nebolo tomu inak ani pri najnovšej prehliadke počas septembrového Mfw pre Jar / Leto 2019.
Poďme sa pozrieť, čo pre nás návrhár Alessandro Michele nachystal tentokrát.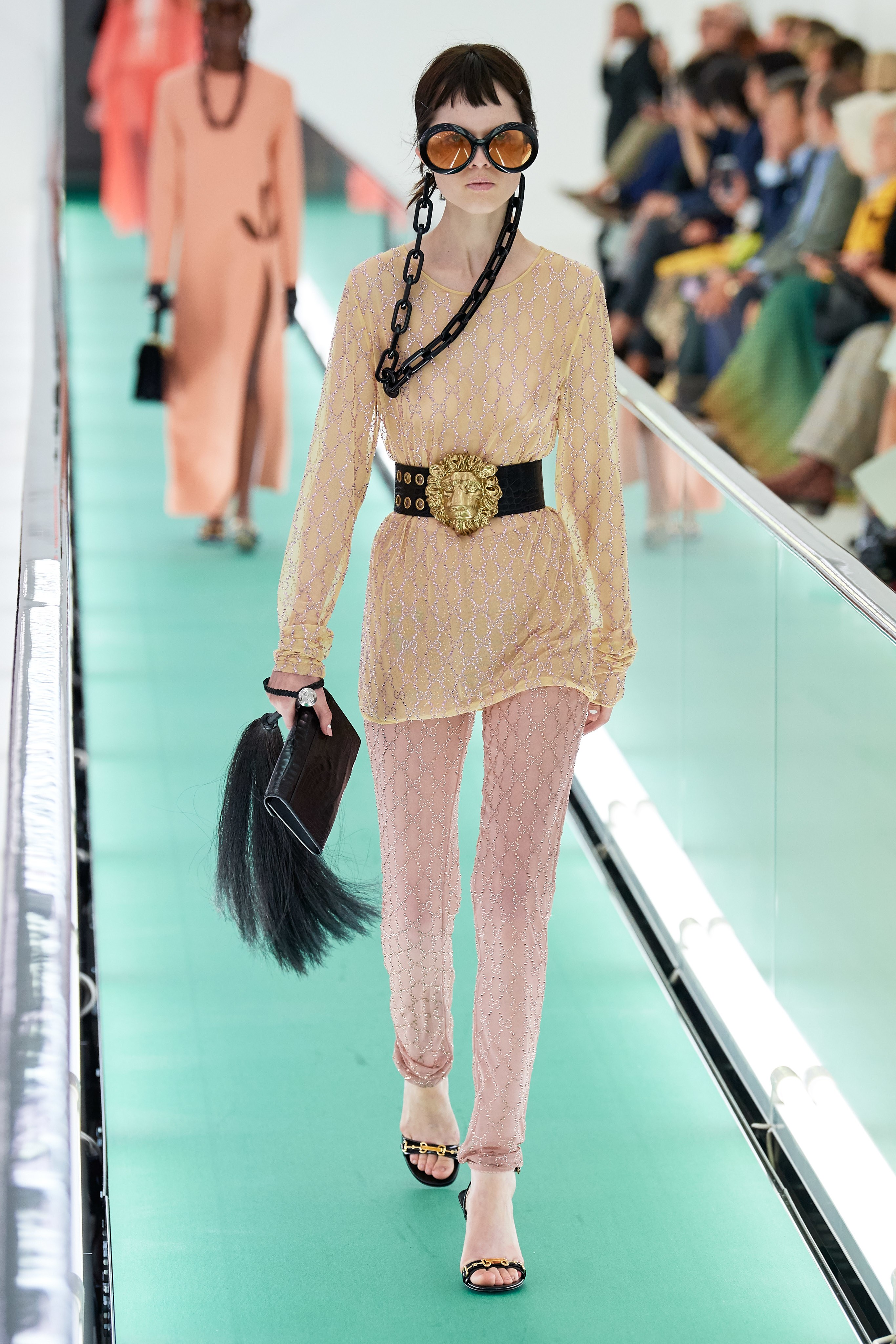 zdroj: Vogue com
Aj tentokrát dizajnér Alessandro Michele pripravil zaujímavú show, modelky predvádzali na bežiacom páse.
zdroj: Vogue com
Jednu časť kolekcie tvorili biele modely, bundy rovného strihu, nadmerné strihy aj nohavíc, extra dlhé rukávy, jednotvárnosť. Toto malo reprezentovať uniformitu, odkaz na uniformitu, ktorá rezonuje svetom. Návrhár vždy reaguje na pálčivé otázky, ktoré sa vo svete objavujú a zakomponuje to v odkaze do svojho dizajnu.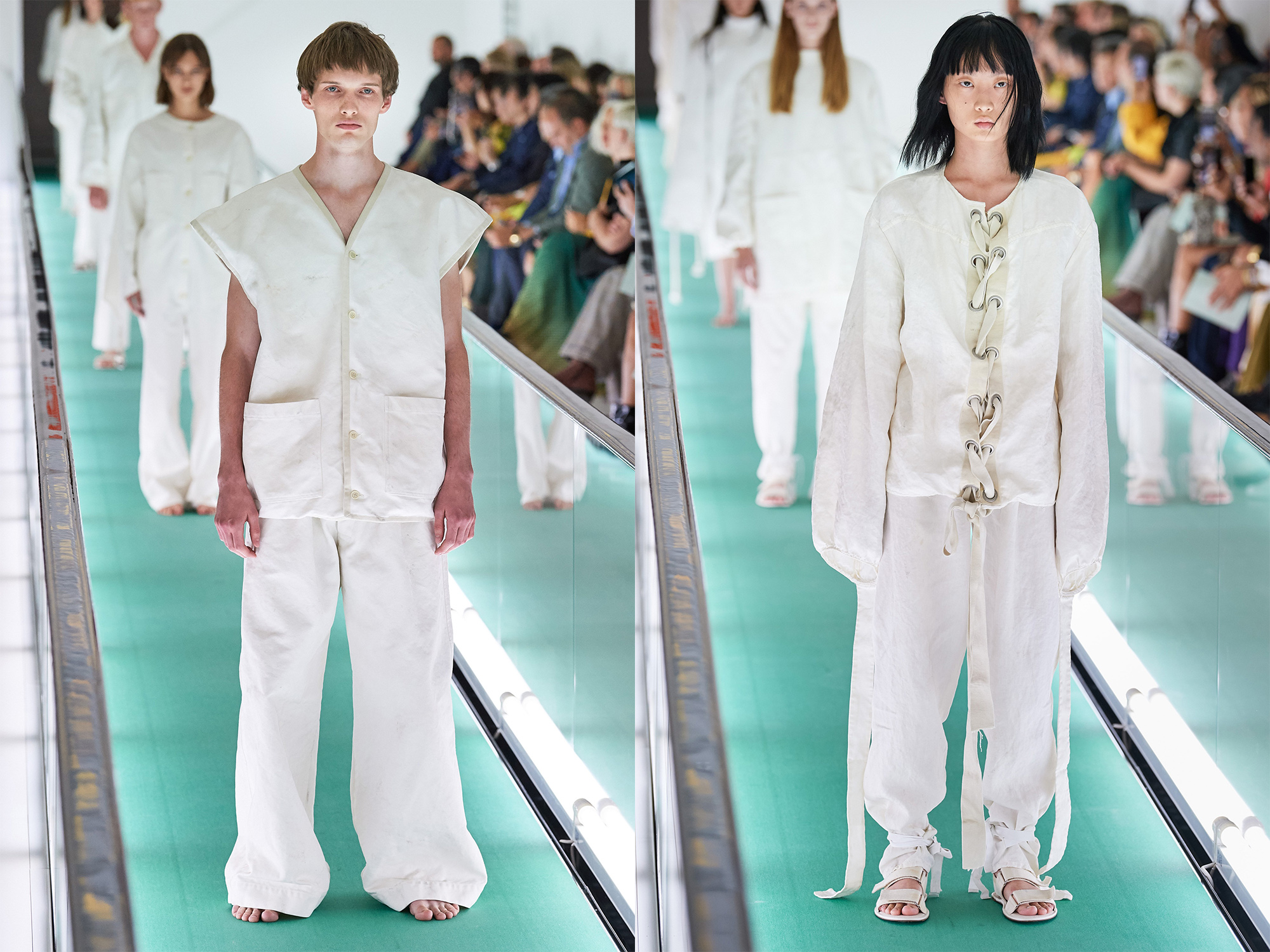 Biela časť prehliadky, ako sa sám vyjadril: "bola najextrémnejšou verziou uniformity diktovanej spoločnosťou a tými, ktorí ju kontrolujú."
Bola nositeľkou odkazu dovoliť ľuďom kráčať s možnosťou diverzity, kultivovať krásu, urobiť rozdieľnosť nedotknuteľnú a bola to oslava vlastného ja vo výraze a v identite.
Táto časť kolekcie nebude v ponuke na predaj, mala reprezentovať, ako je skrz módu sila uplatňovaná v živote. Na prehliadke sa zúčastnili tradične mnohé známe tváre ako Iggi Pop, Jodie Turner Smith a Dapper Dan, Sienna Miller. Žial nám posledný deň začalo pršať a tak som fotila na tejto prehliadke zo street style pomenej. Príliš veľa ázijských fanúšikov čakalo aj s dáždnikmi na svoje idoly. Fotografie si môžete pozrieť na facebook stránke blogu s názvom Mya Mirell Fashionista.
NOVÝ BEAUTY HIT Z PREHLIADKOVÝCH MÓL – MIHALNICOVÉ OBOČIE
Vlasy a make-up zachytávajú individualitu osobnosti. Od geometrických vrkočov po umelé mihalnicové obočie, ktoré sa stalo novým hitom, Gucci opäť vyrazil s novinkou vpred. Umelé mihalnice boli vždy synonymom glamour štýlu v najtradičnejšom zmysle. A ako sa najlepšie postaviť normám tradičnou Gucci cestou? Jednoducho ich nalepiť taktiež na obočie, povedali si make-up artisti tejto značky, Thomas de Kluyver a to v kontraste s prirodzenou pleťou a očami. Nový look, beauty trend, ktorý možno onedlho uvidíme aj v uliciach zrejme najskôr na odvážnych fashionistoch, je na svete.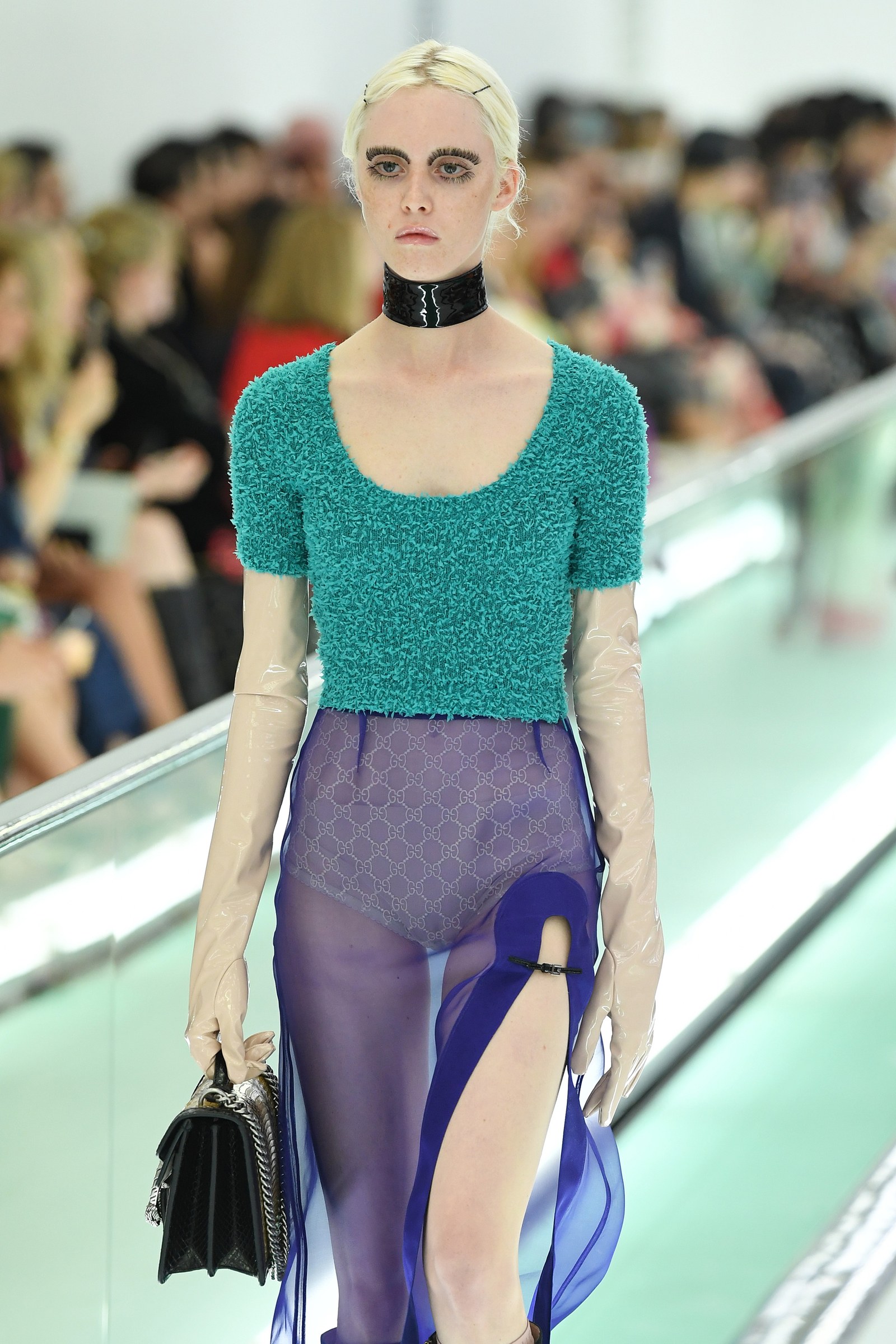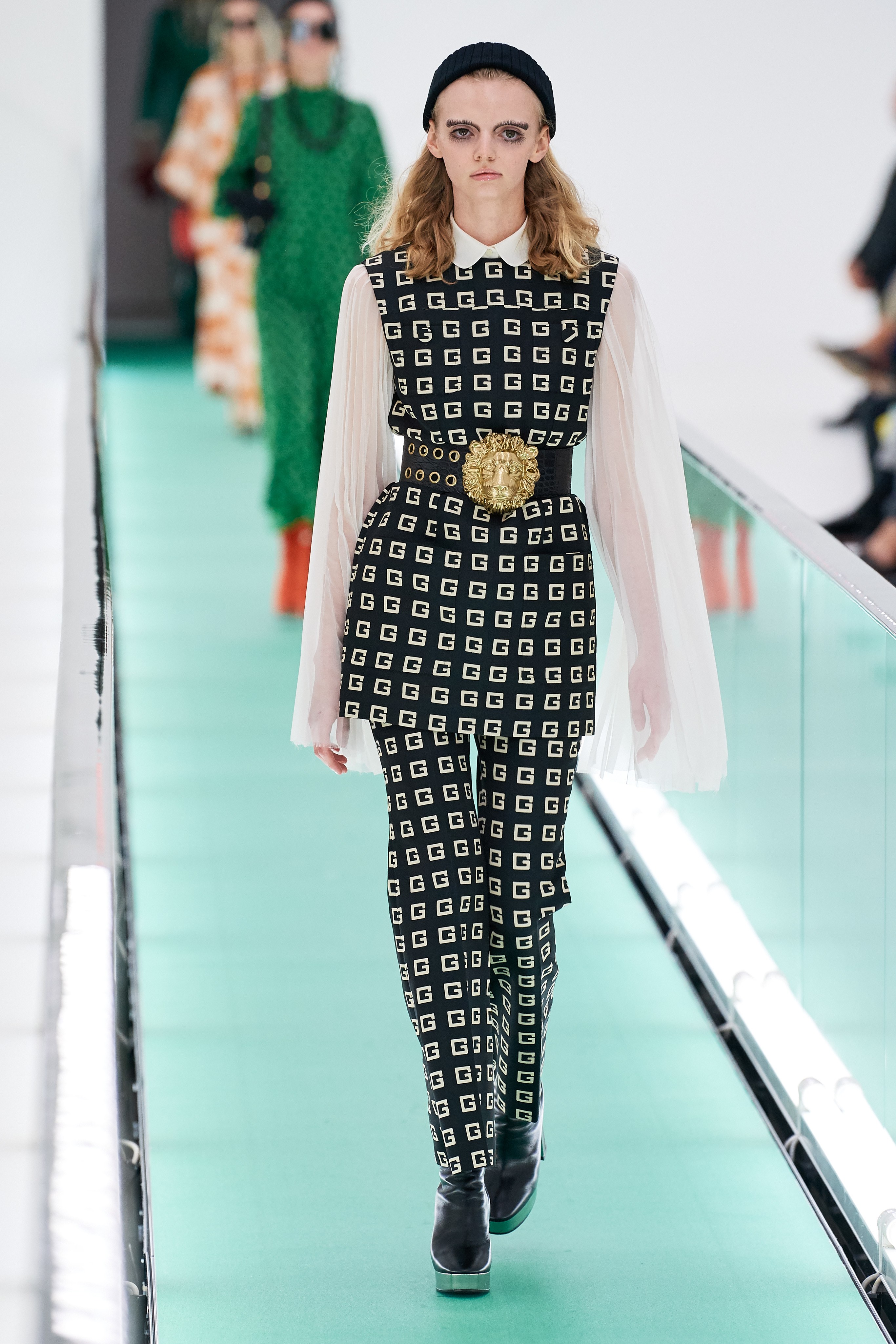 NOSITELNÉ UMENIE – MOSCHINO, MSGM , MARNI
MOSCHINO
Módni návrhári sa oddávali umeleckým inšpiráciám medzi umením, lifestylom, remeslom módnym zlučovaním a značka Moschino je toho pravým predstaviteľom. Módny návrhár Jeremy Scott vzdal tentokrát poctu ikonickým dielam slávneho maliara Pabbla Picassa, ktoré pretavil do nositelného umenia.
Múzy inšpirujú umelcov a umelci inšpirujú svet – to je motto dizajnu najnovšej kolekcie značky Moschino.
Záver módnej prehliadky ukončila modelka Cara Taylor, ktorá akoby plasticky vystupovala z obrovského rámu.
Varianty štýlov, ktoré vzdali poctu umeniu a tvorbe Pabla Picassa sa odzrkadlili v dizajnoch najnovšej kolekcie značky Moschino pre Jar / Leto 2020. Zatiaľ čo niektoré vzdali poctu maľbám "Dievča pred zrkadlom" a "Dievča s mandolínou" , ostatné niesli znaky jeho tvorby, ktoré boli najskôr ručne namaľované v štúdiu a potom zdigitalizované na tkanine.
MSGM
Niekoľko štruktúrovaných maľovaných potlačí na modeloch vo výrazných farebnostiach so vzormi a batikované potlače priniesla aj značka MSGM. Prevládali nadýchané volánové topy, detaily na rukávoch, prepracované detaily sme mohli vidieť na každom modeli. Viac fotografií si môžete pozrieť v albume Milan Fashion Week – S/S 2020 na stránke Mya Mirell Fashionista.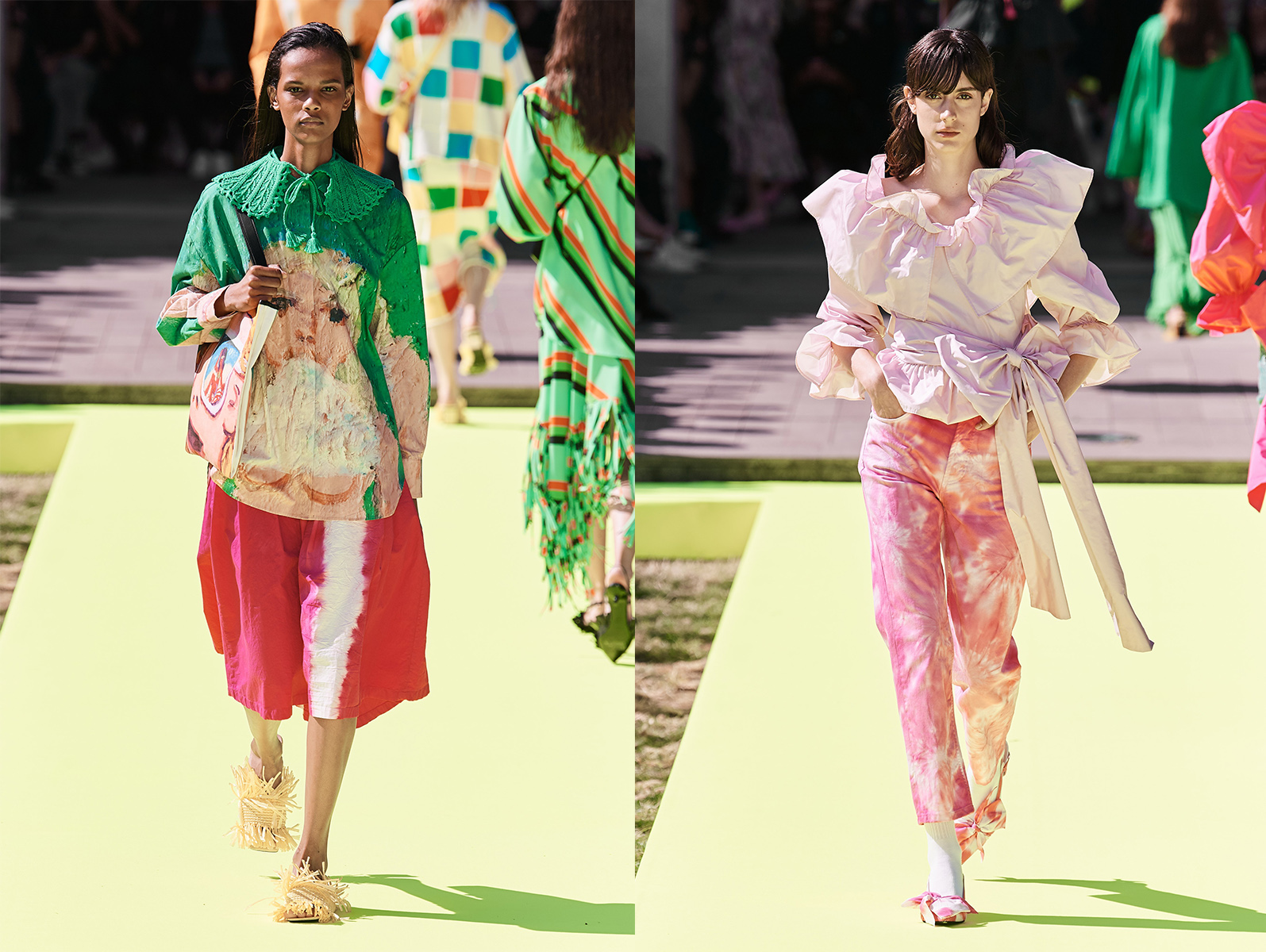 MARNI
Značka sa sústredila na udržateľnosť a prírodné formy. Prevažovali maľované potlače na objemných topoch, sukniach a šatách, výrazná grafika. Modelky mali zaujímavý beauty look, vlasy natreté bielou farbou.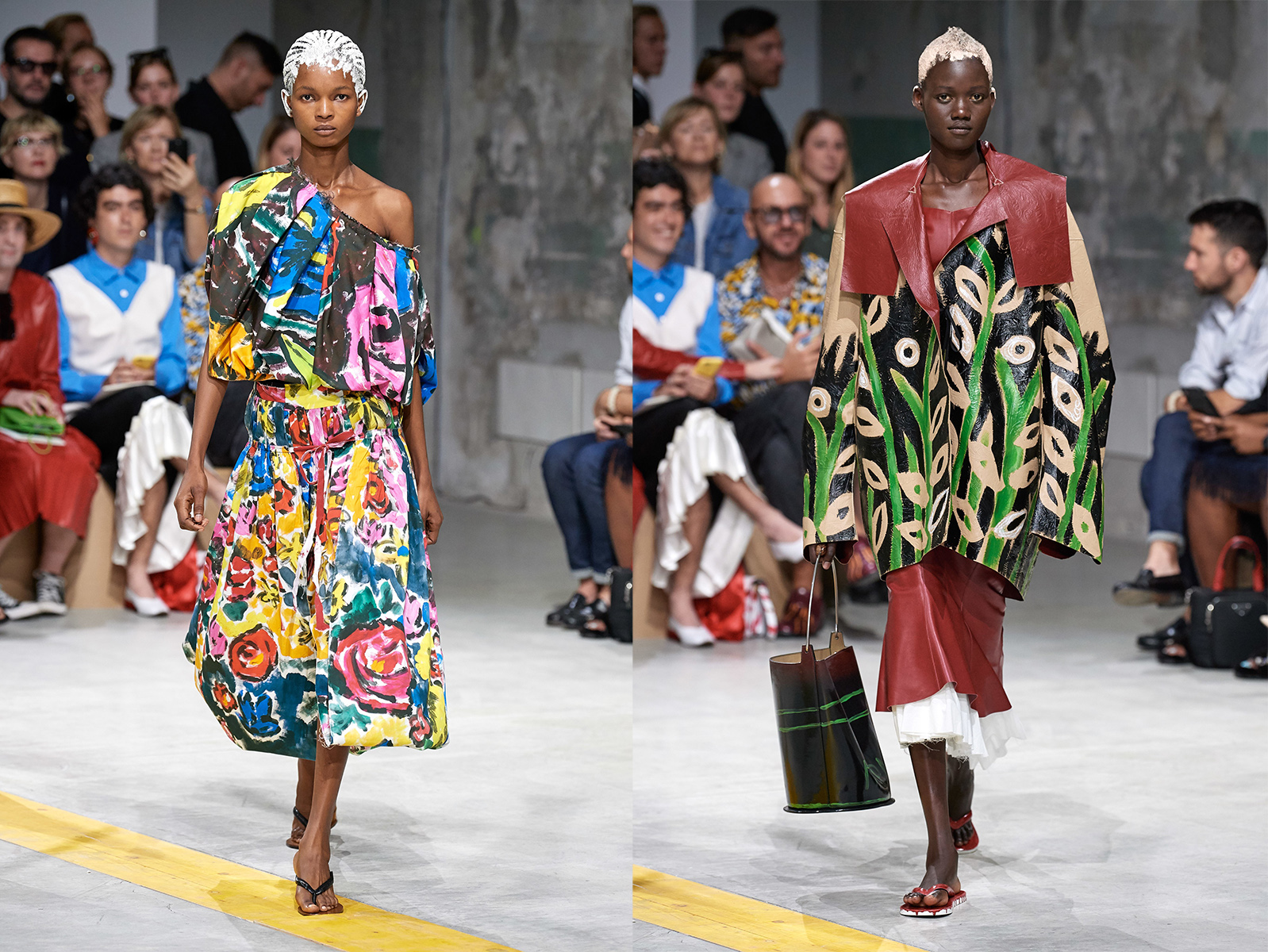 Pokračovanie v III. časti.
Sleduj ma na:
2 Instagramy: myamirell ,
mya_mirell
Facebook: Mya Mirell Fashionista,
Mya Mirell