Milan Fashion Week – Móda Ženy, najpozoruhodnejšie momenty z prehliadkových mól, 17. – 23. september 2019, časť I.
Ďalší ročník jedného zo štvorice svetových týždňov módy – Milan Fashion Week, sezóna Jar/Leto 2020 sa skončil 23. septembra a tak prinášam prvé top momenty, ktoré sa udiali.
VERSACE – JENNIFER LOPEZ AKO VLNA TSUNAMI
Milánsky týždeň módy osvietila ako vesmírna kométa megahviezda Jennifer Lopez, ktorej chôdza po móle v sexi šatách VERSACE zvalcovala internet a okamžite sa stala senzáciou. V hľadisku nechýbala ani ľadová kráľovná módy Anna Wintour, ktorá videla aj samotné prípravy (viď. videá v linku nižšie). Jennifer Lopez si obliekla svoje ikonické šaty z pred 20 rokov, ktoré mala na odovzádaní cien Grammy a ktoré už vtedy spôsobili šokujúci ošial. Ultra sexi strih bol tentokrát mierne upravený, no takmer na vlas rovnaký a latinsko-americká diva v nich vo svojich 50. rokoch predviedla na móle svoje oblé krivky.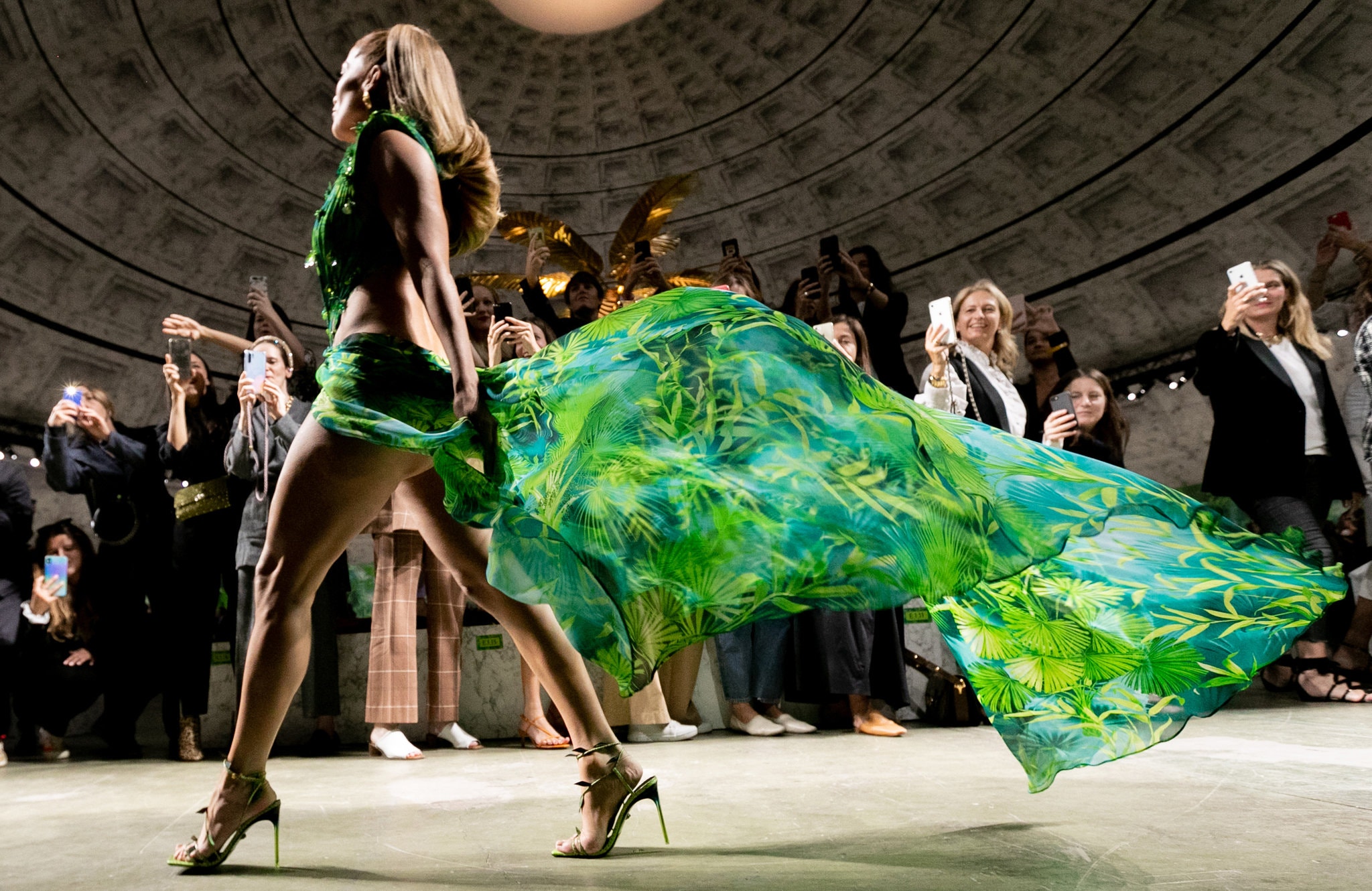 Explóziu nielen na móle s neutíchajúcimi ováciami ale aj vlnu tsunami na sociálnych sieťach tak opäť sposobila sexi Jennifer. Vpravo na fotografii s módnou návrhárkou Donatellou Versace.
zdroj: getty images, versace, Kevin Tachman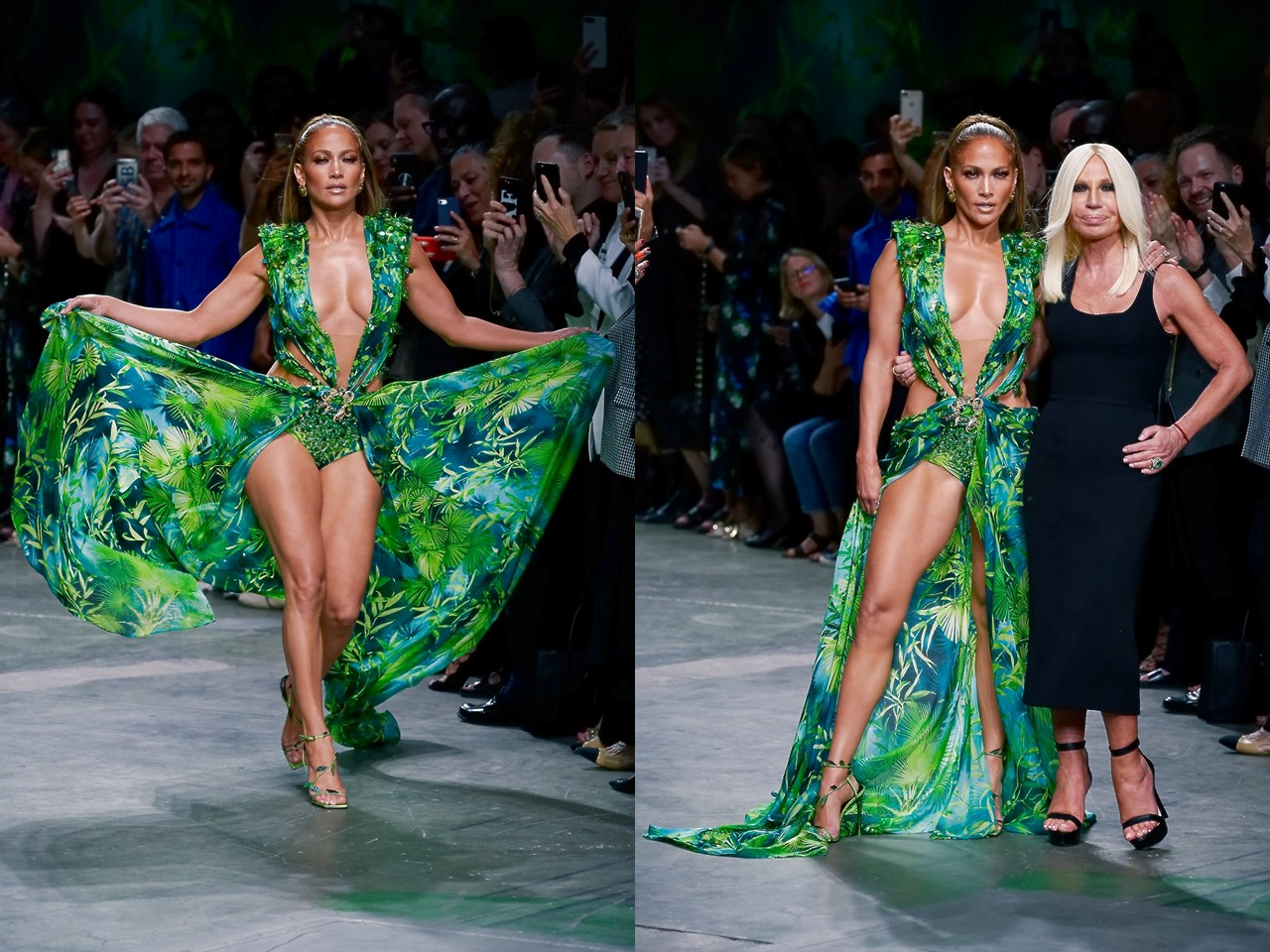 zdroj: getty images, versace
Donatella Versace jednoducho vie, ako pritiahnuť pozornosť. Prípravy zo zákulisia so speváčkou Jennifer, Donatellou aj Annou Wintour a J.LO uchvacujúci walking po runway si môžete pozrieť v týchto vidách: https://www.youtube.com/watch?v=BTyBFcEgc-A&fbclid=IwAR2k_4SZFi5jP4STSXWEOvXAWRAv8P7ZEHe-nxL8RO34T89tWJKPqi2lIEU
https://www.youtube.com/watch?v=6e514RwpRhs&fbclid=IwAR3fH8r1JM28ZdaNCSnPQpzsmpIUeE_W8CVNX0cG6g6XyFpaJibs8BKuZUE
Na prehliadke predvádzali slávne mená – sestry Gigi a Bella Hadid, dcéra Cindy Crawford – modelka Kaia Gerber (na foto v čiernom modeli) a Irina Shayk (červené šaty na foto vľavo). Jediná J.LO však spôsobila na móle vlnu ovácií a neutíchajúceho aplauzu.
zdroj: Vogue com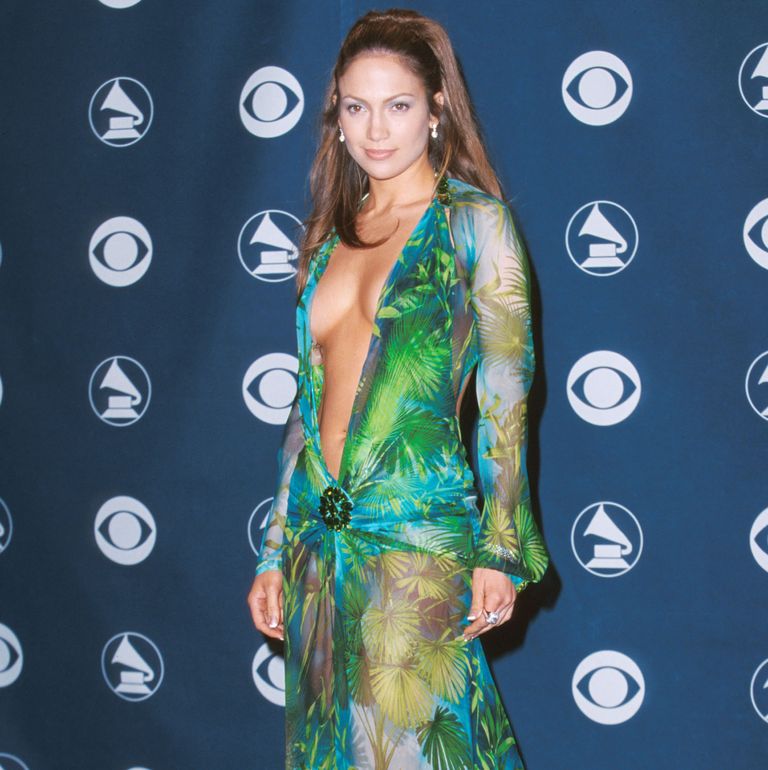 Jennifer Lopez spred 20. rokov v ikonických šatých na odovzdávaní Cien Grammy, rok 2000. zdroj: getty images
NOVÁČIKOVIA NA SCÉNE – PETER PILOTTO a BOSS
Milan Fashion Week v tejto sezóne Jar /Leto 2020 prívital na scéne dve nové posily – módnu značku Peter Pilotto z londýnskeho Fashion Weeku a Boss predvádzajúcu tradične na New York Fashion Weeku.
PETER PILOTTO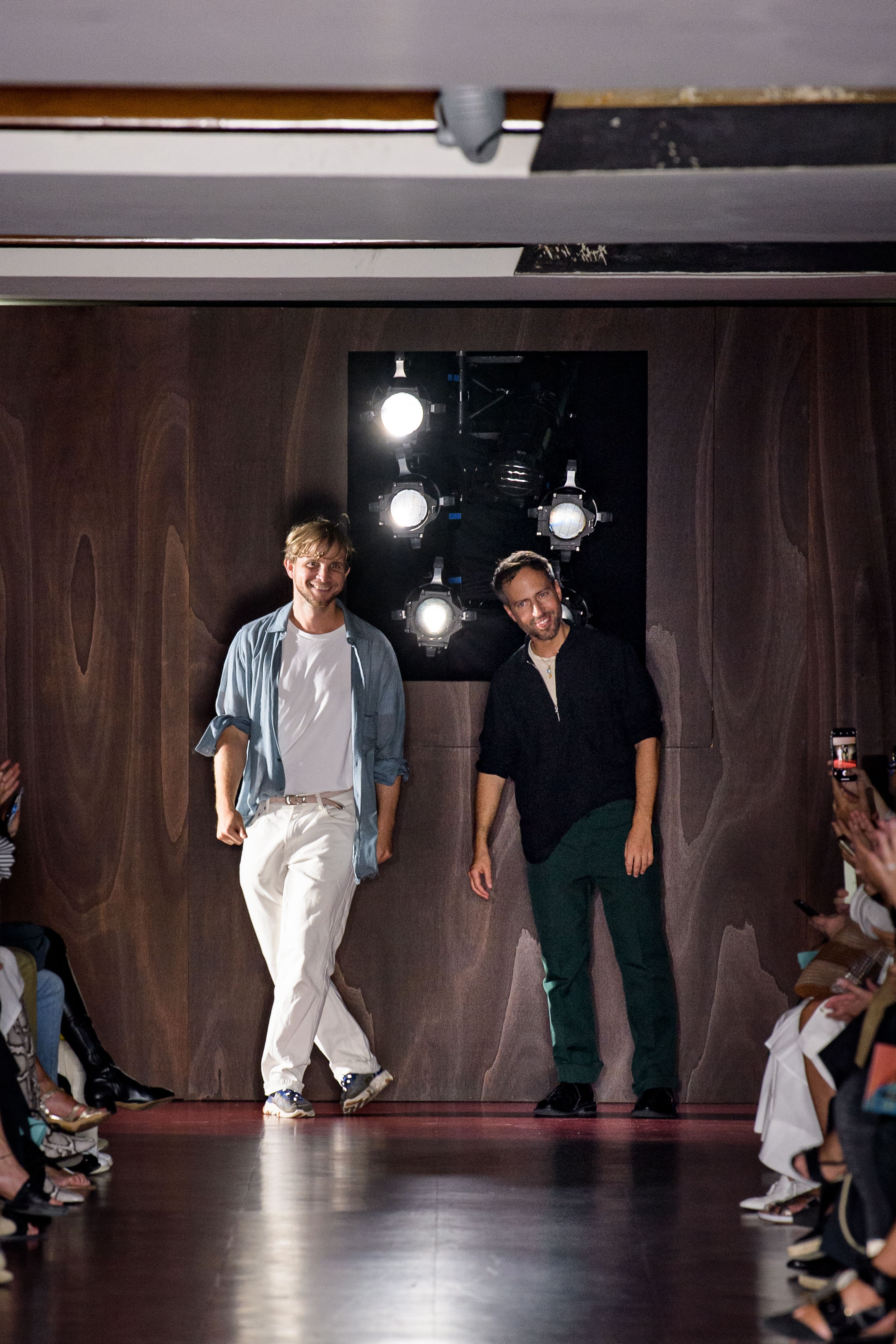 zdroj: Vogue com
Svieže farby, metalické odlesky materiálov, hravá grafika a pralesné motívy – to je nová kolekcia značky Peter Pilotto pre Jar / Leto 2020.
zdroj: Vogue com
Značka HUGO BOSS vo svojej kolekcii predstavila typickú eleganciu, ktorú osviežila jarnými a letnými farbami a priadala tak na uvoľnenosti štýlu. Dizajnér v záverečnom defilé vyšiel na mólo a pozdravil publikum. Moje video z módnej show si môžete pozrieť na facebook stránke Mya Mirell Fashionista v kategórii Videá a na instagrame: mya_mirell , kde zdielam všetko z Milan fashion Weeku.
Osvieženie kolekcie prišlo v podobe jarných a letných farieb, ktoré svedčali aj mužským modelom.
zdroj: Vogue com
Značka Boss hostila vo front row modelku z Victoria´s Secret models, anjelika BARBARA PALVIN aj s priateľom, sedela som nad nimi a tak som sa objavila na zopár záberoch počas jej fotografovania, ako tu na Getty images (sedím v ružových šatách). Video s modelkou naživo, ktoré som natočila po odchode zo show už po druhýkrát, si môžete pozrieť na facebook stránke Mya Mirell Fashionista ako aj na intagrame: mya_mirell. Barbara sa takmer nedostala k svojmu autu, pretože dav fanúšikov ju obkolesil zo všetkých strán.
zdroj : getty images
Tu sú linky, kde možno modelku Barbara Palvin nájsť na googli:
https://www.etonline.com/dylan-sprouse-and-barbara-palvin-are-the-cutest-matching-couple-at-milan-fashion-week-pics-132897
http://www.zimbio.com/photos/Sebastian+Stan/Barbara+Palvin/Boss+Front+Row+Milan+Fashion+Week+Spring+Summer/6PQD97t7vyt
https://www.gettyimages.com/detail/news-photo/sebastian-stan-andrea-langer-mark-langer-bruna-marquezine-g-news-photo/1176374602?adppopup=true
https://www.gettyimages.com/detail/news-photo/andrea-langer-mark-langer-bruna-marquezine-g-eazy-yasmin-news-photo/1176374518?adppopup=true
NOVÝ TREND – TROPICKÉ POTLAČE
Dizajnérska značka Peter Pilotto v úvode milánskeho týždňa módy predviedla nový trend, ktorý uplatníme v nasledujúcej letnej sezóne 2020 a ktorý sa tiež objavil k kolekciách ďalších dizajnérov a to tropické a pralesné potlače. Pilotto pridal aj verzie havajských košelí.
zdroj obr.: Vogue com
FENDI PO PRVÝKRÁT PO DLHOM ČASE BEZ KARLA LAGERFELDA
Počas tohto ročníka Milan Fashion Weeku sa všetky oči upierali na značku Fendi, ktorá po minuloročnej smrti svetovej legendy, módneho génia KARLA LAGERFELDA, stratila dlhoročného dizajnéra, ktorý značku povzniesol na luxusnú rovinu. Karl Lagerfeld opustil módny svet vo februári 2019, dva dni tesne pred prehliadkou značky Fendi, ktorej kolekciu ešte do posledných dní a síl navrhoval a konzultoval so Silviou Venturini Fendi (čítaj článok tu na blogu s názvom : Karl Lagerfeld, posledná kolekcia pre značku FENDI, jseň / zima 2019 -20, Milan Fashion Week, Móda Ženy, 21. február 2019) .
Septembrovú kolekciu na Milan Fashion weeku predstavila teraz nová líderka značky SILVIA VENTURINI FENDI, ktorá predtým s Karlom na dizajnoch spolupracovala a sama sa venovala detskej a mužskej móde.
60. roky sa zrejme natrvalo vpísali do srdca Silvii Venturini Fendi ako hlboká spomienka a stali sa inšpiráciou pre novú kolekciu Jar / Leto 2020 a tiež novú éru tejto značky. Magický čas, kedy módna legenda Karl Lagerfeld začala spolupracovať so značkou.
Na móle sa za znenia piesne Let The Sunshine In striedali retro kvetinové šaty, háčkované komplety, prešívané modely a modely s typickými lagerfeldovými veľkými goliermi. Kolekcia bola opäť unikátna, zaujímavá s novými prvkami ako kvetinové retro vzory, pralesné motívy , prešívanie na materiáli a kockovaný vzor.
zdroj: Vogue com
Pokračovanie v II. časti.
Sleduj ma na:
2 Instagramy: myamirell ,
mya_mirell
Facebook: Mya Mirell Fashionista,
Mya Mirell