Najpozoruhodnejšie módne show Paris Fashion Weeku a nové trendy – Jar / Leto 2020, Lanvin, Loewe, Haider Ackermann, 23. september – 1. október 2019
Koncom septembra a začiatkom októbra sa štvorica svetových týždňov módy preklopila do finálnej fázy a vyvrcholila Paris Fashion Weekom. Ten priniesol opäť zaujímavé módne novinky, nezabudnuteľné momenty a kolekcie ikonických módnych domov pre sezónu Jar / Leto 2020. V tejto III. časti sa pozrime na ďalších módnych návrhárov z parížskeho módneho týždňa a ich horúce novinky.
LANVIN
Prehliadka značky Lanvin sa konala v priestore záhrady múzea Musée de Quai Branly, ktorý však od rána 25. septembra 2019 čelil silnému lejaku. Na túto skutočnosť je parížska módna scéna pripravená a tak diváci dostali veľké priehľadné dáždniky. Našťastie v Miláne nás toto nepostretlo a celý predchádzajúci týždeň módy bolo nádherne slnečno.
Milý počin s dáždnikmi , ktoré zabezpečil kreatívny riaditeľ značky Bruno Sialeli však skomplikovala skutočnosť, že dáždniky boli veľké a neskladné a diváci tak mali sťaženú manipuláciu v tesnom priestore. Cez slúchadlá počúvali hudbu, ktorá doprevádzala promenádu modeliek, čo celú prípravnú fázu s usádzaním komplikovalo.
Módna značka Lanvin si nachystala pre nasledujúcu letnú sezónu Jar / Leto 2020 zaujímavé modely s komixovými potlačami, ktoré niesli svoj príbeh. Celý tento koncept sa niesol v retro duchu, v jemných vyblednutých farbách a modely ozvláštnili zaujímavé tvary klobúkov, ktoré sa stanú hitom nasledujúcu sezónu.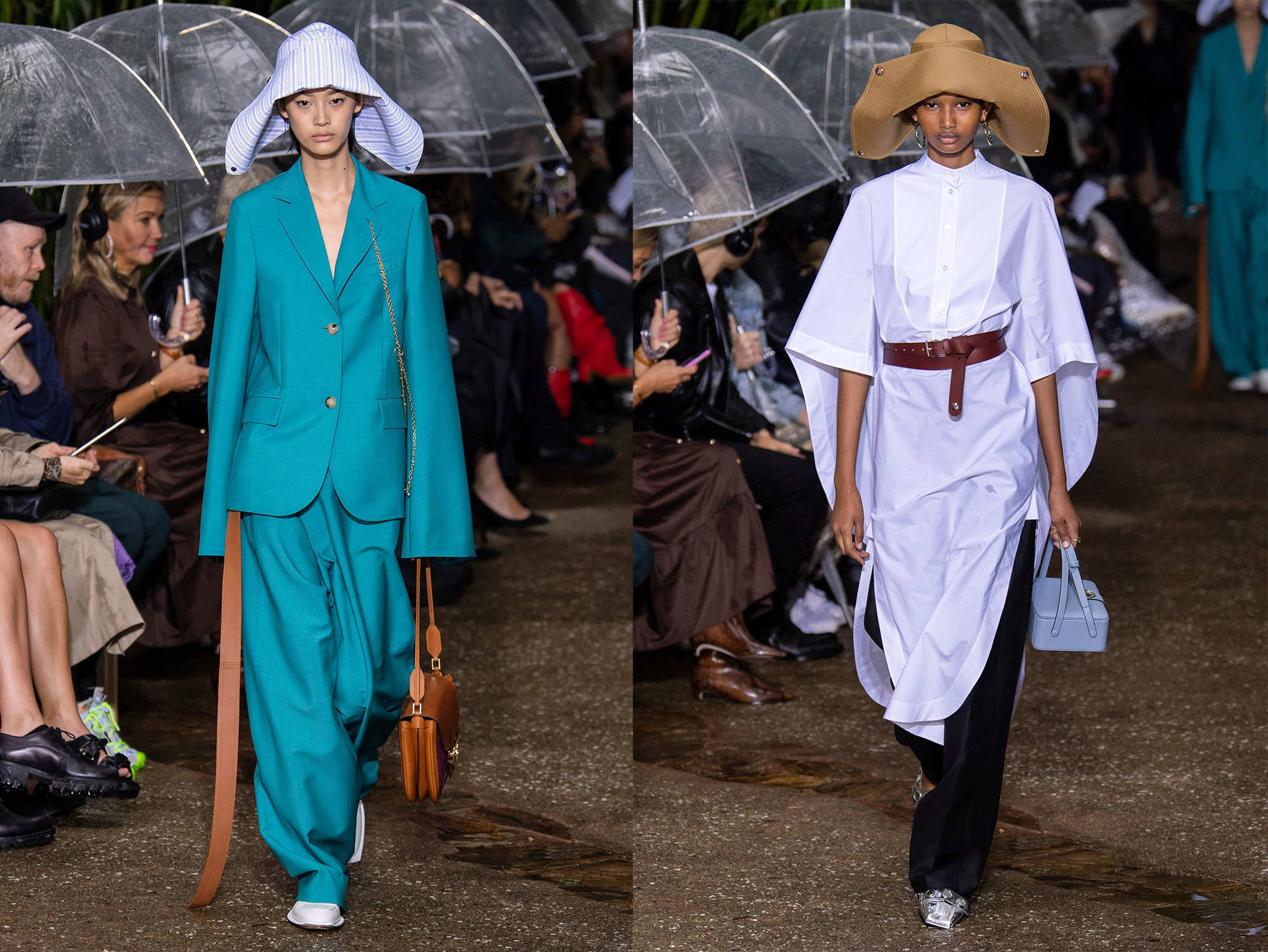 Pripomeniem, že komixovú potlač sme mohli vidieť aj v minulosti , nedávno počas Milan Fashion Weeku na prehliadke letnej kolekcie značky Prada, kedy umelecká riaditeľka značky oslovila až šiestich komixových kresličov, aby navrhli kolekciu pre Jar/Leto 2018. (čítaj tu na blogu v predchádzajúcich článkoch).
Veľmi zaujímavé architektonicky riešené strihy sa zobrazili na týchto predvedených modeloch najnovšej kolekcie značky Lanvin. Kombinácia čiernej a bielej so zaujímavým strihom je esteticky pôsobivé dizajnérske umenie.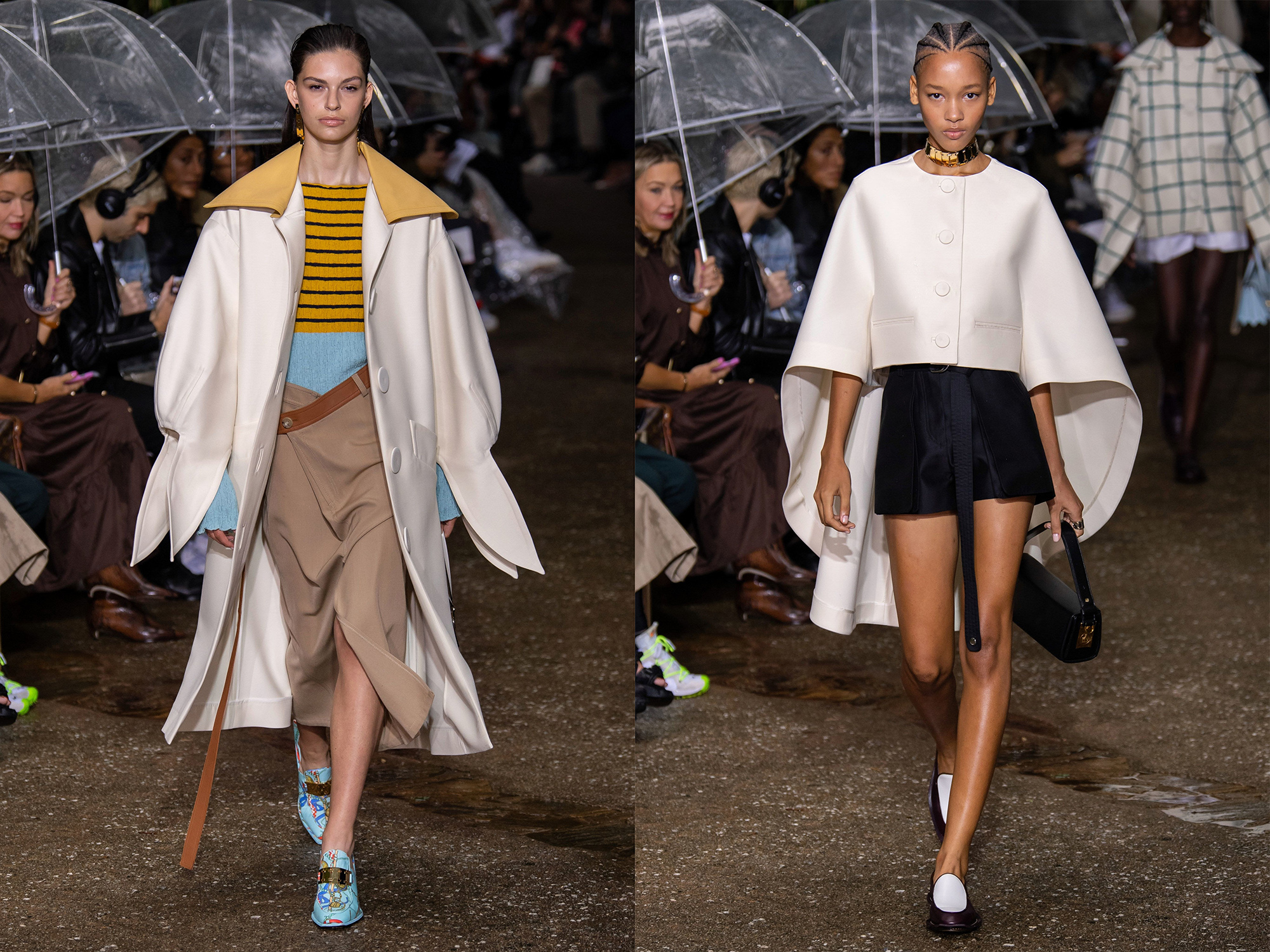 Komiksy
Rozprávkové postavičky, slogany, monogramy a komiksy. V móde sme sa môžeme stretnúť s čímkoľvek. Tento rok sme čelili monogramom, ktoré sa vynímali na každom kúsku oblečenia. Čím väčšie, tým lepšie.
Značka Lanvin však prichádza s niečím úplne iným. Do svojich modelov pridala komiksové príbehy. Celému tomuto koncept vdýchli retro nádych a to v podobe vyblednutých farieb.
zdroj: Vogue com
LOEWE
Značku Loewe dlhý čas charakterizovali prepracované detaily, kvalitná remeselná práca a najmä nadčasovosť. Najnovšia kolekcia v sebe snúbi ženskosť, jemnosť, eleganciu, jednoduché siluety, pôsobivé detaily spoločne vytvárajúce minimalistický boho look.
Samotný dizajnér sa o najnovšej kolekcii pre sezónu Jar / Leto 2020 vyjadril slovami: "Extrémy ženskosti a luxusu posunuté do éterických výšin," kde surové lemy viac už neuvidíme, ale nahradil ich technickou dokonalosťou.
zdroj: Vogue com
Éterické, poetické a aristokratické, to sú šaty Jonathan Andersona nesúce ducha doby skrz tekuté siluety a silné vibrácie. Najzaujímavejší model pre mňa z tejto kolekcie pre sezónu Jar / Leto 2020 boli šaty s hlbokým ostrým "v" výstrihom v topovej časti, ktorá padala na spodnú časť. Kaskádovite vrstvené materiály sa v pohybe cez seba vinuli vplyvom veľmi efektného strihu.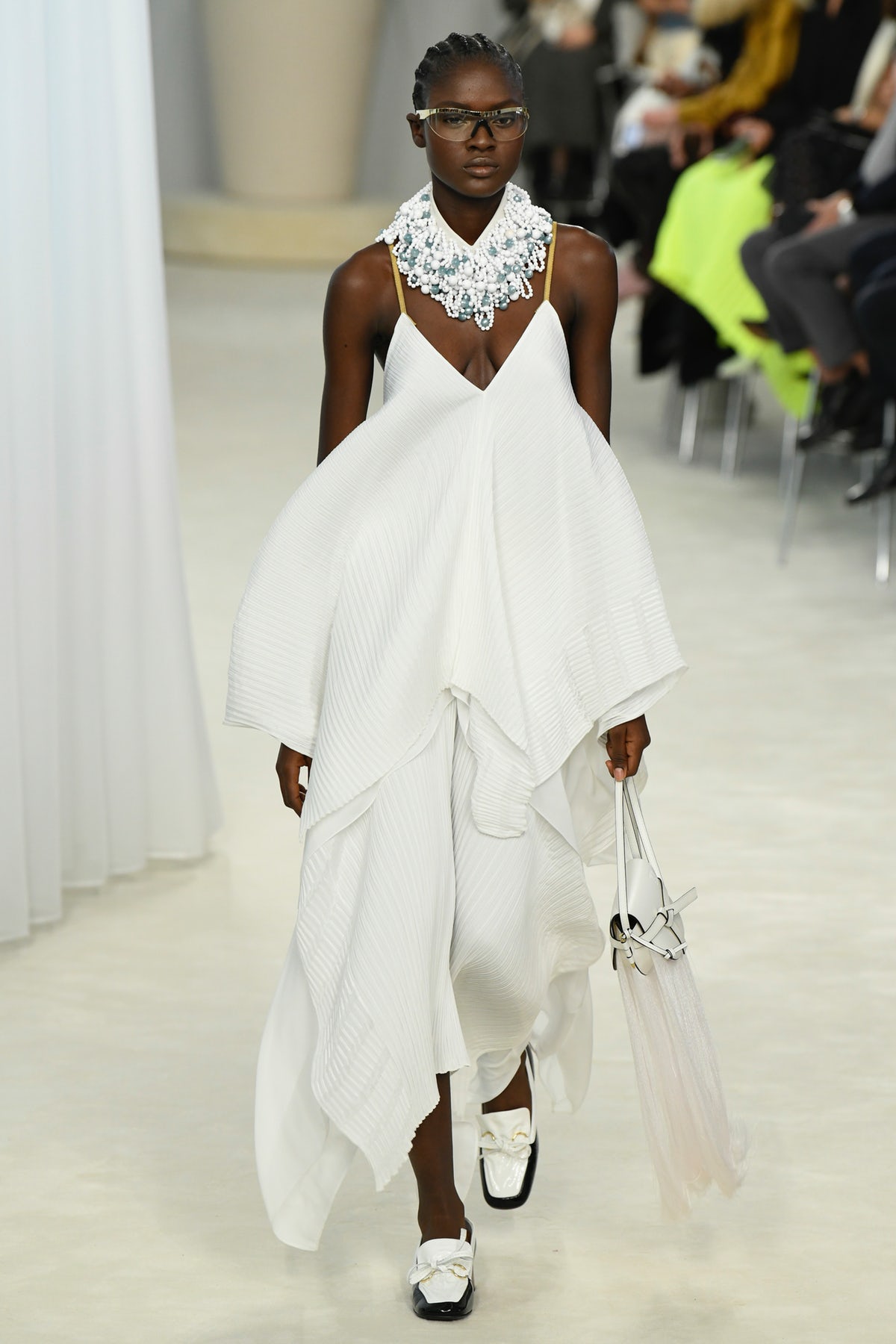 zdroj: indigital. tv
Zaujímavý je tiež dvojvrstvový model predvedený modelkou Cara Taylor s asymetricky riešeným strihom s architektonickou precíznosťou až rezmi.
Kontrastná ženská elegancia dosiahnutá v líniách, blokoch a čistých strihoch.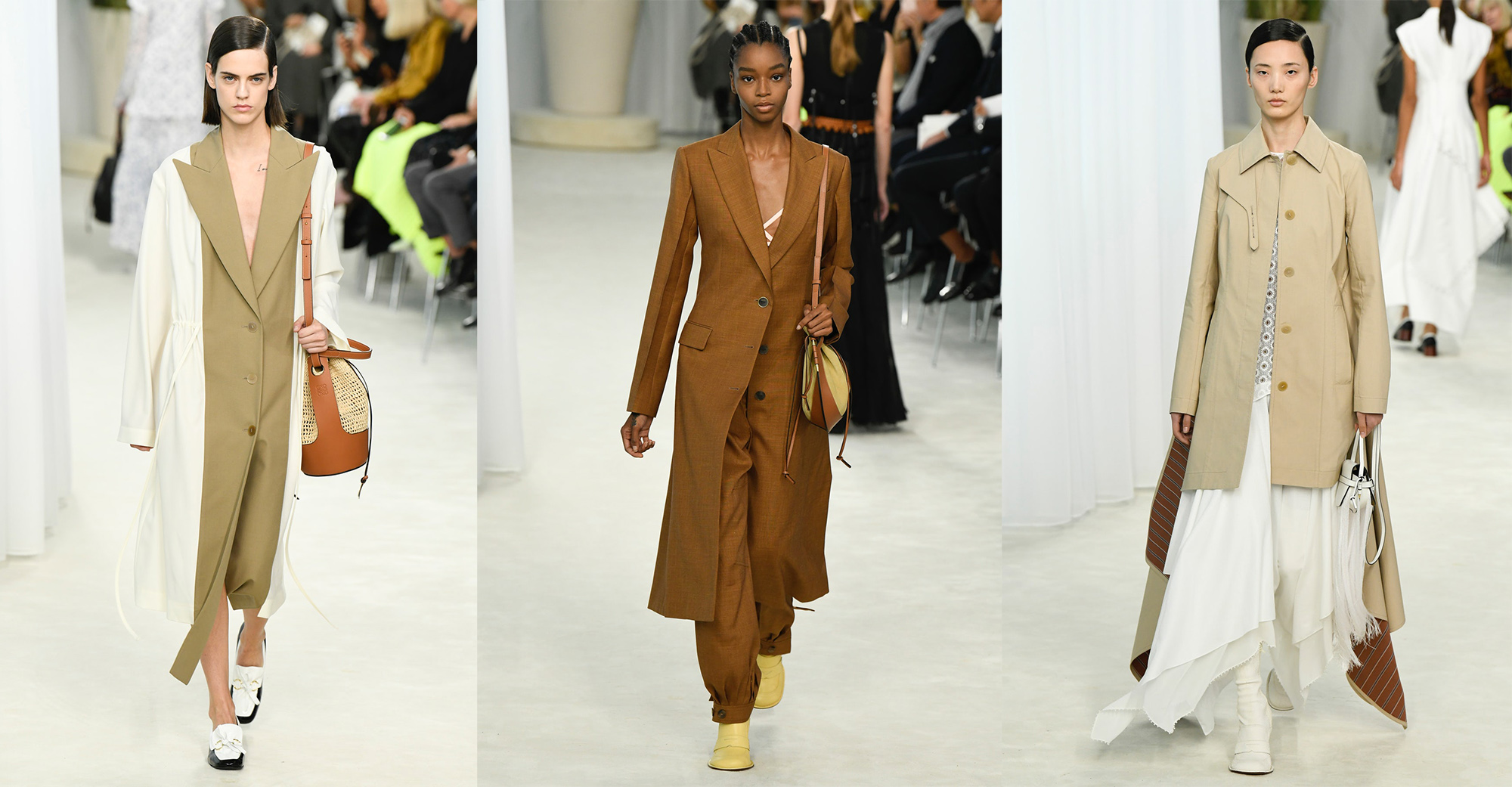 Nežnosť, ženskosť, dievčenskosť a éterickosť sa zrkadlila v krehkých bielych modeloch. Romantické zdobenie podčiarkovalo túto sensualitu.
zdroj: indigital. tv
HAIDER ACKERMANN
Čisté strihy a jednoduché siluety, minimalistická jednoduchosť po miernu zdobenosť a hra s objemom, potlačami a farbami – tak možno charakterizovať najnovšiu kolekciu tejto značky pre sezónu Jar / Leto 2020. Všetko je tak prehlučnené, pociťuje návrhár a tak chcel kolekciu urobit "tichšou, mierumilovnejšou".
Na prehliadke zažiarili modelky – nigérijská modelka Adut Akech v zelenom, ktorá sa stala neskôr počas British Fashion Awards 2019 ocenenou modelkou ročníka a americká modelka Bella Hadid.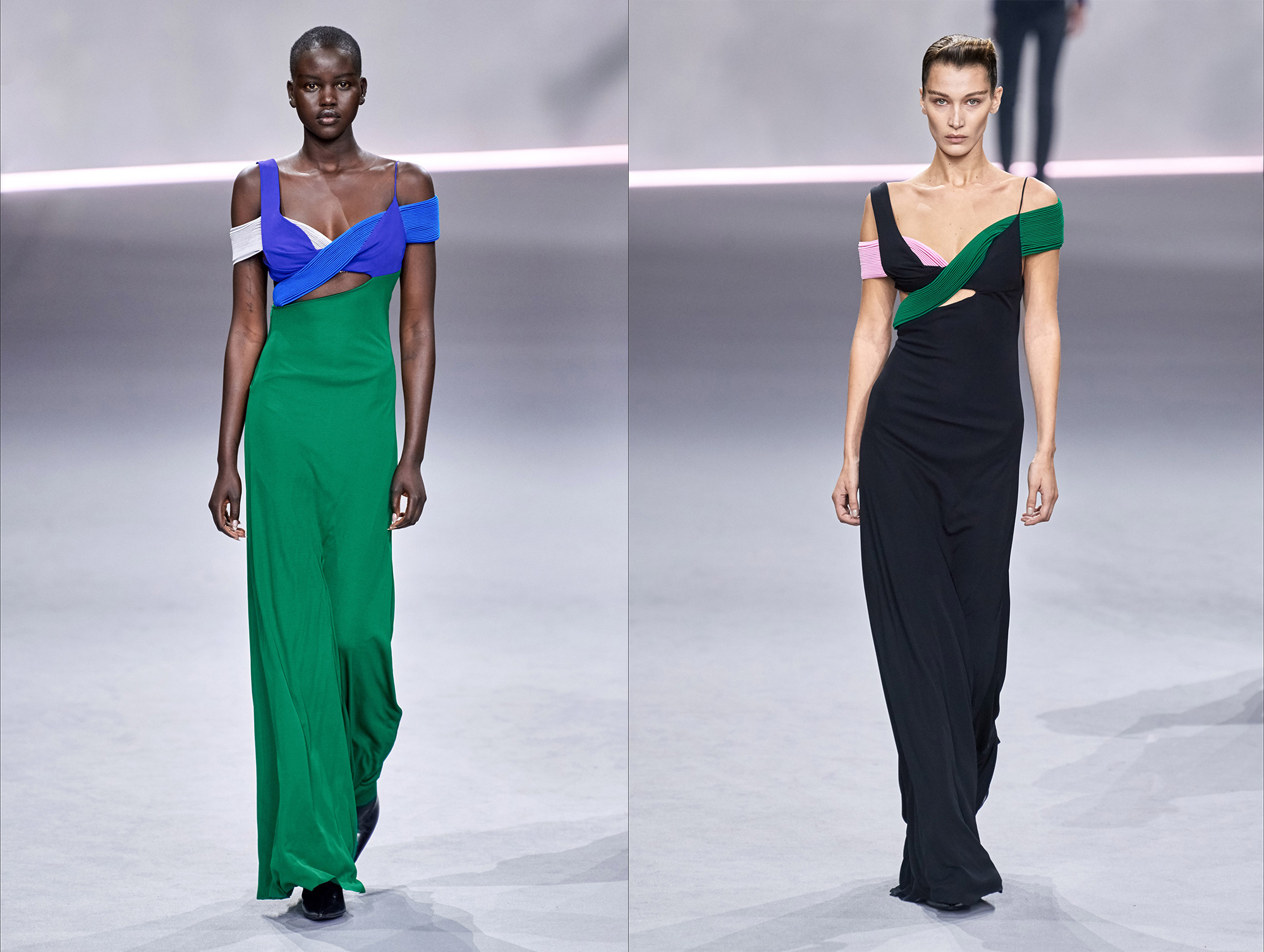 Modelka Kiki Willems predviedla dva rôzne modely – minimalistický model so zdobením a kimonový model s nohavicami s abstraktným florálnym vzorom.
zdroj: Vogue It
Na móle sa striedali perfektne strihané saká, šortky, nohavice, ktoré predviedli muži aj ženy od základných tónov šedej, čiernej , ktoré boli zmixované s farbami zelenou a modrou a skombinované s riasením a asymetrickými strihmi.
Viac obrázkov a zaujímavostí sa dočítate na facebook stránke Mya Mirell Fashionista, kde sú aj videá z prehliadok a instagrame: mya_mirell.
Sleduj ma na:
2 Instagramy: myamirell ,
mya_mirell
Facebook: Mya Mirell Fashionista,
Mya Mirell