No21 – Jeseň / Zima 2020 – 21, Milan Fashion Week, Móda Ženy, zimná sezóna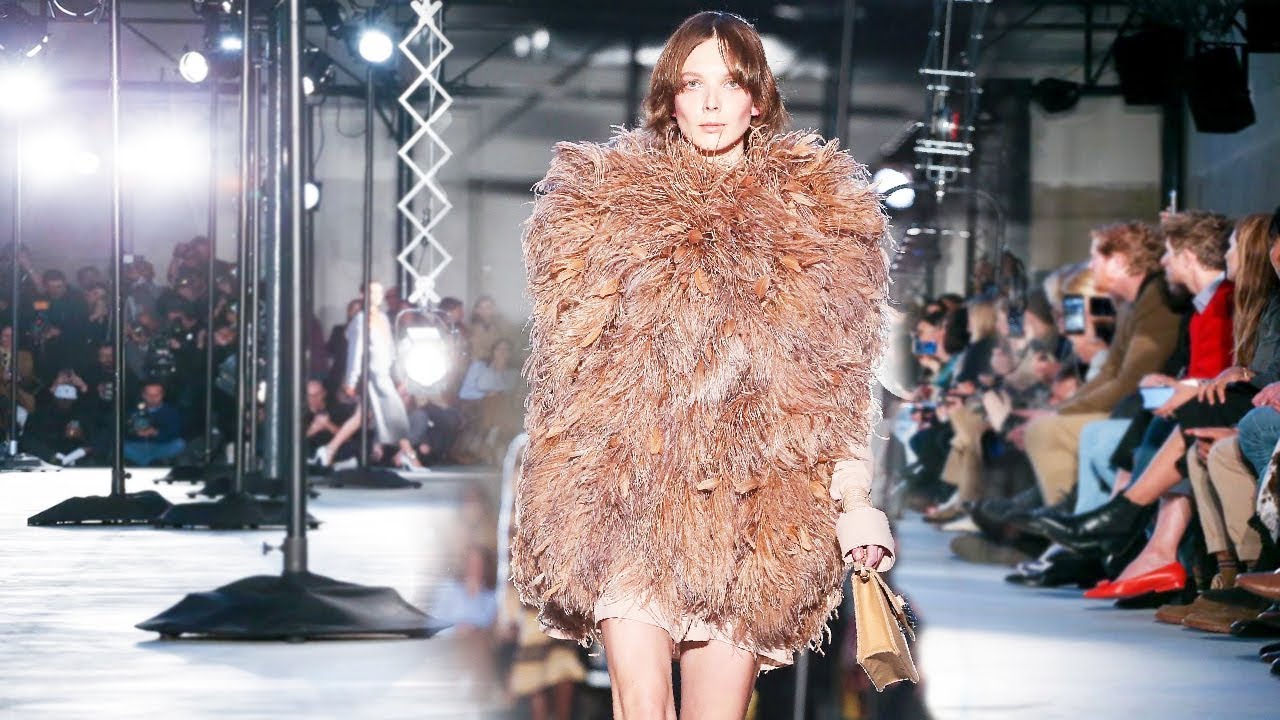 Alessandro Dell´Acqua, módny dizajnér značky No.21 oslávil novou kolekciou Jeseň/Zima 2020 – 21 posadnutosť dizajnérskou kreativitou, ktorá ho sprevádzala roky. Celebrálna módna show sa niesla bez náznaku nostalgie. Kolekcia No.21 predvedená počas Milan Fashion Weeku, v zimnej sezóne, bola oslavou 10. výročia značky.
No.21 ROKY 2010 – 2020
Módna značka No. 21 slávi rokom 2020 svoje 10. výročie bez velebenia vlastnej úžasnosti. S víziou optimizmu a radosti tak do minulosti ako aj do budúcnosti, je pripravená k novým posunom. História značky a jej prvých desiatich rokov ovplyvňuje novú zimnú kolekciu, tvorivé cesty dizajnéra Alessandro Dell´Acqua , ktoré ju formujú sú plne rozpoznateľné.
Všetky jeho veľkolepé diela – punková atmosféra, zmyselný prúd, mužsko-ženská hra, istý buržoázny duch podfarbený jemnou erotikou, boli updatované a pretvorené do nových siluet a objemov. Vo všeobecnosti ide v kolekcii No.21 Jeseň / Zima 2020 – 21 o remix kreatívneho procesu oprosteného od akéhokoľvek nostalgického sklonu.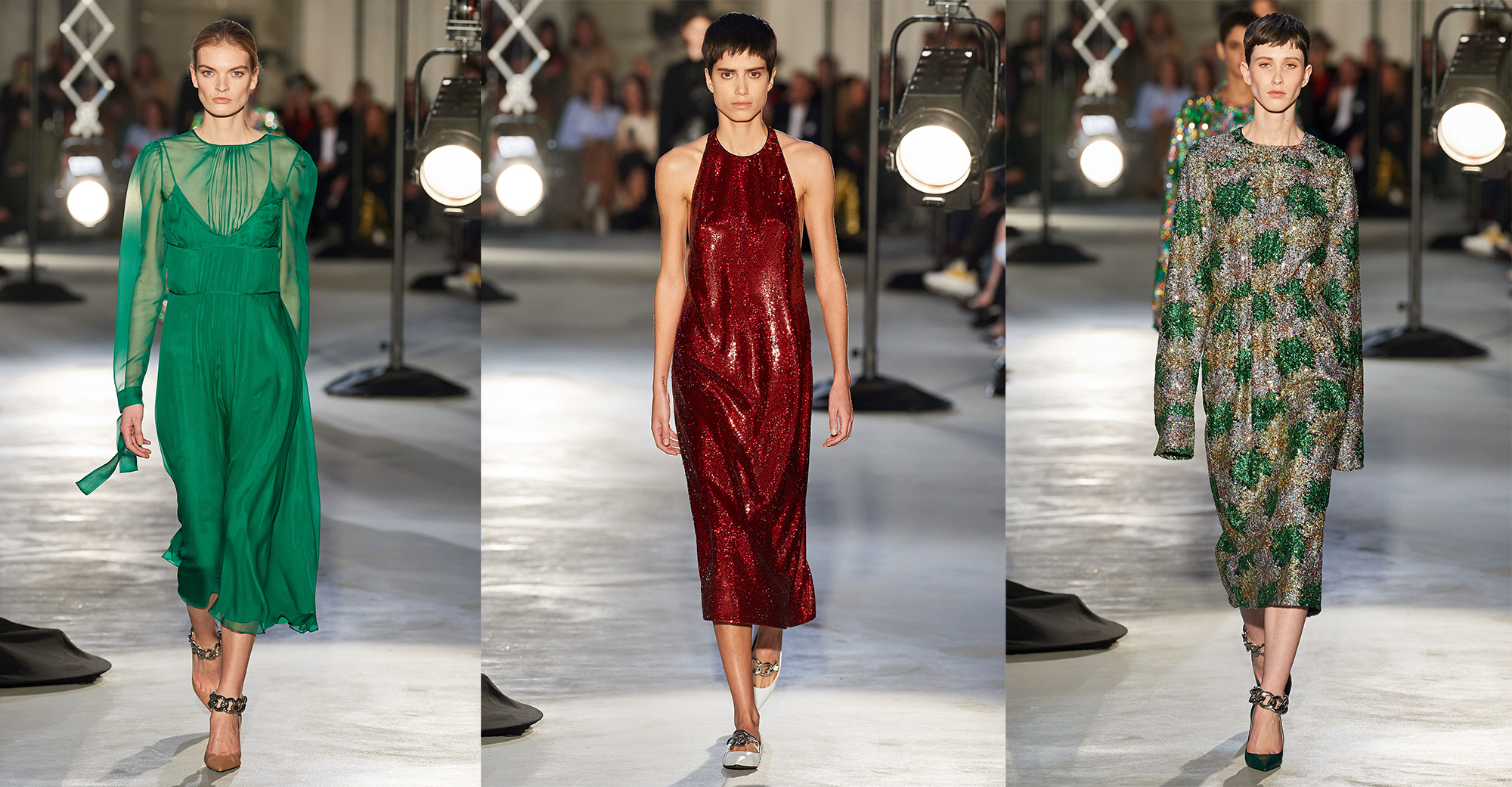 Pri dosiahnutí istého míľnika výročia sa dizajnéri zvyknú zamotať v samochválnych slučkách sietí. Dizajnér Alessandro Dell´Acqua bol však schopný dať svojmu repertoáru nové čítanie naštartovaný tak vlastnou nenútenosťou, ako aj prirodzeným chápaním ducha času.
KOLEKCIA No. 21 JESEŇ / ZIMA 2020 – 21 – DIZAJN MIMO MIERKU, PÁNSKE PRUHOVANÉ KOŠELE A SVOJRÁZNE SILUETY
Zimná kolekcia No. 21 je súborom odevov s úplnou slobodou prejavu vo význame, ktorý vo svojej podstate nosia. V žiadnom prípade však nezatieňujú vôľu individuálneho nositeľa.
Ide o uvedenie nového alternatívneho uhla pohľadu do pohybu , na rozdiel od obvyklých. Odstránenie obmedzenia pravidiel a zrušenie príkazov k splneniu spoločných noriem dalo vzniknúť svojráznym siluetám, no napriek tomu s bežnými známymi tvarmi.
Kolekcia No. 21 pre sezónu Jeseň / Zima 2020 – 21 používa tzv. dizajn "mimo merítka" k vytvoreniu novej voľnejšej cesty pre ženy. Tá je viac autonómna a pozoruhodnejšie zaujímavá. Vyzdvihnuté rozdiely a navrhnuté nové typy koexistencie medzi prvkami a položkami, sú charakteristickou črtou tejto módnej zbierky.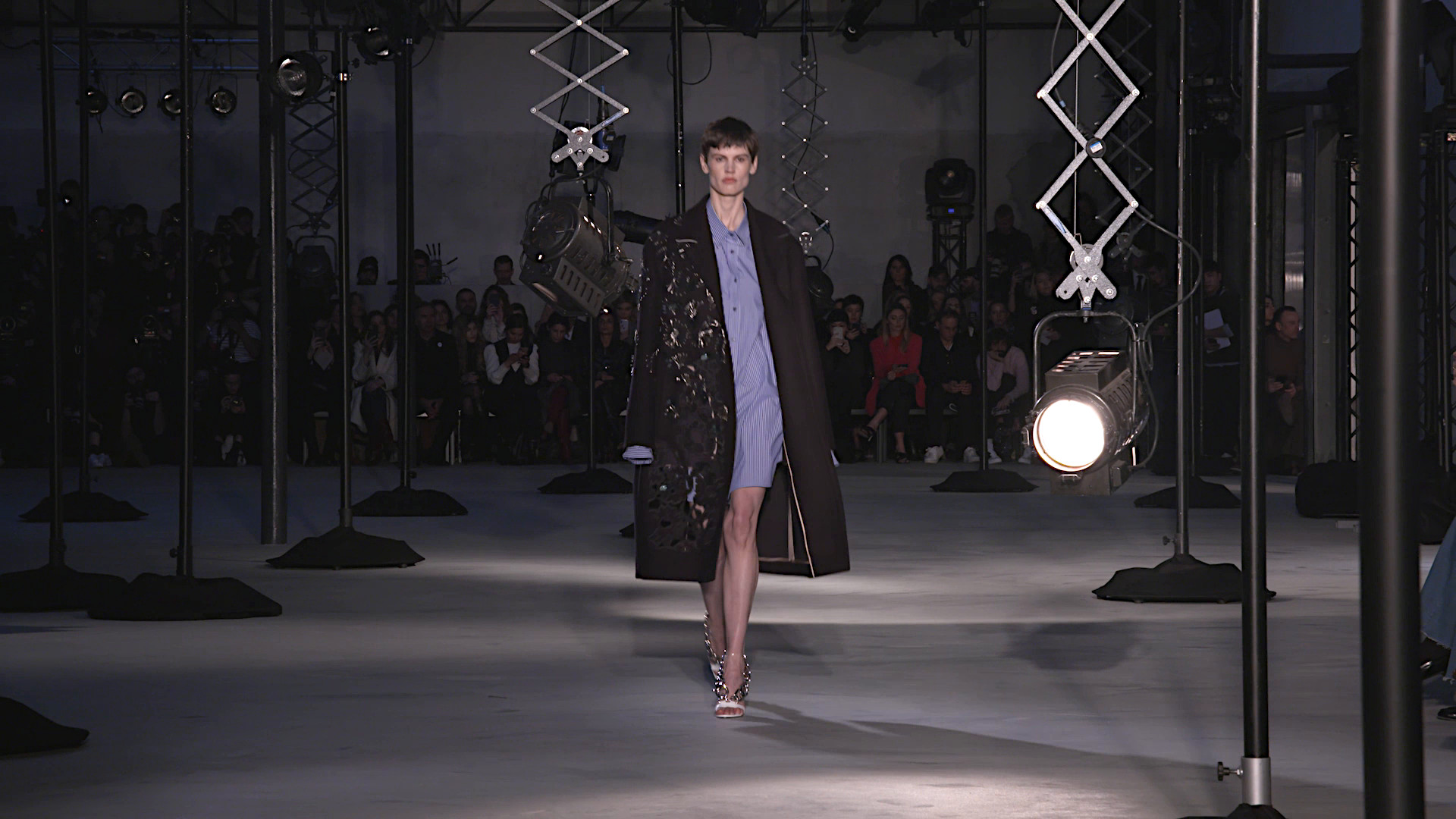 Alessandro Dell´Acqua začal vytvárať dizajn s pánskym pruhovaným tričkom so zachovaním strihu aj tvaru košele. Ako sa vyjadril pre mnohé módne médiá: "Na to som nakreslil postavu ženy, toho, kto nemá žiadne obmedzujúce rozmery, ale kto na druhej strane mixuje, vyberá a vyvráti to isté. "
"V mysli ženy, ktorá žije podľa vlastných podmienok a zastáva mimoriadny osobný názor, som využil metódu "out of scale" – mimo mierky , k umožneniu odhodiť posudky a vytvoriť kolekciu, ktorá získa tvar prostredníctvom zjavne nezhodných prvkov. "
"Mám rád myšlienku zvýraznenia a podčiarknutia rozdielov, aby som prišiel s prekvapivými a často nepravdepodobnými kombináciami. Hlavnou myšlienkou pre mňa bola žena, ktorá sa nenechá utlačiť sociálnymi rolami , zatlačiť sa do stereotypov a ktorá zmixovaním proporcií a iných aspektov uspeje v žití, vo vyjadrovaní vlastných postojov na lepšej, pravdivejšej ceste."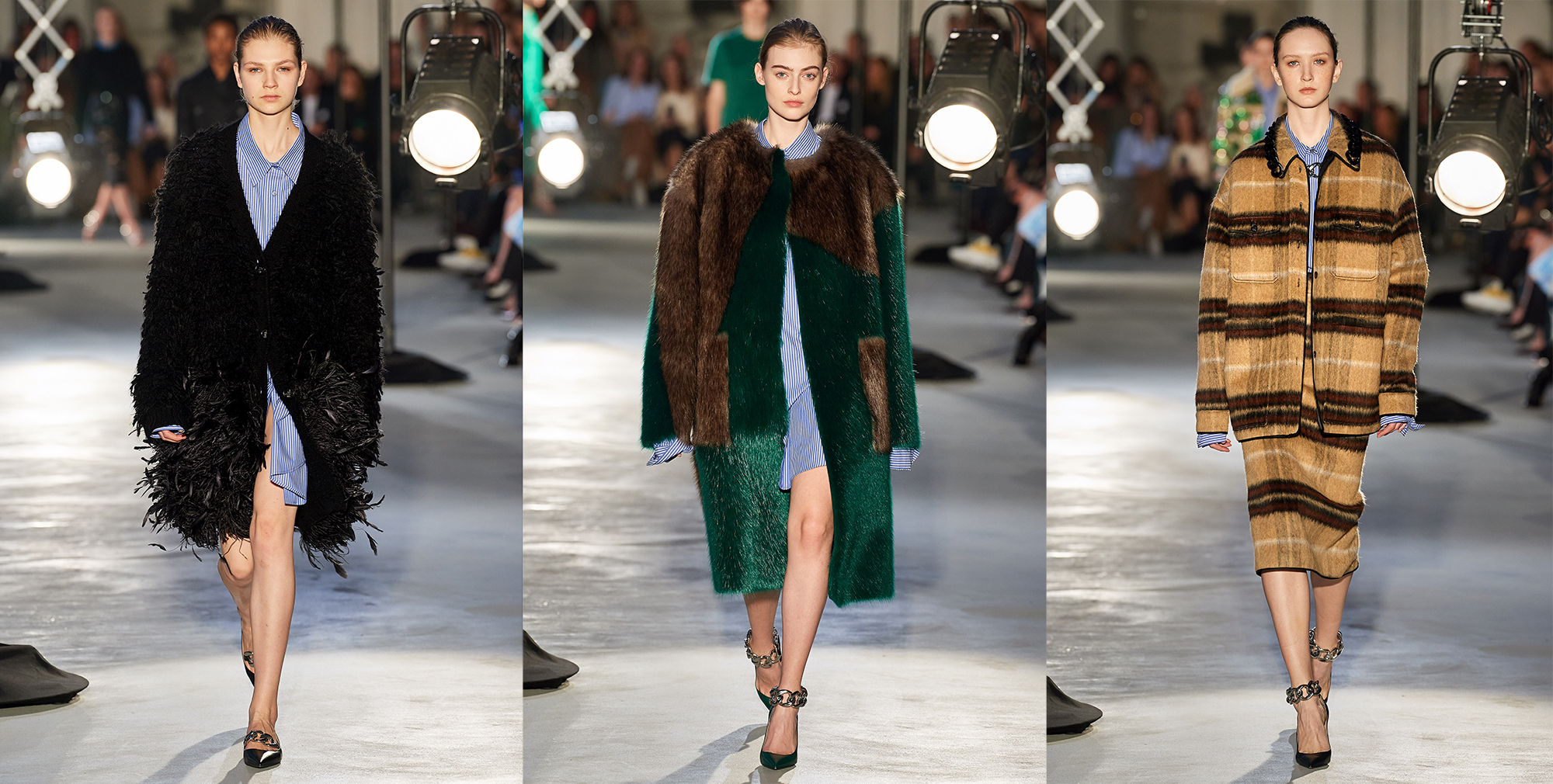 Mužské pruhované košele teda dominovali kolekcii a nosia sa so všetkým a všade. Na každú príležitosť , i pod priezračnými šifónovými košeľami doplnenými širokým lemom z pštrosích perí.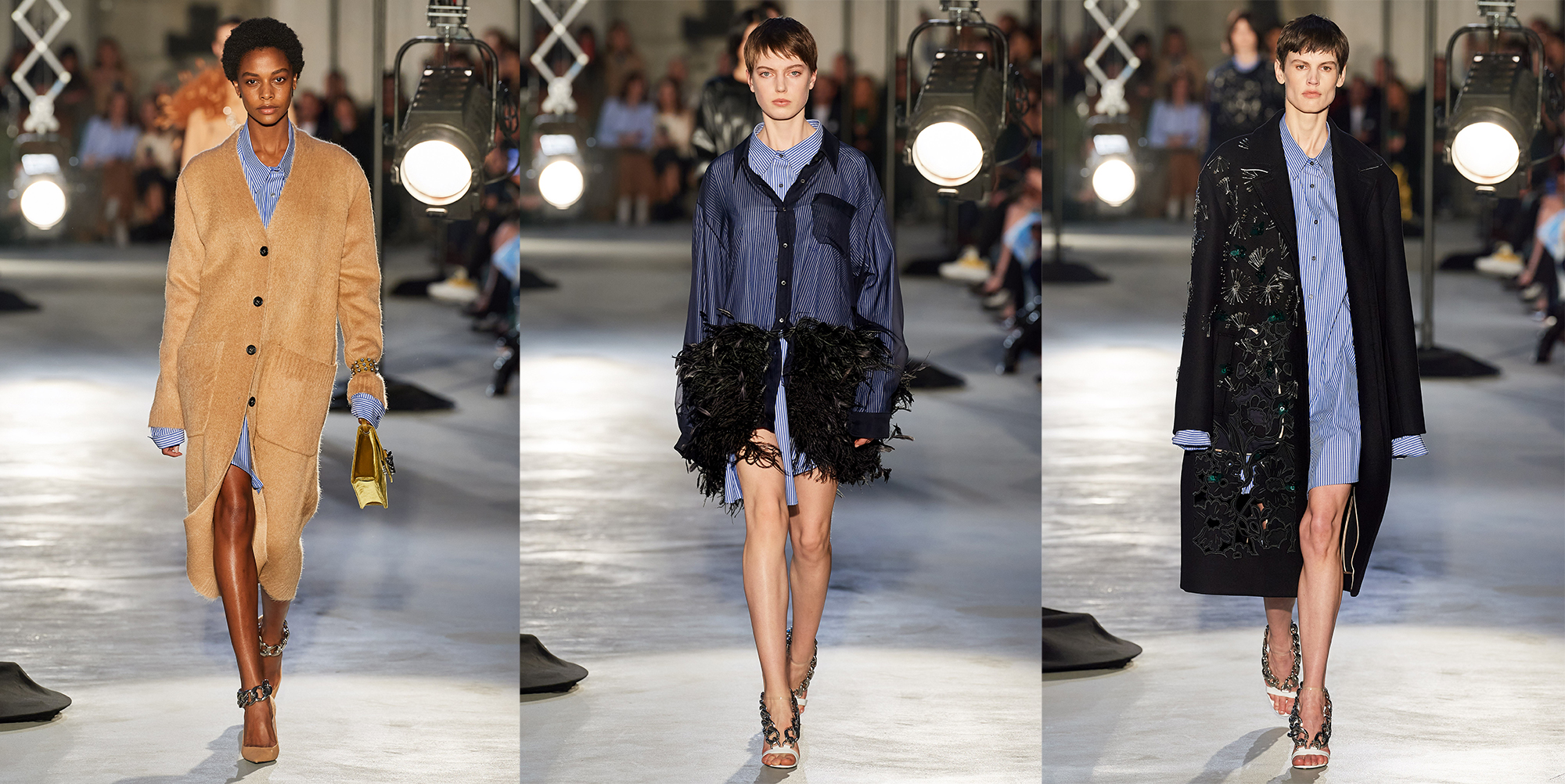 Potom sa na móle blysli bundy a kabáty z melton textílie (vlnená tkanina z česanej priadze), s čipkou macramé pozdĺž spodného lemu, sukne, šaty z čipky s dlhými rukávmi, kožené modely a objemné topy s pštrosím perím a s perím z tetrovov a s aplikáciami zatváracích špendlíkov v tvaroch kvetinových korún.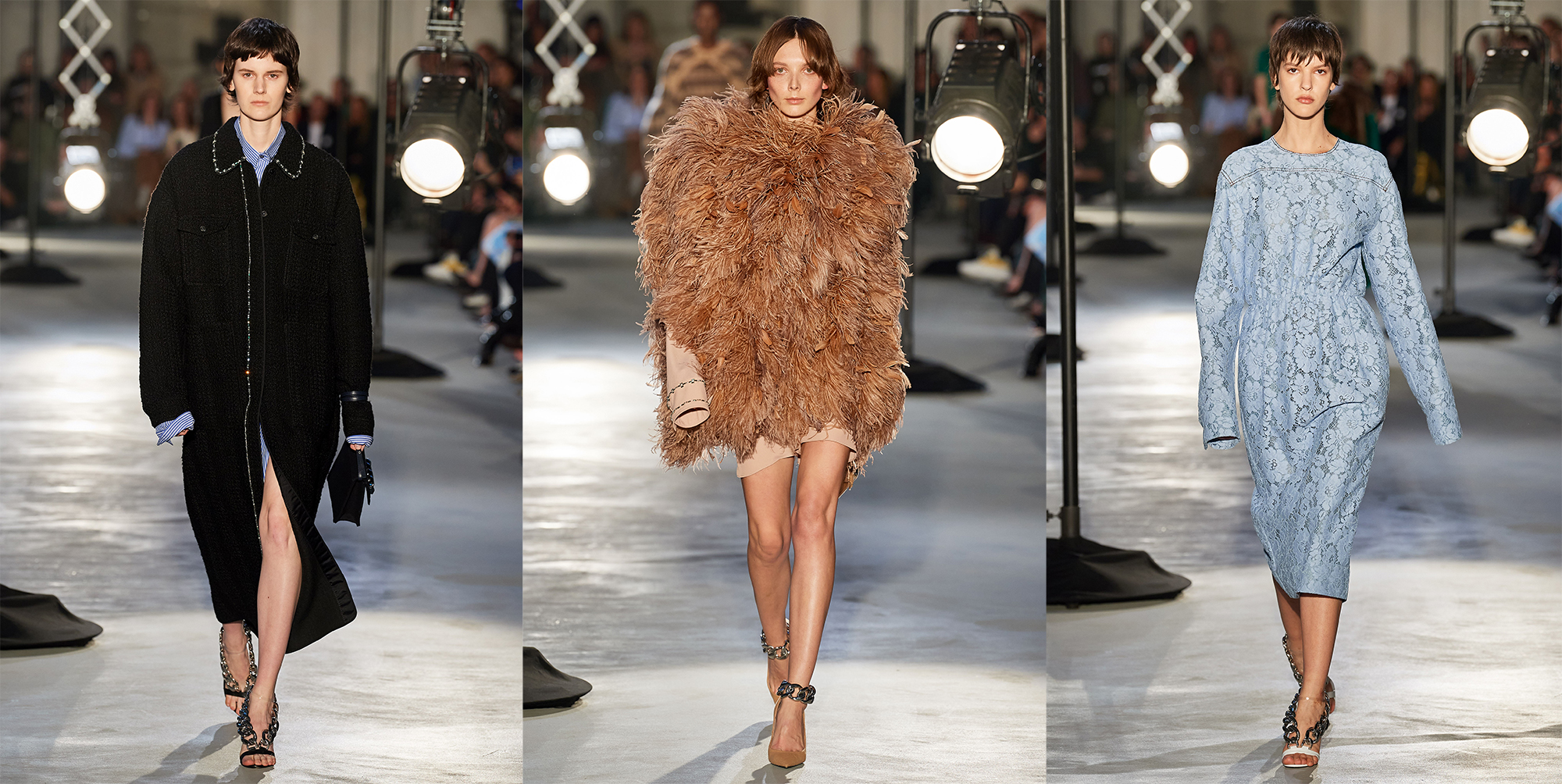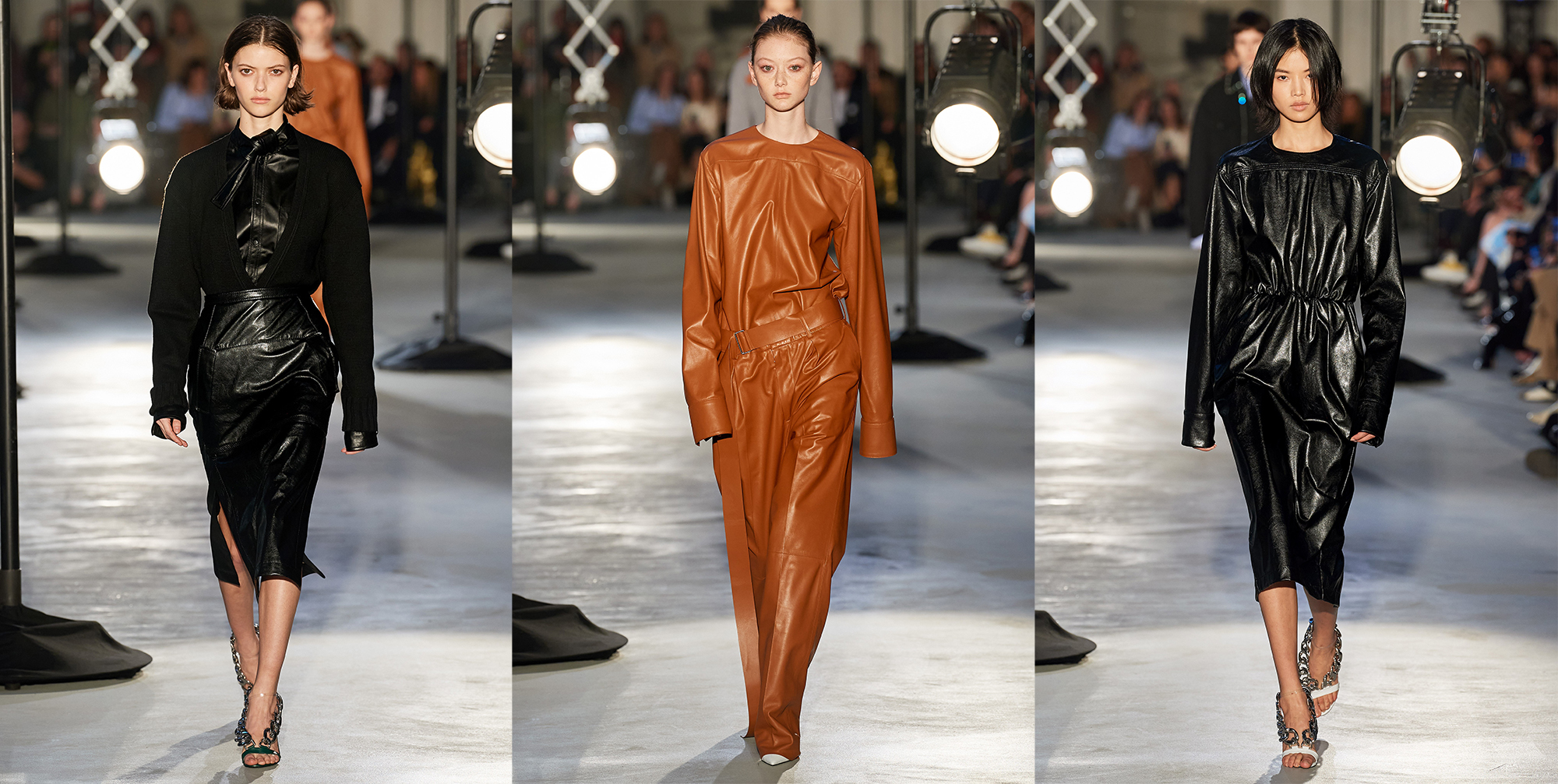 Plus size kabáty napodobňovali obrie košele, retiazky formovali prúžky na sexi výstrihoch šiat alebo držiac na mieste riasenia na mikro-holografických flitrových šatách, na šatách, ktoré obopínajú telo ako slučka, na umelých kožuchoch s podšitím v koži, na priehľadných šatách z čipky s nadmernými rukávmi, pletených kardiganoch s obrovskými lemovaniami z perí.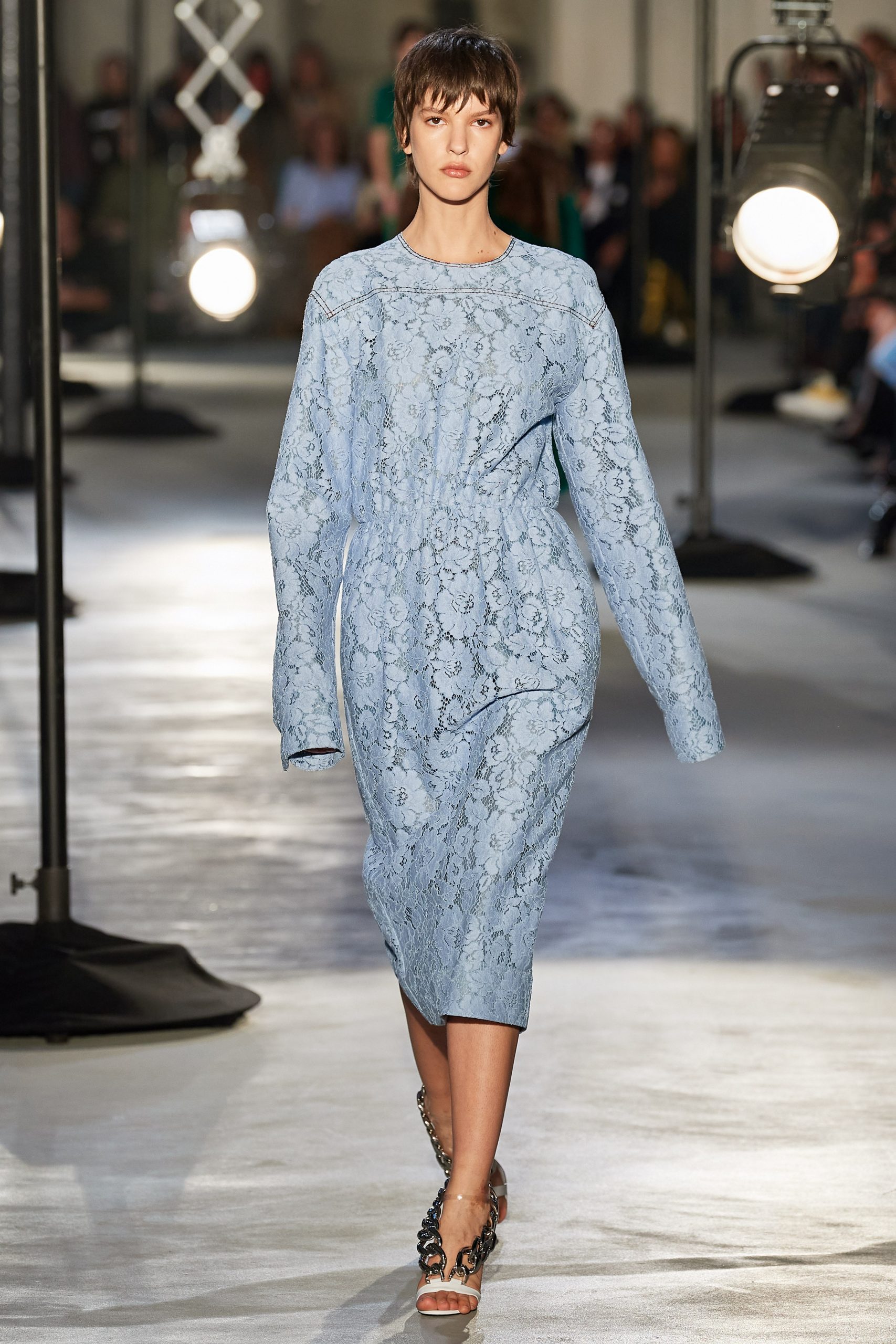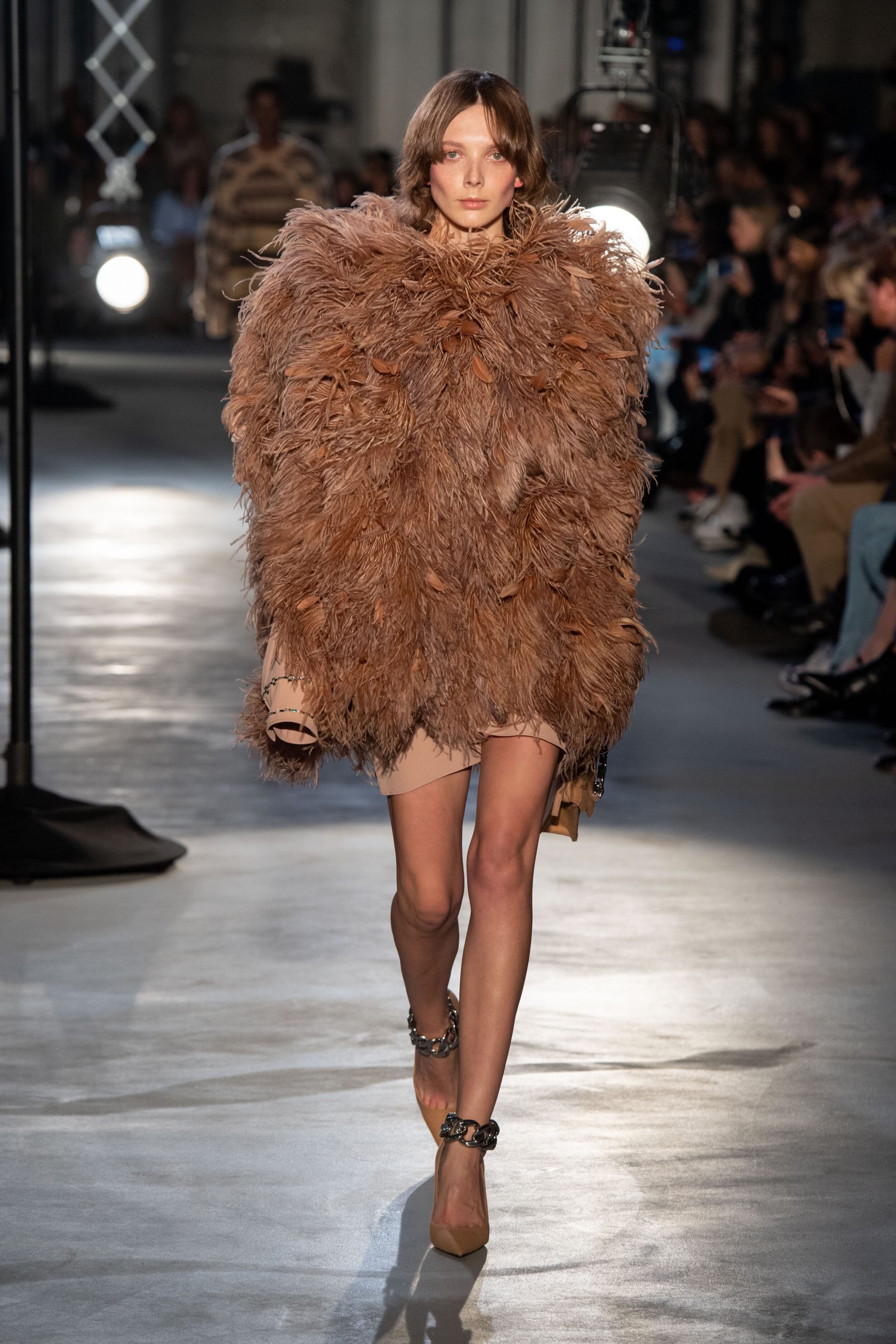 PÁNSKA KOŠELA AKO TYPICKÝ PRVOK V ZREMIXOVANEJ PODOBE
Mužská košeľa, jeden z obľúbených produktov Alessandro Dell´Acqua, bola v kolekcii No. 21 nafúknutá do obrovských tvarov, no napriek tomu si zachovala elegantné a vybalansované proporcie nositeľných šiat.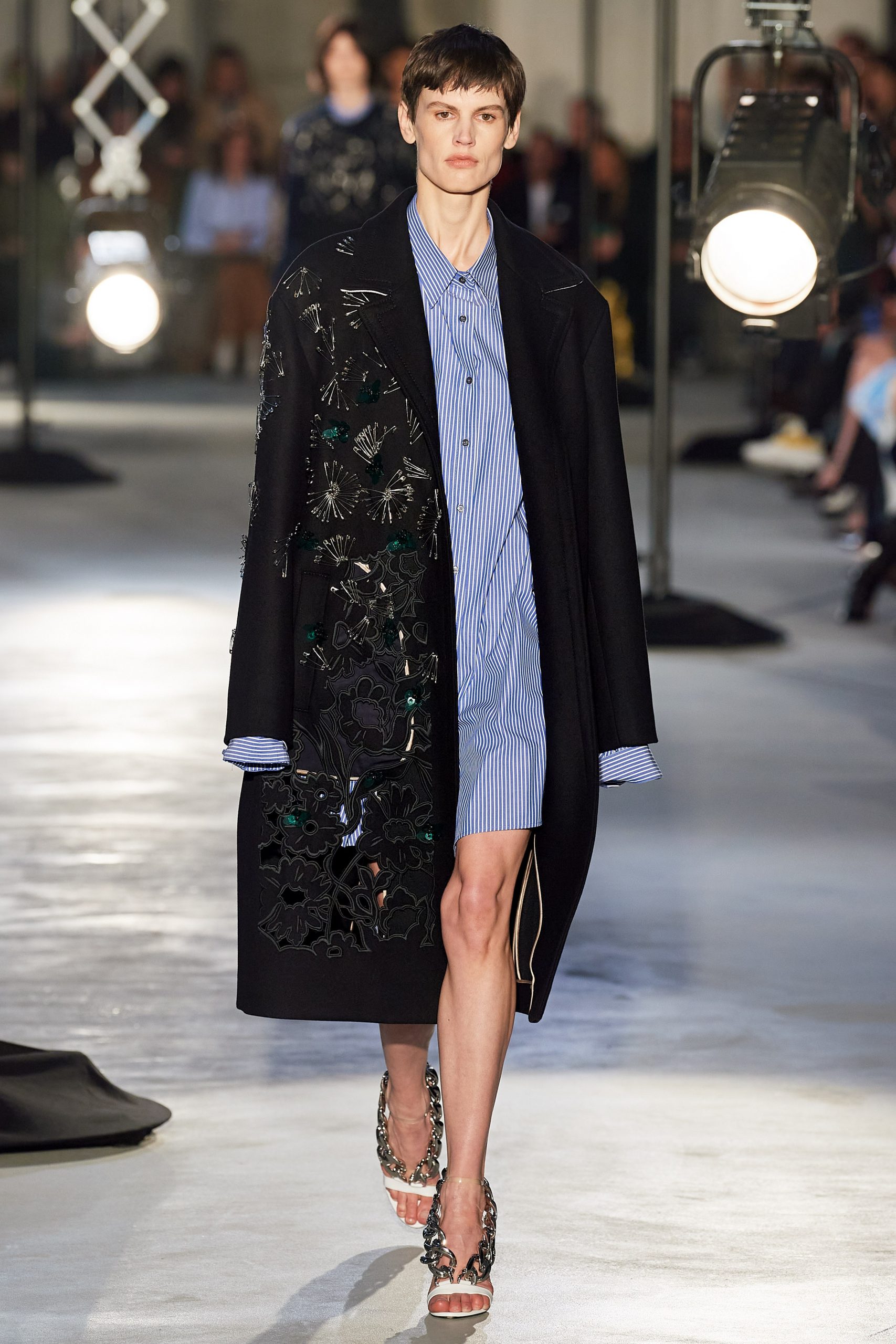 "Bavilo ma hrať sa konceptom mimo rozsah trochu prevratným spôsobom", povedal dizajnér v zákulisí, akoby remixovanie kódov a preskupenie kariet bol jeho osobný narodeninový dar tejto značke.
PUNKOVÁ ATMOSFÉRA V KOLEKCII JESEŇ / ZIMA 2020 – 21
Čipkované šaty, macramé práca, mužsko-ženský mix, punková nálada sa zračia v zimnej kolekcii značky No. 21.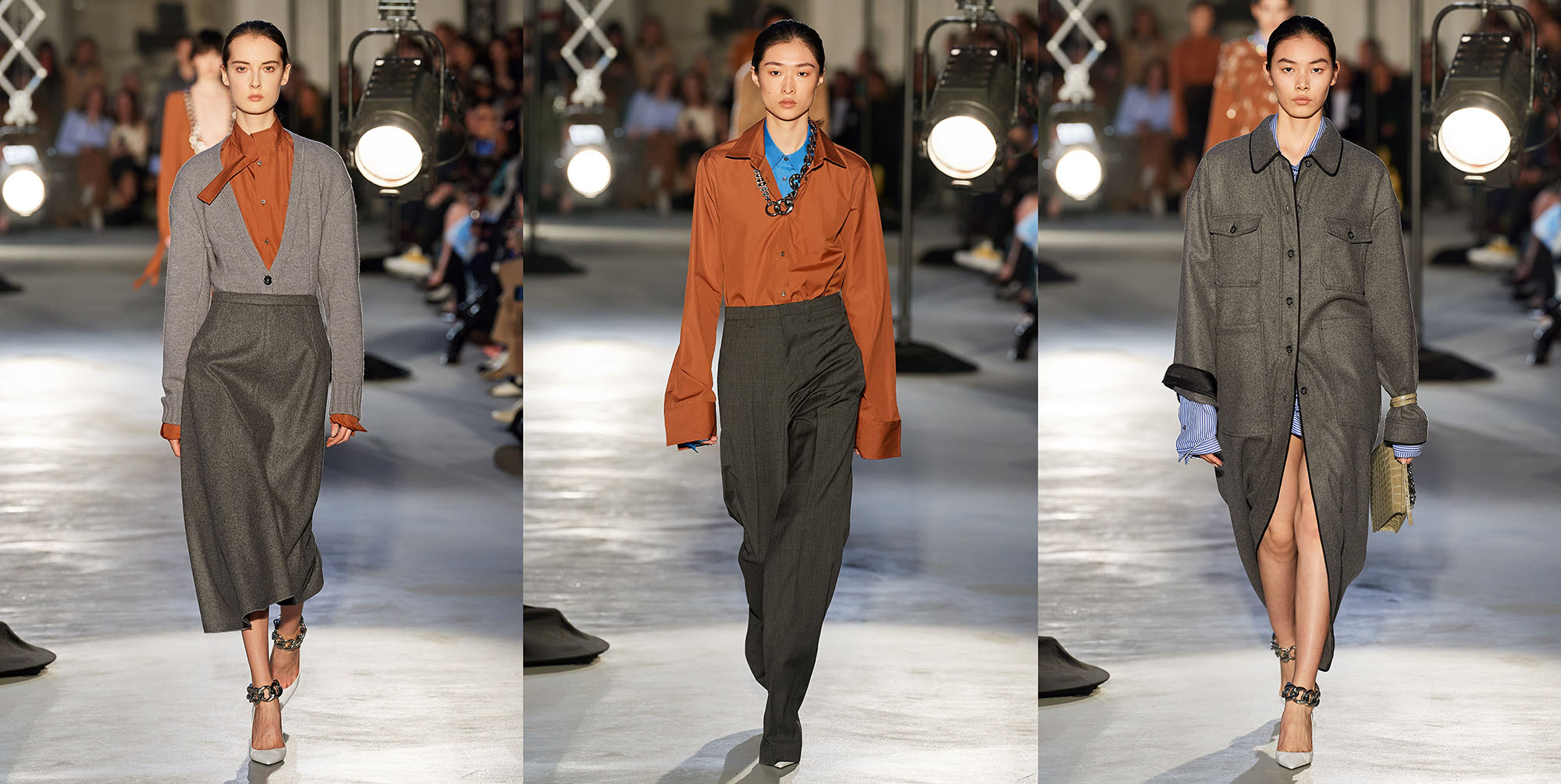 Pripomienkou na punkovú náladu, kovové zatváracie špendlíky, sa stali kvetinové aplikácie na pulóvroch s odhaleným chrbtom oblečených na mužských popelínových košeliach, alebo boli náhradou výšiviek na vlnitých čiernych vlnených šatách s intarziou napodobňujúcou makramé čipky.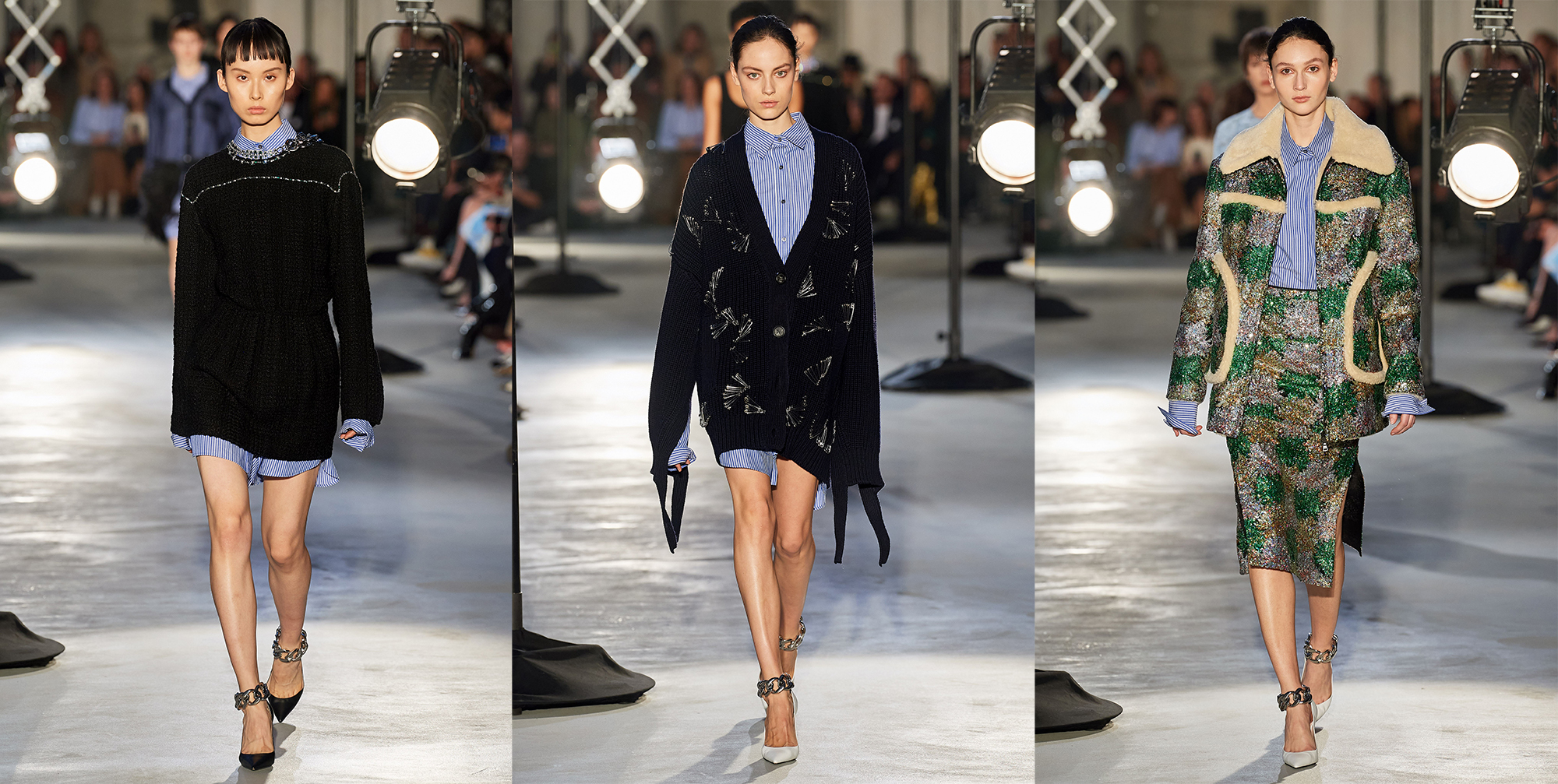 Robustné lakované reťaze boli lightmotívom kolekcie. Aplikované na vodových dekoltoch , zmyselných tubových šatách alebo asymetrických zavinovacích sukniach, zdobené viacfarebným mikroholografickým flitrom.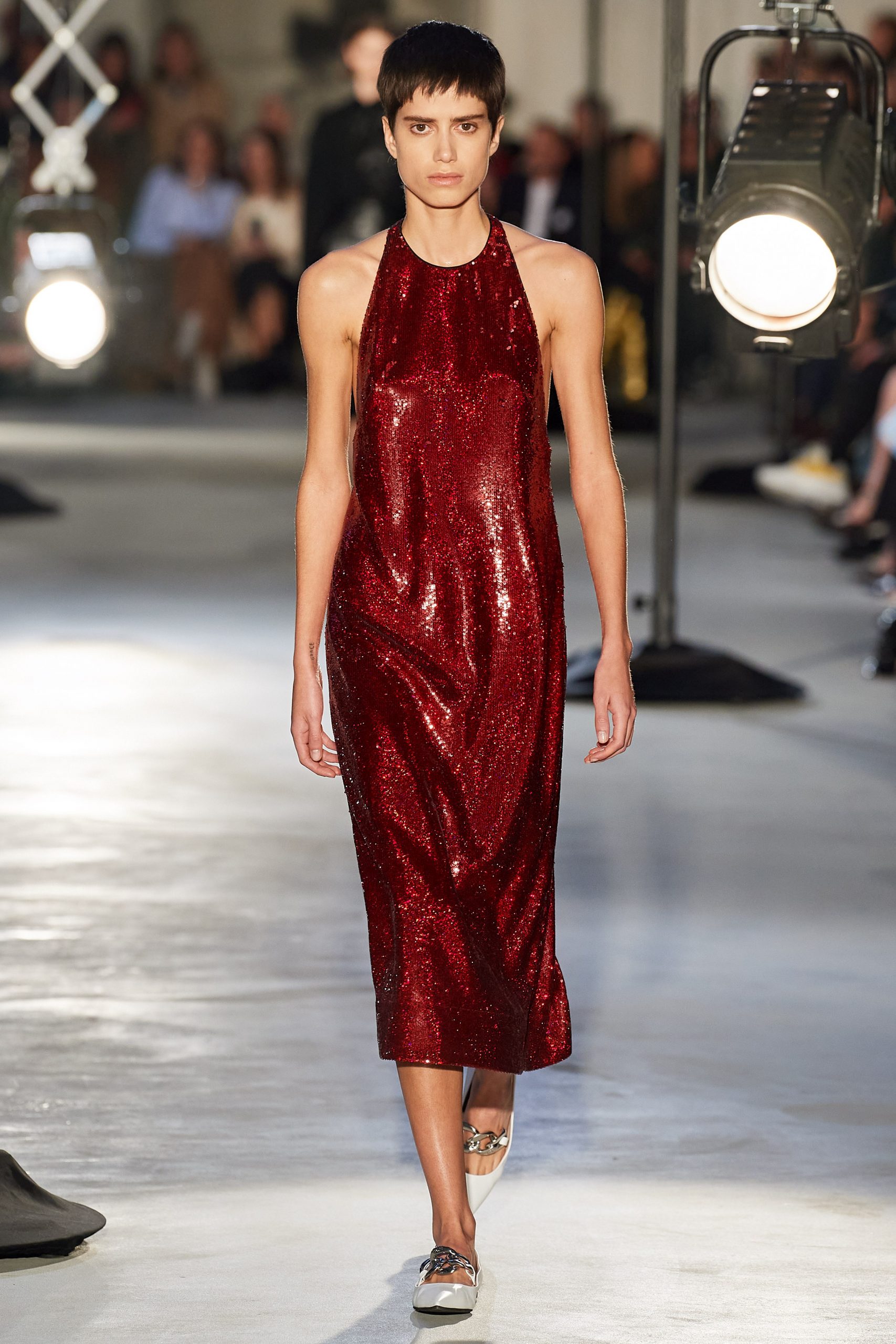 BURŽOÁZNE VPLYVY
Dizajnérova fascinácia nenápadným pôvabom buržoázie, klasický mix jemnej erotickej elegancie, je opakujúcou sa témou jeho tvorby.
Boj zjavný v štíhlych, sofistikovaných siluetách čiernych tulipánových šatách ozdobených jemnými kamienkovými florálnymi motívmi. Buržoázne dotyky boli v kolekcii zamýšľané ako dojímavá pocta slávnej talianskej módnej žurnalistke France Sozzani (bývalá šéfredaktorka magazínu Vogue Italia), dlhoročnej priateľke, podporovateľke a múze návrhára. "Ona bola stelesnením chic štýlu", ako sa vyjadril Alessandro Dell´Acqua.
"Vidím ju, ako nosí tieto šaty. Bola nepretržiou nápomocou mojej kariéry a stále je jednou z mojich najväčších inšpirácií".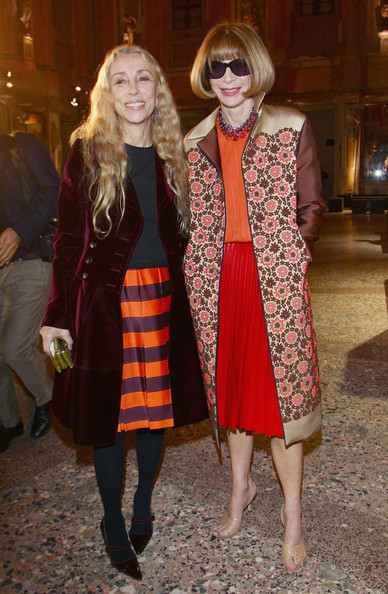 Franca Sozzani (vľavo) s Annou Wintour.
DOPLNKY
Z doplnkov boli v zimnej kolekcii No. 21 použité vysoké lodičky a sandále s detailami z reťazí, ktoré tvorili výraznú , do očí bijúcu časť. Reťaze definovali tiež veľké spony na Daft kabelkách na kabelkách strednej veľkosti cez plece z kože zachytávajúc všetky túžby, úsilia kolekcie tzv. "out of scale" , mimo mierky.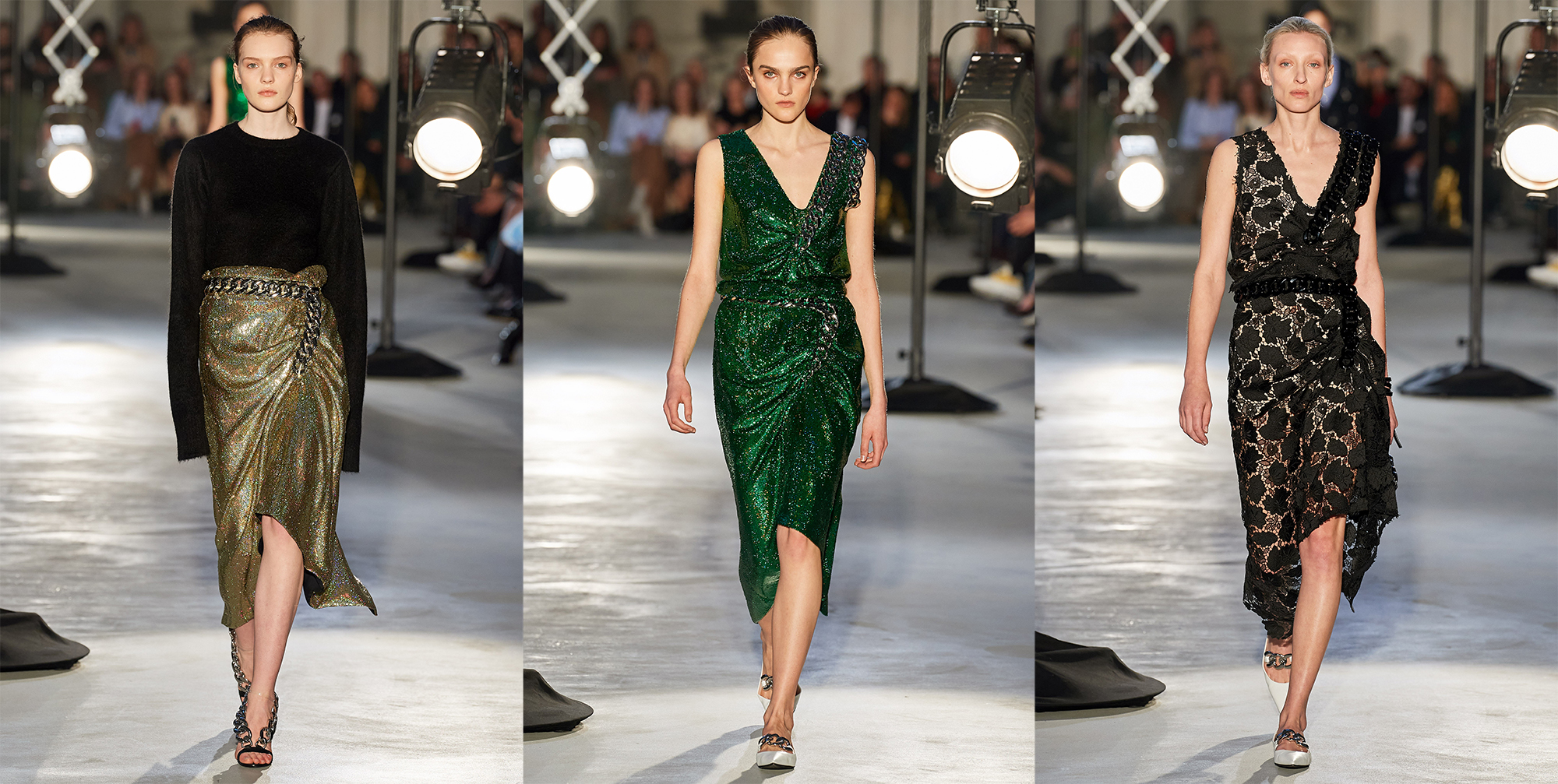 Doplnkami boli lodičky a sandále s reťazovými detailami a Daft kabelky s veľkými reťazovými sponami.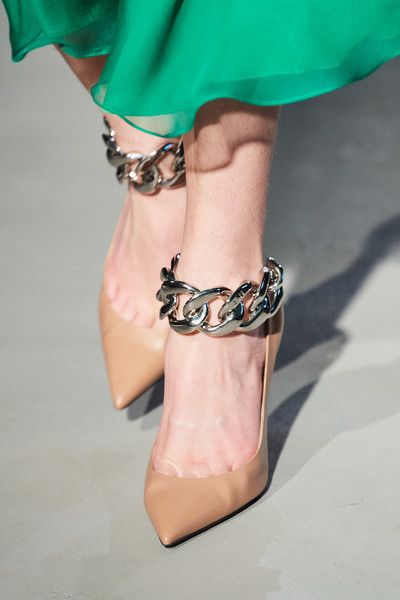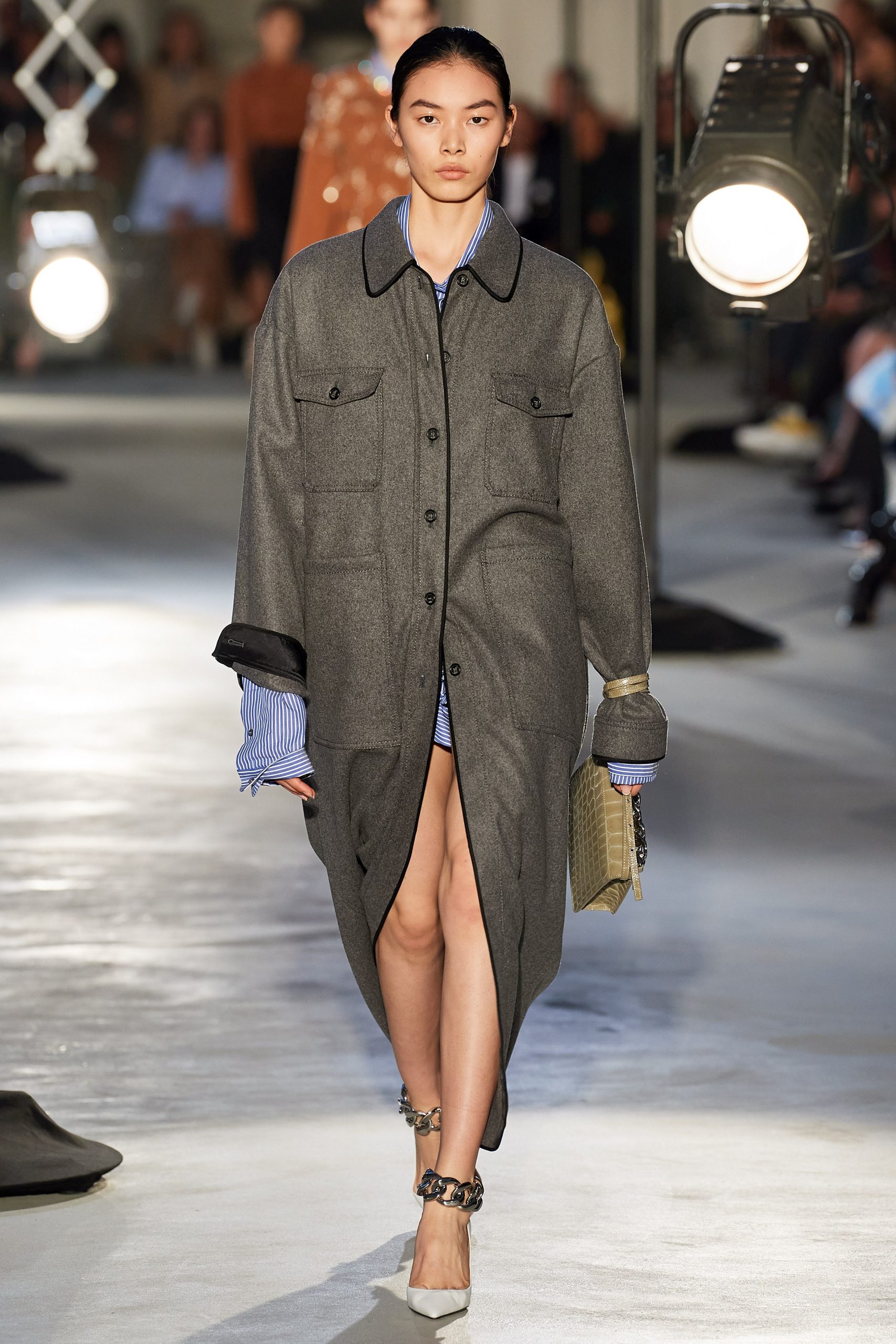 zdroj obrázkov: No.21, Vogue, getty images, pinterest