65. ročník udeľovania hudobných cien Grammy , 5. február 2023 – najžiarivejšie módne vzhľady hviezd z červeného koberca
Udeľovanie cien Grammy za rok 2023 je tu a hviezdy v plnej sile vyrazili na červený koberec pred Crypto com Arenou v centre Los Angeles. V nedeľu 5. februára 2023 sa na 65. ročníku udeľovania cien Grammy v Los Angeles rozdali ceny . Najväčšie mená v hudobnom priemysle predtým ako vystúpili na pódium a boli ocenené pozlátenými gramofónmi, sa predviedli aj na červenom koberci v zaujímavých outfitoch, z ktorých niektoré budú isto na vrchole rebríčkov. Na rozdiel od svojich formálnejších súrodencov je červený koberec cien Grammy o niečo zábavnejší a voľnejší v porovnaní s vážnosťou cien Akadémie (ktoré sú na obzore) a ešte uvoľnenejších Zlatých glóbusov.
Prítomných bolo množstvo zvučných mien vrátanie Bad Bunny, Brandi Carlile, DJ Khaled s Fridayy, Jay-Z, John Legend, Lil Wayne a Rick Ross, Harry Styles, Luke Combs, Sam Smith & Kim Petras, Steve Lacy, Stevie Wonder so Smokey Robinsonom a Chrisom Stapletonom. Vo vysielaní bola plánovaná aj oslava 50. výročia hip-hopu, s hosťovaním LL Cool J, produkciou Questlove a hudobnou réžiou, The Roots poskytovaním hudby a rozprávaním Black Thought. Medzi interpretov hip-hopového pozdravu patrili Big Boi, Busta Rhymes so Spliff Star, De La Soul, DJ Drama, DJ Jazzy Jeff, Missy Elliott, Future, GloRilla, Grandmaster Flash, Grandmaster Melle Mel & Scorpio/Ethiopian King, Ice-T , Lil Baby, Lil Wayne, The Lox, Method Man, Nelly, Public Enemy, Queen Latifah, Rahiem, Rakim, RUN-DMC, Salt-N-Pepa a Spinderella, Scarface, Swizz Beatz a Too $hort.
Vo finále sa konali aj tri individuálne pocty In Memoriam vrátane Kacey Musgraves na počesť Loretty Lynn, Bonnie Raitt, Mick Fleetwood a Sheryl Crow na počesť Christine McVie z Fleetwood Mac a Maverick City Music a Quavo na počesť rappera Migos Takeoff.
Bola to hudobná noc nocí – 65. ročník odovzdávania cien Grammy oslavoval najvýznamnejšie úspechy v hudobnom priemysle za posledný rok. Pozrite si červený koberec, na ktorom zažiarili od Doja Cat v úplne čiernej, cez Brandi Carlile, Adele, Beyoncé, Mary J. Blige až po Lizzo vo volánových kaskádach oranžovej, tie najúžasnejšie hviezdy hudobného priemyslu. Najväčším príbehom noci bola speváčka Beyoncé, ktorá sa stala najviac oceňovanou držiteľkou Grammy všetkých čias.
BEYONCÉ – GUCCI
Beyoncé si obliekla korzetovú strieborno-zlatú róbu Gucci s vysokým rázporkom na stehne a prevzala cenu za najlepší tanečný a elektronický hudobný album.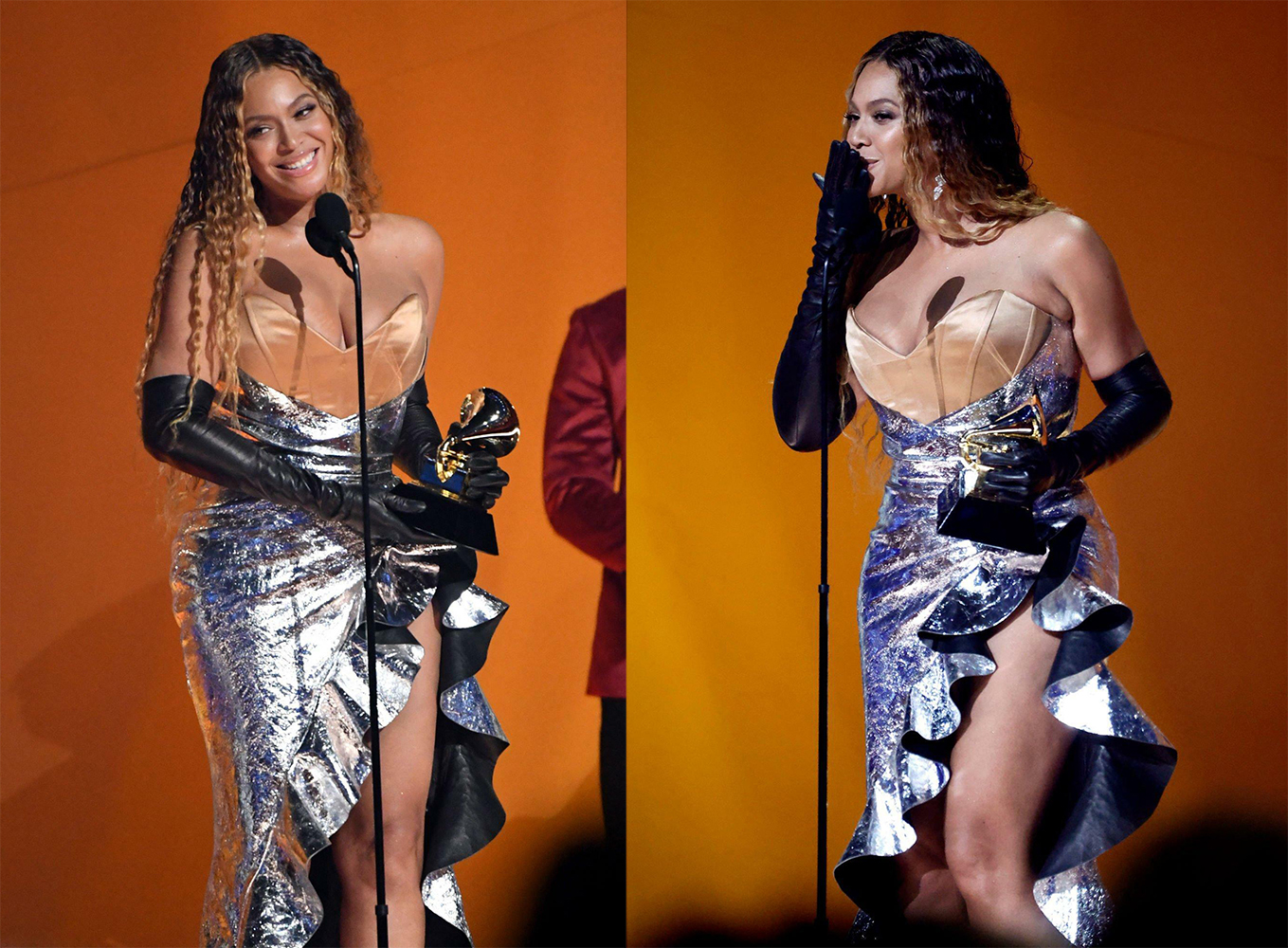 JENNIFER LOPEZ – GUCCI
Nechýbala ani módna ikona, Jennifer Lopez, ktorá mala na sebe šaty z talianskej dielne Gucci pokryté kamienkami a trblietavými šperkami Bulgari. Pre tentokrát zvolila uhladený účes za uši.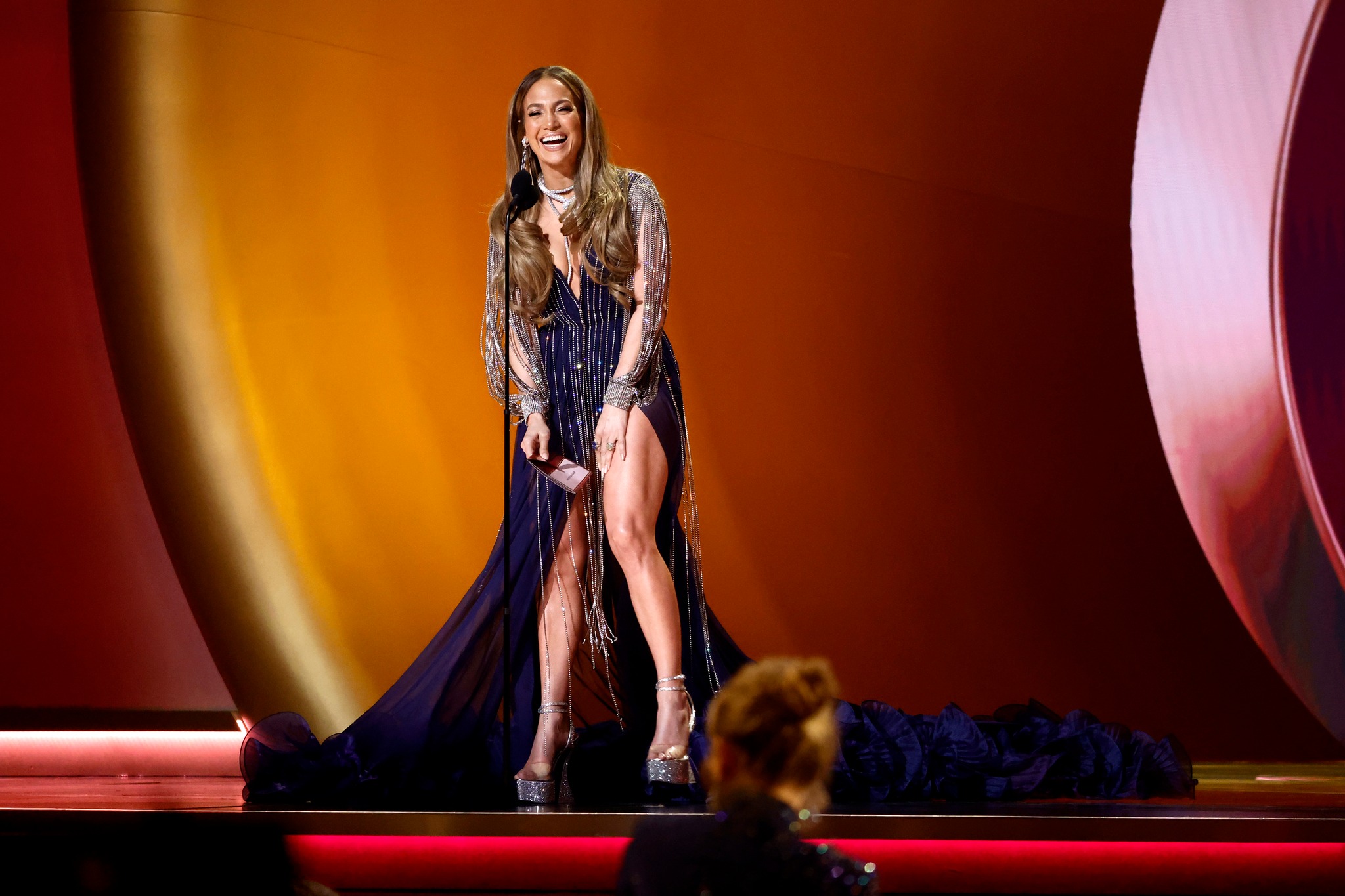 LOS ANGELES, CALIFORNIA – FEBRUARY 05: (FOR EDITORIAL USE ONLY) Jennifer Lopez speaks onstage during the 65th GRAMMY Awards at Crypto.com Arena on February 05, 2023 in Los Angeles, California. (Photo by Frazer Harrison/Getty Images)
CARDI B – GAURAV GUPTA COUTURE
Rapové hviezdy Cardi B a Offset vystúpili vo svojich najlepších šatách. Cardi B mala na sebe tentokrát róbu indického dizajnéra Couture Gaurav Gupta v nápadnej oceánovo modrej farbe.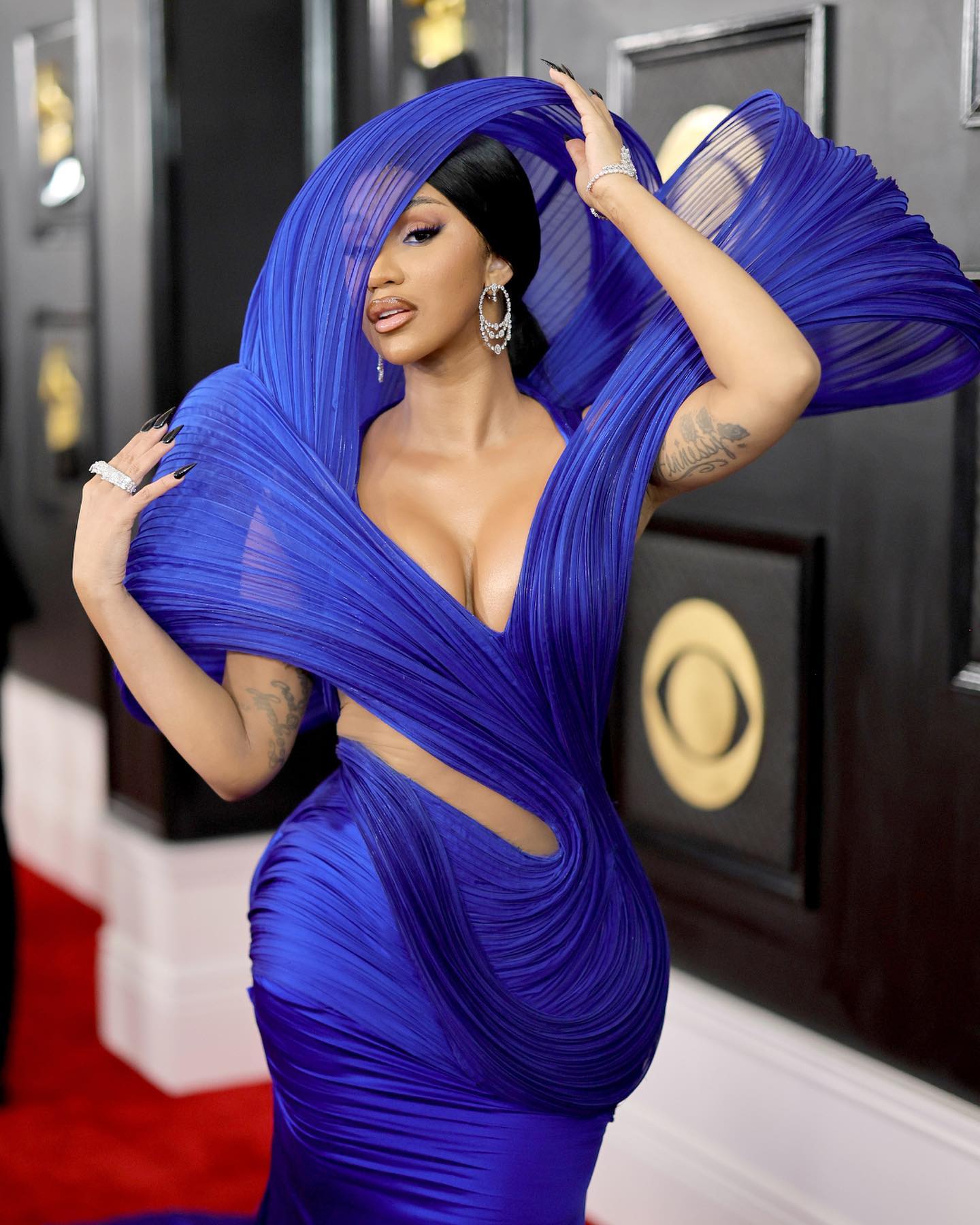 LIZZO – DOLCE & GABBANA
Ruže sú červené, fialky modré. Speváčka Lizzo vyhrala Grammy 2023 a vystúpila na pódiu v ohurujúcom výraznom modeli Dolce & Gabbana . Bola nominovaná na ocenenia vrátane albumu roka, nahrávky roka a piesne roka. Americká speváčka v oranžovom kvetinovom súbore venovala svoju výhru v albume roka zosnulému krajanovi. "Keď sme stratili princa, rozhodla som sa zasvätiť svoj život tvorbe pozitívnej hudby," povedala na pódiu.
TAYLOR SWIFT – ROBERTO CAVALLI
Taylor Swift sa pri príchode zaskvela v modrej polnočnej róbe s flitrami od Roberto Cavalli. Hviezda pred tohtoročným podujatím získala štyri nominácie, vrátane piesne roka za rozšírenú, znovu nahranú verziu All Too Well, no ocenenie sa jej ušlo. V dvojdielnej súprave Custom Roberto Cavalli vystúpila na pódiu. Celkový vzhľad okrášlila šperkami Lorraine Schwartz a topánkami Giuseppe Zanotti.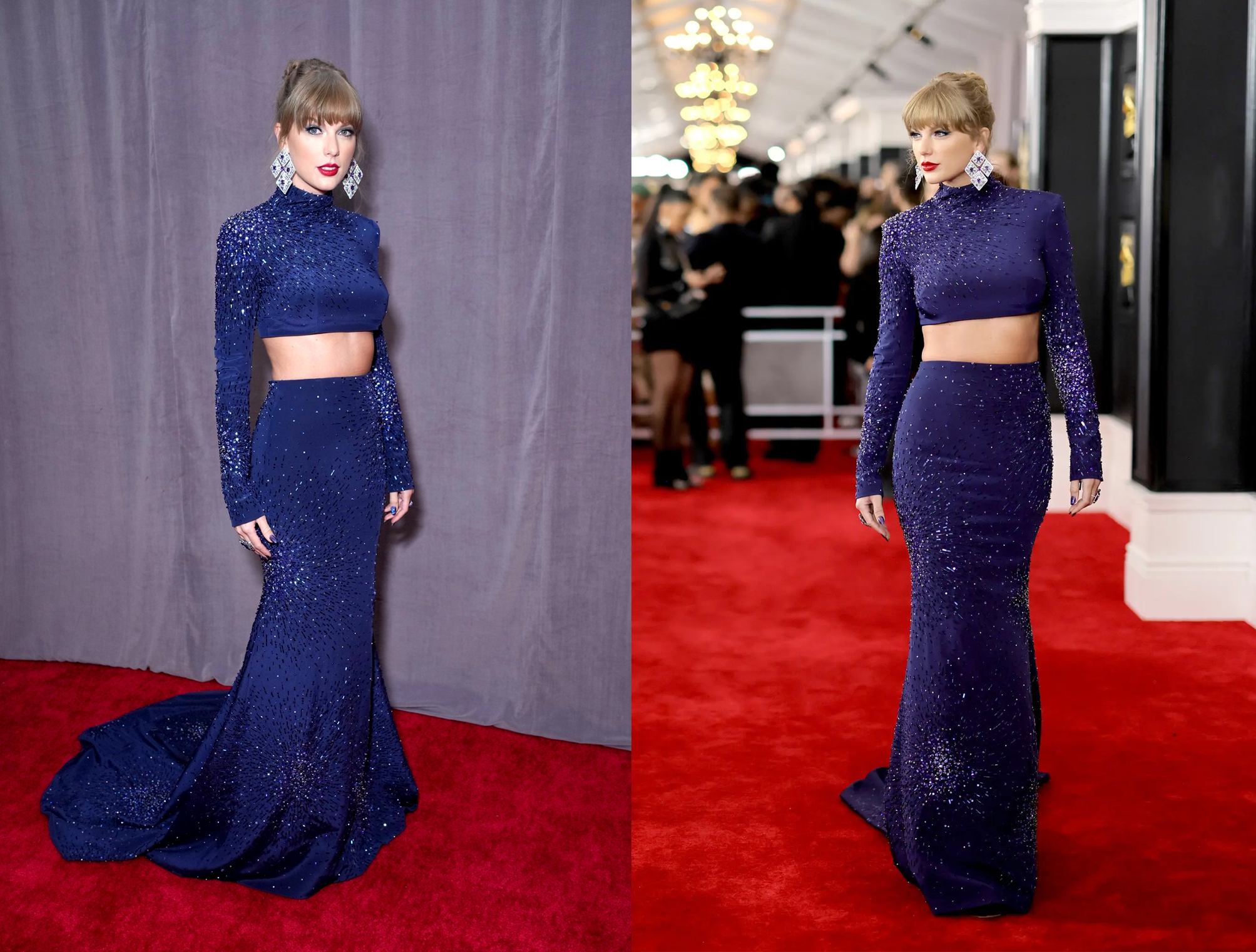 VIOLA DAVIS – NAEEM KHAN
Viola Davis sa predviedla vo farebných celoflitrových šatách od Naeem Khana a prevzala si tiež cenu Grammy.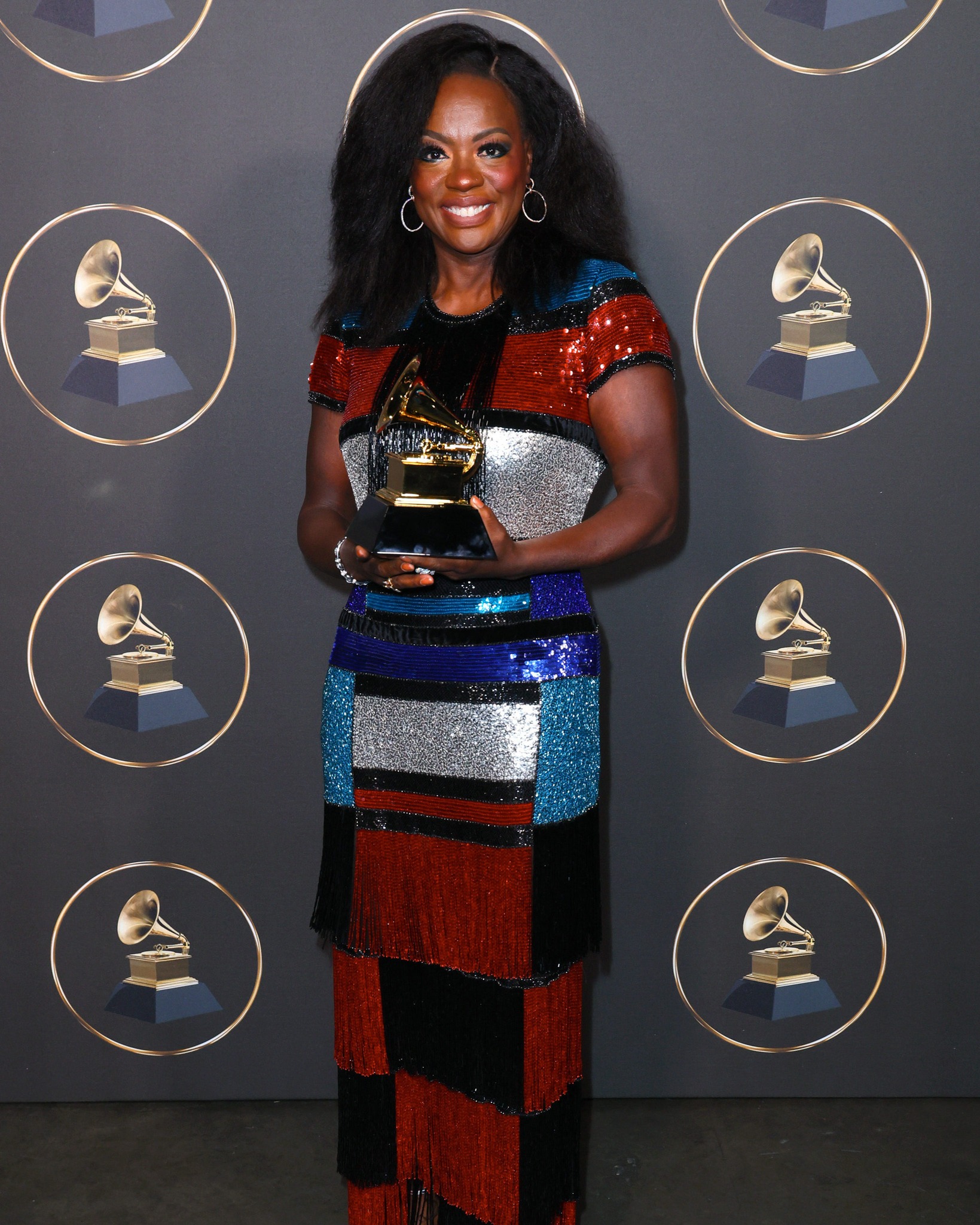 ADELE – LOUIS VUITTON
Speváčka Adele mala na sebe zamatovú kreáciu Louis Vuitton a rovnako získala cenu Grammy za najlepší popový sólový výkon za skladbu "Easy on Me".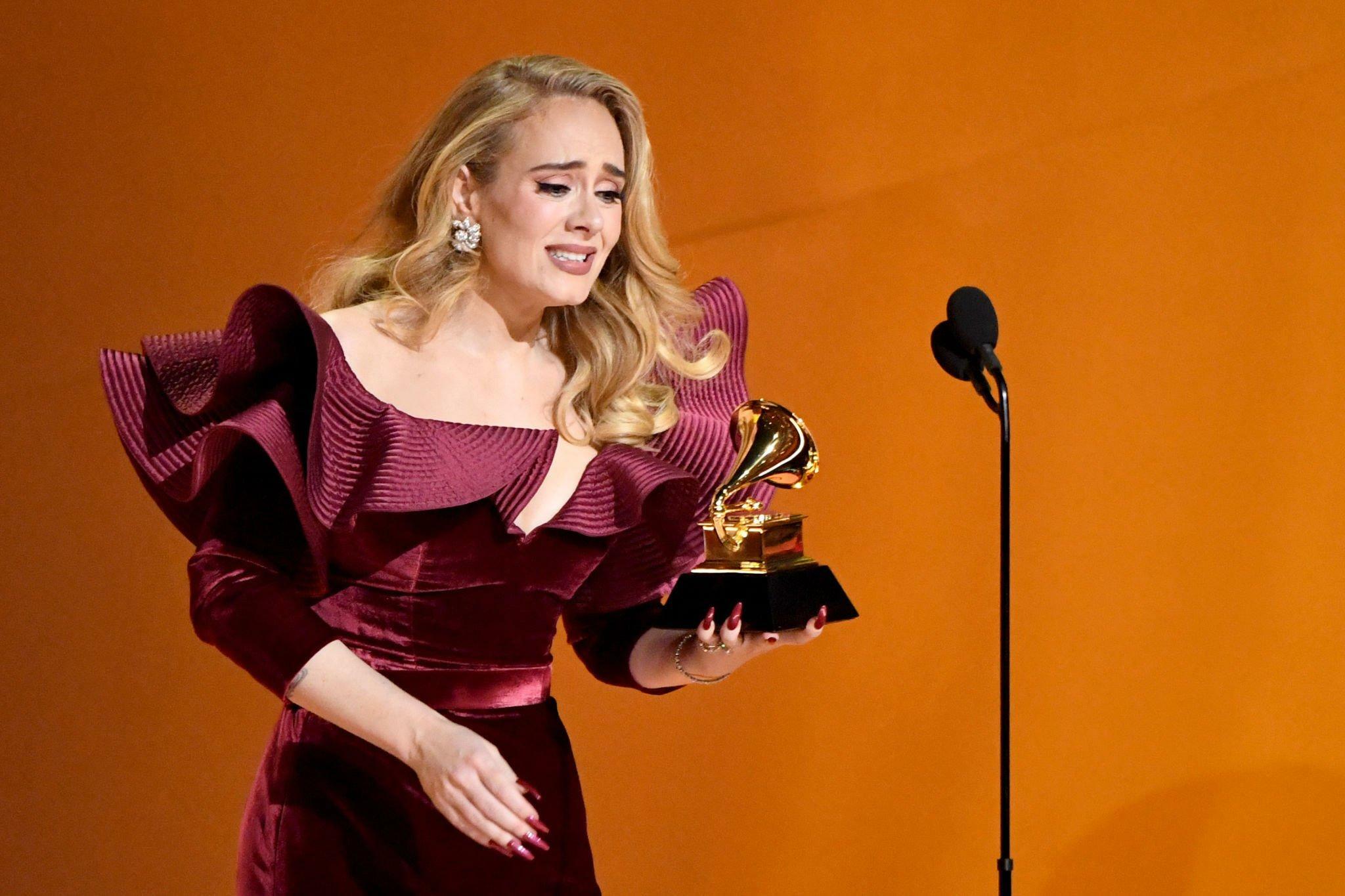 PHARRELL WILLIAMS
Pharrell Williams vyzeral šťastne, že je tam a ukázal sa v celkom zábavnom vzhľade. Mal oblečený kožuch cez červenú prešívanú kombinézu saka a nohavíc a celkový look doplnil perlami zdobenými okuliarmi a lakovanými čiernymi topánkami.
SHANIA TWAIN – HARRIS REED
Účes päťnásobnej držiteľky Grammy Shanie Twain ladil s červeným kobercom. Speváčka zaujala výrazným a zábavným bodkovaným oblekom s klobúkom od britsko-amerického módneho návrhára Harrisa Reeda. Shania si prevzala cenu za najlepší country album v mene víťaza Willieho Nelsona. "Som tu, aby som reprezentovala country hudbu a som nadšená," povedala predtým.
Shania Twain sa ukázala v "kravskom vzhľade" od Harrisa Reeda v kombinácii so šperkami Messika. Oblek a klobúk boli z dizajnérovej kolekcie Jar/Leto 2023.
ANITTA – VERSACE
Speváčka a skladateľka Anitta uviedla, že sa "zapisuje do histórie" ako prvá brazílska umelkyňa, ktorá bola na Grammy nominovaná za najlepšieho nového umelca za takmer polstoročie. V rozhovore s novinármi na červenom koberci povedala: "Celá moja krajina to sleduje a Brazília na to čaká. Pre mňa je víťazstvom byť tu dnes večer, ak mám byť úprimná." Speváčka mala na sebe zdobenú čiernu róbu, ktorú vytvoril Atelier Versace so šperkami Tiffany & Co.
Ako ďalšie sa na červenom koberci ukázali populárne modely v červenej farbe, v ktorých prišli napríklad Sam Smith a Kim Petras.
KIM PETRAS a SAM SMITH
Kim Petras (vľavo) a Sam Smith (vpravo) a ich farebne zladený sprievod, vrátane Unholy spolupracovníka Kim Petras predviedli ohnivú hudobnú show. Za skladbu "Unholy" získali cenu za najlepší výkon popového dua.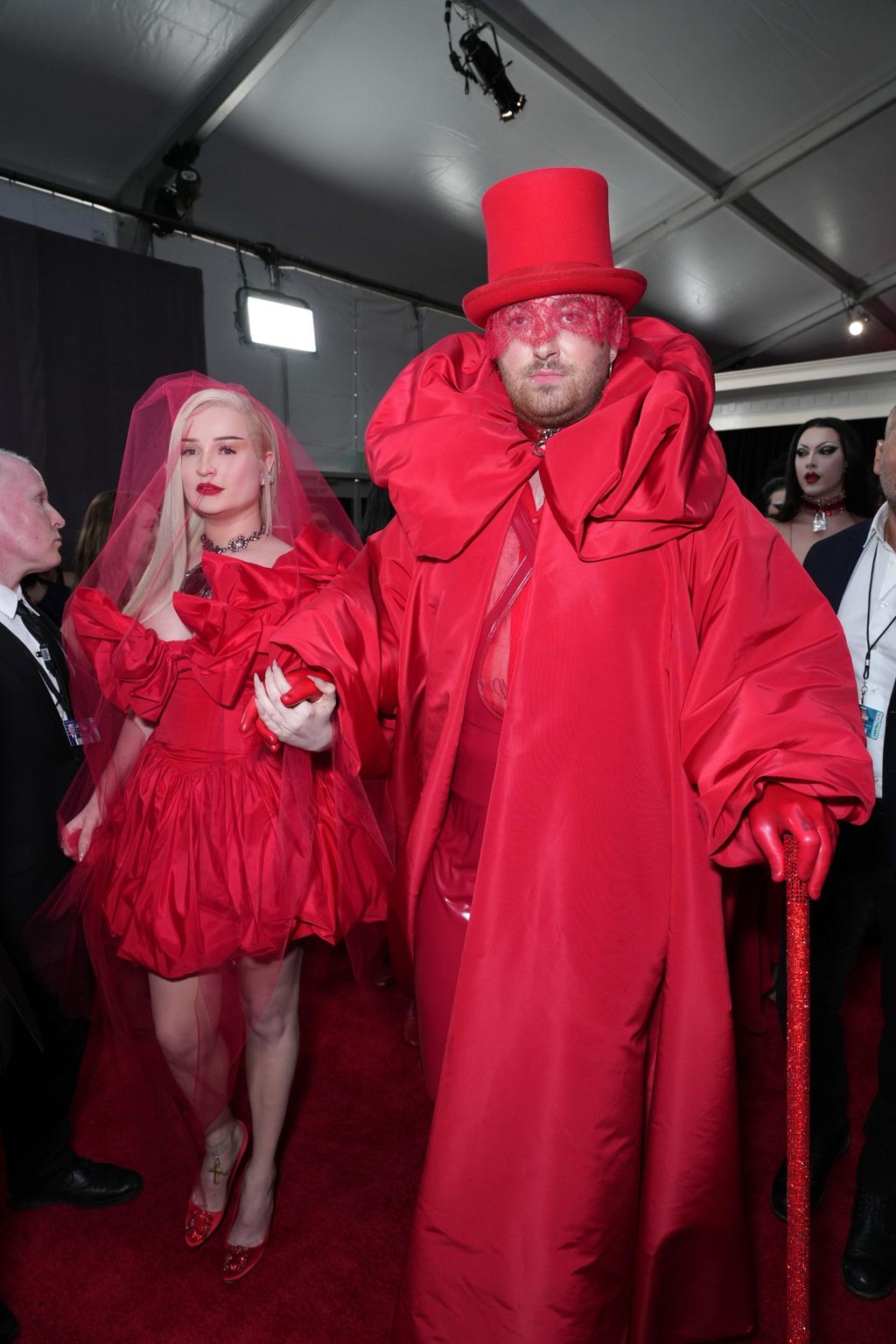 LOURDES LEON – AREA
Lourdes Leon, dcéra speváčky Madonna sa objavila v šatách na telo s kamienkami od značky Area, ktoré doplnila zodpovedajúcou kabelkou.
HARRY STYLES
Harry Styles prišiel na galavečer v ležérnom štýle – na červenom koberci to rozbalil vo flitrových vzorovaných "montérkach". Tento rok bol nominovaný v šiestich kategóriách a vyhral za najlepší popový vokálny album za skladbu "Harry's House". Severný Angličan si z večera odniesol veľkú cenu za najlepší album pre Harry's House. "Toto sa nestáva ľuďom ako ja veľmi často a je to také milé," povedal na pódiu.
LAVERNE COX
Laverne Cox uchvátila prítomných v elegantných korzetových šatách z krokodílej kože so starovekými zlatými motívmi. Vzhľad doplnila zlatými očnými tieňmi a zlatým vrstveným náhrdelníkom s lístkami.
DOJA CAT – VERSACE
Doja Cat na 65. výročnom odovzdávaní cien GRAMMY v Los Angeles ohúrila latexovým vzhľadom od Versace. Okrem iných nominácií sa uchádzala o rekord roka v kategórii "Žena".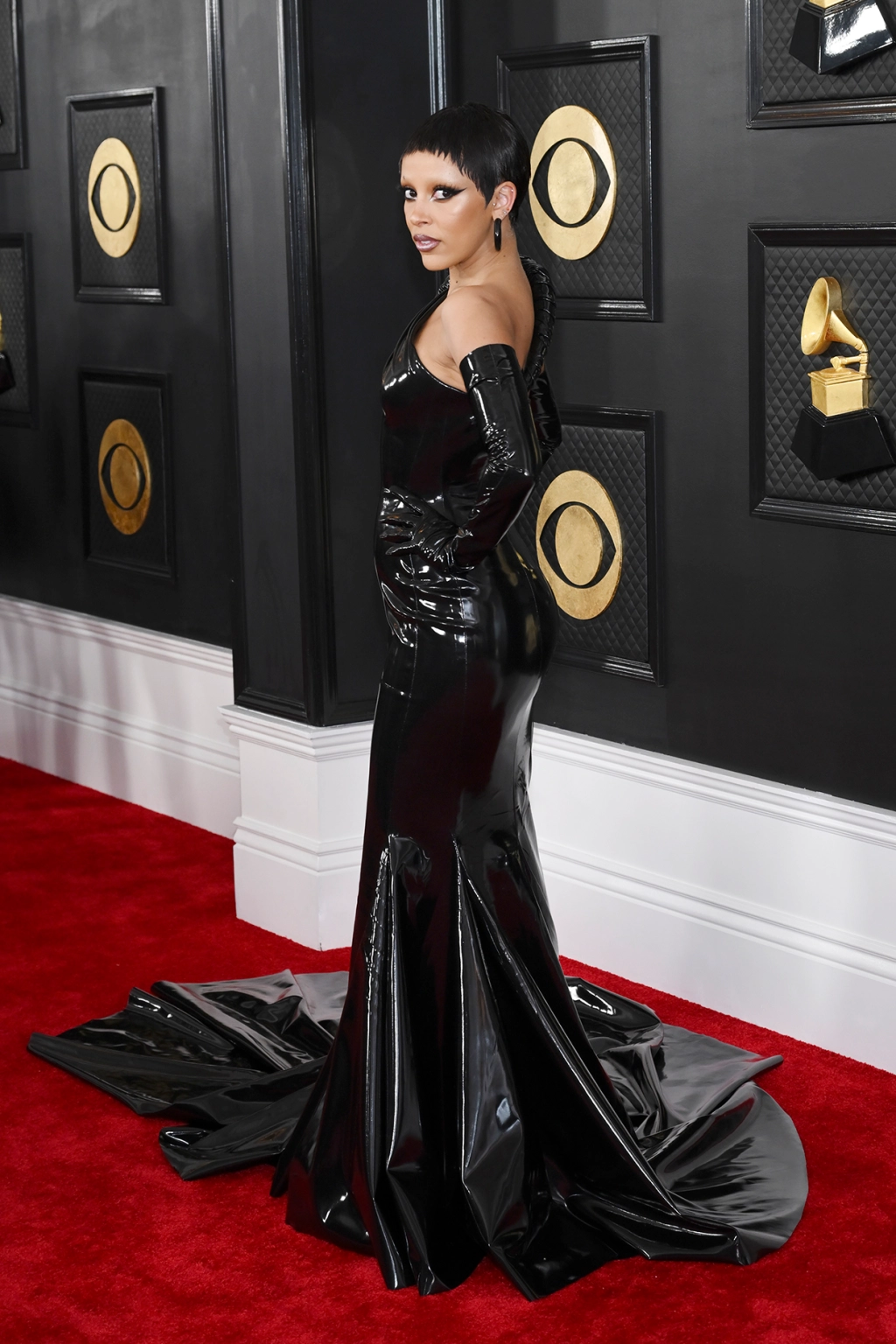 KACEY MUSGRAVES – VALENTINO
Kacey Musgraves sa zúčastňuje odovzdávania cien GRAMMY 5. februára 2023 v Los Angeles v ružovej kombinéze s ružovým perovým plášťom od Valentina. Doplnila ho zodpovedajúcimi topánkami od Stuarta Weitzmana a šperkami Nicole Rose. Kacey vystúpila v časti in memoriam na počesť Loretty Lynn.
KELSEA BALLERINI – PRABAL GURUNG
Kelsea Ballerini doslova zažiarila v žltej rafinovane strihanej róbe Ateliér Prabal Gurung. Bola nominovaná za najlepší country sólový výkon za "Heartfirst".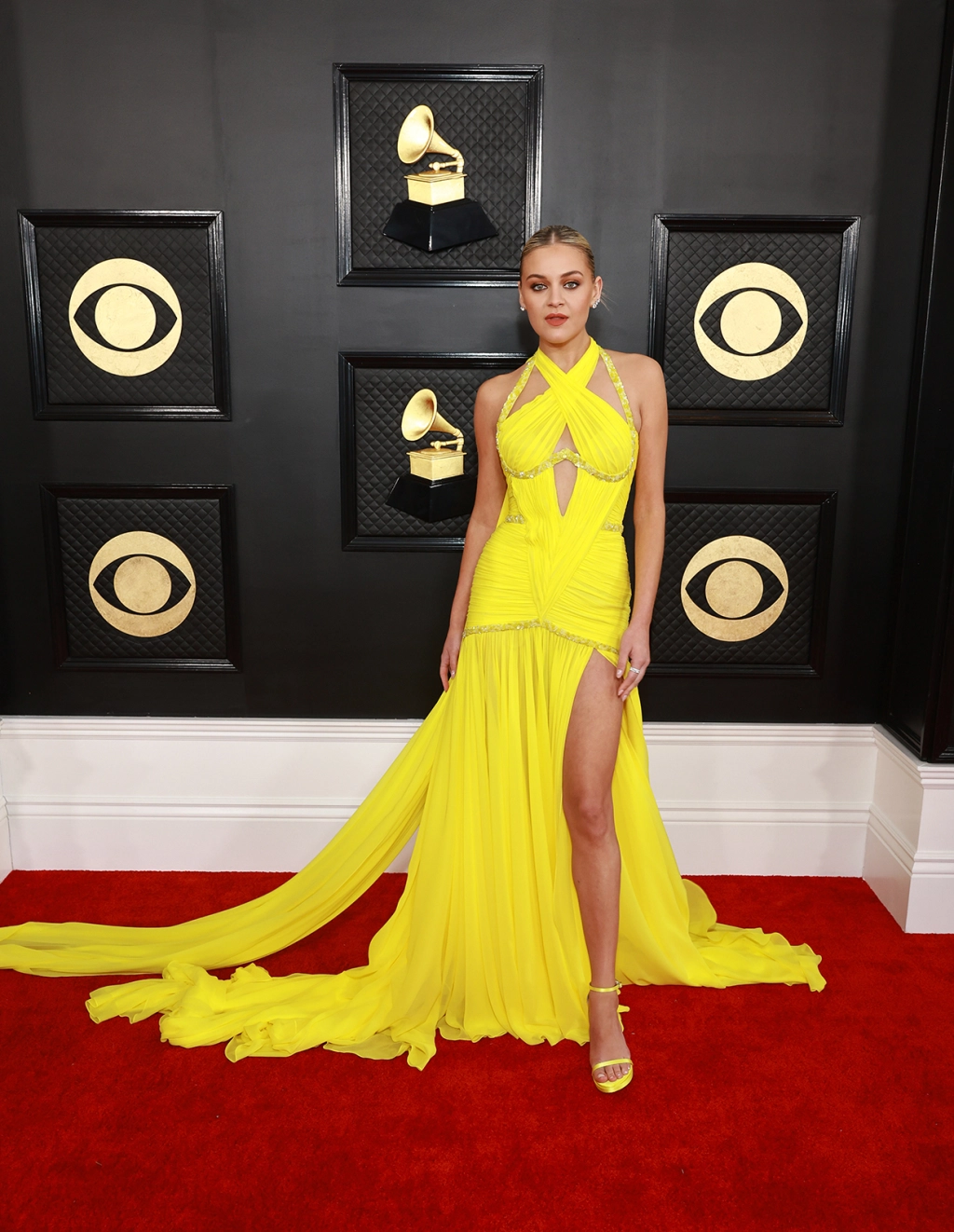 HEIDI KLUM – THE BLONDS
Heidi Klum opäť nechýbala na ďalšej akcii a samozrejme znova ohúrila svojimi prednosťami a skvelou figúrou. V Los Angeles na galavečere sa objavila v kovovo vyzerajúcich šatách od The Blonds s hlbokým "v" výstrihom a zlatými strapcami.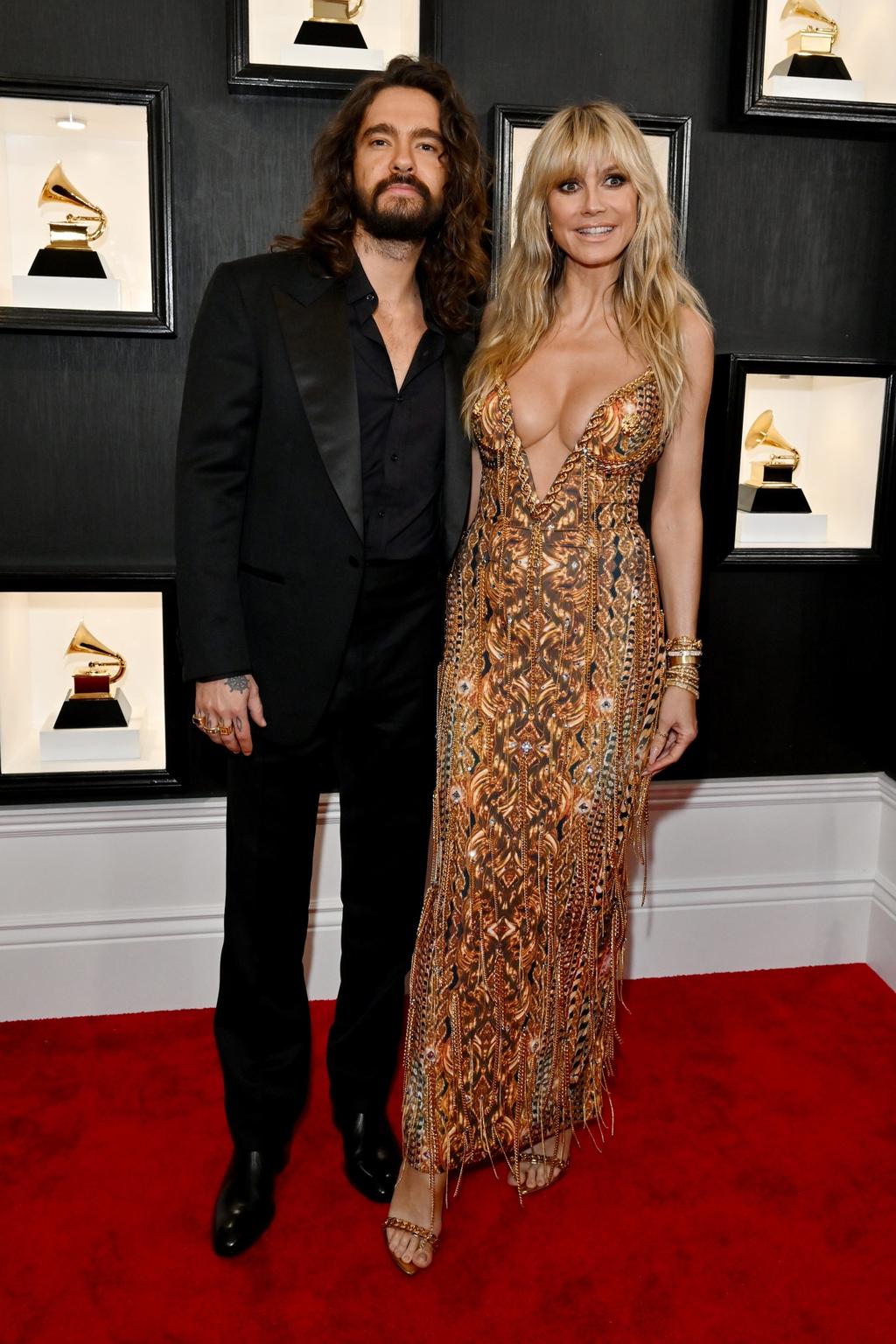 PARIS HILTON – CELINE
Šaty a lodičky Paris Hilton značky  Celine oživili červený koberec. Ceremónie sa zúčastnila s manželom Carter Reum.
MEGAN FOX – ZUHAIR MURAD
Megan Fox a Machine Gun Kelly zapózovali spolu . Megan zvolila bielu róbu Zuhair Murad z návrhárovej kolekcie Pre-Fall 2023 .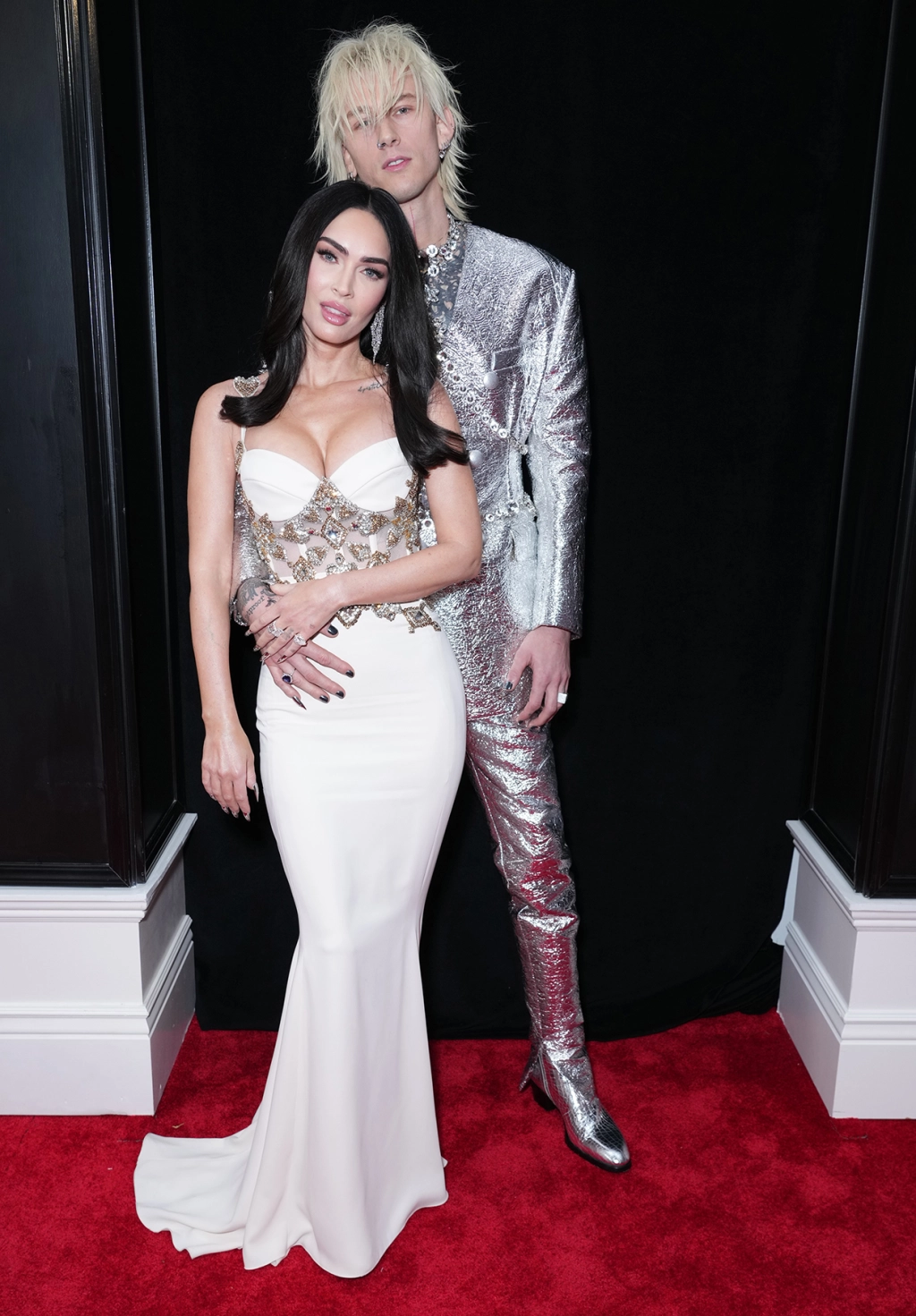 BLAC CHYNA
Špičkový nadýchaný model na odovzdávaní cien Grammy 2023  predviedla reality hviezda Blac Chyna. Hviezda siete Zeus mala na červenom koberci celočierne body pokryté perím a kamienkami, no otázkou vo vzduchu ostáva, prečo vôbec dostala pozvanie na slávnostné odovzdávanie cien.  Dramatický oblúk z peria lemoval Chyninu 
hlavu, zatiaľ čo kaskáda peria pokrývala chrbát odevu.
Obrázky: © Getty Images, pinterest
Sledujte Facebook stránku: Mya Mirell Fashionista a Instagram: mya_mirell .