Noc v Dubai s talianskym dizajnérom Giorgiom Armani – 26. október 2021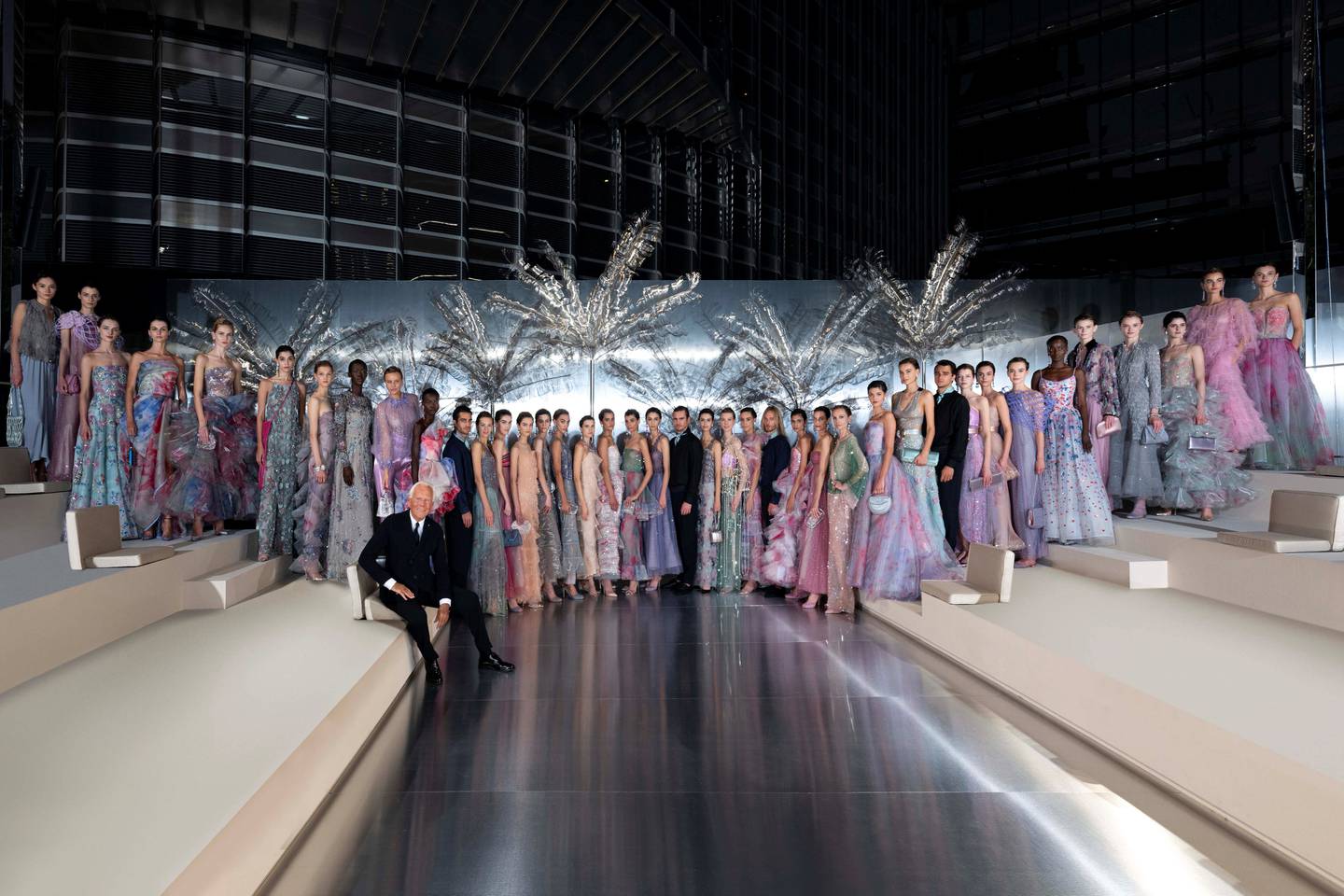 Dubaj hostil v októbri okrem prebiehajúcej medzinárodnej prehliadky Expo 2020 aj módne podujatie s názvom One Night Only in Dubai.
Strhujúca show, módne podujatie, ktoré sa konalo na úpätí mrakodrapu Burdž Chalífa v pozadí s dubajskými fontánami, bolo oslavou 10-ročného výročia Armani Hotel Dubai a prejavu úzkych väzieb dizajnéra s emirátom. Začiatkom tohto týždňa boli talianskemu dizajnérovi udelené zlaté víza SAE ako prejav uznania jeho prínosu pre krajinu.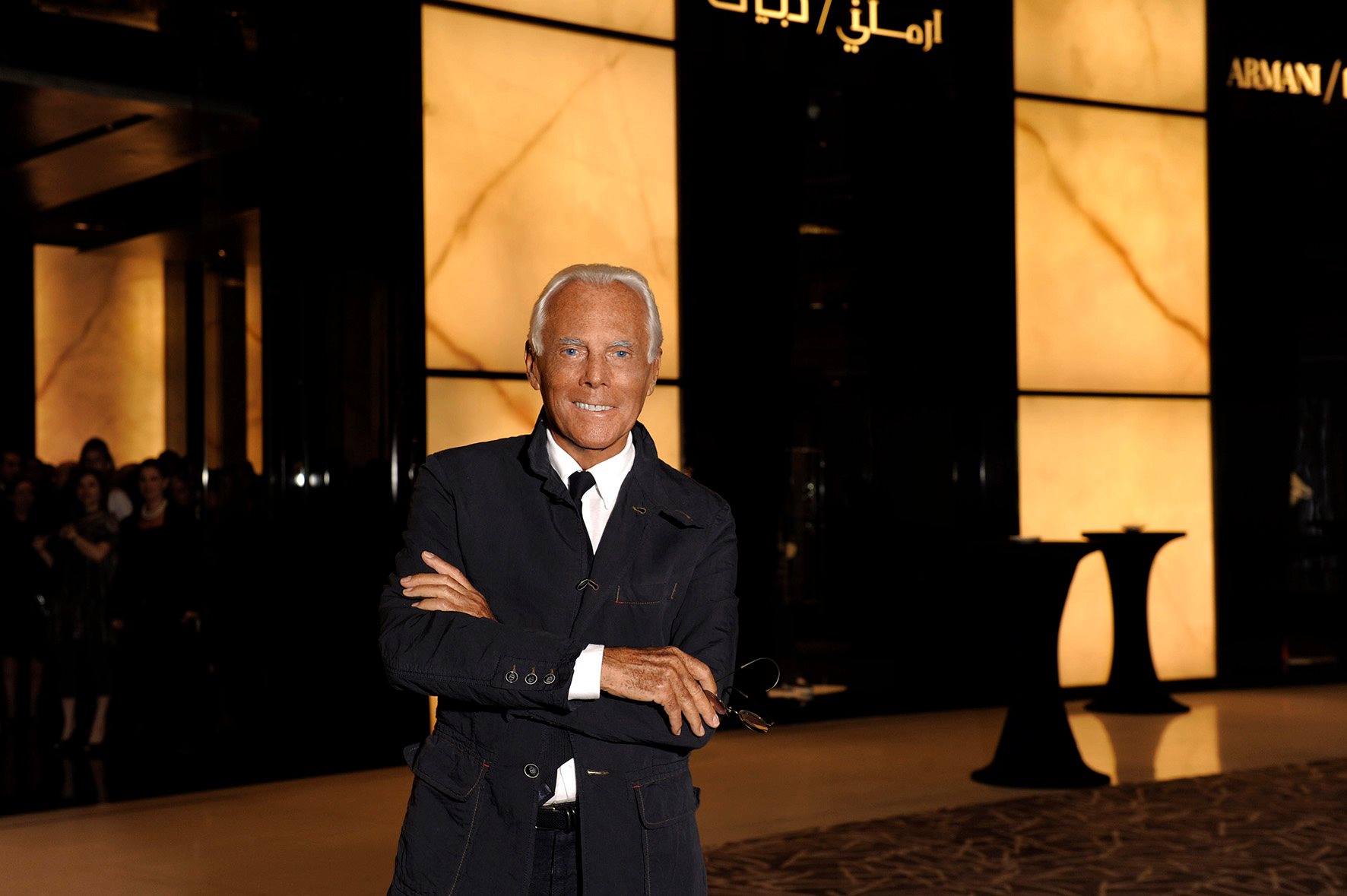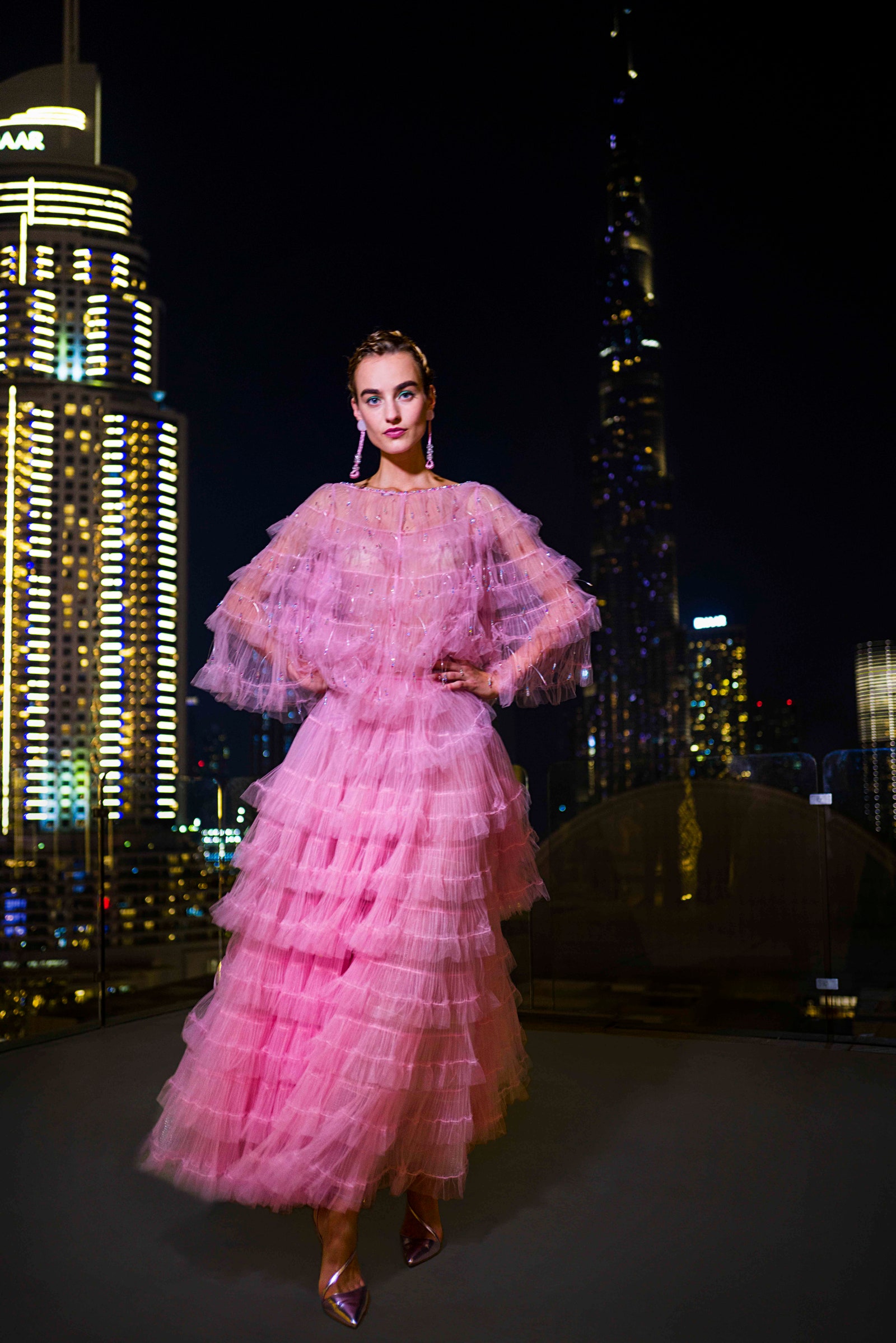 GIORGIO ARMANI MÓDNA ŠOU
Na móle lemovanom striebornými palmami sa predviedli Armani kúsky z kolekcií Jar/Leto 2022 zo septembrového Milan Fashion Weeku spolu s Couture Armani Privé módnou kolekciou na budúcu sezónu.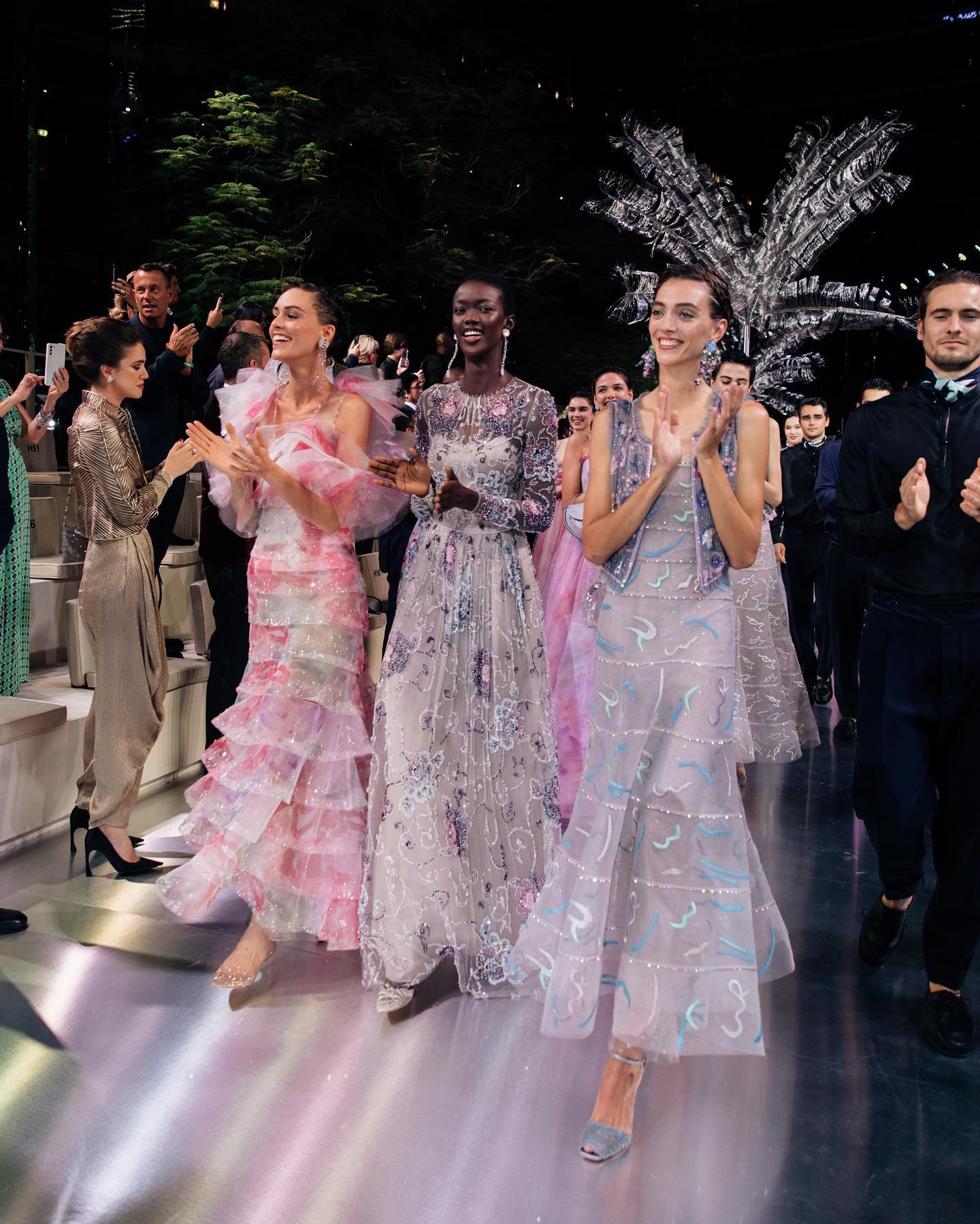 Možno sa to volalo Giorgio Armani's One Night Only in Dubai (Noc v Dubaji s talianskym dizajnérom Giorgio Armani), no taliansky návrhár naplánoval okolo svojej módnej prehliadky konajúcej sa 26. októbra 2021 v utorok večer sériu podujatí vrátane výletu do púšte, návštevy medzinárodnej výstavy a predstavenia Expo 2020, ktoré sa v Dubaji aktuálne koná. Veľkolepú módnu show oživil svojím hudobným vystúpením spevák Chris Martin zo skupiny Coldplay, ktorý do Dubaja zavítal opäť po 11-tich rokoch.
Čerstvo otvorená a pandémiou zastavená výstava v Dubaji, bola 1. októbra 2021 spustená. Expo 2020, festival globálnych inovácií rozprestierajúci sa na 1 000 mätúcich akroch predstavilo spomedzi najvýznamnejších Pavilón udržateľnosti v podobe lietajúceho taniera (ktorý bol nevhodne označený za neudržateľný), očarujúco vybudovaný dažďový prales zo Singapuru, bombastický technologický obelisk zo Saudskej Arábie a osviežujúcu alpskú túru zo Švajčiarska. A pri tejto všetkej nádhere si návštevníci a pozvaní hostia mohli vychutnať aj módnu nádielku od legendárnej žijúcej talianskej legendy, Giorgia Armani.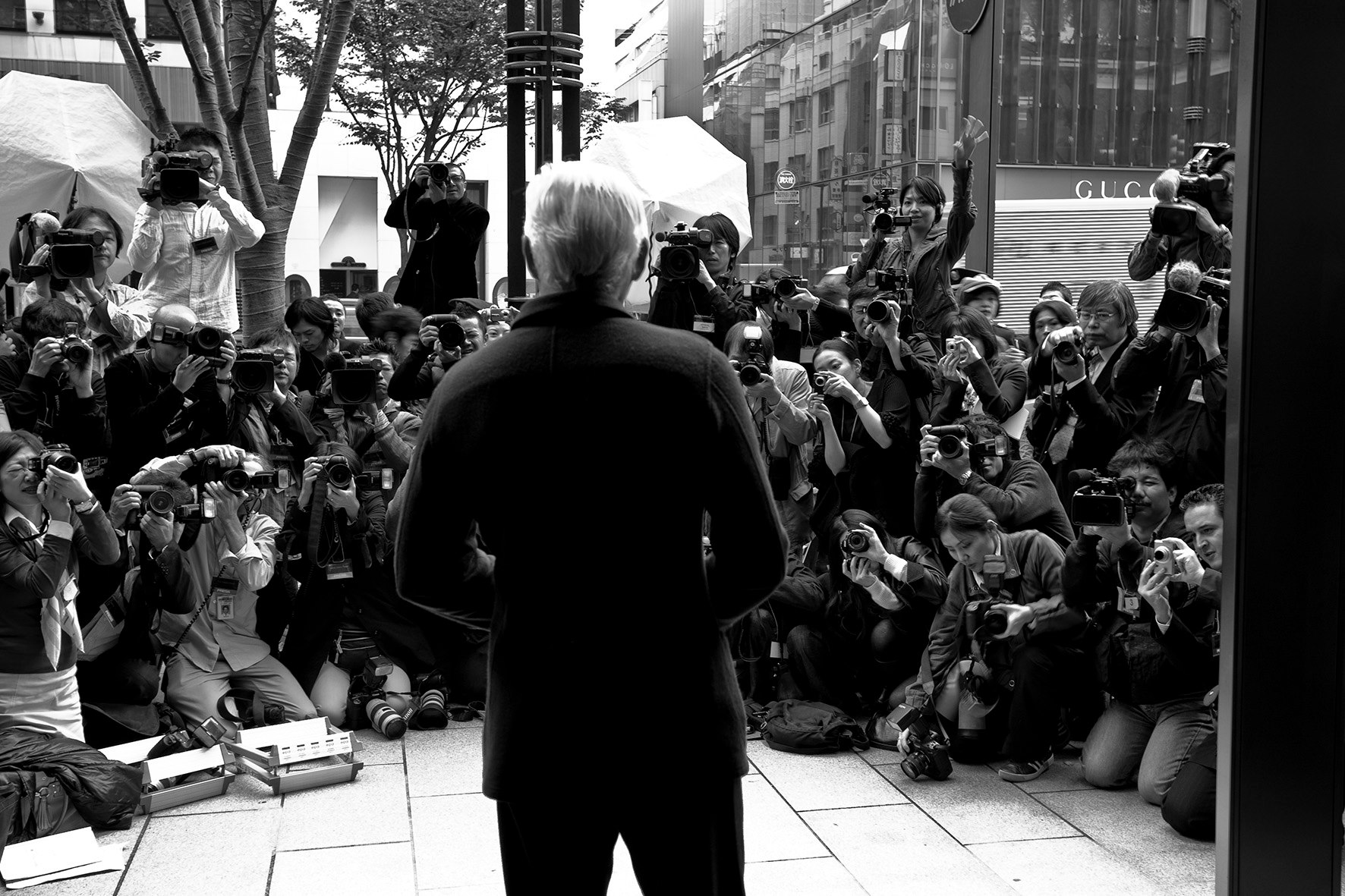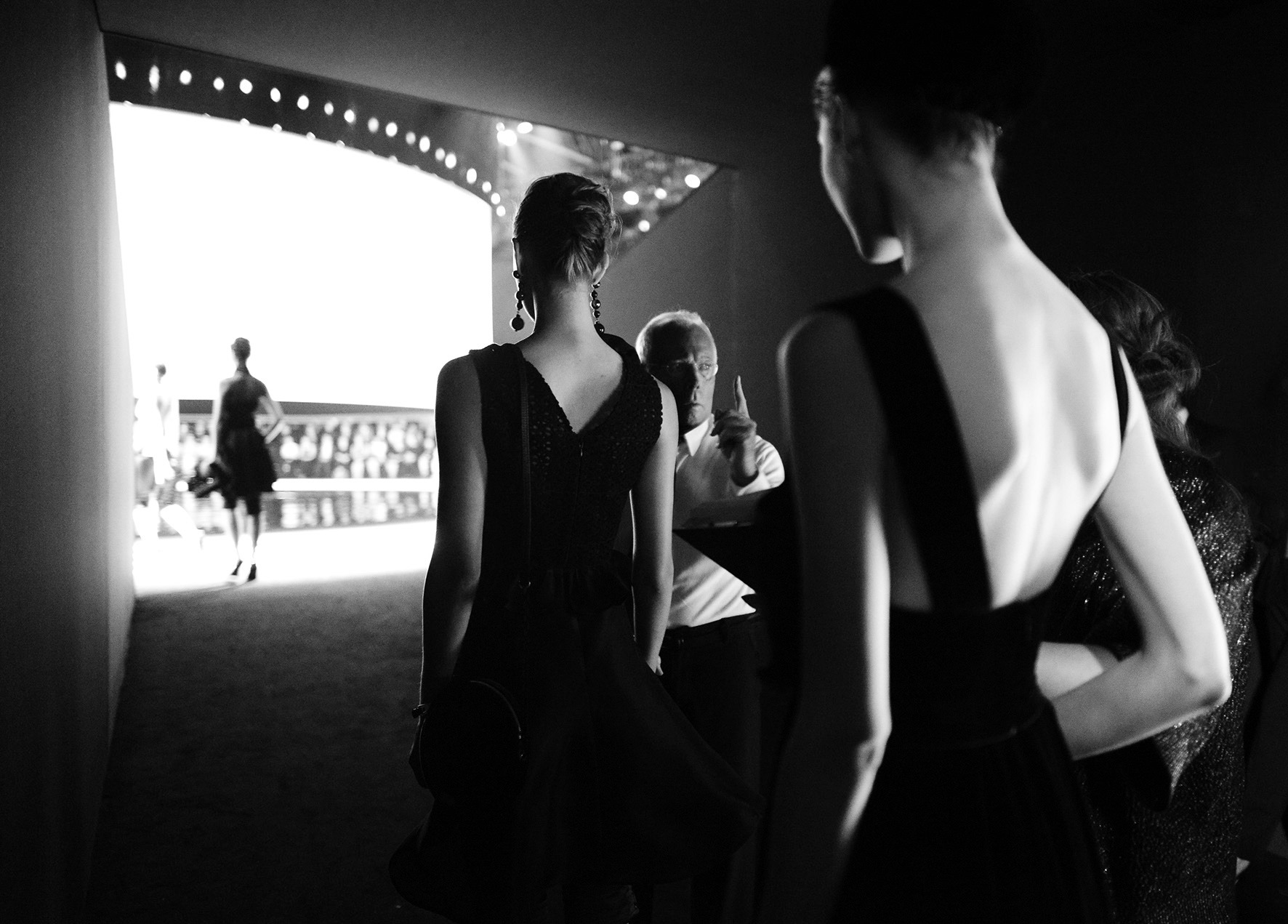 ARMANI PÁNSKA KOLEKCIA – ONE NIGHT ONLY IN DUBAI
Základom prehliadky, ako pri všetkých šou Giorgia Armaniho, bolo pánske oblečenie. Otváracia salva modrého saka a bielych nohavíc Armani Riviera chic nasledovaná jemným tekutým zamatom dekonštruovaným pracovným odevom v čiernej farbe s rozmarnými viazanými doplnkami, bola nádherná.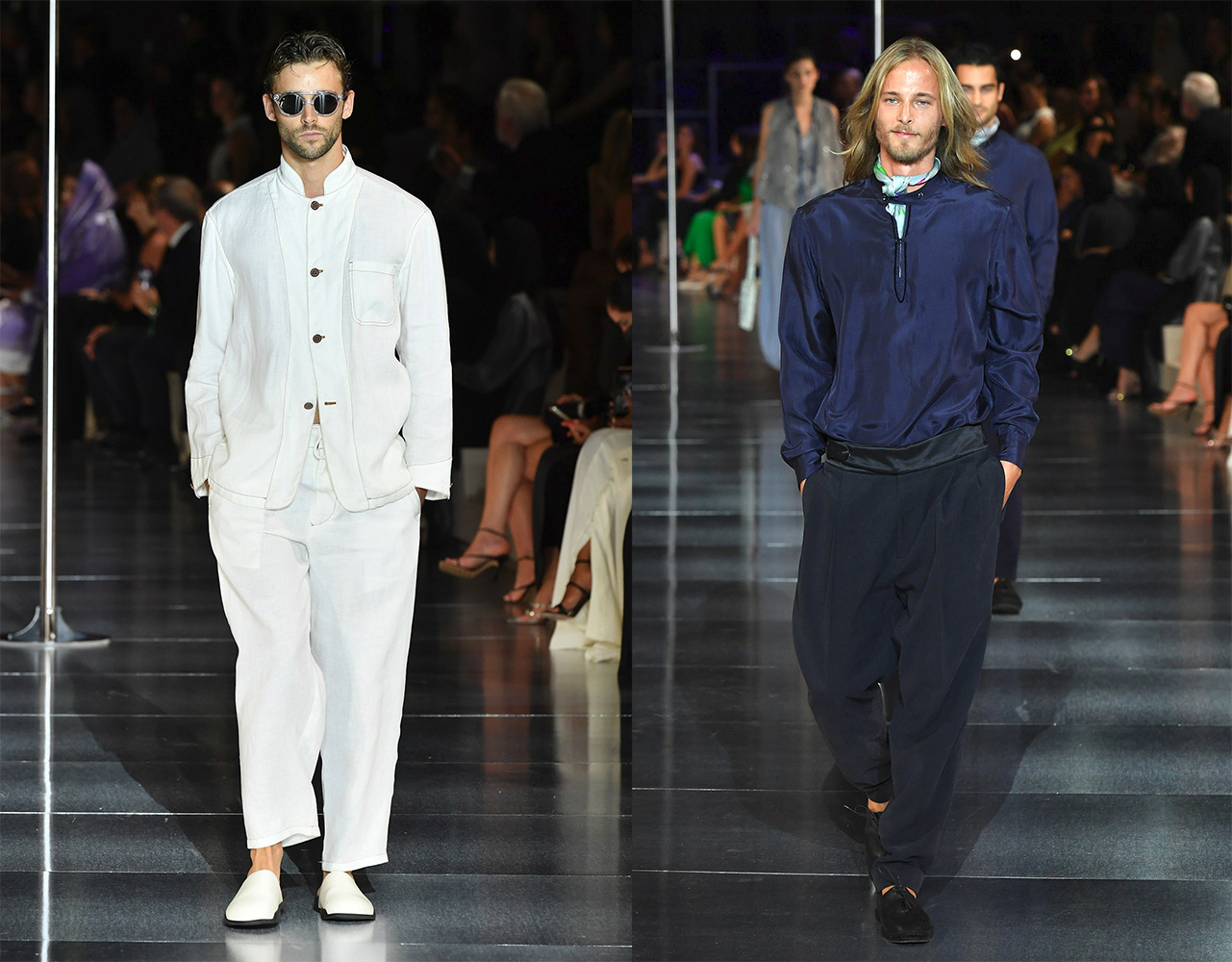 Otvárací vzhľad bol uvoľnený. Taliansky dizajnér predstavil zo svojej kolekcie nohavice a saká voľného strihu v kombinácii so šatkami na krku pre mužov a na hlave pre ženy a uvoľnené obleky pre mužov v charakteristickej tlmenej palete Armani.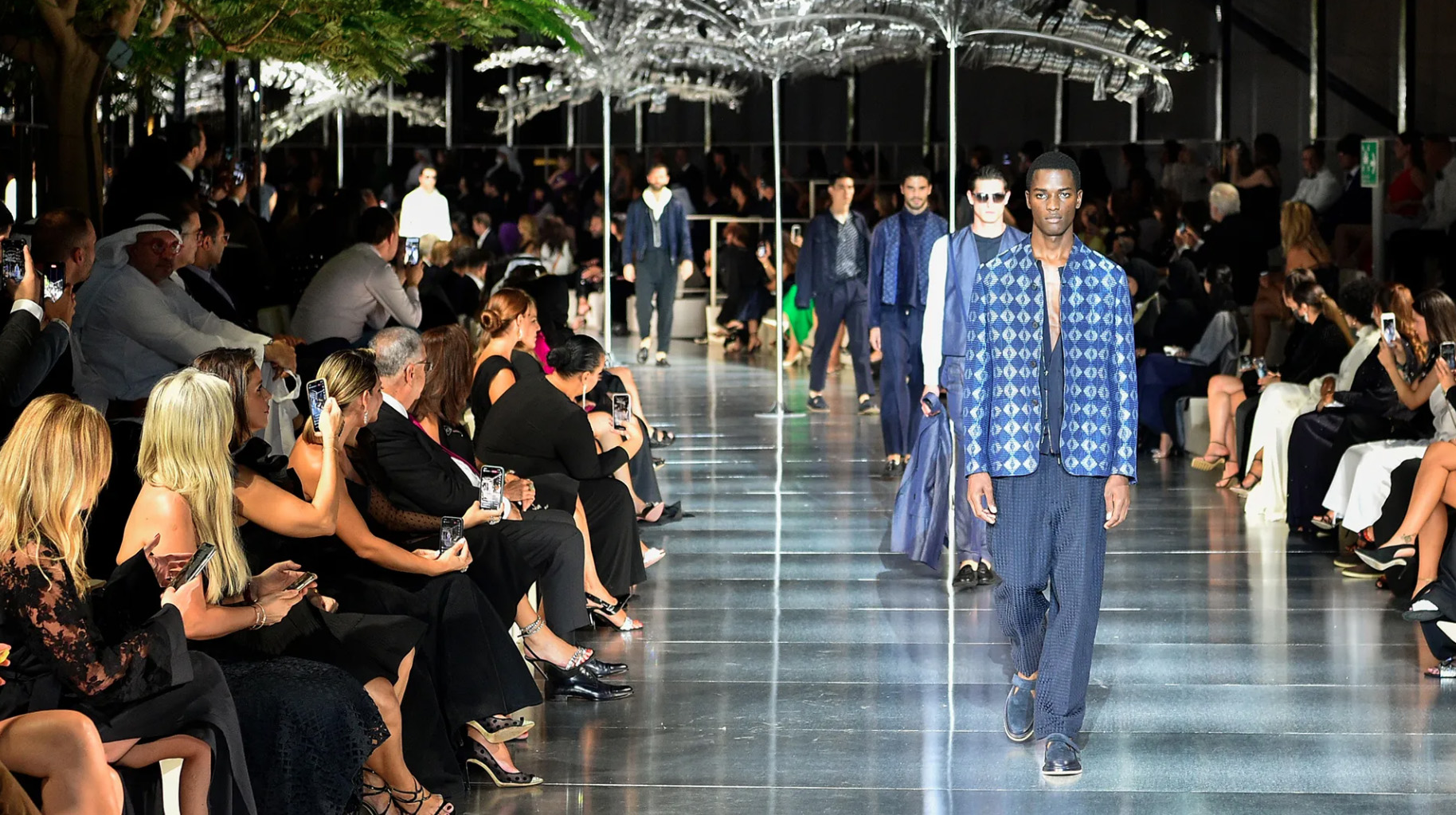 Doplnky tvorili pohodlné mokasíny pre pánov a dámy plus dámske sandále s otvorenou špičkou.
Pánsky odev sa vyvinul tak, aby zahŕňal potlače v štýle ikat (etnický orientálny štýl) , prúžkované saká ležérne prehodené cez ramená a nohavice držané trakmi, s jedným popruhom pripevneným cez rameno a druhým ležérne padajúcim dole cez bok.
Ženyeny si obliekli maxi šaty v zasnených odtieňoch oblohy, modré, vrstvené korálkové náhrdelníky a tiež nohavice, topy, saká a šaty v povznášajúcom odtieni horúcej ružovej. Dominovali jemné, splývavé látky a ľahko sa nositeľné strihy v jemných pastelových odtieňoch. Modelky kráčali pomaly a v pozadí hrala veselá Legata ad un Granello di Sabbia od Nica Fidenca, ktorá nás pozývala predstaviť si dlhé letné dni na talianskom pobreží.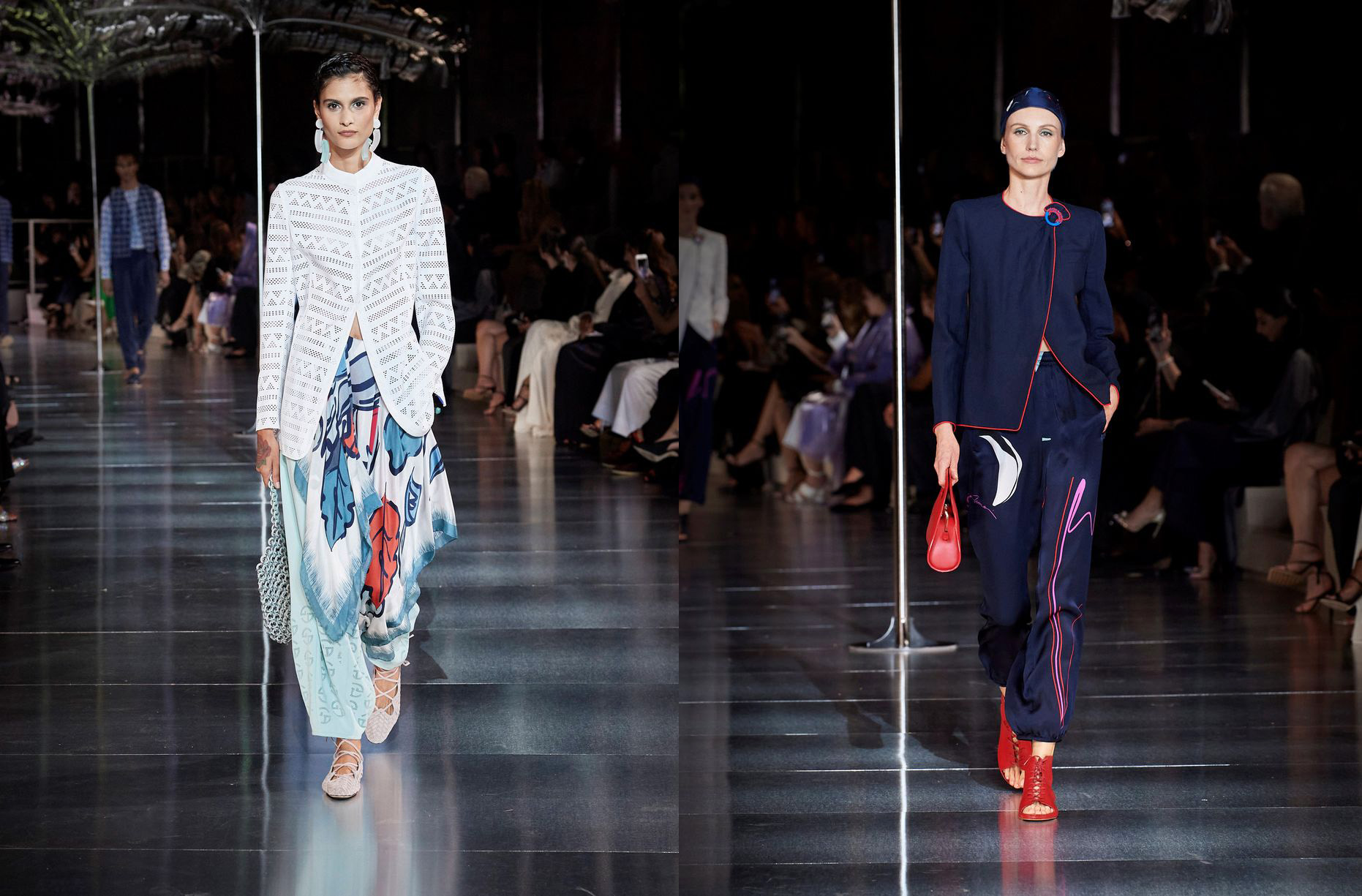 ARMANI DÁMSKA KOLEKCIA PRE ONE NIGHT ONLY IN DUBAI
Armaniho dámske oblečenie, ktoré sa rozhodol predviesť na móle, tvorila predovšetkým sviežosť a ľahkosť vzorovaných modelov. Dizajnér naservíroval dovedna 110 vzhľadov, vrátane vrcholov z jeho kolekcie dámskeho oblečenia pre sezónu Jar/Leto 2022, výberu pánskeho oblečenia, kúskov z jeho najnovšej Couture kolekcie Armani Prive a kapsule s názvom Exclusive for Dubai. Pri tejto príležitosti priletelo z Milána 90 modelov. Choreografia postupnosti modelov zostavená z tohto výberu, bola v skutku impozantným predstavením, predčila samotnú šou Milan Fashion Weeku.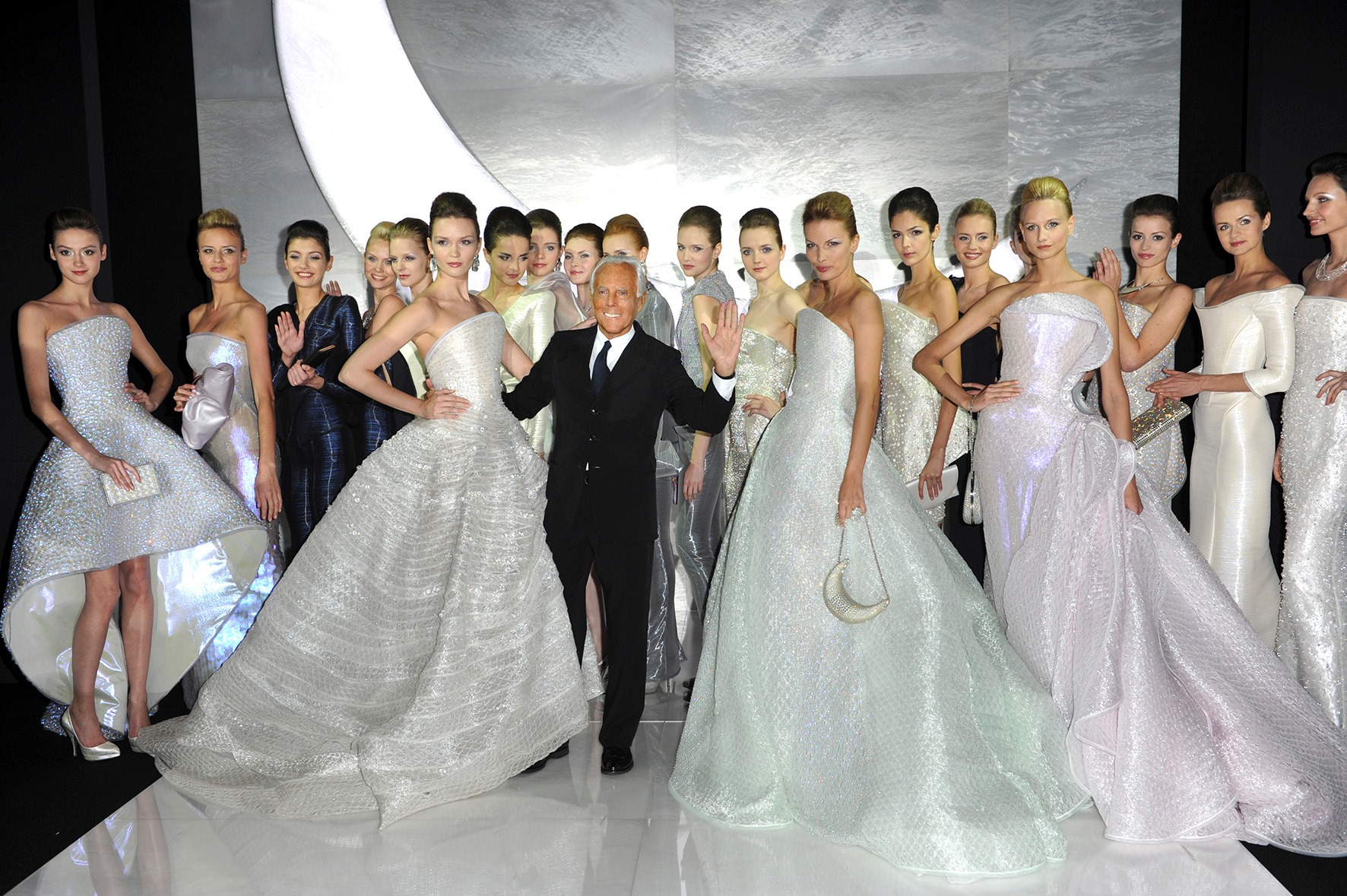 OSLŇUJÚCA ARMANI COUTURE KOLEKCIA
Pastvou pre oči bola záverečná, čisto ženská časť prehliadky s Armani Couture modelmi. Táto druhá časť prehliadky bola navrhnutá tak, aby oslnila. Trblietavé flitre, krištáľové výšivky a trblietavé kvetinové motívy súťažili s budovou Burdž Chalífa, ktorá sa nádherne jagala v pozadí. Viacúrovňové volány a prehnané zahalenie v sladkých odtieňoch dodali mnohým kúskom architektonický pocit, ktorý harmonizoval so zvoleným prostredím.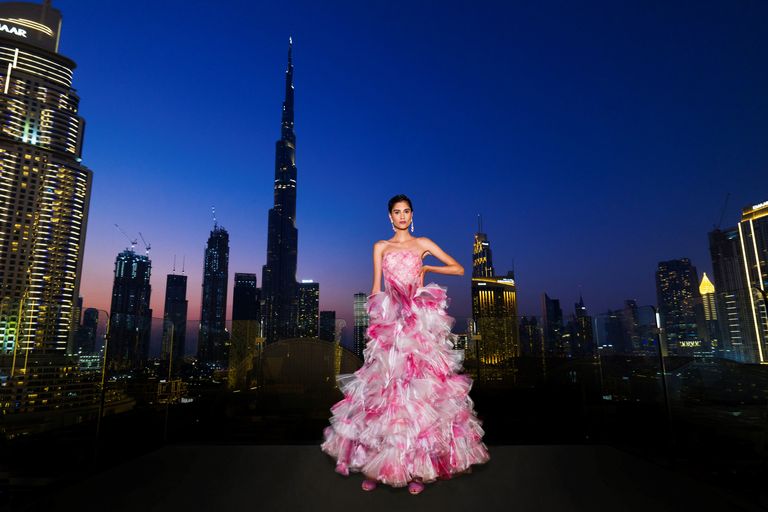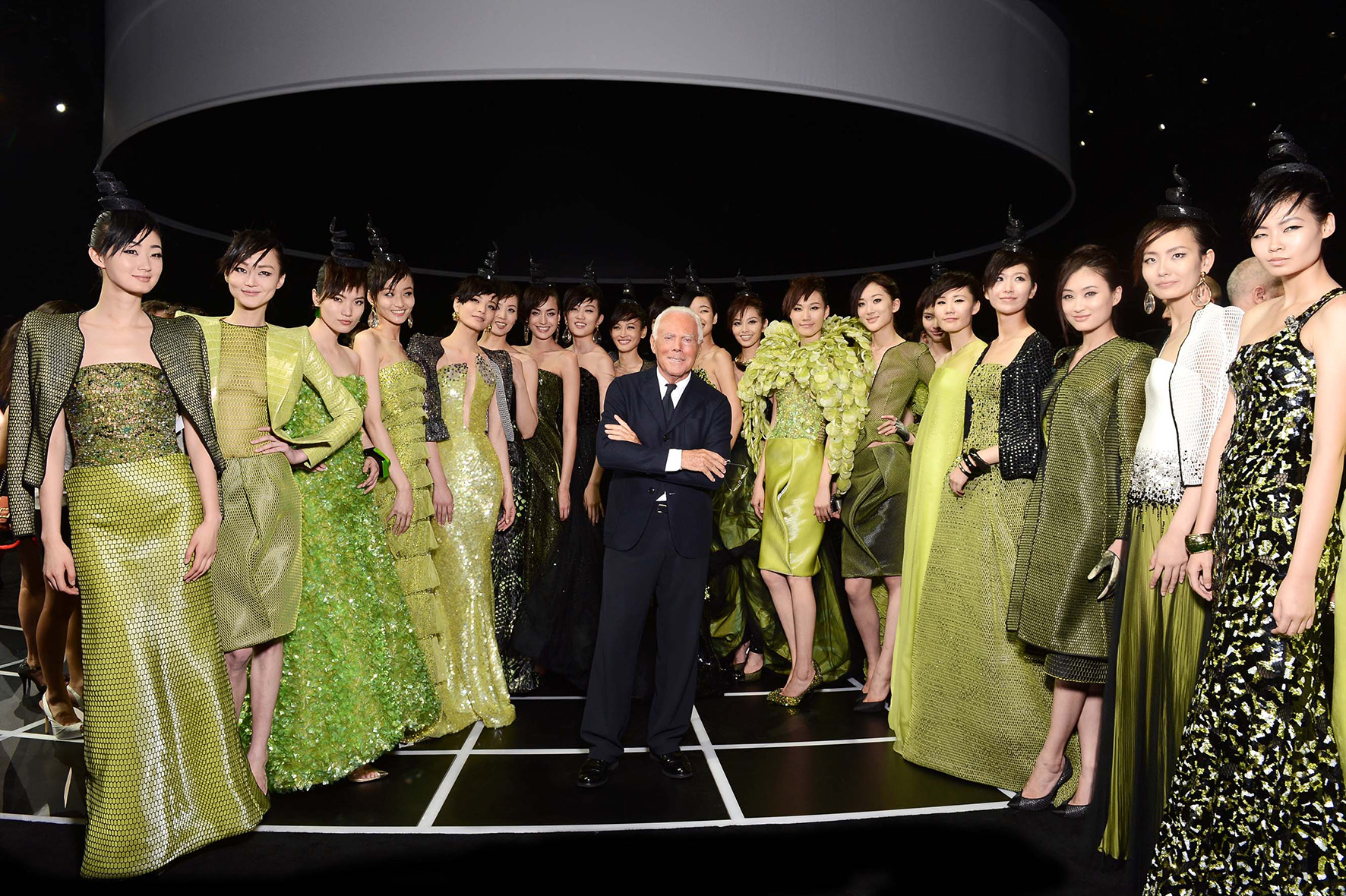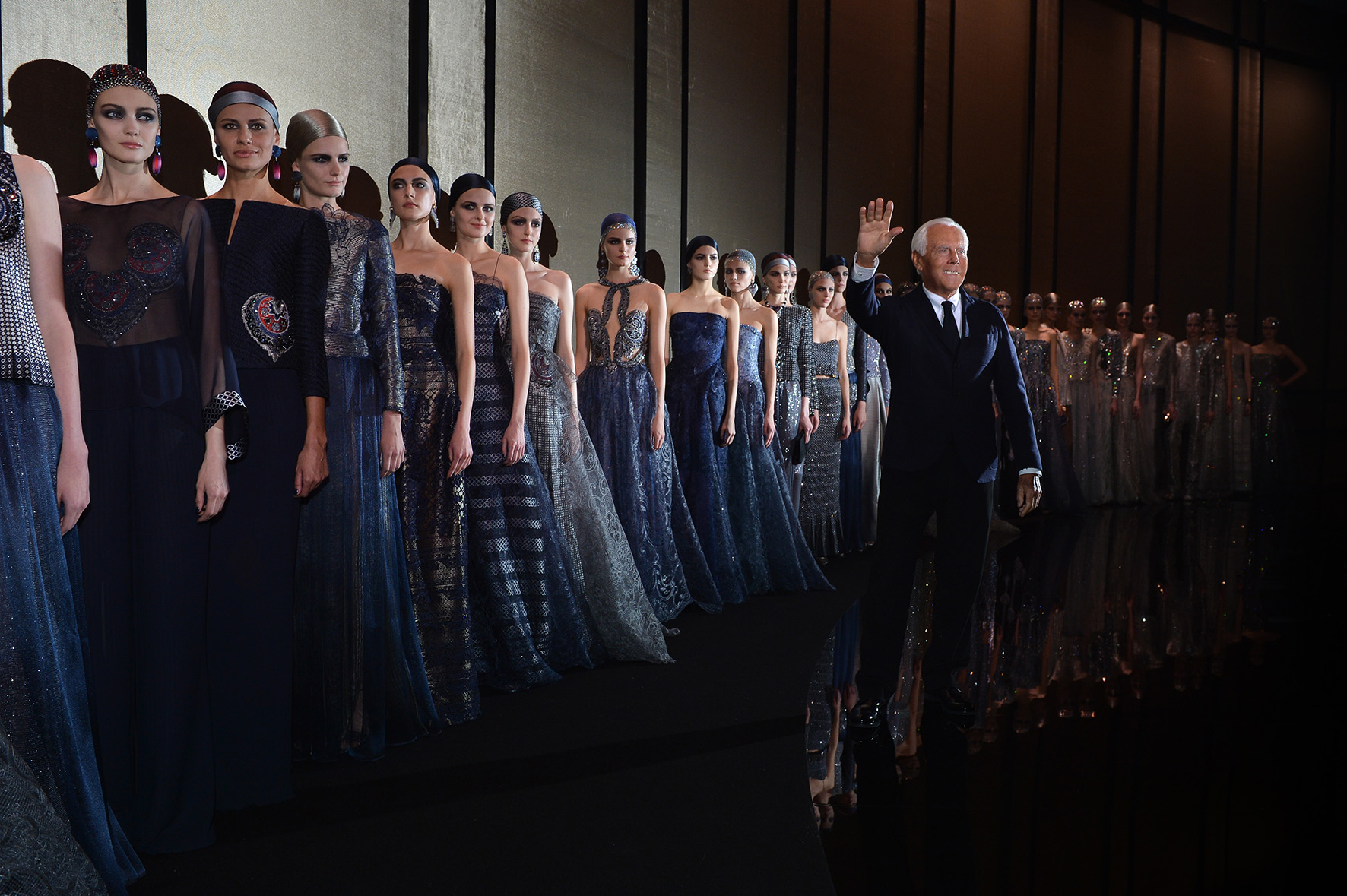 Lesk flitrov, chvenie špirálových strapcov, lesk vyšívaného krištáľu a pevnosť širokých šiat so super sukňou v odtieňoch modrej , pripomínali vysvietené mrakodrapy – vysoké, hranaté, svetielkujúce a trblietajúce sa. Avšak na rozdiel od mrakodrapov a geopolitických pavilónov, toto boli "stavby" s rozpoznateľným ľudským účelom súvisiacim s krásou, príťažlivosťou , sebadôverou a pohodlím.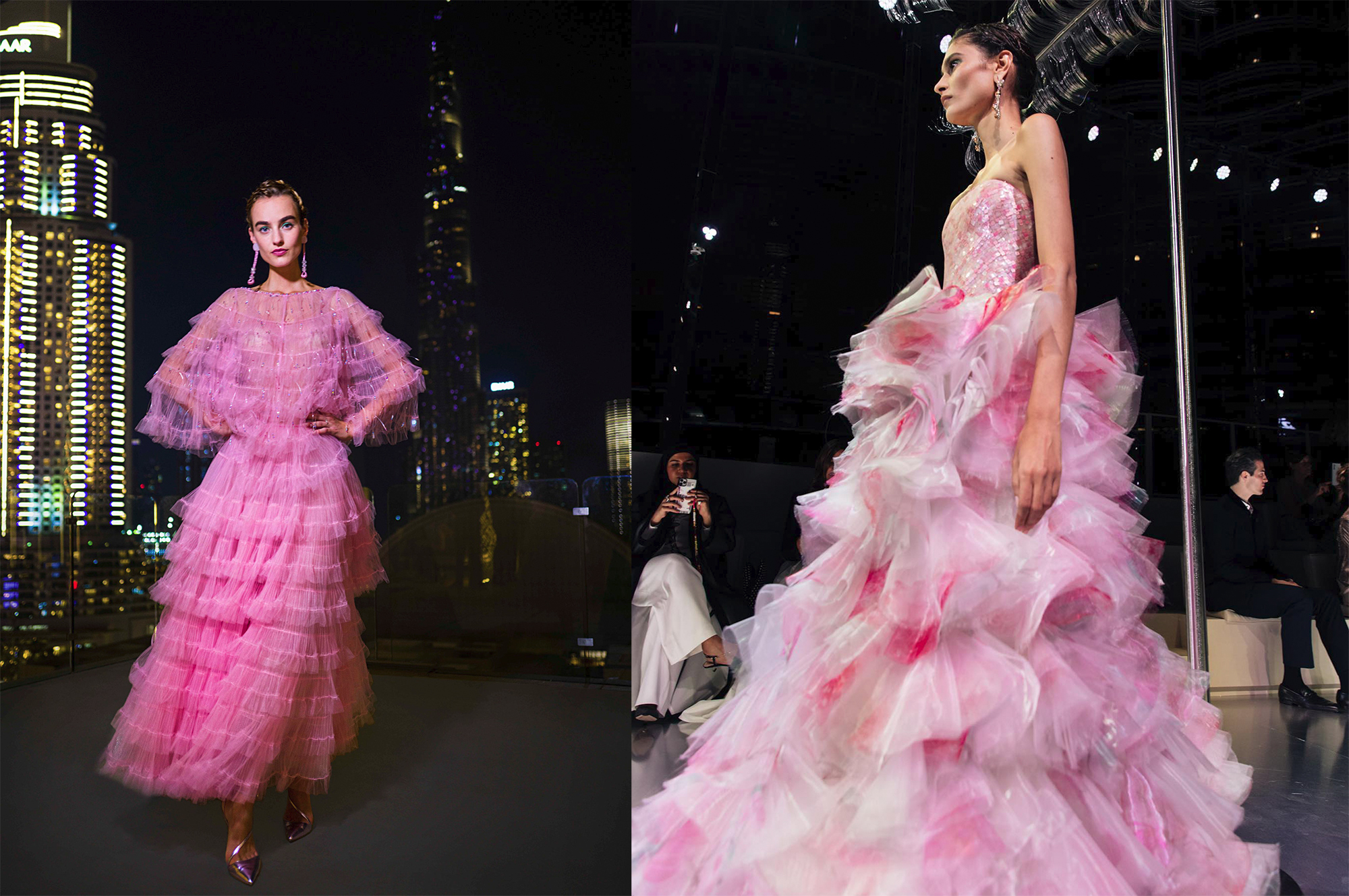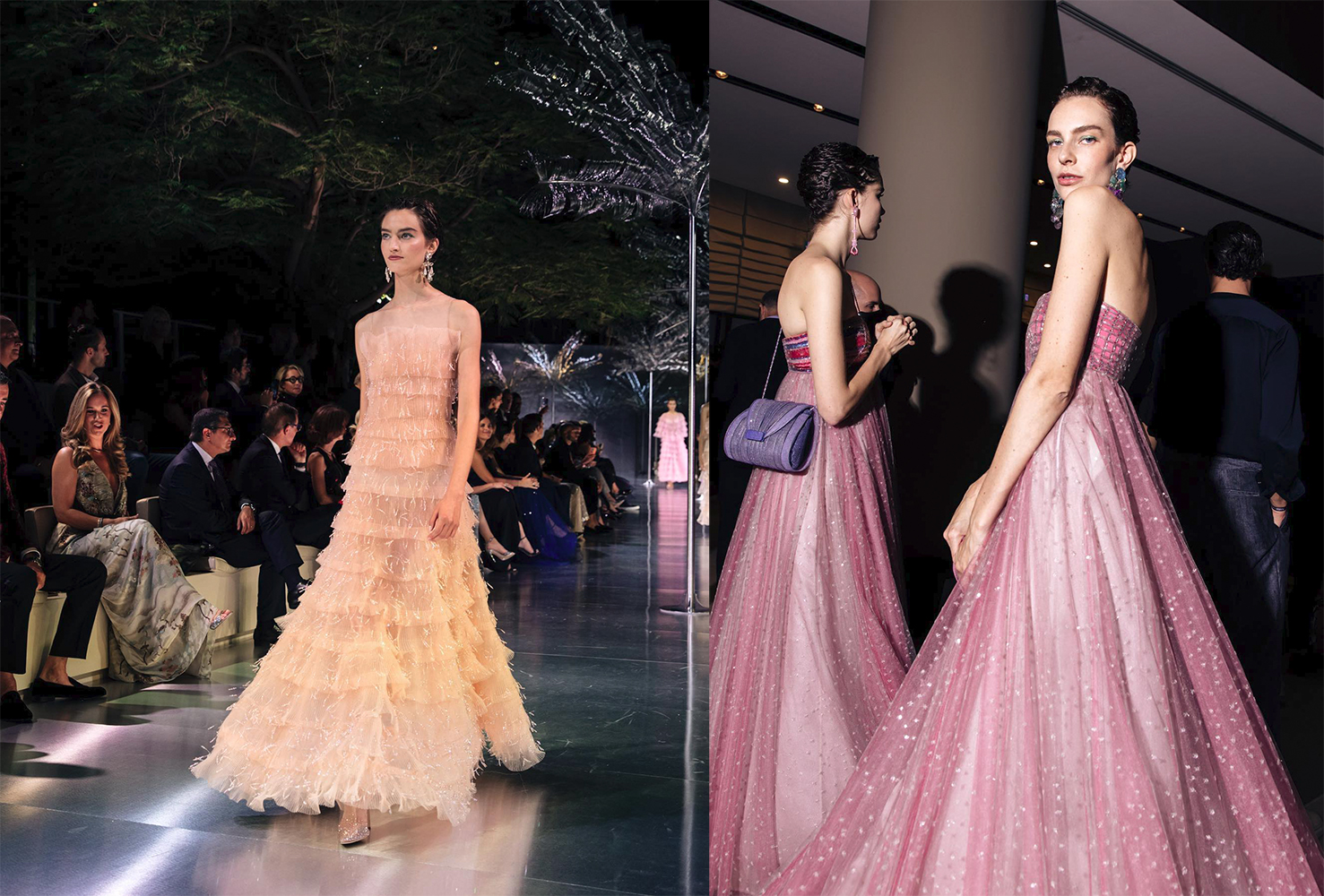 ÚČEL AKO KREATÍVNE KRITÉRIUM ARMANI KOLEKCIE
Výberový mix kolekcie Armani módnej show bol skonštruovaný podľa najdôležitejšieho kreatívneho kritéria – účelu. Alebo ako Jacobs neskôr povedal o pánskom oblečení: "V oblečení je určite architektúra, vďaka ktorej sa cítite dobre a dobre vyzeráte, je to krásna vec." "Nič a nikde sa nedá porovnať so zázrakom Dubaja, ktorý bol vytvorený a vytvorený s jediným cieľom ohromiť svet"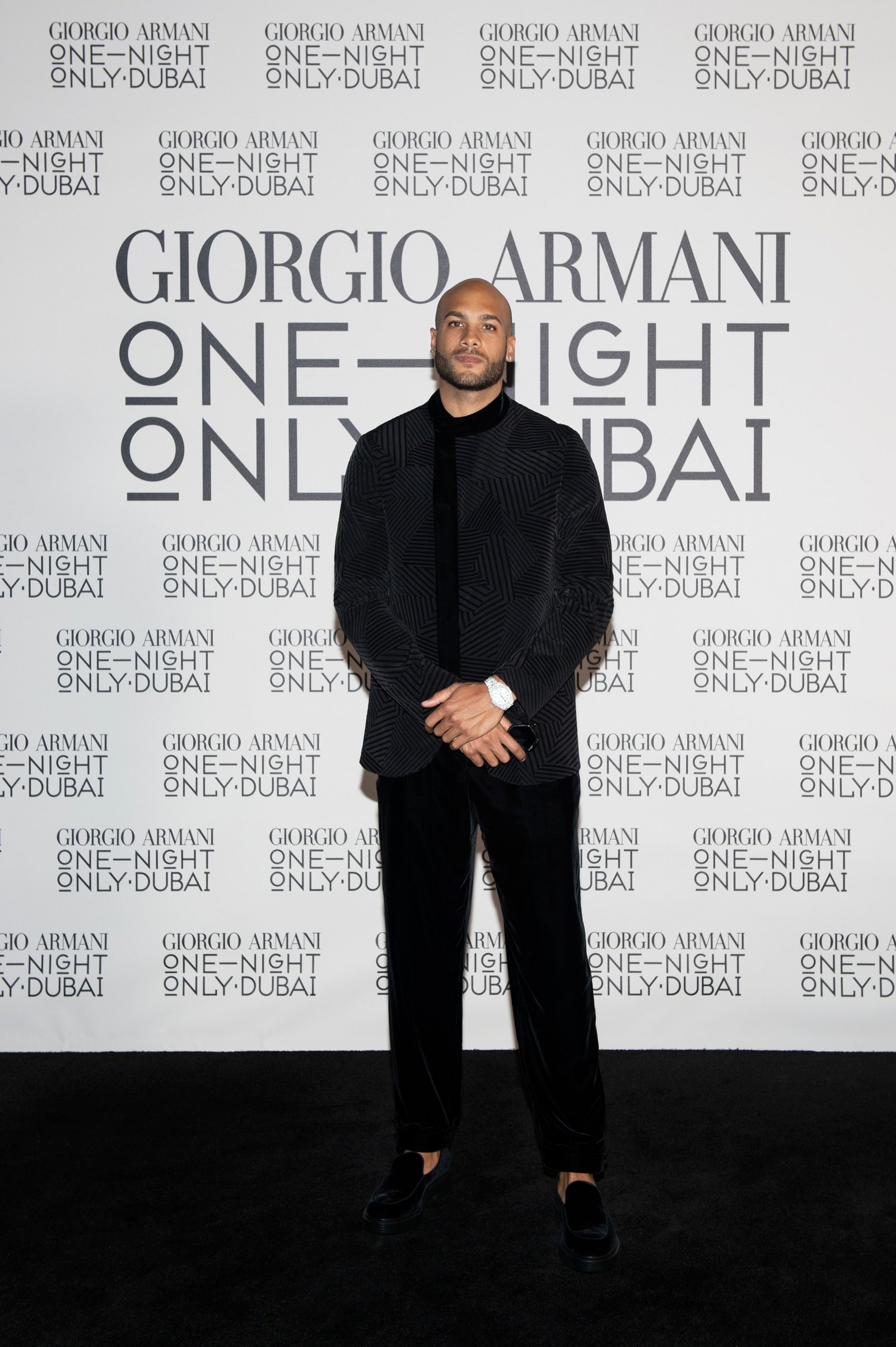 Taliansky módny dizajnér Giorgio Armani, ktorý oslávil 87. rokov, sa jednoznačne v Dubaji rozhodol ohromiť. Oceľovú pristávaciu dráhu lemovali biele svetlá, odstupňované sedadlá, posiate kovovými stromami, ktoré modelky pri chôdzi museli striedavo obchádzať. Prísnosť pozadia pôsobila ako protiklad k ľahkosti a živosti samotného oblečenia.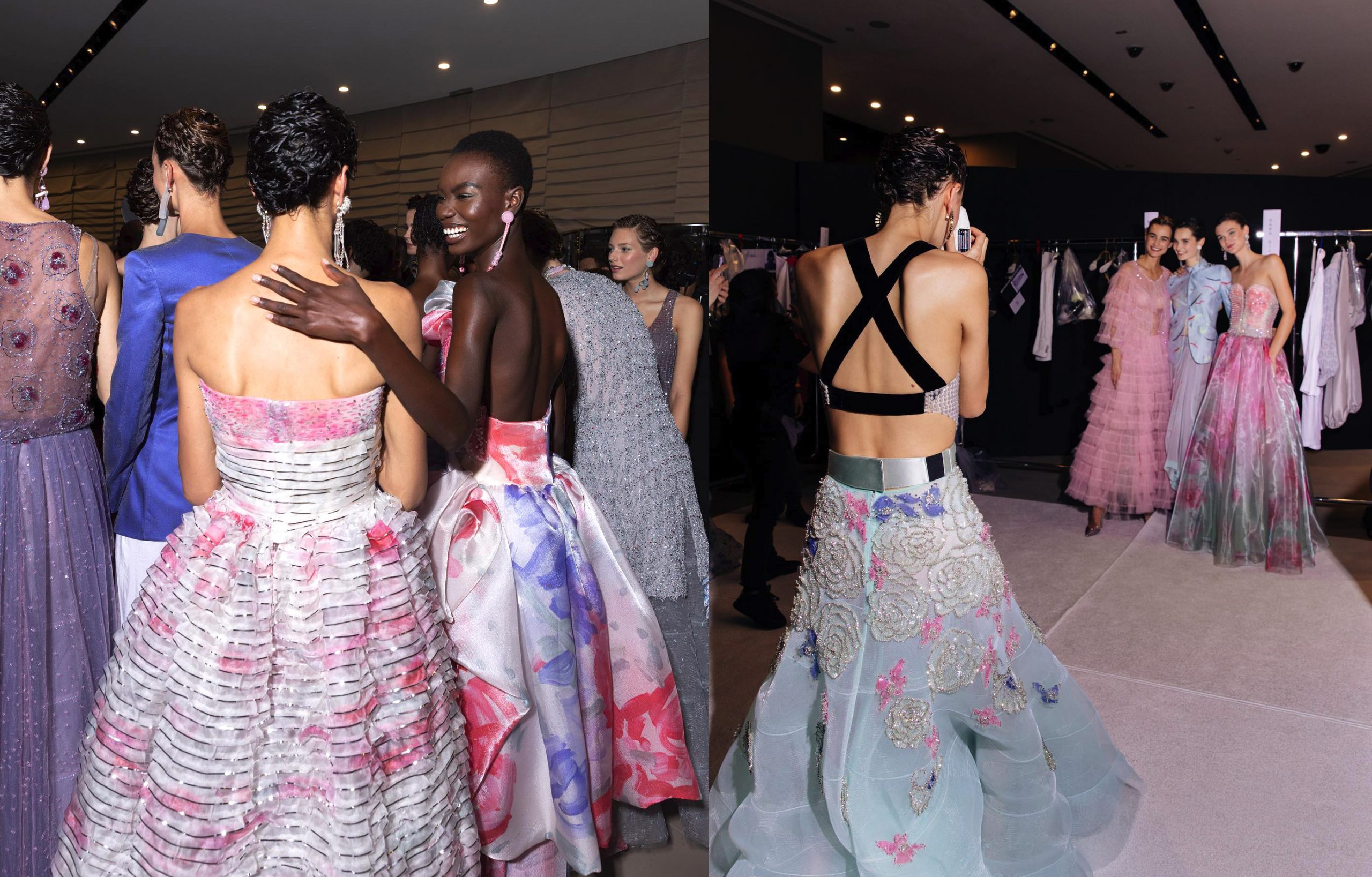 ARMANI VESMÍR – ARMANIHO JEDINEČNÁ MÓDNA EXTRAVAGANCIA
Prehliadka Giorgia Armaniho One Night Only Dubai sa skončila radostnou nôtou, keď sa záverom návrhár vydal na mólo spolu so zástupom modeliek, ktoré tancovali a tlieskali v oslavnom rytme.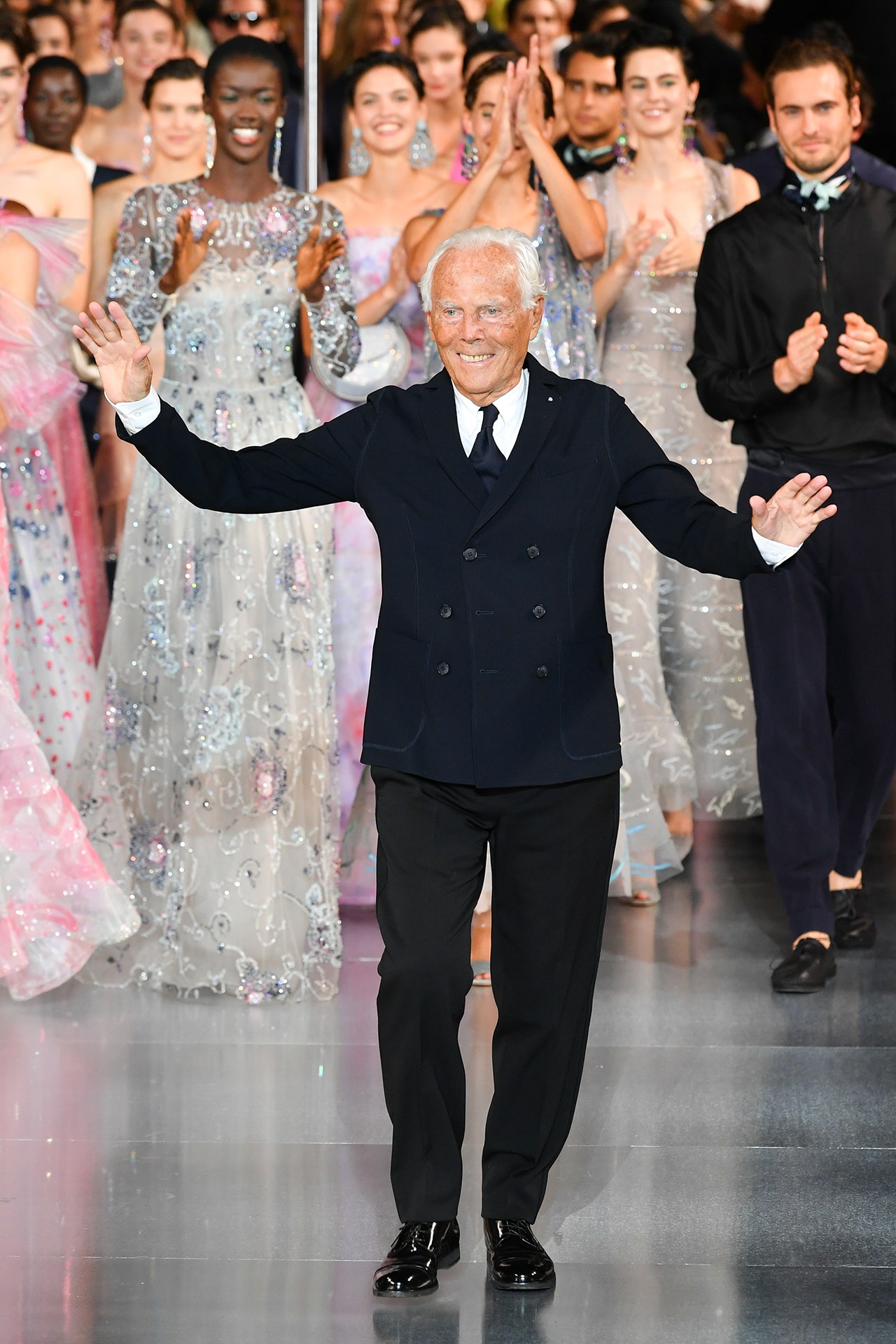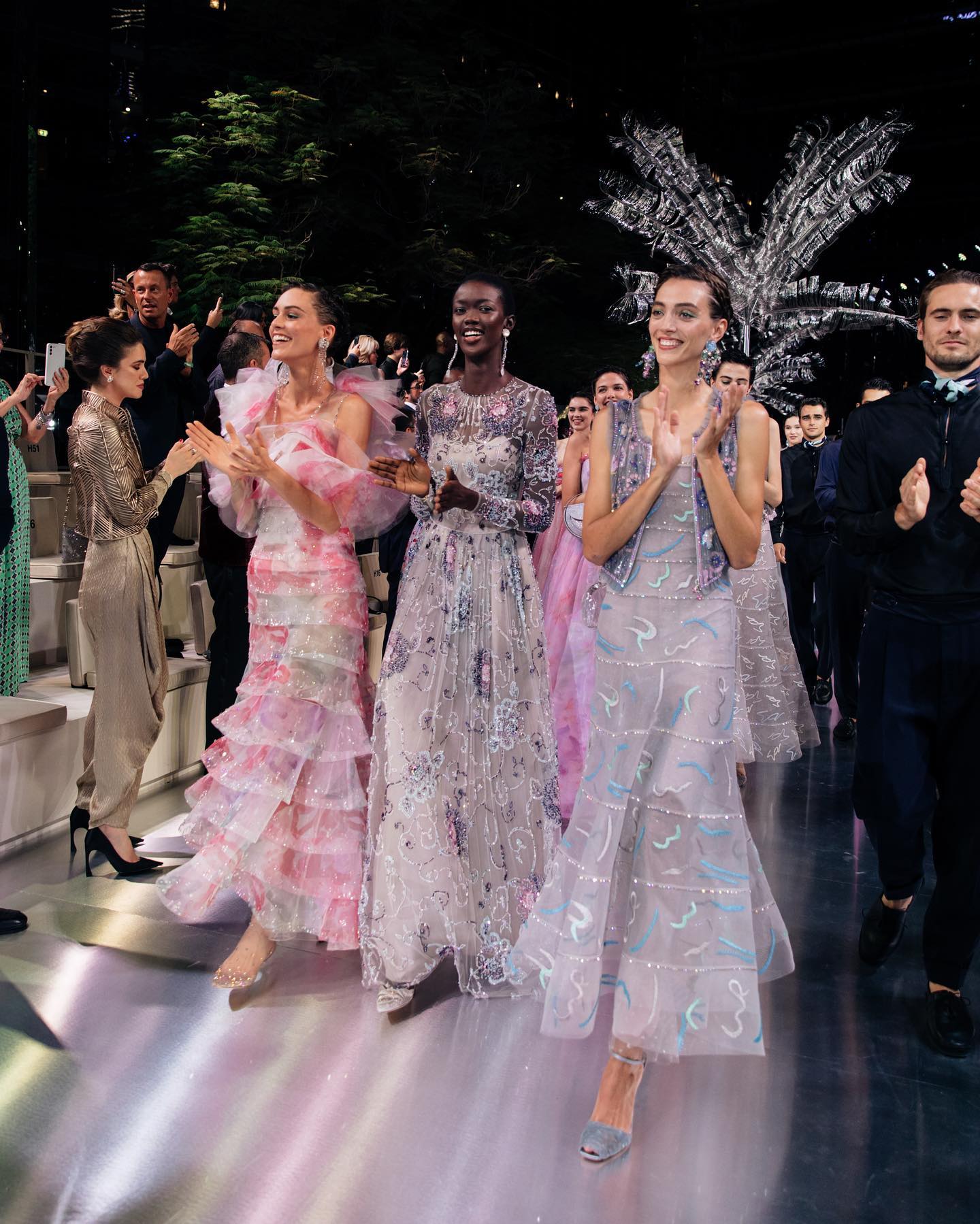 Módnu show zakončil koncert Chrisa Martina, kedy pieseň One Night in Dubai venoval všetkým tým, ktorí vlastnia mrakodrap. Dav majiteľov mrakodrapov v tom začal súhlasne kričať v duchu oslavy Giorgia Armani. Najvyššou budovou na svete je mrakodrap Burdž Chalífa z roku 2010 so 160 poschodiami, kde väčšina spodných poschodí je venovaná hotelu Armani, ktorého 10. výročie bolo bodom večernej šou.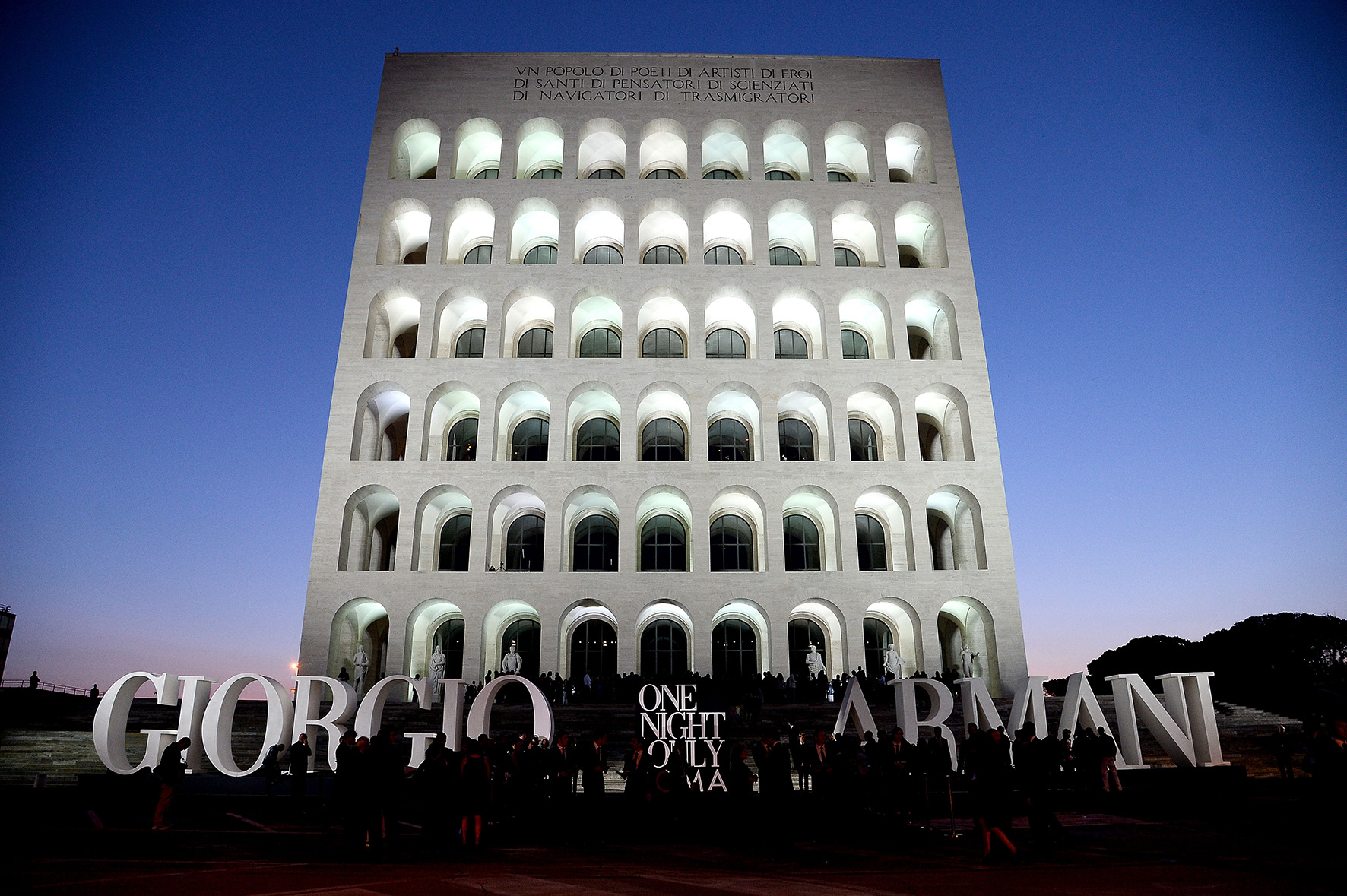 Armaniho jedinečná módna extravagancia prilákala okrem majiteľov mrakodrapov množstvo medzinárodných celebrít, vrátane herečiek Sharon Stone a Lily James, herca Clivea Owena a modelky Taylor Hill, talianskeho zlatého olympijského medailistu na 100 m Marcell Jacobs a úžasného hudobníka Erica Nam. Medzi pozvanými bolo tiež množstvo regionálnych influencerov, miestna a medzinárodná tlač a klieni Giorgia Armani z celého sveta, ktorí boli oblečení prevažne v čiernej ochrannej známke Armani.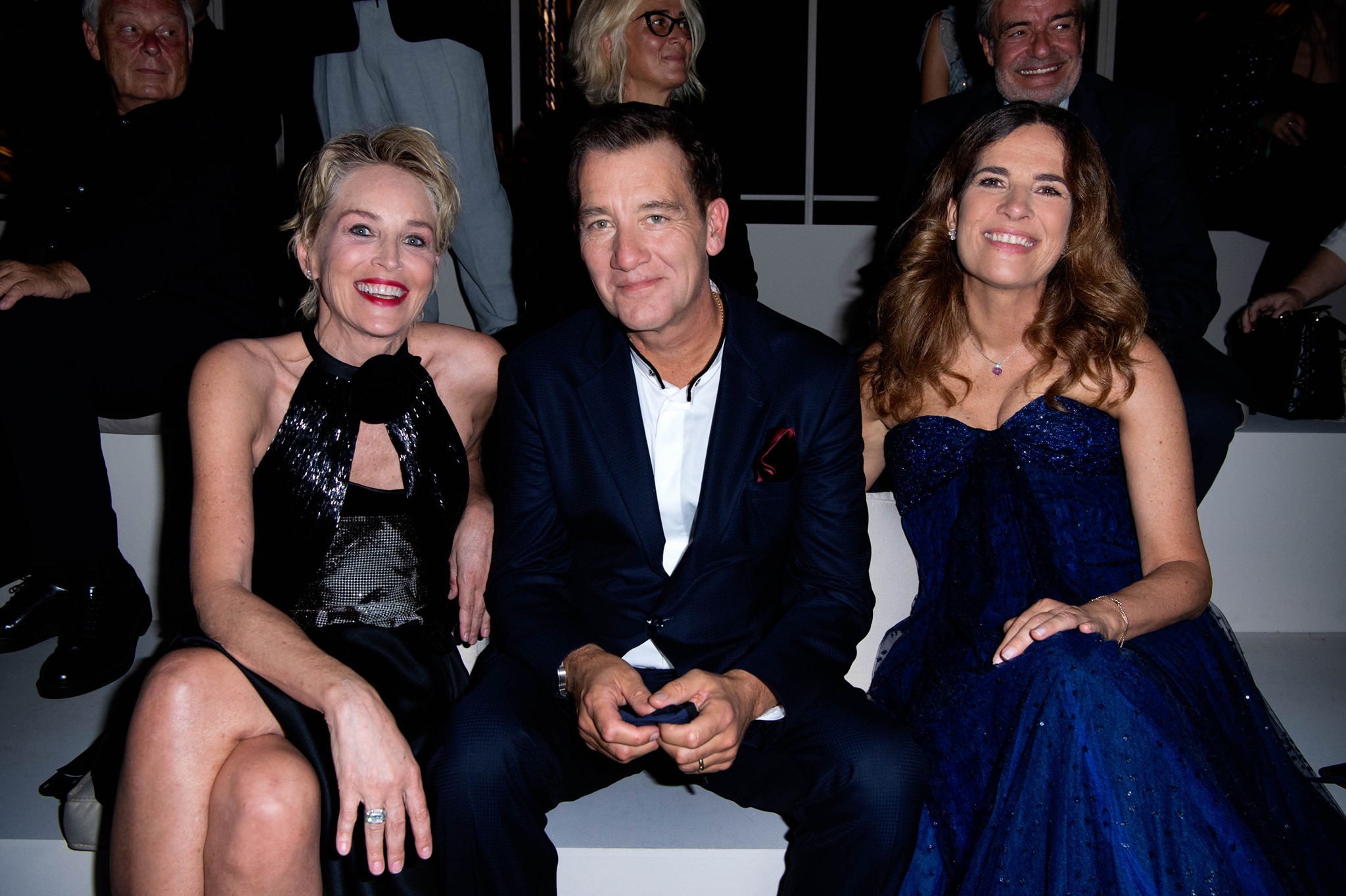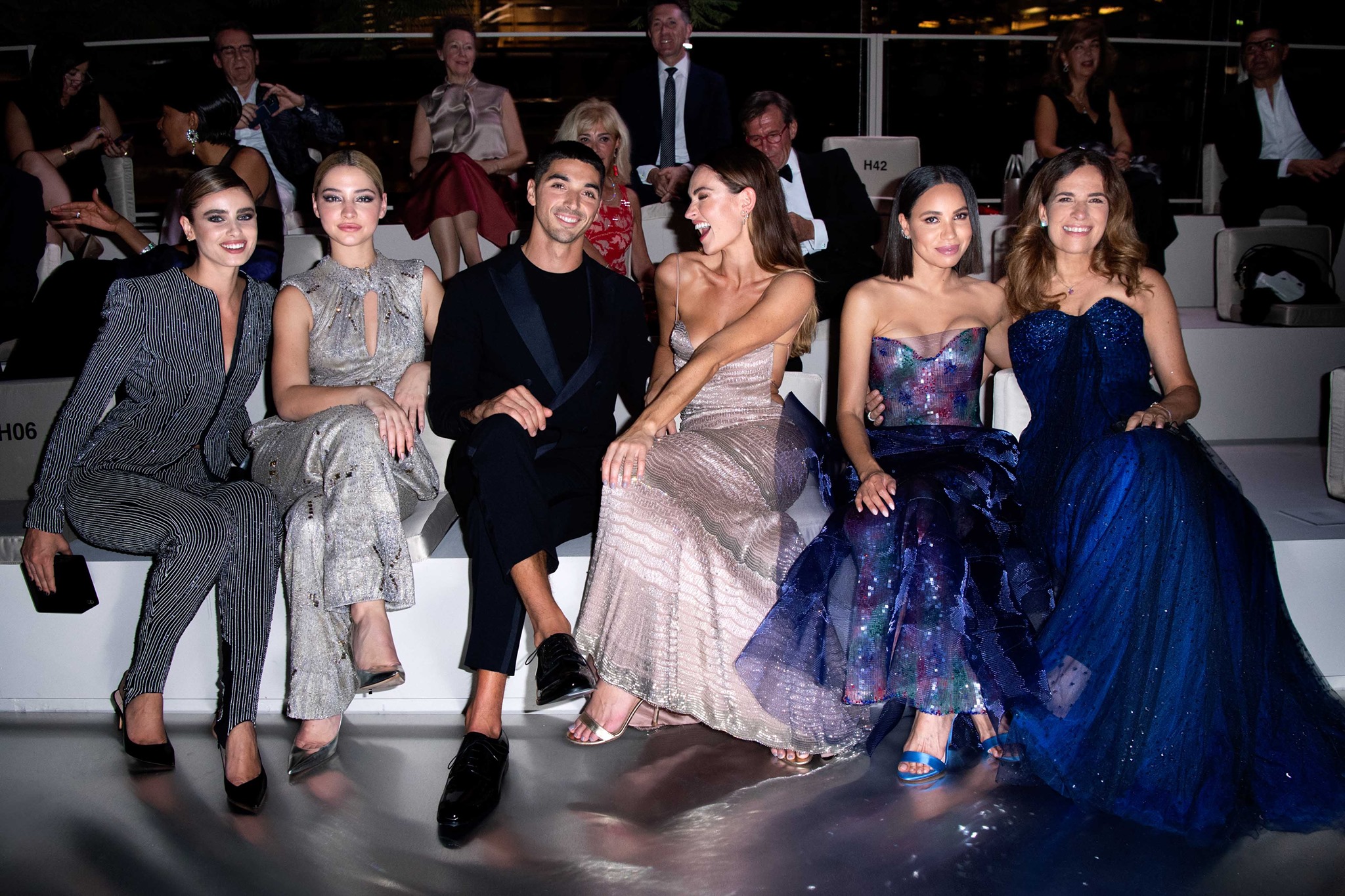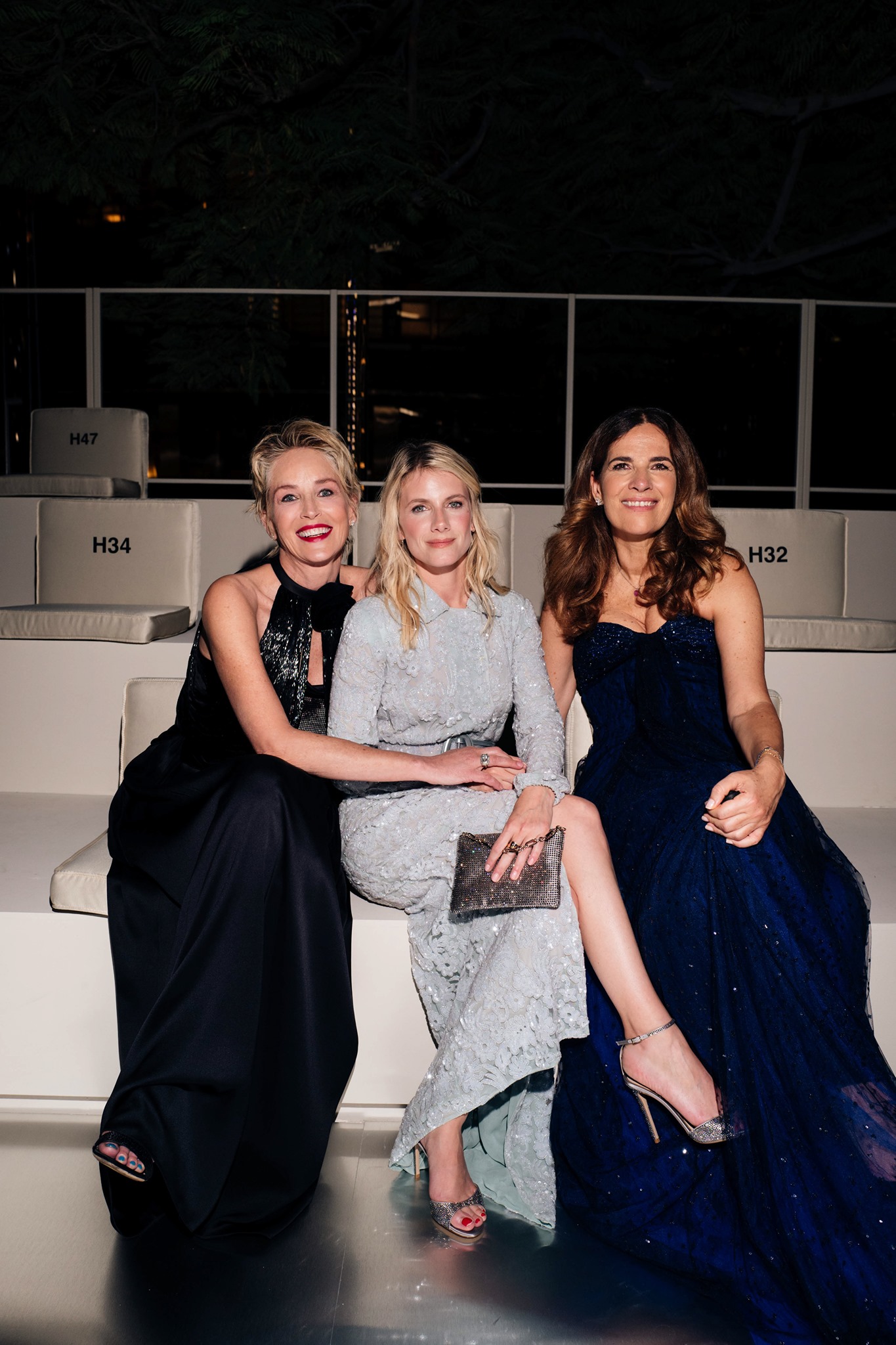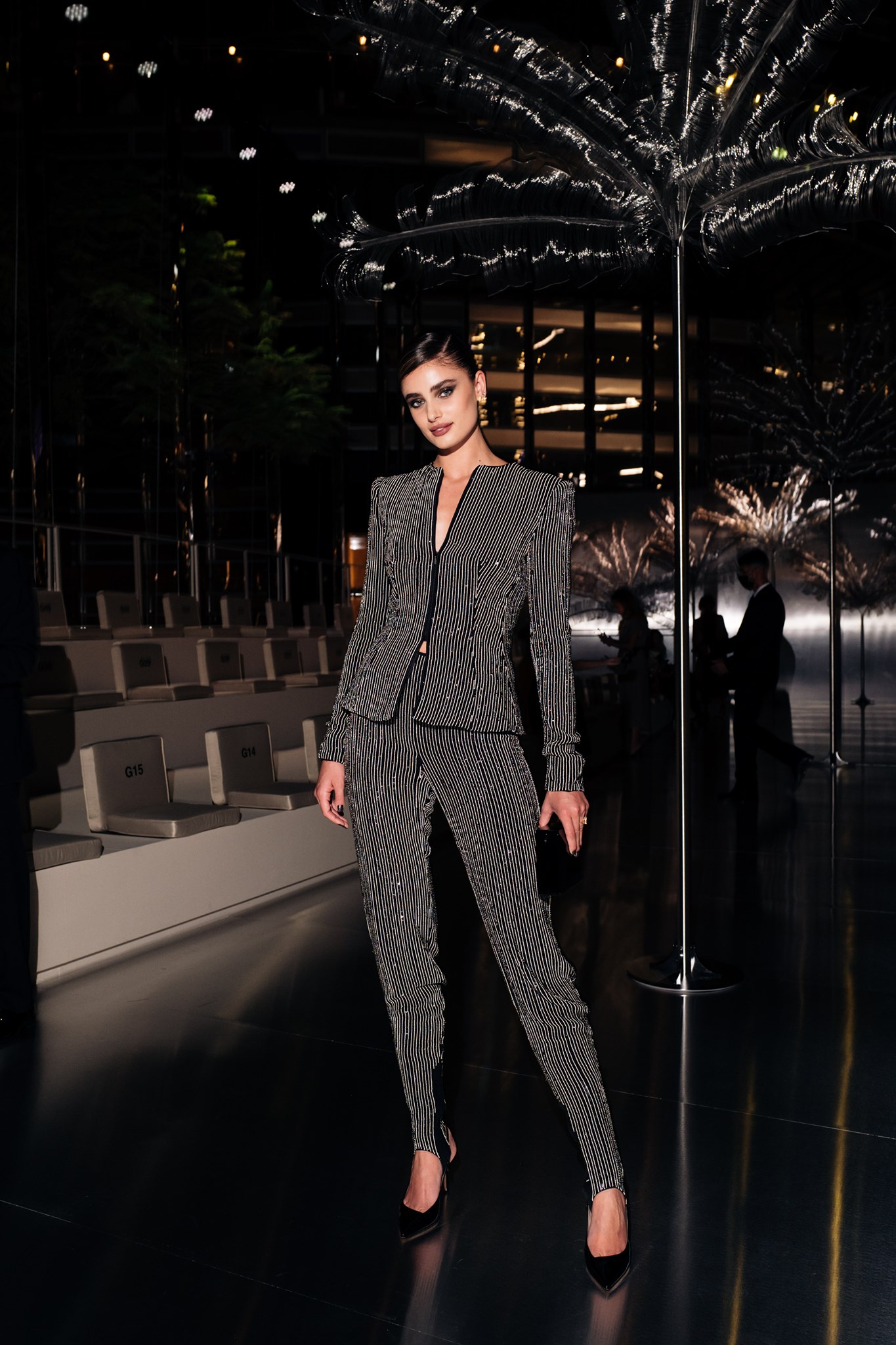 ONE NIGHT ONLY IN DUBAI – UKÁŽKA TALIANSKEJ DOKONALOSTI, OSOBNÝ TRIUMF GIORGIA ARMANI
One Night Only in Dubai je putovné podujatie, ktoré prináša "vesmír Armani" do kľúčových miest po celom svete, pričom predtým sa podujatie konalo v Londýne, Tokiu, Pekingu, Ríme, New Yorku a Paríži. Súčasne s výstavou Expo 2020 v Dubaji, bola táto šou ukážkou talianskej dokonalosti, ktorá sa vyrovnala čomukoľvek, čo sa nachádza vo vyhradenom pavilóne krajiny. Pre talianskeho dizajnéra Giorgia Armani to bol jednoznačne moment osobného triumfu.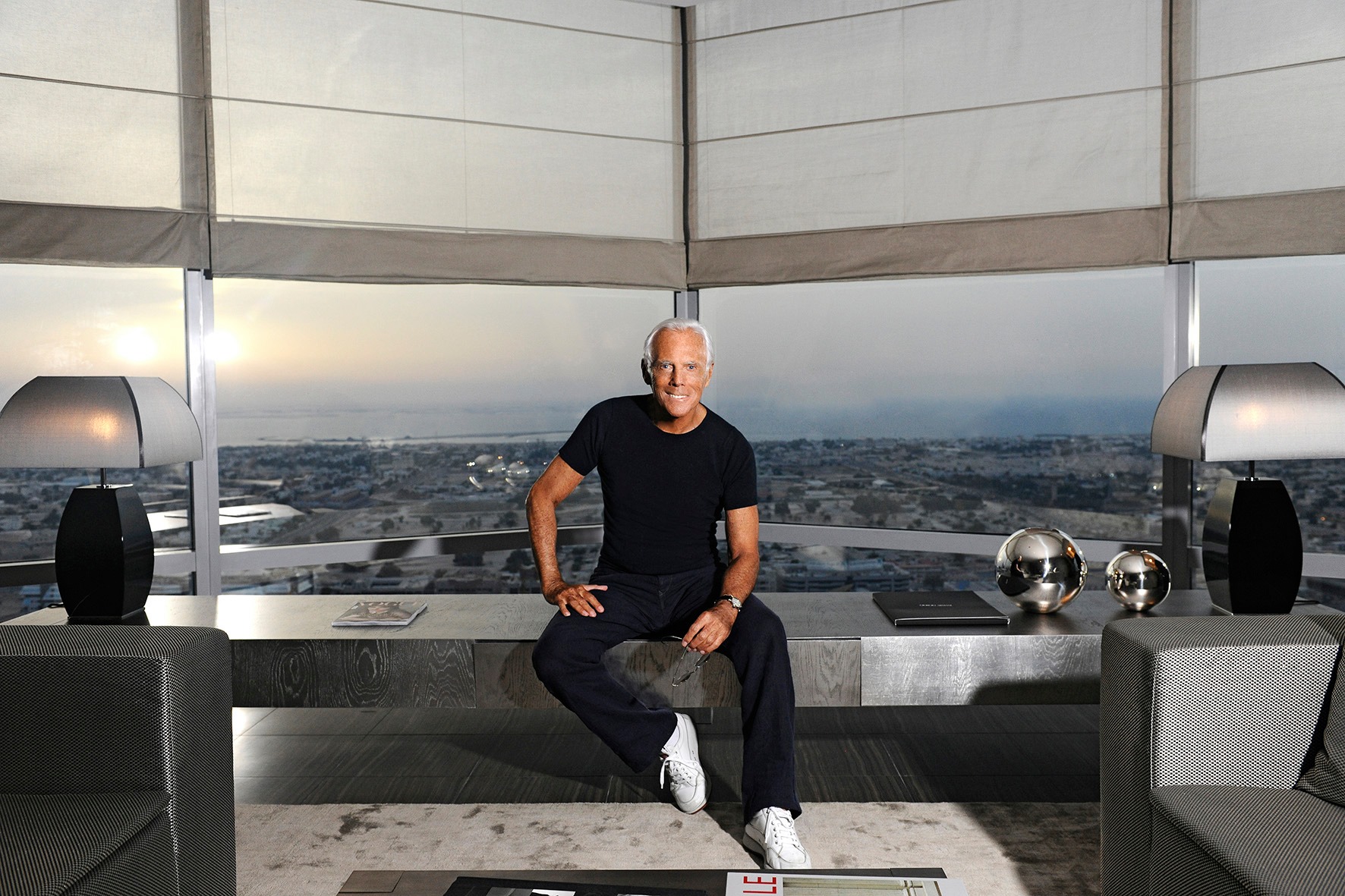 Taliansky pavilón na výstave Expo 2020 bohužiaľ tak pôsobivý dojem ako táto šou nepriniesol. Ani zvonku ani zvnútra neponúkol žiadny hmatateľný súvislý účel.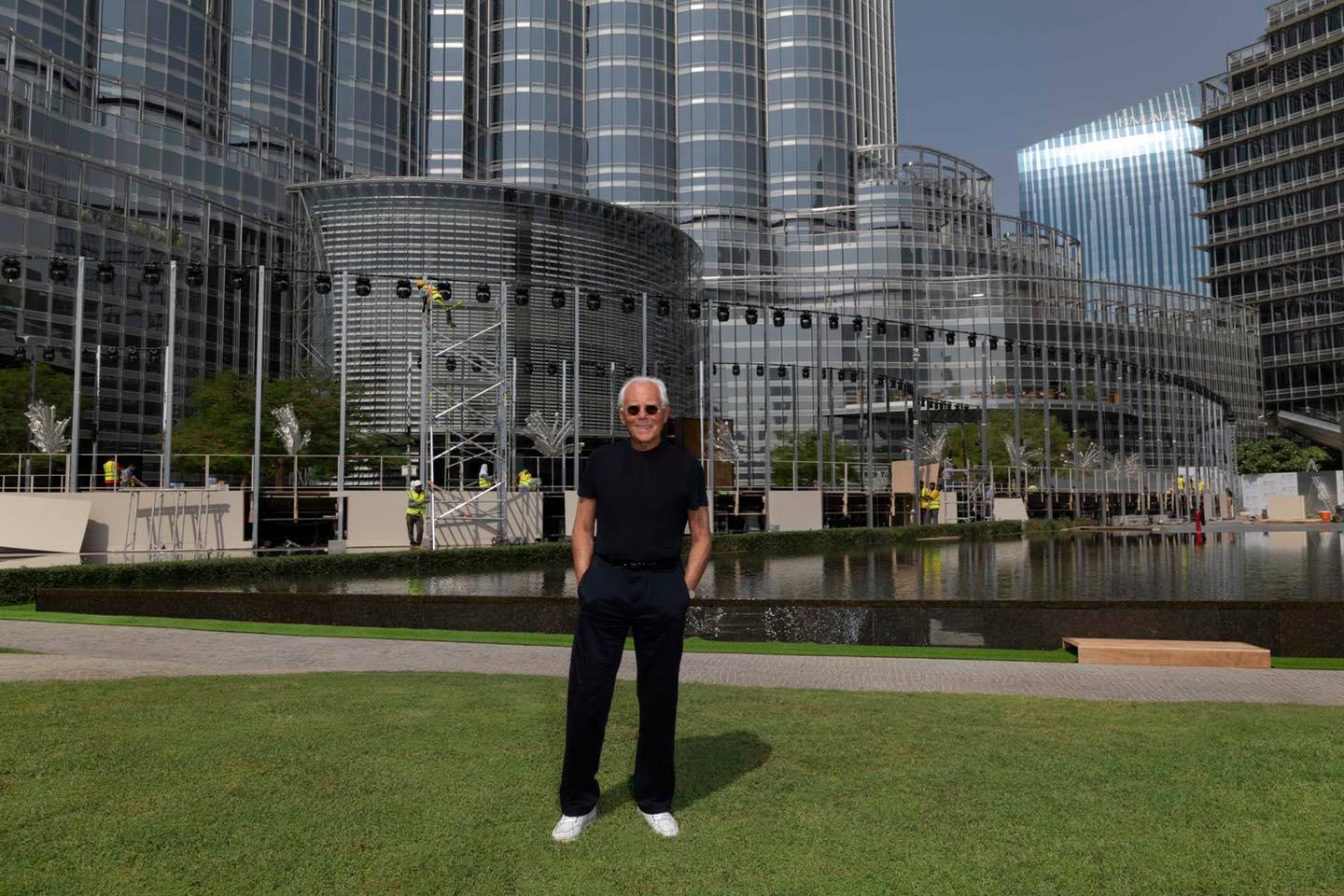 Naopak módna show talianskej žijúcej legendy, Giorgia Armani, najnovší výsledok takmer 50-ročnej práce jedného z najväčších talianskych tvorcov, poslúžila ako lepšia reklama na taliansku dokonalosť na celom svete. A boli to najmä šaty, v ktorých by ste radi žili a zažiarili.
obrázky : © Giorgio Armani, Cedric Ribeiro
Sledujte Facebook stránku: Mya Mirell Fashionista and Instagram: mya_mirell.