Väčšina slávnostných odovzdávaní cien sa za posledný rok zaobišla bez červených kobercov a to z celkom pochopiteľného dôvodu, že by sa na nich nemohli blysnúť hostia. Ale potom prišli nedeľné Oscary, vrchol sezóny udeľovania cien, najväčšia noc v kalendári zábavy, kde bolo odrazu všetkému inak. Nominovaní hostia boli vyzývaní, aby sa pokiaľ môžu galavečera osobne zúčastnili, ako sa virtuálne pripájali zo svojich domovov.
Na prestížne ceny americkej Akadémie filmových umení a vied čakali herci, režiséri aj producenti.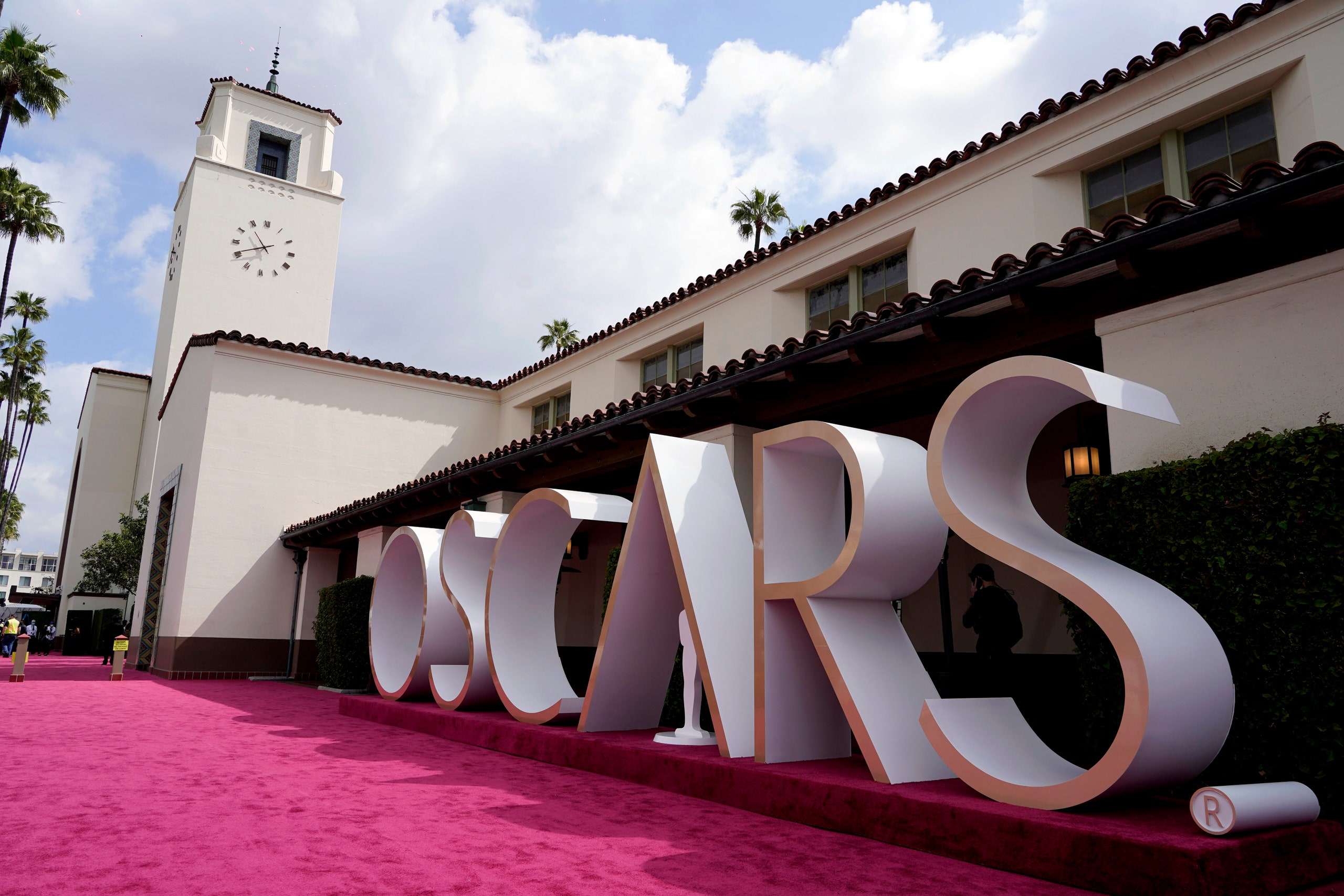 Najúspešnejším filmom, ktorý triumfoval v troch kategóriách – Najlepší film, Najlepšia réžia a Najlepšia herečka v hlavnej úlohe, sa stal film Zem nomádov. Oscara za réžiu sa netradične po dlhej dobe dostala žena, Chloé Čao. Najlepšou herečkou sa stala Frances McDormand.
Vo filme the Father zažiaril herec Anthony Hopkins, ktorý si odniesol Oscara za Najlepší herecký výkon v hlavnej úlohe. Oscara za Najlepší cudzojazyčný film si odniesla dánska snímka Chľast s charizmatickým hercom Mads Mikkelsenom od režiséra Thomasa Vinterberga.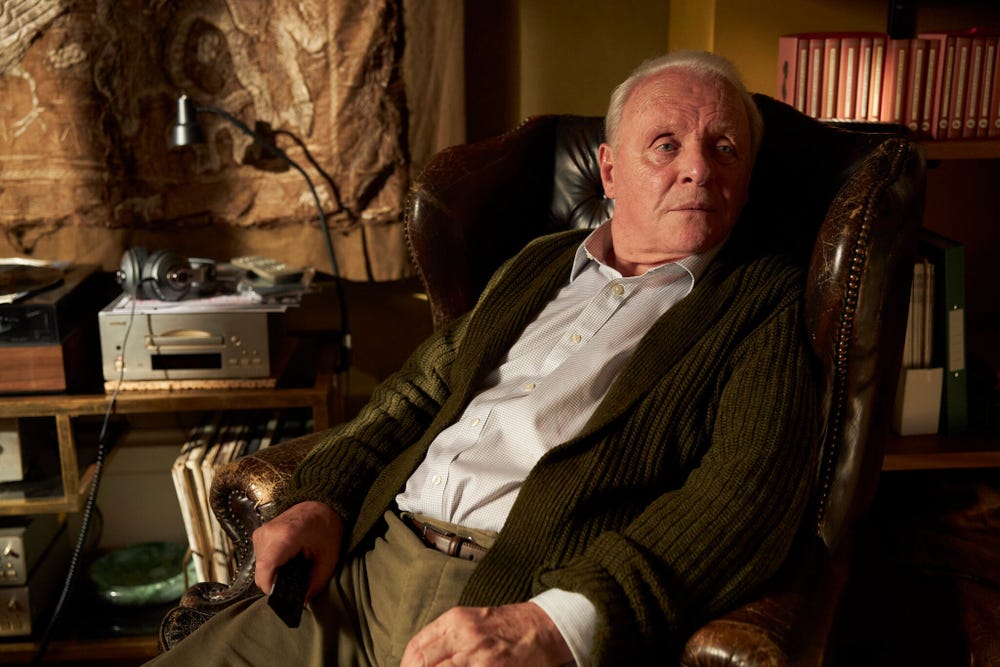 Anthony Hopkins, zdroj: Sean Gleason/Sony Pictures Classics
93. ročník Oscarov pod režisérskou taktovkou Stevena Soderberha sa netradične udial v noci 25. apríla 2021 v historickej vlakovej stanici Union Station v Los Angeles s meškaním dvoch mesiacov. Výsledný červený koberec s prítomnými hviezdami však stál za to. Hýril eleganciou, okázalosťou a explóziou farieb. Promenáda najväčších a najlepších lookov z 93. ročníka udeľovania Oscarov práve prichádza:
AMANDA SEYFRIED
Herečka Amanda Seyfried ukončila svoju sezónu ocenení žiarivými šatami z dielne Armani, ktoré ukradli všetky svetlá reflektorov červeného koberca. Šaty bez ramienok, ktoré navrhol sám taliansky dizajnér Giorgio Armani, boli inšpirované kvetmi ibišteka a pokračovali vo víťaznej sérii Amandinej klasiky, v starom Hollywoodskom štýle. Amande old classic hollywood style nesmierne sekne, čo dokazuje aj jej filmové stvárnenie role v snímke Mank.
Amanda Seyfried je ohromujúca! Tridsaťpäťročná herečka vyzerala na Oscaroch 2021 v červených plesových šatách veľkolepo. Prvýkrát nominovaná na Oscara pricestovala na galavečer do Union Station v Los Angeles v nedeľu 25. apríla 2021, aby sa zúčastnila výročného odovzdávania cien. Výberom tohto outfitu a celkovým finálnym lookom sa stala favoritne najlepšie oblečenou hviezdou večera a strhla na seba všetku pozornosť.
Armaniho kvetinová inšpirácia je zreteľne preložená do dramatickej siluety. "Chcel som týmito šatami, ktoré dodávajú vášni tvar, vyzdvihnúť osobnosť Amandy,"povedal pre magazín Vogue dizajnér Giorgio Armani. "Jemné nariasenie sa formuje do tvaru okvetného lístka ako kvet nadol, ktorý je vylepšený červeným odtieňom ibišteka."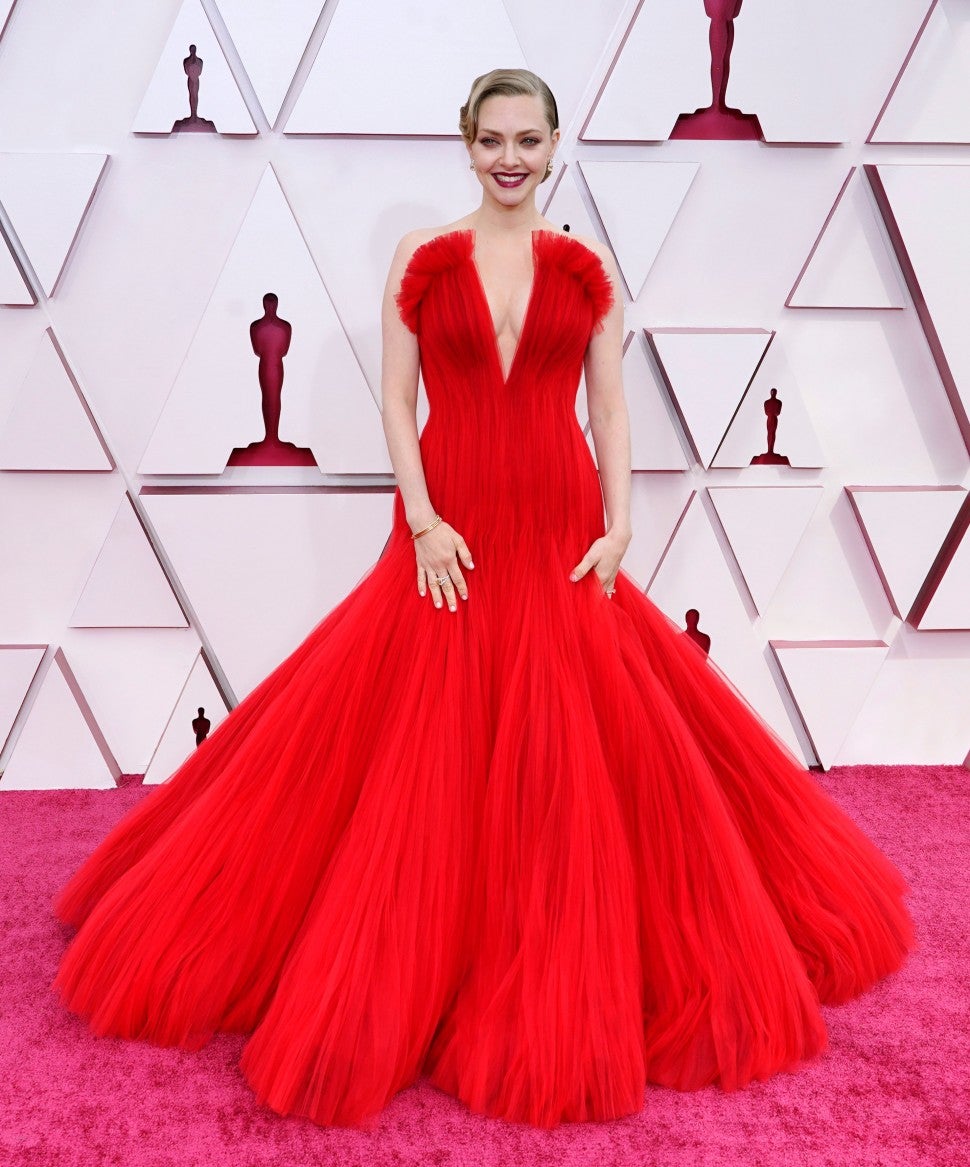 Amanda Seyfried bola okamžite fanúšikom svojej príťažlivej farby. "Červená je bohatá a je skvelým kontrastom k Mankovej čiernej a bielej," vyjadrila sa herečka.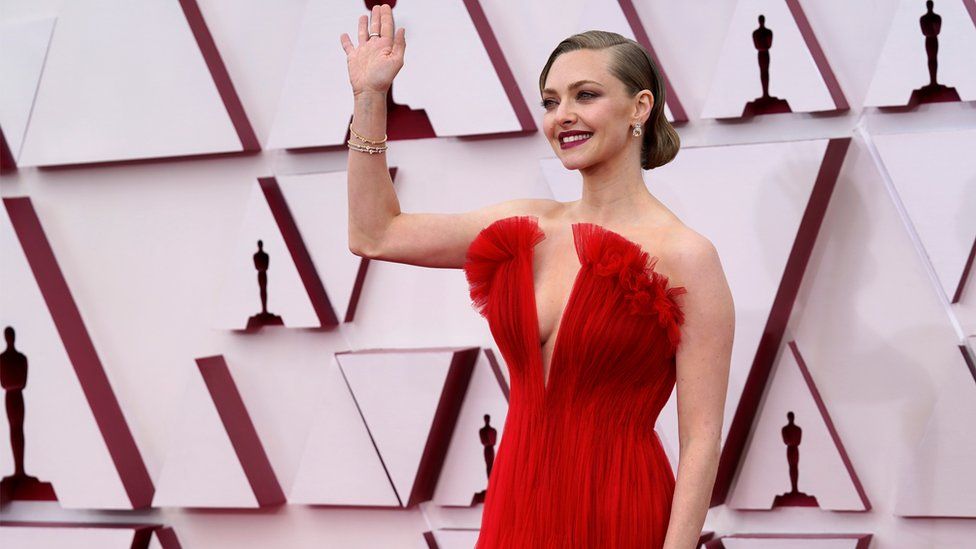 Herečka, ktorá bola nominovaná na Najlepšiu herečku vo vedľajšej úlohe pre Manka, zažiarila v nápadných tylových šatách bez ramienok, ktoré boli upravené podľa kolekcie Giorgio Armani Privé , Jar / leto 2021. Dramatická róba má hlboký výstrih v tvare písmena V a ohromujúcu objemnú sukňovú časť. Prekrásnu róbu doplnila Amanda šperkami spoločnosti Forevermark. Pre glam look, ktorý Amanda zvolila, si okrem účesu v starom hollywoodskom štýle vybrala aj bobuľovú farbu pier a očného make-upu, ktorá ladila s magnetickou červenou šiat.
REGINA KING
Herečka Regina King nie je na Oscaroch žiadnym cudzincom a pred dvoma rokmi získala ocenenie – Najlepšia herečka vo vedľajšej úlohe za výkon v snímke If Beale Street Could Talk. Tento rok sa na ceny Academy Awards nevrátila ako herečka, ale ako režisérka filmu One Night In Miami, ktorý mal tri nominácie.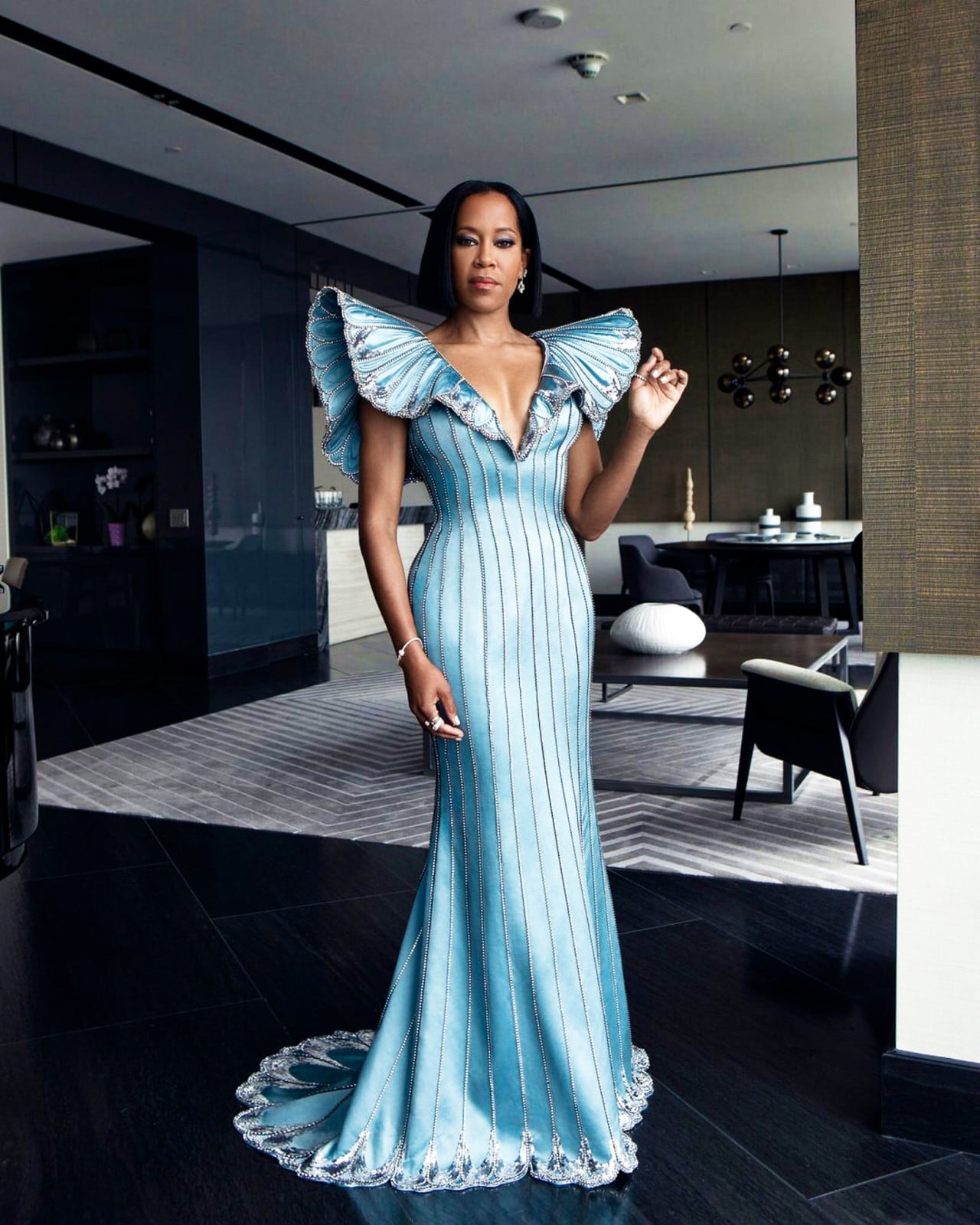 Film mohol ísť domov s prázdnymi rukami, ale pre neprítomnosť hostiteľa bola na otvorenie ceremoniálu vybraná Regina King. Herečka privítala divákov a predstavila prvé dve kategórie pre najlepší originálny a upravený scenár.
Na červenom koberci mala oblečené skvostné bledomodré šaty Louis Vuitton zdobené kryštálmi s vrúbkovaným vertikálnym lemovaním , oslnivým riasením a odvážnymi ramenami v štýle 80. rokov. Hlboký výstrih plynulo prechádzajúci v ramená pripomínajúce motýlie krídla podčiarkol unikátnosť tohto modelu. Šaty doplnila herečka klenotmi spoločnosti Forevermark. Skvostný kúsok je ozaj hodný výnimočnej udalosti ako je oscarová noc, na ktorej Regina King žiarila ako Dáma.
CAREY MULLIGAN
Herečka dorazila na červený koberec Oscarov 2021 do LA ako žiariace slnko. Mala na sebe zlaté dlhé šaty po zem z kolekcie Valentino Haute Couture, Jar / Leto 2021. Trblietavý komplet z prehliadkového móla bol navrhnutý ako dvojdielna sukňa a top a bol ozdobený flitrami, ktoré dokonale zachytávali a odrážali svetlo. Herečka a jej stylista Nicky Yates udržali doplnky na minime a pre jemný akcent sa rozhodli pre klasické šperky značky Cartier.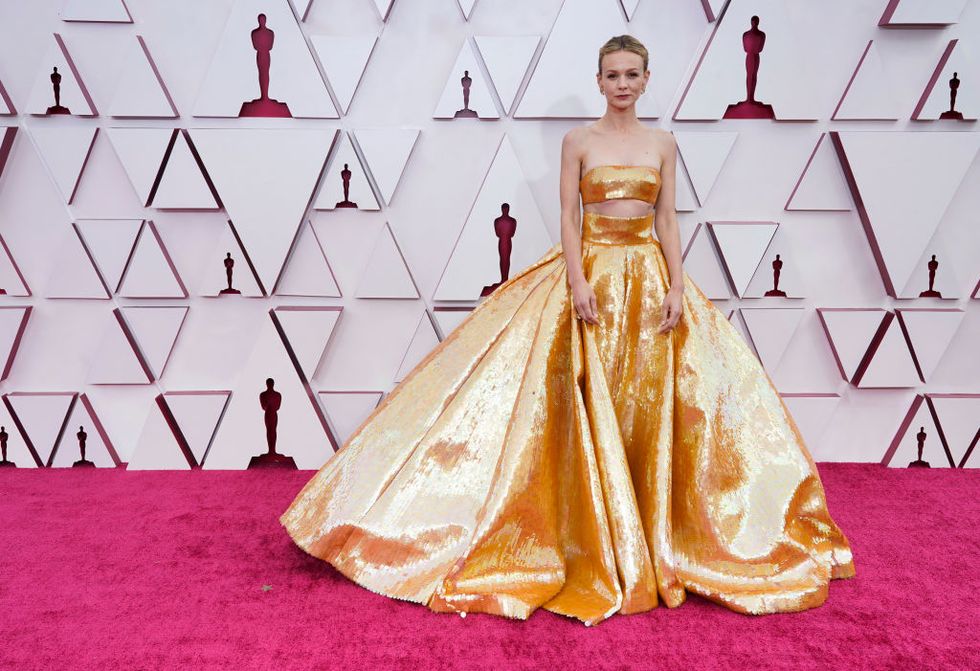 Carey Mulligan jednoznačne prišla na Oscaroch zvíťaziť a to na červenom koberci aj mimo neho. Pri príležitosti nedeľňajšieho večera si Nominovaná na najlepšiu herečku obliekla trblietavé dvojdielne zlaté šaty, ktoré zahanbujú aj samotnú sošku Oscara. Herečka bola rozhodne neprehliadnuteľná dáma a jednou z najlepšie oblečených hviezd Oscarov 2021.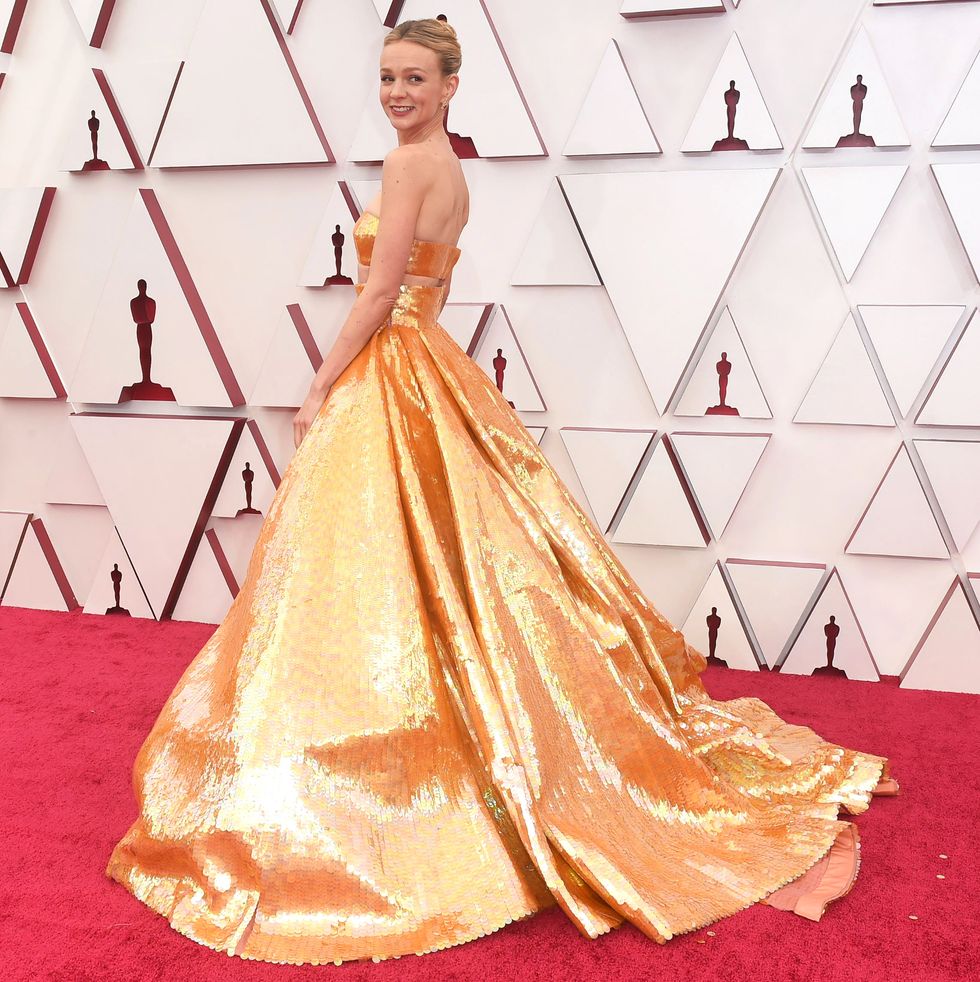 Herečka si neformálne stiahla vlasy rozdelené na stred do drdolu a doplnila ich šperkami Cartier a platformami so šampanským odtieňom od Sophie Webster.
ZENDAYA
V oslnivo žltých šatách Valentino strihaných na mieru s bandeau topom, sukňou s vysokým pásom a dlhou vlečkou, vyrazila všetkým dych iba 24-ročná americká kráska Zendaya. Jej dokonalá štíhla postava sa v tomto sexi modeli náramne vynímala, dala vyniknúť jej ladným krivkám. Navyše nežiarili len jej šaty. Americká herečka všetkým ukázala, že je v nej ukrytý obrovský talent. Nádherný hlas , zmysel pre pohyb a jej oslnivá exotická krása sa nedali prehliadnuť. Ostatne všimli si to aj kozmetické značky, ktoré ju spravili tvárou niektorých kampaní. Zdá sa, že budúca sexi hviezda to má namierené vysoko. Samotné šaty vyslali na Oscaroch signál – "žiarim ako budúca hviezda".
Skvostný sporo pôsobiaci model v horných partiách doplnila speváčka a herečka klenotmi Bulgari v hodnote viac ako 183,3 karátov ( viac ako 6 miliónov dolárov) , lodičkami Jimmy Choo a rúškom v rovnakej farbe, ktoré nesňala dolu ani pri odovzdávaní cien.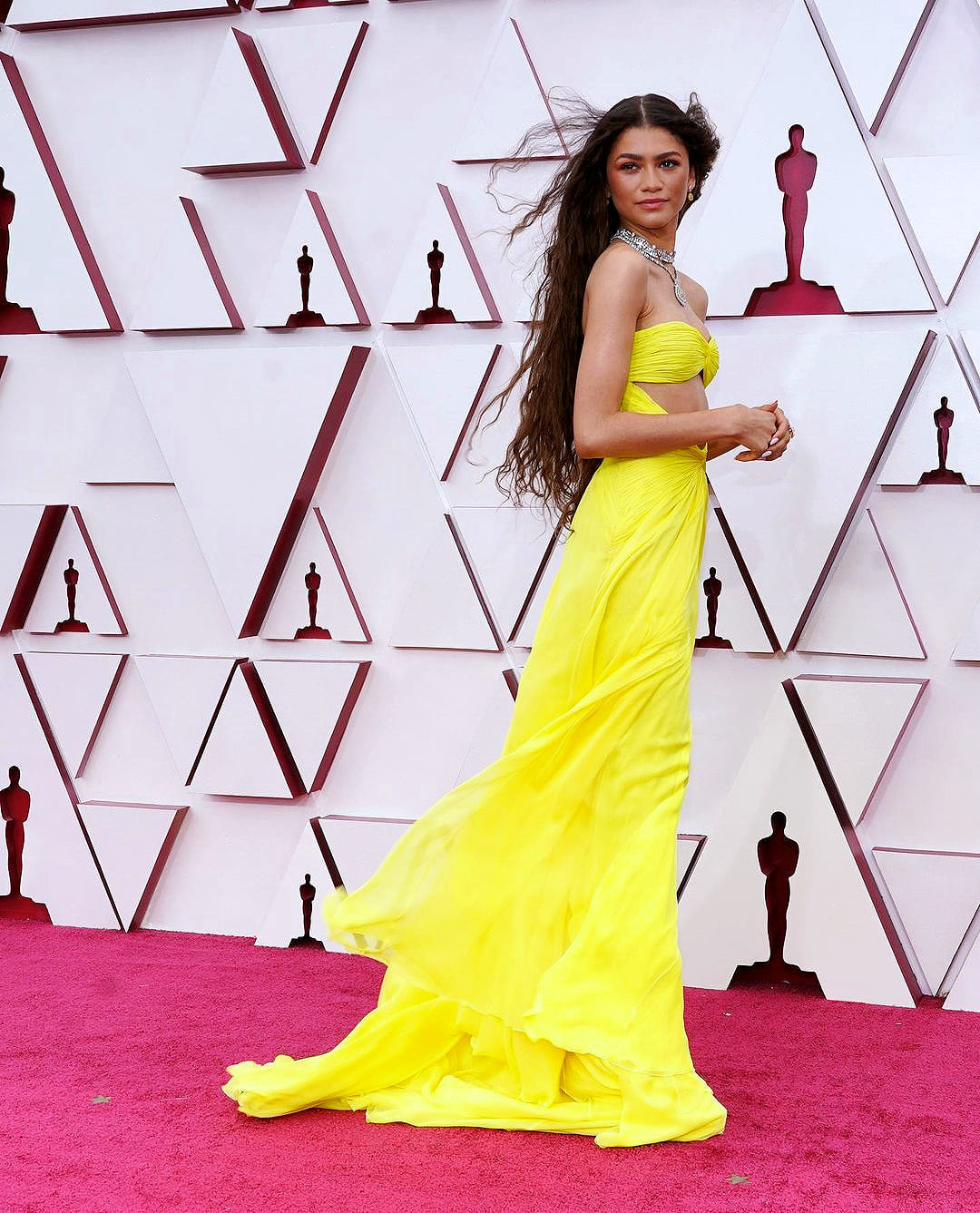 ANGELA BASSETT
Angela Bassett ako ďalšia hviezda zvýšila hlasitosť "wow ovácií" červeného koberca, keď sa sa predviedla v červených šatách Alberta Ferretti s odhaleným dekoltom a ramenami z organzy v kombinácii s náušnicami a prsteňmi Chopard. Netradičný model s dôrazom na detail dodal Angele na pompéznosti. Herečka spolu s ďalšími dámami patrila k najžiarivejším hviezdam večera, ktorým to s výberom rób vyšlo.
COLMAN DOMINGO
Herec na Oscaroch netradične odvážne zažiaril v jasnom fuchsiovom trojdielnom obleku z dielne Atelier Versace zdobenom flitrovými akcentmi, zlatými klenotmi Davida Yurmana s čiernymi topánkami od Christiana Louboutin. V skutku unikátny pánsky look.
MARGOT ROBBIE
V šatách Chanel pokrytých kovovou čipkou, doplnených kabelkou Chanel a náušnicami a prsteňmi od Chanel Fine Jewelry sa predviedla Margot Robbie. Herečka býva vo výbere rób dosť zdržanlivá, uprednostňuje kvetinové motívy, ktoré jej nie vždy vyjdu, no tento výber na Oscari 2021 je veľmi decentnou a luxusnou voľbou. Neformálny účes jemne zopnutých vlasov s rozviatou ofinkou je iný, ako u herečky býva zvykom, pôsobí prirodzene, no k zvoleným šatám mohla jej voľba byť elegantnejšia. Herečka neprestrelila, ale ani veľmi neočarila.
BIELA V POPREDÍ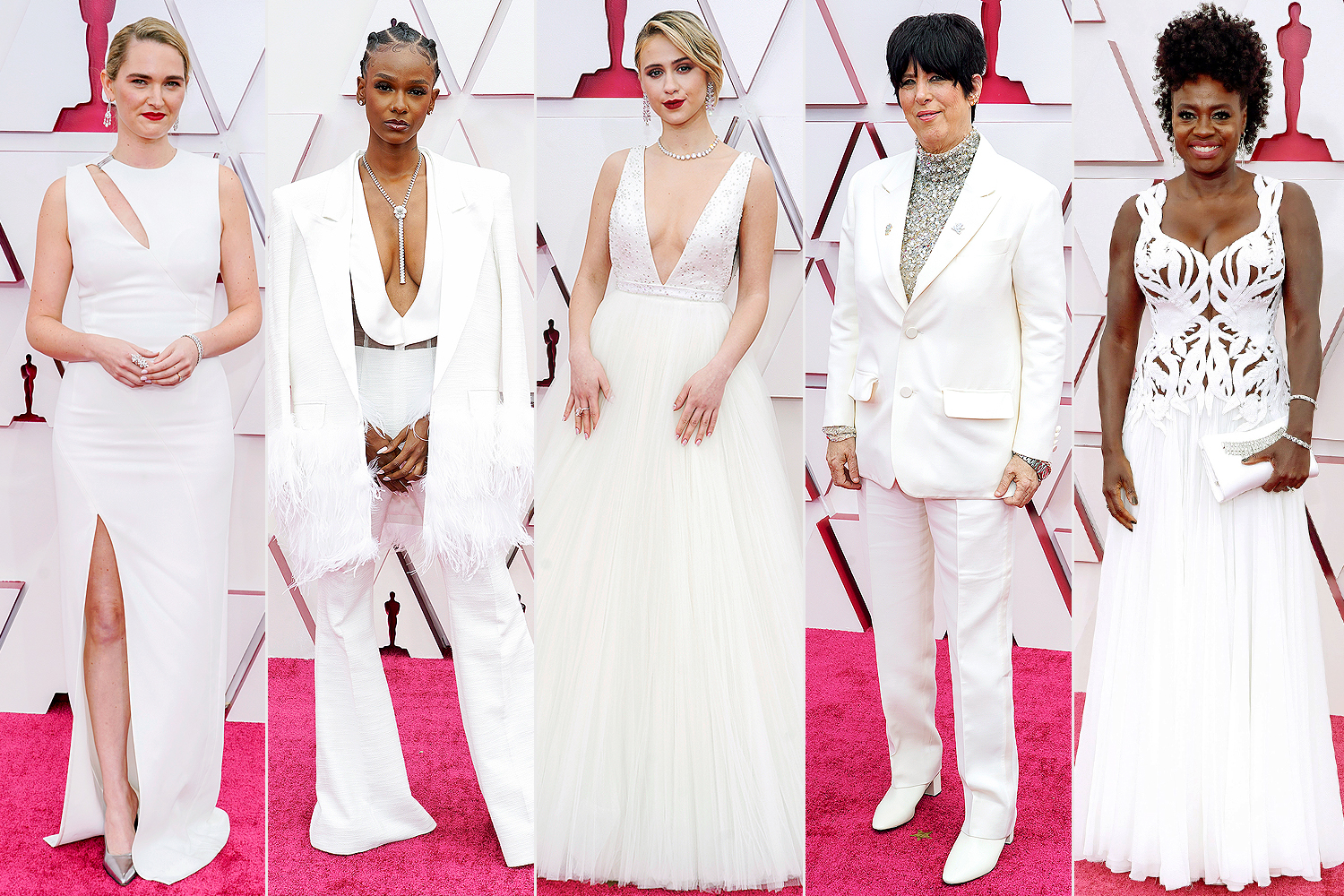 MARIA BAKALOVA
Bulharská hviezda filmu Borat Subsequent Movie sa rozhodla najjednoduchšie dodržať pravidlo dvoch metrov: obliecť si šaty široké šesť metrov. V skutočnosti mala róba Louis Vuitton, ktorú mala na sebe, 100 metrov tylu, ľahkého sieťovaného materiálu.
Maria Bakalova zažila princesovský moment prvýkrát na Oscaroch v šatách Louis Vuitton s hlbokým dekoltom do tvaru V zdobenými diamantami s plnou tylovou sukňou a vyšívaným živôtikom doplneným klenotmi Moussaieff a sandálmi Louis Vuitton.
Nominovaná Najlepšia herečka vo vedľajšej úlohe vyzerala úžasne, keď kráčala v tomto princesovskom bielom modeli po červenom koberci , pričom konečne mala príležitosť predviesť očarujúcejšiu stránku. Jej úloha v Borate bola opačná, išlo o všetko, od rozhovorov s Rudym Giulianim v hotelovej izbe až po účasť na mnohých brutálnych scénach po boku Sacha Barona Cohena. Ak si niekto tento rok zaslúžil sa objaviť na červenom koberci, je to práve Mária.
VIOLA DAVIS
55 ročná americká herečka Viola Davis vyzerala nádherne v šatách Alexander McQueen, ktoré navrhla Sarah Burton. Hviezdna nominácia na Oscara za herecké výkony v snímke Ma Rainey's Black Bottom prekonala svoj vlastný rekord ako najviac nominovanejšia čierna herečka vôbec na udeľovaní Oscarov 2021.
Viola Davis počas celej oceňovacej sezóny galavečerov predvádzala módne šaty z pohodlia domova. Na večerné udeľovanie Oscarov 2021 však priniesla na červený koberec svoju odvážnu estetiku.
Zatiaľ čo 55-ročná nominantka Ma Raineyho na titul Black Bottom sa počas celej sezóny prikláňala k žiarivým farbám, na Oscaroch 2021 sa vrátila k základom. Splývavé biele šaty Alexandra McQueena s designom vystrihovacieho živôtika a diamantovými náušnicami Forevermark pôsobili na čokoládovej herečke výrazne a elegantne. Davis sa rozhodla pre make-up vyzerajúci prirodzene, zatiaľ čo jej prirodzené kučery sa pohojdávali v štýle pompadour.
"Šaty Violy sú vždy mojou inšpiráciou pre vzhľad," uviedla vizážistka Autumn Moultrie, ktorá na hviezdu použila starostlivosť o pleť a líčenie od L'Oréal Paris. "Chceli sme, aby bol vzhľad jemný a sofistikovaný, ale zároveň dramatický. Preto som vyšla s jemnými perami, ale s dramatickým odvážnym a kovovým očným make-upom."
LAURA PAUSINI
I keď celé Taliansko túžobne očakávalo, že spevácka hviezda Laura Pausini prinesie Oscara za Najlepšiu filmovú pieseň a potvrdí získané ocenenie z Golden Globes 2021 , nestalo sa tak. I keď film so Sophiou Loren – Davanti a sé a úžasnou sentimentálnou piesňou od Laury "Io si" , je nádhernou snímkou, ktorú stojí za to pozrieť, Laura predsa len vo finále uspela. Svojím výkonom a hlasom, ktorý je medzinárodne známy to v slávnostnej róbe jednoduchých líníí z dielne dotiahla až na Oscary. A to je obrovský úspech nielen pre speváčku. Taliansko môže byť preto právom hrdé.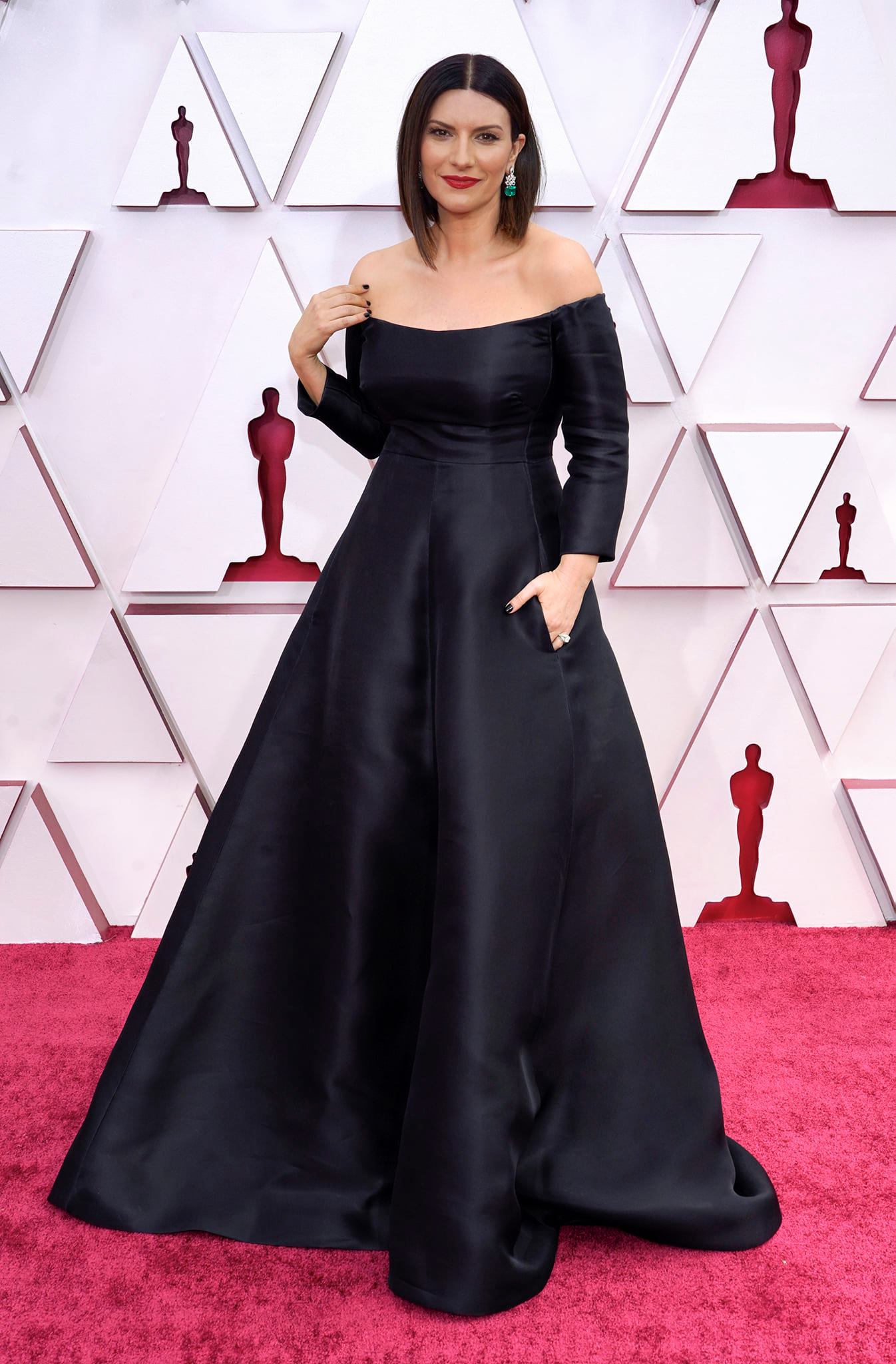 Cenu za Najlepšiu pôvodnú pieseň si odnieslo "Fight for you" z filmu Judas and the Black Messiah od speváčky H.E.R.
VANESSA KIRBY
Herečke učaroval model jednoduchého strihu čistých línnií v pudrovo ružovej farbe od talianskeho módneho domu Gucci šitý priamo na mieru. Jej éterický bledý vzhľad podčiarkovala tmavá farba rúžu a laku na nechty. Účes s viditeľnými odrastami nevyzerá pôvabne, ako ani horná živôtiková odstávajúca časť, celkový zámer o vytvorenie tohto typu looku bol dobrý.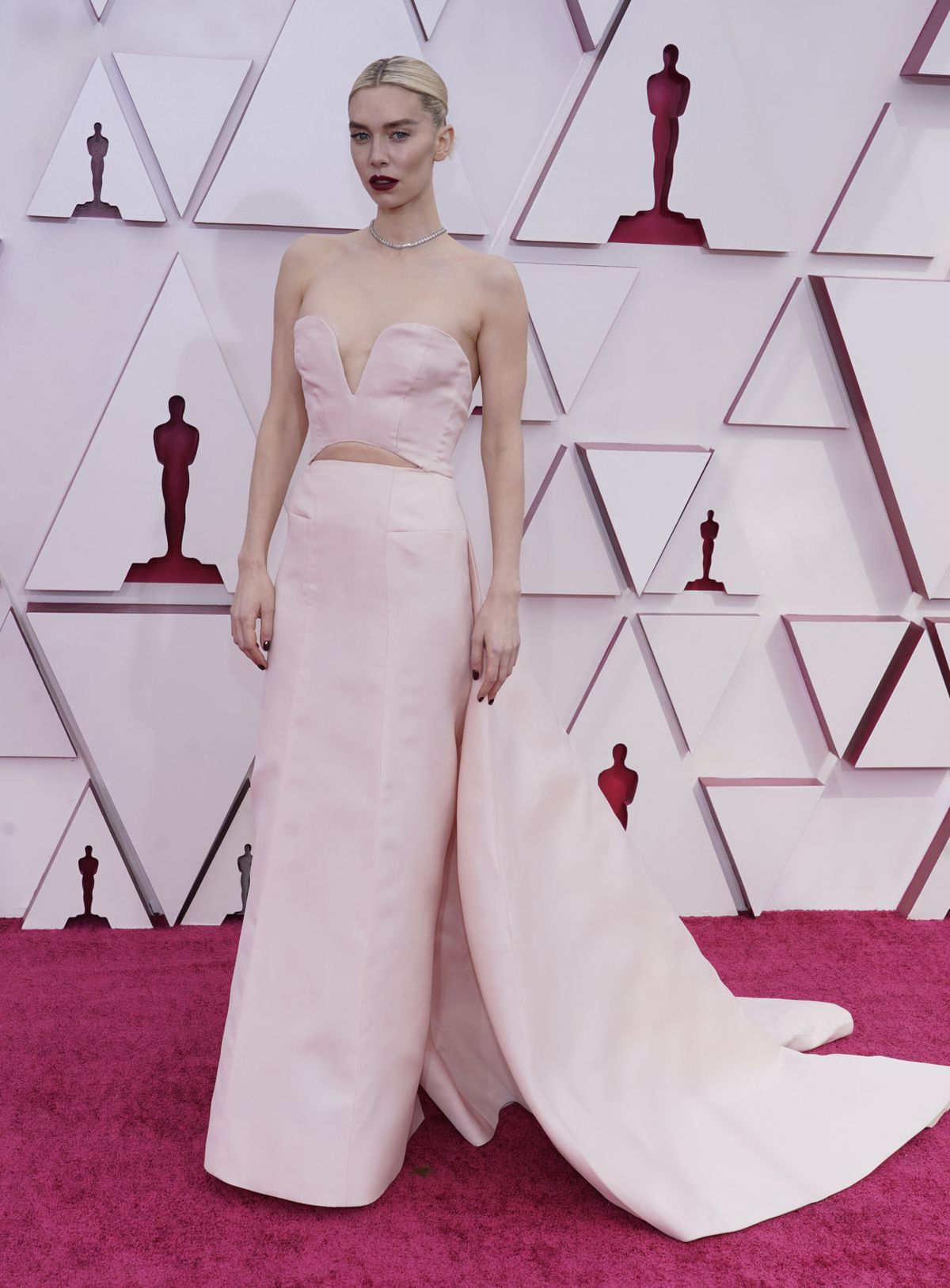 LESLIE ODOM JR.
Herec vyzeral ako skutočná socha Oscara a zaradil sa spolu s ostatnými dvoma kolegyňami v zlatom k zlatému triu Oscarov 2021 , Vysoko lesklý zlatý oblek Brioni a so zladenou košeľou spolu s prsteňom Cartier Panther a lakovanými topánkami bol v skutku zaujímavou, odvážnou a elegantnou mužskou voľbou.
Na afterparty si Leslie Odom junior obliekol model v aqua jednotnej farebnosti od hlavy po päty, čo bola opäť veľmi zaujímavá a netradičná voľba. Zvolil dokonca k outfitu aj topánky rovnakej farebnosti kontrastované s čokoládovou platformou. Leslie jednoducho vie, ako zaujať módnym štýlom.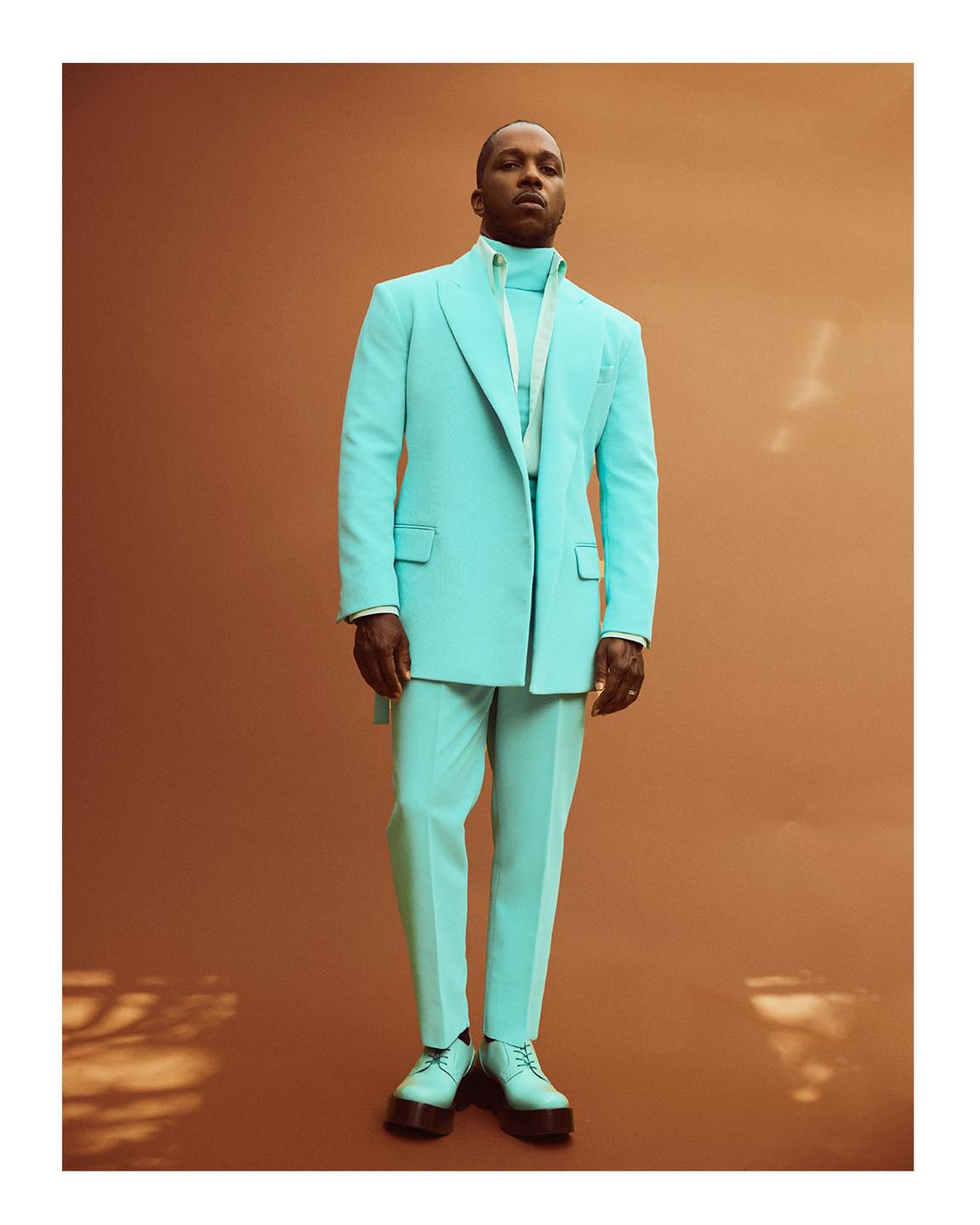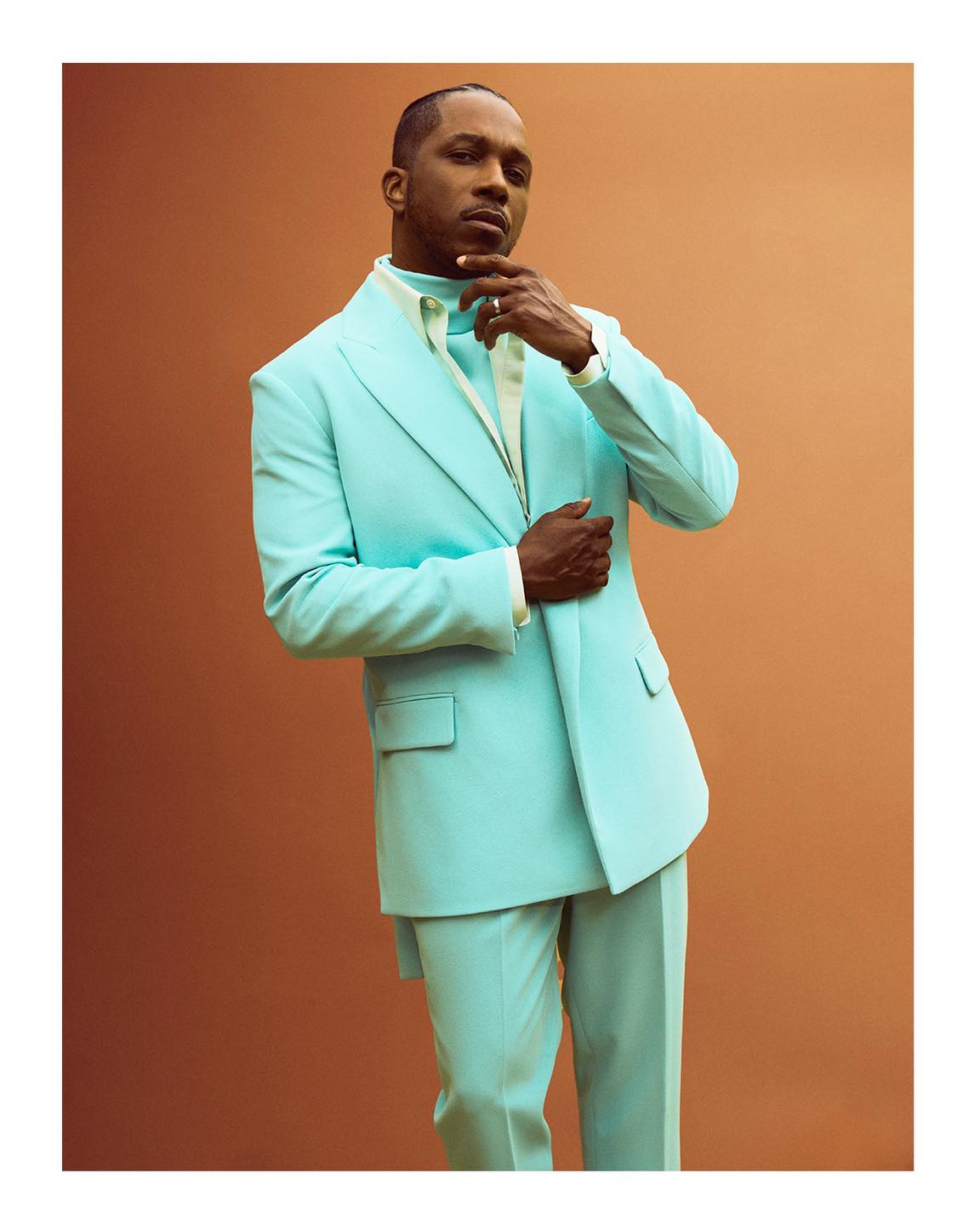 A hoci sa výstrednosti na Oscaroch neočakávajú, svoje bizarné momenty zaznamel aj tento ročník. Ale o tom sa už dočítate v ďalšom článku o horúcich oscarových lookoch z červeného koberca na tomto blogu.
zdroj obrázkov: getty images, pinterest, schutterstock, instagram, Armani, Valentino
Ďalšiu časť článku o róbach z červeného koberca počas galavečera Oscar 2021 čítajte v pokračovaní na tomto blogu. Sledujte Facebook stránku: Mya Mirell Fashionista a Instagram: mya_mirell .
© AUTORSKÉ PRÁVA VYHRADENÉ