Najzaujímavejšie outfity hviezd červeného koberca – Oscar 2022
Tohtoročná slávnosť Oscar 2022 sa určite ukázala ako nezabudnuteľná záležitosť, od nápadného vzhľadu s červeným kobercom až po moment Willa Smitha na pódiu. Počas 94. ročníka udeľovania cien Akadémie bola pre Ukrajinu zmietanú vojnou vyhradená aj minúta ticha.
Prekvapivým momentom bol triumf filmu Tail – The Signs of the heart, ktorý vyhral cenu za najlepší film, najlepší neoriginálny scenár a najlepší herec vo vedľajšej úlohe (Troy Kotsur). Oscara za najlepšiu herečku v hlavnej úlohe získala šarmantná Jessica Chastain za film Tammy Faye's eyes.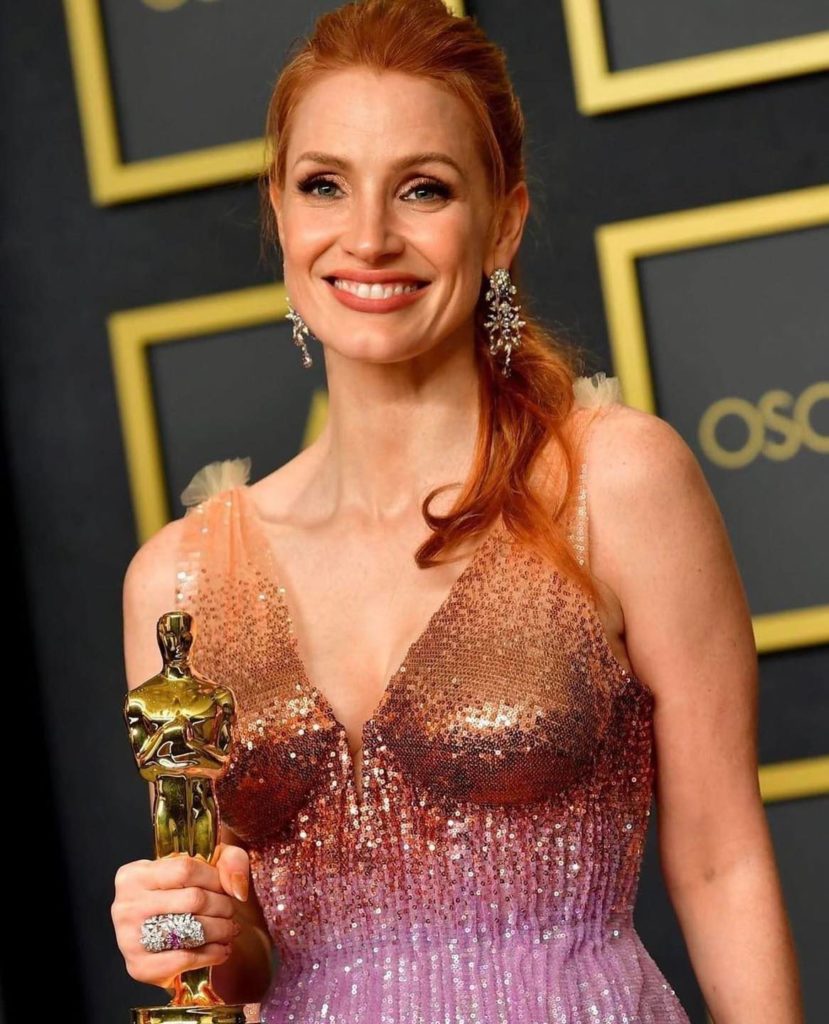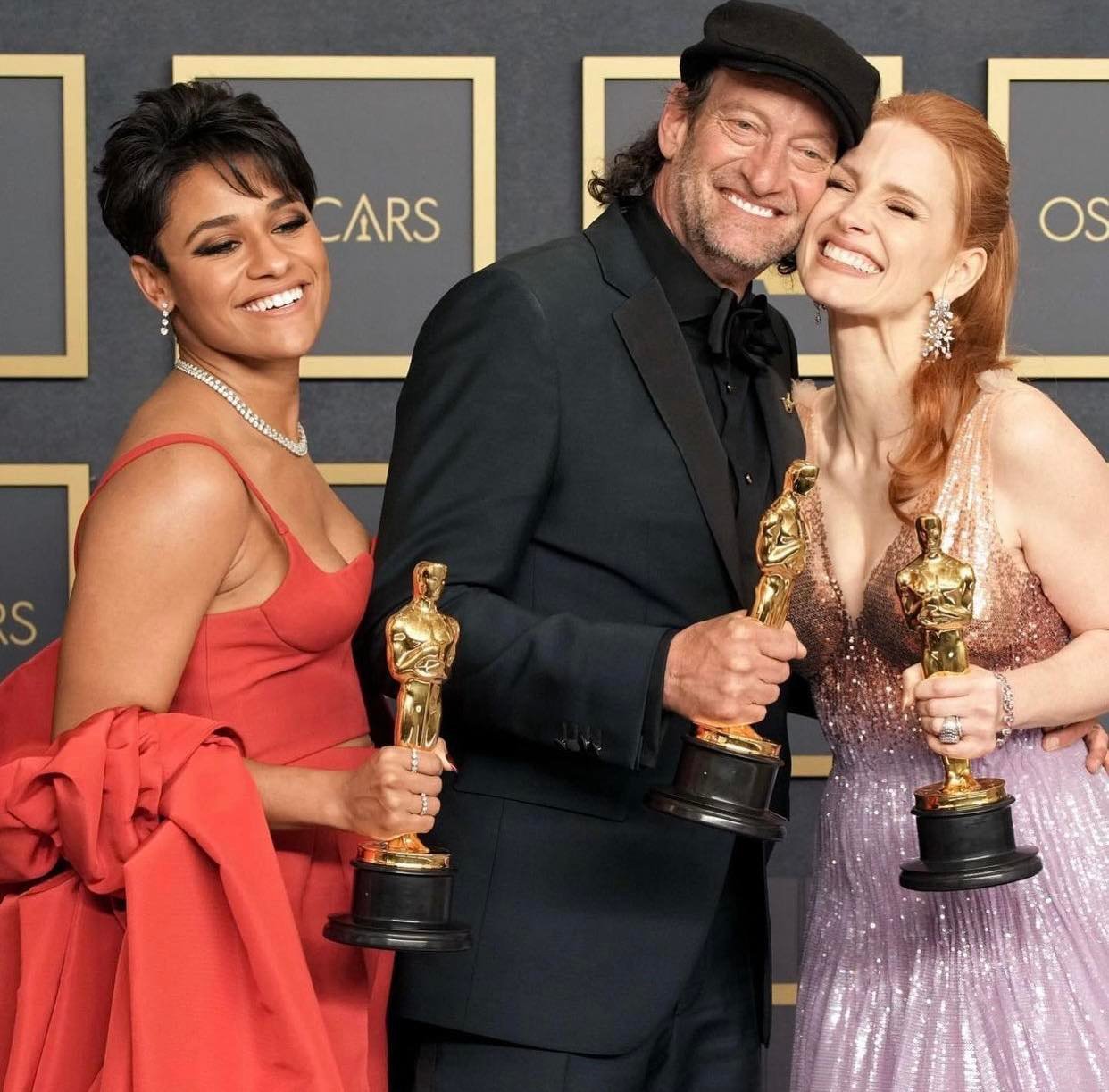 Ariana DeBose, Troy Kotsur a Jessica Chastain – oscarové foto víťazov
Akonáhle je táto malá zlatá trofej v rukách, počas Oscarovej noci sa môže stať čokoľvek a to sa týka aj módy. Okrem slávnostnej ceremónie Oscarov, aj After party Oscarov a slávny večierok Vanity Fair sú známe tým, že prinášajú niektoré z najpamätnejších rečníckych výrokov noci. Všetky spomínané večierky roku 2022 priniesli toho roku veľa zaujímavostí. Po dramatickom ceremoniáli hviezdy zamierili na Vanity Fair Oscars Party, večierok, kde sa objavili novokorunovaní víťazi tohtoročného Oscara vrátane Willa Smitha, Jessicy Chastain, Ariany DeBose a speváčky Billie Eilish.
Najúžasnejšie večerné looky hviezd Oscarov 2022 a Oscarovej afterparty 2022 práve prichádzajú:
LUPITA NYONG´O – PRADA
39-ročná mexická herečka doslova žiarila na červenom koberci ako slnko, keď si vybrala zlatú róbu talianskej značky Prada. V odleskoch slnka a na herečkinej pleti sa zlaté flitre a strapce jagali o to viac.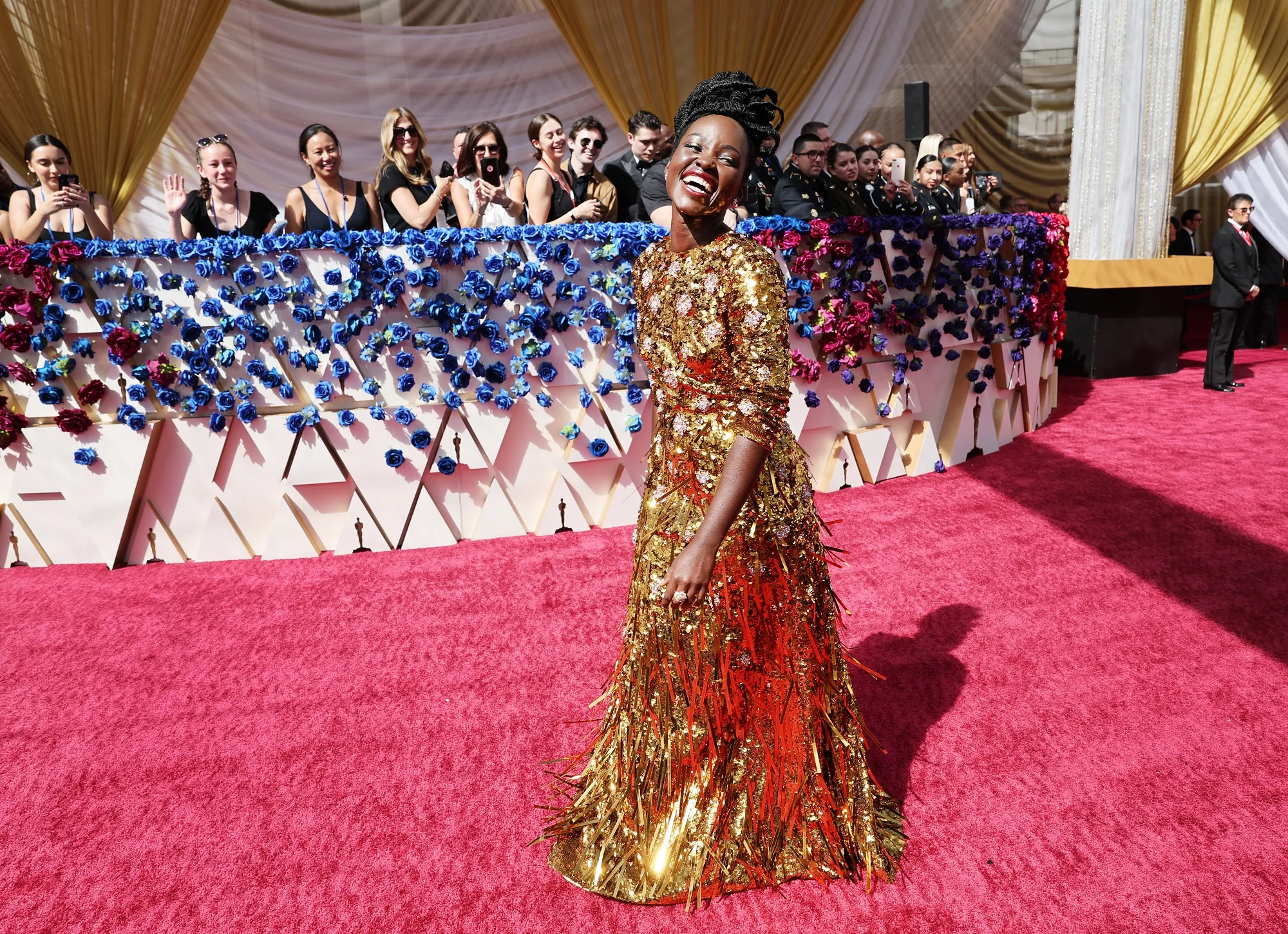 DAKOTA JOHNSON – GUCCI
Herečka známa z filmu 50 odtieňov šedi vyrazila v rozprávkových šatách značky Gucci všetkým dych. Sú to presne tie šaty, ktoré značka predviedla spolu s kolekciou Love Parade na oslavu Old Hollywoodskeho štýlu v novembri 2021 v Los Angeles. Krásna Dakota vyzerala v šatách úchvatne a étericky.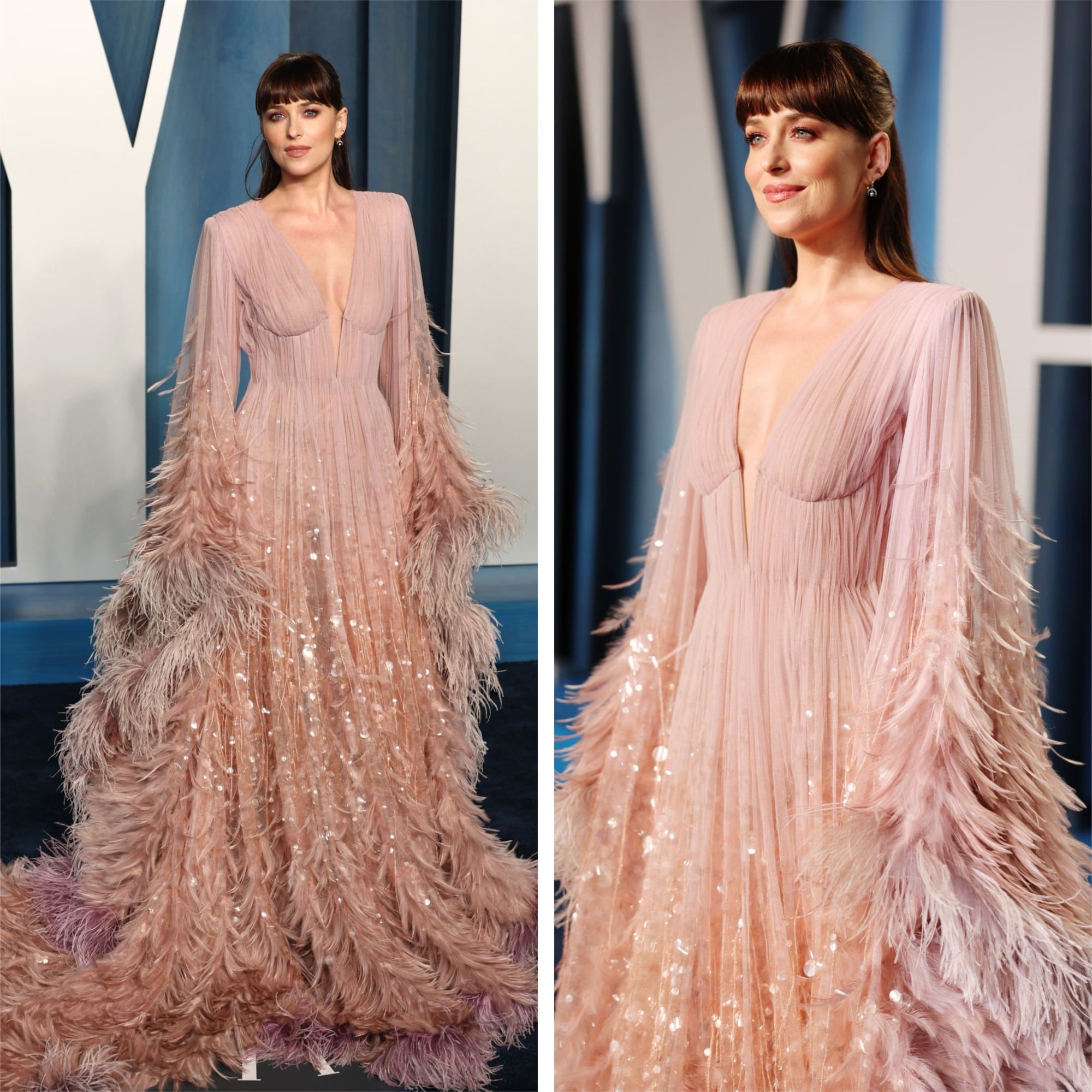 JESSICA CHASTAIN – GUCCI
45-ročná herečka Jessica Chastain, nominovaná na najlepšiu herečku v hlavnej úlohe za film "Oči Tammy Faye", sa zúčastnila na 94. ročníka odovzdávania cien Akadémie v tylových šatách značky Gucci , ktoré boli šité na mieru a zdobené flitrami s volánom z organzy. Svoj vzhľad doplnila výberom kúskov z kolekcie Hortus Deliciarum, kolekcie House's High Jewelry, zdobenej diamantmi a spinelmi v rôznych odtieňoch.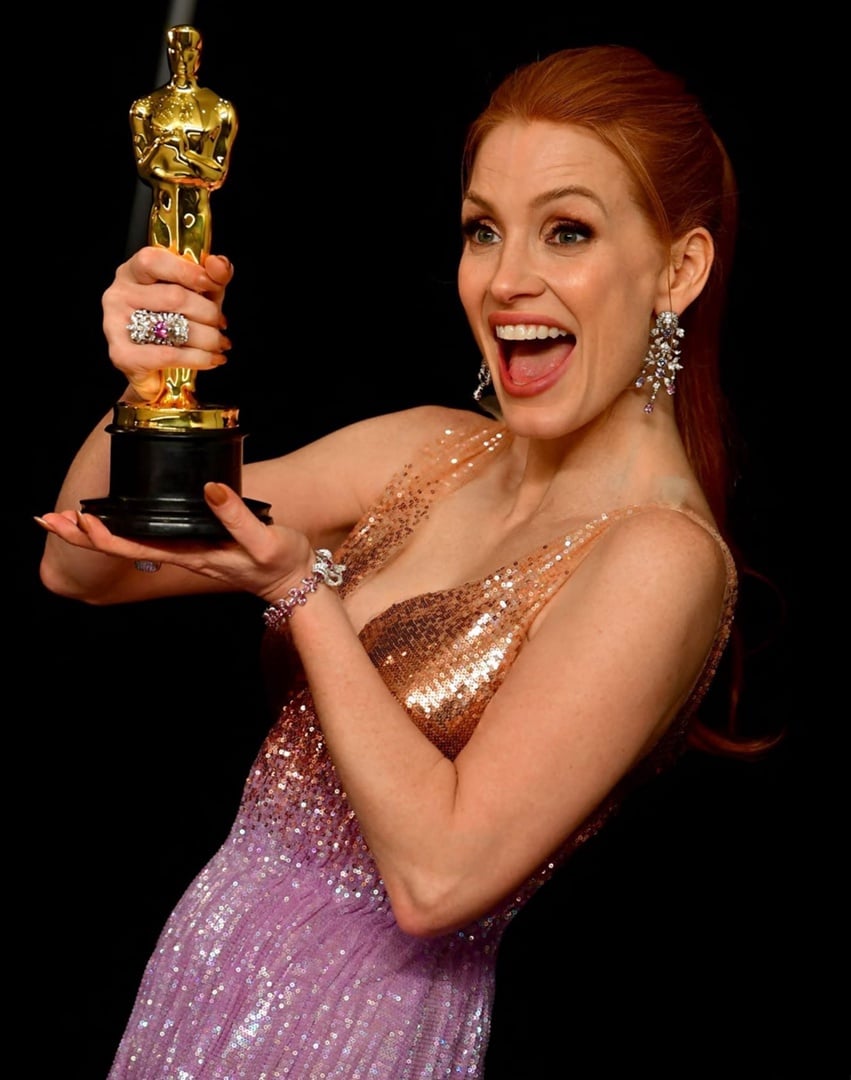 Herečka zapózovala s žijúcou hereckou legendou, Pánom hercom Anthony Hopkins.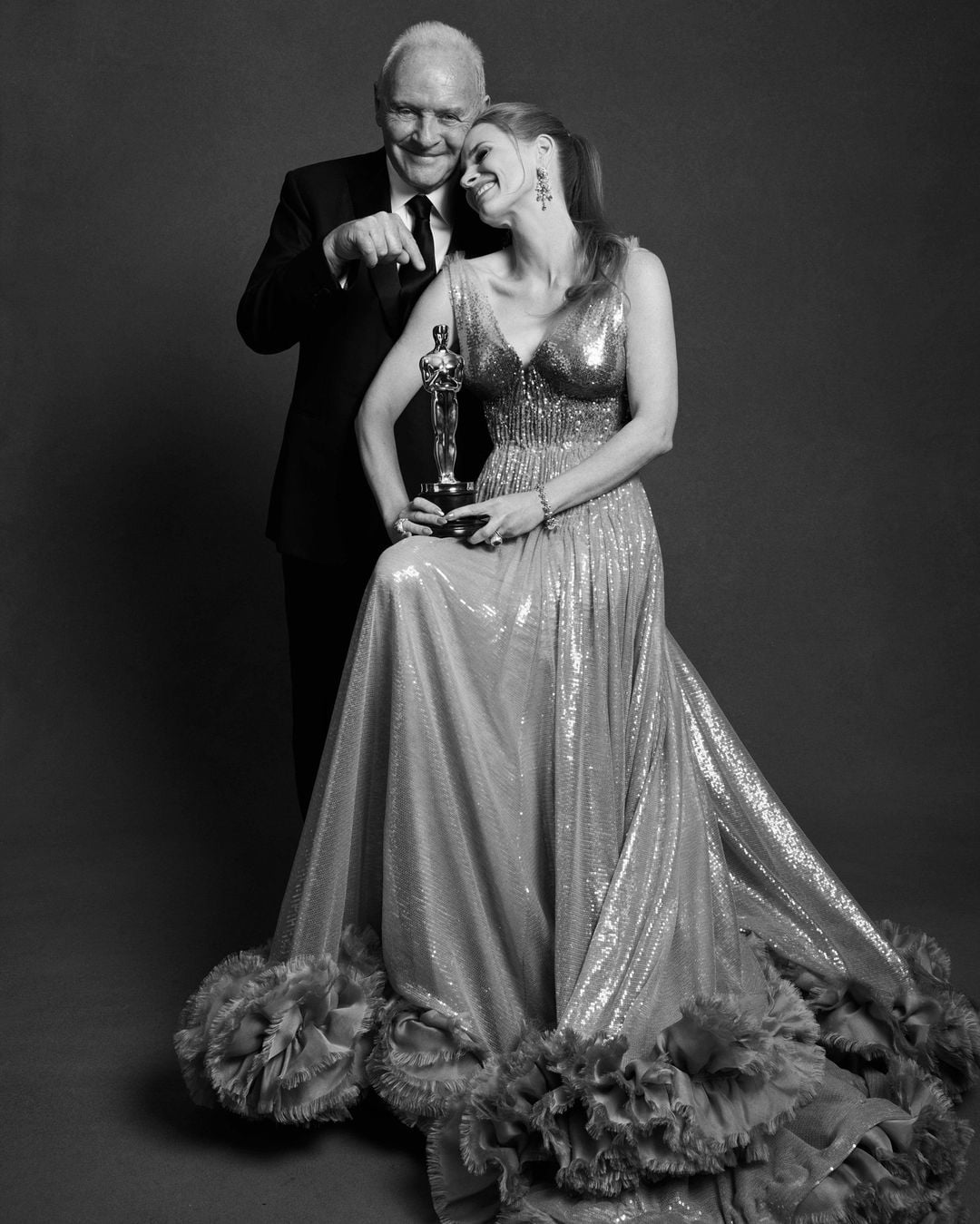 Novokorunovaná držiteľka Oscara Jessica Chastain sa v nedeľu 27. marca 2022 na oscarovej párty Vanity Fair 2022 prezliekla z jednej vlastnej róby Gucci do druhej. Jessica bola božská a neprehliadnuteľná taktiež v smaragdových šatách Gucci, ktoré ukázala na oscarovej afterparty.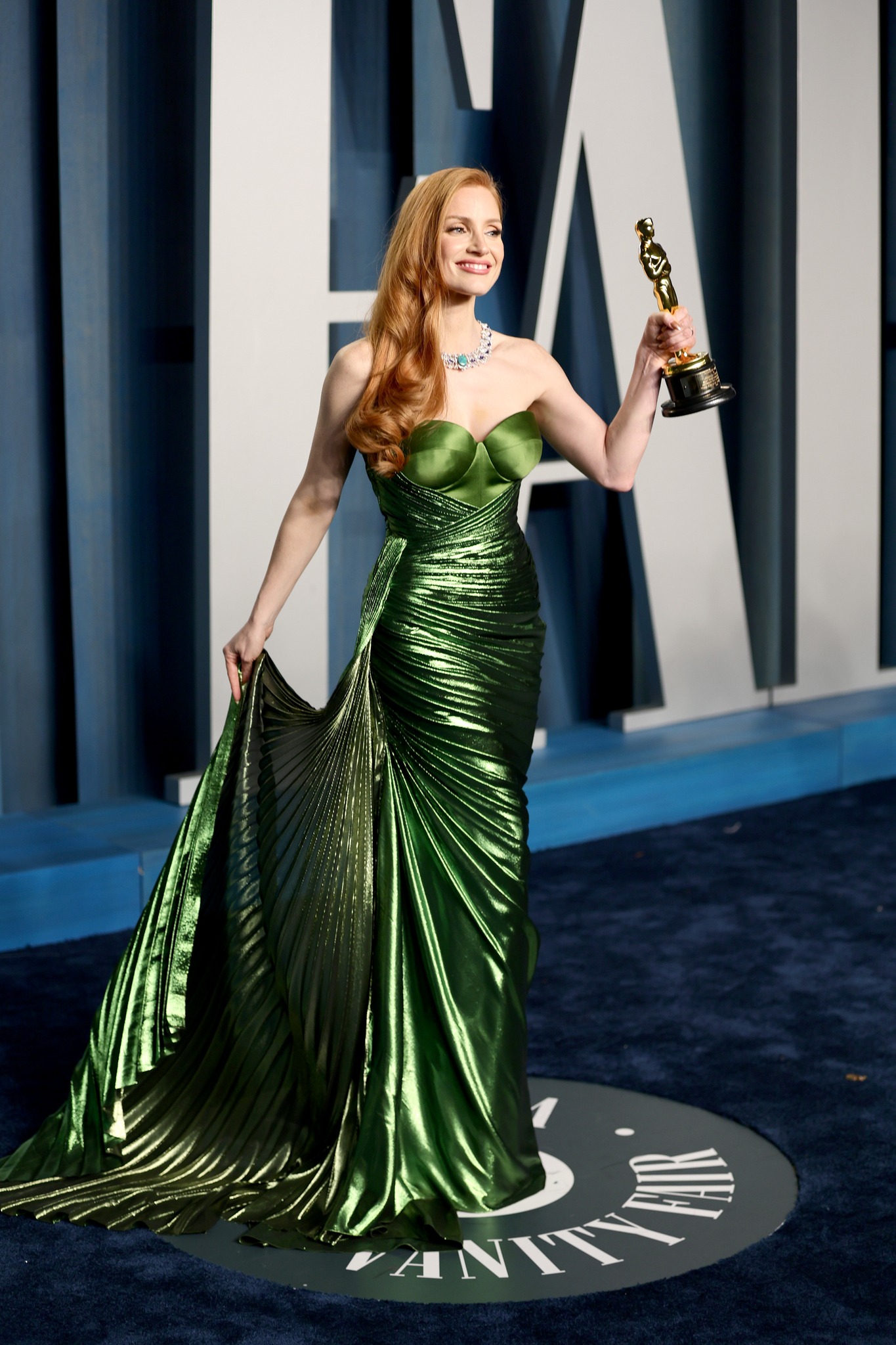 Červená + zelená = dokonalosť červeného koberca. A to bola v tomto prípade veľká pravda, keďže Jessica vyzerala v tejto smaragdovej Gucci róbe zvýrazňujúce ženské prednosti ako krásna morská panna. Svoj vzhľad doplnila kúskami Gucci High Jewelry, medzi ktoré patril náhrdelník Gucci High Jewelry z 18kt bieleho zlata, opálu, tanzanitov a diamantov a samozrejme ako doplnok poslúžila aj jej nová zlatá socha.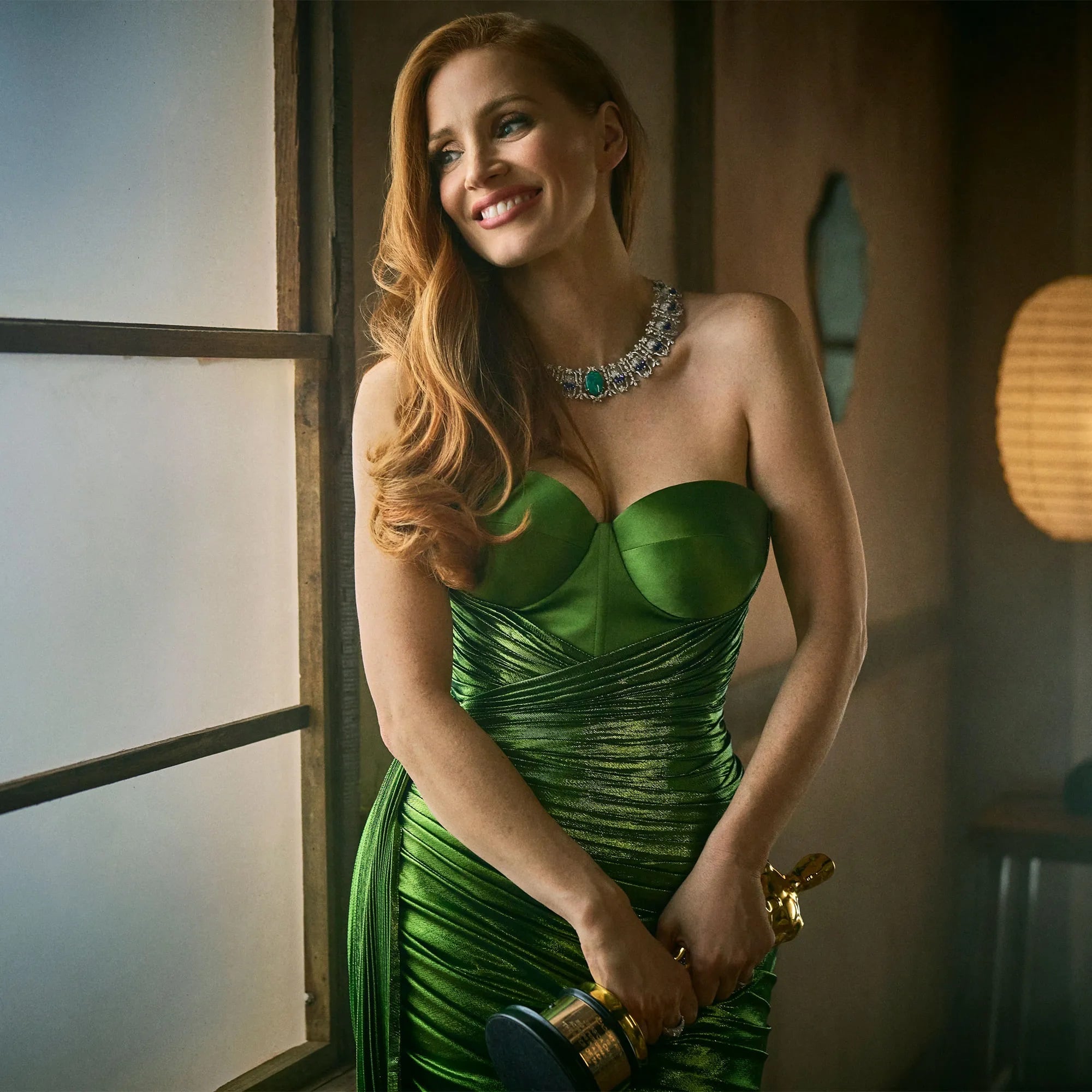 ANNA TAYLOR JOY – DIOR
Mladá herečka priniesla na oscarovú módnu scénu predovšetkým elegantný pohľad na trend obliekania spodnej bielizne, takmer nahej bielizne, ktorý sme v poslednej dobe vídali na červenom koberci a na mólach. Zvolila transparentné čierne tylové šaty objemnejšie v oblasti pŕs okrášlené diamantovým náhrdelníkom, náušnicami a prsteňom Tiffany & Co. .
Hviezda filmu The Last Night in Soho sa objavila v priehľadnej korzetovej róbe od Diora, v kombinácii so zodpovedajúcim sieťovaným fascinátorom od francúzskeho módneho domu a šperkami od Tiffany & Co.
Keď prišlo na jej krásu, krehká herečka ju nechala vyniknúť tým, že vyčarila kúzlo starého Hollywoodu riasenkou, výraznými očami a žiarivo červeným rúžom, ktoré vynikli na jej alabastrovej pleti, pričom blond vlasy stiahla dozadu.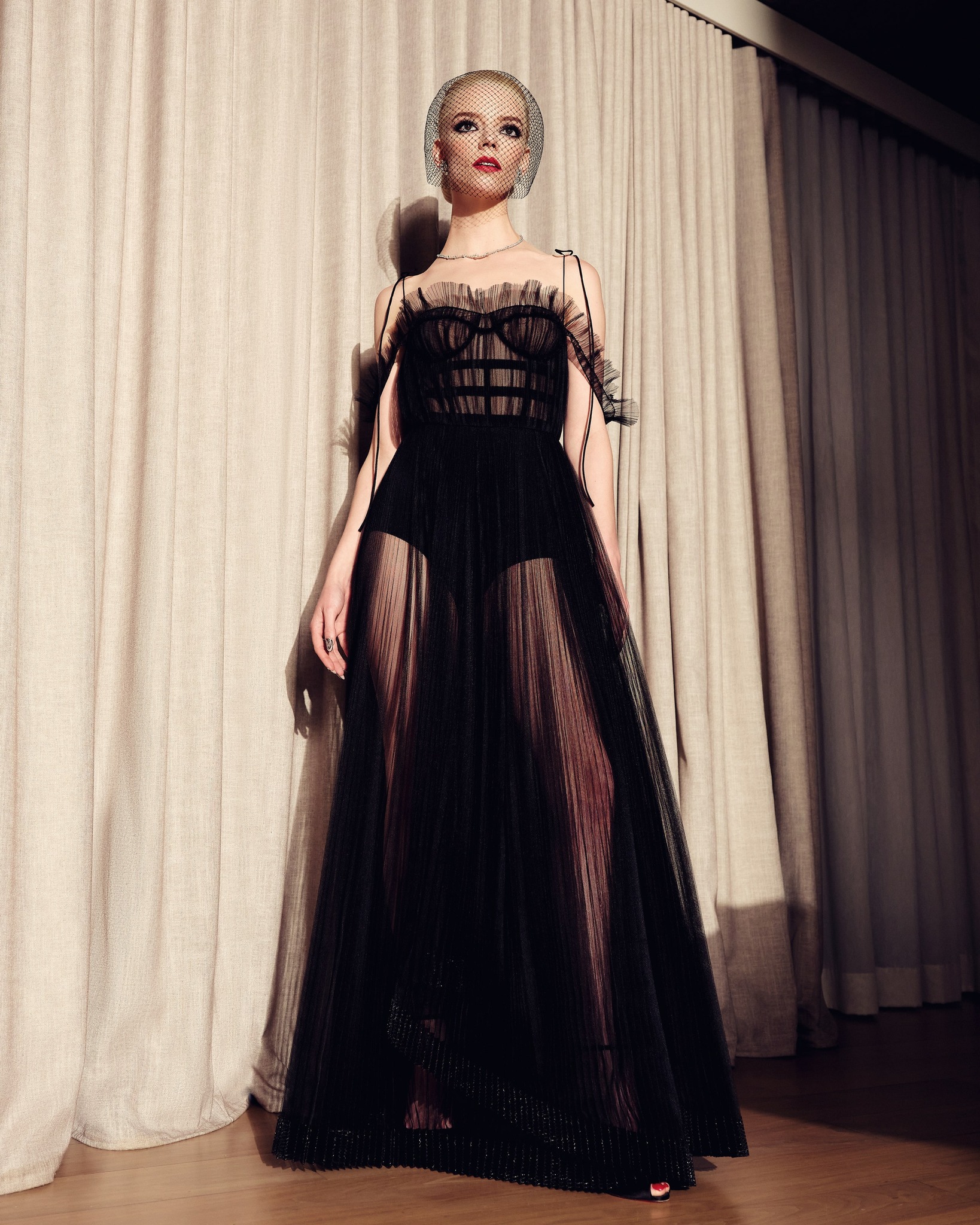 LILY JAMES – VERSACE
33-ročná anglická herečka krehkej krásy Lily James ohromila v nežných šatách značky Versace.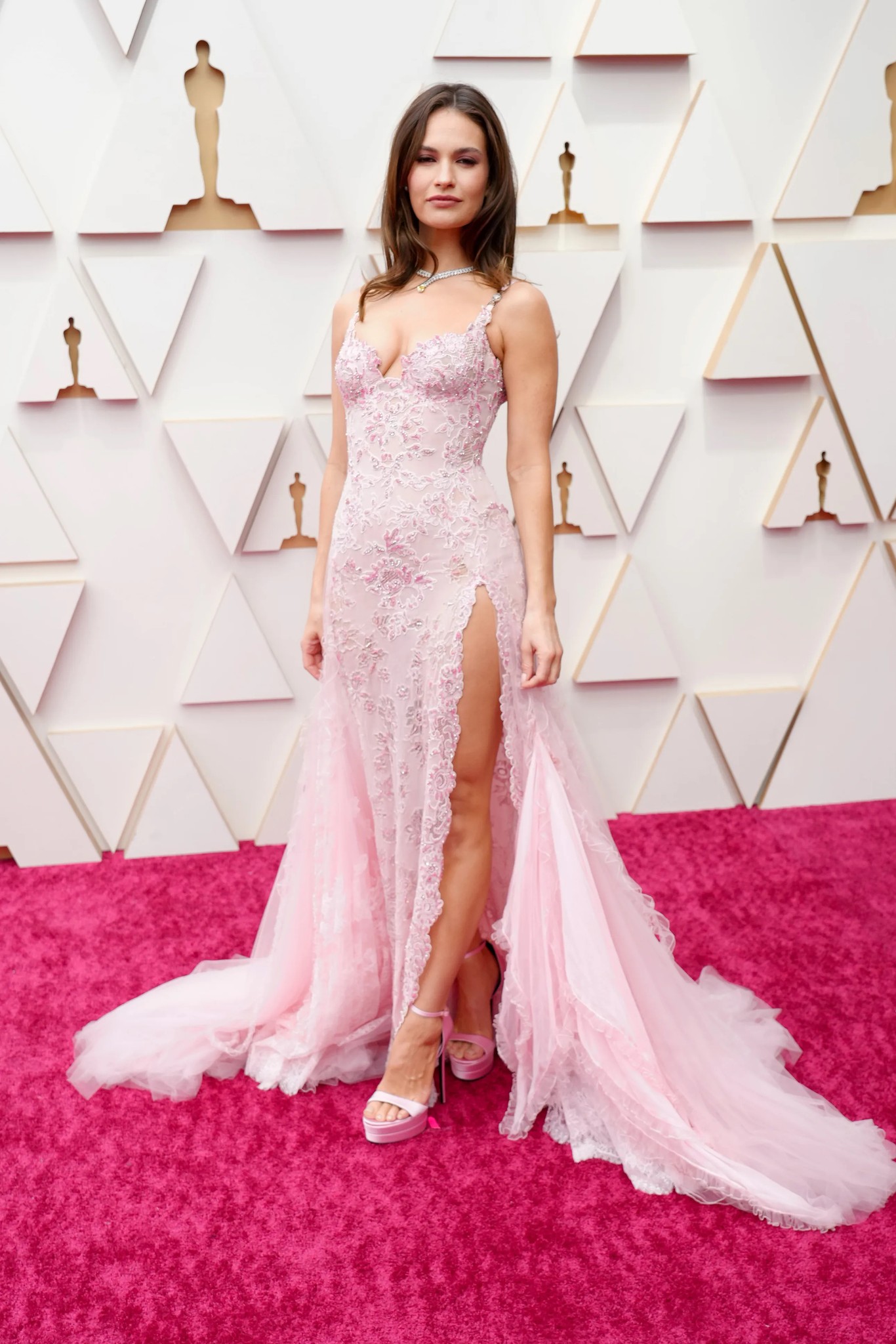 LADY GAGA – OLD HOLLYWOOD STYLE
Old hollywood style – kúzlo starého hollywoodu nechala vyniknúť aj speváčka veľkých kvalít Lady Gaga, čo bolo poctou Lize Minnelli.
SHEILA ATIM – PRADA
Sheila Atim je britská herečka, speváčka, skladateľka a dramatička narodená v Ugande. Na after party bola v červenej róbe talianskej značky Prada neprehliadnuteľná .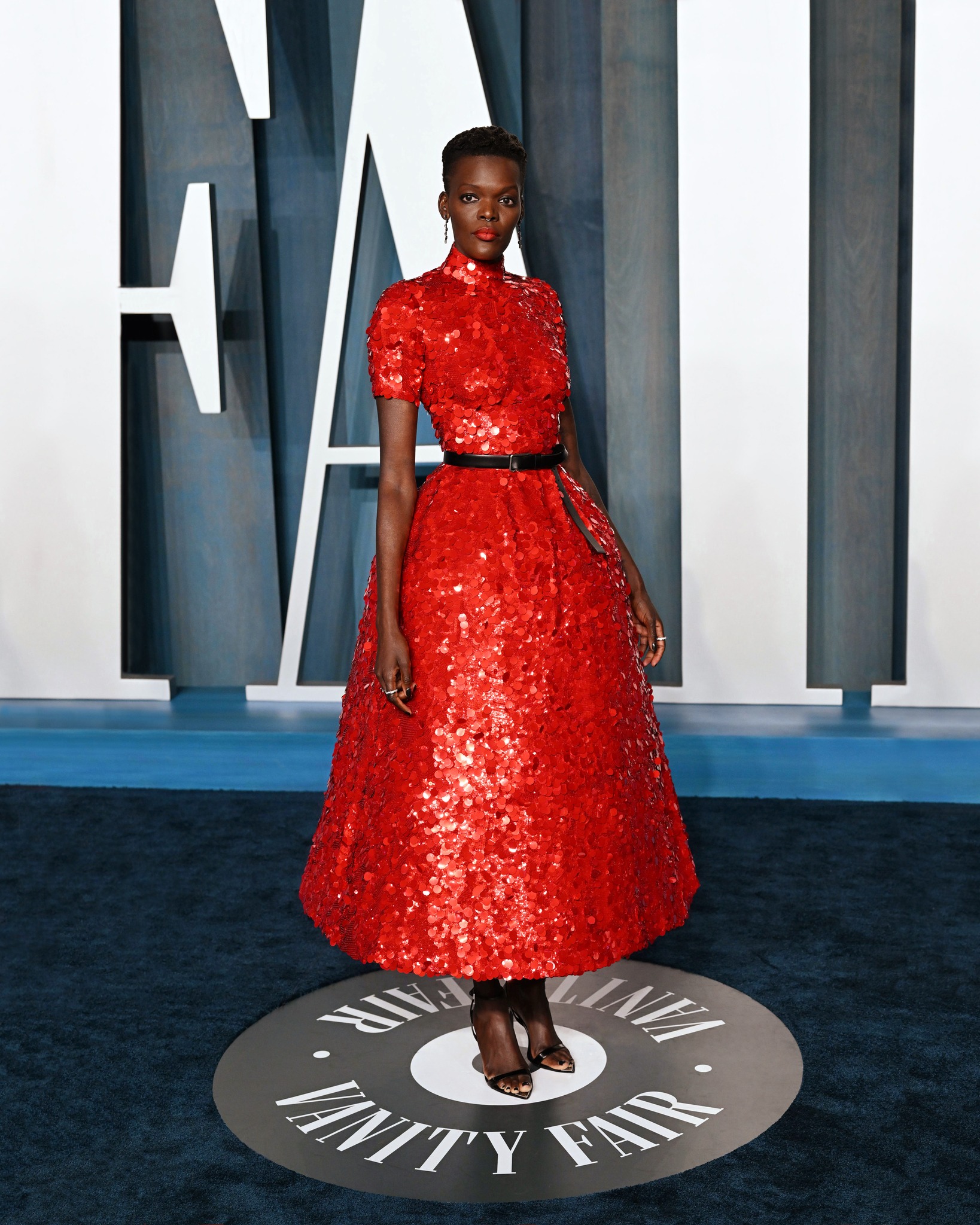 ADWOA ABOAH – CHRISTOPHER ESBER
Každý centimeter tela sexi odhalený aj zahalený nechala vyniknúť bohyňa, modelka Adwoa Aboah v šatách od austrálskeho dizajnéra Christophera Esbera.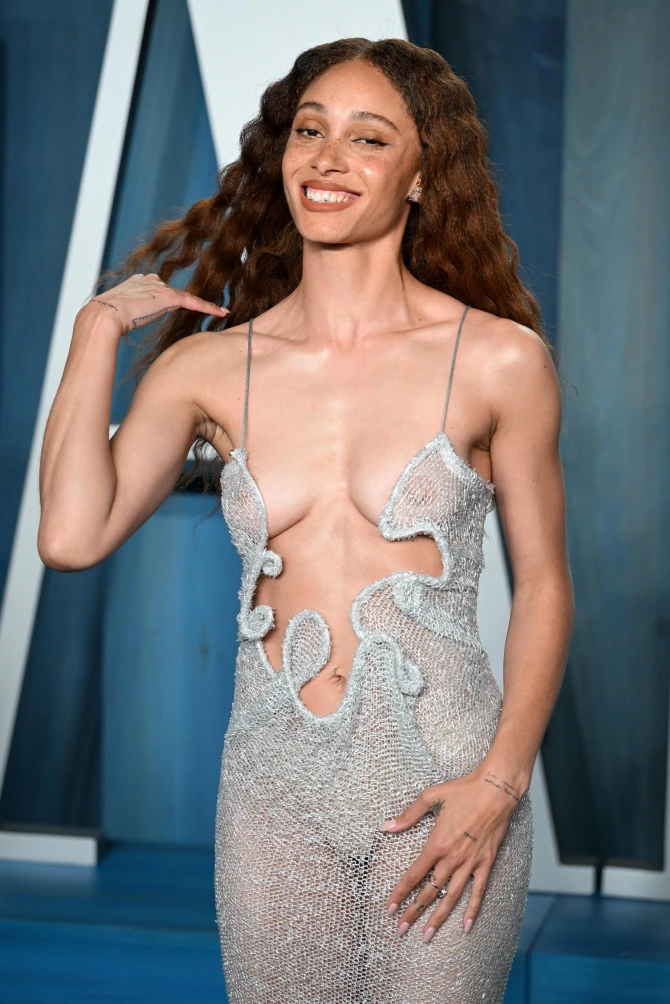 Herečka Adwoa, z ktorej sa stala aj modelka, ktorá hrá Jaqovu novú lásku Becks vo štvrtej sérii kultovej drámy, vyzerala úplne inak ako jej postava z Netflixu. Na oscarový večierok zvolila veľmi provokatívny odhalený model, no zrejme sa nechala inšpirovať speváčkou Rihannou, ktorej tiež nechýbala neraz odvaha.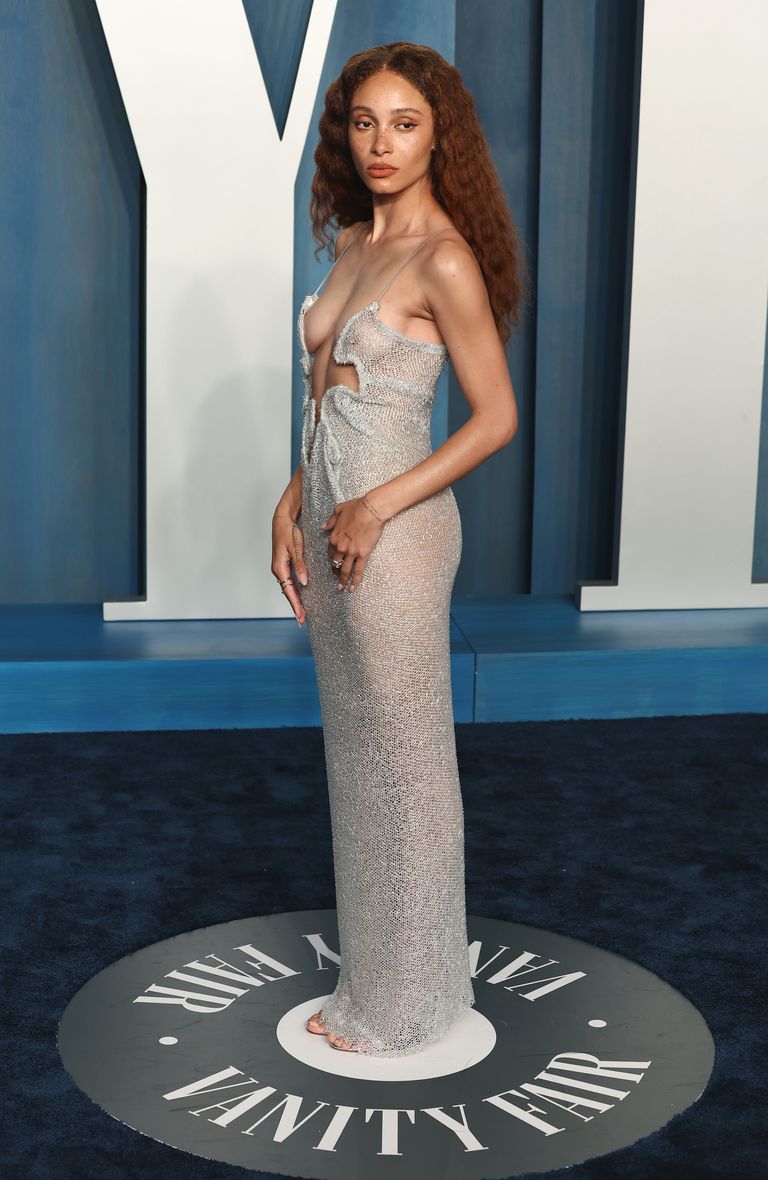 After party Vanity Fair Oscars 2022 slúžila ako jeden z najlepších záverov udeľovania cien Akadémie v roku 2022, ktoré oslavujú najlepšie talenty vo filmovom priemysle. Podujatie, ktoré sa koná v Centre muzických umení vo Wallis Annenberg – Wallis Annenberg Center for the Performing Arts v Beverly Hills v Kalifornii , vždy obsahuje hviezdny zoznam hostí víťazov Oscara, moderátorov, nominovaných aj tých z Hollywoodu, ktorí sa nezúčastnili. Tohtoročný zoznam hostí bol nabitý hviezdnou silou, vrátane Zendaya, Kim Kardashian, Kate Hudson, Anya Taylor-Joy a ďalších.
ZENDAYA – VALENTINO HAUTE COUTURE a SPORTMAX
Krásna 25-ročná americká herečka, speváčka, tanečnica a modelka Zendaya zažiarila na červenom koberci v róbe Valentino Haute Couture so saténovým topom na štýl košele a striebornou flitrovou sukňou s vlečkou. Jej krásna postava v tomto outfite ešte viac vynikla.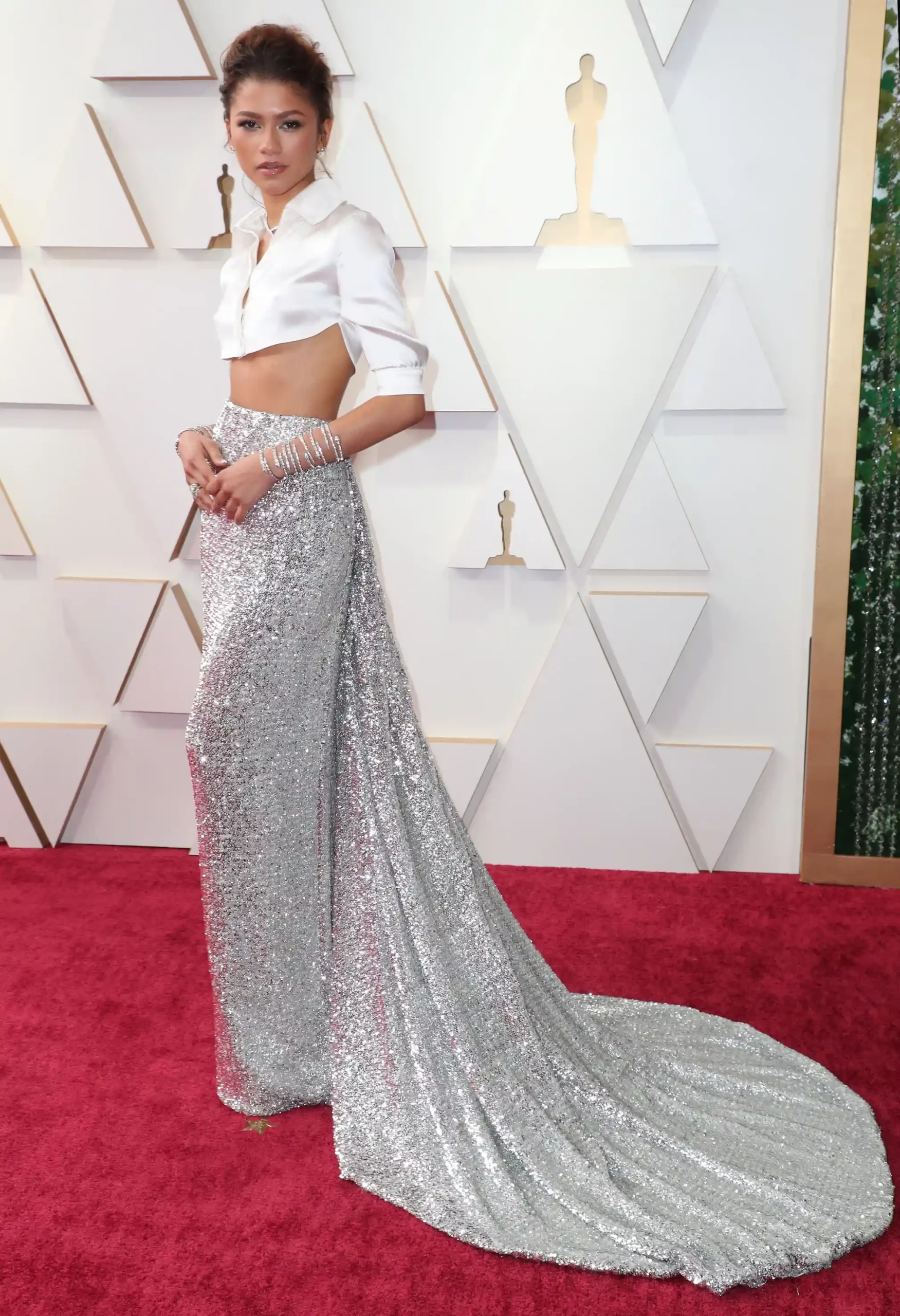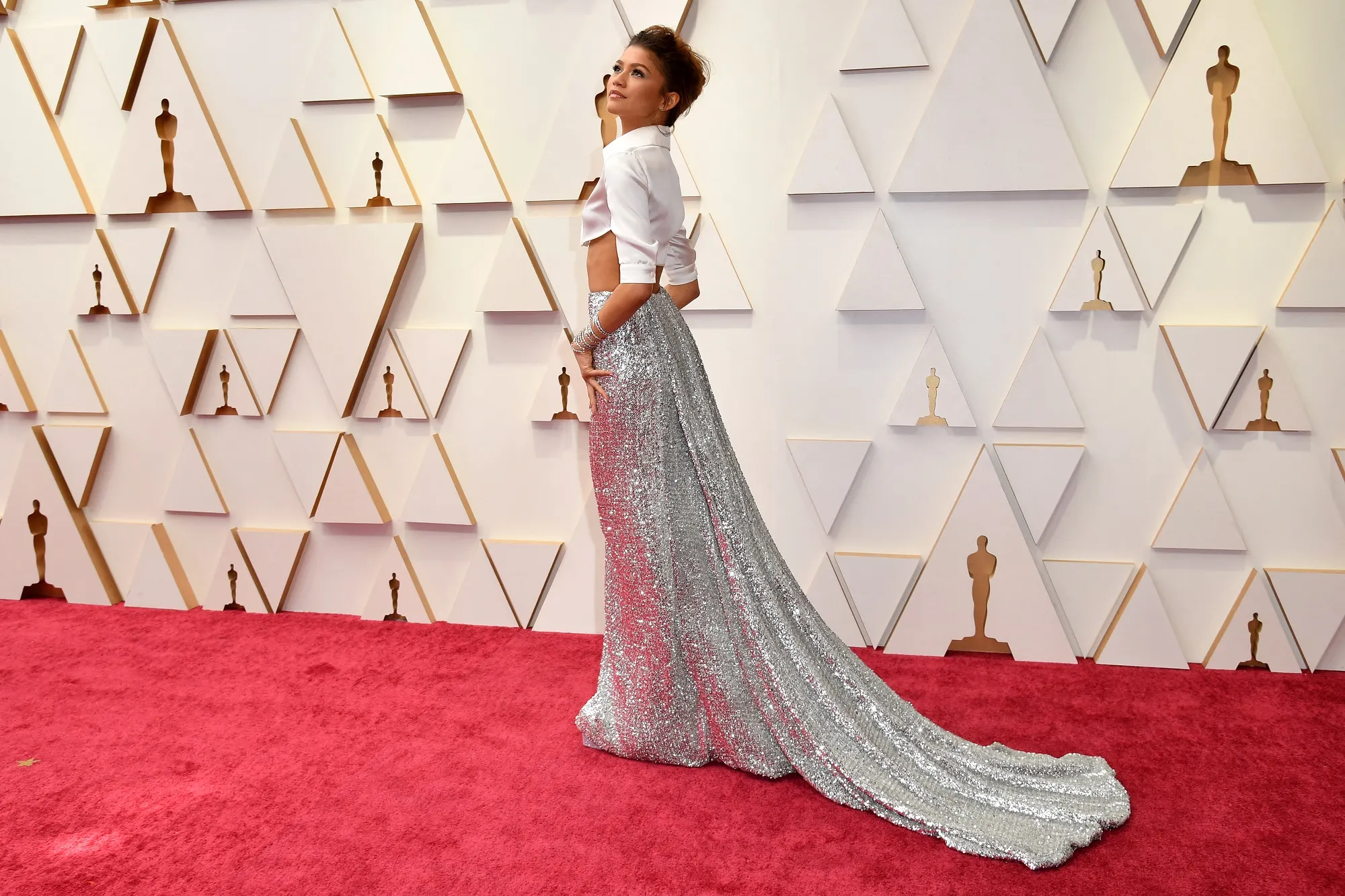 V kostýme Sportmax s klenotmi Bulgari zase prekvapila eleganciou v mužskom štýle na oscarovej párty Vanity Fair.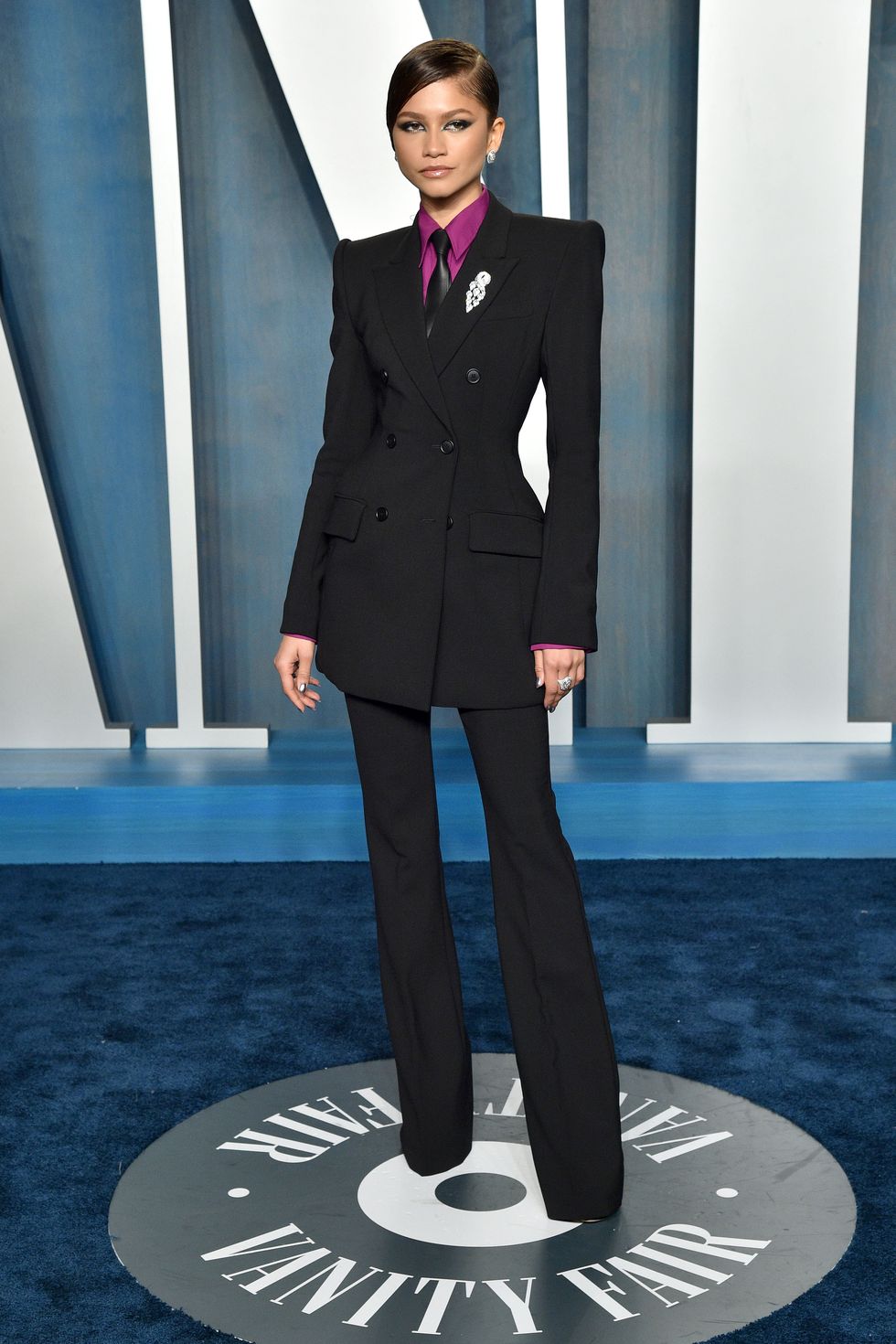 Hviezda televízneho populárneho seriálu Euphoria zapózovala na modrom koberci v naleštenom dvojradovom obleku talianskej značky Sportmax doplnenom koženou kravatou, v ktorom jej štíhle telo a celková krása hádam ešte viac vynikli.
EMILY RATAJKOWSKI – ARMANI PRIVÉ
Modelka a tiež aj herečka Emily Ratajkowski sa veru nikdy neštítila ukázať kúsok nahej kože. 30-ročná modelka si obliekla veľmi "prsatú parádu" – sexi oranžový top s masívnym rozparkom v strede.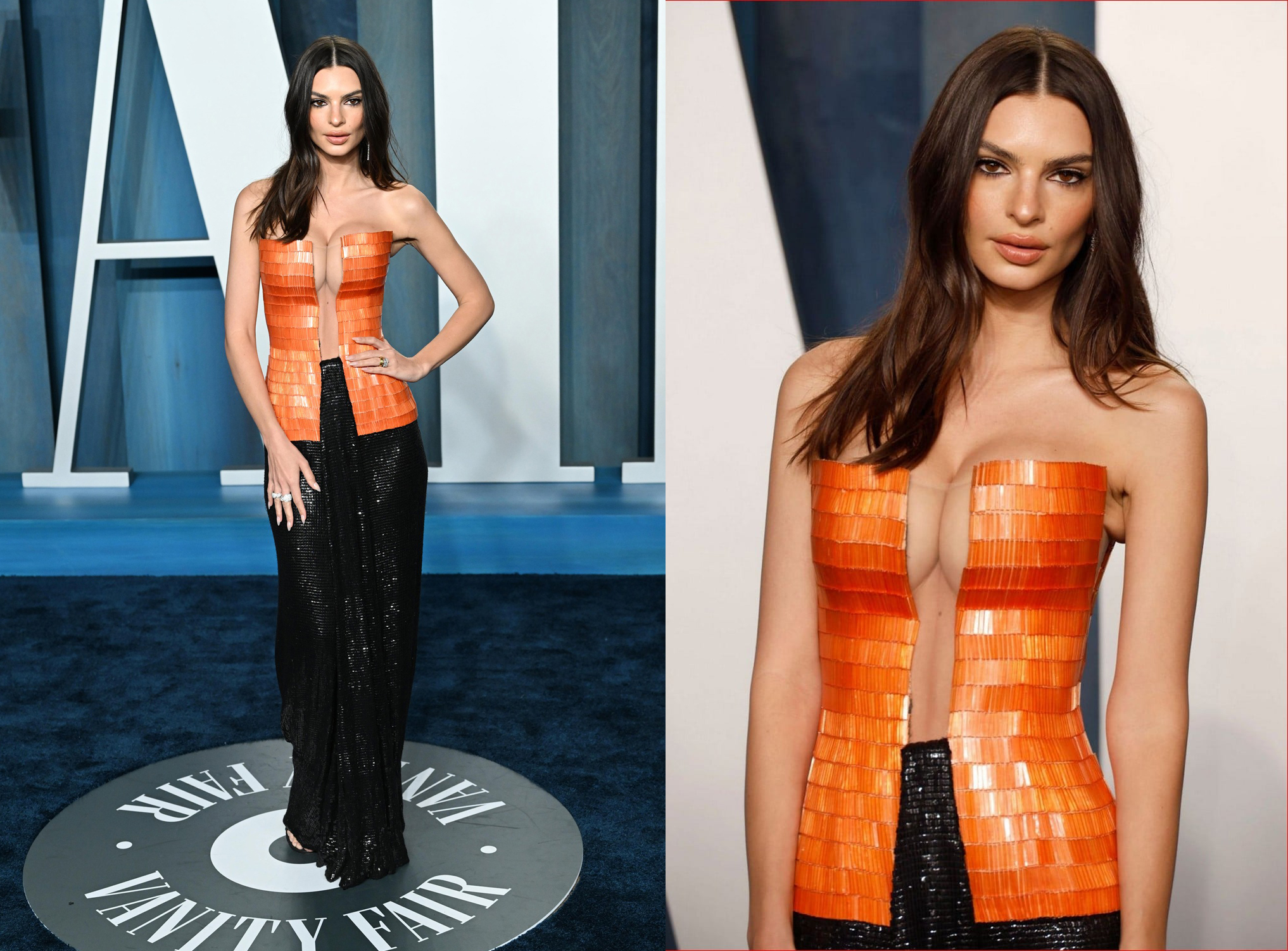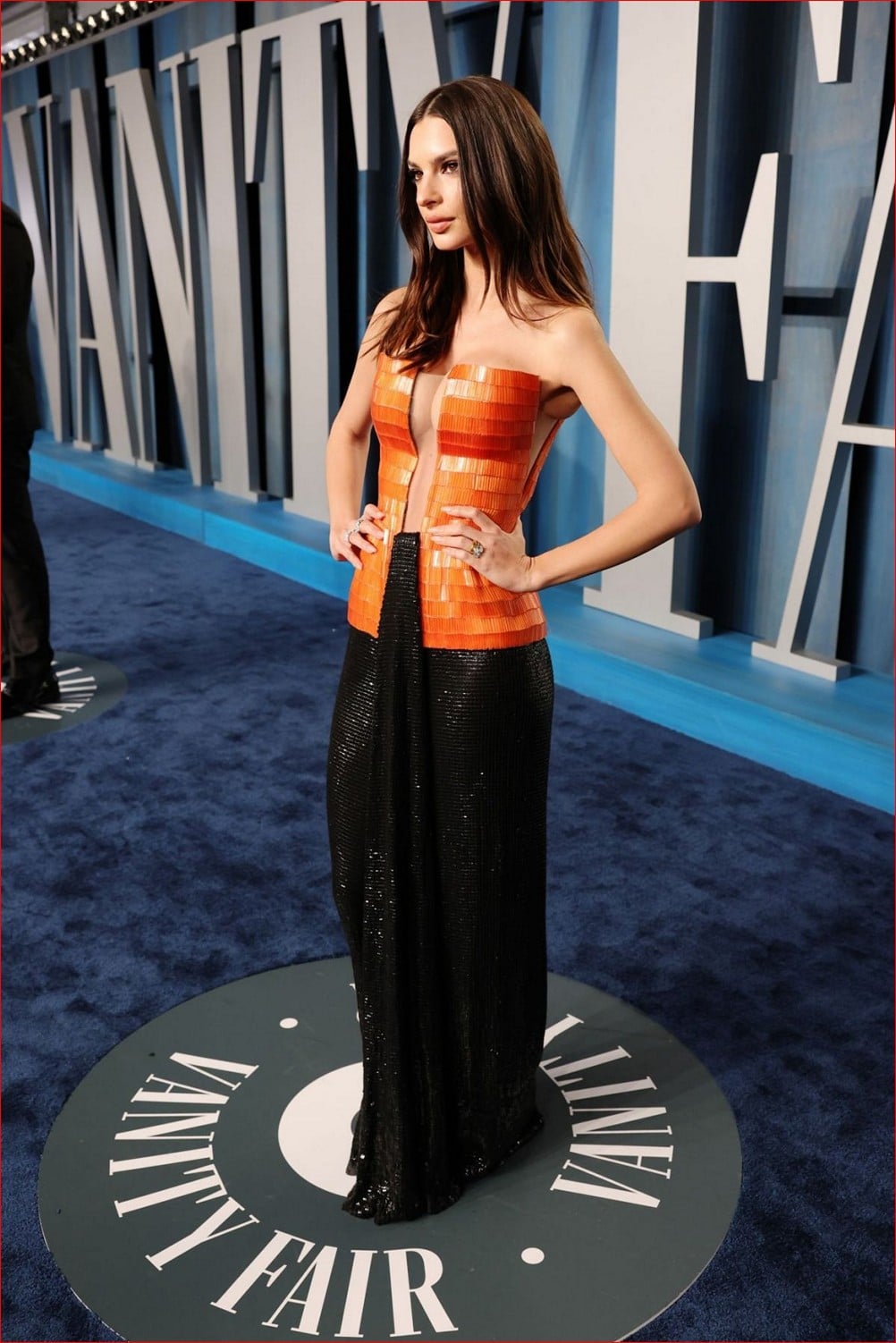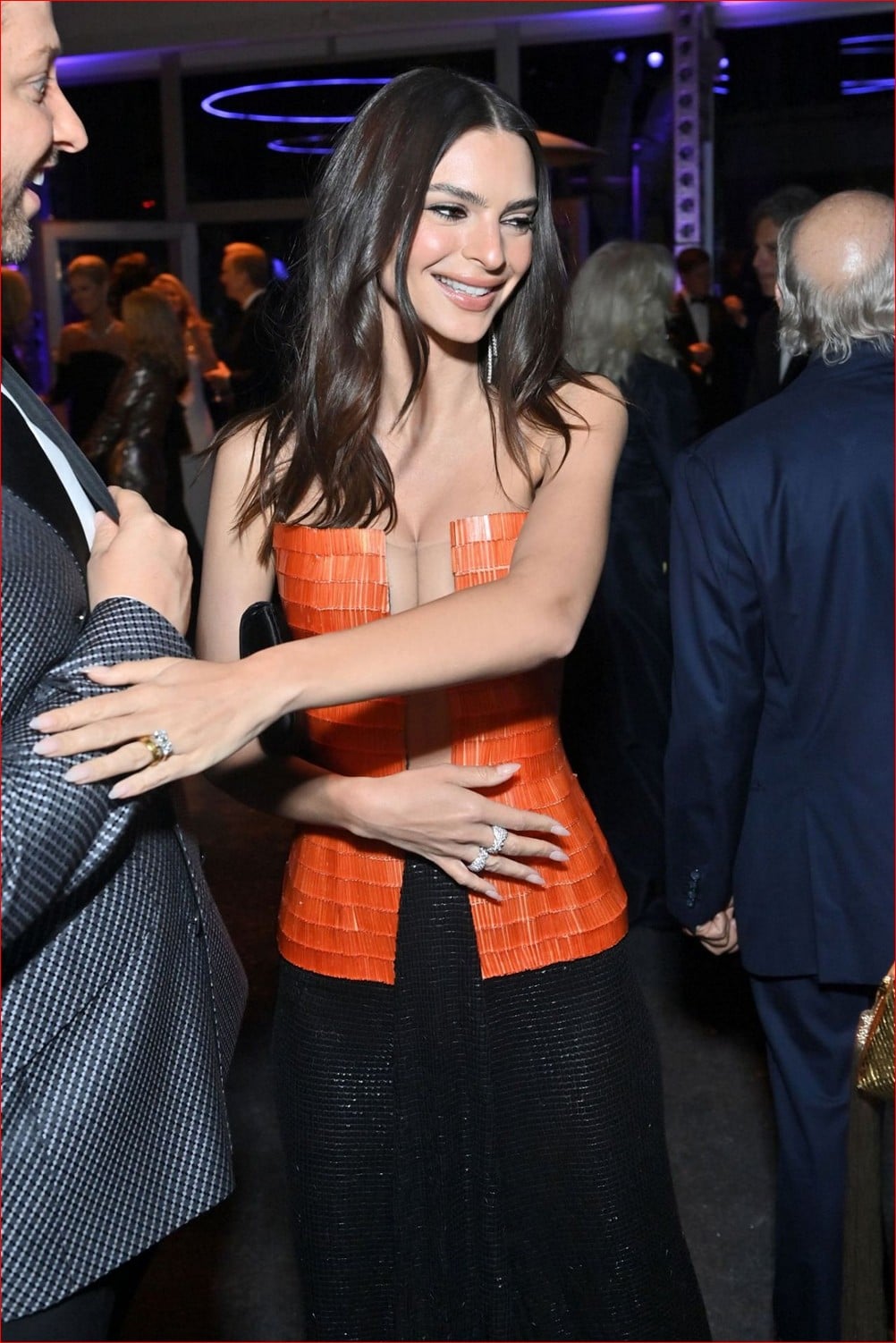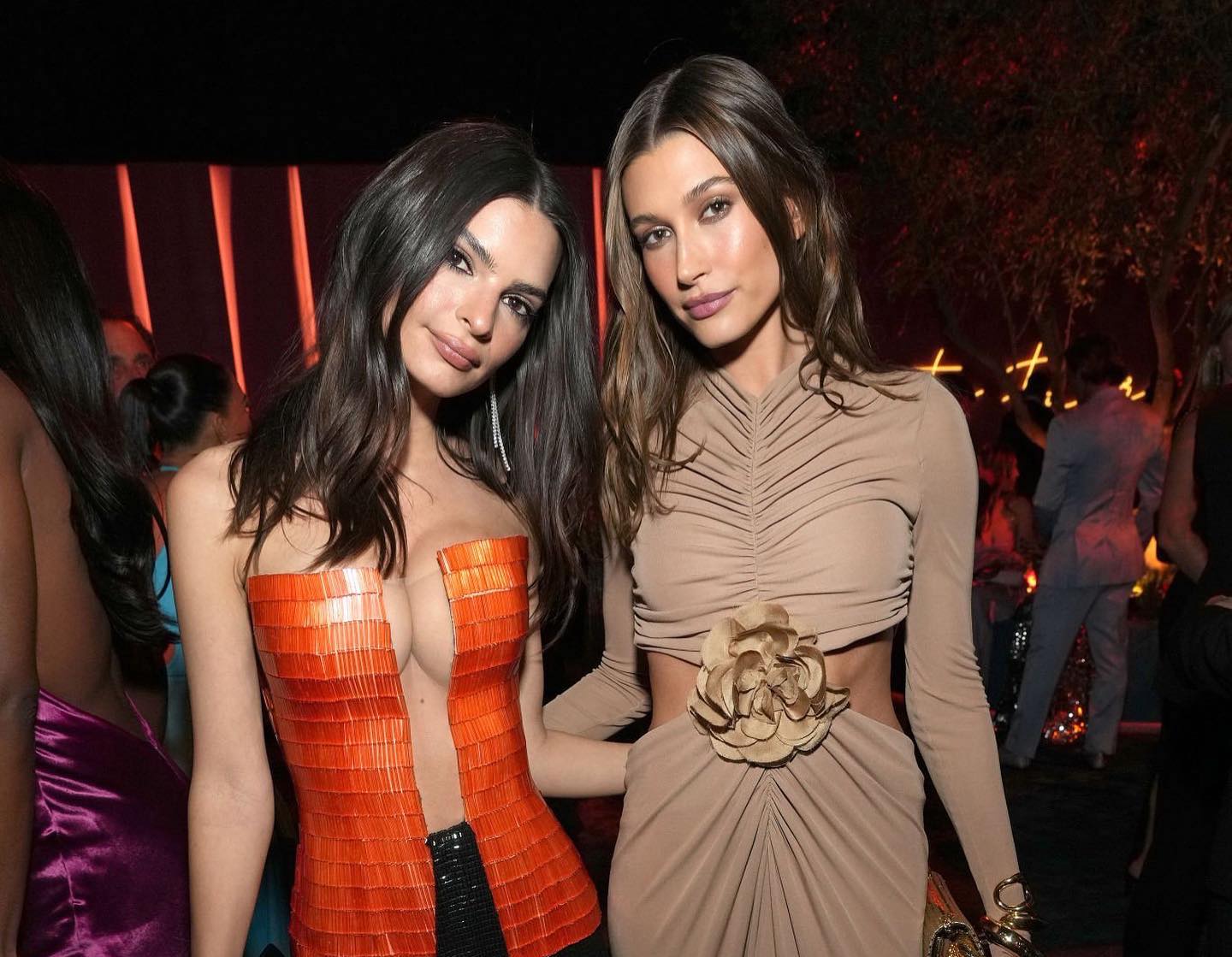 BARBIE FERREIRA a LOURDES, DCÉRA MADONNY
Herečka, hviezda televízneho seriálu Euphoria priniesla na červený koberec vítaný farebný nádych, keď zažiarila v šatách z talianskej dielne Fendi, z kolekcie Jar/Leto 2022. Na fotografii zapózovala s Lourdes, dcérou speváčky Madonna.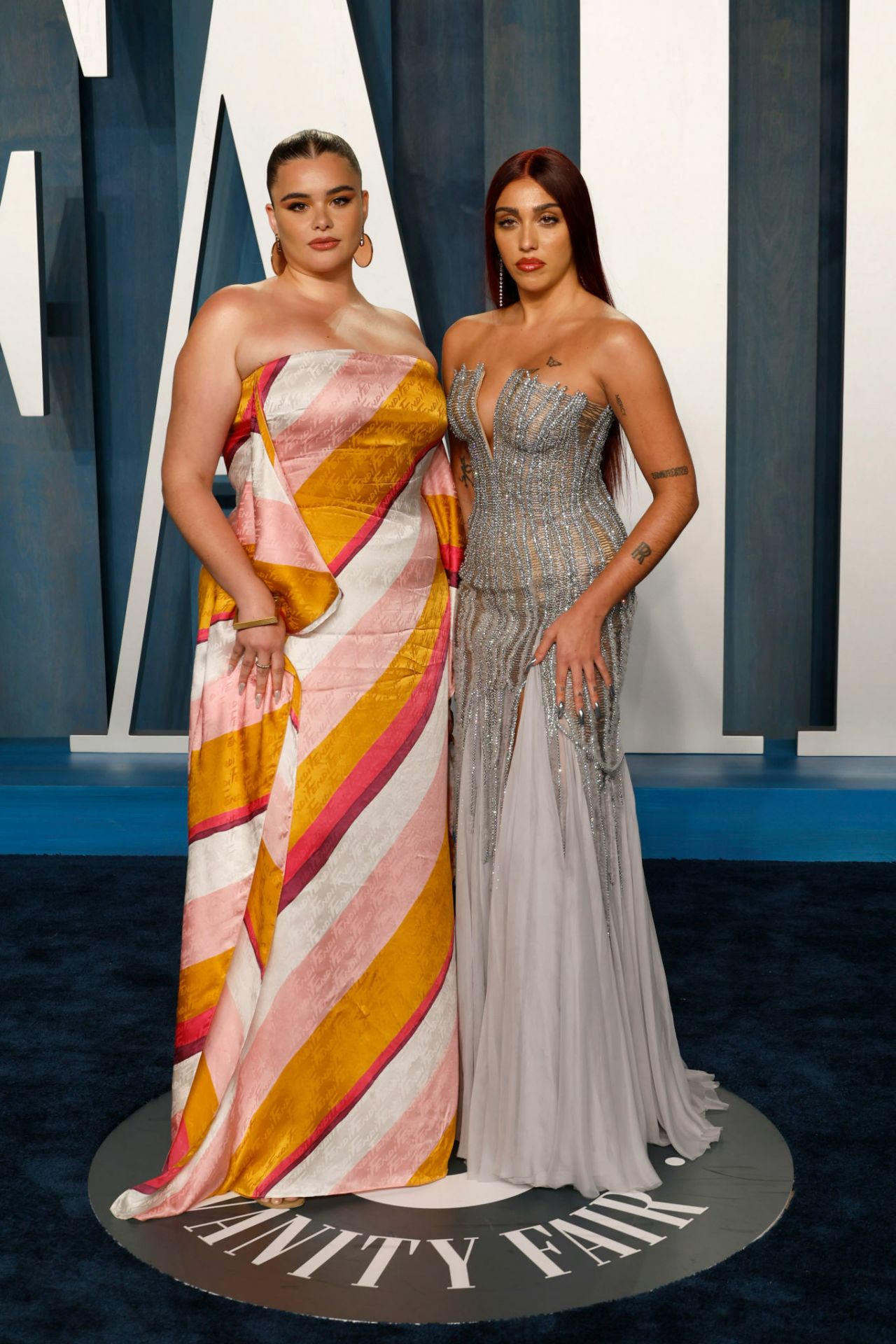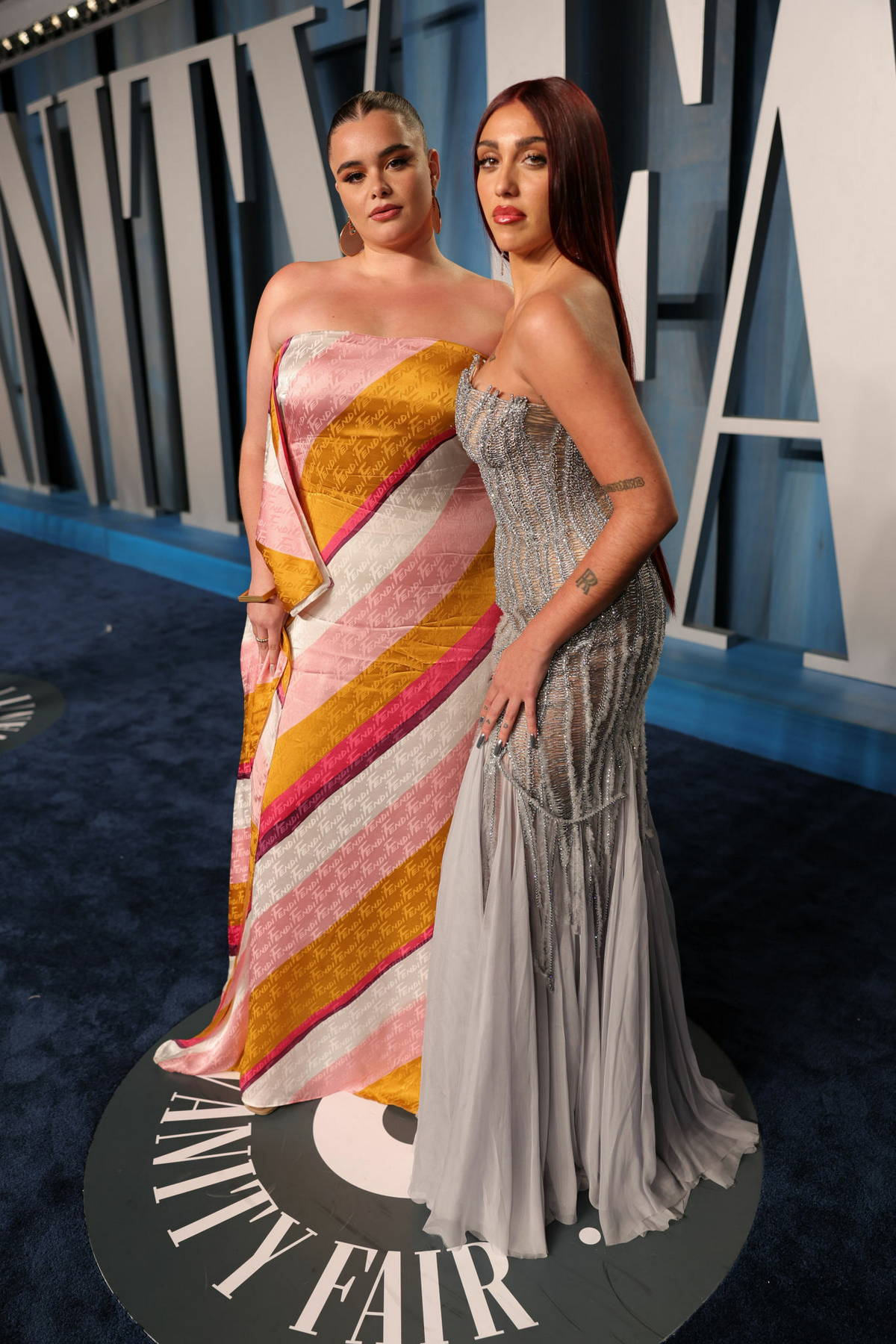 SYDNEY SWEENEY – MIU MIU
Ďalšia mladá herečka známa zo seriálu Euphoria, kde hrá sexi Cassie, sa blysla na Oscaroch v lila šatách z dielne Miu Miu.
ALESSANDRA AMBROSIO
Modelka, anjelik Victoria´s Secret model sa rozhodla pre odvážnu módu Stéphane Rolland s bezpečnými pančucháčmi Wolford.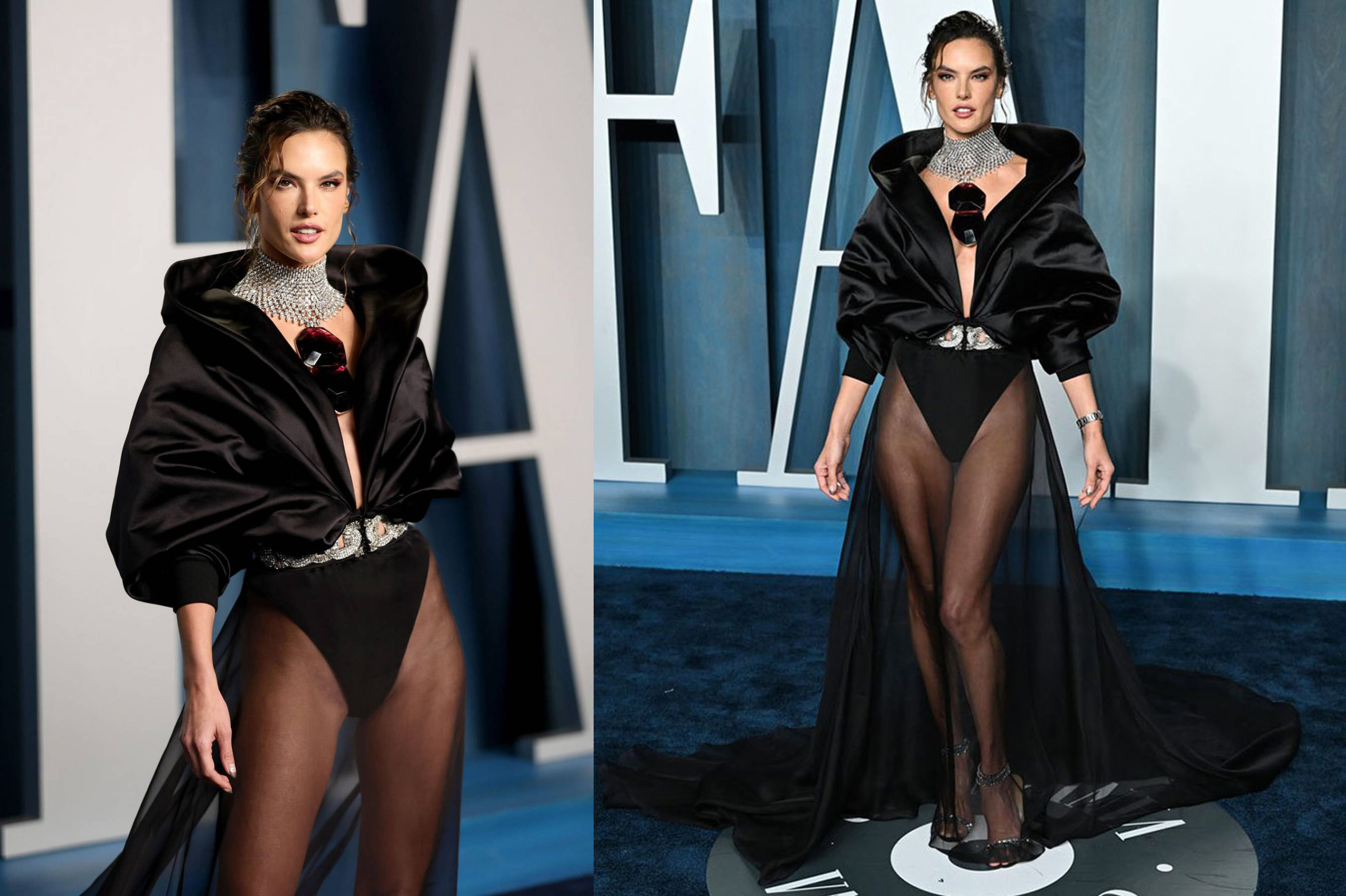 LAURA HARRIER
32-ročná americká herečka a modelka predviedla bodkované číslo od značky Off-White doplnené o vysoké rukavice, ktoré jej náramne pristalo.
TESSA THOMPSON
38- ročná americká herečka Tessa Thompson urobila jednoznačné vyhlásenie vzhľadom s nadmerným golierom do pása strihanej asymetrickej bundy a so šortkami značky Schiaparelli couture. Extravagantný model netradične oživil červený koberec.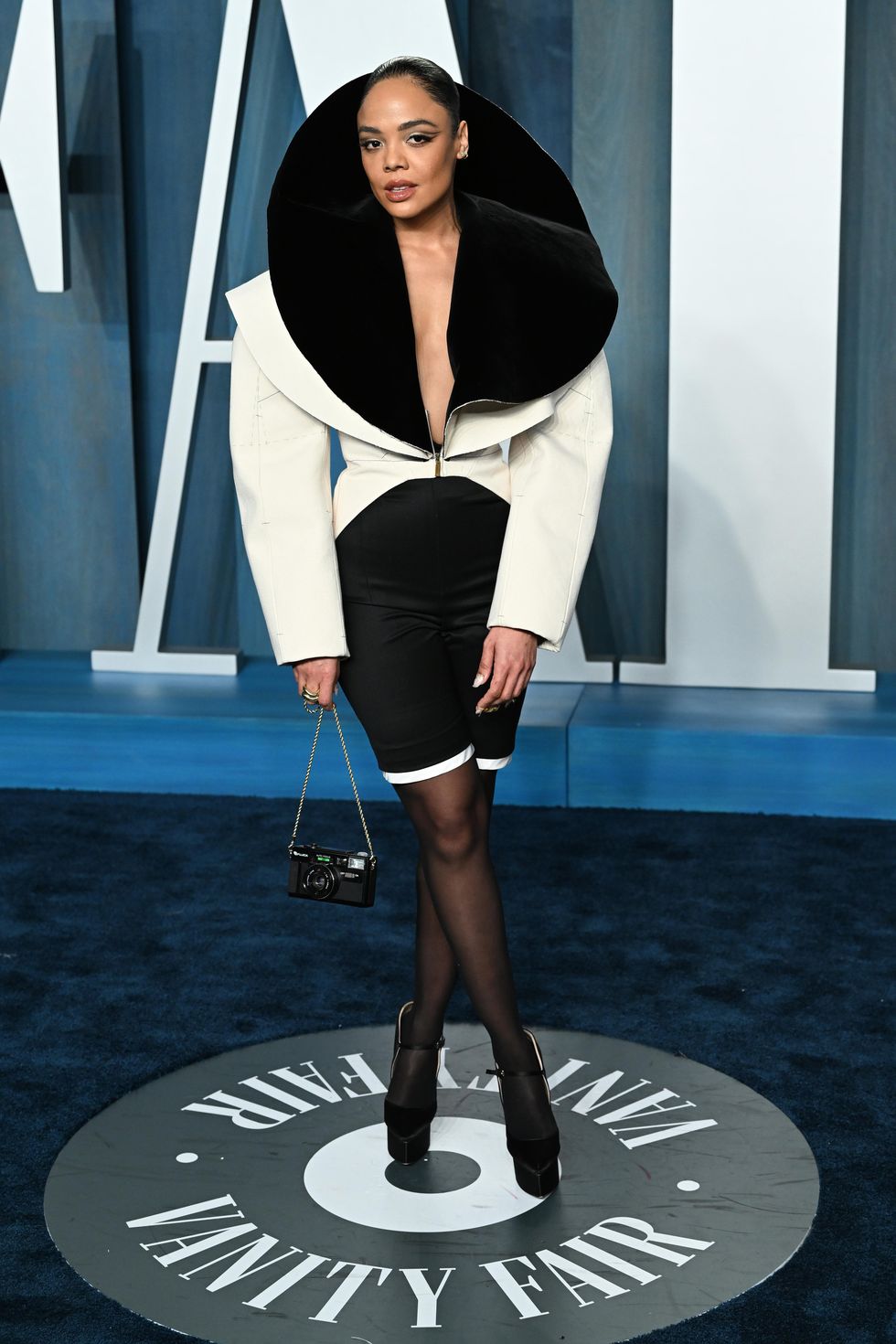 RITA ORA – MISS SOHEE
31-ročná anglická speváčka, skladateľka, herečka, podnikateľka a filantropka zažiarila v neprehliadnuteľnej róbe Miss Sohee.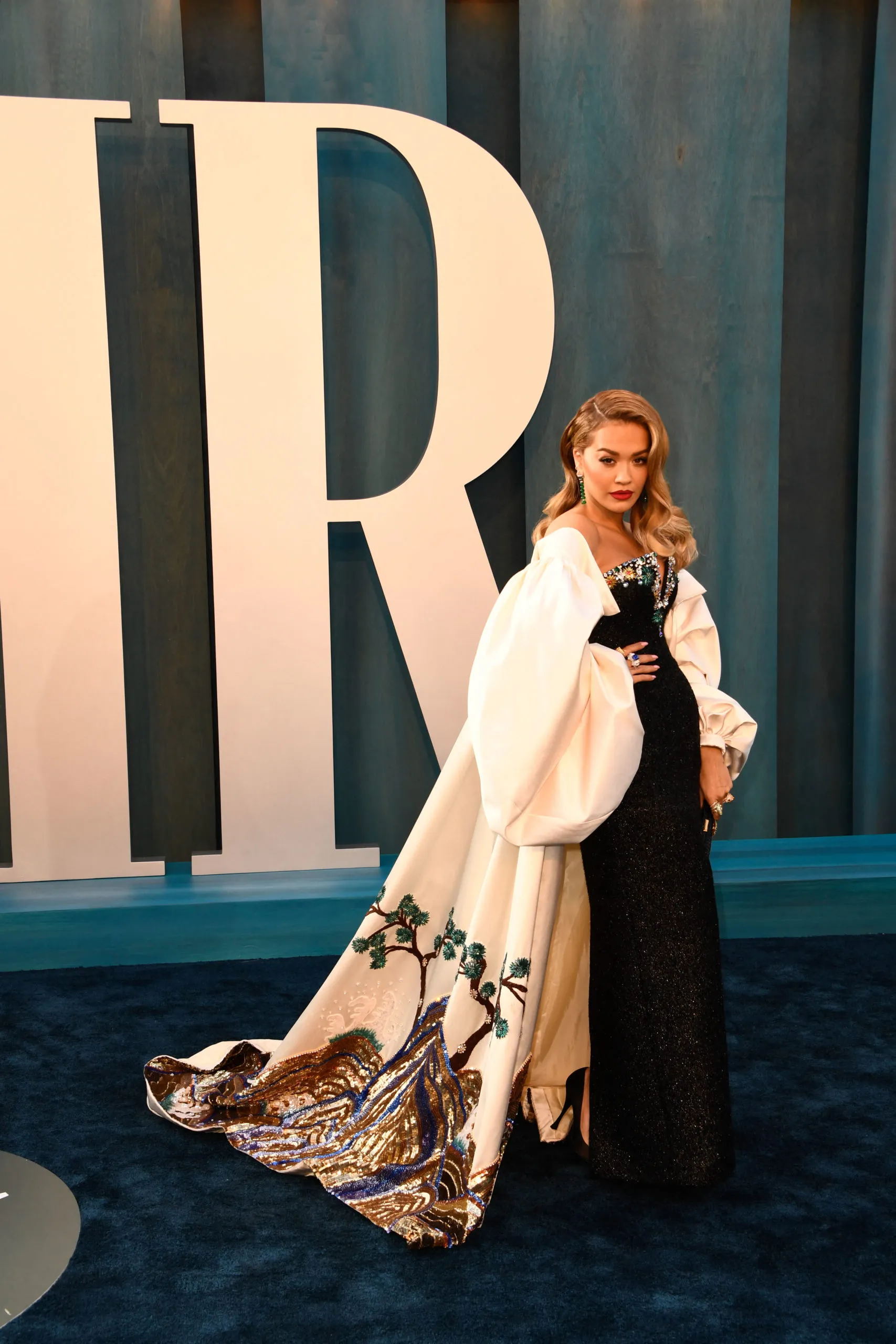 Rita Ora jednoznačne patrila k najelegantnejším dámam udalosti Oscar 2022.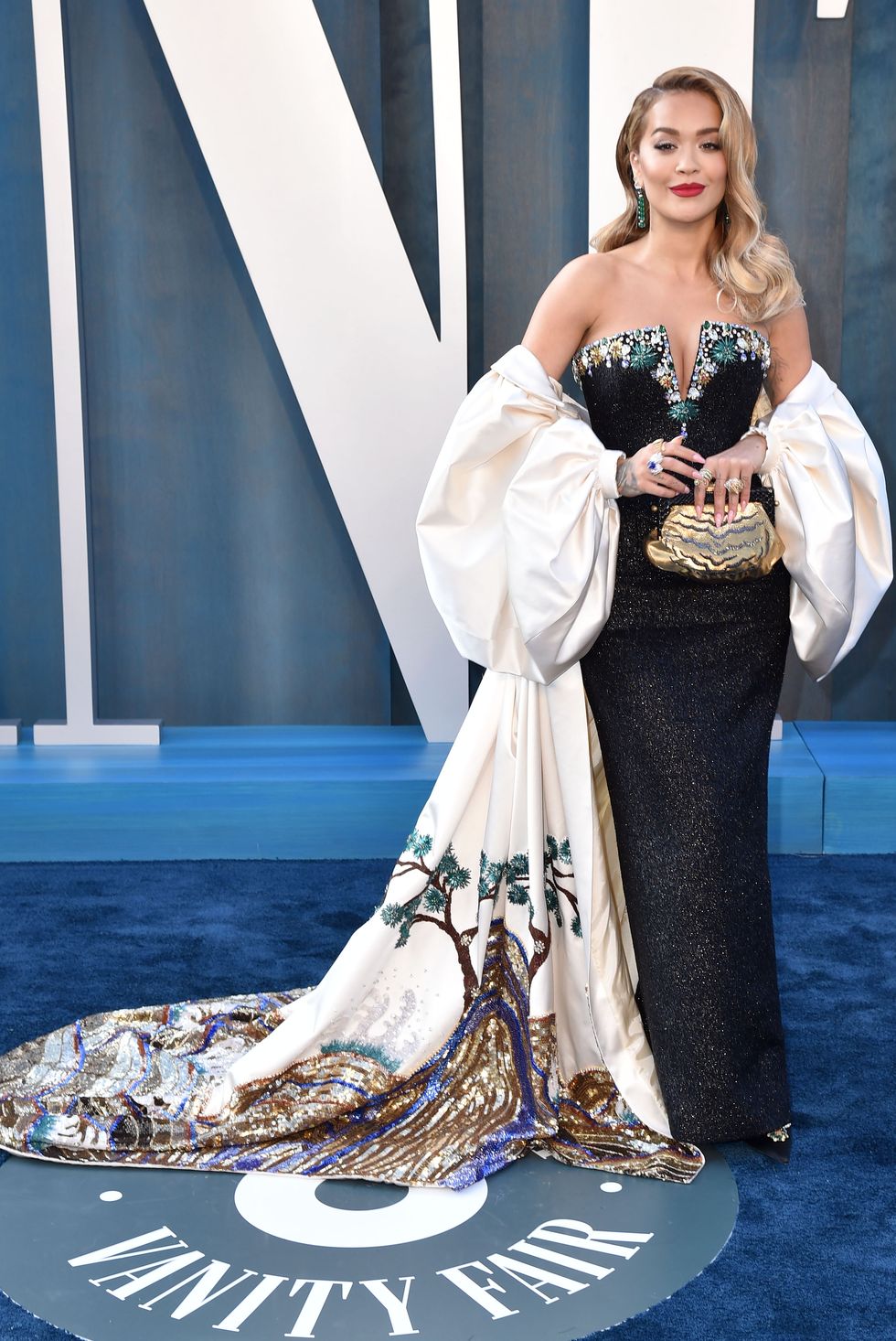 obrázky: © Courtesy Patrick T. Fallon/AFP, Allen Schaben / Los Angeles Times via Getty Images, Robert Gauthier/Los Angeles Times via Getty Images
Sledujte Facebook stránku: Mya Mirell Fashionista a Instagram: mya_mirell .