Premiéry filmu House of Gucci – Londýn, Miláno, Los Angeles, New York a Lady Gaga a jej oslnivé outfity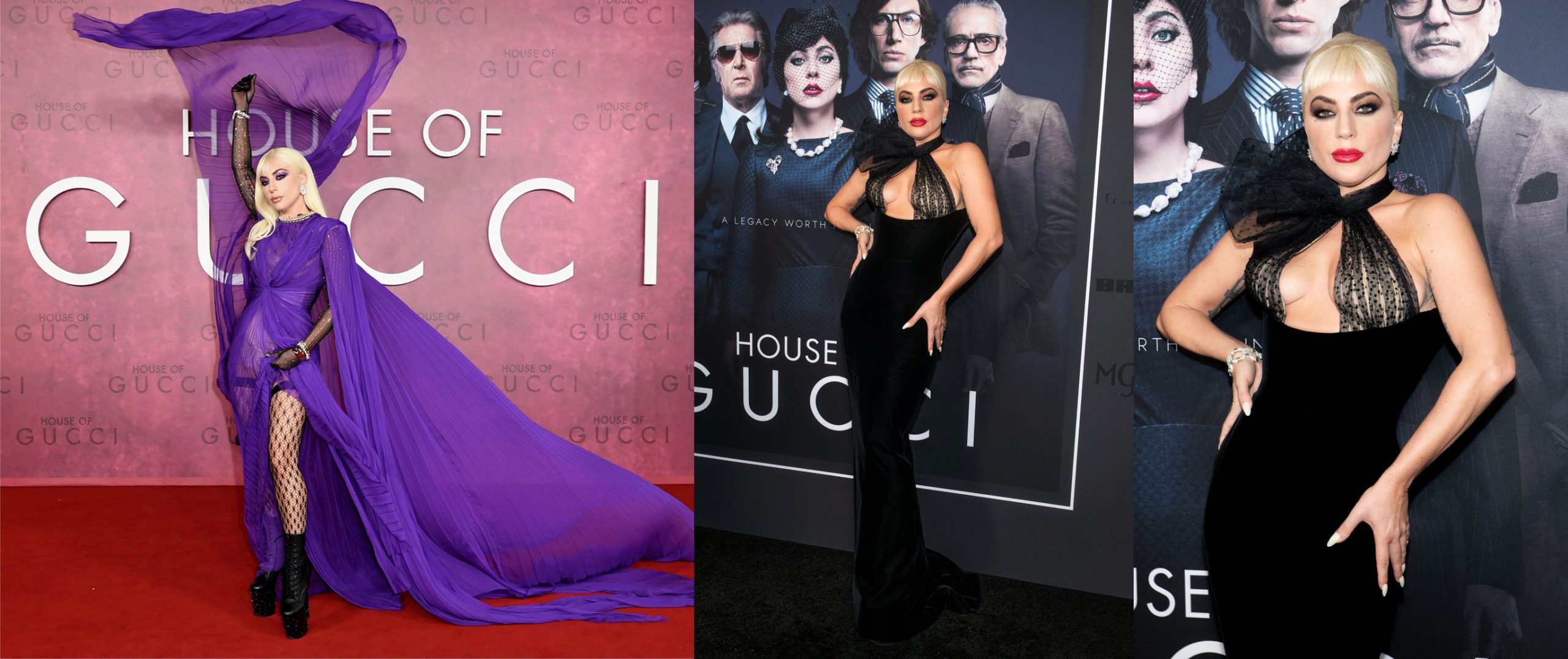 Speváčka Lady Gaga v poslednej dobe oslňuje na červených kobercoch po celom svete. Deje sa tak pri propagácii jej najnovšieho filmu House of Gucci, kde si opäť zahrala hlavnú postavu. Do našich kín prichádza najväčší módny film roka od 25. novembra 2021 pod názvom Klan Gucci. Film je založený na populárno-náučnej knihe Sara Gay Forden z roku 2001 The House of Gucci: A Sensational Story of Murder, Madness, Glamour and Greed. Sleduje románik Patrizie a Maurizia a zaznamenáva udalosti vedúce k vražde Maurizia (vnuk Guccia Gucciho), ktorý v roku 1921 založil taliansky módny dom.
Ak bol niekedy čas nosiť monogram Gucci od hlavy po päty, bola to práve premiéra tohto filmu.
PREMIÉRA HOUSE OF GUCCI – LONDÝN
Celosvetové premiéry dvaapolhodinového filmu režiséra Ridleyho Scotta odštartovala 9. novembra 2021 premiérou v Londýne. Lady Gaga oslnila odetá v Gucci značke, samozrejme z ich poslednej show Love Parade predvedenej na Chodníku slávy v Los Angeles. (čítaj článok v histórii tohto blogu: Gucci Love Parade – príbehy vznešenosti, pôvabu a slávy v oslave života Gucci, ikonický Hollywood Boulevard a moderné prevedenie talianskeho domu plného výstrednosti).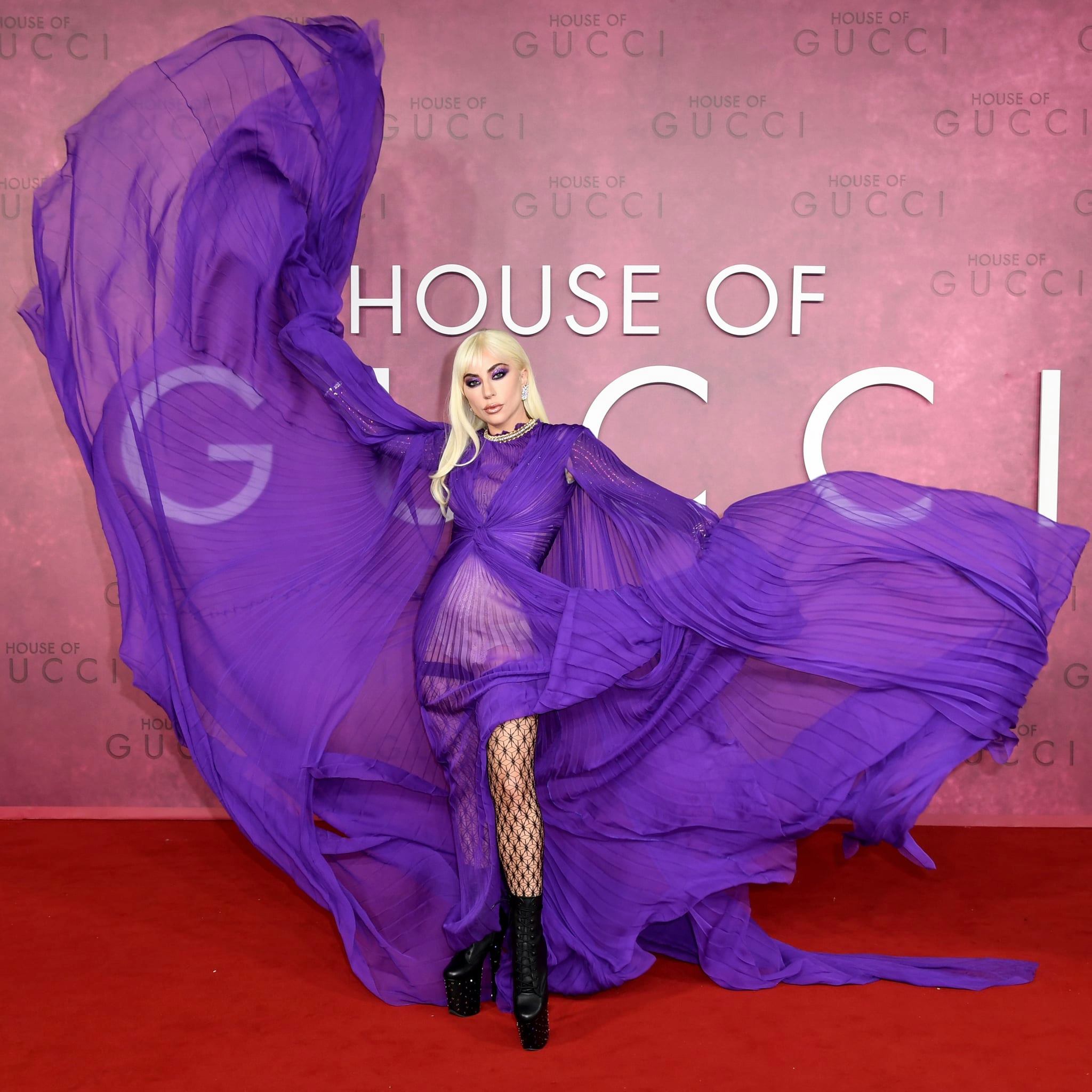 Fialové šaty Gaga spárovala s jej klasickým vzhľadom ako sú platformové čižmy na ihličkovom opätku a sieťkované pančuchy. Bolo jasné, že sa Gaga cítila sama sebou, stačí si pozrieť jej úplne prvé video na Tik Tok.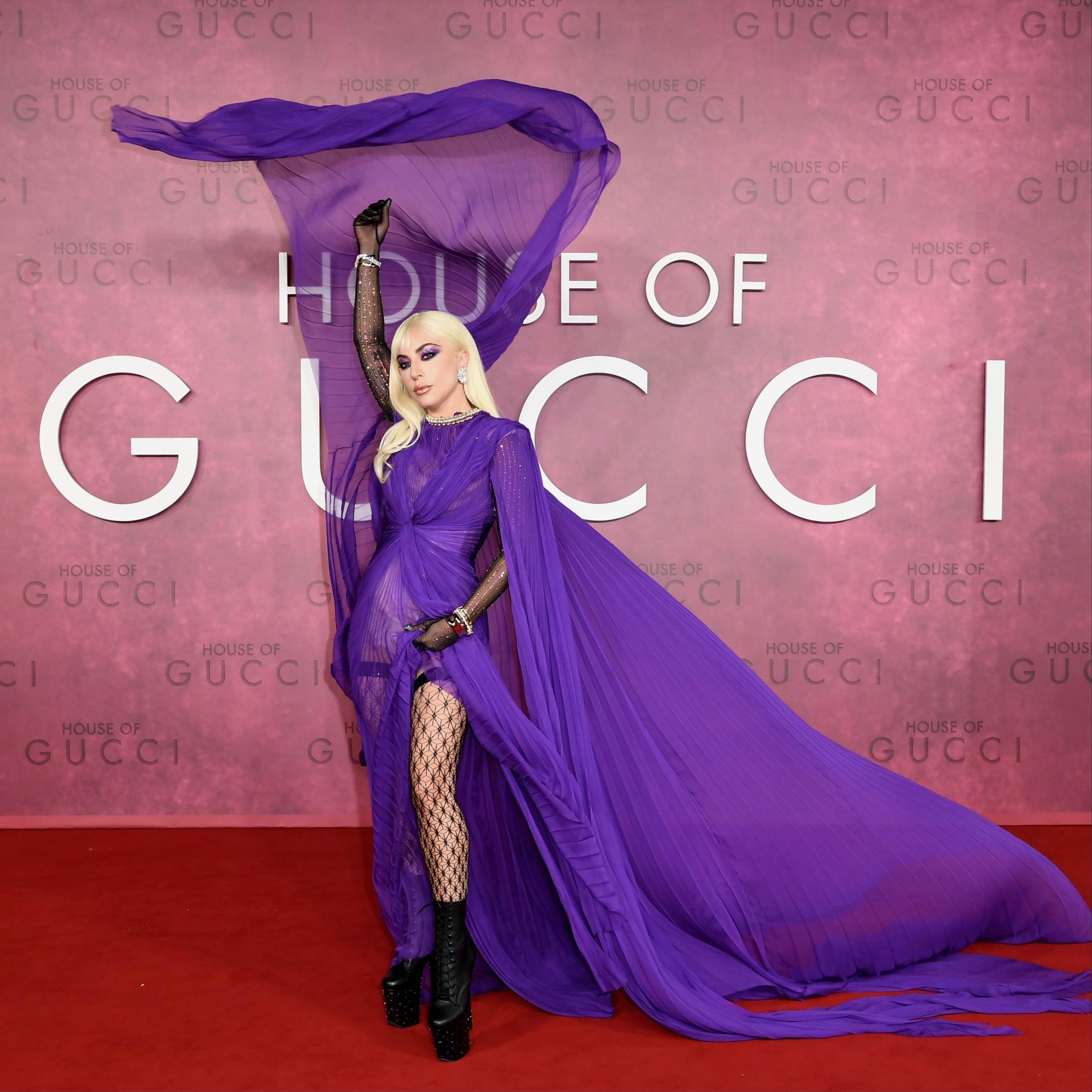 Lady Gaga na premiéru filmu v Los Angeles predviedla haute couture Gucci – fialový hodvábny šifónový vzhľad s úžasným motýlím efektom.
PREMIÉRA HOUSE OF GUCCI – MILÁNO
Na milánsku premiéru tohto filmu uskutočnenú 13. novembra 2021, zvolila speváčkakorzetové šaty talianskej značky Versace. Červený top viedol do veľkého slipu a dlhej vlečky zladenej s červenými platformovými lodičkami. Zdá sa, že Gaga chcela na túto príležitosť priniesť trochu drámy, čo sa jej aj podarilo a čo dokumentuje jej ďalšie video zverejnené na TikTok v ten istý deň.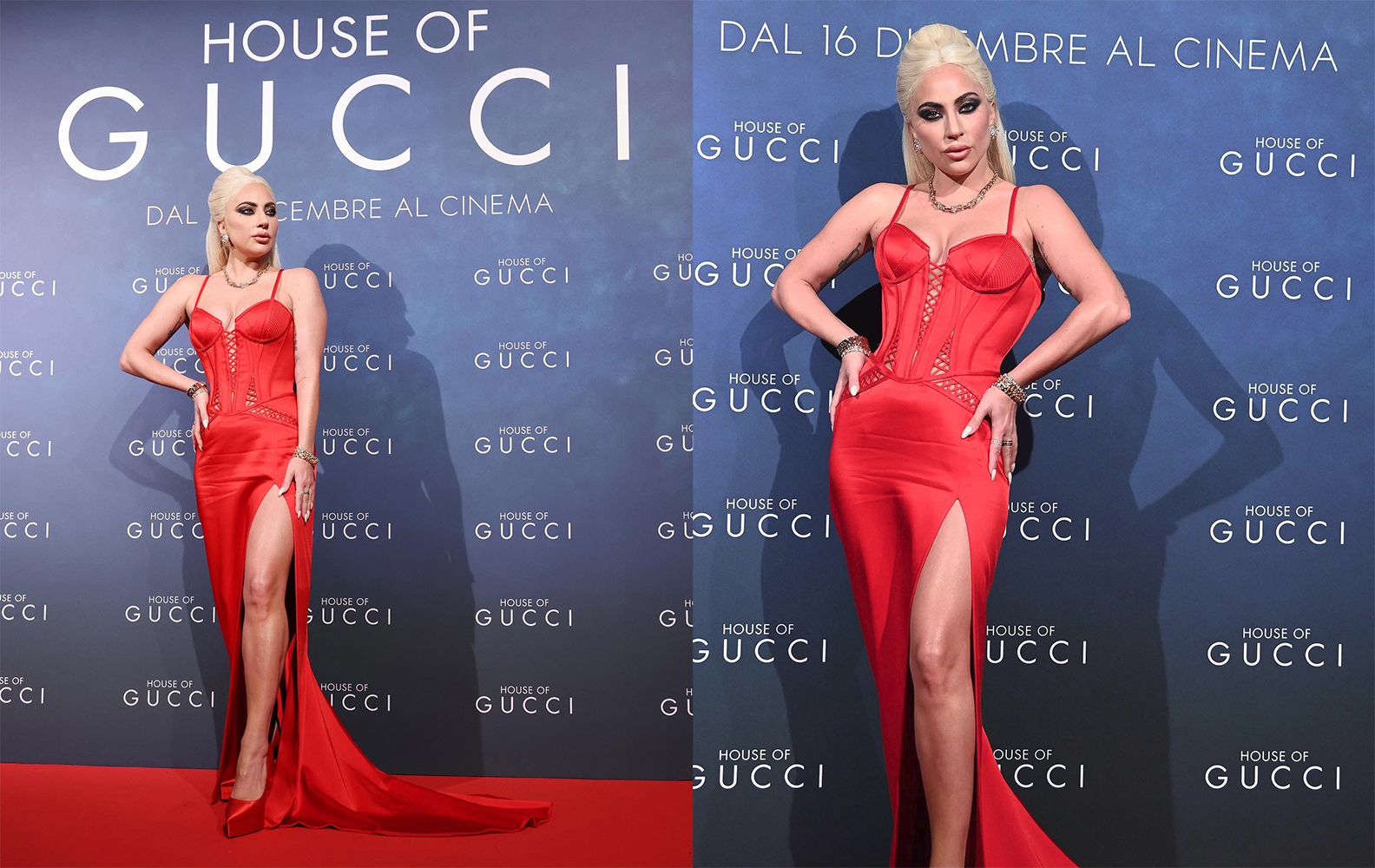 PREMIÉRA HOUSE OF GUCCI – NEW YORK
A nakoniec premiéra v New Yorku. Tentokrát Lady Gaga ohromila na čiernom koberci počas premiéry House of Gucci, ktorá sa konala 16. novembra 2021 v New Yorku v Jazz at Lincoln Center.
V utorok večer mnohí hostia na premiére filmu v New Yorku využili príležitosť a obliekli sa do značky Gucci od hlavy po päty: topánky, šatky, tašky, nohavice, topy, sukne, šaty, všetko, na čo sa GG dá pripnúť, bolo zastúpené v divadle Jazz at Lincoln center. Zúčastnilo sa ho celé herecké obsadenie filmu : Adam Driver, Al Pacino, Jack Huston, Jared Leto, Salma Hayek a Jeremy Irons.
Štýl speváčky a herečky Lady Gaga počas tlačovej prehliadky k filmu House of Gucci v New Yorku bol vyslovenou dokonalosťou. Každá premiérová udalosť bola ohromujúca, no 18. novembra 2021 vystúpila Gaga vo svojom doteraz najstrhujúcejšom looku. Pri tejto príležitosti sa vybrala do dizajnérskeho domu, ktorý je už dlho známy tým, že oblieka celebrity na červený koberec v klasickom hollywoodskom štýle. Čierne šaty strihané a mieru talianskeho dizajnéra Giorgio Armani, Armani Privé s priesvitným topom v kombinácii s klenotmi Tiffany & Co boli o niečo odvážnejšie, čo vyvolalo údiv fanúšikov módy.
Exkluzívny dizajnový skvost Armani Privé, štruktúrované čierne zamatové šaty boli naberané pod poprsím, pričom prsia speváčky odvážne zakrýval bodkovaný tyl. Ohromujúci výstrih bol jednoducho neprehliadnuteľný.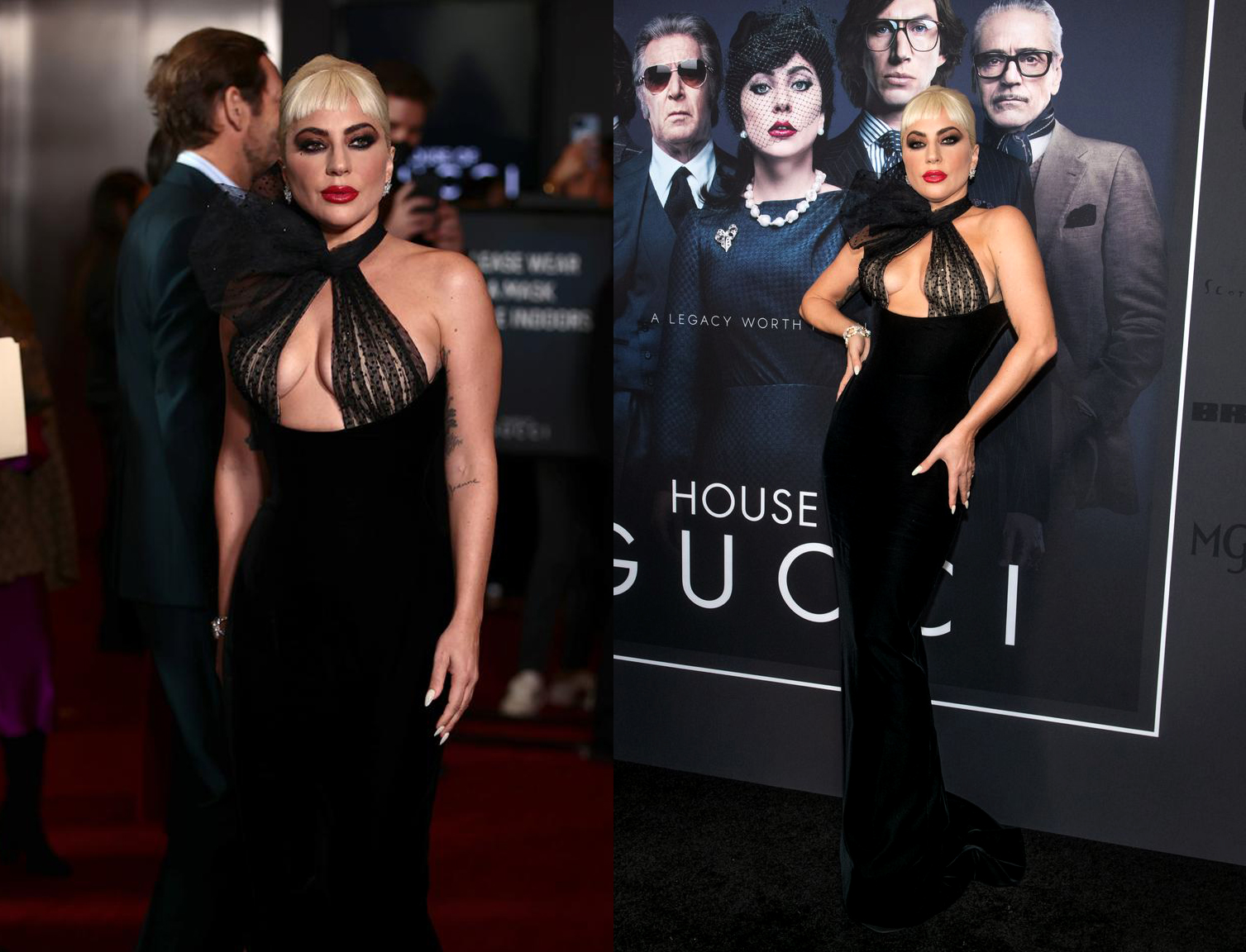 Jej expresívny vzhľad navyše dotvárala vypnutá blond hriva s ofinkou, krvavočervené lesklé odvážne pery a dramatický tmavý očný make-up so zlatými trblietkami, ktorý nikde nemal ubratého. Veď sa predsa jedná o Lady Gaga.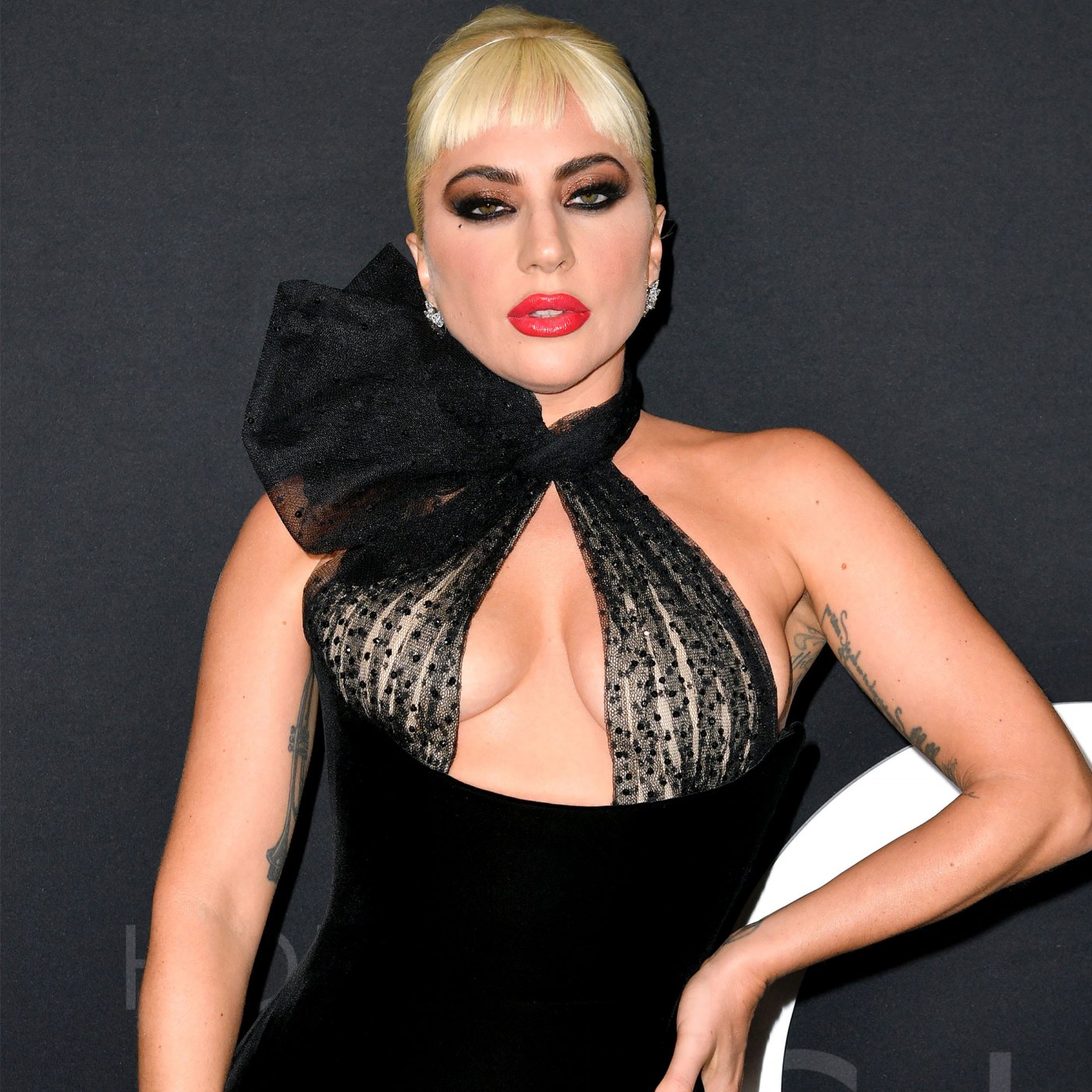 Pevný živôtik šiat odhaľoval herečkine tetovanie na chrbte "la vie en rose", permanentnú pripomienku piesne Edith Piaf, ktorú spievala počas svojho oscarového vystúpenia ako Ali vo filme A Star is Born.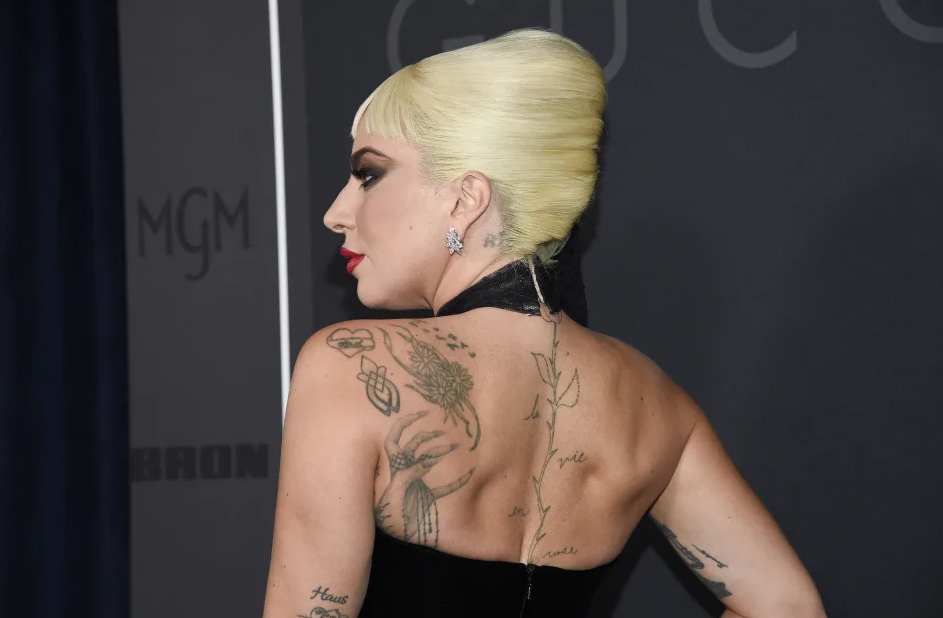 Lady Gaga spolupracovala v minulosti s dizajnérom Giorgio Armani v roku 2010, kedy jej navrhol kostýmy pre turné. Škica Giorgia Armani k šatám pre Lady Gaga na premiéru filmu the House of Gucci dokumentuje krásu a zvodnosť tohto modelu.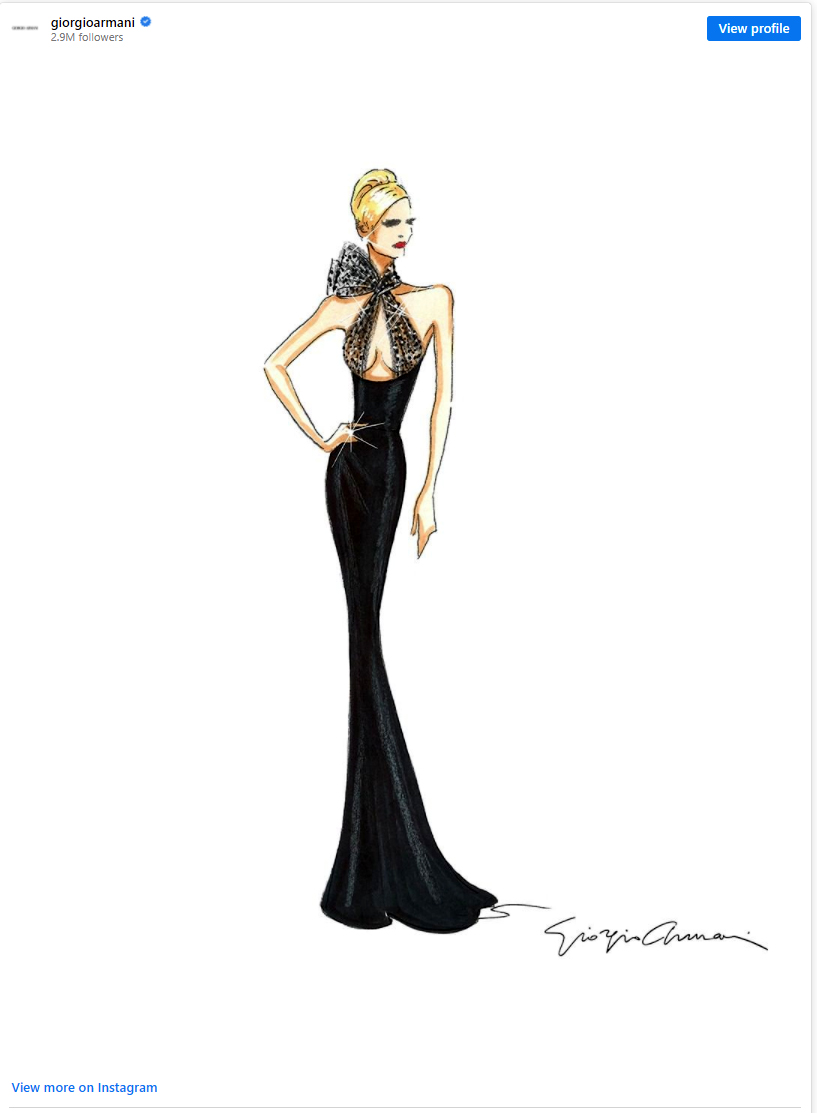 Hoci jej pohľad na premiéru bol čistý hollywoodsky pôvab, dodala mu Gaga na osobitom nádychu a to vďaka svojim typickým čižmám na platforme z umelej kože značky Pleaser Xtreme-1020 so šnurovaním vpredu.
"Som tak nadšená, že tu dnes večer môžem byť. Prirástla som naozaj blízko k Lincolnovmu centru," povedala Gaga pre Entertainment Tonight na podujatí. "Chodila som počúvať Wyntona Marsalisa, ako hrá na trúbke, a som naozaj poctená, že tu dnes večer môžem byť." Dodala: "Cítim sa tak poctená, že môžem byť na obrazovke s Al Pacinom. So všetkými týmito skvelými hercami. Toto je neuveriteľné obsadenie."
Lady Gaga bola odfotená, ako sa túlila s veľmi opáleným Al Pacinom na newyorskej premiére ich filmu House of Gucci, uvádza New York Post. Pacino vyzeral elegantne v čiernom obleku a v čiernom šále. V rozhovore pre Good Morning America, ktorý sa odvysielal v stredu, Al Pacino povedal o výkone Gagy: "Je to skvelá herečka. A to je všetko."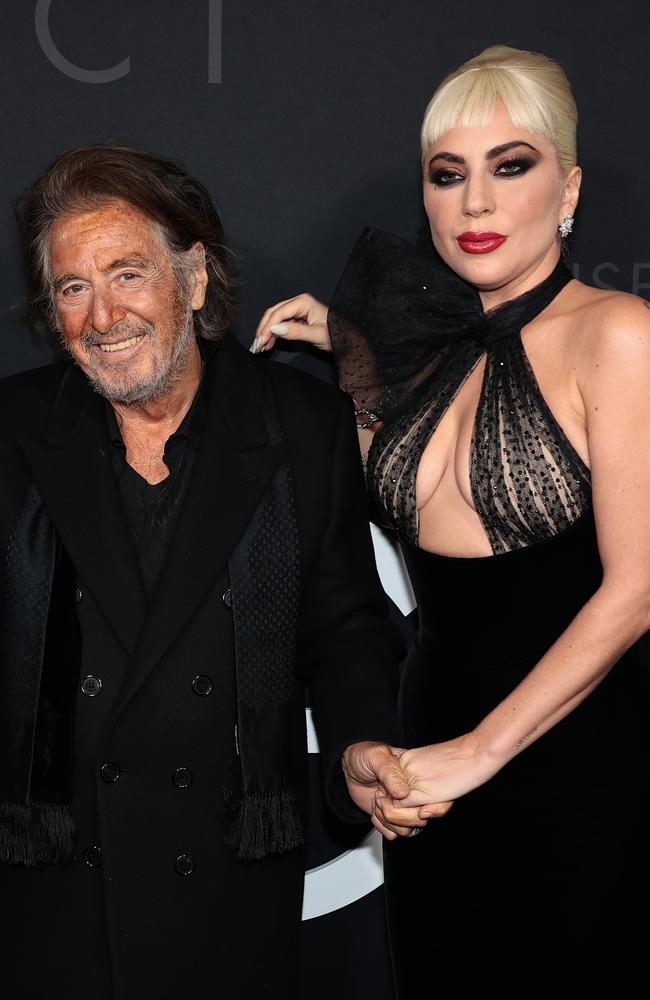 Oscarová speváčka sa na podujatí zúčastnila spolu s hereckými hviezdami Adamom Driverom a Jaredom Letom za účasti režiséra Ridley Scotta.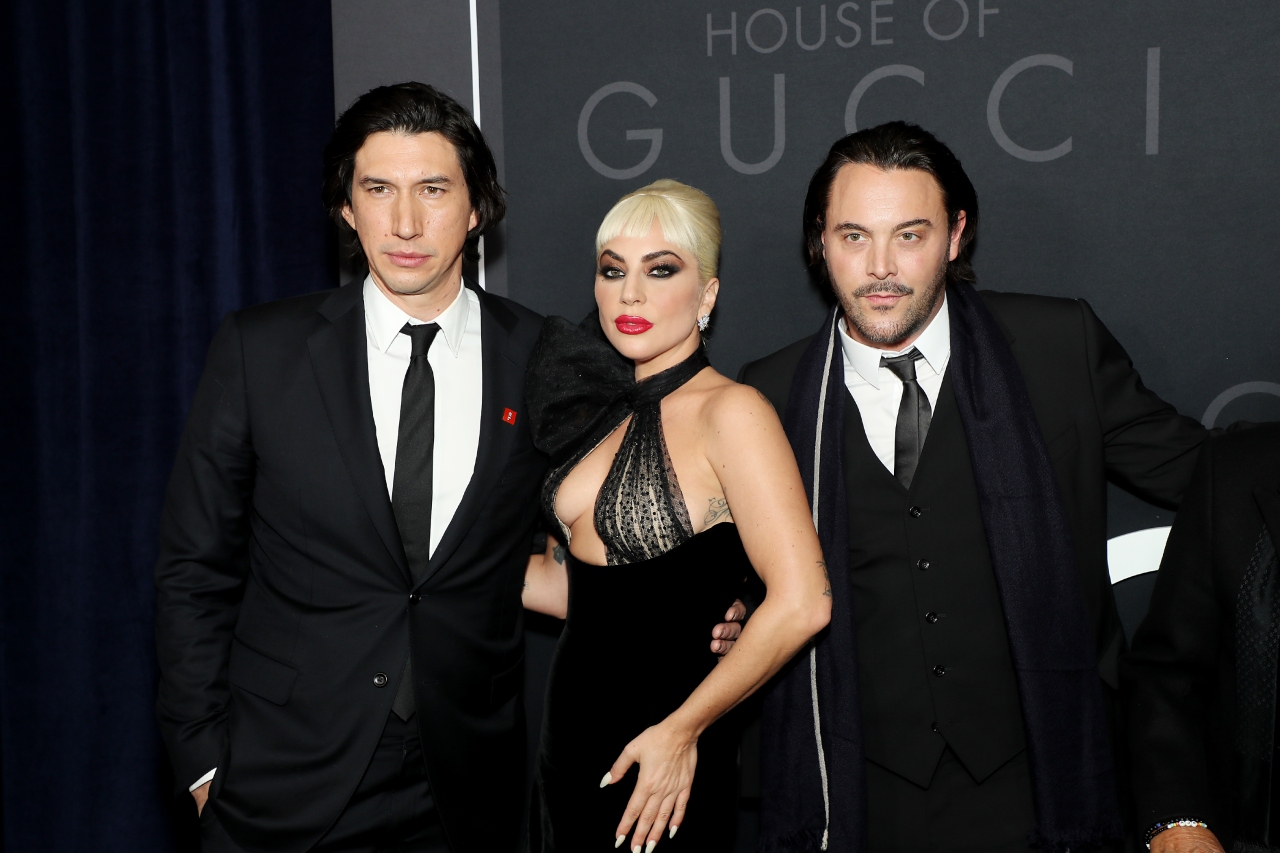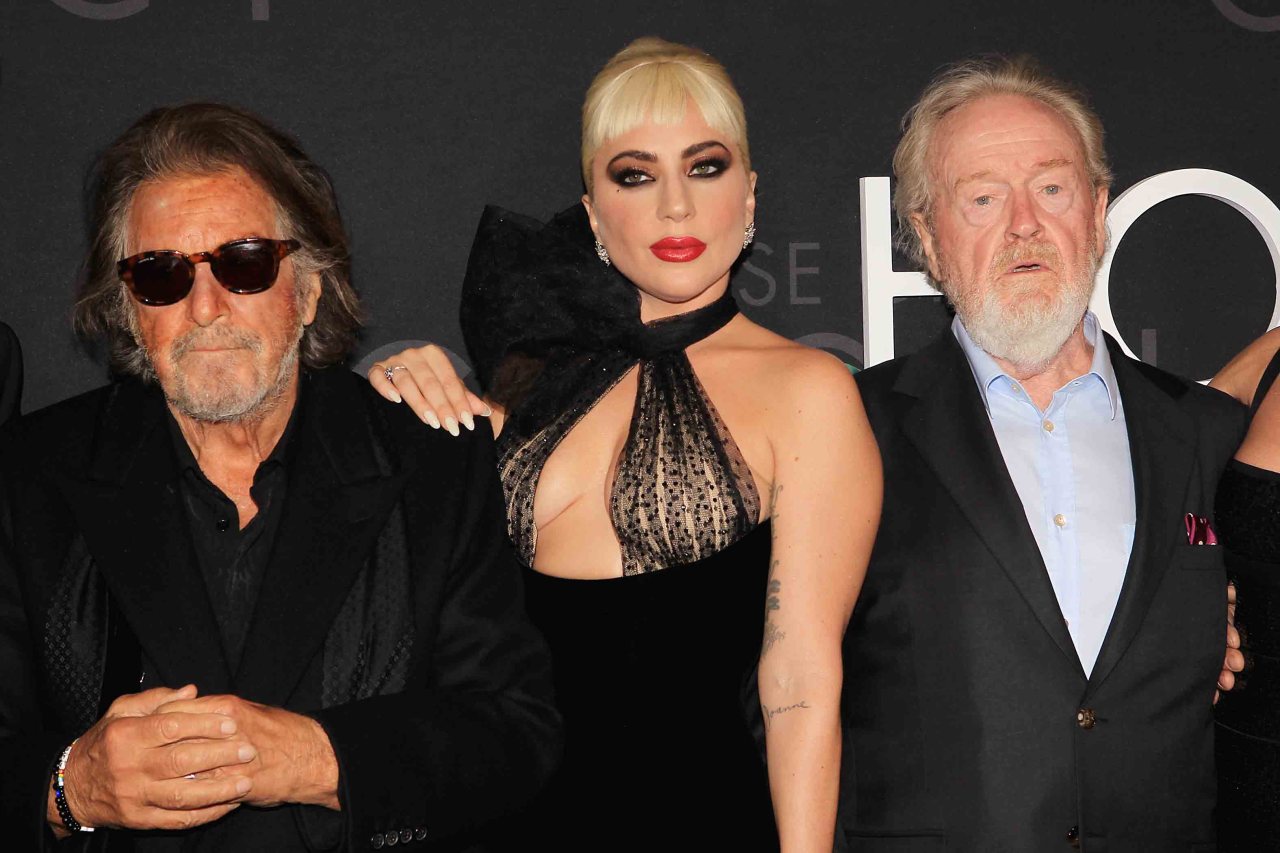 Vo filme si zahrali Adam Driver (ktorý hrá Maurizia), Jared Leto (hrá Paola Gucciho), Jeremy Irons (hrá Rodolfa Gucciho), Salma Hayek (hrá Giuseppinu Auriemmu) a Al Pacino (hrá Alda Gucciho).
Jared Leto, Adam Driver, Lady Gaga, Jack Huston, foto: Marion Curtis/Starpix for MGM
35-ročná herečka a speváčka sa pripojila k hereckým predstaviteľom Jaredovi Letovi a Al Pacinovi na hviezdnej premiére ich nového filmu, ktorý u nás príde do kín budúci týždeň.
Al Pacino, Lady Gaga v šatách Armani Privé a Jared Leto (tvár značky Gucci).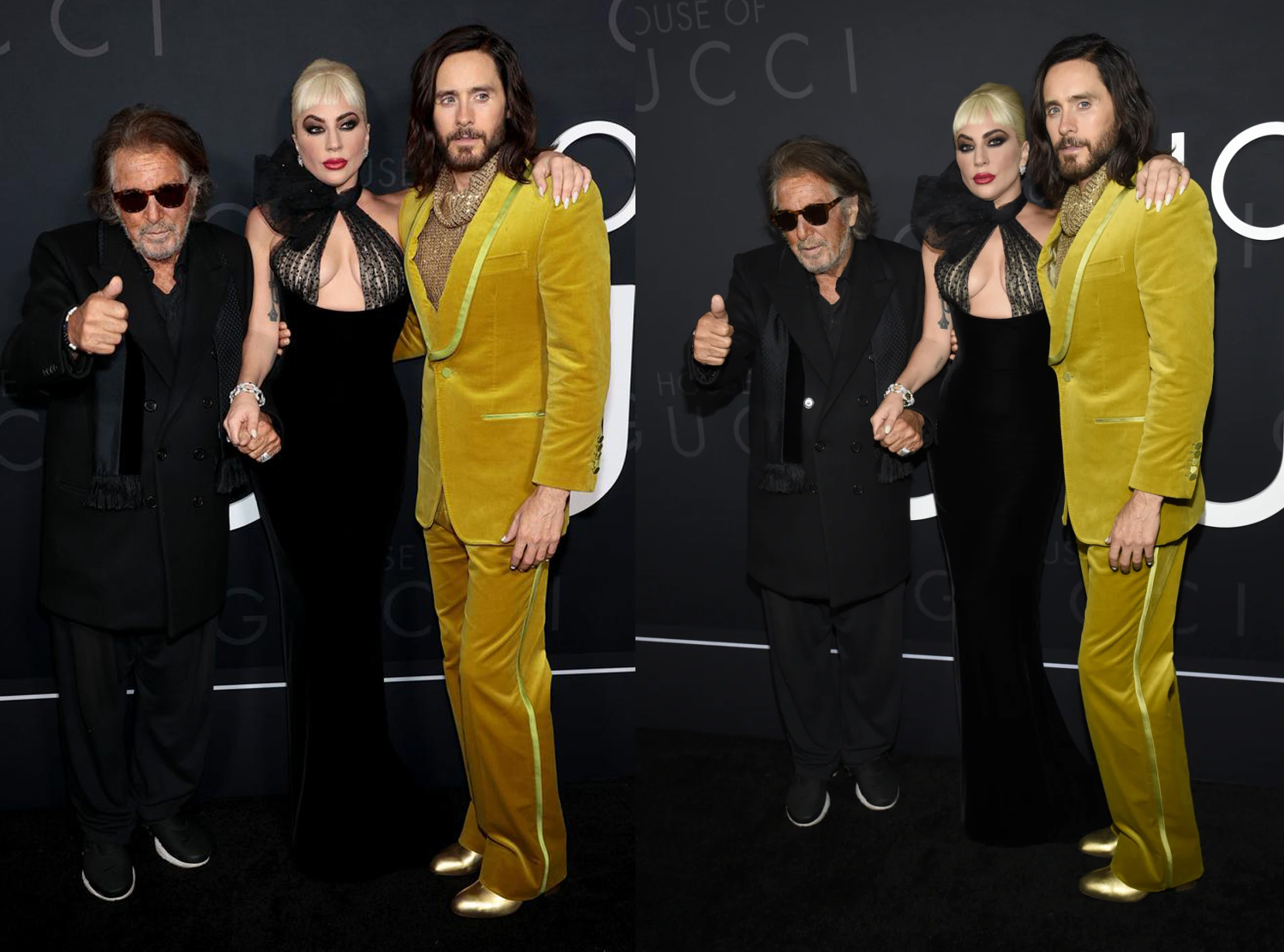 Jeremy Irons na premiére filmu House of Gucci, New York, 16. november 2021. Ďalšími hosťami na premiére a after party v Top of the Rock boli celebrity: Billy Porter, Zac Posen, Andy Cohen, Julia Fox, Olivia Palermo a Johannes Huebl.
Herec Jared Leto, ktorý je tvárou talianskej módnej značky Gucci a herečka Salma Hayek boli oblečení v modeloch Gucci. Jared Leto neskôr v tú noc vymenil Gucci za vzhľad Saint Laurent od Anthonyho Vaccarella pre jeho vystúpenie v "The Tonight Show v hlavnej úlohe Jimmyho Fallona". Salma Hayek, ktorá vo filme stvárňuje Giuseppinu "Pina" Auriemmu, si na premiéru obliekla modrú zamatovú róbu Gucci s odvážnym výstrihom a kamienkovým zdobením manžiet a goliera.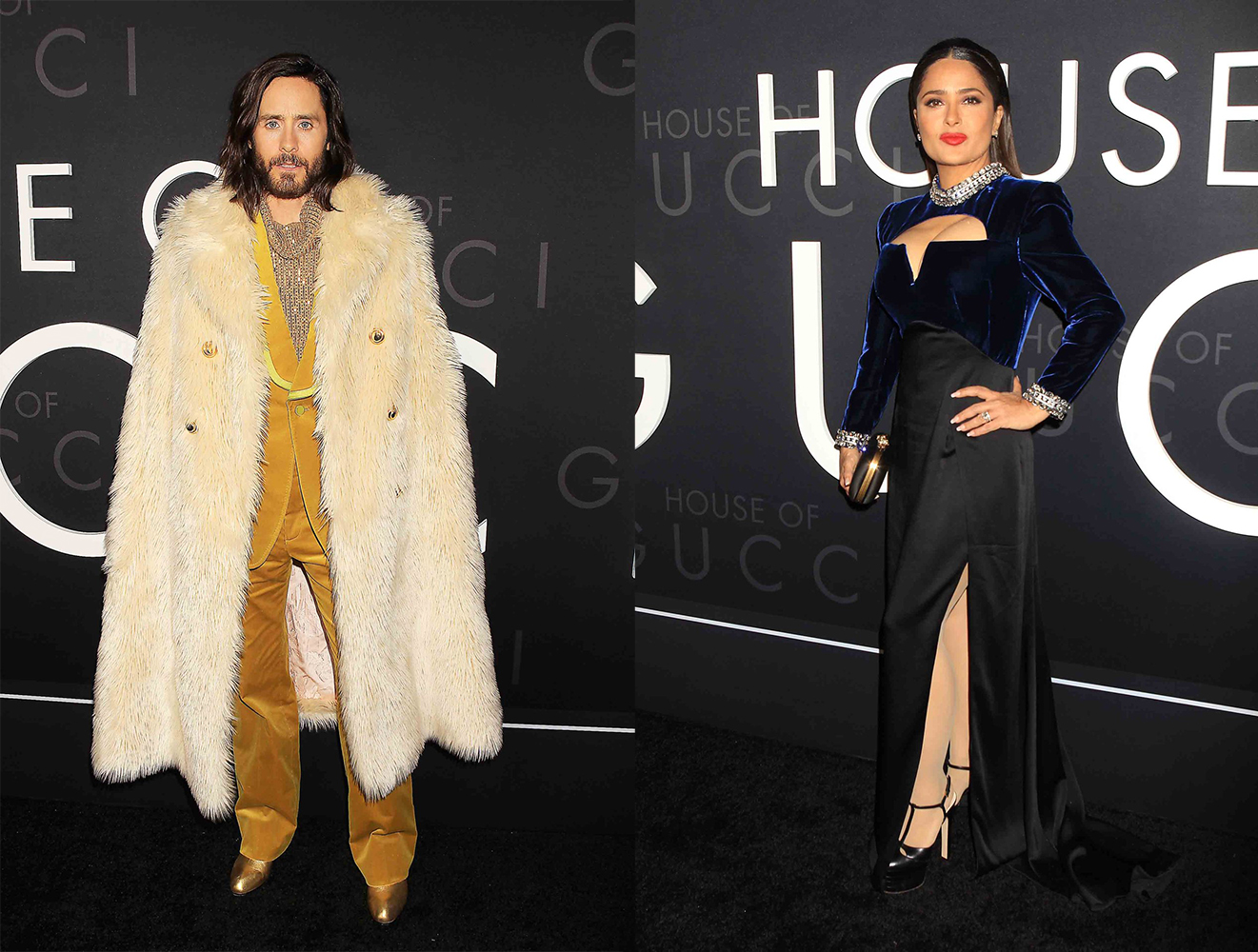 Jared Leto, ktorý vo filme stvárňuje Aldovho syna Paola Gucciho, taktiež snil o práci po boku hviezdy Krstného otca. "Al Pacino je herec, ktorý zmenil spôsob, akým sa veci robili, jeho rozhodnutia a oddanosť svojej práci sú legendárne a príležitosť pracovať s niekým takým je fenomenálna," povedal pre Deadline frontman Thirty Seconds to Mars.
Lady Gaga (ktorá vo filme stvárňuje Patriziu Reggiani) vystúpila v sexi čiernej zamatovej róbe s transparentným topom Armani Privé okrášlenej šperkami Tiffany & Co. Jej herecký partner a hlavný predstaviť Adam Driver (ktorý hrá zosnulého Maurizio Gucci) vyzeral elegantne v kombinácii klasického čierneho obleku a bielej košele.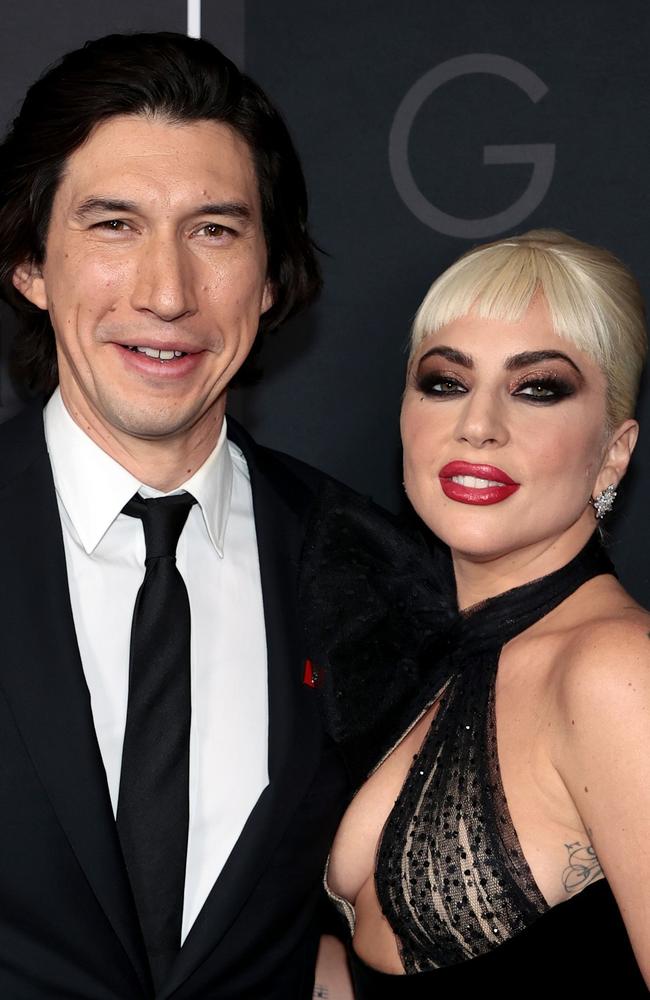 Lady Gaga a Adam Driver.
Salmu Hayek, ktorá vo filme stvárňuje jasnovidku Giuseppinu "Pina" Auriemmu, zasypala speváčka množstvom pevných objatí.
Režisér Ridley Scott a jeho manželka producentka Giannina Facio na pódiu pred premietaním. "Jedna vec, ktorú si nepamätám, sú riadky, takže si to budem musieť prečítať. Nikdy by som nebol hercom," povedal Scott a rozvinul kúsok papiera. Tento film nesie naša producentka, tiež moja manželka, už viac ako 20 rokov. To je pekelné tehotenstvo."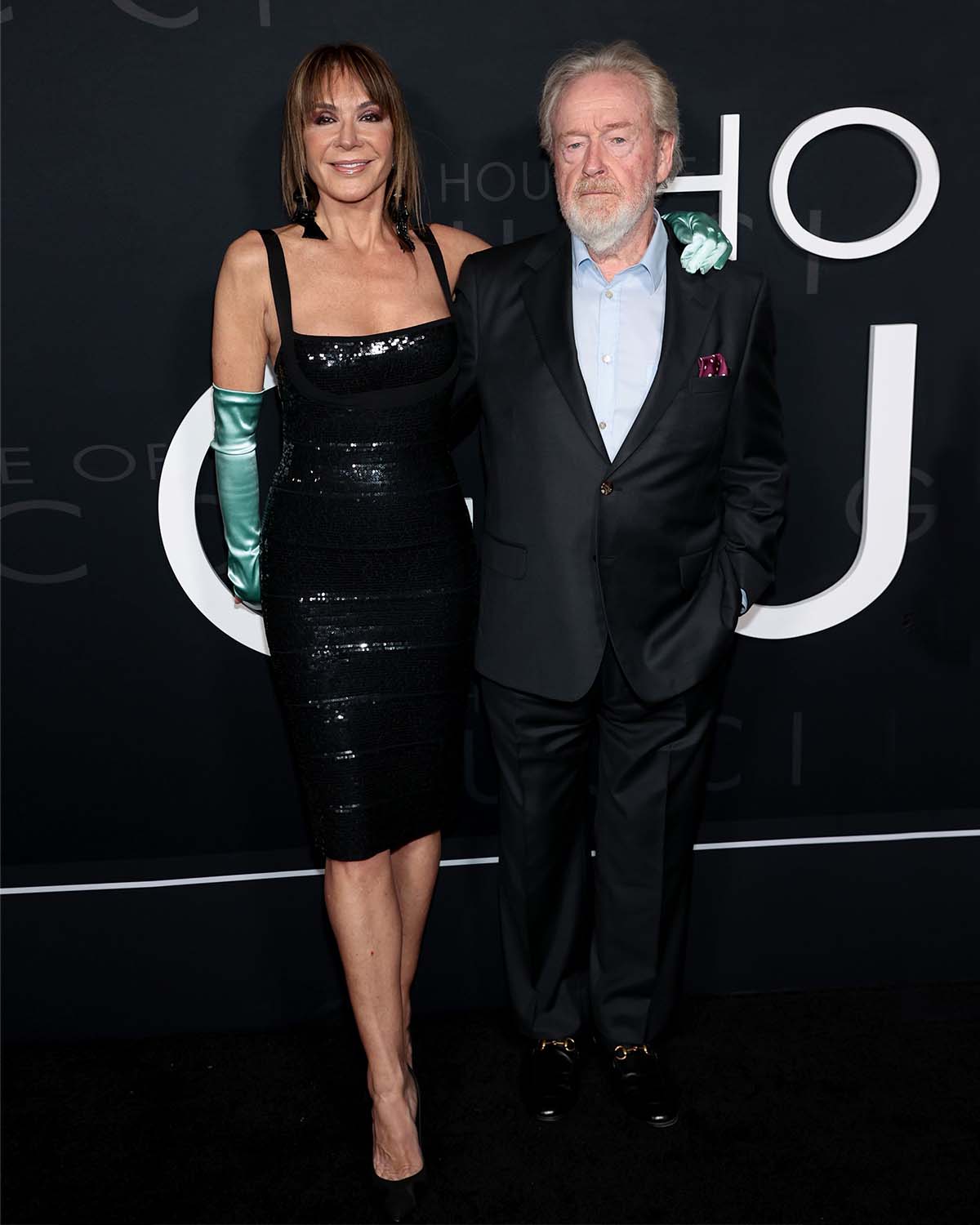 "Skvelé scenáre priťahujú skvelých hercov a máme informatívne obsadenie," dodal. "Stručne povedané, príbeh možno opísať ako komédiu omylov, ktoré sa zmocňujú tragických udalostí. Myslím si, že najlepšie sa to dá opísať ako veľmi luxusná satira. Je to trochu satirické."
LADY GAGA – PREMENA NA PATRIZIU REGGIANI
Gaga dlho hovorila o svojej premene na Patriziu . Aby sa Gaga pripravila na svoju rolu, mesiace pracovala na svojom talianskom prízvuku. "Chcela som z Patrizie urobiť skutočnú osobu, nie karikatúru," povedala Gaga počas októbrového rozhovoru pre Wall Street Journal. "Cítila som , že najlepší spôsob, ako si uctiť Maurizia a Talianov je, že môj výkon bude autentický z pohľadu ženy. Nie talianska Američanka, ale Talianka."
Lady Gaga hovorila svojím prízvukom celých deväť mesiacov, aby sa pripravila na svoju rolu vo filme House of Gucci. To je oddanosť. Gaga však samozrejme nemohla zdokonaliť svoju úlohu Patrizie Reggiani bez toho, aby poskytla niektoré z najväčších módnych momentov roka.
Lady Gaga a Jared Leto a skutočné postavy, ktoré vo filme hrajú.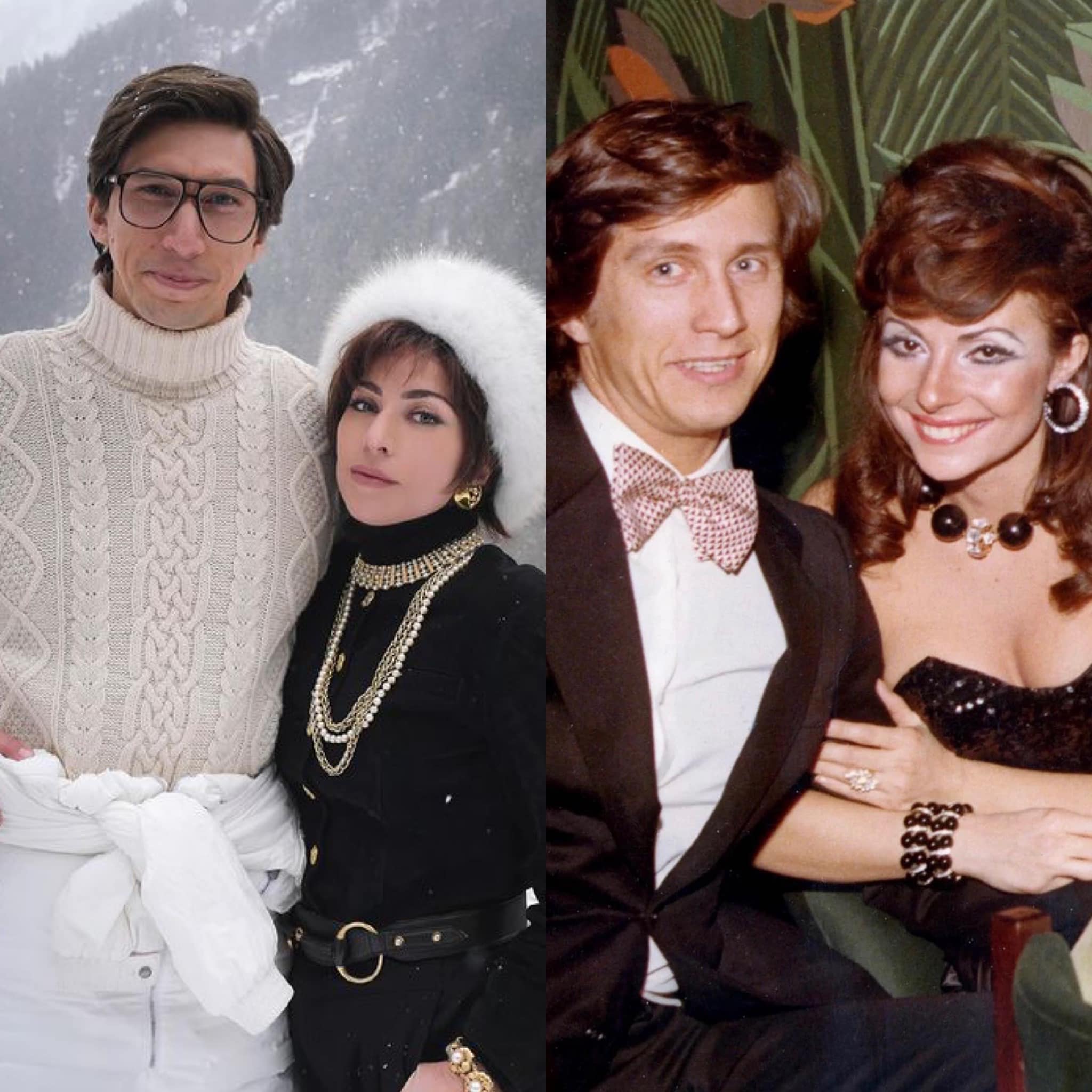 Reggiani, ktorá strávila 19 rokov za mrežami a teraz je na slobode, nie je z Gagy nadšená. "Skôr ma rozčuľuje skutočnosť, že Lady Gaga ma hrá v novom filme Ridleyho Scotta bez ohľadu na to, aby sa so mnou prišla stretnúť," povedala v marci Agenzia Nazionale Stampa Associata. "Nie je to ekonomická otázka. Z filmu nedostanem ani cent. Je to otázka zdravého rozumu a rešpektu."
V jedno skoré ráno sa Lady Gaga objavila v programe Good Morning America a prezradila svoje dôvody, prečo sa nestretla so skutočnou Patriziou Reggiani, ktorú vo filme hrá.
"Nechcela som sa stretnúť s Patriziou, pretože ona vedela veľmi rýchlo povedať, že táto žena chcela byť za túto vraždu oslávená a chcela, aby si ju pamätali ako túto zločinkiňu… Nechcela som sa dohodnúť s niečím, čomu neverím. Nechala zavraždiť svojho manžela." Hviezda potom pre British Vogue povedala: "Žila som ako ona (Reggiani) rok a pol. A deväť mesiacov z toho som hovorila s prízvukom. Nikdy som sa nezlomila. Zostal som s ňou."
Pozrite si video z rozhovoru so speváčkou.
Skutočná Patrizia Reggiani. Talianske média priniesli aj autentický rozhovor s Patriziou Reggiani, ktorá v ňom vyjadruje nevôľu so samotným filmom, pretože to jatrí rany a kvôli svojim deťom.
Predtým, ako si Patrizia údajne najala nájomného vraha k zabitiu Maurizia Gucci, bola zatknutá za tento zločin. Odsedela si celých 19. rokov a v súčasnosti je už na slobode a žije v ústraní.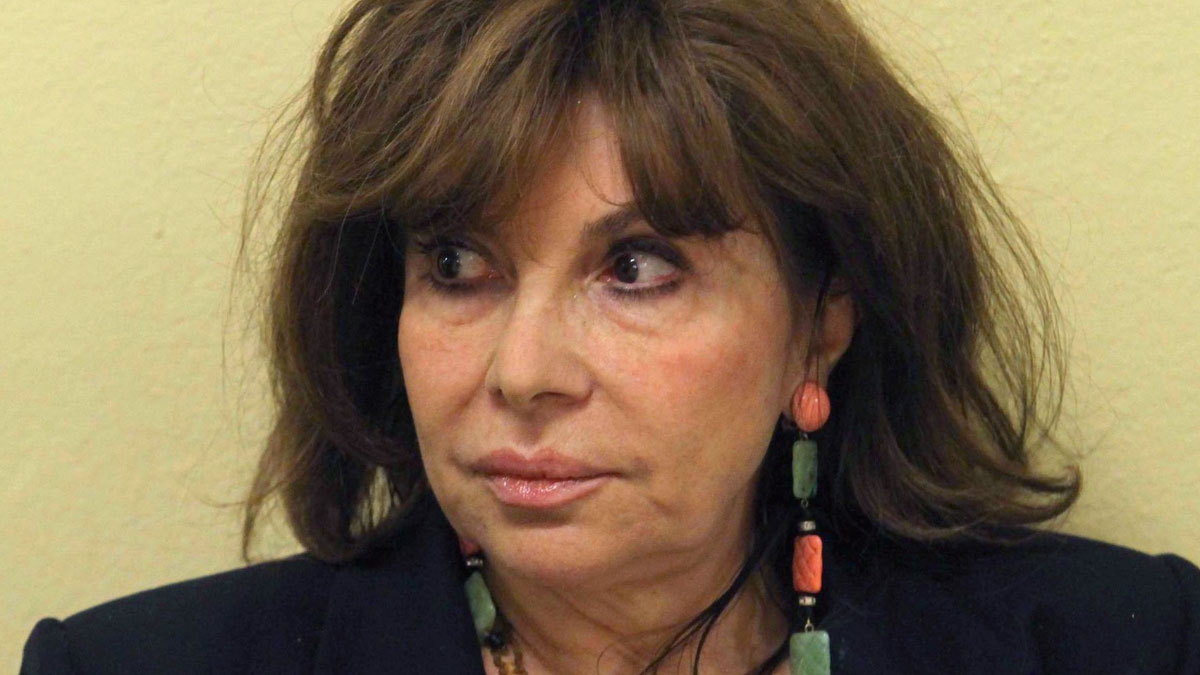 Gaga potom prezradila, že si vlasy zafarbila mimo obrazovky, aby zostala v charaktere postavy: "Pre mňa bolo takmer nemožné hovoriť s prízvukom ako blondínka. Okamžite som si musela zafarbiť vlasy."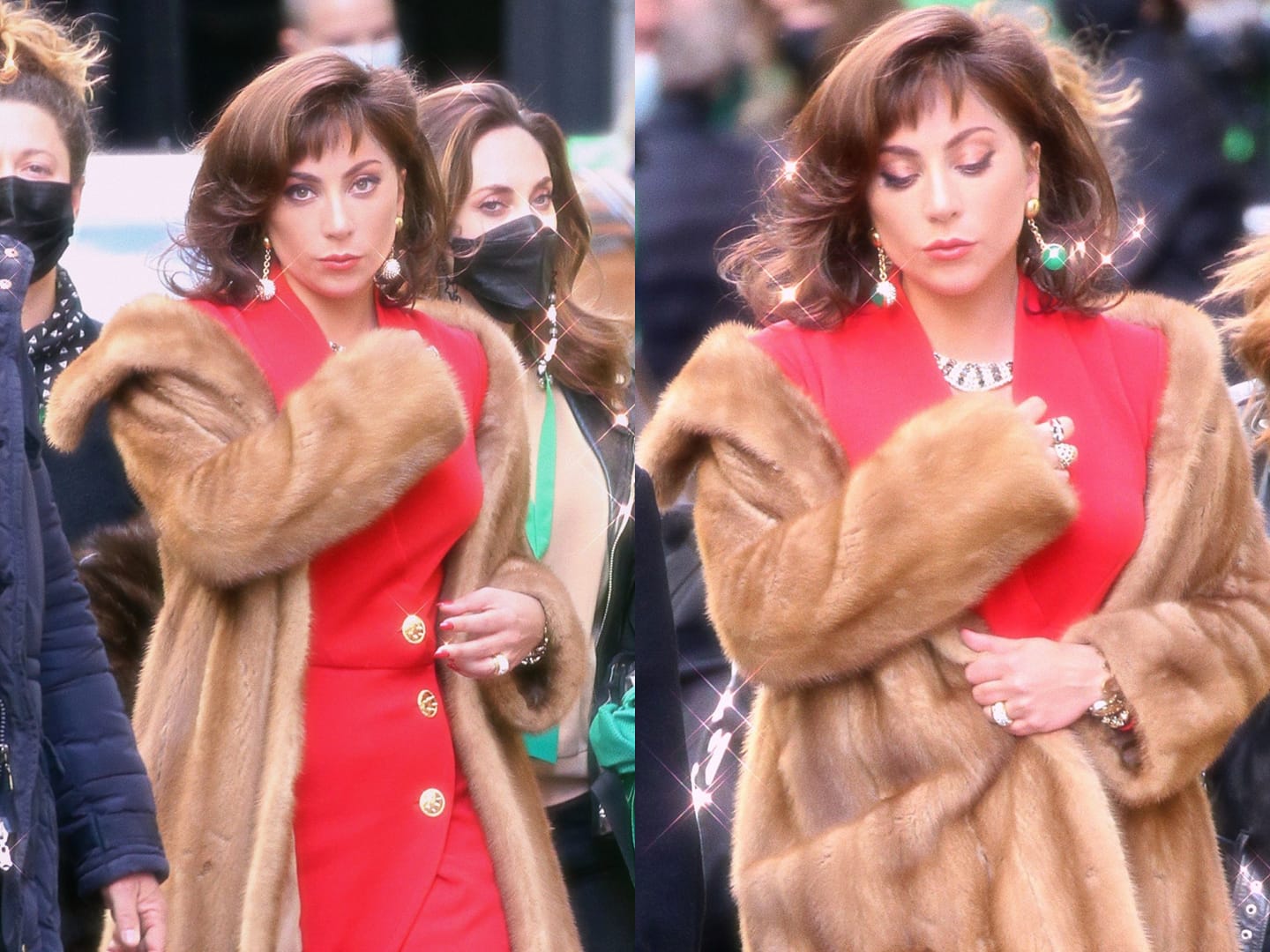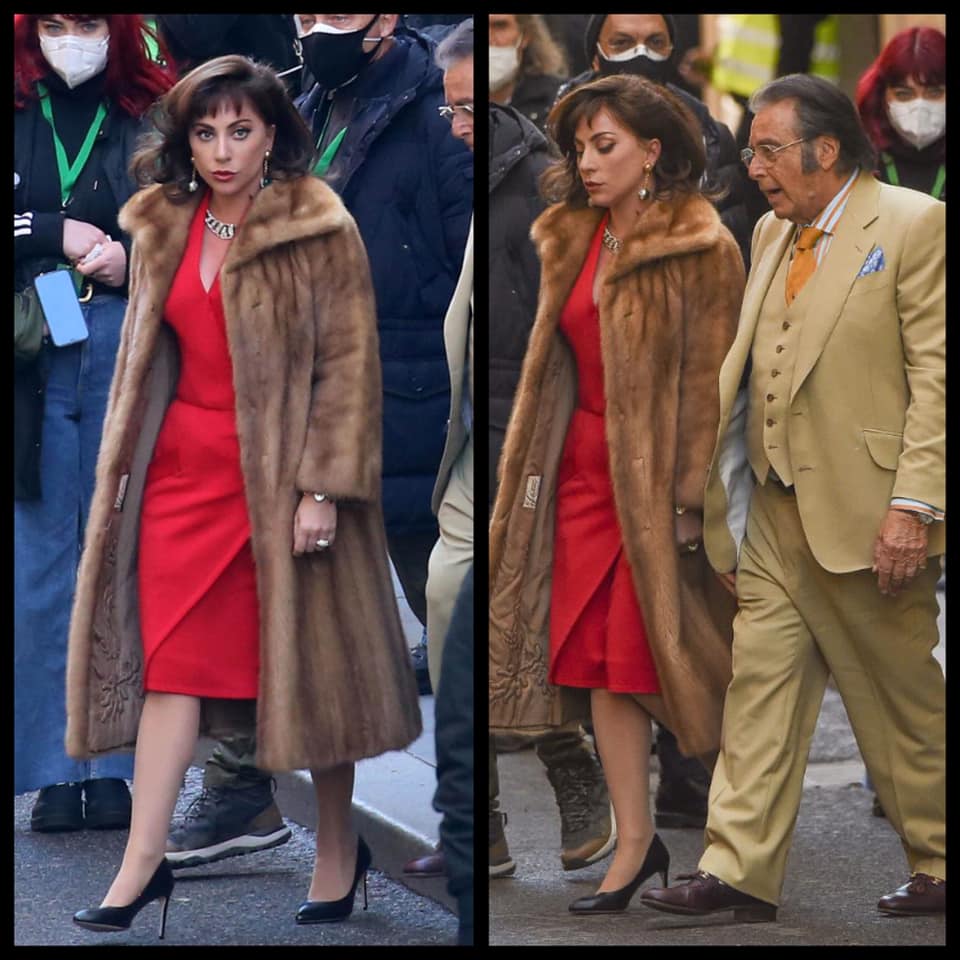 Foto: © NY Post, Dave Allocca/Starpix, Evan Agostini/Invision/AP/Shutterstock, Gareth Cattermole/Gareth Cattermole/Getty Images for MGM and Universal Pictures, Mondadori Portfolio via Getty Images
Sledujte Facebook stránku: Mya Mirell Fashionista and Instagram: mya_mirell.