Paris Haute Couture Week – 23. január -26. január 2023, Giambattista Valli, Chanel, Rahul Mishra, Miss Sohee, Alexis Mabille, Alexandre Vauthier, časť III.

Po pánskej prehliadke módy vo svetových metropolách, najfantastickejší a najslávnejší týždeň módneho kalendára prišiel do Paríža, aby odštartoval Couture prehliadky kolekcií dizajnérov pre Jar/Leto 2023. Módne prehliadky, ktoré sa odohrali na parížskom týždni Haute Couture Week od 23. do 26. januára 2023, ponúkajú krátky pohľad do sveta módneho dizajnu, ručne vyrábaných odevov vyrobených z tých najkvalitnejších materiálov tými najšikovnejšími rukami.
Výsledkom je, že tieto módne divadlá sú do značnej miery symbolické, javia sa ako vizuálne šou pre potešenie zmyslov a ako príležitosť predviesť mimoriadne zručnosti každého módneho domu. Zatiaľ čo mnohé z predvádzaných modelov nájdu domov u niekoľkých šťastlivcov, ktorí si ich vyberú pre špeciálne príležitosti ako promenády na červených kobercoch, týždeň módy Haute Couture býva pre divákov nahliadnutím za oponu do pozláteného sveta poháňaného výnimočnými zručnosťami módnych domov.
V Haute Couture Weeku je však v tejto sezóne niečo iné. Prvýkrát po určitom čase sme svedkami tvorivej energie, takmer nadšenia, od dizajnérov, takej skrytej a odostretej, ktorá driemala počas celej pandémie a možno aj dávno pred ňou. Je možné, že nedávny odchod módnych gigantov, akými sú André Leon Talley, Thierry Mugler, Hanae Mori, Issey Miyake a Vivienne Westwood (zomrela v decembri 2022), dal celému odvetviu ostrú spomienku na časy, keď dizajn diktoval predaj a mal hodnotu.
Alebo možno nákazlivá vynaliezavosť a inovácia predstavená novou krvou, akými sú dizajnérka Miss Sohee a Robert Wun (hongkongský módny dizajnér), obaja debutujúci v Paríži na Haute Couture, vyvolali nové vzrušenie. Tak či onak, úžasné výsledky v Paríži hovoria samy za seba a vytvárajú optimistický obraz o budúcnosti módy.
Dizajnéri posúvajú haute couture na novú úroveň na parížskom týždni módy. Pozrite si pokračovanie tých najlepších haute couture modelov pre Jar/Leto 2023, od Schiaparelliho surrealistických majstrovských diel (čítajte v prvom článku na tomto blogu) až po očarujúce róby Giambattistu Valliho.
GIAMBATTISTA VALLI
Pokiaľ ide o vytváranie nádherných rób, nikto to nerobí tak ako Giambattista Valli. Kúzelník, ktorý formuje a vrstvý taft do jemných tvarov podobných oblakom, vyrába šaty pre zasnený, romantický, alternatívny vesmír. Giambattista Valli je na červenom koberci vždy obľúbený a pri tejto kolekcii nie je ťažké pochopiť prečo. Zaiste mnohé z jeho modelov uvidíme čoskoro na červených kobercoch v nadchádzajúcej sezóne udeľovania cien. Ku kolekcii Jar/Leto 2023 návrhár dodal, že ide o elegantné večerné oblečenie vhodné na Oscara.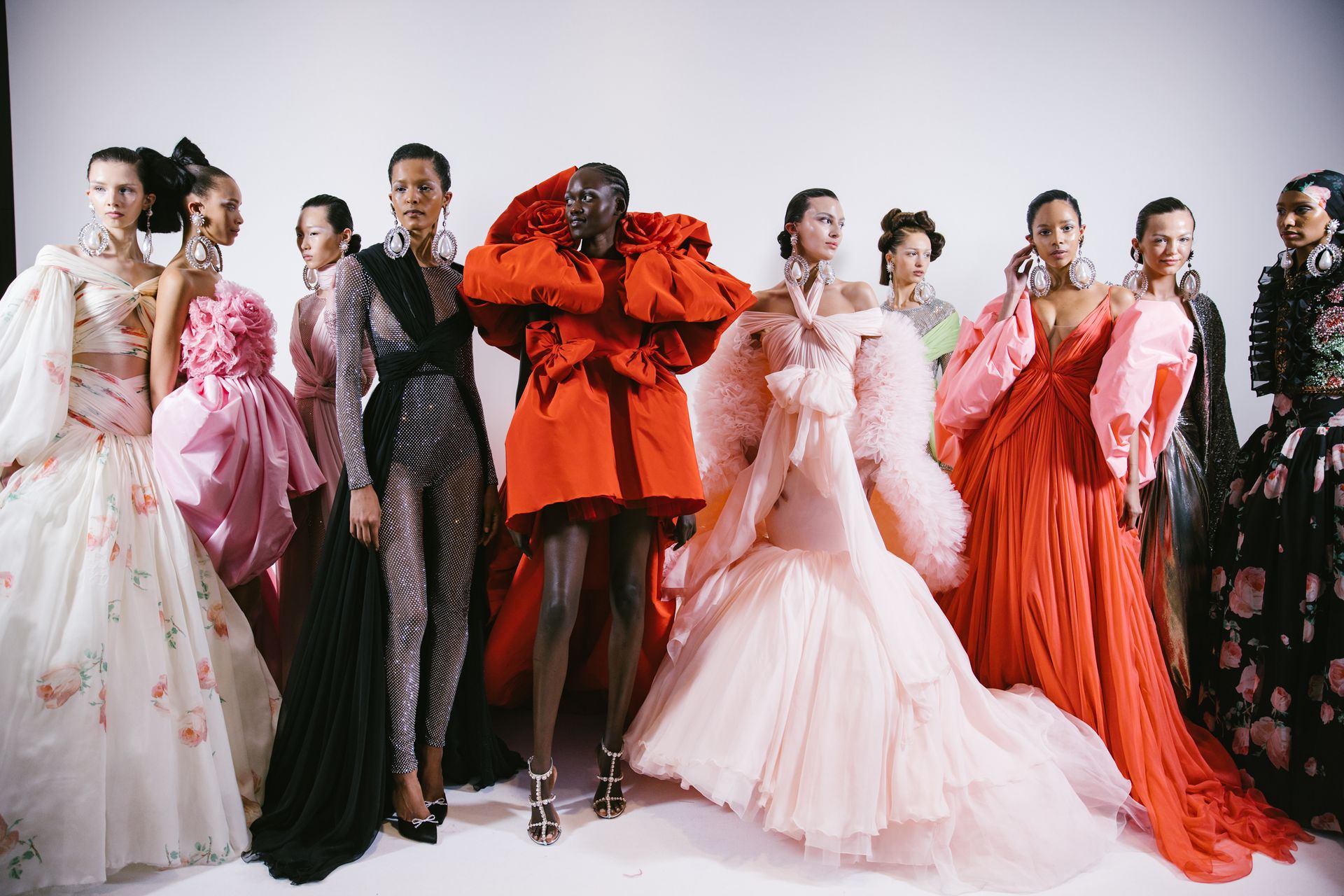 Haute couture show Giambattistu Valli sa opiera o zábavu a ženskosť s nádhernými róbami s mašľami všetkých veľkostí, objemnými rukávmi, bublinkovými lemami a tylovými vlečkami. Bolo to opulentné a nadštandardné tým najelegantnejším spôsobom.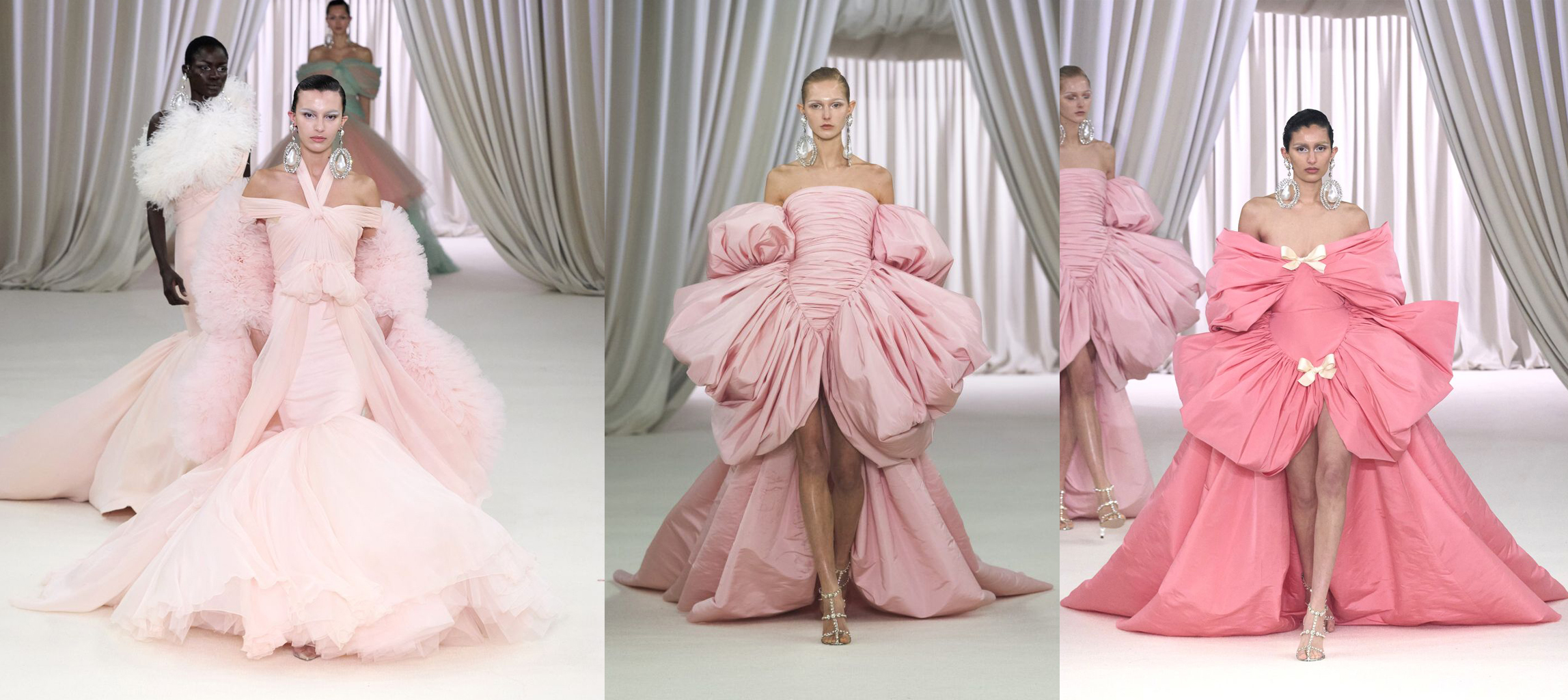 Kolekcia Giambattista Valli, Jar/Leto 2023 bola inšpirovaná Hollywoodom, oblasťou Beverly Hills kreovaná v zmrzlinových odtieňoch. Cukríková ružová, nechtíková žltá, koralová, pistáciová, pomarančová a modrá na šatách pretkaných hodvábnym taftom a šifónom sa rad radom mihali na móle. Ako sa od Valliho očakávalo, bol tam prepychový objem videný ako obrovské rukávy a vlečky zametajúce podlahu.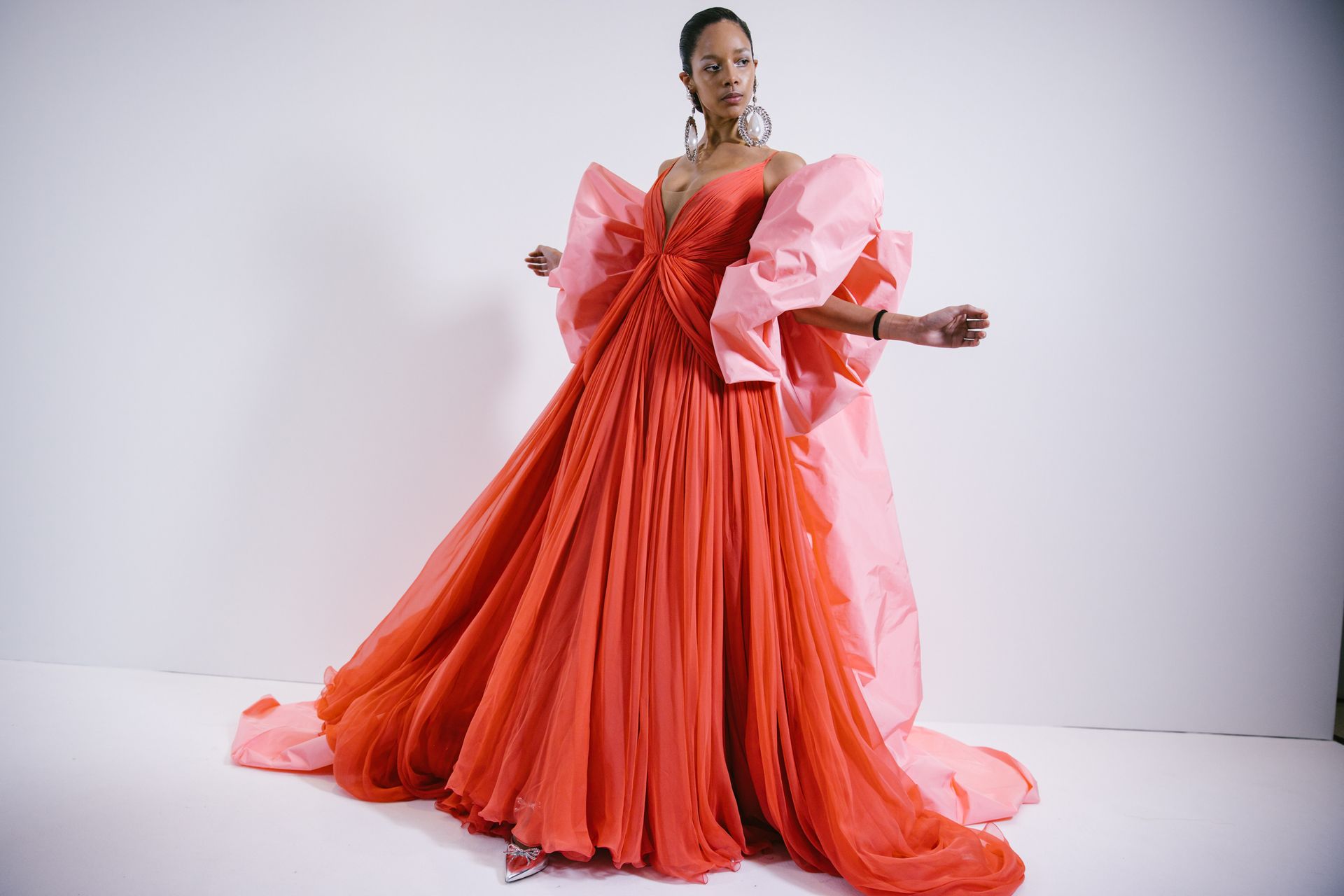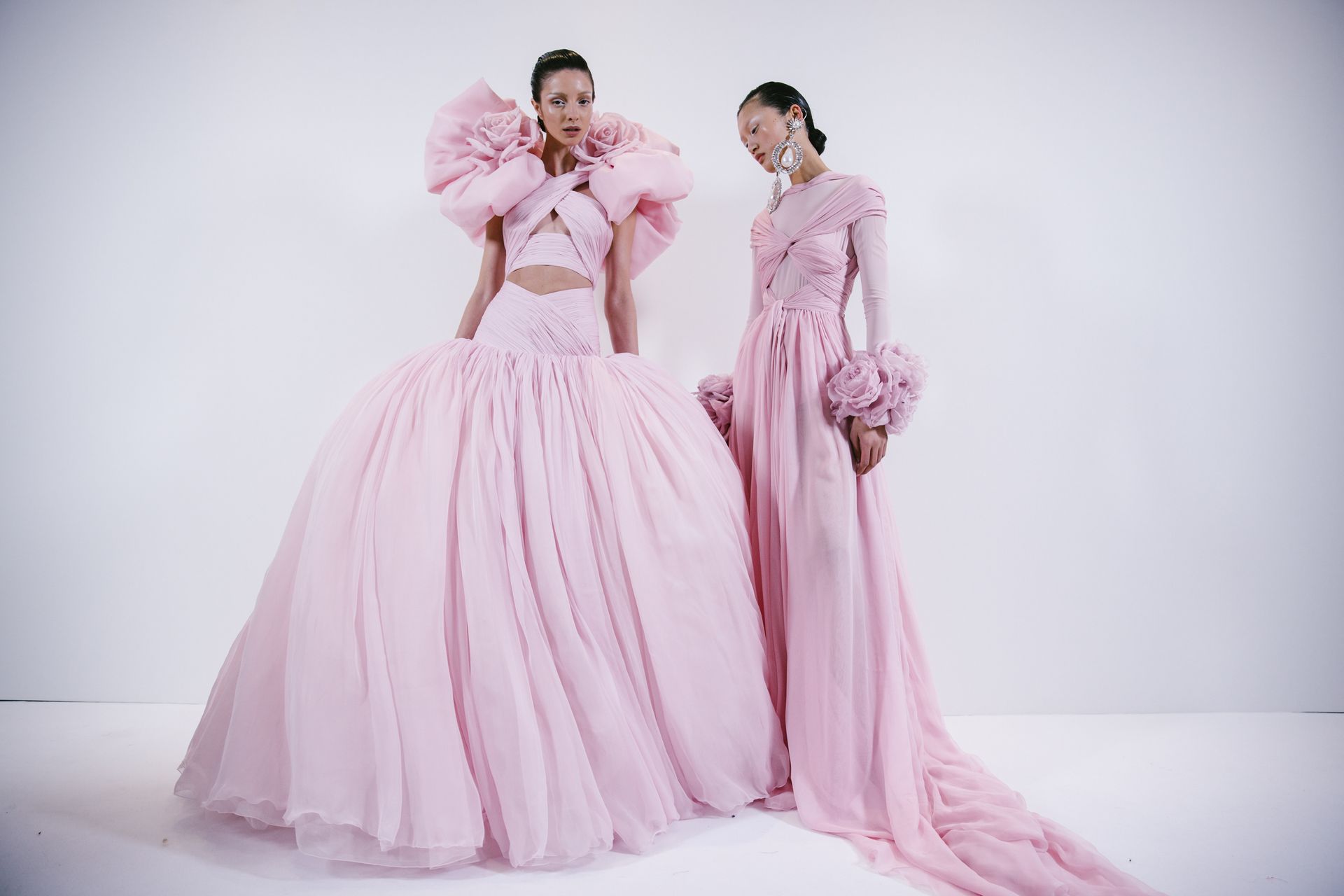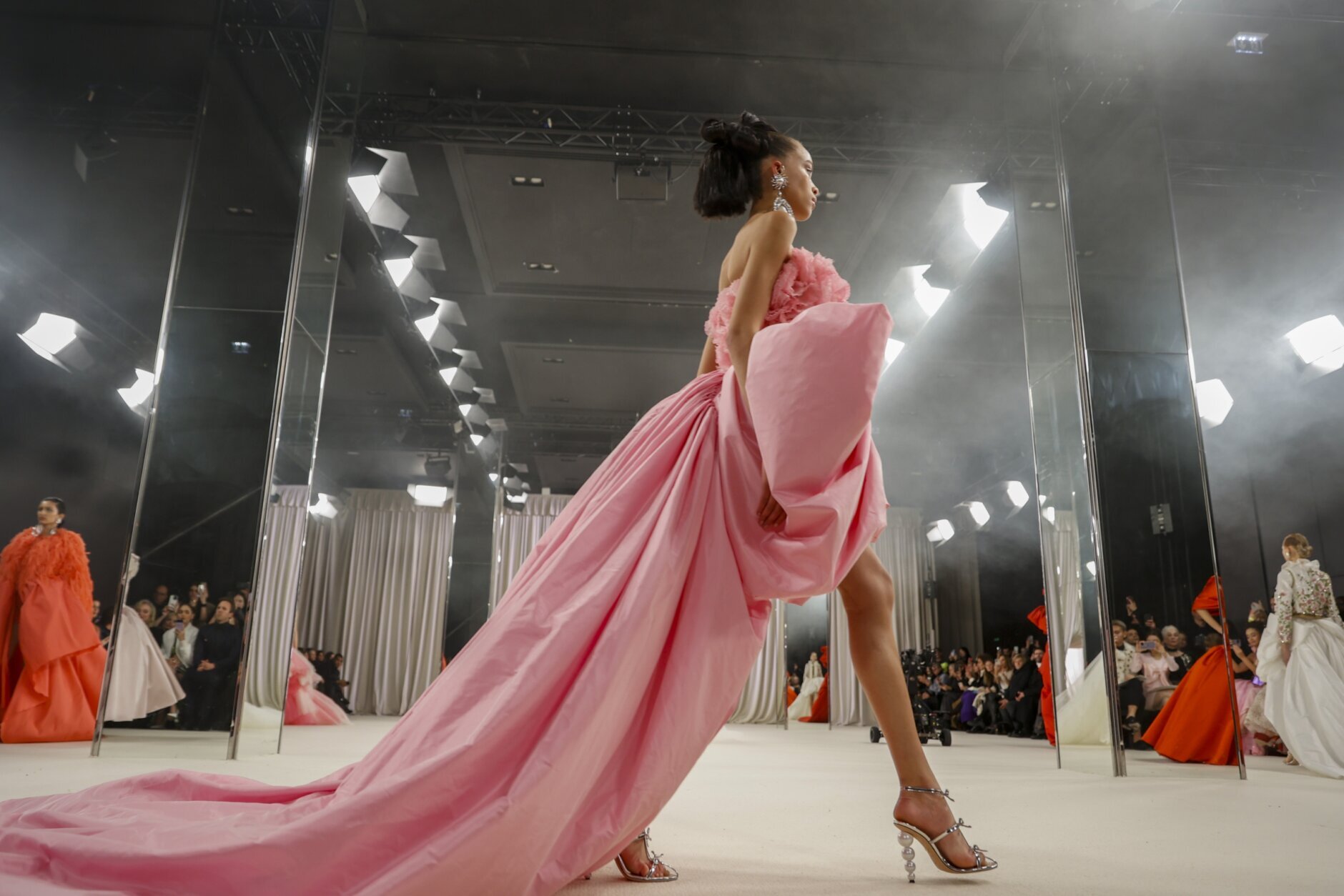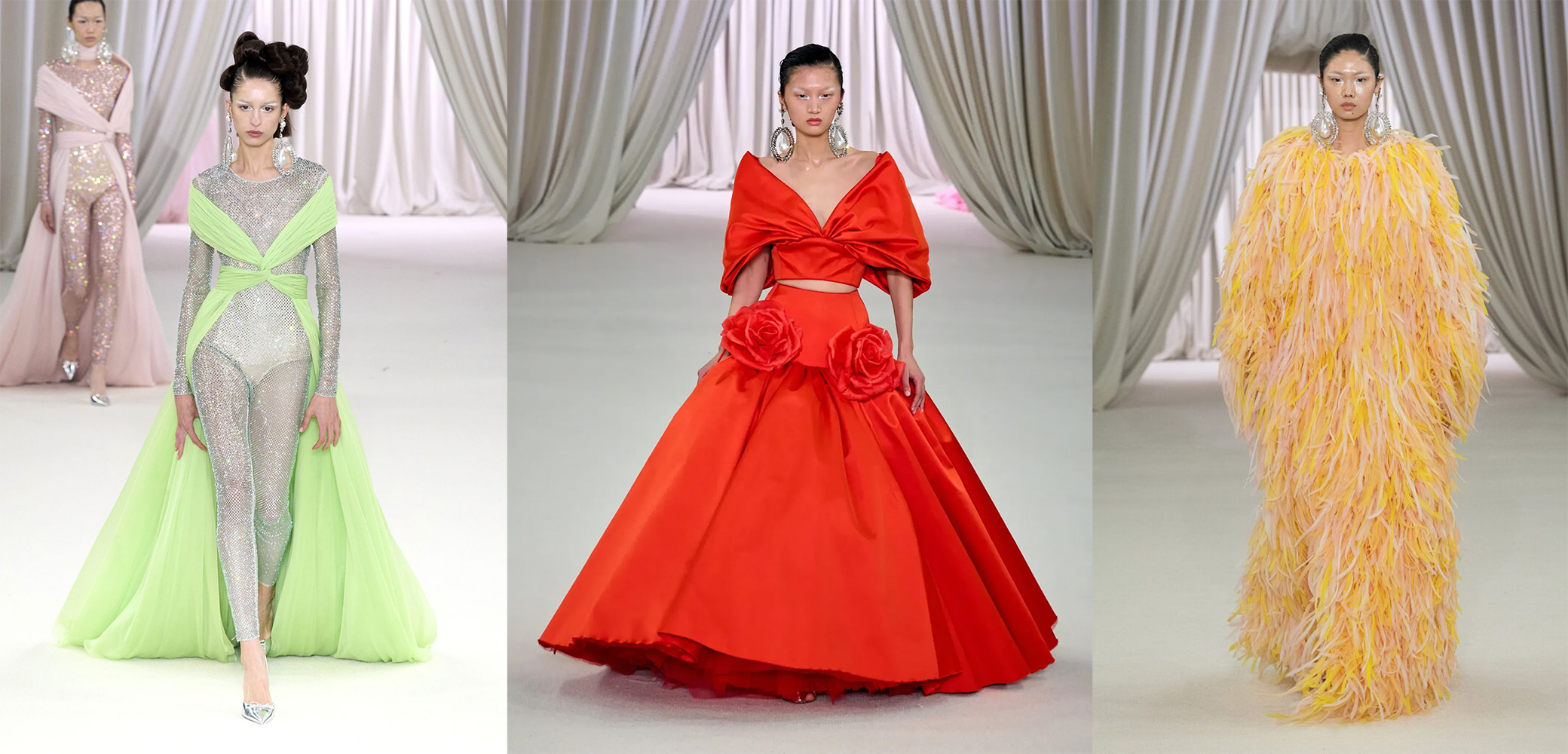 Objavili sa aj šikovné novinky, ako napríklad sukňa morskej panny v kombinácii s orezaným topom, sukňa s plesovými šatami s poklesnutým pásom a trblietavé body s nariasenými plášťami, ktoré križovali trup.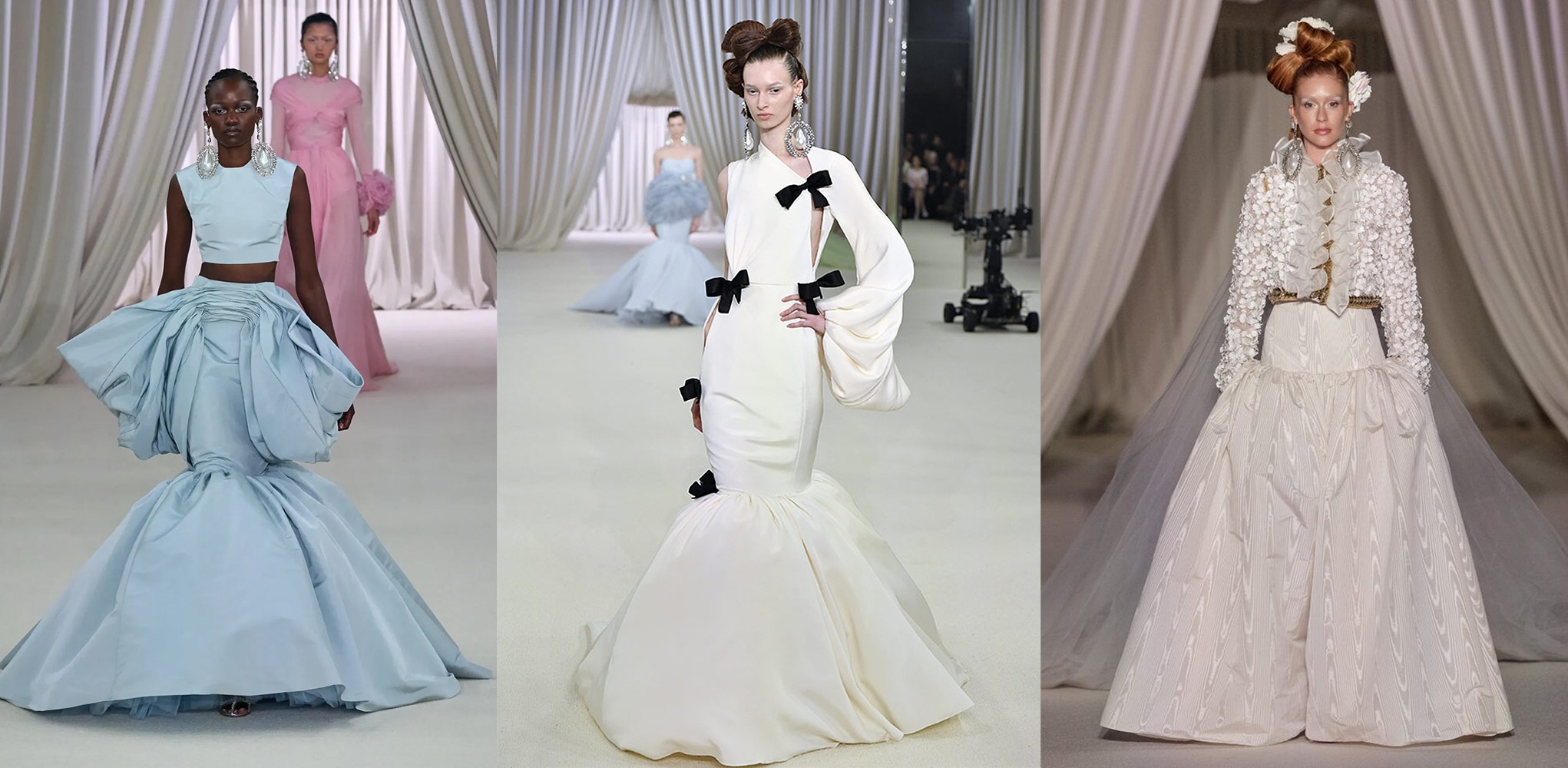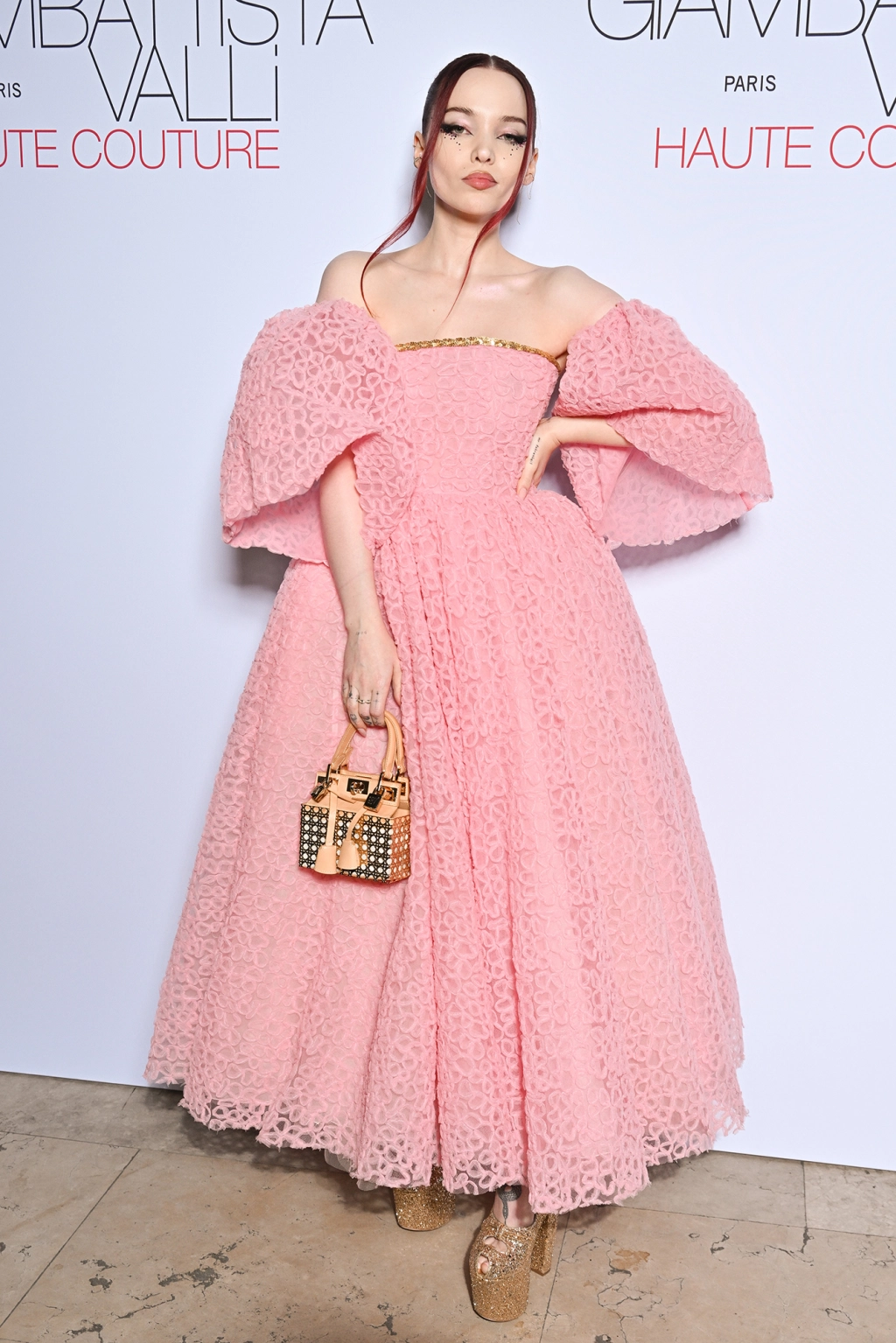 CHANEL
"Humor" nie je slovo, ktoré sa často spája so značkou Chanel, ale možno by sa malo. Počas svojho viac ako 30-ročného pôsobenia vo francúzskom módnom dome, uplatnil Karl Lagerfeld množstvo svojich módnych návrhov, z ktorých mnohé sú pamätné. Virginie Viard, Lagerfeldova chránenkyňa, zatiaľ zaujala v čase, keď bola kreatívnou riaditeľkou Chanel, trochu viac upnutý prístup k dizajnu – až do kolekcie Couture Jar/Leto 2023, s ktorou debutovala v utorok 24. januára 2023 v Paríži.
Východiskovým bodom pre kolekciu Couture značky Chanel – Jar/Leto 2023 bol byt Gabrielle Chanel na 31, rue Cambon. Priestor navštívili kreatívna riaditeľka Virginie Viard a scénograf Xavier Veilhan, pričom inšpiráciu našli v zbierke predmetov, sôch a kresieb predstavujúcich levy, jelene, vtáky a ťavy. Tieto emblémy boli vyšívané na šaty, kabáty a tvídové obleky, zatiaľ čo Veilhan vytvoril na móle 11 zvierat vyrobených z dreva, kartónu a papiera, ktoré modely spočiatku skrývali a potom sa otvorili, aby mohli utiecť.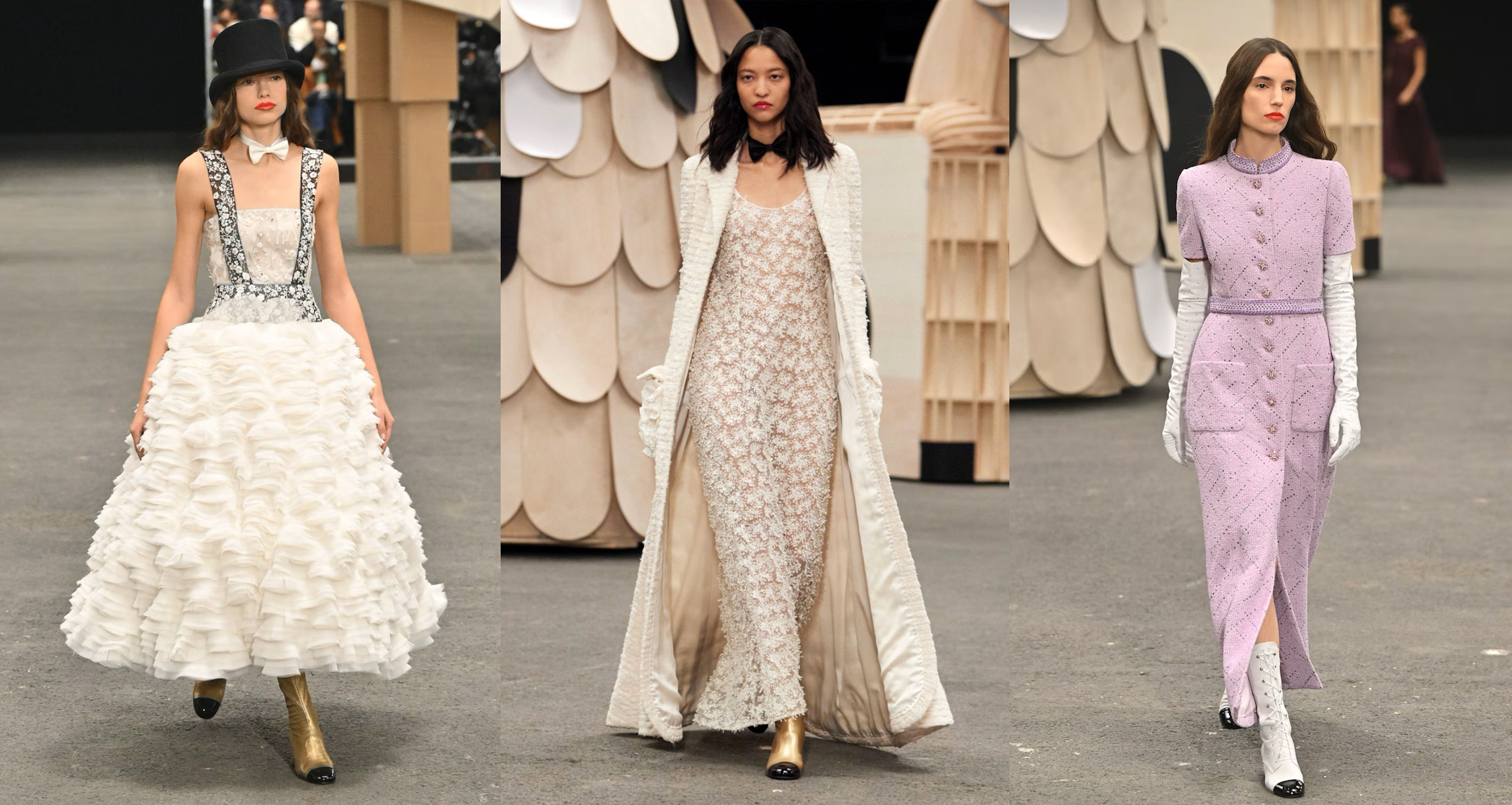 Namiesto serióznejšieho a doslovnejšieho pohľadu na výzdobu sa však Viard rozhodla pre voľnejšiu a zábavnejšiu cestu , kedy na jemných priesvitných šatách boli vyšívané skákajúce zajačiky, klasická kamélia Chanel vytvorená z vrstiev tylu a ďalšie polia jarných kvetov tancujúcich na maxi šatách zdobených do panelov oblekov.
V Chanel dizajnérka Virginie Viard nasadila cylindre a motýliky na siluety inšpirované 20. rokmi, ako sú šaty s padnutým pásom a tylom a čižmy v štýle Spectator.
Vo svojom jadre obsahovala kolekcia haute couture Chanel na jar 2023 siluety, ktoré sa stali typickými pre Viardovu dobu – kabáty zametajúce podlahu, šaty s padavým pásom, prehnané tvary ramien. Bol to závan čerstvého vzduchu dizajnérky, ktorá sa rozhodla pre väčšie odviazanie sa v tvorbe.
ALEXIS MABILLE
Ako to už pri kolekciách Alexis Mabille býva, všetko bolo o farbe. V jeho couture kolekcii Jar/Leto 2023 sme videli zlatú, oranžovú, žltú, ružovú a zelenú farbu na splývavých, hodvábnych róbach, z ktorých mnohé mali aj dramatické výrezy alebo boli úplne bez chrbta.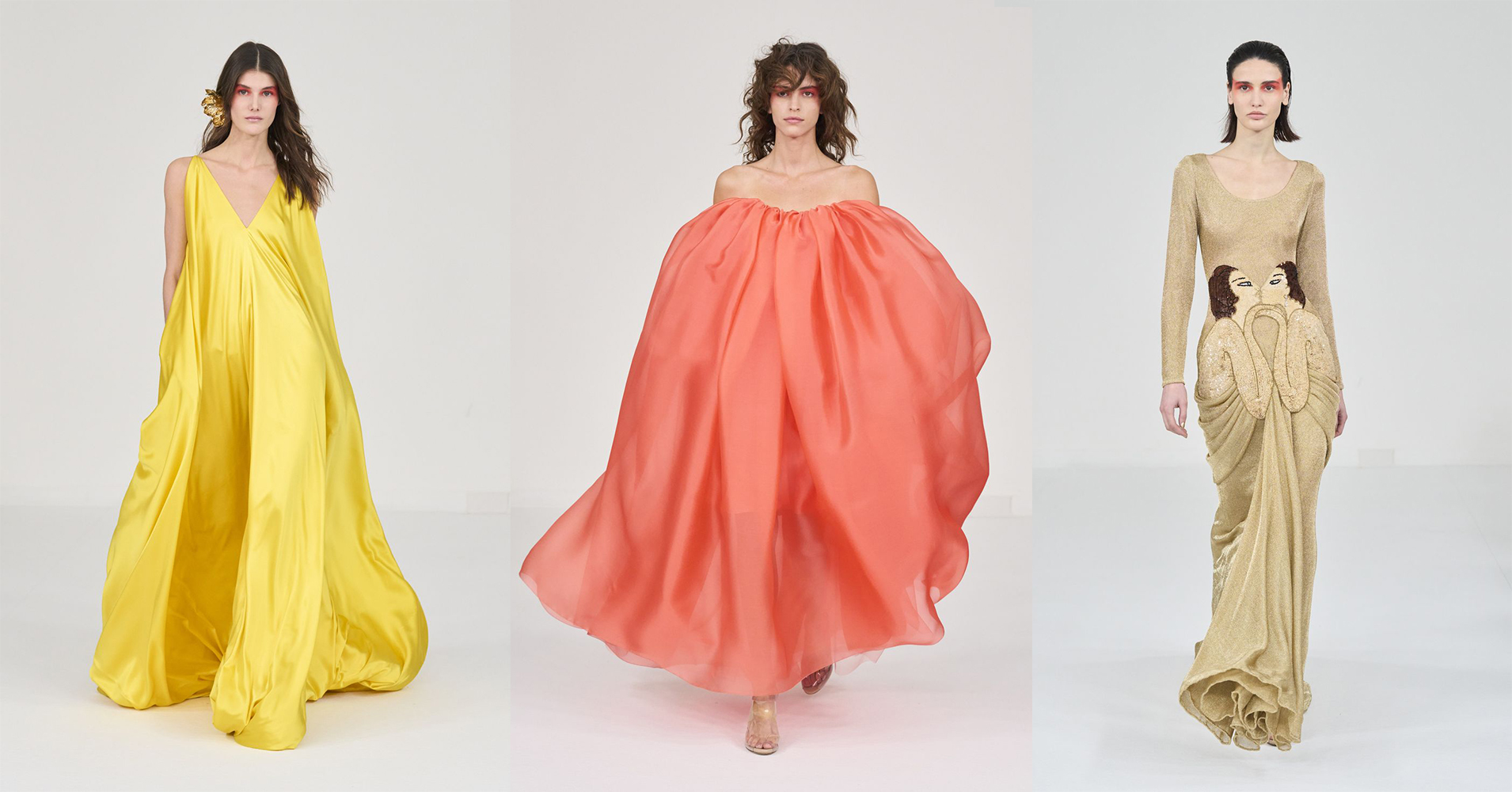 MISS SOHEE
Juhokórejská návrhárka Sohee Park sídliaca v Londýne absolvovala svoj zaslúžený debut v haute couture na Parížskom týždni módy. Hoci je známa svojimi prepracovanými, sošnými a objemnými róbami so zodpovedajúcimi pokrývkami hlavy, jej riskantné rozhodnutie vziať si do svojich haute couture kreácií elegantnejšie siluety sa vyplatilo.
Prehliadku odštartovala jednoduchými čiernymi šatami s jej typickými trblietavými mušľami a pokračovala v napätom rytme tmavými, zvodnými pohľadmi, ktoré ukazujú jej prednosti najmä vo vyšívaní.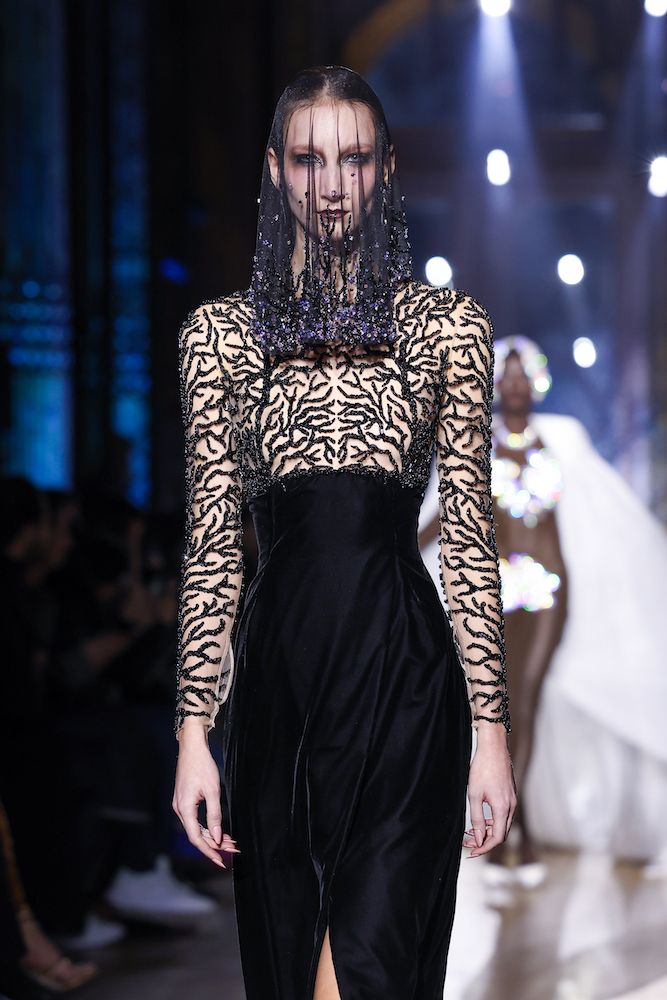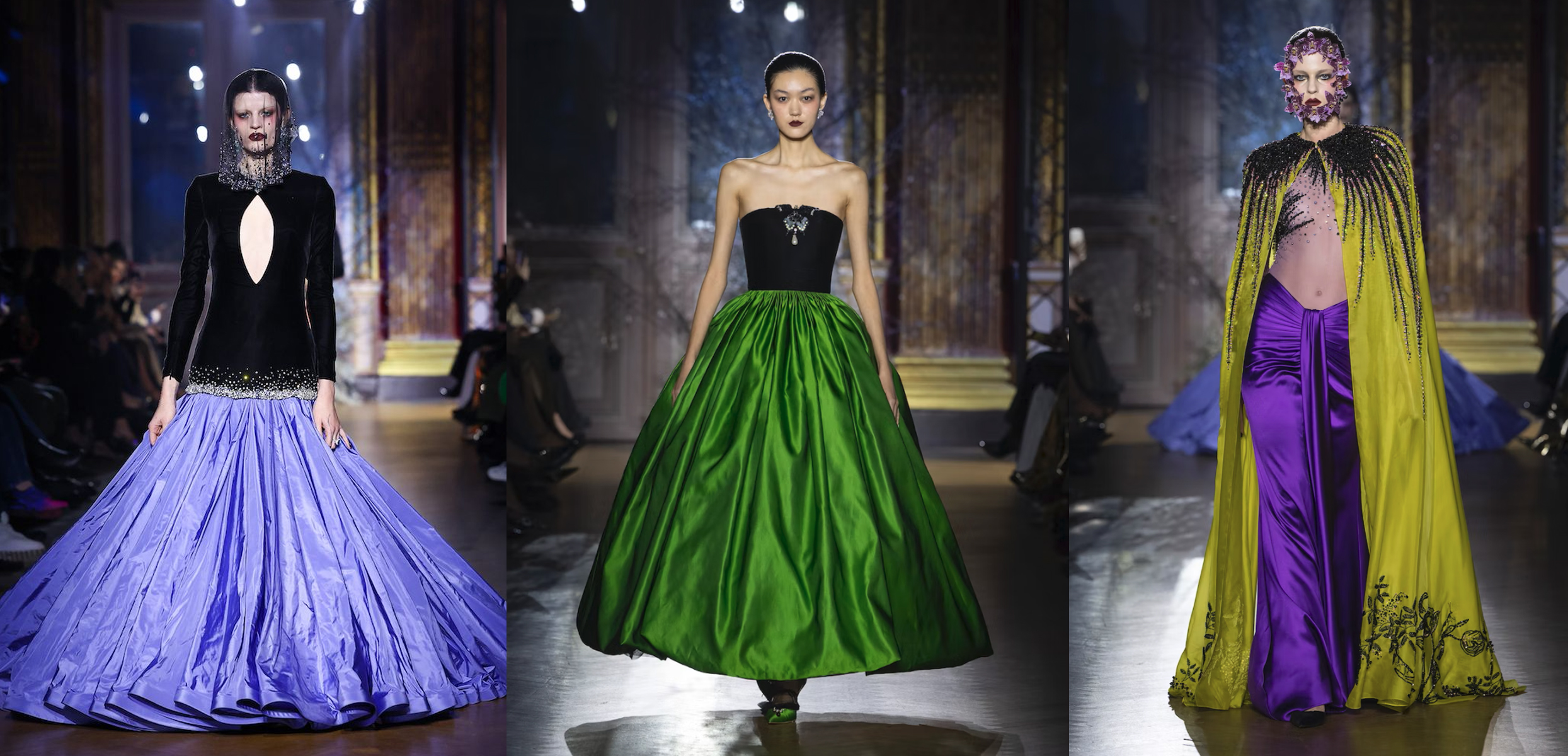 RAHUL MISHRA
Rahul Mishra sa zapísal do histórie ako prvý indický dizajnér, ktorý sa predstavil na Couture Weeku. Jeho božské výtvory, inšpirované kozmom a legendárnym mestom Atlantída, sú krásnou zrážkou modrej, zlatej a zelenej farby.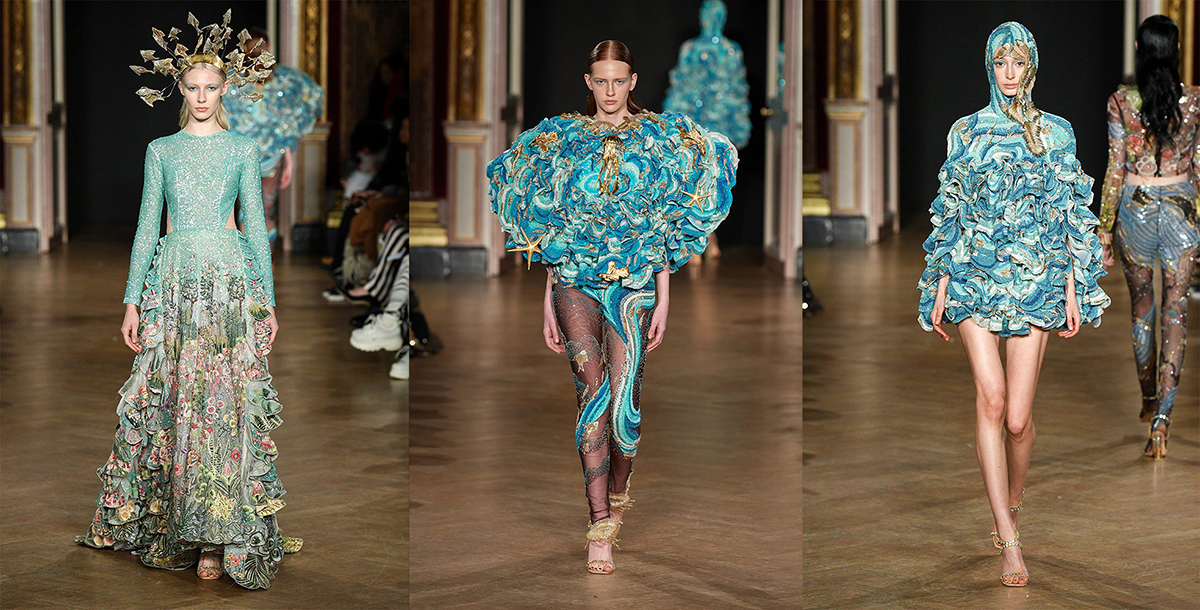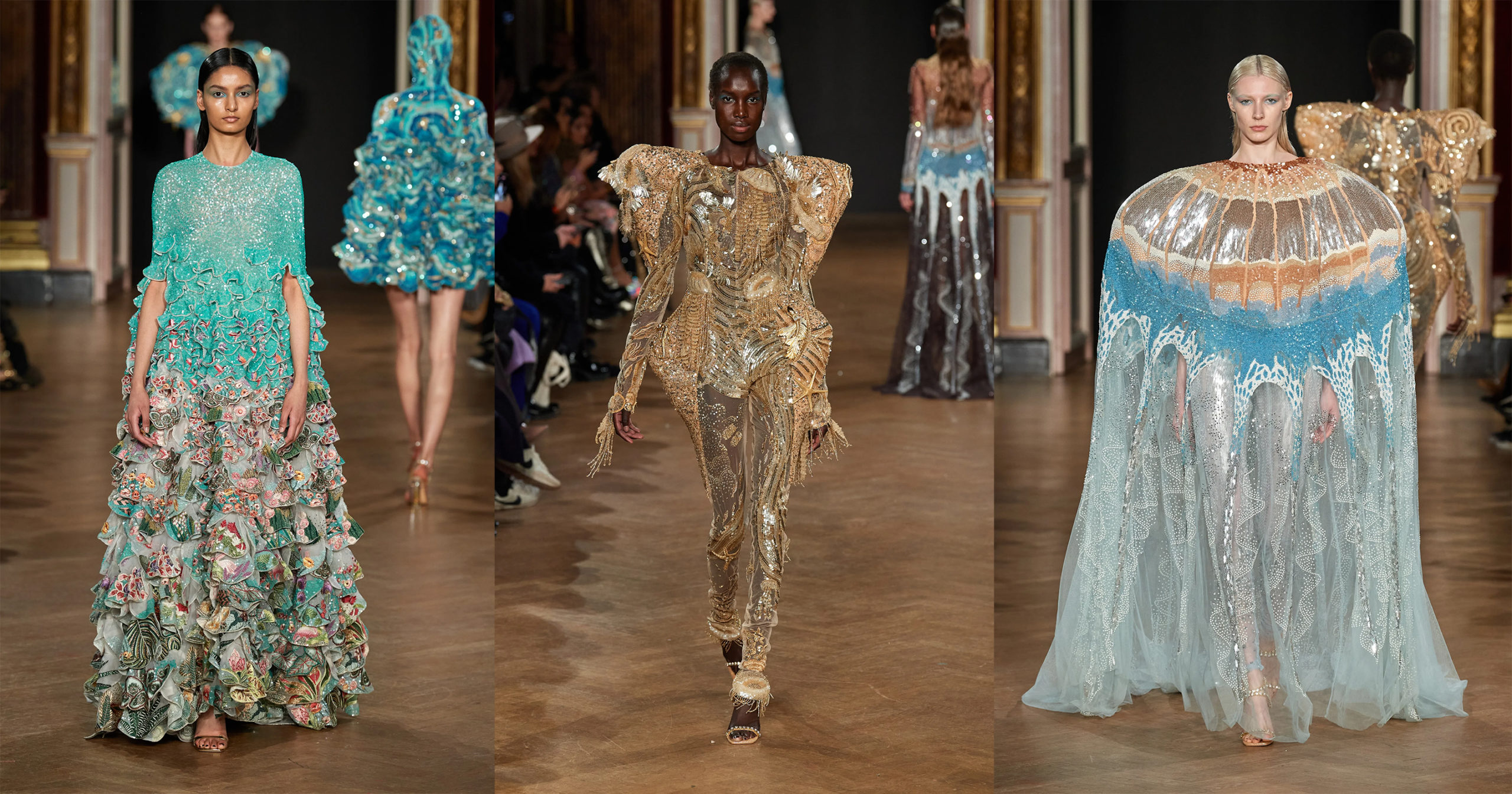 ALESANDRE VAUTHIER
Alexandre Vauthier miluje flitre a pre kolekciu Jar/Leto 2023 ich využil spústu. Kolekcia obsahovala priliehavé flitrové kostýmy s kapucňou, zdobené zamatové šaty, farebné kabáty z umelej kožušiny, trblietavé čižmy po stehná a šaty s obrovskými zrkadlovými detailmi, z ktorých dýchal neospravedlňujúci pôvab, niečo, čím sa návrhár stáva tak dobre známym.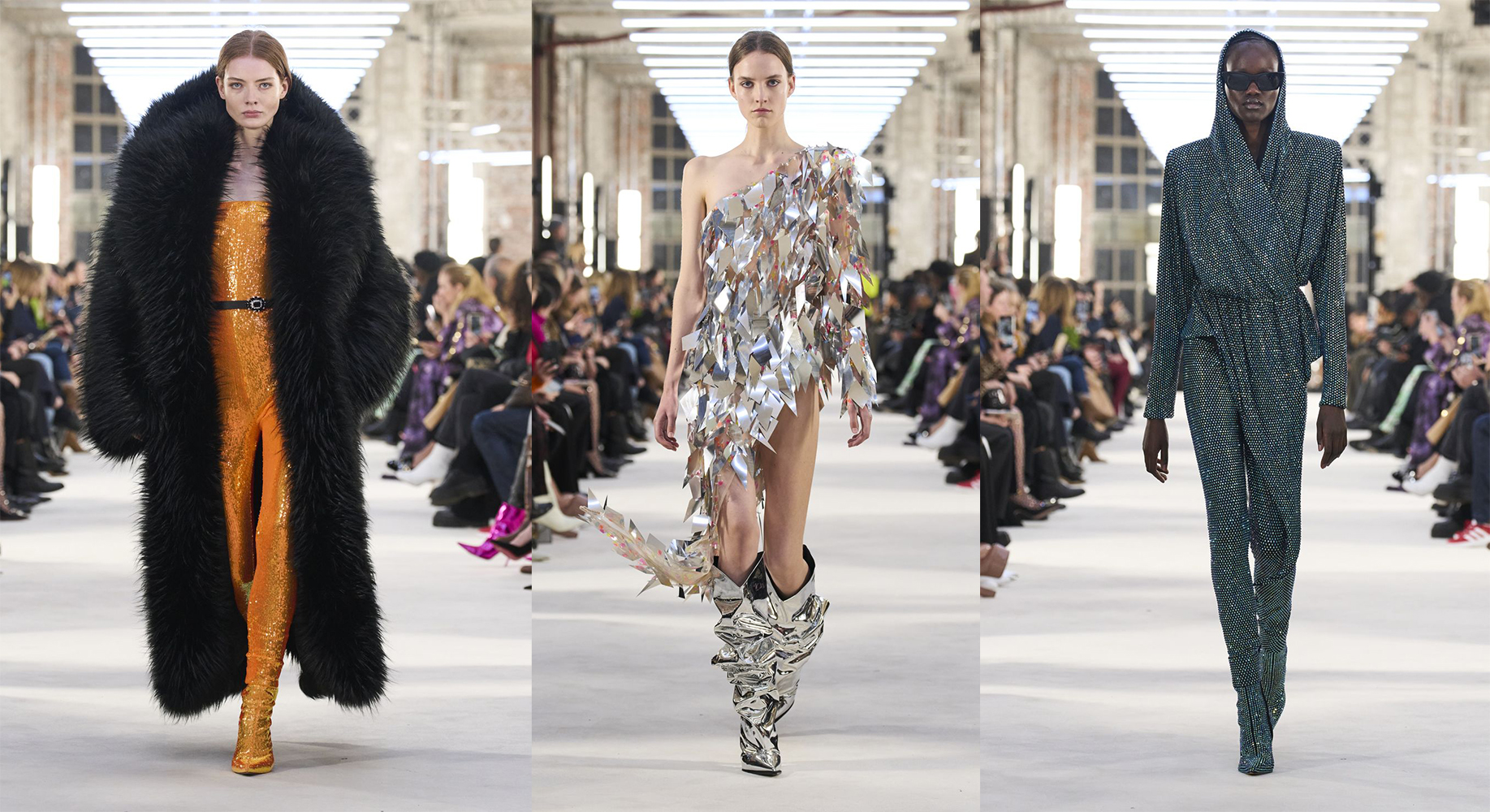 MÓDNE TRENDY Z PREHLIADKOVÝCH MÓL PARIS FASHION WEEKU A COUTURE WEEKU
Počas niekoľkých posledných dní prilákal Parížsky týždeň Haute Couture 2023 do svetovej metropoli aj desiatky celebrít, aby si prezreli kolekcie najlepších módnych návrhárov na Jar/Leto 2023.
Na prehliadkach sa v predných radoch usadili Sofia Carson, herečka Tilda Swinton na Jean Paul Gaultierovi, Kylie Jenner , Doja Cat a herečka Philippine Leroy-Beaulieu na prehliadke Schiaparelli, herečka Anya Taylor-Joy na prehliadke Dior, speváčka Kylie Minogue, modelka Rosie Huntington-Whiteley a Anne Hathaway na prehliadke Valentino a Lucas Bravo na prehliadke Armani Privé.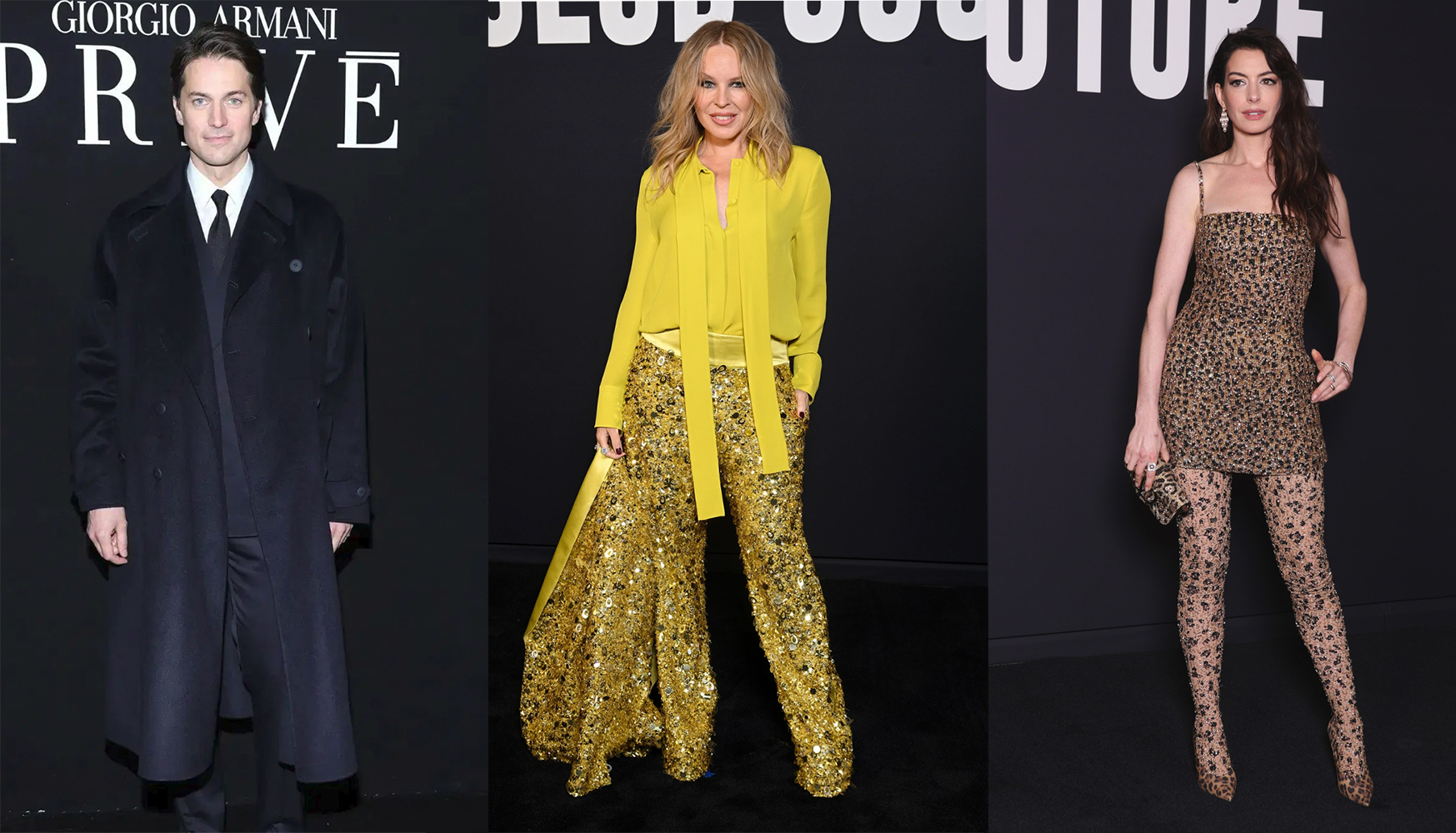 Tu sú najdiskutovanejšie viditeľné trendy z tohtoročných mól Paris Fashion Weeku a Haute Couture Weeku:
ZÁHYBY NA ZÁHYBOCH
ISSEI MIJAKE
Prehliadka Issei Mijake kolekcia pre pánov – Jeseň/Zima 2023-24 prezentovaná v januári vrámci Paris Fashion Weeku zahŕňala geometrické tvary a charakteristické záhyby značky naprieč modelmi. "Geometrické tvary so silným zameraním na trojuholníky boli východiskovým bodom a impulzom pre tohtoročnú kolekciu Homme Plissé Issey Miyake, ktorá ukazuje mnohé iterácie toho, ako možno trojuholníky a iné hranaté prvky skrútiť a manipulovať do zložitých siluet a vzorov," píše CNN.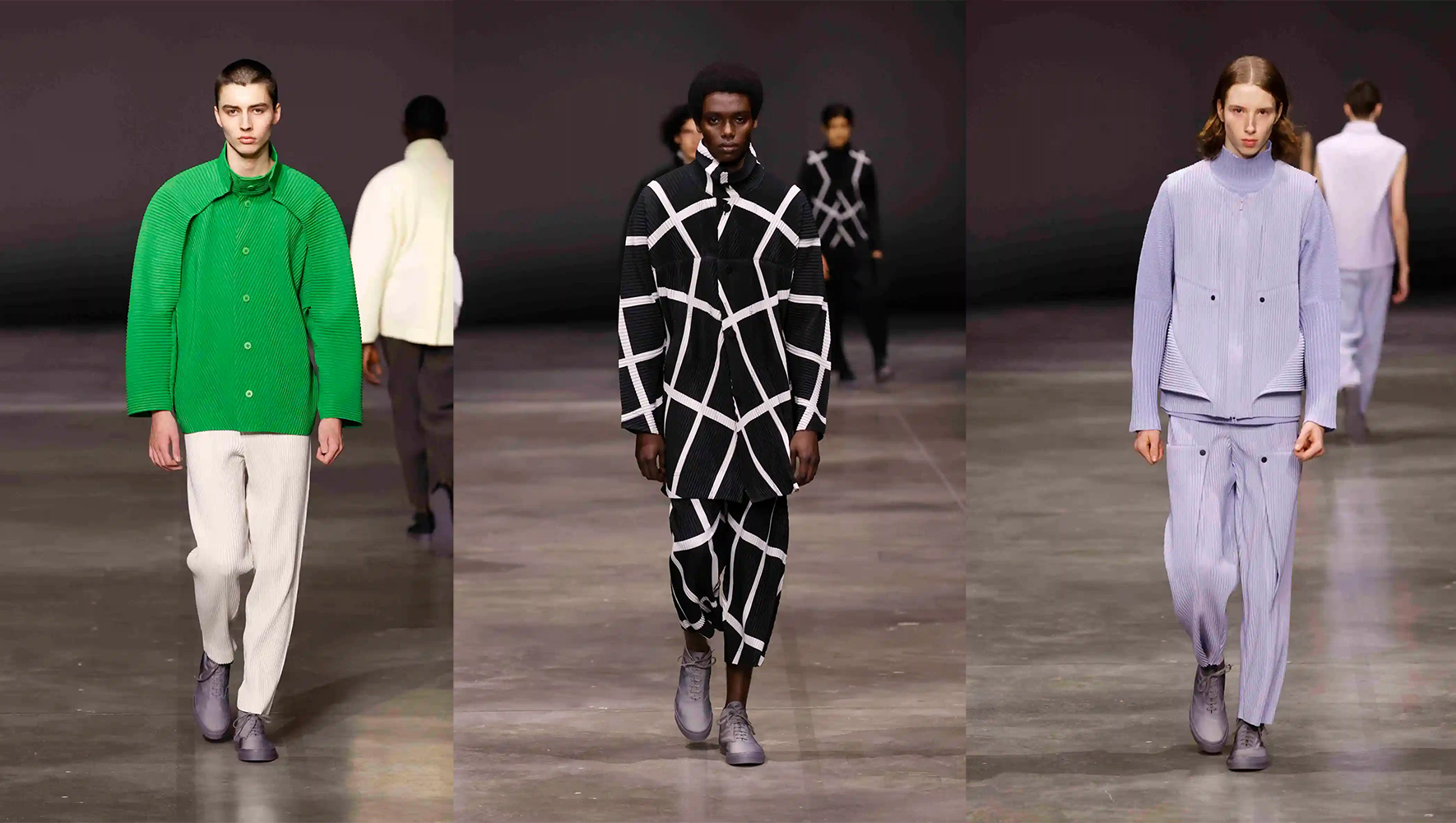 Issei Mijake bol japonský módny návrhár. V roku 1964 dokončil štúdium grafického designu v Tokiu. Neskôr odišiel do Paríža, kde pracoval ako asistent Guye Larochea. Pracoval tiež pre Huberte de Givenchyho.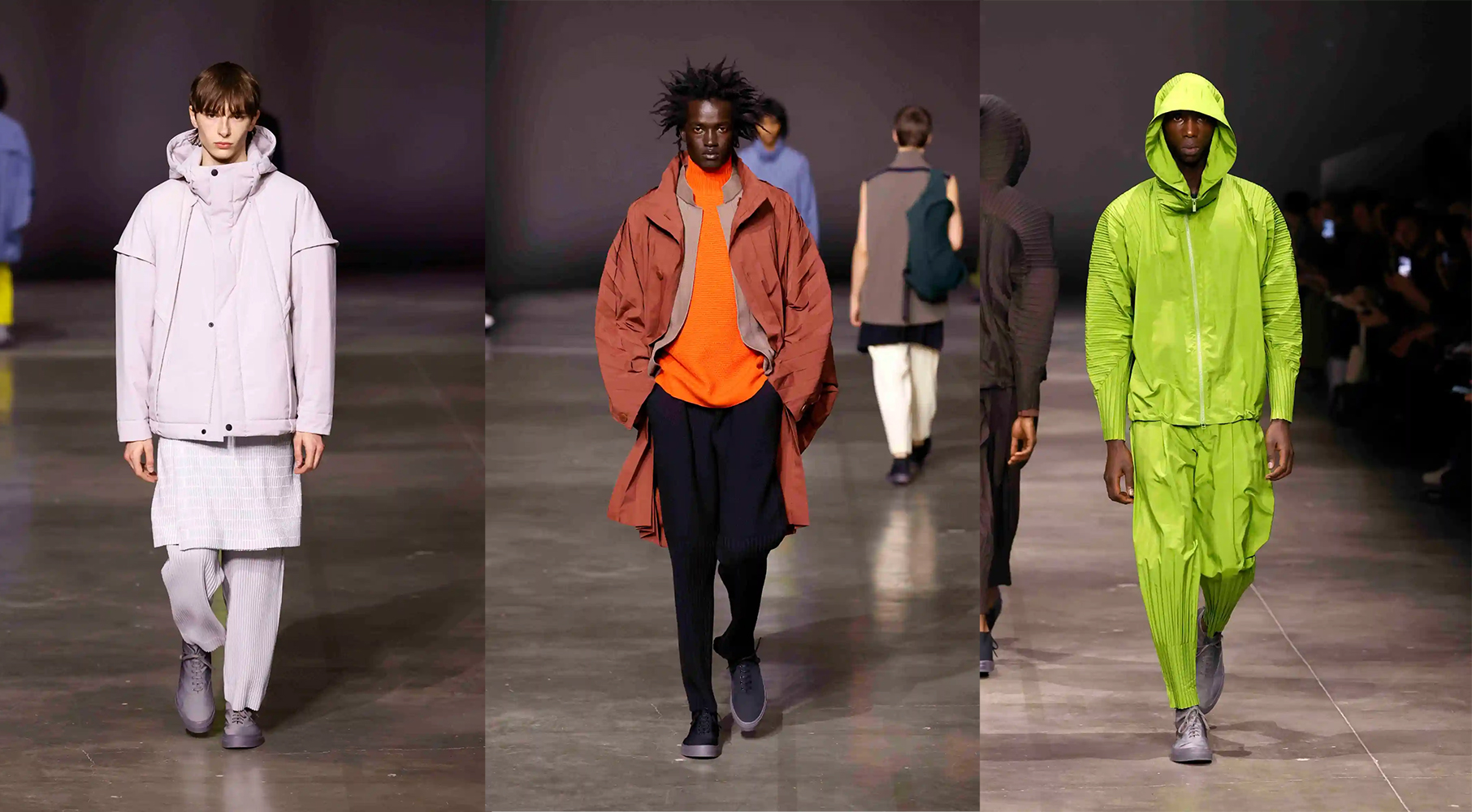 V prvých štyroch módnych lookoch zdieľaných Vogue Runway zahŕňala prehliadka bundy s vrstvenými rukávmi tvarovanými do trojuholníka, ktoré poskytujú väčšiu definíciu a vyzerajú, akoby mala jednodielna bunda dve časti. Dodatočne sa konalo predstavenie, kde tanečníci predvádzali funkčnosť oblečenia, čím ho oživovali. Značka je známa vytváraním záhybov a táto kolekcia nebola iná, pričom využívala kombináciu záhybov na záhyboch – "na vytvorenie kabátu s pôvodom origami", ako napísal Hypebeast.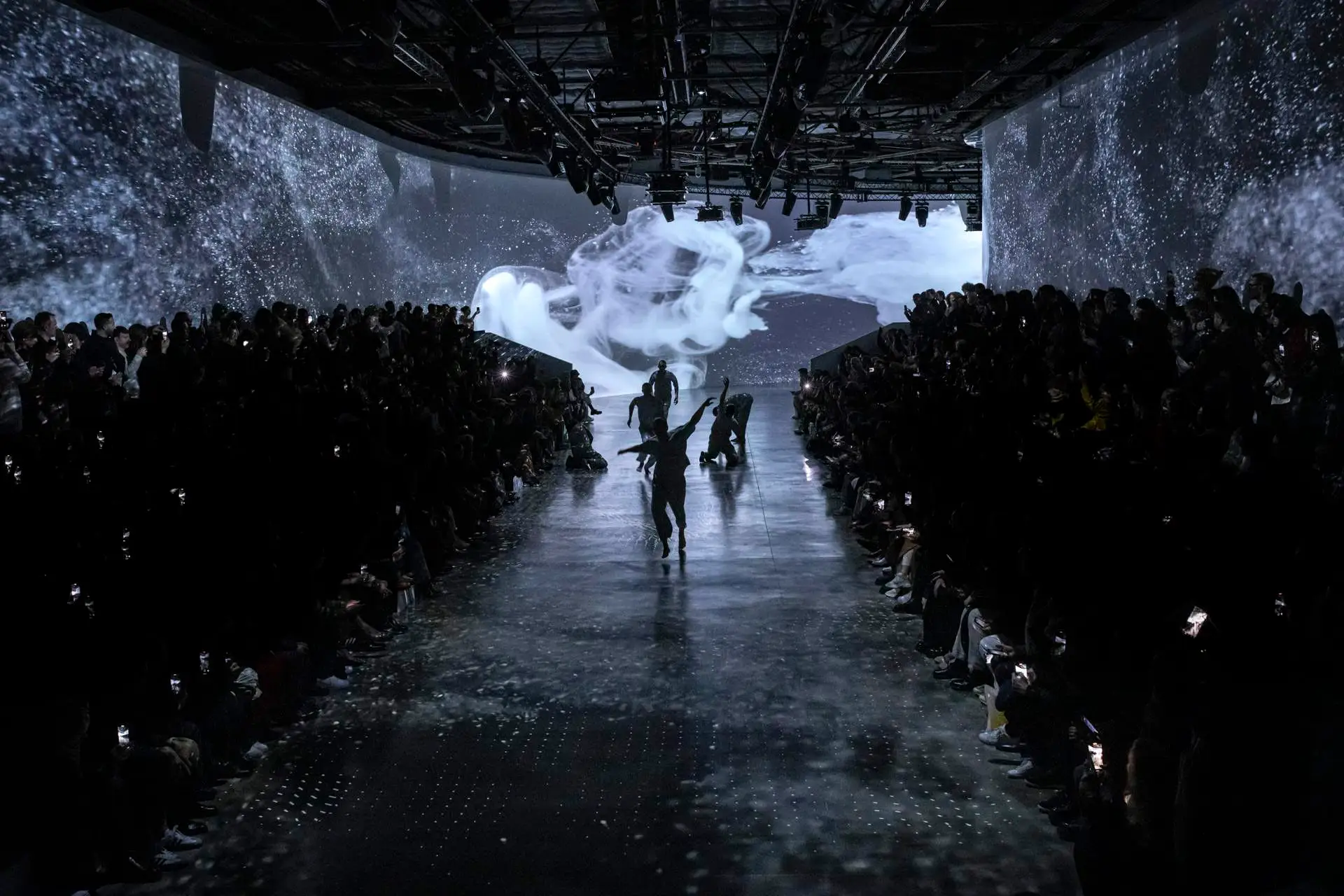 AFRICKÉ TRENDY
IMANE AVISSI
Imane Ayissi votkol africké textílie do svojej kolekcie Haute couture 2023 predstavenej vo štvrtok v Paríži, pričom zmiešal odevy s rafiovou podšívkou a predviedol kolekciu v pestrých farbách. Šaty boli potiahnuté flitrami alebo vzdušnými hodvábnymi strapcami.
"Toto je možnosť ukážky techník afrických remeselníkov," povedal Ayissi.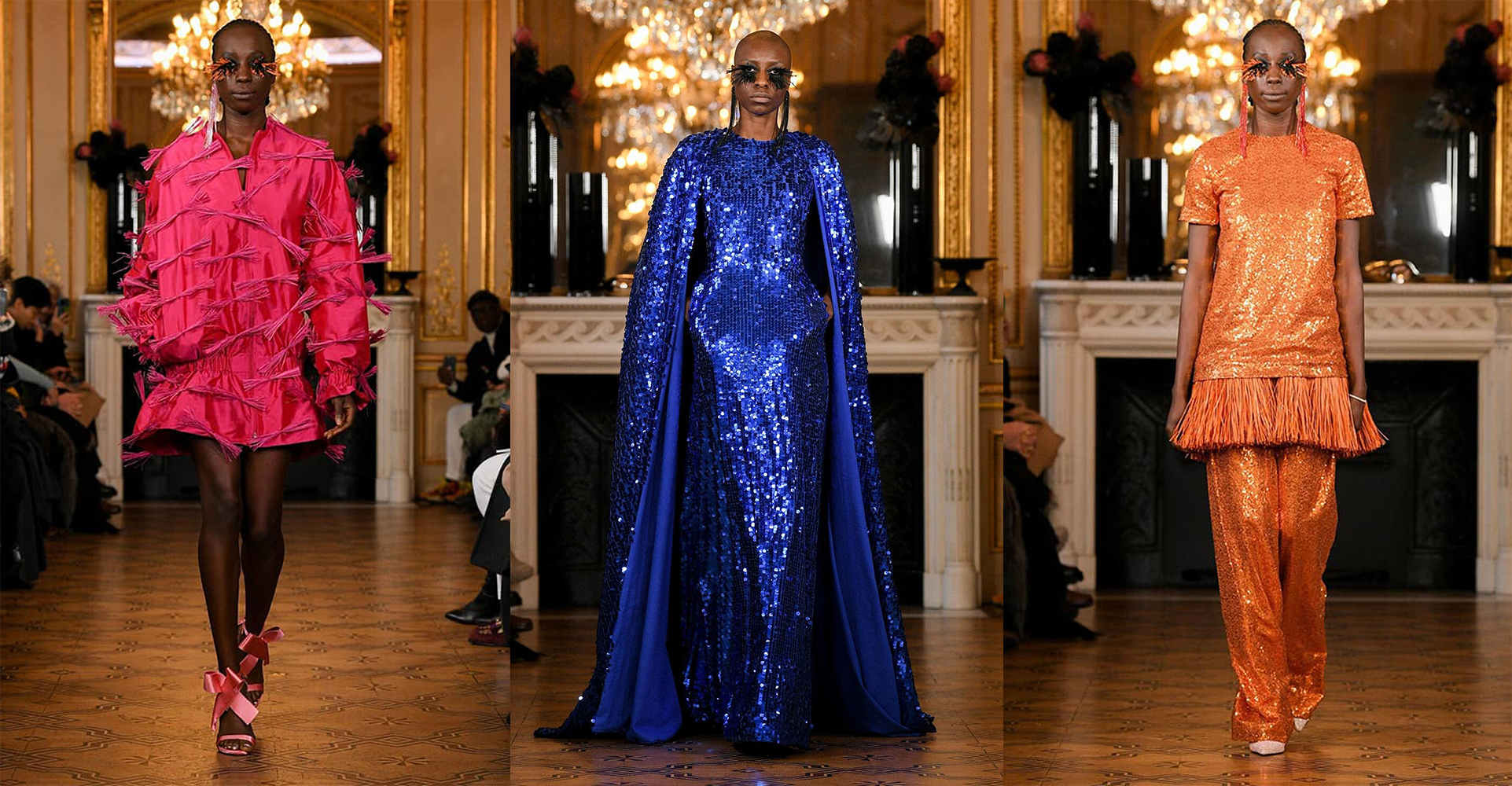 Modelky kráčali po prehliadkovej dráhe v zdobenom kaštieli neďaleko Víťazného oblúka a predvádzali sochárske šaty a topy potiahnuté flitrami a zdobené rafiou. Priliehavé minišaty v oranžovej, červenej, ružovej a zelenej farbe sa vyznačovali tradičnou technikou tie-dye, s oranžovými ozdobami z kryštálov Swarovski, ktoré modelom dodali lesk.
Kamerunsky módny návrhár, ktorý sídli v Paríži, je momentálne prezentovaný na výstave Victoria & Albert Museum "Africa Fashion" v Londýne.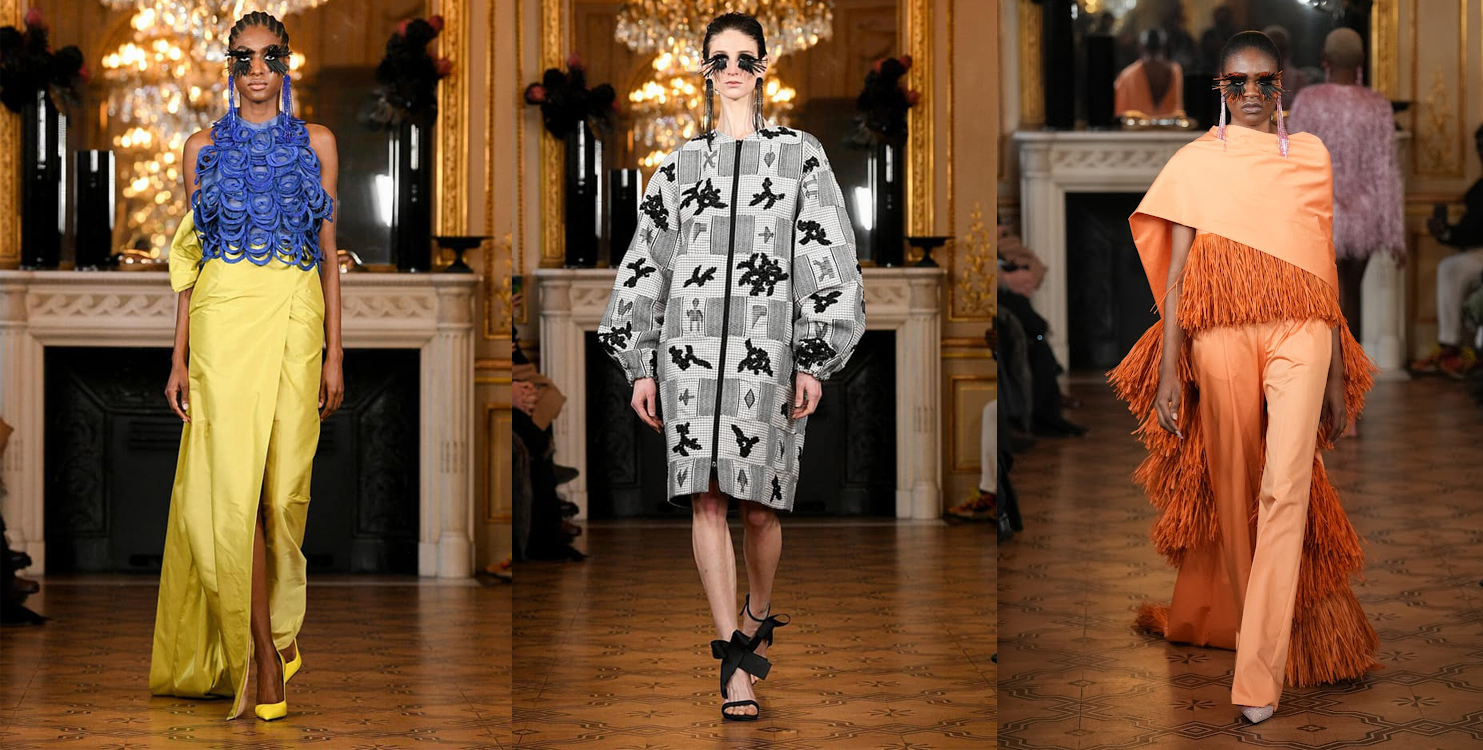 Prvú časť článku si môžete prečítať v histórii na tomto blogu v kategórii Fashion .
Obrázky: © AFP Photo, Estrop/Getty Images, Peter White/Getty Images, Victor Virgile/Gamma-Rapho via Getty Images, insider, Estrop/Getty Images
Sledujte Facebook stránku: Mya Mirell Fashionista a Instagram: mya_mirell .