Najzaujímavejšie prehliadky Paris Fashion Weeku, Jar / Leto 2020, Christian Dior, 24. september 2019
Paris Fashion Week, ktorý sa konal v čase od 23. septembra do 1. októbra 2019 aj túto sezónu hostil ikonické módne domy, ktoré predviedli skvosty svetovej high fashion. Jedným z nich a hneď prvým v harmonograme módneho týždňa, bola značka Dior, na ktorej prehliadku sa poďte pozrieť.
DIOR
Značka Dior nastavila svojou štartovacou prehliadkou Paris Fashion Weeku latku ozaj vysoko. Show sa odohrávala v stane premenenom na záhradu, labyrint so živými stromami, ktoré budú teraz vysadené v okolí Paríža ako časť projektu dlhodobej biodiverzity. Stratégiou osadenia show bolo zabezpečiť nulový odpad a celý set bude znovu recyklovaný alebo znovu vysadený. Divákov teda nečakalo žiadne tradičné prehliadkové mólo, ale prekrásna prírodná scenéria, ktorá v nich mala vyvolať dojem, akoby sa ocitli v lone prírody.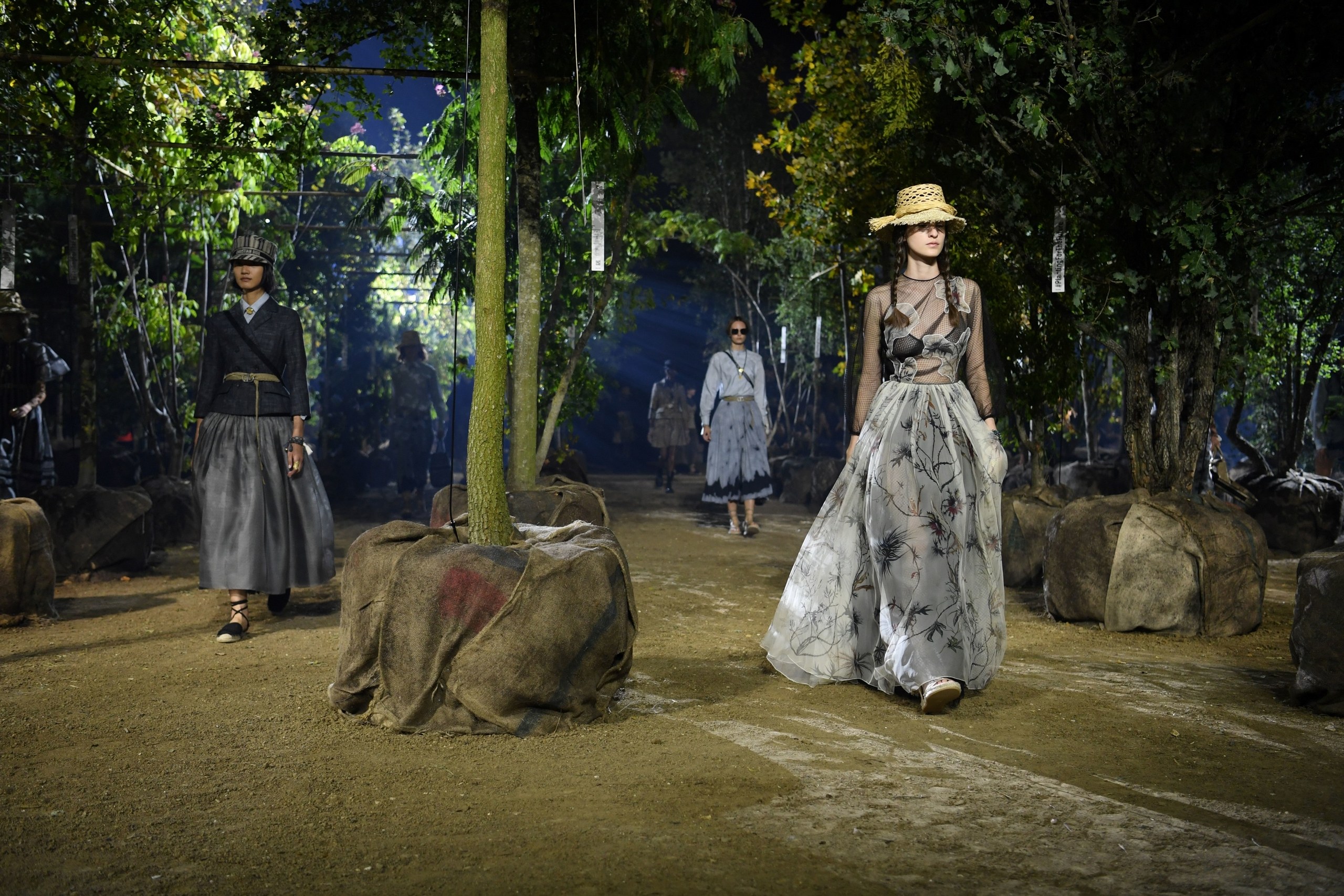 Módna dizajnérka značky Dior, Talianka Maria Grazia Chiuri, sa zamerala túto sezónu na prírodu a biodiverzitu unikátnou módnou show. Táto téma však v dnešnej dobe nie je celkom nečakaná, v
módnom priemysle dominuje čoraz viac. Stále častejšie sa začínajú skloňovať slová ako udržateľnosť, pomalá móda, tzv. slow fashion, ktorá sa stavia do protipólu s rýchlou módou, fast fashion. Tú, ako je známe, presadzujú módne reťazce a tak sa svetoví módni dizajnéri snažia vykročiť v súlade s prírodou spolu ku krajšej udržateľnej budúcnosti. Slow fashion sa vďaka unikátnym nápadom módnych značiek naďalej pretláča do popredia.
Ikonický módny dom Dior v tomto urputnom úsilí nezaostáva, svojou najnovšou kolekciou prispel k celosvetovej osvete a zároveň priniesol pozitívne posolstvo v podobe očarujúcej a unikátnej módnej show. Ukázal, že móda sa dá tvoriť ohľaduplne s udržateľným zámerom a zároveň s estetickou ľúbivou fantáziou.
Posunutie hraníc myslenia o módnej tvorbe v zmysle udržateľnosti a šetrnosti voči prírode, ktorú máme iba jednu , je obrovským pozitívnym krokom a zároveň vztýčeným prstom k urgentnej záchrane prírody a planéty. A to musíme urobiť hneď !
DIOR – OSLAVA PRÍRODY
Najnovšia kolekcia značky Dior, Jar / Leto 2020, ktorá bola odprezentovaná na týždni módy v Paríži, bola inšpirovaná prírodou a jej krásami. Visačky na živých stromoch v scenérii prírodného labyrintu niesli nápisy vysádzanie pre budúcnosť. Jasný odkaz s pozitívnym odhodlaním a zámerom šetriť prírodu a prírodné zdroje.
Táto téma nemohla prísť vo vhodnejší čas ako teraz, keď je taký tlak na udržateľnosť a ochranu prírody, klimatické zmeny bičujúce prírodu a ľudský zásah. V čase volania "zachráňme prírodu, planétu Zem" v tejto kolekcii značky Dior, tí, ktorí sa prizrú bližšie, pochopia naliehavosť tohto odkazu . Zakonzervujme aspoň to, čo ešte z prírody ostalo. Unikátny nápad a zaslúžený potlesk pre dizajnérku Maria Grazia Chiuri.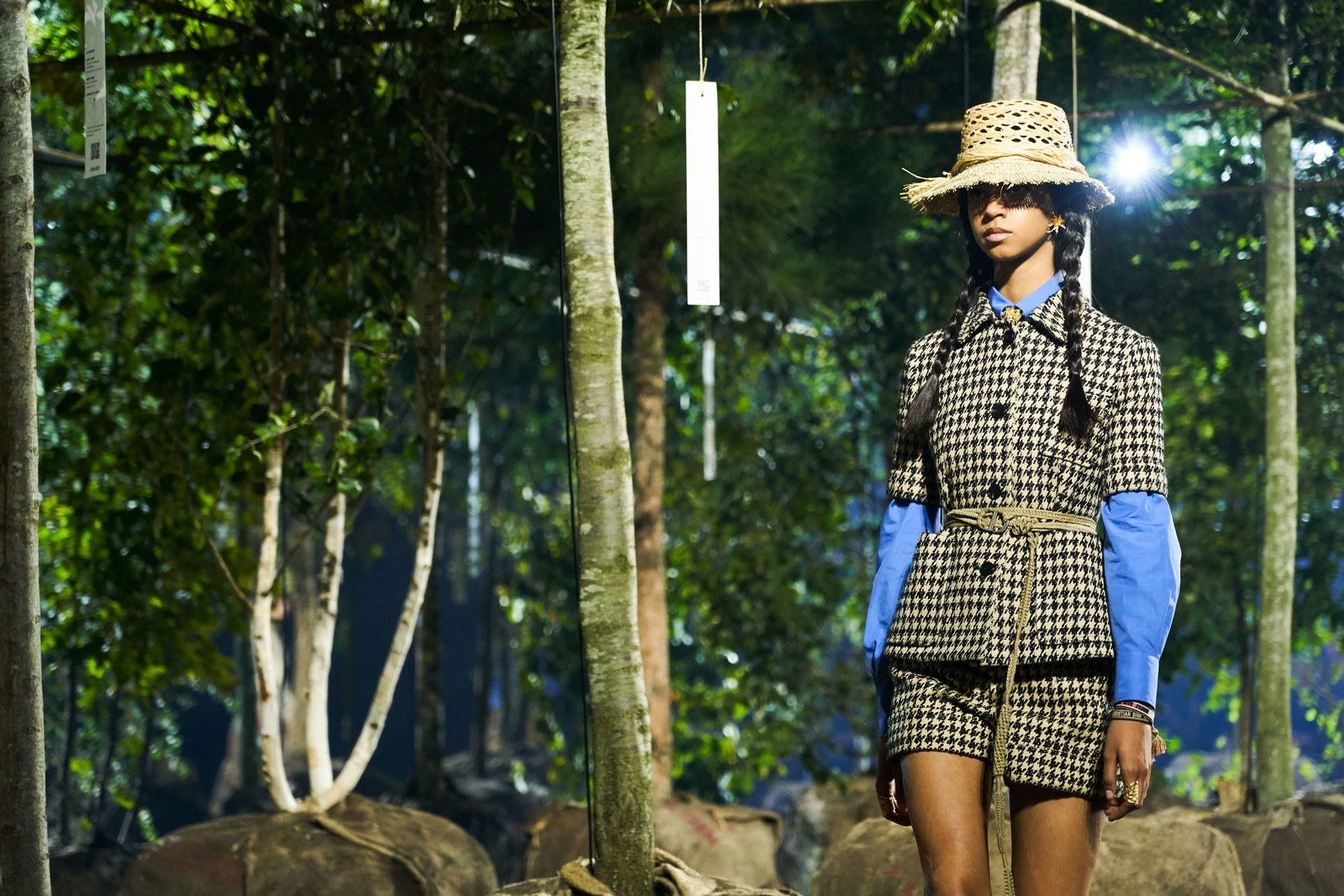 KOLEKCIA DIOR – JAR / LETO 2020
Dior módna show pre sezónu Jar / Leto 2020 bola oslavou prírody, zemská a lesná a niesla sa v duchu vyšívaných motívov vegetácie na šatách a textúrových rafia sukniach k skutočným stromom použitých na setoch.
Nebola to však jediná inšpirácia, motto prehliadky. Návrhárka bola inšpirovaná fotkami Catherine Dior, sestry slávneho Christiana Diora, v jej záhrade. Spojila tak tematiku ochrany prírody so záhradnou témou a oslavou modernej ženy Catherine Dior, o ktorej sa vie len málo.
Prehliadka bola zároveň poctou Catherine Dior, ktorá bola zadržaná v Paríži nemeckou armádou v roku 1944 za podporovanie hnutia odporu Polish Resistance. Bola uväznená v nemeckom koncentračnom tábore a neskôr sa stala práve záhradníčkou.
zdroj: Catherine Dior, photo by Courtesy of Collection Parfums Christian Dior, Paris
O sestre slávneho návrhára bolo povedané doposiaľ veľmi málo, prinajmenšom slávnym módnym domom jej brata. Umrela v roku 2008. A hoci sa jej príbeh zdá byť veľmi smutný k znovuoživeniu, Justine Picardie, odchádzajúca šéfredaktorka magazínu Harper´s Bazaar UK, pracuje na knihe o tejto statočnej žene.
Návrhárka Maria Grazia Chiuri chcela novou kolekciou Dior per Jar / Leto 2020 vytvoriť niečo nie sezónne, ale trvácne. Zároveň módne a zvláštne. "Je to skutočne obtiažne docieliť dobrý balance medzi týmito elementami", vyjadrila sa návrhárka.
Príroda je nositeľkou širokého spektra farieb a tie sa premietajú aj do tvorby dizajnérov. Najnovšia kolekcia značky Dior je inšpirovaná tradičnými prírodnými farbami ako zemité farby, hnedá, zelená a béžová. Dominovali jemné prírodné vzory, ktoré korešpondovali s materiálmi.
Mnohé modely z palmových prírodných materiálov, rafia textúrových materiáloch v jemej prírodnej béžovej pripomínali štýl Safari. Záhradkárska téma ktorá sa snúbila s témou o sestre Catherine Dior priniesla nové inšpiratívne trendové kúsky v podobe slamených klobúkov a slamených opaskov. Sú vyrobené z tráv pochádzajúcich zo Švajčiarska, Talianska, Filipín a Francúzska.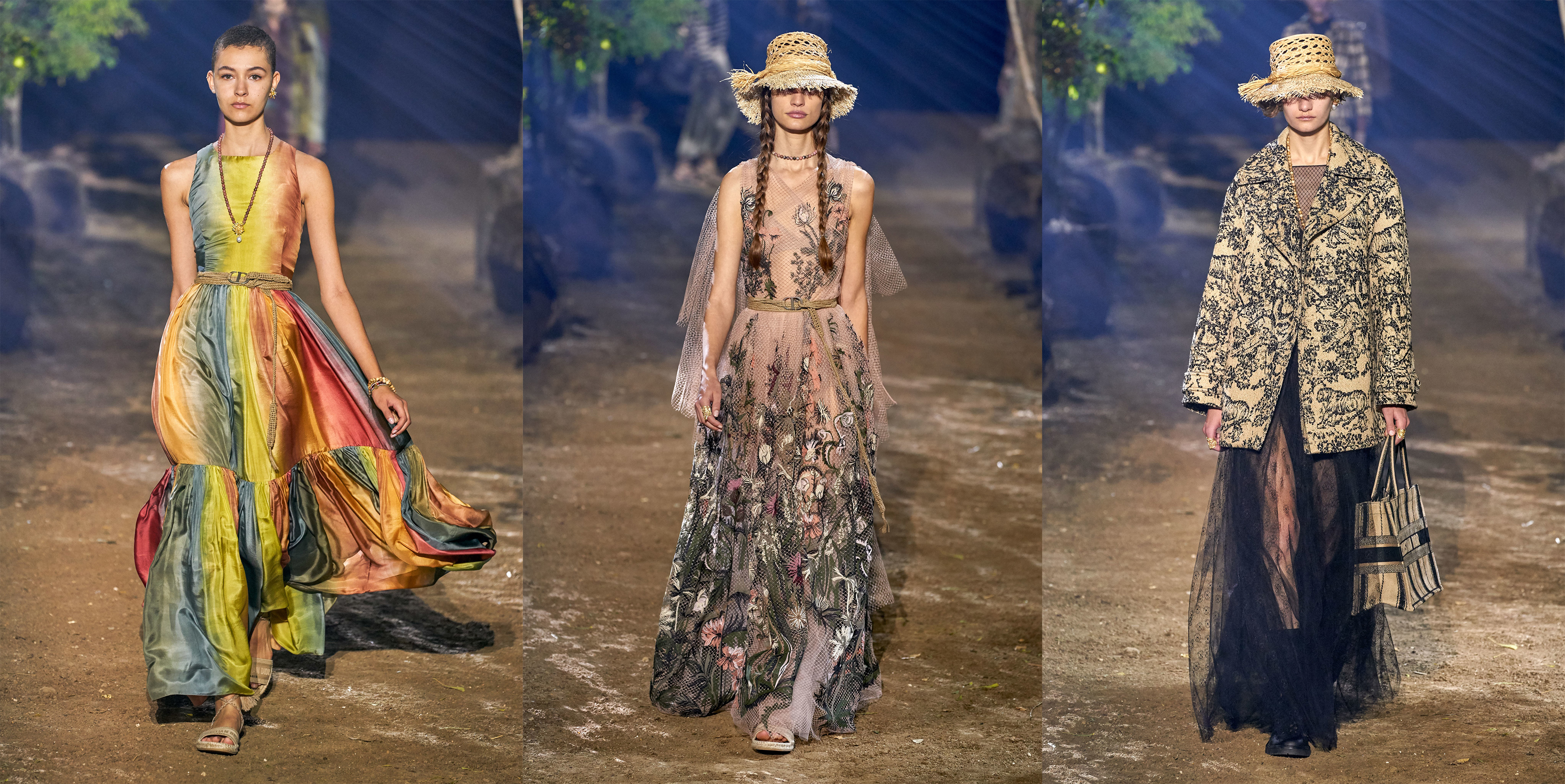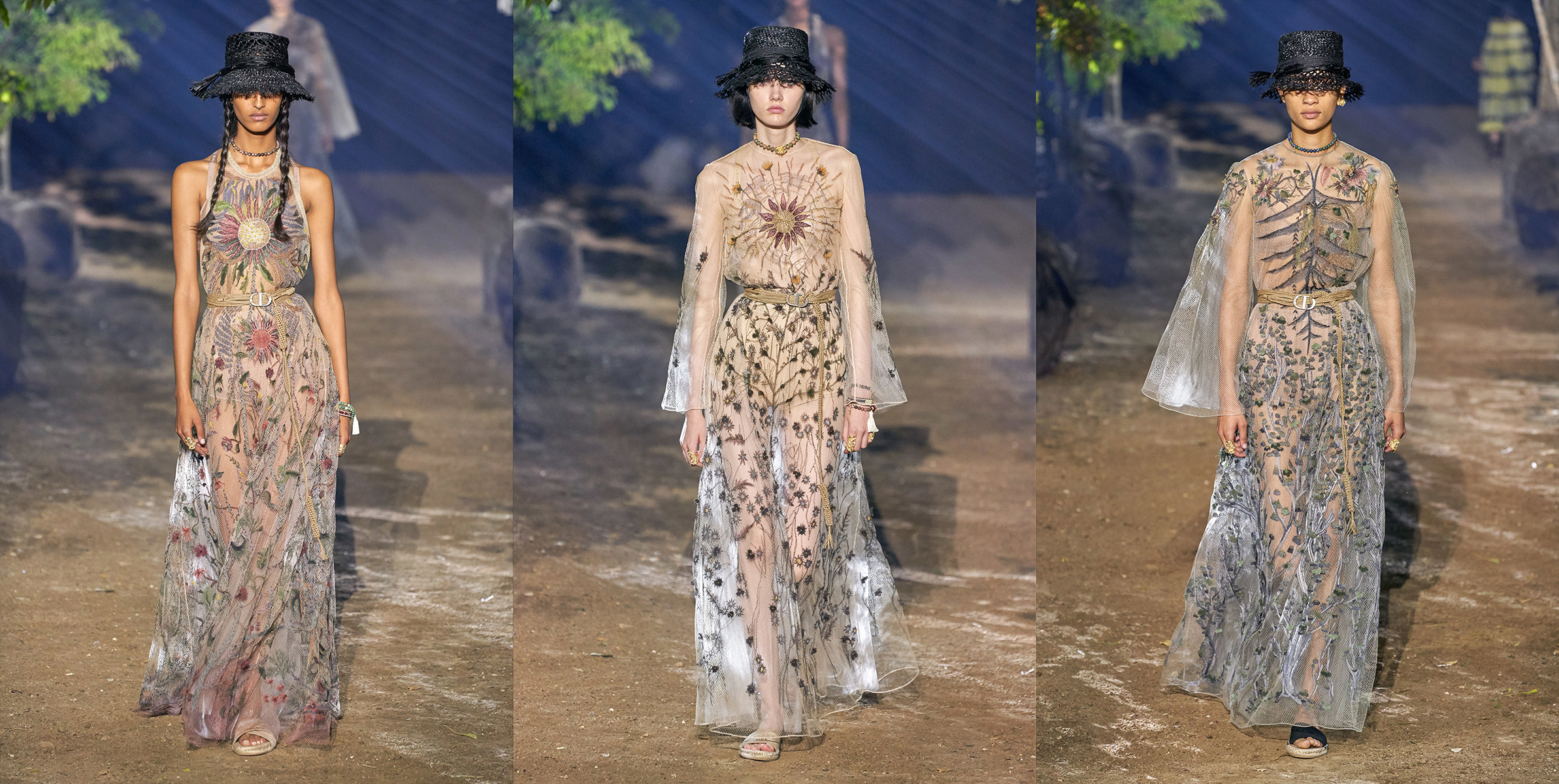 Vyšívané zdobenia, potlače a ozdobné šperky najnovšej kolekcie značky Dior – Jar / Leto 2020 sú inšpirované prírodou ako púpavou či bodliakmi. Veľkým inšpiratívnym prínosom bolo Národné prírodovedné múzeum a jeho najväčší a najstarší herbár sveta.
Opäť sa objavil motív batikovania na materiáloch, ktoré sme mohli vidieť aj na Milan Fashion Weeku, tiež aj po minulé sezóny. Mnohí ľudia v tomto spôsobe zdobenia materiálov na odevoch nachádzajú stále svoje zaľúbenie.
Estetická krása a pohodlnosť boli cieľom návrhárky Maria Grazia Chiuri, kolekcia Dior pre sezónu Jar / Leto 2020 je krásna a zároveň pohodlná v štýle slow fashion.
Viac obrázkov si môžete pozrieť na facebook stránke Mya Mirell Fashionista.
zdroj obrázkov: Vogue com, Jason Lloyd-Evans
Sleduj ma na:
2 Instagramy: myamirell ,
mya_mirell
Facebook: Mya Mirell Fashionista,
Mya Mirell