Paris Fashion Week – mužská prehliadka módy pre Jar/Leto 2023, Thom Browne, Celine, Hermes, Rick Owens, Marine Serre, 22. – 27. jún, 2022, časť I.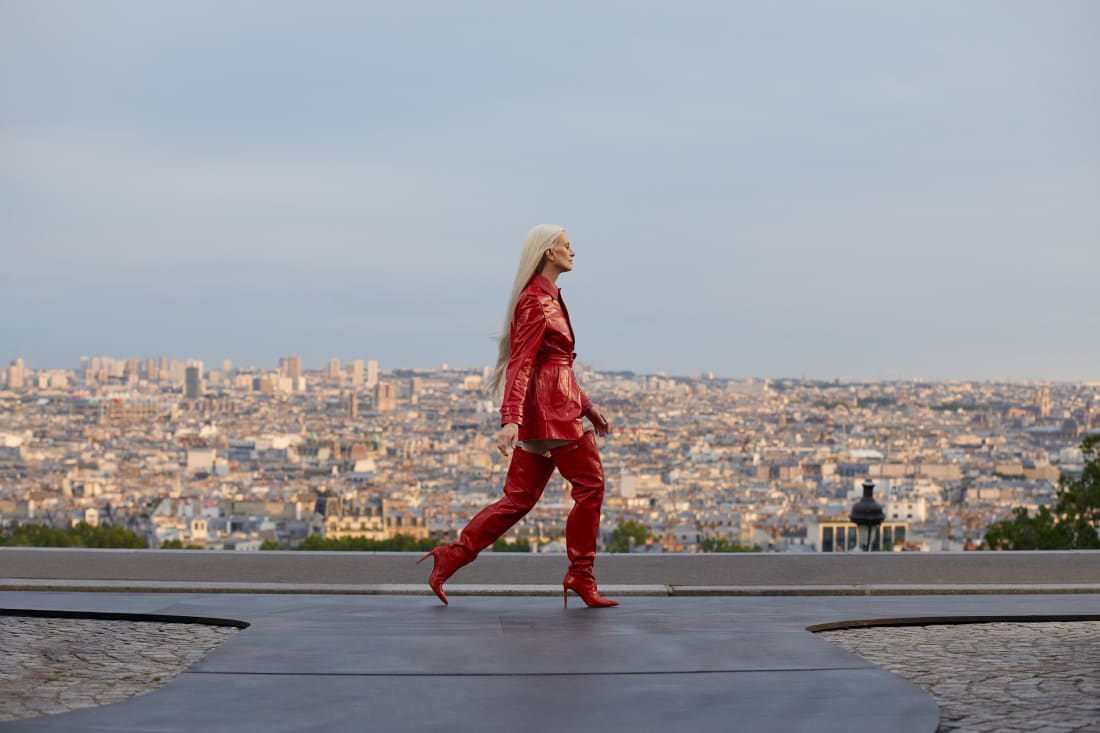 Opäť je tu ďalší týždeň módy, v ktorom vás prenesiem do Francúzska s fotografiami z jarných a letných kolekcií pánskeho oblečenia Paris Fashion Weeku pre sezónu Jar/Leto 2023, ktorý sa odohral v týždni od 22. do 27. júna 2022. Po úspešnom pánskom prehliadkovom týždni módy v Miláne sa módna šnúra presunula do turistami preplneného a prekvitajúceho Paríža. Po všetkých tých lockdownoch a obmedzeniach zdá sa, je sezóna módy naplno obnovená, čomu zodpovedajú aj prudko stúpajúce ceny, ktoré v hlavom meste Francúzska raketovo vzrástli. Hotely na všetkých úrovniach boli vypredané a leto udrelo v plnej sile.
Paris Fashion Week, mužský prehliadkový týždeň charakterizovali trendy ako bundy a svetlé farby a noví protagonisti na mólach, popri ktorých predné rady zapĺňali ostatné hviezdy a celebrity. Spomedzi hviezdičiek sa túto sezónu dcéra speváčky Madonny Lourdes Leon rozhodla zažiariť priamo na móle a to značky Marine Serre namiesto toho, aby sedela v hľadisku.
Z Paríža a Milána do značnej miery zmizli prezentácie dvoch pohlaví alebo veľká časť sexuálnej nejednoznačnosti, ktorá charakterizovala predpandemické experimenty. Hoci rodová plynulosť zostáva, toto nebol moment na súčasnej letnej sezóne parížskych mól. Muži sú evidentne noví muži.
Celkovo možno povedať, že preplnený harmonogram týždňa módy v Paríži znamenal návrat mesta do stavu pred pandémiou ako jednej z popredných svetových turistických a štýlových destinácií. Rovnako nálada a hlad po móde ostala dobrá.
Parížsky fashion Week, prehliadka mužskej módy pre sezónu Jar/Leto 2023 priniesla rôzne módne nálady a trendy: Značka Givenchy predstavila komplikovane roztrhané nohavice a kukly, dizajnér značky Fendi, Kim Jones , ktorý je taktiež návrhárom pánskej módy Dior Men, predstavil jeho dokonalé krajčírstvo a Junya Watanabe sortiment obrázkov Warhola, Haringa a Basquiata na pracovnom oblečení. Dizajnér Nigo ponúkol slnečný výlet do Kenza, ktorý vyzeral tak trochu ako kolekcia Anny Sui pred 40 rokmi.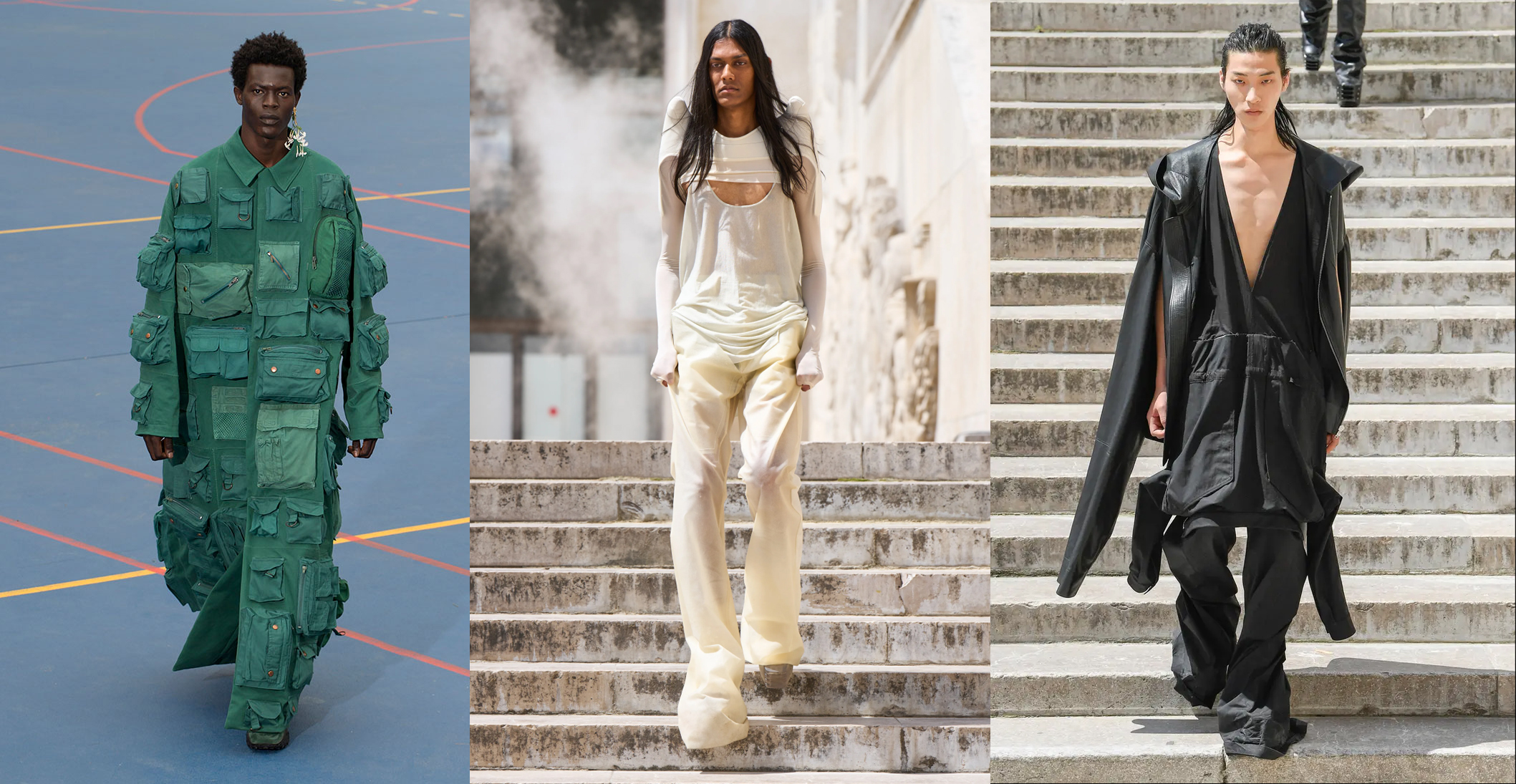 Modelky Rei Kawakubo mali na sebe masky, ktoré vyzerali ako prasacie rypáky, vystužené parochne a nohavice s harlekýnovým vzorom pod kabátikmi s obrúčkami, ktoré nevyhnutne evokovali obdobie pred francúzskou revolúciou. V Homme Plissé Issey Miyake sa tanečníci z Chaillot Théâtre National de la Danse šplhali po lešení.
Posledná časť prehliadok pánskeho oblečenia v roku 2022 sa skončila v nedeľu, pričom Celine sa vrátila na mólo po 2-ročnej prestávke. Thom Browne sa vrátil do Paríža po sérii módnych filmov a prehliadkach v New Yorku a Dior prekvapivo s nikým nespolupracoval. Pozrite si prvé zaujímavé highlighty z Paris Fashion Weeku, pánskej prehliadky módy pre letnú sezónu 2022-23.
THOM BROWNE
V salónoch Automobile Club of France na druhom poschodí hotela Crillon sa uskutočnila prehliadka Thoma Browna , ktorá bola istým spôsobom láskyplným podaním chúlostivých prezentácií módy z éry "Funny Face".
Thom Browne predstavil modernú kolekciu s poctou minulosti, inšpirovaný módou z polovice 20. storočia. Jeho obľúbený motív kotvy sa zračil na tvárach modelov, ktorí mali oblečené aj sukne dlhé či mini. Prevládalo množstvo twídu v džínsovej farbe.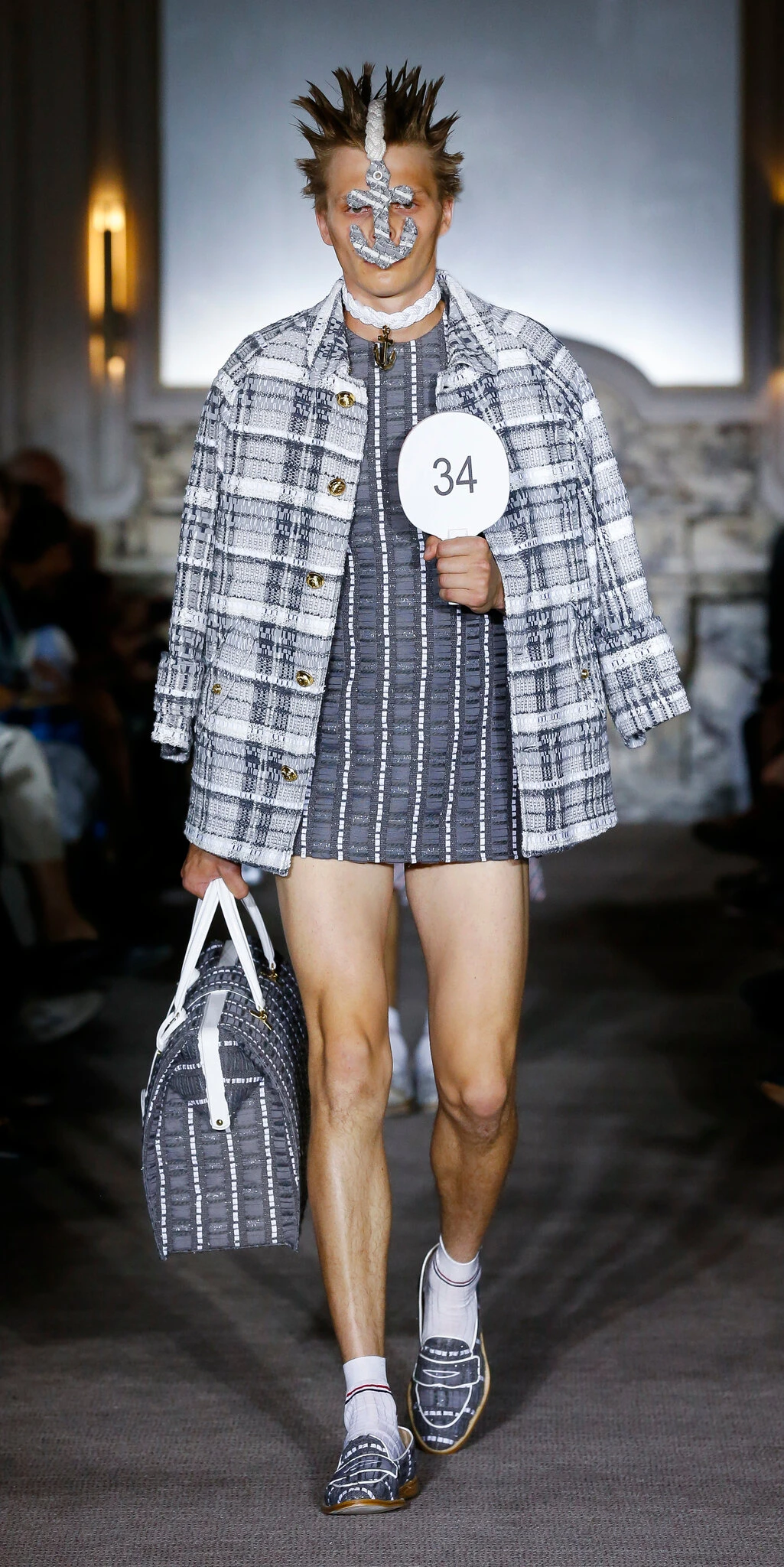 Tváre modelov boli ozdobené kotvami, ktoré pravdepodobne čerpali inšpiráciu od Björk alebo jej vizážistky Hungry. Módnu šou navštívili pozvané celebrity Marisa Berenson, Farida Khelfa, Amy Fine Collinsová, ktoré sa usadili v tanečnej sále práve včas, aby sa mohli pokochať pohľadom na modelov v tvídových šatách nesúcich pred sebou čísla.
Kolekcia Jar/Leto 2023 obsahovala bundy zo špeciálne tkaného tvídu s rukávom na vrchu rukáva alebo skrátené na dĺžku náramku, kabáty vhodné pre vidiecky klub, návleky s vyšívaním v tvare princa z Walesu a pánske sukne nosené cez červené, biele a modré jockstarpy. Veľa z toho dokazovalo opojenie pána Browna materiálmi, ovládanie materiálov a techník haute couture.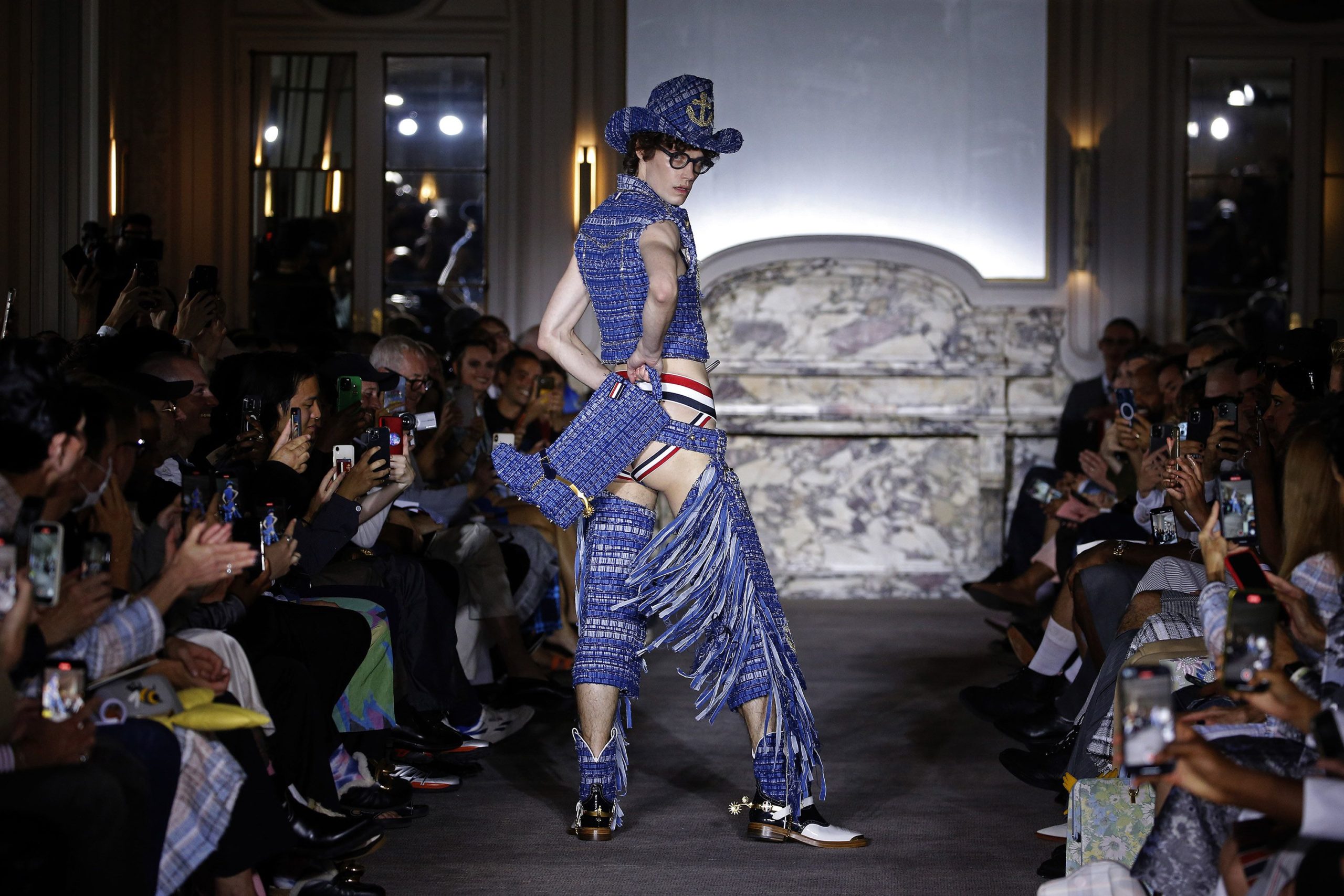 Thom Browne sa už roky pohráva s tradičnými kódmi ženskosti a mužskosti. Aj keď je kolekcia určite moderná, bola tiež poctou minulosti.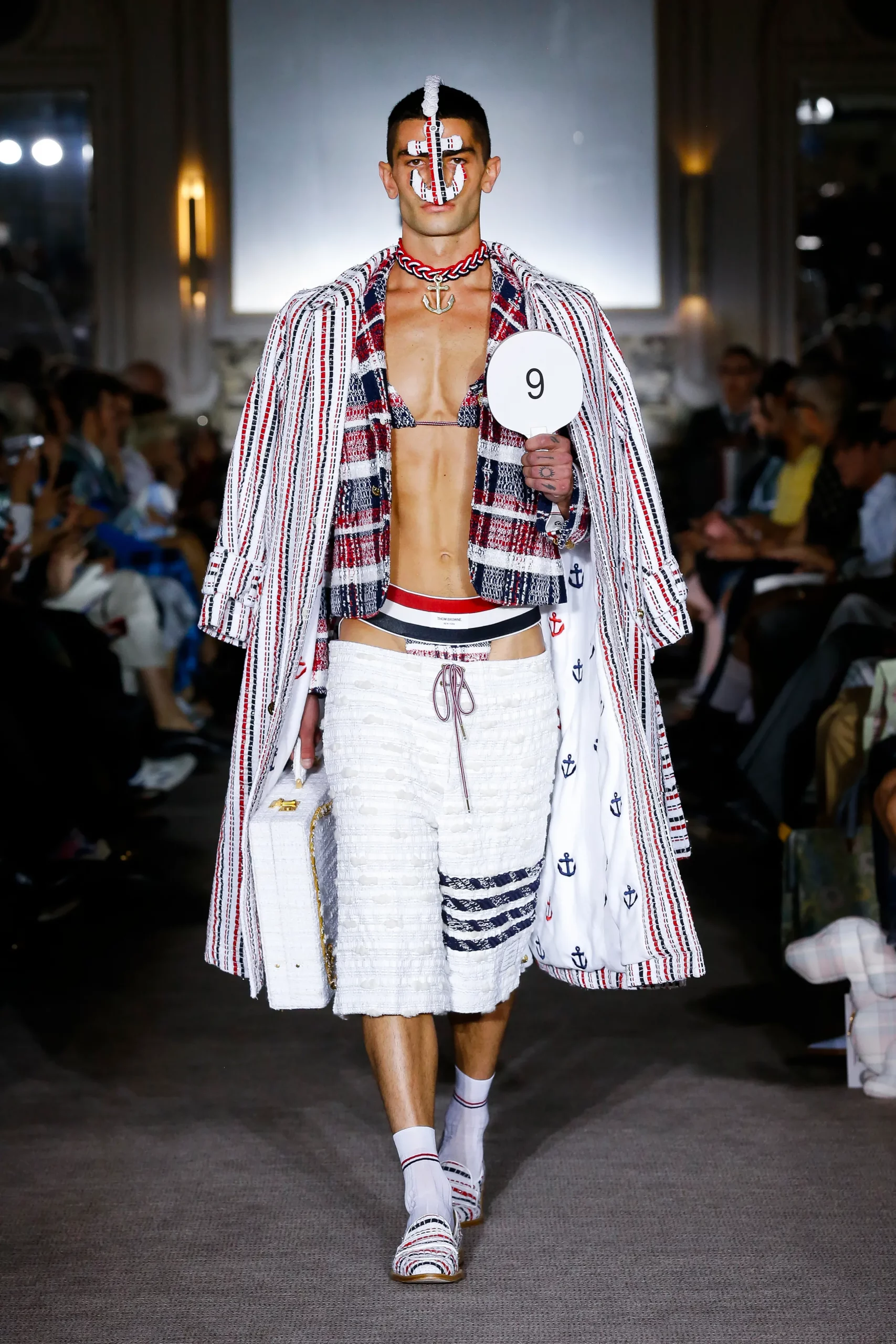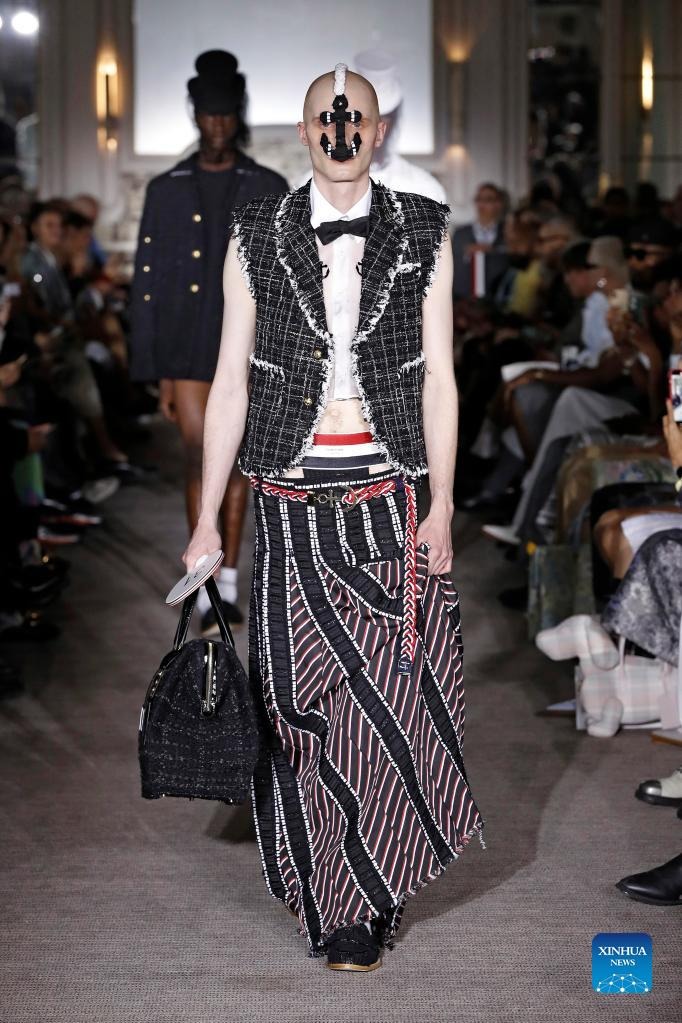 Dizajnéri Slimane a Browne sú každý svojím vlastným spôsobom ohniví. Každému sa podarilo splniť komerčné požiadavky veľkých domov (Celine vlastní LVMH a Thom Browne spoločnosť Zegna) bez toho, aby sa vzdali osobnej vízie. Obaja vo veľkej miere čerpajú z amerických archetypov, či už surferov, námorníkov, kovbojov, tenisových profesionálov, LA punkerov alebo rockerov. Ako gayovia majú tendenciu reflexívne pochybovať o tom, čo je mainstream.
CELINE
Sotva o tri hodiny neskôr v Palais de Tokyo vytvoril pán Slimane skutočné finále sezóny s predstavením kolekcie značky Celine. Tisíce fanúšikov strávili noc pozdĺž rieky Seiny pred Trocaderom a čakali do neskorého severného súmraku na pohľad na popový idol V z BTS, na juhokórejského herca Park Bo-guma a thajskú rapperku a speváčku Lisu z Blackpink.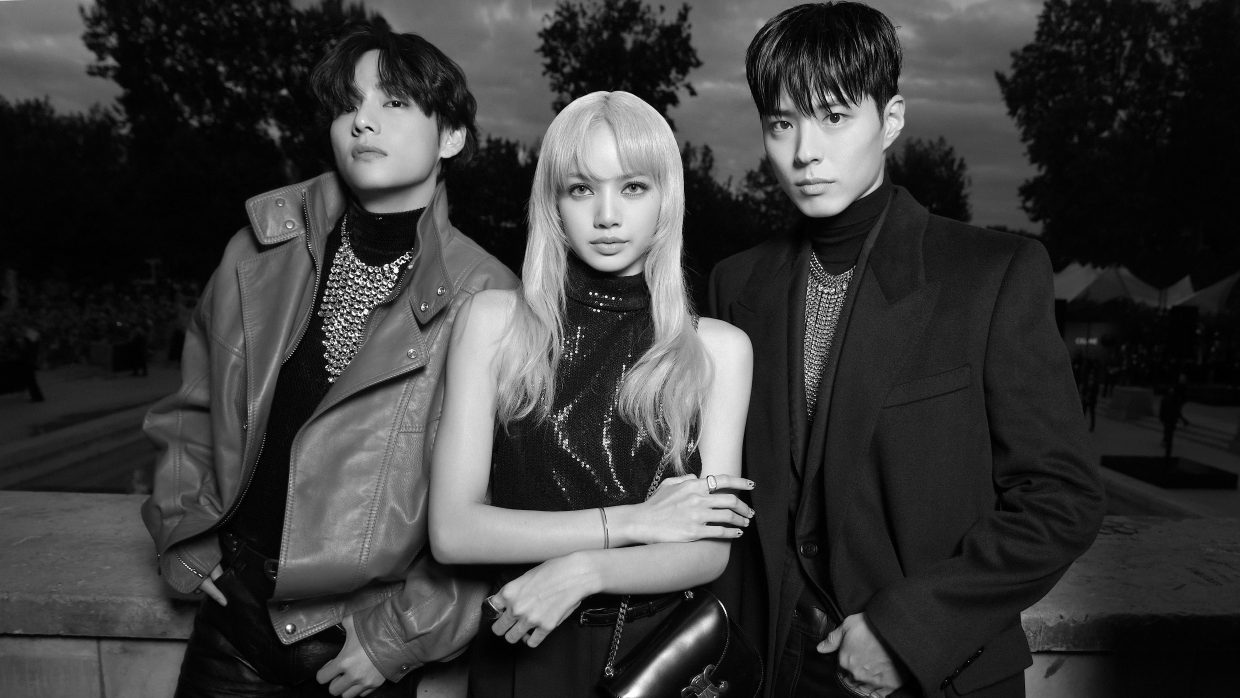 K-pop hviezdy – V, Lisa a Park Bo-gum – Paris Fashion Week
Video šialeného davu kričiaceho na tieto hviezdy, ktoré konečne dorazili na šou, si môžete pozrieť tu : https://www.youtube.com/watch?v=jLiJLeDoU1A
Módna prehliadka značky Celine obsahovala opäť obľúbené Slimanove motívy – trblietavé flitrové bundy a prešívané strieborné bombery, flitrované tuniky a priliehavé džínsy a všetky odevy spojené s väčšinou fantastickým plemenom rockera.
Oblečenie predvádzali vyhladovaní modeli s prepadnutými hruďami a tenkými nohami. Dizajnér Slimane smeruje k veľmi špecifickému fyzickému ideálu.
Viac ako čokoľvek iné však bol večer nezabudnuteľný pre svoju hudbu, ďalší dizajnérsky podpis. Módnu šou vo veľkej sále, kde sa dvíhali a spúšťali skresľujúce zrkadlá zo stropu sprevádzala hudba a basové údery piesne "Design" brooklynskej skupiny Gustaf.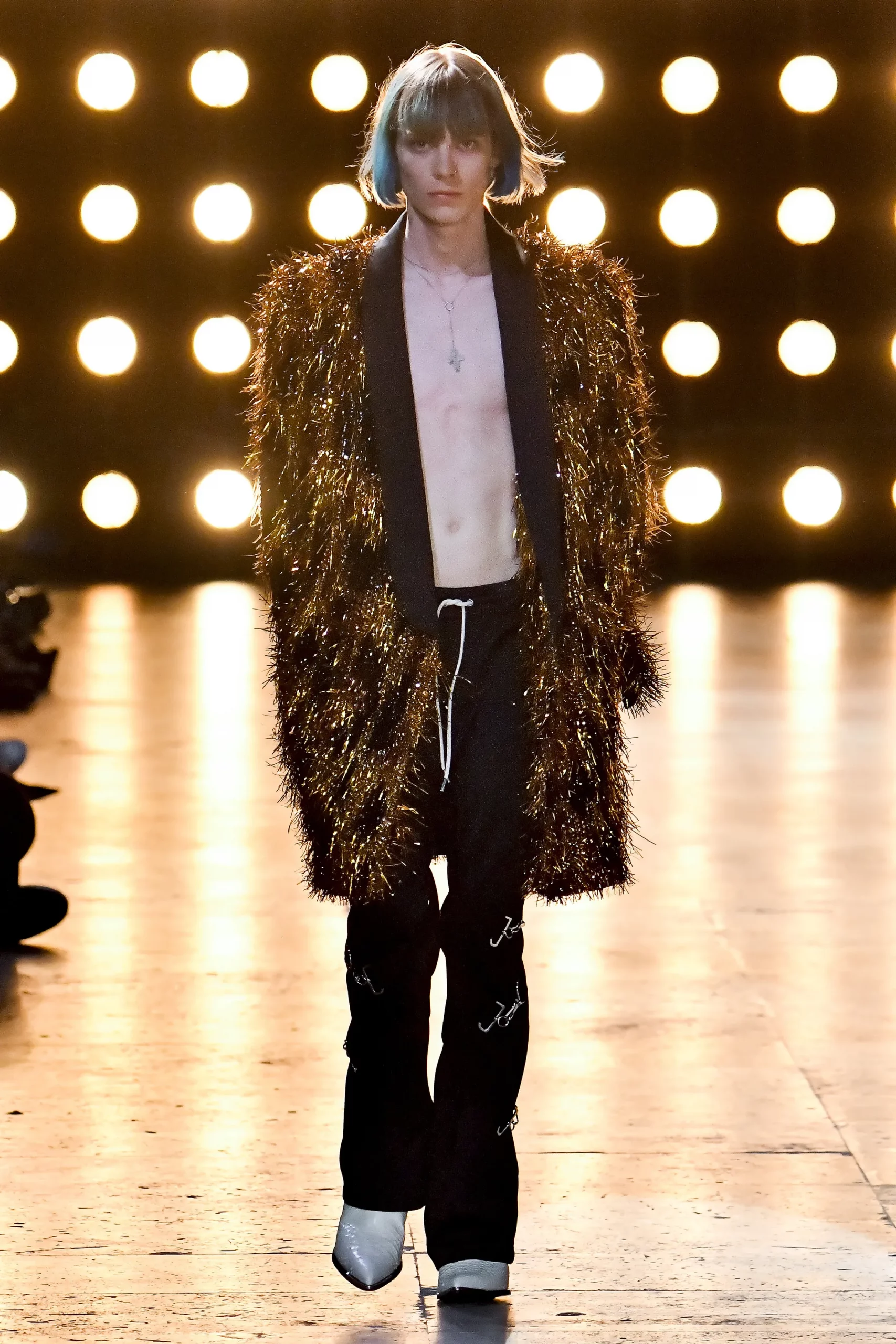 RICK OWENS
Jemná ľudskosť v hre dizajnéra Ricka Owensa, ktorý sa vo svojej najnovšej kolekcii inšpiroval návštevou Egypta, sa zračila v dúhových klzkých látkach, kužeľovitých ramenách a obopínajúcich gossamerských odevoch.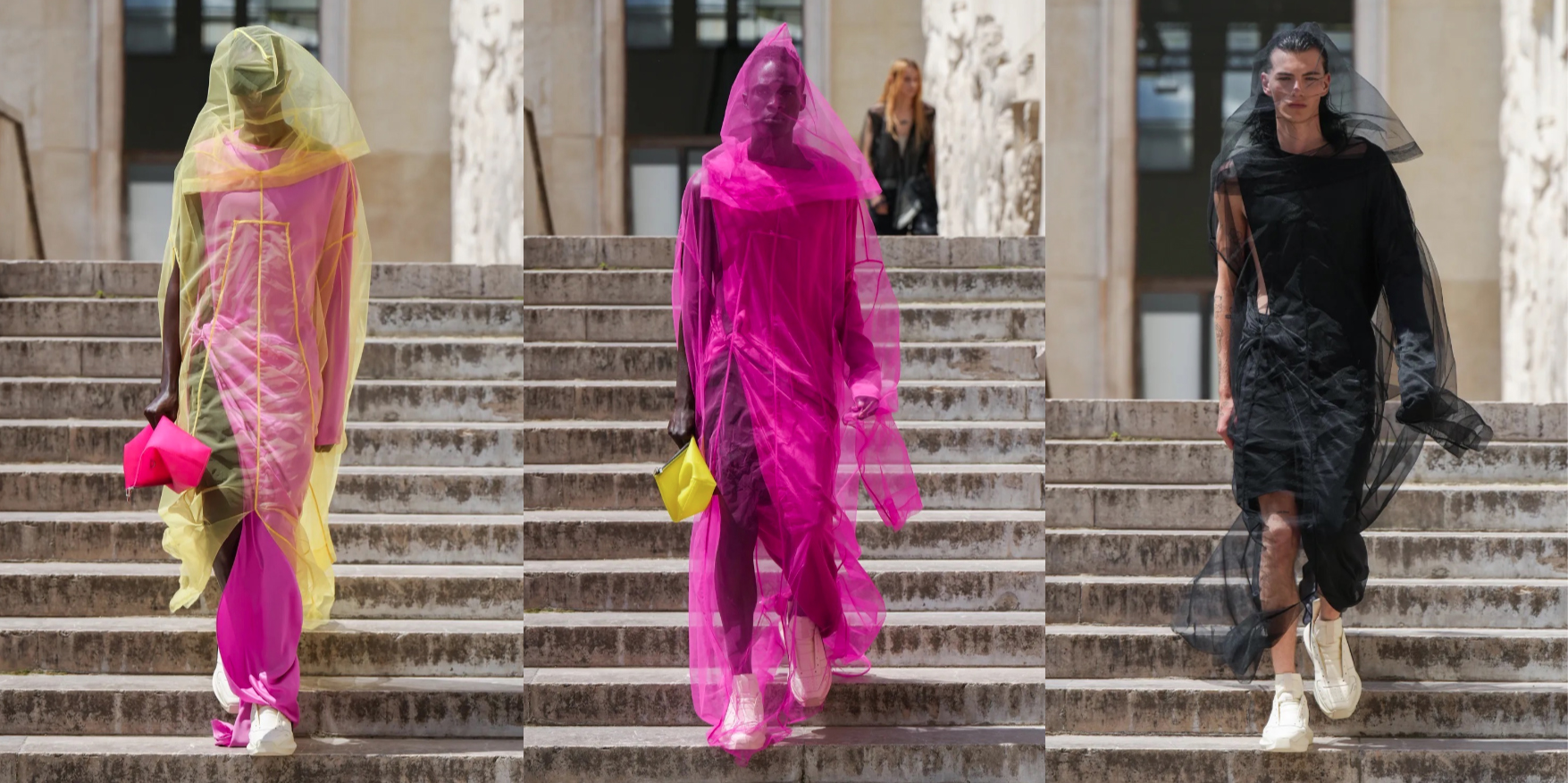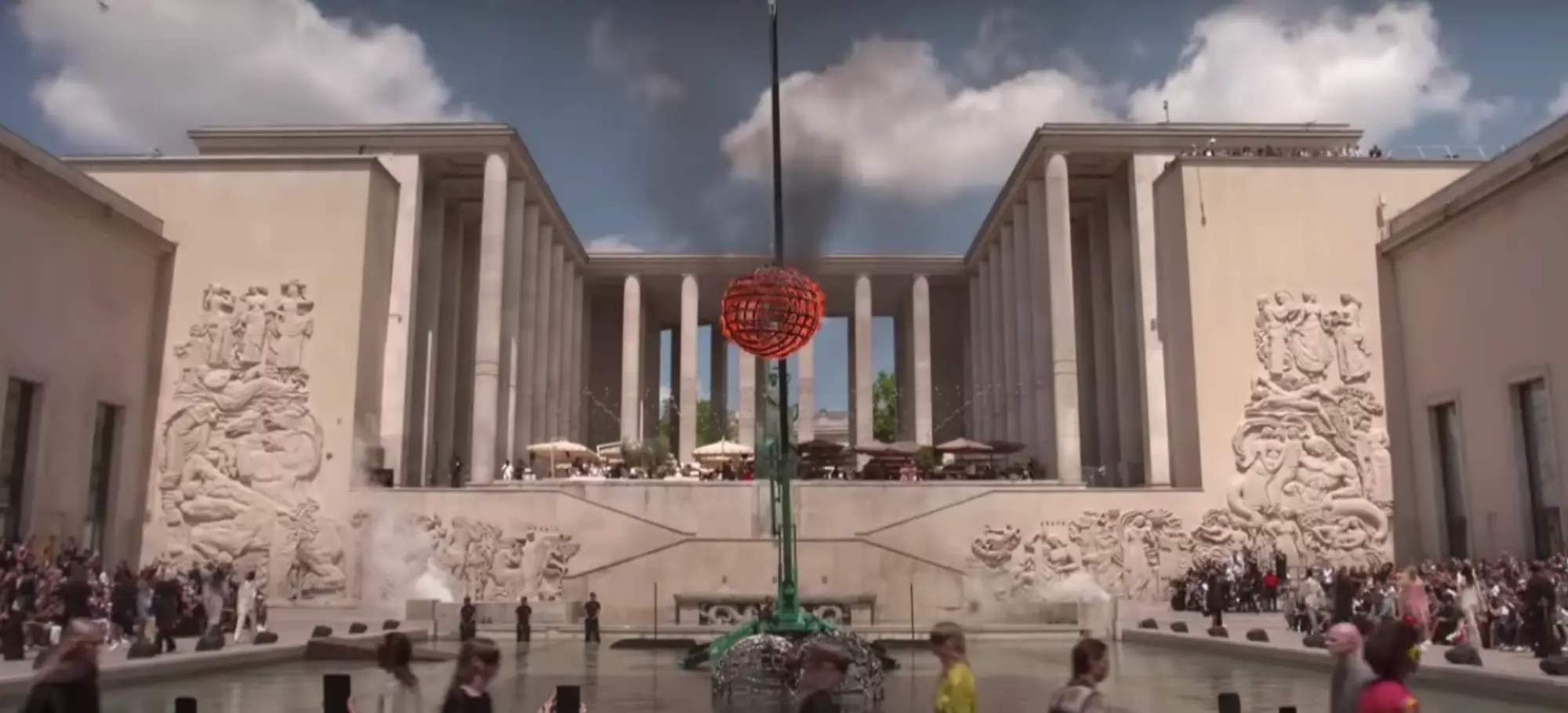 Kolekcia Ricka Owensa "EDFU" pre Jar/Leto 2023 sa inšpirovala nedávnym výletom dizajnéra do Egypta. Prehliadka, zvýraznená gigantickými "ohnivými guľami", bola celá o zveličovaní a reflexii, prezentovala ultra skrátené topy, priehľadné obleky na mieru a ďalšie. Modelky kráčali po móle v prevrátených bundách, košeliach a nohaviciach v Owensovej charakteristickej celočiernej farbe, ako aj v neobvyklých farbách v ružovej, žltej a zelenej.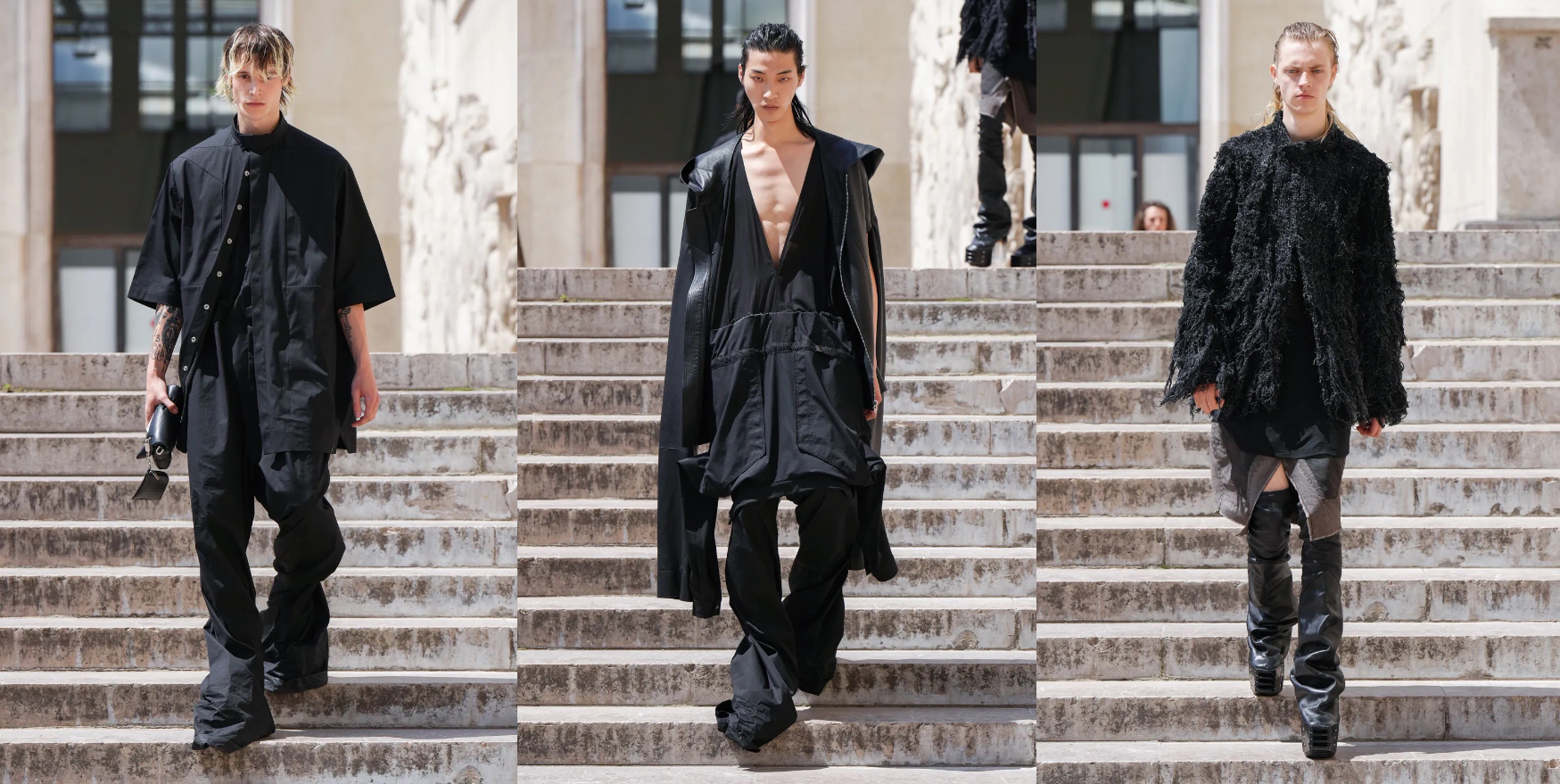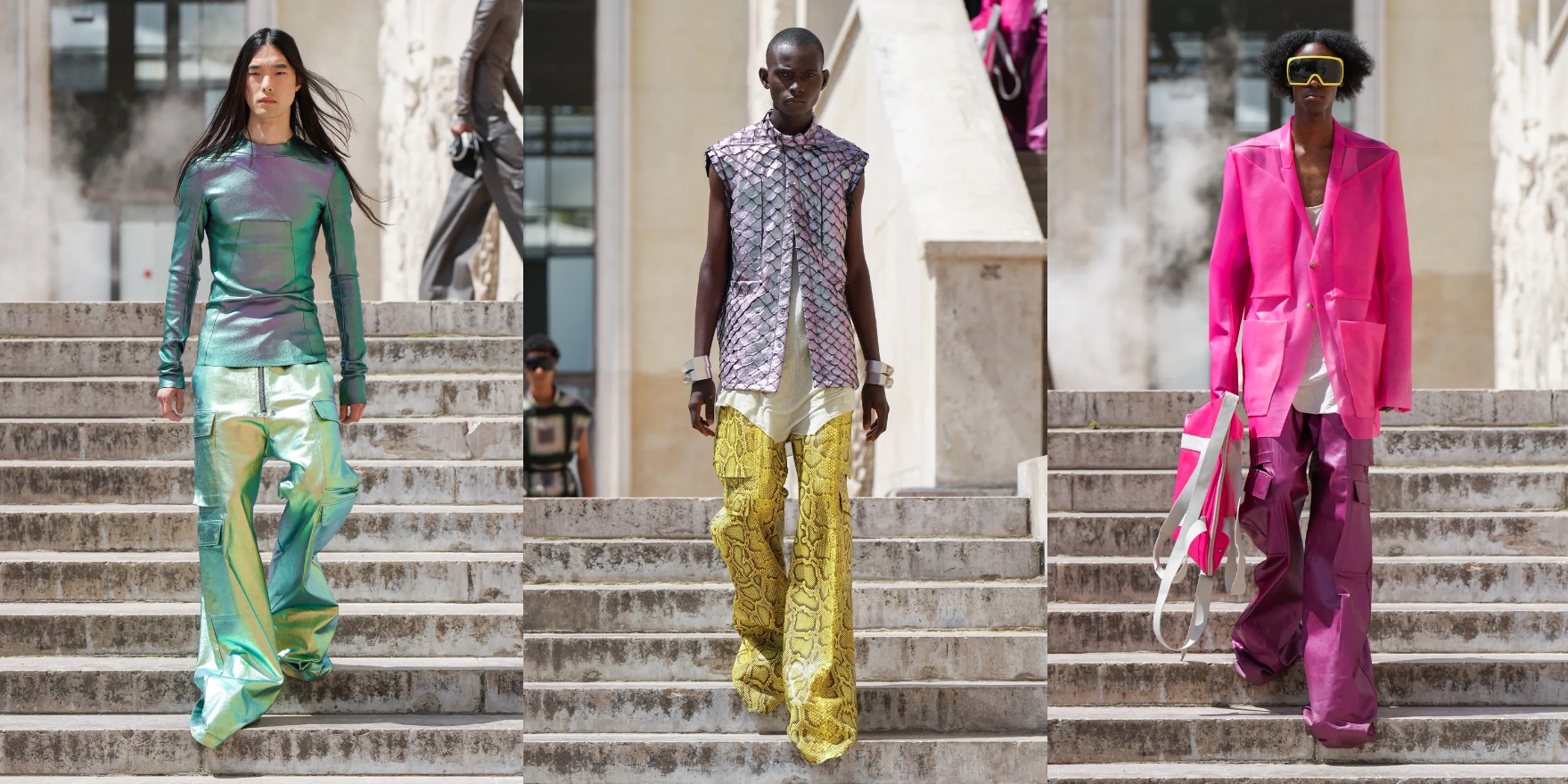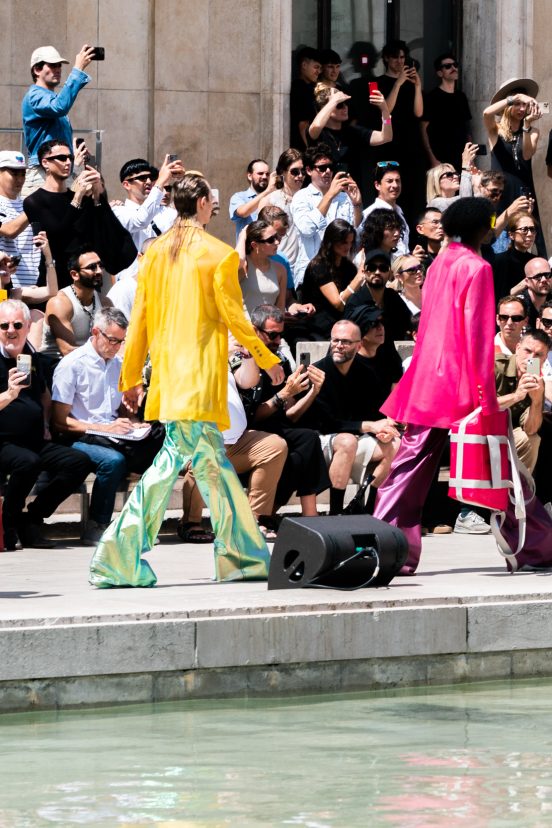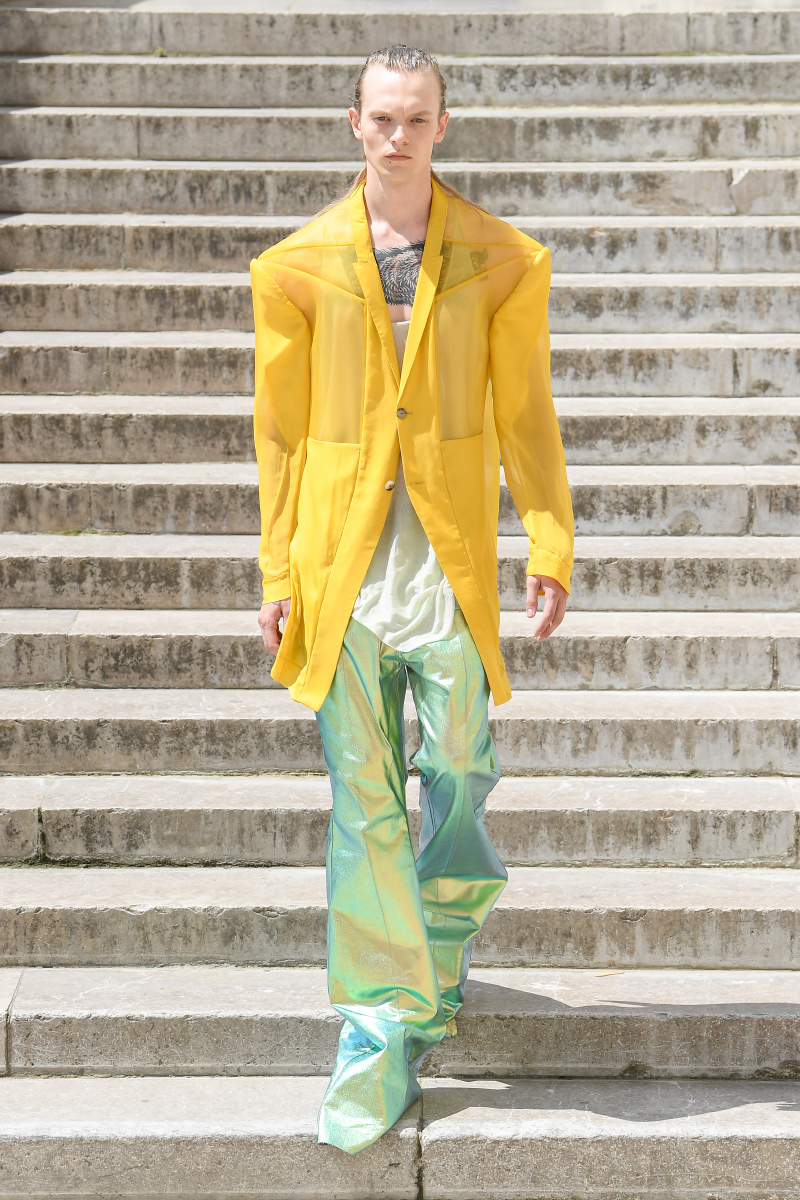 Vrcholom predstavenia boli tri horiace gule, ktoré dizajnér zavesil na žeriav, zdvihol do vzduchu a nechal horiace dramaticky spadnúť do bazéna s fontánou, okolo ktorej sa promenádovali modeli. Táto šou bola zlatom, hitom instagramu – jednoducho strhla na seba všetku pozornosť Paris Fashion Weeku.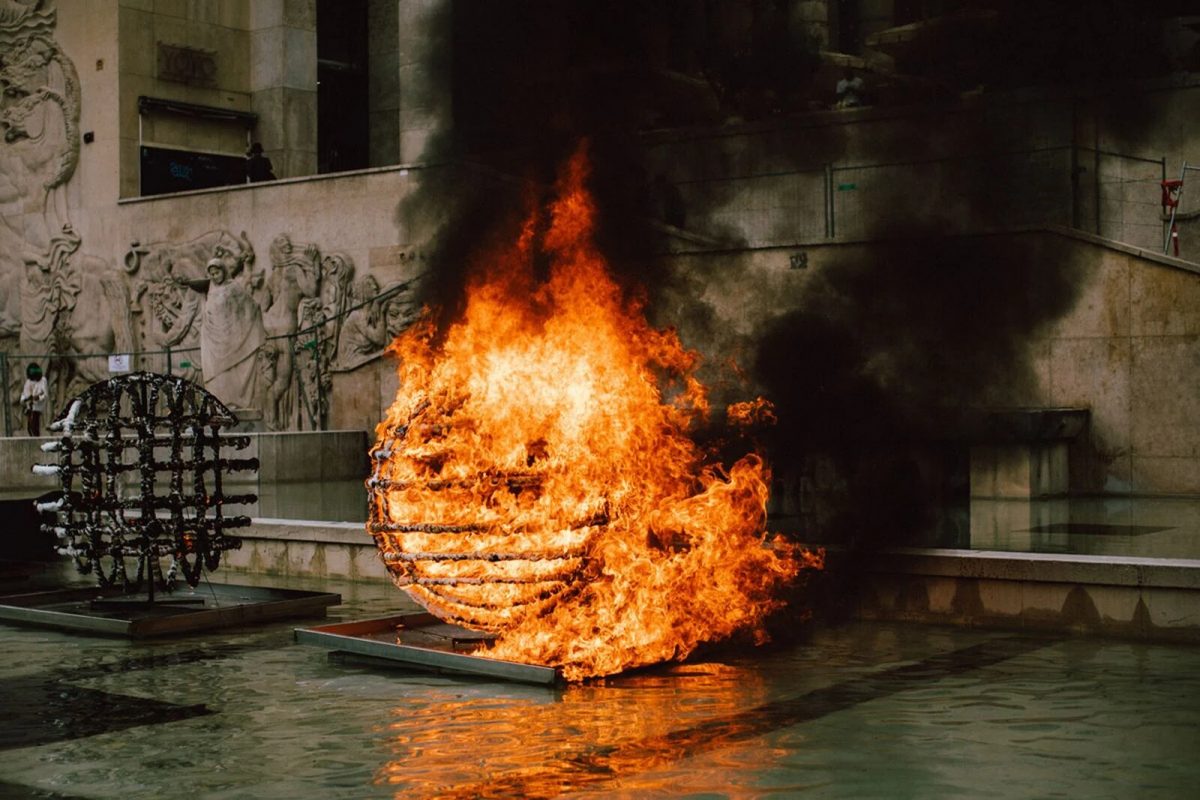 Rick Owens sa vrátil na svoje obvyklé miesto v Palais de Tokyo s prezentáciou módnej kolekcie Jar/Leto 2023 na módnej šou prerušenej tromi obrovskými zapálenými glóbusmi.
Priliehavé topy Ricka Owensa z kože a priehľadnej viskózy ponúkali zmyselnú a hmatovú citlivosť, rovnako ako nepriehľadné nylonové nohavice z vlnitého materiálu s náznakmi kože. Značka zvolila agresívnejší prístup s ponukou vestičiek, ktoré siahali od nadmerných tylových opakovaní s výstrihmi s odhalenými bradavkami až po odevy, ktoré ledva zakrývali kľúčnu kosť.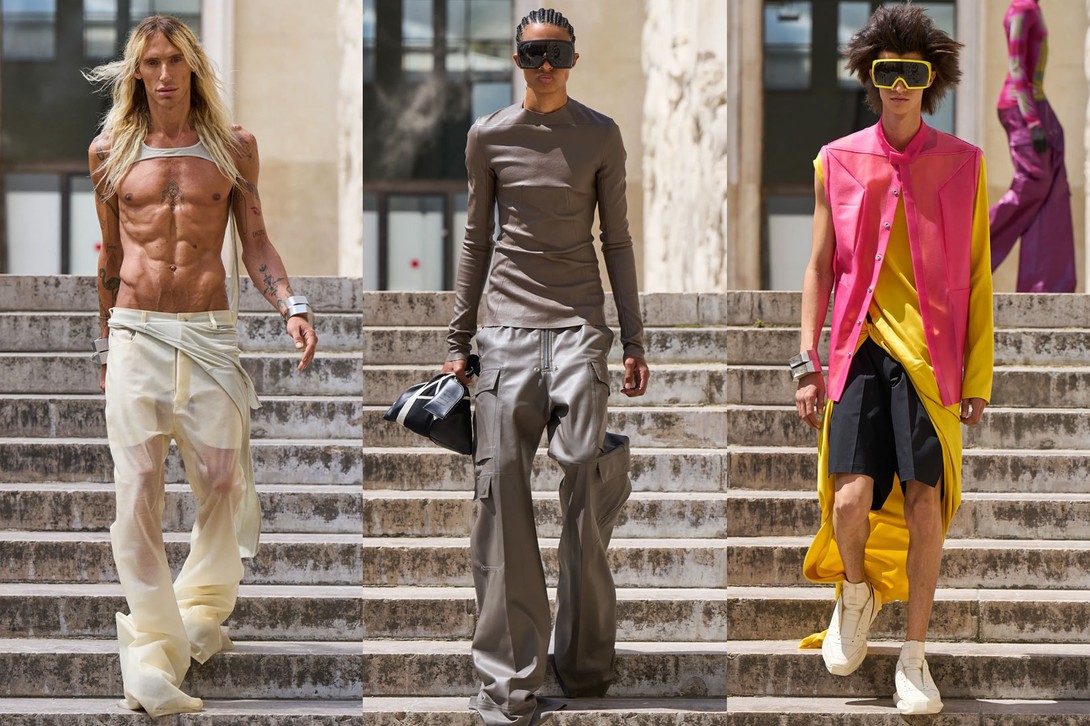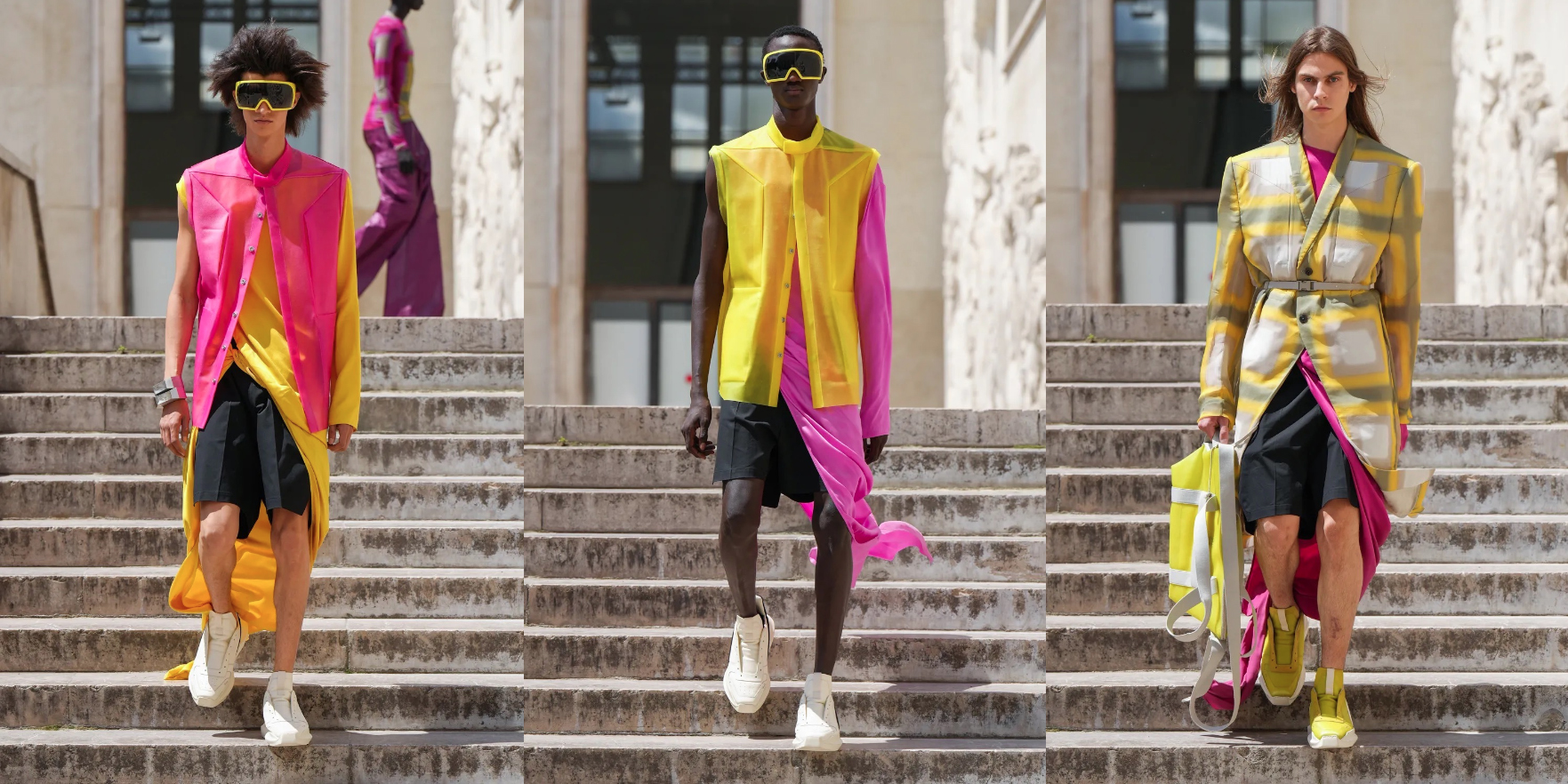 HERMÉS
Sezónu za sezónou dizajnérka Véronique Nichanian pôsobiaca v značke Hermès ukazuje tónovo vyvážené, nádherne vyrobené s detailami spojov, úžasne nositeľné pánske oblečenie.
Špeciálne pre tých, ktorí nikdy nemusia pozerať na cenovku. Svojimi odmeranými proporciami, zmesou tvarov a vzorov – krátke a dlhé nohavice, dekonštruované bundy cez priestranné školské šortky – show, ktorá sa konala na dláždenom nádvorí historickej Manufacture des Gobelins, predstavila platónsky ideál pánskeho oblečenia.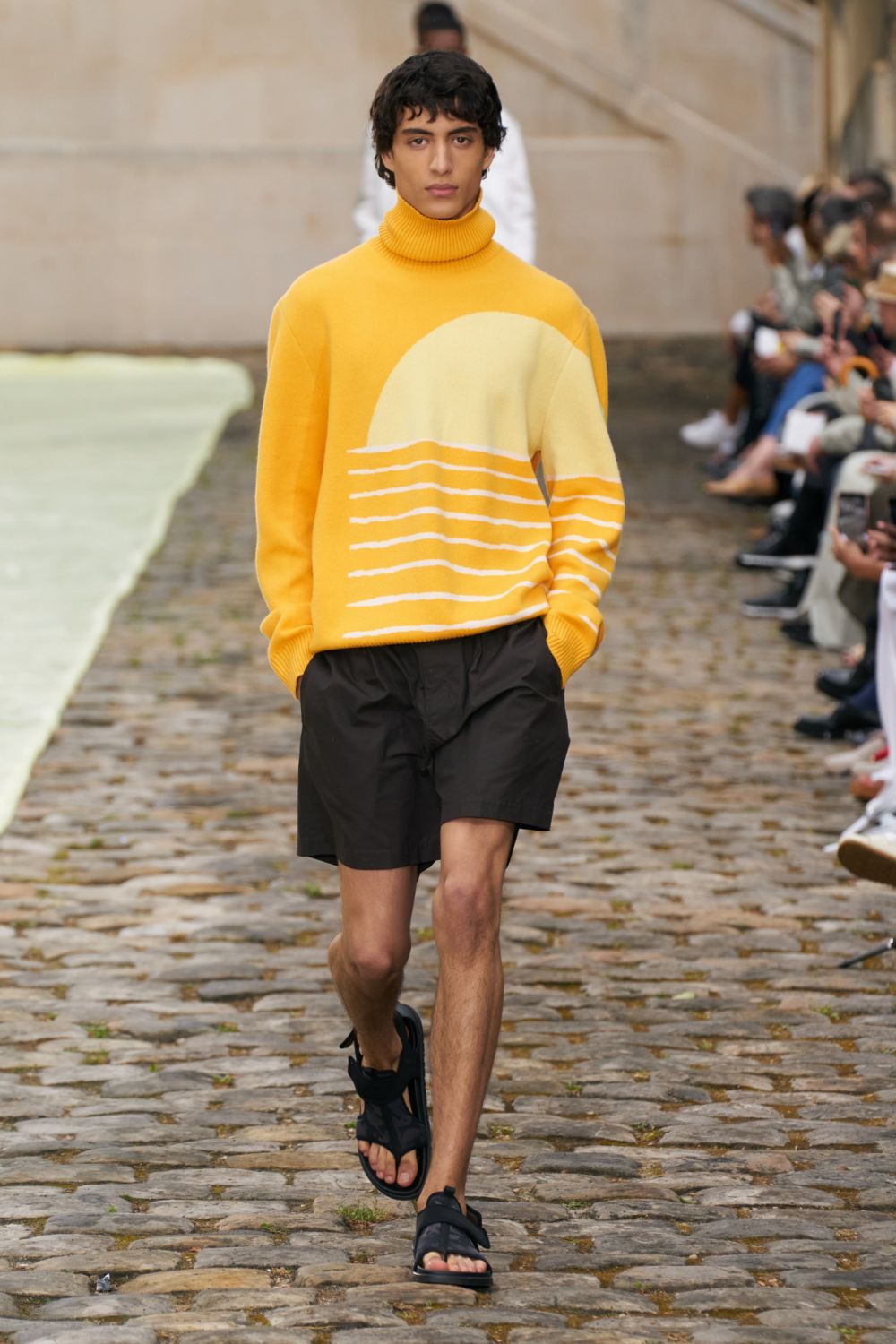 Po 33 rokoch v práci a ako popredná ženská návrhárka v luxusnom pánskom oblečení nebola pani Nichanian nikdy lepšia. A či už zámerne alebo nie, jej kolekcia niesla potenciálne tajné politické posolstvo vo svojich morských koníkoch zdobených svetrom. Sexuálnym rozdielom medzi morskými koňmi je fakt, že samce z čeľade Syngnathid majú vak na mláďatá, v ktorom oplodňujú a inkubujú vajíčka. Je to teda samec morského koňa, ktorý nakoniec porodí.
MARINE SERRE
Francúzska značka Marine Serre vyslala v sobotu večer 25. júna 2022 na promenádu po móle športovcov a umelcov. Predviedla športový šatník plný umeleckých odkazov na módnom podujatí pre všetky vekové kategórie, ktoré bolo otvorené pre verejnosť. Podobne ako pri otváracom ceremoniáli olympijských hier, aj tu sa striedali delegácie.
Marine Serre získala zmes profesionálnych a amatérskych modelov pre svoju rodovo premenlivú kolekciu Jar/Leto 2023 na čele so speváčkou Jorjou Smith a Madonninou dcérou Lourdes Leon, ako aj so športovcami a priateľmi dizajnérky. Charakteristický polmesiacový vzor značky sa vrátil na rad kolekcie plaviek a body, zatiaľ čo upcyklované uteráky sa používali na výrobu šiat a sák. Zaplátané džínsové vzhľady sprevádzali príjemný froté materiál na bundách, nohaviciach a ďalších modeloch.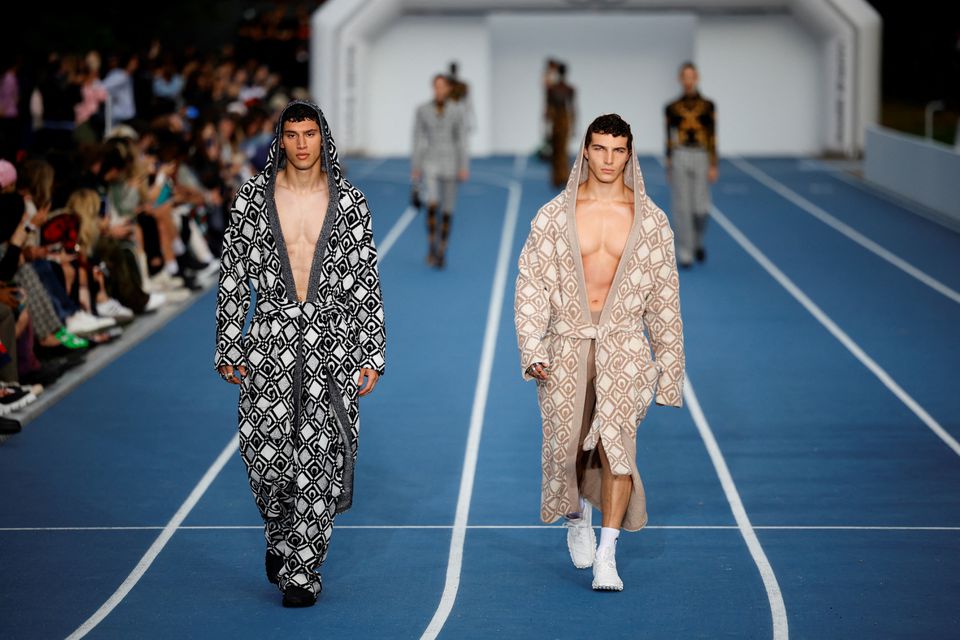 Americká speváčka a modelka Lourdes Leon, dcéra speváčky Madonny, predstavila počas pánskeho prehliadkového týždňa módy Jar/Leto 2023 v Paríži mačaciu kombinézu Marine Serre s polmesiacovým vzorom plnú pozlátených šperkov.
Ako prvá pri prehliadke kolekcie išla skupina mužských a ženských modelov v plavkách z recyklovaných vlákien. Potom prišla kolekcia upcyklovaných džínsových siluet s ostrým patchworkom.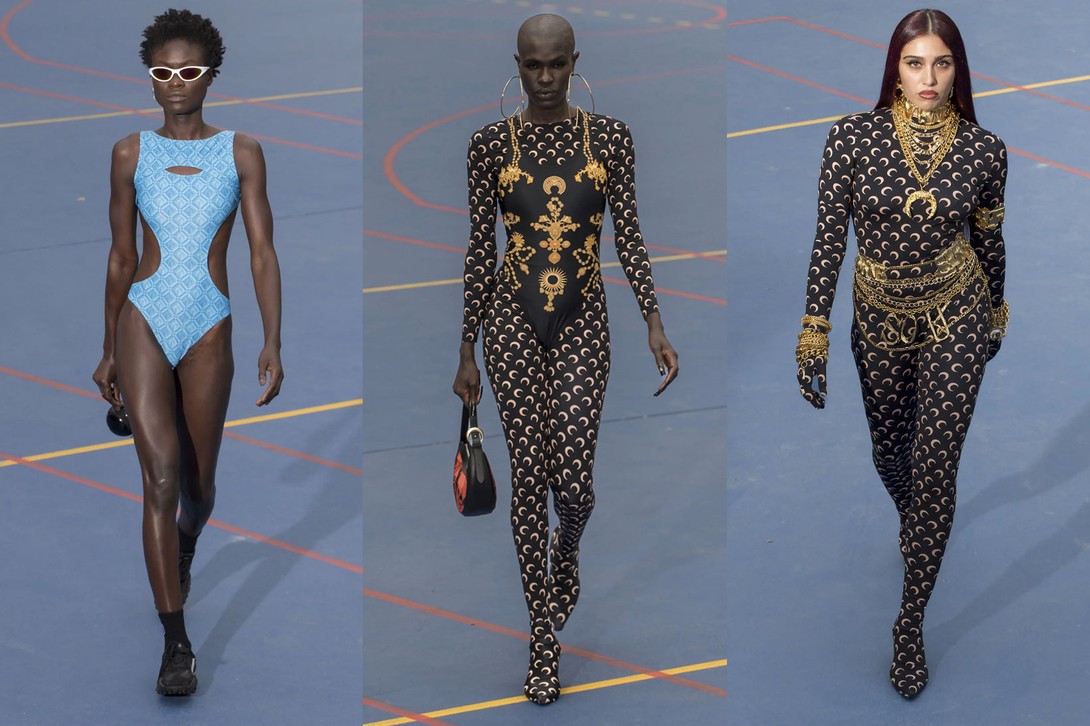 Pridaním farby v prehliadke kolekcie nasledovala séria modelov v ružovej farbe vrátane twinsetu podobného Chanel, no vyrobeného z materiálu uterákov.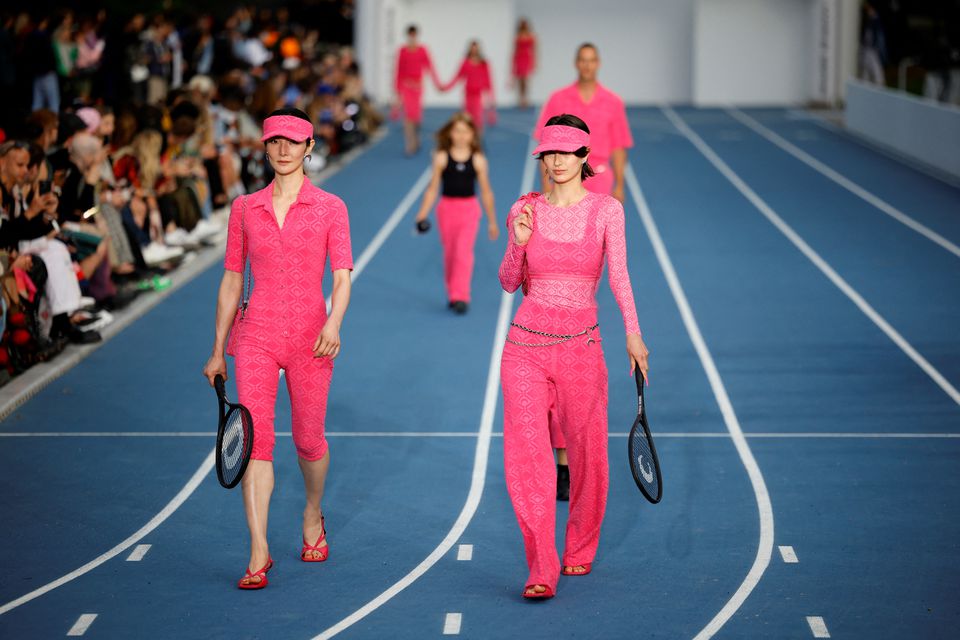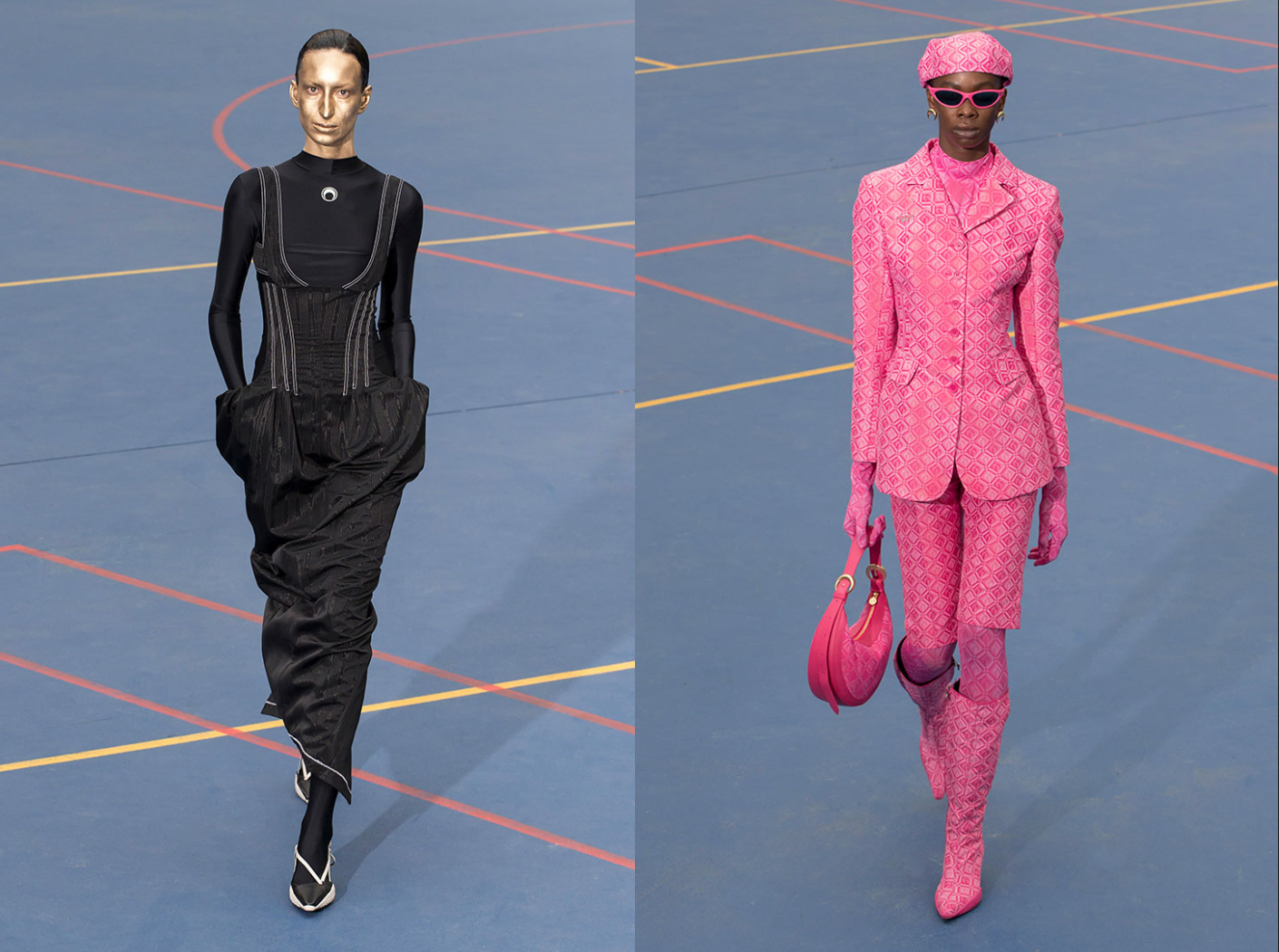 Bývalý útočník Liverpoolu Djibril Cisse (40) s loptou v ruke mal na sebe kvetinovú košeľu a krátku súpravu, zatiaľ čo francúzsky herec JoeyStarr (54) si vykračoval v kožených nohaviciach spárovaných s bundou na zips s potlačou drahokamov.
Azda najpozoruhodnejším modelom bola zelená kombinéza s množstvom kapsičiek so zipsami s multi multifunkčným využitím.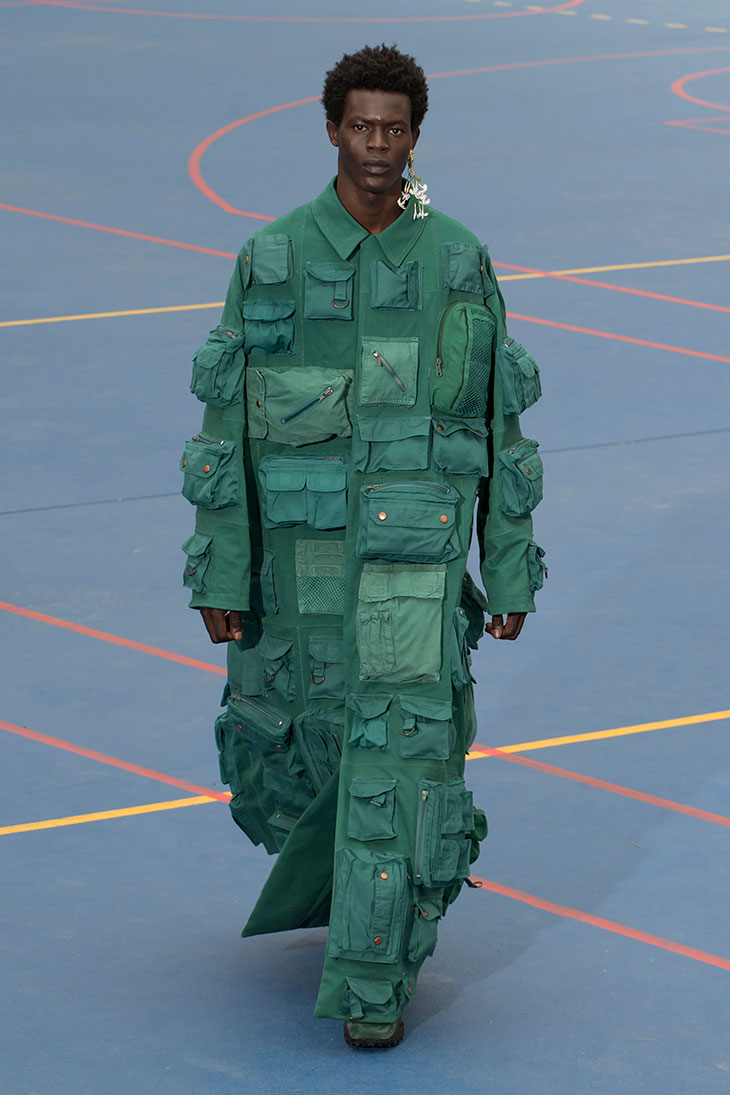 Okrem zvyčajných hostí z módneho priemyslu, klientov, novinárov a influencerov, bolo online rozdaných 900 vstupeniek, pričom rezervácie boli poskytnuté podľa poradia príchodu. Lístky sa vypredali za pár sekúnd.
Pokračovanie II. časti článku z Paris Fashion Weeku – mužskej prehliadky módy si môžete prečítať na blogu v článku vyššie.
obrázky: © Céline, Hermés, Thom Browne, Vogue, Laurent Viteur, Wireimage, Julien de Rosa, AFP via getty images
Sledujte Facebook stránku: Mya Mirell Fashionista a Instagram: mya_mirell .