Paris Fashion Week, strhujúce prehliadky kolekcií ďalších dizajnérov pre Jeseň/Zima 2022 – 2023 – Valentino, Balenciaga, Dries van Noten, časť II.
Pánsky odev zažil svoju chvíľu v januári počas týždňa módy v Paríži, no teraz je čas, aby dámske oblečenie Jeseň/Zima 2022 dostalo svoj lesk a odštartovalo nový mesiac. Okrem odvážnej, extravagantnej a úchvatnej módy prichádza aj hviezdny zoznam celebrít, ktoré tohtoročný Paris Fashion Week poctili svojou osobnou návštevou.
Európske prehliadky Milan a Paris Fashion Week sú teraz ústredným bodom pre veľké módne domy, ktoré si môžu dovoliť nasadiť grandiózne predstavenia, čo predstavuje posun, aký nebol zaznamenaný od 70. rokov minulého storočia. Parížsky týždeň módy bol vždy s očakávaním vítaný po strhujúcich šou na Milan Fashion Weeku a inak tomu nie je ani túto sezónu. Etablované hviezdy ako Kim Kardashian, Serena Williams a Rihanna sa rozhodli vynechať tento rok New York Fashion Week výmenou za sedadlo v prvom rade na prehliadkach Dior, Off-White a ďalších a tiež promenádou po móle (Serana Williams).
Prehliadkového týždňa ženskej módy sa zúčastnili aj ďalšie celebrity vrátane herečky Zendaya, Demi Moore, A$AP Rockyho, Tracee Ellis Ross, Kendall Jenner a Pharrella, ktoré tiež oslnili svojimi outfitmi.
Parížsky týždeň módy (PFW) sa tento rok vracia s fyzickými prehliadkami a od 28. februára do 8. marca 2022 odhalí dámsku kolekciu módy pre sezónu Jeseň/Zima 2022. Predbežný harmonogram prehliadok odhaľuje 95 značiek, ktoré sa predstavia so svojimi kolekciami. Z týchto 95 značiek bude 45 fyzických prehliadok na móle, 37 fyzických reprezentácií a 13 online prehliadok kolekcií.
Pozrime sa na ďalšie módne domy, ktoré úspešne predviedli svoje skvostné kolekcie.
VALENTINO
Svetové týždne módy prinášajú každú sezónu módne trendy pre tú nasledujúcu a udávajú tón, akým sa bude uberať svet módy ale aj dizajnu. Každú sezónu sa zrodí jedna alebo dve farby, ktoré kraľujú a stanú sa dominantnou farbou, ktorá sa rozšíri na všetky typy oblečenia.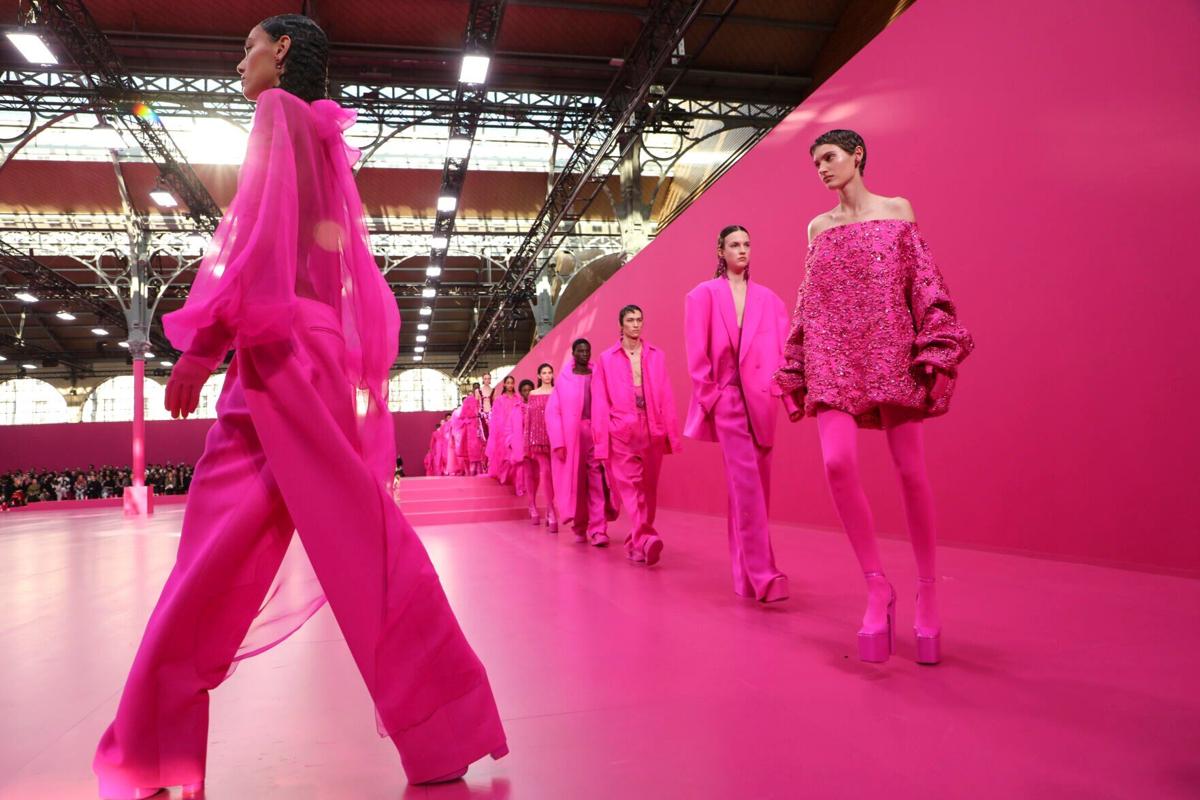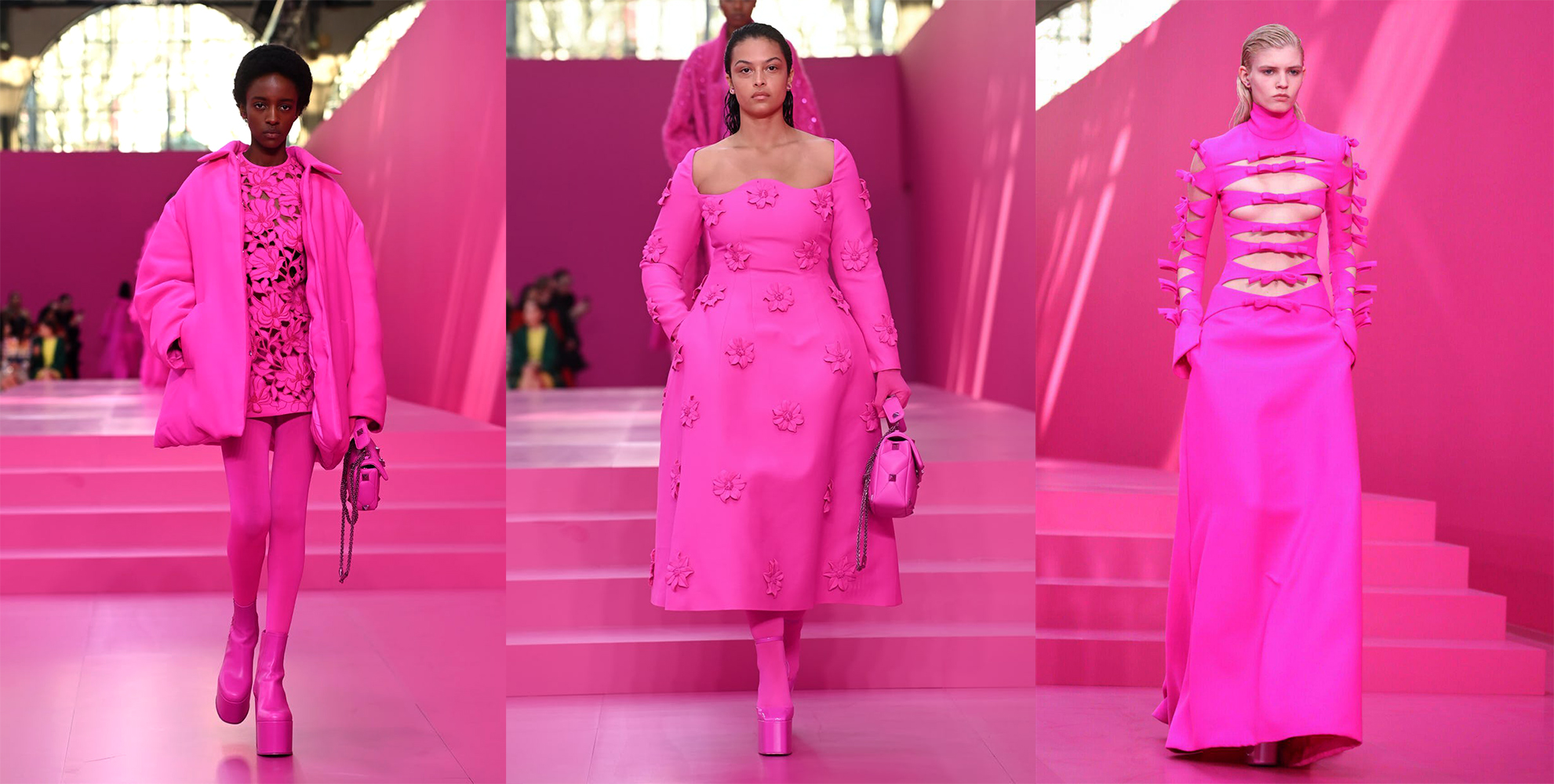 Módna prehliadka Valentino počas Paris Fashion Weeku priniesla neospravedlňujúce vyhlásenie – pre sezónu Jeseň/Zima 2022 bude v ponuke len jedna farba a tou je ružová. Ale nie hocijaká ružová. Kreatívna vízia módneho domu udala diktát, že nadchádzajúca sezóna bude celá o dayglo fuchsiovej. Stručne povedané, dizajnér Pierpaolo Piccioli hovorí, že na jeseň budeme mať v šatníku všetci veľa veľa ružovej.
Dizajnér Pierpaolo Piccioli s výstižným názvom kolekcie "Valentino Pink PP Collection" debutoval na Paris Fashion Weeku s ohromujúcim snom o monochromatickej šou. Vo výraznej ružovej bolo zaliate všetko. Ladilo dokonca aj miesto konania, mólo, steny a to všetko spolu s modelmi, ktoré modelky predviedli počas promenády na lesklom ružovom móle. Podľa magazínu Vogue sa dizajnér rozhodol ukázať všetky svoje kúsky v jednej farbe "aby odstránil rozptýlenie a sústredil oči divákov na rozlíšenie rozdielov medzi siluetou a detailom".
Módna značka Valentino predstavila celý rad vzhľadov kolekcie, všetko v rovnakom odtieni ohnivej ružovej – od zdobených mini šiat po plecia až po nadrozmerné prispôsobené obleky, koktejlové šaty, kabáty, topánky na platforme, pančušky a kabelky. Túto sezónu Piccioli predvádzal pánske a dámske oblečenie súčasne.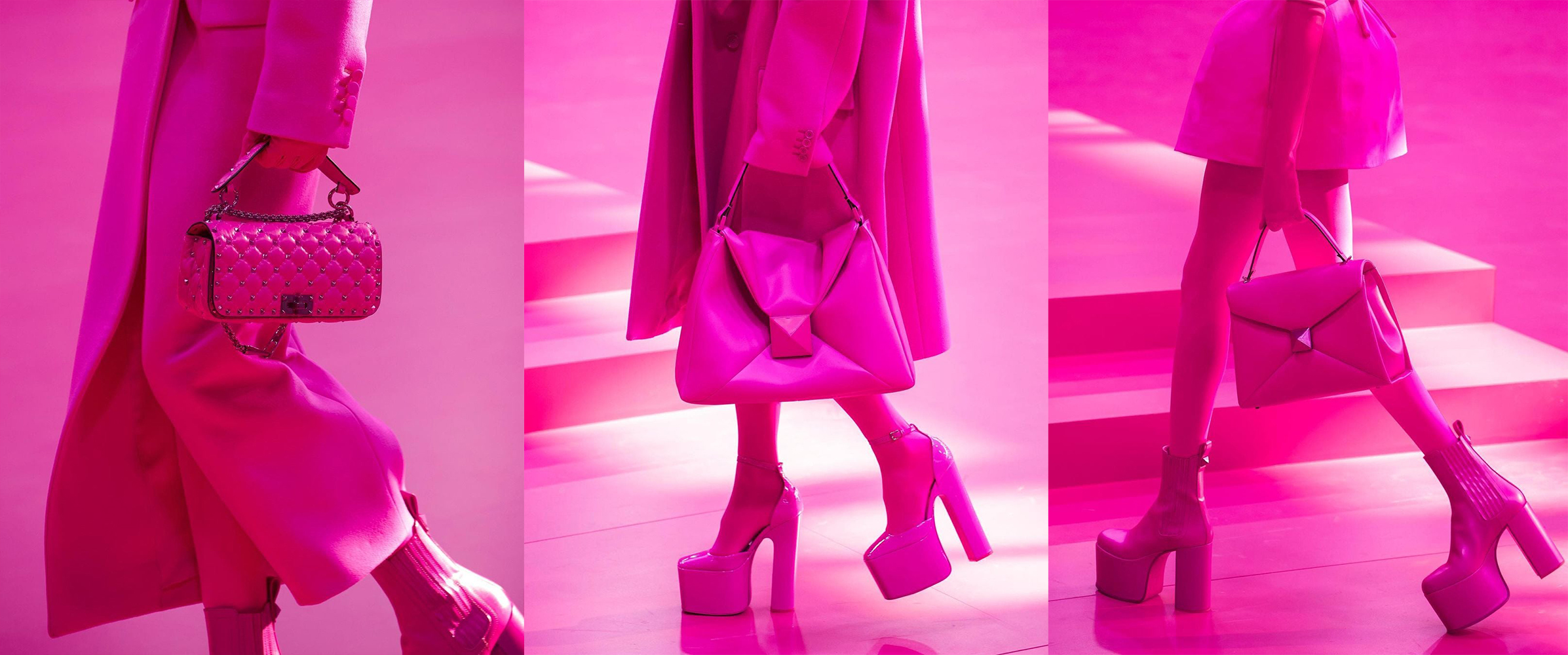 Po 40-tich elektrických ružových kompletoch , kolekcia prestrihla na čiernu farbu ako oddych od intenzívnej ružovej ale aj ako výrazný kontrast . Piccioli vytvoril koktejlové šaty, priehľadné čipkované topy a bomberové bundy a to všetko pre zmenu v atramentovo čiernej farbe.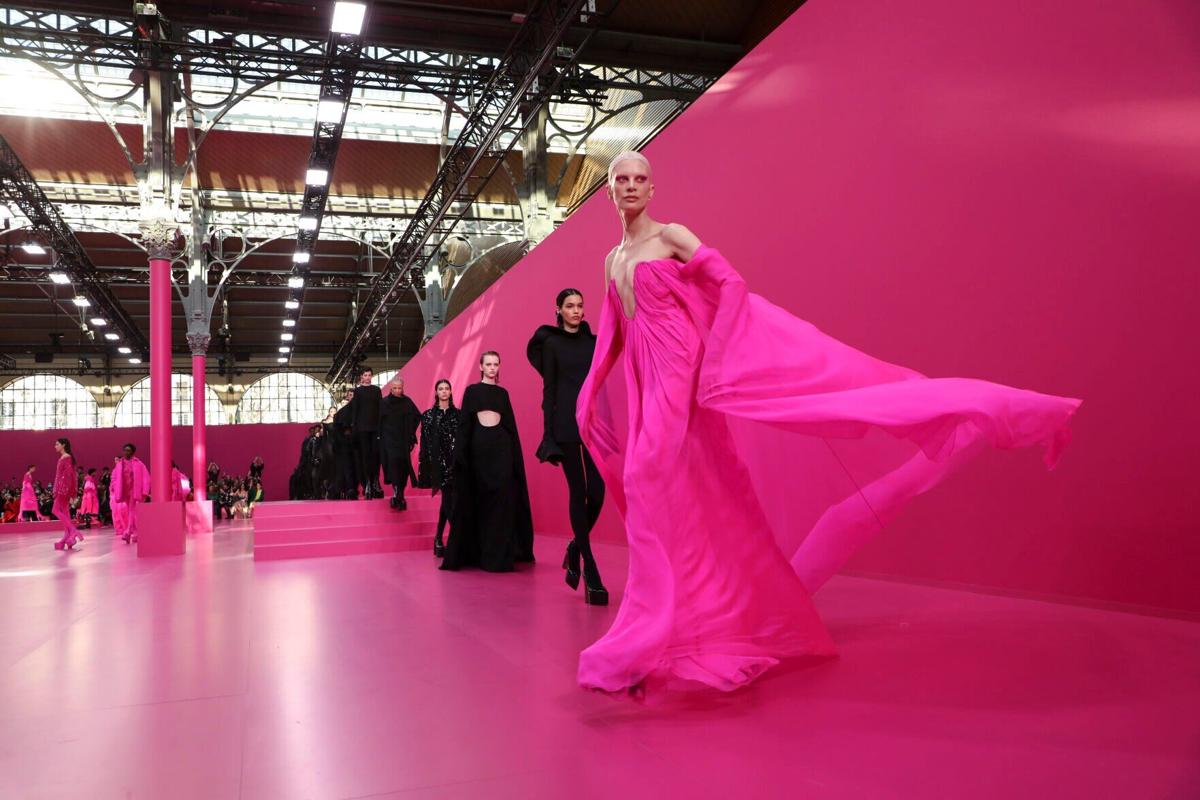 Douglas Coupland, spisovateľ a umelec známy svojim postmoderným pohľadom na život (Generácia X, Priateľka v kóme, Život po Bohu), vytvoril Valentino pozvánku ako aj sériu ružovo-ružových textových dlaždíc vrátane fráz ako "Chýba mi môj mozog pred internetom" a "Modernosť je večná". A aký význam má v tom všetkom ružová? "Láska, komunita, energia, sloboda," uviedla značka. A v tejto súvislosti módny dom Valentino spolu s Camera Nazionale della Moda Italiana (Národná komora talianskej módy) darovali UNHCR pol milióna eur na podporu ukrajinských utečencov.
Prehliadky sa zúčastnila aj mladá herecká hviezda aktuálne známa z televízneho seriálu Euphoria, Zendaya, ktorá na fotke s dizajnérom žiari od hlavy po päty taktiež v ružovom outfite.
BALENCIAGA
Kreatívny riaditeľ Demna Gvasalia, ktorý v roku 1993 utiekol z Gruzínska ako utečenec, zanechal na každom sedadle Balenciaga módnej šou štipľavý odkaz (spolu s tričkom vo farbách ukrajinskej vlajky), v ktorom stálo: "Prehliadka je venovaná nebojácnosti, odporu a víťazstvu lásky a mieru." Scéna, víriaca snehová búrka, ktorá sa odohrávala v kruhu za sklom, nechala modelky nesúce tašky a batohy bojovať s prírodnými živlami. Tenké modelky len s obtiažami vzdorovali silnému vetru v hrozivom počasí, čo bol tiež odkaz dizajnéra na tému globálneho otepľovania. "Bolo však ťažké nerobiť paralely medzi scénami na stanici v Kyjeve, keď tisíce ľudí utekajú v boji o život", vyjadril sa Gvasalia.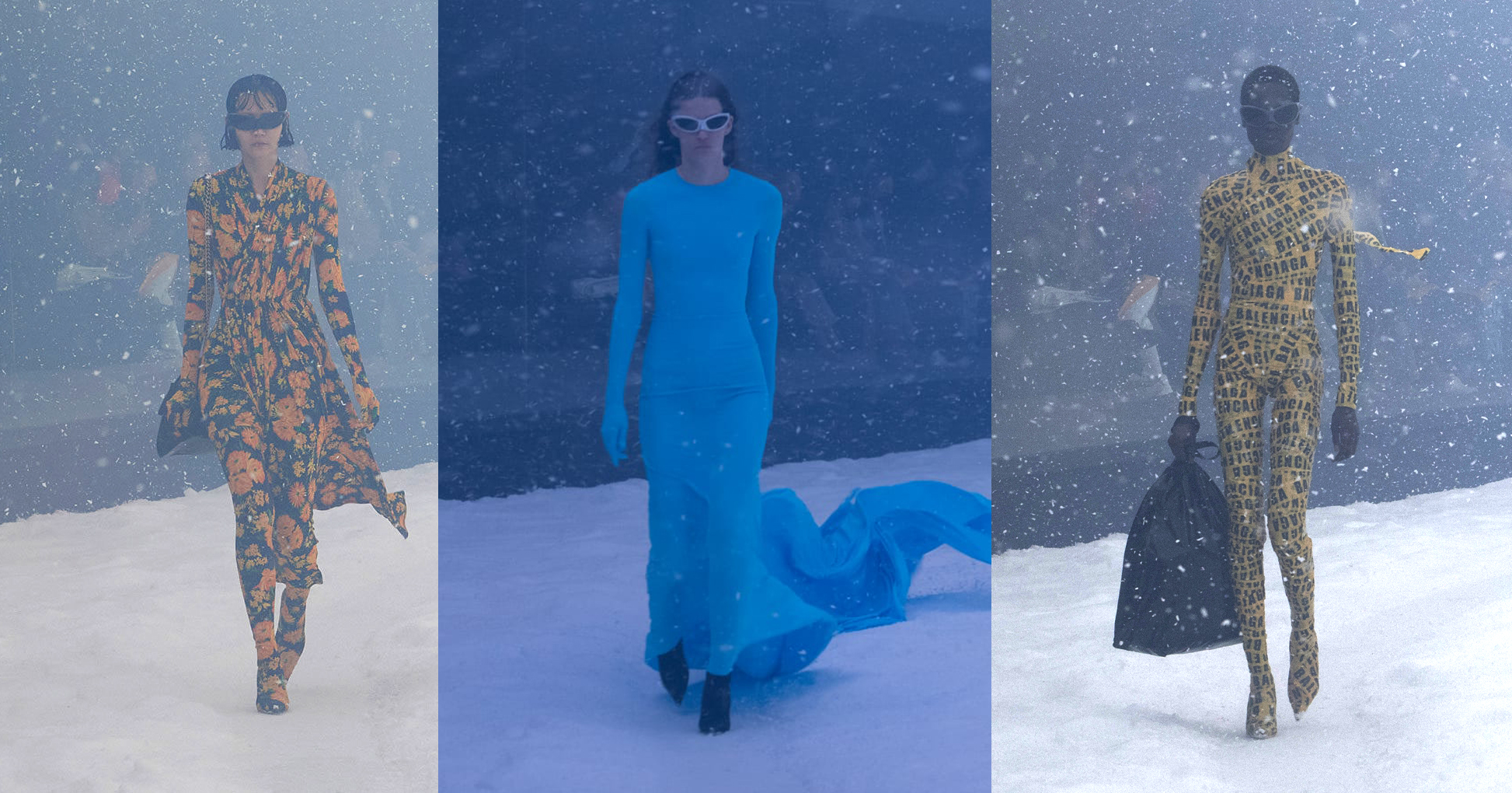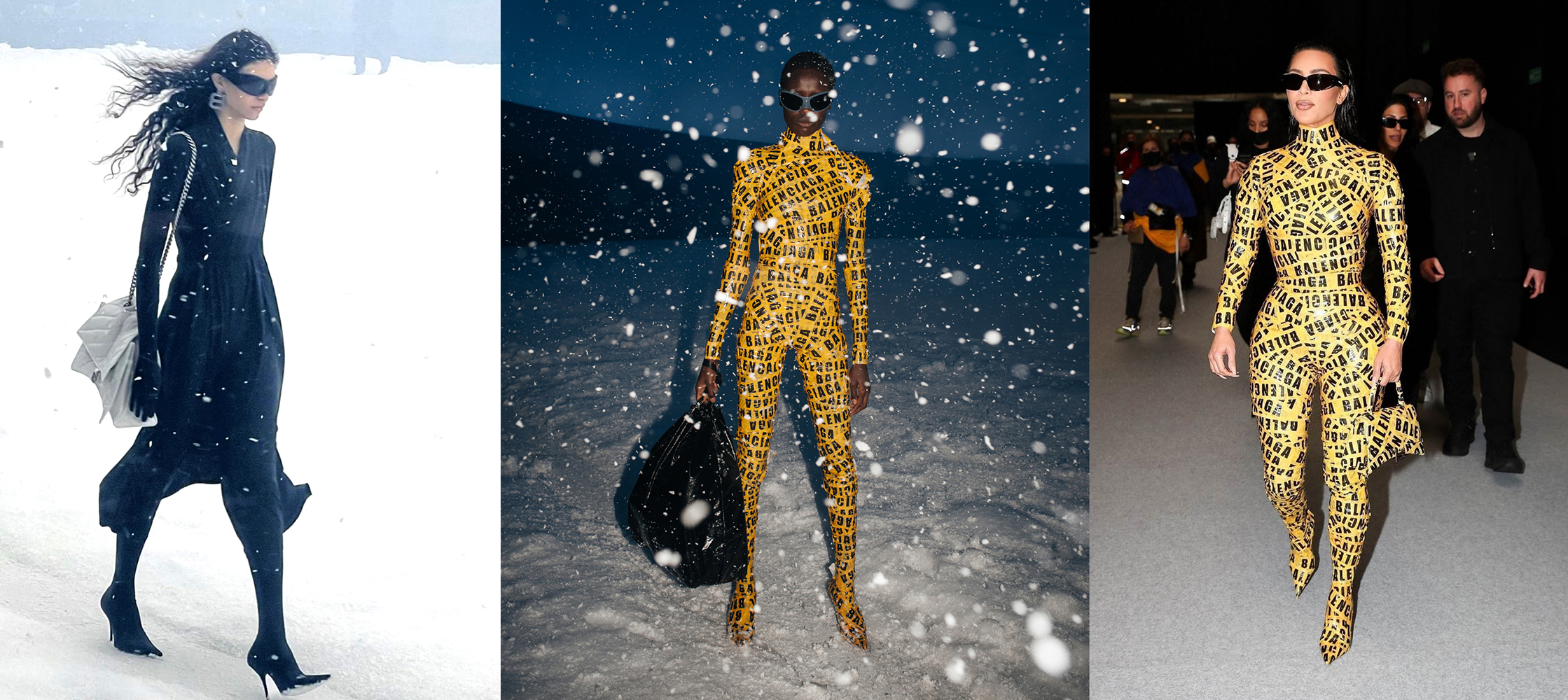 Balenciaga zaujala rázny postoj, pokiaľ ide o pochmúrnu realitu, pretože módny dom len pár dní pred parížskou šou vymazal všetky svoje príspevky na Instagrame a umiestnil iba obrázok ukrajinskej vlajky. V skutočnosti sa dizajnér Demna Gvasalia spýtal sám seba a módneho sveta, či vôbec prezentovať kolekcie na Paris Fashion Weeku prelínajúceho sa s hrozivou vojnou, ktorú 24. februára 2022 rozpútalo Rusko voči Ukrajine.
Na začiatku módnej šou dostali hostia poznámku od samotného dizajnéra, v ktorej stálo: "Módny týždeň mi pripadá ako nejaký druh absurdity. Na chvíľu som premýšľal o zrušení predstavenia, na ktorom som ja a môj tím tvrdo pracoval a na ktoré sme sa všetci tešili. Potom som si však uvedomil, že zrušenie tohto predstavenia by znamenalo ustúpiť, odovzdať sa zlu, ktoré ma už takmer 30 rokov tak veľmi bolelo. Rozhodol som sa, že už nemôžem obetovať časti seba tej nezmyselnej, bezcitnej vojne ega."
Pre prezentáciu kolekcie Balenciaga Jeseň/Zima 2022-2023 s názvom "360° Show" sa obrovská kruhová aréna na letisku Le Bourget premenila na postapokalyptickú snehovú búrku. Interpretácia sa potom priklonila k inému globálnemu relevantnému problému, k zmene klímy. Kým niektoré modelky sa objavili v ťažkých kabátoch z umelej kožušiny a na vysokých opätkoch, iné akoby zaskočené hrozivým počasím, bolo vidieť len v spodnej bielizni a v teniskách. Mali so sebou aj "koženú" tašku na báze mycélia , Balenciaga nový trend.
Dva posledné vzhľady žltej teplákovej súpravy a žiarivo modrých asymetrických šiat vyslali tichý, no silný odkaz.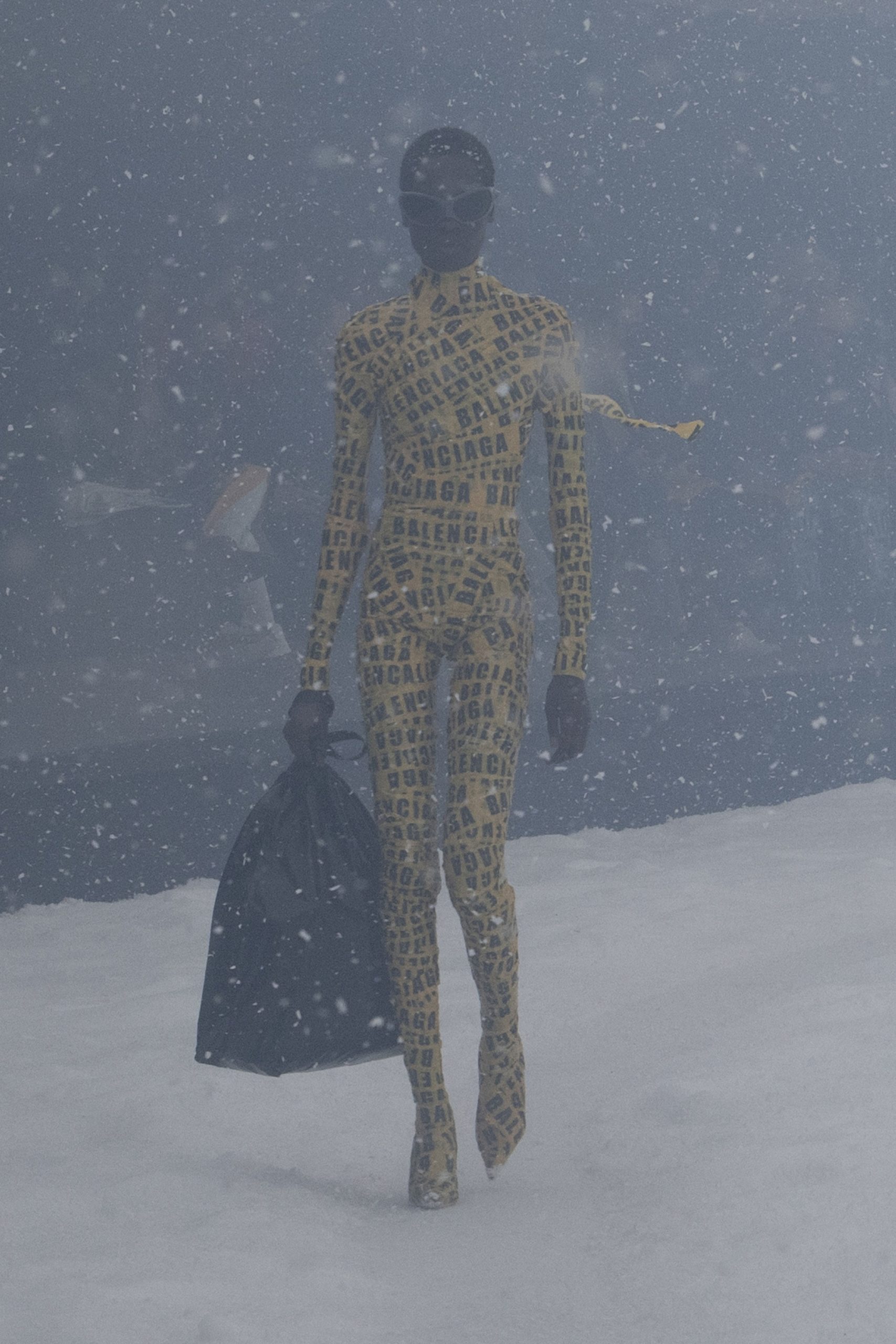 Balmain vzal remeselnú zručnosť v tejto kolekcii celkom vážne, vidieť ju bolo možné na vypasovaných korzetových topoch, vypchatých bundách a futuristických moto-výbavách. Možno to nebola odpoveď na pokračujúcu agresiu na susedných hraniciach Ukrajiny a Ruska, no kolekcia Balmain bola priamym prikývnutím k sebaposilňovaniu a zjednoteniu tvárou v tvár nepriazni osudu.
Na prehliadku Balenciaga zavítala po Milan Fashion Weeku americká hviezda Kim Kardashian, ktorá obliekla obväzový model z tejto kolekcie.
Tiché "výrazy" spálených obväzov, ktoré mal taktiež kreatívny riaditeľ domu Balmain , Olivier Rousteing na sebe po tom, čo v roku 2021 zažil u seba hrozný požiar, sa stali ďalším hlasom a inšpiráciou za ochranným a pozláteným lookom modelov. Tento trend spoločne symbolizuje nádej a pravdu v solidarite s agresiou a privádza nás do sveta lepšieho, než je ten dnešný. (prvú časť článku z Paris Fashion Weeku – čítajte v histórii na tomto blogu).
DRIES VAN NOTEN
Belgický módny majster bol počas módnej šou predvedenej na Paris Fashion Weeku v eklektickej forme. Prehliadka, ktorú spojila čistá neviazanosť štýlov s bohatou tapisériou ,bola inšpirovaná výzdobou interiéru, leopardím vzorom, ktorý sa mohol nachádzať tak na koberci , ako aj na veľkom kabáte prehodenom okolo modelky ako záves.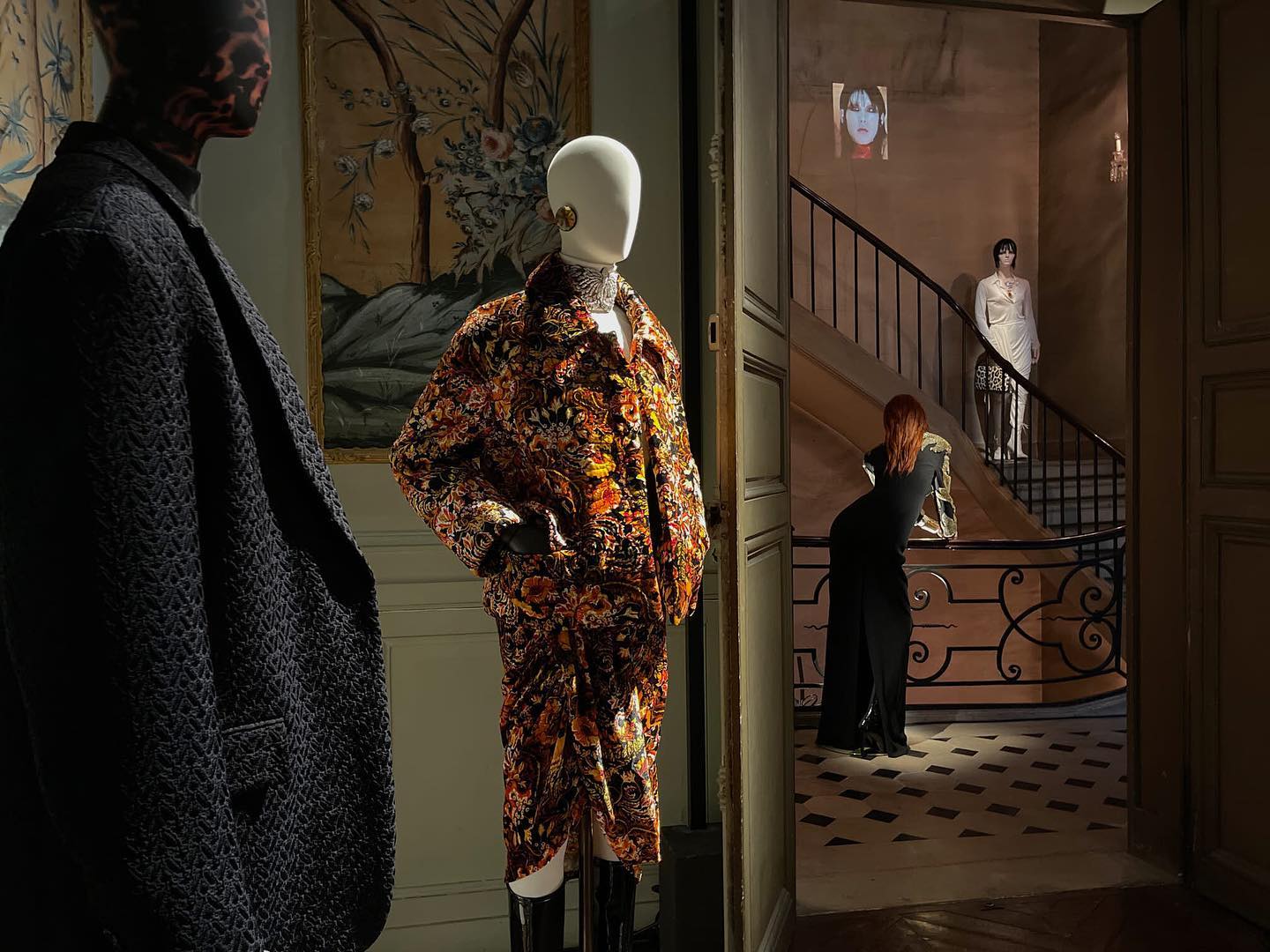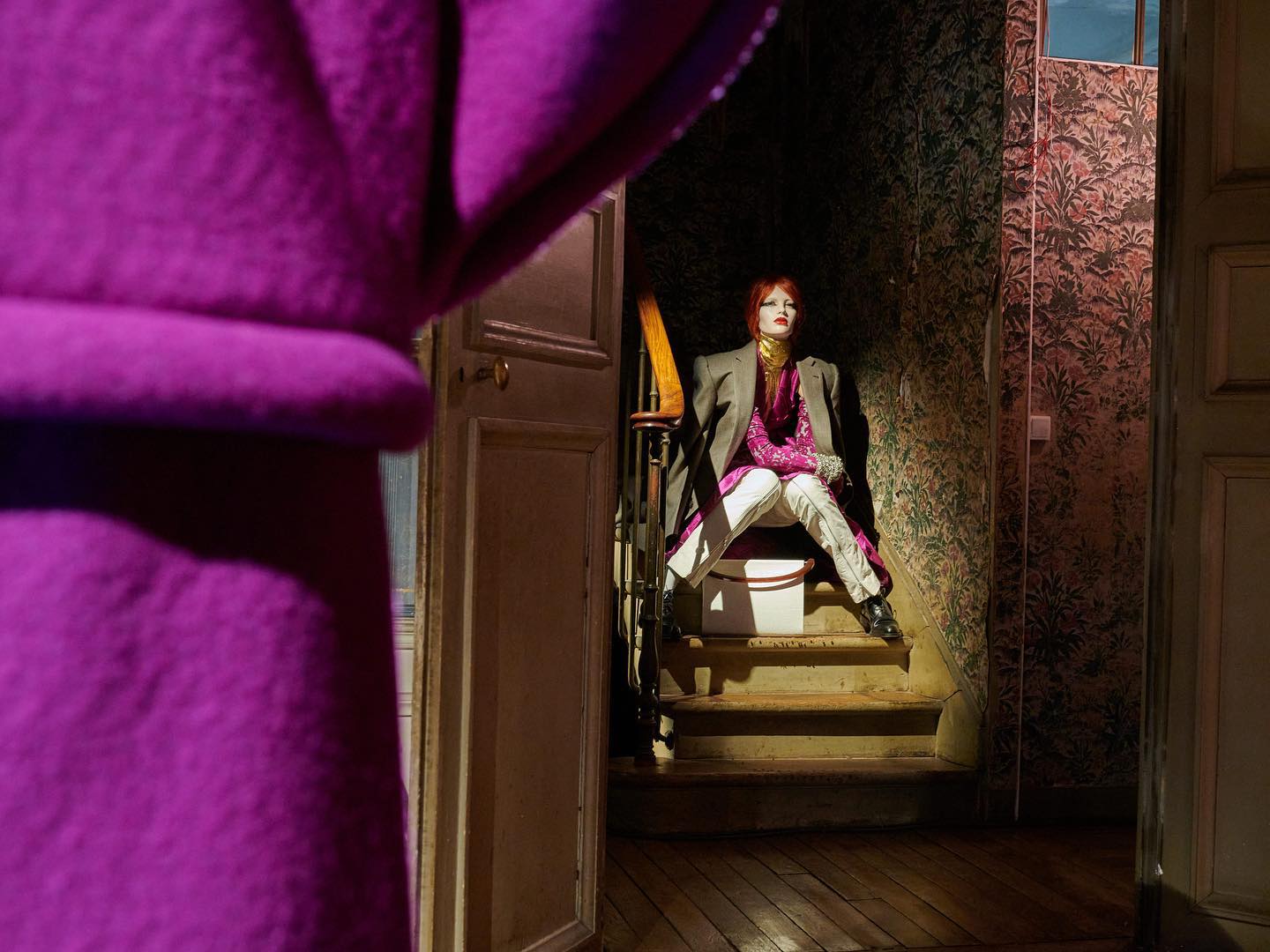 Túto sezónu nám Van Noten doprial zmyslový zážitok a pozval hostí na osobnú prehliadku svojej kolekcie Jeseň/Zima 2022, ktorá sa nachádza v opustenom sídle Hotel de Guise. Návrhár ukázal svoje oblečenie aj novo uvedenú skrášľovaciu líniu, ktorá zahŕňa parfumy a rúže. Inšpirovaný bol architektom a fotografom Carlom Mollinom a erotickými polaroidmi nájdenými po jeho smrti medzi nahými a polooblečenými ženami. Inštalácia umožnila hosťom dotknúť sa bohato vrstvených textúr, vdychovať nové vône Dries a zblízka si prezrieť prepychový eklektický vzhľad prezentovaný na figurínach.
Siluety boli rôznorodé, ale prekrížené chlopne a nadrozmerné proporcie v topoch a kabátoch vytvárali ostré kontrasty s pevne zopnutými pásmi a dlhými delenými sukňami. Z kolekcie Dries van Noten, Jeseň/Zima 2022-2023 zaujal azda najväčšmi surrealistický biely kabát s rúrkovými ramenami, ktorý vyzeral ako vyrobený z papierovej hmoty.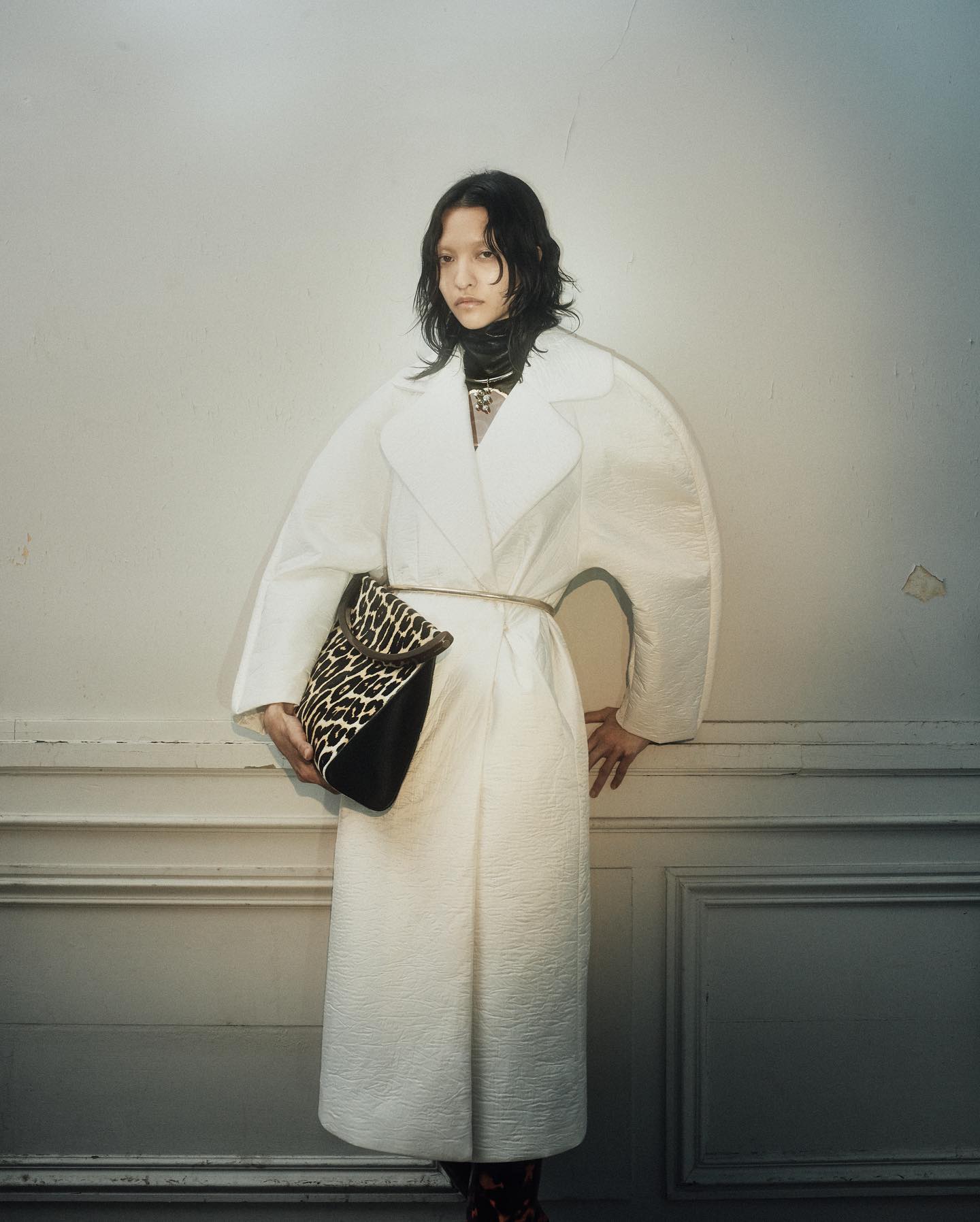 obrázky: ©Vogue, Valentino, Balenciaga, Dries van Noten, Pascal Le Segretain/Getty Images, Xinhua/Rex/Shutterstock
Prvú časť článku z Paris fashion Weeku, dámskeho prehliadkového týždňa módy , sezóny Jeseň/Zima 2022 -23 uskutočneného od 28. februára 2022 do 3. marca 2022, čítajte v histórii na tomto blogu.
Sledujte Facebook stránku: Mya Mirell Fashionista a Instagram: mya_mirell .