Paris Fashion Week – jarné prehliadky kolekcií značiek Rick Owens, Chanel, Row, Loewe, Ester Manas, Courréges, 26. september – 4. október 2022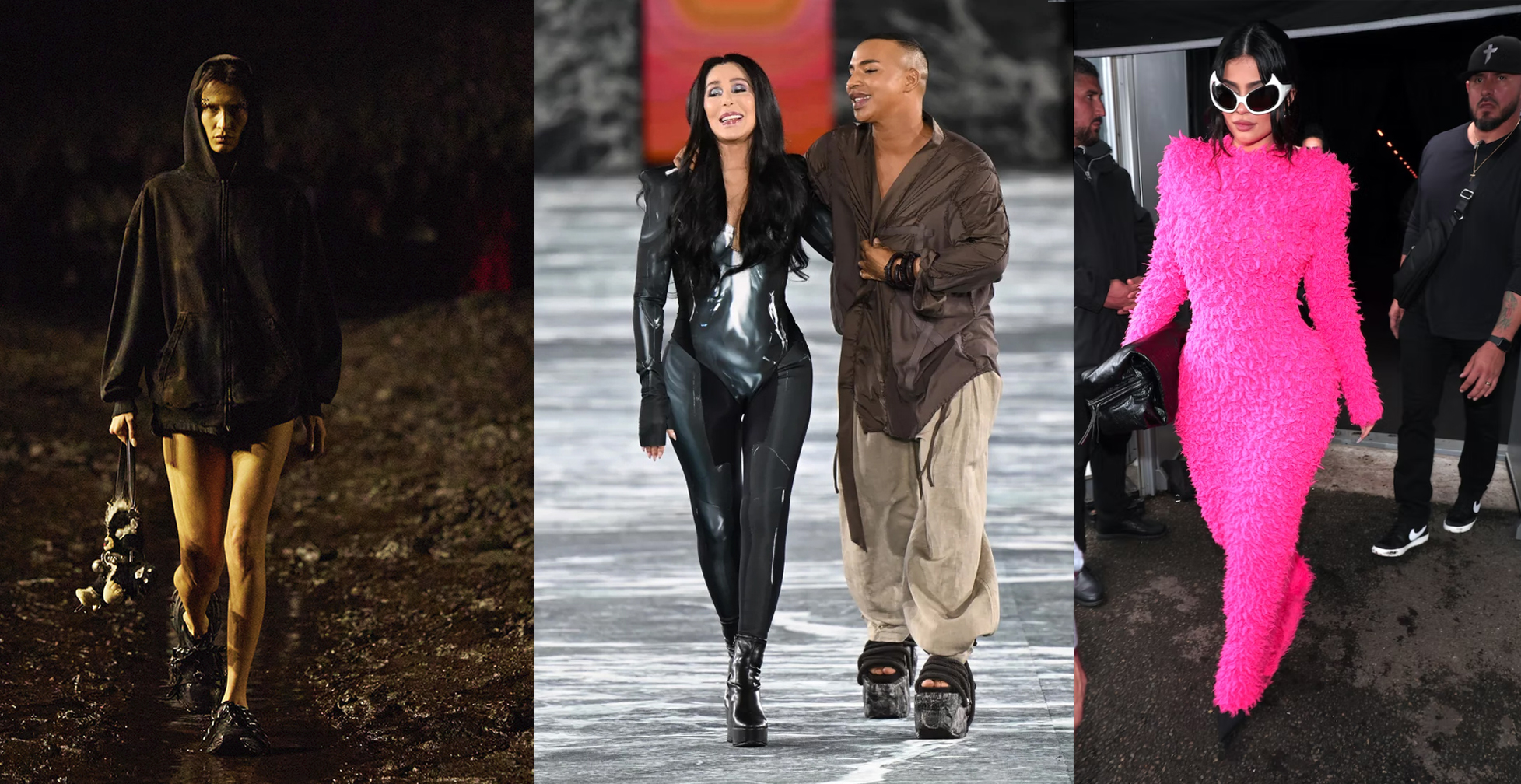 Po búrlivom Milan Fashion Weeku, ktorý nastolil istú dávku rebélie a novoty, predviedol Paríž žiarivé farby, nápadité detaily, bombastickú šou so celebritami a ikonami akou je speváčka Cher, herečka Zendaya a tiež predstavil priliehavé večerné oblečenie a trendové novinky pre nasledujúcu sezónu Jar/Leto 2023.
Módna šnúra svetových fashion weekov sa po New Yorku, Londýne, Miláne teda presunula ďalej do Paríža. Paris Fashion Week, ktorý sa konal v týždni od 26. septembra do 4. októbra 2022, predstavil po dvoch rokoch stagnácií v dôsledku covid pandémie nové kolekcie dizajnérov pre sezónu Jar/Leto 2023 s plným nasadením. Davy fanúšikov módy, známych tvárí z módneho biznisu a zo šoubiznisu sa s nadšením opäť ukázali vo francúzskom hlavnom meste, ktoré opäť dýchalo módou. Pozrime sa na ďalšie zaujímavé prehliadky módnych dizajnérov a ich trendové novinky pre sezónu Jar/Leto 2023.
BALMAIN
Absolútnym prekvapením so standing ovation bola módna šou značky Balmain, ktorá si na mólo prizvala spevácku hviezdu a ikonu Cher. Nestarnúca hviezda vystúpila na Stade Jean-Bouin pred 8000 publikom.
Ako nová tvár Balmainovej kabelkovej kampane sa hviezda pripojila k kreatívnemu riaditeľovi Olivierovi Rousteingovi, aby sa poklonila na záver módnej prehliadky.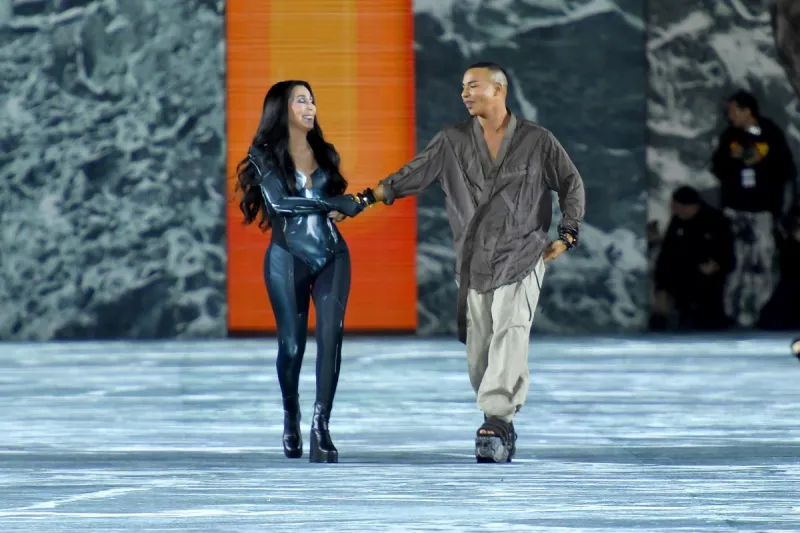 Extrémna show zahŕňala zahrievací set od Shygirl a viac ako 100 výstupov z konfekcie a couture. V kolekcii Balmain – Jar/Leto 2023 boli prítomné africké vplyvy ako odkaz na Rousteingových rodných rodičov, ktorí pochádzajú z Afrického rodu.
Módna značka sa snaží prezentovať a vytvárať trvalo udržateľnú módu čo zahŕňalo použitie kôry a rafie zozbieranej udržateľným spôsobom použitej v novej kolekcii. Veľkou trendovou novinkou pre nasledujúcu letnú sezónu 2023 tu bol korzet.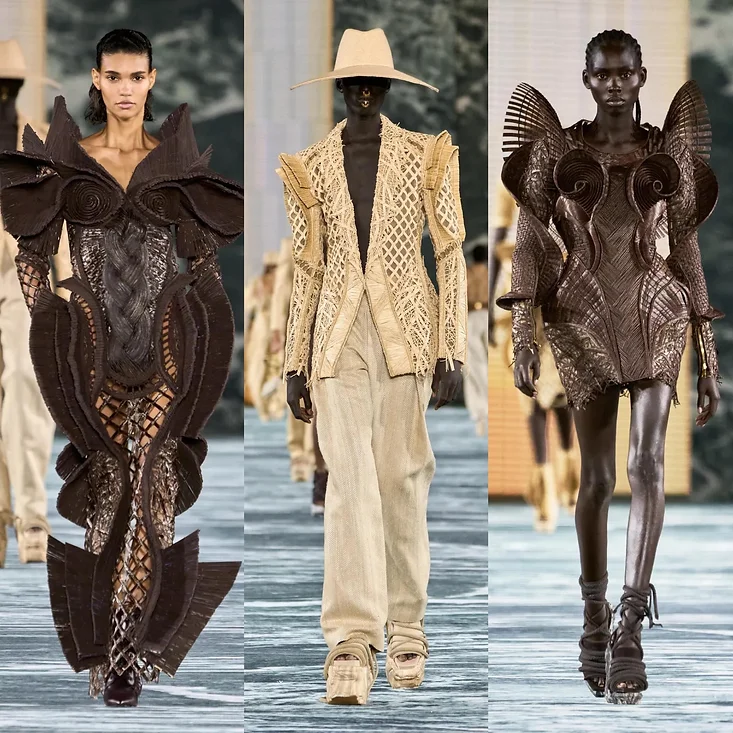 DRIES VAN NOTEN
Belgický dizajnér Dries Van Noten je späť a to so šou, ktorá bola oslavou optimizmu s príznačným názvom Darkness into the Light. Kolekcia bola predstavená v troch častiach a vyvíjala sa od čistoty čiernej, náznaku farby vo vyblednutých pasteloch a nového stvárnenia kvetinovej potlače. Textúra, štruktúra a siluety vyslali grafické posolstvo, objavili sa v precízne strihanom krajčírskom šití a na šatách s plastickým pásom. Výsledkom prehliadky bola módna explózia kvetinových potlačí , masa vzorov, kde sa potlače a textúry spájali.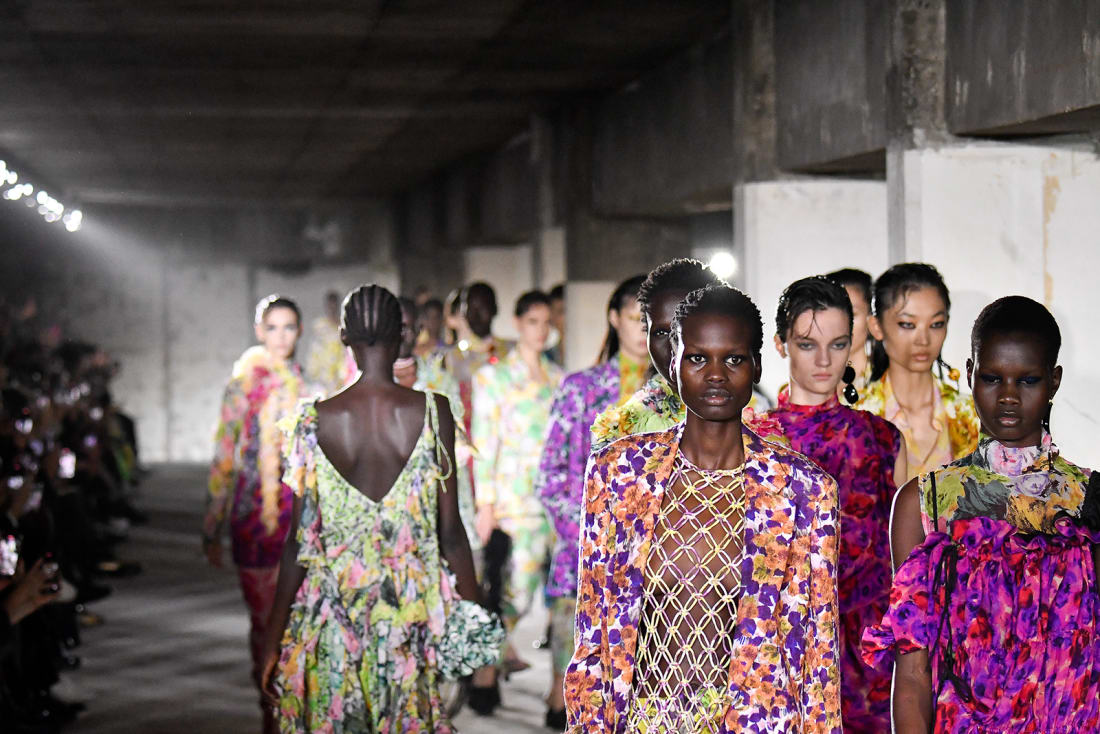 BALENCIAGA
Módna prehliadka značky Balenciaga pre Jar/Leto 2023 sa uskutočnila v rozľahlej a slabo osvetlenej bahennej jame, ktorá páchla vlhkou pôdou. Modelky sa promenádovali po obvode, pričom prvým modelom bol Kanye West oblečený v bezpečnostnej bunde s mnohými vreckami.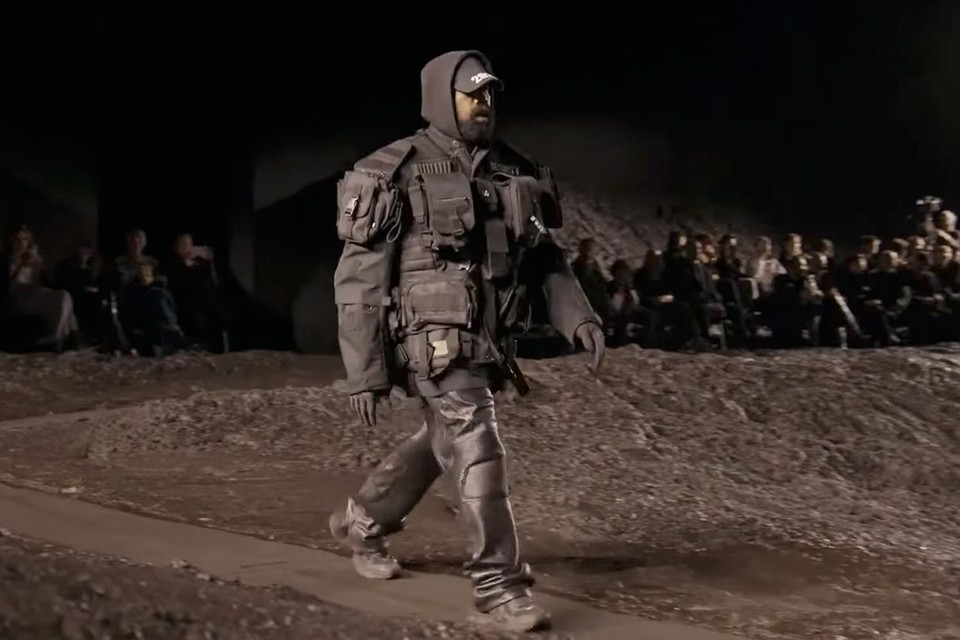 Módny dizajnér Demmna Gvasalia sa v notách k módnej kolekcii vyjadril, že ide o "metaforu pre hľadanie pravdy". Na prehliadkovom móle sa objavila zvyčajná nadrozmerná silueta s šikovnými doplnkami – veľké tašky držané cez dlhú rukavicu vytvarovanú na taške, detské nosiče držiace realistické znovuzrodené bábiky, kabelky, ktoré vyzerali ako vrecká na lupienky a 3D tlačené holandské dreváky.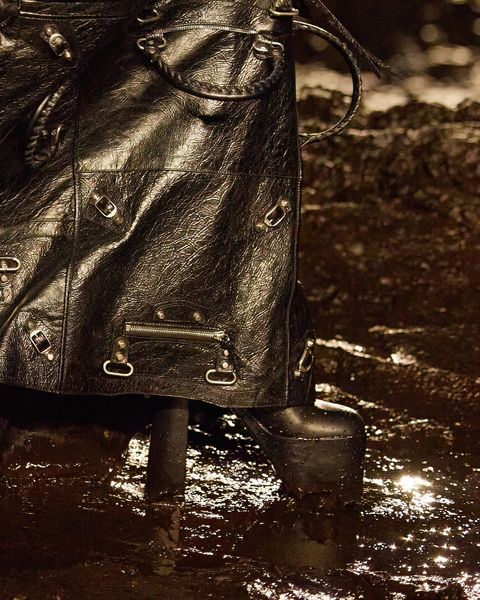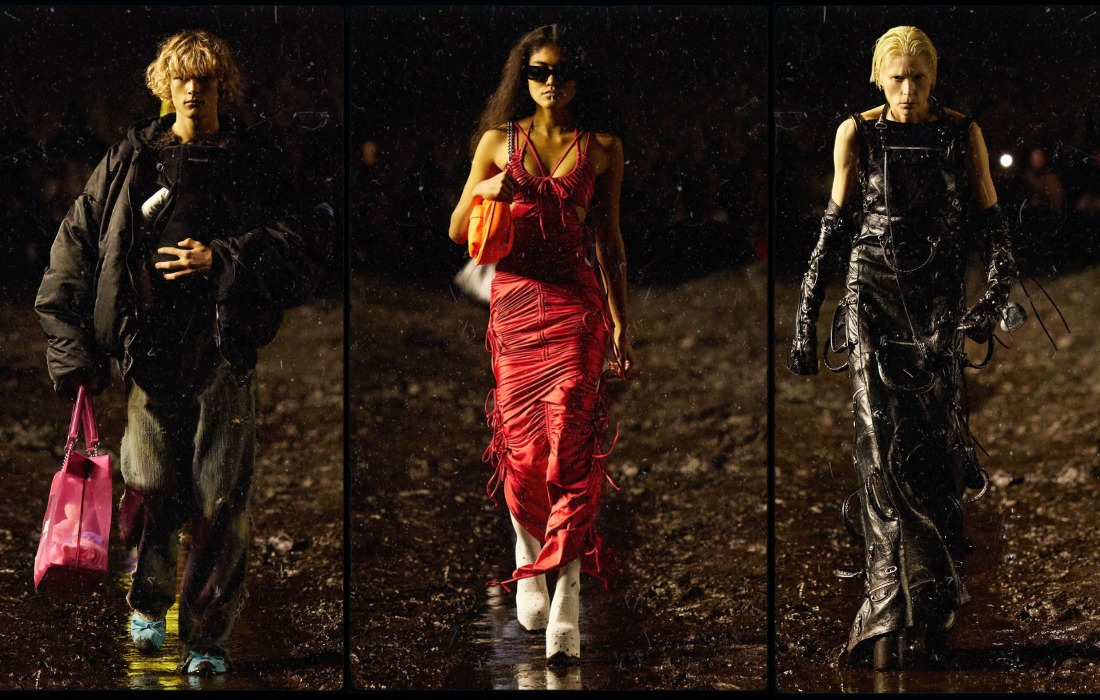 Na prehliadku zavítala aj Kyllie Jenner v krikľavo ružovom Balenciaga looku.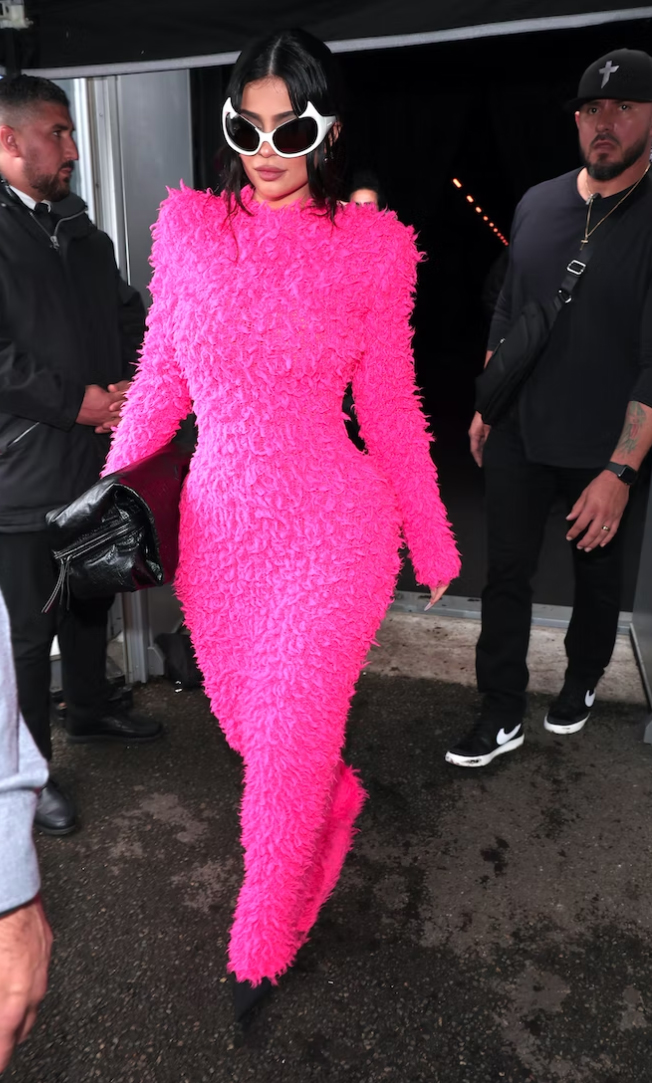 foto: Jacopo M Raule/Getty images
CHRISTIAN DIOR
Talianska dizajnérka Maria Grazia Chiuri si pre svoju kolekciu Dior – Jar/Leto 2023 vzala počas septembrového Paris Fashion Weeku za inšpiráciu Catherine de Medici, ktorá sa zaslúžila o to, že priniesla na francúzsky dvor vysoké opätky, korzet a čipku Burano.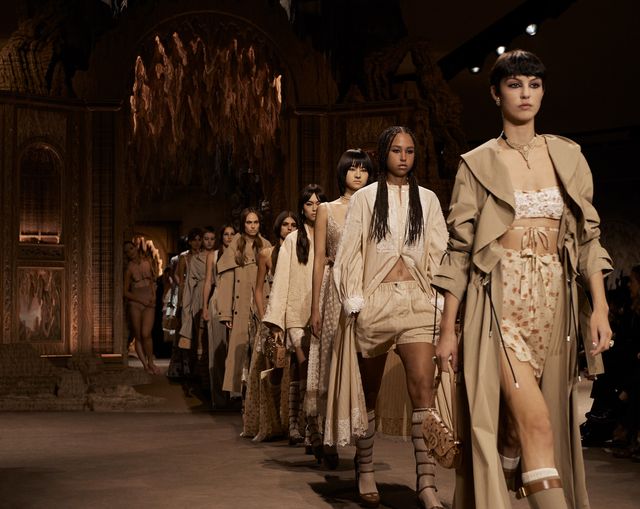 Chiuri preto v novej kolekcii Dior SS23 zvýraznila siluetu širokej sukne z tej doby a ako hlavná potlač na trenčkoty a korzety bola použitá mapa z domových archívov a mesto okolo Ave Montaigne, kde sa nachádza hlavné sídlo spoločnosti Dior.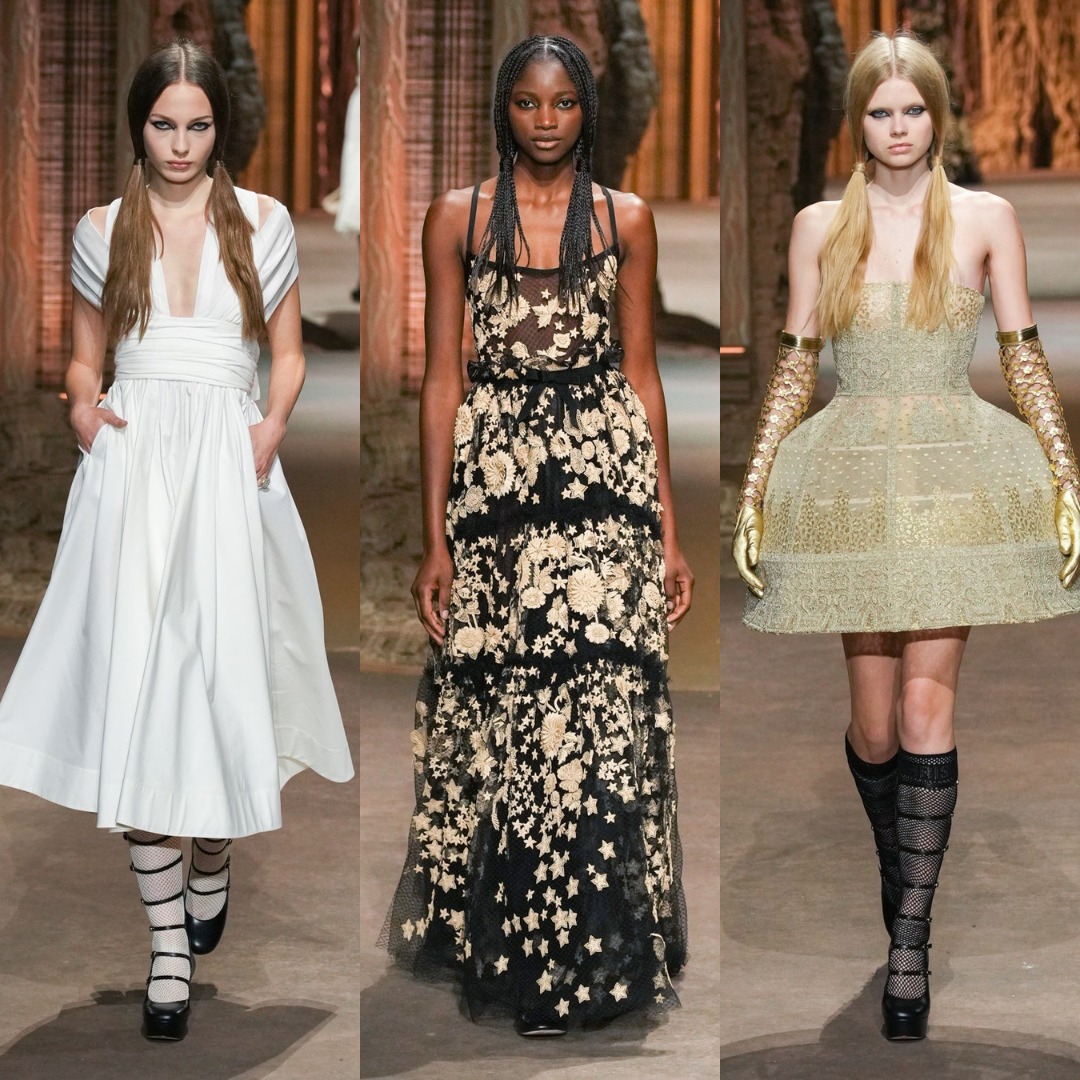 Módna šou sa udiala v jaskyni vytvorenej francúzskou umelkyňou Evou Jospin za vystúpenia tanečníkov a choreografov Marne a Imre Van Opstal so súborom.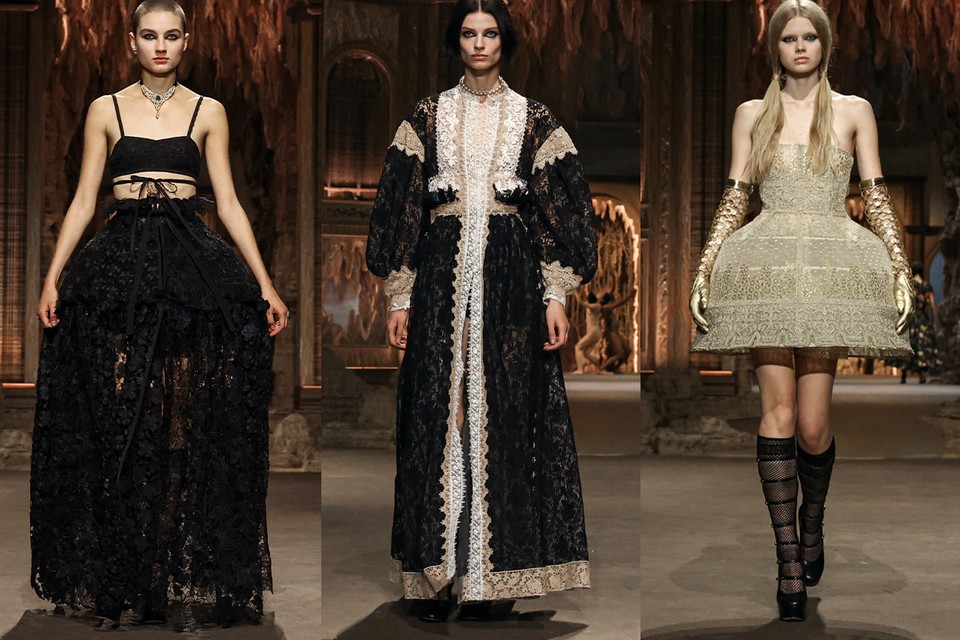 LOUIS VUITTON
Módna šou značky Louis Vuitton sa udiala priamo v srdci obrovského nainštalovaného tzv. "monster flower" (kvetu) , ktorú navrhol umelec Philippe Parreno. Scéna bola doplnená žiarovkovými lustrami nad mólom.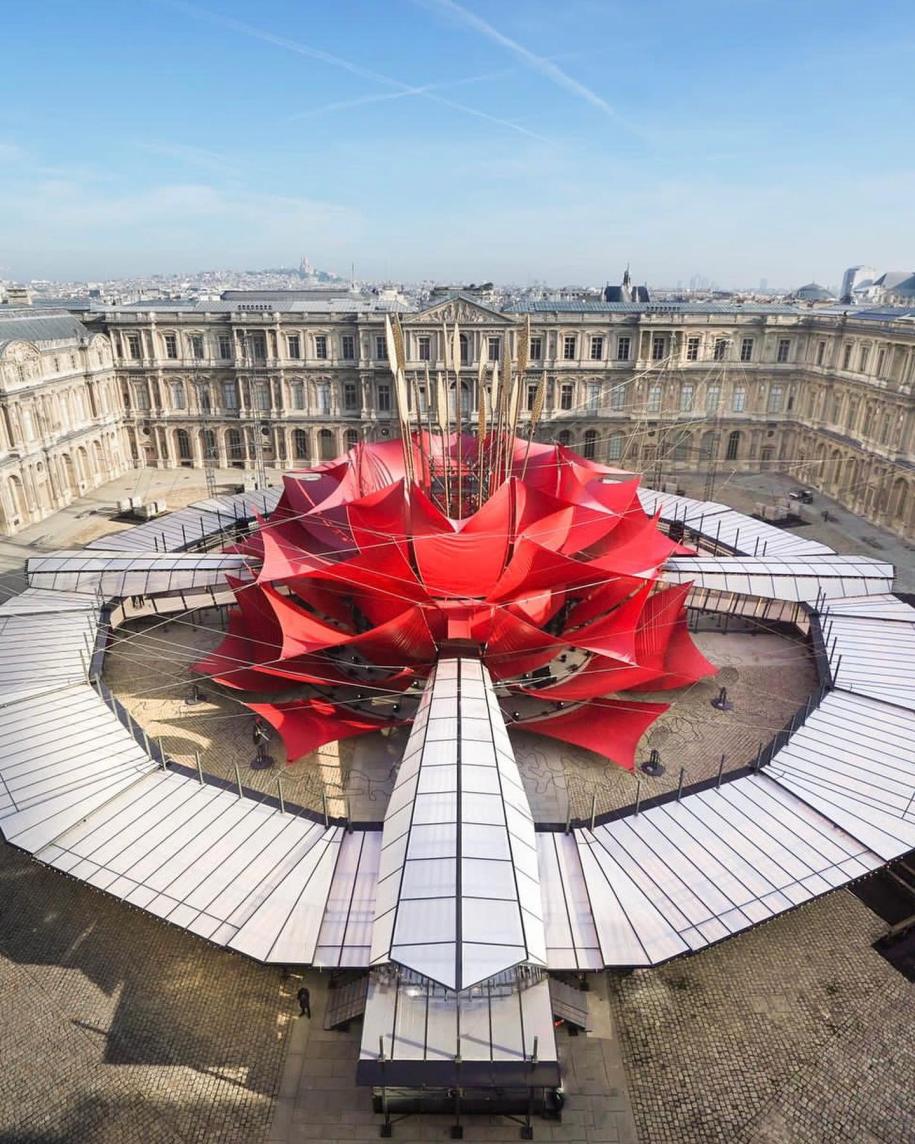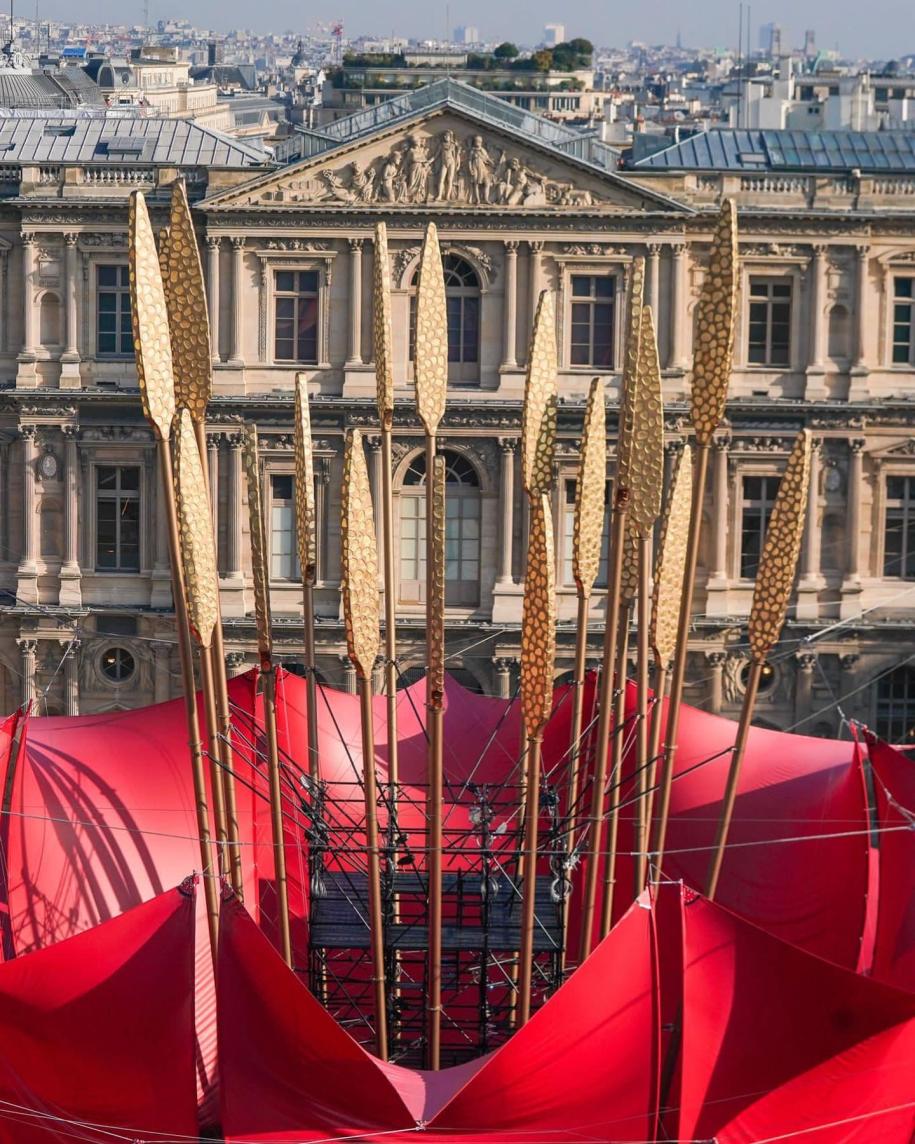 Módny dizajnér Nicolas Ghesquière sa pohral s proporciami, nadrozmernými zipsami (boli to najväčšie zipsy, aké boli kedy vyrobené) a patentnými gombíkmi na bundách a šatách, vďaka čomu sa stali ústredným bodom kolekcie. Výsledkom bola futuristická silueta dominujúca kolekcii Louis Vuitton – Jar/Leto 2023.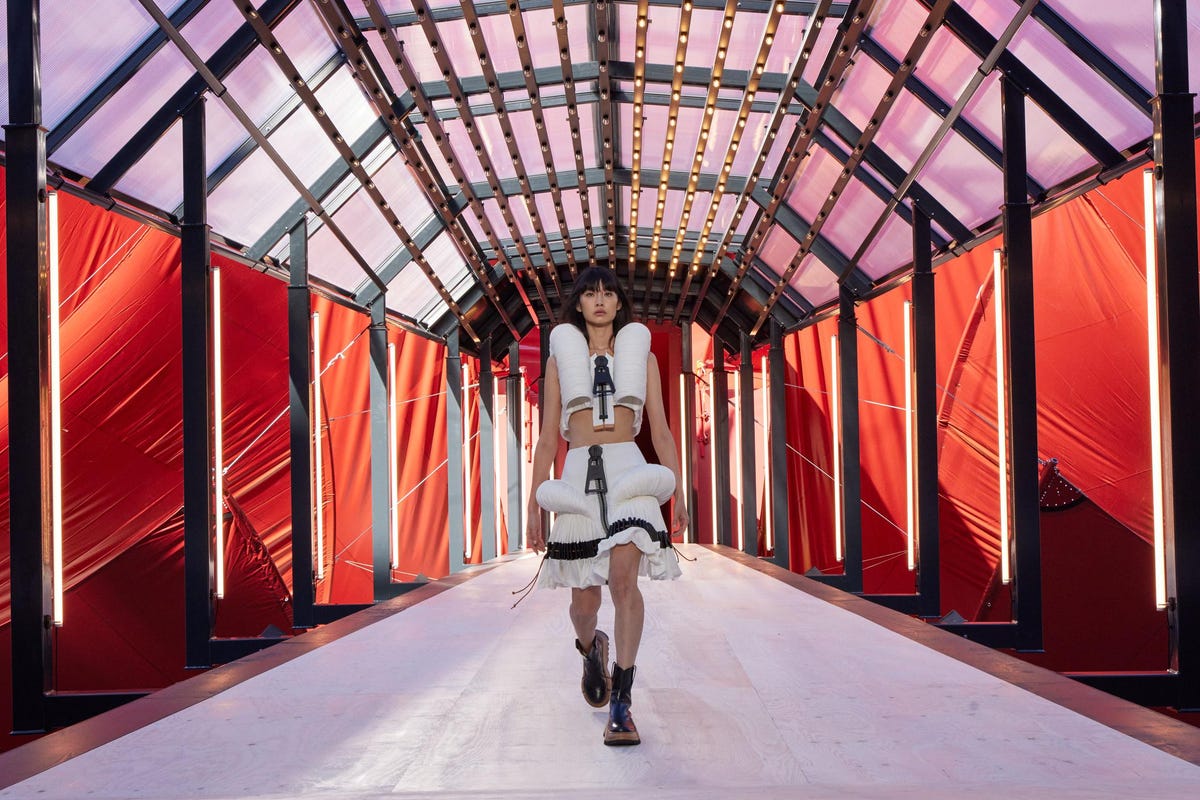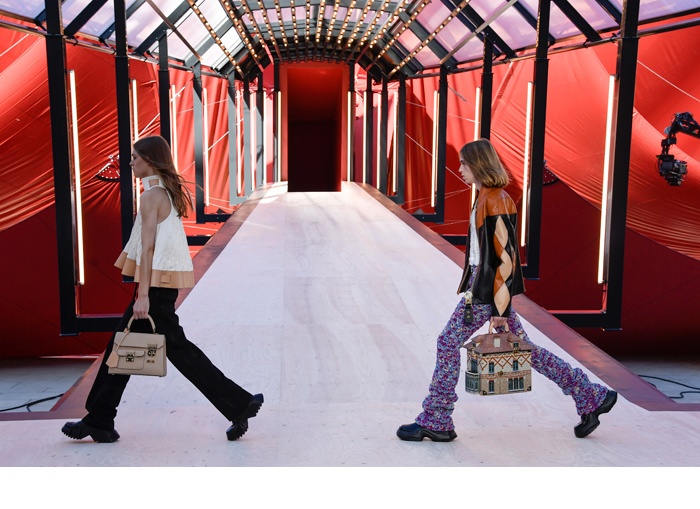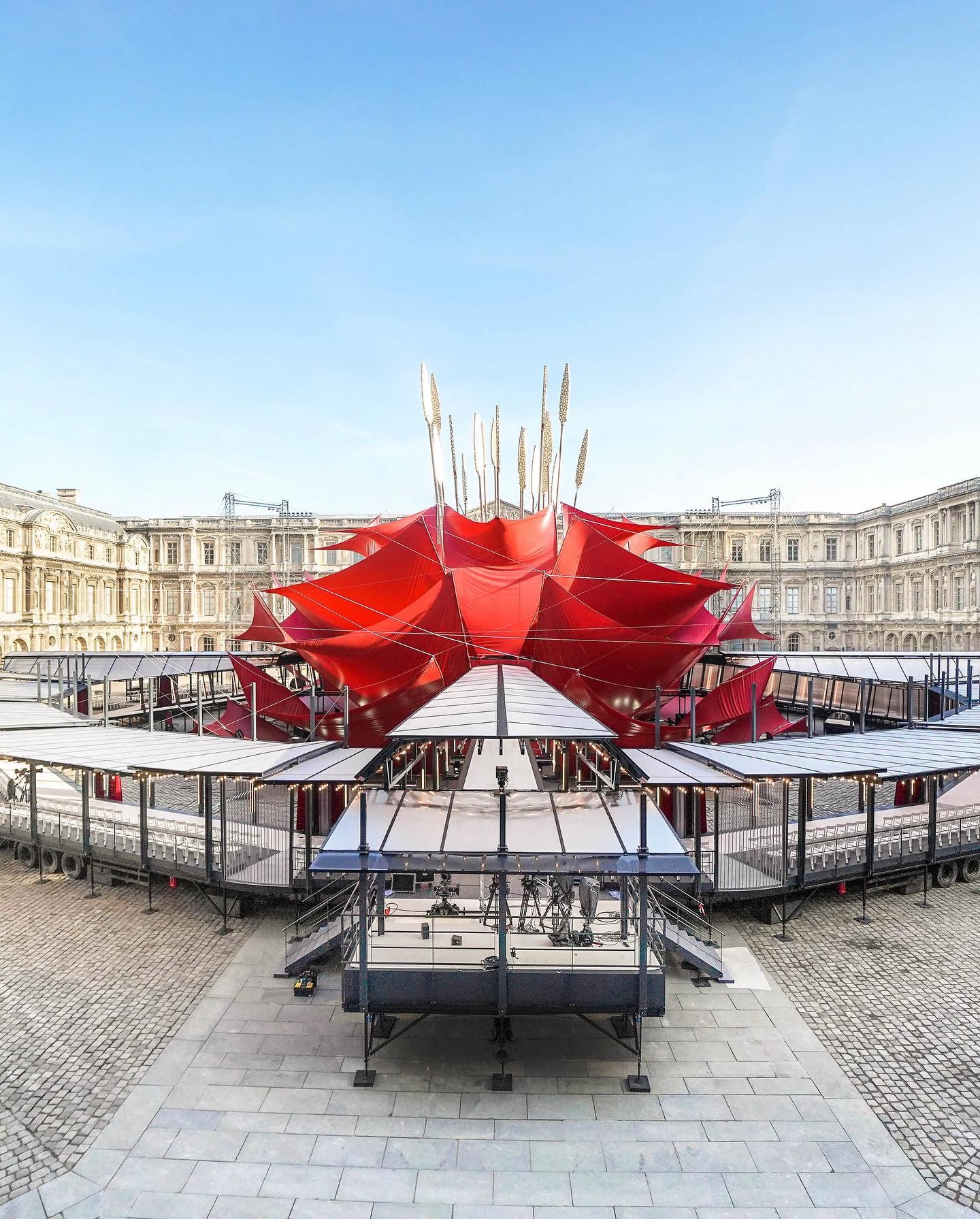 Dizajnér tiež zväčšil kľúčenky cloche clés, ktoré sa objavujú na taškách značky LV a z peňaženiek urobil kabelky. K minišatám boli použité hrubé vysoké čižmy, ktoré im dodali stabilitu a pevnosť. Trendom z kolekcie Luis Vuitton pre nasledujúcu letnú sezónu 2023 sa okrem futuristických zipsových modelov stali aj čipkované pančuchové nohavice.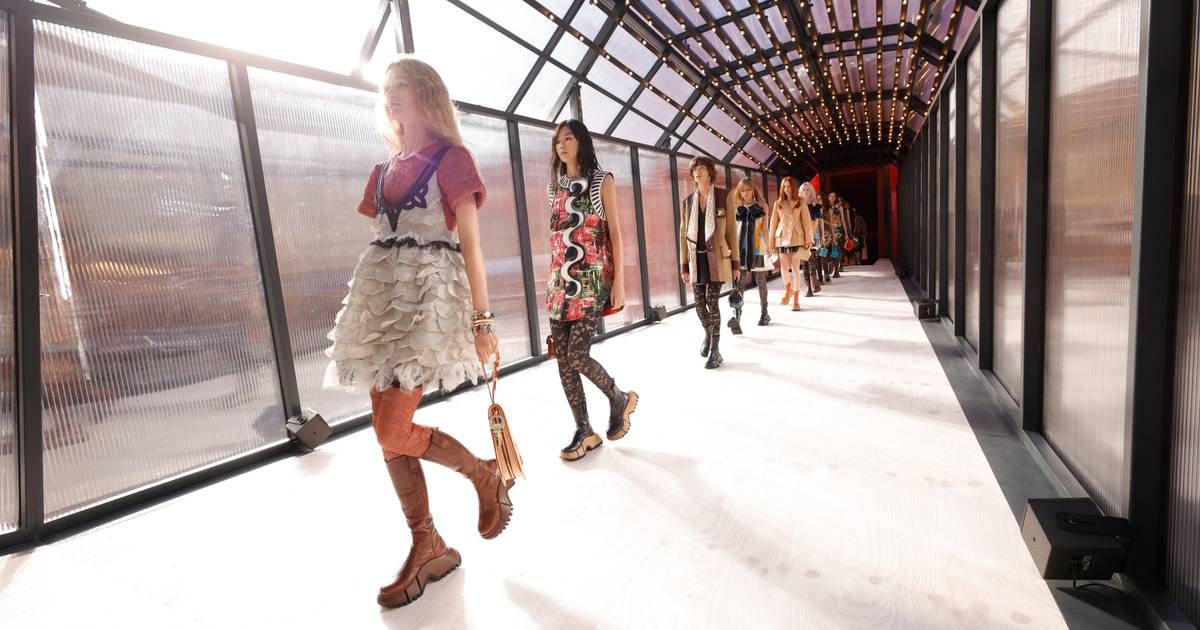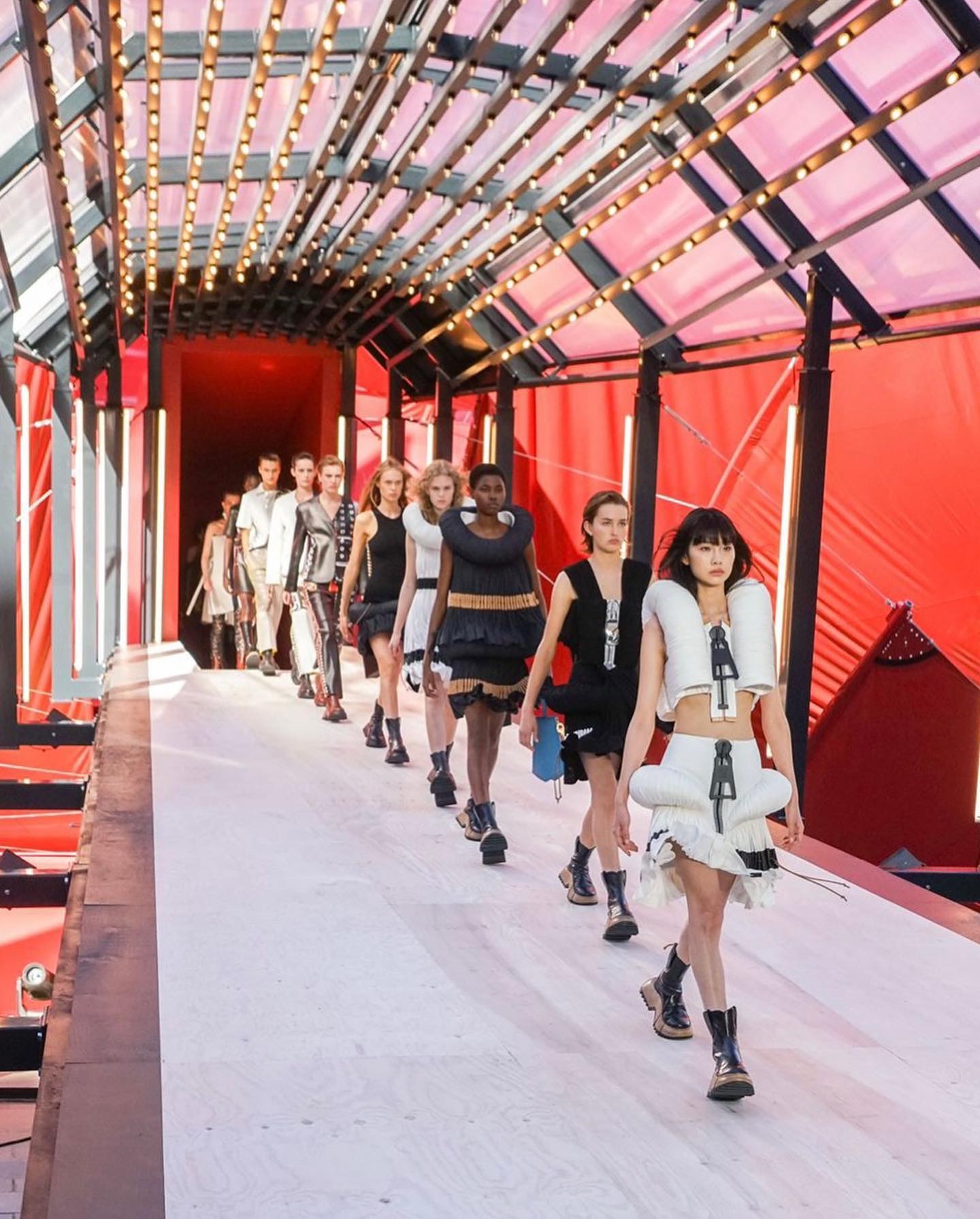 Fotografia: Christophe Petit-Tesson/EPA
Ďalšie prehliadky kolekcií dizajnérov z Paris Fashion Weeku, Jar/Leto 2023, si môžete prečítať v článkoch v histórii a v pokračovaní na tomto blogu.
Obrázky: © Dries van Noten, Balenciaga, Christian Dior, Balmain, Louis Vuitton, Vogue, Getty Images, Valerio Mezzanotti
Sledujte Facebook stránku: Mya Mirell Fashionista a Instagram: mya_mirell .