Dior – prehliadka couture módy Jeseň / Zima 2021 – 2022, Paris Fashion Week, význam textílií a hmatových materiálov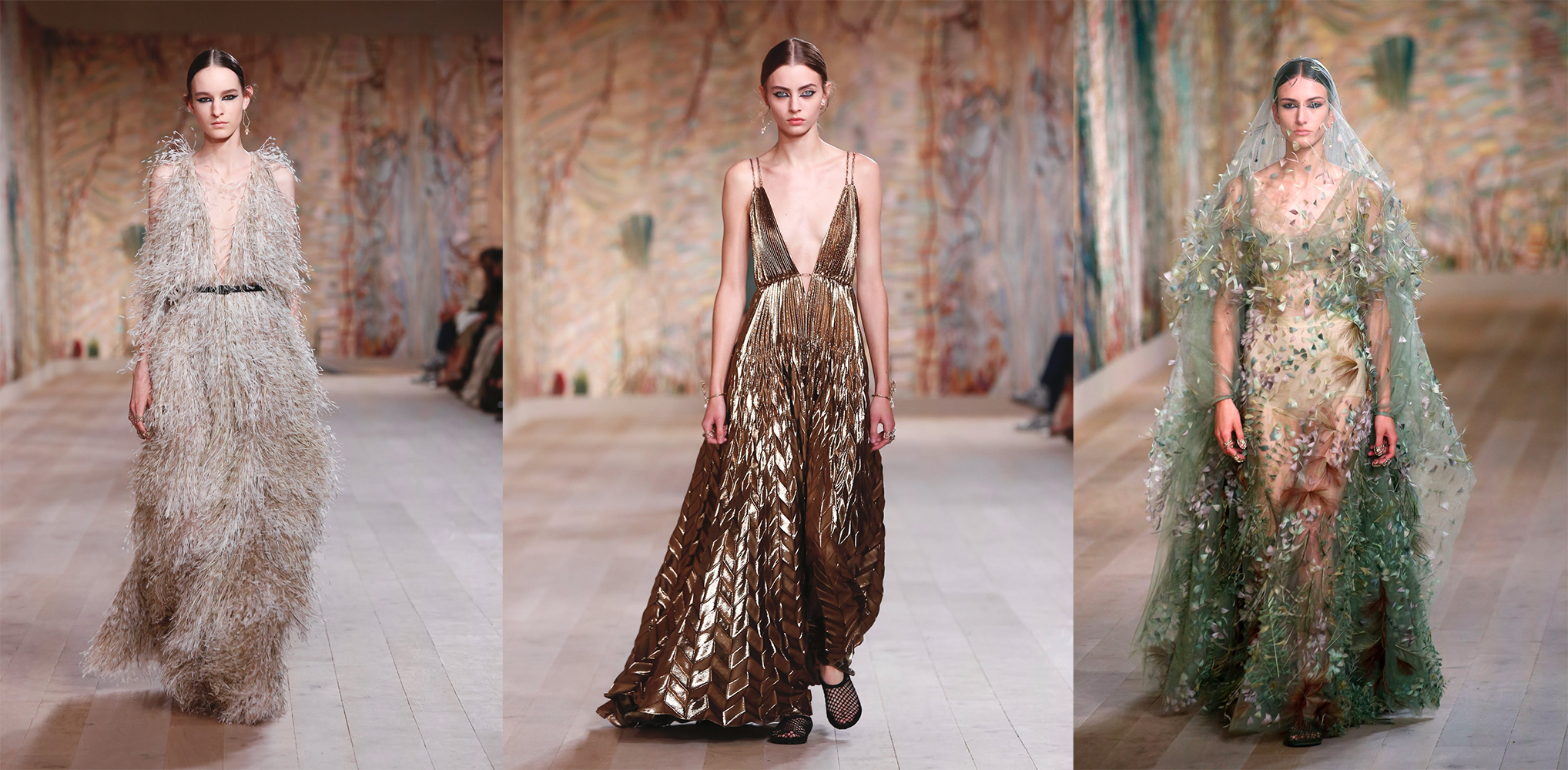 Módny priemysel a predovšetkým haute couture sa vyše roka a pol borí s následkami celosvetovej pandémie koronavírusu, ktoré spôsobili, že sa prezentácie nových kolekcií dejú bez živej módy, módnych šou za účasti hostí a tradičných udalostí na červenom koberci. V Paríži sa v týždni módy od 5. júla 2021 zhromaždili pod dlhšom čase dizajnéri haute couture, aby predviedli to najnovšie zo svojho módneho dizajnu. 33 značiek predstavilo svoje kolekcie tradičnou formou prehliadok na móle za účasti pozvaných hostí, kupujúcich a medzinárodnej tlače.
Niektoré módne domy sa aj počas rozvoľňovania opatrení, ktoré sa dejú práve teraz v letnom období, rozhodli pre online prehliadky. Dovedna tak predstavilo svoje kolekcie 24 značiek od Julien Fournié, Viktor & Rolf až po Imane Ayissiho. Digitálne prezentácie, ktoré sú lacnejšie a ich realizácia je menej náročná ako na výstavných mólach, sa za posledný rok stali bežnou praxou a mnohí v priemysle si kladú otázku, či sa môžu stať normou. Navyše módny priemysel už dávno prehodnotil isté návyky, ktoré boli nákladné a poškodzujúce životné prostredie, ako napríklad časté cestovanie lietadlom, čiže maloobchodníci sa môžu určite držať digitálnych nákupných platforiem.
Paris Haute Couture Week však zdôraznil nutnosť vidieť módne prezentácie kolekcií osobne. Prehliadky Jeseň – Zima 2021/22 prízvukujú, že na prežitie luxusných módnych domov sú potrebné prehliadkové módne šou a pre dizajn kolekcií a prosperovanie značiek musia byť kolekcie funkčné a nositeľné. Sezóna Jeseň / Zima 2021 -2022 Paris haute couture oslávila teda návrat fyzických módnych šou a tešila sa účasti divákov.
Na mólach sa počas Paris Haute Couture Fashion Weeku v klasickej podobe prehliadok a v žiari reflektorov predstavili značky Dior, Chanel, Giorgio Armani Privé, Balenciaga, Jean Paul Gaultier, Zuhair Murad, Vaishali S a Pyer Moss.
Pre značky, ktoré sa rozhodli predviesť svoje kolekcie osobne, sa mesto svetiel stalo celomestským módnym mólom. Medzi výstavné miesta patrili Musée Rodin pre prehliadku haute couture Dior, obchodný dom La Samaritaine, novo zrekonštruovaný hotel de la Marine na námestí Place de la Concorde a múzeum súčasného umenia Bourse de Commerce.
Pozrime sa na ďalší módny dom , Dior fashion nádielku pre sezónu Jeseň / Zima 2021 – 2022.
Módnu prehliadku si môžete pozrieť na Facebook stránke módneho domu Dior tu: https://www.facebook.com/Dior/videos/210424590967364
DIOR
Módna značka Dior je na trhu od roku 1964. Najnovšia kolekcia Dior predvedená počas Paris Haute Couture Weeku bola o kultivácii hodnôt haute couture po období obmedzenia. Ročné obdobia, ktoré navrhla hlavná tvorkyňa, talianska dizajnérka Maria Grazia Chiuri, sa predstavovali hlavne prostredníctvom filmu. Cieľom Chiuri a jej tvorivého tímu bolo poukázať na význam textílií a hmatových materiálov postpandemickým spôsobom.
Talianska dizajnérka a kreatívna riaditeľka módneho domu Dior, Maria Grazia Chiuri.
KOLEKCIA DIOR JESEŇ / ZIMA 2021 -2022 – ZDORAZNENIE REMESELNÉHO UMENIA A TECHNIKY VYŠÍVANIA
Kráčajúc do výstavného priestoru boli steny pokryté výšivkami v nadživotnej veľkosti. Módna návrhárka Maria Grazia Chiuri sa zamerala na zdôraznenie remeselného umenia a techniky vyšívania, ktoré pretavila do Dior Haute Couture kolekcie Jeseň / Zima 2021 – 2022.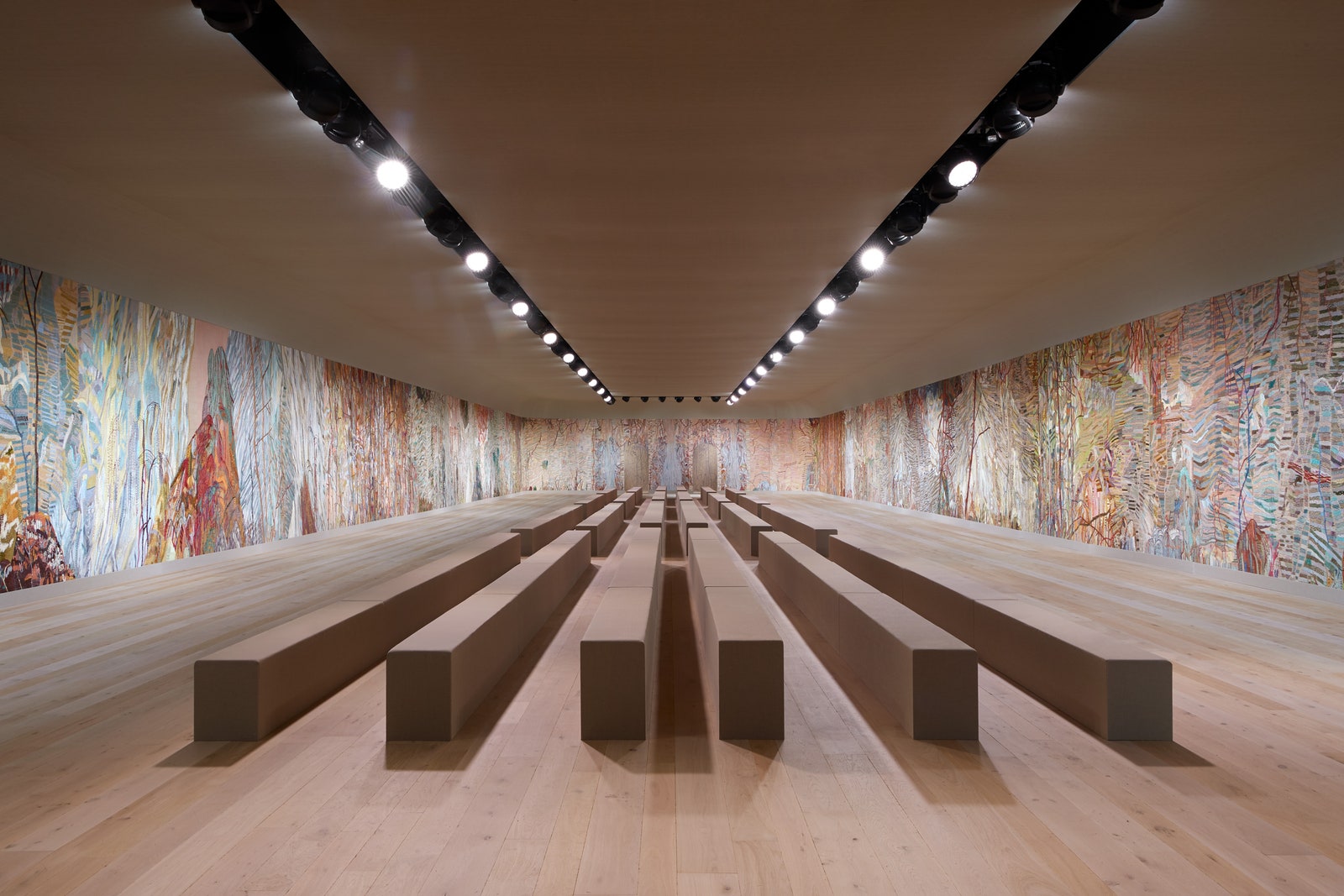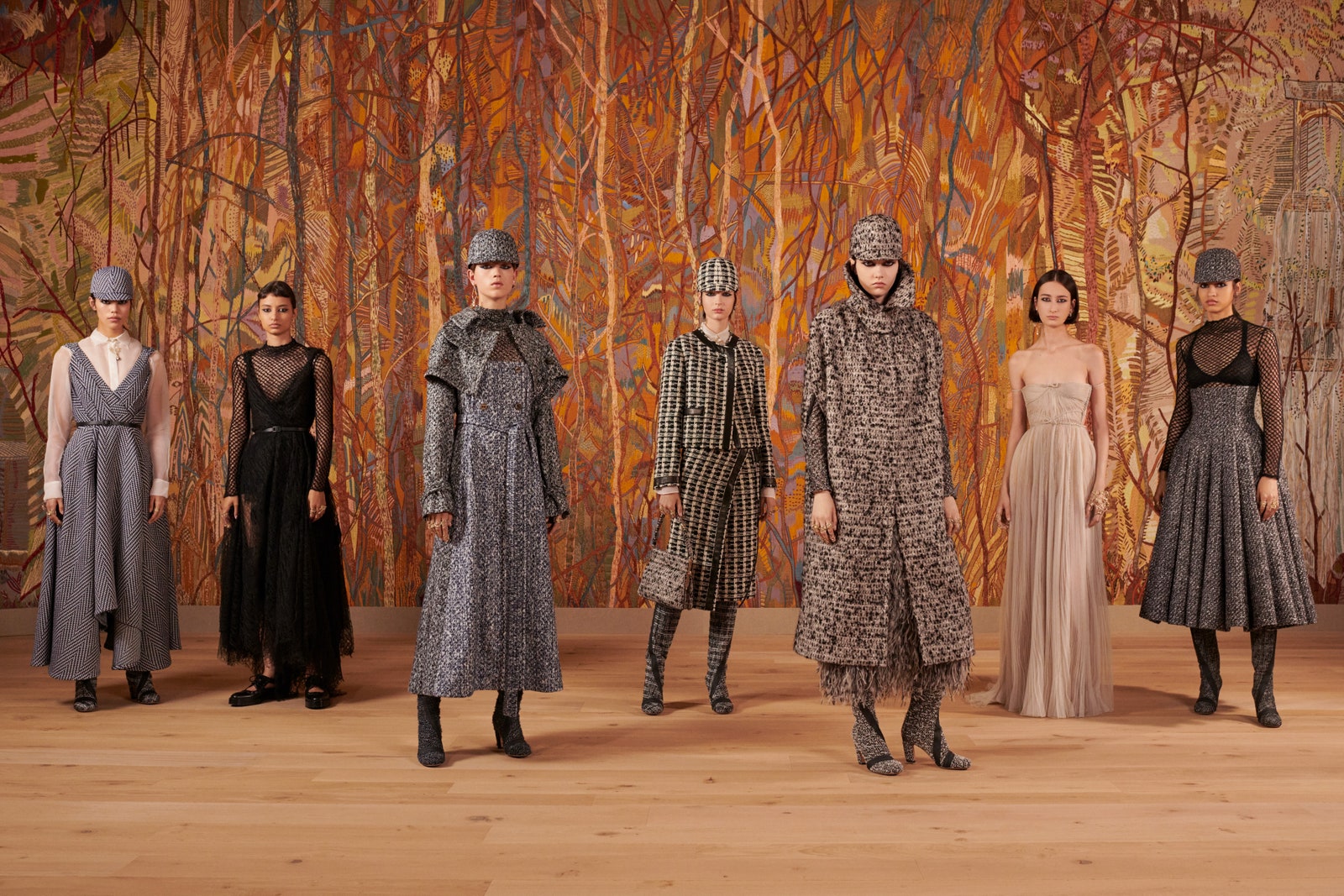 Dior predstavil 80 modelov od dennej couture módy s kabátmi, pelerínami a vyšívanými šatami po couture módne kreácie. V kolekcii Dior pre sezónu Jeseň / Zima 2021-2022 dominovala biela, čierna, béžové odtiene a kvetinové potlače s károvanými.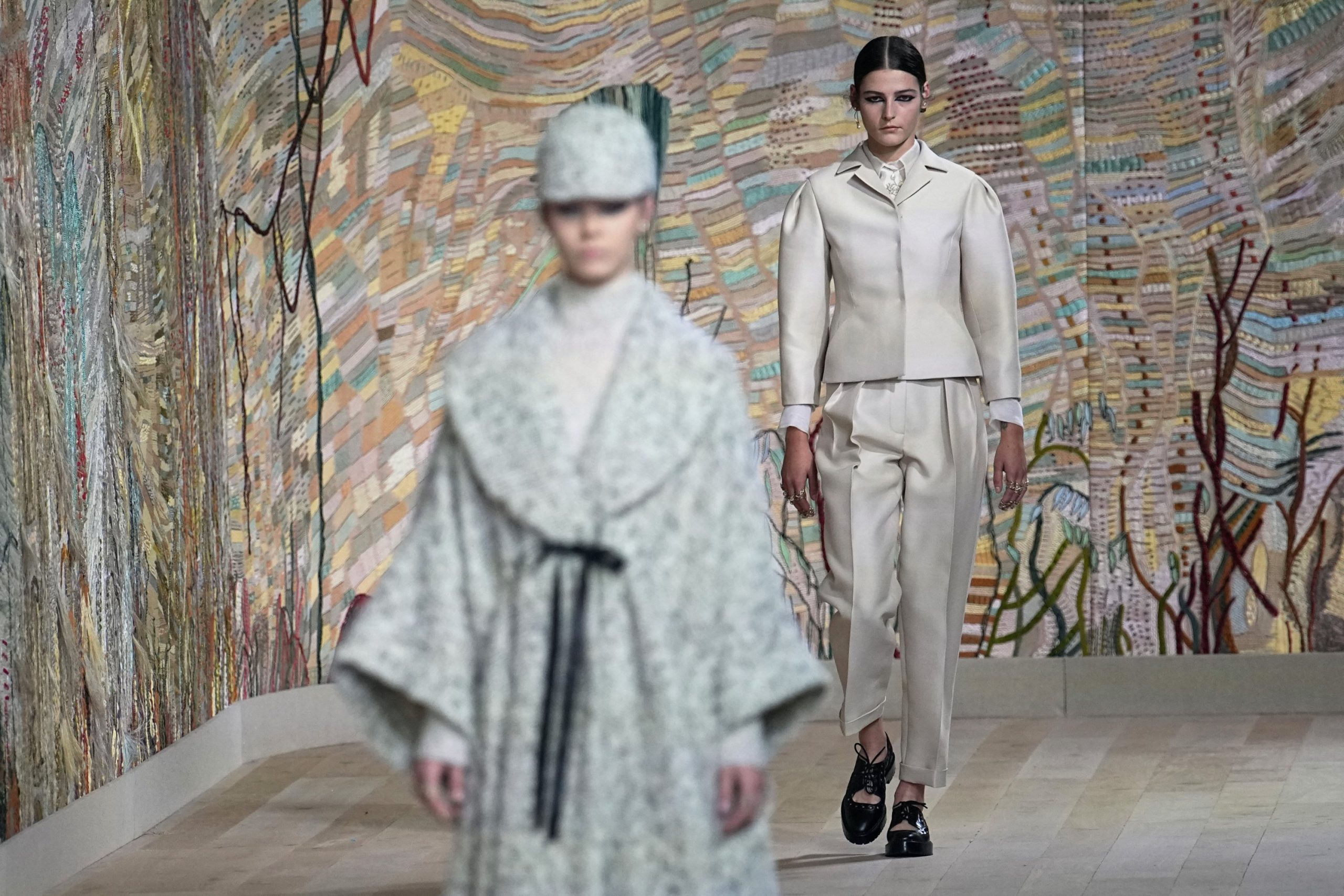 Šaty z hodvábu, šifónu, mušelínu a organzy splývali na modelkách pri chôdzi a boli tou najsviežejšou časťou v tejto mierne uvoľnenej pandemickej dobe. Od sieťoviny až po flitre a vyšívanie, mali modely všetky tvary a veľkosti.
Niektoré boli zdobené vypletanými vzormi, výšivkami v podobe kvetov a čipkovanými motívmi.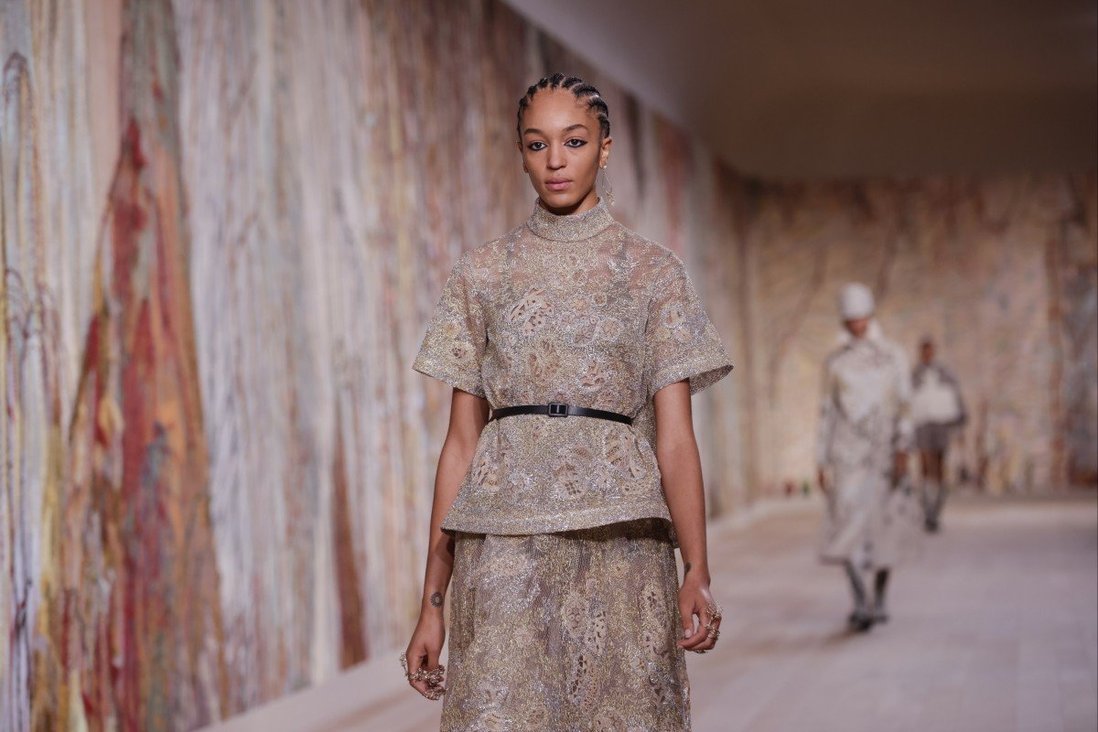 Vrcholom módnej show Dior Haute Couture kolekcie boli zelené svadobné šaty, mierne transparentné a pokryté výšivkou inšpirovanou prírodou.
IKONICKÉ KÚSKY DIOR – OBLEK BAR PREPRACOVANÝ V RETRO DUCHU
Pri čerpaní z koreňov parížskeho módneho domu prepracovala talianska dizajnérka ikonické kúsky Diora, ako napríklad oblek Bar v retro duchu s neutrálnou, ale nie strohou farebnou paletou spojenou s ikonickou potlačou houndstooth a sviežimi šatami s elegantným zdobením – oba podpisy Dior módneho domu.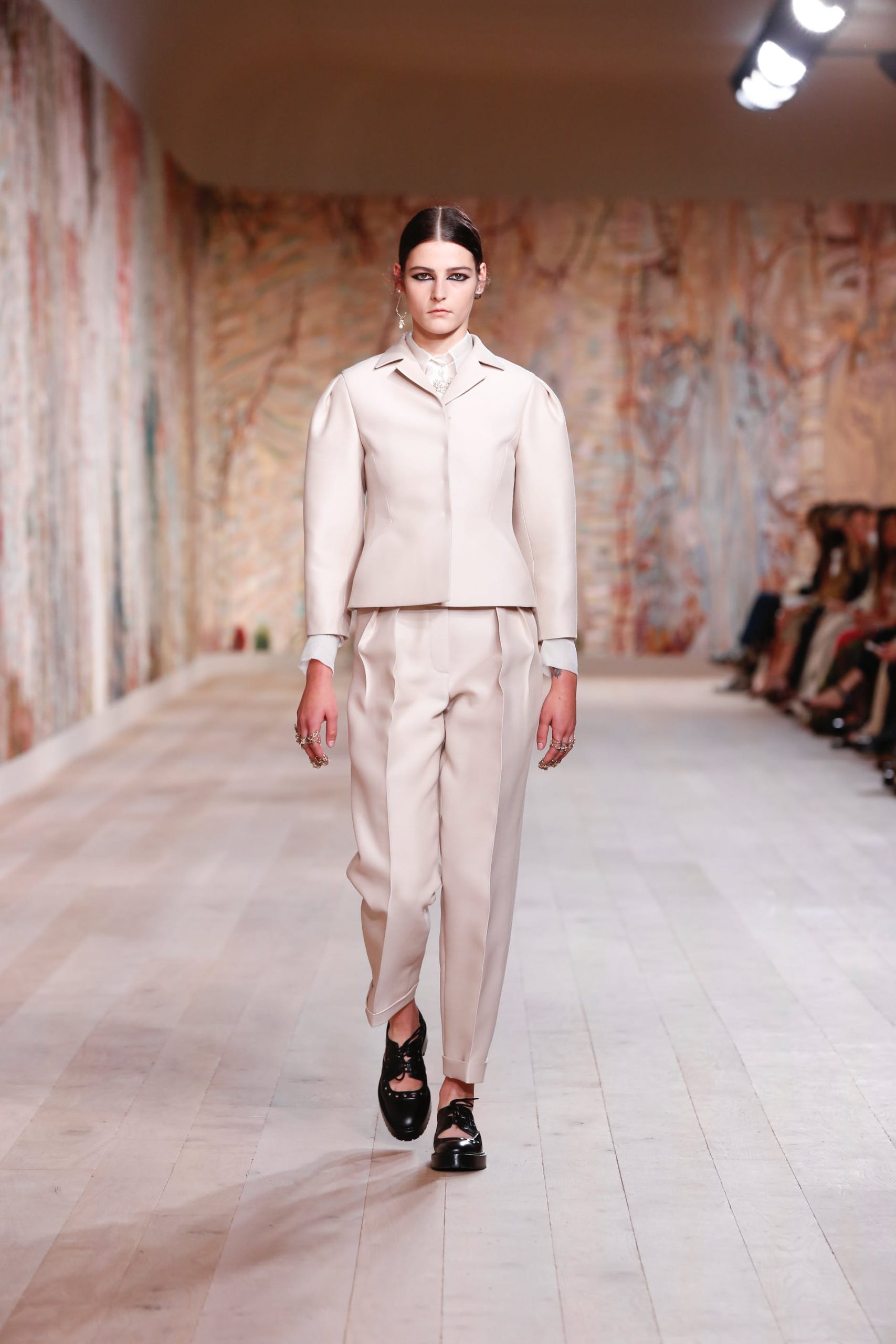 Paris Haute Couture Fashion Weeku dámskej módy predchádzal týždeň pánskej módy, ktorý mal presne päť predstavení so živým publikom značiek Dior Homme, Hermés, Blue Marble, Louis-Gabriel Nouchi a Officine Générale. Zvyšok módnych šou sa ukázal digitálne za podpory osobných schôdzok a udalostí, ako napríklad kokteil Casablanca organizovaný v hoteli The Ritz Paris alebo piknik na prehliadke Isabel Marant.
Pandémia tiež obnovila spôsob, akým sa niektoré domy rozhodujú zobrazovať dizajn kolekcií podľa svojich vlastných podmienok.
Módna dizajnérka značky Balenciaga , Demna Gvasalia, sa rozhodla usporiadať iba jednu prehliadku couture ročne – kolekciu bez sezóny vrátane pánskeho oblečenia. V tlačových správach k výstave Gvasalia uvádza: "Couture je najvyššia úroveň konštrukcie odevov, ktorá je nielen relevantná v dnešnom masovo výrobnom priemysle, ale je dokonca absolútne nevyhnutná pre prežitie a ďalší vývoj modernej módy."
Pokračovanie o módnych kolekciách ostatných dizajnérov z Paris Haute Couture Weeku, čítajte na tomto blogu v článkoch ďalej.
foto: © Dior, getty images
Sledujte Facebook stránku: Mya Mirell Fashionista a Instagram: mya_mirell .