Prada – kolekcia Jeseň / Zima 2020 – 21, Milan Fashion Week, Móda Ženy, surreal glamour a mini kabelky ako ozdobný šperk , časť II.
Taliansky módny dom PRADA predstavil počas zimnej sezóny Milan Fashion Weeku, Móda Ženy, inovatívnu módnu show s názvom "Surreal Glamour" . Zámerom dizajnérky a kreatívnej riaditeľky značky Miuccia Prada v kolekcii Prada , Jeseň / Zima 2020 – 21 bolo dosiahnuť dve veci. Vytvoriť niečo použiteľné, čo bude dávať zmysel a predovšetkým predstaviť silu žien.
Od roku 1913, módny dom Prada slúžil ako neotrasiteľný maják v štandardoch talianskeho luxusu. Či už prostredníctvom koženého tovaru, nylonových tašiek, alebo dokonalého krajčírstva , Miuccia Prada nikdy nezabúda na súčasné poháňanie trendov a udržiava legendárne dedičstvo značky.
Jedna z najhlbších mysliteľov a najkreatívnejších účastníkov módy Miuccia Prada je celoživotnou feministkou. Prehliadkové mólo využíva k skúmaniu podstaty ženskosti a postavenia žien v kultúre, pričom neopomína, neminimalizuje primárny účel móla k predstaveniu módy.
DVA KONCEPTY KOLEKCIE PRADA – JESEŇ/ZIMA 2020 – 21 – GLAMOUR AKO ESENCIA ŽENSKEJ SILY, OCEŇOVANIE A ZVEĽAĎOVANIE KAŽDODENNÝCH VECÍ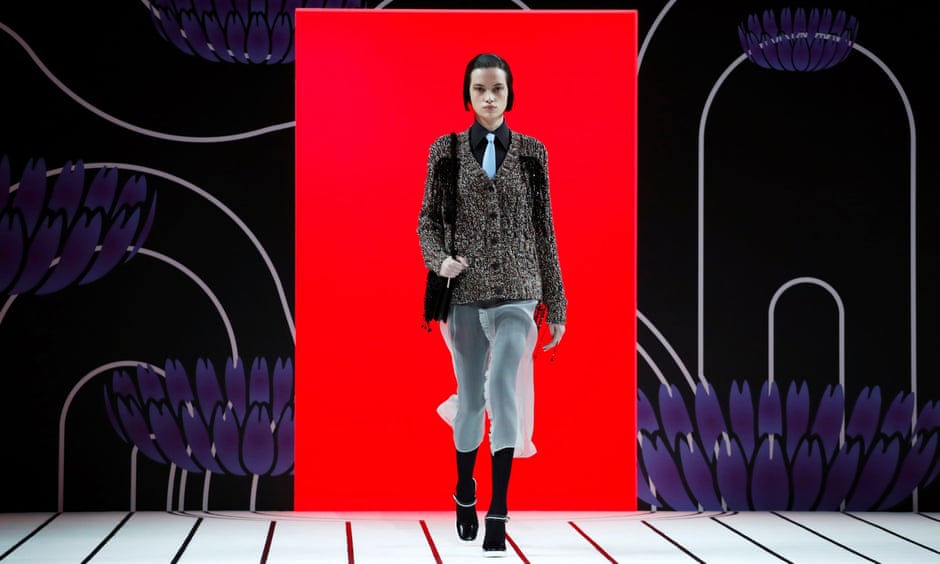 Talianska dizajnérka Miuciia Prada bola tentokrát prekvapená, že sa pri kreovaní kolekcie Prada – Jeseň / Zima 2020 – 21 ocitla "smerujúca k ľahkosti" , k tzv. ľahkovážnosti a ku "KLIŠÉ GLAMOUR" , ako jednému z konceptov. Toto klišé podľa nej však nie je vôbec ľahkovážne, ale predstavuje "esenciu ženskej sily".
Vzývanie svetového glamour, samo o sebe, označuje významný pohyb pre módny dom Prada. Raz už Miuccia Prada nenávidela svet. Možno ho považovala za anachronický a ponižujúci pre ženy, no teraz to považuje za nástroj na posilnenie postavenia.
Značka Prada vidí glamour ako niečo, čo vás urobí optimistickými a čo vás povznesie, potvrdila dizajnérka v zákulisných rozhovoroch o aktuálnej zimnej kolekcii .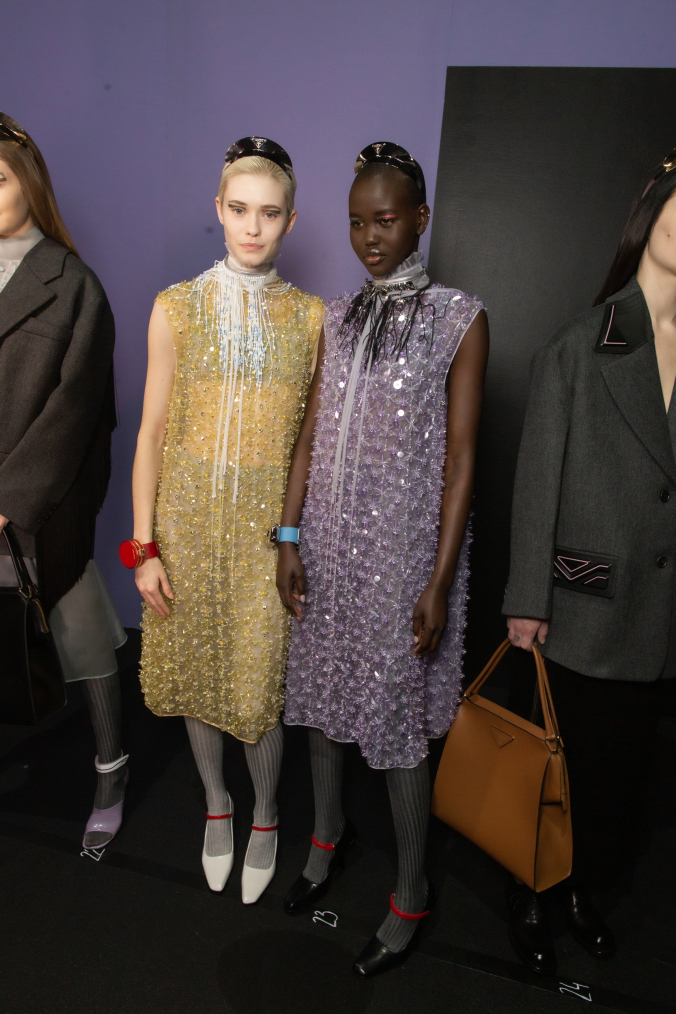 Druhý koncept, z ktorého vychádzala pri kreovaní prvotnej myšlienky kolekcie je OCEŇOVANIE A ZVEĽAĎOVANIE KAŽDODENNÝCH VECÍ. Vyzerá to tak, že móda súčasnosti sa pohla iným smerom a to od sezón, ktorým dominovali jednotné trendy. Namiesto toho v súčasnosti vidíme zvýraznenie individualizmu so snahou o zachovalý obnoviteľný šatník, čo je vo výsledku dobrá správa pre sebavyjadrenie aj udržateľnosť.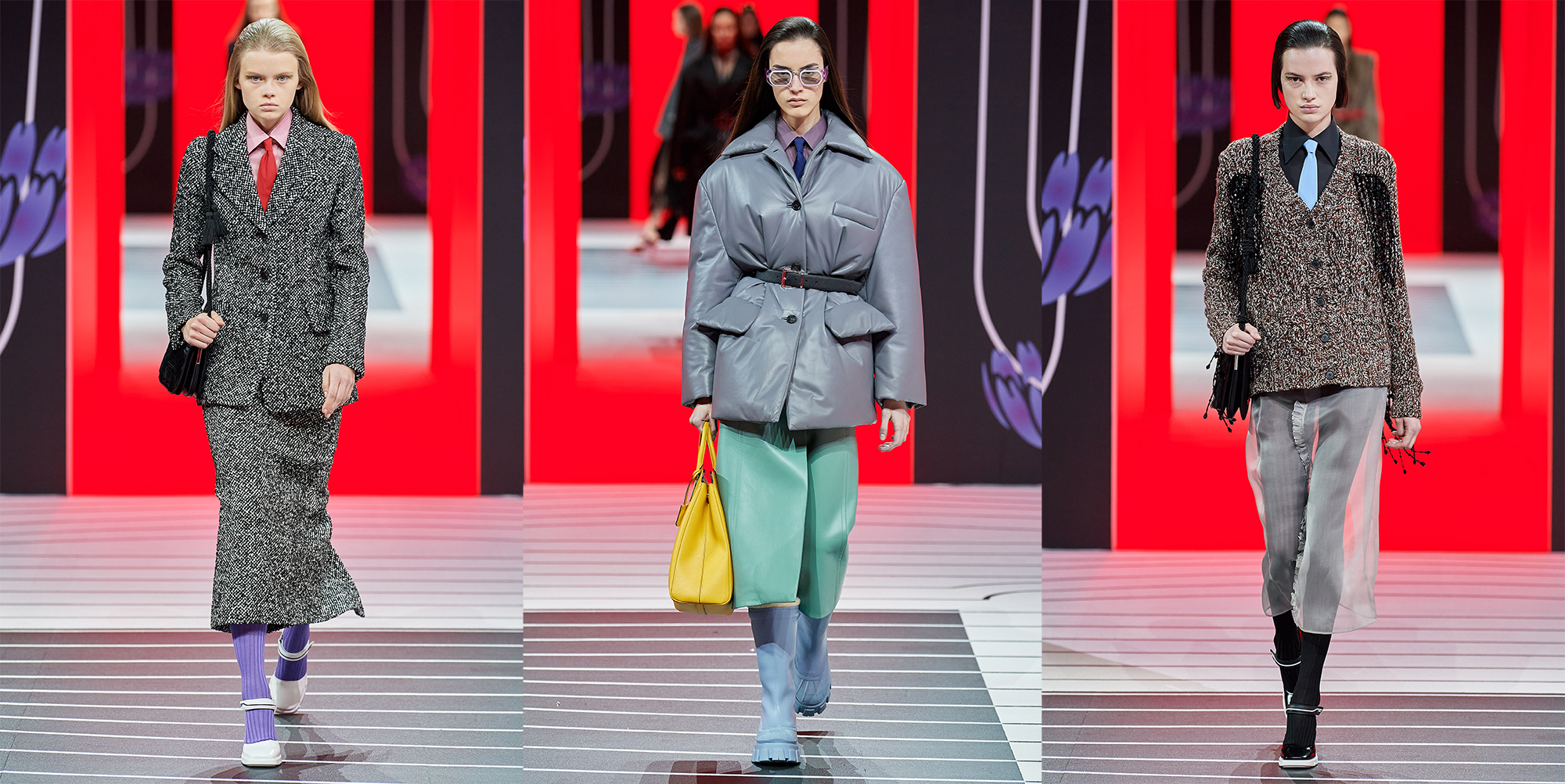 Prehliadka kolekcie PRADA, Jeseň/Zima 2020 – 21 konaná v suteréne sídla spoločnosti Fondazione Prada pulzovala silným leskom, spôsobom, akým to robí Prada. Silným, sebavedomým s dotykom poriadku. Začala s kontrapunktom štruktúry a mäkkosti, čo vyjadrovali bundy a saká previazané opaskom na hojdajúcej sa strapcovej sukni. Podobným lookom je sukňa na umývanie áut, ktorej alternatívy v prehliadke kolekcie nasledovali.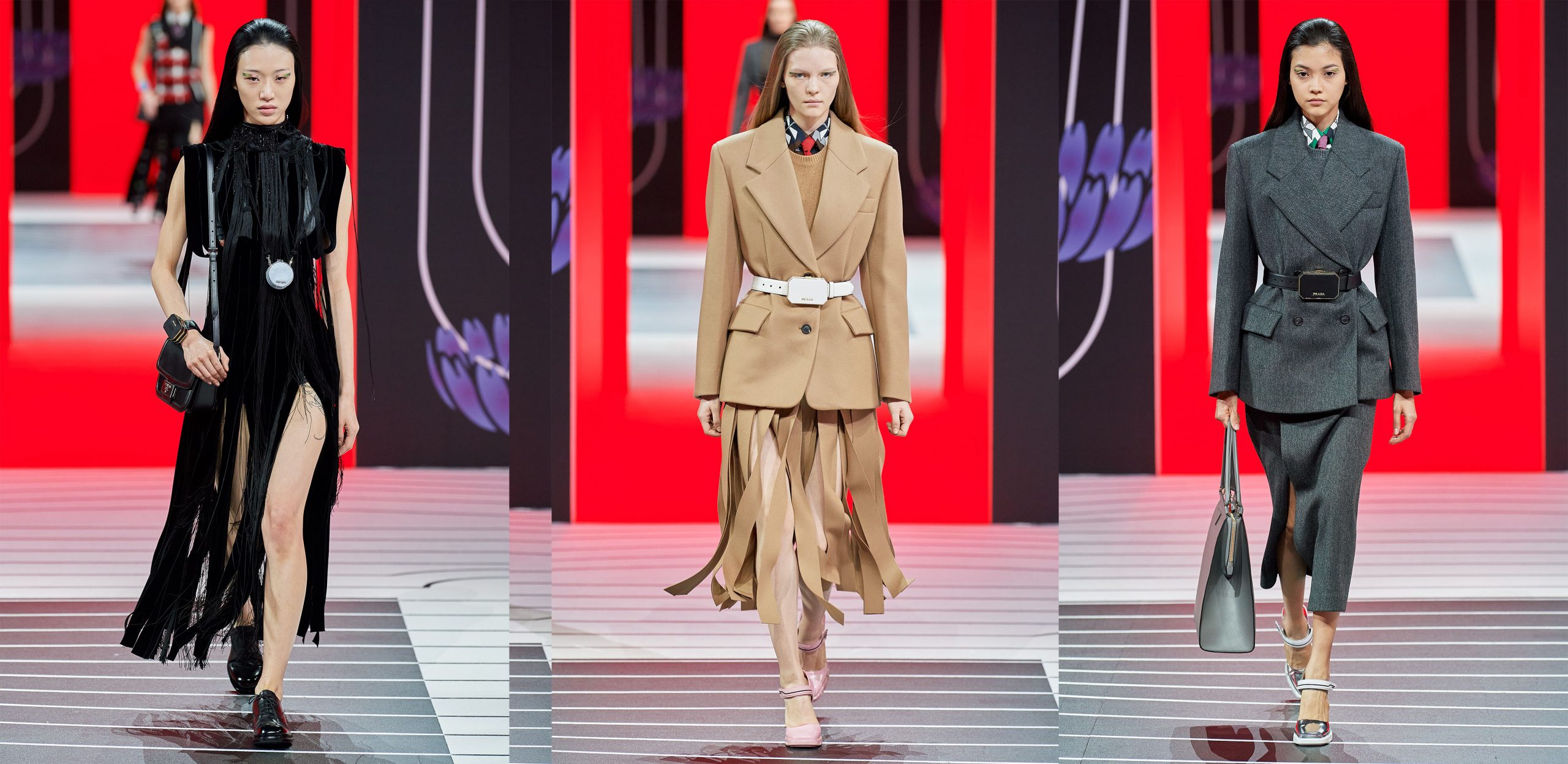 Inokedy dizajnérka Miuccia Prada zamenila jednoduchý pulóver za sako, ktoré ho prekrývalo, alebo pridala košeľu so zapínaním na gombíky a červenú kravatu. Voľné saká, bundy pánskych strihov tvorili základ kolekcie Prada pre sezónu Jeseň/Zima 2020 – 21.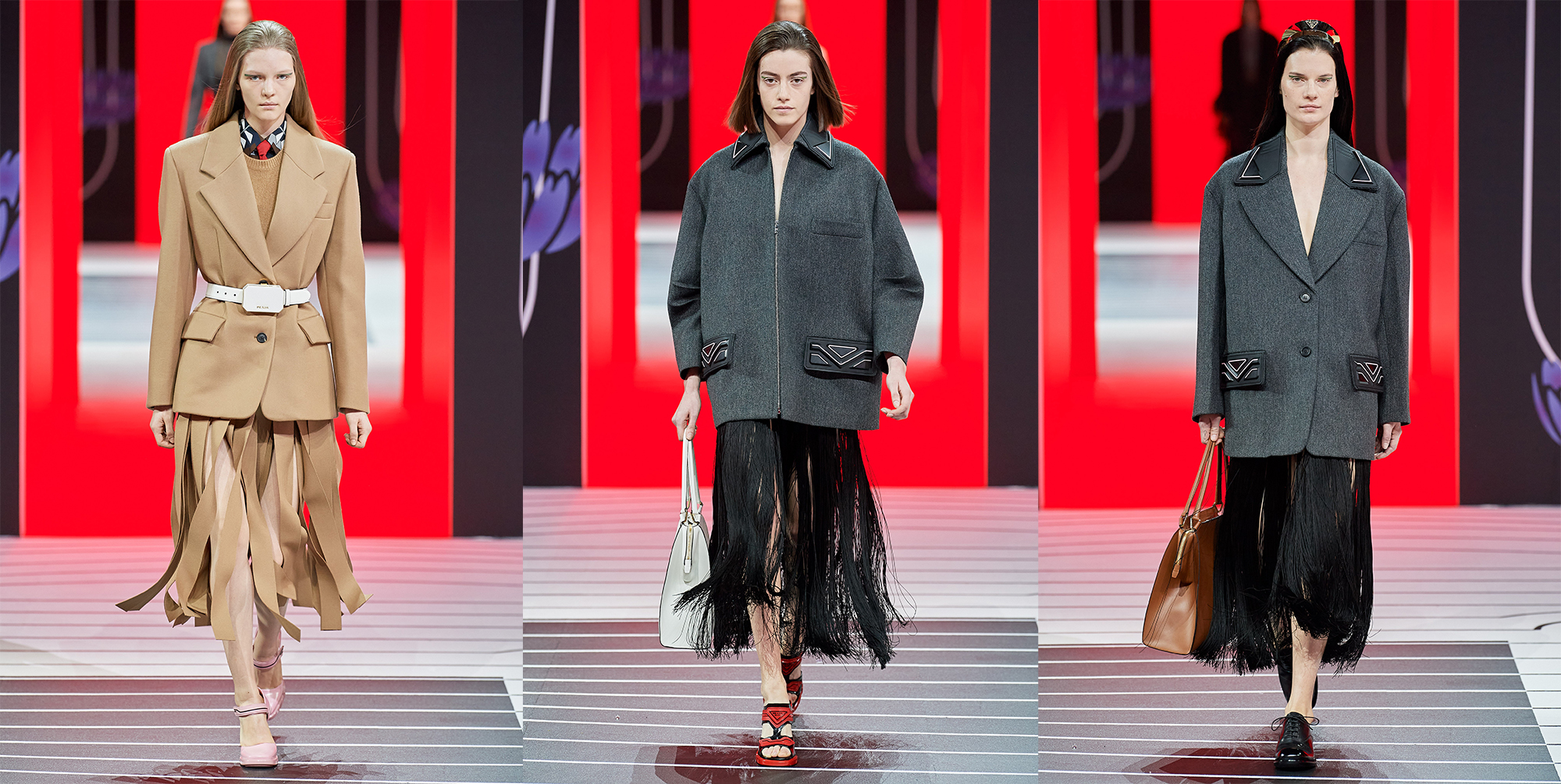 PRADA ESENCIA KOLEKCIE JESEŇ/ZIMA 2020-21 – PÁNSKY ŠATNÍK
V kolekcii Prada – Jeseň / Zima 2020- 21 predviedla Miuccia Prada tiež vrstvenie odevov – kabátov, búnd, košieľ , svetrov a sukní.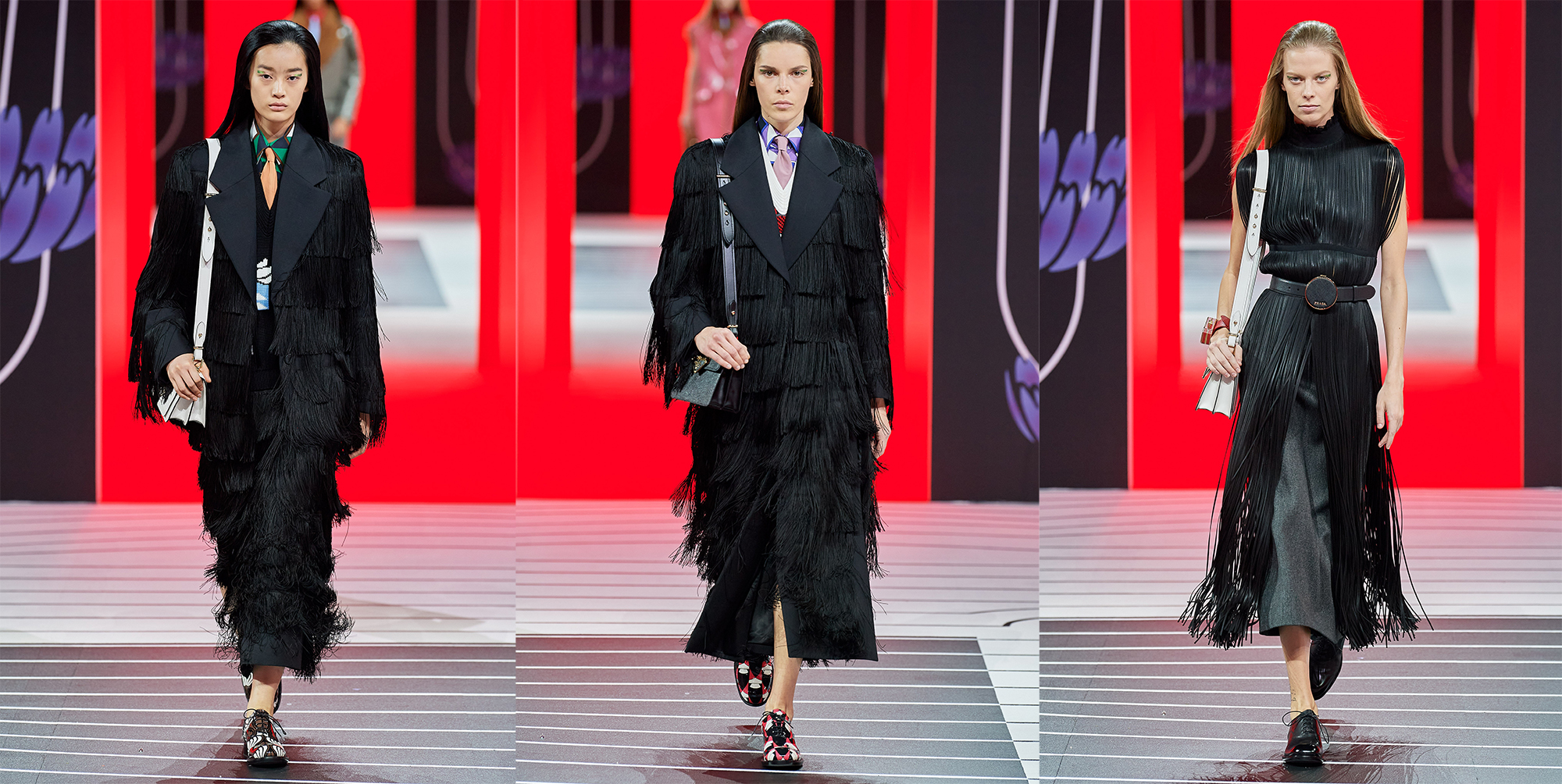 Pracovala väčšinou so základom pre vytváranie kolekcie, ktorým boli pánske odevy s pridaním ľahkosti do šiat a sukní . Tento motív oživila vrstvením a nekonečnými strapcami a korálkovými detailami, ktoré skrášľovali Prada kolekciu 2020-21.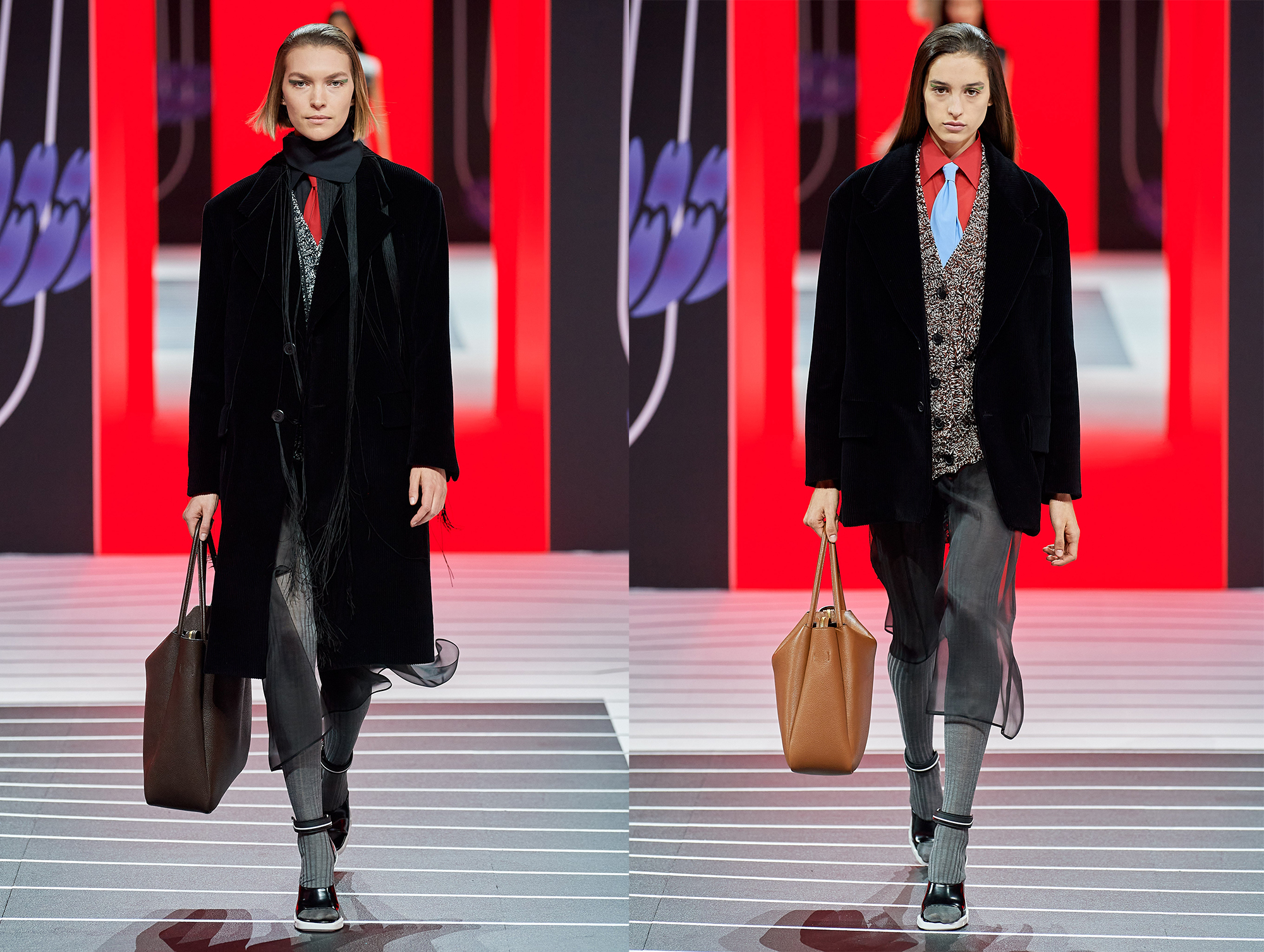 Predstavila opakované športové oblečenie, povestný a obľúbený Prada athleisure trend, s ktorým značka vyšla pred niekoľkými sezónami.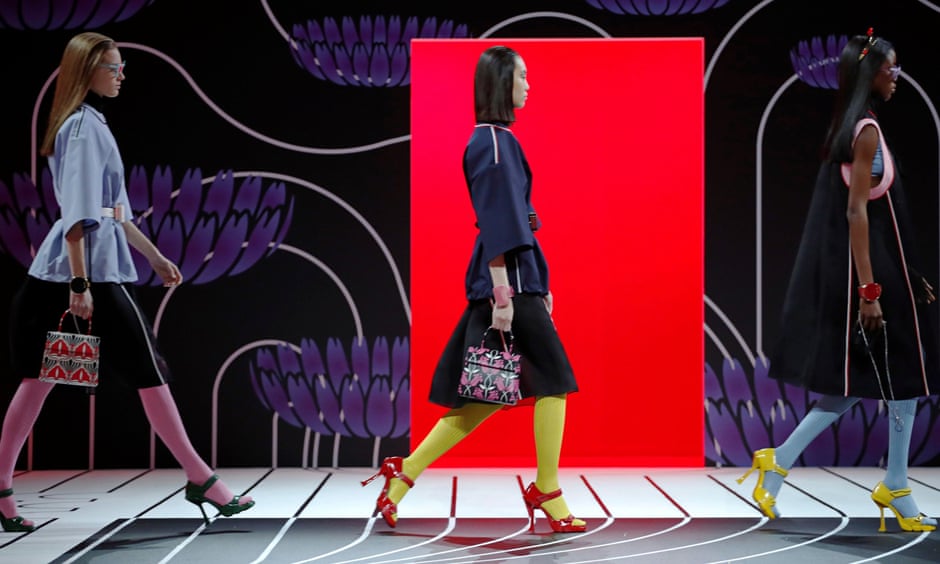 Basketbalové dresy, ďalší mužský element, boli taktiež okrášlené, predĺžené ku kolenám a potom ozdobené ešte ďalšími doplnkami v podobe šnúrkových korálok a teniskových hybridov čižiem.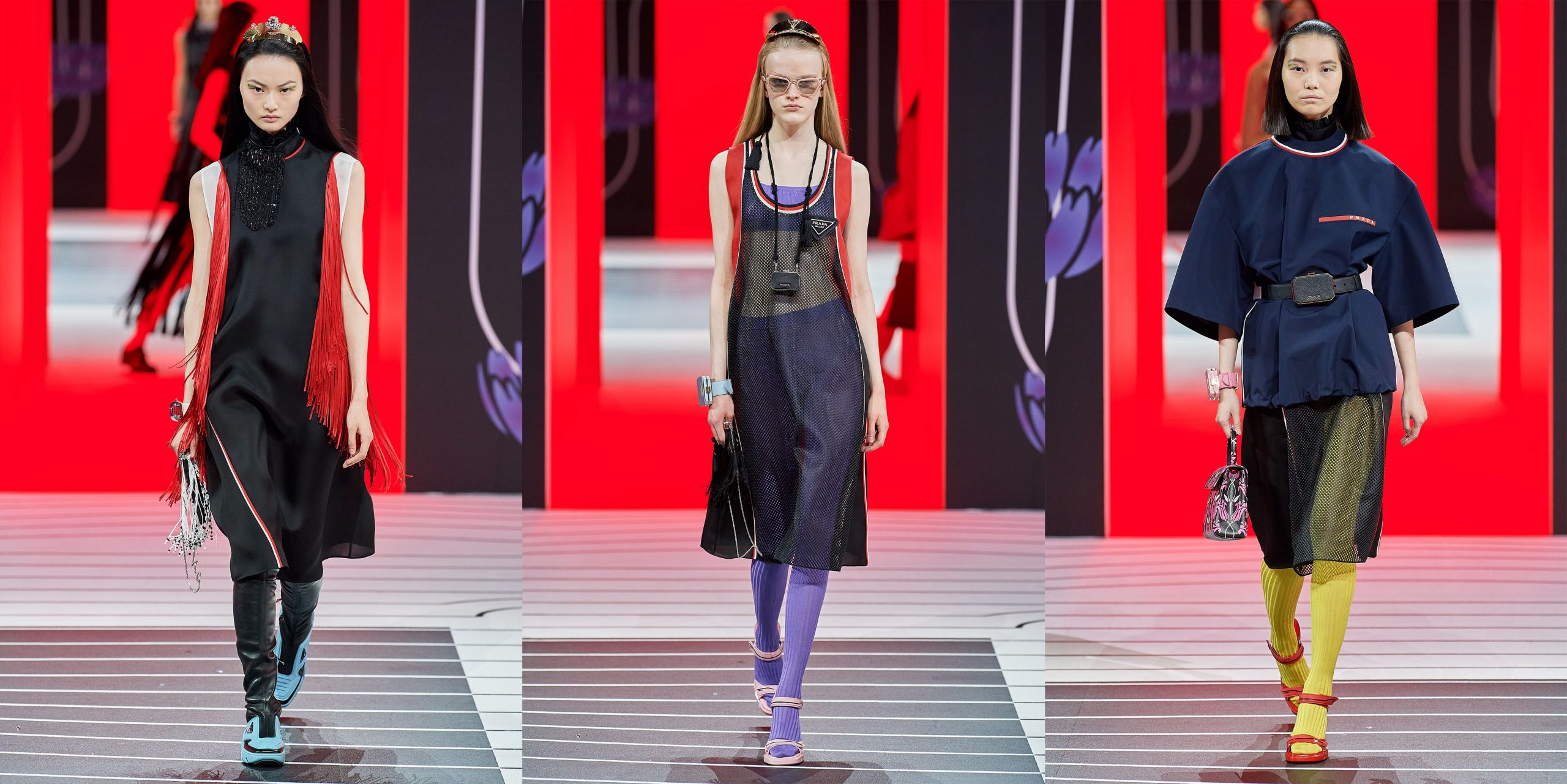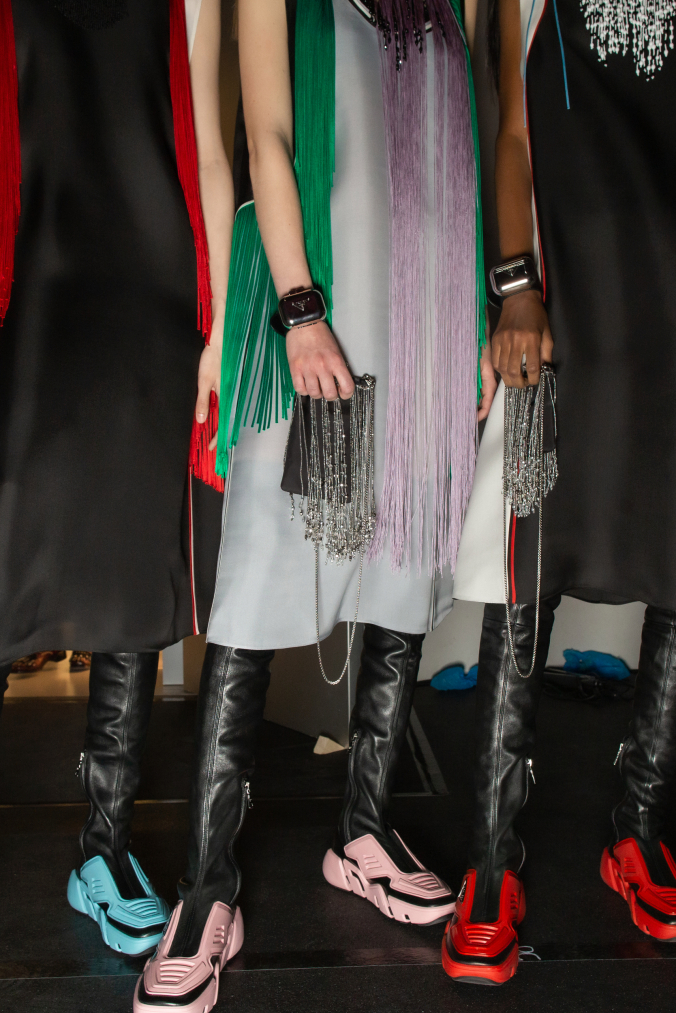 S neutrálnymi farbami sa Prada v zimnej kolekcii 2020 – 21 pohrala tak, že oproti nim nastavila červené akcenty a silné pastely na atletických kúskoch a niektorých opaskových bundách a elegantnom vonkajšom oblečení.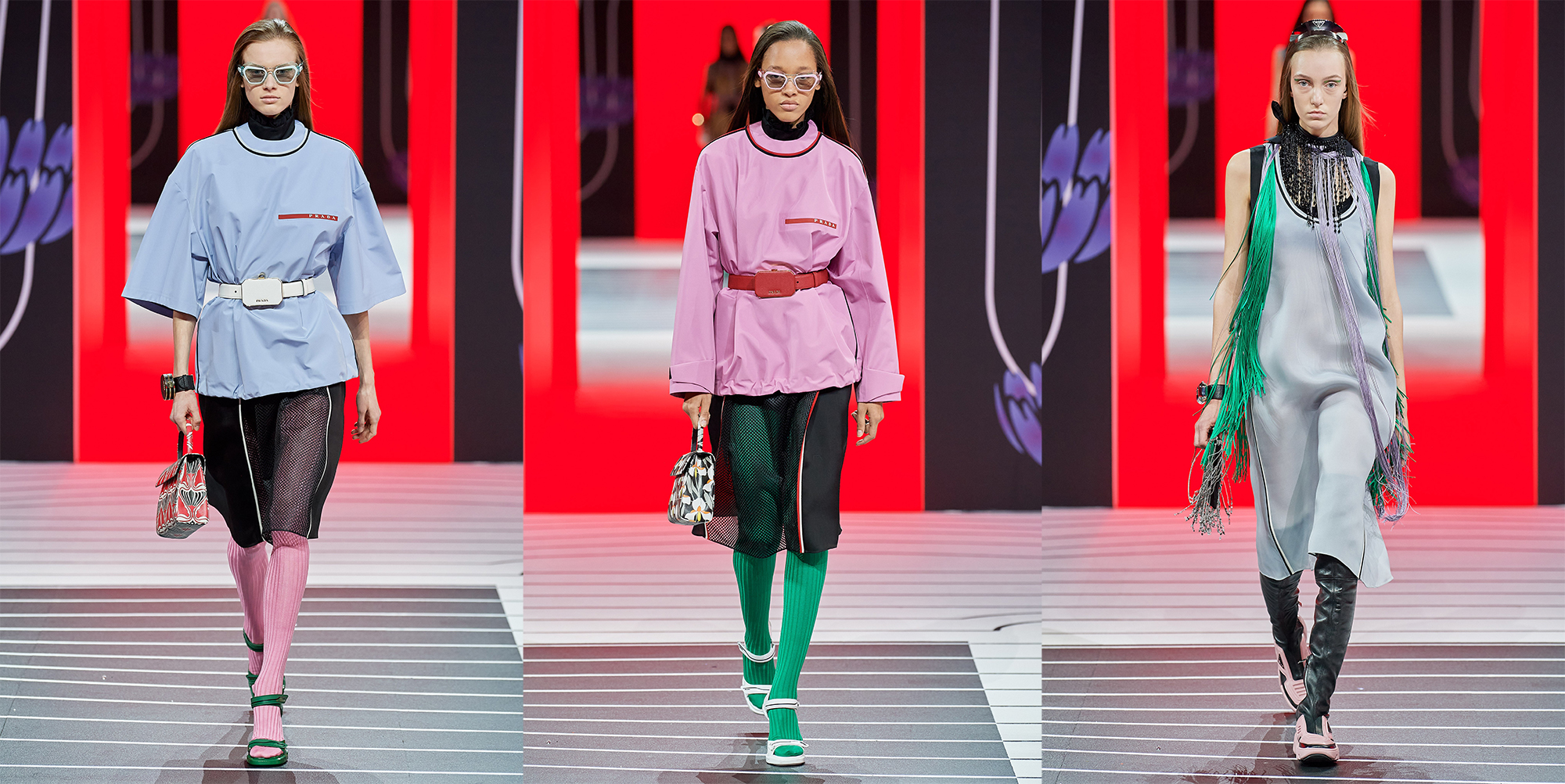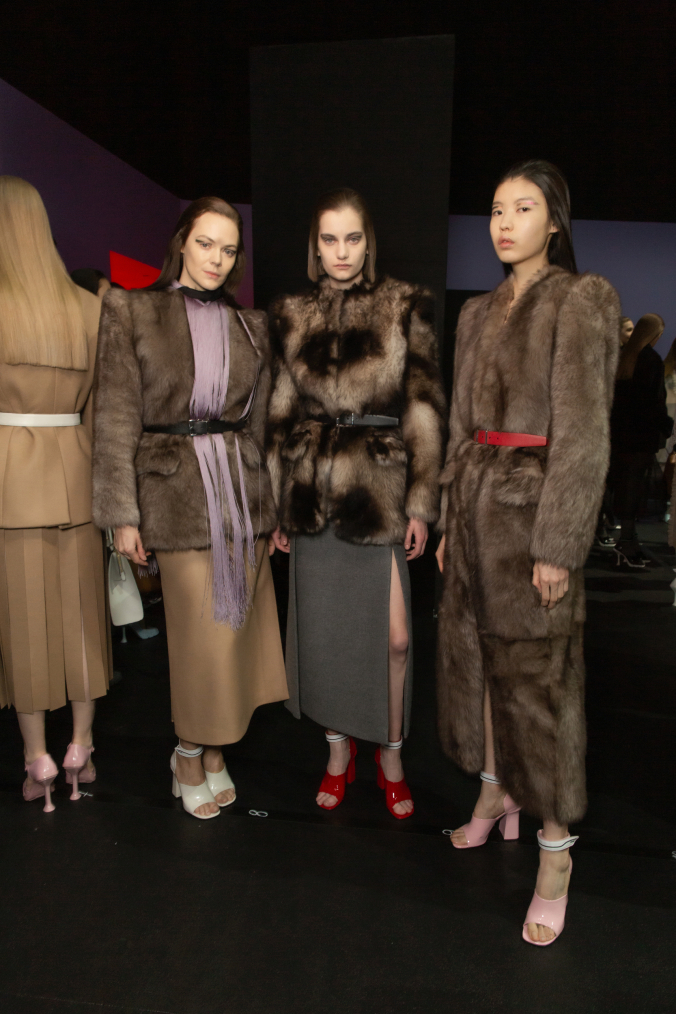 Červené akcenty sa objavili v podobe doplnkov na bundách a elegantnom vonkajšom oblečení.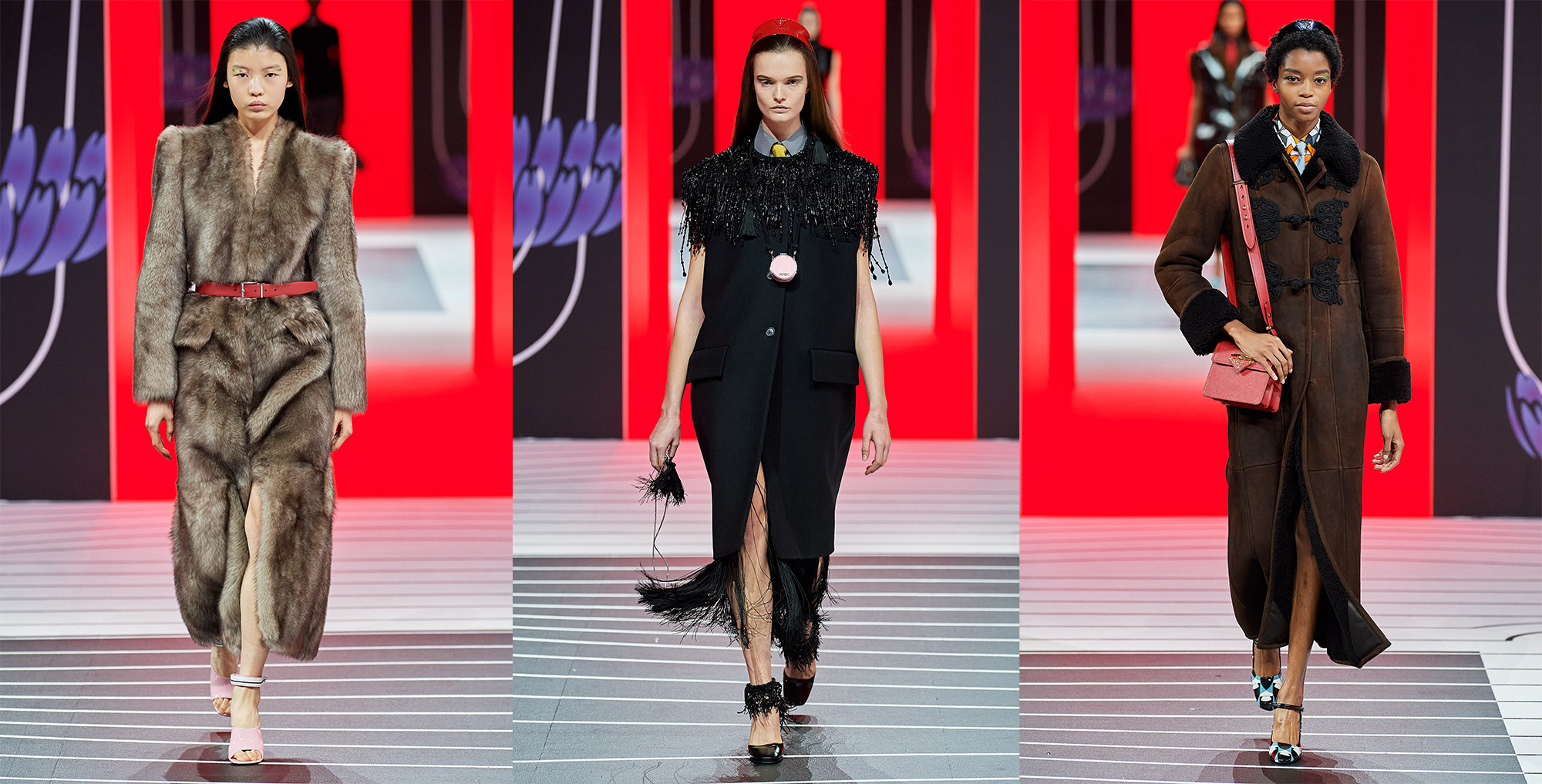 Kolekcii dominoval esenciálny základ – pánske strihy, objavili sa tiež tzv. bundy pre vodičov.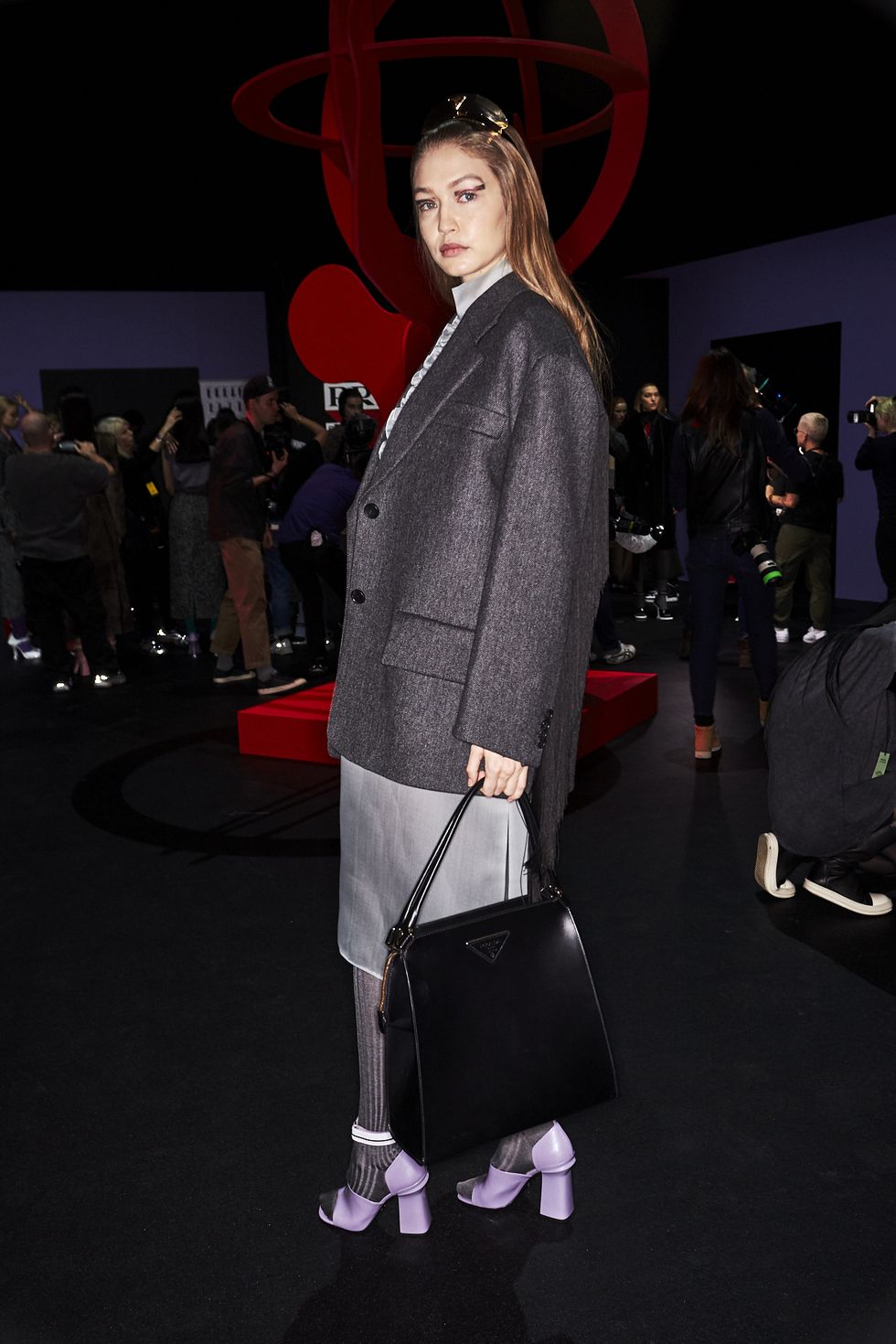 ODKAZ KOLEKCIE PRADA – JESEŇ/ZIMA 2020-21 – VZÁCNA DUALITA – MOŽEME BYŤ SILNÉ A ŽENSKÉ ZÁROVEŇ
Miuccia Prada uskutočnila prieskum sily žien, čo bolo lightmotívom jej kariéry. V kolekcii Prada – Jeseň / Zima 2020 – 21 dosiahla vzácnu dualitu. "Môžeme byť silné a ženské zároveň, váhu teraz nesú ženy" . Súčasne jemnosť a ľahkovážnosť nie sú protikladné k moci.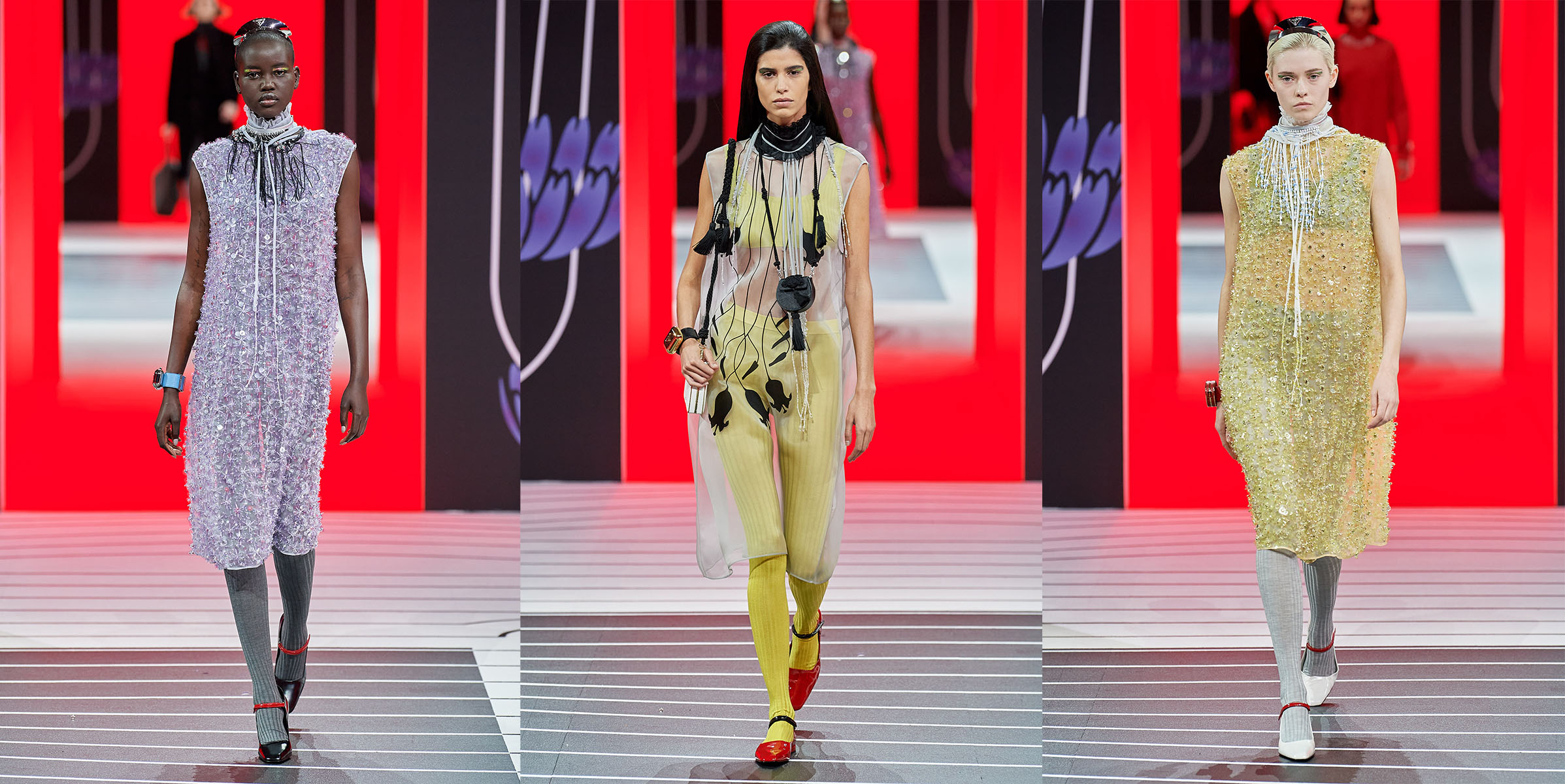 Na móle boli osobné Prada diamanty a vzácne drahokamy nahradené hodvábnymi strapcami a perličkami. Toto "klišé ženskosti" , ako ich Miucccia Prada popísala, sprevádzali prvky tradične považované za mužské.
Hranatá bunda s opaskom bola skombinovaná so strapcovou sukňou, strapce a korálkové perličkové zdobenia skrášľovali celú kolekciu a stali sa viditeľným prvkom sezóny Prada, Zima 2020 – 21.
Biela klasická bibloo košeľa bola okrášlená klbkami korálkových kryštálov zavesených na pleciach.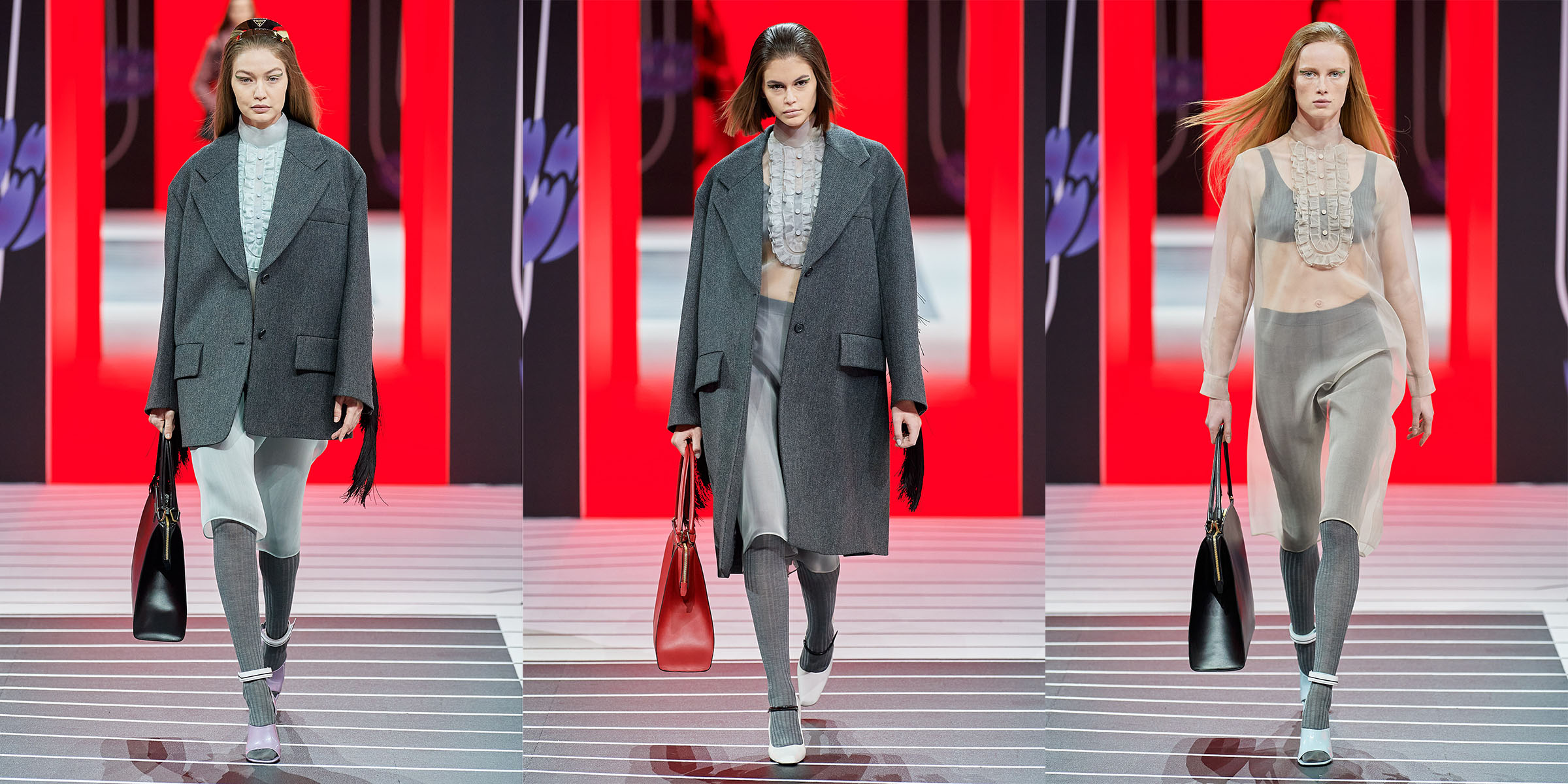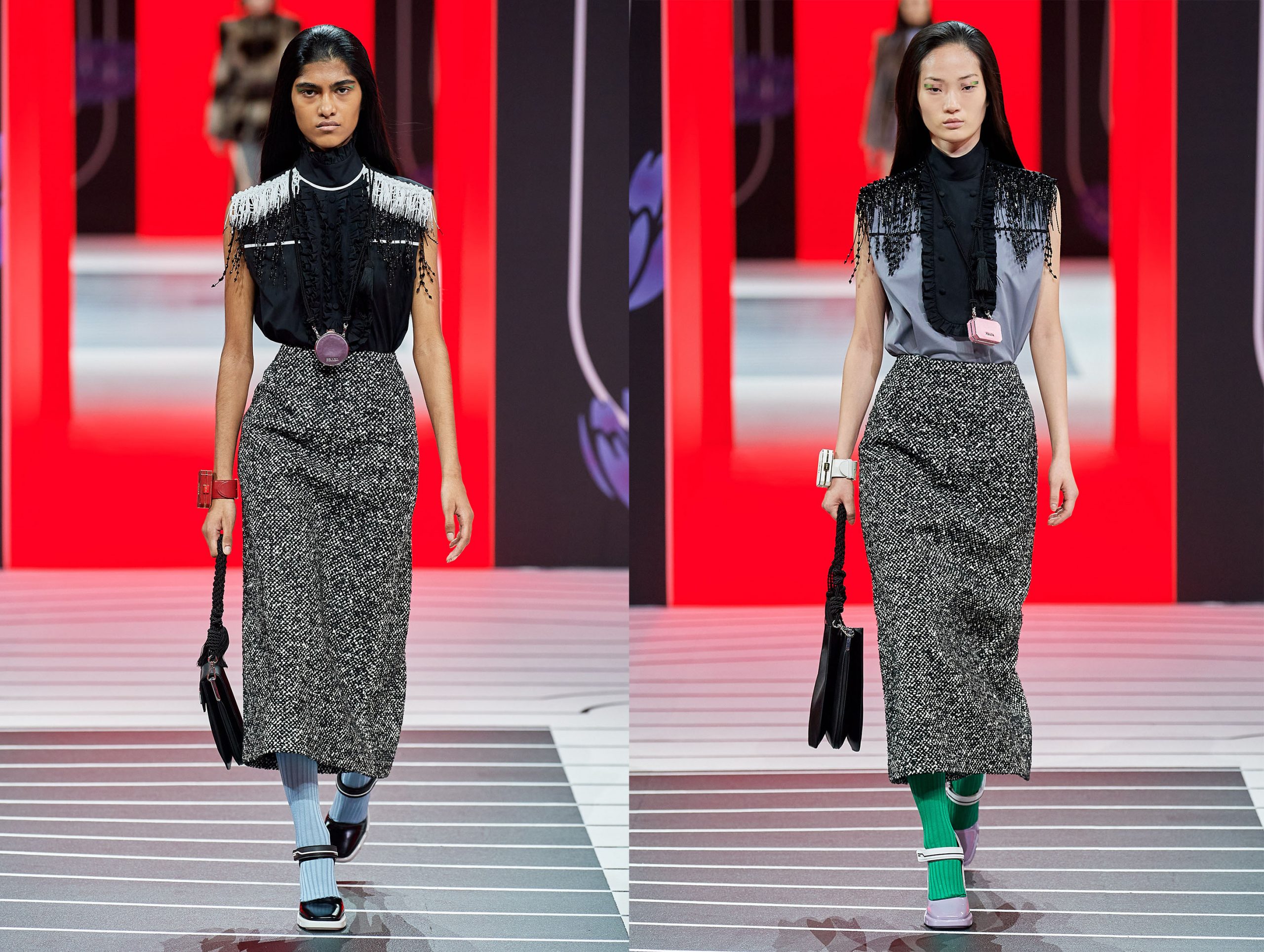 Je pravdepodobné, že táto rovnica ženskosti sa rovná sile a bola pre projekt spoločnosti Prada nevyhnutnou rovnicou po celý čas.
Po skončení módnej show sa uskutočnili interview v zákulisí, kde Miuccia Prada oslnila vyšperkovaným outfitom. Oslňujúci náhrdelník a náušnice skombinovala k svetru s vysokým okrúhlim golierom a k zúženým hodvábnym nohaviciam.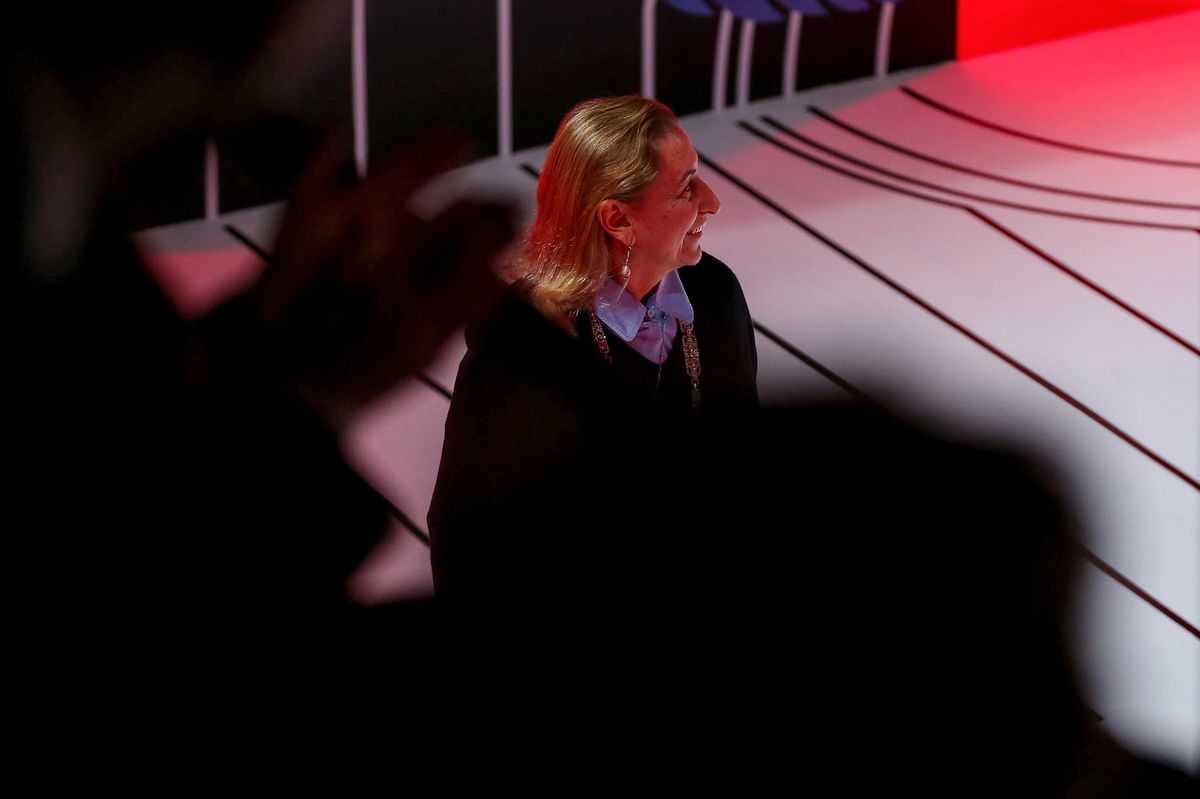 Zdroj obrázkov: Vogue IT, Prada, Alessandro Garofalo/Reuters, getty images, pinterest, Serichai Traipoom, crfashionbook, Paol Jeong , hypebae
Prvú časť článku o kolekcii Prada – Jeseň/Zima 2020 – 21 čítajte na blogu v histórii. Sledujte Facebook stránku blogu: Mya Mirell Fashionista a Instagram: mya_mirell .