Prada, Milan Fashion Week – Móda Ženy, 18. – 24. september 2018, kolekcia jar/leto 2019, 20.september 2018
PRADA
Najväčšími lídrami spomedzi módnych značiek Milan Fashion Weeku sú Armani, Prada a Dolce and Gabbana so značnými príjmami, ktoré si to rozhodne zaslúžia. Avšak by nemali dominovať scéne celkovo. Tieto značky využívajú svoju pozíciu a inovujú veľmi málo, aj keď sa to môže zdať.
Značka Prada je toho príkladom. Miuccia Prada začala oživovať, preorganizovávať svoj módny katalóg nedávno. Znovuprijatie štýlu ugly chic – škaredá krása alebo môžeme preložiť tento termín aj vkusná nepeknosť, ktorá sa opäť odohrala v centre Fondazione Prada, bola pútavá. Siluety 50. rokov sa stretli s potlačami a motívmi 60. rokov v nezverejnenom konflikte histórie módy.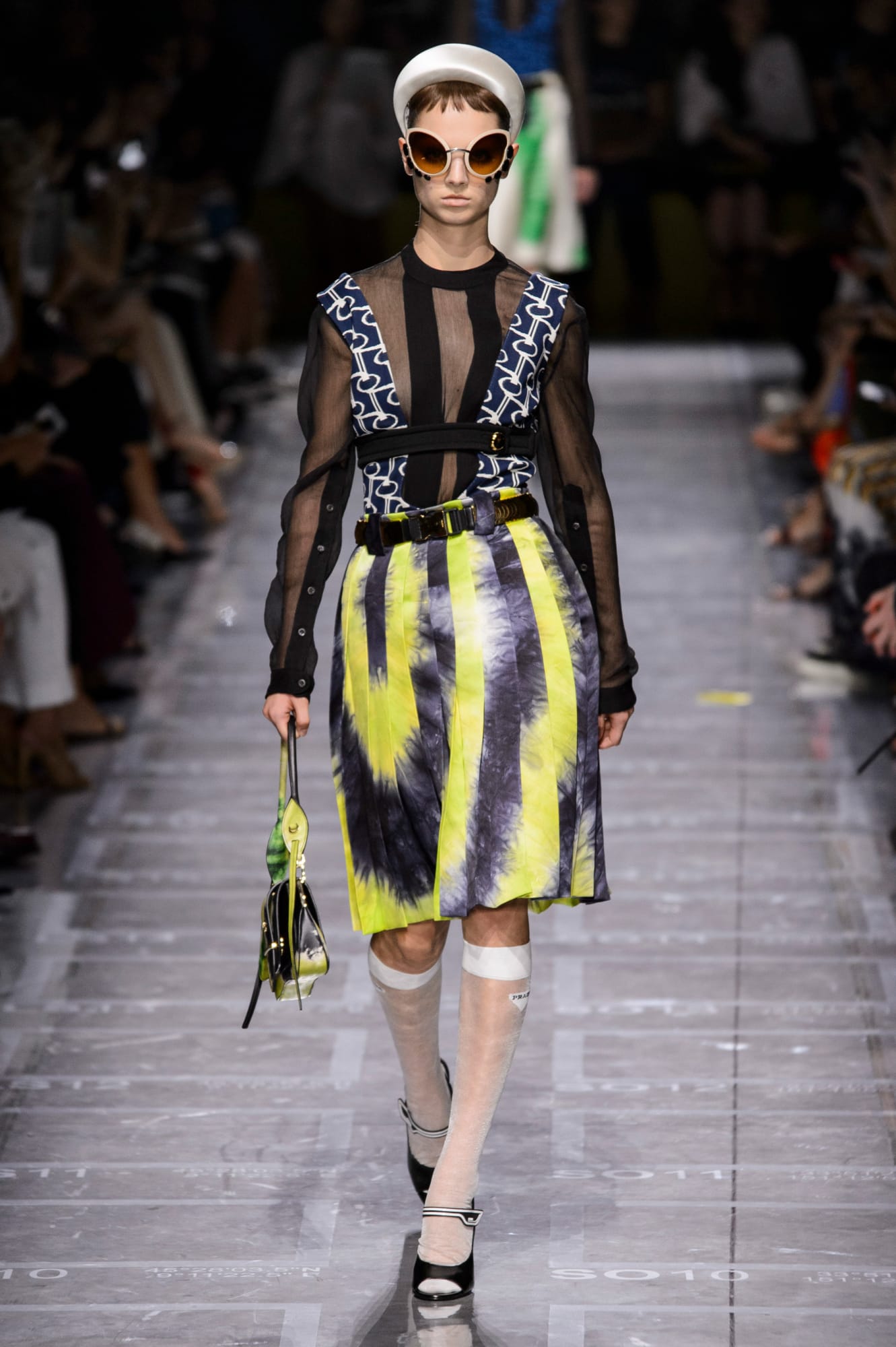 Nepeknosť ako štýl, ugly chic štýl, sa objavil na mólach posledné štyri roky a nestretol sa veru s pochopením. Zažil aj virálne zneuctenie v podobe
rozhorčených ľudí, ktorí sa pýtali, po zhliadnutí v obchodoch, ako to môže byť považované za módu? Škaredosť mala ale vždy svoje miesto v niektorých sférach módy ako napríklad svoje uplatnenie mala aj v umení, hoci pozícia v súčasnej kultúrnej oblasti značne zosilnela.
Škaredý šik štýl nie je vôbec nič nové. Miuccia Prada si na tom vybudovala svoj biznis, spochybňujúc konvenčnú ženskosť so škrípajúcimi vzormi a krikľavými farbami viac zaujímavými ako lichotivými siluetami.
Na mólach dnes nikto nerobí autentickejší okázalý ugly chic dizajn lepšie ako návrhár Alessandro Michele, ktorý bol vymenovaný kreatívnym riaditeľom talianskeho módneho domu Gucci v roku 2015.
KOLEKCIA Jar/Leto 2019
Favoritnými momentami septembrového Milan Fashion Weeku 09/2018 sa aj tak stala prehliadka z dielne Miuccia Prada, okrem iných, ktorá pre sezónu 2019 spojila zúrivú fantáziu s retro školáckou kolekciou. Retro kolekciu tvorili mladícke šaty z plachtoviny. Tento materiál bude taktiež trendom sezóny jar/leto 2019.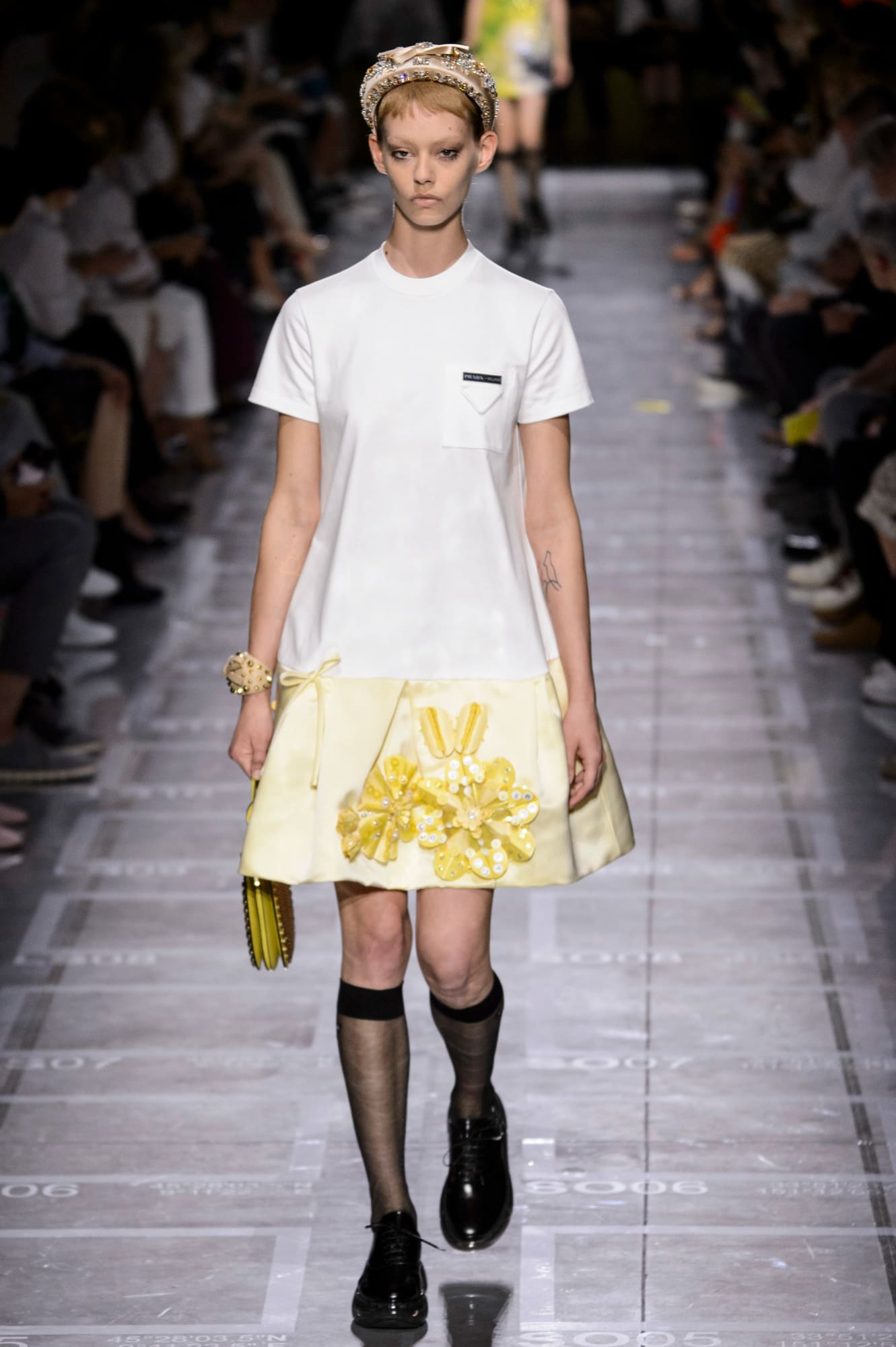 Termíny, ktorými možno charakterizovať najnovšiu kolekciu značky Prada pre sezónu Jar 2019 sú eklektizmus či avantgarda. Týmito istými synonymami sa môže popísať aj smerovanie tejto značky.
Prehliadka sa konala v priestore skladu budovy Fondazione Prada, ktorý bol pretranformovaný pri tejto príležitosti na ultramoderné divadlo s prízemím, pódiom a balkónmi.
Sukne tvaru A dĺžky po kolená, pulóvre slušných dievčat s upnutým golierom a pod nimi biela blúzka, čelenky do vlasov, zvrchné odevy a plášte s maxi gombíkmi a obľúbené bon ton kabelky sa predstavili v novej Prada kolekcii.
Módna návrhárka Miuccia Prada tranformovala klasický štýl v súčasný novodobý modernizmus s prvkami avantgardy. Jeho príkladom sú prvky kolekcie s mierne rozšíreným strihom vyhrotených strihových foriem, zavinovacie sukne kyslastých farieb skombinované s topmi s hlbokými výstrihmi až po brucho. Tento inovatívny look bol tak výrazný ako aj šokujúci, no šokujúce boli najmä viditeľne vychudnuté telá modeliek.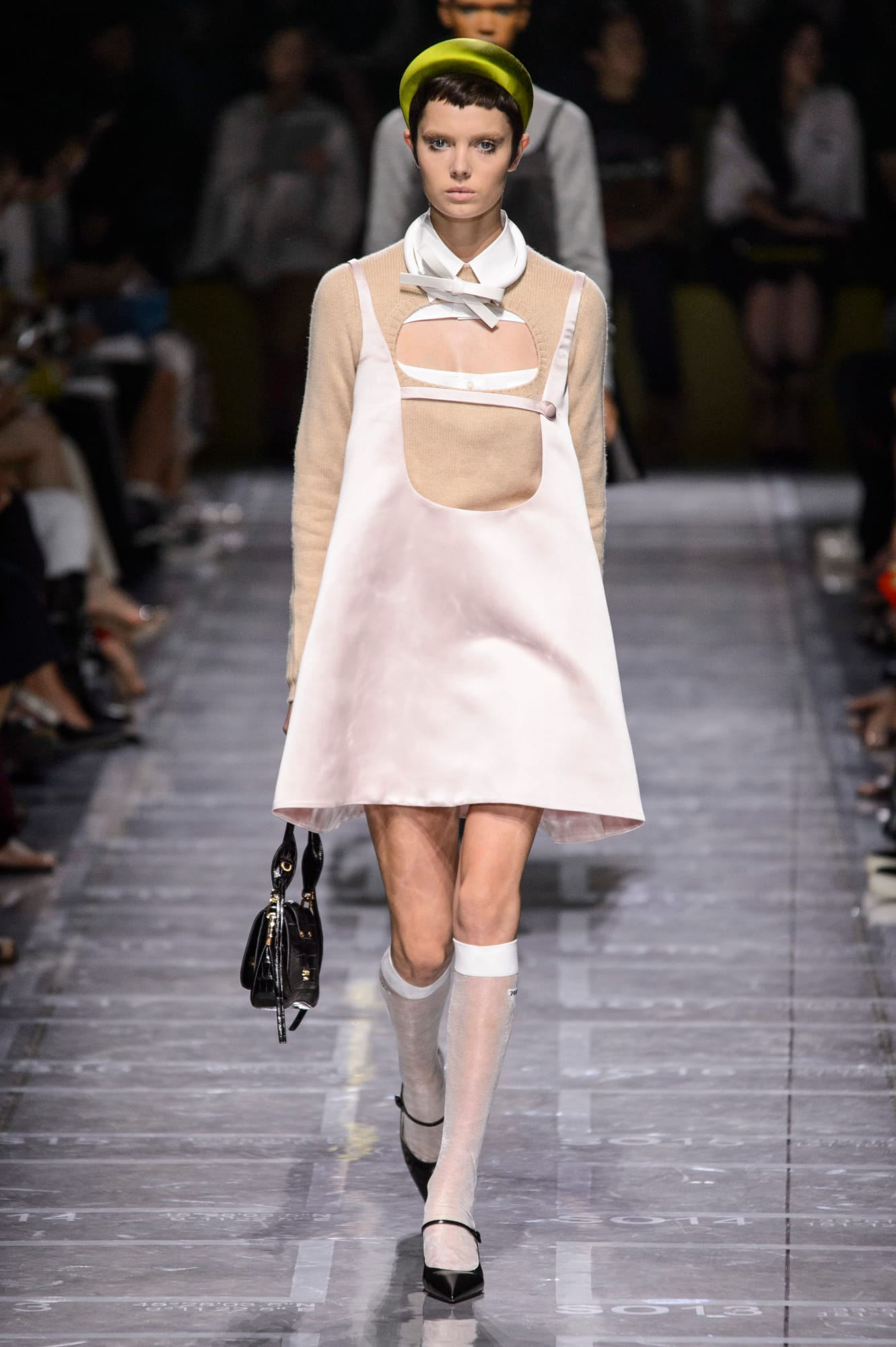 K dramatickému looku novej kolekcie sa pridali materiály transparentné v kombinácii s technikou batikovaného vzhľadu potlačí a taktiež doplnky – okuliare väčších rozmerov pretiahnutých tvarov a topánky aj netradične športové s otvorenými prstami a okolo členkov.