Prada – Milan Fashion Week, Móda Ženy, zimná sezóna, kolekcia Jeseň / Zima 2020 – 21 – koncept ženskej sily s jemnosťou a zachovaním individualizmu
Taliansky módny dom PRADA predstavil počas zimnej sezóny Milan Fashion Weeku, Móda Ženy, inovatívnu módnu show s názvom "Surreal Glamour" . Prehliadka kolekcie Jeseň / Zima 2020 – 21 vzbudila vlnu úžasu. Dizajnérka módnej značky Prada, Miuccia Prada vzala koncept ženskej sily s argumentáciou, že existuje kvôli ženám za tým, nie napriek nim.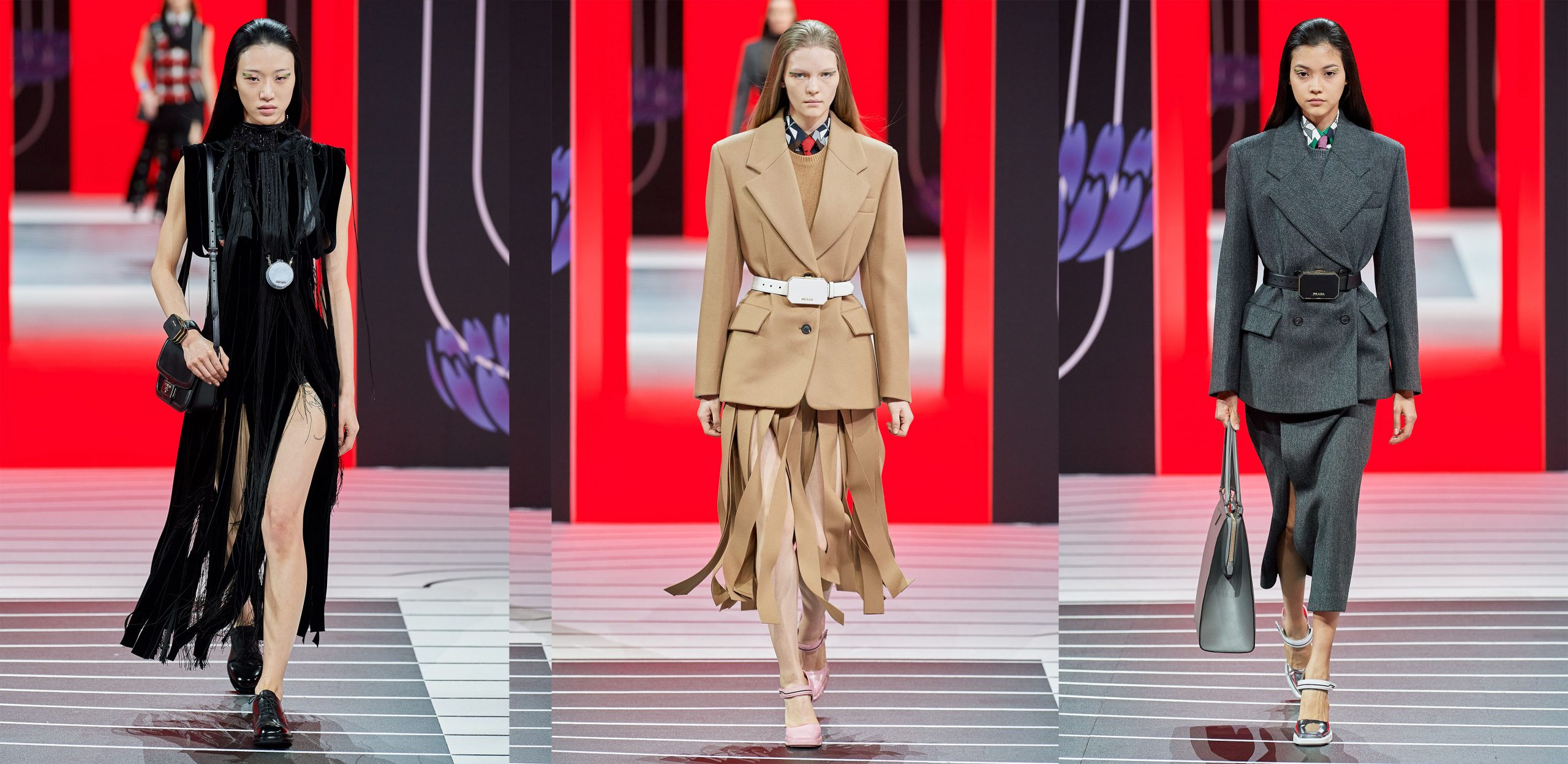 Od roku 1913, módny dom Prada slúžil ako neotrasiteľný maják v štandardoch talianskeho luxusu. Či už prostredníctvom koženého tovaru, nylonových tašiek, alebo dokonalého krajčírstva , Miuccia Prada nikdy nezabúda na súčasné poháňanie trendov a udržiava legendárne dedičstvo značky. Vo svete mužských silných dizajnérov, je však Miuccia Prada jediná žena, ktorá vytvorila svoj vlastný slovník a nechala si vymodelovať svoj vlastný svet.
Zámerom dizajnérky v kolekcii Prada , Jeseň / Zima 2020 – 21 bolo dosiahnuť dve veci. Vytvoriť niečo použiteľné, čo bude dávať zmysel a predovšetkým predstaviť silu žien. To ale nie je žiadna novinka, tento zámer bol lightmotívom celej kariéry dizajnérky Miuccia Prada.
Jedna z najhlbších mysliteľov a nakreatívnejších účastníkov módy Miuccia Prada je celoživotnou feministkou. Prehliadkové mólo využíva k skúmaniu podstaty ženskosti a postavenia žien v kultúre, pričom neopomína, neminimalizuje primárny účel móla k predstaveniu módy.
MÓDNA SHOW – KOLEKCIA PRADA, JESEŇ / ZIMA 2020-21
Stredobodom show, ktorá sa konala v akoby zapustenom námestí, vytvorenom v suteréne sídla spoločnosti Fondazione Prada, bolo zastúpenie gréckych titanových hrdinov , nie hrdinky, Boha Atlasa, ktorý nesie váhu celého sveta na jeho širokých pleciach.
Prehliadka sa konala v priestore suterénu, kde boli steny pomaľované kvetmi z viedenského secesného umenia a v ktorom sochu koňa s jazdcom, ktorý stál v strede poschodia, nahradila dizajnérka gréckym titánom Atlasom.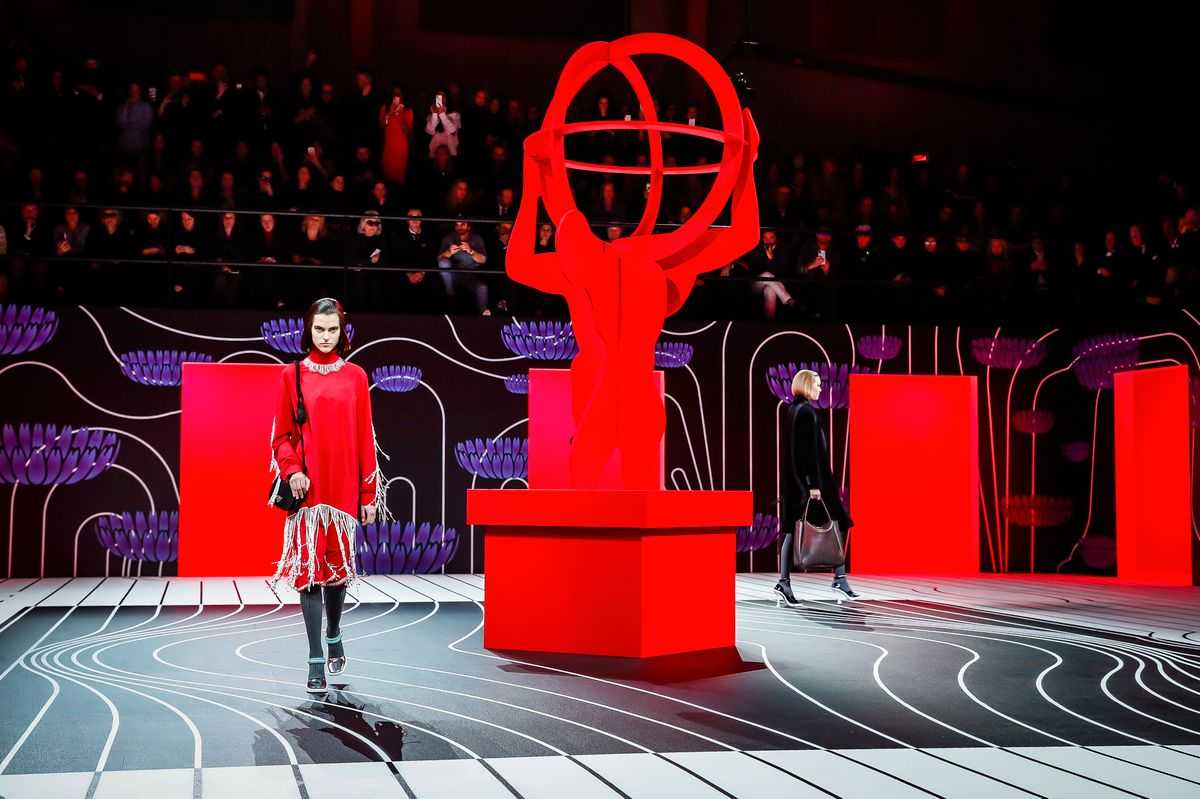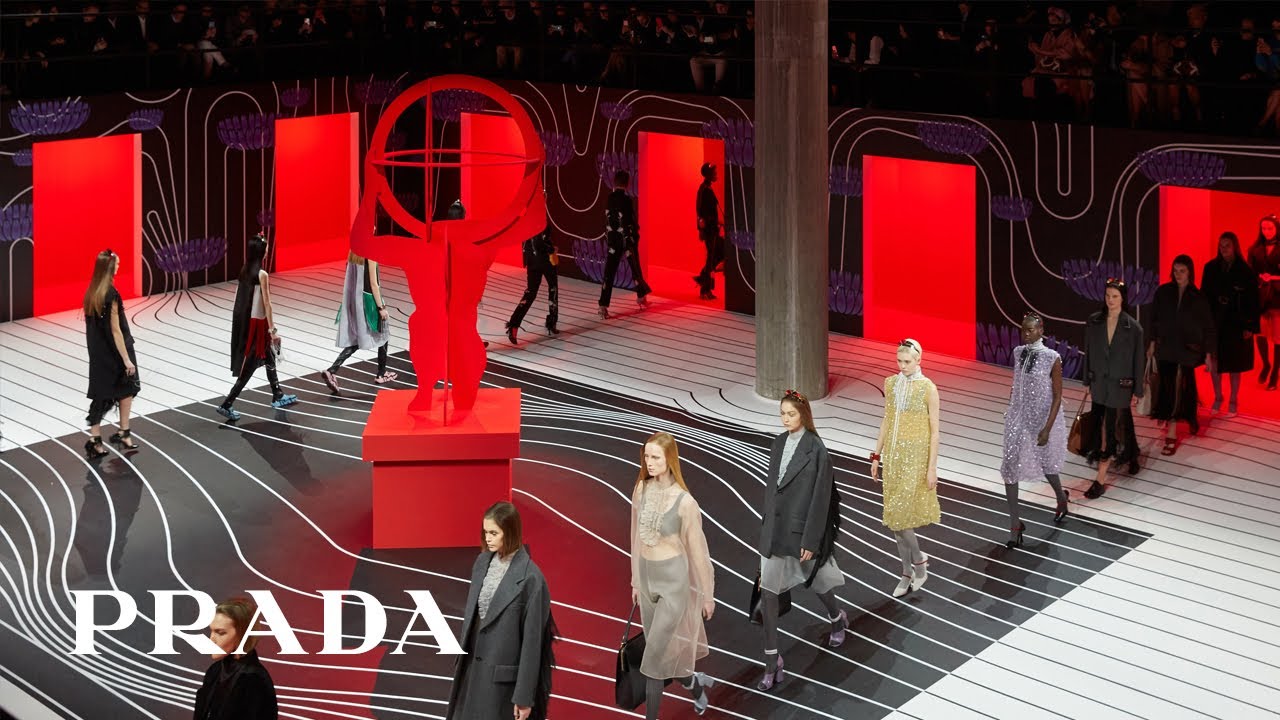 Hostia, ktorí prišli na módnu show do sídla módneho domu Fondazione Prada, boli usadení na vyvýšených platformách, ktoré poskytovali pohľad z vtáčej perspektívy.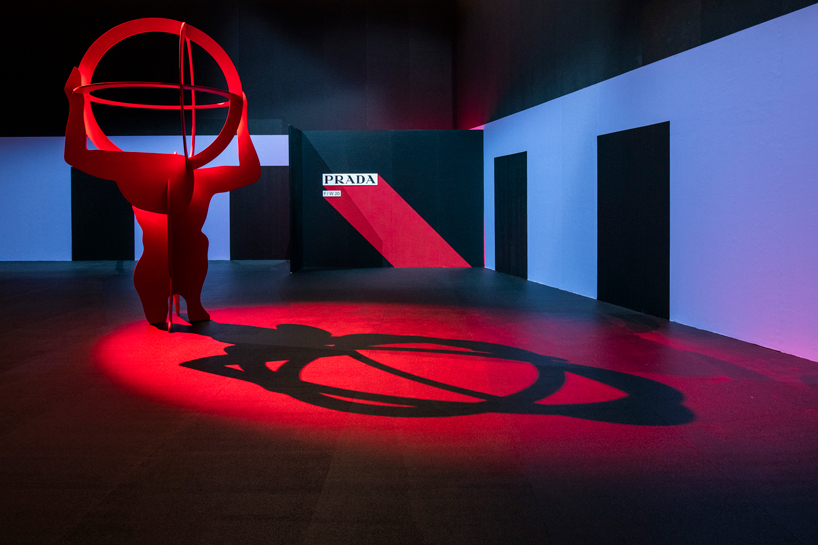 Módna show začala kolekciou šedých na mieru šitých krajčírskych modelov držiac sa niektorých strihov, ktoré Prada robí najlepšie v ženskom výbere vhodných motívov.
Dizajnérka v tejto kolekcii pracovala s prvkami mužského šatníka.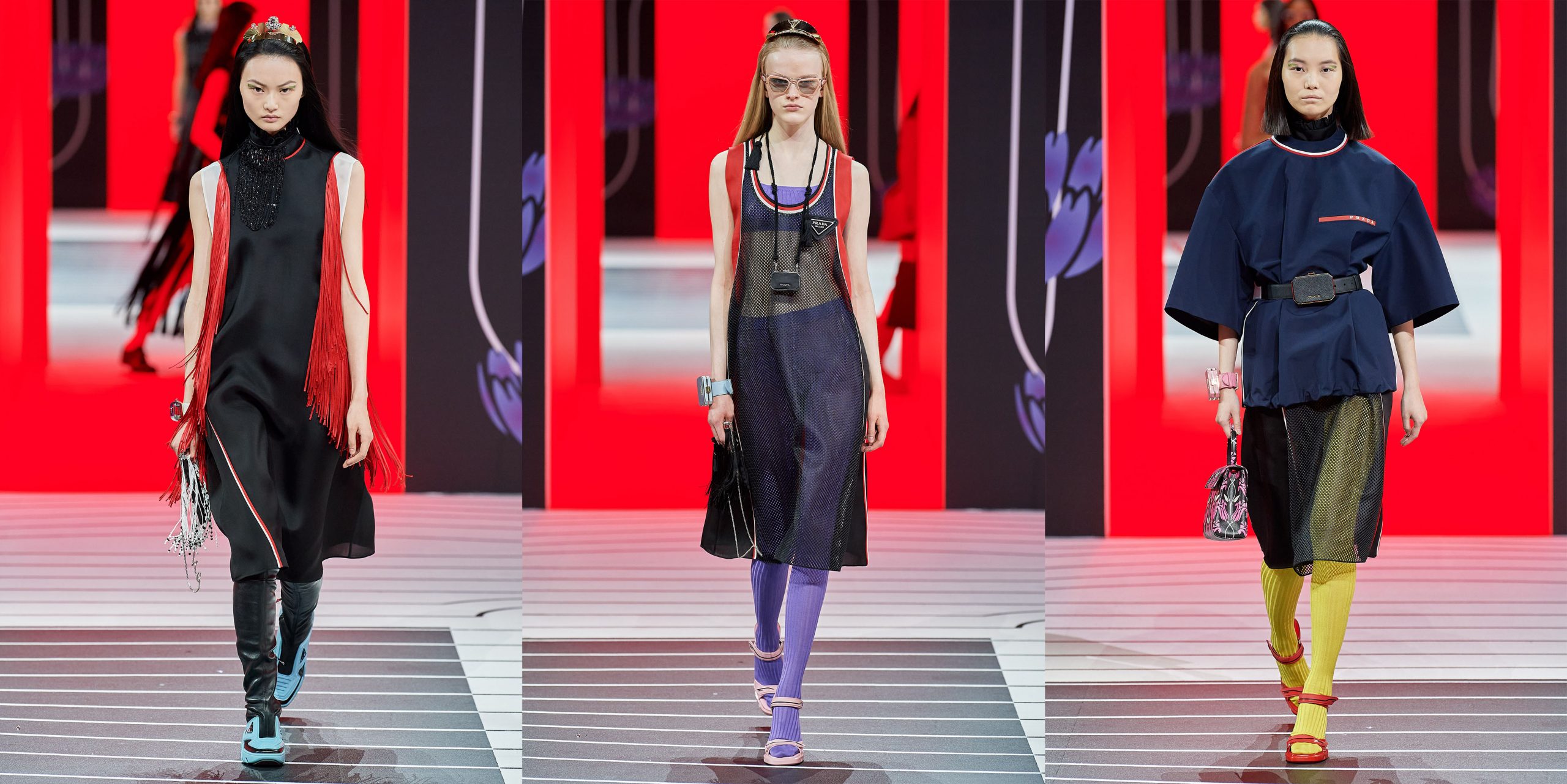 Napriek praktickým prvkom sa Miuccia Prada nebála trošku pobaviť. V kolekcii Prada – Jeseň / Zima 2020 – 21 efektne využila prúžky, pásiky.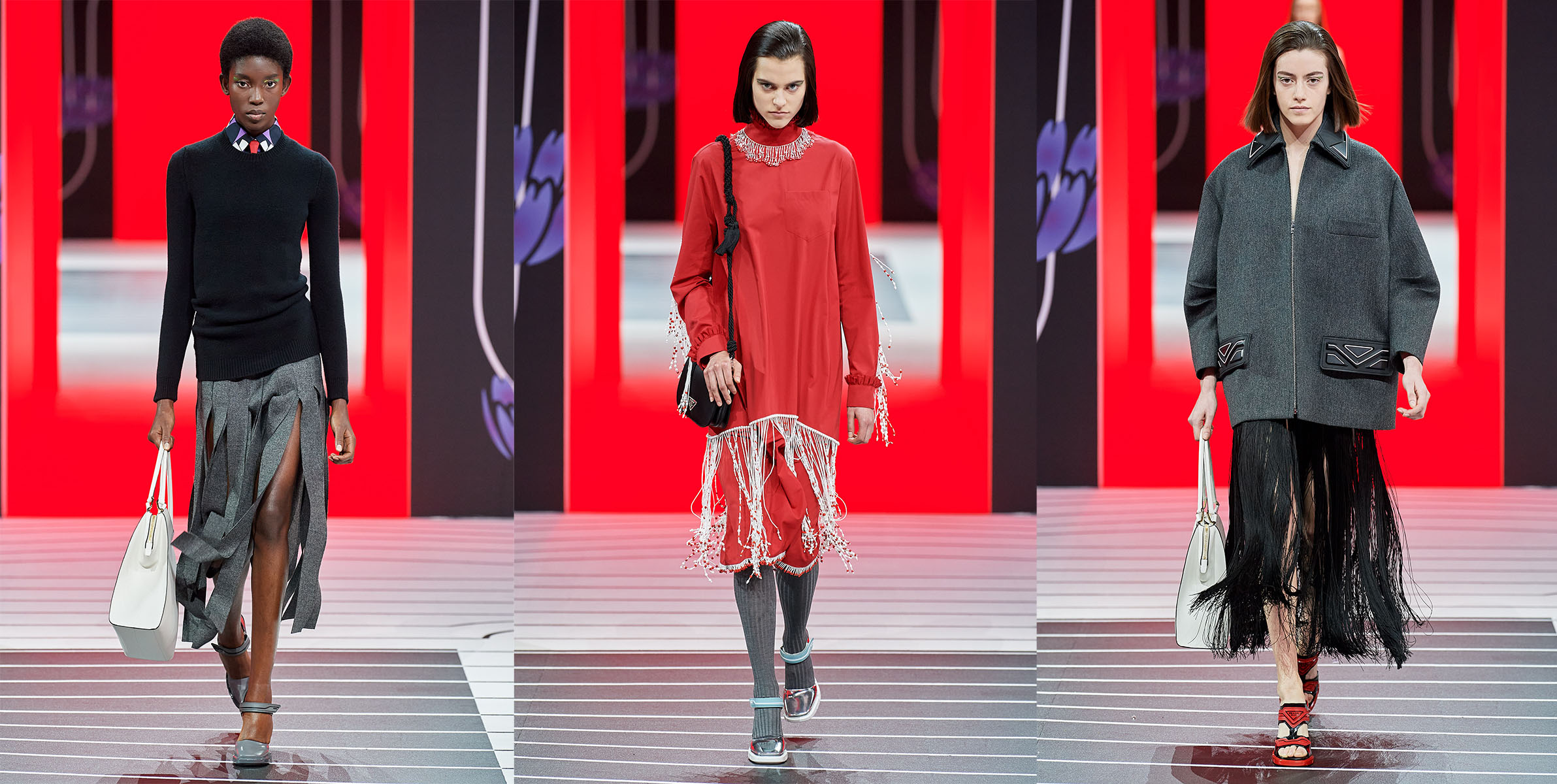 Postupne sa na móle objavili ďalšie prvky kolekcie – pridala žiarivé farby a priehľadné kúsky .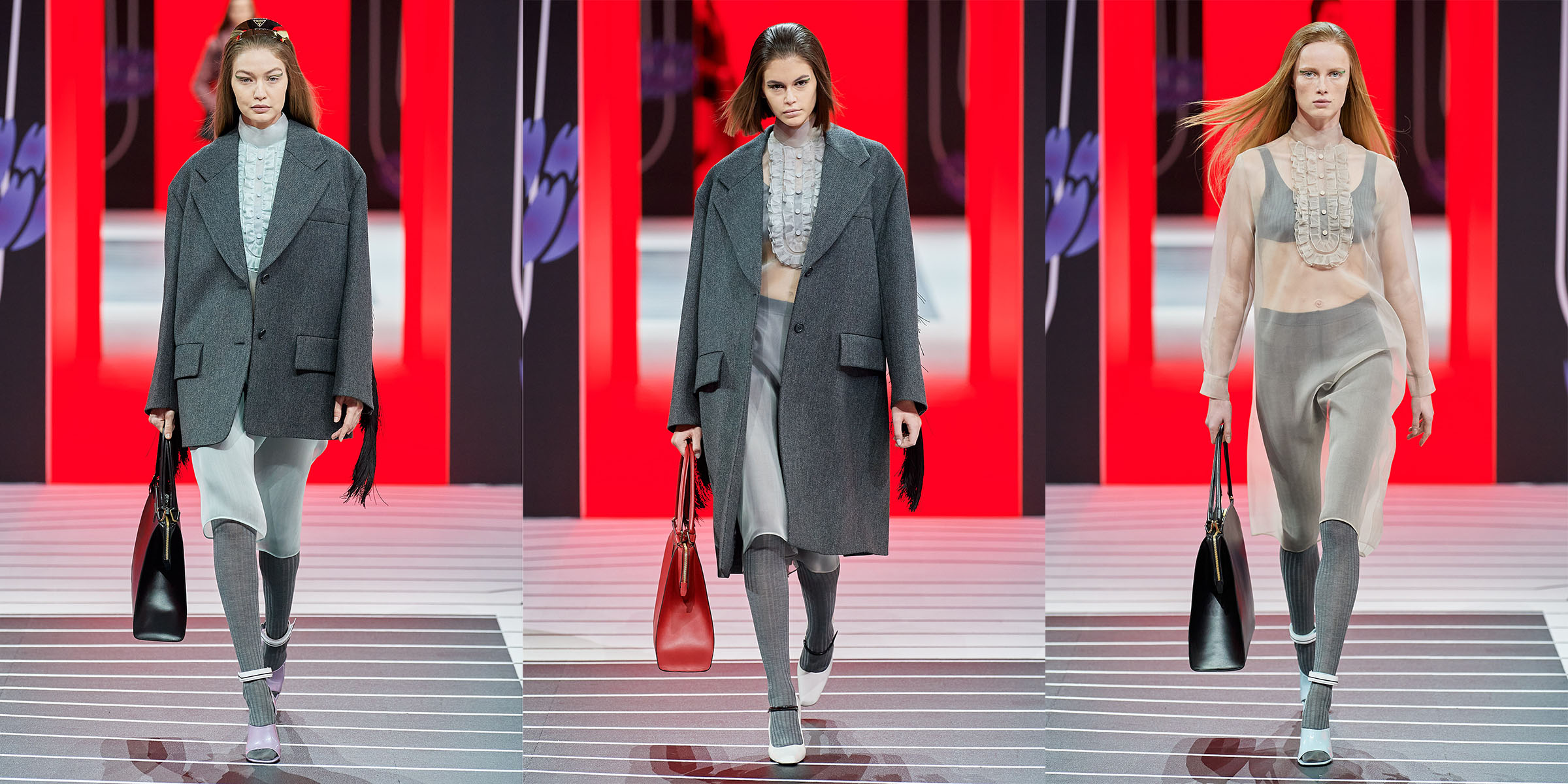 Ako obvykle, na tejto módnej show predvádzali modelky zvučných mien, Kaia Gerber, Gigi Hadid, Adut Akech a miestami sa zdalo, že prehliadka nadväzuje na minulú sezónu, kedy každá modelka bola protagonistkou vlastného looku, športových jednoduchých kúskov, ktoré sa spojili, aby vytvorili individualistické vyjadrenie.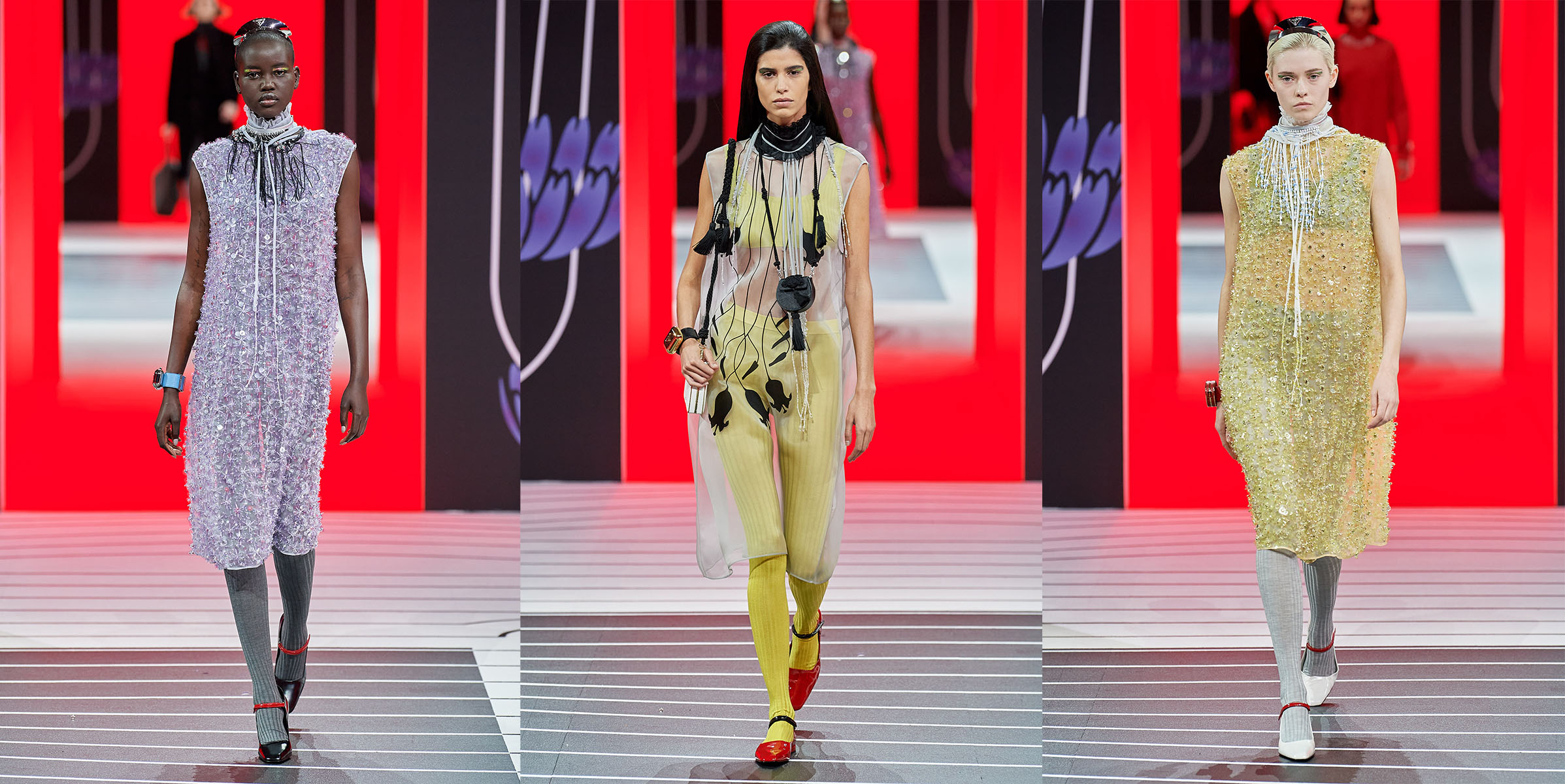 OD JEDNOTNÝCH TRENDOV K INDIVIDUALIZMU – NOVÉ SMEROVANIE MÓDY
Tentokrát to bolo všetko o tom, ako krajčírstvo a tradičné ženské prvky koexistujú v jednoduchých lookoch a okúzľujúcich farbách, strapcoch, okrášlené šperkami v podobe kabeliek a mini kabeliek.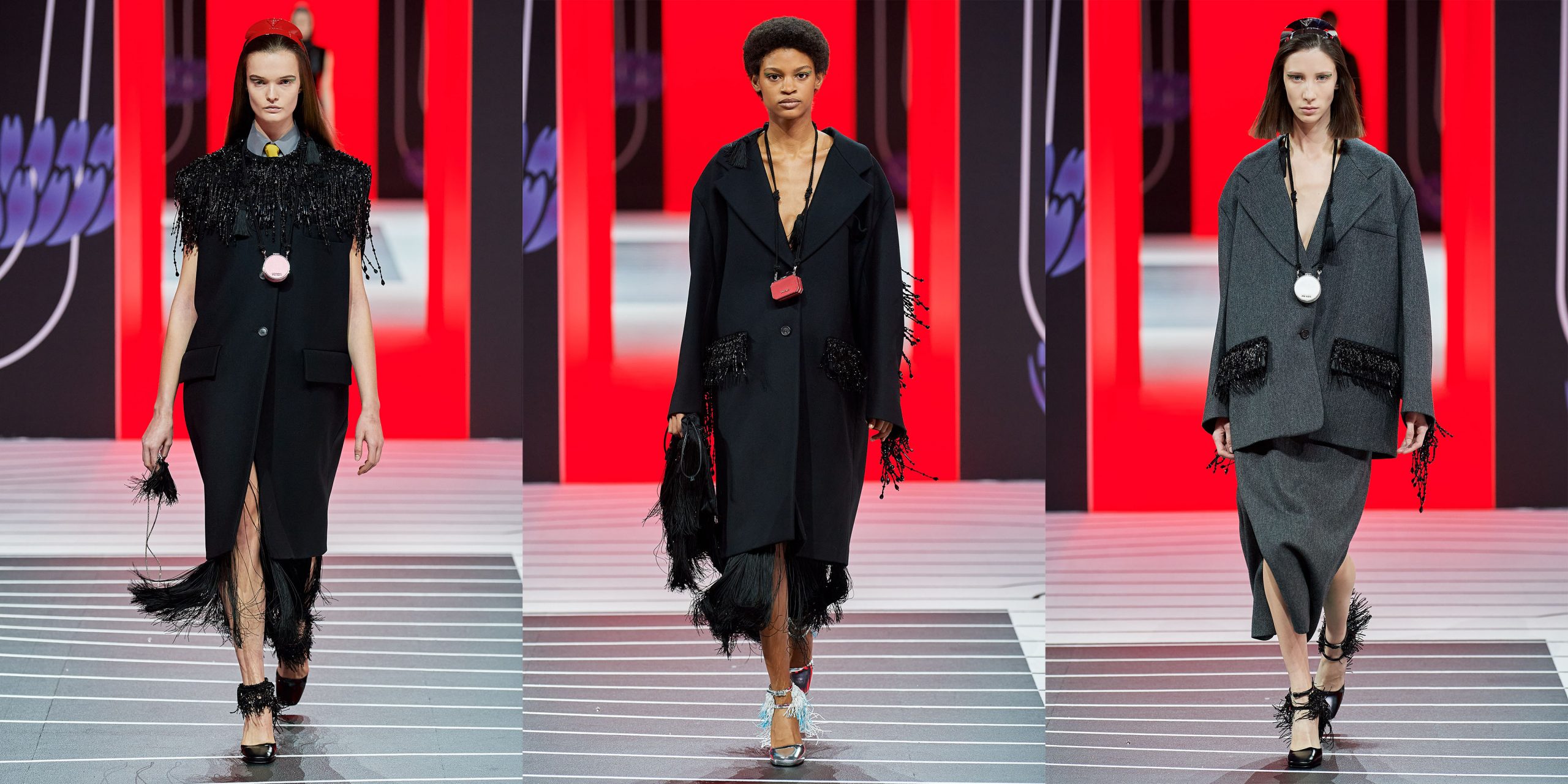 Do roku 2020 veľa lookov dopĺňali Prada mini kabelky, ktoré boli nosené tiež ako náhrdelníky alebo náramky.
Vyzerá to, že móda sa pohla iným smerom od sezón, ktorým dominovali jednotné trendy, namiesto toho zvýrazňuje individualizmus a zachovalý obnoviteľný šatník, čo je dobrá správa pre sebavyjadrenie aj udržateľnosť.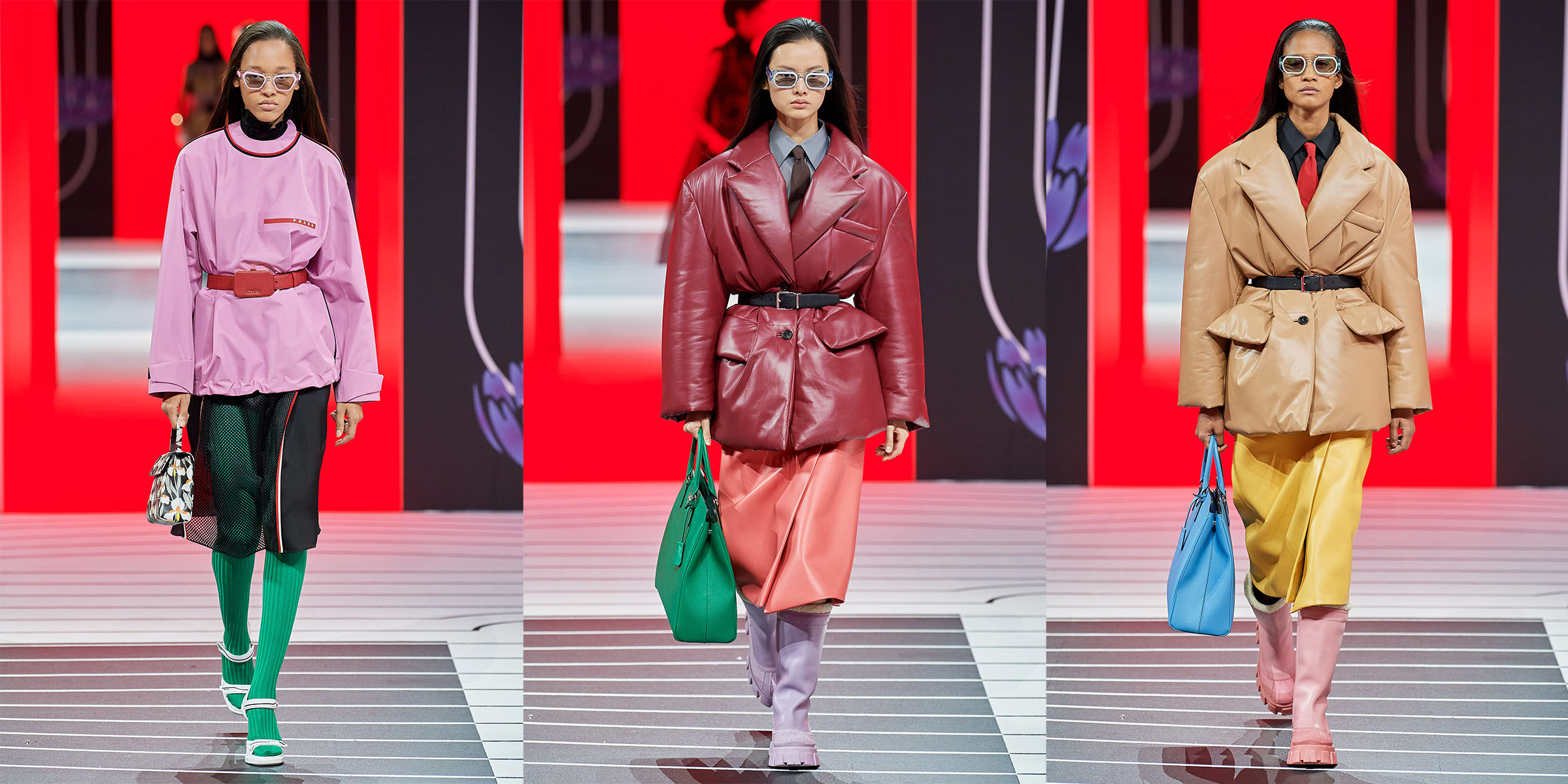 Miuccia Prada predviedla tiež opakované športové oblečenie , vrstvenie kabátov pre vodičov, búnd, košieľ , svetrov a sukní.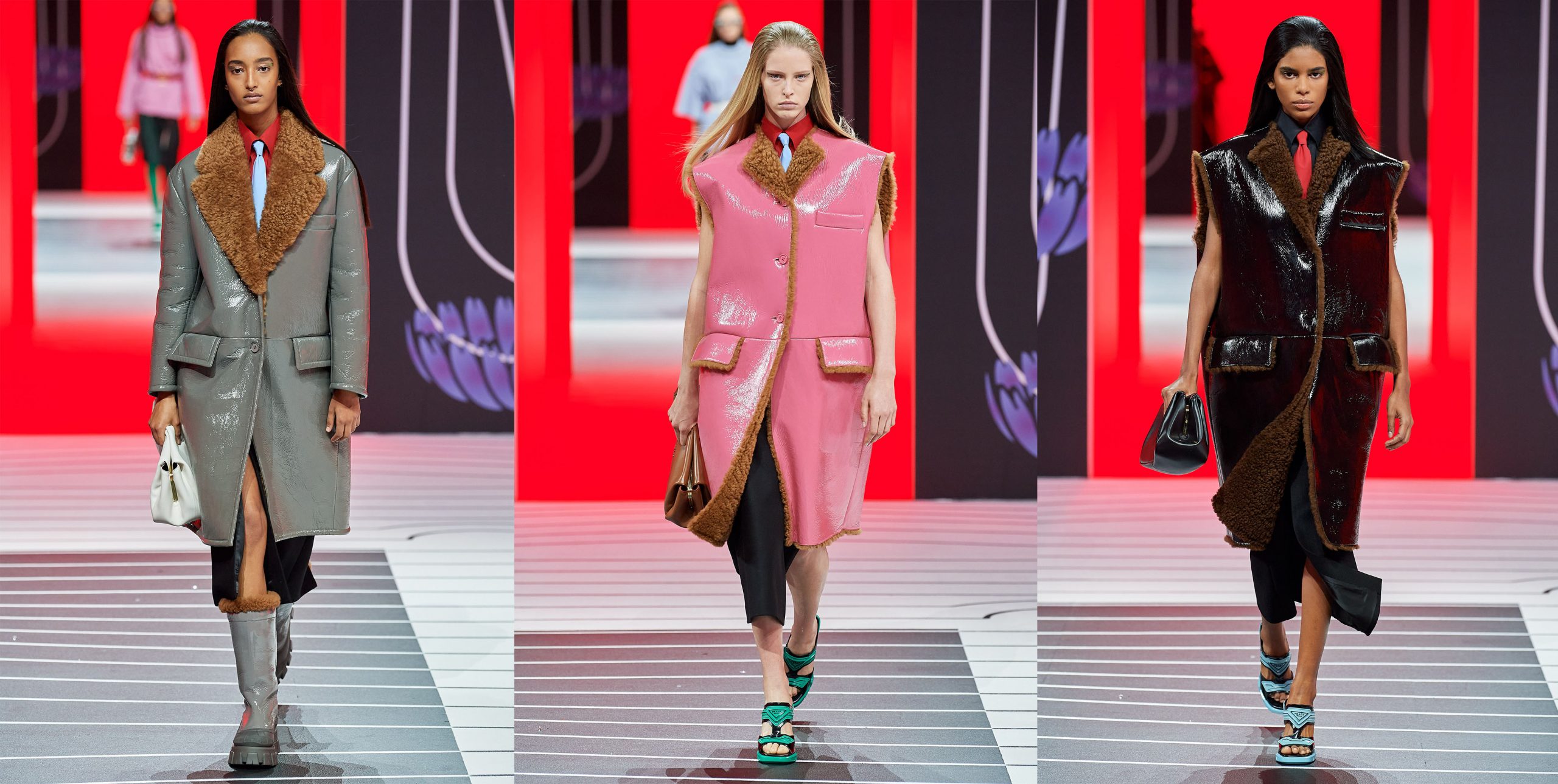 Napokon módny dom Prada je súčasťou Fashion Pactu, takže je jeho zmyslom a zámerom vytvárať estetické rozhodnutia spolu so spájaním svojho úsilia za cieľom zníženia svojej enviromentálnej stopy.
ODKAZ KOLEKCIE PRADA – JESEŇ/ZIMA 2020-21 – VZÁCNA DUALITA – MOŽEME BYŤ SILNÉ A ŽENSKÉ ZÁROVEŇ
Talianska dizajnérka Miuccia Prada uskutočnila prieskum sily žien, čo bolo lightmotívom jej kariéry. V kolekcii Prada – Jeseň / Zima 2020 – 21 dosiahla vzácnu dualitu. "Môžeme byť silné a ženské zároveň, váhu teraz nesú ženy" . Súčasne jemnosť a ľahkovážnosť nie sú protikladné k moci.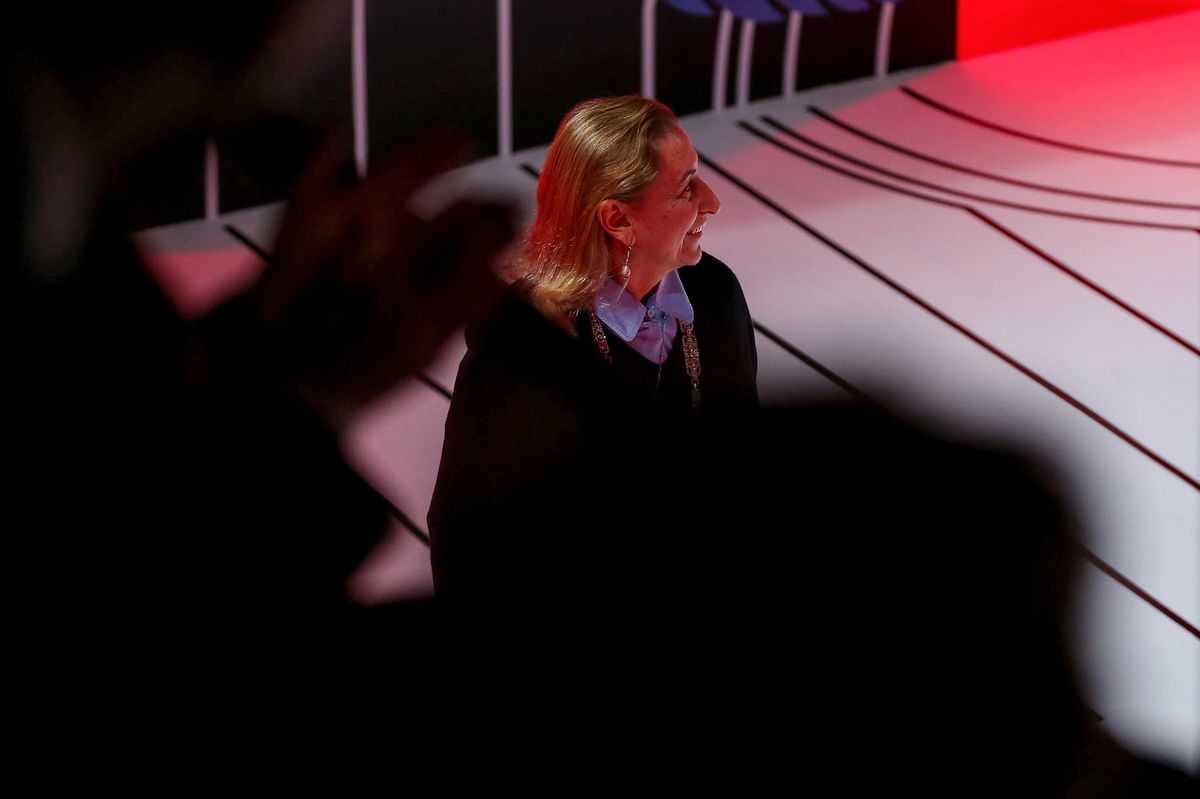 Je pravdepodobné, že táto rovnica ženskosti sa rovná sile a bola pre projekt spoločnosti Prada nevyhnutnou rovnicou po celý čas.
Značka Prada vidí glamour ako niečo, čo vás urobí optimistickými a čo vás povznesie.
Zdroj obrázkov: Vogue IT, Prada, Alessandro Garofalo/Reuters, getty images, pinterest
Druhú časť článku o tejto kolekcii Prada – Jeseň / Zima 2020 – 21 čitajte na blogu v ďalšom pokračovaní. Sledujte Facebook stránku blogu: Mya Mirell Fashionista a Instagram: mya_mirell .