Prada – kolekcia Jar/Leto 2020, Milan Fashion Week, Móda Ženy, sila žien nad oblečením
Módna dizajnérka talianskej zvučnej značky PRADA, Miuccia Prada , sa v tomto období Jar/Leto 2020 rozhodne posunula vpred. Od grafických doplnkov a grafických potlačí, komixového divadla, ktoré dominovali sezóne Jar/Leto 2018 , cez nylon, ako protagonistu kolekcií pre Jar/Leto 2019 a znovuprijatie ugly chic štýlu, kedy sa siluety 50. rokov stretli s potlačami a motívmi rokov 60-tych v nezverejnenom konflikte histórie módy minulú sezónu, Prada najnovšie skombinovala vybrané prvky s kolekciou jednoduchej elegancie a subjektívnym obliekaním.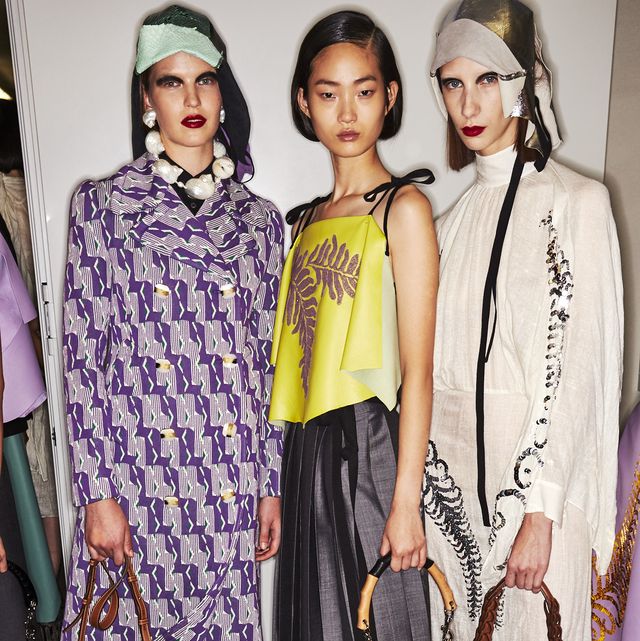 zdroj: CR fashion book
Móda show, na ktorú sa zišlo veľa celebrít, vplyvných ľudí z módneho sveta, fashionistov a fanúšikov, sa konala v Miláne počas Milan Fashion Weeku, v jeho letnej sezóne v septembri 2019. Zúčastnili sa jej hviezdy svetového formátu, ktoré sa objavili na viacererých show a večierkoch. Na prehliadku Prada prišla aj slávna herečka Nicole Kidman, ktorú privítali fanúšici s obrovským nadšením. Nechýbala ľadová kráľovná módy, Anna Wintour z Vogue magazínu a spoločne zasadli do prvej rady, tzv. front line. Video prichádzajúcej Nicol na show, ako som ju stihla zachytiť, si môžete pozrieť na Facebook stránke Mya Mirell Fashionista a tiež na Instagrame: mya_mirell.
51 lookov novej kolekcie Prada Jar/Leto 2020 prezentovalo čistotu, priamosť a inštinkt, čo boli vodiace línie. Vybraním jednotlivých prvkov z minulých desaťročí, z rokov 20., 70. a 90. , je kolekcia vytvorená oblečením na bežné nosenie, šatami a blúzkami.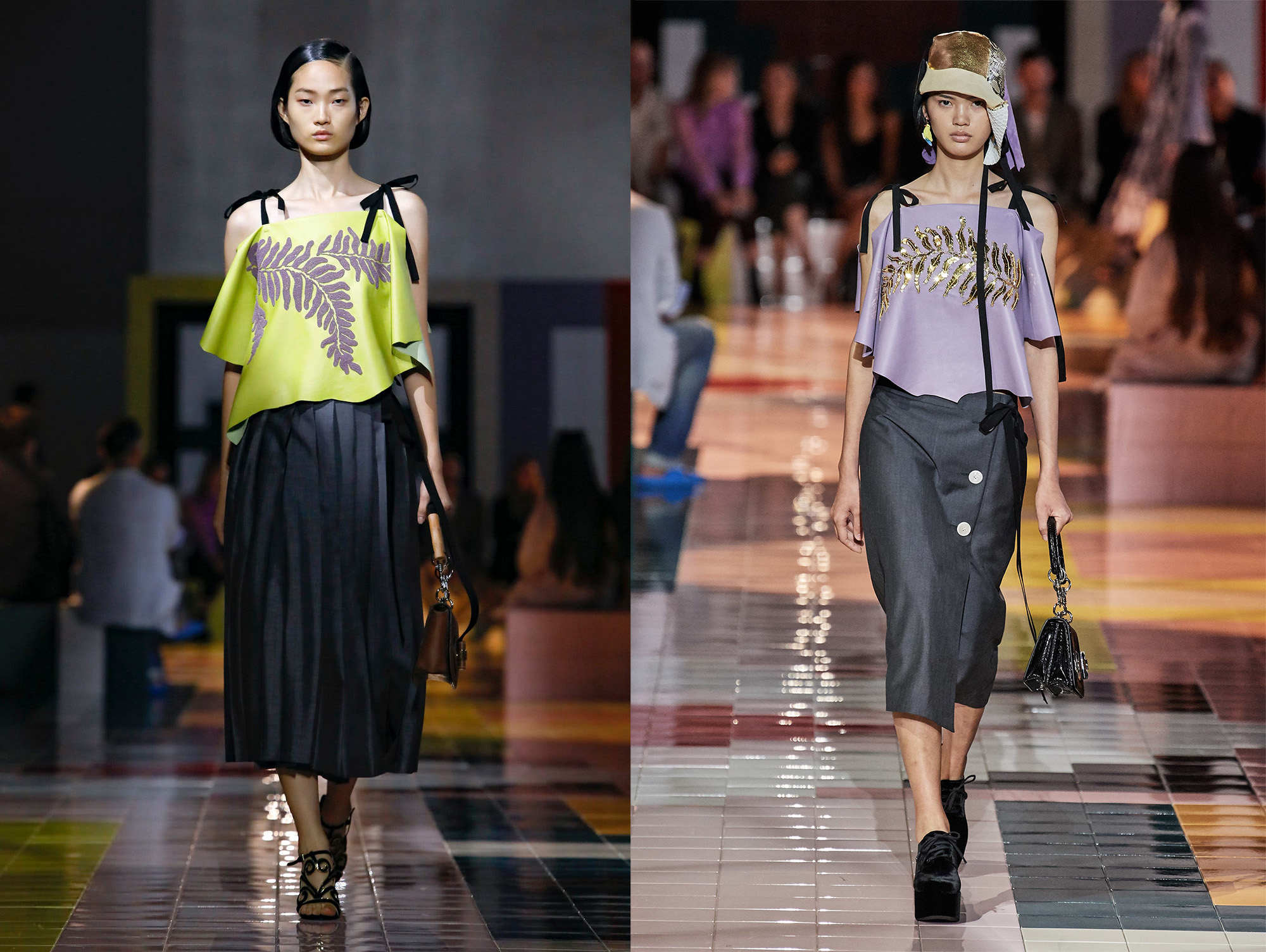 "Redukcia na podstatu" . To je motto prehliadky najnovšej kolekcie značky Prada pre sezónu Jar/Leto 2020. Je to o podstate kolekcii , o sile žien nad oblečením a o štýle nad módou.
Foto: Valerio Mezzanotti, The New York Times
V novej kolekcii pre túto sezónu dominovali úhľadné, na mieru strihané saká, trench coaty so širokými klopami, žakárové pletené topy a sukne geometrických vzorov, šaty pierkovo ľahké, saténové a gázové šaty prerušované so vzormi listov a metalickými zlatými akcentami.
Modelka Kaia Gerber, dcéra topmodelky 90. rokov Cindy Crawford – v modrom kostýme.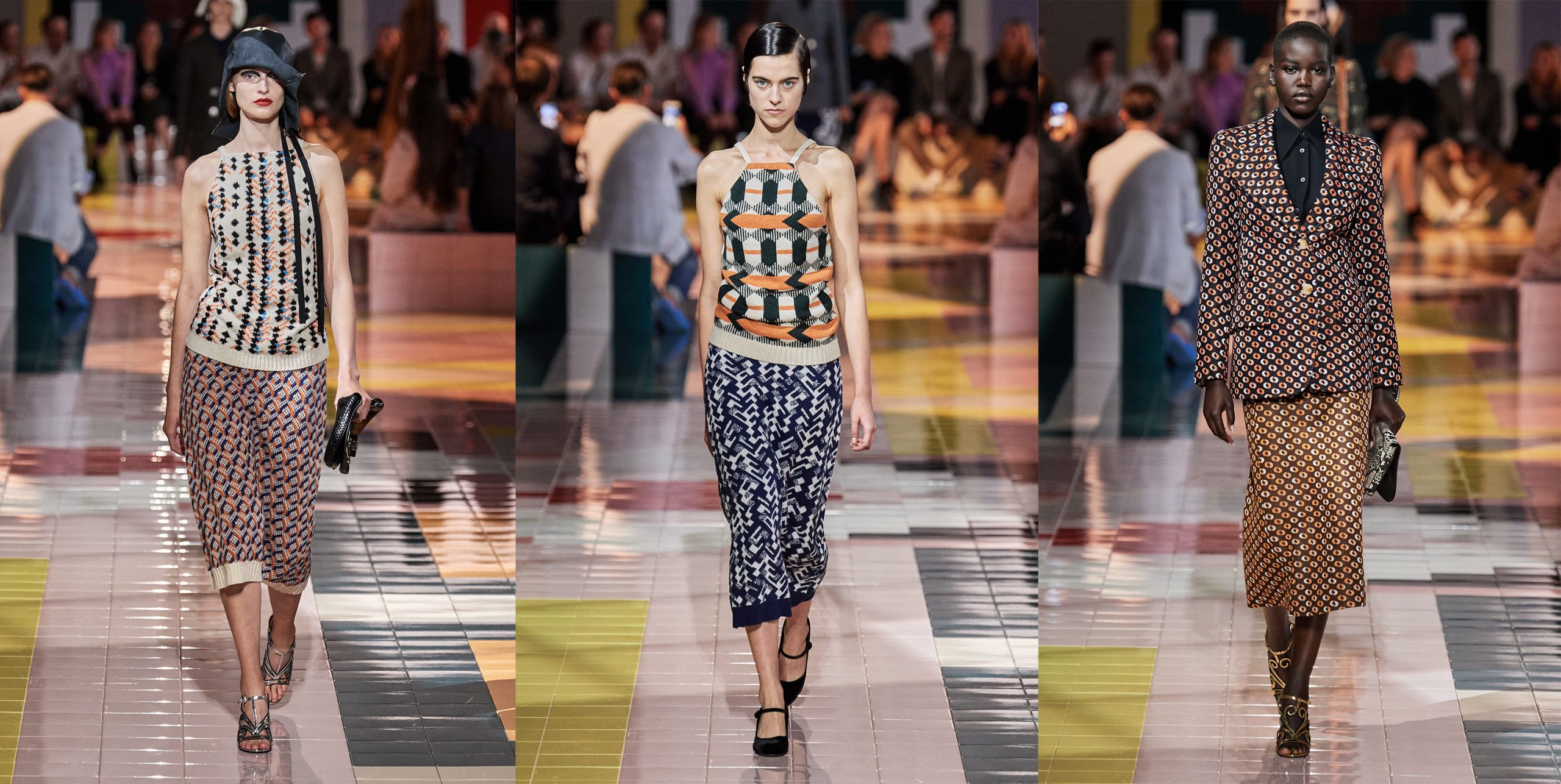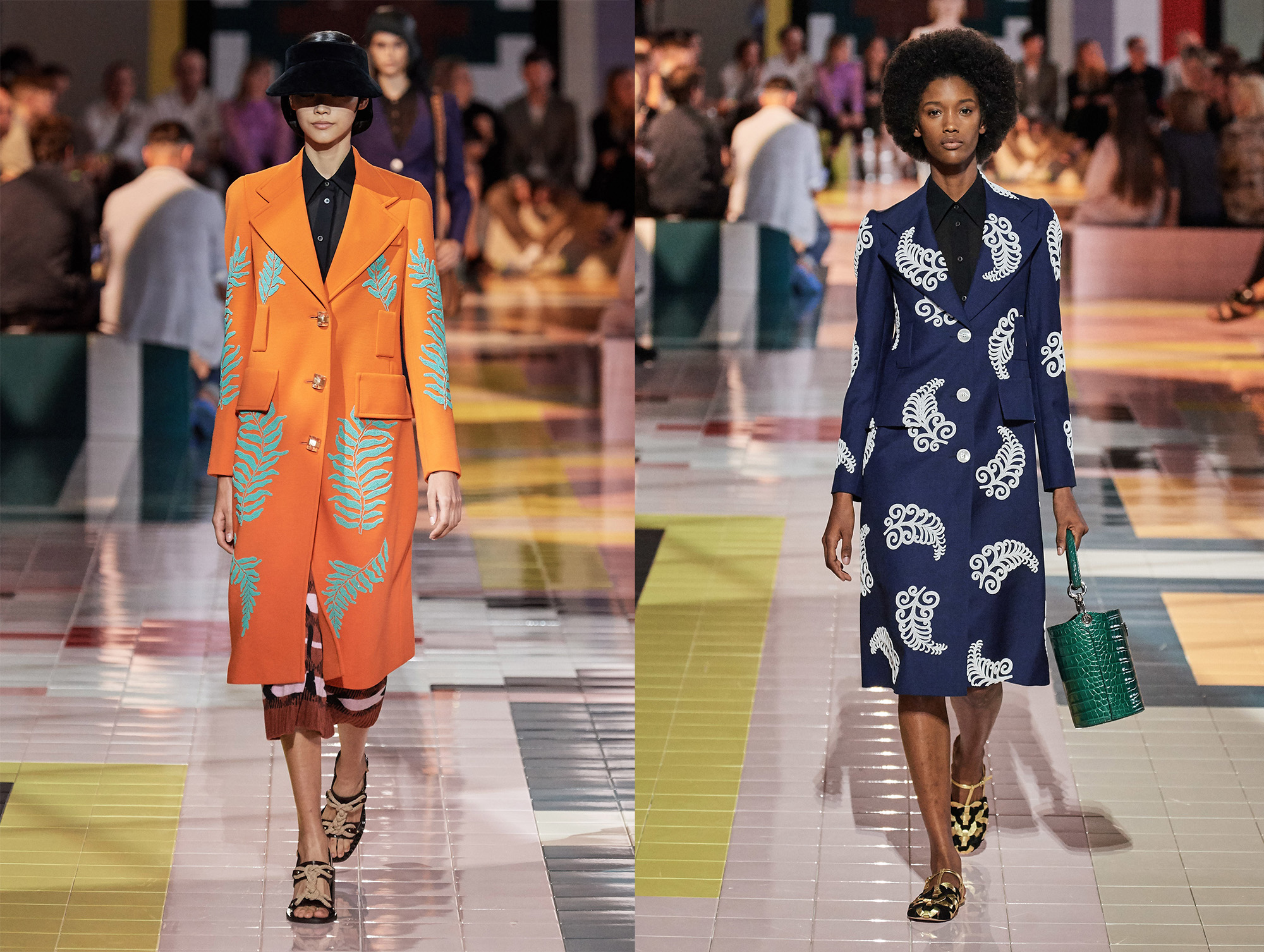 Blejzre a spodné časti skombinované s rôznymi topmi vystriedali v ďalšej časti prehliadky kožené variácie modelov, oblečenie na dovolenky a na deň. Tlmené neutrálne farby prebili výrazné, objavili sa oranžová, zelená a zlatá.
Metalické zlaté akcenty ako potlače na šatách a topoch a zlaté prvky kolekcie sa stali zaujímavými novými prvkami kolekcie značky Prada pre sezónu Jar/Leto 2020.
zdroj: livingly com
Vysoké výstrihy, lemy strednej dĺžky, strihy sadnúce na telo, tlmené neutrálne palety farieb, zatiaľ čo sa nepatrne prikláňali k rokom 20-tym, 70-tym a 90-tym, spolu v jednej súčinnosti v konštantnom stave toku vytvárali skutočne nadčasový štýl.
Predvádzali najslávnejšie modelky – Gigi Hadid (v hnedom kabáte) aj Kaia Gerber.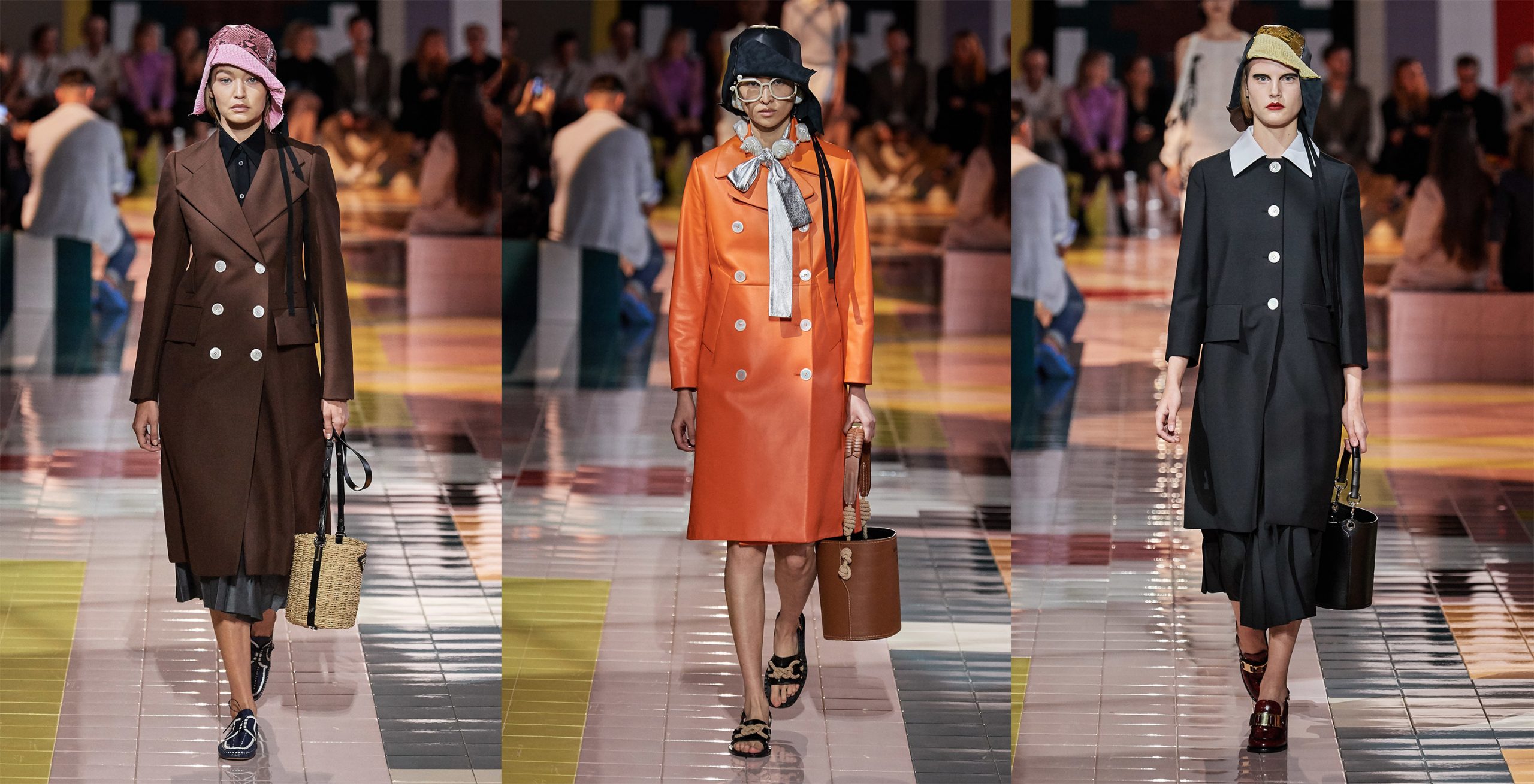 Prvá polovica módnej prehliadky kolekcie Prada Jar/Leto 2020 bola tvorená dobre strihanými blejzrami a spodnými časťami v kombinácii s rôznymi topmi, zatiaľčo druhú časť tvoril výber kožených variácií modelov, oblečenie na dovolenky a oblečenie na deň.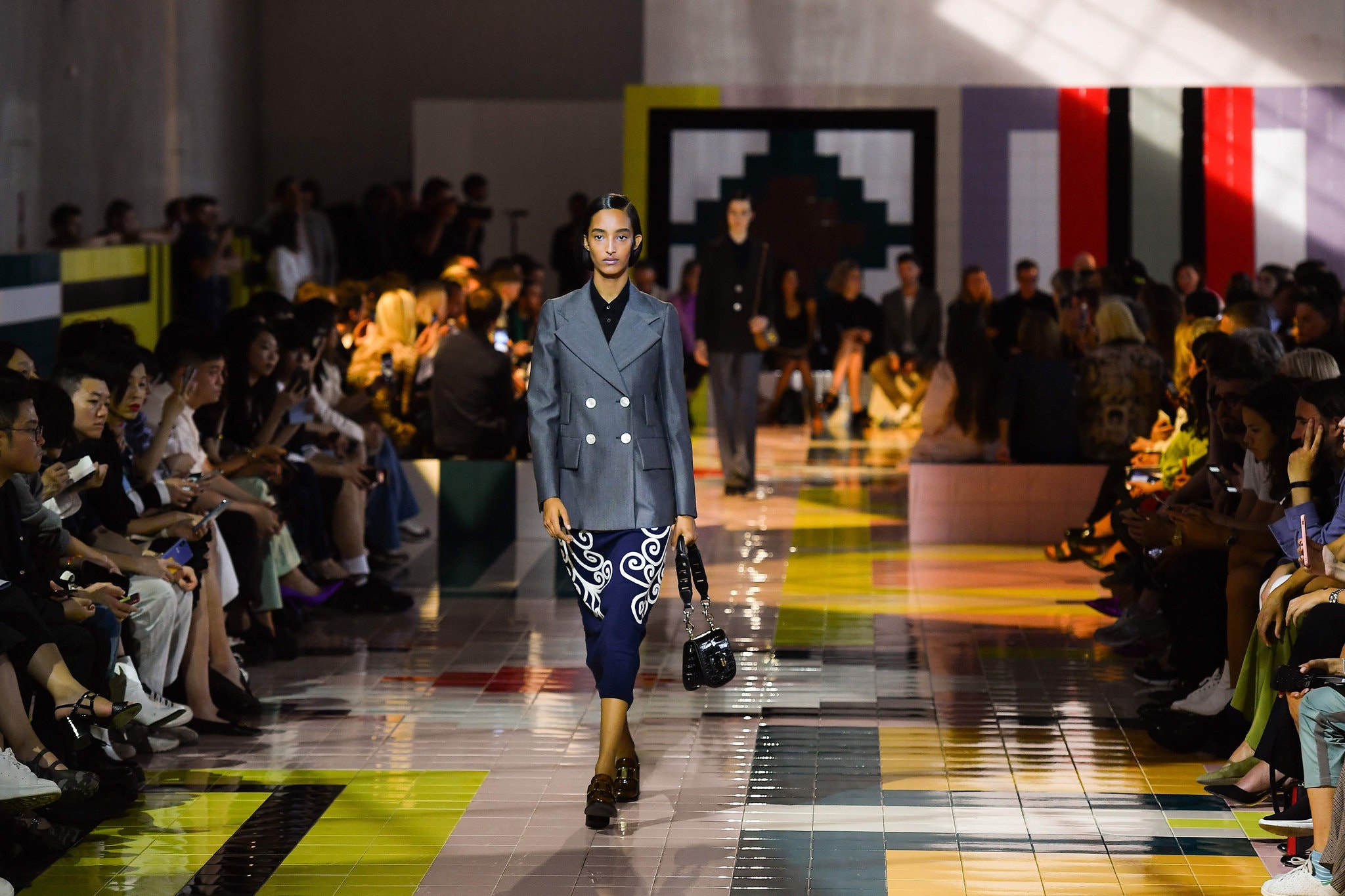 ZÁBLESKY KONTRASTOV – BROKÁT A ZLATO
Výraznými akcentami najnovšej kolekcie značky Prada predvedenej počas Milan Fashion Weeku v jeho letnej sezóne boli brokát a zlato, čo dodávalo záblesky kontrastov. Doplnky boli ponechané minimalistické a prišli vo formách metalických sandál, platformových mokasín a kožených kabeliek cez plece.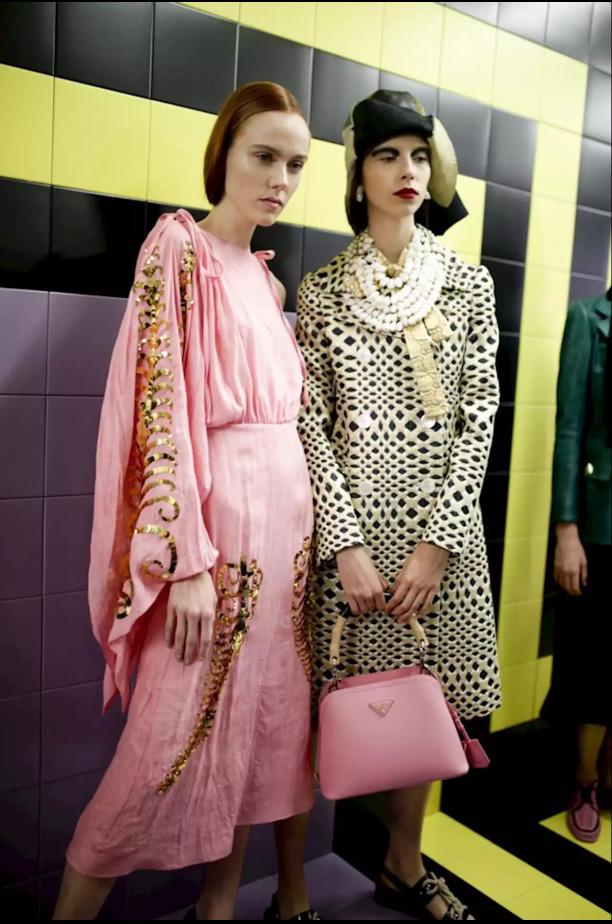 Vo výsledku, hlavná kreatívna riaditeľka značky Prada, módna návrhárka Miuccia Prada odborne zmiešala a skombinovala estetiku, čo vytvorilo súdržnú kolekciu. Každý look vyzerá ako typický, definujúci sám seba, majúci vlastný referenčný vzhľad.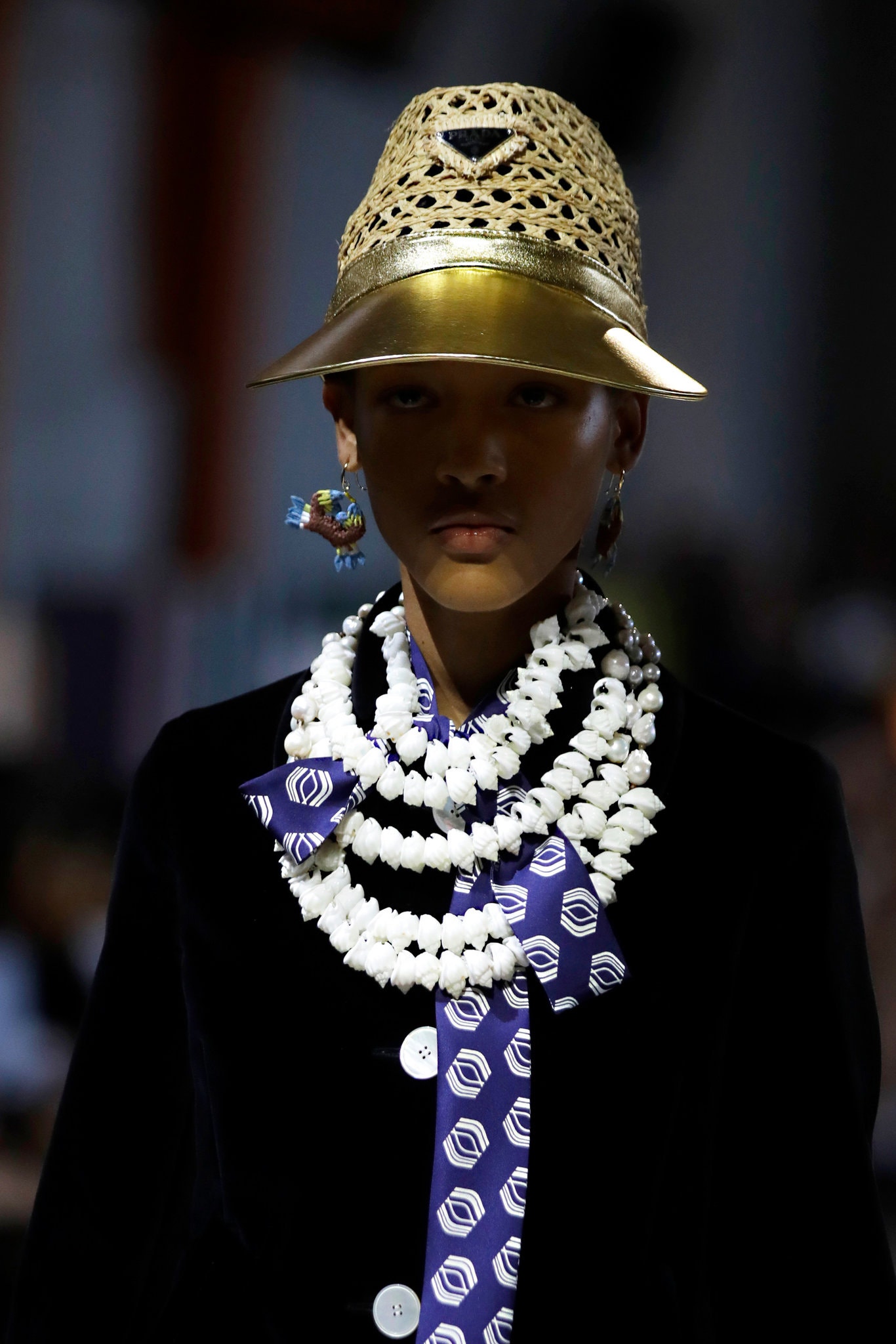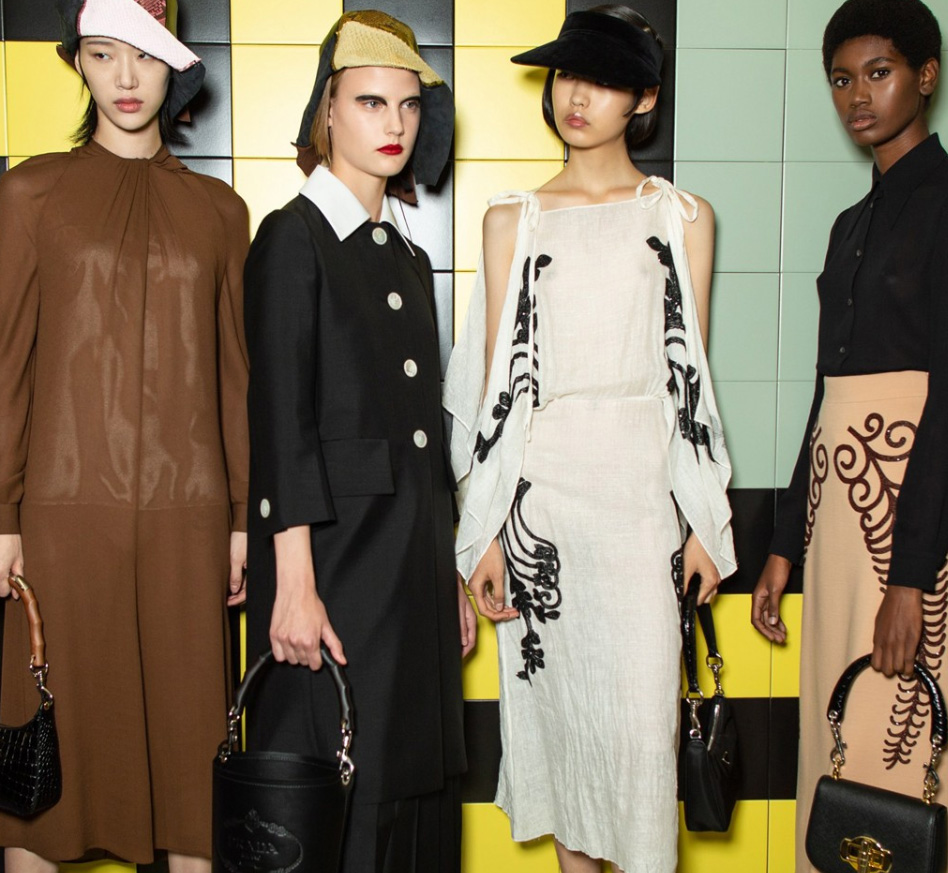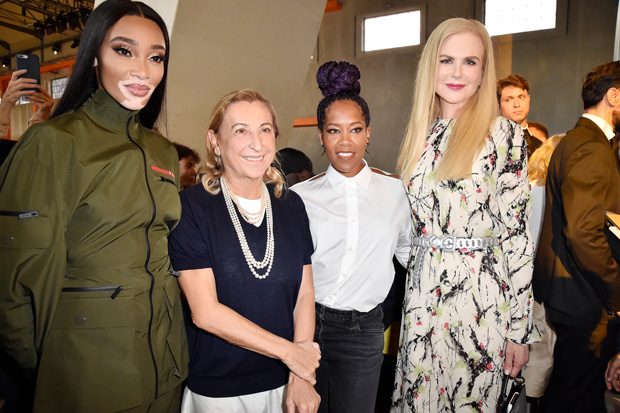 Miuccia Prada (druhá zľava) s pozvanými hosťami po módnej show.
MATERIÁLY
Hlavnými materiálmi použitými v línii najnovšej kolekcii značky Prada, Jar/Leto 2020, boli jemný mohér, jemná rebrovaná pletenina a ozdobná koža. Záblesky kontrastov dodávali brokát a zlato.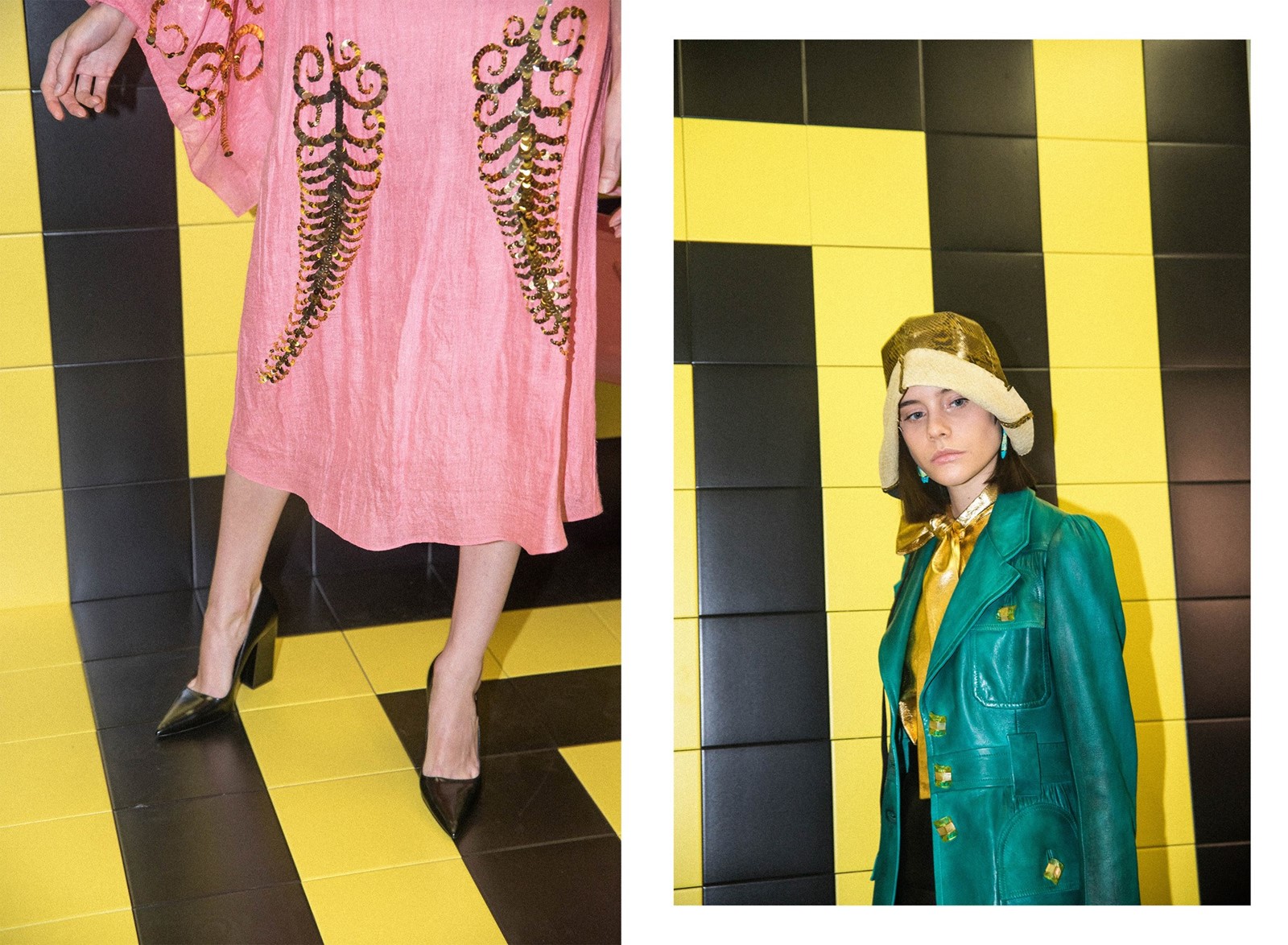 Foto: L
uisa Pagani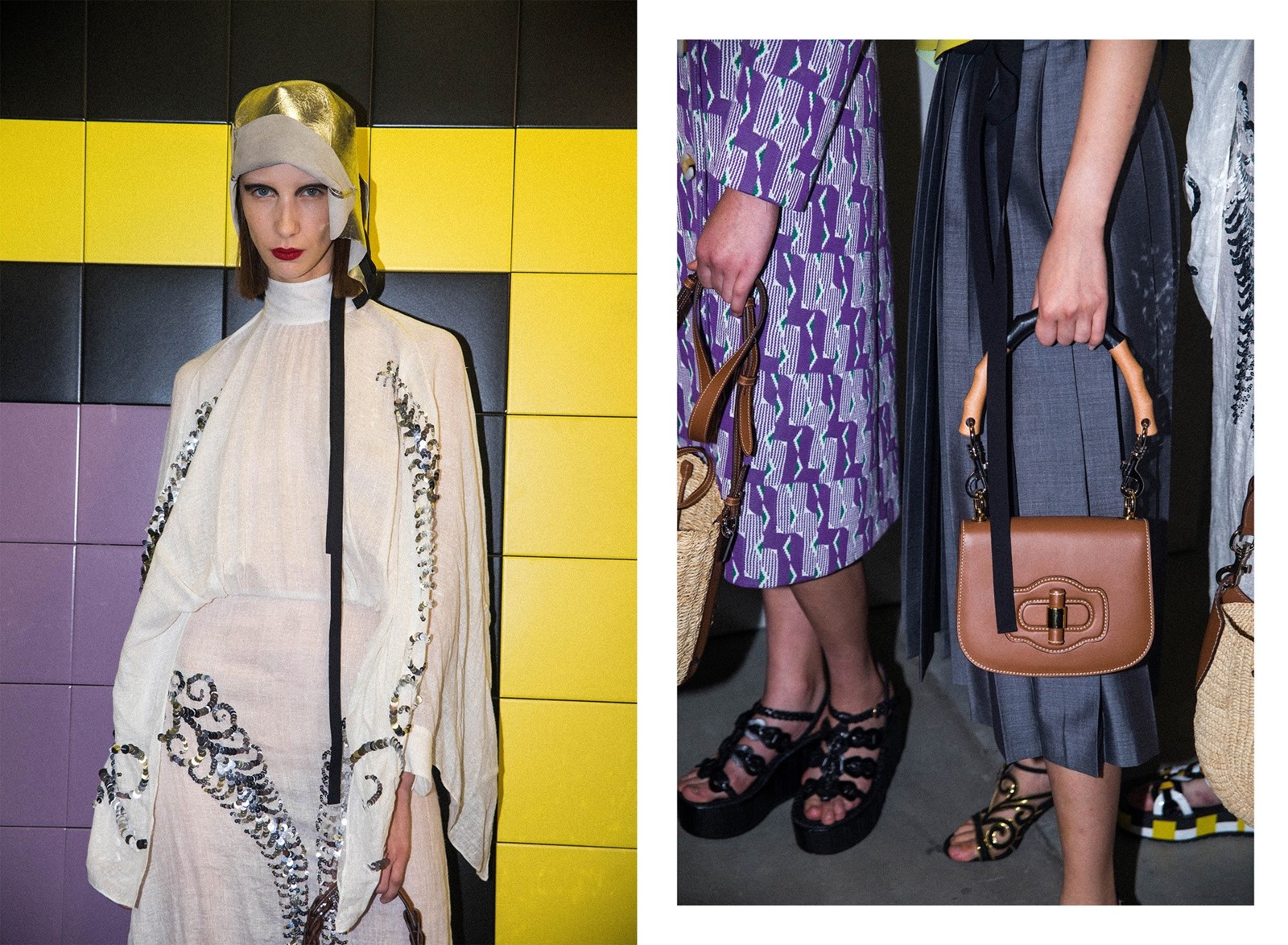 Módna návrhárka a riaditeľka značky Prada, Miuccia Prada v sezóne Jar/Leto 2020 vykročila dopredu, smerom k jednoduchej elegancii so subjektívnym obliekaním.
zdroj obrázkov: Vogue, getty images, imaxtree