Milan Fashion Week – Móda Ženy, 22. – 28. február 2022, Prada, Armani, Blumarine, Diesel, časť I.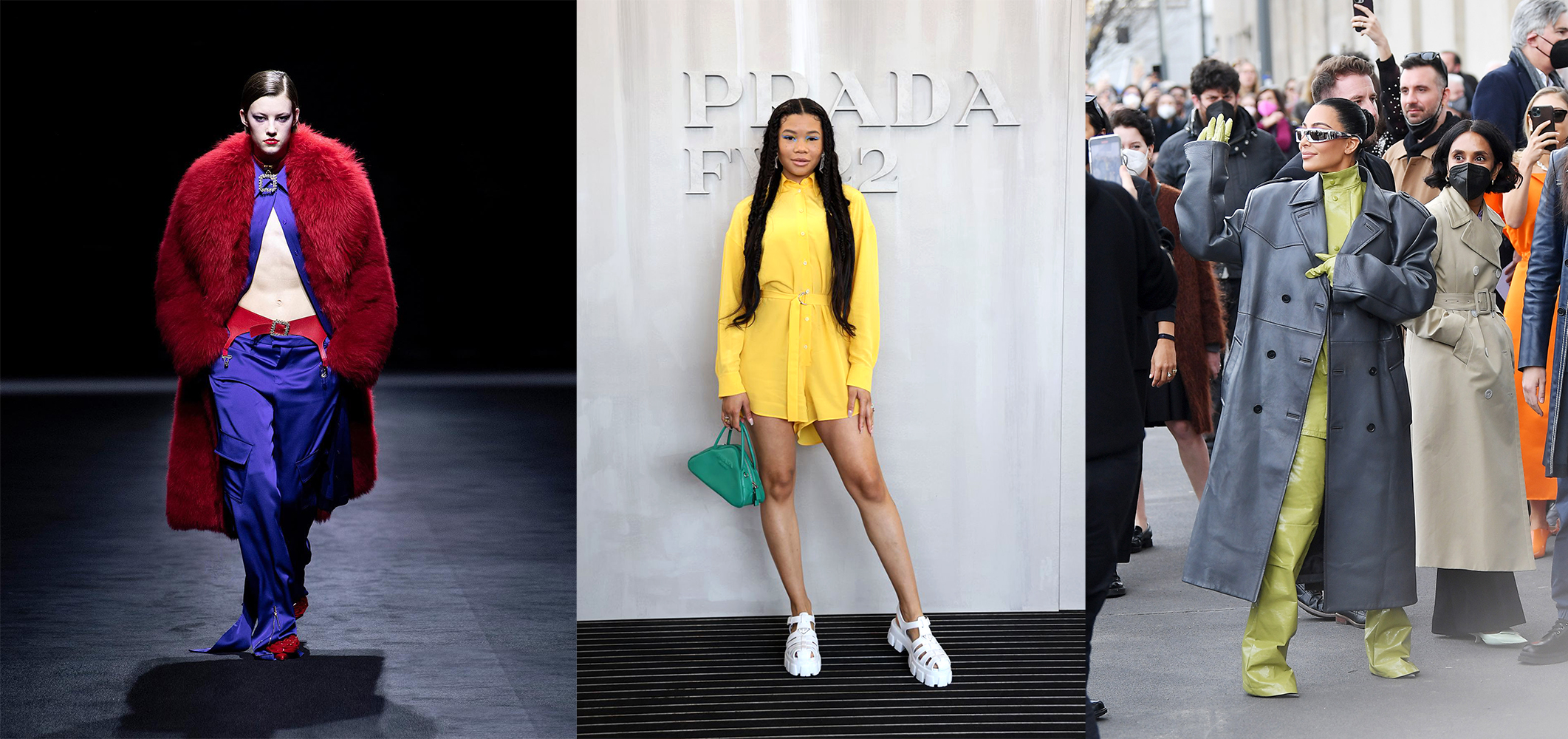 Mesiac módy je v plnom prúde a po skončenom newyorskom a londýnskom týždni, prišiel na rad opäť Milan Fashion Week so svojou ženskou sezónou módy Jeseň/Zimu 2022-23. Ako sa dá už predpovedať, môžeme očakávať tóny glamour dolce far niente, druh talianskeho pôvabu, ktorý nastavuje štandardy a rozmaznáva zmysly. Milan Fashion Week, sezóna ženskej módy, nasledoval plynulo po pánskom prehliadkovom týždni módy v čase od 22. do 28. februára 2022.
Túto sezónu sme mohli vidieť vo forme fyzických prehliadok v úvode módneho týždňa mnoho známych značiek, zúčastnili sa štandardní lídri módy, Fendi, Prada, Moschino, Gucci, Dolce and Gabbana, Max Mara, Moschino, Blumarine, ale prišla aj nová reimaginácia značky Diesel pod vedením Glenna Martensa.
V prvej časti sa pozrime na niektoré z nich a ich najnovšie kolekcie pre sezónu Jeseň/Zima 2022-23.
PRADA
Talianska módna značka Prada naštartovala túto sezónu prehliadkového týždňa skutočne bombasticky potom, čo svet módy trpel a stagnoval kvôli pandémii koronavírusu. Na februárovú prehliadku kolekcie s názvom "Ideológia Prady" pozvala najvyhľadávanejšiu a najsledovanejšiu hviezdu televíznej reality show Kim Kardashian priamo z USA, ktorá spôsobila v meste ošiaľ. Davy fanúšikov kričali pred prehliadkou Prada celé hodiny, keď sa hviezda konečne zjavila v šedo-zelenom outfite Prada s rukavicami, zamávala a .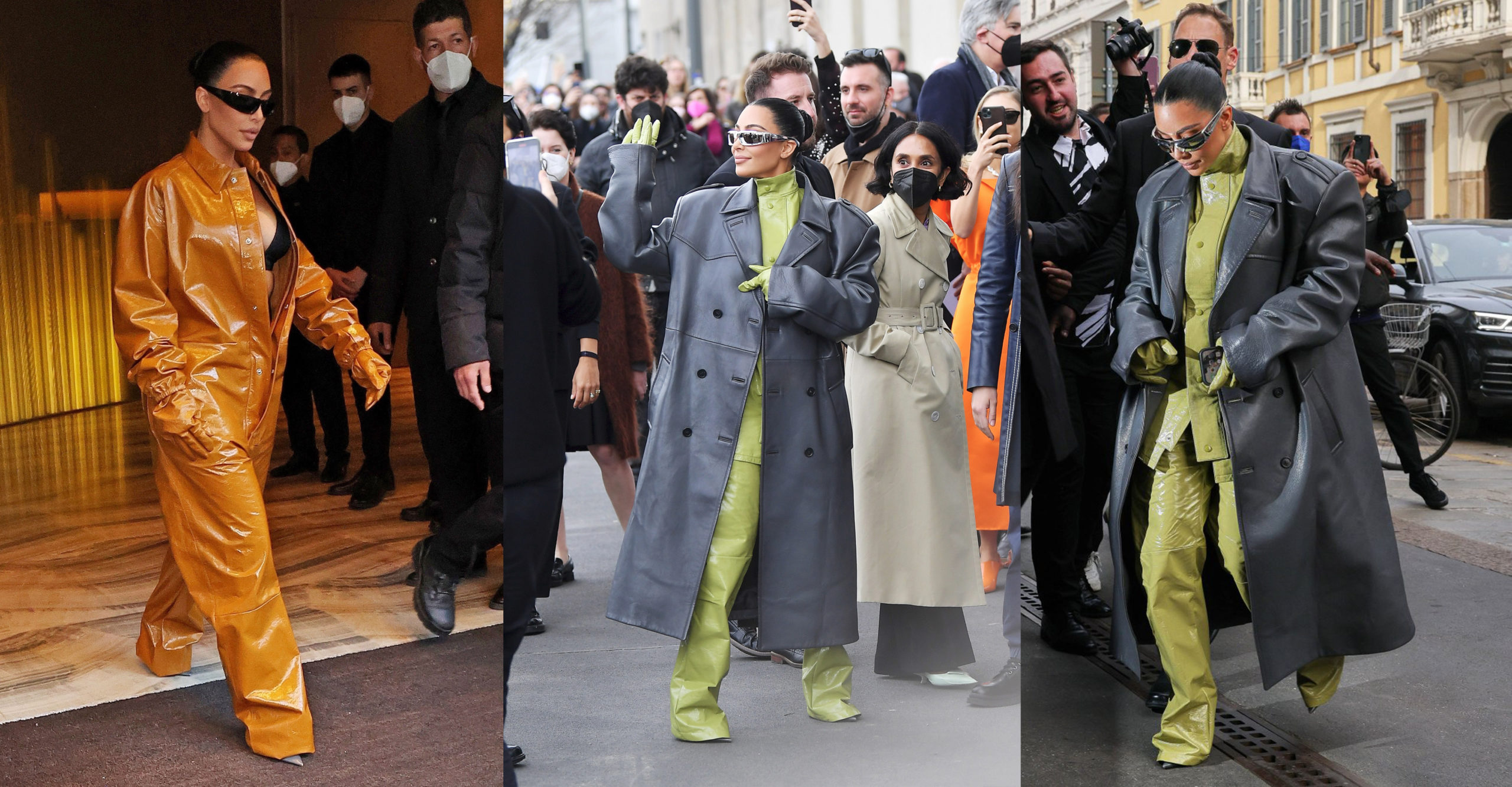 Dizajnéri Miuccia Prada a Raf Simons povedali, že pokračovali v téme vyzliekania looku z predchádzajúcich kolekcií pre líniu Jeseň/Zima 2022 s názvom "Ideológia Prady". Do našich šatníkov by pre nasledujúcu sezónu tak mali zavítať trendové novinky, ktoré Prada predstavila počas druhého dňa milánskeho týždňa módy a to priehľadné vestovité šaty a zdobené kabáty, farebné kabáty s retiazkami na krku a kabáty s pierkami na rukávoch.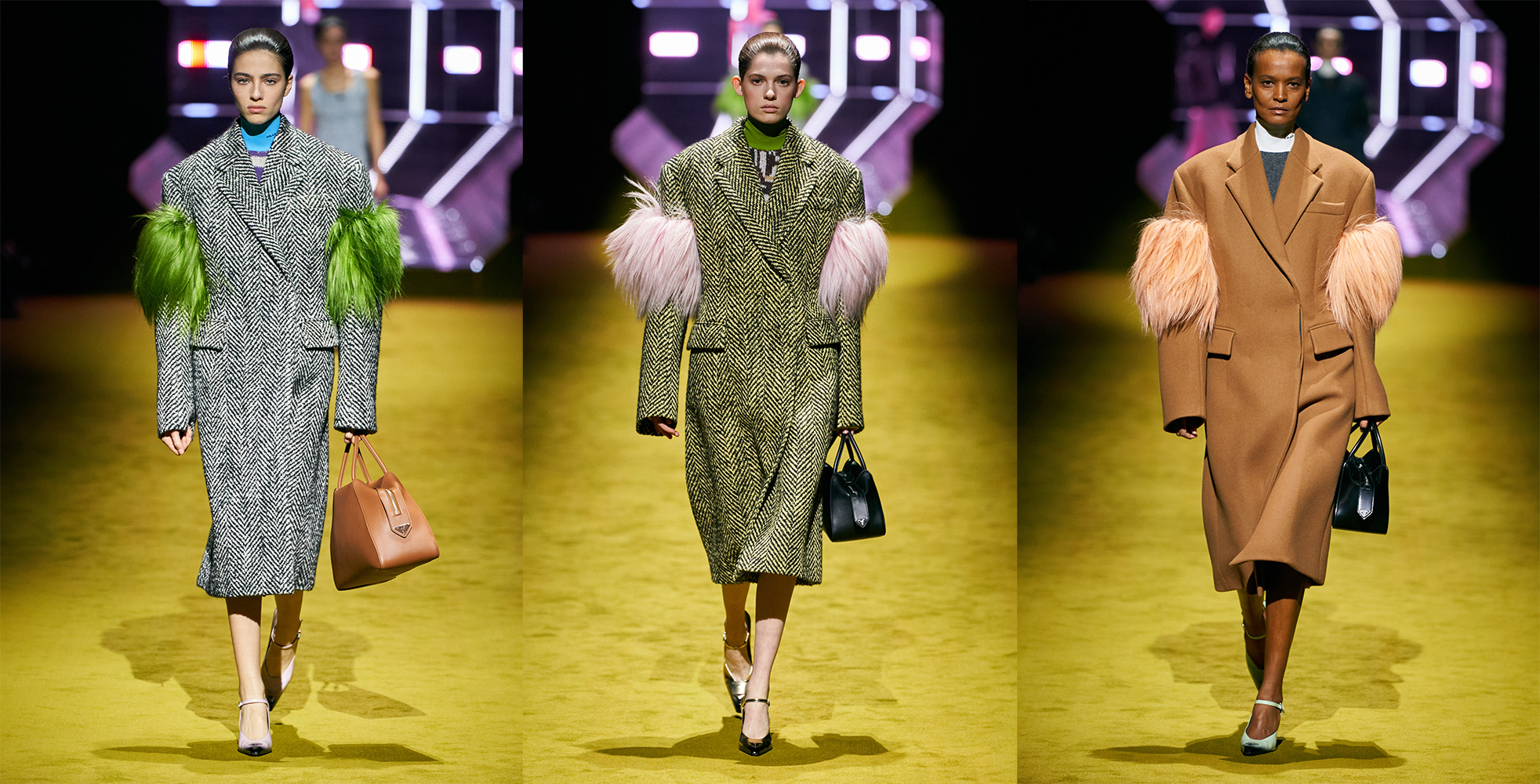 Značka predstavila kolekciu, ktorú jej dizajnéri opísali ako "pohľad na históriu žien". Táto kolekcia zažiarila vo všetkých smeroch, od štýlu po talent.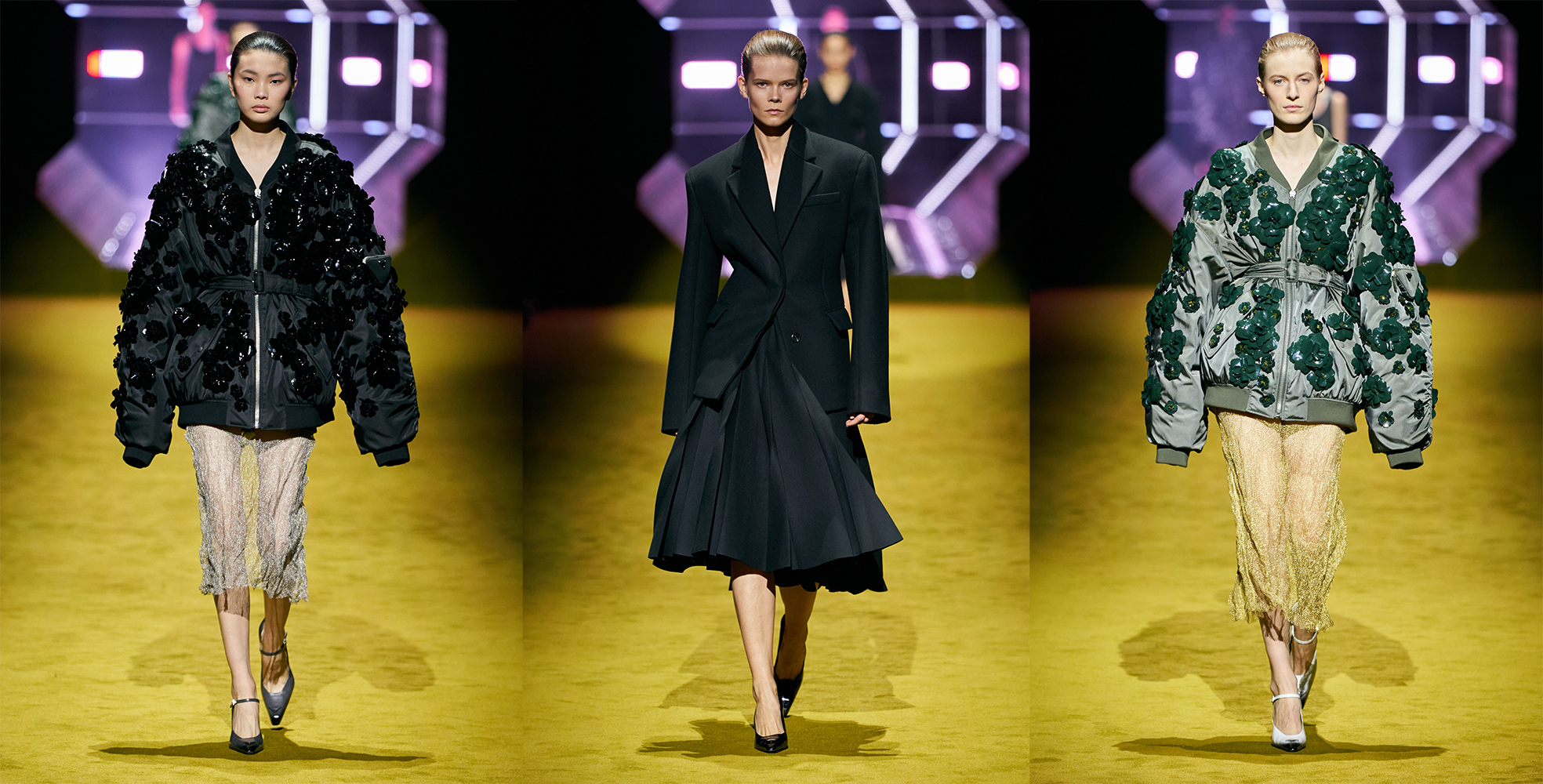 Na móle predvádzali známe tváre ako sestra pozvanej celebrity Kim Kardashian sediacej vo front row , Kendall Jenner spolu s Kaiou Gerber, Hunter Schafer.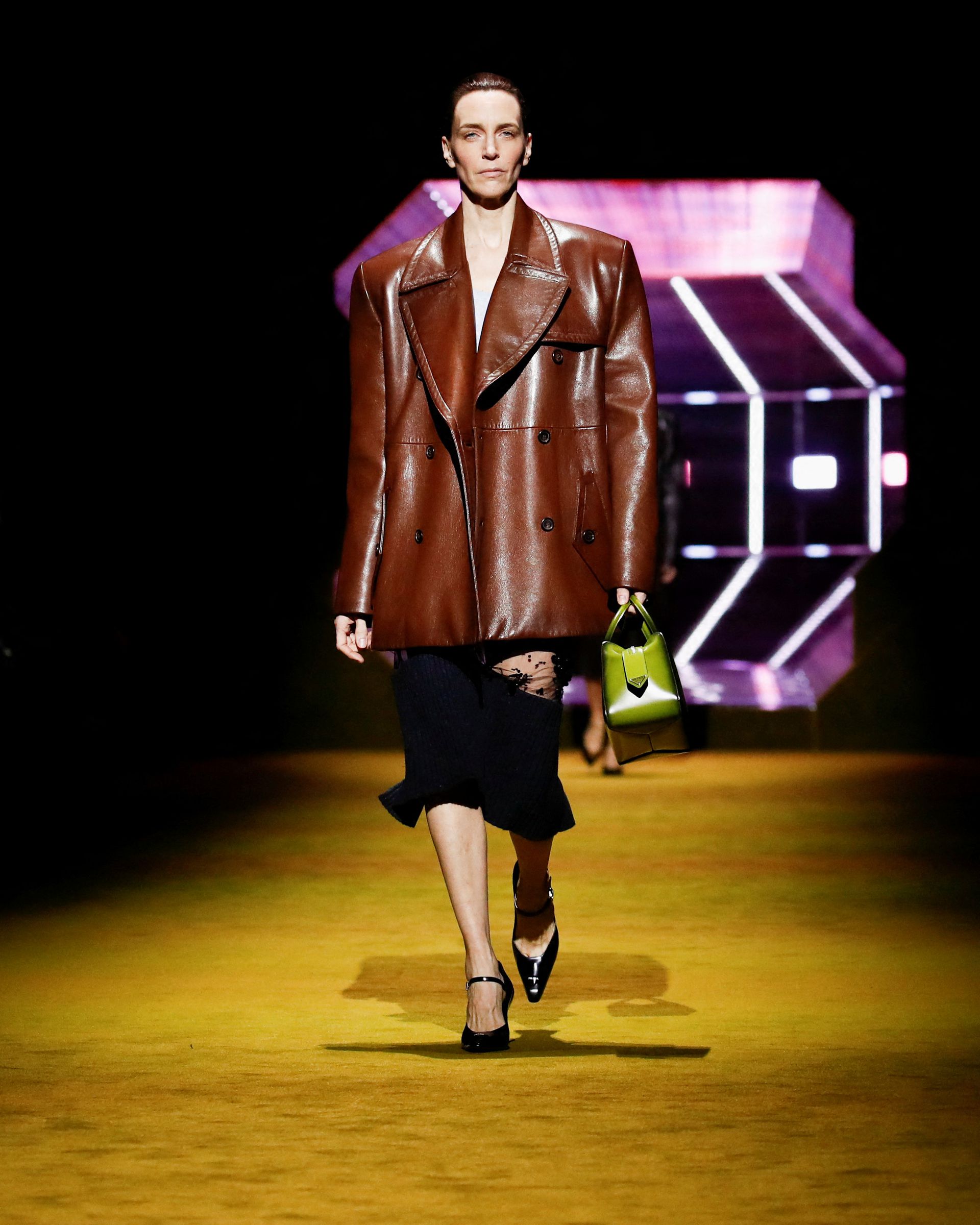 Ďalšími trendovými prvkami z dielne Prada pre sezónu Jeseň/Zima 2022-23 budú jednoduché biele rebrované tielka s dvojfarebnými sukňami a priesvitnými šatami, blejzre na mieru s veľkými ramenami a kabáty s okrúhlymi výstrihmi.
"Nikdy neexistujú priame rekreácie, ale je tu odraz niečoho, čo poznáte, jazyk Prada. A tieto momenty pomohli definovať našu dnešnú predstavu o kráse, ktorú teraz redefinujeme." vyjadarila sa dizajnérka Miuccia Prada v zákulisí k svojej najnovšej kolekcii. Na prehliadke sa zúčastnili svetové celebrity – hviezda zo seriálu Euphoria – Storm Reid (vľavo) a americká speváčka Rita Ora.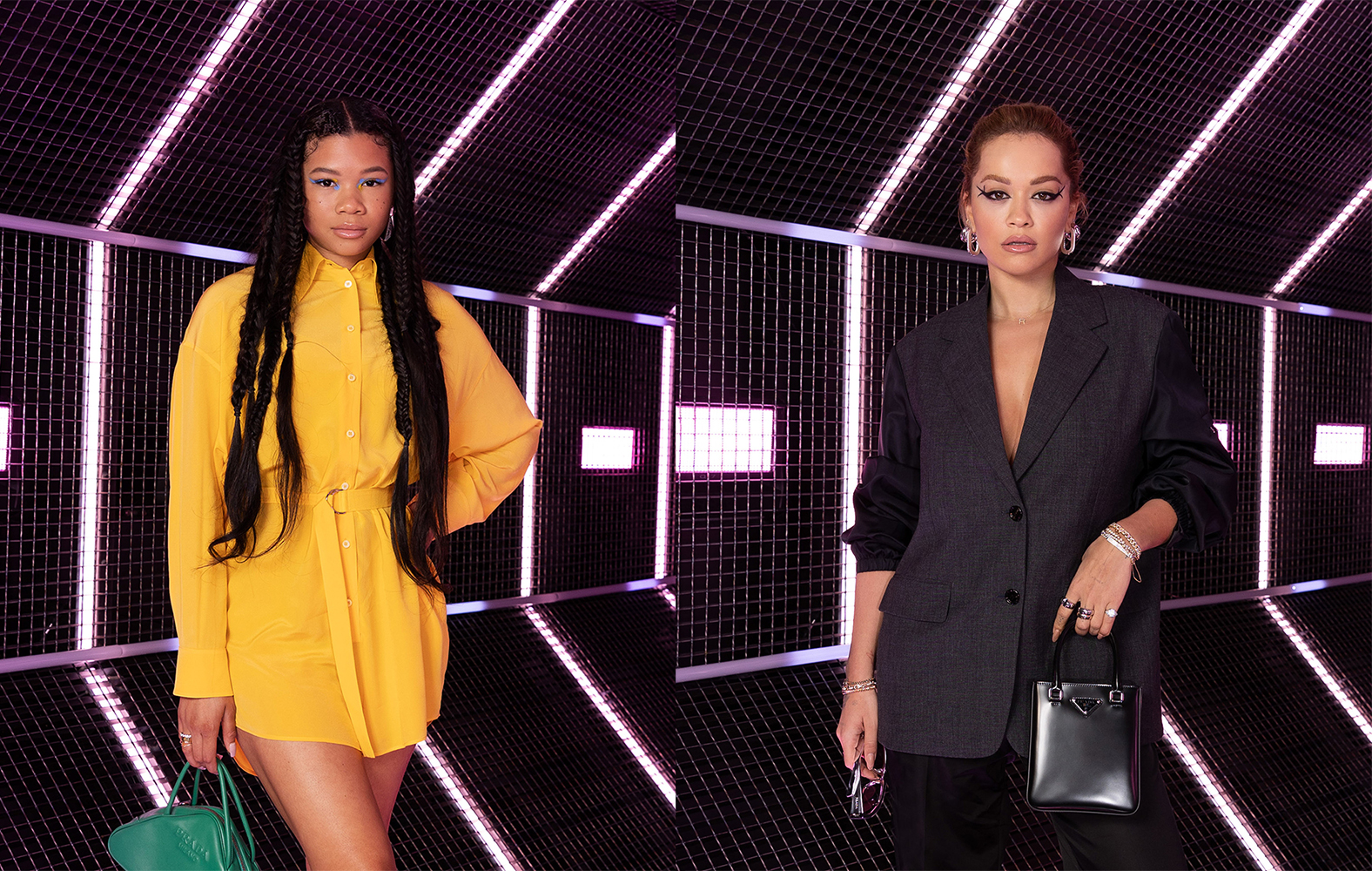 Nechýbali ani talianske osobnosti, influenceri, podnikateľka Chiara Ferragni s maneželom, raperom Fedezom.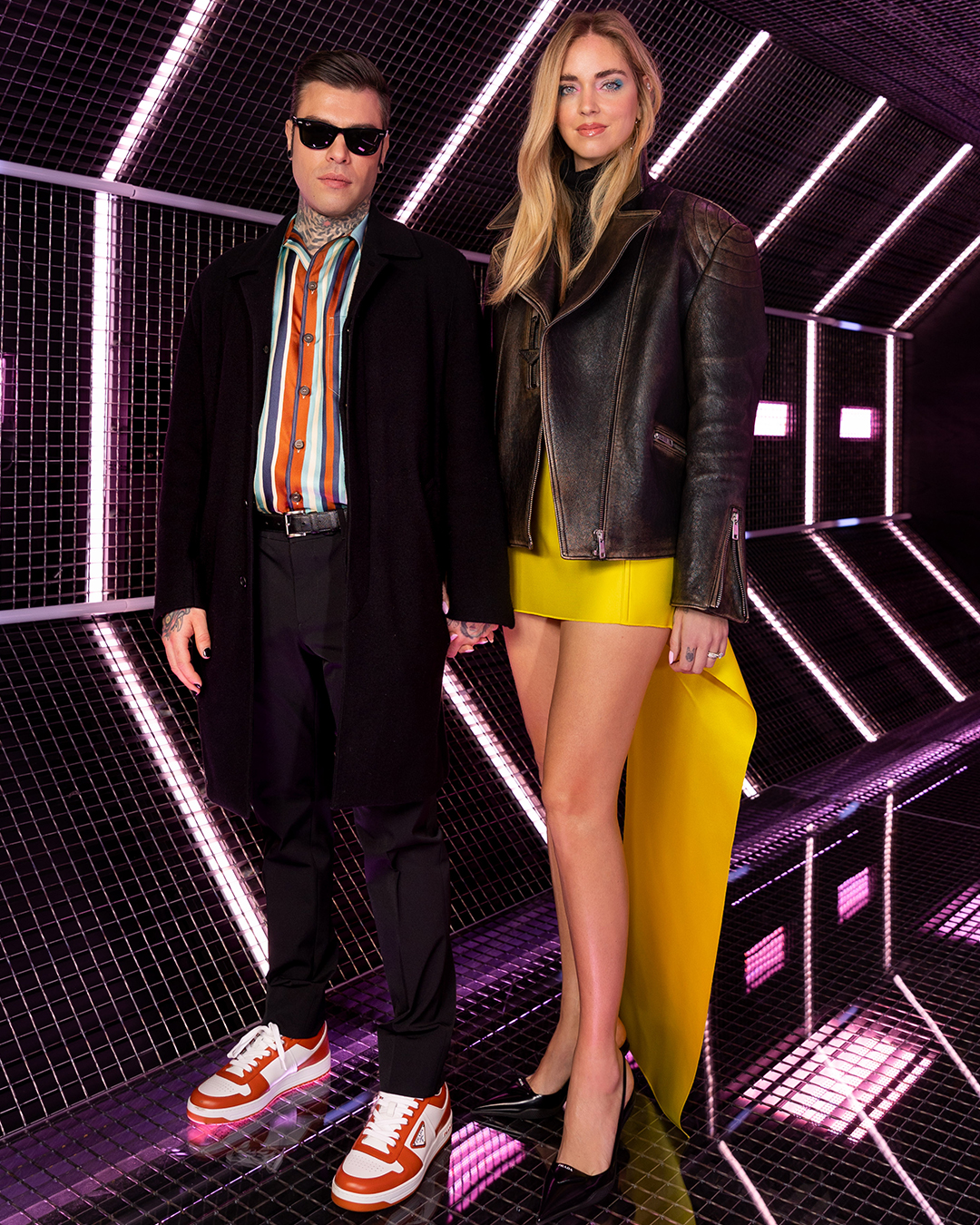 BLUMARINE
Talianska značka Blumarine priniesla počas Milan Fashion Weeku prekvapivé stvárnenie camp-gone-goth štýlu pod vedením nového kreatívneho riaditeľa značky Nicola Brognano. Dizajnér, ktorý predtým pracoval pod vlastnou značkou je veľkým talentom z talianskej Kalábrie. Inšpiráciu pre kolekciu Blumarine, Jeseň/Zima 2022 hľadal u ikonického fotografa Helmuta Newtona, ktorý vyjadril svoju zadumanú, temnú povahu prostredníctvom čiernobielych portrétov ľudí ako David Bowie, Andy Warhol a ďalších.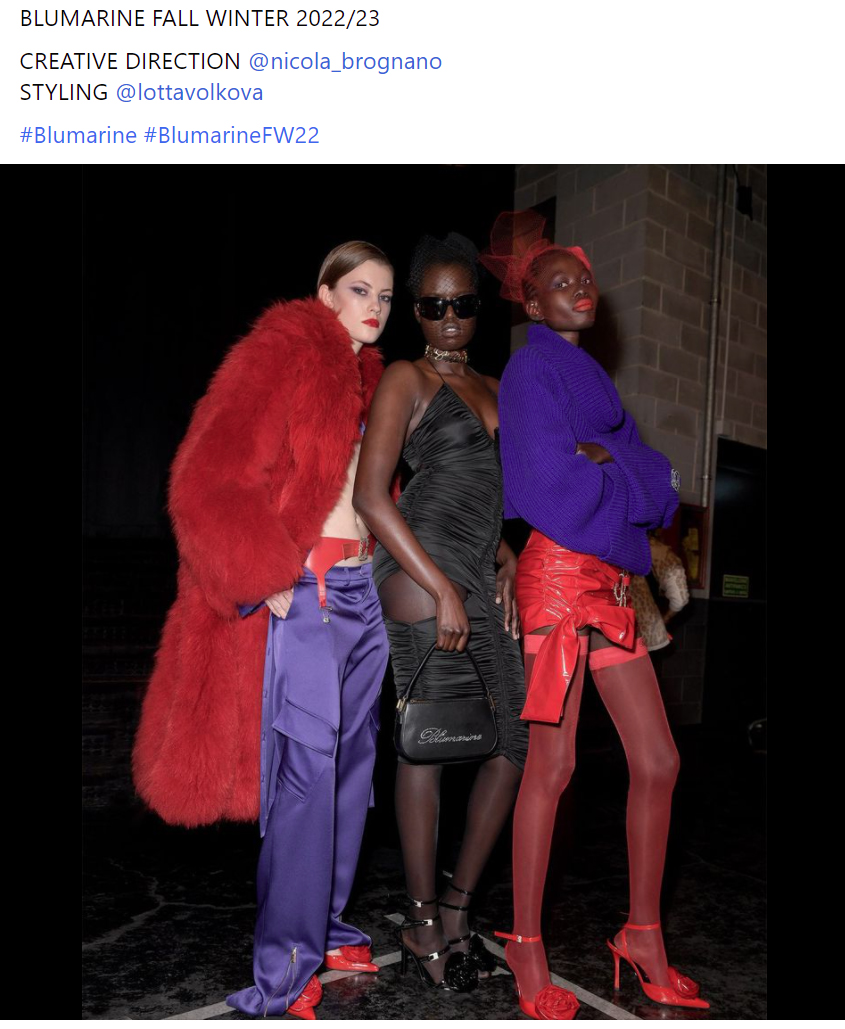 DIESEL
Milánsky týždeň módy uvidel prekvapivú reimagináciu značky Diesel, ktorú naservíroval kreatívny riaditeľ Glenn Martens. Ten sa svojou novou kolekciou opäť vryl do sŕdc pozorovateľov módy generácie Z a milleniánov. Architektonická vynaliezavosť a zmysel pre humor Glenna Martensa roztrhali konvencie džínsoviny na kusy a diváci nemohli byť šťastnejší.
Martens vniesol do jednej z najužitočnejších tkanín zo všetkých najužitočnejších kúskov módne cítenie a priblížil sa štýlu kolekciám Jean Paula Gaultiera minulých módnych sezón.
V najnovšej kolekcii Diesel, Jeseň / Zima 2022-23 nechýbali kožuchy po zem vyrobené výhradne z džínsových vlákien, džínsové body prané v kyseline, minišaty a sukne v štýle bodycon z metalických úpletov.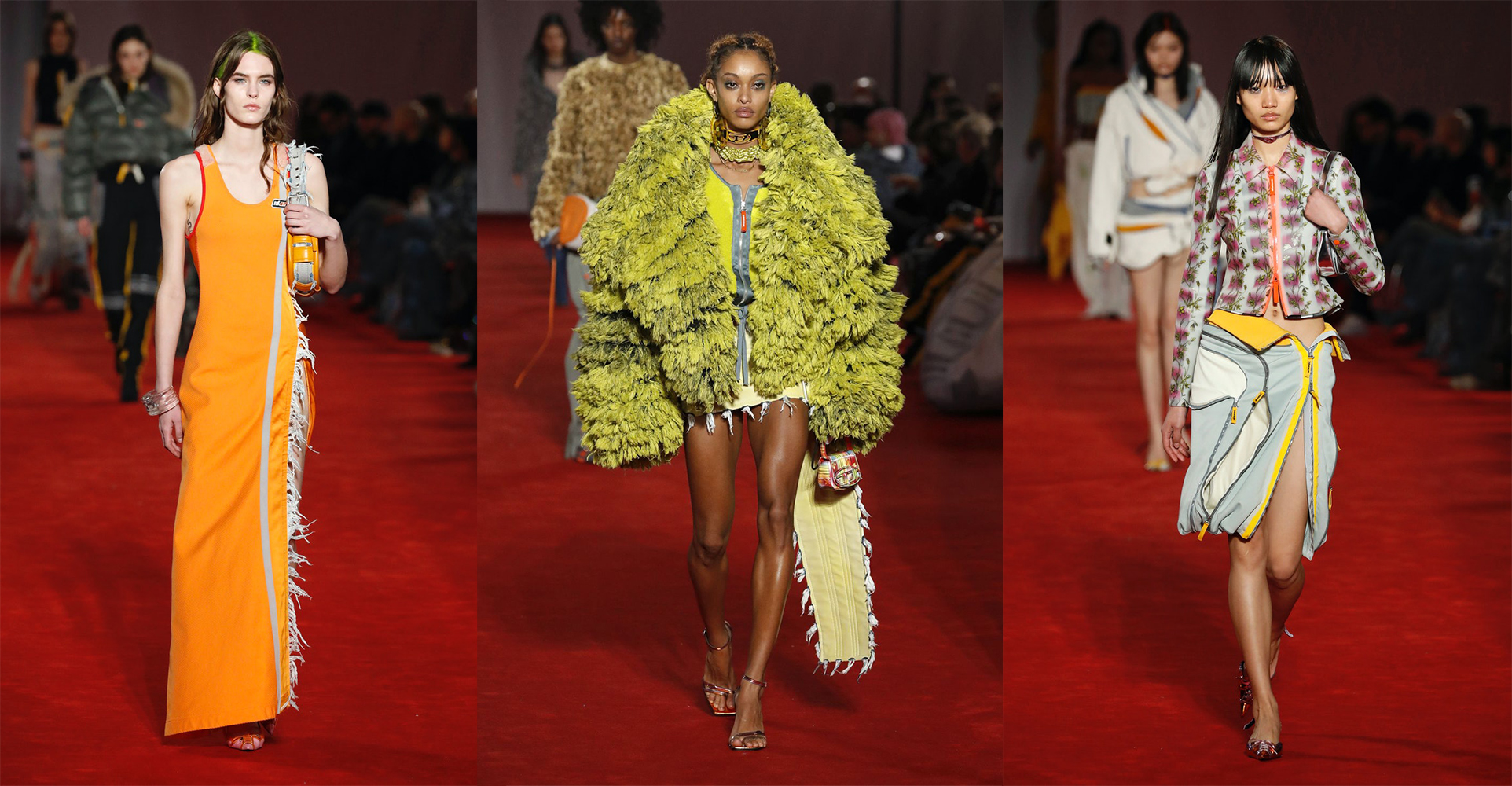 EMPORIO ARMANI
Skúsený dizajnér Giorgio Armani sa vrátil na prehliadkové mólo, aby predstavil svoju najnovšiu líniu Emporio Armani potom, čo v januári 2022 zrušil svoje pánske a módne prehliadky z dôvodu nárastu infekcií COVID-19 v Európe. Mužské a dámske modely mali na sebe celosivé oblečenie – nohavicové kostýmy, pohodlné úplety, saká na mieru, ale aj oblečenie do hôr, s modelmi lyže a snowboardy.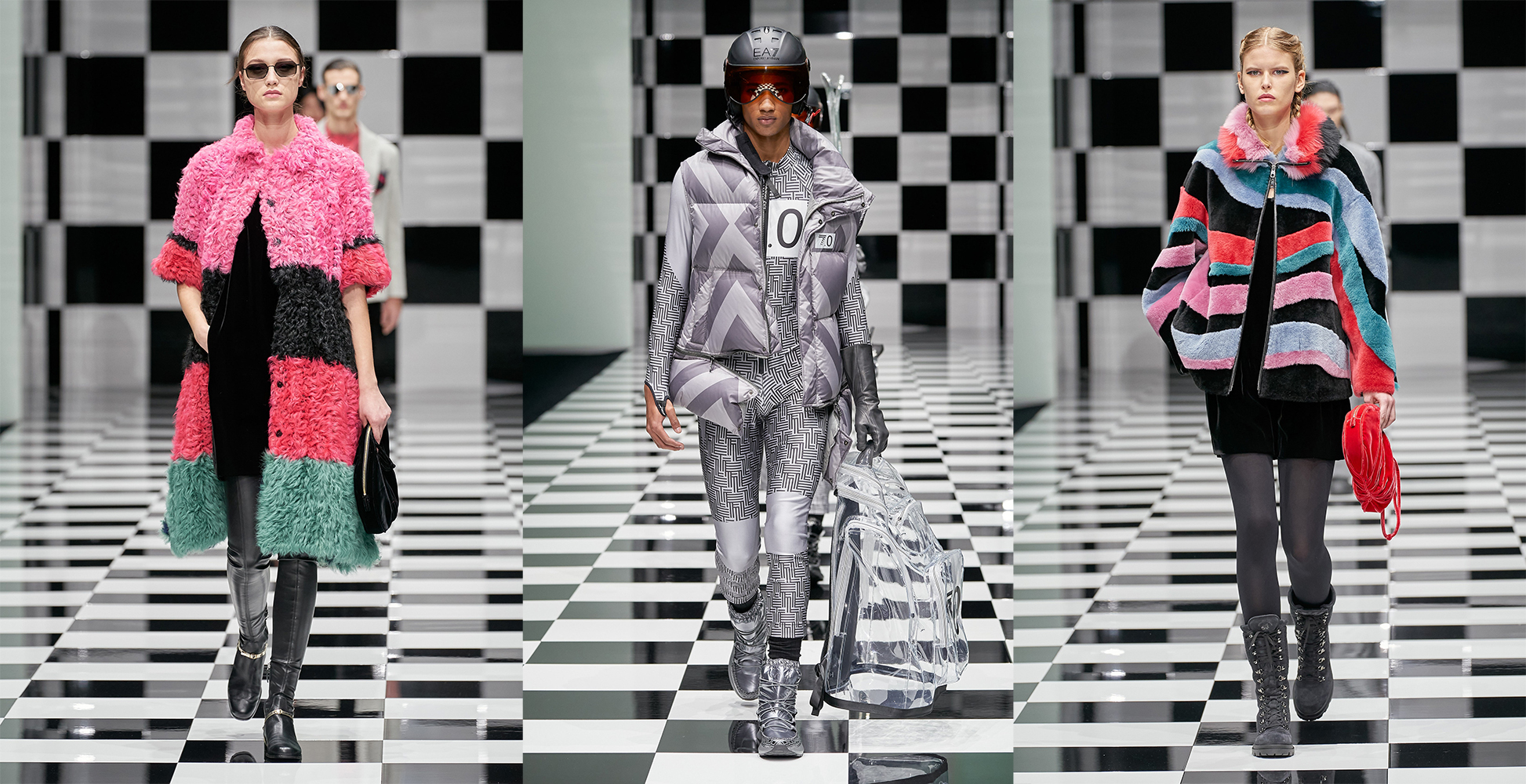 Na dámskych topoch, zamatových nohaviciach a svetríkoch s vlnitými vzormi sa objavili zelené a červenkasté kúsky, na večer zase šaty s veľkými flitrami. Košele boli ozdobené veľkými mašľami Taliansky dizajnér vrámci Milan Fashion Weeku usporiada v nedeľu ďalšiu show pre svoju hlavnú líniu Giorgio Armani.
Na margo :
Taliansky dizajnér Giorgio Armani sa rozhodol počas Milan Fashion Weeku, v jeho záverečnom dni na prehliadke Giorgio Armani predviesť kolekciu bez hudby na počesť a podporu Ukrajiny, ktorá bola surovo napadnutá Ruskom 24. februára 2022 a v ktorej sa odohráva reálne vojna.
obrázky: ©reuters/Alessandro Garofalo, Vogue, Armani, Prada, Diesel, Blumarine
Pokračovanie článku z Milan Fashion Weeku, dámskeho prehliadkového týždňa módy uskutočneného od 22. do 28. februára 2022 čítajte ďalej na tomto blogu.
Sledujte Facebook stránku: Mya Mirell Fashionista a Instagram: mya_mirell .