Paris Fashion Week – módne kolekcie dizajnérov pre sezónu Jeseň/Zima 2022-2023 v značkách Off White, Dior, Balmain, Chloe, Isabel Marant
Parížsky týždeň módy, Jeseň/Zima 2022 sa začal 28. februára a potrvá do 8. marca 2022. Vzhľadom na to, že sa tento rok vrátia osobné predstavenia vo forme fyzických prehliadok, očakáva sa, že sa ako hostia vrátia mnohé známe celebrity. Značky ako Louis Vuitton, Chanel, Dior, Balmain, Balenciaga, Stella McCartney, Miu Miu, Chloé, Givenchy, Valentino, Rick Owens, Vivienne Westwood a The Row predstavia svoje kolekcie Jeseň/Zima 2022-2023 na fyzických prehliadkach.
Parížsky týždeň módy zobral svet útokom a predstavil špičkových dizajnérov, ktorí nastavili trendy v nových kolekciách pre sezónu Jeseň/Zima 2022. V Diore nás Maria Grazia Chiuri prekvapila ochranným futbalovým vybavením, Saint Laurent predefinoval, ako vyzerá Art Deco a značka Off-White predstavila svoju prvú show po minuloročnej smrti Virgila Abloha. V prvej časti o najzaujímavejších highlightoch z Paris Fashion Weeku, nájdete všetko, na čo by ste sa z Paris Fashion Weeku mali pozrieť.
OFF WHITE
Jesenno-zimná módna šou, prehliadka značky Off-White, ktorá sa konala v úvodný večer parížskeho týždňa módy, vzdala hold svojmu zosnulému a veľkému zakladateľovi Virgilovi Ablohovi, ktorý bohužiaľ minulý rok zomrel. Prehliadka s názvom "Spaceship Earth: an Imaginary Experience" sa začala návrhárovou poslednou kolekciou Ready-to-Wear pre módny dom a skončila množstvom krásnych módnych rób.
Zažiarili mnohé modelky, ako talianska modelka Bianca Balti, ktorá predviedla korzetovú béžovú róbu s extra veľkými nožnicami s reťazou a náušnicou.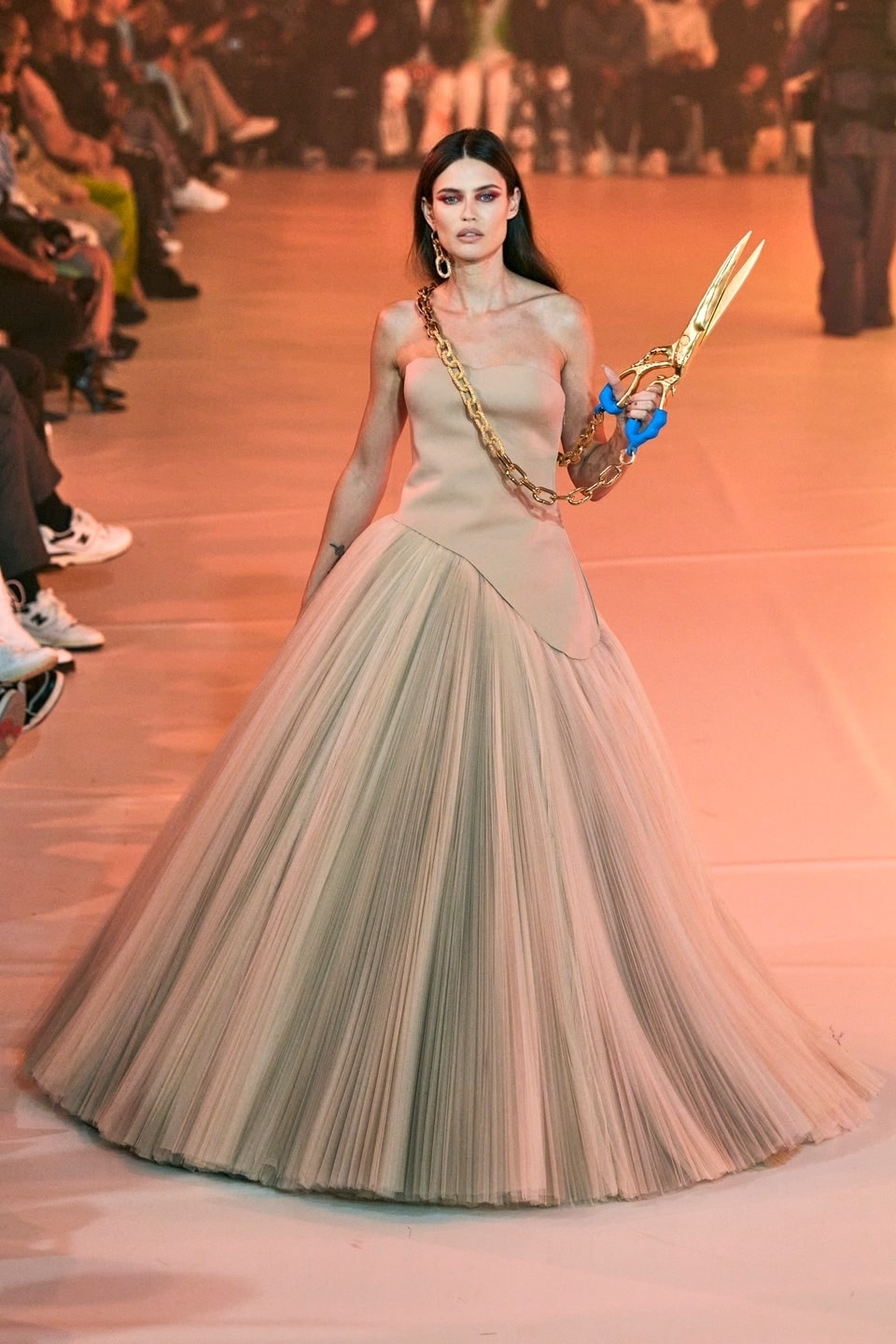 Mólo zdobili tiež Naomi Campbell, Serena Williams a Cindy Crawford s dcérou Kaiou Gerber, sestry Gigi a Bella Hadid , zatiaľ čo Rihanna a A$AP Rocky, Pharrell Williams a dizajnéri ako Jonathan Anderson, Olivier Rousteing a Matthew Williams sedeli vo front row.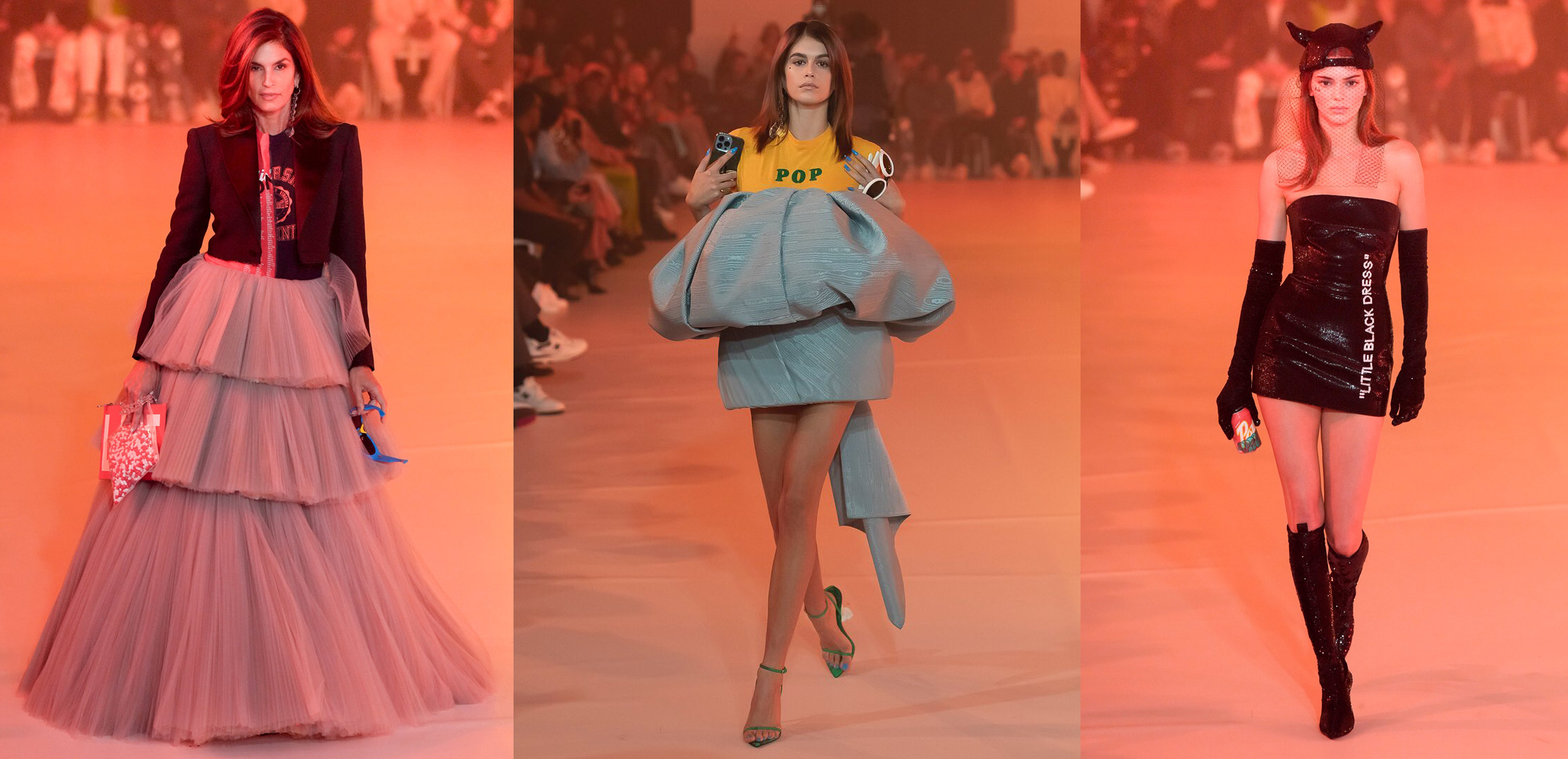 A nechýbali ani modelky Kendall Jenner (vpravo hore), objavila sa aj topmodelka 90-tych rokov Helena Christensen (dolu), Victoria´s Secret modelka Candice Swanepoel v modeli s obrovskou mašľou.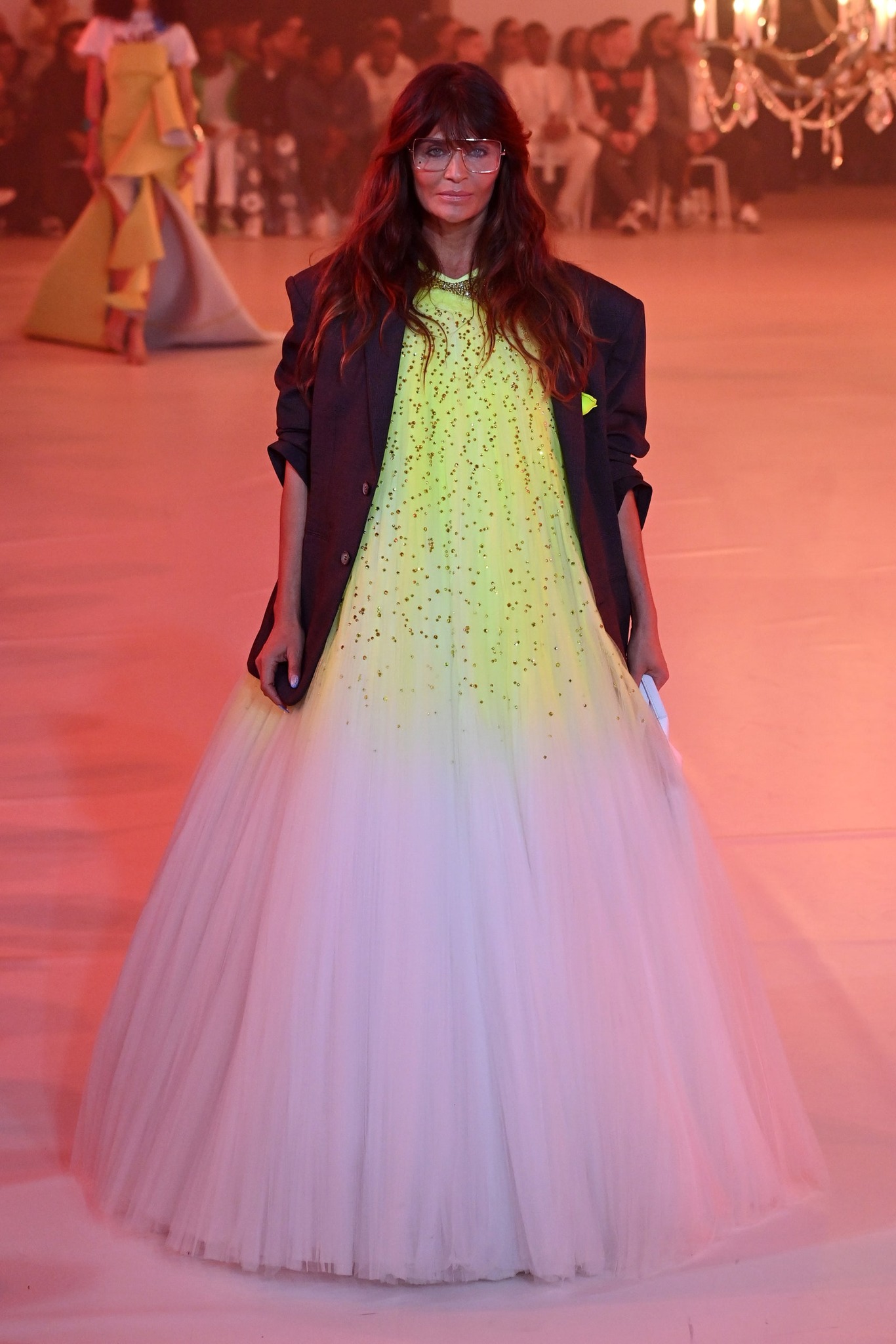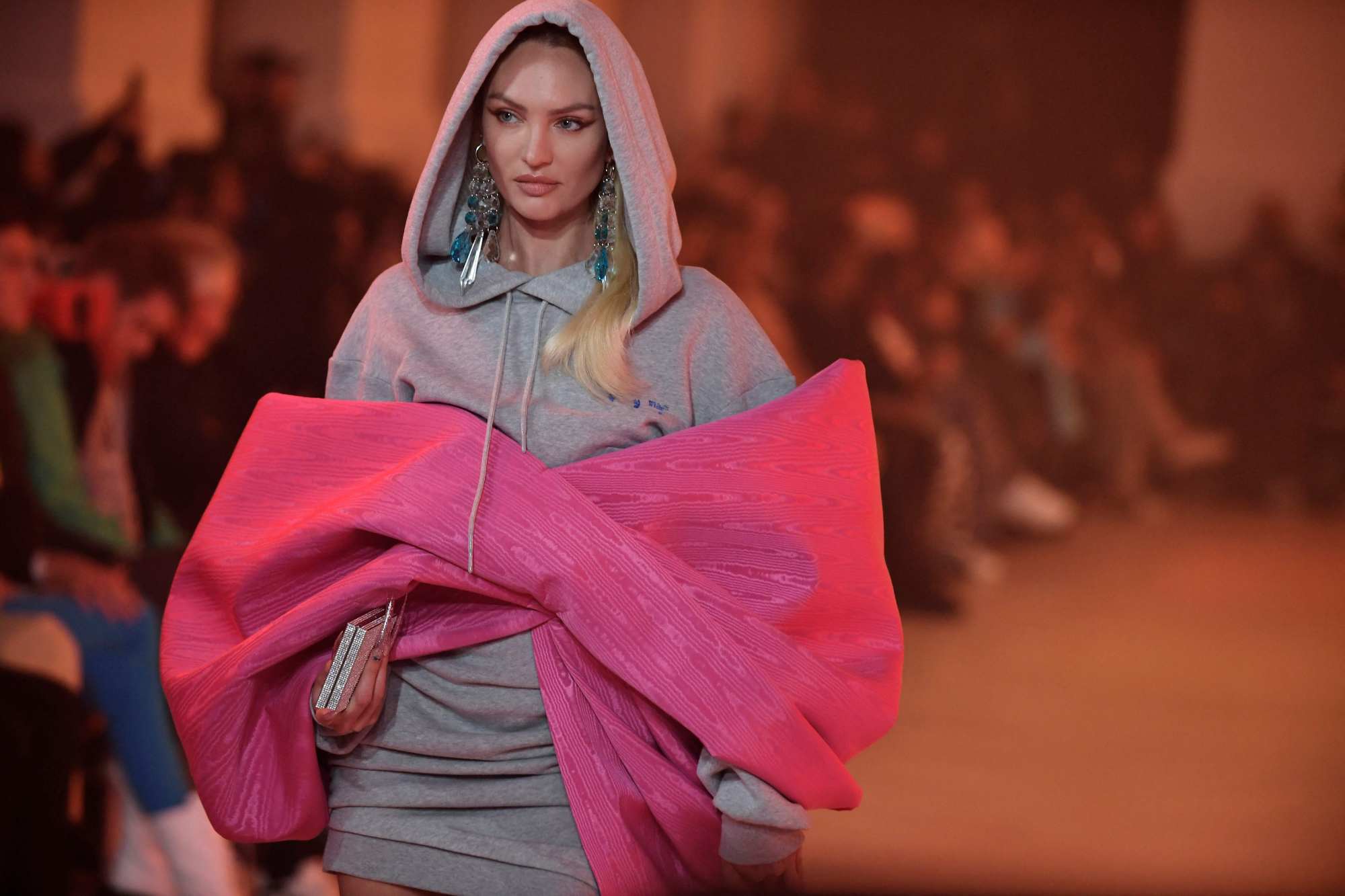 Odchod Virgila Abloha v novembri 2021 bol ranou pre módny priemysel a mnohé životy, ktoré ovplyvnil. Táto posmrtná kolekcia sa čítala skôr ako óda na dizajnéra, ktorý nielenže prekročil hranice, ktoré mu boli dané, ale vytvoril aj inkluzívnu platformu pre ostatných.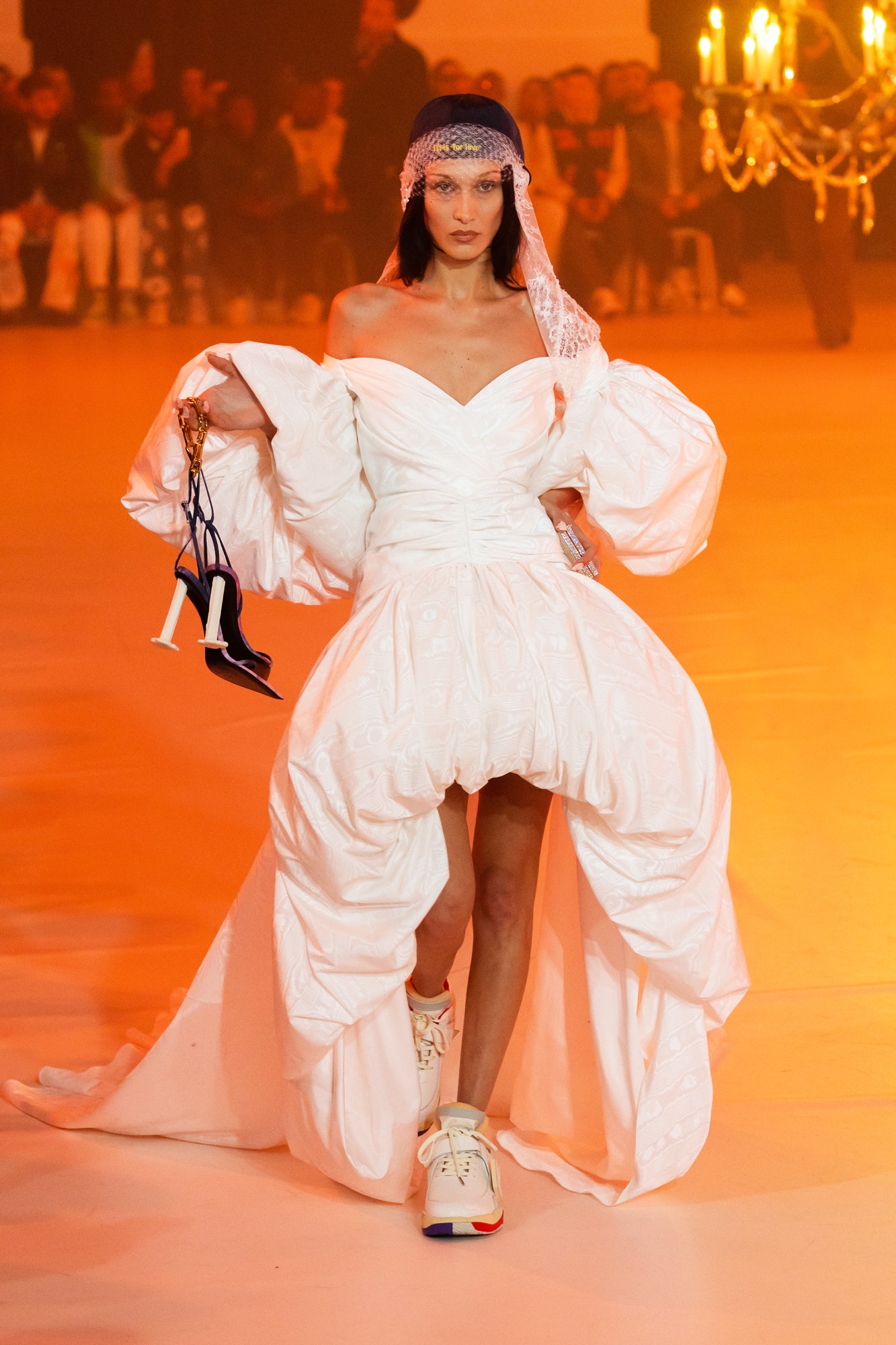 Nariasenú róbu s teniskami predviedla modelka Bella Hadid.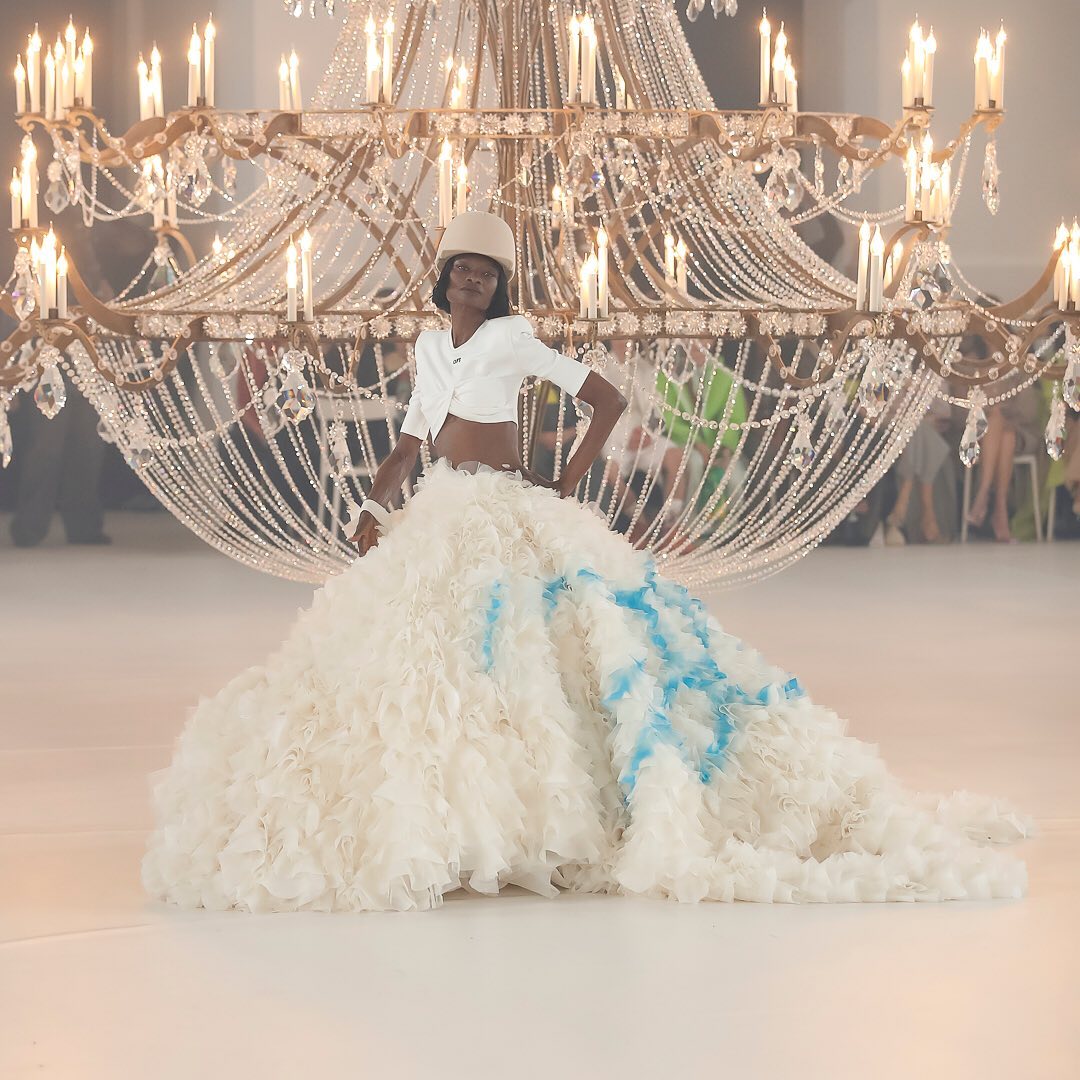 DIOR
"Maria Grazia Chiuri otvára dvere novej éry," vysvetlil módny dom Dior v poznámkach pre kolekciu Jeseň/Zima 2022-2023. Očarujúce siluety sú zasadené na pozadí The Next Era, galérie obrazov podpísanej Mariellou Bettineschi a zloženej z veľkých ženských portrétov vypožičaných z dejín maľby od 16. do 19. storočia.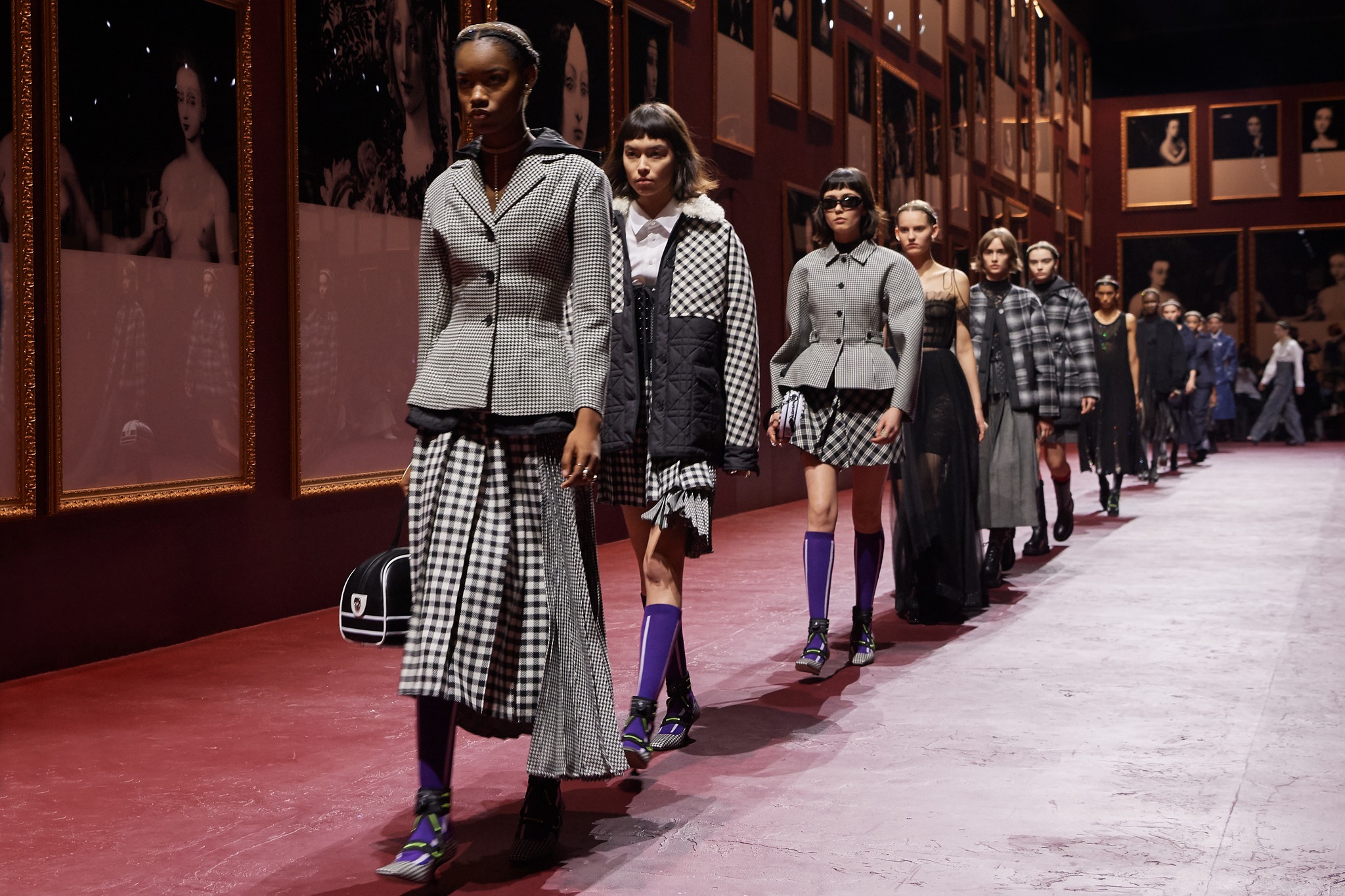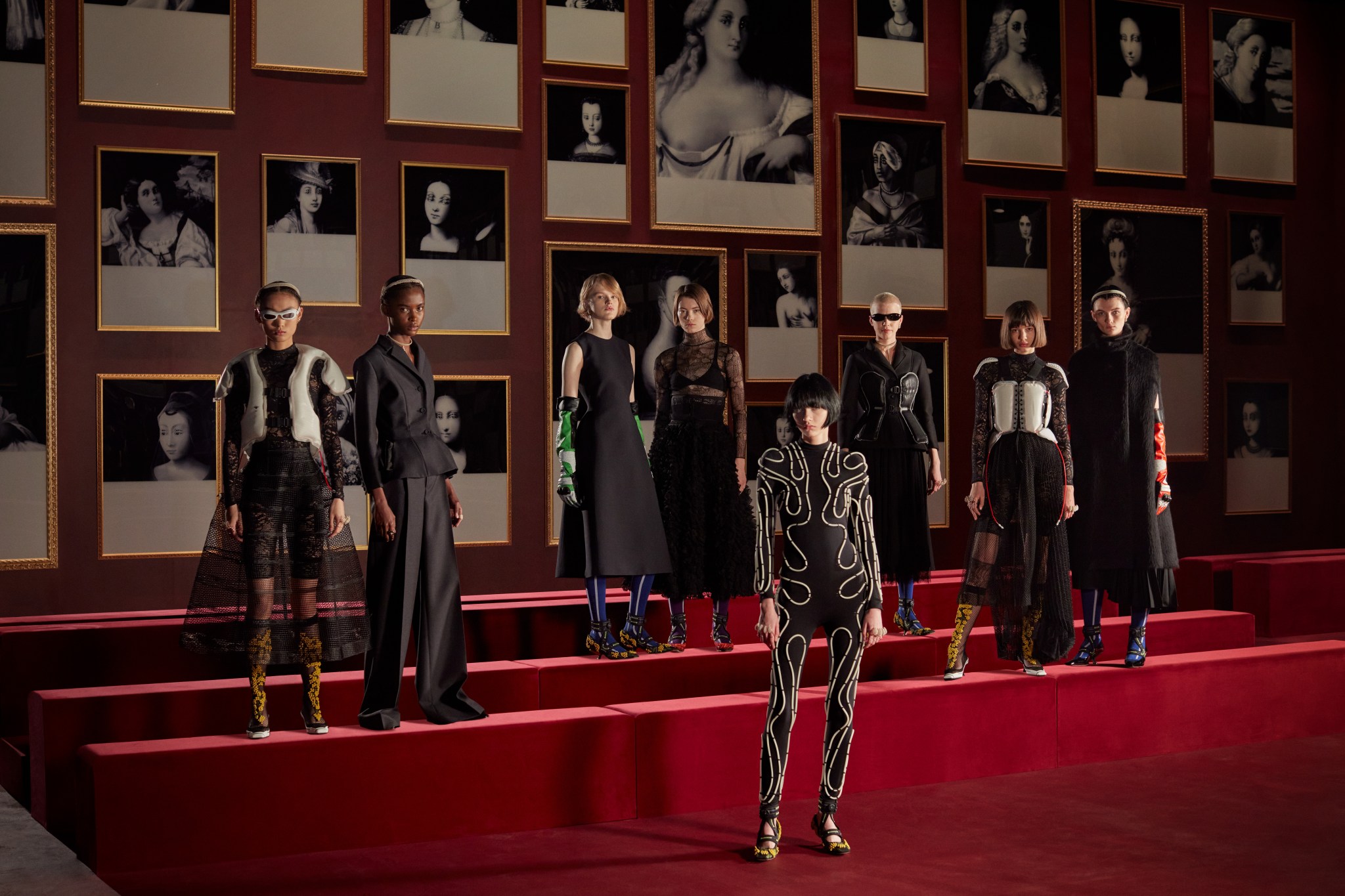 Talianska dizajnérka Maria Grazia Chiuri si dala za cieľ znovu vynájsť kódexy Christiana Diora, spájajúc minulosť, prítomnosť a budúcnosť. Na javisku galérie viseli veľkoformátové obrazy so ženami zo 16. až 19. storočia, ktoré signalizujú ich spoločenské roly ako ľudí, ktorých treba vidieť, feministky, ktoré Chiuri oslovili počas svojej kariéry v Diore. Tento prieskum sa ďalej rozvíja prostredníctvom dômyselne ušitých oblekov, fluorescenčných kombinéz pripravených pre Speed ​​Racer a čo je prekvapujúcejšie, návrhárskych typických tylových šiat, kompenzovaných ramennými vypchávkami.
Od oblečenia až po doplnky, výtvory kombinujú estetiku a technológiu, prehodnocujúc dedičstvo módneho domu Dior. Módna kolekcia Dior, Jeseň/Zima 2022-2023 je fascinujúcim skúmaním medzi minulosťou, prítomnosťou a budúcnosťou.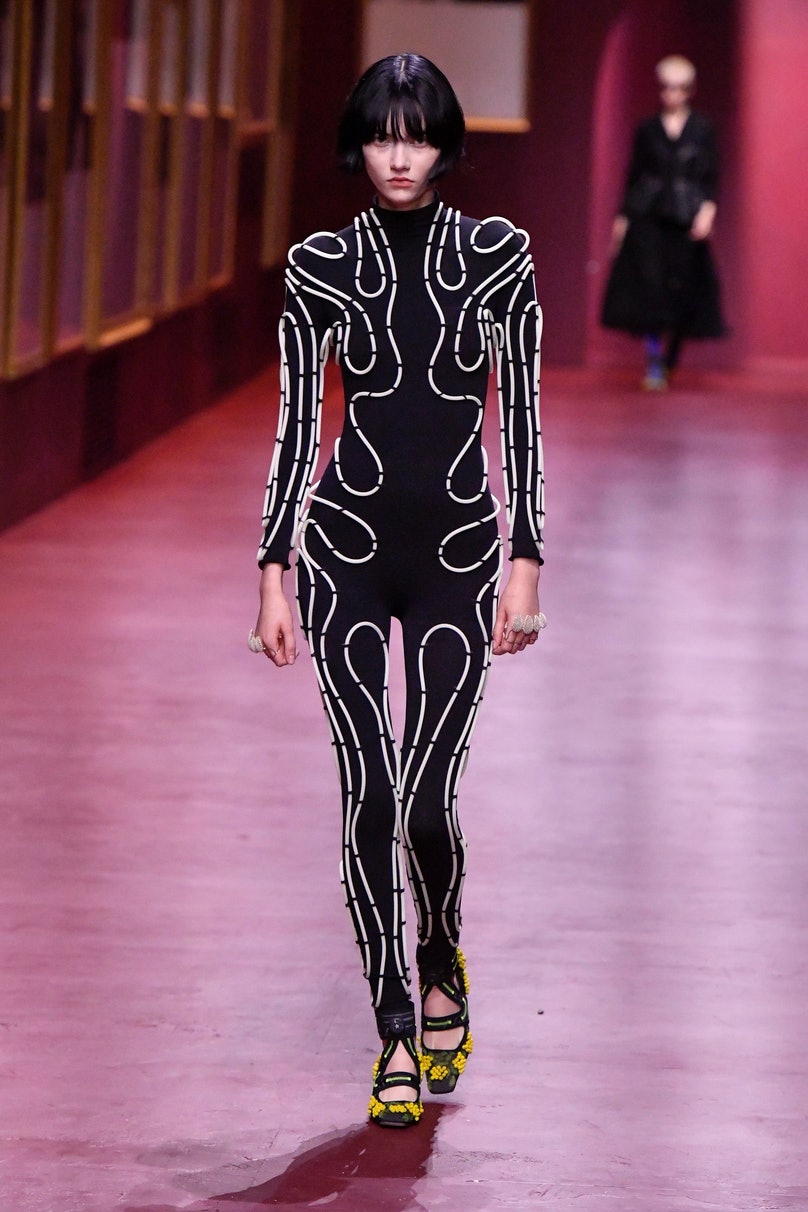 Prehliadku poctili osobnosti ako modelka Romee Strijd , speváčku Rihanna (na foto s dizajnérkou Mariou Graziou Chiuri) a herečka Anna Taylor Joy.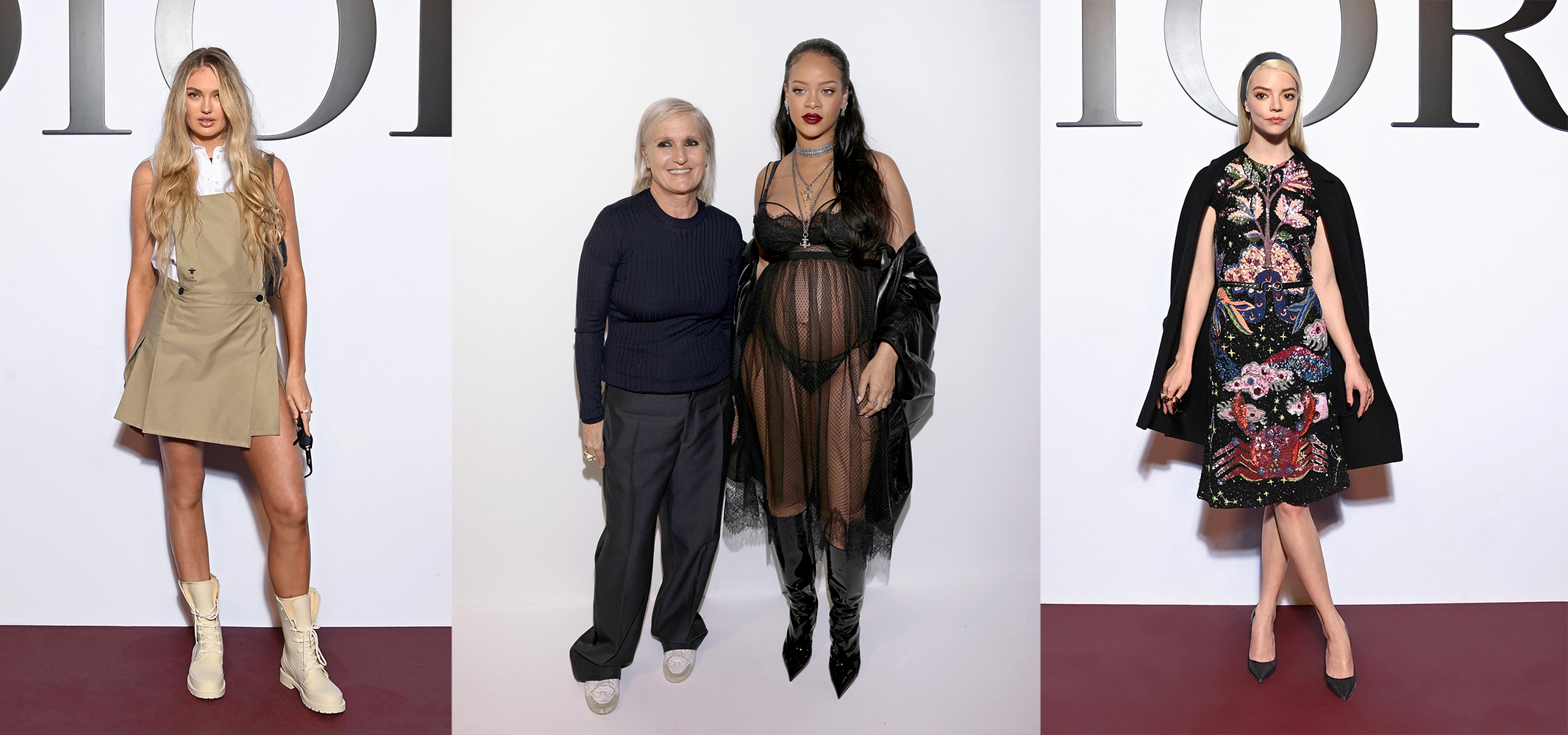 BALMAIN – NÁDEJ V MIER
Olivier Rousteing, kreatívny riaditeľ značky Balmain, zavŕšil druhý deň parížskeho týždňa módy provokáciou a myšlienkou pre Ukrajinu.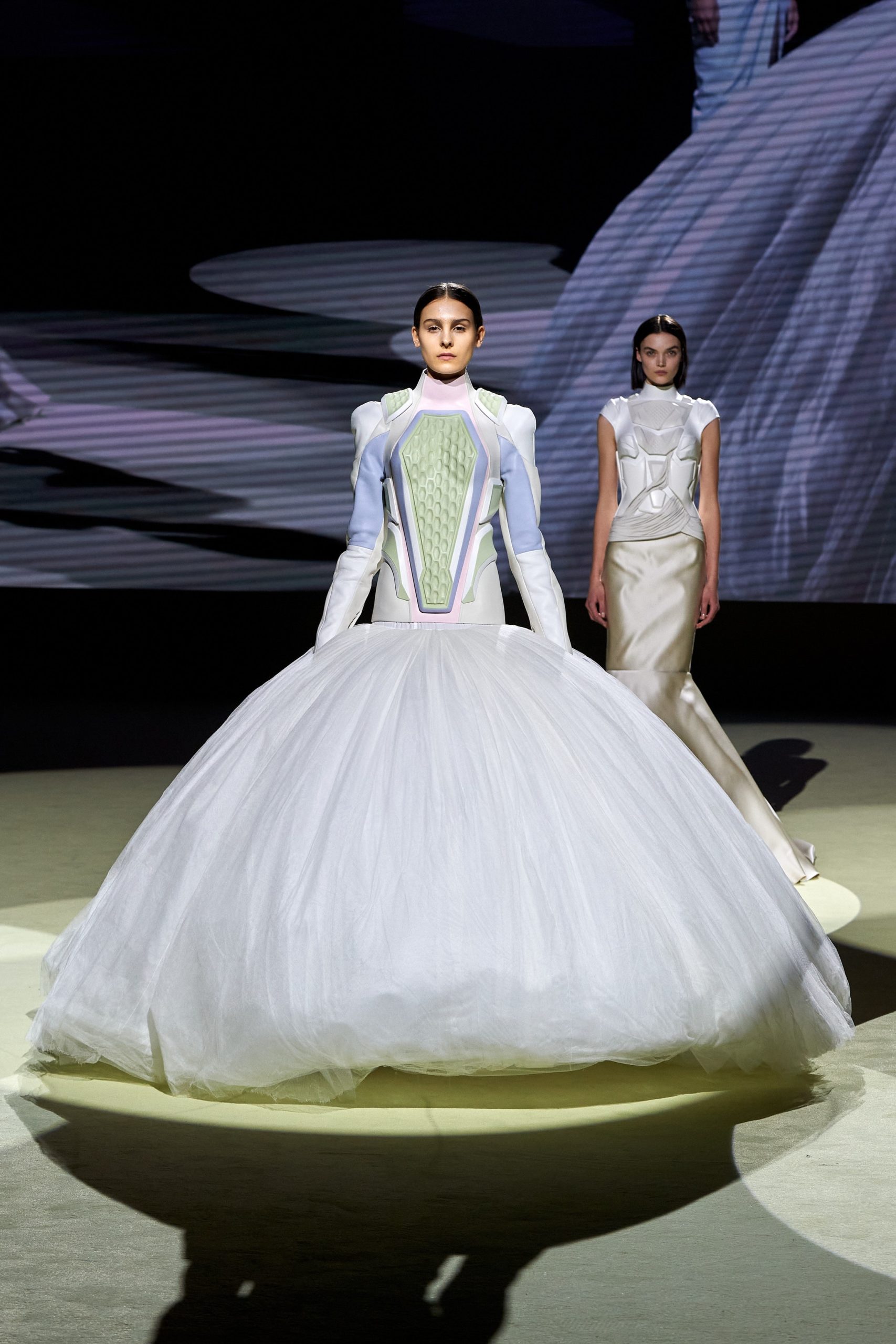 Olivier Rousteing sa vrátil na prehliadkové mólo a predstavil kolekciu, ktorá bola navrhnutá ako odpoveď na jeho vlastné utrpenie potom, čo bol spálený a zjazvený v dôsledku výbuchu vo svojom dome v roku 2020. Bolo to posolstvo o sile nádeje a pravdy a hoci to pôvodne nebolo zamýšľané ako reakcia na dianie na Ukrajine, Rousteing sa vyjadril, že to sú dve veci, ktoré sme nikdy nepotrebovali viac ako práve teraz.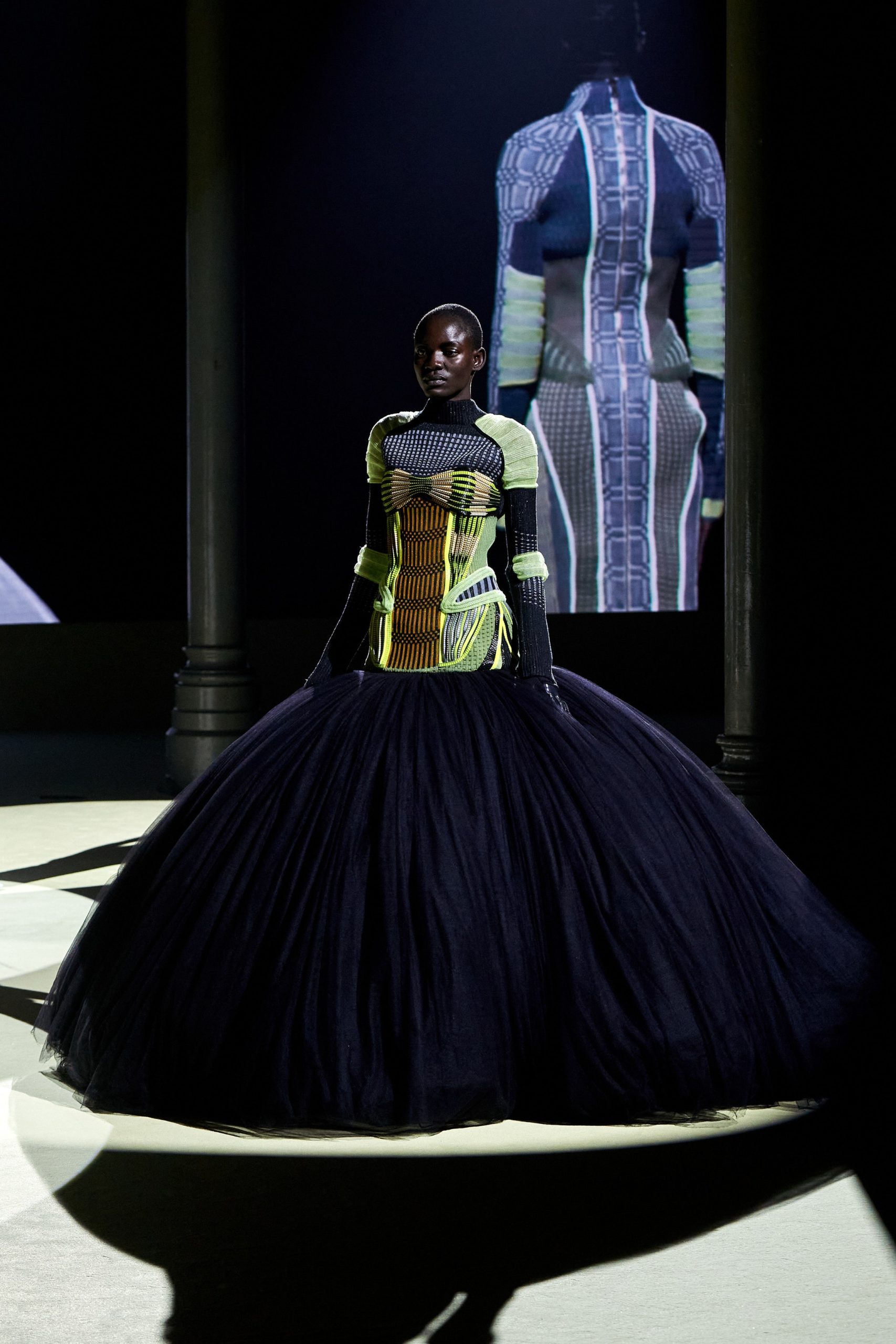 Kolekcia Balmain Jeseň/Zima 2022-2023 bola inšpirovaná obväzmi na popáleniny, ktoré mal na sebe po požiari vo svojom dome. Brnenie, ktoré vytvoril pre svoju show, ochranné vypchávky a starodávne pozlátené a v niektorých prípadoch aj vypchávky z motoristického športu, sú odpoveďou na posilnenie seba samého, pričom si zachováva mäkkosť v jemných dotykoch nariaseného čipkovaného lemu.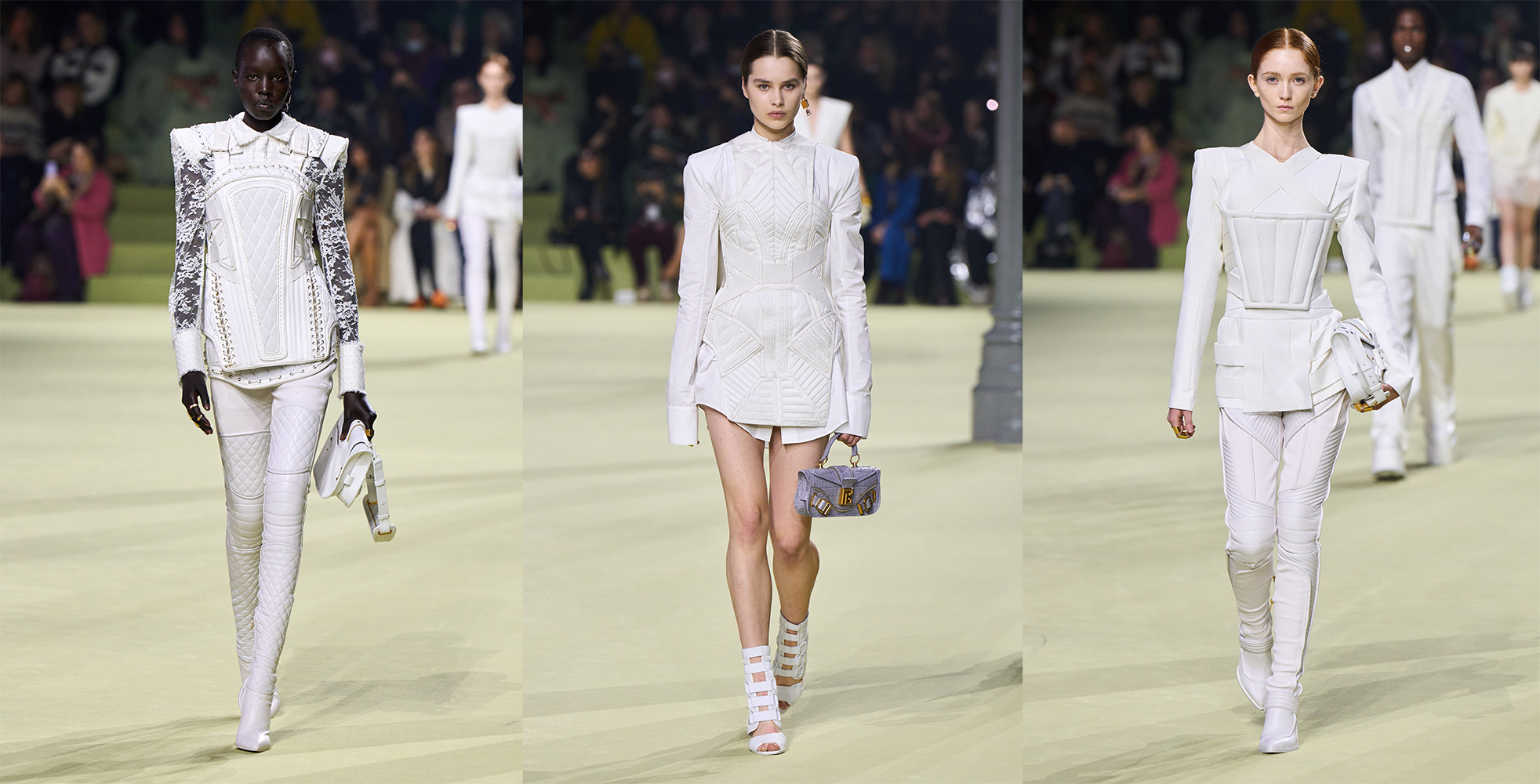 Čipka bola použitá spolu s kovom a neoprénom, aby podporila tento bod kontrastu a to na typických siluetách Rousteing, ktoré zdôrazňovali ramená a na hrubých nohaviciach, ktoré priliehali k nohám s prekríženými alebo rebrovanými detailmi.
"Tieto modely neboli navrhnuté ako priama reakcia na nedávnu hroznú inváziu našich susedov a nikdy by som sa neodvážil čo i len pomyslieť na porovnanie utrpenia, ktorým práve teraz prechádzajú, s problémami, ktoré som mal na sociálnych sieťach. Môj tím a ja máme na pamäti posolstvo tejto kolekcie – zjednotení v solidarite sa môžeme spoľahnúť na silu nádeje a pravdy, aby sme odvrátili nenávisť, klamstvá a agresiu", vyjadril sa dizajnér v poznámkach k najnovšej kolekcii značky Balmain.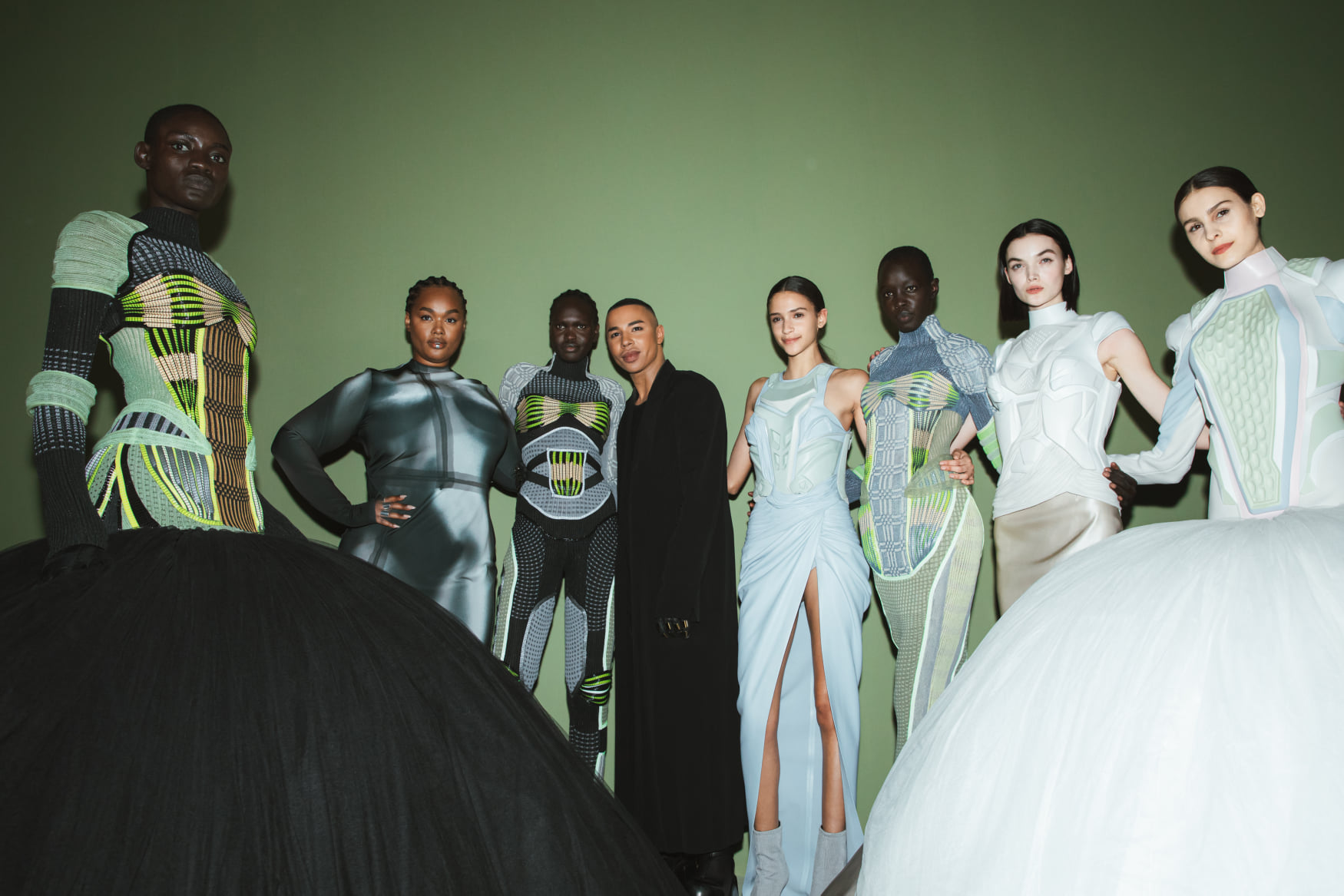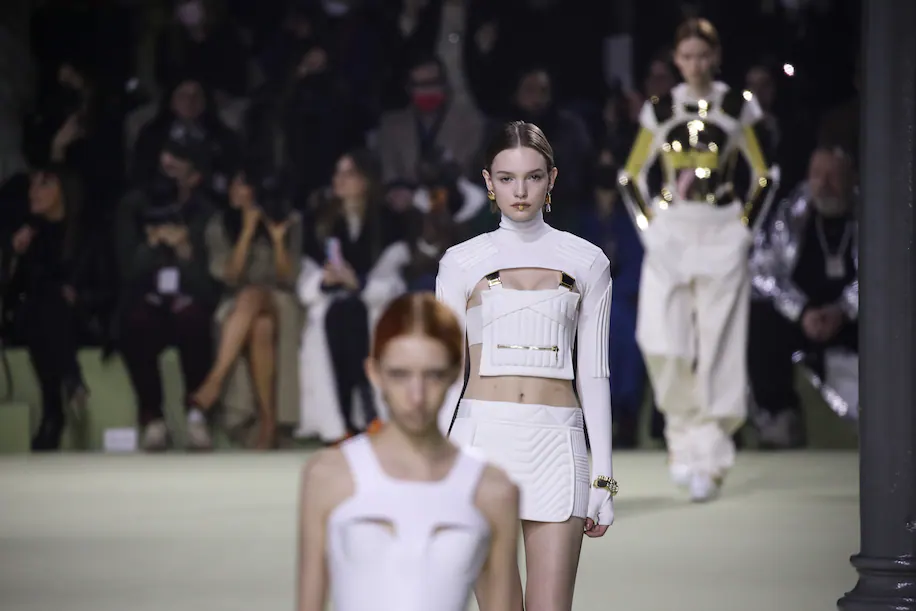 Trblietavé zlaté panciere, štíty a pevné brnenia sú súčasťou kolekcie, ktorá využíva svetlé farby, ako je biela, krémová a pastelová ako kontrast na vyjadrenie čestnosti alebo pravdy. Nebolo tu nič prevratné, aj keď niektoré zo 74 vzhľadov vystrihli jemné štýly, vrátane bielej obloženej zástery, ktorá vyzerala čiastočne ako japonský bojovník a čiastočne kriketovo biela.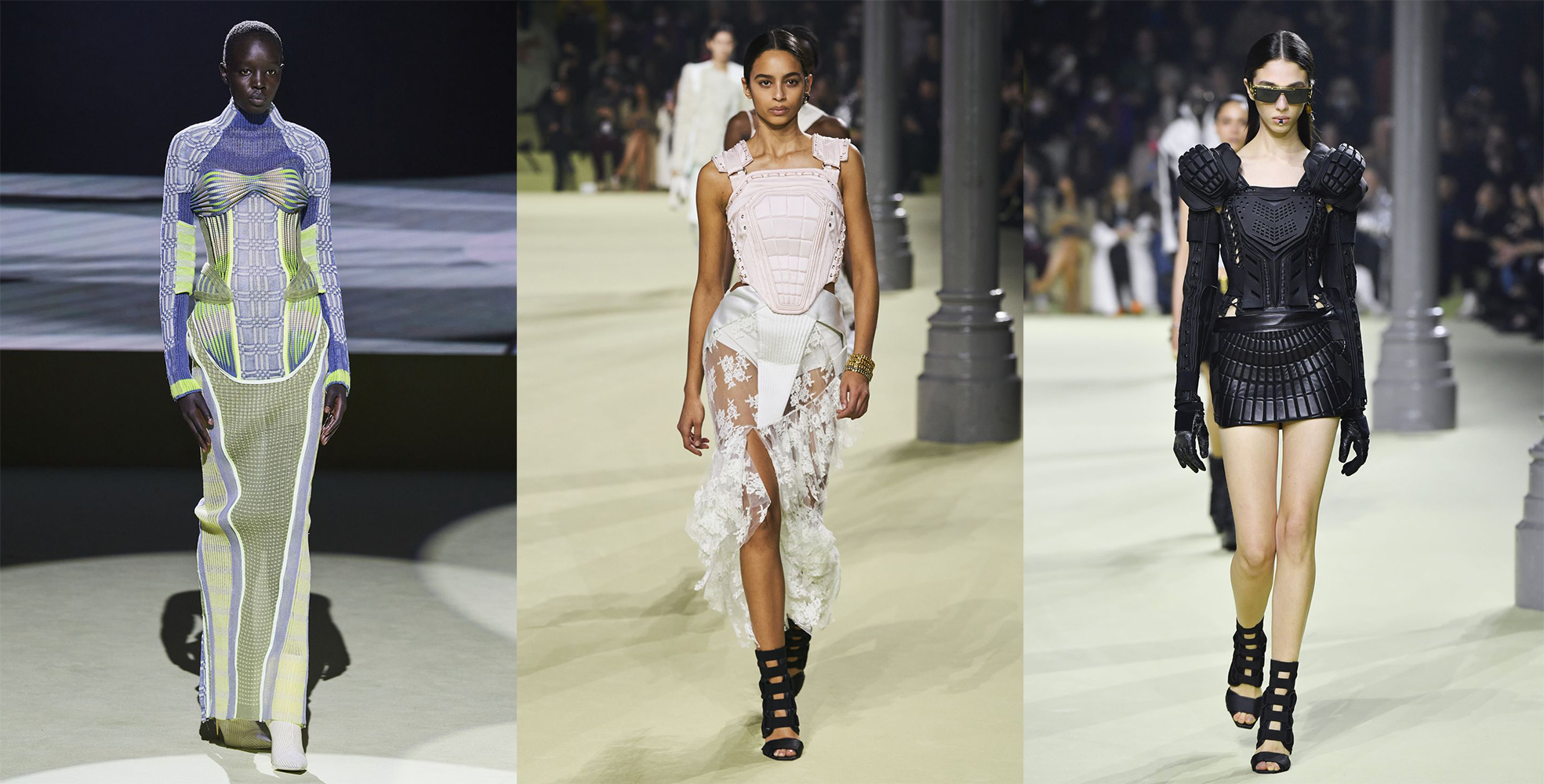 Rousteing spojil displej, na ktorom sa objavila bojovná bubnová hudba, s prebiehajúcim konfliktom na Ukrajine a v poznámkach sa vyjadril, že kolekcia je "odporom proti klamstvám, nenávisti a agresii" . Samotná kolekcia sa však zaoberala myšlienkou poctivosti a transparentnosti metaforickým spôsobom, cez farbu.
CHLOE
Módna návrhárka Gabriela Hearst sa každú sezónu rozhodla zamerať na špecifické klimatické riešenie celosvetovej problematiky v súlade s preklenujúcim estetickým odkazom. Pre kolekciu Chloe, Jeseň/Zima 2022-2023 bola táto téma 'Rewilding'.
"Pokrokový prístup k ochrane prírody, ktorý sa sústreďuje na to, aby sa príroda postarala sama o seba. Tým, že prirodzené procesy umožňujú opraviť poškodené ekosystémy a obnoviť degradovanú krajinu, môžu prirodzené rytmy voľne žijúcich živočíchov v konečnom dôsledku vytvoriť biodiverznejšie biotopy. V rámci svojho výskumu Hearst hovorila s britskou autorkou Isabella Tree, ktorej najnovšia kniha Wilding — návrat prírody na britskú farmu, mapuje príbeh jej priekopníckeho projektu Rewilding na farme v západnom Sussexe, kde žije. Hearst sa spýtala Tree, ako sa vyrovnáva s klimatickými úzkosťami, na čo odpovedala: "Životom v riešení.'"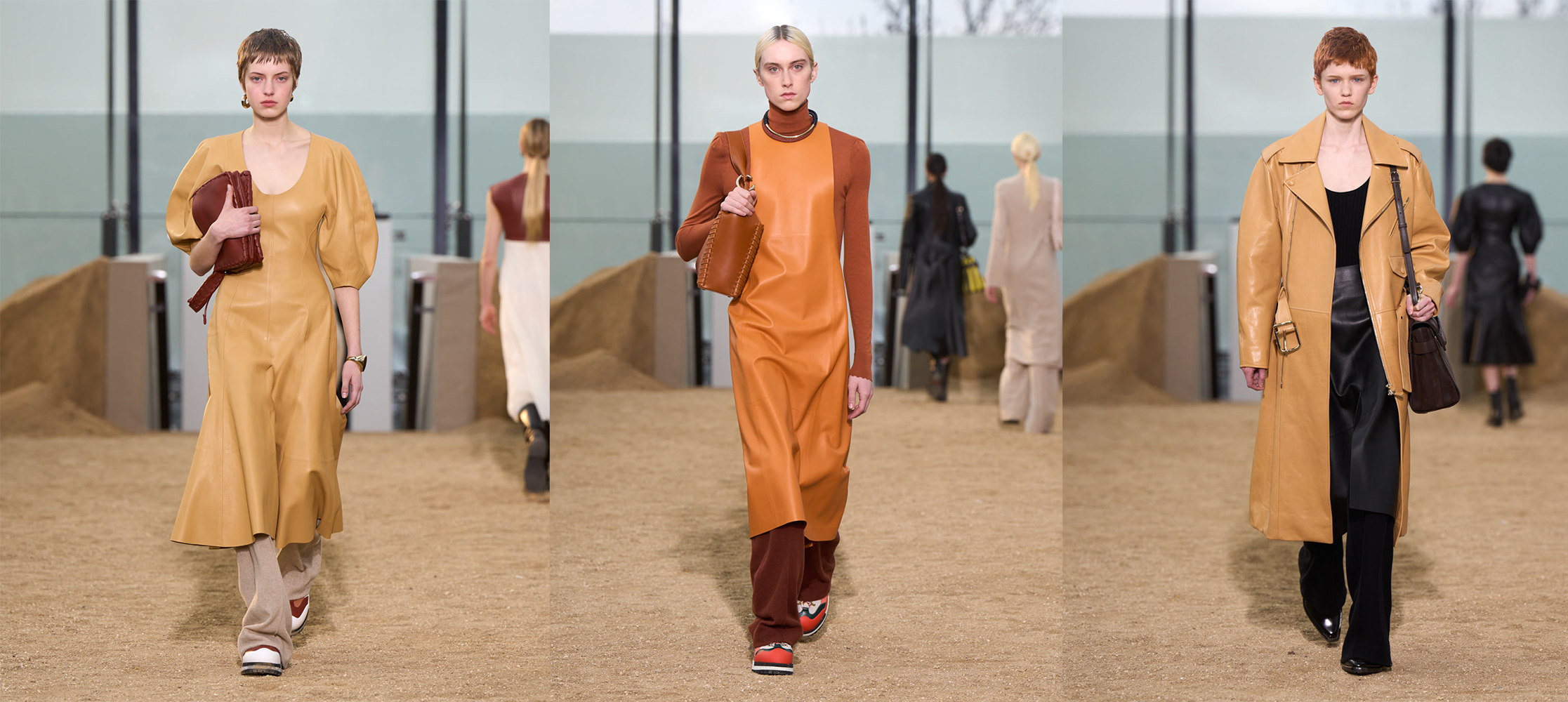 ISABEL MARANT
Pre Isabel Marant bolo podstatné v kolekcii Jeseň/Zima 2022-2023 "Obliecť sa jednoduchým a upokojujúcim gestom, obliecť si pánske sako alebo nadmerný kabát cez úzke malé šaty, staviť na útulnosť plyšových úpletových šiat v kombinácii s vysokými stehennými čižmami inšpirovanými motokrosom." Na móla tak značka priniesla jednoduchosť a pohodlnosť.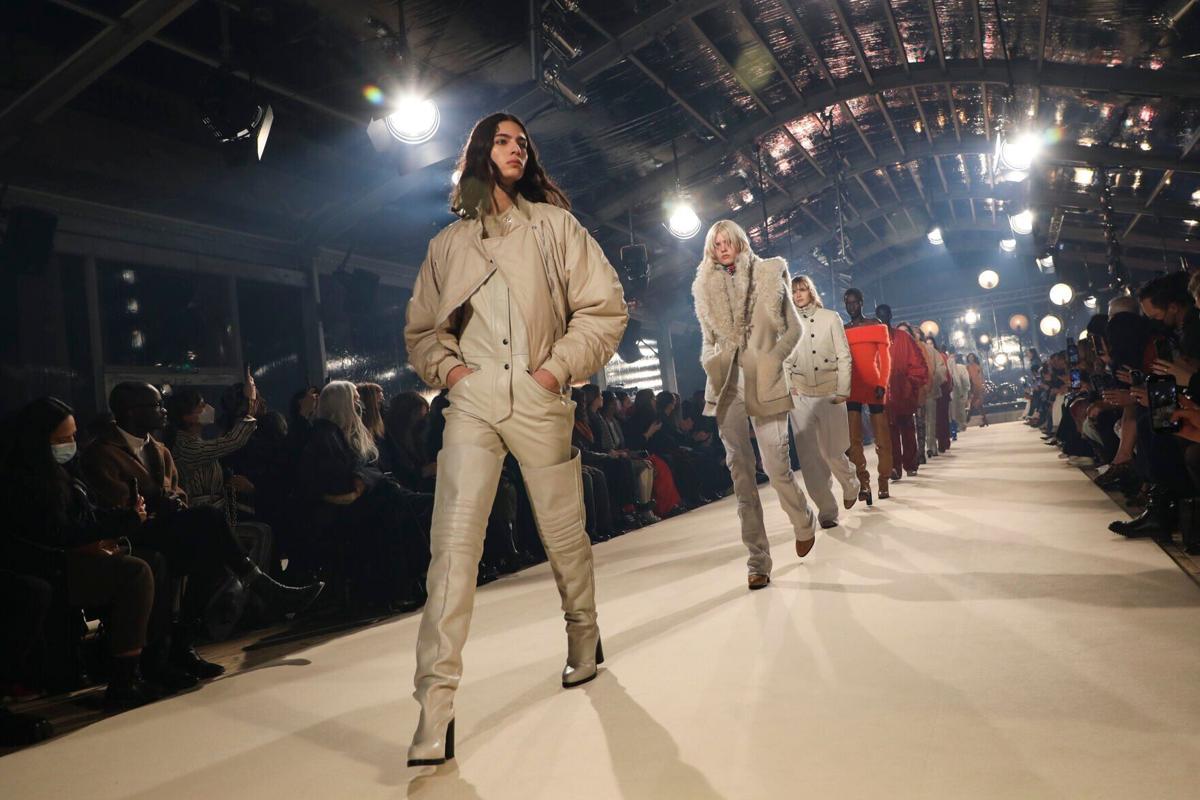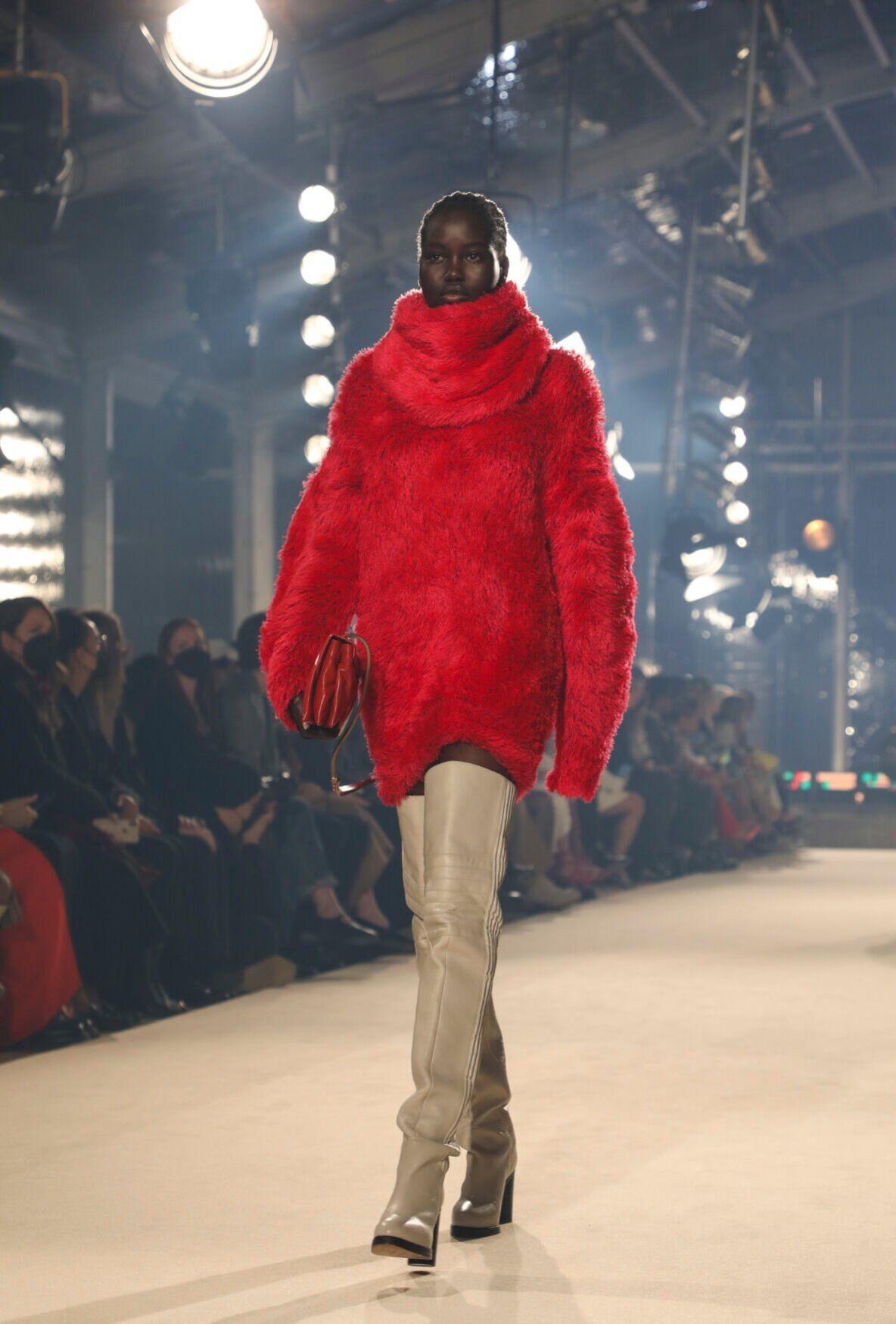 Modelka Bella Hadid predviedla koženú kombinézu na traky s čižmami do polky stehien.
obrázky: ©Vogue, Dior, Chloe, Balmain, Isabel Marant, Pascal Le Segretain/Getty Images
Pokračovanie článku z Paris fashion Weeku, dámskeho prehliadkového týždňa módy , sezóny Jeseň/Zima 2022 -23 uskutočneného od 28. februára 2022 do 3. marca 2022, čítajte ďalej na tomto blogu.
Sledujte Facebook stránku: Mya Mirell Fashionista a Instagram: mya_mirell .