Reggia di Caserta – pompéznosť a ukážka moci sicílsko-neapolského kráľovstva, najväčší kráľovský palác na svete, UNESCO
Taliansko je prekrásna krajina, ktorá v sebe skrýva obrovské historické poklady, samotné mestá, pamiatky, na ktoré natrafíte na každom kroku a v každom mestečku. Je lákavou dovolenkovou destináciou obľúbenou pre pláže, more, zábavu, talianske jedlá, chytľavú uvoľnenú náturu, kultúru, taliansku bezprostrednosť, ktorá človeka očarí a utkvie mu v pamäti. Nepochybne je Taliansko známe taktiež pre módu a dizajn. Koná sa tu jeden z najznámejších svetových týždňov módy Milan Fashion Week niekoľkokrát do roka a talianska móda, to je predsa vo svete pojem.
Veľ ľudí možno nevie, že táto krajina ukrýva v sebe najväčší počet historických pamiatok UNESCO, dokopy až 50, ktoré okrem ostatných lákadiel stojí za to navštíviť. Historických klenotov je tu toľko, že si ich pomaly turisti nevšimnú. Často sú navštevované najmä tie najznámejšie z nich, miesta ako historická kultúrna metropola Rím, caput mundi, Pompeje, Benátky, Florencia, Neapol, Vezuv, Herculaneum, juh Talinskej čižmy Sicília a priľahlé ostrovy.
Unikátnou a historicky cennou pamiatkou, pre bežného človeka aj neznámou, je kráľovský palác Reggia di Caserta, ktorú práve zatieňuje známejšie mesto Neapol a priľahlé lokality. Mestečko Caserta nie je turisticky až tak známe a pritom leží iba 25 kilometrov na sever od mesta Neapol. A práve v tomto mestečku sa nachádza unikátny kráľovský palác Palazzo Reale di Caserta, ktorý je slávnejší ako samotný Versailles. Aspoň by tomu tak malo byť. Jeho existencia je však mierne zatienená. Je totižto najväčším kráľovským palácom na svete s obrovským rozľahlým parkom zaradený do zoznamu svetového dedičstva UNESCO, no nie je tak komerčne preslávený. Ostali ste prekvapení? Ak budete poblíž Neapolu, nezabudnite, že v jeho blízkosti môžete navštíviť tento historický klenot, ktorý vám bližšie predstavím.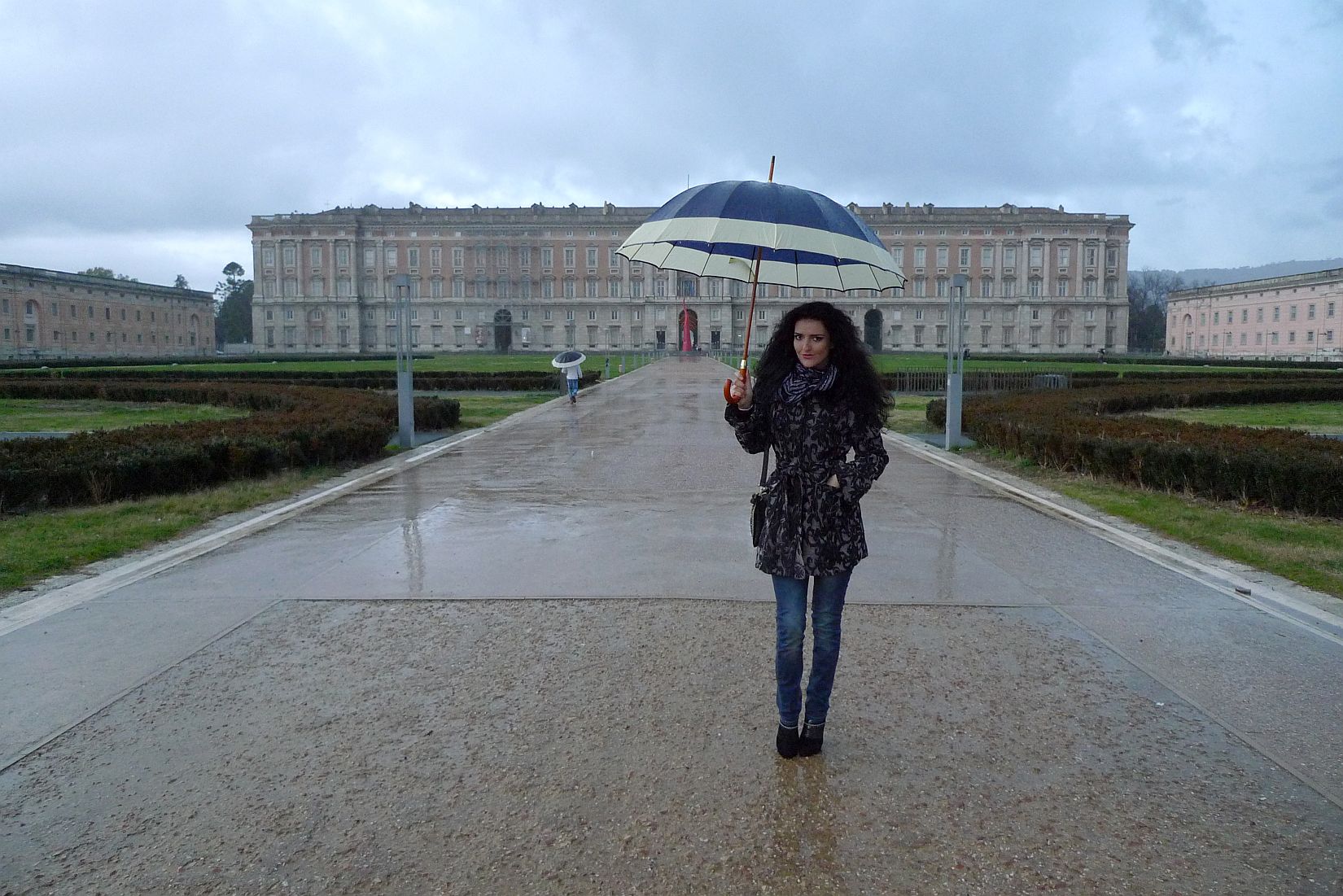 Tento palác neostal úplne zatienený svojimi kamarátmi, obrovskými kráľovskými palácmi v Európe, ktoré naopak každý pozná: Versailles, Louvre, Schonbrunn, Charlottenburg, Buckingham, pretože zažiaril vo svetle hollywoodskych reflektorov vďaka nakrúcaniu filmov ako Star Wars, Mission Impossible, Anjeli a démoni. Že ani toto ste nevedeli? A je to ho oveľa viac. Kráľovský palác Reggia Caserta je monumentálna stavba s piatimi podlažiami a 1200 miestnosťami. Je podobný palácu vo Versailles exteriérom, najmä rozvrhnutím spoločenských a administratívnych častí, interiérom a nádherným zdobením miestností.
Bohatstvo a kráľovská márnivosť sa zrkadlí v celom tomto paláci a svojou pompéznosťou a veľkosťou prekonala aj samotný Versailles. Reggia Casserta je najväčším kráľovským palácom na svete a to zrejme veľa ľudí nevie. Ak sa raz vyskytnete v blízkosti tohto miesta a navštívite túto monumentálnu historickú pamiatku, odnesiete si nezabudnuteľné zážitky.
Podobne ako vo Versailles aj tu vás uchvátia prekrásne zdobené stropy rozľahlými freskami, drahé materiály ako farebný mramor na schodiskách a chodbách, ktoré sú ukážkou pompéznosti a monumentálnosti sicílsko-neapolskej moci. Palác mal byť ukážkou bohatstva a márnivosti kráľovskej moci.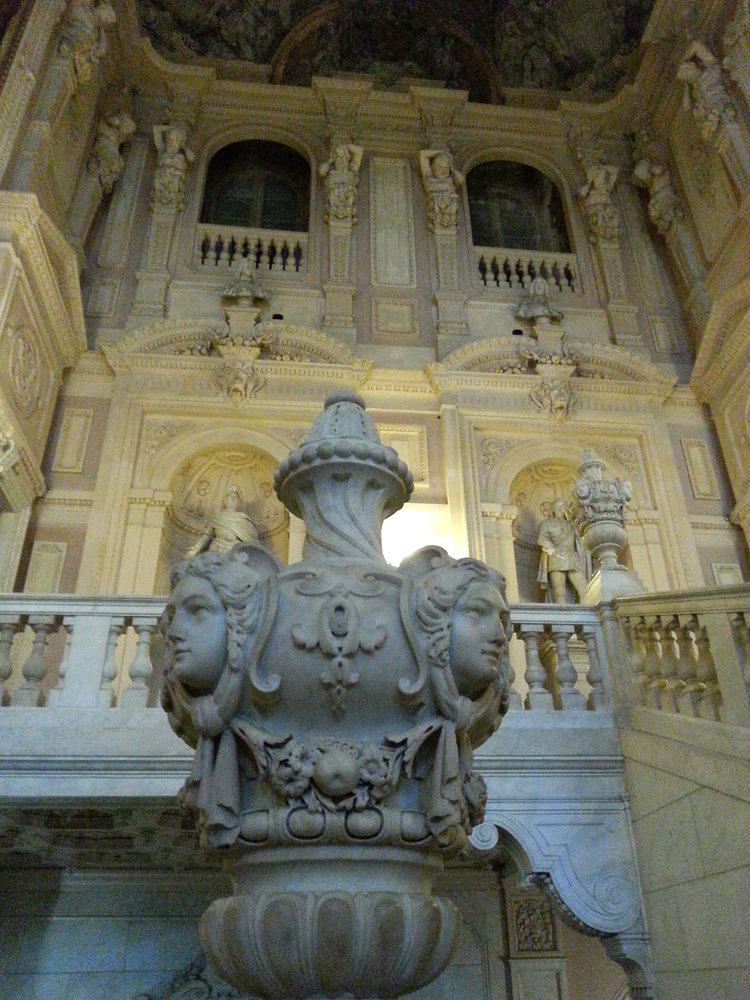 Prejsť všetky miestnosti a útroby paláca sa vám nepodarí, okrem 1200 miestností, palác ukrýva divadlo, 20 bytov pre štátnikov, knižnicu a vonku sa môžete poprechádzať na štyroch vnútorných nádvoriach. Rozloha pôdorysu je 184 x 247 metrov, palác je formovaný do tvaru kríža s dvoma priečnymi ramenami.
V tomto paláci zaručene nestretnete veľa turistov, palác je rozsiahly s veľkým množstvom miestností, až nadobudnete pocit, akoby ste sa tam strácali a túlali sa sami. Naopak si práve vychutnajte jeho krásu naplno, nebudete nikým rušení, natrafíte iba na pani dozorkyne. Ja som sa snažila zachytiť si niečo ako spomienku aj na fotoaparát, nebolo však dobré svetlo a fotogfrafovanie nie je veľmi dovolené a tak vás pri fotení diel a niektorých historických artefaktov môžu napomenúť. Dúfam, že miestnosti a stropy boli povolené zvečniť. Viac fotografií si môžete pozrieť na mojom facebook profile v albume Italia.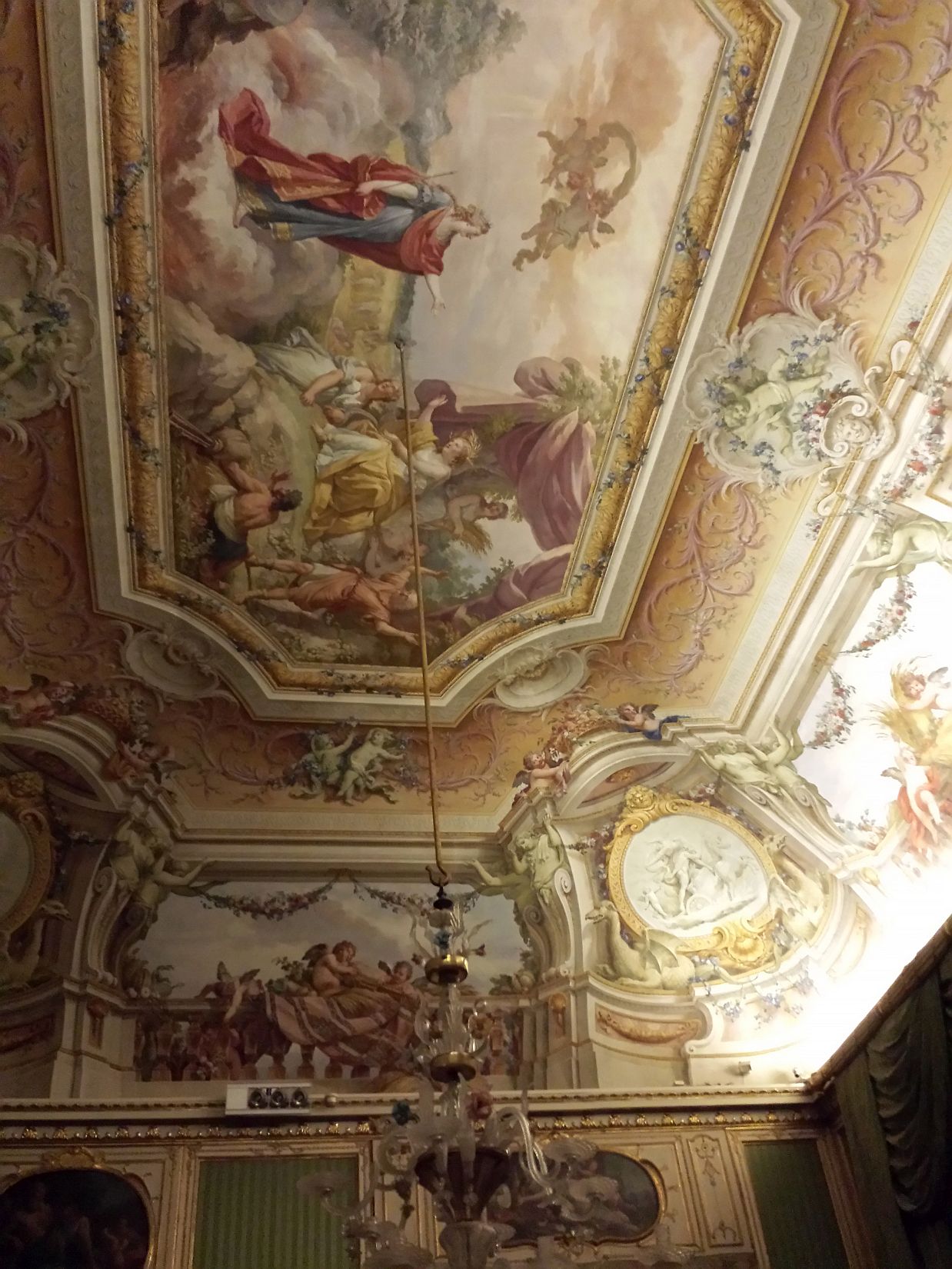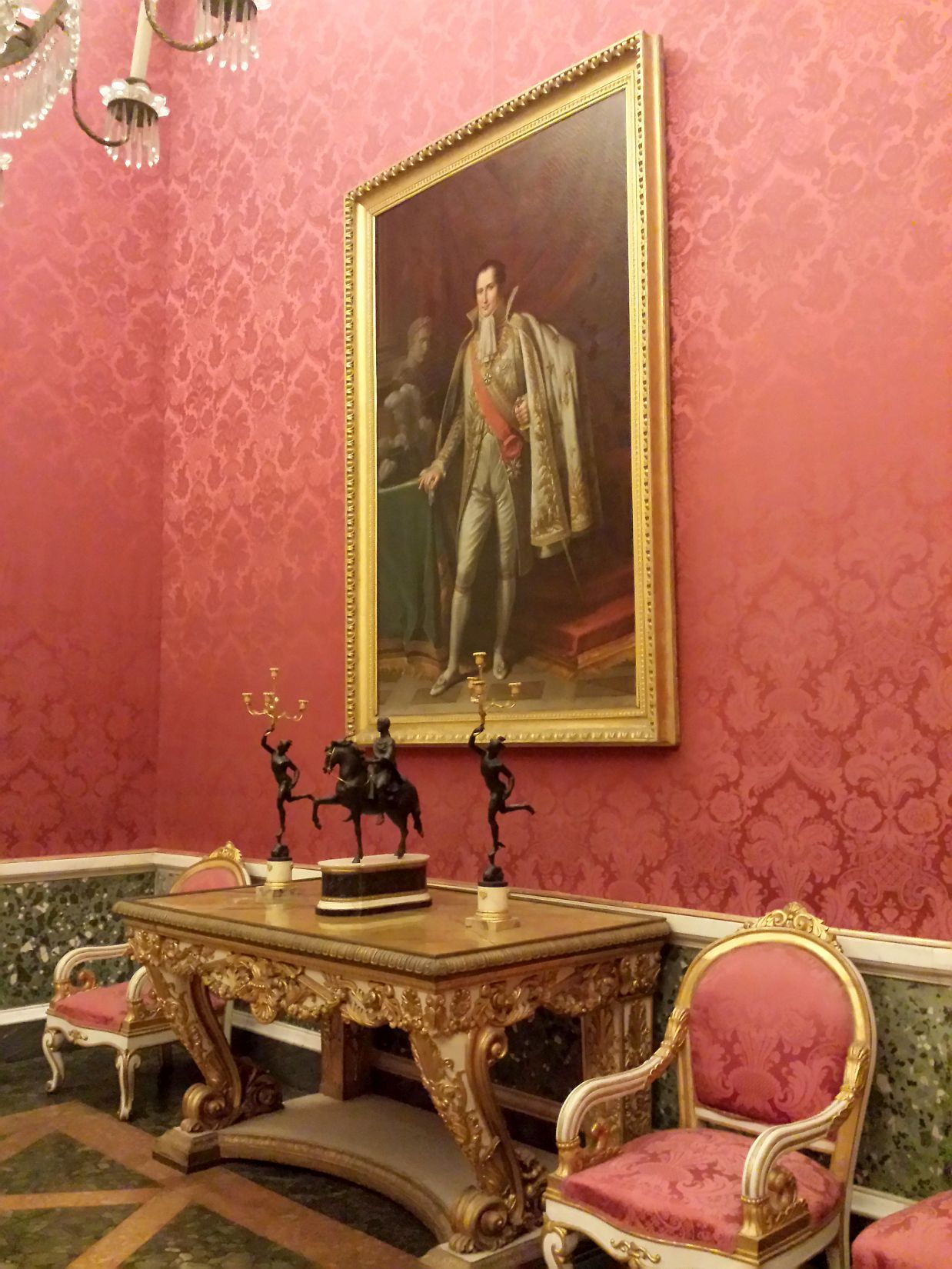 Palác sa staval niekoľko desaťročí a preto ho zasiahli rozmanité štýly, ktorých prechody jasne badať v jednotlivých miestnostiach. Väčšinou prevažuje štýl neskorého baroka. Jeho nádhera spočíva práve v ich množstve a prelínaní. Môžete tu vidieť typicky barokové miestnosti s výrazným zdobením, neskoro barokové miestnosti, rokokové, kde je už výzdoby pomenej. Toto si môžete všímať aj na sochách a motívoch fresiek, ktoré sa postupne menia z kresťanských motívov na antické motívy, antických hrdinov a bohov , čo je jasný štýl neoklasicizmu. Neoklasicizmus neskôr vládol ako nový štýl vo fáze dokončovania paláca. V tomto štýle je riešený teda ostatný vnútorný dekor z finálneho obdobia a krásne zdobené stropy.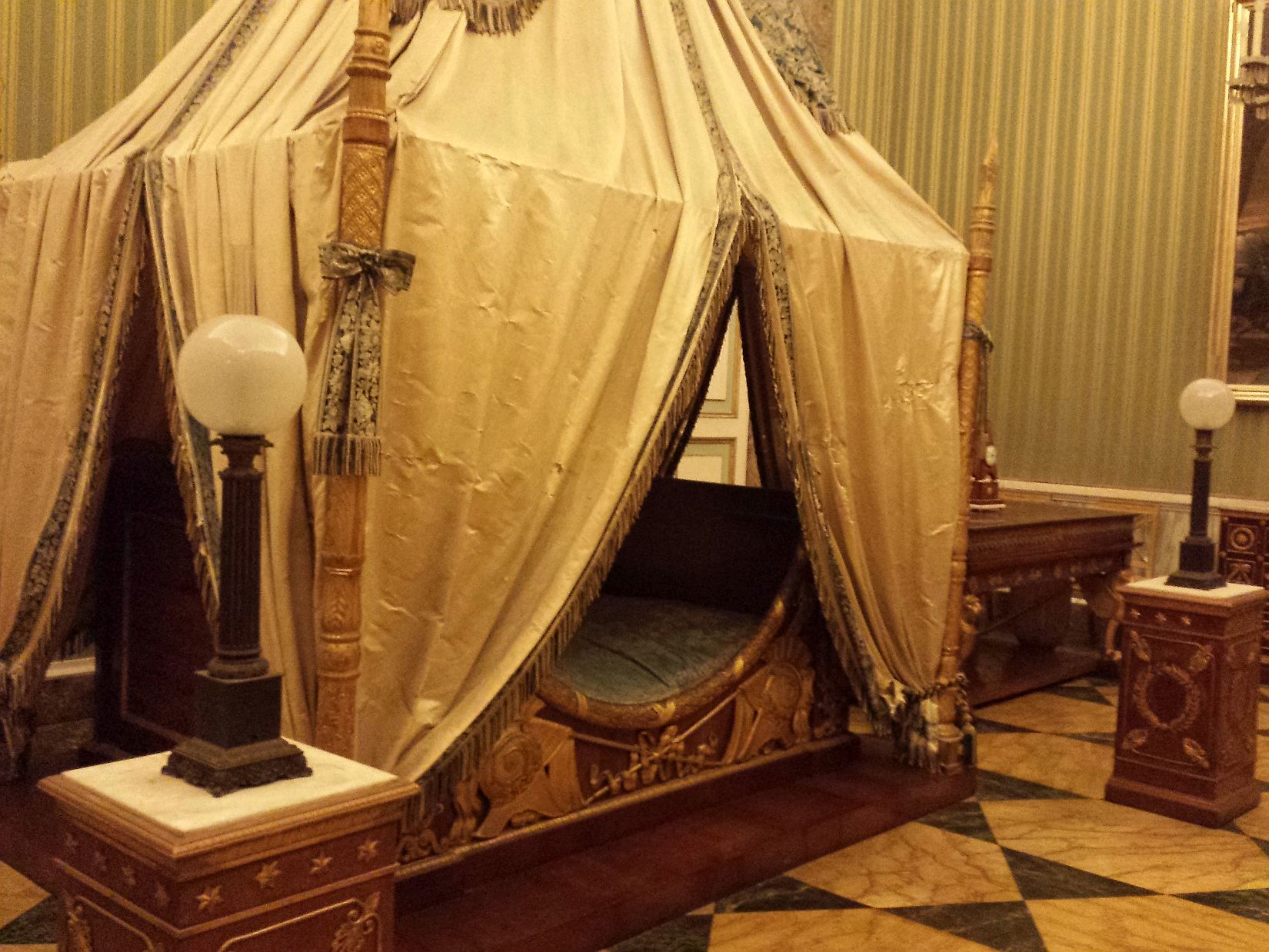 PARK A ZÁHRADA
K rozľahlej budove patrí i obrovský park, ktorého dĺžka dosahuje 3 kilometre. Prepojenie s parkom a vodopoádom, ktorý nájdete na protiľahlom konci zaisťuje stĺporadie paláca. Aj tento palác s parkom patrí k veľkolepým urbanisticko-architektonicko-krajinárskym dielam spolu s palácom Versailles. Nemusíte byť ani architekt, aby ste precítili a nasiakli monumentálnosť a hodnotu tohto historického klenotu Talianska.
Ak sa chcete vybrať na dôkladnú návštevu tohto miesta vedzte, že krásu jeho vnútorných priestorov spolu s parkom neobsiahnete za jeden deň. Prejsť z jednej strany parku na druhú, vám zaberie minimálne hodinu bežnou chôdzou bez zastávok.
Park je nádherný, dokážete tu stráviť krásny slnečný deň, podobne ako ten vo Versailles. Navrhnutý v slohu barokovom so sochami v mixe štýlov, ktoré sú samotné monumentálnymi umeleckými dielami, s fontánkami a unikátnym vodným kanálom, ktorý sa tiahne stredom jeho dĺžky. Prvá fontána, na ktorú na ceste od paláca natrafíte je La Fontana Margherita.
Reggia di Caserta – fontána Diana.
Caserta Parco Reale – Fontana di Venere e Adone
Ak prejdete park, dostanete sa k malebnej botanickej záhrade a názvom "anglická" s malým jazierkom, sochami. Tvorcom návrhu je Carlo Vanvitelli, syn architekta a nemecký botanik Johann Graeffer. Poprechádzajte sa tu a zaraz sa ocitnete v dávnom svete antiky.
HISTÓRIA
Reggia di Caserta bola sídlom neapolského kráľa Karola VII., ktorý sa rozhodol postaviť si sídlo mimo Neapolu, ale zároveň poblíž mesta a pritom ďalej od mora, kde hrozili útoky. Projekt inšpirovaný palácom vo Versailles bol dielom neapolského architekta Luigi Vanvitelli z roku 1752, ktorý staval aj pre pápeža či portugalského kráľa. Palác je vystavaný v rôznych slohoch, ktoré sa tu striedajú, najmä sú tu citeľné prelomy baroka a spomínaného neoklasicizmu. Karol VII. si však samým prvotným nadšením tento palác vo výsledku vôbec neužil. Hoci sa naň veľmi tešil, zmenu do života mu priniesol fakt, že dostal titul španielskeho kráľa a tak z Apeninského poloostrova odišiel. Stal sa španielskym kráľom Karolom III. Palác si v tichosti žil, nebol nikdy výrazne poškodený, až počas amerického bombardovania v 2. svetovej vojne. Slúžil ako veliteľské sídlo armády, bola tu podpísaná aj kapitulácia nemeckých jednotiek v Taliansku. Palác jej zapísaný na zoznam svetového dedičstva UNESCO od roku 1997.