Od Sna k Realite – vernisáž tvorby slovenského módneho dizajnéra Richarda Rozboru, Bratislava, 11. – 17. november 2021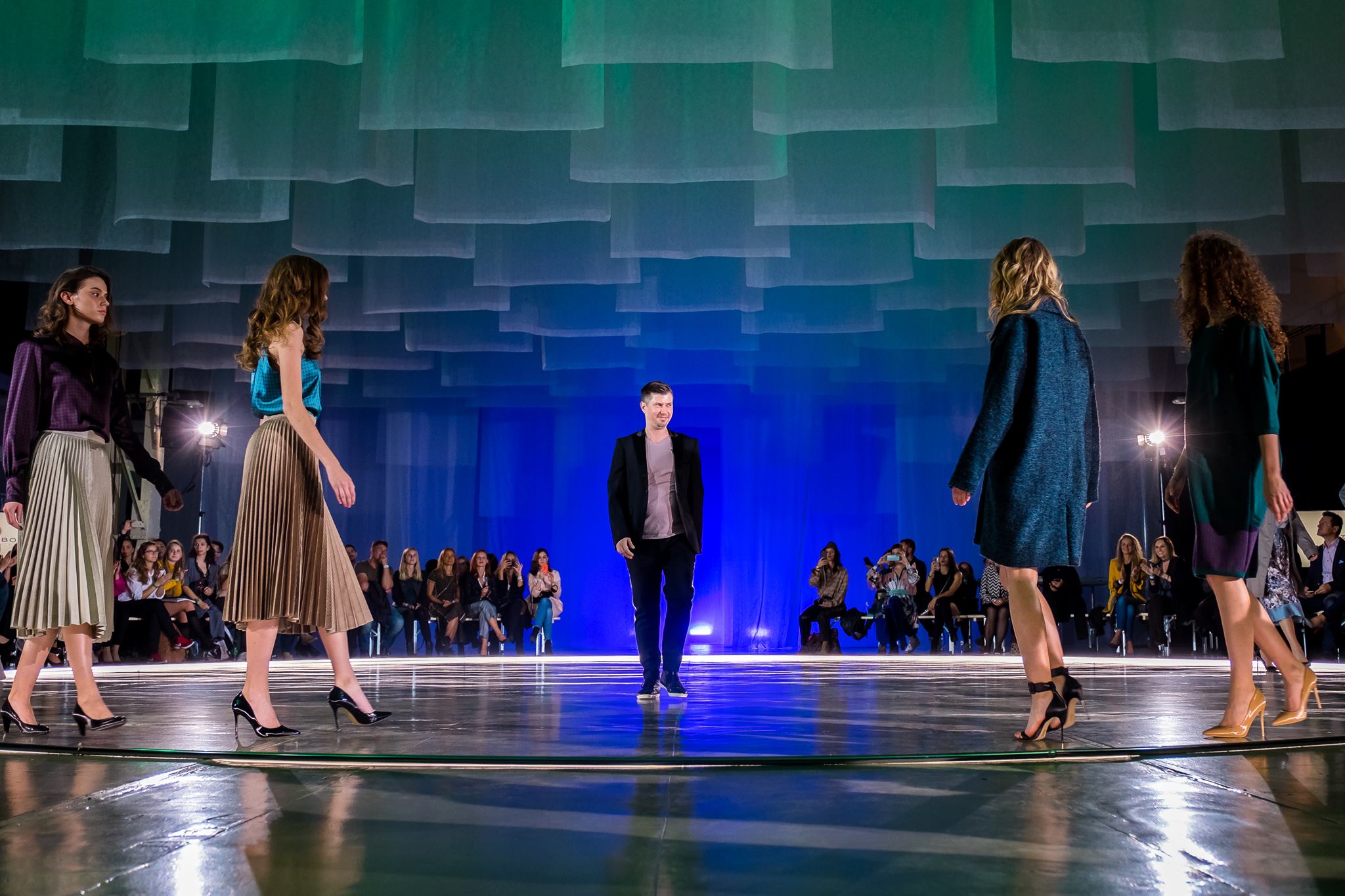 Pri príležitosti 20-ročného výročia tvorby slovenského módneho návrhára Richarda Rozboru v módnom dizajne sa v Bratislave 11. novembra 2021 konala v priestoroch Vysokej školy managementu a marketingu v módnej oblasti na Hviezdoslavovom námestí 20 výstava s názvom Od Sna k Realite, ktorá trvala týždeň. Mapovala prierez módnej tvorby dizajnéra Richarda Rozboru za posledných 20 rokov od jeho promócie na prestížnej škole v Londýne – Central St.Martin´s až po dnešné dni.
Jej uskutočnenie sa dialo za podpory fondu na rozvoj umenia pod záštitou veľvyslanectva Spojeného kráľovstva Veľkej Británie a Severného Írska a vďaka výkonnej riaditeľke Mod´Spa Paris CE, ktorá na túto akciu poskytla priestory.
V deň vernisáže, 11. novembra 2021 o 18-tej hodine , sa prítomní hostia zhromaždili za prísnych protipandemických opatrení v režime OTP v budove školy. Úvodné slovo si vzala pani Jana Lalová, výkonná riaditeľka francúzskej vysokej školy, ktorá hostí uviedla do diania a predstavila program výstavy.
Medzi váženými hosťami, ktorí predniesli milé slová boli aj Mimoriadny a splnomocnený veľvyslanec Veľkej Británie a severného Írska J.E. Nigel Baker (video si môžete pozrieť na Facebook stránke blogu: Mya Mirell Fashionista), niekoľkonásobný minister Zahraničných vecí a európskych záležitostí SR, viacnásobný poslanec Európskeho parlamentu Eduard Kukan (taktiež si video nájdete na Facebook stránke blogu: Mya Mirell Fashionista), a pani Iveta Ledererová, akademická maliarka, módna návrhárka a vysokoškolská pedagogička. Padli skutočne oslavné a pochvalné slová, na ktoré záverom zareagoval aj samotný Richard Rozbora s poďakovaním, ktoré patrilo aj prítomným zúčastneným hosťom a fanúšikom módnej značky Rozbora Couture.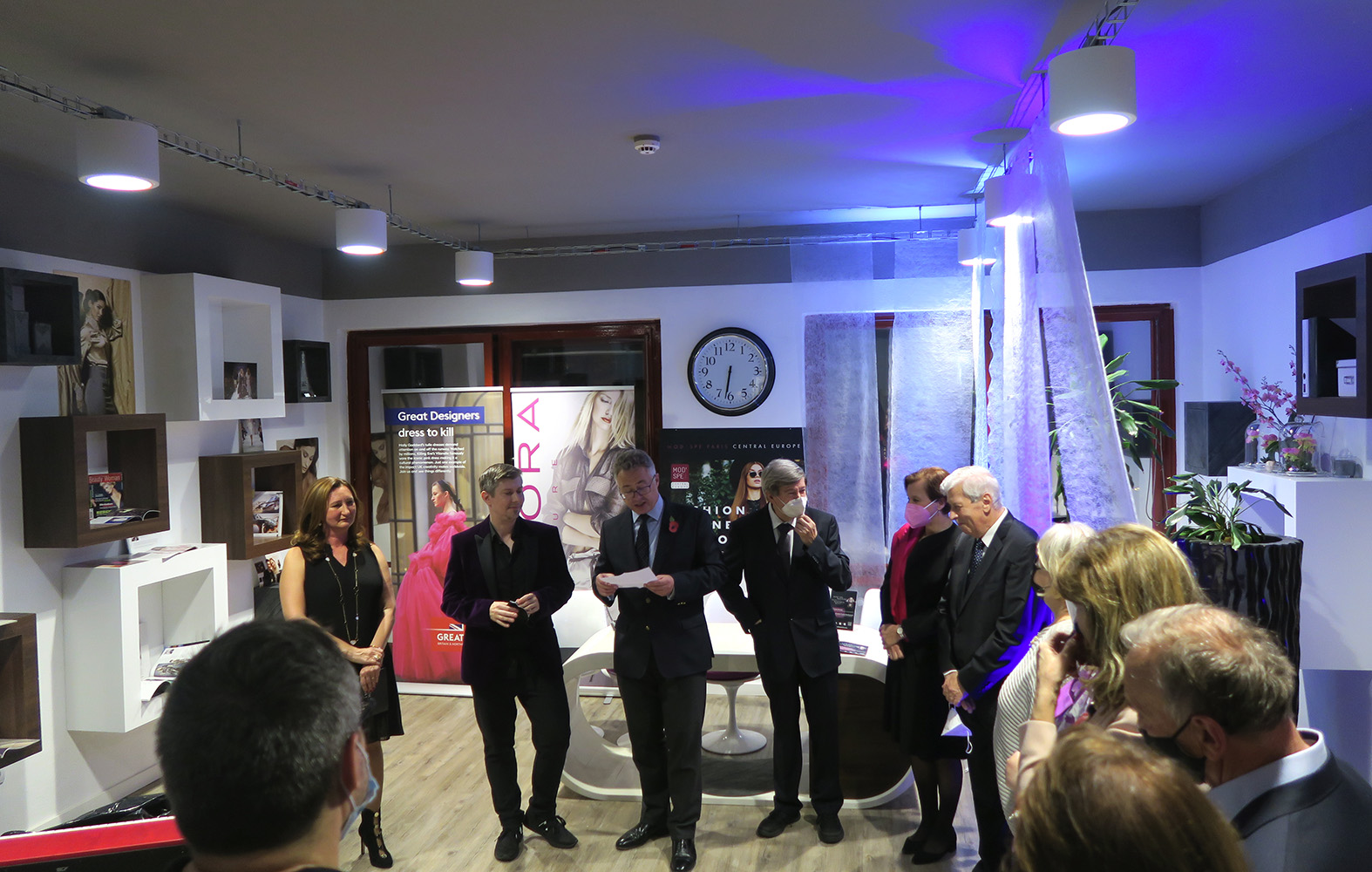 Výstava pozostávala z viacerých častí, kde si prítomní návštevníci mohli pozrieť jednotlivé etapy tvorby dizajnéra a jeho vývoj za uplynulých 20 rokov.
Vernisáž, ktorá predstavila módne pôsobenie Richarda Rozboru v priestoroch školy módnej komunikácie Mod´Spe v Bratislave, trvala od 11. novembra do 17. novembra 2021. Vystavovala vybrané modely, fotodokumentáciu tvorby a projekcie vytvorených videovizitiek z rôznych autorských prezentácií. (viac fotografií a videí si môžete pozrieť na Facebook stránke blogu: Mya Mirell Fashionista a na stránke dizajnéra Richarda Rozboru.)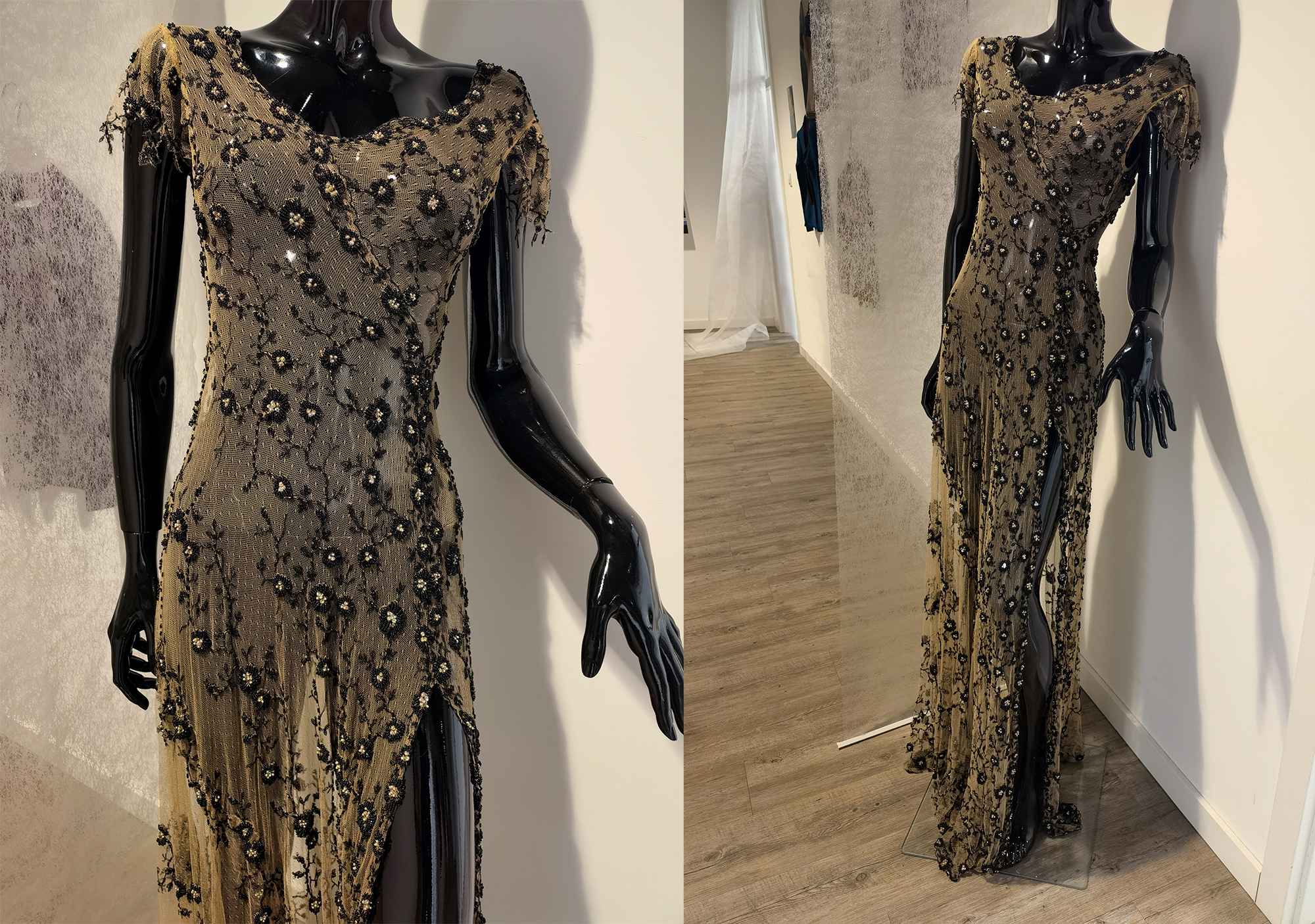 RICHARD ROZBORA – SLOVENSKÝ MÓDNY DIZAJNÉR
Slovenský módny dizajnér s medzinárodným presahom sa zaoberá módnou tvorbou od roku 2001 po ukončení štúdii na londýnskej Univerzite of Arts, Central St. Martin´s ako honorovaný bakalár umenia v oblasti womenswear BA(Hons). Najskôr tvoril pod menom Richard Rozbora, od roku 2013 pod názvom Rozbora Couture. Pri svojom medzinárodnom pôsobení v Prahe, Viedni a v iných mestách, získal viacero prestížnych medzinárodných ocenení a tiež pracovných ponúk v zahraničí. Na Slovensku získal Richard Rozbora cenu Bratislavských módnych dní za výnimočný prínosť pre slovenskú módu.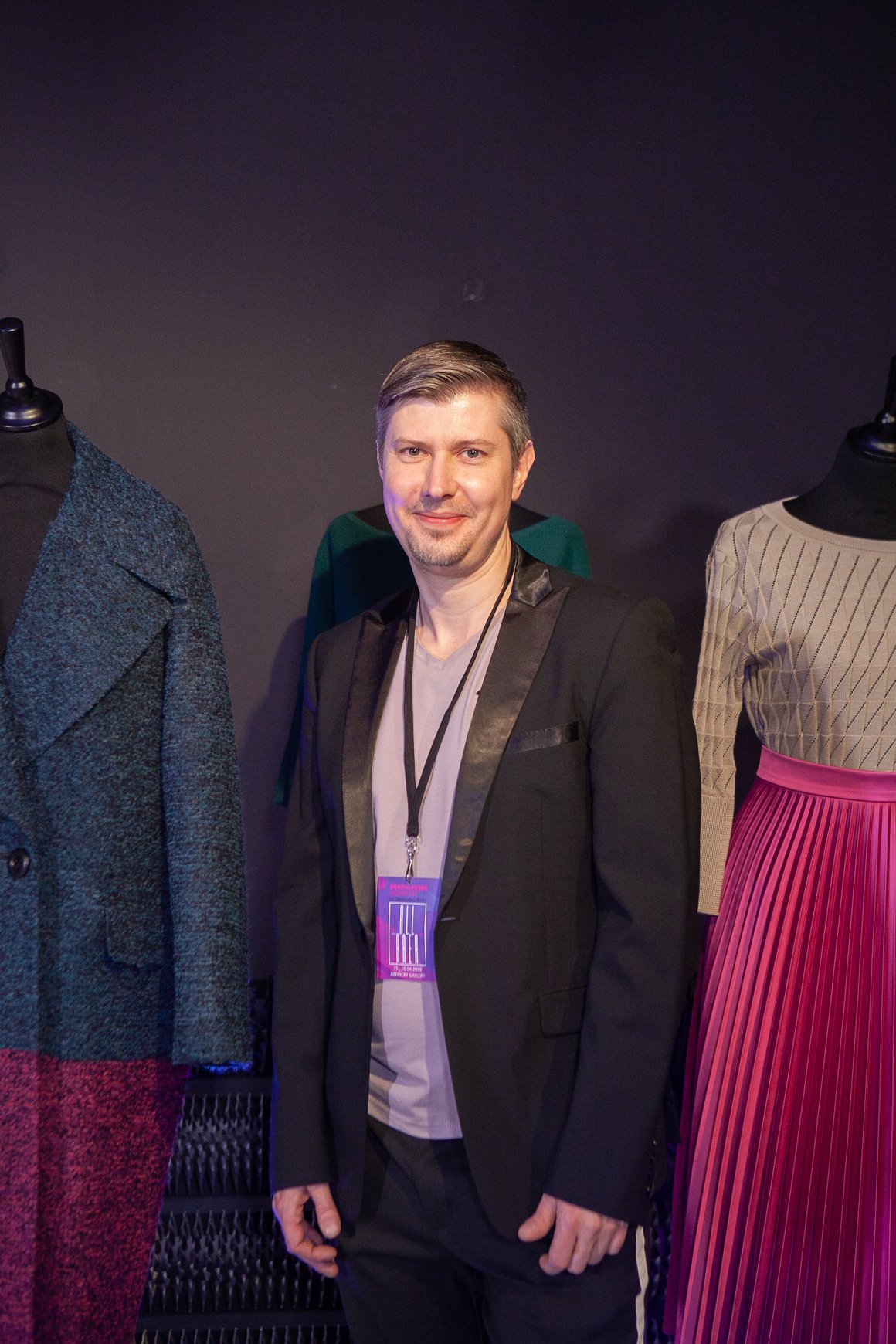 Richard je členom britskej RSA – Royal Society of Arts, Britskej Kráľovskej akadémie umenia a je zaradený do svetovej databázy módnych návrhárov. Je taktiež členom komisie pre mladých módnych tvorcov BMD (bratislavské módne dni) a odborným konzultantom na francúzskej škole Mod´Spa Paris CE.
Jednotlivé fotografie a tiež videodokumentáciu z vernisáže a tiež módnych prehliadok skvostných kolekcií si môžete pozrieť na Facebook stránke: Mya Mirell Fashionista .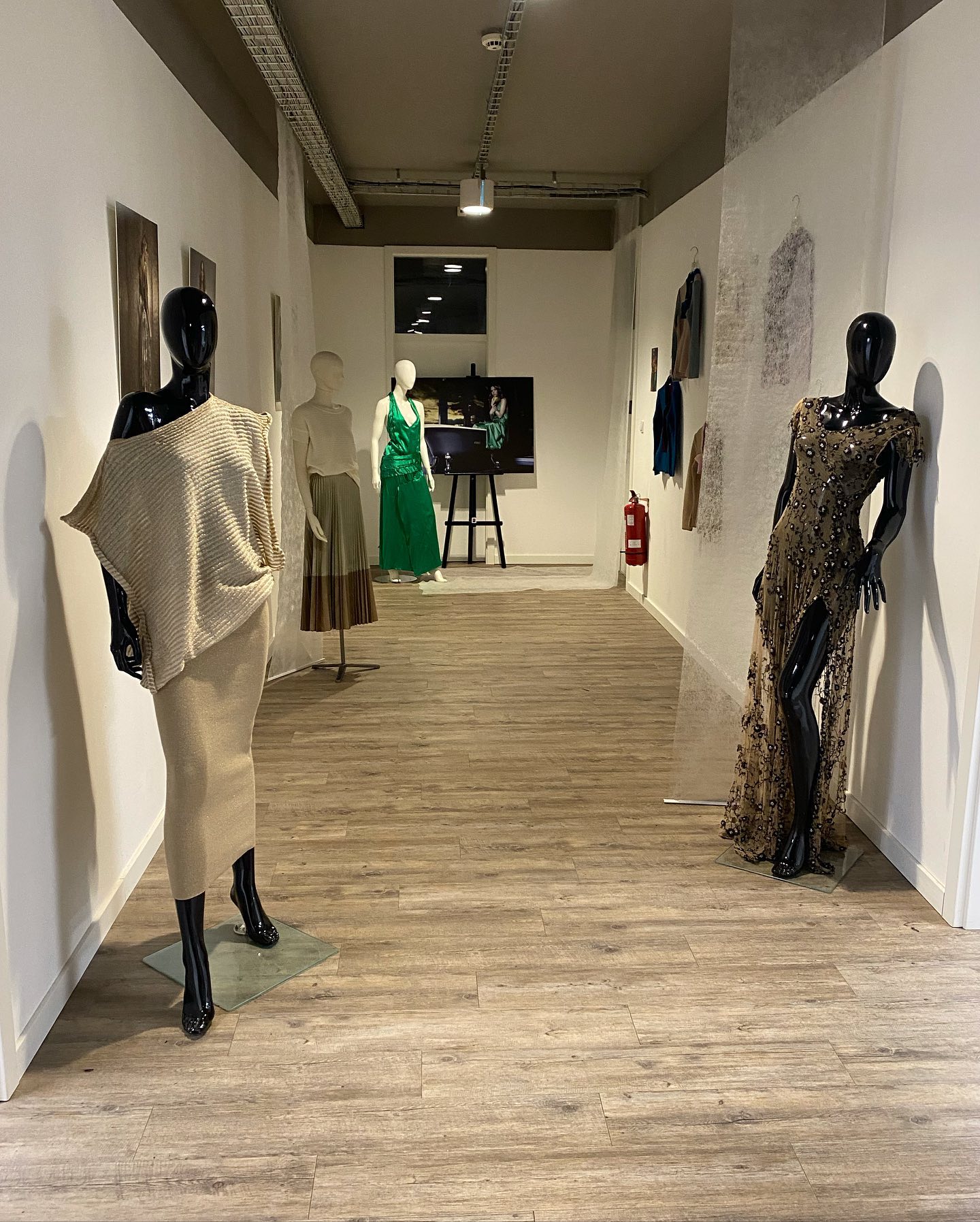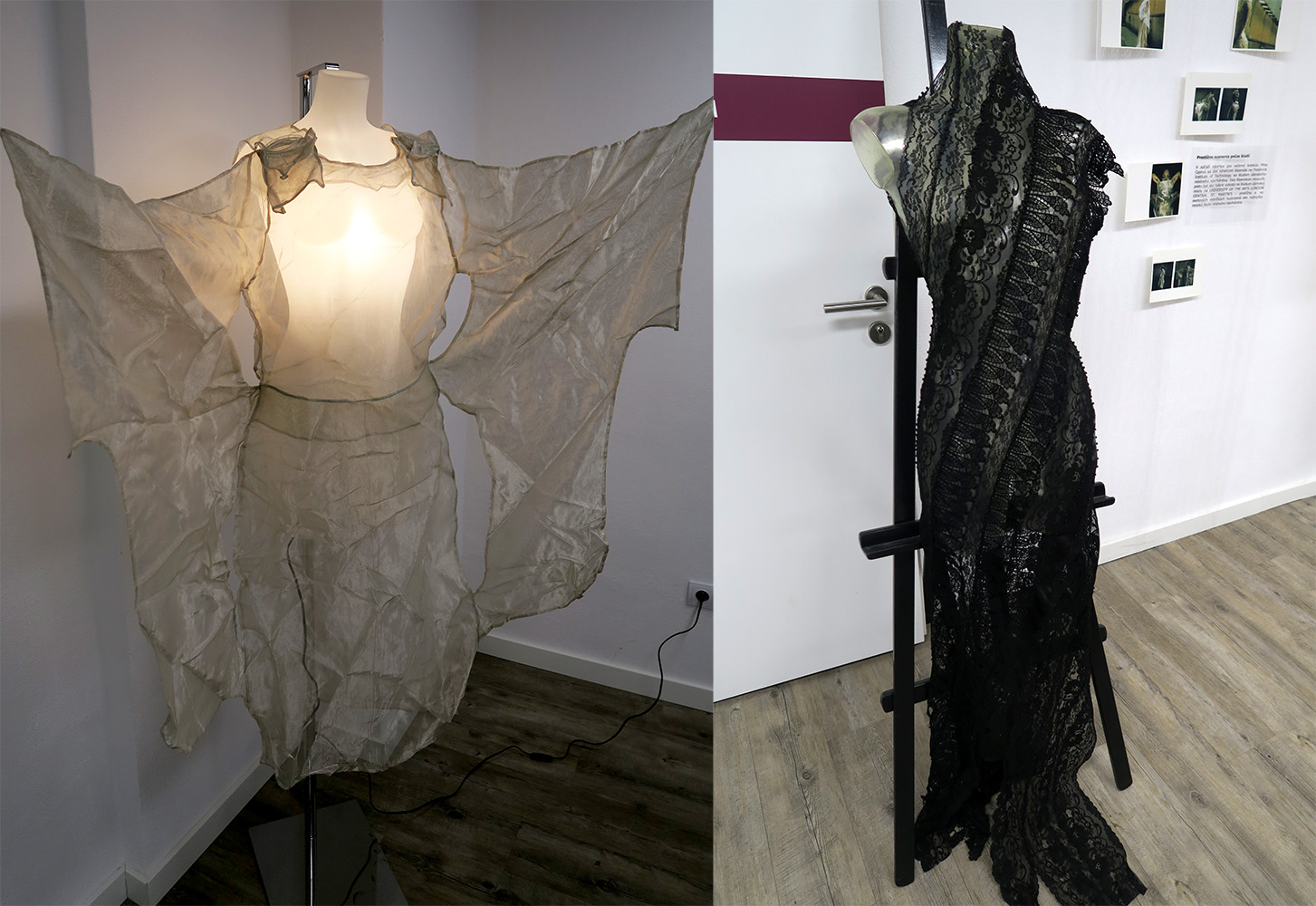 Chronologický výber Richardovho smerovania v stručnosti:
2001 promócia Central St. Martin's Londýn
2014-2019 prezentácie a prehliadky
Zahraničné: Viedeň, Praha, Paríž; domáce: Bratislava, Žilina, Jasná Nízke Tatry, Trenčianske Teplice. Účasť na podujatiach: Viedenský týždeň módy, Fashion LIVE! a Bratislavské módne dni, veľvyslanectvo SR v Rakúsku, prezentácia v Hofburgu vo Viedni, prezentácie pre rôzne inštitúcie, ako napr. ING Banka, rakúsky časopis Look! apod.
2018 členstvo v britskej Kráľovskej akadémii umenia (RSA)
2018 prehliadka MQVFW Viedeň 2018
2019 prehliadka Fashion LIVE! Bratislava
2019 prehliadka v Prahe – Pražská křižovatka
2019 MQ VIENNA FASHION WEEK za podpory dotácie z FPÚ
ROZBORA COUTURE – PRAKTICKOSŤ MODELOV, OSOBITÝ RUKOPIS, EKOLOGICKOSŤ, KVALITA A VKUSNÉ SPRACOVANIE
Tvorba slovenského dizajnéra Richarda Rozboru nesie osobitý rukopis ľúbivej módy s vysokou kvalitou spracovania za použitia kvalitných a príjemných materiálov. Richard obľubuje hodváb, kašmír, vlnu, úplety, mušelín a ručne vyšívané krajky. Dizajnér sa špecializuje na prírodné materiály, ktoré nezanechávajú ekologickú stopu, sú biologicky rozložiteľné, ale zároveň kvalitné pre nositeľa s dlhým využitím.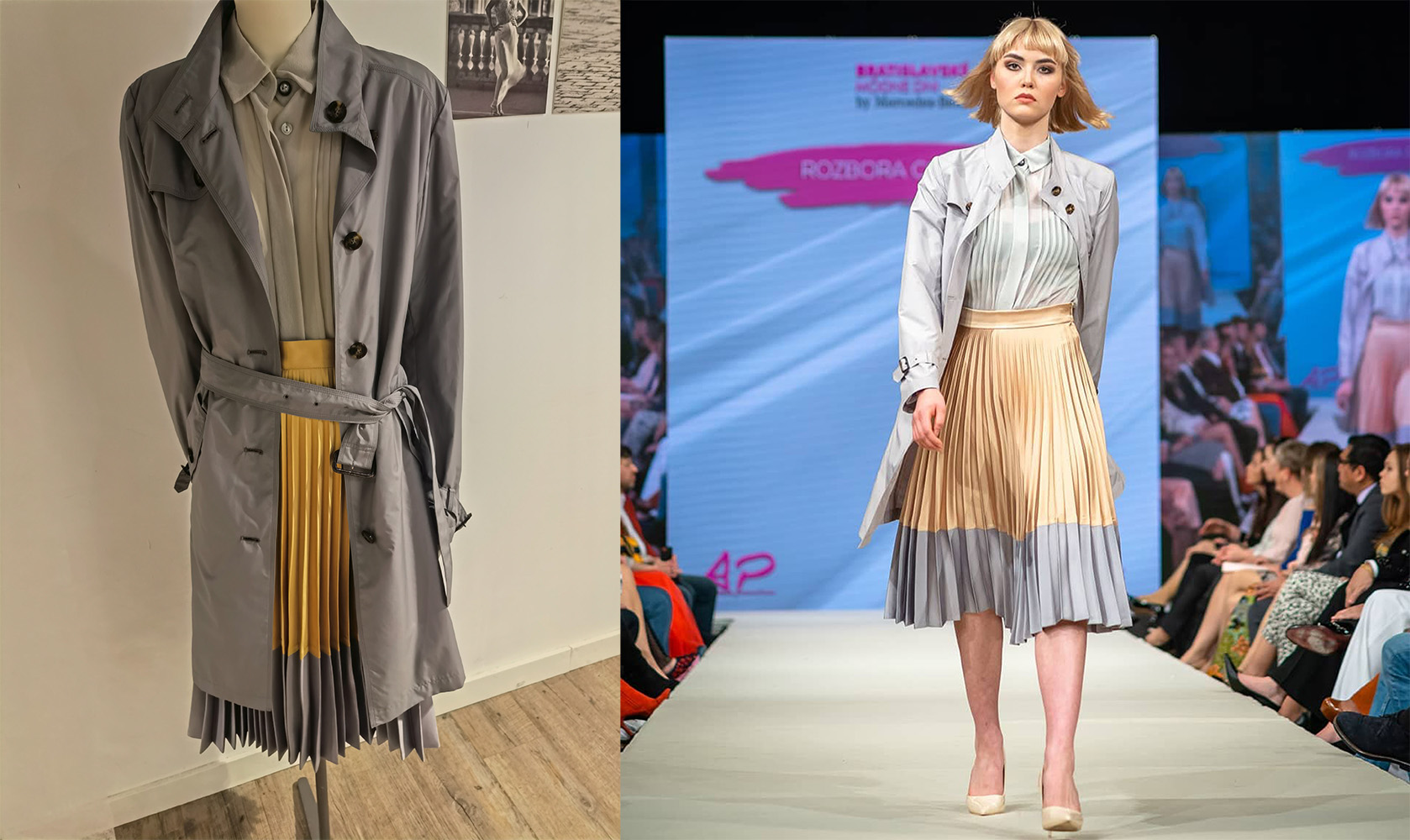 Módne kolekcie s podmanivým ženským chic štýlom sa vyznačujú miestami istou dávnou extravagancie a koketnosti, pričom náramne podčiarkujú ženskú krásu. Preto sú modely tak obľúbené u nositeliek, ktoré oceňujú taktiež ich nadčasovosť, jedinečnosť a kombinovateľnosť kúskov z ušľachtilých a príjemných materiálov. Vekové rozpätie dám, milovníčok Richardovej tvorby je preto rôzne a zároveň dizajnér sa neobmedzuje iba na malé čísla.
Praktickosť jeho modelov ide ruka v ruku s vkusným podčiarknutím ženskosti a sebaistoty každej nositeľky. Značka Rozbora Couture dnes naberá na obľube u stále väčšieho počtu dám rôzneho vekového rozpätia, pravidelne sa ukazuje na prehliadkových mólach a postupne preniká pod kožu každému, kto sa s ňou čo len po prvýkrát stretne.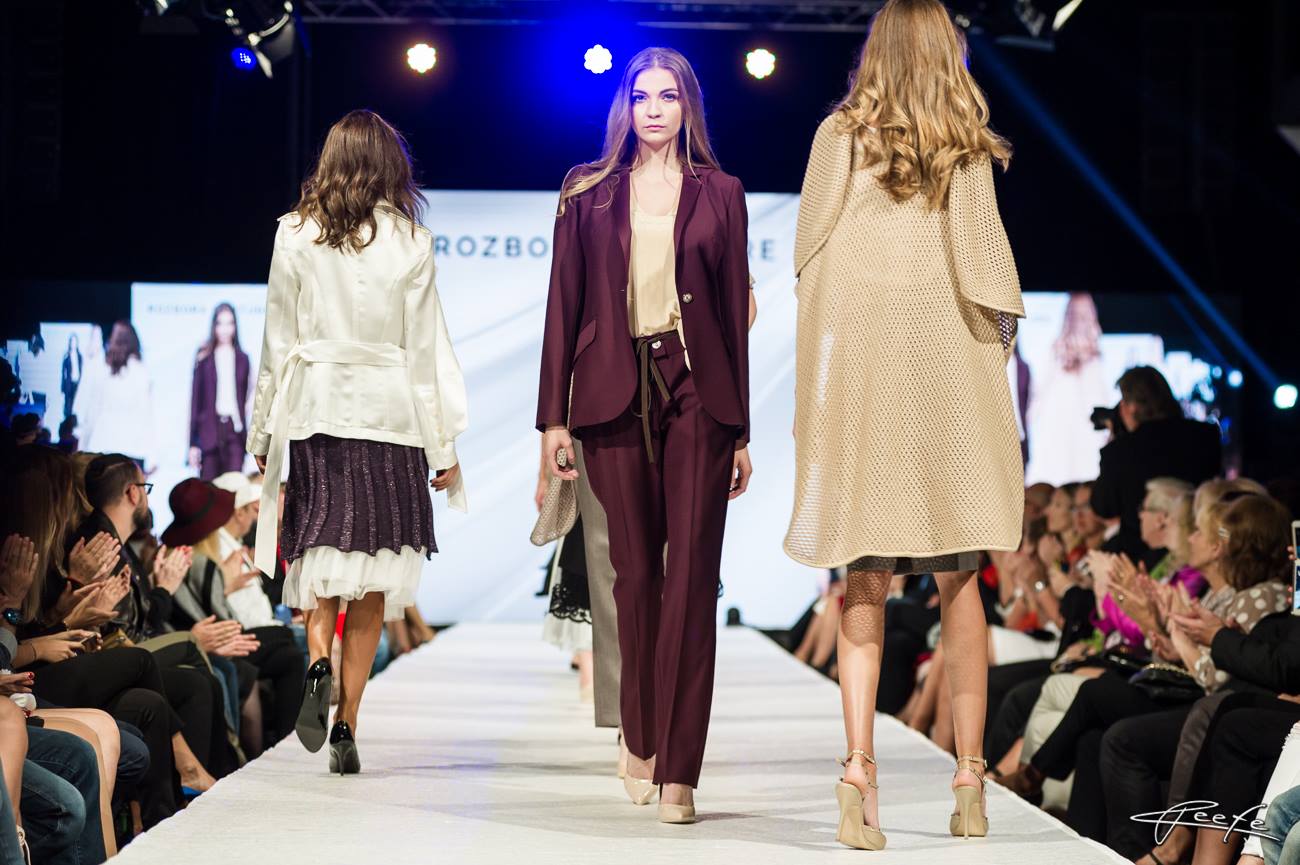 Nie je totižto zvykom, že sú modely dizajnérov tak praktické a chic a dokážu byť nositeľné nielen na mólach ale aj v uliciach mesta. Modely slovenského módneho návrhára Richarda Rozboru dokážu sadnúť prakticky akejkoľvek dáme. Dalo by sa povedať, že niet ženy, ktorá by si z Richardovej tvorby niečo nevybrala. Módna značka Rozbora Couture je dnes etablovaná nielen na domácom , ale aj zahraničnom trhu. Svoje modely Richard ukazuje a ponúka na módnych podujatiach doma a v zahraničí ale aj prostredníctvom ateliérov vo Viedni či v Prahe.
Počas uplynulých rokov prezentoval Richard Rozbora svoje kolekcie na autorských prehliadkach v Prahe, Paríži, Nikózii, Londýne a v Oslo. Pandémia však všetkým zamiešala karty a jedným z najväčšmi stagnujúcim je módny biznis a prezentácie dizajnérskych kolekcií za plnej účasti hostí prostredníctvom svetových týždňov módy.
Ženskosť, jemnosť a sofistikovanú zmyselnosť modelov Rozbora Couture môžete teda nateraz objavovať priamo u dizajnéra a v butikoch rodinnej značky.
Nechajte sa inšpirovať a navštívte Facebook stránky: Rozbora Couture a Mya Mirell Fashionista, kde nájdete aj záznamy videí z predchádzajúcich módnych prehliadok.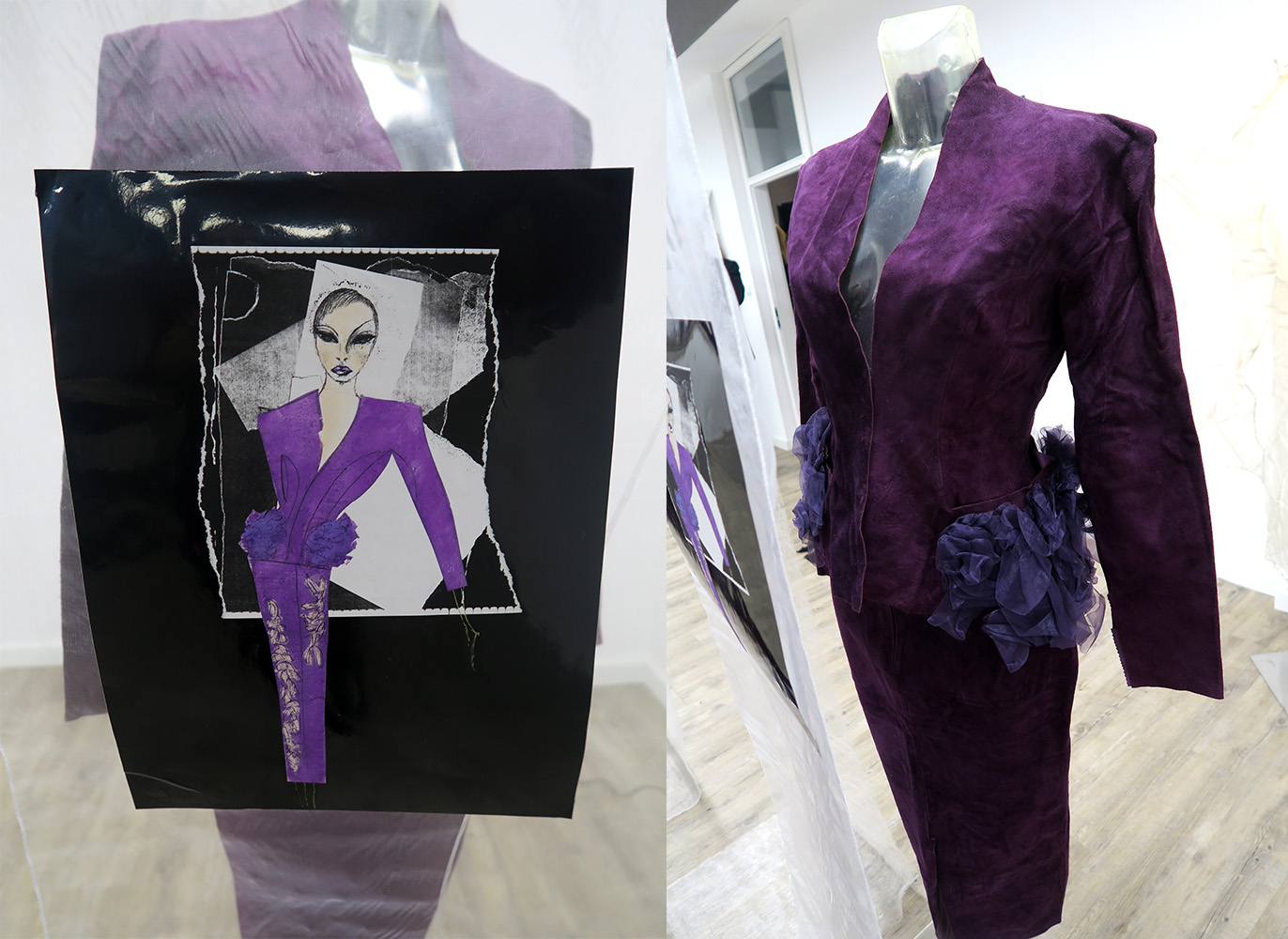 Partneri a sponzori podujatia:
Fond na podporu umenia – za poskytnutie prostriedkov a podpory, nevyhnutných na realizáciu podujatia
Mod Spe Paris CE – Fashion Business School, Vysoká škola managementu a marketingu v módnej oblasti – za poskytnutie priestorov a spolupráci pri uskutočnení podujatia
Kanovits Print – za poskytnutie tlačových služieb, veľkoplošnej tlače fotografií a exponátov
British Embassy Bratislava – za prevzatie záštity nad podujatím
Ordo Equestris Vino Europeae / Honorarkonsulat Slowekei Burgenland a osobne honorárnemu konzulovi SR v Burgenlande, pánovi Prof. Alfredovi R. Tombor-Tintera za poskytnutie rakúskych vín z jeho viníc
Prvú časť článku na pokračovanie z vernisáže slovenského dizajnéra Richarda Rozboru s názvom Od Sna k Realite, čítajte v histórii na tomto blogu.
obrázky: © Mya Mirell Fashionista, Rozbora Couture, Richard Rozbora
Sledujte Facebook stránku: Mya Mirell Fashionista a Instagram: mya_mirell .