ROBERTO CAPUCCI – Zakázaná móda, "zázračný chlapec"
Roberto Capucci je taliansky dizajnér, veľmi známy predovšetkým pre súčasný dizajn a úžasné využívanie a kombinovanie foriem, farieb a materiálov. Prezývaný je taktiež ako Givenchy Ríma. Už od malého veku ho neuveriteľne fascinovalo všetko, v čom sa zrkadlili farby. Jeho zvláštnosťou je obľuba vytvárať netradičné kompozície a dávať dizajnu zaujímavú netypickú formu.
O tomto znamenitom umelcovi, pre ktorého sú farby a zvláštne formy odevov tak typické, že ho jednoznačne spoznáte podľa rukopisu, bol premietnutý nedávno v Bratislave film s názvom Roberto Capucci – Zakázaná móda. Rozpravu o filme, diskusiu s producentami nájdete na mojej facebook stránke blogu s názvom Mya Mirell Fashionista v kategórii Videá.
Ak uvidíte jeden z jeho unikátnych dizajnov, ktoré majú pozoruhodné čaro, budete chcieť pozorovať viac. Jeho modely sú z každého uhla zaujímavo fascinujúce. Roberto Capucci nemá rád typické siluety a s vášňou vytvára svoje vlastné, unikátne. Svoje šaty nazýva "štúdiou formy", práve preto, že nemá rád typické strihy. Inšpirácie tento umelec celý život čerpal z umenia, architektúry, prírody, čo je v jeho tvorbe jasne citeľné.
Módny návrhár Roberto Capucci sa narodil v Ríme, v Taliansku, 2. decembra 1930. Vyštudoval umeleckú školu. Svoju prvú výstavu mal už ako veľmi mladý, vo veku dvadsať rokov. Ako sa hovorilo
vo filme Zakázaná móda, vek mladého dizajnéra nebol na akcii zámerne prezradený kvôli intrigám, ktoré vyvrcholili počas príprav módnej show na ktorej sa ostatní účastníci ostro postavili proti mladému Robertovi. Nechceli mu dovoliť vystaviť jeho znamenitý dizajn. O tomto sa však dopočuli média a zanovito trvali na tom, aby Capucciho modely uzreli svetlo sveta. A tak sa aj stalo. Následne po módnej prehliadke boli modely šokujúco ihneď vypredané.
Roberto Capucci sa stal už vtedy známy a dostal tak prezývku "zázračný chlapec". V roku 1950 si otvoril vlastný módny dom v Taliansku a následne v roku 1962 Couture salón v Paríži. V roku 1956 dostal ocenenie Medal of Gold Benátky a neskôr dostal pozoruhodný obdivuhodný pochvalný komentár aj od samotného návrhára Christiana Dior.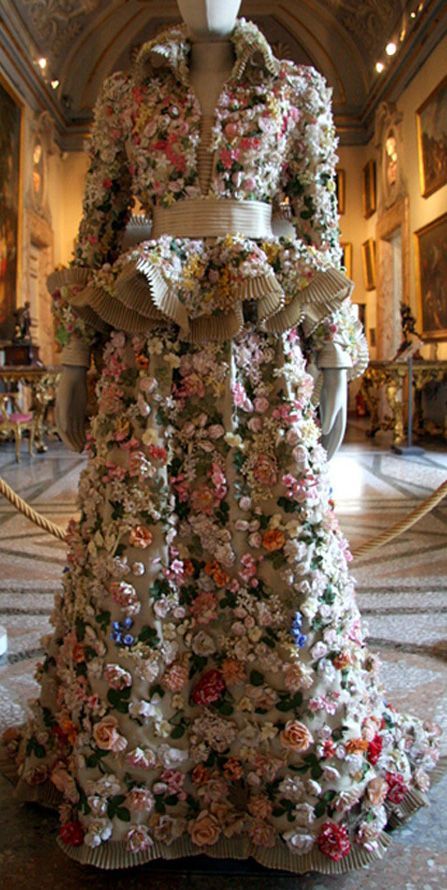 Rozpravu o filme, diskusiu s producentami nájdete na mojej facebook stránke blogu s názvom Mya Mirell Fashionista v kategórii Videá.
Jeho modely najviac svedčia palácom a zámkom, kde sa vynímajú najlepšie. To je svet, ktorý im pasuje.
Návrhy dizajnéra Roberto Capucci boli inovatívne, kreatívne, zaujímavé a sledovali siluetu tela, niekedy až v prehnanej výrazovej forme. Roberto miloval pracovať s materiálom a látkami tak, že vytváral akoby ilúzie na ženskom tele najmä skrz materiálov zriedkavo využívaných k vytváraniu odevov. Viac ako o iné sa zaujímal najmä o to, ako budú jeho modely vyzerať v pohybe. Fascinoval ho pohyb, krása materiálu v pohybe, zmeny jeho modelov z každého uhla a samozrejme farby.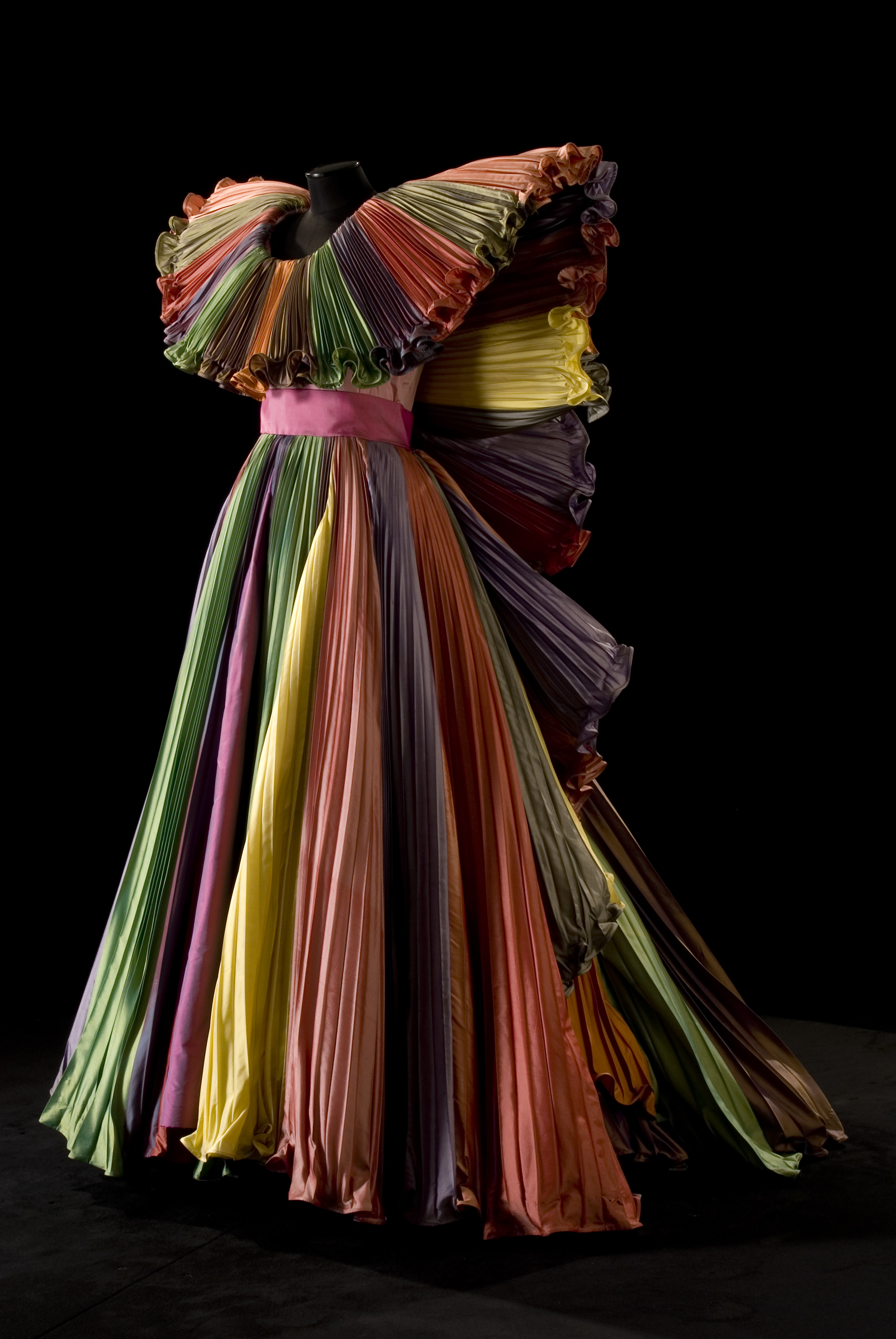 Odporúčam vám preto pozrieť si spomínaný film o umelcovi Roberto Capucci, talianskom návhrárovi s názvom Zakázaná móda, kde uvidíte nádherné modely, ktoré sa podarilo zachytiť na film v priebehu rôznych etáp jeho tvorby.
Dizajnér Roberto Capuccii miloval predstavu, že by jeho šaty mohli "tiecť", "plynúť" , meniť sa neustále spolu so všetkými tými farbami, do ktorých ich ponoril, keď si ich ženy budú obliekať. Dostalo sa mu uznania "majster siluety a farby" práve pre nezameniteľný štýl vytvárania modelov. Bol inšpirovaný geometrickými vzormi, ktoré pretavil do dizajnov svojich kreácií a zhmotnil do svojich šiat. Geometrické vzory môžeme vidieť vo všetkej jeho tvorbe, tak, ako aj farby.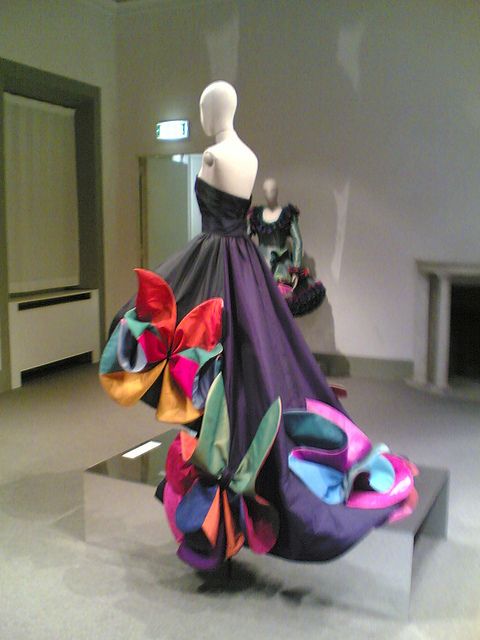 Roberto Capucci bol v priebehu svojej celoživotnej tvorby označovaný ako "Givenchy Ríma" a toto označenie pretrvalo dodnes. Hoci počas svojej tvorby dostal množstvo prestížnych ocenení, nemal rád publicitu a komerčné presadzovanie sa. Oficiálne sa stiahol z verejnej tvorby do úzadia a do tzv. dôchodku v roku 1980 vo veku 50. rokov.
Dizajn je však jeho celoživotnou vášňou a odvtedy neustále tvorí pozvoľna, nie s vidinou dychtivého odbytu. Ako povedal vo filme, pokreslil už toľko papiera, že sa to snáď nedá ani spočítať. Kreslil na cestách, v aute, v lietadle, všade, kde bolo možné nosiť so sebou svoje pomôcky a obľúbené farbičky.
V roku 1995 vo veku 65 rokov začal učiť v Číne na Univerzite Beigin, Xi'an a v Shanghaji.
Príležitostne participoval na módnych týždňoch, ale nie cez oficiálnu komoru módy, ktorá v Taliansku zastrešuje Milan Fashion Week a udáva tón a pravidlá. Nemal rád isté limity, neznášal byť oklieštený príkazmi a niekým organizovaný, tvoriť pod nejakým vedením a tak z Camera Mody vystúpil. Miloval slobodné vytváranie a rozvíjanie sa. Cítil sa viac umelec ako módny návrhár. Nechcel byť viazaný pravidelnými módnymi prehliadkami a neinklinoval ku komerčnej tvorbe s cieľom budovania zisku, ako napríklad jeho kolega, slávny taliansky návrhár Giorgio Armani, ktorý tak vybudoval ohromný majetok. Napriek tomu aj Roberto Capucci vytvoril majetok spôsobom života a tvorby, ktorý nebol zameraný na slávu a komerciu. Tvoril skôr skromnejšie, z umeleckého presvedčenia, pre radosť a menšiu klientelu. Jeho modely boli aj napriek malej publicite celosvetovo obdivované, nosené osobnosťami pre rôzne prestížne udalosti, a príležitosti. Boli určené pre svetové celebrity – herečky, princezné, dámy v arabských krajinách, operné divy a iné dámy.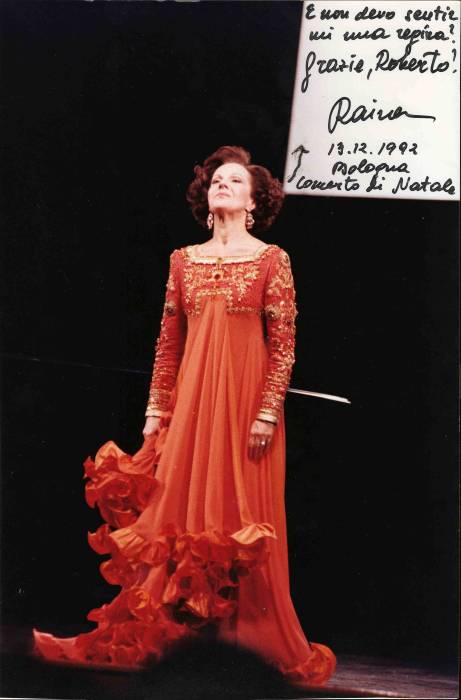 Capucciho modely boli ako stvorené a často využívané v kultúrnom umení, vo filme, v divadle, v opere, pre výstavy v palácoch a zámkoch. Nosili ich rôzne známe osobnosti, napríklad talianska herečka Silvana Mangano.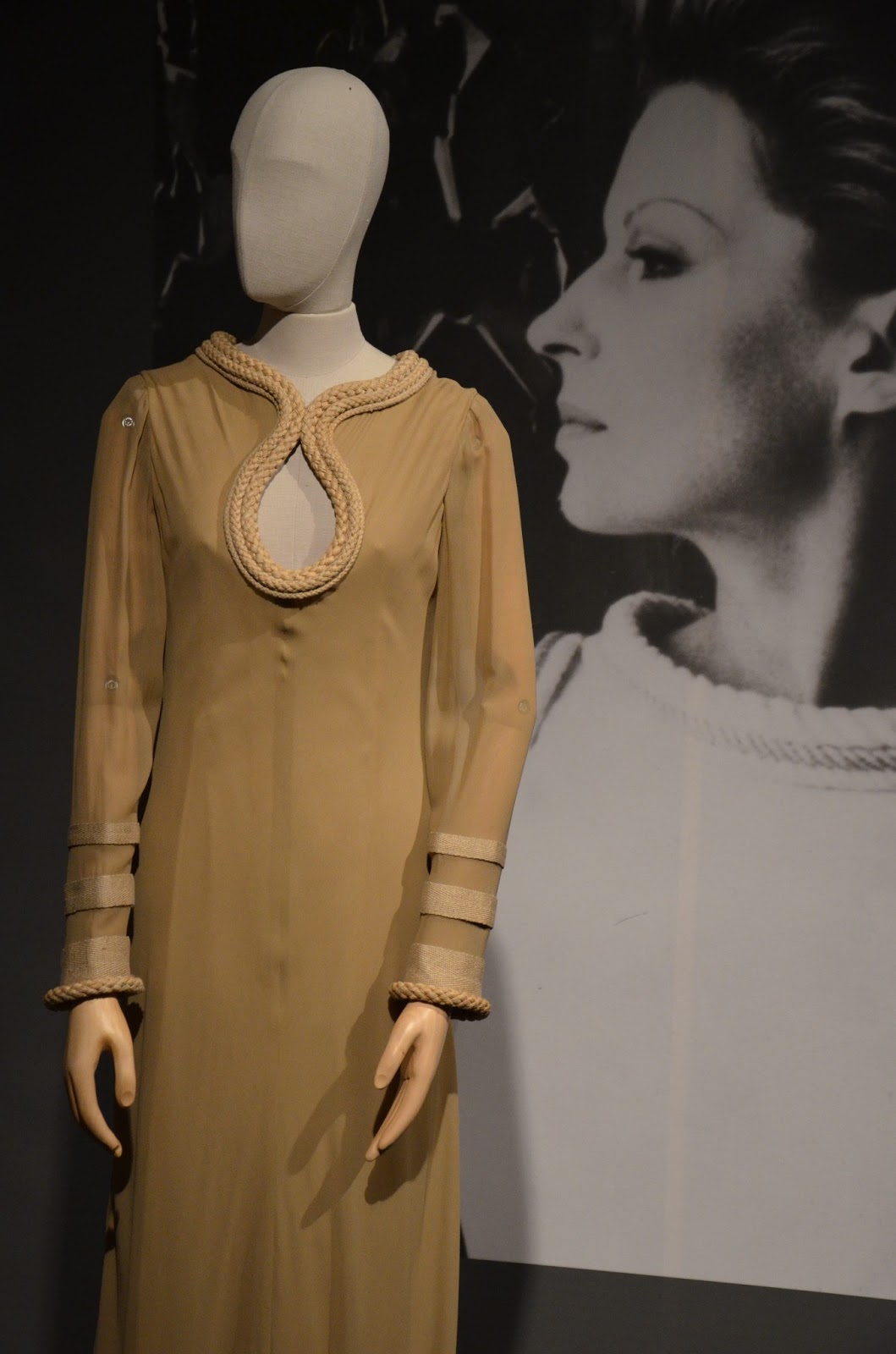 No vytvoril napríklad aj róbu pre skromnú držiteľku Nobelovej ceny, ktorá sa sprvoti bála honosného vzhľadu šiat s vlečkou, no nakoniec sa do šiat zamilovala. Všetko sa dozviete v zaujímavom filme o živote a tvorbe tohto dizajnéra.
Roberto Capucci rozbil hranice dizajnu v neuveriteľnú mozaiku možností založenom na formovaní, skladaní, vrstvení, vlnení, krútení, geometrii a farbách. Vytváral nielen pozoruhodný zaujímavý módny dizajn, ale taktiež umenie. Hoci je už na dôchodku a v súčasnosti má cez 80 rokov, sem tam ešte z vášne tvorí.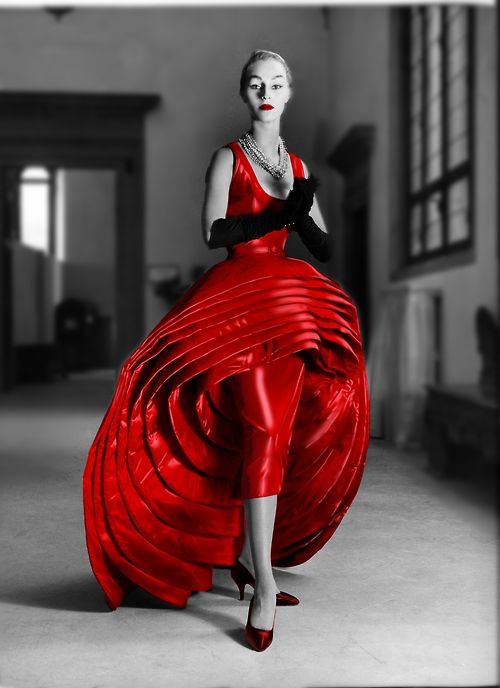 Módny návrhár Roberto Capucci bol ovplyvnený racionalizmom, tvarmi, pop-artom a kostýmovým dizajnom. Seba videl viac ako umelca a nemal rád pomenovanie módny návrhár .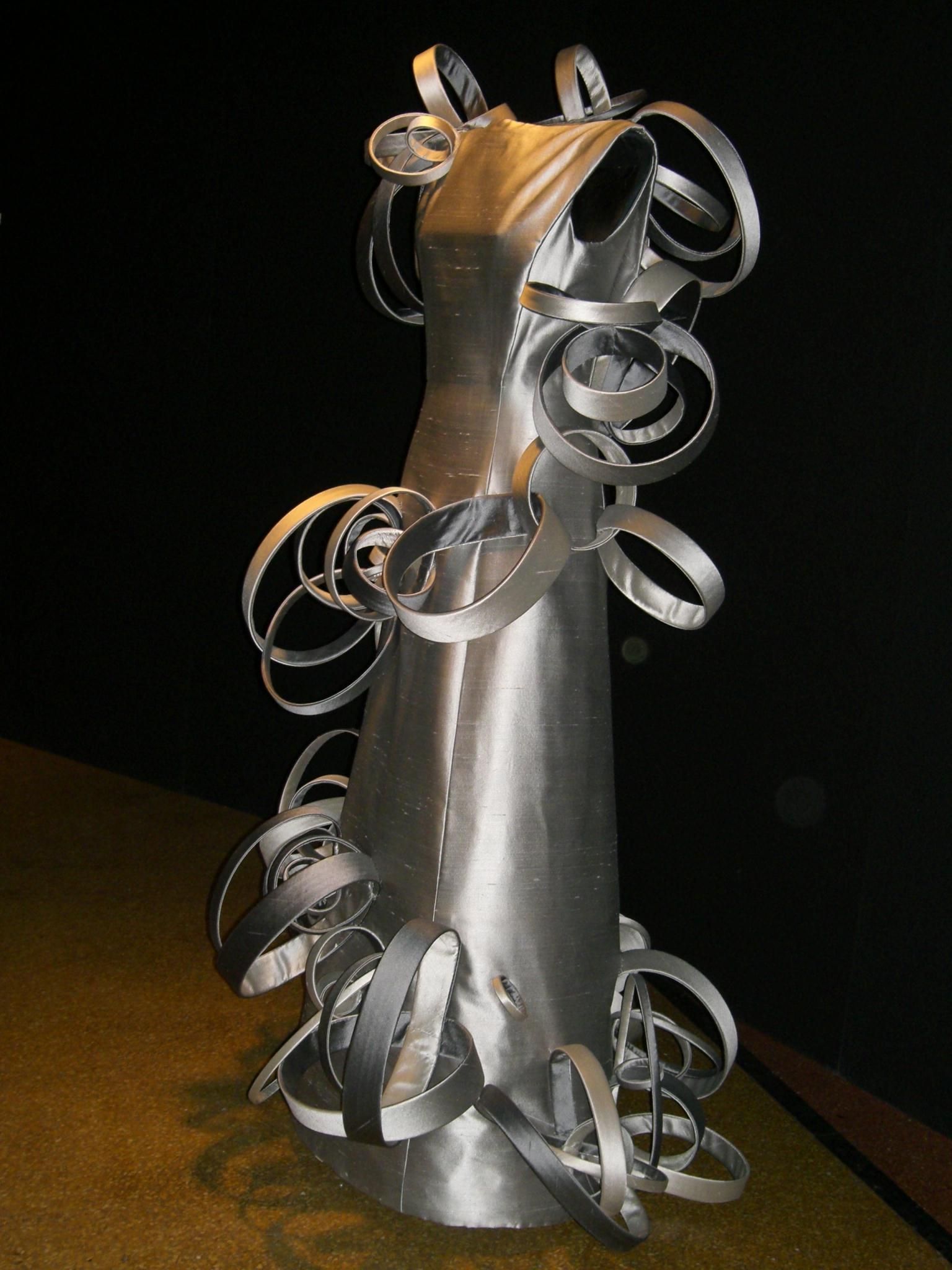 "Nezmýšľam o sebe ako o krajčírovi alebo módnom dizajnérovi, ale skôr ako o umelcovi pre spôsob vytvárania, hľadania možností vyjadrenia látky k využitiu a kvôli skulpturálnemu použitiu hliny".
Taliansky dizajnér Roberto Capucci vytváral šaty pre abstraktnú ženu, ktorú by ste len veľmi zriedka mohli stretnúť. Akúsi Capucciho éterickú múzu. Viac fotografií a rozpravu , video diskusiu o filme Zakázaná móda nájdete na facebook stránke Mya Mirell Fashionista.