Ružový monochromatický jarno-jesenný oufit s topánkami Silvian Heach a bodkovanými pančuchami Calzedonia
Farebný svieži look je in nielen počas jari a leta, ale rozžiariť môžete svoje okolie pokojne aj na jeseň, či v zime. Prinášam príklad monochromatického jednoliateho outfitu – ladeného v jednotnej farebnosti hravo oživeného bodkovanými pančuchami z kolekcie značky Calzedonia. Čipkované šaty sú výraznej ružovej farby a dizajnový kabát so šnurovaním na chrbtovej časti a v oblasti rukávov ich vhodne dopĺňa vo farbe fuchsiovej. Akcentovým prvkom tohto looku sa stali členkové topánky v žiarivej metalickej ružovej farbe značky Silvian Heach. I keď mi boli topánky výrazne väčšie, pohodlnosť vymenená za utrpenie vo vysokých čižmičkách, bola tentokrát na nezaplatenie. Outfit aj napriek traktorovému vzhľadu topánok v kombinácii so šatami nestratil na ženskosti, ba naviac dostal dievčenský šmrnc. V takýchto topánkach prechodíte bez obáv celý deň hocijakú metropolu. Preto som tento výsledný vzhľad zvolila aj na prehliadkový týždeň módy v Miláne – Milan Fashion Week a cítila som sa v ňom dokonale komfortne. Tento štýl natoľko zaujal street stylových fotografov a reportérov, že ma počas Milan Fashion Weeku na prehliadke značky Gucci oslovili na rozhovor o ružovom outfite a ružovom výraznom make-upe, ktorý som k nemu zvolila. Make-up inšpiráciu nájdete v kategórii Beauty.
V najnovšom čísle slovenského magazínu Harmónia 02/2019 môžete nájsť aj tento ružový outfit na stránkach venovaných móde. Nebojte sa farieb a skúste v uliciach zažiariť. Ako som neraz písala, farby dokážu zlepšiť vaše psychické rozpoloženie, naladiť vás pozitívnym smerom a pozitívnu vlnu možno preniesť i do okolia. Razom zmiznú ponuré dlhotrvajúce sychravé dni.
Pri vytváraní monochromatických outfitov (ladených v jednotnej farebnosti) môžete vyskúšať rôzne farebné kreácie od výrazných kombinácií, po ktorých siahnu zrejme odvážnejšie módne expertky, najmä počas slnečných dní, ktoré si pýtajú farby, krikľavé farby, cez jemnejší tón v tóne. Ak siahnete po jemných elegantných farbách napríklad v odtieňoch béžovej, docielite elegantný ženský look. O monochromatických outfitoch – čítaj v nasledujúcom článku v kategórii Fashion.
If you buy the latest issue of the Slovak Harmonia Magazine 02/2019, you can explore the trendy fashion spread by yours truly, Mya Mirell. See if you could spot me in there. Many thanks to the editor in chief Andrea Hinkova Tarova once again. Follow me for more chic styiling as well as my Mya Mirell Fashionista page and Mya Mirell personal page on Facebook. If you need an extra vogue fix, make sure you pay a visit to my Insta account: myamirell and mya_mirell, where I post everything about fashion from Milan Fashion Weeks.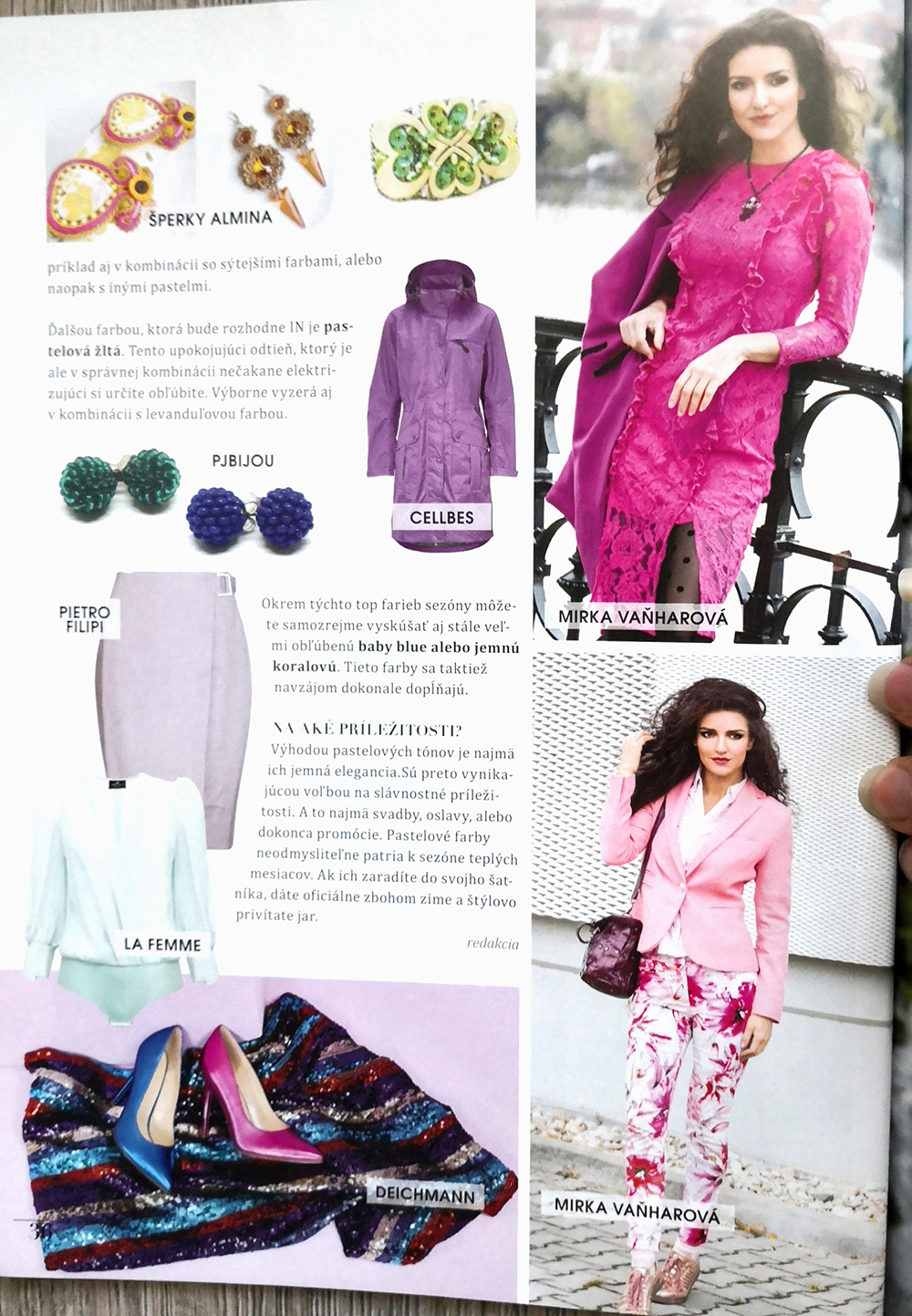 Rôzne druhy materiálov, kombinácia potlačí a štruktúr je aktuálne módnym hitom nastaveným dizajnérmi zo svetových týždňov módy počnúc New Yorkom, pokračujúc Milan Fashion Weekom a končiac Paris Fashion Weekom. Výrazné farby, potlače a zvieracie motívy nás zastihnú v lete 2019. Pripravte sa na záplavu neónových farieb a kombinácie krikľavých sviežich farieb s potlačami, najmä zvieracími motívmi. Ak sa chcete držať výrazne trendovej farby tohto roka, siahnite po živej koralovej farbe. Farbou letnej sezóny však bude aj sýto žltá v teplom tóne, prekrásne modely v tejto farbe predstavila počas Milan Fashion Weeku aj značka Max Mara – čítaj nasledujúci článok o tejto kolekcii.
Viac – sleduj moje 2 instagram profily: myamirell a mya_mirell
Facebook fan stránka: Mya Mirell
Facebook stránka o móde: Mya Mirell Fashionista