Stavte na silu monochromatických oufitov
Sila monochromatických outfitov a sviežich farieb je in, viditeľná nielen počas svetových týždňov módy, kedy prebieha úžasné módne divadlo fashionistov priamo v uliciach, no prečo nezažiariť aj v tých našich ? Pozrime sa na príklady zaujímavých lookov v jednotnej farebnosti a ich výrazové pôsobenie.
Pri vytváraní monochromatických outfitov (ladených v jednotnej farebnosti) môžete vyskúšať rôzne farebné kreácie od výrazných farieb, po ktorých siahnu zrejme odvážnejšie módne expertky, najmä počas slnečných dní, ktoré si doslova pýtajú farby až po jemný farebný tón v tóne.
Expresívny monochromatický look vytvárajú nohavice v krikľavej červenej, ktorú ešte podčiarkuje lakovaný efekt, doplnené červeným topom so vzorom spolu s čevenými čižmičkami a kabelkou. Výrazný monochromatický look z ulíc počas týždňov módy.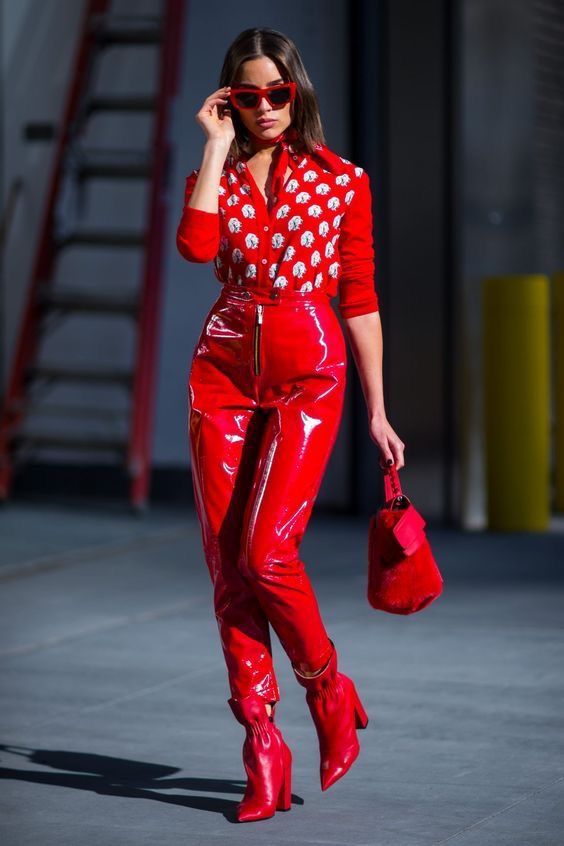 Ak siahnete po jemných elegantných farbách napríklad v odtieňoch béžovej, krémovej, staroružovej, marhuľkovej, docielite elegantný nežný ženský look.
Modelka Gigi Hadid v elegantnej béžovej.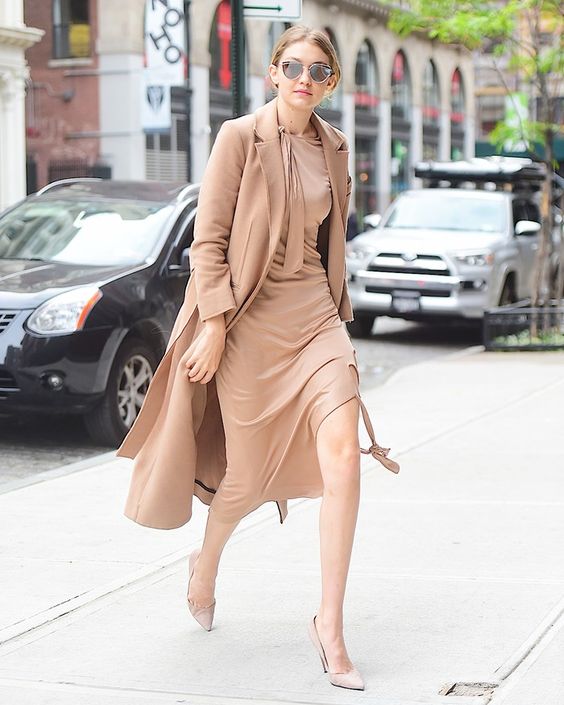 Americká herečka, modelka, podnikateľka Jessica Alba v nežnom marhuľovom outfite ladenom v jemných príbuzných farebných odtieňoch.
Známa Talianka, módna ikona Giovanna Battaglia, aktuálne matka, ktorú stretávam počas Milan Fashion Weeku, vie vždy, ako zaujať fotografov. Jej outfity zapĺňajú sociálne stránky venované najlepším lookom z týždňov módy. V tomto príklade siahla po dievčenskej ružovej a plisovanej sukni, ktoré hrali počas jedného obdobia Milan Fashion Weeku v uliciach prím.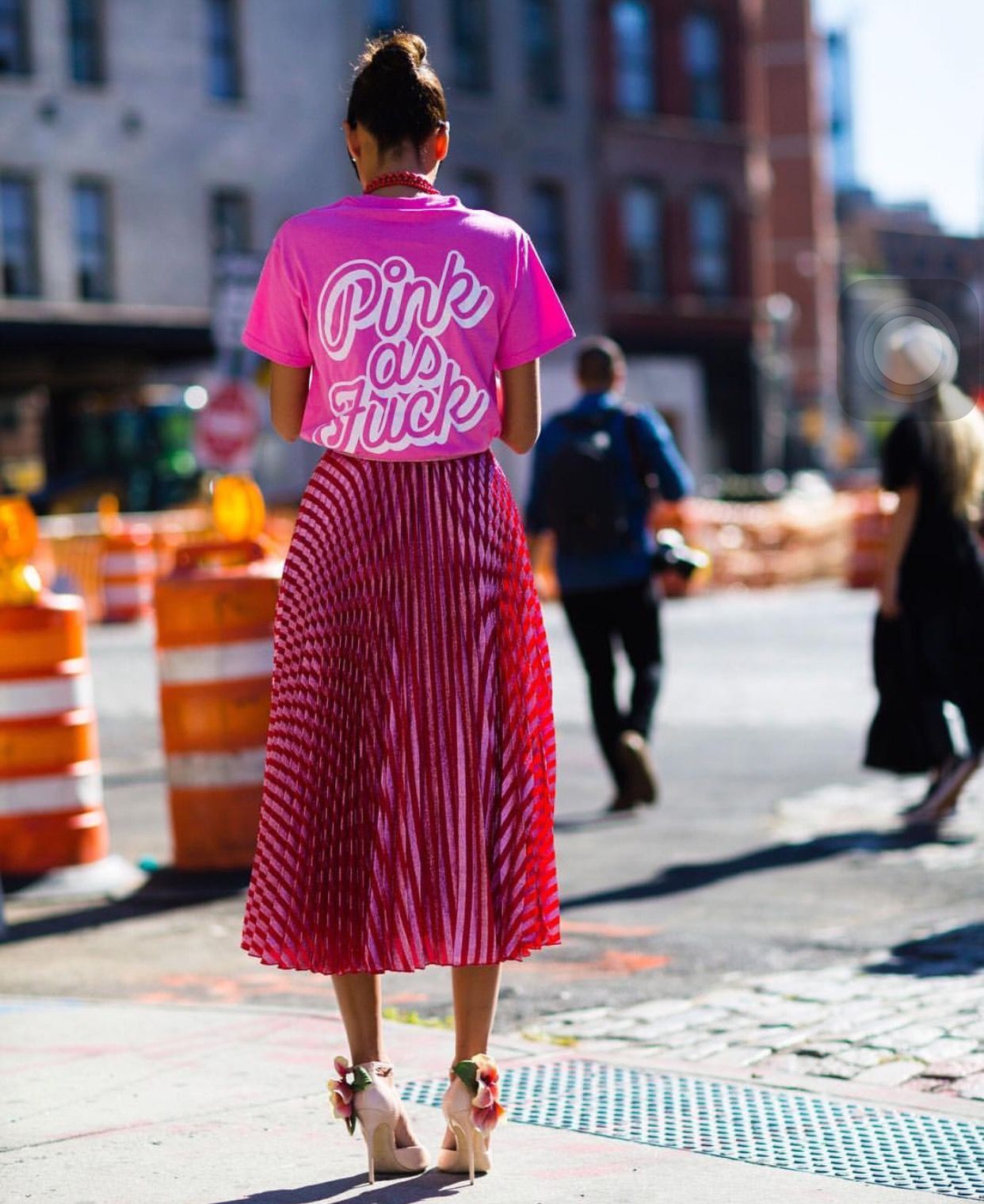 Ružová je počas týždňov módy veľmi trendová. Tento outfit taktiež zaujal množstvo pouličných fotografov.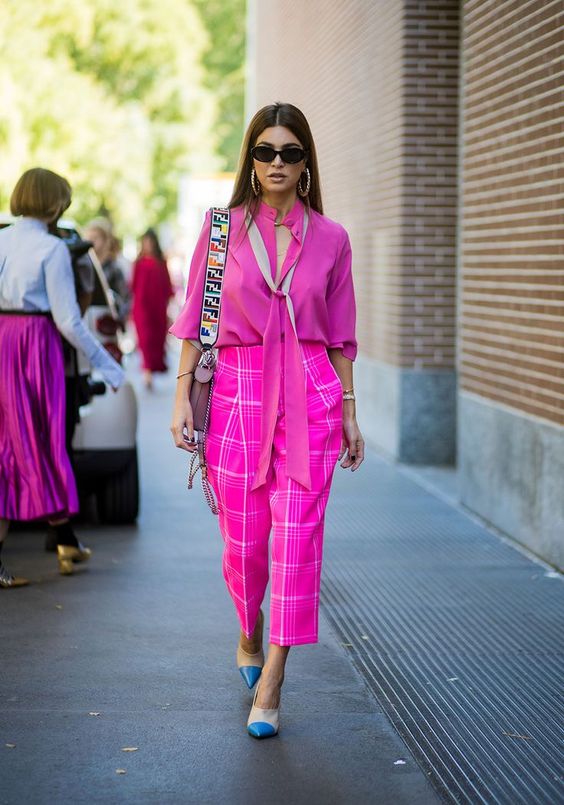 Trúfate si na niečo takto výrazné? Za seba musím povedať, že rozhodne áno, tento outfit je úplne podľa mojich predstáv, čo sa krásnej farby a výraznosti do okolia a vyžarovania týka.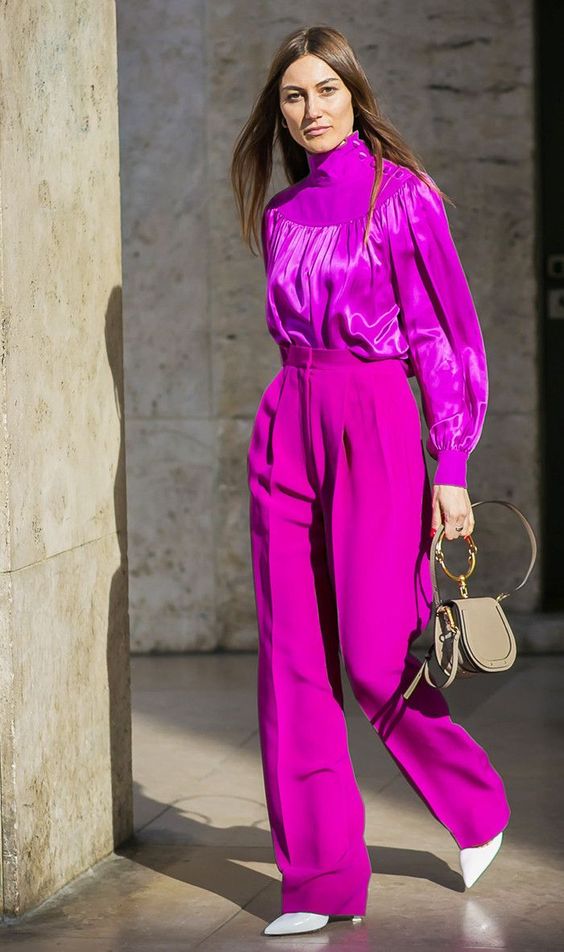 Modelka Gigi Hadid a jej károvaný ružový kostým s oversize strihom saka. Gigi pristane jednoducho všetko. Videla som ju niekoľkokrát naživo a môže nosiť doslova všetko. Video s Giggi Hadid a sestrou Bellou hadid life po prehliadke Alberta Ferretti nájdete na mojej facebook stránke blogu s názvom Mya Mirell Fashionista.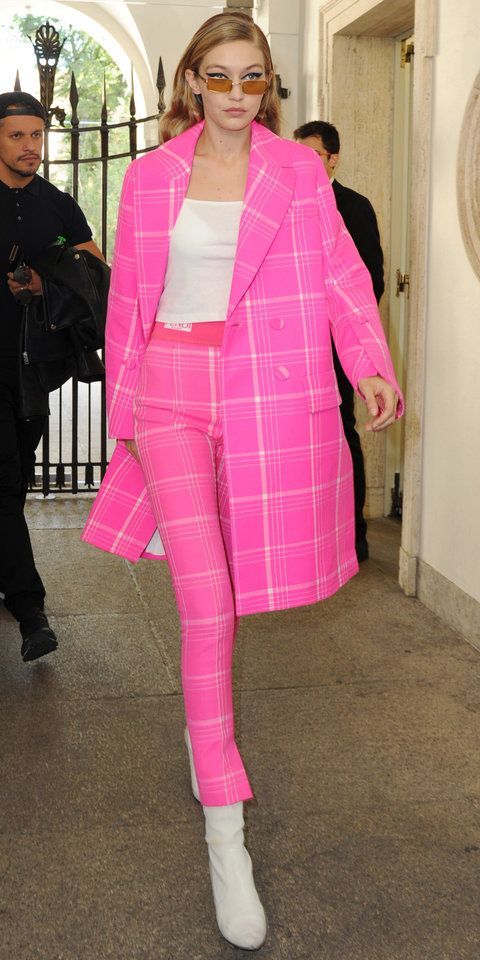 Štýlový športovo-elegantný outfit s vrstvením z módnych týždňov ladený jednotne v jemnej púdrovo ružovej.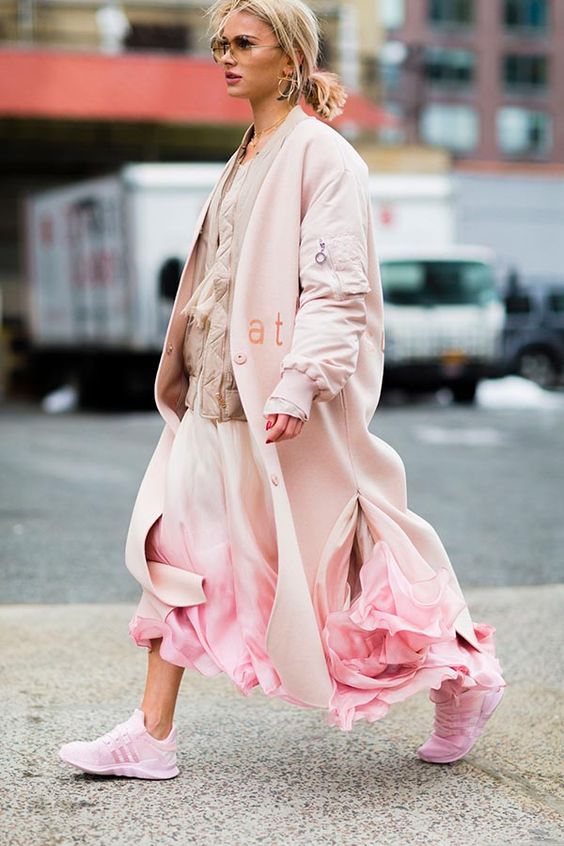 Spevácka diva Jennifer Lopez a jej príklady monochromatických outfitov. Svedčí jej aj tlmená modrá a elegantné odtiene béžovej.
Jemná ženská elegancia docielená jednoliatym oufitom v béžovej farbe, máva nám modelka Gigi Hadid.
A že farby sú in, o tom nás presviedčajú aj poprední módni dizajnéri. Talianska módna návrhárka Miuccia Prada nie je výnimkou, nedávno sa predviedla v svietivej ružovej v tomto looku počas záverečného defilé prehliadky značky Prada.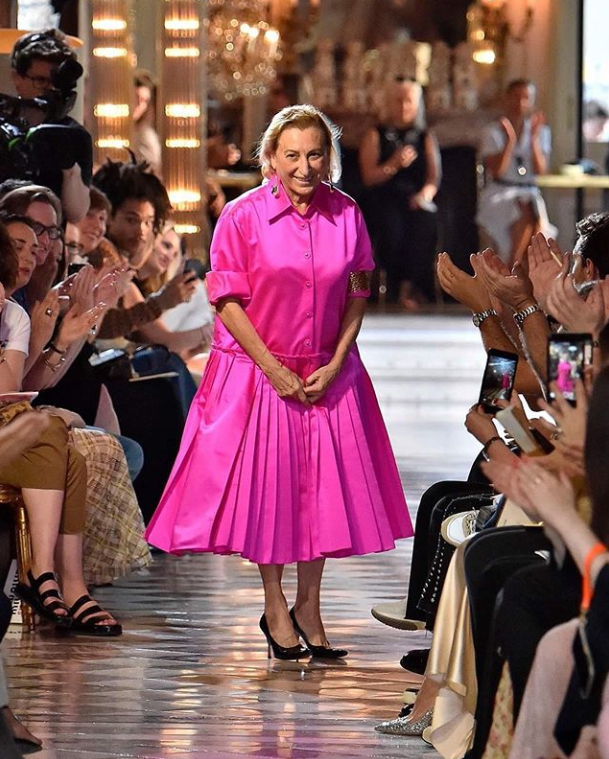 Výrazné farby, nečakanú horúcu letnú vychytávku 2019, priniesla tiež značka Max Mara (čítaj v predchádzajúcom článku), ktorá je známkou talianskej elegancie a luxusu. Toto leto sa pripravte na žltú farbu, predovšetkým jej teplý odtieň a záplavu žltých monochromatických lookov. Príklady žltých outfitov od slávnych hviezd:
Doina Ciobanu, modelka, blogerka, influencerka počas Milan Fashion Weeku zachytená street style fotografmi v jednotnom oranžovom outfite. V tomto looku som ju videla aj ja prichádzať na niektoré prehliadky. Diona je vždy hviezdou módnych týždňov. Moje fotografie a videá street style aj z prehliadok z Milan Fashion Weekov nájdete na facebook stránke blogu s názvom Mya Mirell Fashionista.
Môj vlastný príklad monochromatického outfitu ladeného do farby ružovej, ktorý som oživila bodkovanými pančuškami z kolekcie značky Calzedonia ako posledný look – viac príkladov – sleduj facebook Mya Mirell Fashionista:
Aj sychravé počasie môžete na jeseň či v zime pokojne takto rozveseliť . Monochromatický look tvoria čipkované ružové šaty a dizajnový kabát doplnkovej farby s efektným šnurovaním na chrbtovej časti a v častiach rukávov. Akcentovým prvkom tohto looku sú členkové topánky žiarivej metalickej ružovej farby značky Silvian Heach. I keď mi boli topánky o niečo väčšie, pohodlnosť vymenená za utrpenie vo vysokých čižmičkách, bola tentokrát na nezaplatenie. Outfit aj napriek traktorovému vzhľadu topánok v kombinácii so šatami nestratil na ženskosti, ba naviac dostal dievčenský šmrnc. V takýchto topánkach prechodíte bez obáv celý deň hocijakú metropolu, outfit je pohodlný na bežný deň a dlhé prechádzky. Preto som tento look zvolila aj na prehliadkový týždeň módy v Miláne – Milan Fashion Week a cítila som sa v ňom dokonale komfortne.
O to viac to zaujalo street style fotografov a reportérov, ktorí so mnou natočili počas prehliadky značky Gucci rozhovor o tomto looku.
Viac fotografií nájdete v ďalšom článku o tomto oufite v kategórii My Outfits.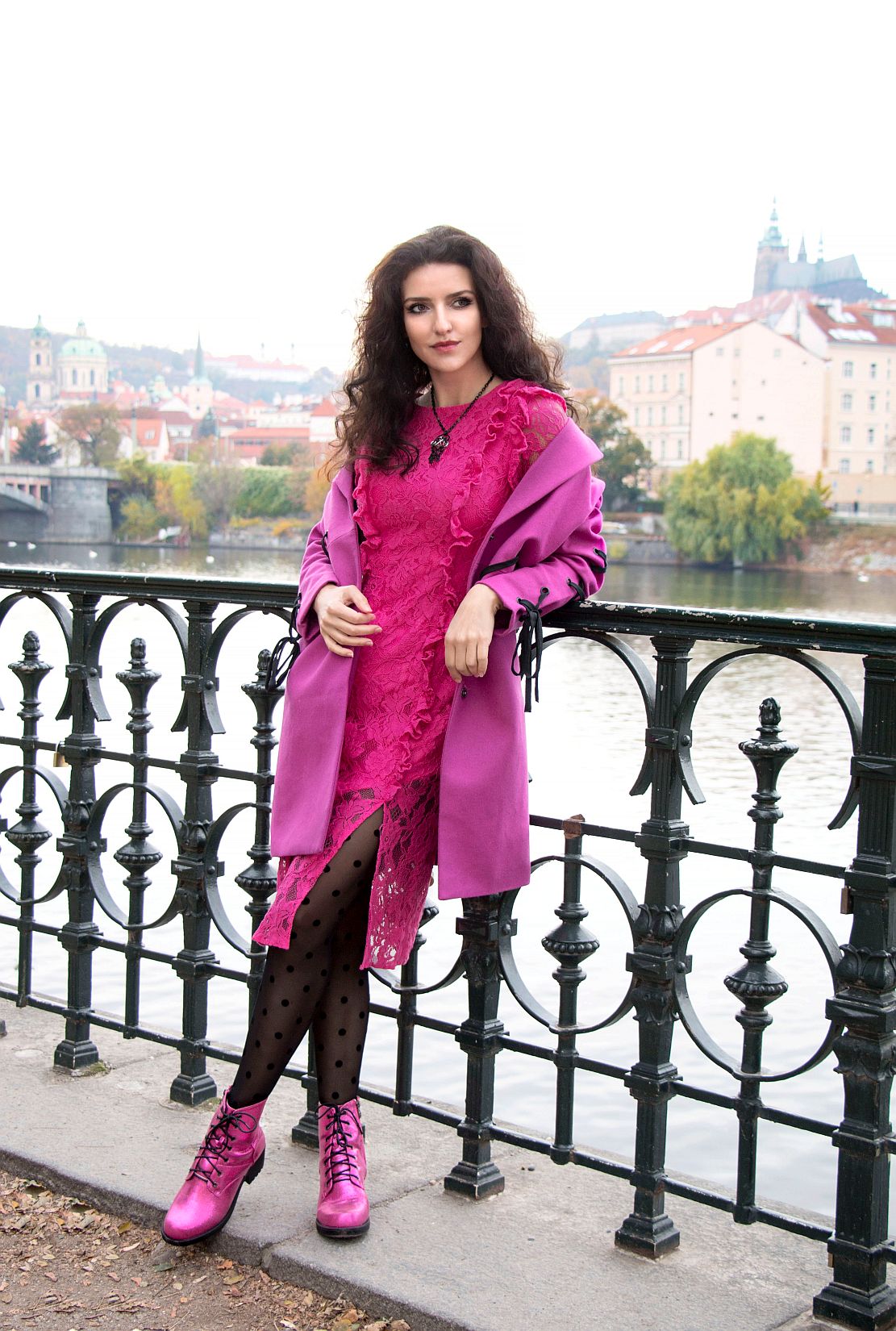 Mya Mirell
Instagram: myamirell a mya_mirell
Facebook: Mya Mirell Fashionista