Simone Marchetti – taliansky módny editor, kritik módy, módny expert, nový šéfredaktor Vanity Fair Italia
Novým šéfredaktorom magazínu Vanity Fair Italia sa stal Talian, Simone Marchetti. Simone je dlhodobo známy pre inteligentné, zaujímavé módne reporty a módny prehľad. Kritické náhľady a vycibrený módny vkus ho posúvali neustále vpred. S touto zaujímavou správou sa Simone pochválil na svojom instagramovom profile 6. novembra 2018.
Vymenovanie bolo oznámené Condé Nast Italia, generálnym riaditeľom Fedele Usai, ktorý povedal: "Simone Marchetti má talent, kompetenciu, záujem a potrebnú odvahu viesť značku ako Vanity Fair." V doterajšej funkcii nahradil Danielu Hamaui s platnosťou od decembra 2018. Daniela Hamaui bude naďalej pokračovať na báze spolupráce. Simone Marchetti stretávam počas týždňa módy v Miláne a tak pridávam v úvode niekoľko fotografií.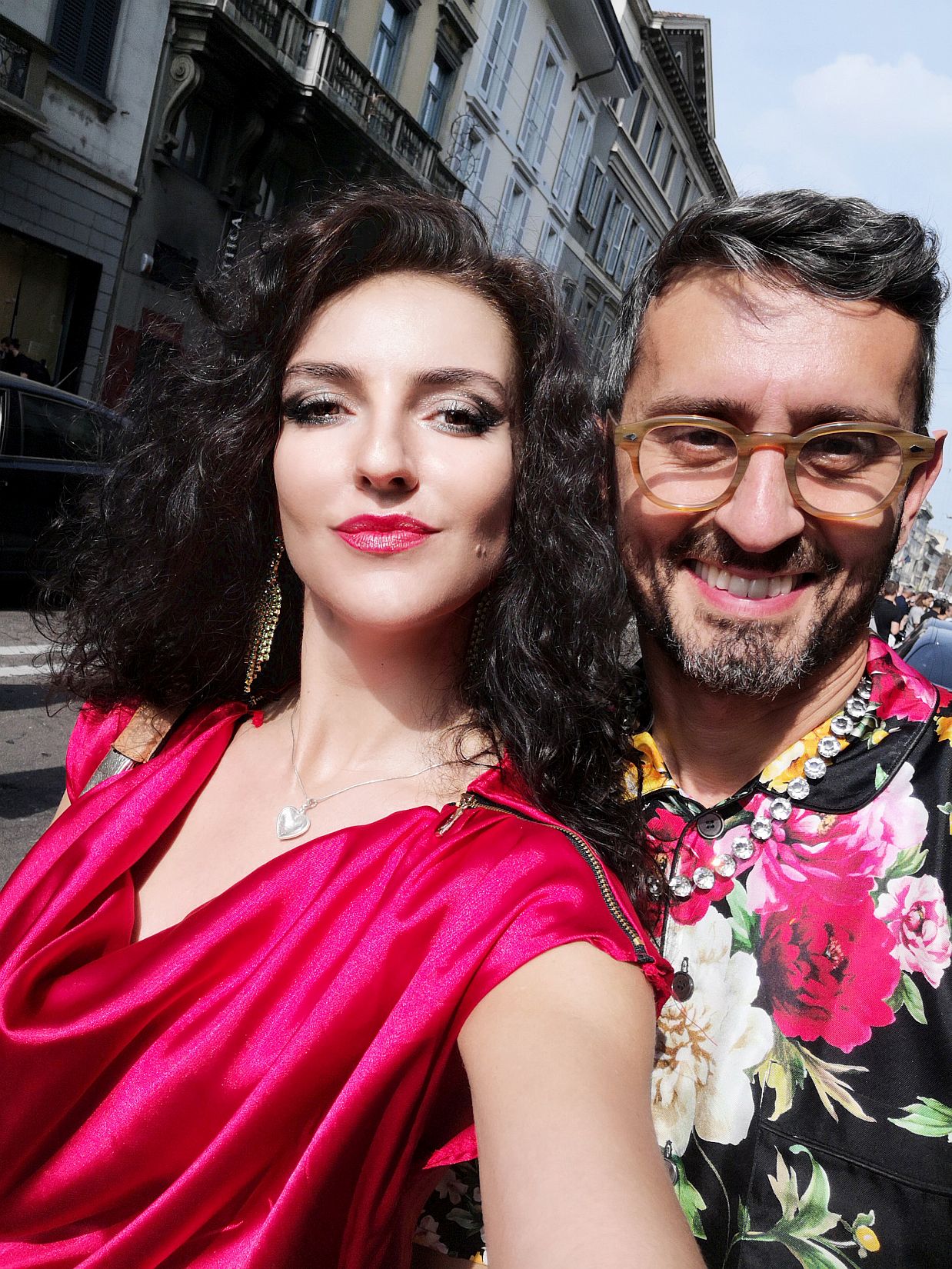 Simone a ja po prehliadke značky Ermanno Scervino, tohtoročný Milan Fashion Week, september 2018, sezóna Jar/leto 2019. V tento deň bolo asi 38 stupňov a viac, počasie bolo veru šialené. V tomto outfite kvetovanej košeli sa objavil na rôznych weboch, v magazínoch medzi najlepšími outfitmi z Milan Fashion Weeku ako napríklad vo fashionweekdaily: https://fashionweekdaily.com/milan-fashion-week-street-style-september-2019/2/
Simone Marchetti je módny znalec, ikona a kritik módy, na ktorého názory a zaujímavé články sa čaká po každom týždni módy. Jeho štýl bol aj vtedy opäť zaujímavý, na nohách má tenisky, ako ich ja volám "škaredky" značky Ballenciaga, ktoré sa stali masívne trendom a nosia sa k elegantným kostýmom aj rôznym šatám. Obľúbený prvok street style módnych ikon. Na prehliadke návrhára Antonio Marras počas Milan Fashion Weeku v septembri 2017, zapózoval Simone fotografom v tomto outfite spolu so mnou.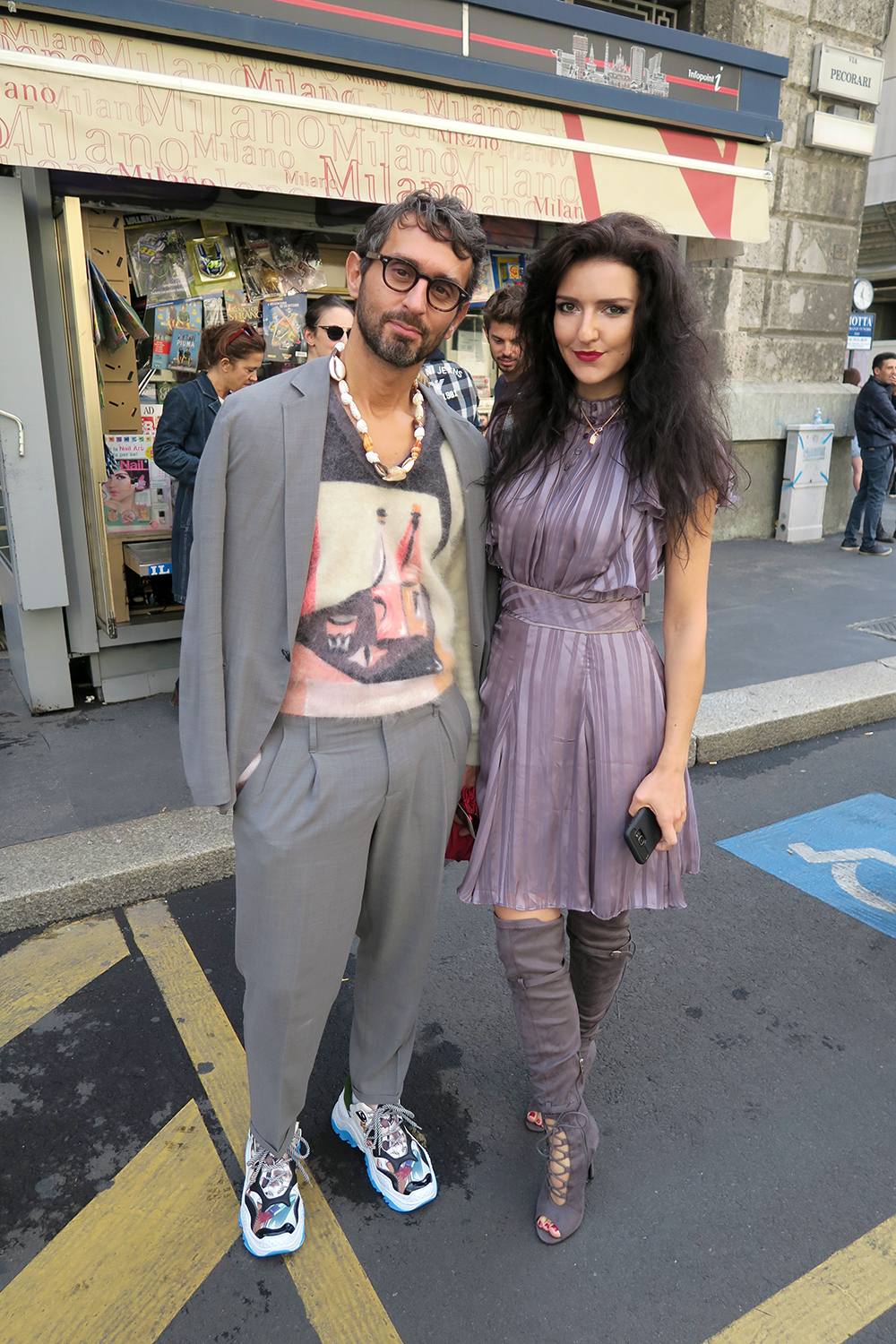 Fotografia je od amerického fotografa Burke Atkerson, prehliadka značky Ermanno Scervino, Milan Fashion Week, september 2017
ŽIVOTOPIS
Simone Marchetti sa narodil v roku 1973 a svoju kariéru odštartoval v módnej žurnalitike ako prispievateľ pre magazíny Donna Moderna a Casa Amica. Dva tituly zastrešené vydavateľským domom Mondadori. Študoval na univerzite v Miláne. V roku 2006 vstúpil do spoločnosti L´Espresso Group a pracoval na spustení teraz už neexistujúceho magazínu Velvet. V roku 2009 sa posunul ďalej k spolupráci na uvedení prvej rubriky venovanej móde v denníku La Repubblica, jeho web stránky, pre ktorú pracoval ako módny kritik. Naposledy sa objavil v talianskej digitálnej satelitnej televíznej platforme Sky Italia ako uvádzač programu Mix and Match venovaného módnemu stylingu a vyvinutom v spolupráci s Yoox. Simone Marchetti sa stal krátko na to aj influencerom, internetovo známou osobou a to v čase tlače. Link na jeho instagramový profil: https://www.instagram.com/marchettisimone/
zdroj: pinterest
Vanity Fair Italia bola založená v roku 2003 ako prvá medzinárodná nie anglická edícia titulu. Taliansky magazín je jediná týždenná verzia publikovaná celosvetovo. Taliansky magazín je jediná týždenná verzia publikovaná celosvetovo. Od decembra 2018 sa Simone Marchetti stal jej novým šéfredaktorom.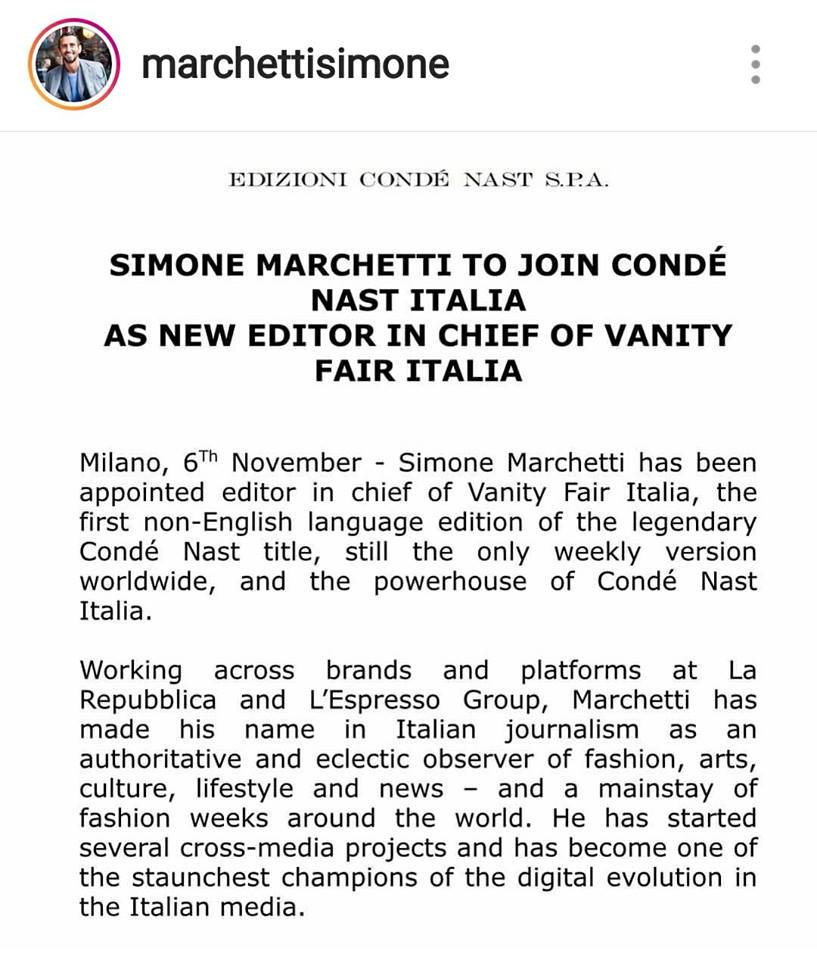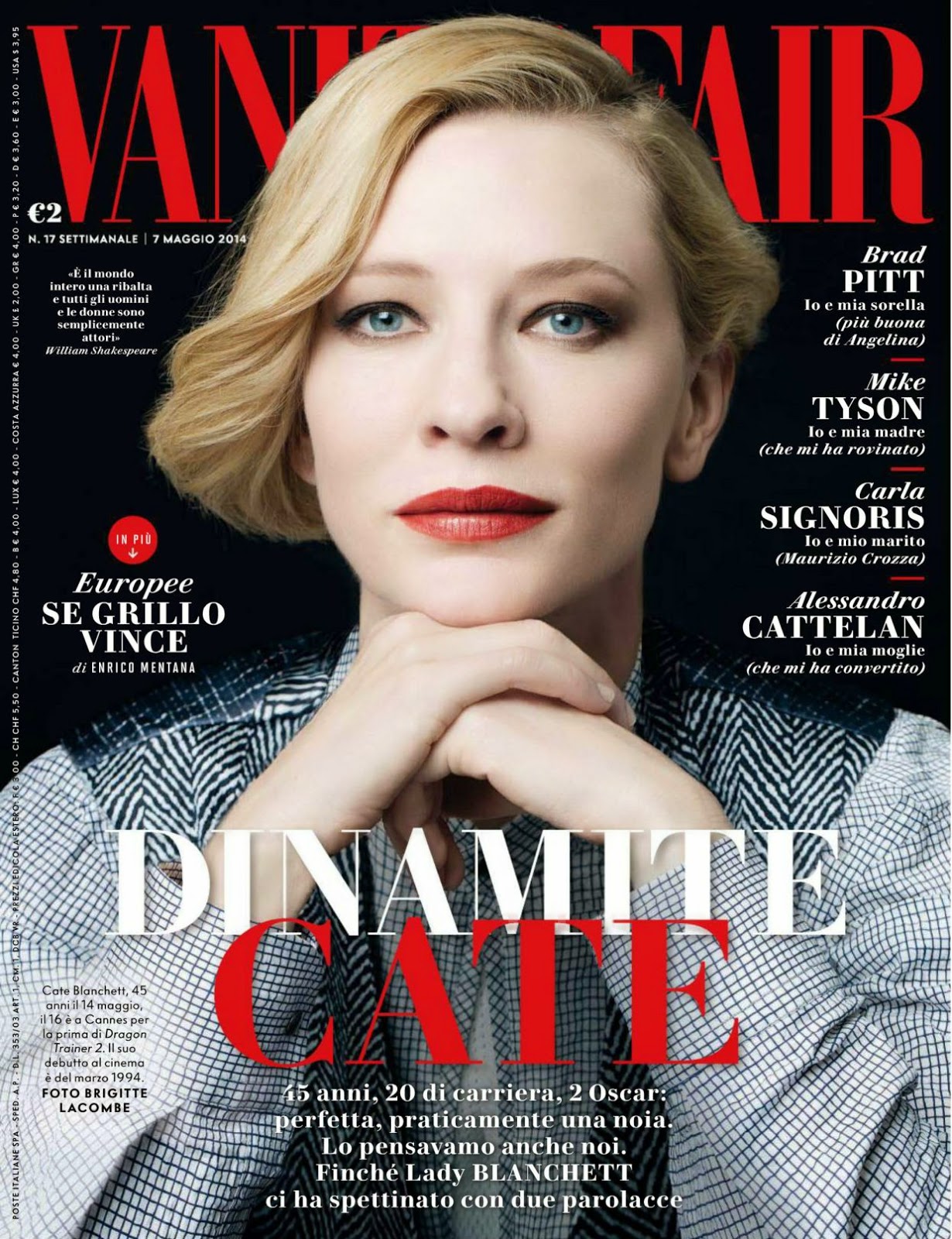 Simone Marchetti má rád módu, ale nie štýl. To je rozdiel. Baví ho to, ako sa v móde neustále všetko mení. "Móda sa mení, štýl pretrváva", citát Coco Chanel, ktorí sme všetci už raz počuli. A napriek tomu najviac rezonujúca myšlienka Coco Chanel, ktorú vyslovila o móde omielaná ako módna biblia u Simoneho nenašla obľubu. Taliansky módny editor Simone Marchetti nesúhlasí. Hocikedy, keď ho zaujme niečo nové, ihneď si to zaobstará do svojho šatníka odhodiac preč minulé trendy a dá priestor ceste pre sezónne novinky. "Móda plynie, prejde, odchádza tak, ako odídeme my, tvrdí. Rád sa mením, mám rád niečo, čo ma prinúti zmeniť myslieť."
Jeho šatník je veľmi taliansky, dominujú v ňom zdobenia, farby a ako Taliani hovoria veľa veľa, ale v najlepšej možnej miere. Nájdu sa tam retro kvetinové potlače, rozšírené nohavice, okuliare v každej farbe lepšie farebné ako čierne. Simone má vycibrený vkus, jemnocitný, vďaka čomu zaujal rôzne módne magazíny a svojími outfitovými kreáciami pravidelne zapĺňa stránky zaoberajúce sa módou a stylingom. Je talianskou ale aj medzinárodnou módnou ikonou, v móde udáva trendy.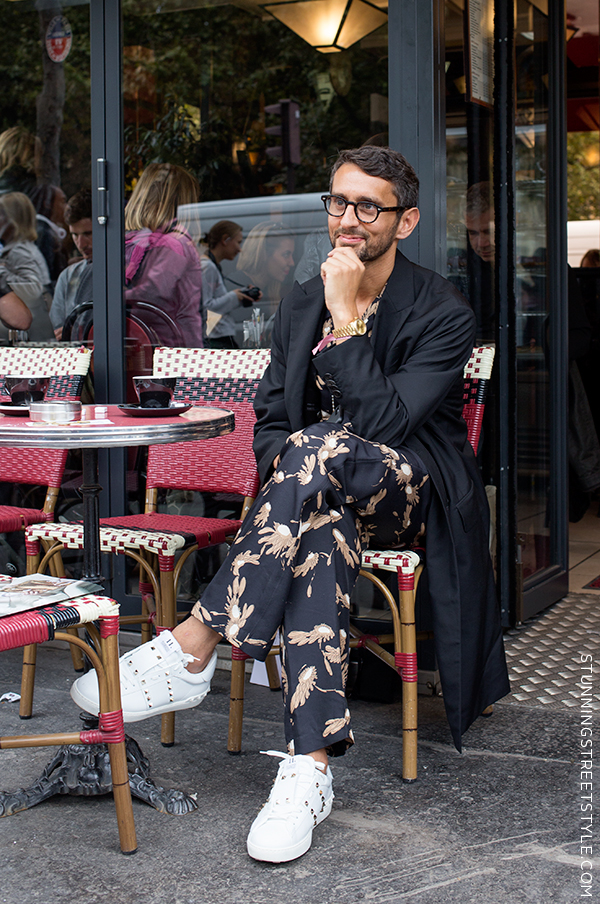 Simone Marchetti, týždeň módy v Paríži, po prehliadke značky Dior, Rue de Varenne, Francúzsko, zdroj: stunningstreetstyle com
Zaujímavé sú jeho pyžamové saténové outfity s potlačami. V jeho dome má izbu so saténovými pyžamovými setmi od Gucci a Dolce and Gabbana. Pravidelne ho vídam na prehliadkach týchto značiek a najslávnejších módnych domov/návrhárov ako sú Dolce and Gabbana, ktorých si váži. Spoločnosť mu robia doma aj na prechádzkach jeho obľúbené psy, s ktorými relaxuje.
Zdroj: tumblr com
Pyžamové sety sú jednoduché na oblečenie, keď sa ponáhľate a nechcete sa zamýšľať nad výberom outfitu. Simone zvolil pohodlné šlapky s kožušinou od značky Gucci.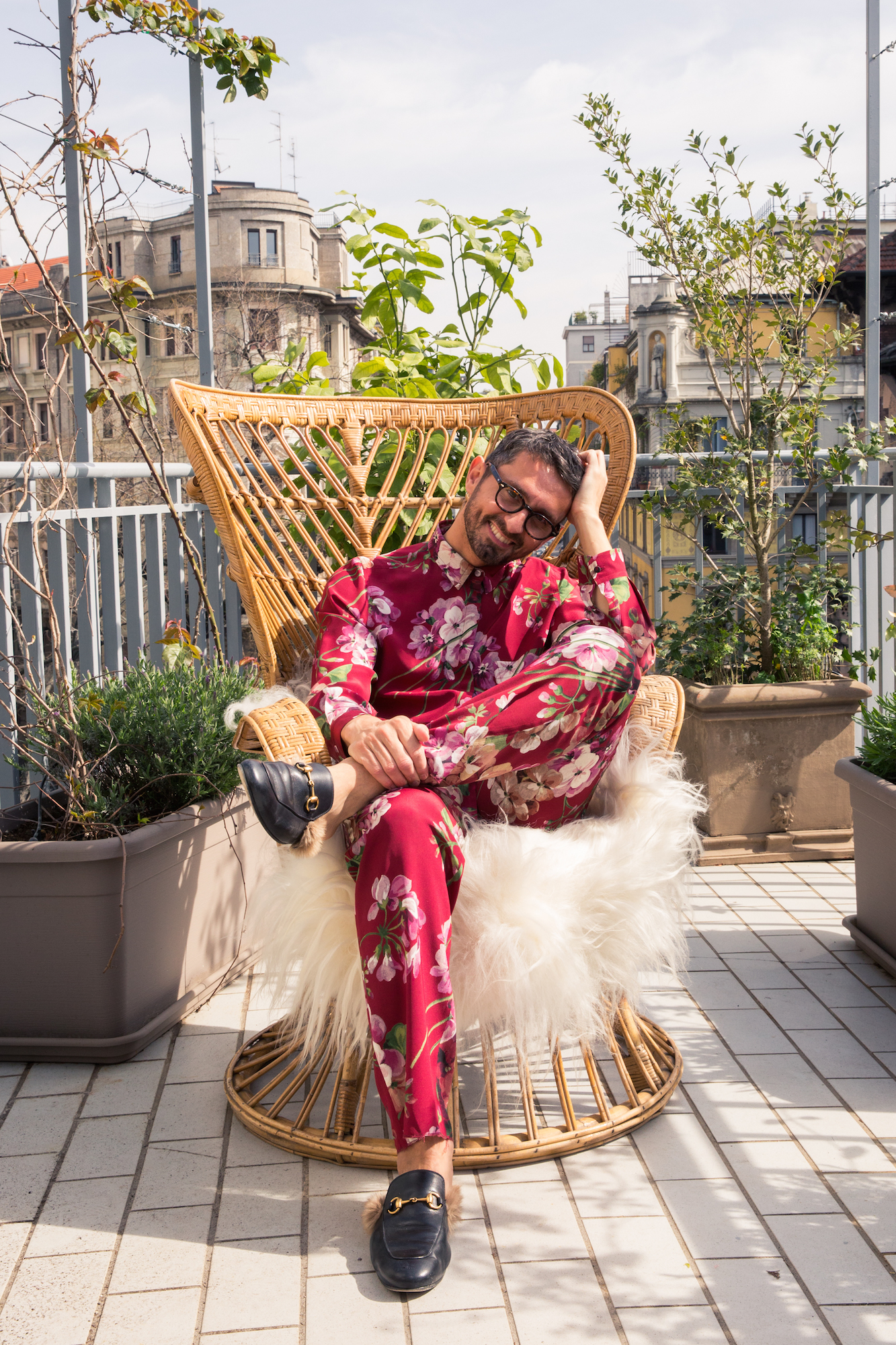 Páči sa mi Simoneho elegantný štýl.
marec 2015, Paris Fashion Week, muži, street style, zdroj: modehunter co uk
zdroj: tumblr com
Zaujímavý je aj tento look v jednej farbe.
zdroj: fashionista com, pinterest
Pozerám, že som so Simone náhodne v tomto outfite zhodla, minálne vo farbe.
Nestále byť v strehu pre všade sa meniace trendy, nie je ľahké, ale Simone rozvíja túto výzvu k zmene každú sezónu. Keď po prvýkrát uvidel kolekciu Alessandra Michele, značka Gucci, priznal, že chcel všetko zo skrine vyhodiť a zaobstarať si kolekcie tejto značky. Pyžamový set Gucci, topánky Gucci, sako Gucci a pánska clutch kabelka Valentino. Jednoducho láska ku Gucci.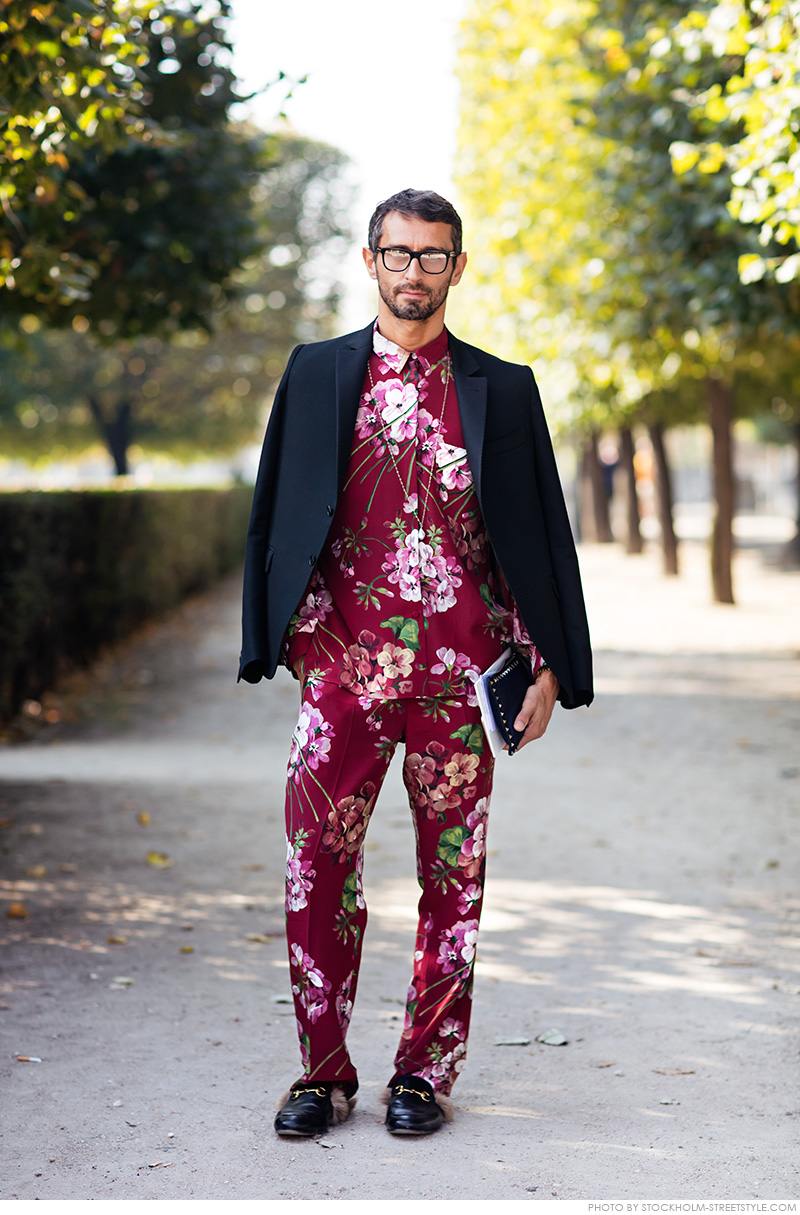 Zdroj: stockholmstreetstyle com
Simone Marchetti často zachytím na prehliadkach počas Milan Fashion Weeku. Vždy v rôznych outfitoch. Na prehliadku značky Giorgio Armani, tento september 2018 zvolil zlaté nohavice a bielu košelu. V krátkosti zažiaril a stihol zapózovať prítomným fotografom. Ostatné fotografie a street style videá nájdete na facebook stránke blogu s názvom Mya Mirell Fashionista.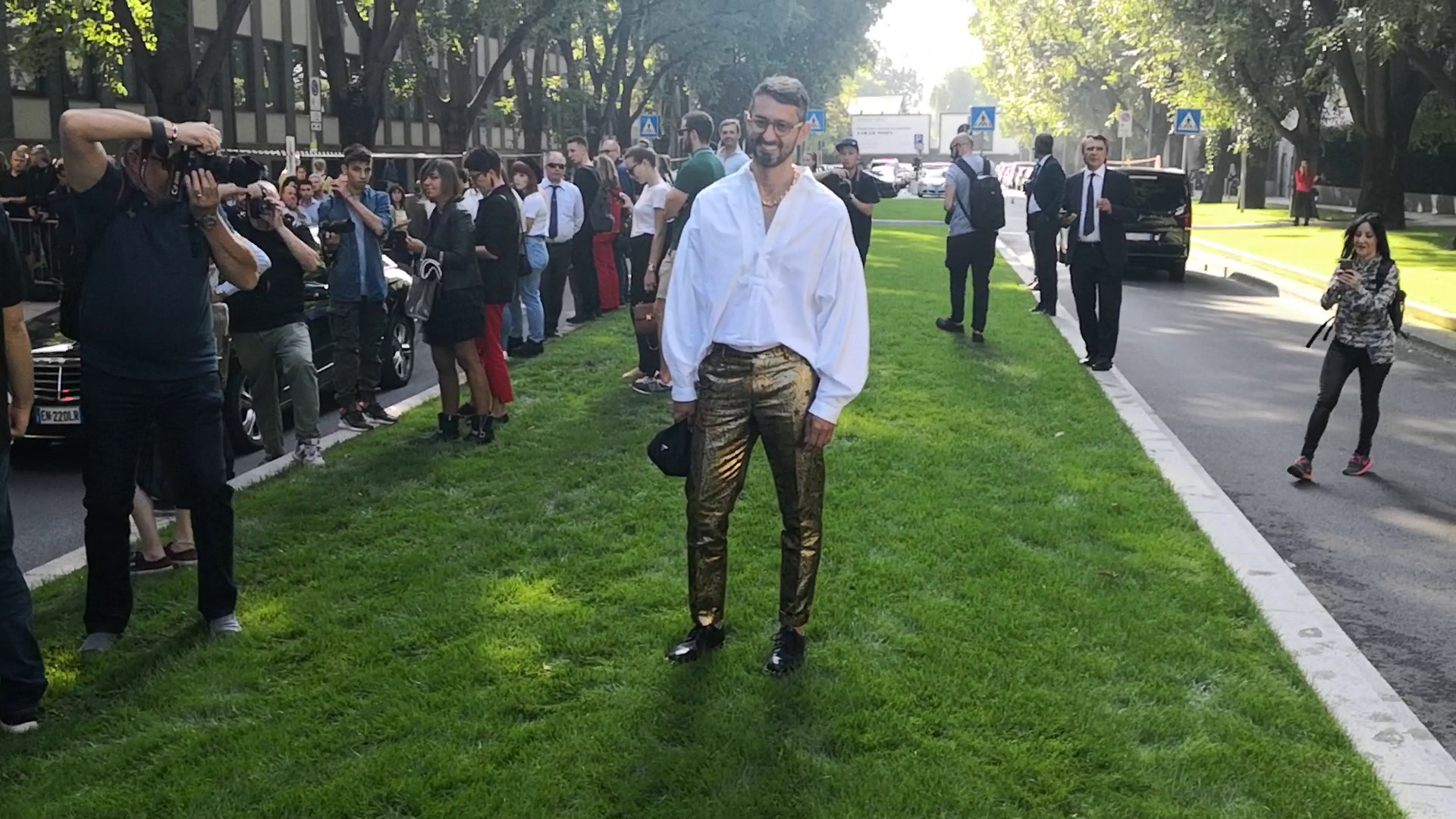 Vo februári 2018 počas Milan fashion Weeku – jeseň/zima 2018/19 som Simone Marchetti odfotila v elegantnom oufite po prehliadke značky Dolce and Gabbana.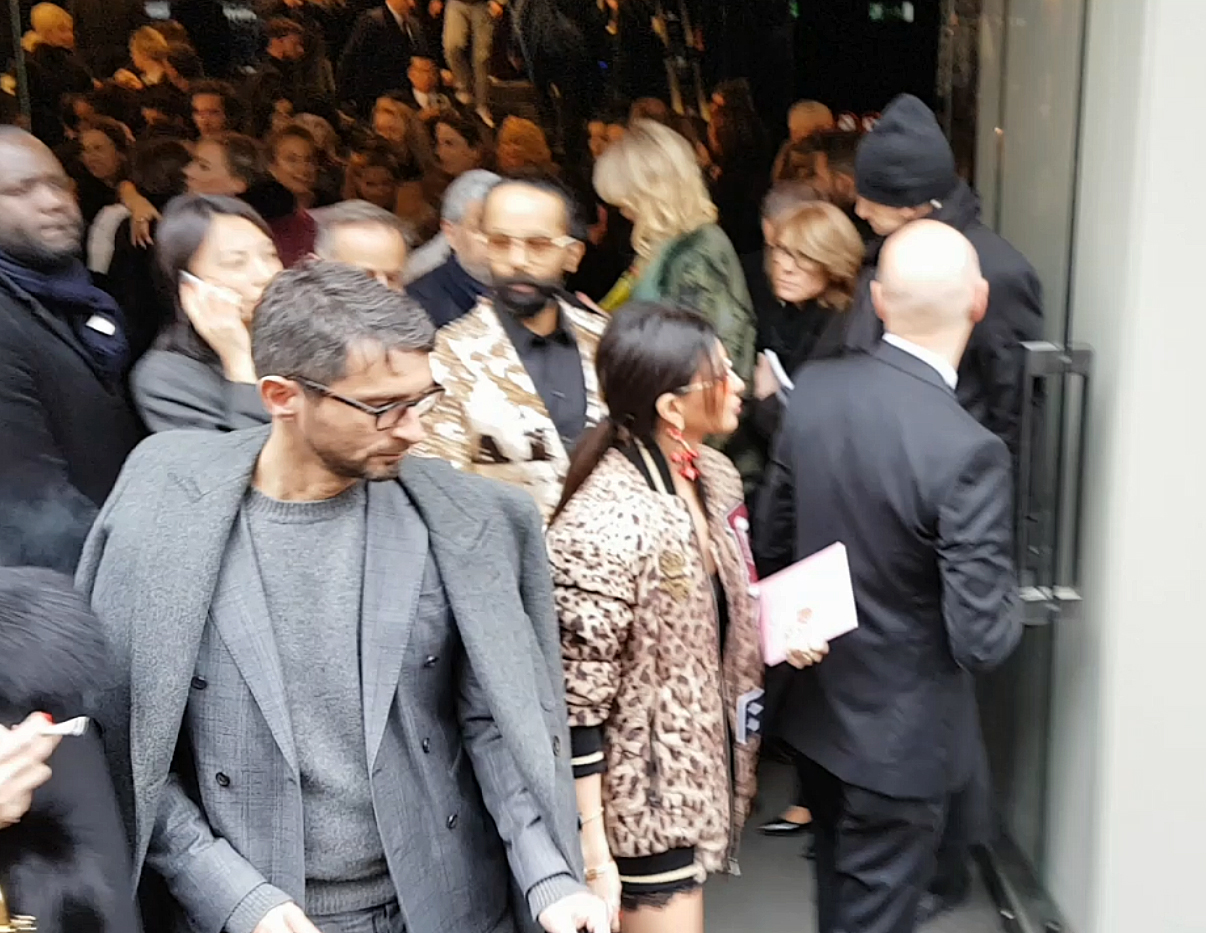 Predtým som ho v šedom elegantnom kostýme stretla na prehliadke značky Laura Biagiotti, ktorá Dolce and Gabbana módnej show predchádzala (čítaj predošlé články, videá na facebook stránke Mya Mirell Fashionista). Taktiež na prehliadke značky Ermanno Scervino, kde prebiehal protest a tieto fotografie Simone ocenil. Protest, ktorý prebiehal na ulici v čase konania sa módnej show mal za následok miesenie sa davu ľudí idúcich na módnu show s davom ľudí protestujúcich a vznikli z toho pekné reportážne fotografie. (čítaj predošlé články o Ermanno Scervino – február 2018). Viac nájdeš na instagrame mya_mirell.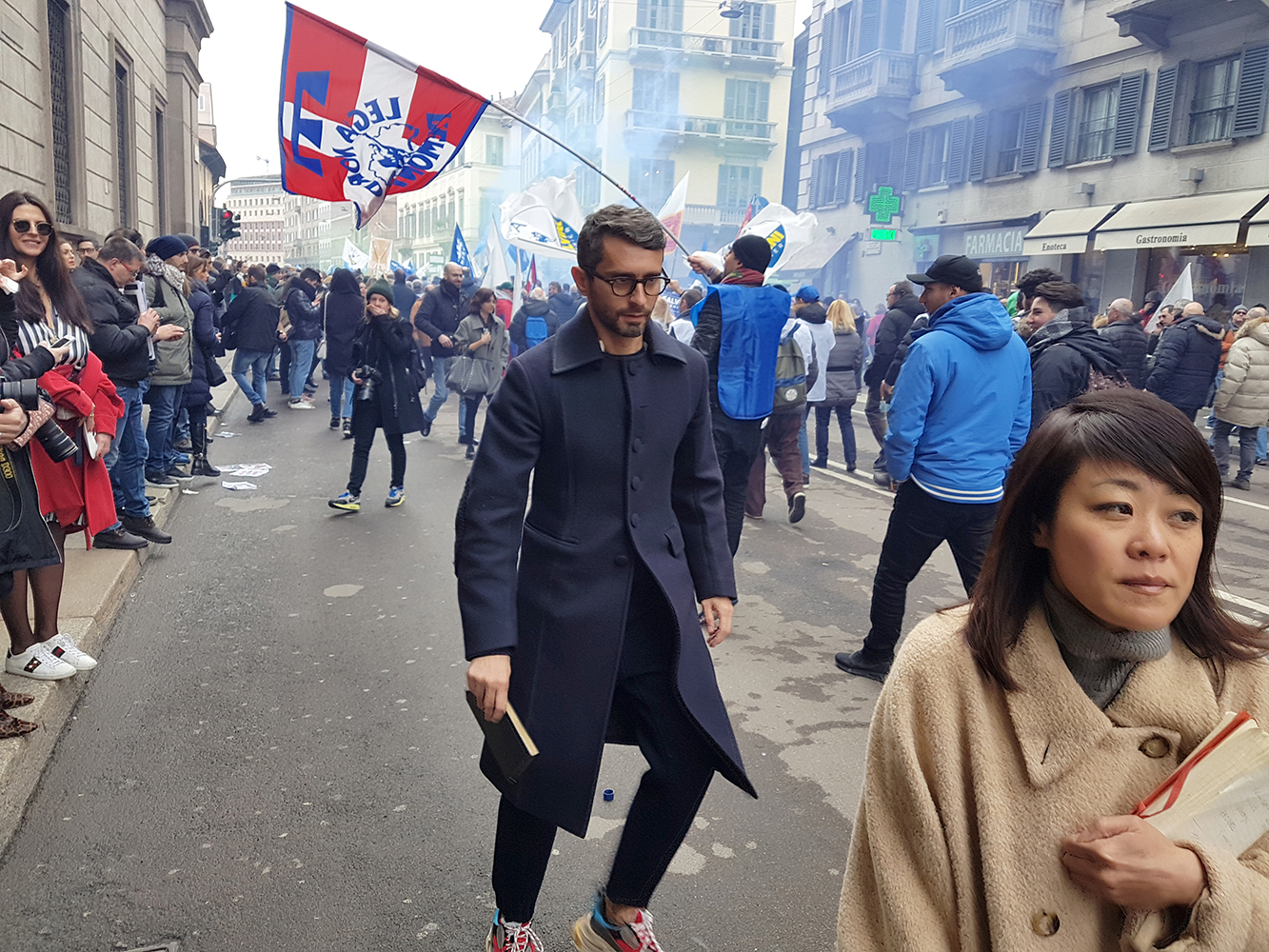 Simone sa obyčajne veľmi ponáhľa z prehliadky na prehliadku, vo februári 2018 v tomto outfite bežal z prehliadky značky Prada, Milan Fashion Week – jeseň/zima 2018.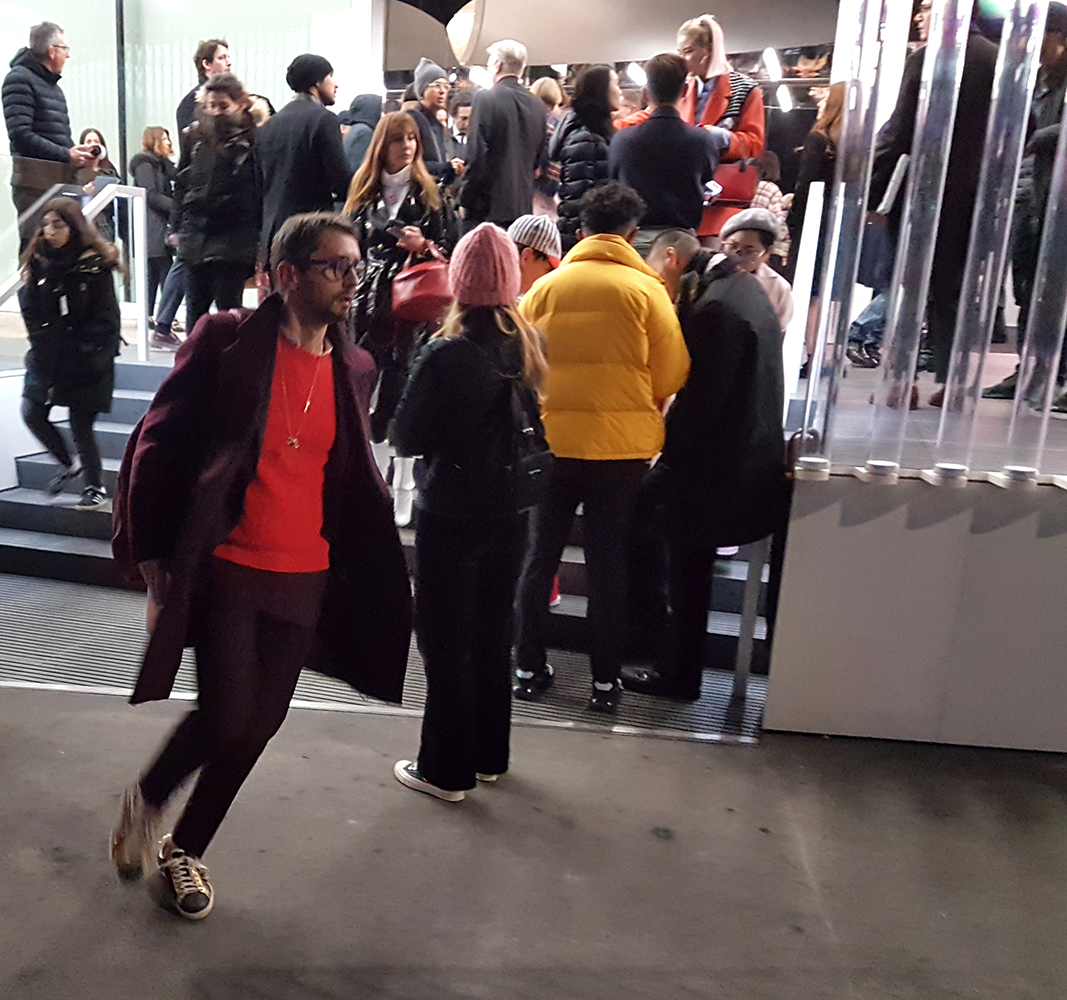 Jeho ďalšie outfity, ktoré zachytím budú publikované na facebook stránke blogu s názvom Mya Mirell Fashionista vždy v albume Milan fashion Week podľa sezóny.
Facebook: Mya Mirell Fashionista