Street style Milan Fashion Week – september 2018, Móda Ženy, Jar 2019, Versace, Blumarine, Cavalli, Antonio Marras, Calcaterra, Ermanno Scervino, Les Copains, Giorgio Armani, Cristiano Burrani
VERSACE
Pred prehliadkou značky Versace, 21. septembra 2018 som bola prítomná na prezentácii značky Fragiacomo a koktail party (čítaj článok a uvidíš viac fotografíí Chiari Ferragni – Fragiacomo s Chiarou Ferragni), kde prišla aj svetová módna influencerka CHIARA FERRAGNI so sestrou Valentinou . Oblečená bola v poslednej kolekcii značky Versace z februárovej prehliadky Milan Fashion Weeku, jeseň/zima 2018-19. Následne odišla na prehliadku značky Versace. Video z fotenia s Chiarou naživo si môžete pozrieť na facebook stránke blogu s názvom Mya Mirell Fashionista v kategórii Videá.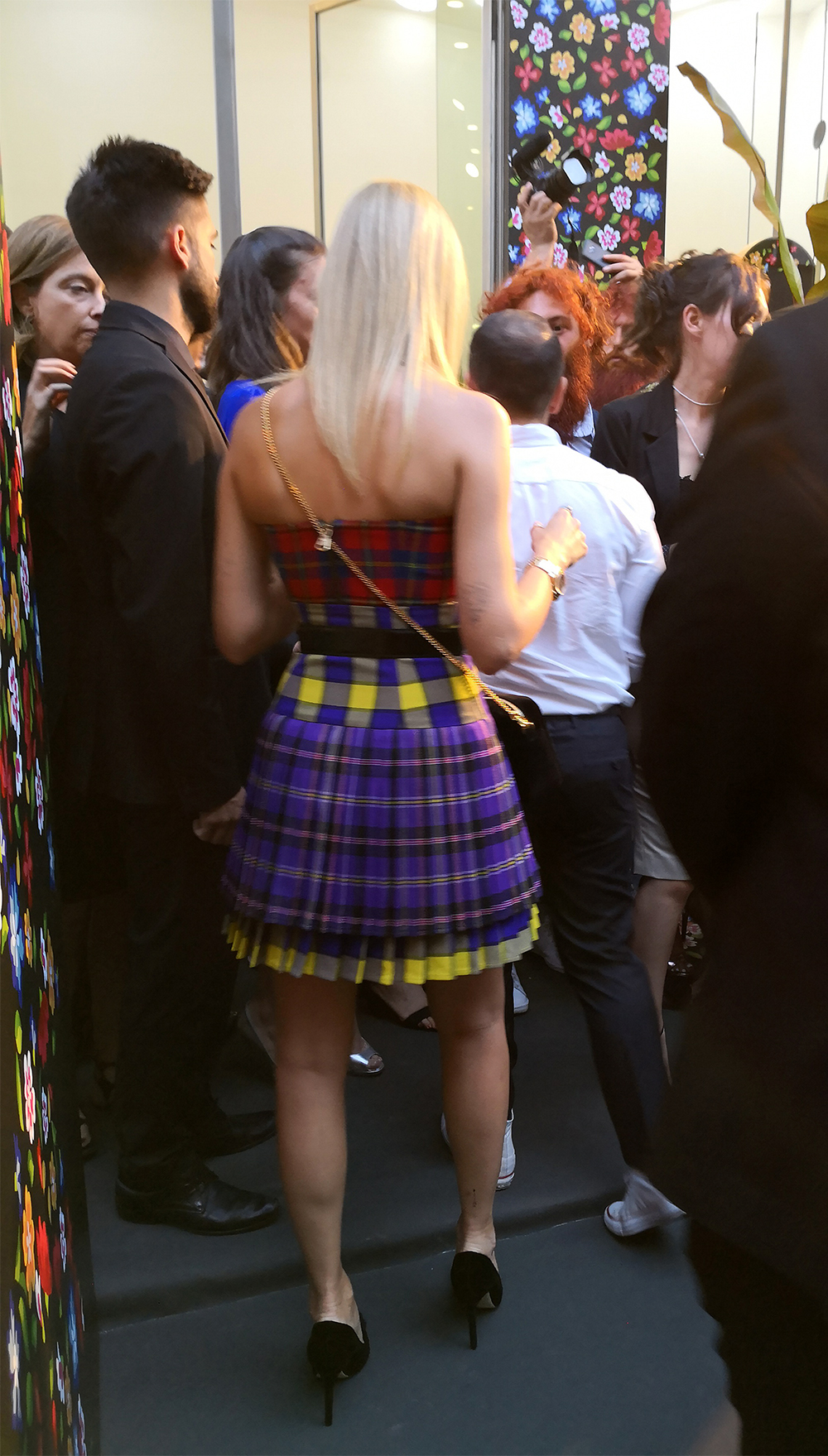 BLUMARINE
Pred prehliadkou značky Blumarine som si spravila fotku s nemenej známou VALENTINOU FERRAGNI, ktorá prišla oblečená v značke Blumarine.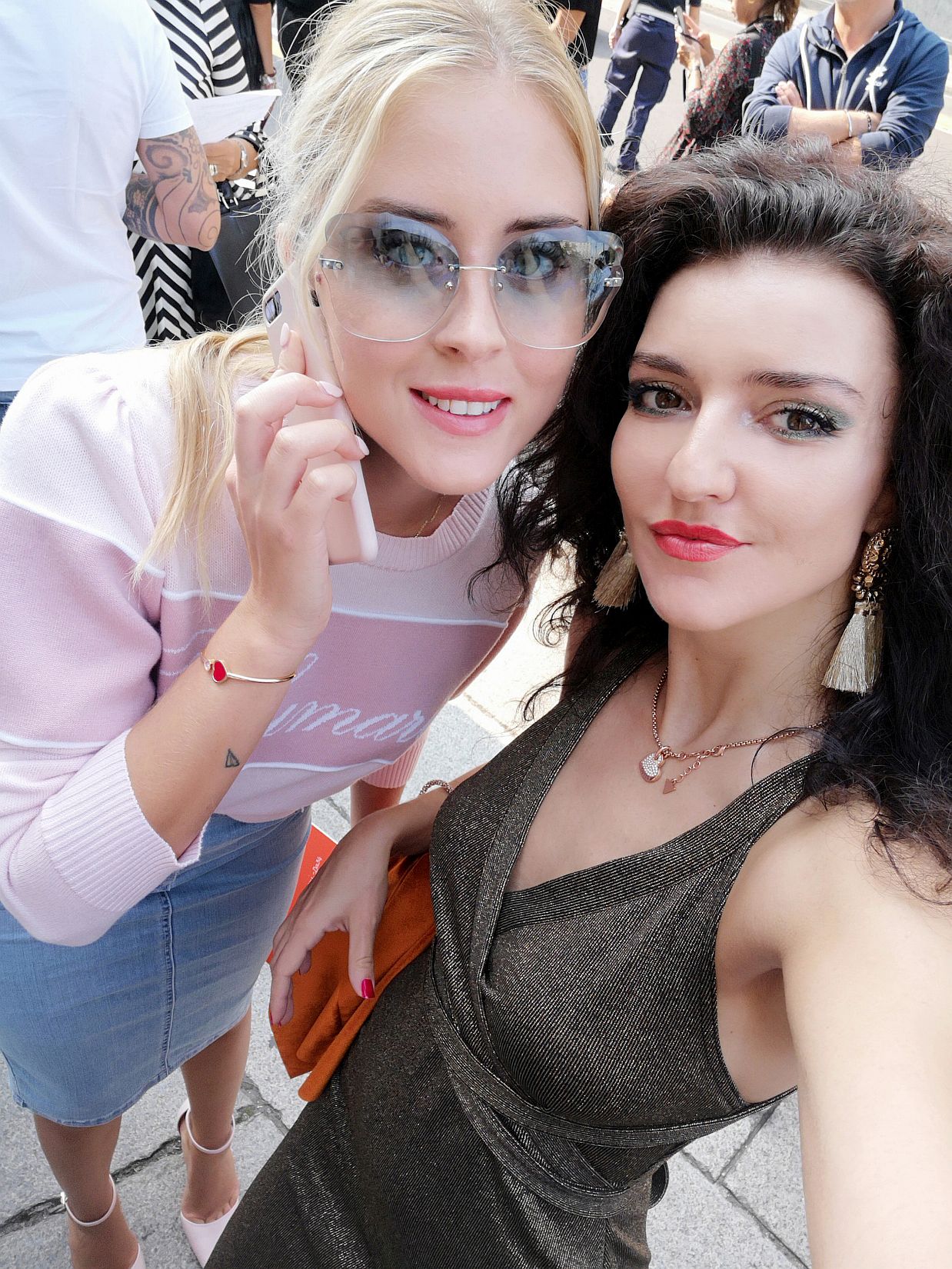 Outfit Gucci od hlavy po päty pred prehliadou značky Blumarine.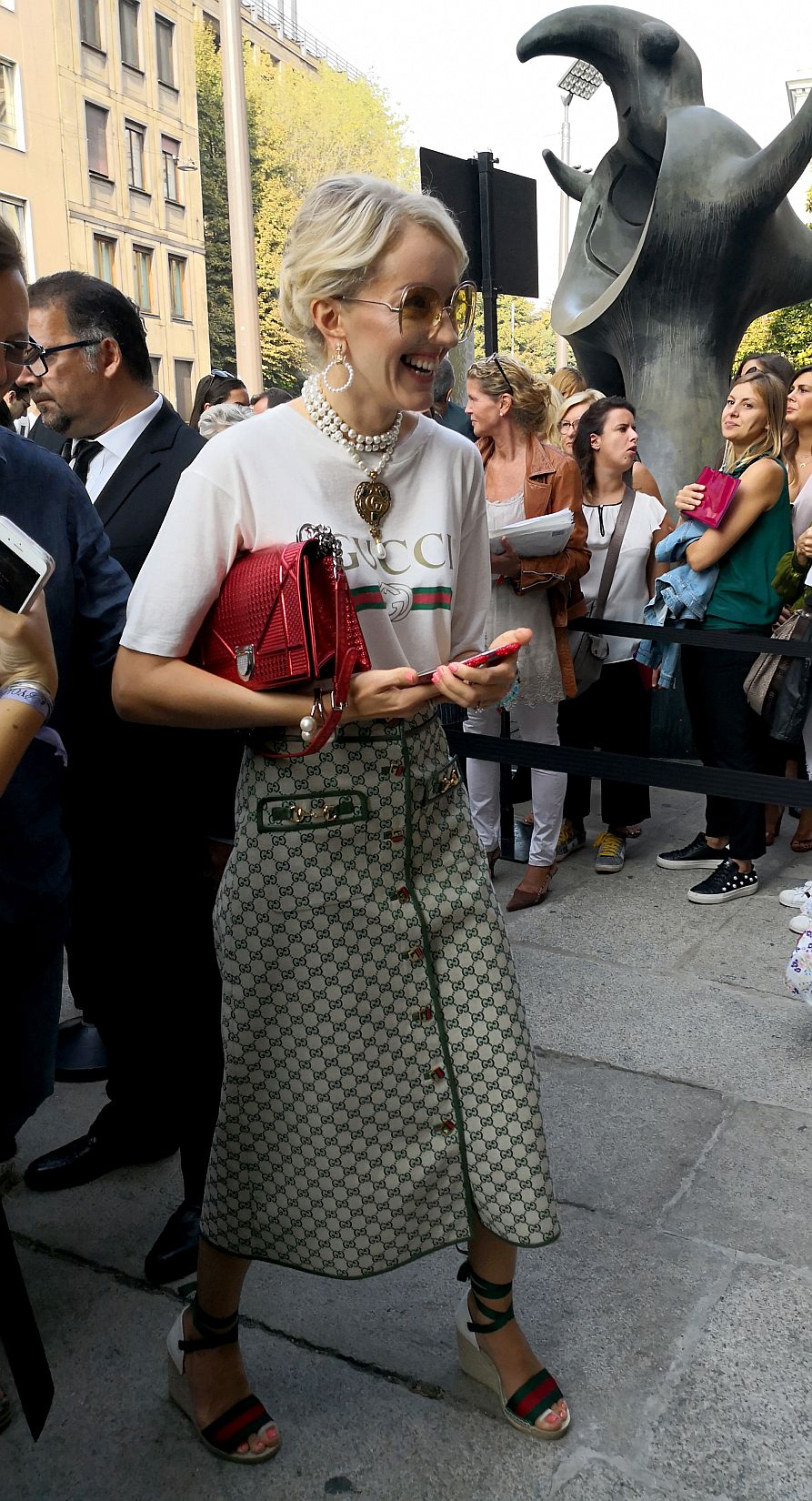 Tento outfit sa objavil aj v magazíne Harpersbazaar ako jeden z najepších outfitov počas Milan Fashion Weeku. Pripájam link: https://www.harpersbazaar.com/fashion/street-style/g23360621/milan-fashion-week-spring-2019-street-style/?slide=21
ANTONIO MARRAS
Na prehliadke talianskeho módneho návrhára nechýbali známe tváre ako módna street fotografka Tamu McPherson odetá celá v čiernom. Tiež prišiel módny expert, ikona a kritik Simone Marchetti a bola som sa pozrieť aj ja. Tamu je známa svojimi štýlovými zaujímavými módnymi kreáciami. Tentokrát zvolila kombináciu čiernej a bielej.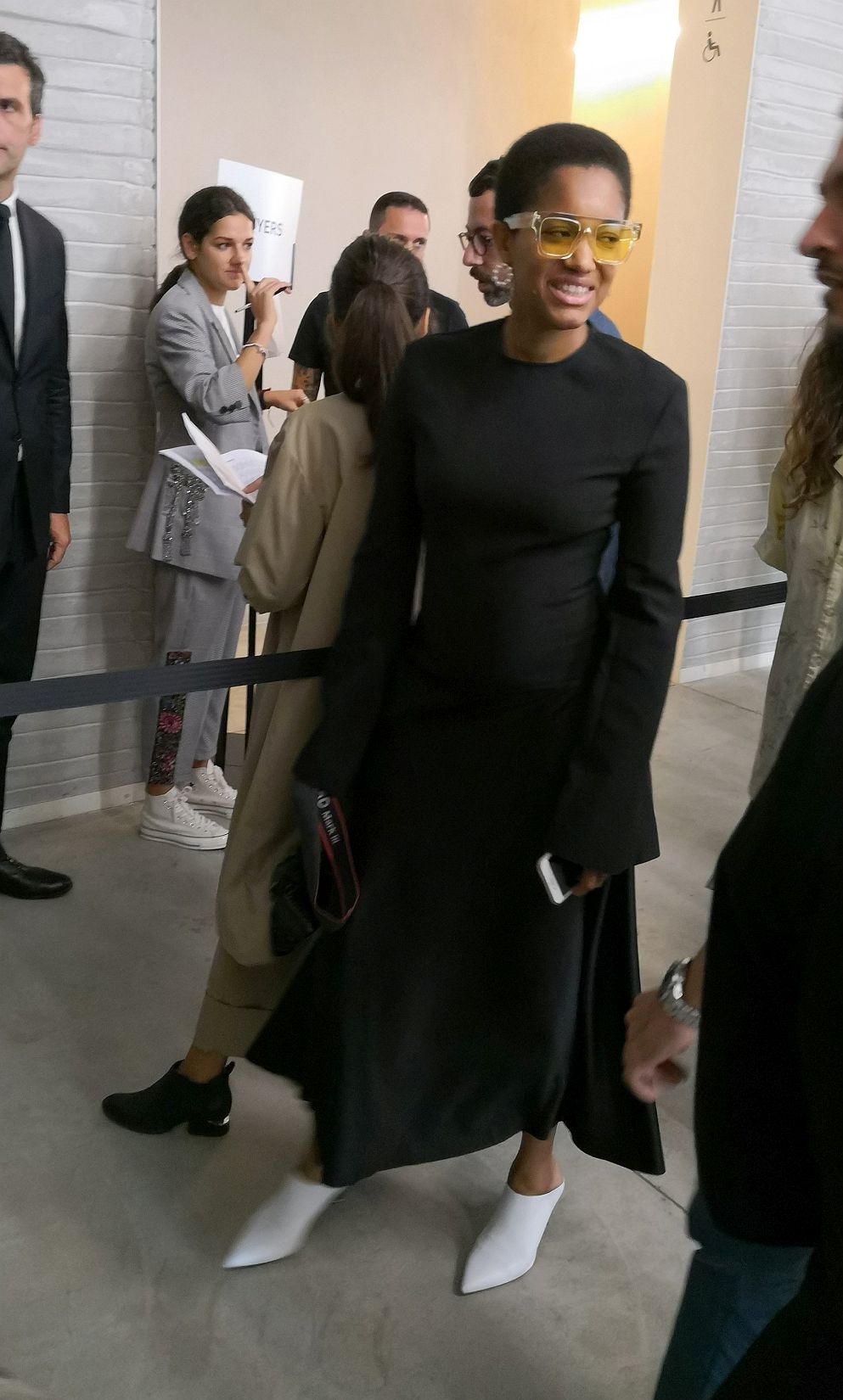 CATERINE POULAIN – Talianka, medzinárodná modelka, digitálna influencerka, blogerka, predstaviteľka trendov bláznivo pózovala po prehliadke značky Calcaterra. Na tom istom mieste som si urobila fotografiu aj ja. Prehliadka bola úžasná – čítaj ďalší článok Antonio Marras, Milan fashion Week – kolekcia jar/leto 2019. Video z prehliadky si môžete pozrieť na facebook stránke blogu Mya Mirell Fashionista v kategórii Videá.
CALCATERRA
Známe osobnosti po prehliadke značky Calcaterra odeté v tunikách tejto značky: Alessia Ventura, Barbara Snellenburg a Michaela Coppa, boli tri dámy, ktoré očarili týmto bielym lookom aj slovenský portál Refresher, jeho módnu časť. Stiahnutá fotografia bez popisu sa objavila na stránke. Tak vysvetlím: išlo o fotenie po prehliadke talianskeho návrhára Daniele Calcaterra. Video z fotenia nájdete na facebook stránke blogu s názvom Mya Mirell Fashionista. Článok o značke Calcaterra, návrhárovi a jeho tvorbe nájdeš v starších článkoch – čítaj CALCATERRA – kolekcia jar/leto 2018. Najnovšiu kolekciu jar/leto 2019 z Milan Fashion Weeku nájdeš v albume Milan Fashion Week – september 2018 na facebook stránke Mya Mirell Fashionista.
ERMANNO SCERVINO
Prekrásna francúzska modelka Gabrielle Caunesil zaujala všetkých fotografov v šatách návrhára Ermanno Scervino, v ktorých prišla na jeho prehliadku. Gabriele má 26 rokov a je známa napríklad ja tým, že sa v máji 2017 zasnúbila s Riccardom Pozzolim, ex priateľom najznámejšej blogerky, módnej influencerky Chiary Ferragni .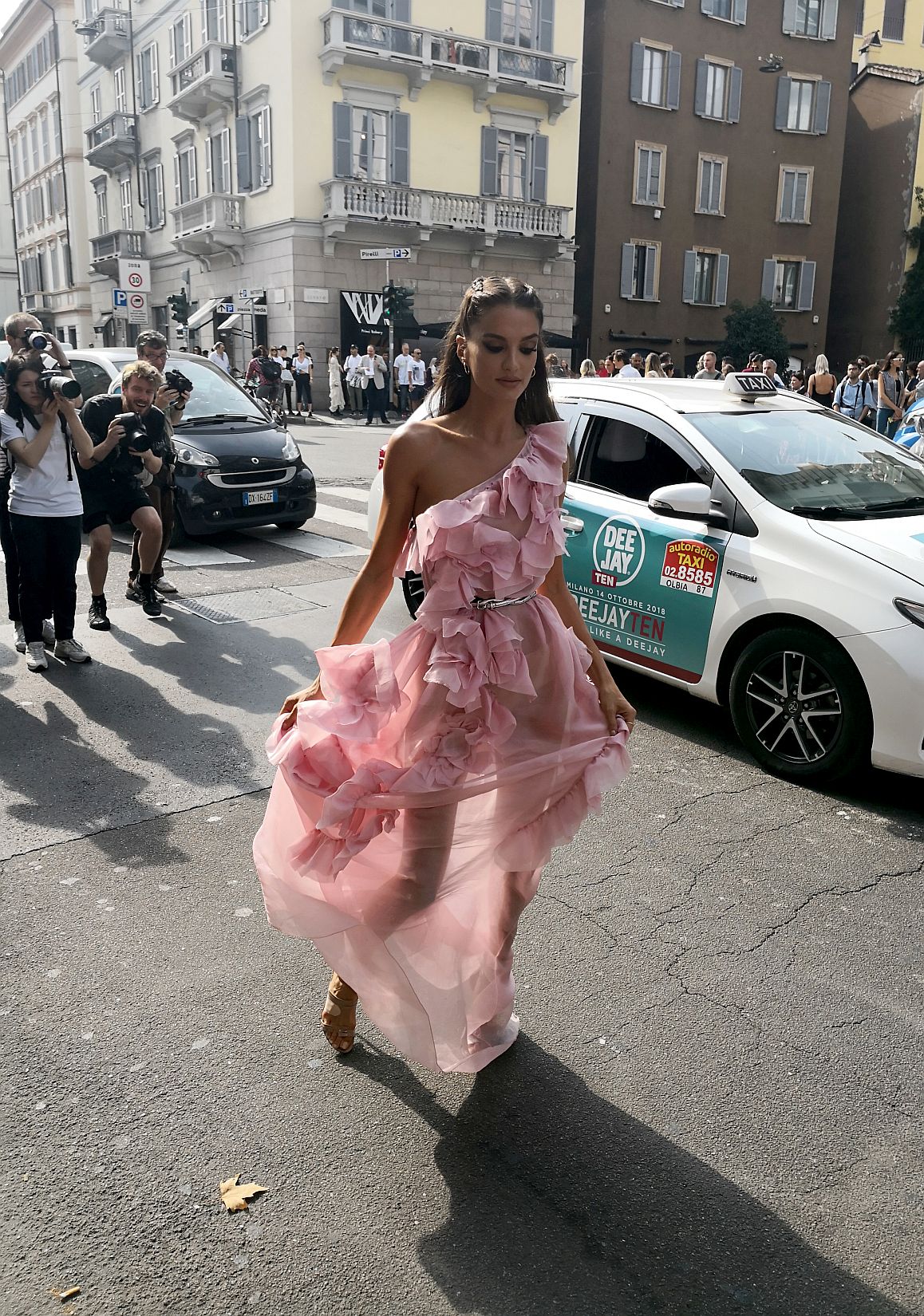 Aj tento look bol terčom záujmu mnohých street fotografov.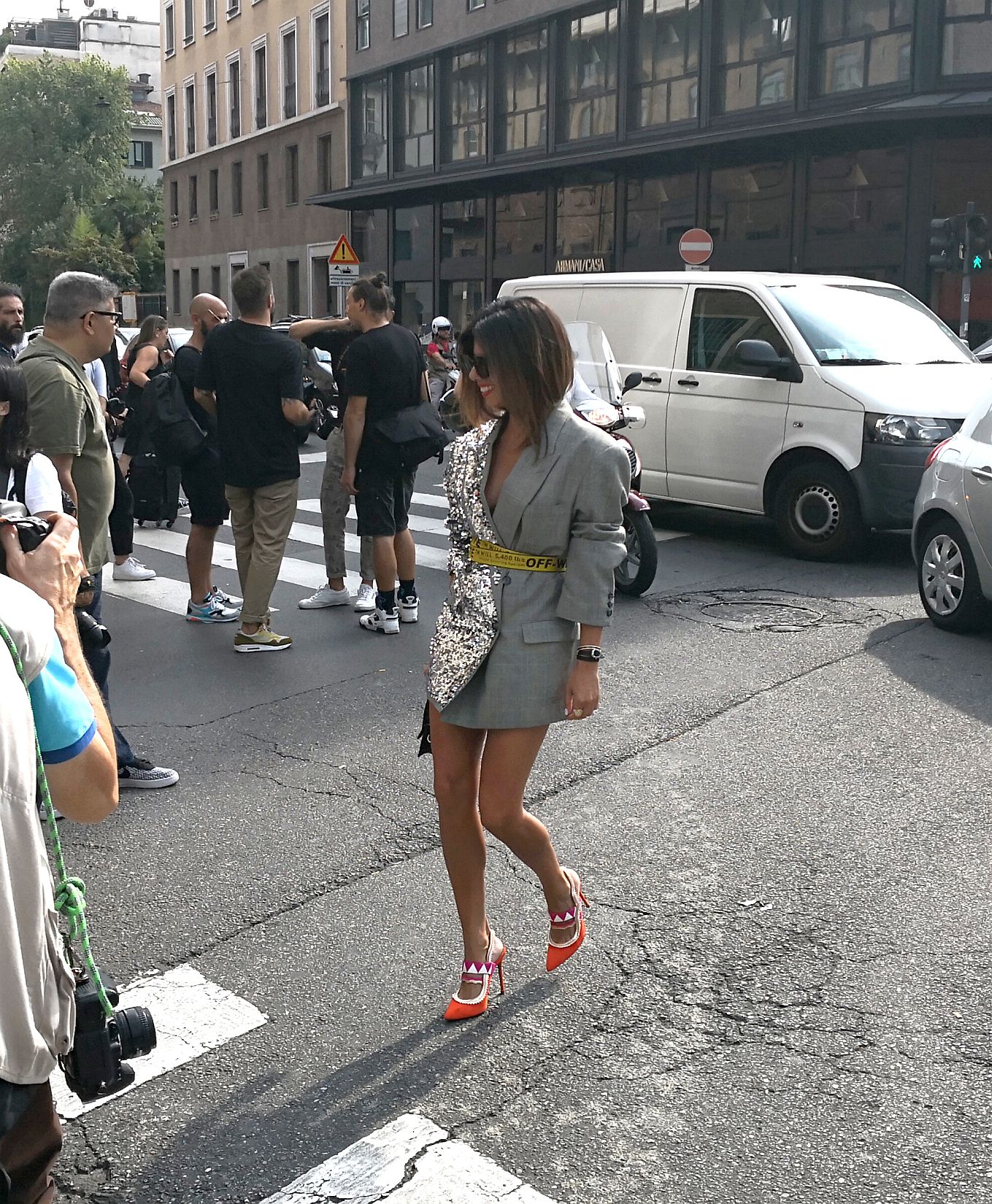 LES COPAINS
Okrem žiarivého cyklámenového obleku, ktorý sa objavil na prehliadke značky Fendi, Milan Fashion Week rozžiarili aj iné zaujímavé outfity. Žltý oblek z prehliadky značky Les Copains s veselou kravatou a teniskami ma zaujal najviac. Prečo asi? Žltá farba je moja najobľúbenejšia a musím povedať, že sa asi nevidí často oblek sýtožltej farebnosti na mužoch. Týždne módy však dávajú zelenú fantázii, rozlet zaujímavým ideám a kreatívnym invenciám.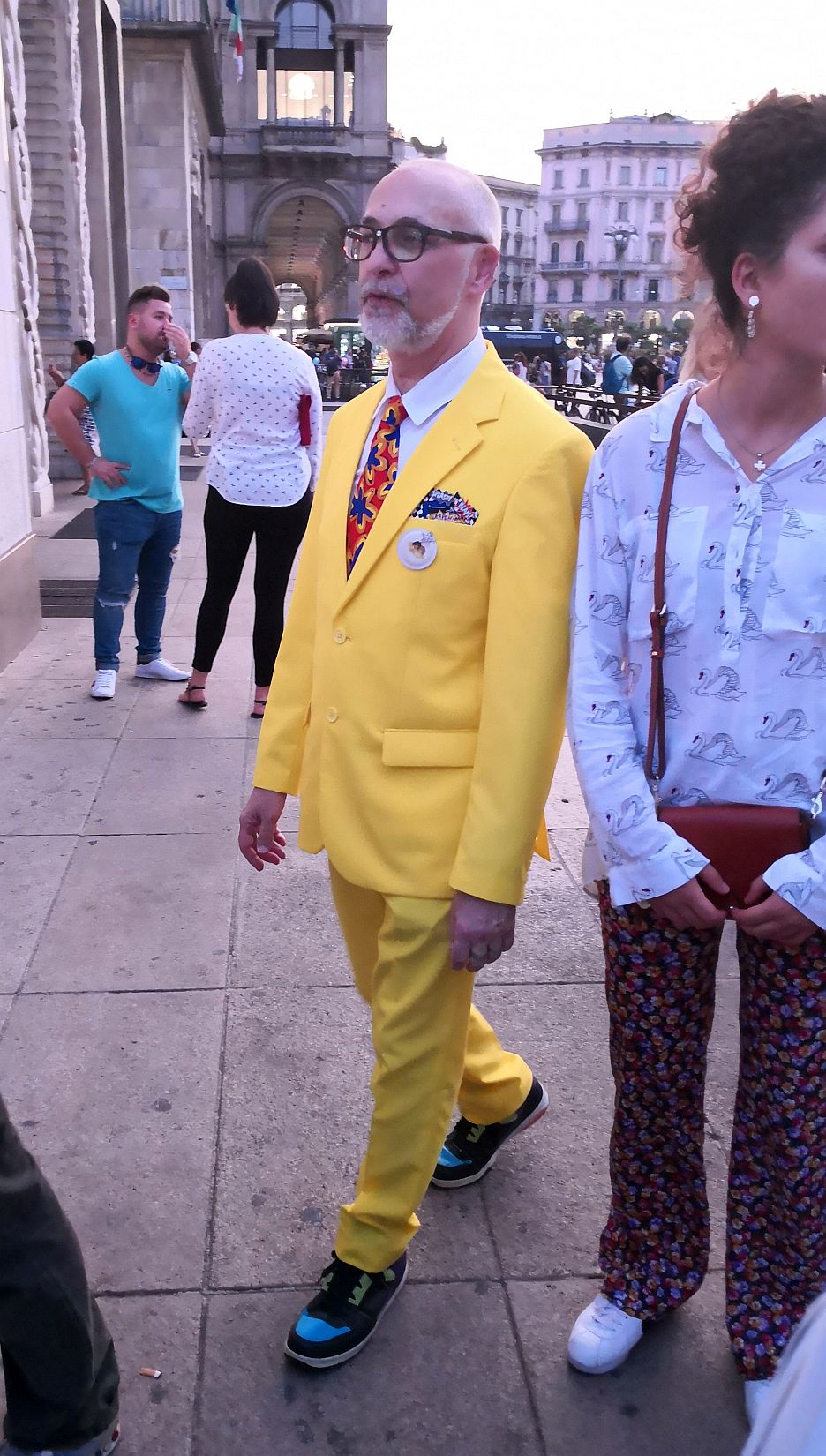 GIORGIO ARMANI
Slávna pani herečka Cate Blanchet prišla na prehliadku značky Giorgio Armani ako elegantná dáma. Zvolila kombináciu bielej a čiernej. Video z jej fotenia a rozdávania podpisov si môžete pozrieť na facebook stránke Mya Mirell Fashionista.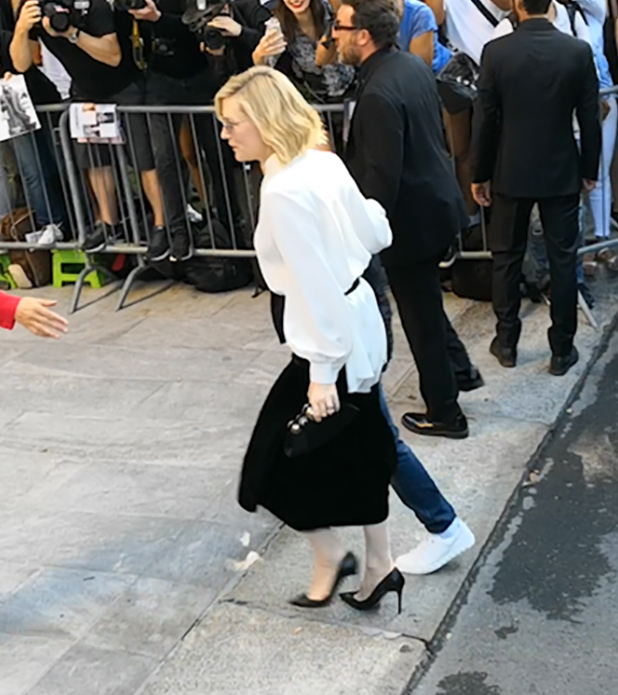 ROBERTO CAVALLI
Prehliadku značky Roberto Cavalli si prišli pozrieť mnohé zaujímavé osobnosti v ešte zaujímavejších outfitoch. Nechýbali ani vynaliezaví muži a ich kreácie vyrážali zrak.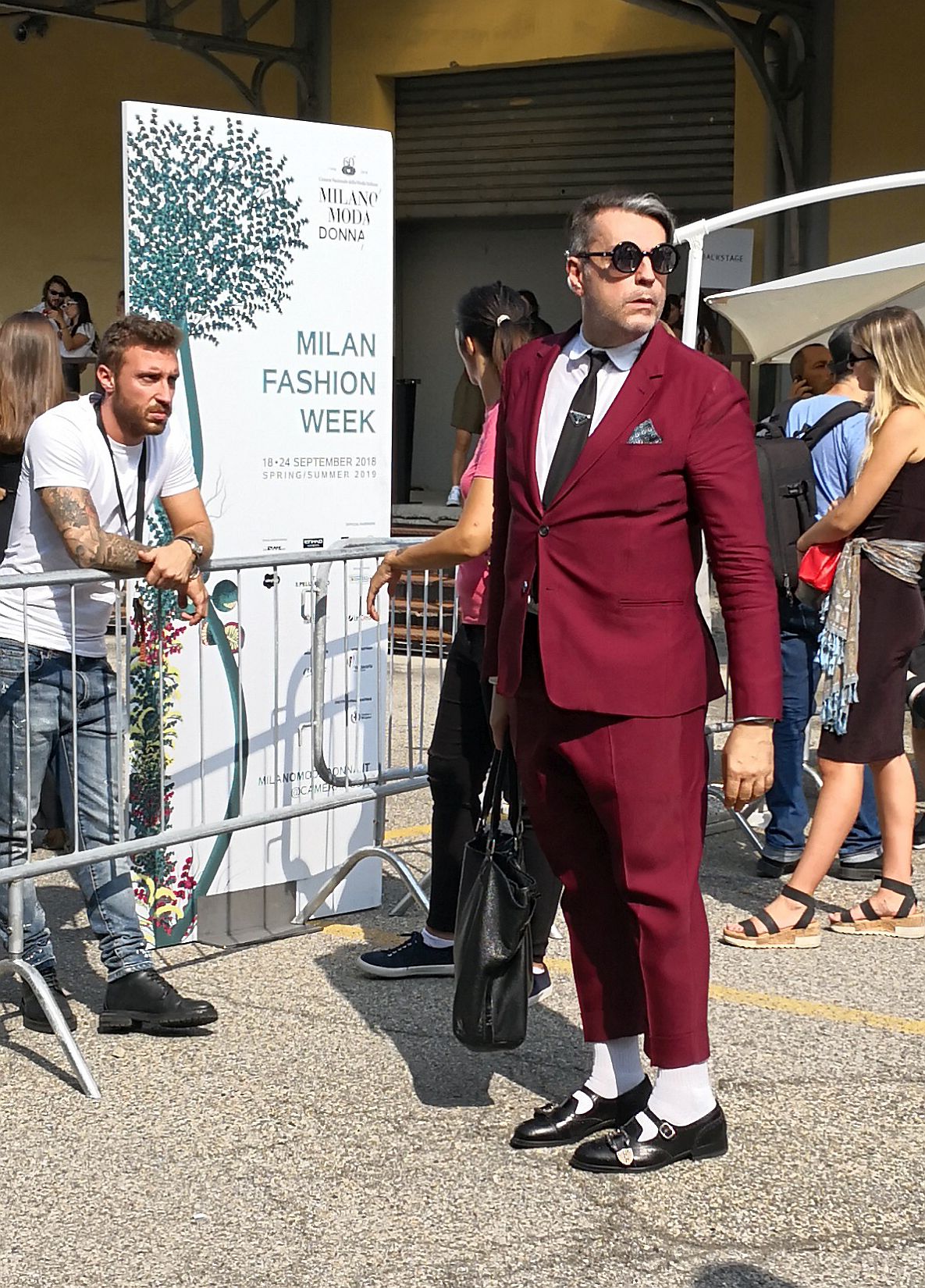 LANDIANA CERCIU – tento outfit zaujal azda najviac. Spolu s ďalším od tej istej nositeľky. Objavil sa na viacerých stránkach módnych magazínoch, webových portáloch a sociálnych sieťach, ktoré publikovali najlepšie outfity z ulíc Milána počas septembrového Milan Fashion Weeku.
V tomto sexi outfite Cavalli nebolo štýlovej fashionistke aspoň ako jednej z mála až tak teplo. Prehliadka sa konala 22. septembra 2018 na pravé poludnie o 12,30 a na slnku bolo asi 38 stupňov. Spomínam si na ten deň ako na jeden z najhorúcejších, kedy sa bez vody behom na ďalšiu prehliadku nedalo vydržať. Obdivujem všetky celebrity, známe tváre, módnych redaktorov, kritikov, ktorí dokázali nosiť rôzne jesenné outfity, dokonca aj čižmy, bundy či kabáty, či iné latexové, umelé, tesné lakované modely po celý deň. Tento týždeň módy bol skutočne náročný, aj časovo, ostatne to je vždy, ale navyše bol veľmi horúci a stíhať všetky akcie v harmonograme, hekticky behať z prehliadky na prehliadku dokonca bez vody v nahodených outfitoch, bolo nemožné a vyčerpávajúce. Už len pešia cesta sem na prehliadku Roberto Cavalli je dosť dlhá.
CRISTIANO BURRANI
Outfit LANDIANA CERCIU, ktorý to vyhral na plnej čiare od predošlej nositeľky z prehliadky značky Cavalli. Musím uznať, že slečna sa v ňom objavila na viacerých prehliadkach počas veľmi horúceho asi najhorúcejšieho dňa, kedy bolo v deň konania sa módnej show Roberto Cavalli, 22. septembra asi 38 stupňov. Oblečená v neprievzdušnej lakovanej syntetike a v tesnom overale (viď. hore), jej muselo dať veru zabrať. Ale stálo to za to, objavila sa medzi najlepšími outfitmi z Milan Fashion Weeku publikovanými svetovými módnymi magazínmi.