Paris Haute Couture Week – 23. január – 26. január 2023, Shiaparelli, Dior, Haider Ackermann by Jean Paul Gaultier, Valentino, Elie Saab, časť I.
Po pánskej prehliadke módy, ktorá prebehla vo svetových metropolách, je týždeň módy v Paríži späť s veľkou pompou a prvými zábleskami z impozantnej iterácie Paris Hauste Couture Weeku roku 2023. Prehliadky vo veľkom a okázalom štýle odštartoval vždy úžasný Parížsky týždeň módy Haute Couture, ktorý sa konal od 23. do 26. januára 2023. Na programe boli zvučné módne značky ako Dior, Chanel, Valentino, Balenciaga a Giambattista Valli , ktorý sa vracia na svoj dlho očakávaný týždeň Couture Week. Módne divadlo prezentácií dizajnérov prilákalo do Paríža svetové celebrity, ktoré sa zišli v hlavnom meste Francúzska, aby videli to všetko z prvej ruky a z prvej rady.
Róby sú nádherné, mejkap je stále viac a viac vzrušujúcejší a aj remeselné spracovanie je na tej najlepšej úrovni. Ale ako vždy, výhľad je nekonečne lepší z FROW, čo je skratka pre predný rad, do ktorého zasadli hviezdy pre každú módnu šou.
SHIAPARELLI – REMESELNÁ ZRUČNOSŤ A NESKROTNÁ KREATIVITA, KOLEKCIA JAR/LETO 2023
Keď sa Kylie Jenner objaví na módnej prehliadke s ručne vyrobenou hlavou leva na jej čiernych šatách a Doja Cat na tej istej prehliadke od hlavy po päty v červenej farbe ozdobená 30 000 červenými kryštálmi Swarovski, modelky Shalom Harlow ,Naomi Campbell, Irina Shayk sa objavia na móle v ďalších šatách so zvieracími hlavami, aj toto je móda a vynaliezavosť dômyselného Daniela Roseberry, ktorý takto inovatívne odštartoval módnu šou pre dom Schiaparelli.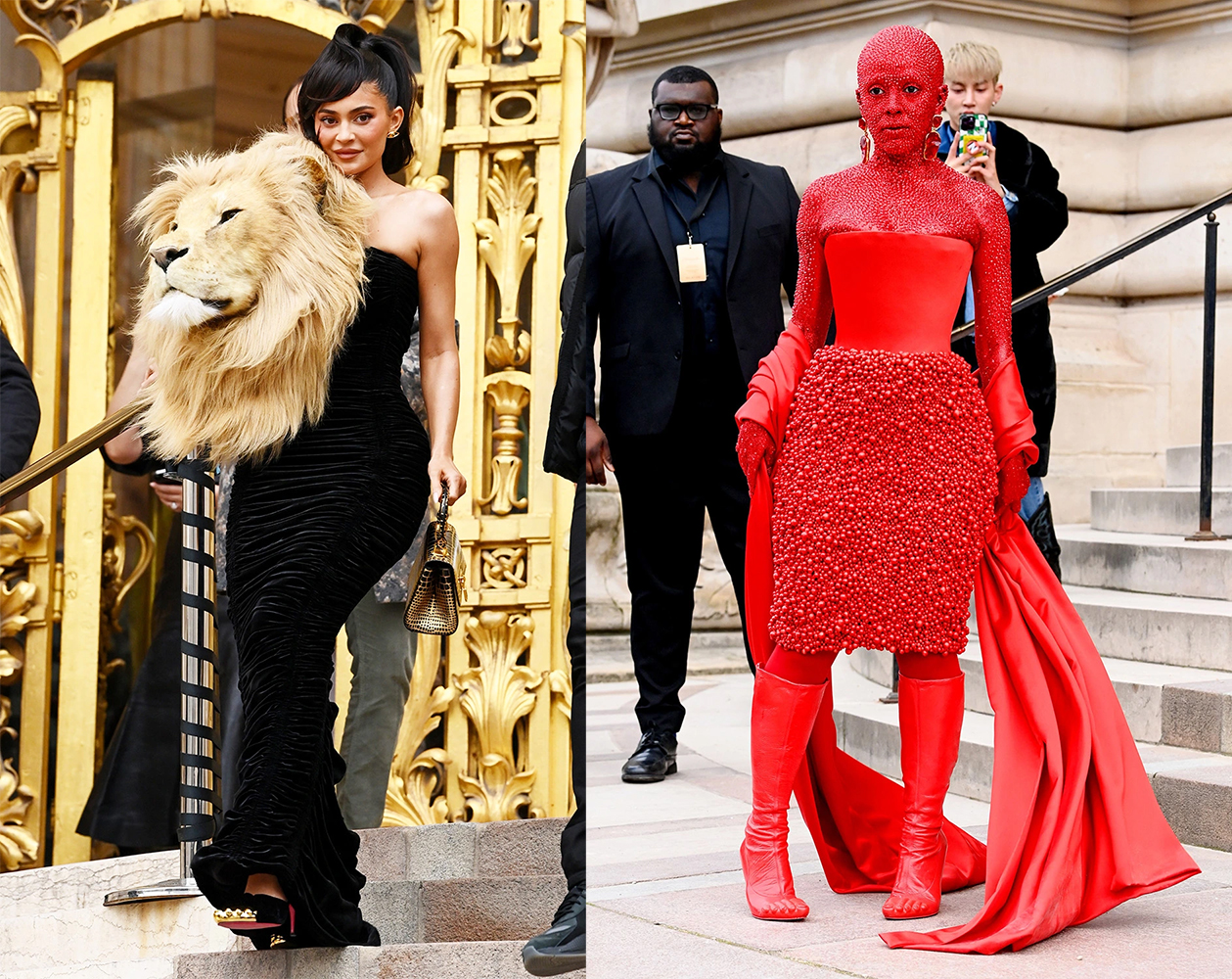 Doja Cat a Kylie Jenner sa zúčastňujú prehliadky Schiaparelli Haute Couture Spring Summer 2023 v rámci Parížskeho týždňa módy 23. januára 2023 v Paríži vo Francúzsku. (Foto: Marc Piasecki/WireImage)
Neuveriteľne realistické Schiaparelli zvieracie hlavy sú poslednou kapitolou v dlhej histórii taktiky šoku od otvorenia módneho domu v roku 1927. Palcové titulky, ktoré sa objavili rýchlosťou blesku zcela zatienili číru krásu zvyšku kolekcie, ktorá bola plná úžasne prehnaných siluet ukazujúcich úroveň práce, ktorej je ateliér schopný.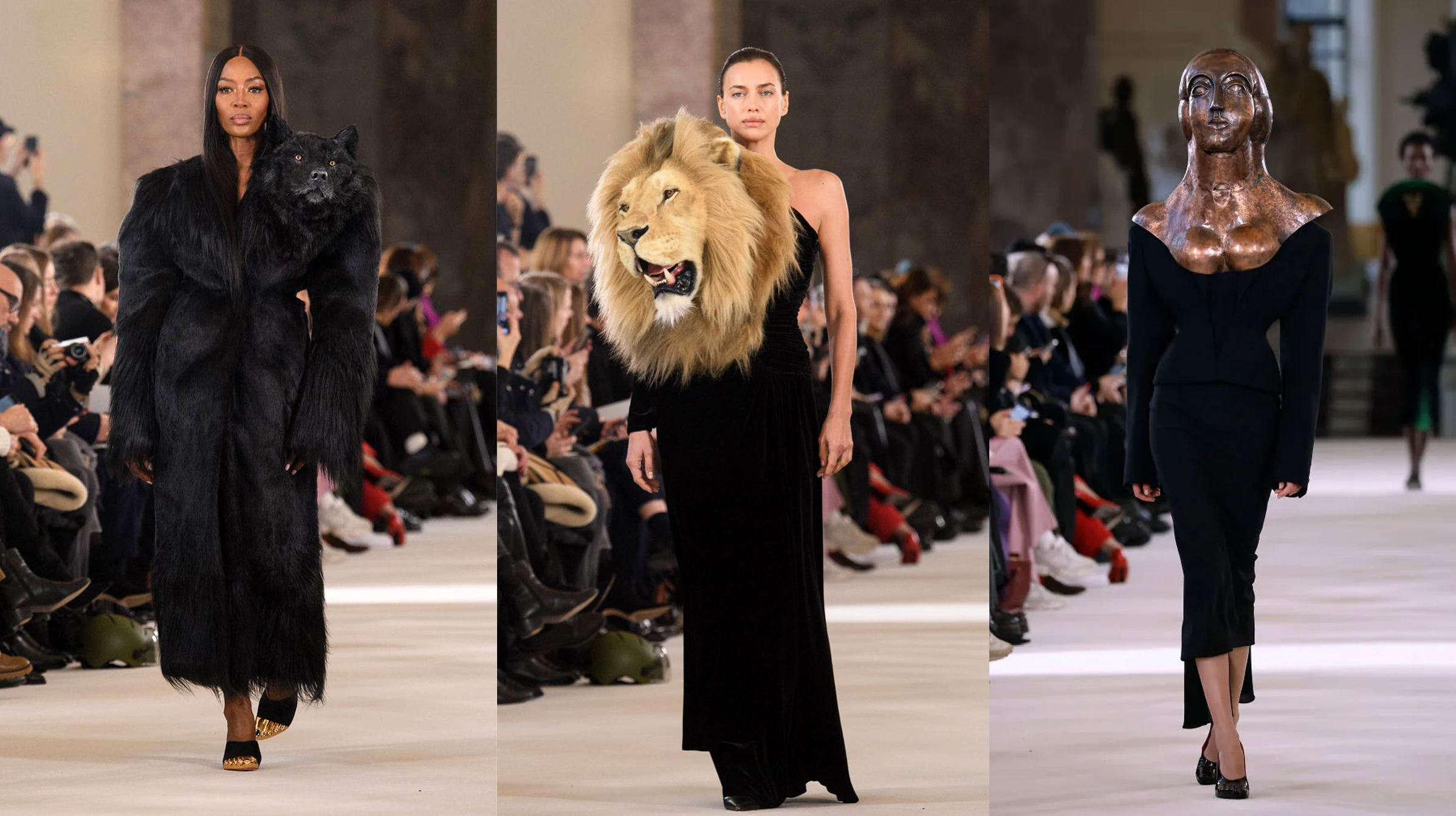 Dizajnér Daniel Roseberry sa vo svojej najnovšej módnej šou pre Schiaparelli dostal na titulky pre falošné hlavy zvierat. Ako bolo zamýšľané, hlava leva, ktorú mala na sebe Kylie Jenner a modelka Irina Shayk, kabát vlčej hlavy na šatách Naomi Campbell a hlava leoparda na Shalom Harlow spôsobili rozruch napriek tomu, že boli vyrobené z peny a z umelej kožušiny. Nedovoľte, aby vás zbytočný hluk o tom, či Daniel Roseberry propaguje týranie zvierat a trofejný lov (hoci nie, toto nebol zámer a ani nie je pravdou, ako to potvrdil aj ten najextrémnejší obhajca práv zvierat, PETA) , odvádzal od jeho neuveriteľného úspechu pri stelesňovaní skutočného významu haute couture akou sú remeselná zručnosť a neskrotná kreativita.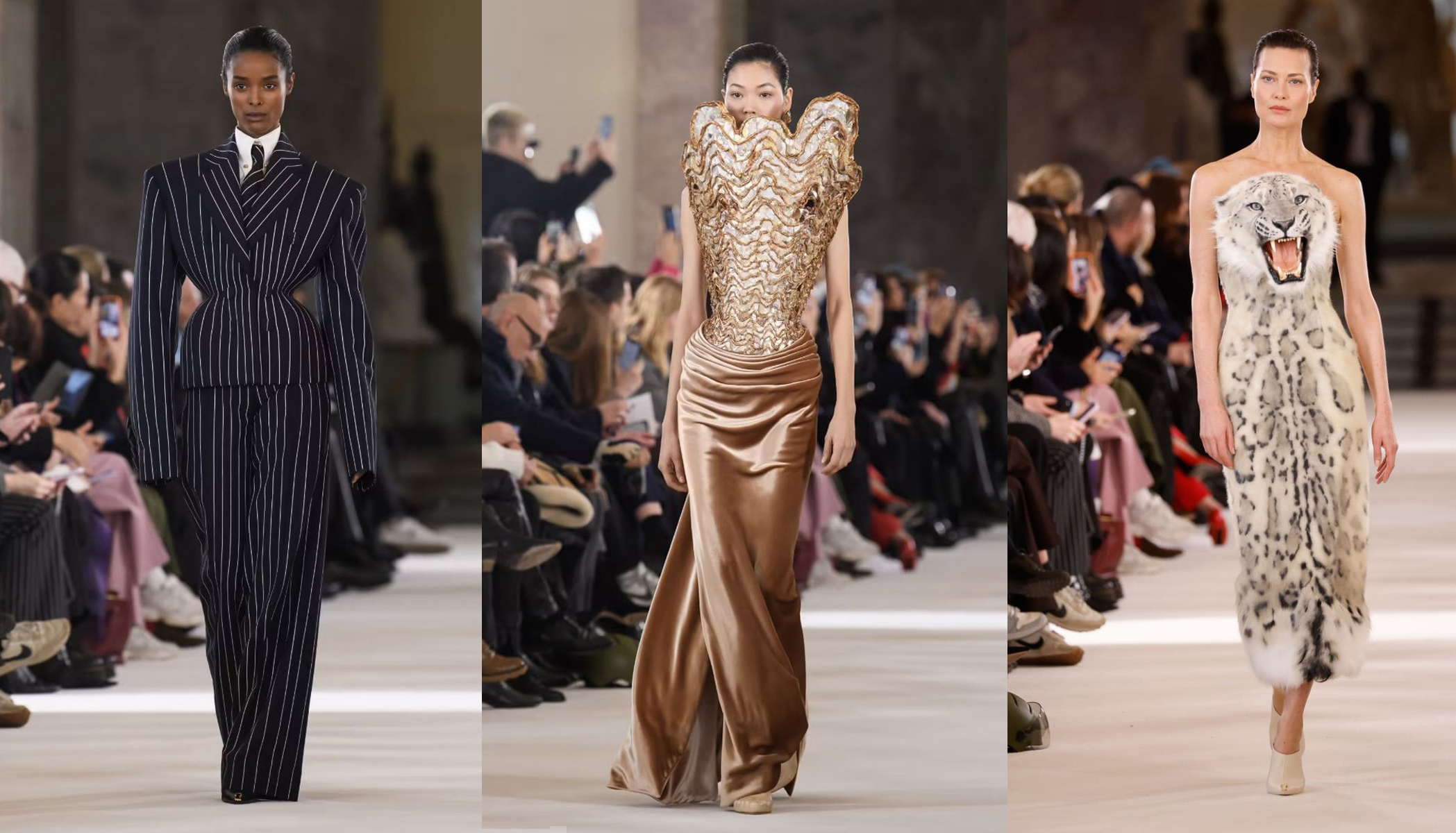 To, čo vyzeralo ako scvrknutá krémová čipka, bolo vytvarované do pevného korzetového topu, zatiaľ čo ďalšie korzetové topy pokračovali až po bradu, vrátane jedného z kovového pávieho peria, jedného z čiernych zrkadiel a jedného vyrobeného z intarzie z libanonského cédra.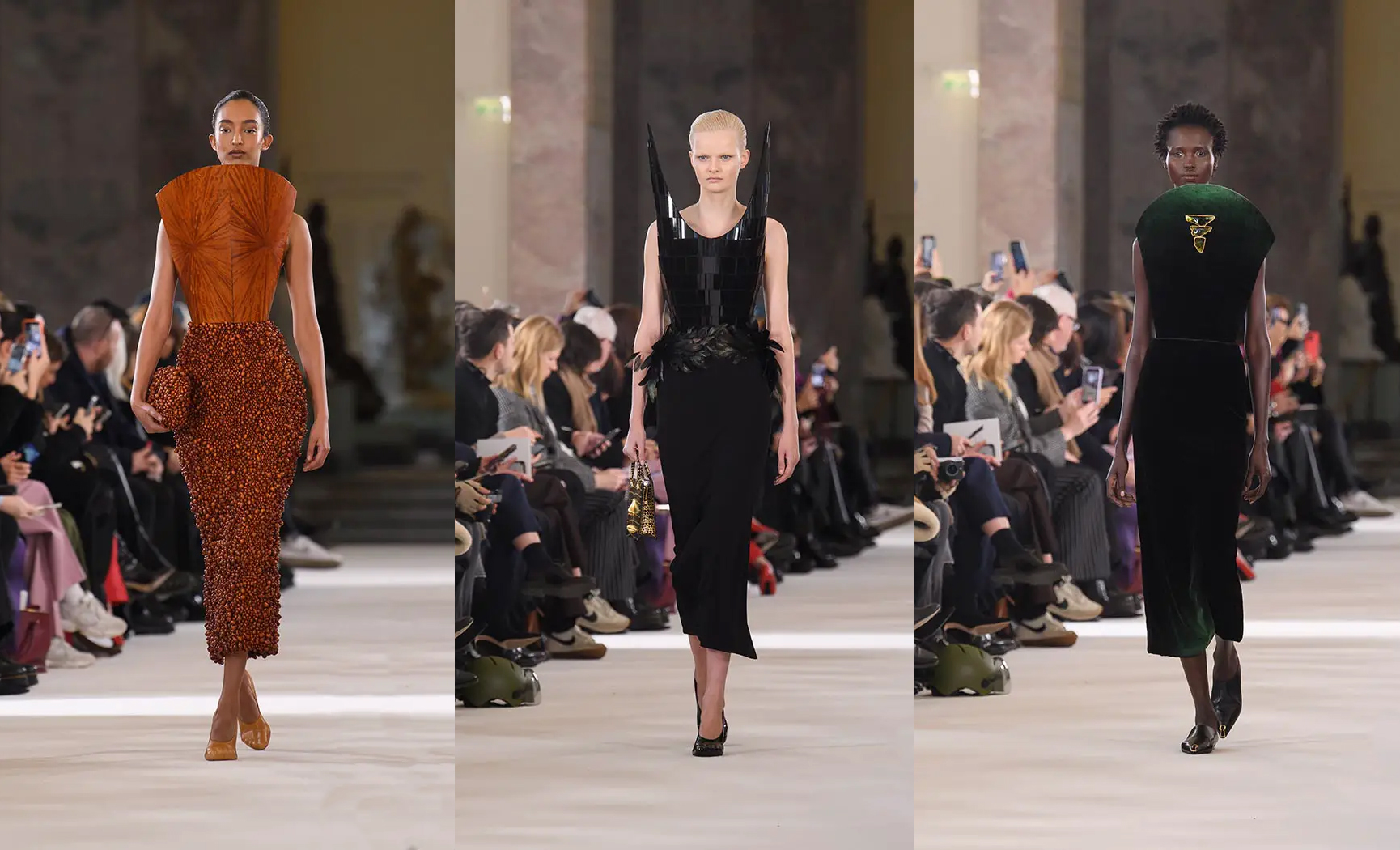 Dizajnér, ktorého kolekcia Schiaparelli Jar/Leto 2023 bola inšpirovaná Danteho Infernom (peklom), naservíroval divákom prehliadku so šokujúco reálne vyzerajúcou zvieracou ríšou a prehnanými tvarmi. Smoking a prúžkované kostýmy mali prehnané ramená, vysekané pásy a veľmi dlhé nohavice. Živôtiky siahali ďaleko za ich obvyklé miery, pričom niektoré dokonca rástli ako vinič cez tváre modeliek.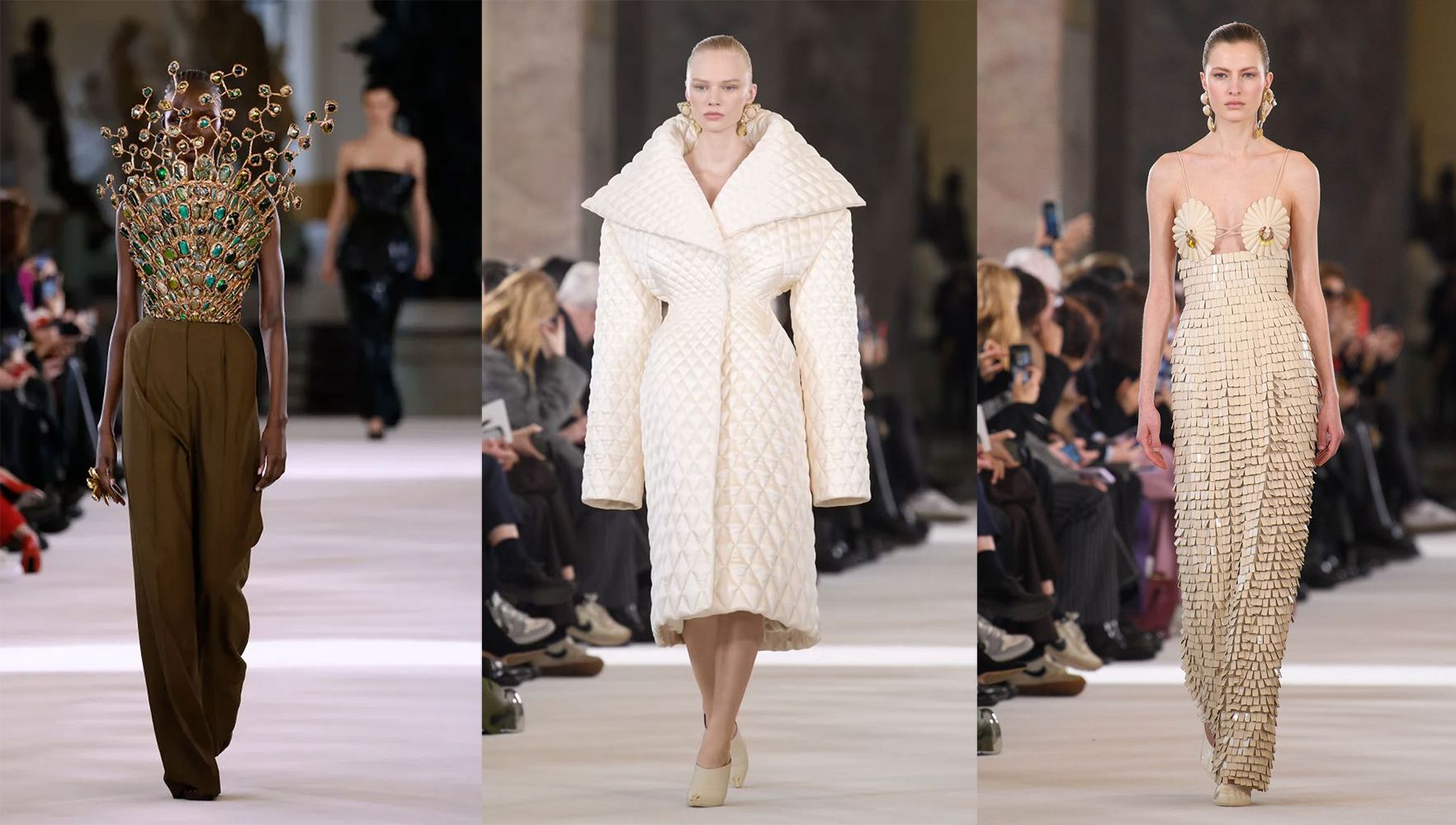 Prešívaný kabát zo smotanového saténu mal golier taký veľký, že siahal po plecia. Kolekcii kraľovali aj ďalšie expresívne kúsky – smokingy otvorené až po pupok a obleky s obrovskými ramenami a úzkymi strihanými pásmi.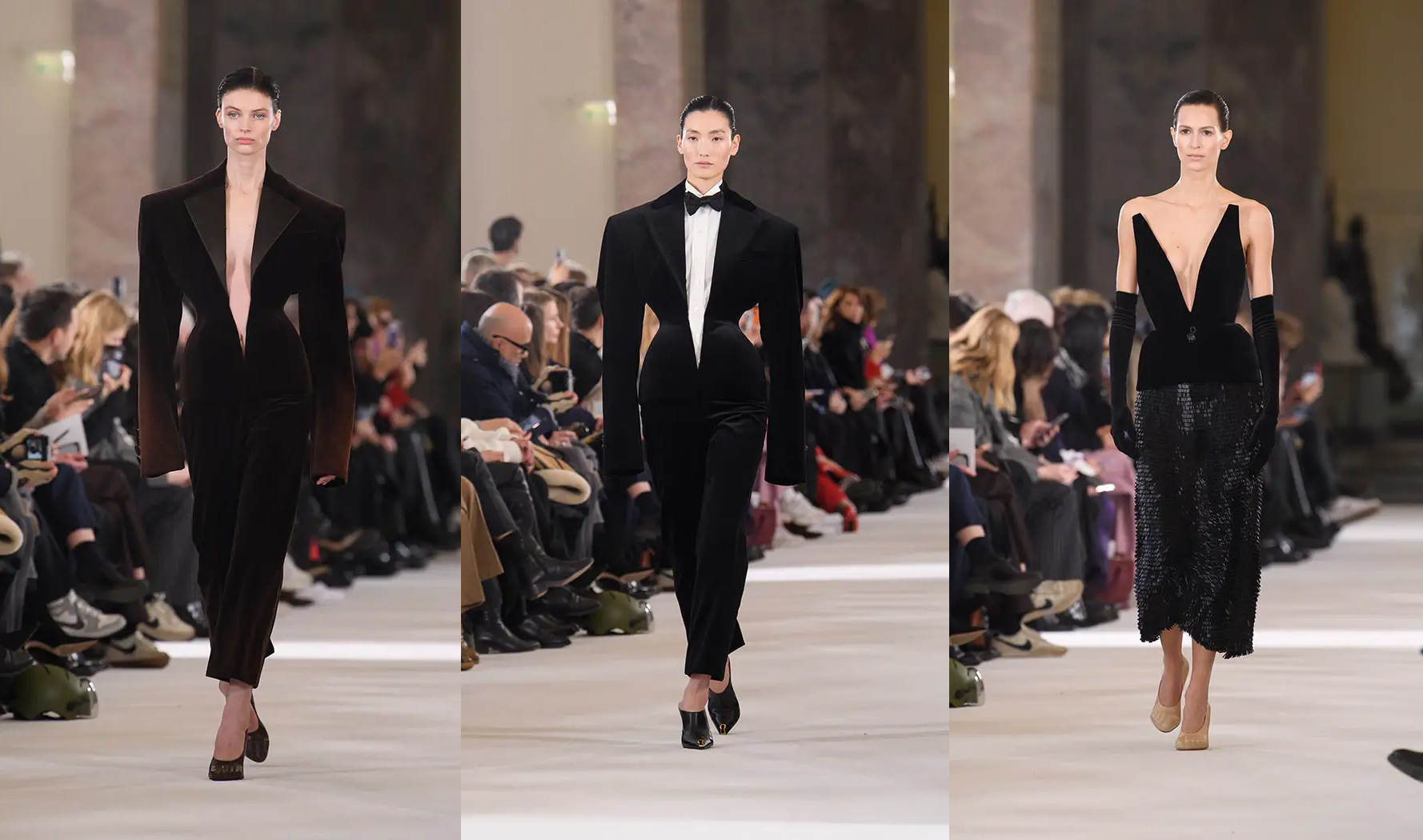 "Táto kolekcia je mojou poctou pochybovať," vysvetlil svoju interpretáciu slávneho diela, pre ktorú vytvoril zamatové stĺpcové šaty, zrkadlové flitre a penové zvieracie hlavy leoparda, leva a vlčice, "predstavujúca žiadostivosť, pýchu a lakomstvo", ktoré boli spojené so šatami a kabátmi.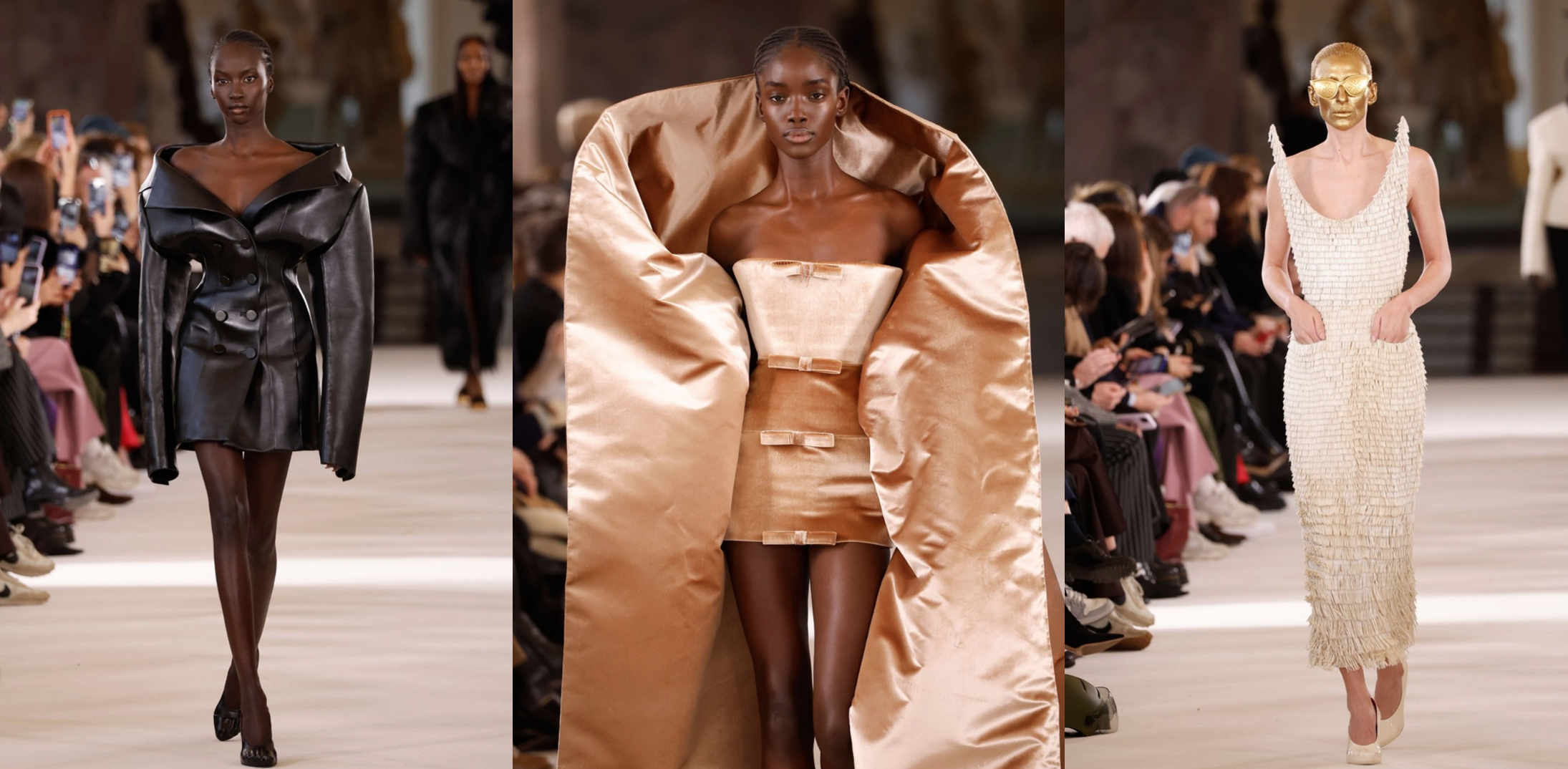 "Inferno, Purgatorio, Paradiso: Jeden nemôže existovať bez ostatných," dodal vo svojich vyhláseniach dizajnér. "Je to pripomienka, že nie je nič také ako nebo bez pekla, niet radosti bez smútku, niet extázy stvorenia bez mučenia pochybností".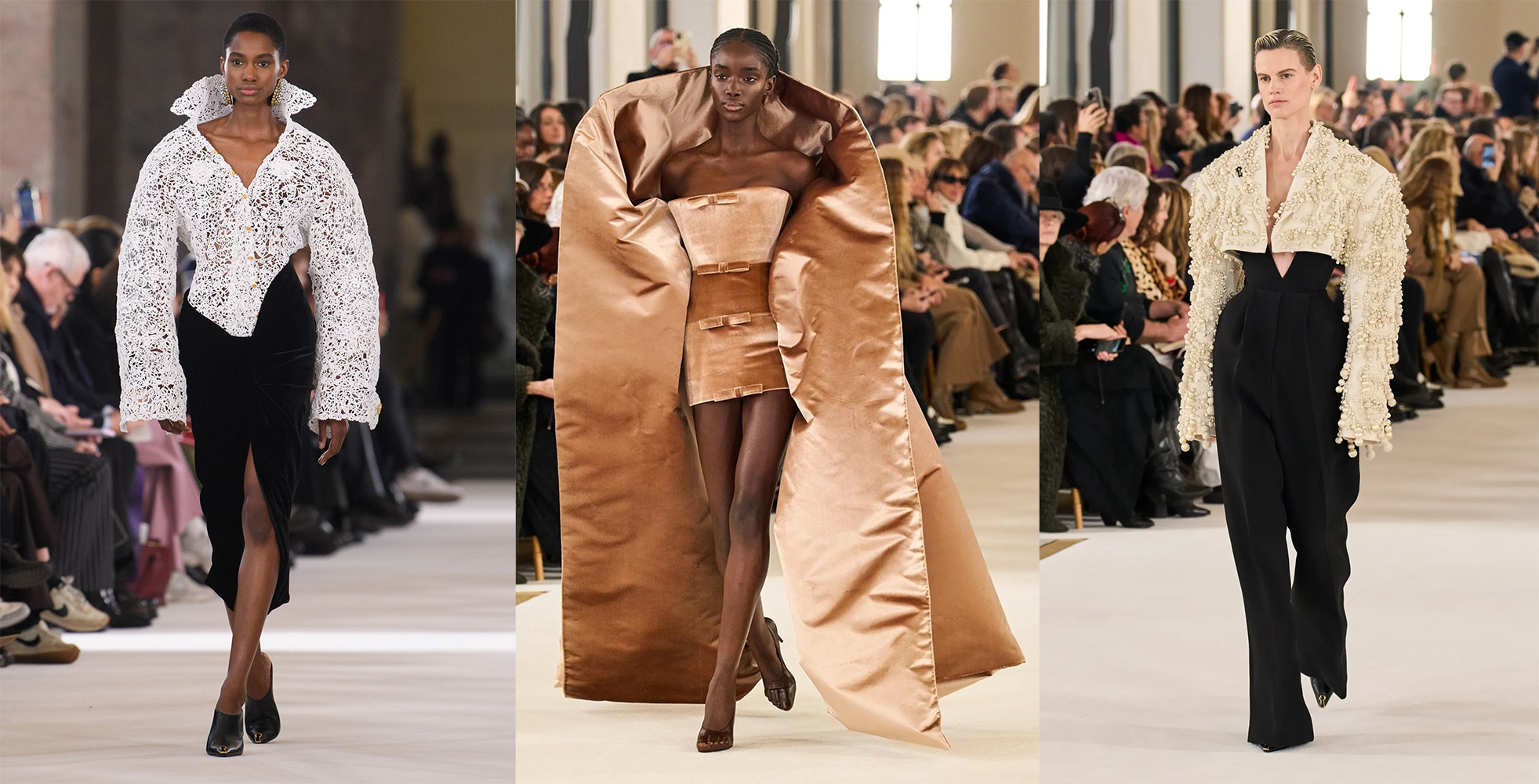 Módnej prehliadky Schiaparelli počas Parížskeho týždňa módy Haute Couture 2023 sa zúčastnila aj francúzska herečka Philippine Leroy-Beaulieu v bielom korzetovom kožuchu Schiaparelli Zima 2022-2023. Štýlová ako vždy, tak ako v televíznom seriáli Emily in Paris, kde stvárňuje šéfku reklamnej agentúry v Paríži.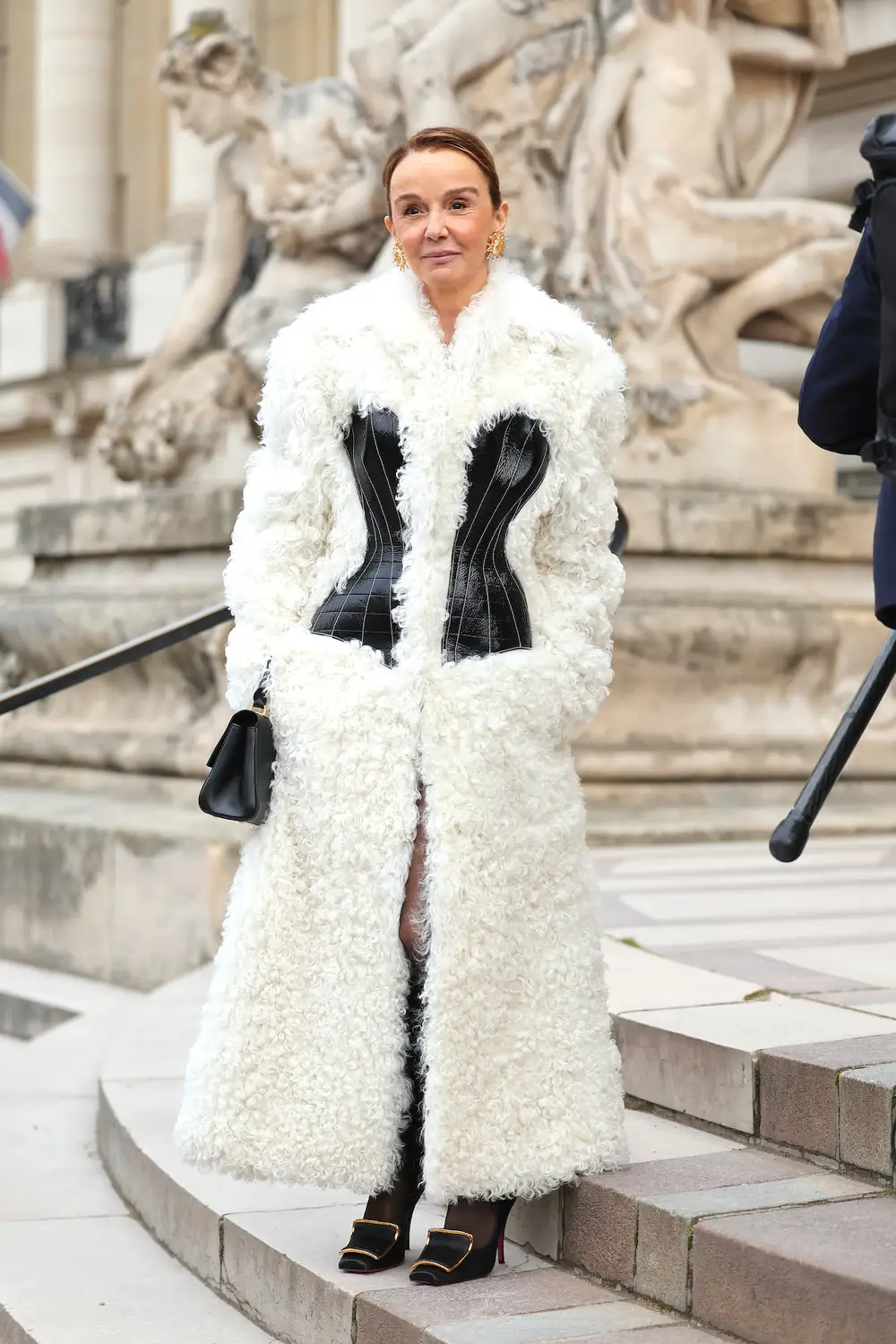 DIOR
Francúzsky módny dom Dior naopak odhalil na Paris Haute Couture Weeku svoju kolekciu zdržanlivých dámskych dizajnov inšpirovaných Josephine Baker, ktorá je v súlade s víziou značky talianskej dizajnérky Maria Grazia Chiuri. Módna kolekcia Dior Jar/Leto 2023 bola inšpirovaná Josephine Baker, černošskou narodenou v Amerike, francúzskou speváčkou a tanečnicou, ktorá prišla reprezentovať lesk a pôvab Paríža 20. rokov minulého storočia. "Stelesňuje modernosť tých rokov, prekračovanie stereotypov a predsudkov, miešanie kultúr a spoločné zážitky, ktoré výrazne oživili pulzujúci svet kabaretov," vysvetlila Maria Grazia Chiuri. Baker bola tiež blízkym priateľom a múzou Christiana Diora a jedným z najlepších klientov domu v tom čase.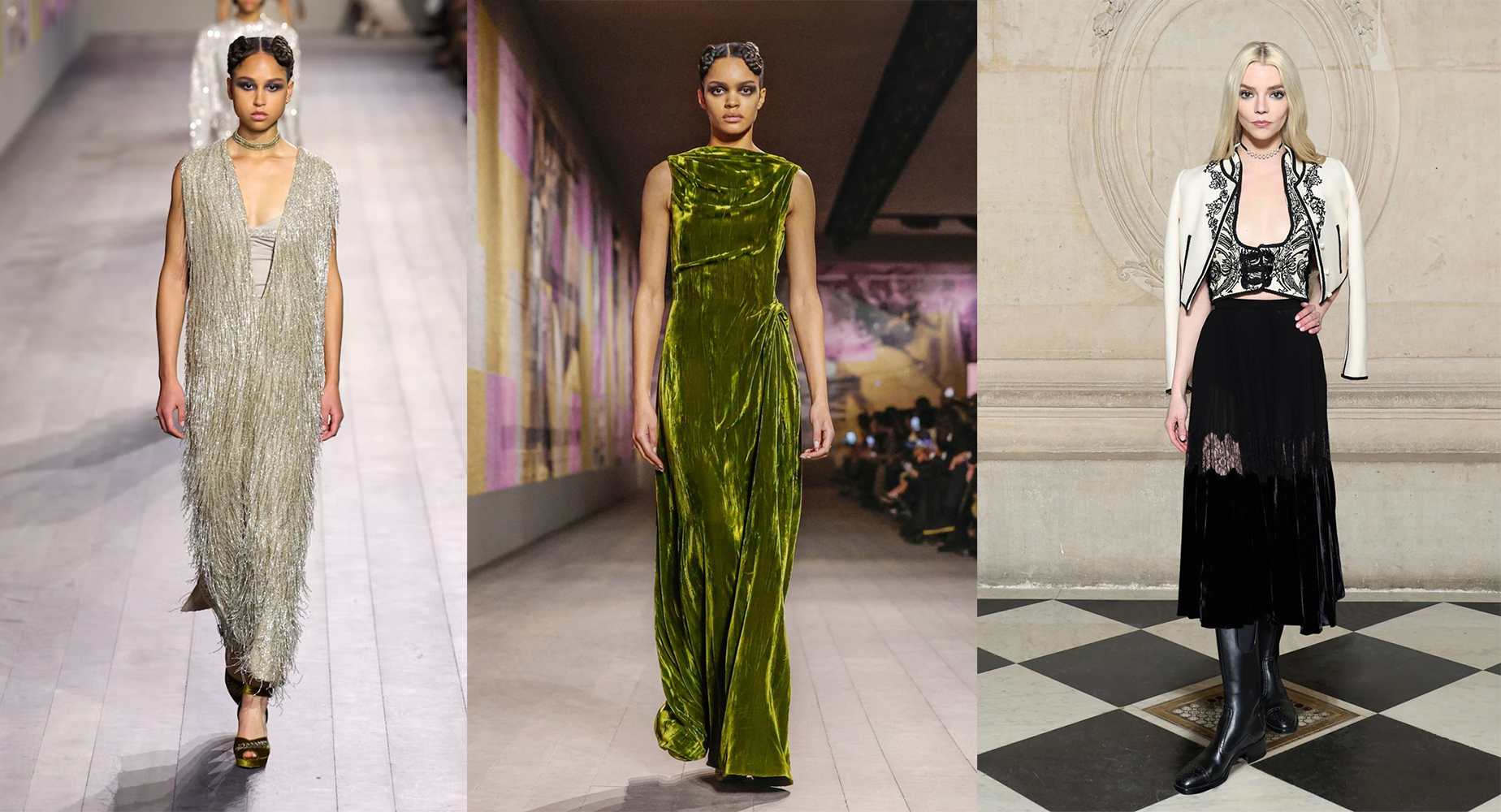 Herečka Anya Taylor-Joy sa zúčastňuje prehliadky Dior počas týždňa módy Haute Couture v Paríži 2023 (na foto vpravo).
Talianska dizajnérka Maria Grazia Chiuri čerpá inšpiráciu od Joséphine Baker, jednej z najfascinujúcejších žien v histórii. Zamatovými róbami, kabaretnými pierkami a strapcovými šatami odkazuje na burácajúce 20-te roky, v ktorých si Baker vybudovala meno ako burleskná umelkyňa v Paríži. Jej osobitný kabaretný štýl a vo všeobecnosti "Roaring Twenties" boli jasne spomenuté v celej kolekcii, ktorá obsahovala strapcové šaty, zamatové róby, saténové trikoty, prehozy. Súbor zostavila Mickalene Thomasová, ktorá vytvorila 13 obrovských umeleckých diel venovaných kultúrne inšpiratívnym čiernym a zmiešaným ženám, vrátane Baker, Niny Simone a Dorothy Dandridge.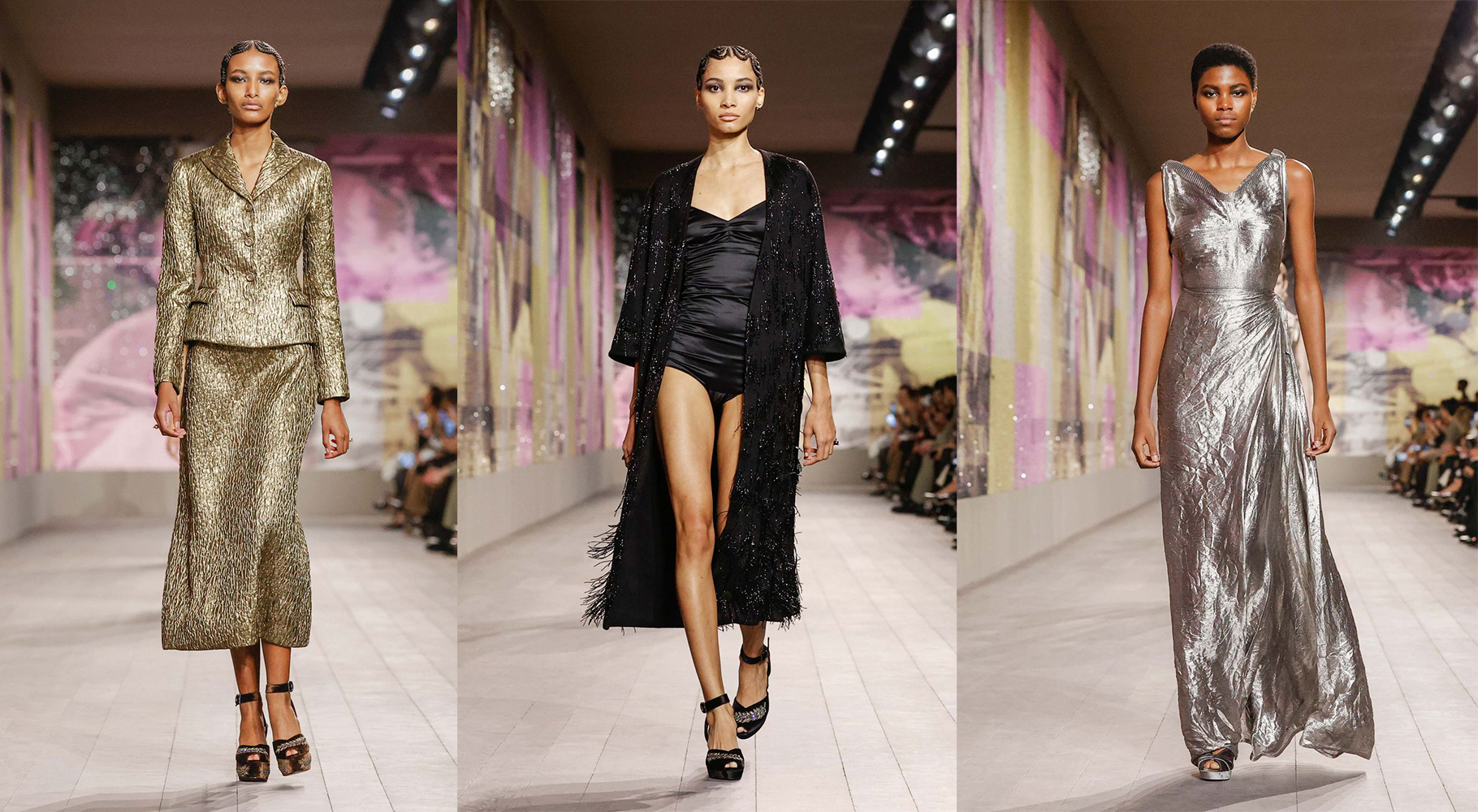 Sukne, saká a šaty boli strihané tak, aby netesno priliehali k telu a dokonalé krajčírstvo, ako napríklad sukne a smokingové kabáty, sedeli perfektne, ale pohodlne okolo tela. Dokonca aj slávna bunda Bar bola rozobratá, ťažké kostice boli pre tentokrát odstránené. Oblečenie bolo zjednodušené a aktualizované a kolekcia ako celok pôsobila uvoľnene s odstráneným objemom.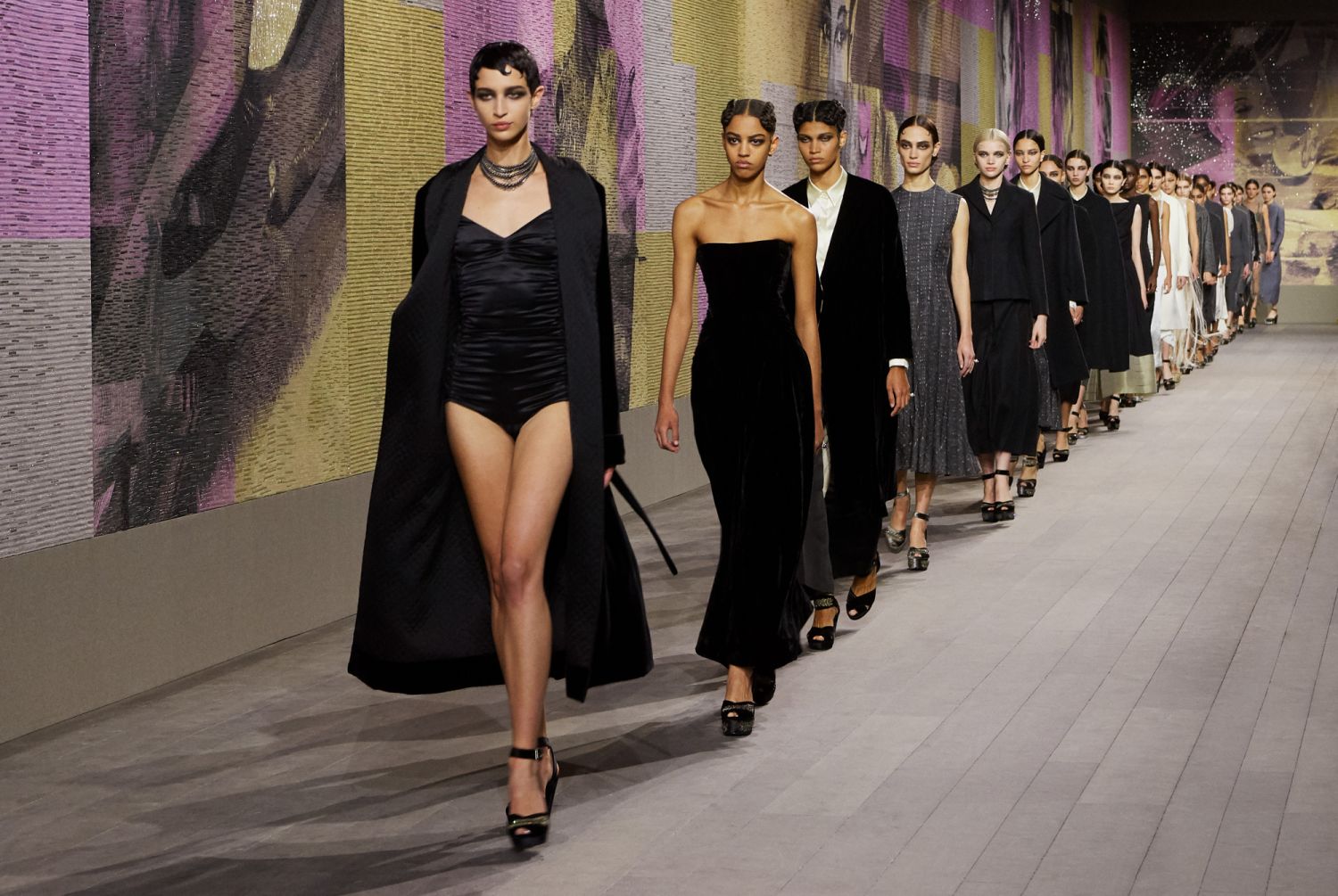 V Diore pokračuje Maria Grazia Chiuri vo svojej tichej revolúcii módneho domu. V kolekcii Jar/Leto 2023 sa inšpirovala americkou tanečnicou Josephine Baker, ktorá uchvátila Paríž v 20. až 40. rokoch minulého storočia a bola prvou černoškou, ktorá hrala vo filme. Modelky preto zdobili Bakerove charakteristické kučery prilepené na čelo.
HAIDER ACKERMANN pre JEAN PAUL GAULTIER
V stredu 25. januára 2023 Haider Ackermann debutoval ako najnovší hosťujúci dizajnér pre Jean Paul Gaultier a priniesol úchvatnú kolekciu, v ktorej sa prelínal jeho prínos s odkazom francúzskych návrhárov v oblasti outré dizajnov. Odkedy Jean Paul Gaultier odstúpil z módneho domu, ktorý nesie jeho meno, boli pozvaní už viacerí hosťujúci dizajnéri, aby vstúpili a vzdali takto hold jeho tvorbe kreatívnym dizajnom. Pre sezónu Jar/Leto 2023 prevzal opraty francúzsky dizajnér Haider Ackermann.
Keď sa Ackerman ponoril do archívov módneho domu JP Gaultier, našiel dôsledné krajčírstvo, ktoré podporilo aj tie najbláznivejšie momenty JPG a predstavil kolekciu, ktorá nebola ničím výnimočným.
Minimalistické haute couture návrhy Haidera Ackermanna pre Jeana Paula Gaultiera zožali v Paríži počas Paris Haute Couture Weeku veľké ovácie. V ostrom kontraste s milujúcou, no nedostatočnou poctou Oliviera Rousteinga ikonickému dizajnérovi, Ackermann sa naopak zameral na zložitosť výroby odevov. Prehliadku otvoril dokonale ušitý oblek, jeho sako vyrobené z tkaných pásikov, po ktorom nasledoval rovnako prísne strihaný overal so smotanovým topom zloženým ako origami.
Vidíme majstrovskú kooperáciu zaujímavých tkanín, ako sú nekvalitné, krepové a grain de poudre, ktoré tvoria jeho víziu dekonštrukcie tradičných siluet od smokingov po róby a dekolty. Prehliadky sa zúčastnila aj 79-ročná francúzska herečka Catherine Deneuve, ktorá sedela vedľa dizajnéra Jeana Paula Gaultiera.
Prišiel ďalší oblek štíhleho strihu s priehľadnou košeľou v prednej časti s perím v kráľovskej modrej, zatiaľ čo slávna kónická podprsenka, ktorá bola prvýkrát predstavená v roku 1984, sa objavila ako najkratšie z korzetových topov, ktoré sa nosili s plisovanými nohavicami v olivovozelenej farbe.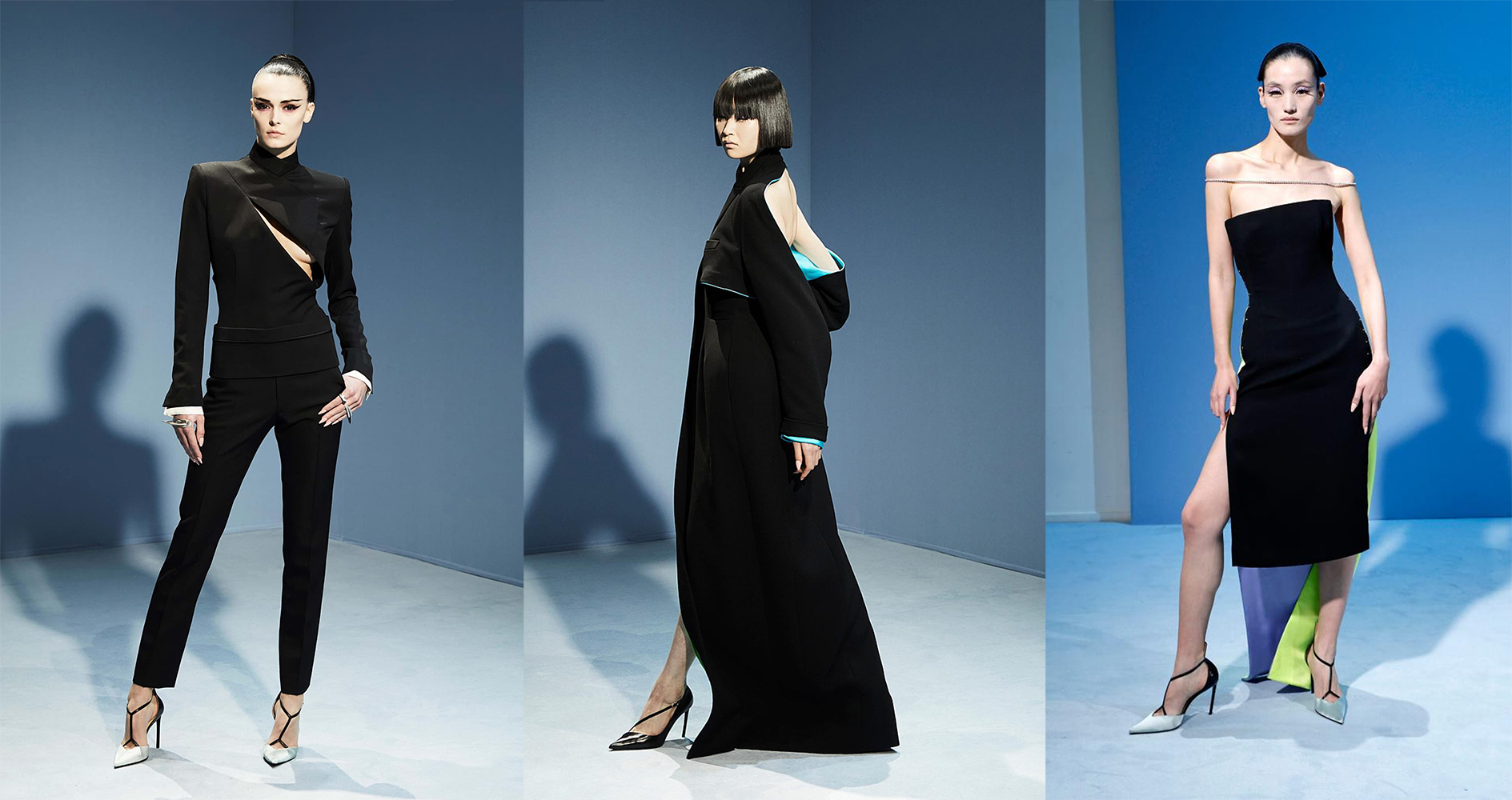 Objavilo sa viac korzetu, ktorý bol teraz dekonštruovaný a prerobený na vytvarované tunikové šaty cez úzke nohavice, zatiaľ čo ľanový overal bol tiež prestrihnutý na jedno rameno. Potom Ackermann predĺžil smokingové sako do mimoriadne nápadných šiat s priliehavým pásom podšitých tyrkysovou a andulkovou zelenou, potom ho predĺžil do operného kabátu zo smotanového šantungového hodvábu, ktorého okraje zostali neopracované.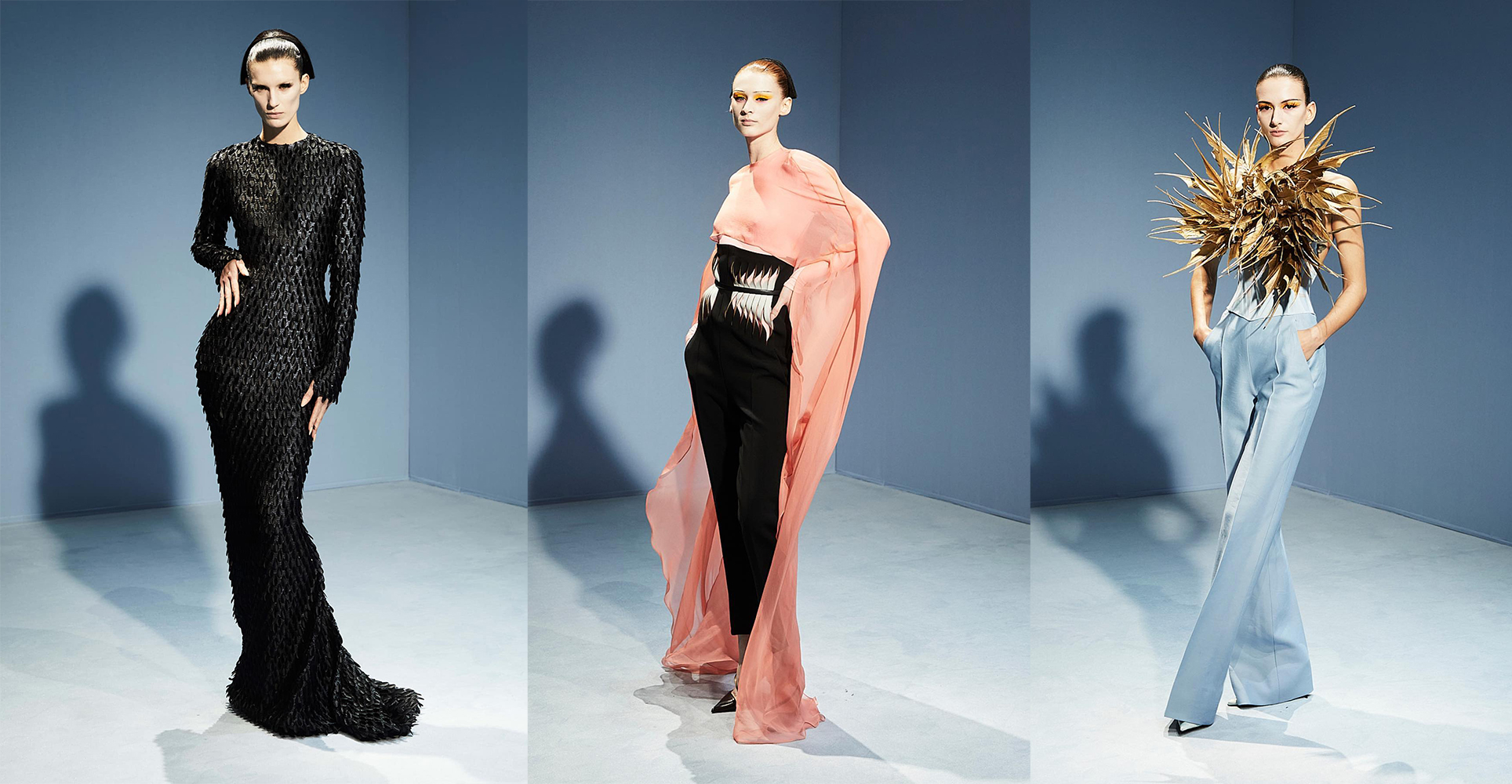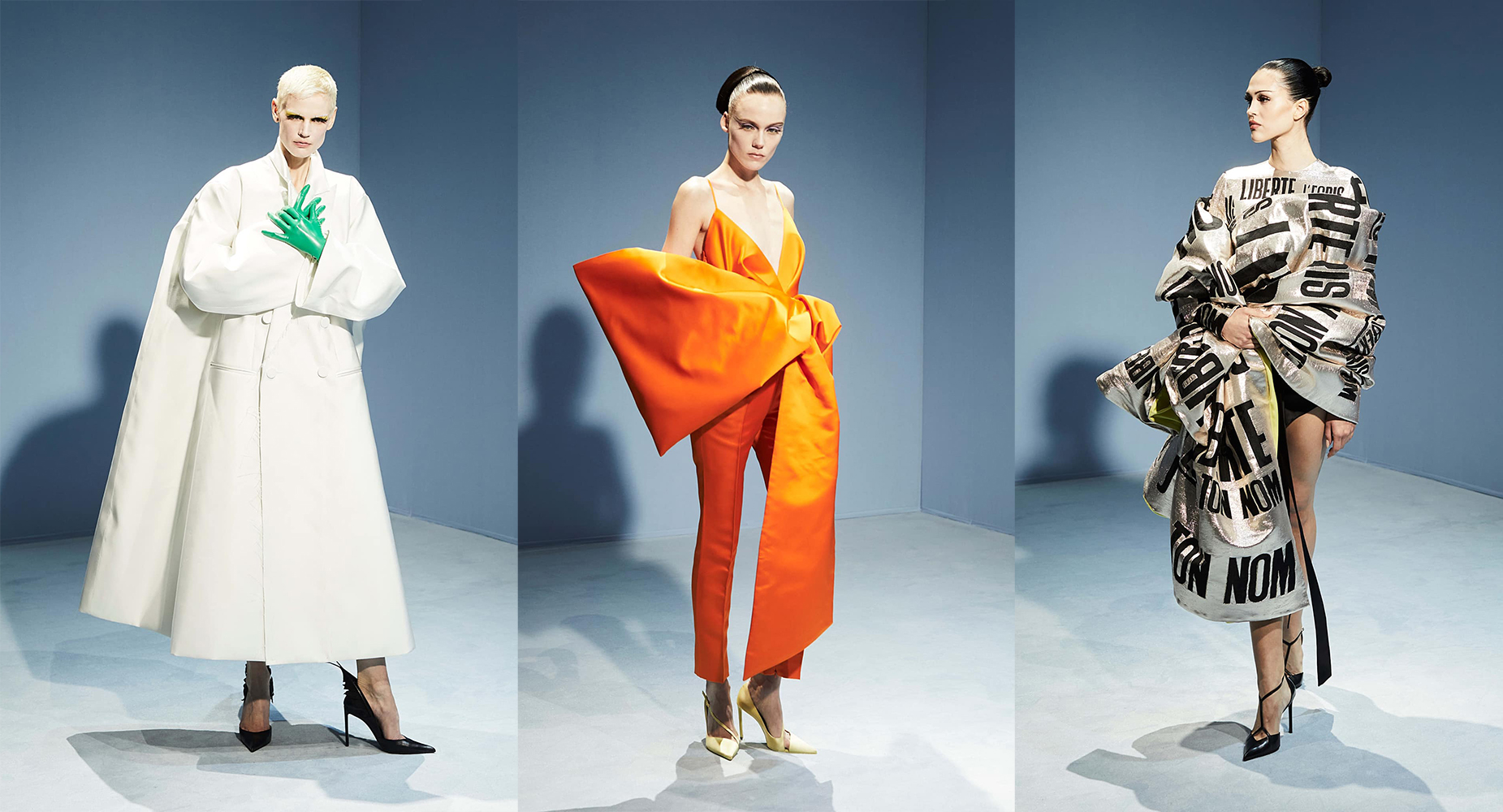 Modelky predvádzajúce výtvory pre Jeana Paula Gaultiera , Paris Haute Couture, Jar/Leto 2023, Paríž, Francúzsko, 25. január 2023. (MeetEurope/Handout cez Xinhua)
Na prehliadke sa zúčastnila americká influencerka Kylie Jenner – na foto s dizajnérom Jeana Paula Gaultierom.
VALENTINO
Módne divadlo prezentácií najnovších kolekcií Jar/Leto 2023 zavŕšila tretí deň, 25. januára 2023, značka Valentino – výletom do Valentino's Le Club Couture, kde dizajnér Pierpaolo Piccioli vniesol do klubového oblečenia a spoločenských šiat to najlepšie prepracované majstrovstvo. Pre kolekciu Jar/Leto 2023 spojil Piccioli dva svety, ktoré sa len zriedka stretávajú: couture a nočný klub.
Vo Valentino Le Club Couture návrhár využil zábavné nočné obliekanie s drobnými flitrovými šortkami, priesvitnými šatami a topmi, dizajnom inšpirovaným smokingom a množstvom peria. "Couture sa stáva emblémom jedinečnosti, osobnosti, identity a charakteru a evokáciou najčistejšej ľudskej radosti z obliekania a obliekania," povedal návrhár Pierpaolo Piccioli o koncepte prinášania couture do klubov.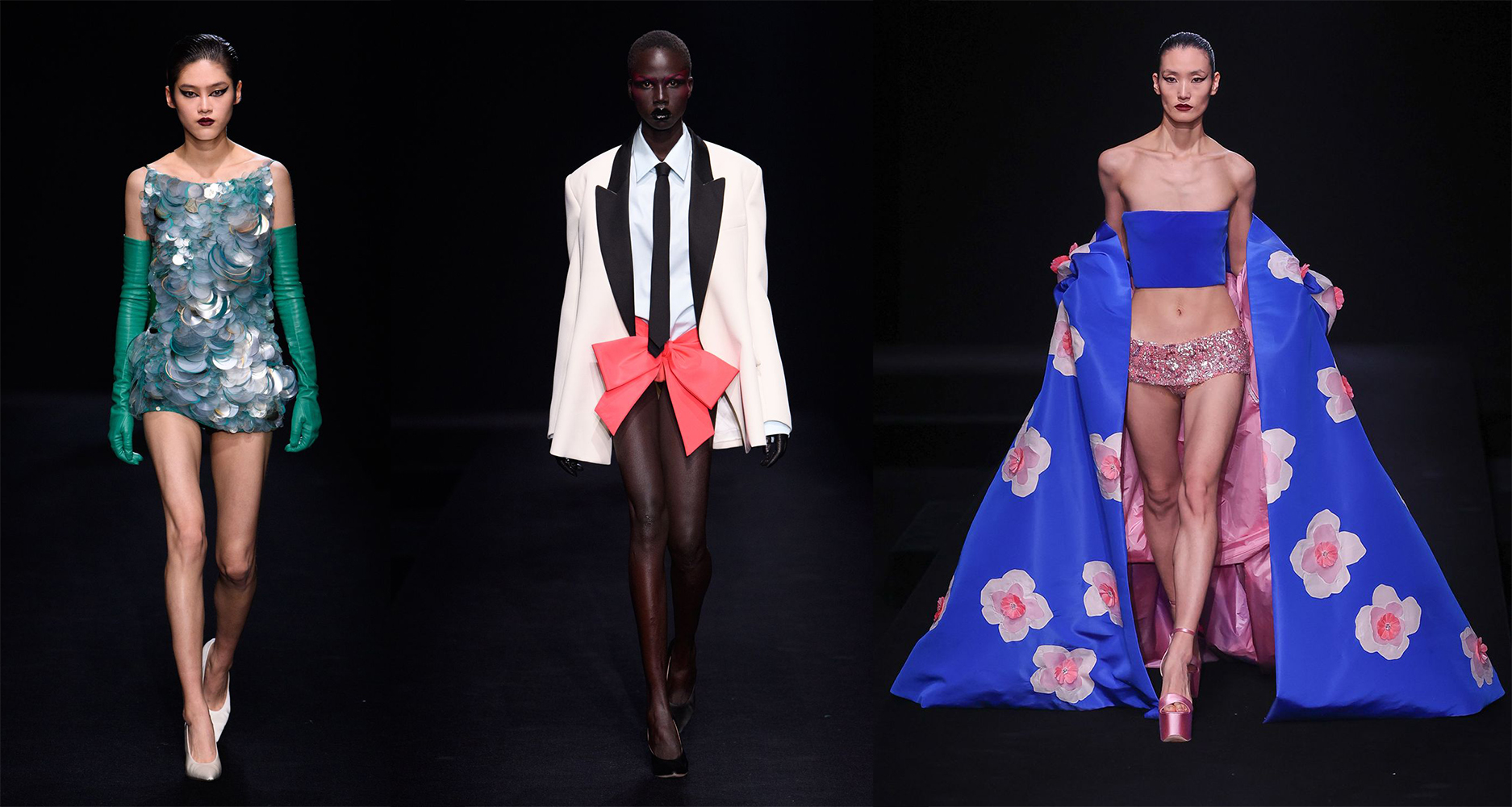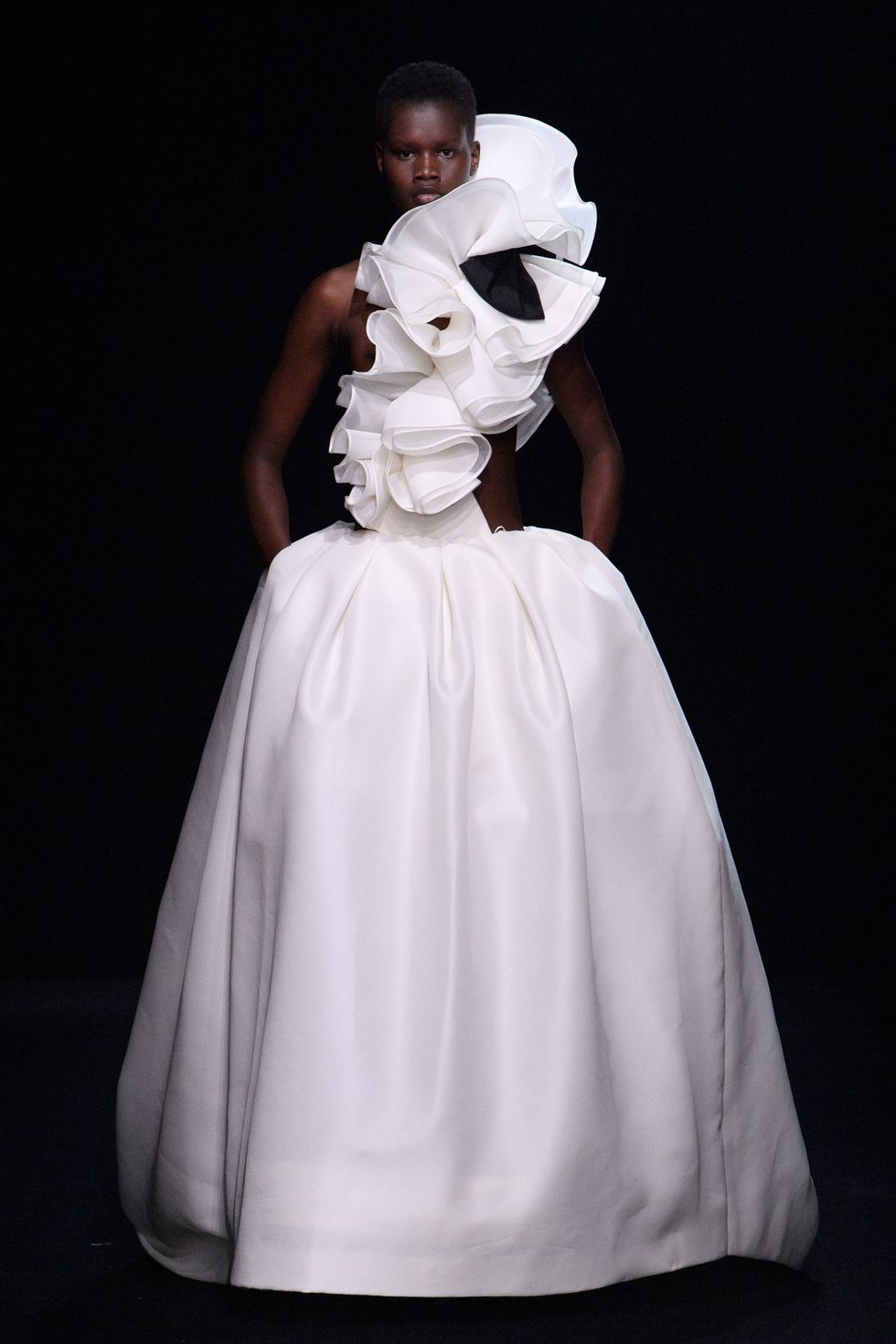 Valentino show poctili svojou prítomnosťou hviezdy – austrálska speváčka Kylie Minogue a modelka Rosie Huntington-Whiteley.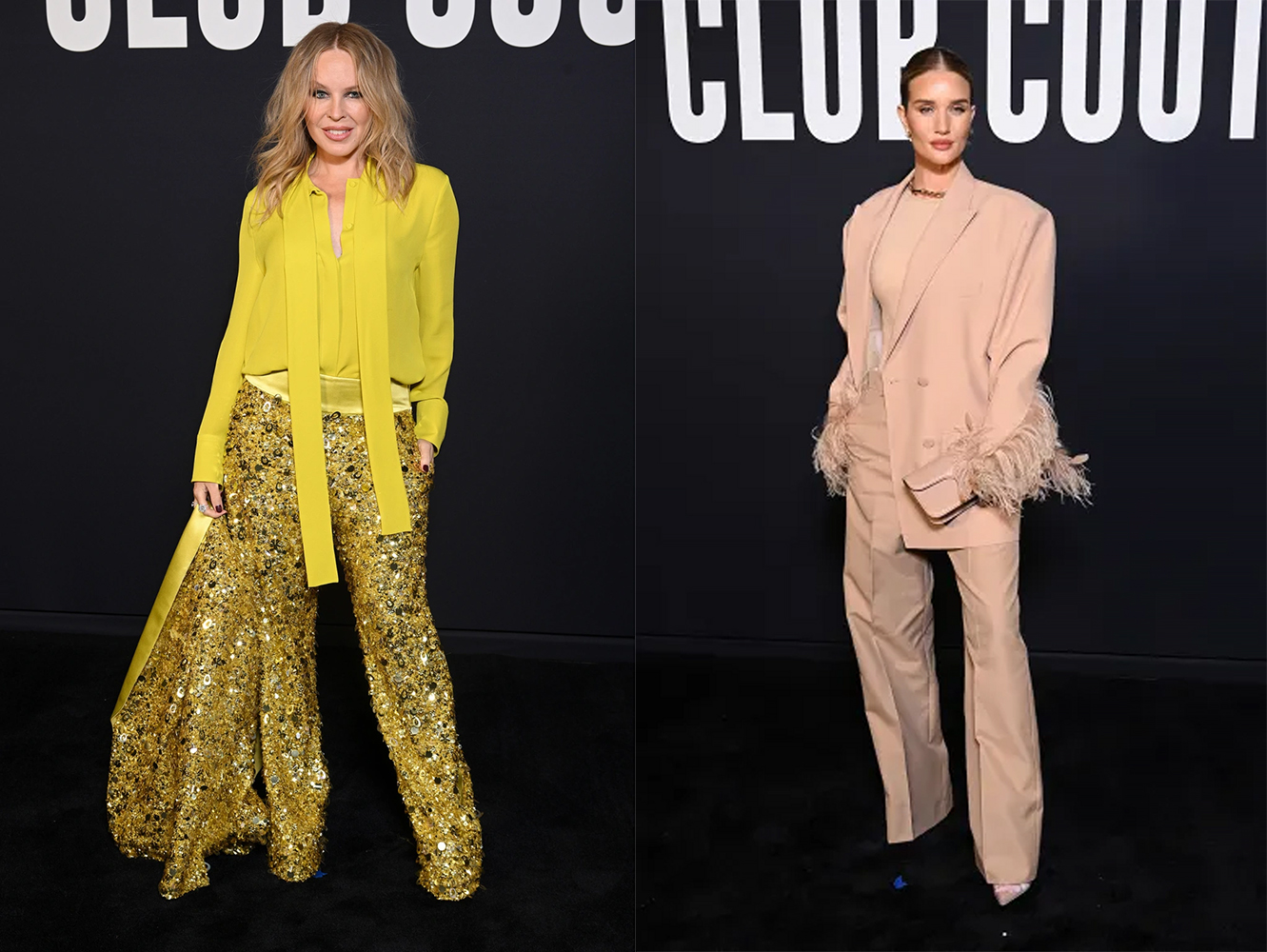 Taktiež veľmi obľúbená herečka a akutálne módna diva, ktorá sa stala obľúbenou tvárou mnohých značiek, herečka Anne Hathaway od hlavy po päty odetá v looku leoparda.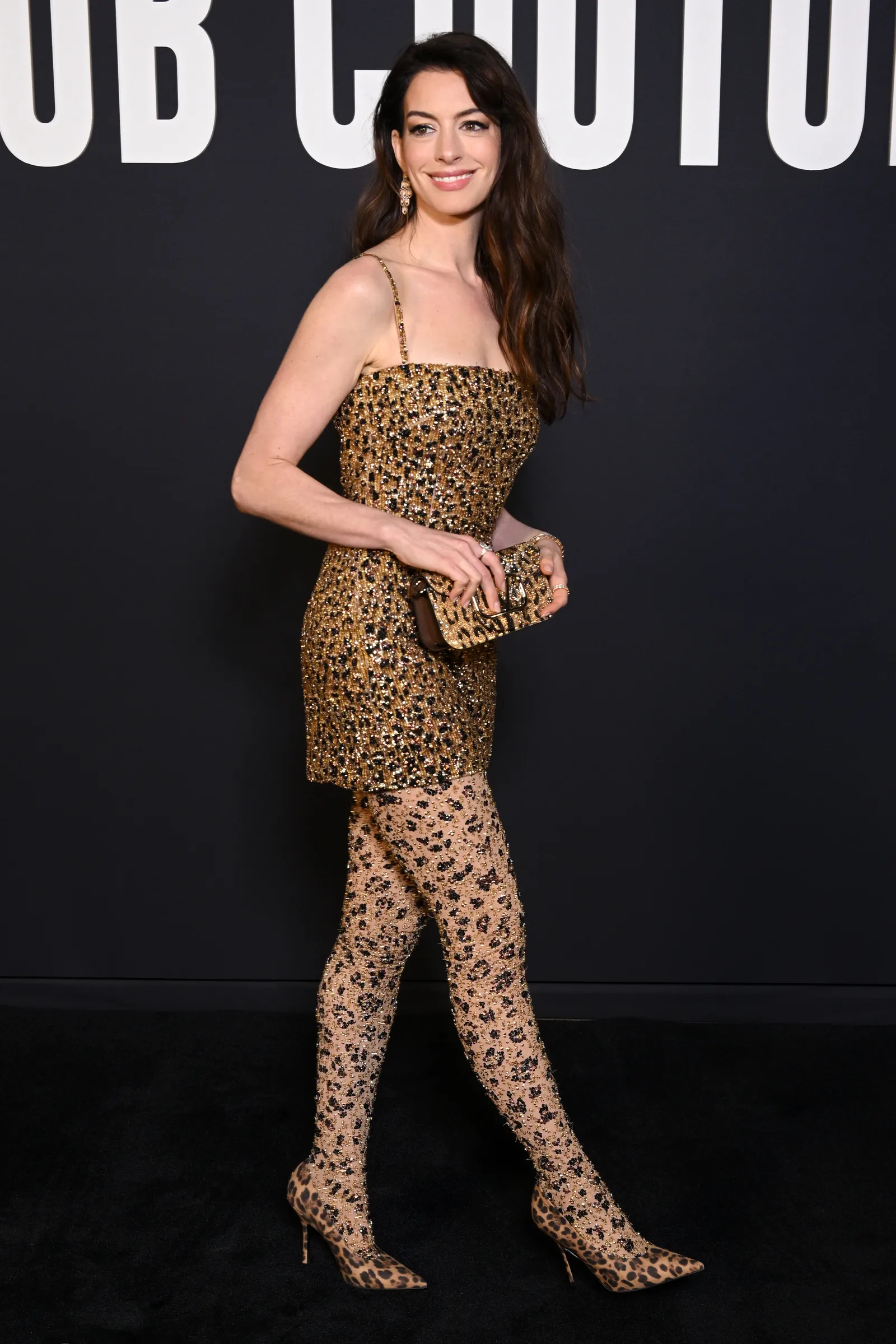 ELIE SAAB
Značka Elie Saab je stelesnením elegancie a pôvabu a jej Couture kolekcia Jar/Leto 2023 bola slávnou ukážkou oboch. Zložitá čipka, zlaté róby, nádherné ozdoby a obrovské vlečky, to všetko sa objavilo na móle a poskytlo množstvo inšpirácie pre červený koberec pre všetkých, ktorí sa chystajú zažiariť v sezóne udeľovania cien.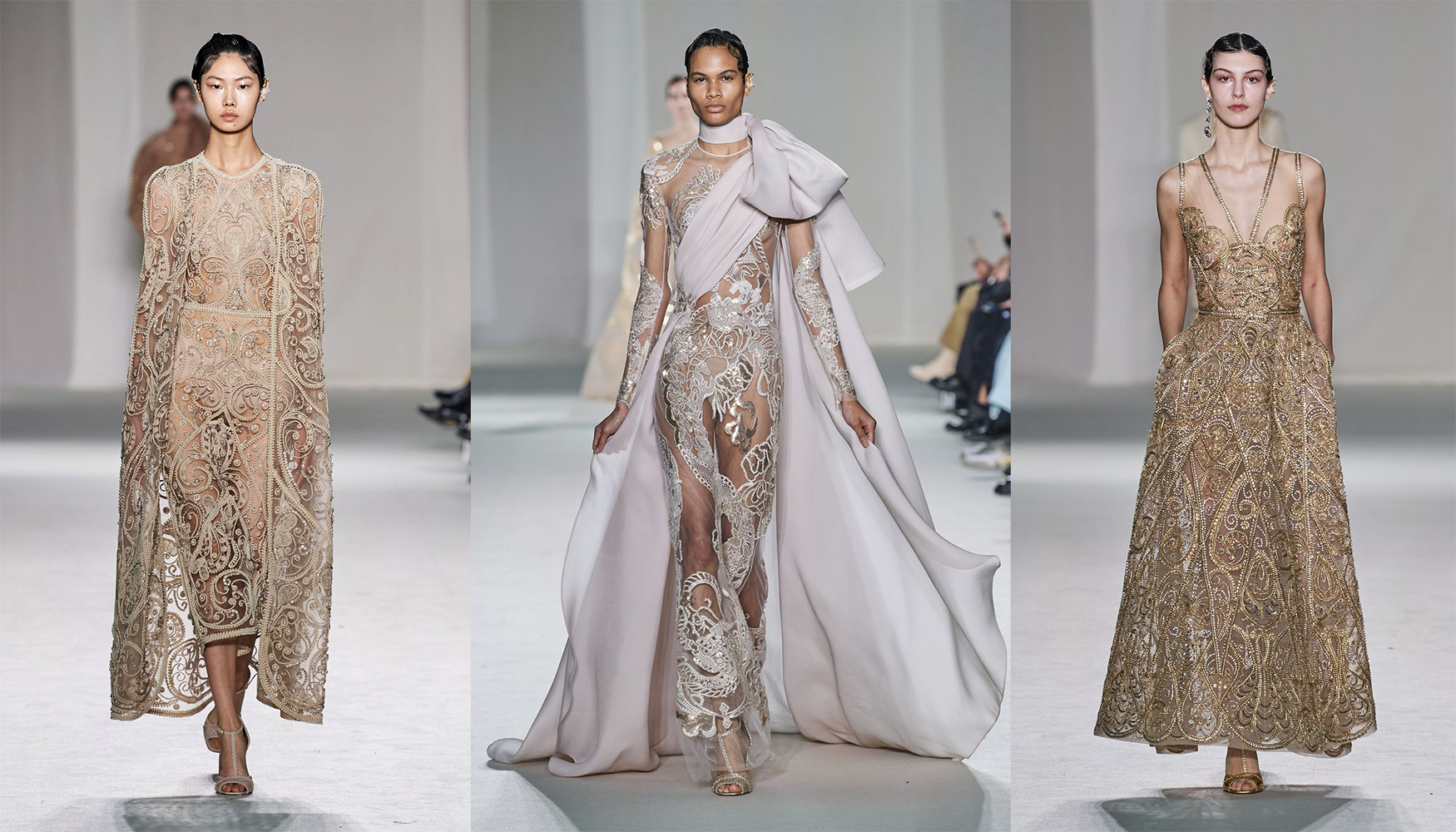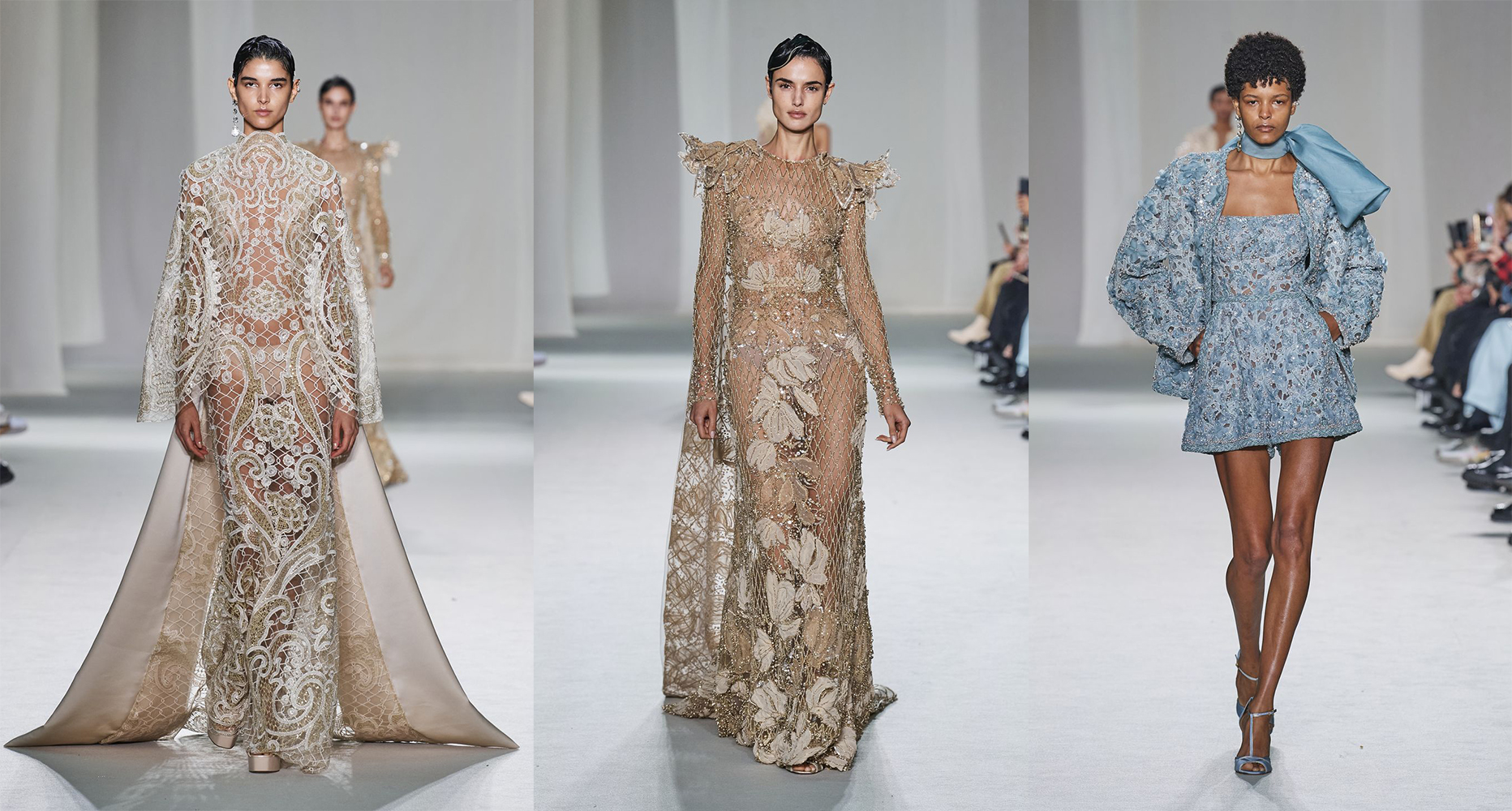 Ďalšie pokračovanie o zaujímavých módnych momentoch z Paris Haute Couture Weeku konaného v januári 2023 si môžete prečítať v II. časti článku na tomto blogu.
Obrázky: © AFP Photo, Estrop/Getty Images, Peter White/Getty Images, Victor Virgile/Gamma-Rapho via Getty Images, insider, Jean Paul Gaultier, Schiaparelli
Sledujte Facebook stránku: Mya Mirell Fashionista a Instagram: mya_mirell .