Miucccia Prada – jedinečné outfity talianskej dizajnérky s dávkou ikonoklasicistického štýlu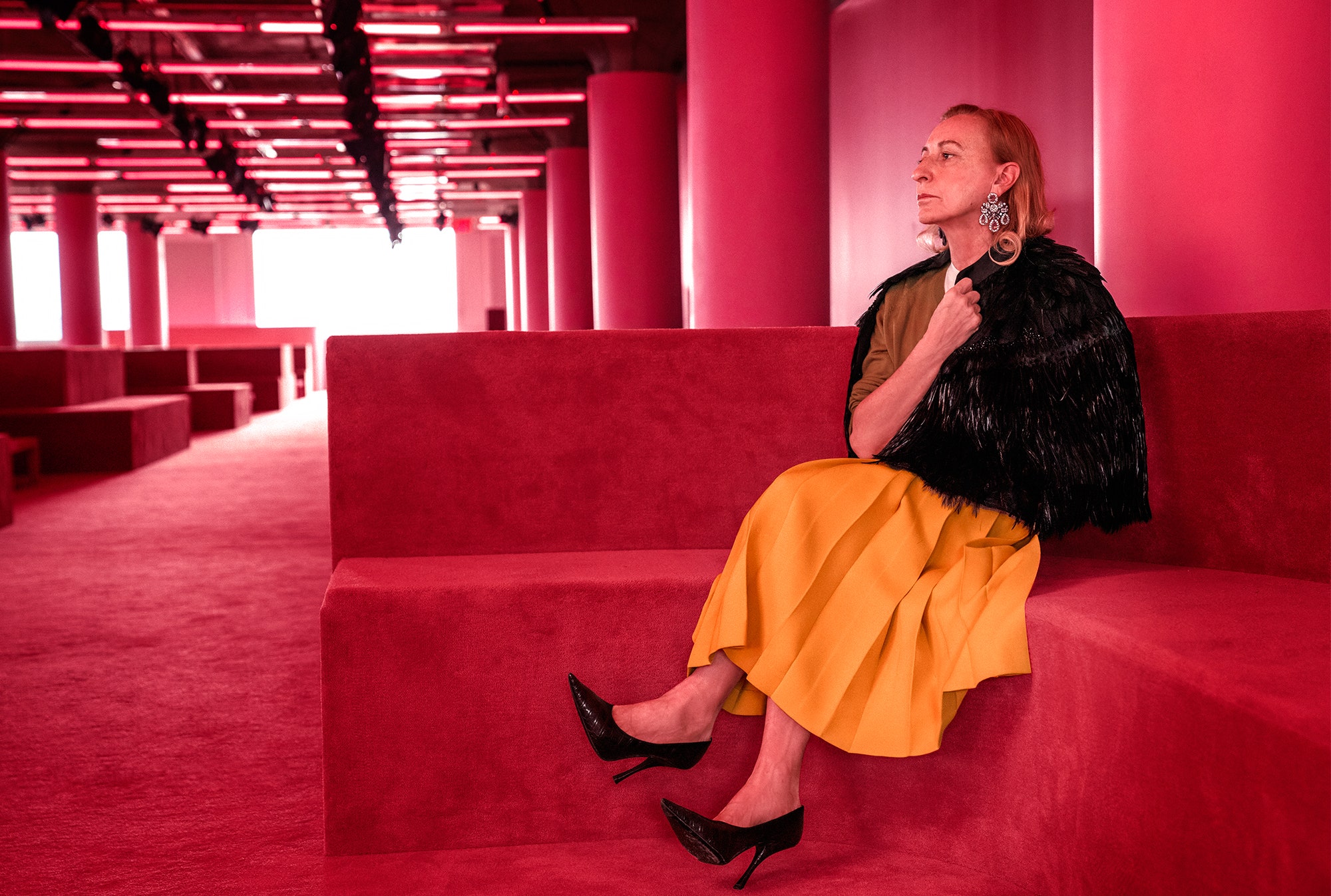 10. mája 2021 oslávila 73. narodeniny talianska dizajnérka luxusného módneho domu, Miuccia Prada . Popredná talianska módna návrhárka už niekoľko desaťročí bezchybne oblieka nespočetné množstvo žien a za ten čas si získala množstvo fanúšikov zvučnej módnej značky Prada. Je známa predovšetkým ako hlavná kreatívna riaditeľka talianskeho luxusného módneho domu Prada a zakladateľka jej odnože, značky Miu Miu. Najmladšia vnučka Maria Pradu, ktorý značku založil v roku 1913, Miuccia, sa v 70. rokoch zapojila do oživenia značky, z ktorej nakoniec urobila svetoznámu módnu veľmoc uznávanú dodnes.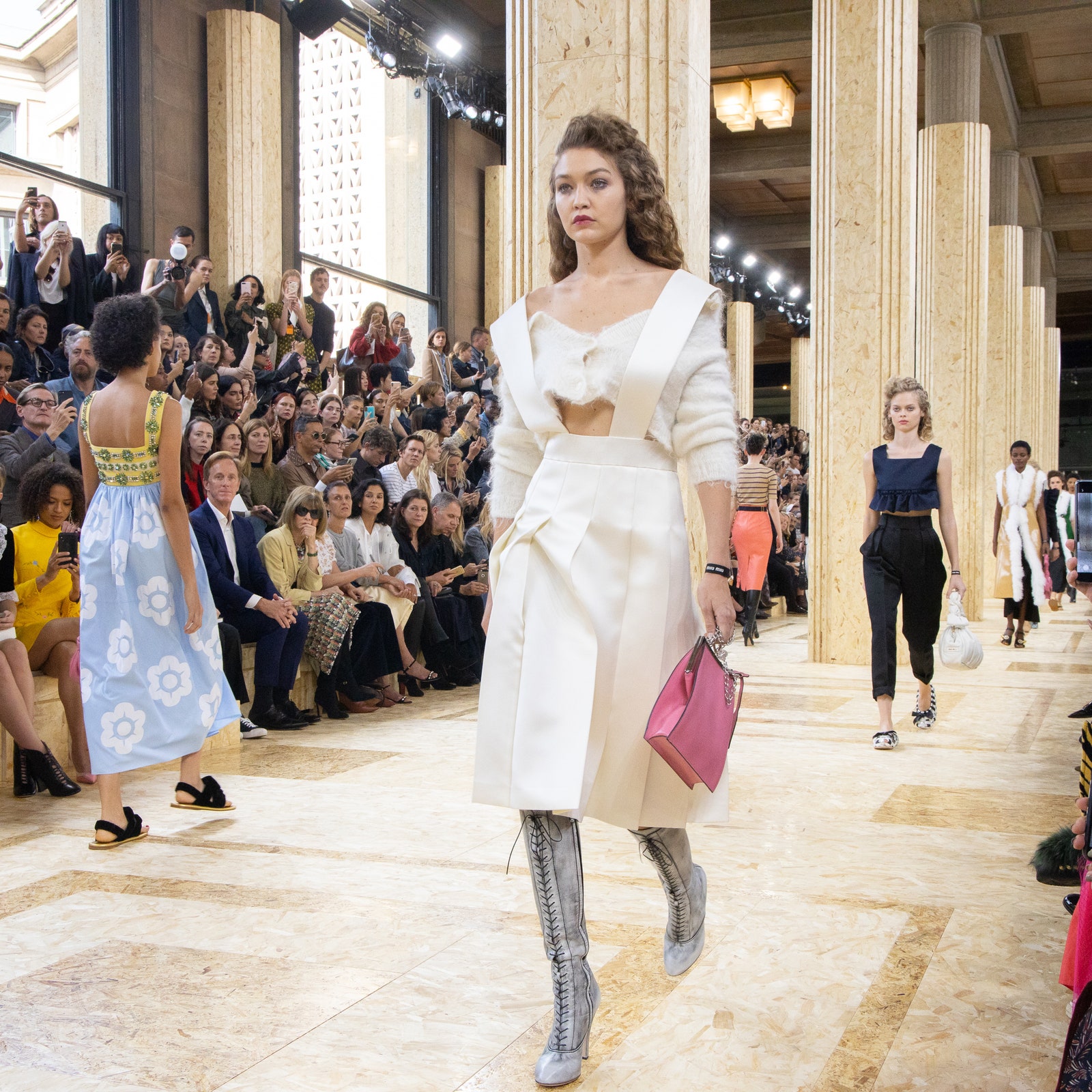 Modelka Gigi Hadid na Miu Miu – Jar / Leto 2020 show, Paris Cruise show, foto : British Vogue
Predtým, ako sa dizajnérka preslávila menom a značkou kvality Miuccia Prada, volala sa Maria Bianchi. Dlho pred začatím kariéry v móde, Maria usilovne študovala na milánskej univerzite, kde v roku 1973 víťazne skončila s titulom PhD v politológii. Miuccia Bianchi Prada nikdy nechcela dosiahnuť kariéru v móde. Bojovníčka za práva žien s doktorátom z politických vied si kedysi predstavovala život v divadle, no osud to zariadil inak.
Svoj prvý módny debut zaznamenala až v roku 1985, kedy zaujala kreativitou, predstavením čiernych nylonových batohov ako kabeliek vojenskej kvality, ktoré si rýchlo získali pozornosť módneho sveta. Takýto materiál – hladký, priemyselný, ale v skutočnosti drahší ako koža, popieral dlhoročné presvedčenie, že luxus musí byť drahocenný a nadčasový, čo sa v jej tvorbe stalo celoživotným motívom. Už vtedy bola Miuccia naladená na minimalizmus, ktorý zachvátil dizajnérsky svet v nasledujúcom desaťročí.
MIUCCIA PRADA – JEDINEČNÉ OUTFITY S DÁVKOU IKONOKLASICISTICKÉHO ŠTÝLU
Dnes je návrhárka na čele billion dolár Prada módneho domu, známky talianskej kvality a luxusu a zakladateľka jeho dcérskej spoločnosti Miu Miu, ktorá vznikla v roku 1993. Pripime si na samotnú Miucciu a jej jedinečný štýl a pozrime sa na najpozoruhodnejšie outfity dizajnérky, od trenčových kabátov s perím po ploché sandále a neónové strapce, ktoré sú znakom ikonoklastického štýlu.
Šokujúca ružová košeľa, jún 2018
Na finále šou Miu Miu Paris Cruise, v júni 2018, vystúpila Miuccia Prada vo fuchsiovo-ružovej košeli, ktorá bola žiarivým výkričníkom kolekcie venovanej rovnako róbam nazberaným po členky a skráteným nohaviciam. Náramok nadlaktia, ktorý Miuccia štýlovo nosí na vrchu rukávu a výrazné elegantné ihlové podpätky, dotvárali celkový look.
Limetkovo zelený vzhľad Met Gala, máj 2018
Na galavečere s tematikou "Nebeských tiel a katolíckej fantázie" neprišla Miuccia Prada v biskupskom krajčírstve ani v pozlátenej palete, ako zvolila väčšina zúčastnených hostí. Naopak, siahla po odlišnom vzhľade, ktorý tvorili neónovo-zelené strapce z kolekcie Prada, Jeseň / Zima 2018.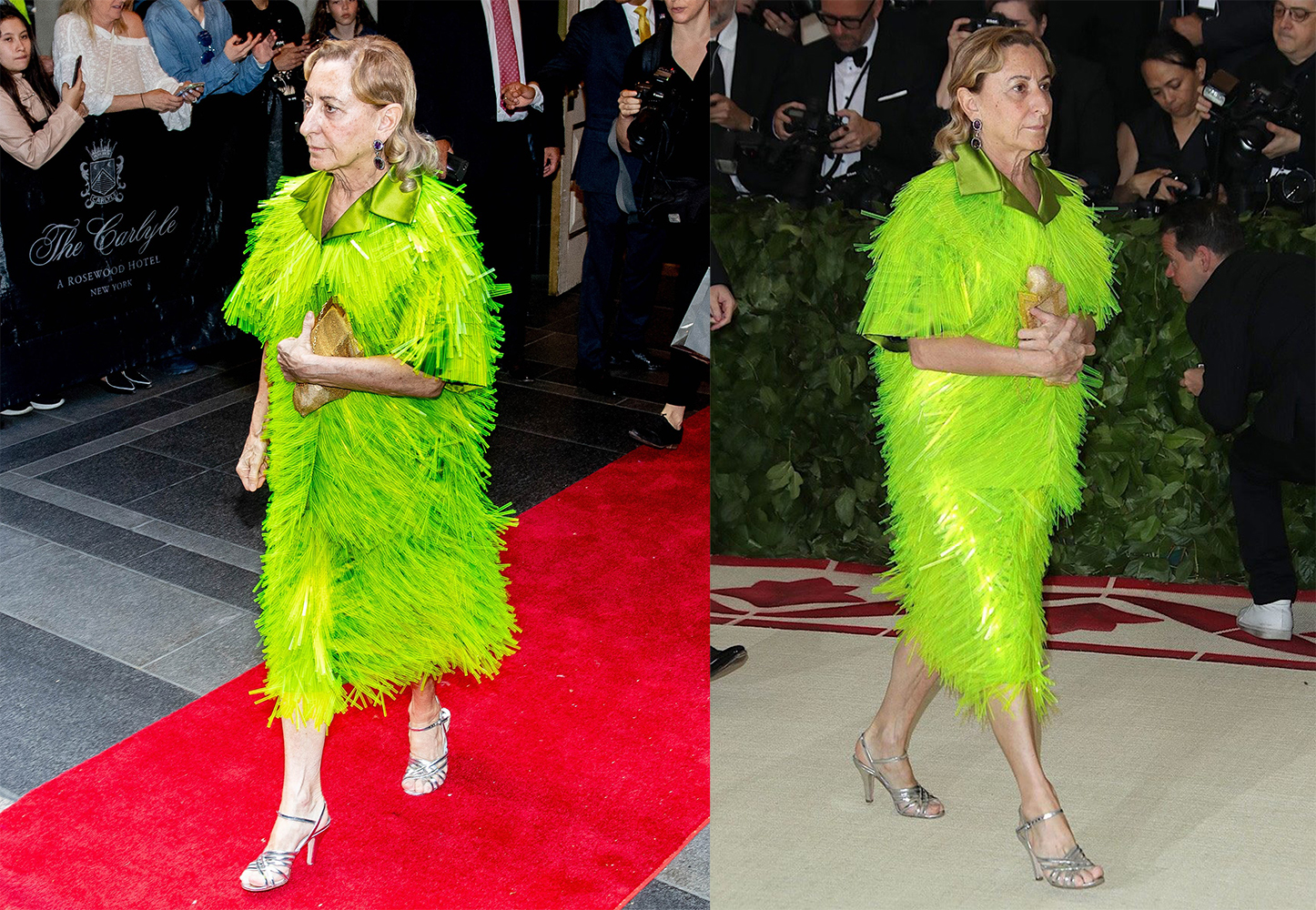 Šarlátový sukňový kostým , marec 2018
Veľmi vzrušujúci vzhľad Miuccie tvoril v marci 2018 šarlátový sukňový kostým Prada s bundou skôr zabalenou, než zapnutou s čiernymi nepriehľadnými pančuchovými nohavicami v remienkových strieborných sandáloch.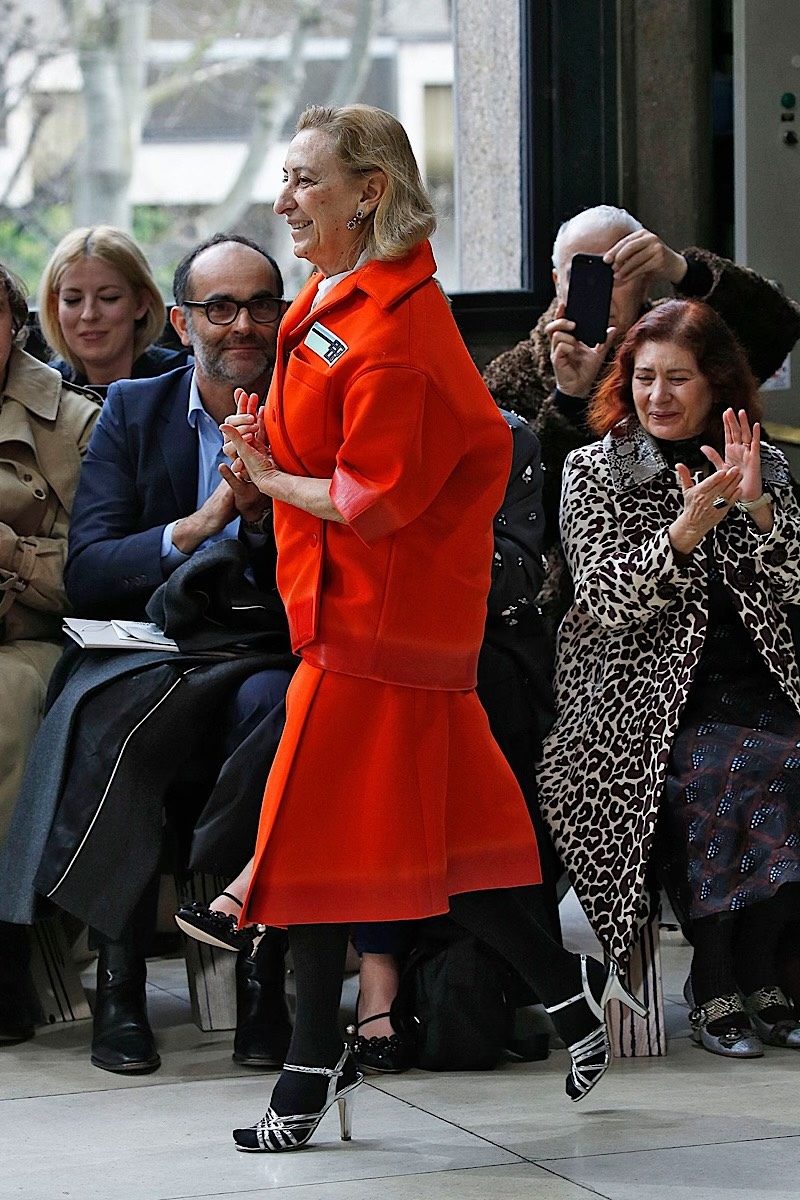 Žakárový kostým, Cannes
Miuccia Prada sa zúčastnila premiéry filmu Zabitie posvätného jeleňa režiséra Yorgosa Lanthimosa v Cannes v žakárovom nohavicovom kostýme navrchu s tričkovým vzhľadom namiesto klasického saka. Tento revolučný look doplnila opätovne značkovým náramkom cez rameno a podpätkami s kvetinovou aplikáciou Miu Miu.
Najchytrejší denný look, január 2017
Dizajnérsky outfit Prady na prehliadke pánskej módy pre Jeseň/Zimu 2017 v Miláne, osviežila Miuccia robustnými rovnými topánkami. Pastelová sukňa po kolená s perím, blúzka a šedý kašmírový pulóver s v výstrihom sú svätou trojicou nablýskaného denného oblečenia v štýle Miuccia Prada.
Trench coat zdobený marabou perím, október 2016
Okrem prevedenia tých najelegantnejších lookov sú trenčkot Miuccia s marabou lemom (farbené perie morky) a špičkové turistické sandále, lekciou dotvárania klasického štýlu Prada, ktorý rozhodne neprehliadol nikto vo front row, kto sa zúčastnil módnej prehliadky Miu Miu pre Jar / Leto 2017 v Paríži.
Kožená bunda a plisovaná sukňa, marec 2014
V roku 2014 zažiarila Prada v závere show s okrovo-kaki kombináciou plisovanej sukne a koženej bowlingovej bundy. Jej šikovná zostava šatníka udáva základy v tom, ako strhnúť pozornosť na kultový odtieň novej éry – záblesk prvosienky žltej , nevkusné podpätky v štýle neskorých 90. rokov so zemitou farbou rovnej bundy.
Sukňa na promóciu, október 2007
Na galavečere v záhrade Hammer Museum v roku 2007 zažiarila Miuccia Prada vďaka prerobenej siluete sukne z 50. rokov pod kolená, ktorá sa stala umeleckým bodom záujmu inak neotrasiteľne známeho vzhľadu.
Hadia potlač a fialové pančuchy, október 1996
V roku 1996 sa na udeľovaní ceny VH1 Fashion Awards v New Yorku (kde David Bowie predvádzal módu v šatách McQueen Union Jack) objavila Miuccia Prada v červených platformách , fialových pančuchách a v oranžovej bunde z hadej kože s obrovským úsmevom.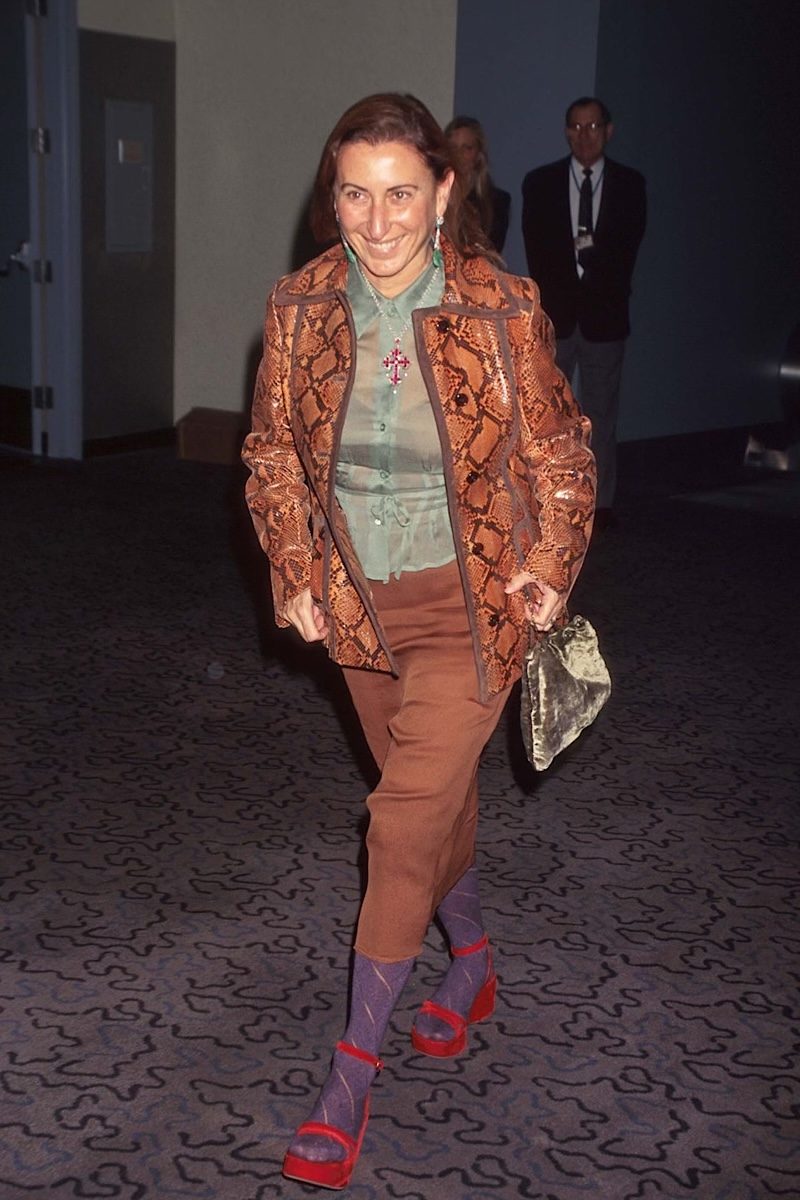 Pastelový look – posun z roku 1993
V retrospektíve začiatku 90. rokov značky Miu Miu bolo vidno Miucciu Prada v priehľadnom pastelovom outfite demonštrujúcu svoju dnes už značnú lásku k čiernym nepriehľadným pančuchám. Dizajnérsky štýl z prehliadkového móla zosúladila návrhárka so supermodelkami Kate Moss a Lindou Evangelista, ktoré majú na sebe síce podobný, ale nie rovnaký vzhľad.
MIUCCIA PRADA – KĽÚČ K DIVOKEJ INDIVIDUALITE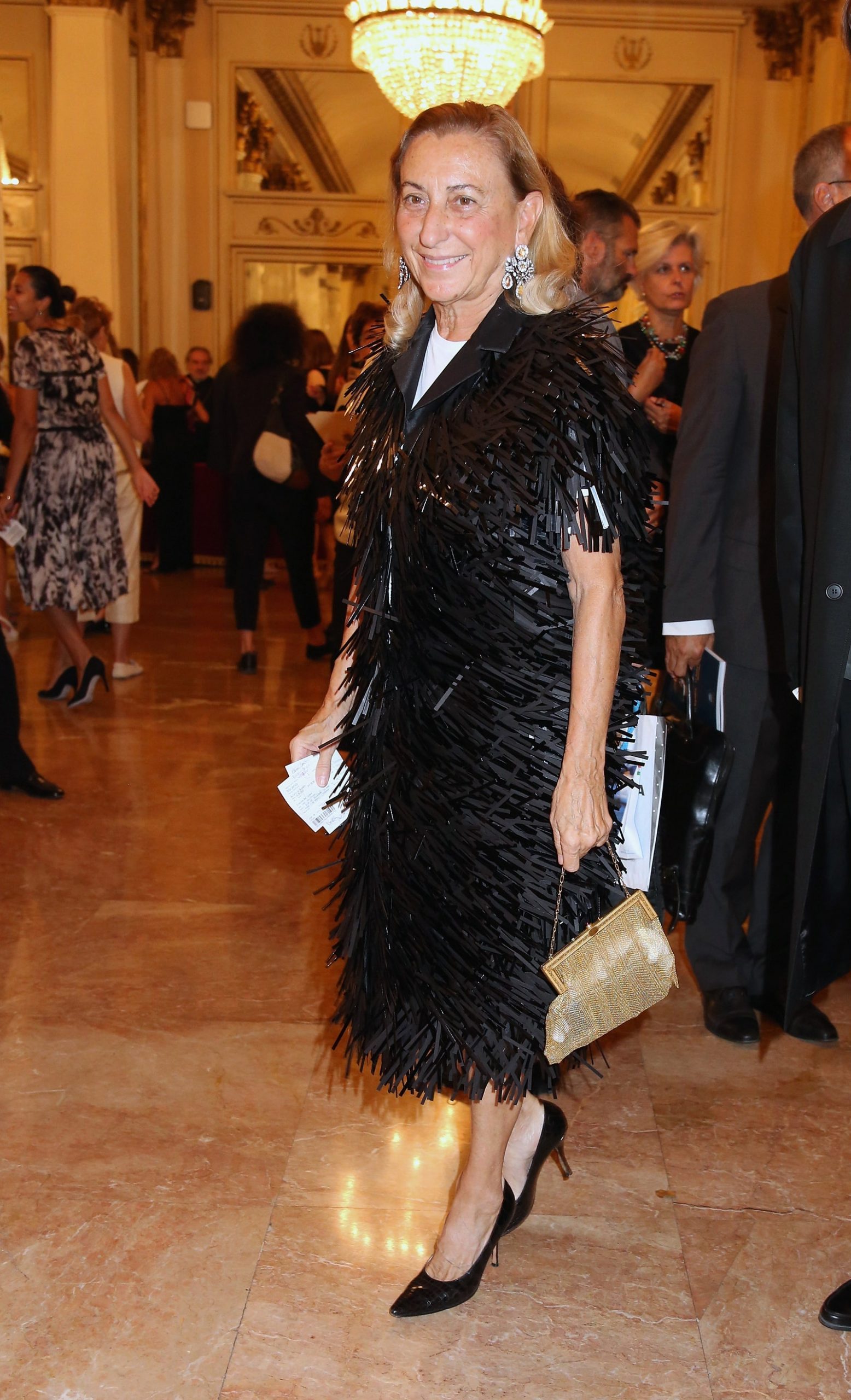 Talianska dizajnérka Miuccia Prada jednoducho vie, ako zaujať. V priebehu svojej dlhej kariéry neustále strhávala pozornosť módneho sveta na seba a na módu, ktorú tvorí a ktorú žije. V roku 2015 návrhárka pre britské noviny The Independent uviedla, že kľúčom k jej úspechu bolo nikdy neopustiť jej divokú individualitu. "Keď som začínala, všetci nenávideli to, čo robím, okrem niekoľkých šikovných ľudí, pretože to nebolo pre tých klasických – bolo tam niečo znepokojujúce. A pre tie super trendy, avantgardy, to bolo príliš klasické. Vždy sa rada pohybujem v tom priestore, nikdy nikoho nepoteším. Vždy niečo znepokojuje, čo som asi ja a som za to rada. "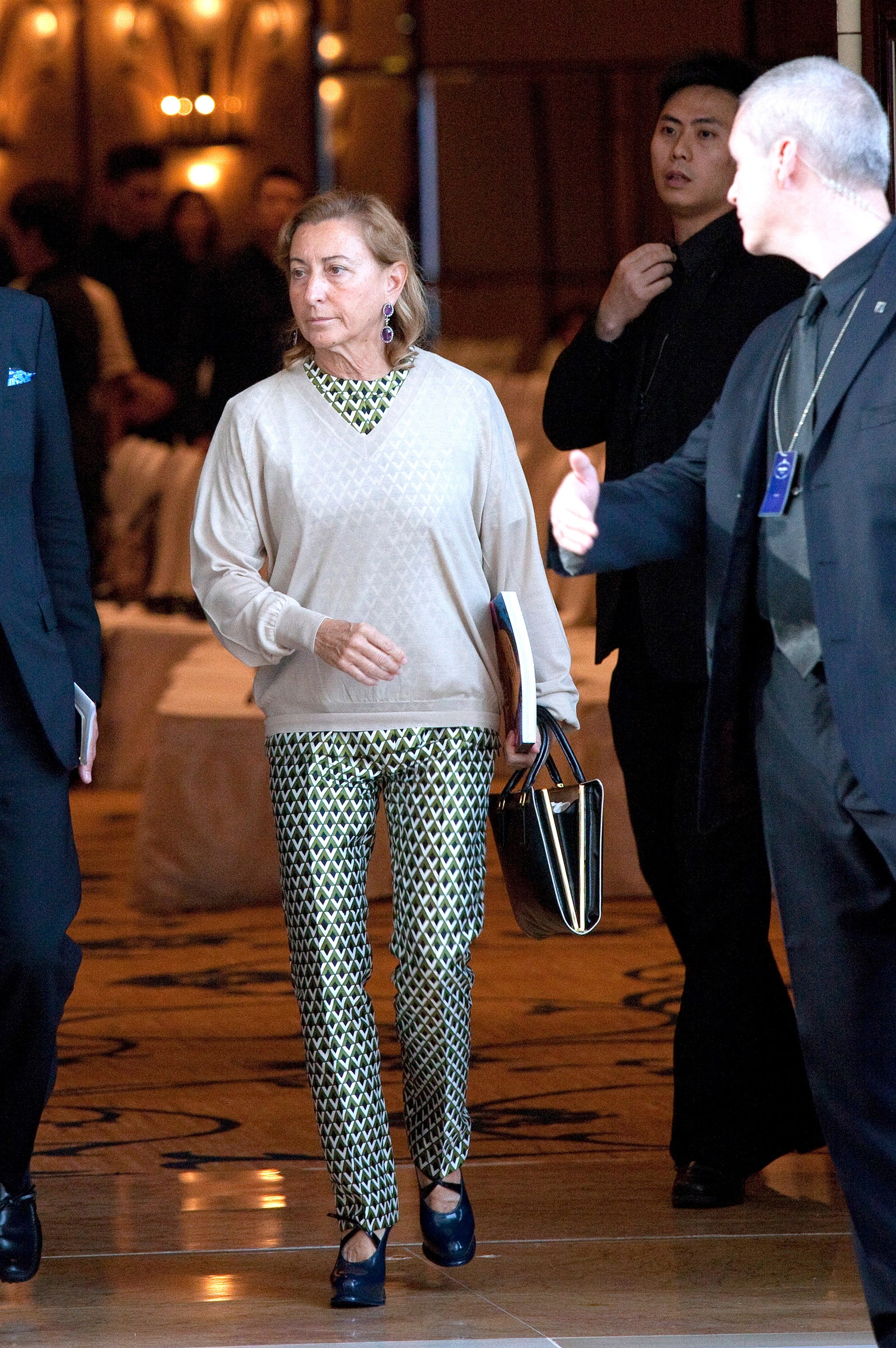 PRADA – UGLY CHIC ŠTÝL, BORENIE KONVENČNÝCH PREDSTÁV O KRÁSE
Značka Prada je zameraná na úžitkovú, elegantnú a prísne minimalistickú módu. Miuccia Prada šikovne vytvorila "nevkusnú chic módu", tzv. ugly chic štýl, postavila sa do popredia privlastňovania vintage vzorov vo vysokej móde a pri svojom revolučnom použití nylonu, PVC alebo dokonca zvyškov odpadu, ako sú rozdrvené vrchné časti fliaš a rozbité zrkadlá, vyňala vzácnosť z luxusu.
"Neúctou Miuccie bola kvalita, ktorá ako prvá upútala pozornosť módy," povedala šéfredaktorka amerického časopisu Vogue Anna Wintour. "Prada si trúfla položiť otázky: Čo je to krása? Aký je dobrý vkus?"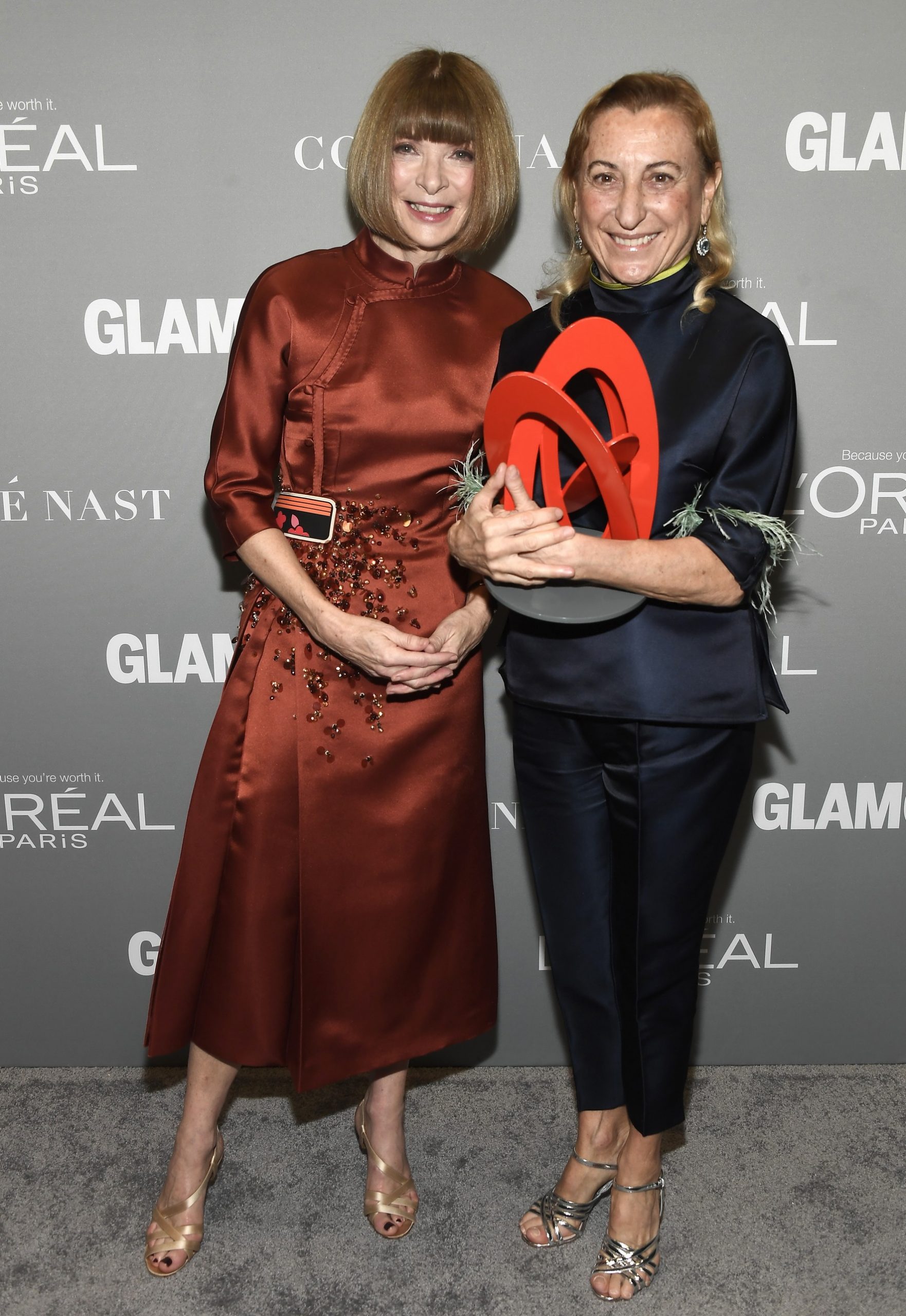 Fascinujúci je prínos dizajnérky Miuccia Prada v módnom biznise , pretože je stále náročná na konvencie a stále odoláva klišé. "Ak som niečo urobila, je to preto, aby som bola škaredo príťažlivá," povedala Prada raz kurátorovi Andrewovi Boltonovi a dodala, že jej práca sa "týkala borenia alebo aspoň dekonštrukcie konvenčných predstáv o kráse, o všeobecnej príťažlivosti krásnej , očarujúcej, meštianskej ženy ".
foto: Chris Moore/Catwalking/Getty Images
V priebehu času začala Prada tlačiť na presadzovanie módy strohých, manuálne prispôsobených odevov svojich raných kolekcií, zavádzala farby a vzory, vďaka ktorým kritici pochybovali o jej vkuse: šaty z hovädzej kože a sexi nohavice, topy, podprsenky a minišaty prešívané mušľami, šaty a tuniky zdobené veľkými rozkvitnutými ružami. Určité vzory sa postupne stali podpismi špecifickej značky Prada.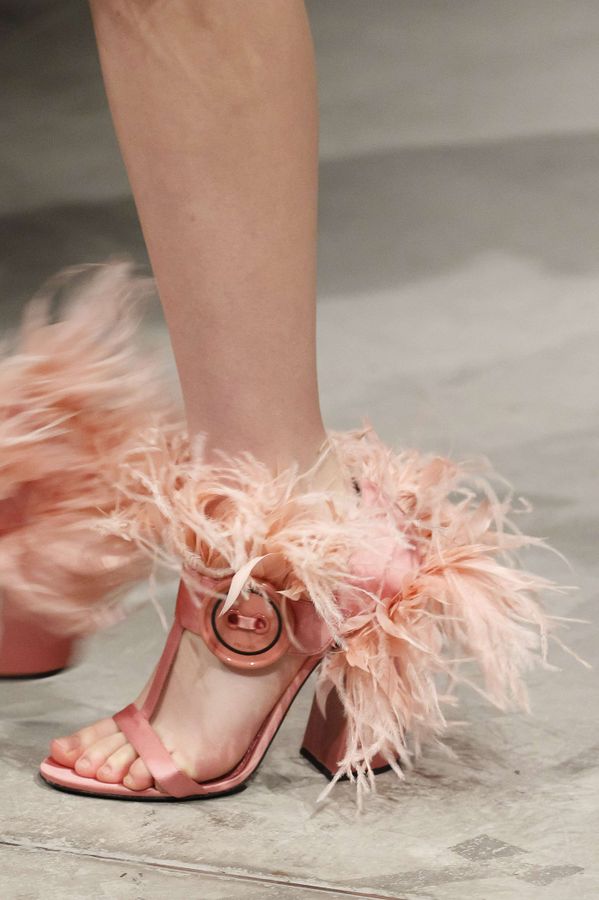 Je príjemne ironické, že jeden z najvplyvnejších módnych návrhárov na svete neškicuje a nešije. Namiesto toho sa obklopuje talentovanými návrhármi, ktorí jej nápady pretavujú do oblečenia, tašiek, topánok a šperkov.
Jedna z najmocnejších žien v módnom svete súčasnosti, Miuccia Prada, je aktuálne 6 rokov po oficiálnom dôchodkovom veku v Taliansku, no pre svoje úspechy je neustále v titulkoch svetových módnych magazínov. Po jej boku sa nedávno objavil nový kreatívny riaditeľ značky, belgický dizajnér Raf Simons, s ktorým spoluvytvára nové kolekcie a ktorý sa považuje za potenciálneho nástupníka v čele značky. No Miuccia Prada, zdá sa, skoré zastavenie neplánuje. Jej posledné vyhlásenie je opäť šokujúce: "Rada pracujem. Som tu, aby som pracovala ešte viac. "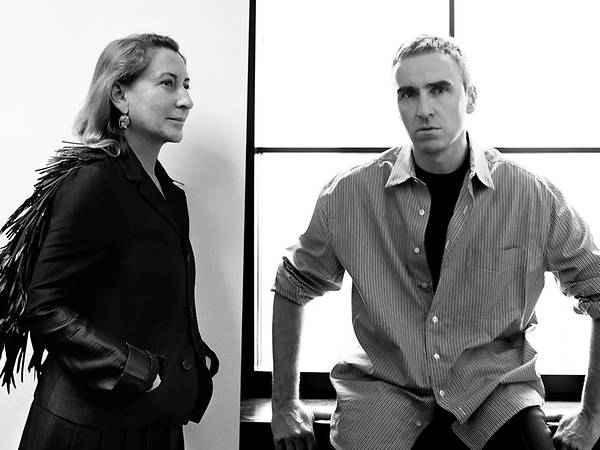 zdroj obrázkov: getty images, Prada, shutterstock, pinterest
Sledujte Facebook stránku: Mya Mirell Fashionista a Instagram: mya_mirell .
© AUTORSKÉ PRÁVA VYHRADENÉ