Sophia Loren prevzala siedmu cenu Davida di Donatello v šatách Armani Privé, Rím, 11. máj 2021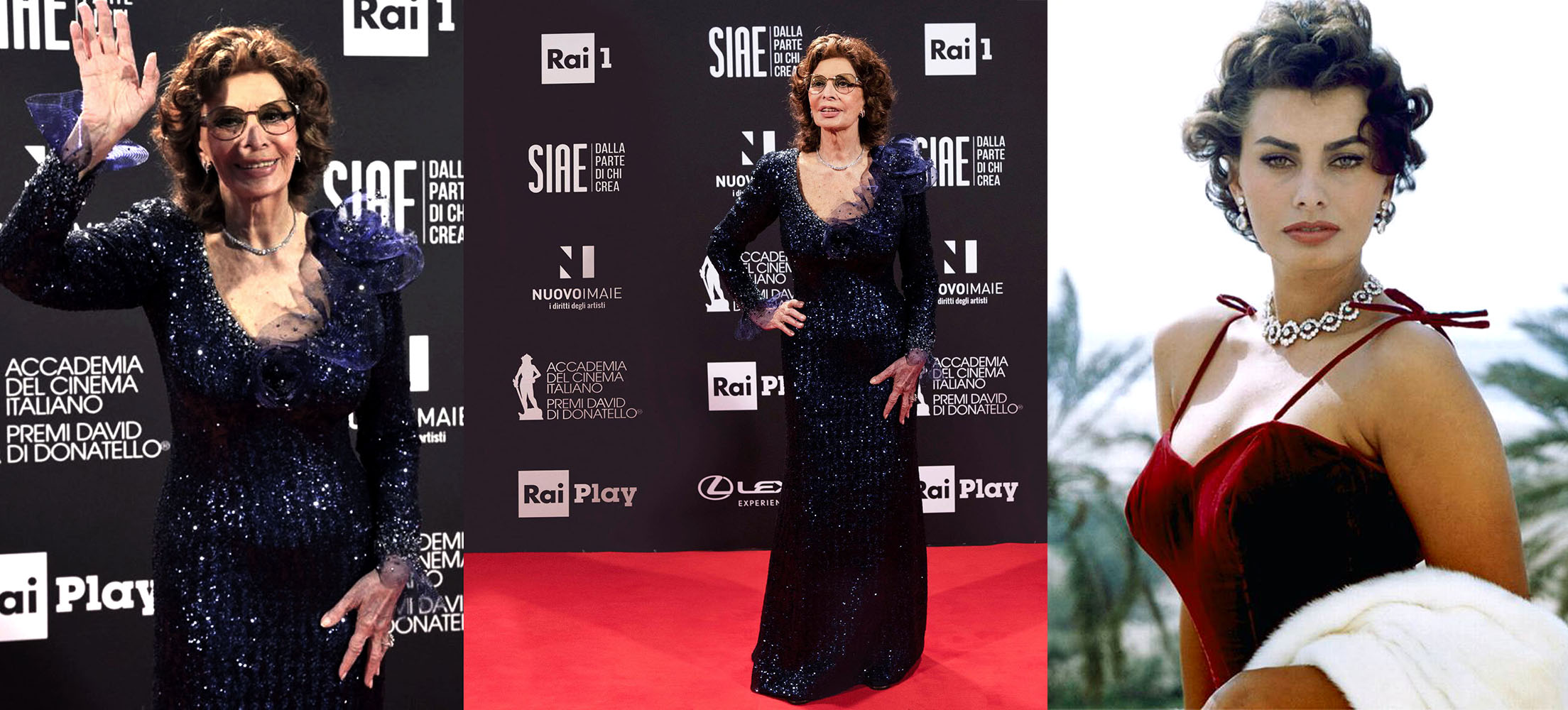 Oscarová talianska herečka Sophia Loren si 11. mája 2021 prevzala na slávnostnom galavečere v Ríme cenu Davida di Donatella, najlepšej talianskej filmovej ceny, za najlepšiu herečku. Loren získala uznanie za hlavnú úlohu Madame Rosy vo filme La Vita Davanti a Sé (The Life Ahead), ktorú režíroval jej syn Edoardo Ponti.
Vo filme hrá talianska Diva starnúcu židovku a obeť holokaustu, ktorá si vytvorí nepravdepodobné puto s 12-ročným senegalským prisťahovaleckým chlapcom. Trailer filmu Život pred sebou, si môžete pozrieť tu: https://www.youtube.com/watch?v=En1jkf34xjc
"Toto je možno môj posledný film, ale kto vie, stále chcem robiť viac, ešte krajšie. Isté je, že bez kina neviem žiť". Najkrajšie vyznanie lásky k siedmemu umeniu, ktoré sa slávilo v Ríme pri príležitosti narodenia Davida di Donatella, pochádzalo od Sophie Loren, jednej z najobľúbenejších tvárí celej histórie veľkého plátna .
"Emócie sú rovnaké ako prvý David pred 60. rokmi, možno ešte väčšie," uviedla viditeľne dojatá Sophia Loren na pódiu potom, čo zožala standing ovation.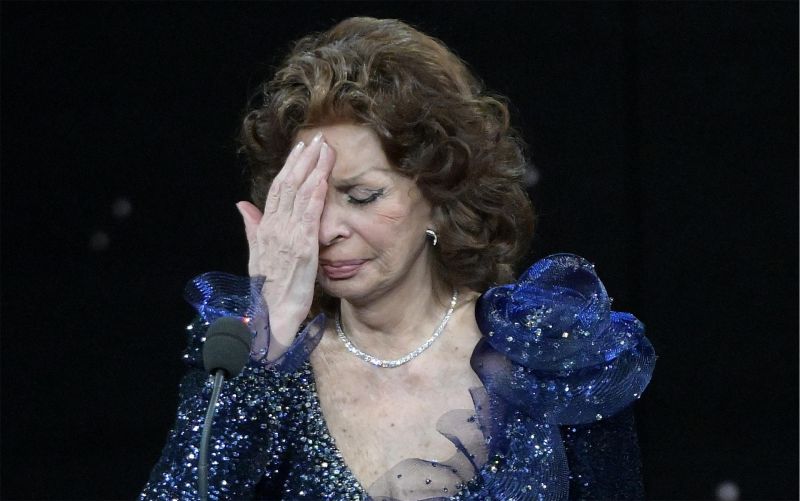 Sophia Loren si 11. mája 2021 v Ríme prevzala sošku Najlepšej herečky za film Život pred sebou. Vo svojich dlhých trblietavých šatách pokrytých flitrami s polnočnými modrými kryštálmi a signovaným podpisom talianskeho dizajnéra Giorgia Armani , Armani Privé v kombinácii s Damianiho klenotmi kráčala herečka po pódiu triumfálne, ale nie bez emócii. Rovnako a viditeľne dojatá, no možno ešte viac, ako v roku 1959 , keď získala Oscara za film La ciociara.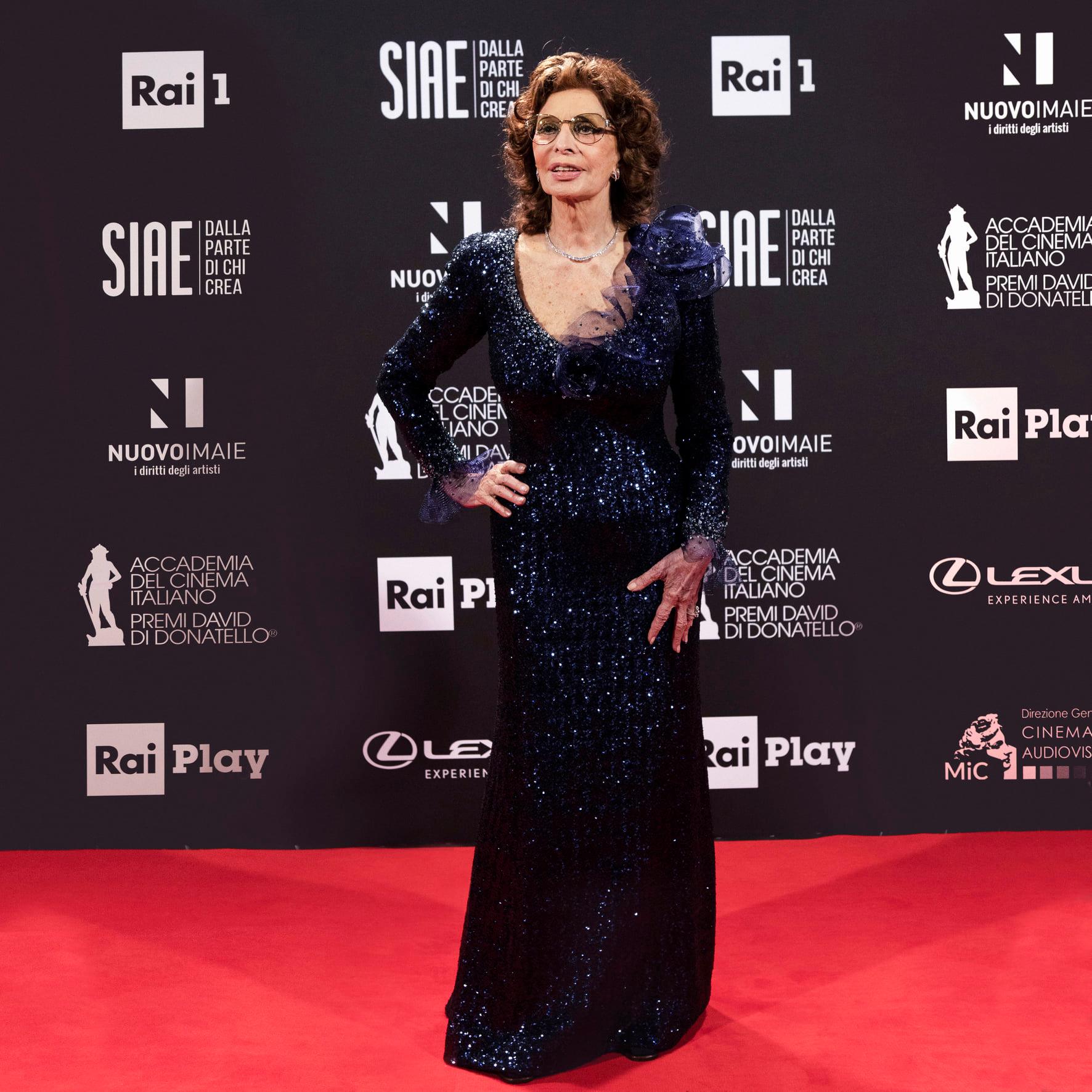 Sophia Loren emocionálna reč počas prebratia ocenenia David di Donatello.
Sophia Loren so synom Edoardom Pontim pózujú na galavečere v Ríme. Edoardo Ponti (46) je Lorenino druhé dieťa s režisérom Carlom Pontim, za ktorého bola vydatá od roku 1966 až do svojej smrti v roku 2007. V rozhovore pre Deadline označil Edoardo svoju matku za "pozostalú … čistokrvnú v tom najlepšom zmysle slova". Naznačil tiež, že rola, ktorá od nej vyžadovala, aby dlhšie nemrkla, jej ponúkla príležitosť predviesť predtým nevídané herecké schopnosti. "Sophia Loren nikdy nerobila scény, kde stráca rozum, pri ktorých sa dostane k takémuto druhu duševnej paralýzy."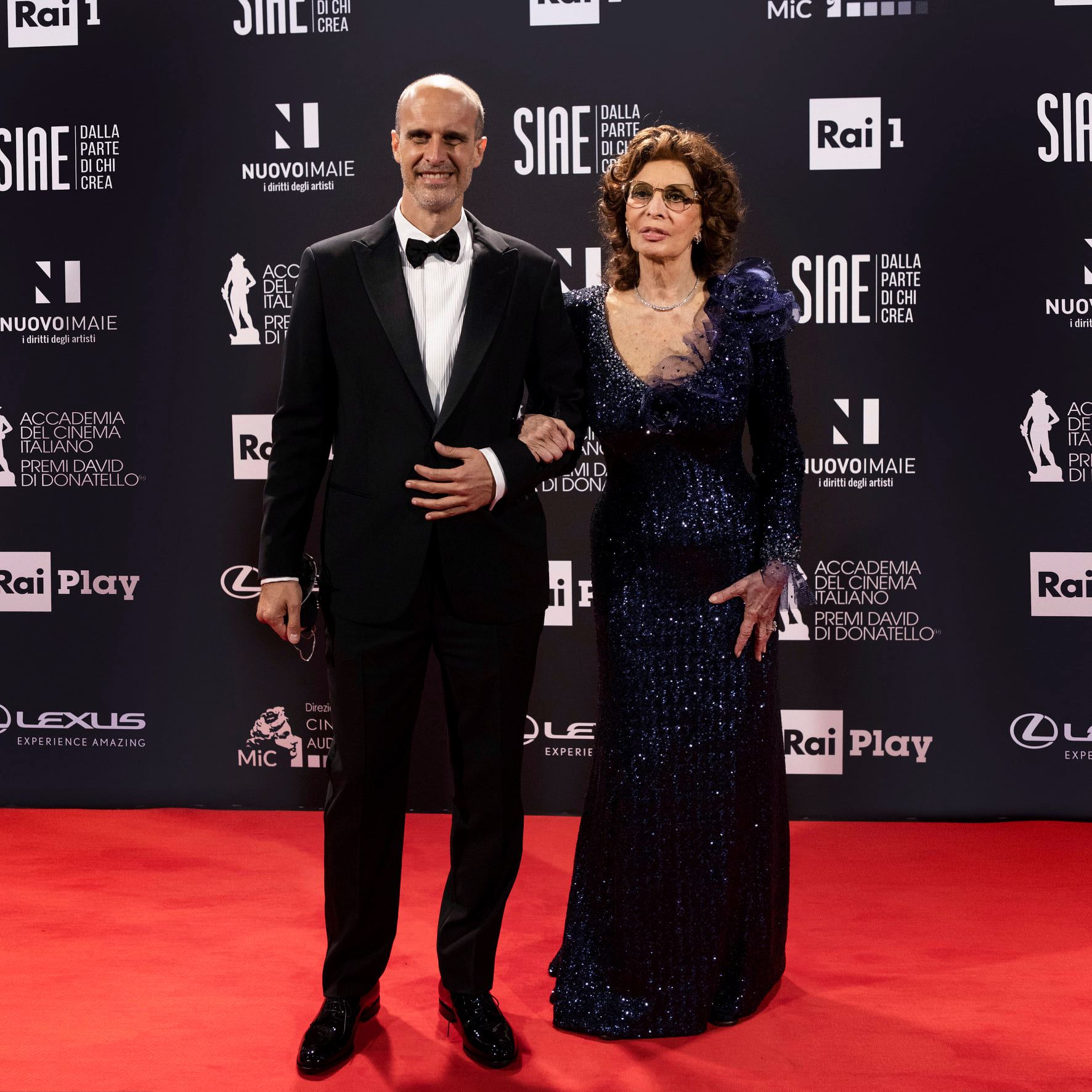 Toto je rekordný siedmy David di Donatello pre 86-ročnú veteránsku herečku , ktorá povedala, že sa o cenu podelí so svojou mladou hviezdou Ibrahimou Gueye, ktorú nazvala "úžasným, magickým dieťaťom".
Herečka hovorí, že "skočila na tú šancu", aby si zahrala postavu, ktorá jej pripomínala jej vlastnú matku. So svojím synom pracovala už dvakrát, naposledy v roku 2002 v seriáli Between Strangers.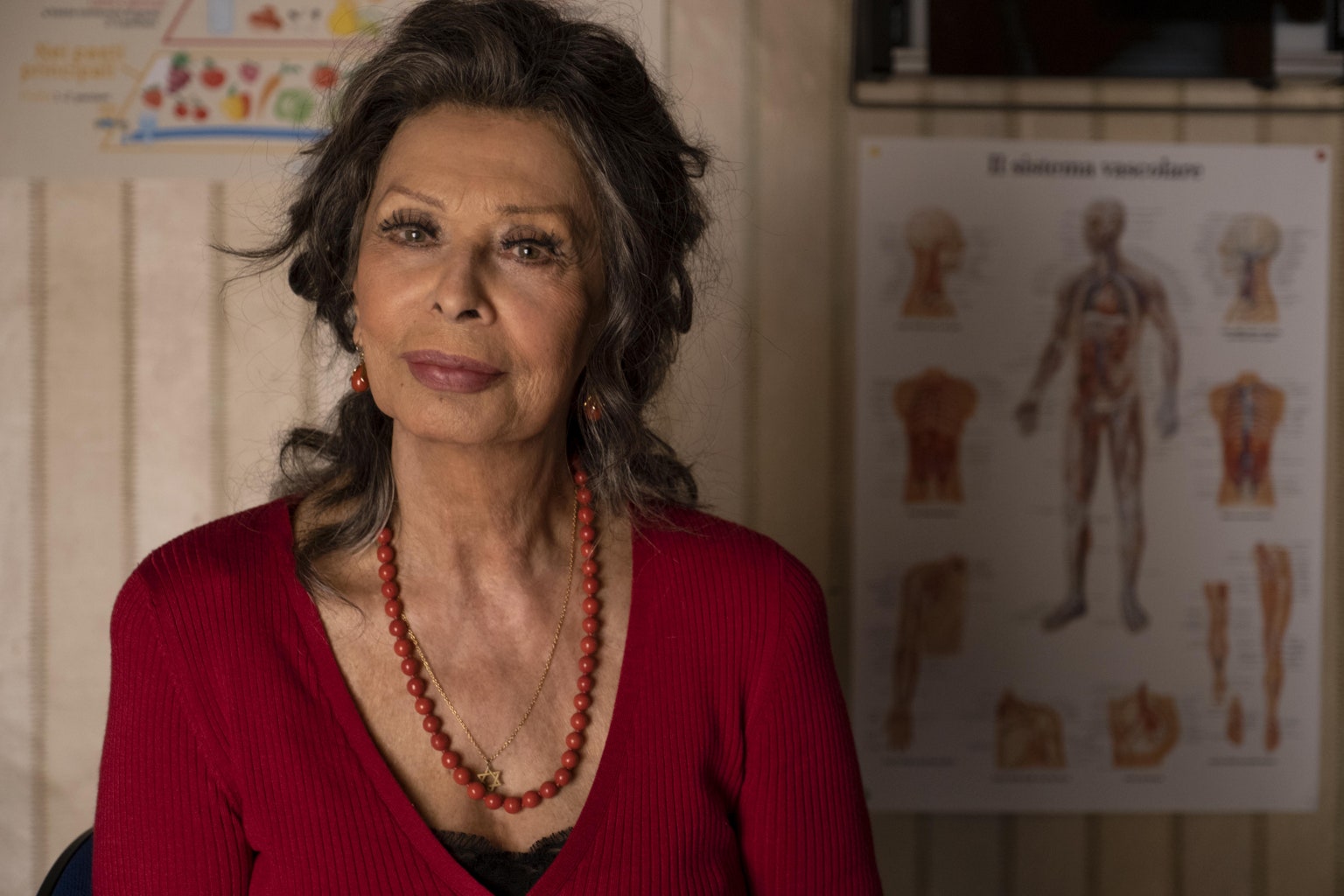 Sophia Loren vo filme Život pred Sebou.
SOPHIA LOREN A GIORGIO ARMANI
Za svoj herecký život sa talianska ikona krásy a filmu blysla nielen na veľkom plátne, ale aj na červených kobercoch. Obľubuje modely talianskych dizajnérov, Valentina a Giorga Armaniho predovšetkým.
"Sophia Loren ma neprestáva udivovať, aj keď ju poznám už roky a vždy som miloval jej filmy, jej herecké výkony a jej prítomnosť, ktorá sa na obrazovke stáva tak živou a intenzívnou. A napriek tomu v "The Life Ahead" predviedla silu a schopnosť zapojiť sa, ktorá sa ma hlboko dotkla. Pretože takáto krásna žena dokázala vyjadriť vzdialené dojmy a spomienky a pretože neváhala na svojej osobe odhaliť znaky času a s odvahou a veľkorysosťou veľké srdce." Giorgio Armani
Giorgio Armani a Sophia Loren spolu v roku 2006.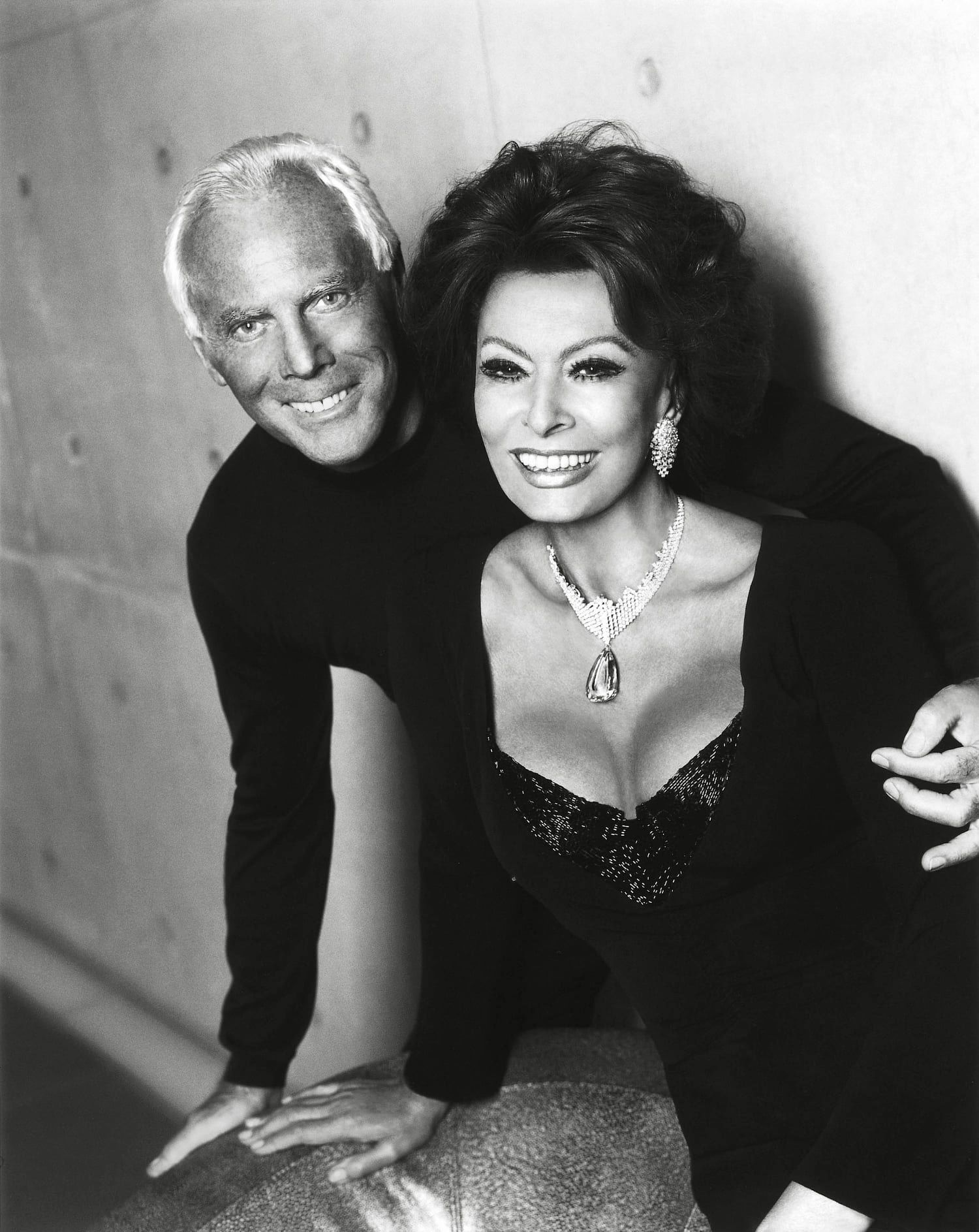 Sophia Loren je ocenená v hollywoodskom portfóliu britského časopisu Vogue, v ktorom sa rozhodla znovu si obliecť šaty Giorgio Armani Privé, ktoré pôvodne obliekla v roku 2019 na odovzdávaní cien Governors Awards.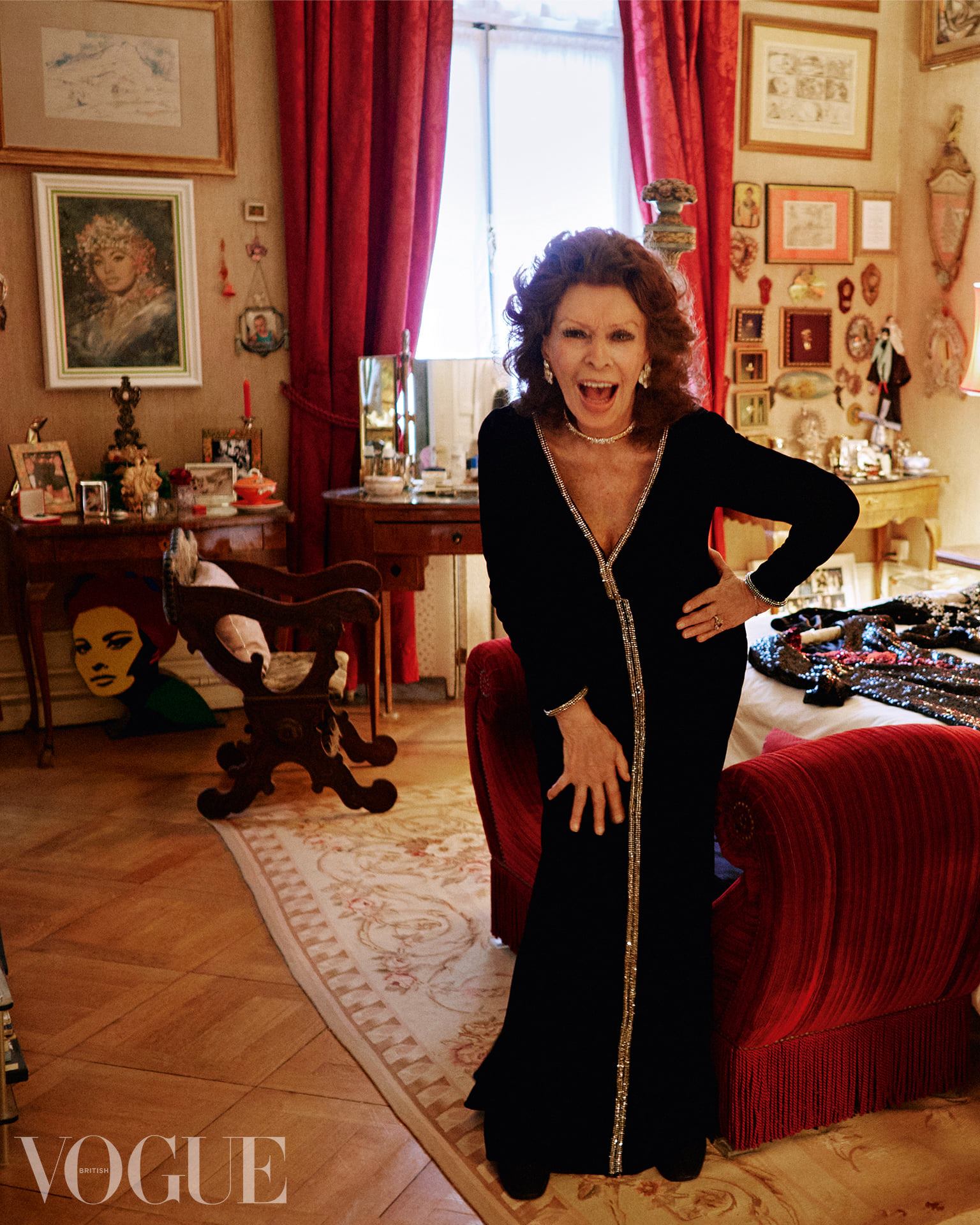 Sophia Loren, Los Angeles, 2020, šaty Armani Privé.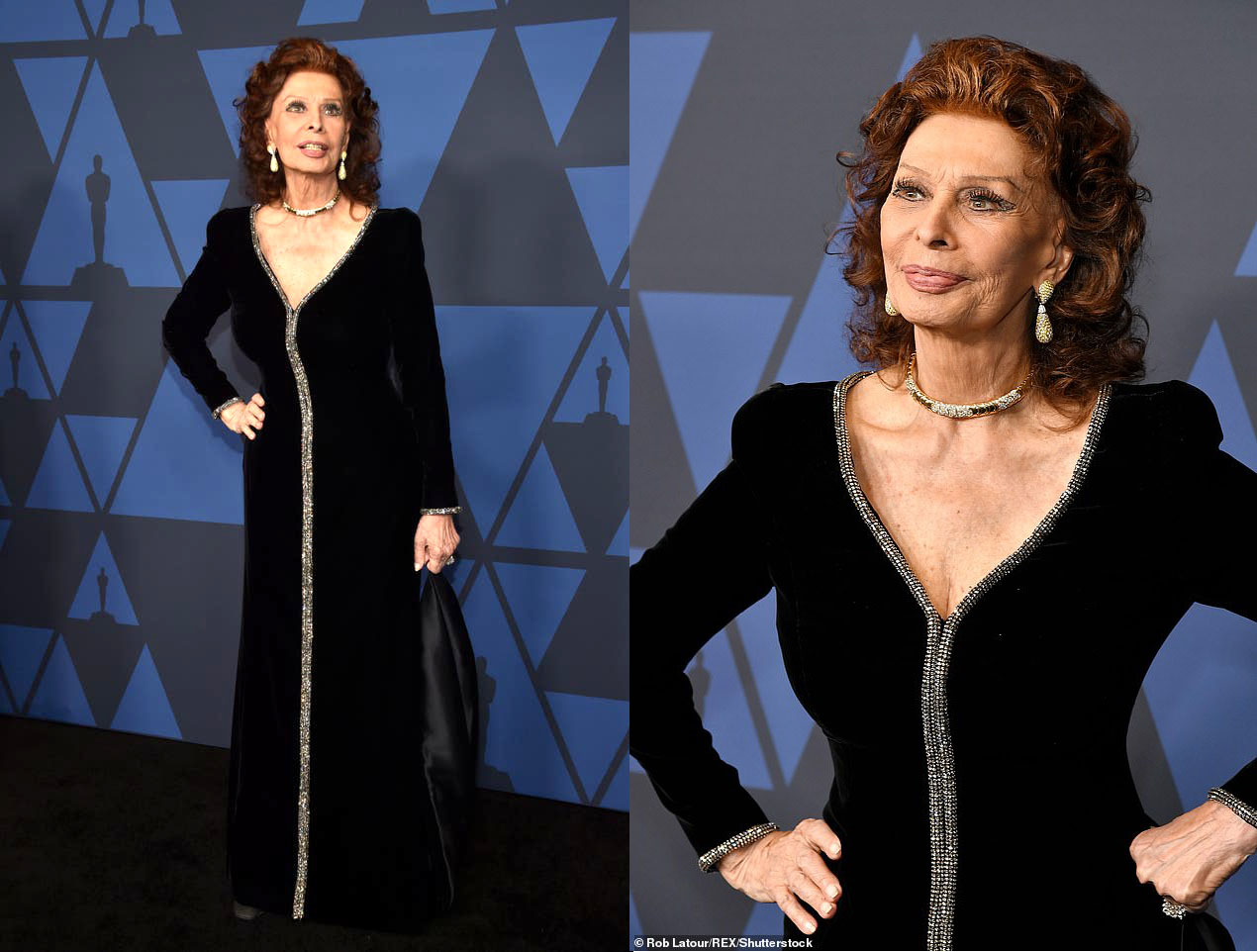 Sophia Loren sa tiež objavila na premiére v Cannes v šatách Giorgio Armani.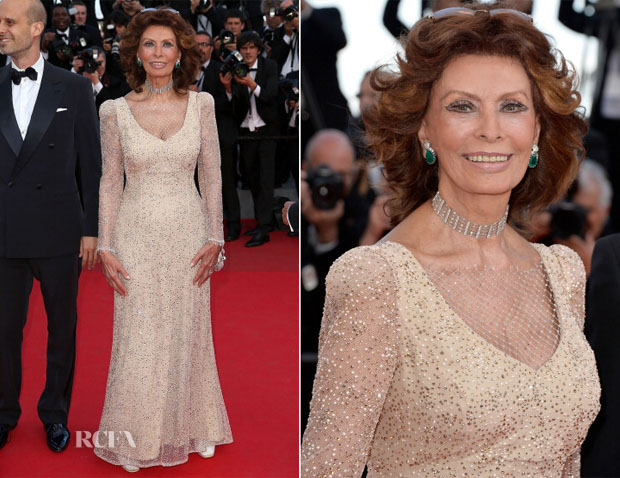 Sophia Loren ako dáma opäť v Cannes žiarila v šatách Armani Privé.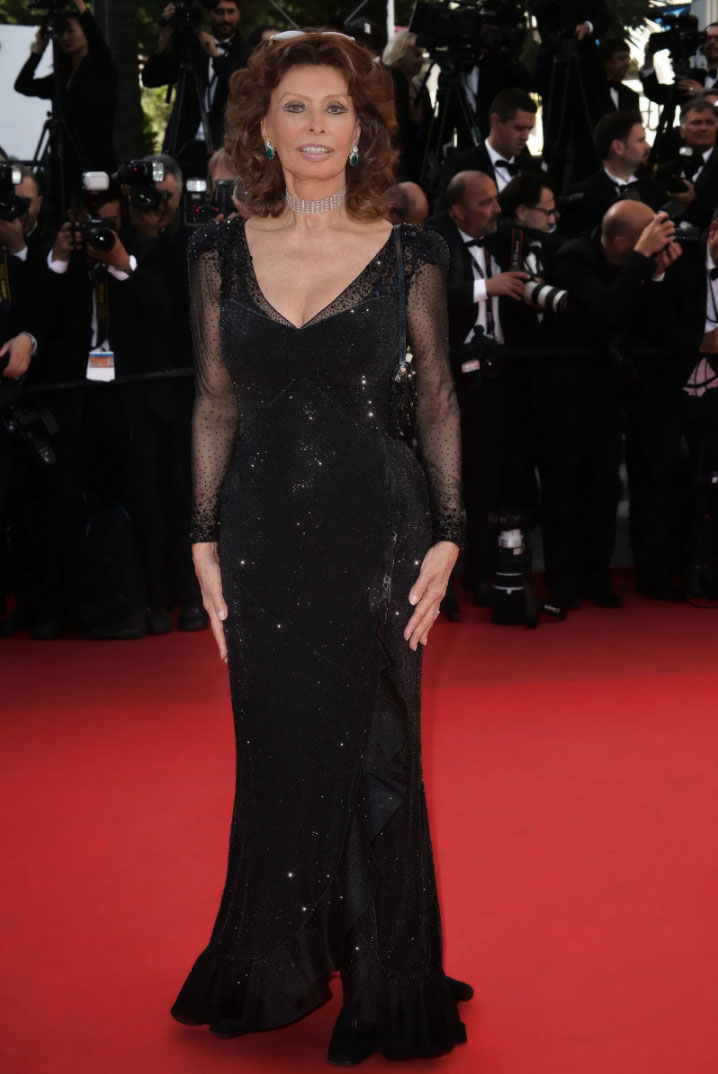 OSOBNOSTI GALAVEČERA DAVID DI DONATELLO
Rímsky galavečer hostil plno osobností. Na slávnostnom ceremoniáli nechýbala talianska speváčka Laura Pausini s interpretáciou piesne Io Sì (Seen), ocenená Zlatým glóbusom za soundtrack k Sophiinmu filmu La Vita Davanti a Sé, s orchestrálnymi poctami zosnulému Enniovi Morriconovi, ktorý dirigoval skladateľov syn Andrea, v podaní árie Cinema Paradiso a Deborah – Téma z filmu Once Upon a Time in America.
V hľadisku, neďaleko Sophie Loren sedela talianska speváčka Laura Pausini, už nominovaná na Oscara za Najlepší soundtrack, ktorá sa zúčastnila aj rímskeho galavečera David di Donatello s piesňami Io Sì , pôvodnou hudbou z filmu Edoarda Pontiho. Speváčka si pri tejto príležitosti obliekla kostým na mieru, ktoré pre ňu vytvoril kreatívny riaditeľ značky Valentino – Pierpaolo Piccioli a ktoré pozostávali z fuchsiovej bundy, nohavíc a košele a tašky a topánok ateliéru Valentino Garavani. Laura Pausini bola jednoducho tiež neprehliadnuteľná, v priebehu večera zmenila outfit ešte za čierny rovnako od módneho domu Valentino.
Televízne ceny David di Donatello konané v Ríme v máji 2021 ocenili standing ovation aj pamiatku milovaného rímskeho herca a režiséra Gigi Proiettiho, ktorý zomrel v Ríme v novembri 2020.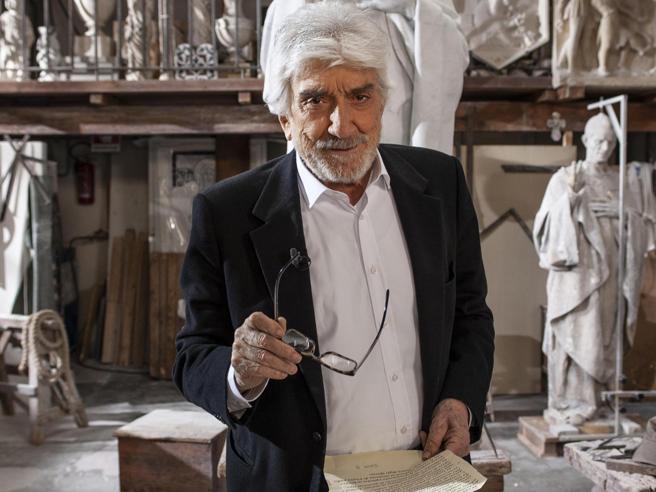 SOPHIA LOREN – TALIANSKY NÁRODNÝ POKLAD
Sophia Loren je považovaná za jeden z talianskych národných pokladov, pretože je najväčšou filmovou hviezdou, ktorá vyšla z krajiny. Jej kariéra sa začala v tínedžerskom veku a jej dievčenské meno bolo Sofia Villani Scicolone.
Kariéra Sophii Loren sa však rozbehla až keď stretla režiséra Carla Pontiho, do ktorého sa zamilovala a ktorý sa stal mužom jej života. Premenoval ju na Sophia Loren a získal herecké obsadenie vo filme Aida z roku 1953. Jej prelomovou úlohou bol film The Gold Of Naples z roku 1954. Medzinárodne sa ale Sophia preslávila, keď účinkovala v snímke Boy On a Dolphin.
Poslednou úlohou Loren bola televízna životopisná snímka Môj dom je plný zrkadiel z roku 2010, v predchádzajúcom roku hrala matku Daniela Day Lewisa v snímke Nine na základe semi-autobiografického filmu Federica Felliniho s názvom 8½ (osem a pol) z roku 1963 . Loren odovzdala Fellinimu čestného Oscara v roku 1993, krátko pred jeho smrťou.
Jedným z jej najobľúbenejších filmov bola dráma Marriage Italian Style (Manželstvo po taliansky) z roku 1965.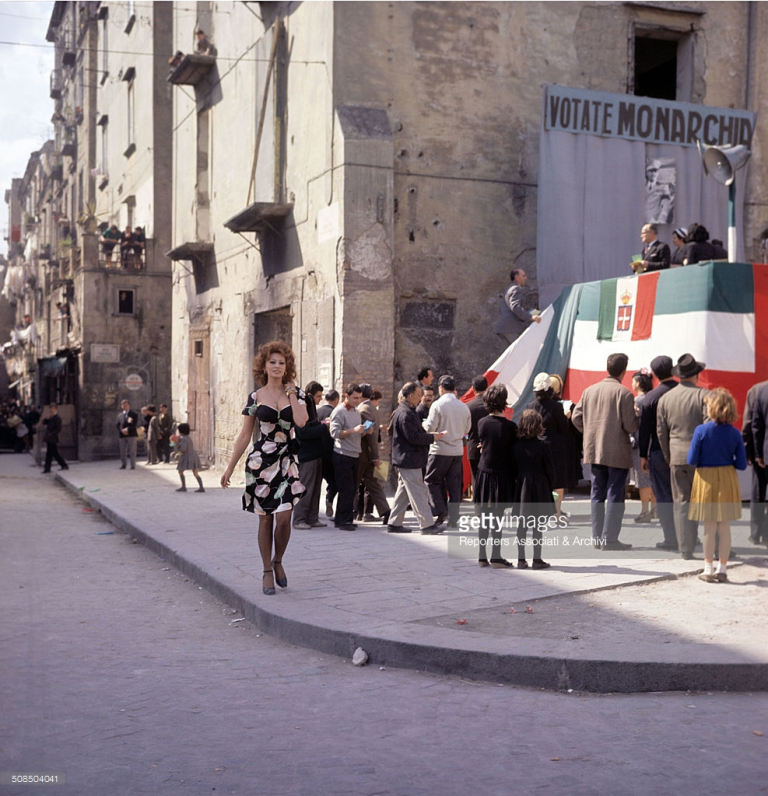 Loren sa posledné roky zdržiavala mimo pozornosti a pre koronavírusovú pandémiu sa obávala vychádzať z domu. Herečka sa vyjadrila, že najradšej trávi čas so svojimi vnúčatami.
zdroj obrázkov: corriere.it, Vogue, Giorgio Armani, getty images, shutterstock
Sledujte Facebook stránku: Mya Mirell Fashionista a Instagram: mya_mirell .