Talianske múzeum MAXXI s originálnym názvom Museo Nazionale delle Arti del XXI Secolo je expresívna architektonická štruktúra. Je to prvé národné múzeum súčasného umenia v Taliansku (Múzeum umenia 21. storočia ) situované v Ríme.
Táto dizajnová betónová stavba so sklenenou strechou priťahuje veľa pozornosti tak zo strany verejnosti ako aj médií. Stavba navrhnutá nedávno zosnulou iracko-britskou architektkou Zaha Hadid (víťazkou medzinárodnej súťaže v roku 1999) je lokalizovaná v rímskej zóne Flaminio v oblasti bývalých vojenských kasární. Rozlieha sa na ploche 27 000 m2.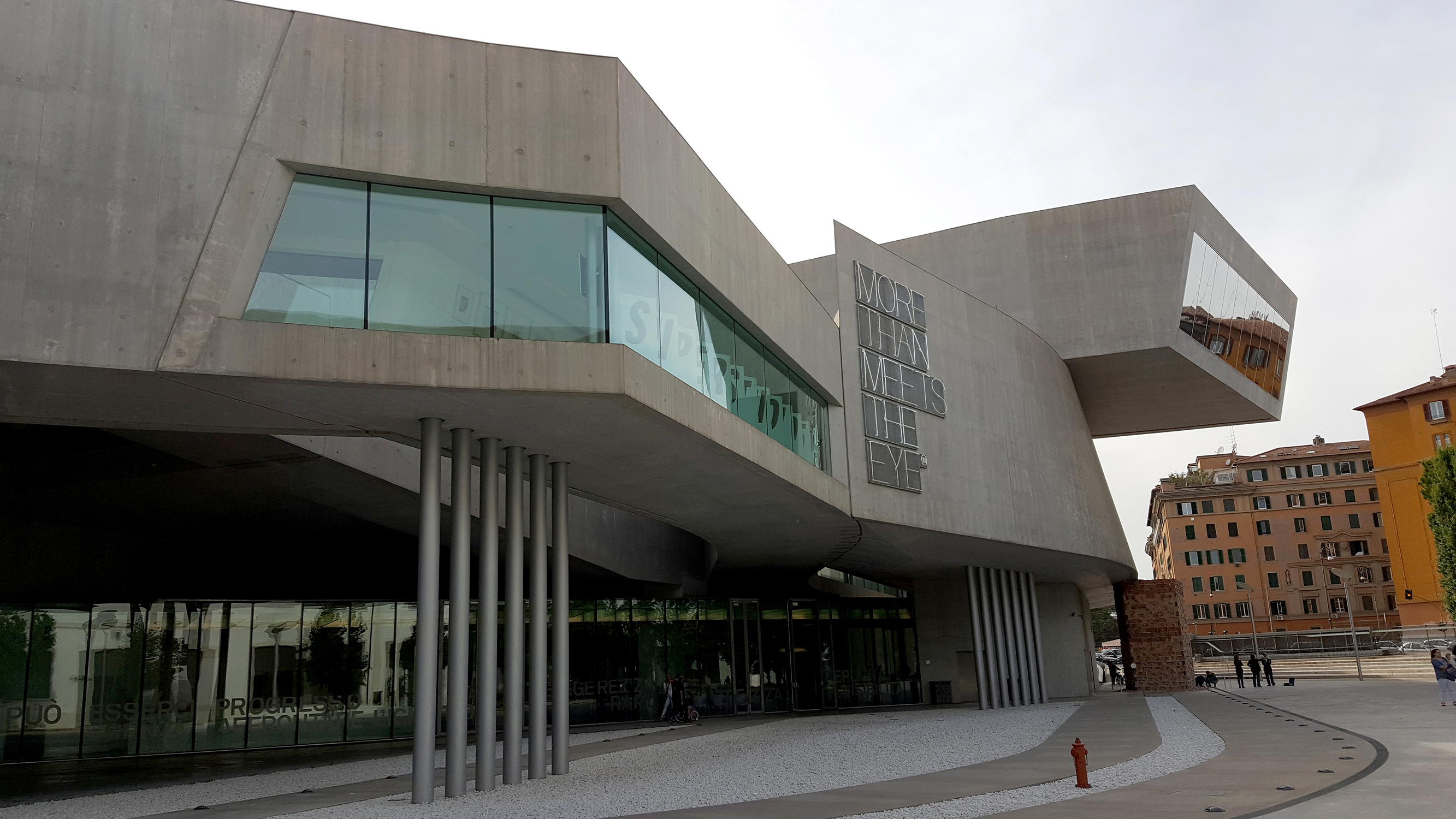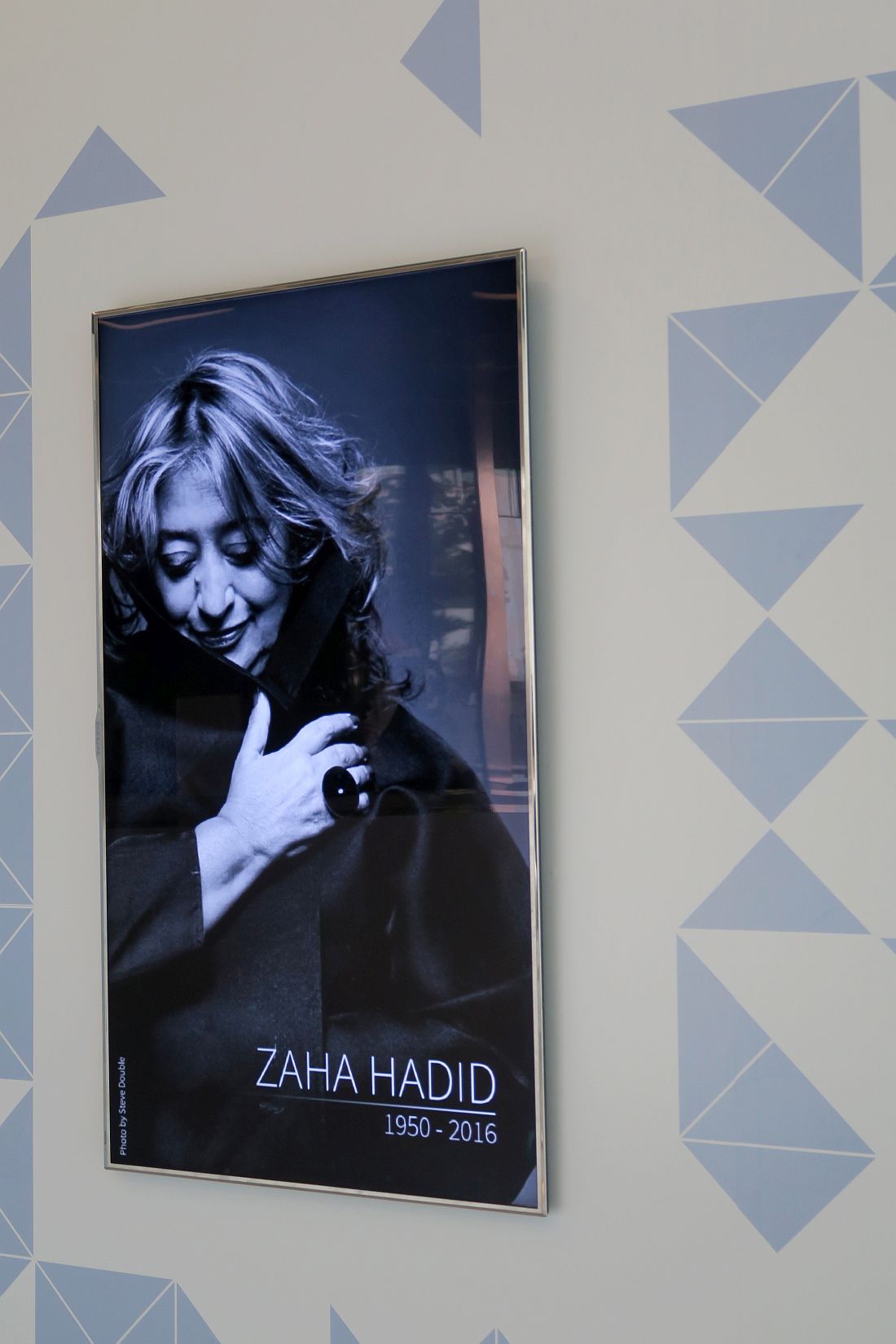 Architektka Zaha Hadid narodená 31. októbra 1950 v Bagdade, Iraku, úmrtie 31. marca 2016 na plagáte v múzeu.
Slávna architektka Zaha Hadid sa v roku 2004 stala prvou ženou, ktorá bola ocenená prestížnou Pritzkerovou cenou za architektúru.
Postoj architektov ako obvykle v súvislosti so Zahou Hadid vyniesol na povrch otázku, či koncept "dekonštruvistickej tekutosti" (plynulosti) korešponduje s identitou statického mesta Rím a s jeho klasickým dedičstvom. Odpovede kritikov a verejnosti boli pozitívne. Špeciálne v tomto kontexte v súvislosti s existujúcimi materiálmi, zakrivené jemné steny dizajnovej stavby sú v súzvuku s neo-klasickou symetrickou fasádou. Múzeum je dokonale včlenené do urbánnej blokovej situácie Ríma.
Dlhý proces konštrukcie múzea Maxxi (10 rokov) ukončovala myšlienka obnoveného mesta. Spoločne s ekonomickými aktivitami reprezentuje toto múzeum stredový bod pre metropolu Rím, čo je v konštantnom vzhľade a korešponduje s jeho súčasnou identitou. Oficiálne otvorenie sa konalo v apríli roku 2010. Múzeum je viac kampus umenia, dynamický a interaktívny priestor, flexibilný na využitie, čo bolo aj hlavným zámerom projektu.
Stavba zvonku celkovým svojím vzhľadom a materiálovým riešením – čistý pohľadový betón, pripomína veľkú sochu, umelecké dielo s dekoračným striedaním svetla a tieňa na rozľahlom nádvorí. Jasné vzory sú vykreslené slnečným svetlom, ktoré prestupuje dnu a von zo štruktúry objektu.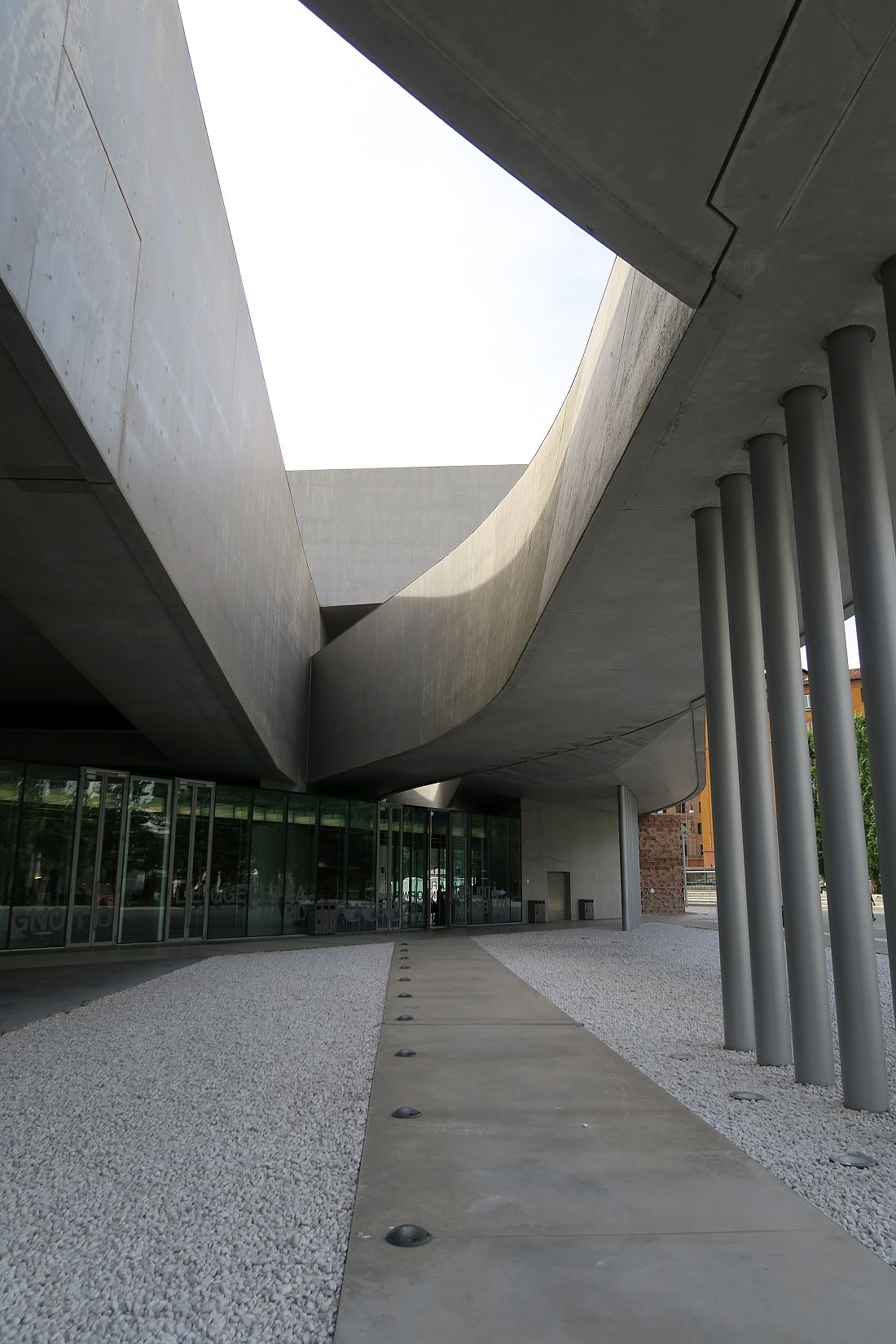 nádvorie pred vstupom do múzea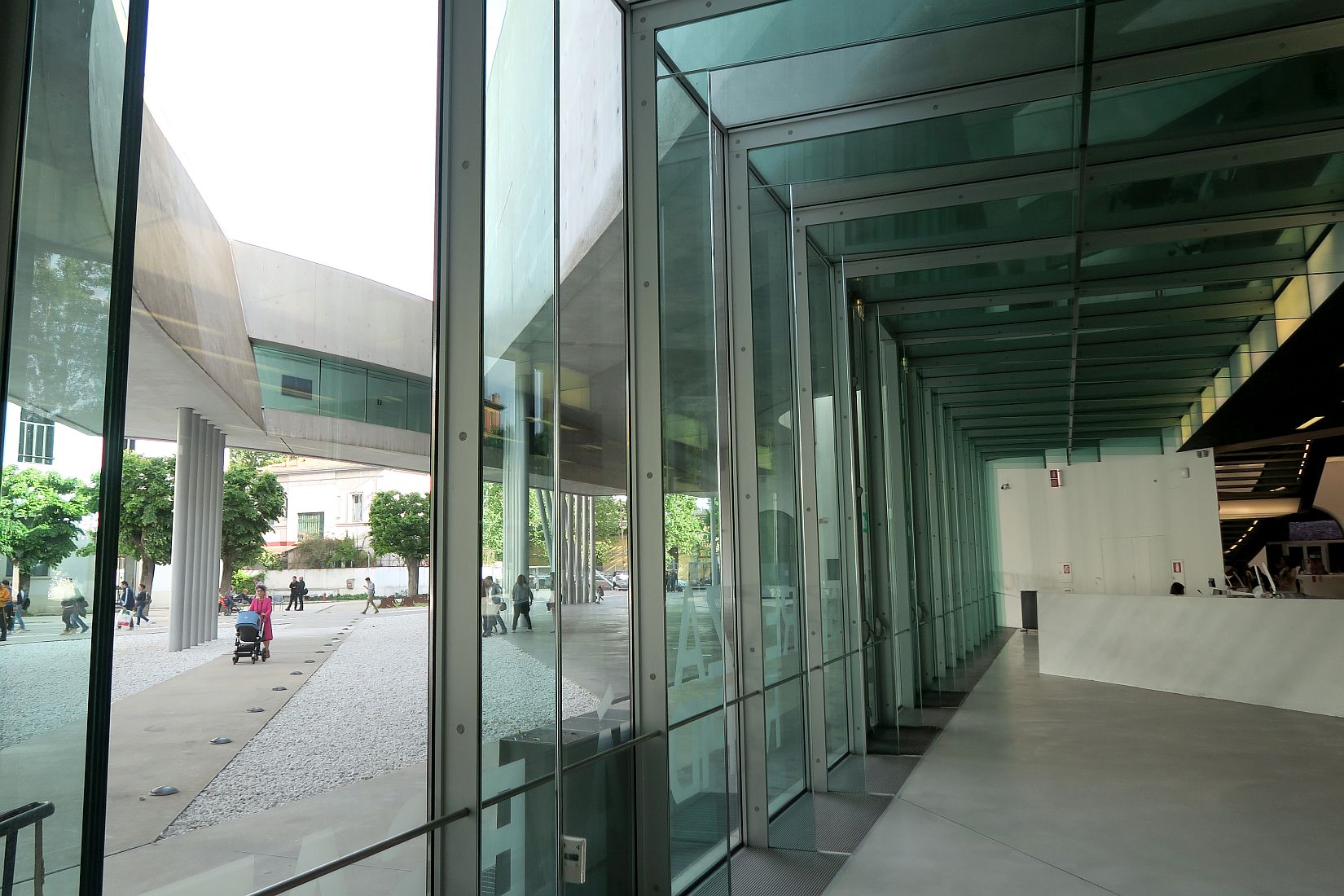 interiér
Múzeum MAXXI zahŕňa auditórium, knižnicu, média knižnicu, knižný obchod, kaviareň, priestory pre dočasné výstavy, vonkajšie priestory, priestory pre živé podujatia a komerčné aktivity, laboratóriá, priestory pre štúdium a voľný čas.
Komplex obsahuje dve inštitúcie – MAXXI Umenie a MAXXI Architektúru s dvoma riaditeľmi za cieľom prezentovať umenie a architektúru skrz kolekcie, uchovávanie, štúdium a výstavy súčasných diel. Doposiaľ bolo súčasťou MAXXI umeleckej zbierky vyše 300 diel z celého sveta vrátane autorov ako Gerhard Richter, Warhol, Alighiero Boetti, Penone a s dôrazom na talianskych autorov. MAXXI Architektúra zahŕňala dizajnové súbory od Aldo Rossi, Pierluigi Nervi, Carlo Scarpa, Paolo Soreli a tiež projekty súčasných autorov ako Toyo Ito, Giancarlo De Carlo, Italo Rota a fotografické kolekcie.
Kontinuita dizajnu priestorov ich robí vhodným miestom k akémukoľvek pohybu a dočasným výstavám, bez zabraňujúcich stien alebo nutných zásahov.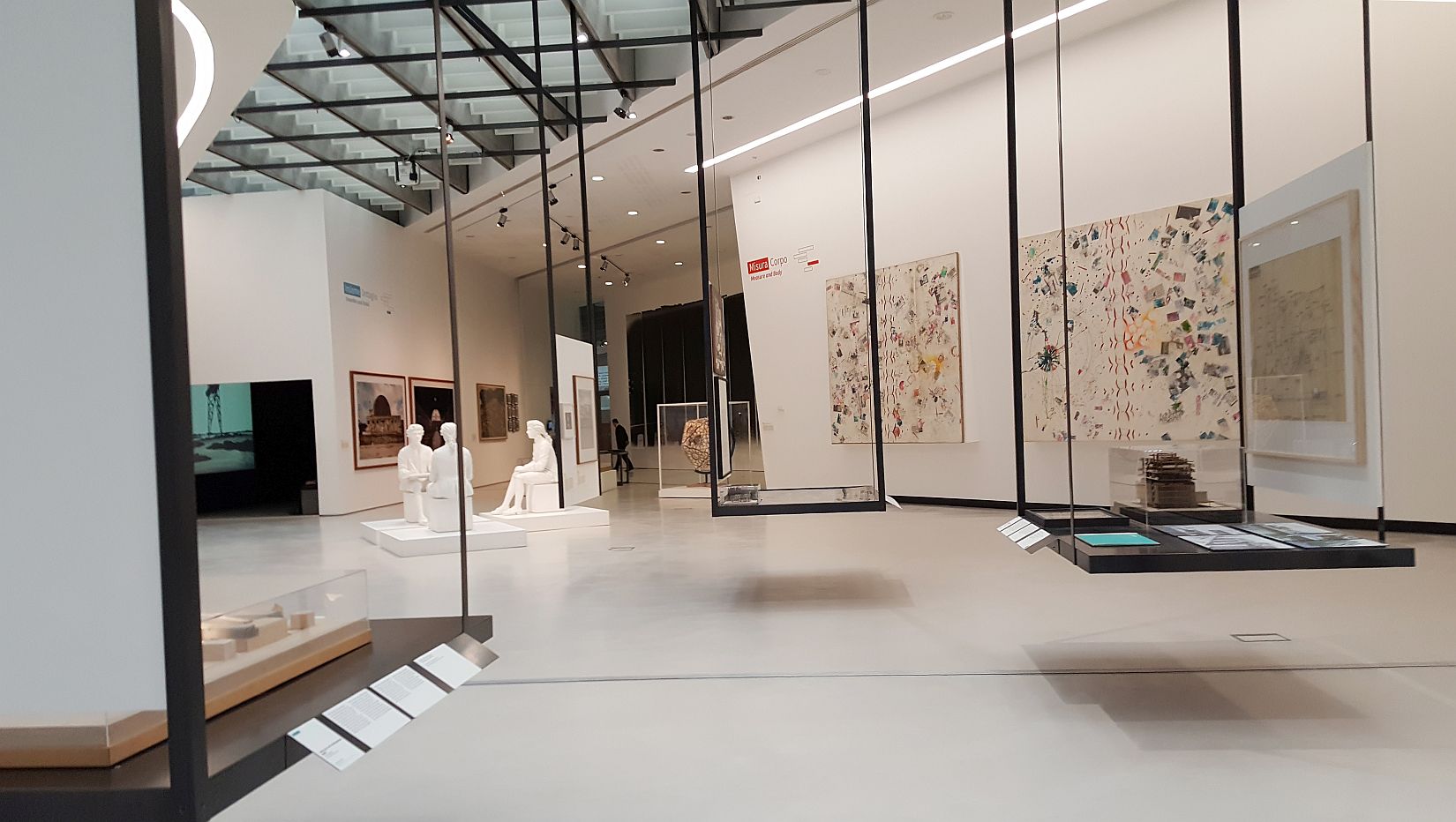 Materiály ako sklo (na streche), oceľ (schodištia) a betón (steny) dávajú výstavným priestorom neutrálny vzhľad, zatiaľ čo mobilné panely umožňujú kurátorskú flexibilitu a obmenu.
Hlavné časti projektu sú zjavné pri vstupe do átria. Betónové zakrivené steny, zavesené čierne schodiská, otvorený strop zachytávajúci prirodzené svetlo. Ako sa vyjadrila architektka Zaha Hadid: "dlhé vlniace sa steny, ktoré som navrhla, neslúžia iba k vystavovaniu vnútri, ale tiež zvonku objektu. Môžete na nich mať nástenné maľby, videoprojekcie alebo bežné inštalácie – je to o dianí vnútri aj vonku."
Zavesené schodiská sú zospodu podsvietené a vyzerajú ako voľne plávajúce priestorom, akoby popierali statiku. Oni samotné sú umeleckým dielom príznačným pre architektku Zaha Hadid. Natreté na čierno s kontrastným podsvietením pútajú pozornosť a navádzajú na plynulý pohyb po priestore.
Celá stavba ako komplex, hmotová skladba budovy a interiér je unikátnym dizajnovým dielom vizionárskej architektky Zaha Hadid, jednej z najvplyvnejších architektov súčasnosti, ktoré stojí za to si v Ríme pozrieť.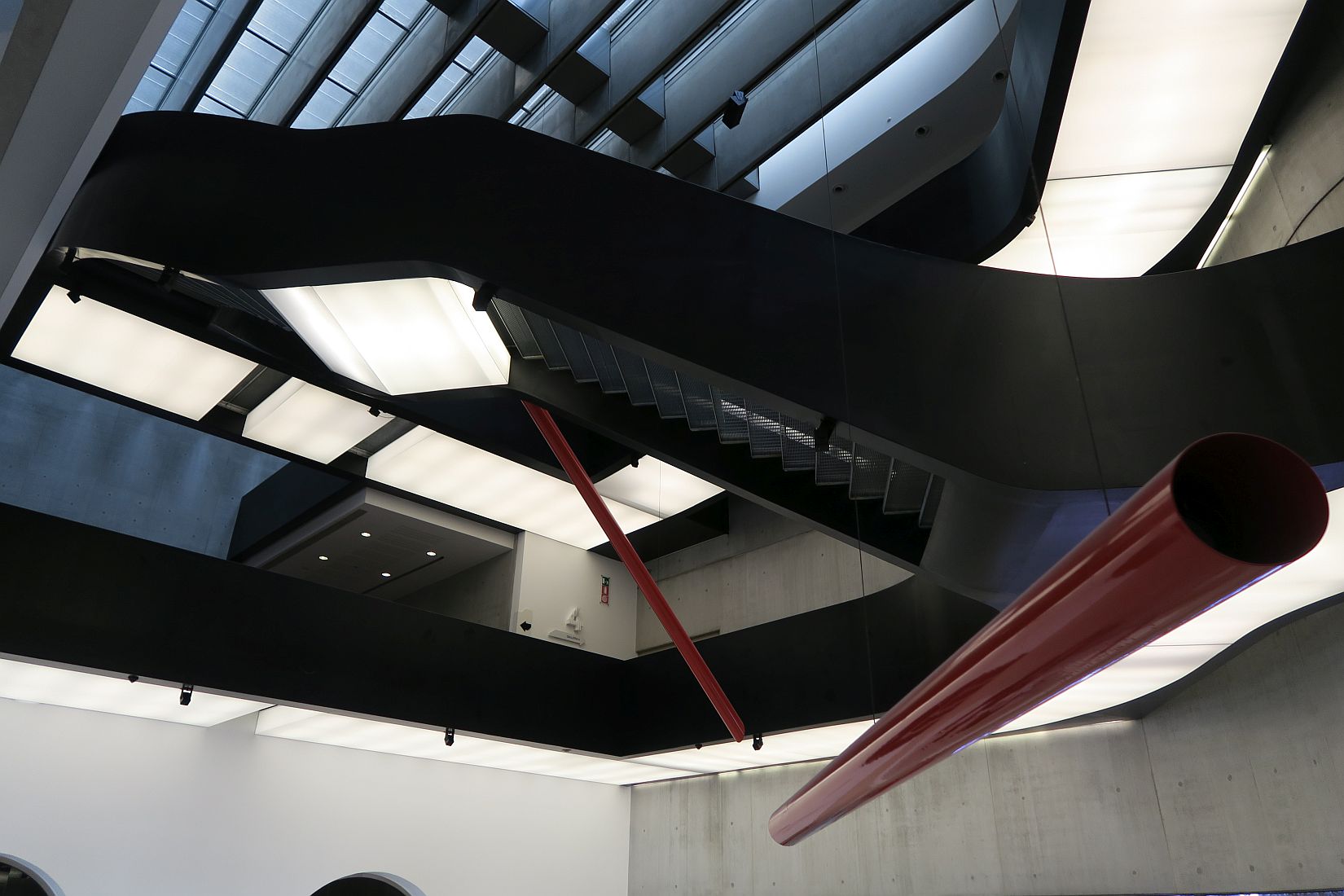 Dva základné architektonické prvky charakterizujúce projekt sú betónové steny, ktoré definujú výstavné galérie a determinujú priestor a transparentná strecha, ktorá transportuje a mení prirodzené svetlo v súlade s najvyššími štandardami požadovanými pre múzeum. Kooperácia s integrovanými nosníkmi a žalúziami, so zariadeniami na filtrovanie slnečného svetla a prídavným umelým osvetlením je riadená za účelom kontroly prostredia.
Zvláštna pozornosť bola venovaná prirodzenému osvetleniu riešenému tenkými betónovými nosníkmi na strope spolu s preskleným pokrytím a filtračným systémom. Rovnaké nosníky majú spodnú koľajnicu, z ktorej je možné pružne zavesiť umelecké vystavované prvky .
Nosníky, schodiská a lineárny svetelný systém navádza návštevníkov cez interiérový priestor, vykresľuje cestu a končí v rozľahlom priestore v treťom leveli. Červené vertikálne subtílne stĺpiky sú efektným akcentovým prvkom interiéru.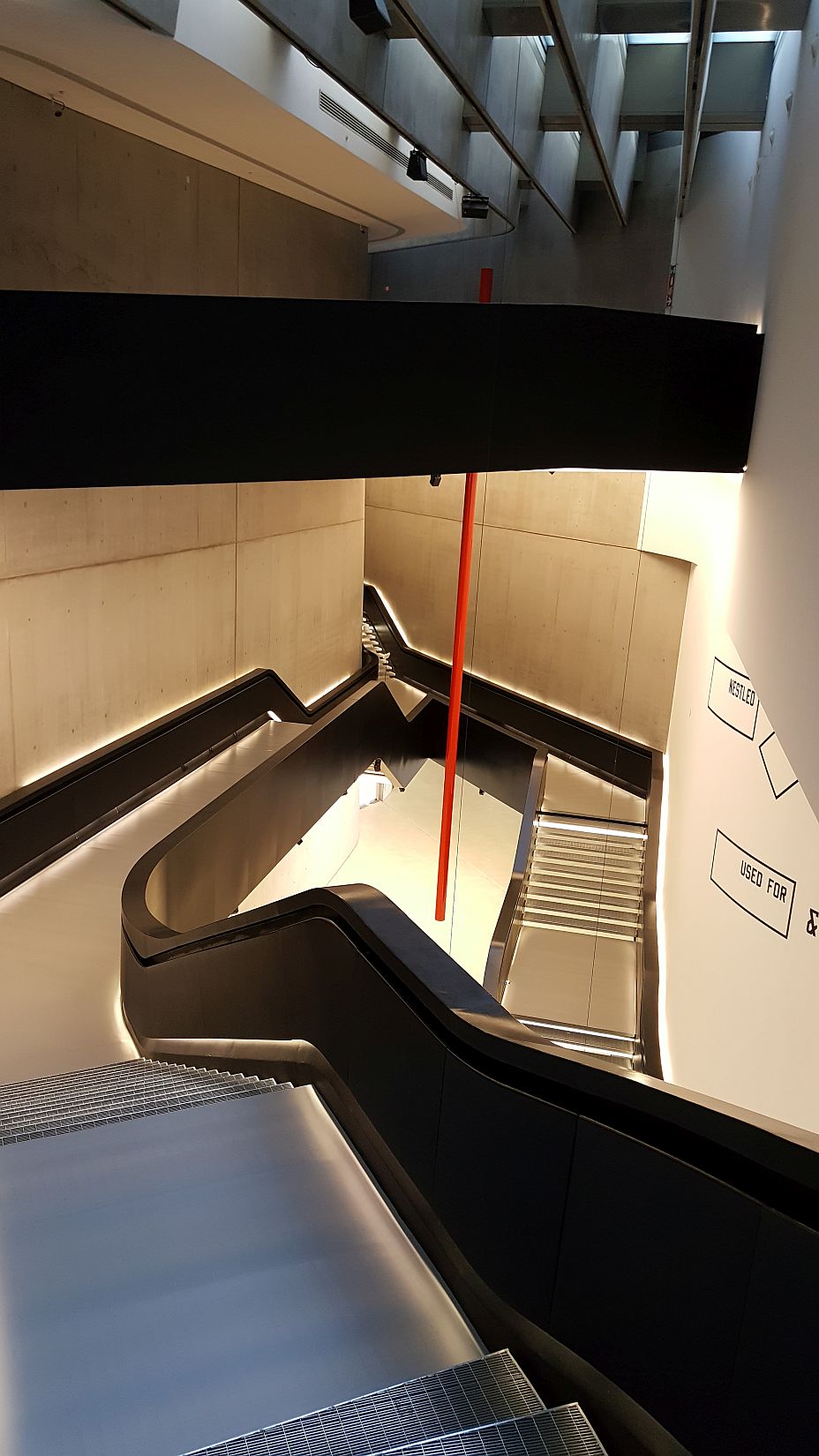 Týmito elementami architektka Zaha Hadid zamýšľala vytvoriť nový tekutý druh priestorovosti (tekutý plynúci priestor bez obmedzených nosných častí) s početnými výhľadovými bodmi a so zlomovou geometriou. V samotnom interiéri máte pocit akoby priestor "plával". Čiastková zlomová geometria bola navrhnutá s cieľom vyjadriť chaotickú plynulosť moderného života.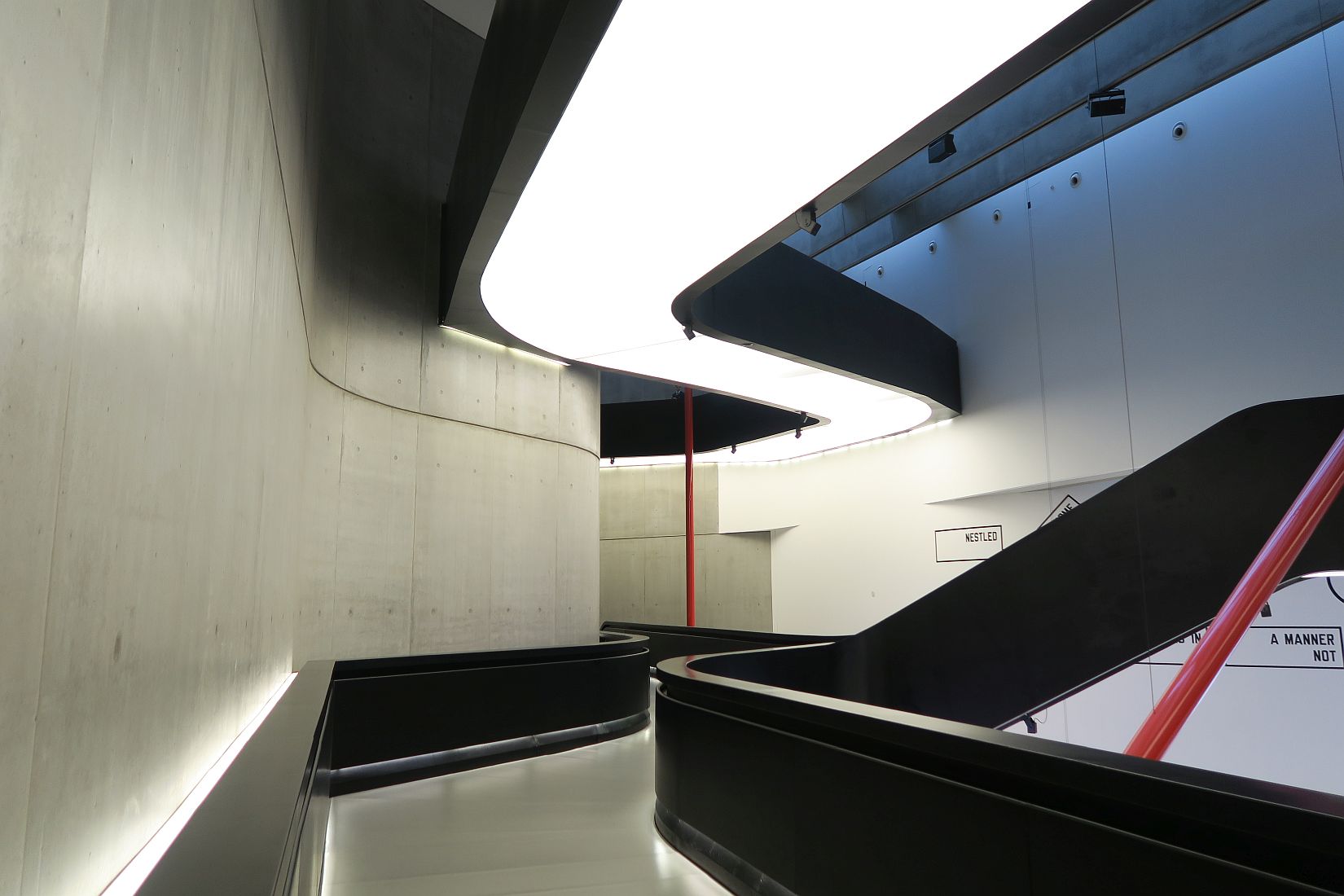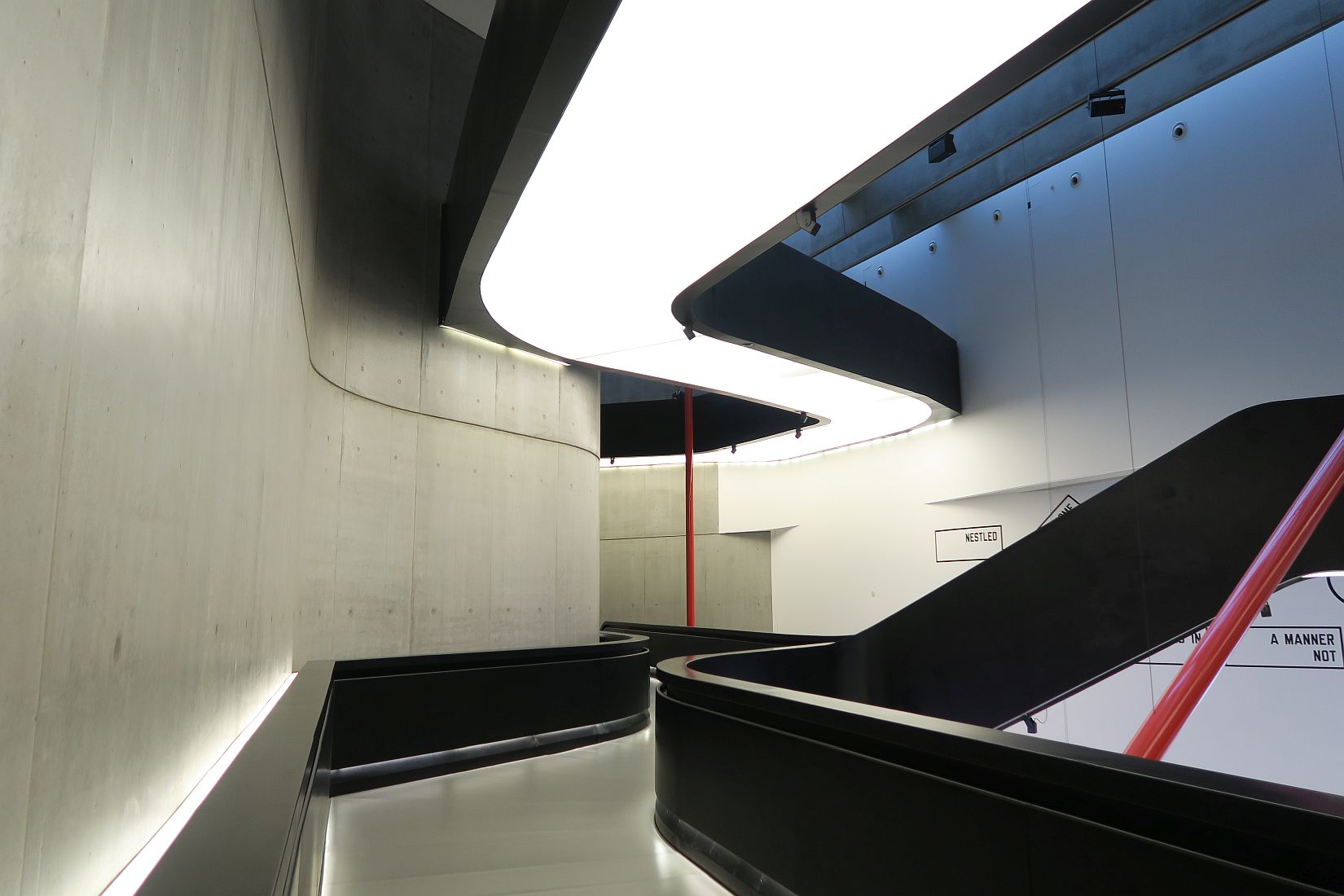 Múzeum je aktívnou súčasťou Ríma, síce nie je lokalizované priamo v starom centre, ale je jeho centrálou súčasťou. Dlhotrvajúci konštrukčný proces zakončil myšlienku renovovania mesta.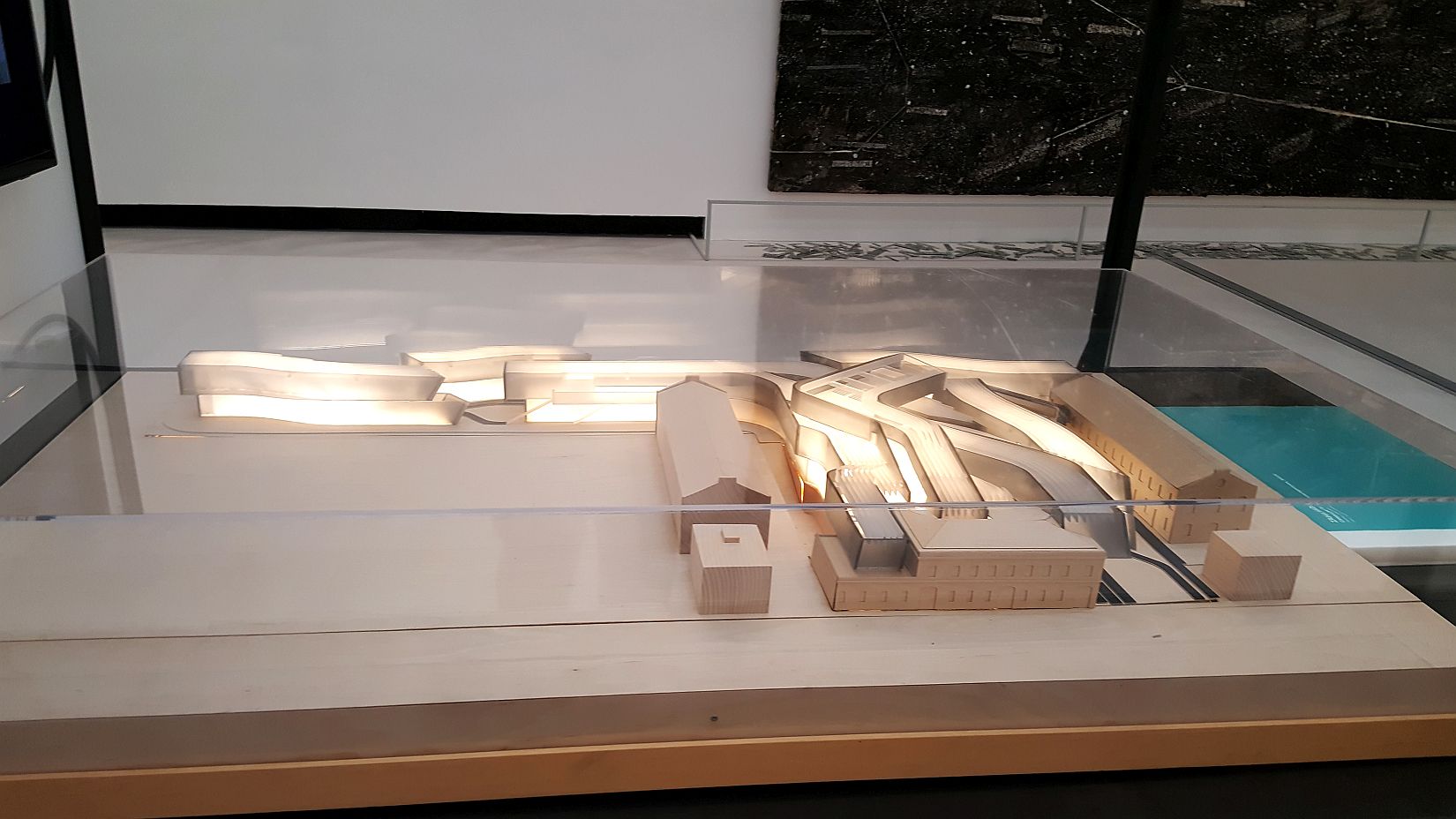 Vystavený model Múzea MAXXI si môžete obzrieť priamo v múzeu. Hlavný zámer projektu je priamo spojený s účelom múzea ako centra pre výstavy a vizuálne umenie.
Táto unikátna dizajnová dekonštruktivistická stavba, skulpturálna architektúra (architektúra pripomínajúca umelecké sochárske dielo) je veľkolepým architektonickým dielom inovatívnych foriem hodná pozornosti a oslavy života a práce slávnej architektky Zaha Hadid.
Ing.arch. Miroslava Vaňharová