Módne značky a celebrity spojili svoje sily na podporu Talianska v boji proti korona vírusu – časť I.
Pandémia korona vírusu, ktorá má svoj pôvod v Číne zastihla v roku 2020 prvý štát v Európe Taliansko a to v obrovskom rozsahu, aký sa zapíše do svetových dejín. 21. februára 2020 bola v tejto krajine potvrdená nákaza nového vírusu u muža z mestečka Codogno v severotalianskom regióne Lombardsko, no v štáte musela kolovať už dávno predtým. V tom čase som sa nachádzala v Miláne na Milan Fashion Weeku, každoročne prebiehajúcom módnom týždni, na jeho zimnom ročníku. Už 14. februára 2020 sa konali mnohé zaujímavé módne prezentácie a coctail parties a mekka módy Miláno žila. Mesto bolo plné turistov ako obvykle, no v tomto období predovšetkým nadšencov a prívržencov módy z celého sveta. Hrozivá epidémia, ktorá v tomto čase zasiahla Európu a celý svet, iba visela niekde v pozadí v hypotetickej rovine. Hovorilo sa niečo o istej forme chrípky a uzatváraní niektorých oblastí mimo Milána, avšak život bežal ďalej. O víruse sa dlho nič nevedelo, svedčí o tom aj fakt, že sa preslávený týždeň módy konal ako každý rok a to všetky štyri svetové módne týždne začínajúce New Yorkom, pokračujúc Londýn fashion Weekom, Milan Fashion Weekom a končiac Paris Fashion Weekom. Pozvaný bol opäť celý módny svet. Zišli sa tu ľudia z tejto branže, významné osobnosti, svetové herečky, šéfredaktori módnych magazínov, žurnalisti, módni experti, fotografi, slávne modelky a ľudia zainteresovaní v oblasti módy. Tento týždeň módy predchádzal Paris Fashion Weeku, na ktorý potom väčšina osobností z módneho biznisu v tomto nebezpečnom, už pandemickom čase, odletela. Počas Milan Fashion Weeku, Móda Ženy, 02/2020 sa ľudia v Miláne nijak zvlášť nechránili. Zaznamenala som iba pár prípadov osôb pohybujúcich sa s rúškami, aj to z časti ázijskej populácie, ktorá už v tom čase musela vedieť, čo sa deje a bude diať. (čítaj predošlé články – Gucci, Milan Fashion Week, street style situácia a sleduj videá na facebooku a instagrame).
Situáciu a život v Miláne vo februári 2020 v čase Milan Fashion Weeku, pohyb ľudí a naše trasovanie z prehliadky na prehliadku, ktoré sa konali rozptýlené po celom meste, si môžete pozrieť v mojich videách, v módnych reportoch, ktoré prinášam každoročne deň po dni na Facebook stránke: Mya Mirell Fashionista a na Instagrame: mya_mirell.
Nákazu novým typom korona vírusu, ktorý spôsobuje ochorenie COVID-19 do krajiny nepriniesol jednotlivec, ale skupina ľudí. O Miláne je známe, že je tam veľký pohyb turistov a najmä tam žije aj veľký počet čínskej, ázijskej komunity, odkiaľ vírus prišiel cestovaním. Počet nakazených a pacientov vyžadujúcich urgentnú starostlivosť začal obrovskou rýchlosťou stúpať a krajina sa musela popasovať s problémom, na ktorý nebol nikto pripravený. K rozšíreniu vírusu prispel teda masívny pohyb turistov a tiež futbalový zápas medzi klubmi Atalanta Bergamo a Valenciou, ktorý sa udial 19. februára 2020 a ktorý mohol byť podľa talianskeho imunológa Francesca Le Focheho jedným zo spúšťačov rýchleho šírenia nového typu koronavírusu v Bergame. Toto mesto bolo ostatne zasiahnuté najviac. Všetci si navždy budeme pamätať nedávnu hrozivú udalosť, kedy 18. marca prechádzala týmto mestom kolóna vojenských nákladných áut odvážajúca rakvy so zosnulými, ktorých pochovávali hromadne, pretože už nebolo miesto. Obrady sa navyše konali iba za účasti farára bez verejnosti, v krajine bol vyhlásený prísny lockdown. Tento deň 18. marec 2020 sa zapíše do dejín ako pamätný deň Talianska obetiam, ktoré podľahli novému typu korona vírusu.
Futbaloví nadšenci sa pohybovali po meste spolu s turistami a módnymi účastníkmi Milan Fashion Weeku, spolu sme sa miešali v istých časových intervaloch. Hotely boli vybookované a milánske námestie Piazza Duomo a Galleria Vittorio Emanuelle II , tradične preplnené tlačiacim sa davom ľudí. (viď. moje videá v insta stories na Instagrame: mya_mirell ). Následne išli futbaloví fanúšici zhliadnuť odvetu do Španielska, čo malo za následok spustenie ďalšej fázy šírenia nákazy po svete.
TALIANSKO – OSAMELÝ BOJOVNÍK
Taliansko si spočiatku po vypuknutí epidémie muselo pomôcť úplne samo a to vo všetkých smeroch. Svet nebol na podobnú epidémiu, ktorá prerástla do pandémie vôbec pripravený a už vonkoncom nie Európska Únia. Za krátky čas šírenia sa nákazy, ktorá spôsobila pád Talianska na kolená, nebol k dispozícii žiaden krízový plán zo strany Európskej Únie. Je to predsa len zarážajúce, keďže každá krajina má svojich expertov, hygienikov, epidemiológov a virológov a v tretom tisícročí sa už po istých cyklicky sa opakujúcich epidémiách predsa očakávali ďalšie a nové. Teda teoreticky nič nečakané, ako potvrdili mnohí experti na pandémie. No realita ukázala opak a práve skutočnosť, že toto nikto nebral v úvahu. Svet si bežal naďalej svoj rozbehnutý maratón a naštartovaný ekonomický rast a hlavne neúnavnú neustálu nadprodukciu všetkého možného, ktorá ho poháňala vpred nehľadiac na strany a zanechávajúc ho nepripravený.
Zarážajúce bolo, že pomocnú ruku vystrašenému Taliansku, ako prvému štátu, ktorý do tohto boja s neznámym, neviditeľným a záludným nepriateľom padol úplne nečakane, spočiatku nepodala ani jedna okolitá krajina spojenej Európskej Únie. Tento boj bol veľmi vysiľujúci pre samotný zdravotnícky personál a zakrátko sa stal vyčerpávajúci a nezvládajúci, čo sa týka starostlivosti o nové prípady, ktoré narastali extrémnou rýchlosťou a vyžadovali intenzívnu medicínsku opateru. Systém začal kolabovať, nestačili kapacity ani tak vyspelého zdravotného systému Európy, akým Taliansko disponuje. Medicínski pracovníci boli maximálne vyťažení každý deň, pracovali nepretržite na záchrane ľudských životov a pritom vystavovali seba a svoje rodiny riziku novej nepoznanej nákazy, s ktorou sa svet iba oboznamoval. Postupne si vytvorili plán, ako sa nenakaziť a nenakaziť okolie, ako v boji s chorobou postupovať a dávali rady zvyšku sveta. Na youtube nájdete množstvo talianskych videí z nemocníc, ako v tomto pandemickom boji doktori postupovali a vymieňali si rady s doktormi v ostatných krajinách. Hashtagové heslá "andratuttobene" a "celofaremo" , všetko dopadne dobre a zvládneme to, sa stali hlavnými povzbudzujúcimi sloganmi medzi obyvateľstvom a šírili sa po sociálnych sieťach.
Na samotnom začiatku epidémie v Taliansku , ktorý naberal rýchlo na obrátkach sa ukázalo, že chýbajú potrebné ochranné pomôcky pre zdravotníckych pracovníkov, materiál, zdravotnícke pomôcky a prístroje na náročnú liečbu pre pacientov, nestačili kapacity, chýbali nemocnice a najmä pomocné odborné ruky. Neboli ochranné pomôcky ani pre bežné obyvateľstvo, nakoľko štát a nielen on, nebol na vzniknutú situáciu vôbec pripravený. No prvoradé však bolo ochrániť medicínsky personál, ktorý pracoval v prvej línii s nakazenými.
Najžalostnejšie bolo, že viacerí nakazení pacienti vyžadovali intenzívnu zdravotnú starostlivosť a napojenie na dýchacie prístroje následkom ochorenia Covid-19, ktoré neboli k dispozícii v požadovaných počtoch, zatiaľčo ostatné štáty ich mali voľné a s nákazou sa nepotýkali. Všetky okolité štáty mali voči Taliansku náskok približne 2 týždne a viac. Človek žijúci v modernej Európe a svete by si myslel a očakával, že keď sa hrdíme termínom zjednotená Európska Únia, dalo sa hádam urobiť viac. Možno načas vypomôcť požičaním potrebných prístrojov medzi štátmi podľa potreby, no akosi všetci ostali tápať, čakať a sledovať danú situáciu v tejto krajine ako obarení. A pritom poukazovať prstom híkajúc s otvorenými ústami. Pomoc Taliansku prišla časom, no najskôr od samotnej Číny, pôvodcu nákazy, ktorá síce svet varovala, ale až riadne neskoro s istým ospravedlnením a sama sa s vírusom potýkala a potýka.
Postupne sa začali okolité štáty pripravovať na vlastnú záchranu a zvládanie situácie s týmto vírusom a nastal celosvetový boj o medicínske ochranné prostriedky a nutné vybavenie, ktoré odrazu každému štátu chýbali. Vysvitlo, že Čína už koncom roku 2019 začala naopak dovážať všetko prepotrebné a stopla vývoz, pretože sa už s nákazou potýkala uvedomujúc si jej ohromnú silu a rýchlosť. Väčšina ostatného sveta pritom bola na ich dovoze závislá. Svet túto novú nečakanú pandémiu jednoducho nezvládol a zachoval sa nejednotne. Ostatne sme toho boli všetci svedkami, ale nech toto memento ostáva vryté do pamäti, aby sme sa tohto do budúcna vyvarovali. Stagnácia a chaos, sebectvo a nesolidarita, takto možno charakterizovať toto prvotné temné obdobie prebiehajúceho zápasu s vírusom, ktoré sa neskôr podarilo preklenúť a štáty sa predsa len spamätali, prebrali z prvotného šoku a začali konať. Dodatočne sa prejavila aj žiadaná potrebná solidarita. Do Talianska prišli aj iné formy pomoci od ostatných krajín.
Tento zápas, ktoré zvádzalo Taliansko s absolútnym vyčerpaním medicínskych pracovníkov, si však vyžiadal postupne až 155 obetí na ľudských životoch doktorov, ktorí chorobe podľahli a vyše 35 000 obetí na pacientoch uvádzaných oficiálne. Najviac postihnutou oblasťou sa pritom stala lokalita Lombardsko na severe Talianska.
Podľa TASR a portálu Aktuality .sk sa koncom mája 2020 uvádzajú nasledovné najnovšie informácie – čítaj v článku na konci písané kurzívou.
TALIANSKE MÓDNE ZNAČKY A OSOBNOSTI PODÁVAJÚ POMOCNÚ RUKU
Taliansko si však dokázalo pomôcť samo a zmobilizovalo všetky sily, národ sa spojil a aj vďaka svetoznámym značkám, firmám, spoločnostiam a osobnostiam, ktorými táto prekrásna krajina oplýva, zariadili všetko potrebné na zvládanie vzniknutej pandemickej situácie. Zaobstarali si aj zdravotnícky materiál, ochranné masky, rúška a tiež vymysleli systém, ako vytvoriť rýchlo chýbajúce dýchacie prístroje a neskôr aj také, ktoré dokázali obslúžiť 2 pacientov naraz.
Na pomoc s prvotnou výbavou pre Taliansko a to s ochrannými prostriedkami pre zdravotníkov a pre ľudí, ktoré absolútne chýbali, prišlo hneď niekoľko známych firiem a značiek. Tieto na vzniknutú epidémiu naberajúcu na obrátkach a prerastajúcu v svetovú pandémiu zareagovali okamžite. Módu odložili na vedľajšiu koľaj a začali konať. Svoje fabriky využili na dobrý účel a v prospech ostatných.
Taliansko je horkokrvný národ, temperamentný, milujúci vrúcne objatia, tanec, spev, kultúru, socializovanie sa a najmä dobré jedlo. A aj to boli aspekty, ktoré nemalou mierou prispeli k rýchlemu šíreniu nákazy. V tomto ťažkom čase epidémie, ktorá skolila veľký počet obyvateľstva za krátky čas spomedzi nich, sa Taliansko prejavilo ako nesmierne solidárny národ. Za pár dní, týždňov sa vďaka osobnostiam, firmám a zvučným značkám, ktoré sami prispeli a vďaka založeným fondom, dokázal 65 miliónový národ vyzbierať na výstavbu potrebných nemocníc. V krátkom čase si pomohli sami, vyzbierali milióny eur na podporu boja s korona vírusom, postavili sa nové nemocnice a existujúce nemocnice si za tie peniaze nakúpili zdravotnícke pomôcky a postele. Tých pár dní, týždňov už prebiehajúceho zápasu s novým nebezpečným vírusom, si však vzalo so sebou početné obete na životoch.
Dôležité OSOBNOSTI veľkým O, ktoré sa významnou mierou zaslúžili o pomoc svojmu národu a promtne zareagovali na hrozivú situáciu ako prví – módne značky, domy, návrhári a celebrity boli:
Taliansky módny mág GIORGIO ARMANI, prezývaný aj Kráľ Módy – Re di Moda (po taliansky) daroval 1 milión 550 000 eur hneď na začiatku vznikajúceho problému. Ešte v čase prebiehajúceho Milan Fashion Weeku, na ktorom som bola účastná vo februári 2020. Konkrétne 24. februára 2020 zavrel brány svojej show a módnu prehliadku uskutočnil iba v streemovanej odvysielanej podobe. Ako prvý a jediný zareagoval na vzniknutú situáciu v čase, kedy ešte mesto módy Miláno žilo oslavou módneho týždňa a prebiehajúceho futbalového zápasu bez akýchkoľvek obmedzení. Svetoví experti na módu, editori, žurnalisti, modelky predvádzajúce na prehliadkach, pozvaní hostia z rôznych kútov sveta, herci, fotografi, paparazzi, módni blogeri, fashionisti a módni nadšenci, všetci sme počas Milan Fashion Weeku navštevovali prehliadku za prehliadkou bez akýchkoľvek obáv či predduchy, čo sa môže stať. Nikto nemal ani teraz už známe rúško.
Prebiehajúca a začínajúca epidémia zavrela v tom čase niektoré priľahlé oblasti, mestečká na severe Talianska, ale stále sa hovorilo iba o istom druhu chrípky. Bolo až zarážajúce spätne sa zamyslieť, koľko tam bolo známych svetových modeliek, osobností z oblasti módy a napríklad aj starších dizajnérov od samotného Giorga Armaniho, osobností ako módna editorka z magazínu Vogue co UK – Suzy Menkes, ktorí patrili k najohrozenejším skupinám vzhľadom na vek. S pani módnou kritičkou, žurnalistkou Suzy Menkes som sa rozprávala a aj túto sezónu opäť odfotila. Všetky tieto osobnosti z módneho biznisu odleteli po skončení Milan Fashion Weeku následne na Paris Fashion Week, ktorý končil 4. Marca 2020. A mnohí Taliani sa potom odtiaľ vracali naspäť, vírusu už nič nebránilo nekontrolovateľne sa šíriť po svete.
Módna legenda, taliansky návrhár GIORGIO ARMANI je známy svojou pracovitosťou, vitalitou, bystrým umom a náhľadom na svet, rozvážnosťou, rozumnosťou a najmä dobrým srdcom. Táto fotografia vznikla náhodou, keď ho Talian Stefano Scalia odfotil vo výklade showroomu v Miláne, ako upravuje svoje modely. Giorgio Armani pravidelne víta hostí na svojich prehliadkach, stará sa o to, aby fungoval dlhoročný biznis, fabriky, príprava na módne show, pravidelný cyklus príprav a nové kolekcie, čo je veľmi náročné na čas a fyzické zvládanie aj u mladších kolegov. Toto všetko je Giorgio Armani schopný robiť vo svojom veku 85 rokov. (podobne fungoval aj slávny a nedávno zosnulý módny génius Karl Lagerfeld).
Giorgio Armani víta fanúšikov na svojich módnych prehliadkach, dokonca ich vyjde von pozdraviť a vždy sa objaví v závere módnych prehliadok so svojimi modelkami. Pravidelnou návštevníčkou Milan Fashion Weeku, jeho prehliadok a jeho múzou býva herečka Cate Blanchet, ktorú môžete vidieť na mojom videu z Milan Fashion Weeku na Facebook stránke blogu s názvom : Mya Mirell Fashionista ako aj ostatné známe osobnosti – Lewis Hamilton, modelky Victoria´s Secret atď.
Ako píše Stefano Scalia autor fotografie. Túto fotku neurobil preto, aby sa pochválil, že zachytil Giorga Armaniho, slávnu osobnosť známu nielen v módnom svete a v Taliansku, na ktorú poľujú davy paparazzi. No chcel zachytiť moment vášne, ktorú v sebe Giorgio Armani celé tie roky prechodáva. Zvečnil túto fotografiu v historický moment, zachytil vášeň Giorgia Armani pre módu a celoživotnú oddanosť k tejto umeleckej činnosti, kedy si návrhár vo svojom veku po toľkých rokoch upravuje kolekciu v showroome úplne sám, hoci má nespočet zamestnancov a svoj čas by mohol tráviť oddychovaním na Kanárskych ostrovoch.
Je známe ze Giorgio Armani pretavil svoju vášeň do módy v obrovský biznis, kde podľa wikipédie bol Armani v roku 2001 vyhlásený za najúspešnejšieho talianskeho dizajnéra s ročným obratom $1,691 miliárd a osobným bohatstvom $5 miliárd.
Ako píše autor fotografie: "Dnes tento istý muž premenil svoje fabriky na výrobu oblečenia pre zdravotníckych pracovníkov a výrobu rúšok. NIE SI VEĽKÝ PRETO, KOĽKO PEŇAZÍ MÁŠ, SI VEĽKÝ PRETO, ČO ROBÍŠ ! "
Fabrika dizajnéra Giorgio Armani začala promtne po rozbehnutí nákazy v Taliansku šiť rúška a neskôr aj zdravotnícke obleky, ktoré darovali nemocniciam.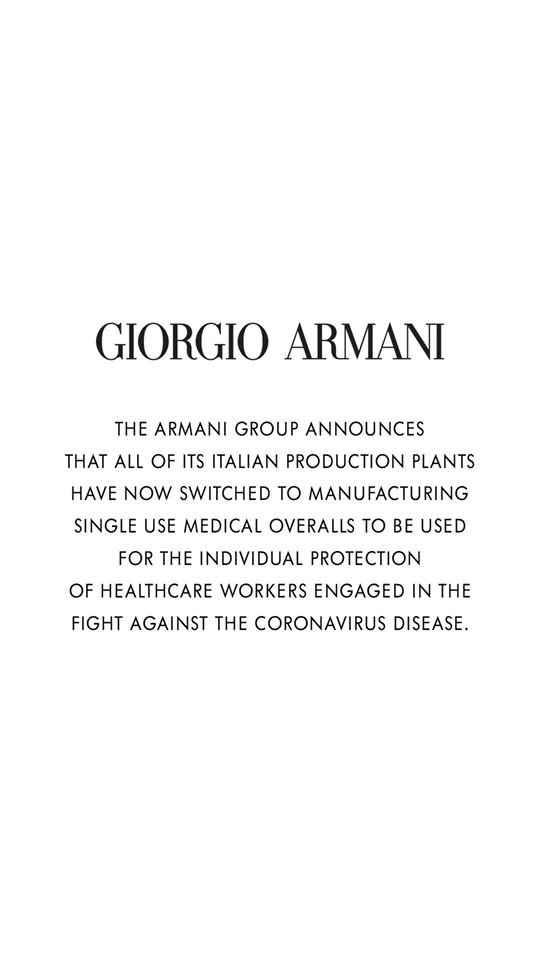 zdroj obrázkov: Armani
Najnovšie vyhlásenie a iniciatíva talianskeho Kráľa Módy GIORGIA ARMANI po predošlej veľkej finančnej pomoci Taliansku, po boji s korona vírusom, šití rúšok a zdravotníckych plášťov pre talianskych lekárov znie pozitívne: Kráľ módy a neúnavný prezieravý dizajnér hlási opätovný návrat na módnu scénu v plnej nevyčerpateľnej sile. Módnu show z Paríža presúva do Milána , kde opätovne prinavráti Milánu, mekke módy, high fashion , ktorá teraz zažíva obrovské záchvevy na celom svete spolu s celou módnou scénou.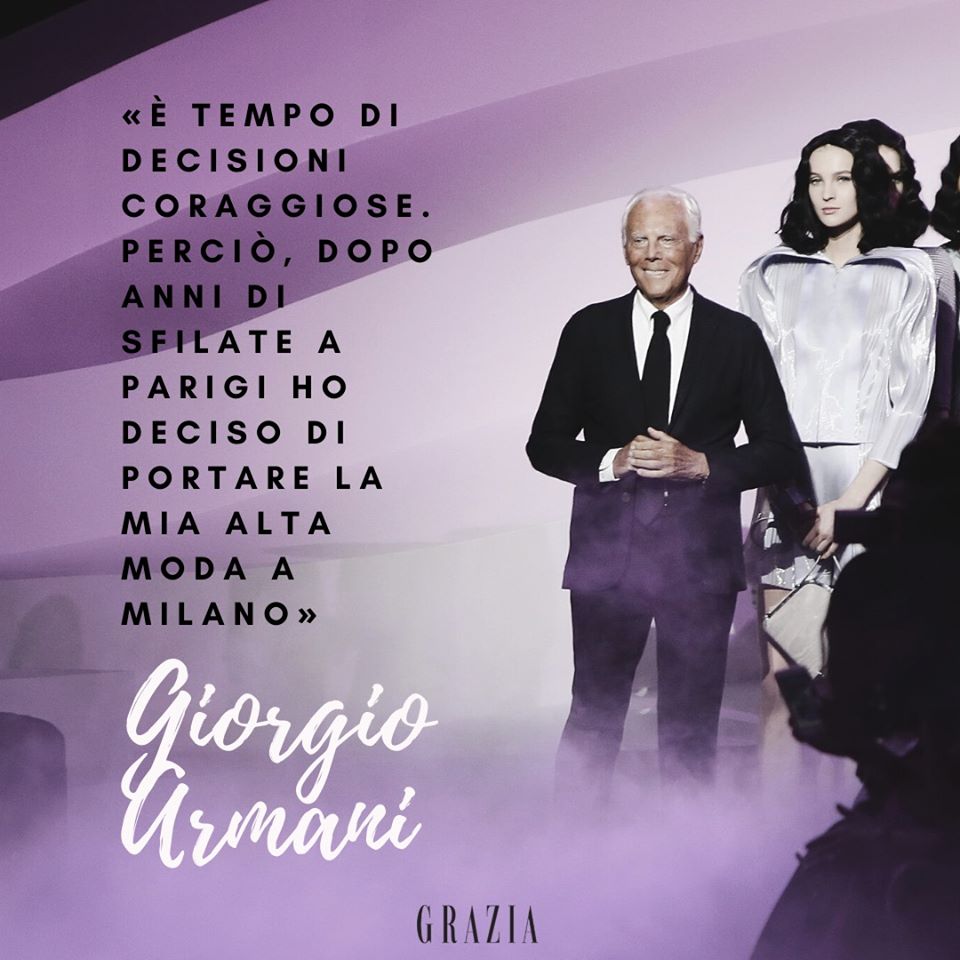 zdroj: Grazie IT
Pre viac informácií a fotografií – sledujte facebook stránku blogu: Mya Mirell Fashionista.
Na vzniknutý problém zareagovala aj ďalšia módna značka s centrálou v talianskom Miláne Moncler, zúčastňujúca sa tiež milánskeho Fashion Weeku a pomohla krajine sumou 10 miliónov eur darovaných na konštrukciu nemocnice a zabezpečenie 400 lôžok s intenzívnou starostlivosťou.
Talianske návrhárske duo Domenico Dolce a Stefano Gabbana pracujúci pod známou talianskou značkou Dolce and Gabbana boli prví dizajnéri, ktorí zareagovali na problém s novým vírusom pred vypuknutím epidémie a následne pandémie a to v čase, kedy vírus vyčíňal na začiatku v Číne. Ešte koncom roka 2019, darovali dizajnéri priamo Číne istý finančný obnos na boj proti korona vírusu a financie smerovali priamo na výskum na tento boj.
Dizajnéri mali pred rokom s touto krajinou problém, ktorý Čína nafúkla do megalomanských rozmerov a zainvolvovala doň celú ázijskú populáciu. Spor doviedla až do bodu, kedy sa snažila značku potopiť a bojkotovať. To jej spôsobilo nemalý otras v základoch. V ázijských krajinách mala totižto značka Dolce and Gabbana situované svoje showroomy s kolekciami, ktoré predstavovali 1/3 zisku, nehovoriac o zamestnancoch a iných vzniknutých problémoch, kedy čínsky národ pálil veci tejto značky a postoval tieto aktivity na internete s nabádaním na podobné chovanie.
Bojkotom značky, o ktorý sa Čína dlhšie snažila, by utrpela nielen samotná značka, ale aj talianska ekonomika a renomé. Týmto aktom sa hádam celý spor, ktorý bol nešťastne vyvolaný prvotne zle pochopenou reklamou zo strany Číny , medzi Čínou a značkou Dolce and Gabbana urovnal. (podrobnejšie o tomto čítaj na blogu v predošlých 2 článkoch).
Treba povedať, že Čínu teraz obviňuje celý svet za vzniknutú pandémiu, kde išlo o straty na ľudských životoch, čo predstavuje obrovský problém, ktorý zanechal stopy na duši a nezmazateľné traumy, z ktorých sa samotné Taliansko a nielen ono, bude len tažko spamätávať (najmä ľudia, ktorých to zasiahlo). Svet nemá stále nad vírusom vyhraté, nehovoriac o ekonomickej katastrofe, ktorú to spôsobí. Z tohto zatiaľ nikto vo svete nevyvodzuje konsekvencie voči Číne, i keď sa tieto hlasy začínajú objavovať, najmä zo strany USA, no prvotné je samotné vyšetrovanie, ako k tomu celému došlo a či sa tomu dalo zabrániť, počom volá viacero krajín. Situáciu zažívame v každom štáte práve teraz a budúcnosť ukáže, ako to celé dopadne. Na porovnanie s predošlým problémom, ktorý bola Čína schopná nafúknuť do enormných rozmerov a tváriť sa pritom hrdo, že sa jednalo o zosmiešnenie ich kultúrnych zvykov, sa natíska povestné slovo karma… , ktoré však nemám rada. Svet by sa mal v prvom rade spamätať a práve toto je príučka pre takéto prípady.
VERSACE
Talianska módna značka pod vedením dizajnérky DONATELLA VERSACE sa tiež pripojila k boju s korona vírusom a prispela sumou 200 000 eur. Suma bola venovaná priamo oddeleniu intenzívnej starostlivosti nemocnice San Raffaele v Miláne. Nemocniciam chýbali potrebné zdravotné prístroje a vybavenie a najmä bolo treba vybudovať rýchlo nové nemocnice s intenzívnou starostlivosťou pre enormne rastúci počet chorých ľudí.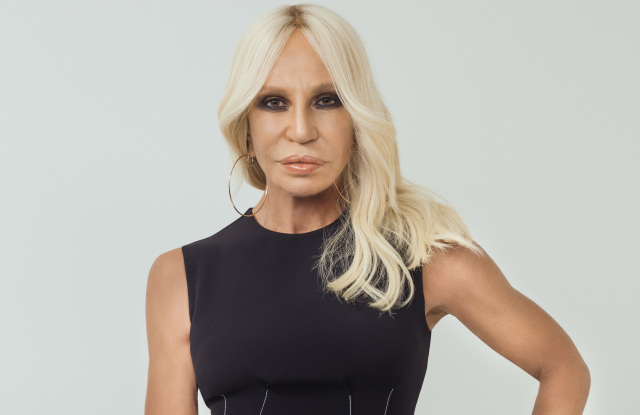 obrázok: Courthesy photo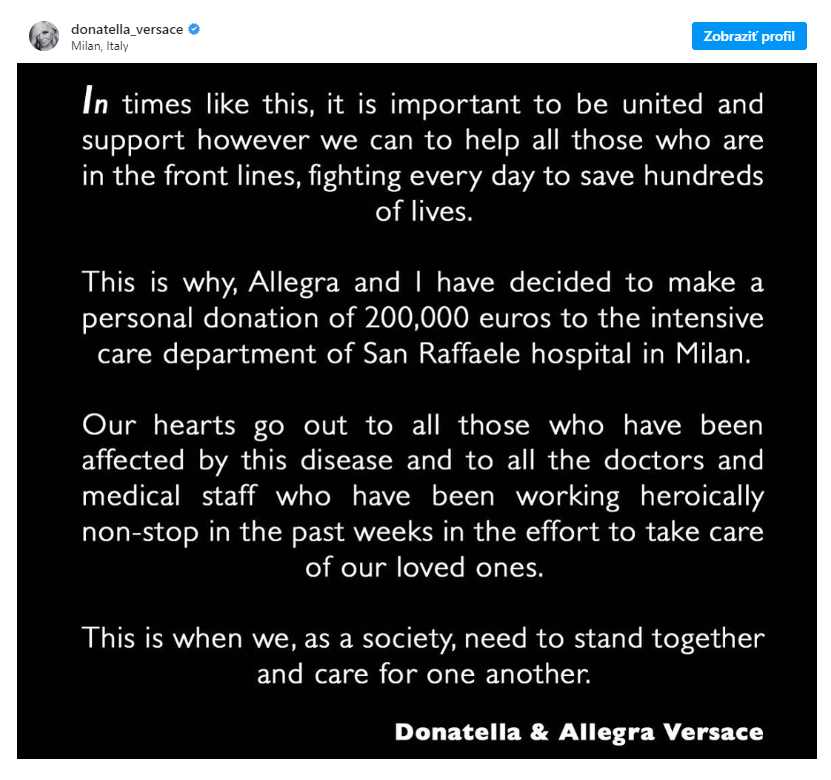 zdroj: instagram Donatella Versace
Ďalšie talianske módne značky GUCCI , PRADA, FENDI, ERMANNO SCERVINO, BVLGARI, všetky zareagovali na katastrofickú situáciu v Taliansku promtne a nedostatok ochranných pomôcok vzali do vlastných rúk. Začali vyrábať ochranné masky na tvár, šiť rúška, ktoré boli pre obyvateľov na začiatku nedostupné. Neskôr sa k nim pridali aj ostatné módne značky, po vzore Talianska sa pripojili francúzske značky Ballenciaga a Saint Laurent.
PRADA
Výkonný riaditelia spoločnosti PRADA Patrizio Bertelli and Miuccia Prada spolu s prezidentom Carlo Mazzi darovali 6 jednotiek intenzívnych starostlivostí nemocniciam Vittore Buzzi, Sacco a San Raffaele v Miláne.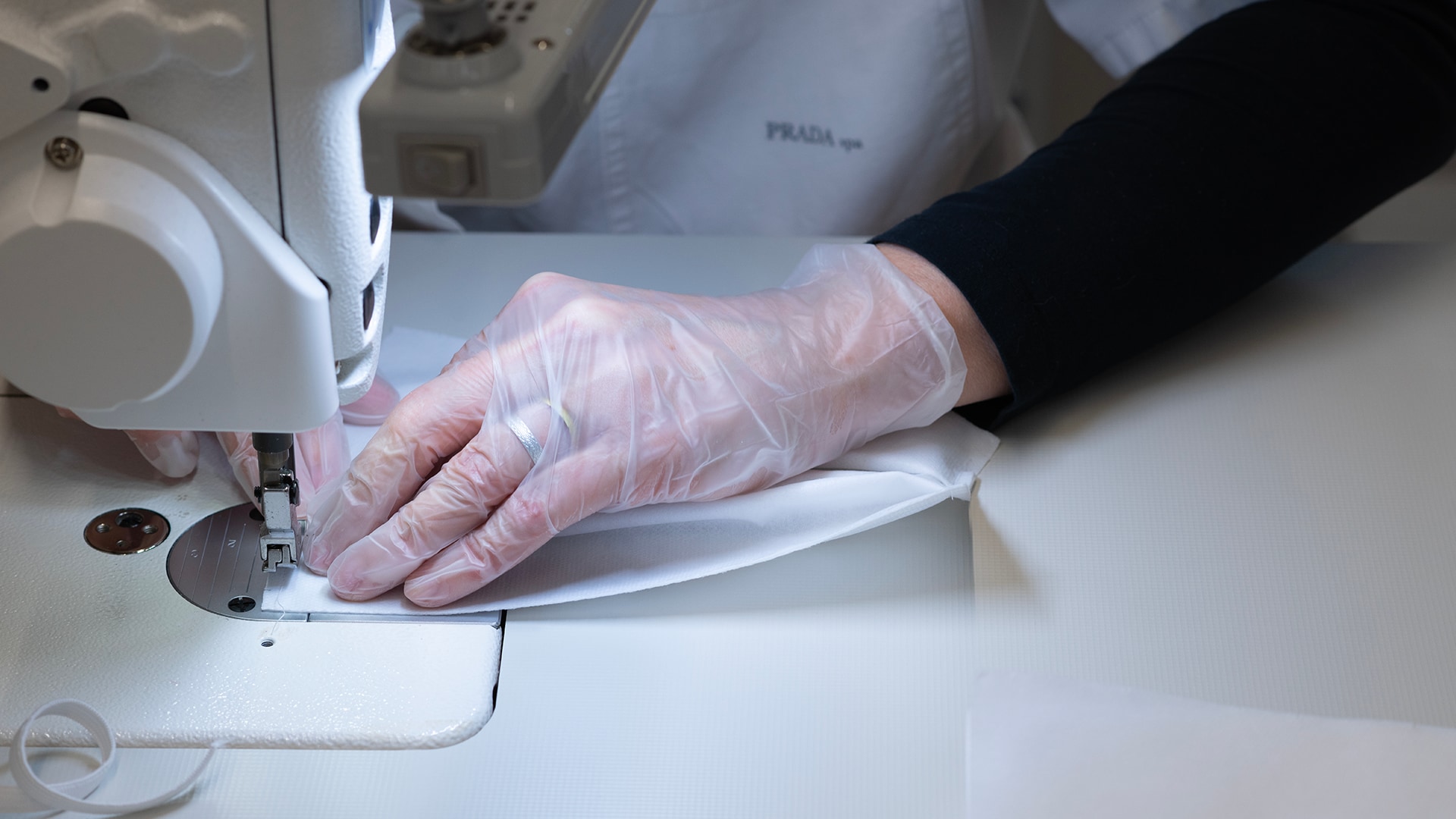 zdroj obrázkov: Prada
Po odoznení 2 mesačnej ťažkej situácie, po boji so zvládaním nárastu pozitívne testovaných a veľkého počtu mŕtvych v Taliansku, ktorá kulminovala nedávno, sa začal systém opatrení koncom mája 2020 uvoľňovať . Módny dom PRADA avizoval, že spustí svoju výrobu a privíta opäť svojich zamestnancov v novom bezpečnom prostredí v lokalite Toskánsko a s očakávaním do budúcnosti aj v ostatných regiónoch.
"V tejto ťažkej situácii sme zvažovali tak dátum otvorenia a spustenia výroby, ako aj bezpečný spôsob", vyjadril sa Patrizio Bertelli, výkonný riaditeľ spoločnosti Prada.
FENDI
Talianska luxusná módna značka Fendi zareagovala promtnou výzvou vytvoriť fond na podporu boja s korona vírusom, pričom nadácia CARLA FENDI FOUNDATION darovala 100 000 eur na podporu intenzívnej starostlivosti v Ríme – v Rome's Presidio Sanitario Columbus.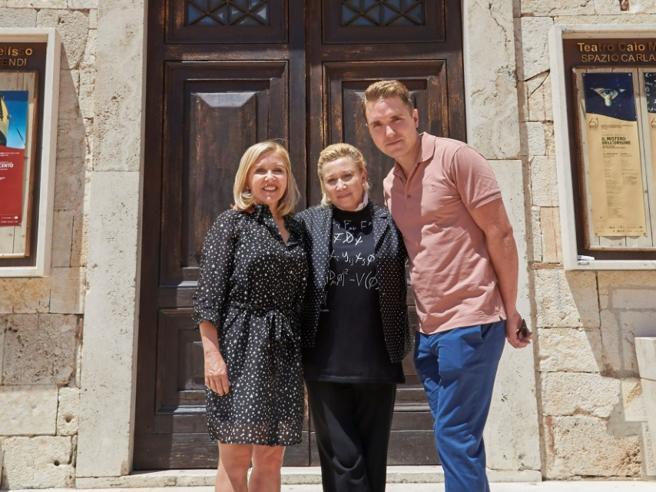 zdroj obrázku: roma.corriere. it
ERMANNO SCERVINO
Taliansky módny návrhár Ermanno Scervino pracujúci pod rovnomennou značkou zareagoval na vzniknutú situáciu výrobou potrebných rúšok tak, ako urobili aj ostatné značky. Ermanno Scervino je dizajnér pravidelne predvádzajúci svoje najnovšie kolekcie počas Milan Fashion Weeku v letnej aj v zimnej sezóne a na jeho prehliadkach bývajú pozvané slávne osobnosti.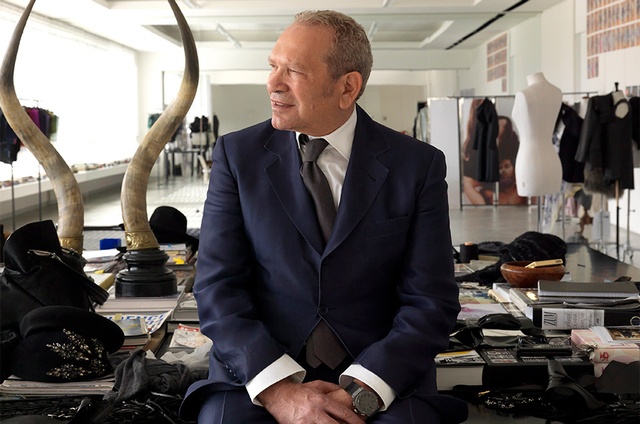 foto: © Massimo Listri/Ermanno Scervino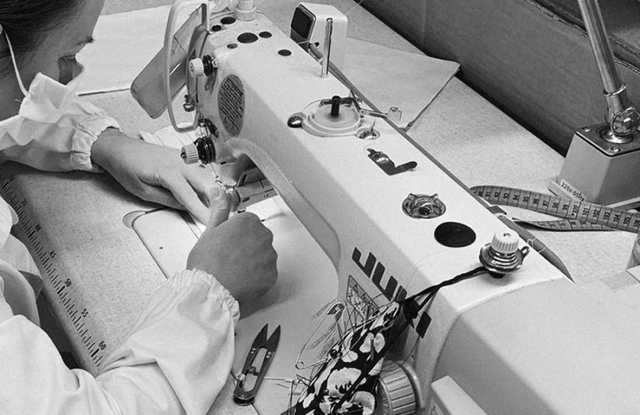 MEMENTO PANDÉMIE – MNOŽSTVO OBETÍ NA ŽIVOTOCH, R.I.P SERGIO ROSSI
Podľa TASR a portálu Aktuality sk sa uvádzajú nasledovné najnovšie informácie ohľadom situácie s korona vírusom v Taliansku:
Počet úmrtí spôsobený v Taliansku novým koronavírusom v marci a apríli tohto roku (2020) by mohol byť takmer o 19 000 vyšší ako oficiálne uvádzaných vyše 32 000 obetí, uviedla talianska národná agentúra pre sociálne zabezpečenie (INPS).
INPS ako najväčší inštitút sociálneho zabezpečenia a sociálnej starostlivosti v Taliansku vo svojej novej štúdii uviedol, že oficiálne údaje o úmrtiach v daných mesiacoch tohto roku nemožno považovať za spoľahlivé.
INPS uviedol, že počet úmrtí od marca do apríla v porovnaní s rovnakým obdobím minulých rokov na severe krajiny stúpol o 84 percent, zatiaľ čo v strednom Taliansku o 11 percent a na juhu o päť percent.
Zo štúdie vyplynulo, že v marci a apríli bolo v Taliansku zaevidovaných 156 429 zomrelých osôb, čo je o 46 909 viac ako priemerný počet úmrtí zaznamenaný v týchto dvoch mesiacoch v rokoch 2015-19.

Nárast počtu úmrtí pritom podľa INPS nebol spôsobený len epidémiou choroby COVID-19, ale aj s inými ochoreniami, pretože chorí často nedostali potrebnú zdravotnú starostlivosť, alebo ju ani nevyhľadali, keďže nemocnice boli ochromené pandémiou.
Počas tejto epidémie v Taliansku zomrelo v tejto nádhernej krajine veľa významných osobností. Medzi nimi taliansky architekt
GREGOTTI a
taliansky dizajnér topánok
SERGIO ROSSI
.
Pokračovanie v II. časti.
zdroj obrázkov: schutterstock, getty images, Vogue
Pre viac fotografií a videí – sledujte INSTAGRAM mya_mirell, kde v insta stories uvidíte moje zaujímavé módne videá. Taktiež FACEBOOK stránku blogu s názvom Mya Mirell Fashionista, ktorá je venovaná móde a Milan Fashion Weeku.
text: (c)Mya Mirell, Miroslava Vaňharová