Rozbora Couture – Richard Rozbora – Vienna Fashion Week, 16. september 2018
RICHARD ROZBORA
Talentovaný slovenský návrhár Richard Rozbora, BA (Hons), tvoriaci pod značkou ROZBORA COUTURE, je uznávaný špičkový profesionál v módnom biznise s medzinárodným kreditom a skúsenosťami. Vo svete módy pôsobí od roku 1994, na slovenskej módnej scéne je taktiež etablovaný a pravidelne predvádza svoje kolekcie na Bratislavských módnych dňoch (17. októbra 2017 predviedol rekordných 20 modelov, čo malo pozitívne ohlasy) a na módnom podujatí Fashion Live a už po šiesty krát sa predstavil aj počas prestížneho Vienna Fashion Weeku.
A ako to celé vyzeralo pred prehliadkou, samotné prípravy a make-up modeliek sa poďte pozrieť spolu so mnou. Video zo zákulisia príprav tejto prehliadky si môžete pozrieť na facebook stránke blogu s názvom Mya Mirell Fashionista a mojom youtube kanáli mya mirell tu: https://www.youtube.com/watch?v=nepDCoItBrY
MAKE UP a HAIR STYLE MODELIEK
Opýtala som sa Richarda niekoľko otázok ku kolekcii pre rok 2019 a tu sú jeho odpovede.
Richard v akom štýle sa niesla vizáž, make-up a hairstyle modeliek pre tvoju prehliadku kolekcie pre rok 2019?
Zvolil som si nežnú, krehkú, až ľadovú, trochu futuristickú krásu vizáže modeliek s metalickým efektom, ktorú podľa mojich predstáv dokonale zrealizovala make up artistka Romanka Slezáková. Okolie očí bolo lemované ružovými tieňmi s lesklým efektom – pinkhiglighter a pery boli nalíčené holografickým rúžom opäť s kovovým,metalickým leskom.
Dievčatá som videla pri príprave a musím povedať, že tento celkový look a make-up ma veľmi zaujal hneď z príchodu, rovnako aj celá práca make-up artistky. Ostatne, ani som sa netrafila vedľa, keď som došla v podobne fuchsiovo ladených šatách a očných tieňoch. Ako sa hovorí nič nie je náhoda.
Dievčatá boli takto pekne rozžiarené make-upom aj samotným netrpezlivým nadšením zo začiatku prehliadky. Ešte absolvovali zopár rozhovorov pre média, krátko zapózovali a šup šup na mólo.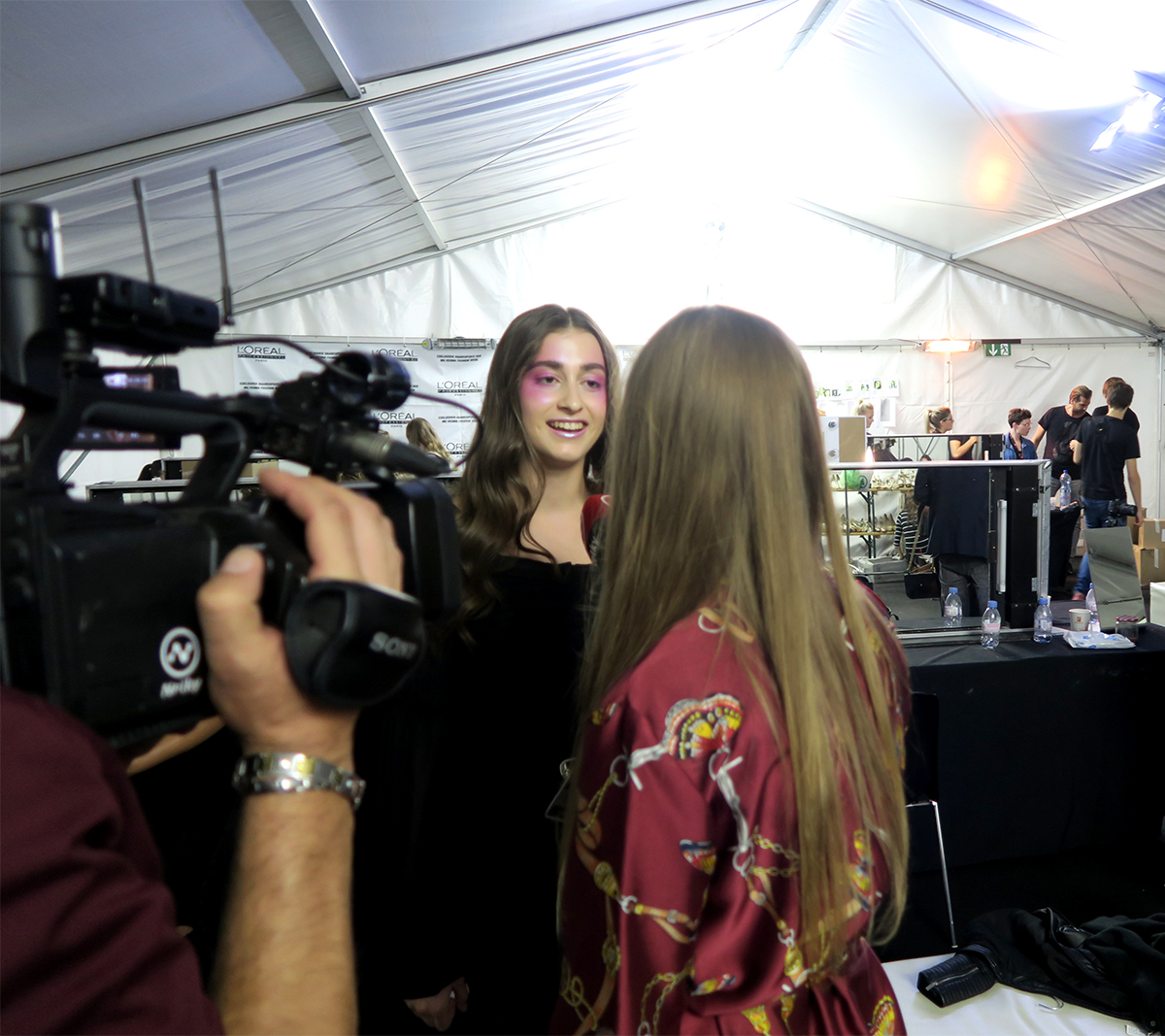 Make-up artistka Romana Slezáková so svojím teamom odviedla vynikajúcu prácu, modelky mali jemne zvlnené vlasy a vyzerali nádherne.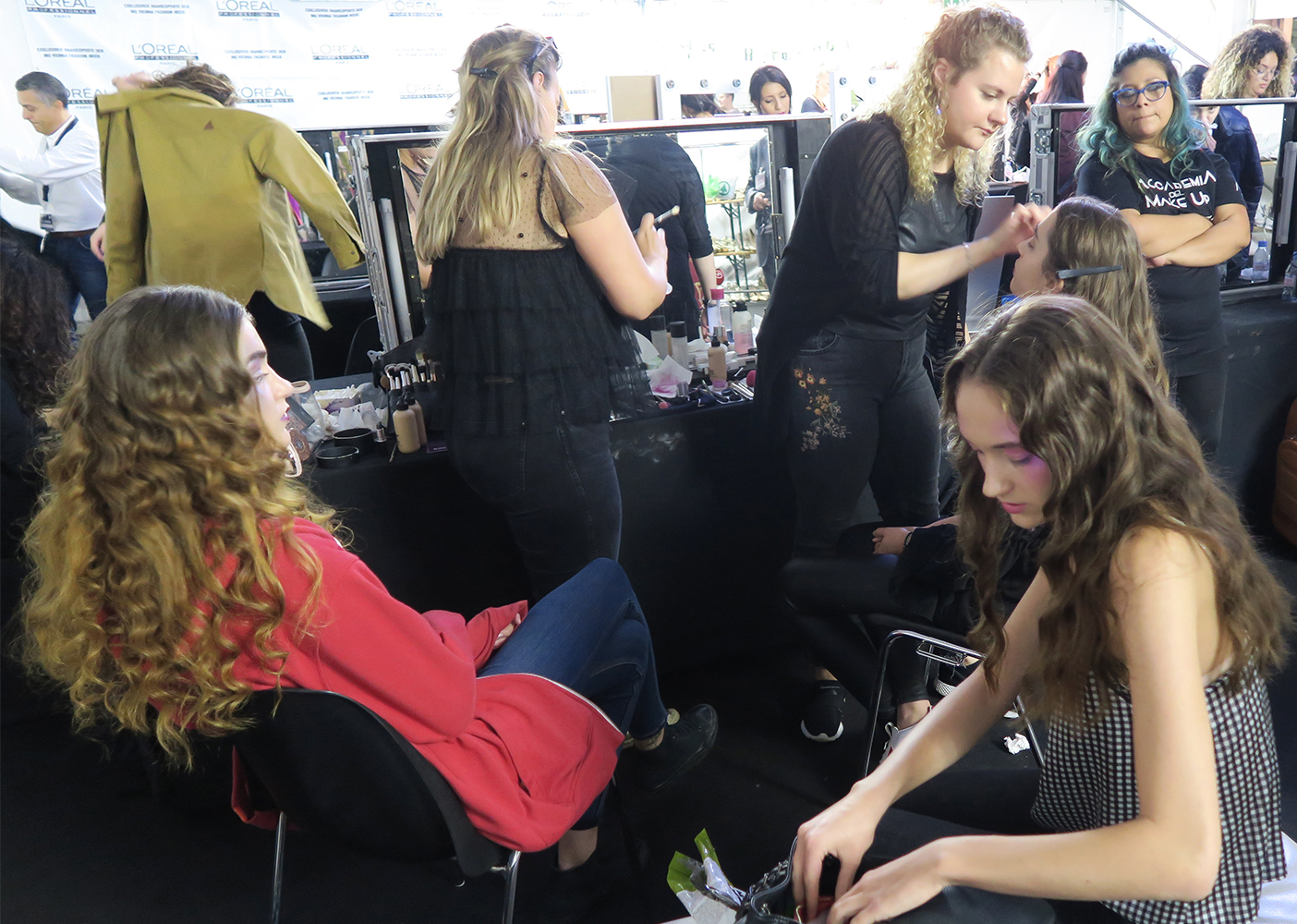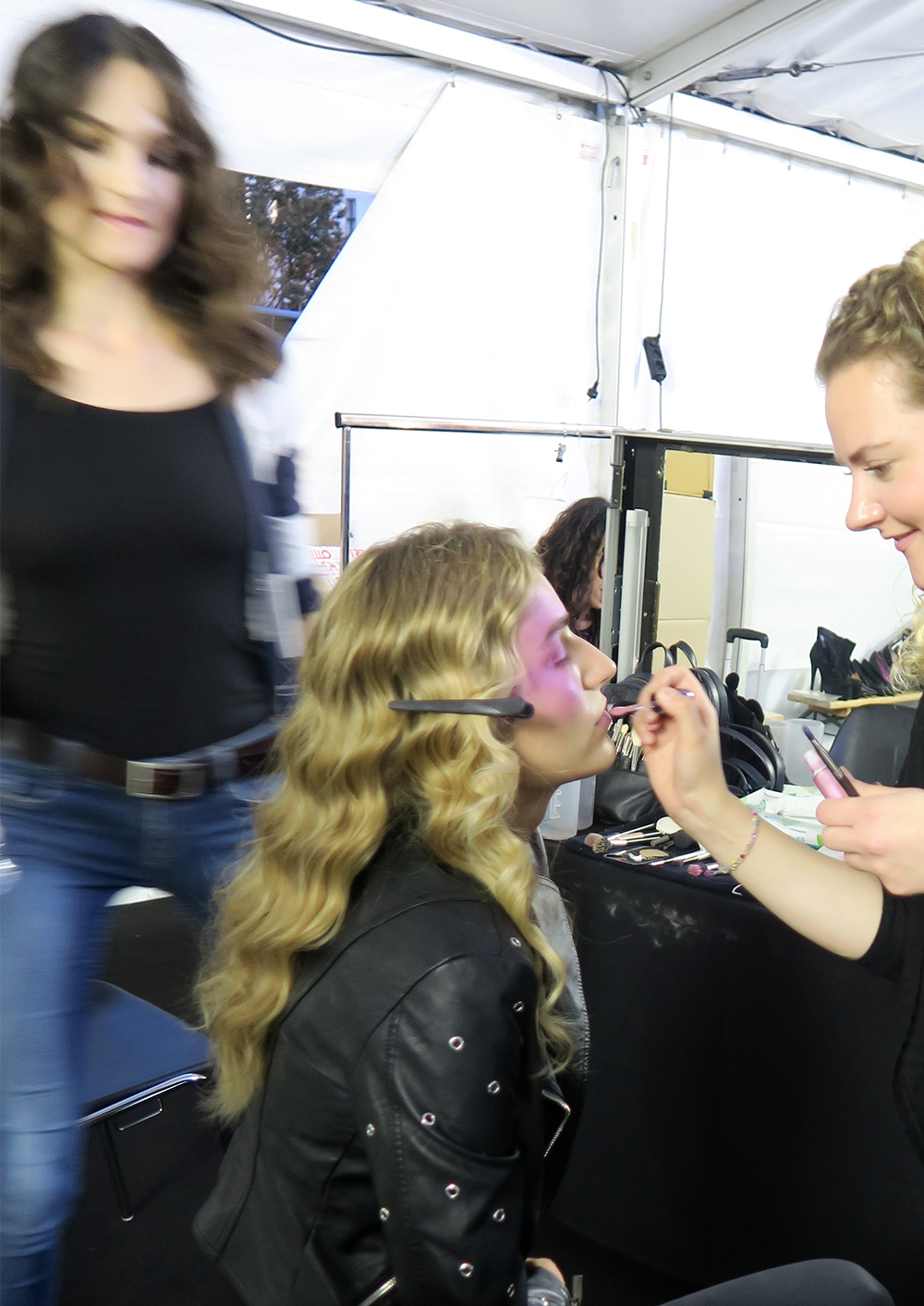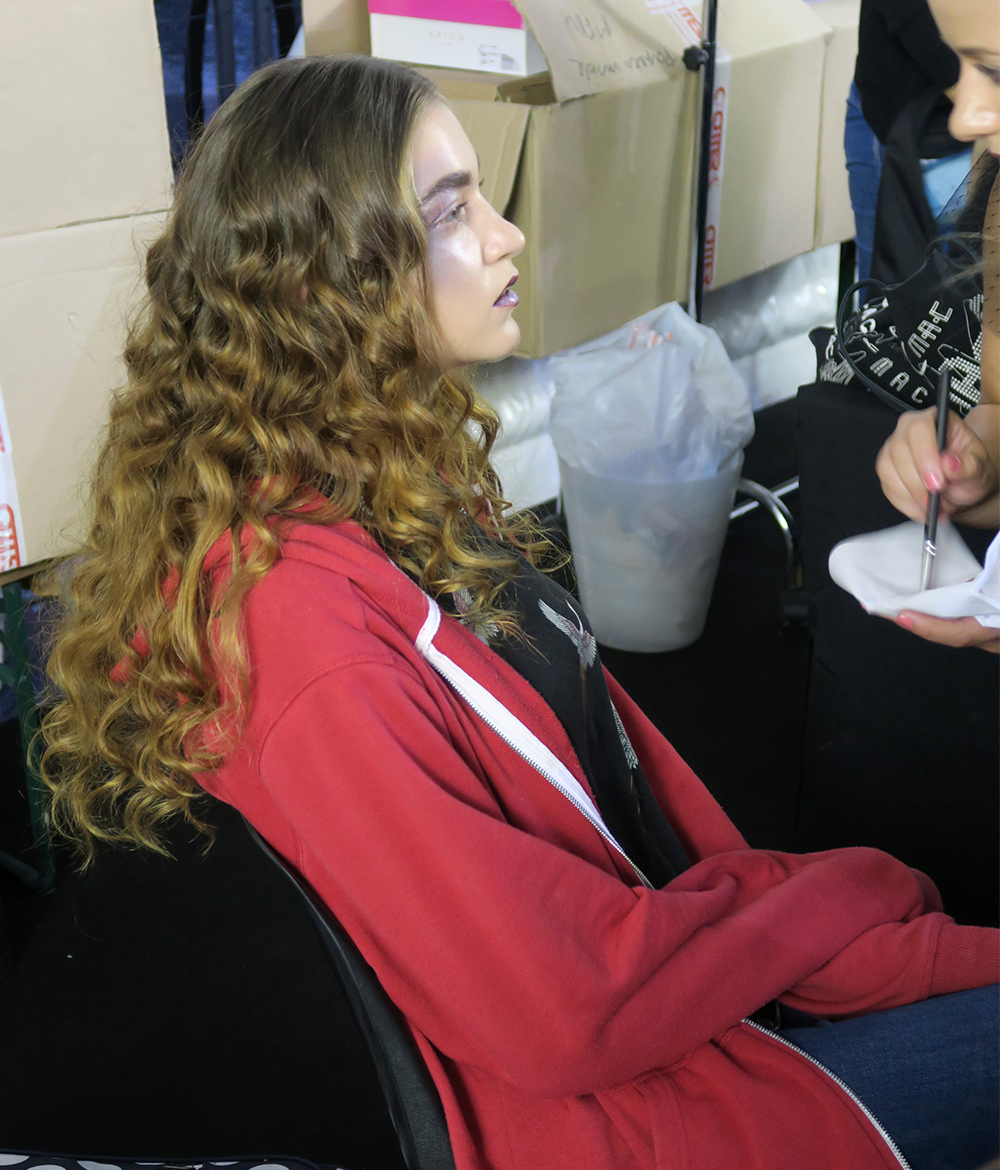 Kolekciu som videla pred začatím módnej prehliadky iba letmo, nie na modelkách a tak ma zaujímali aj najsledujúce informácie.
Richard prezraď, v akom štýle si poňal svoju najnovšiu kolekciu pre rok 2019? Čím sa vyznačuje?
Do aktuálnej kolekcie som zaradil pánsky štýl, ktorý sa vyznačuje čistými líniami, s dôrazom na detail a osviežil som ho kvetinovými motívmi a nežnými romantickými prvkami. Kolekcia pre rok 2019 je opäť veľmi nositeľná , vytvorená z exkluzívnych materiálov, v štýle mestskej a biznis módy.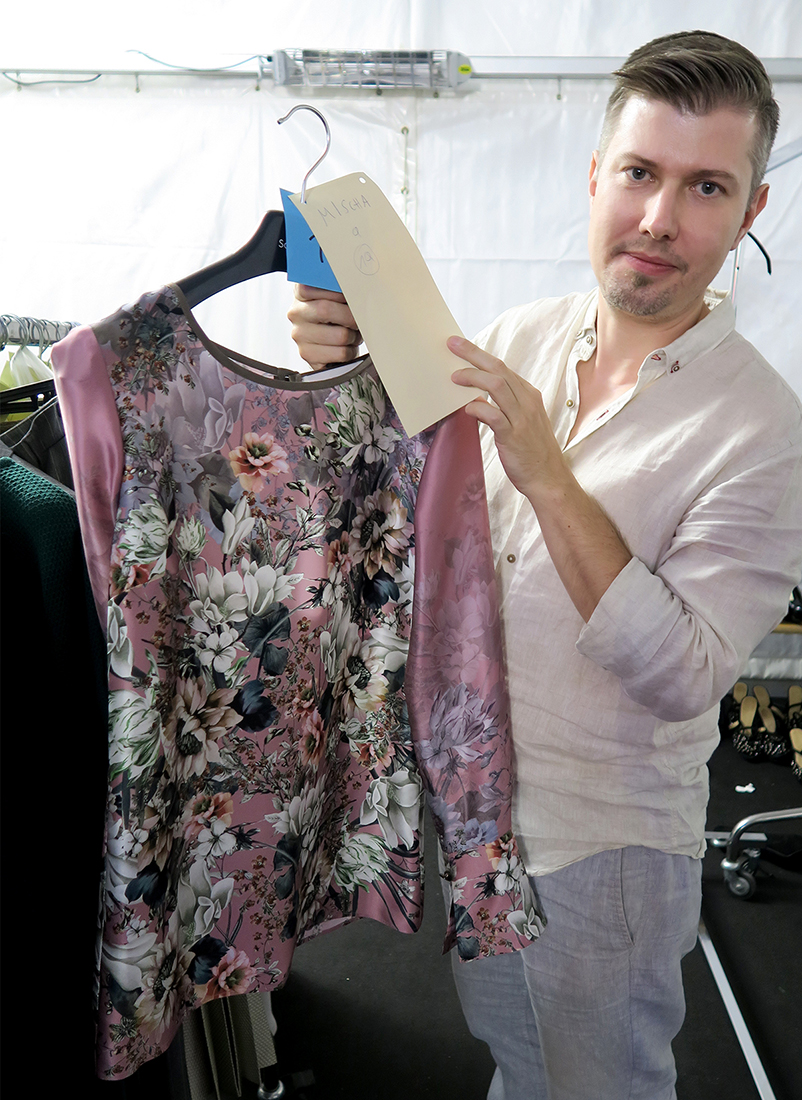 No milé dámy, máme sa opäť na čo tešiť, ostatne pozrite si celú kolekciu v nasledujúcom článku, kde nájdete aj link na video z prehliadky.
Čo bolo tvojím mottom? Kde si čerpal tentokrát inšpiráciu?
Už dlhé roky prihliadam na to, aby móda bola ekologická, vyberám materiály, ktoré nie sú toxické, nezanášajú planétu. My, ako rodinná značka, nevyužívame detskú ani lacnú pracovnú silu, ale podporujeme slovenských a českých výrobcov. Mojím mottom, či víziou, je módu spomaliť a vytvárať kolekcie s filozofiou Slow Fashion tak, aby zotrvali dlho v šatníkoch žien, boli nositeľné, komfortné s možnosťou ich vzájomneho kombinovania aj počas niekoľkých sezón. Vyšší zmysel módy, alebo jej pridanú hodnotu, vnímame vo filozofii Slow Fashion.
Inšpirácia? Keďže sa tejto profesii kontinuálne venujem naozaj dlhé roky, inšpirácia prichádza akosi sama. Niekedy ma inšpirujú k tvorbe samotné látky, ale aj cestovanie. Mám rád módu od 20. až po 60. roky, keď bola móda veľmi kvalitná. Snažím sa niektoré retroštýly pretaviť do dnešnej doby tak, aby boli ženy moderné, vkusné a najviac ma baví vytvárať také kolekcie, aby ženy boli dobre oblečené počas celého roka 🙂
Pre koho je táto kolekcia určená?
Modely z kolekcie sú ako stvorené ozvláštniť aj všedné dni, sú žensky nežné, s patričnou dávkou elegancie, veľmi sofistikované a dôkladne spracované. Profesionálne prepracované modely a vysoká kvalita použitých materiálov, s dôrazom na detaily, sú ako stvorené pre moderné, aktívne, sebavedomé ženy, ktoré uprednostňujú nenápadný luxus. Modely sú určené ženám každej vekovej kategórie a každá si v kolekcii pre rok 2019 si môže nájsť ten svoj vysnívaný kúsok do svojho šatníka. V jednotlivých modeloch sa bude nositeľka cítiť veľmi príjemne a komfortne. jednotlivé modely z aktuálnej kolekcie, ktorú som vytvoril, patrí k tým častiam dámskeho odevu, ktorý sa v šatníku udrží veľmi dlho.
Richard aké farby sú príznačné pre túto kolekciu 2019 ? A aké materiály, textúry, potlače si tentokrát zvolil?
Rád používam najkvalitnejšie materiály od prémiových európskych výrobcov, a tie som zaradil aj do najnovšej kolekcie pre rok 2019. Sú to hodváb, mäkká vlna, bavlnený zamat, brokát, inovatívne a obľúbené úplety zo 100% merino vlny, elastický satén a ďalšie. Najradšej používam prírodné, nadčasové a dlhodobo udržateľné materiály, ktorých výroba je šetrná voči životnému prostrediu a sú biologicky degradovateľné. Vo svojej tvorbe uprednostňujem jednofarebné látky, kde mám absolútnu voľnosť, aby vynikol dizajn, strih a celkové profesionálne spracovanie. Vzorované látky vyberám len doplnkovo. ….a čo sa týka farebného zloženia, prevládajú žiadané luxusné odtiene farieb, napríklad šedá, béžová, nugátová, off white, zlatá, staroružová, ale aj svieža tyrkysová a tajomná smaragdová. ….a nechýba ani večná čierna.
Ešte na zaujímajú strihy, možeš povedať niečo na túto tému?
Na každom strihu si dávam veľmi záležať, musí byť perfektne pripravený, aby aj jednotlivé modely, ušité podľa vynikajúceho strihu, sedeli dámam ako uliate. Uprednostňujem čisté línie strihov, ale to neznamená, že je to jednoduchá príprava. Práve tu musí byť spracovanie perfektné, lebo pri takomto strihu, pokiaľ nie je urobený precízne, je vidieť každú chybičku na hotovom modeli. Okrem toho každá látka pri strihovom spracovaní sa správa ináč a musím aj tento fakt zohľadňovať pri strihovom riešení každého jednotlivého modelu. Ľudia, ktorí nosia moje modely, alebo sledujú moju módnu tvorbu už dlhé roky, mi opätovne dávajú veľký kompliment práve za strihy nohavíc, blúzok, sák, šiat, kabátov, či sukní, ktoré mám zaradené aj v najnovšej kolekcii pre rok 2019 .
RICHARD ROZBORA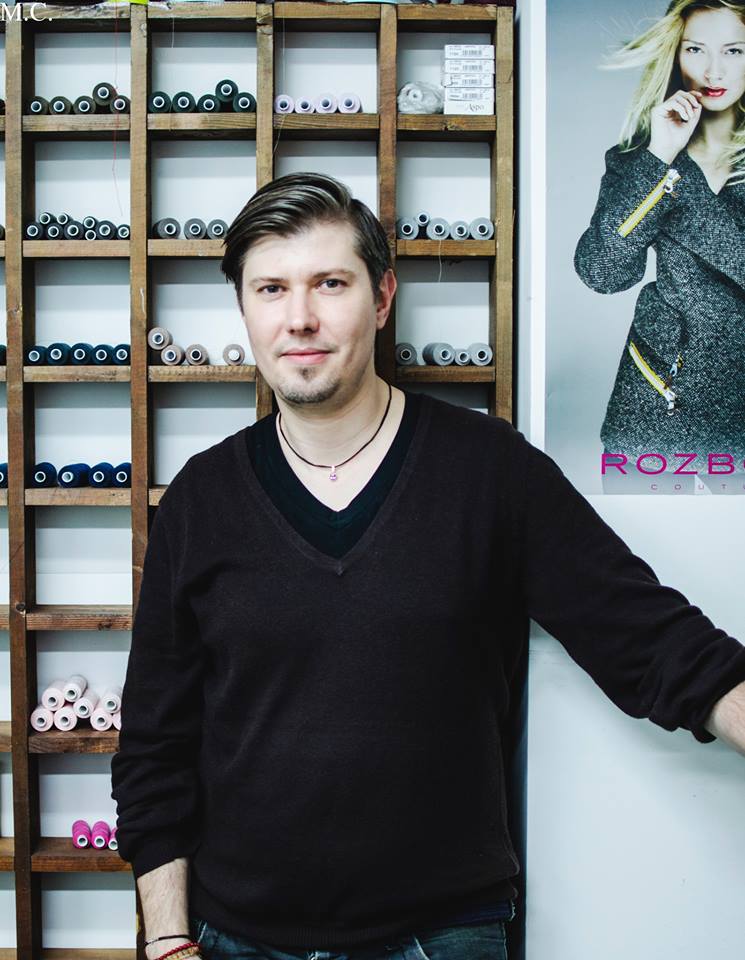 Richard Rozbora je zaradený do svetovej databázy módnych dizajnérov a na svojej ceste stavil na najsilnejšiu stránku odborného rastu, vzdelanie. Študoval na preslávenej vysokej škole módneho návrhárstva v Londýne University of the Arts London Central St. Martin´s (okrem štúdií v Prahe, Bratislava e na Cypre), až pokým sa nerozhodol definitívne zakotviť na Slovensku. Návrhárov talent, vedomosti, pracovitosť a skúsenosti usmerňovali významní odborníci svetového mena z módnej praxe, napríklad Gianfranco Ferré alebo Howard Tangye, ilustrátor pre módny dom Dior. Stretával sa aj s anglickou návrhárkou Stella McCartney (dcéra člena legendárnej skupiny Beatles), zosnulým Alexanderom McQueenom a ďalšími osobnosťami z módneho biznisu. Spolu so zahraničnými návrhármi sa zúčastnil na medzinárodnom workshope v ateliéri Vivienne Westwood. Módny návrhár Richard Rozbora získal viacero prestížnych medzinárodných ocenení a pracovných ponúk v zahraničí.
ROZBORA COUTURE – RODINNÁ ZNAČKA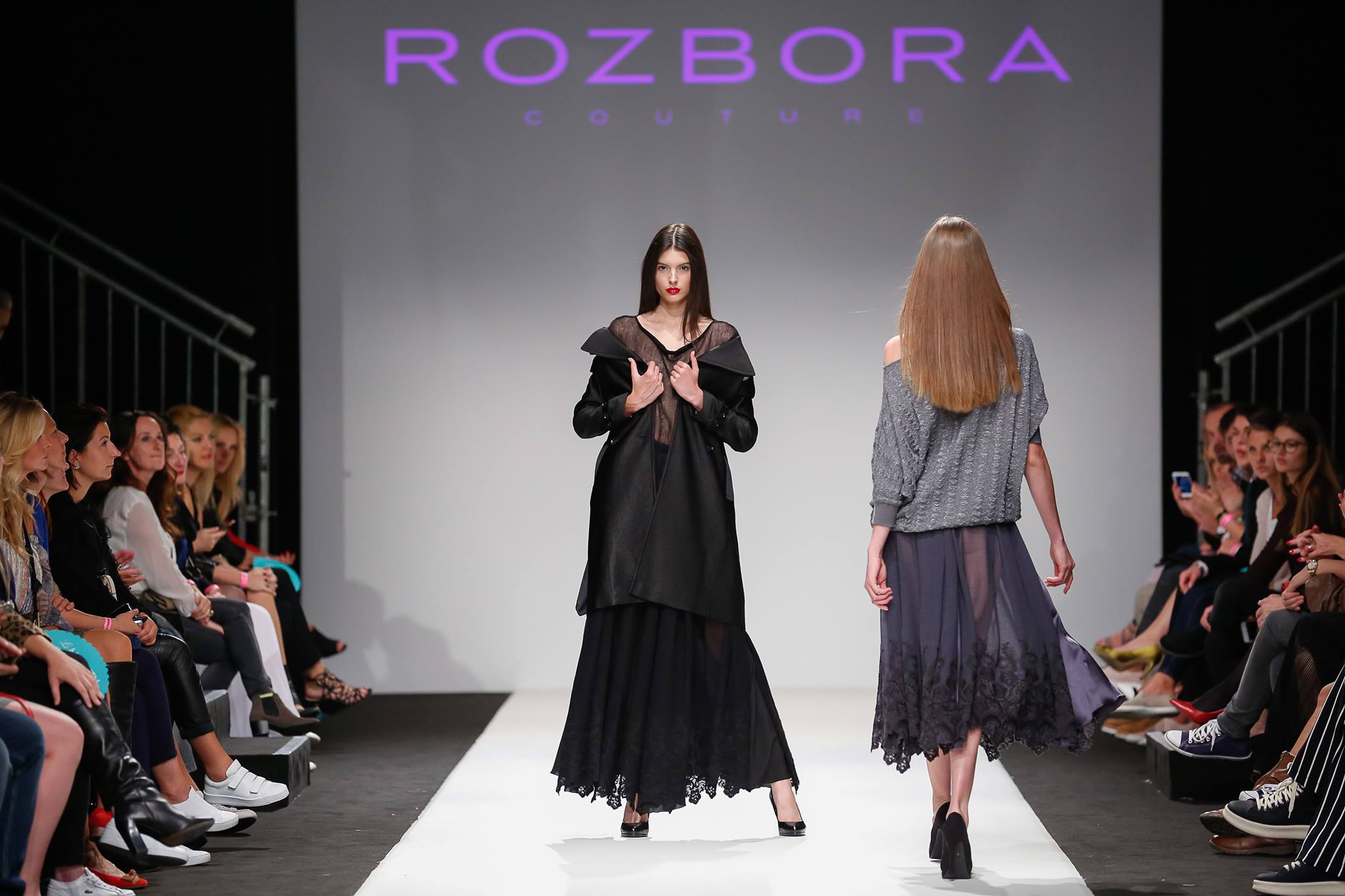 Módna značka ROZBORA COUTURE v sebe snúbi súčasne krásu, vysokú kvalitu, komfort, jedinečný dizajn v duchu spomínaného Slow Fashion. Uprednostňuje jemnú, zmyselnú a kultivovanú eleganciu. Aj kvôli diplomu, ktorý vlastní dizajnér z prestížnej celosvetovo uznávanej univerzity módy Central St.Martin´s, je módna značka zaradená do databázy svetových dizajnérov.
Módny návrhár Richard Rozbora sa vo svojich návrhoch zameriava predovšetkým na modernú pracujúcu ženu, biznis look a spoločenský look denného oblečenia. Vytvára podmanivé dámske oblečenie v mestskom štýle. Jeho limitované série sú charakteristické vysokou kvalitou spracovania, jemnou extravaganciou a sú vhodné na každodenné nosenie. Módne kolekcie nesú punc originality a elegancie, sú vytvorené s nevšednou krajčírskou precíznosťou, dizajnérskym umením, čistotou strihového prevedenia a s architektonickým citom pre detail. Predstavujú pritom štýl , ktorý nevtieravo podčiarkuje a zvýrazňuje ženskú krásu.
Richard Rozbora a značka Rozbora Couture v móde uplatňuje etické princípy, čestnosť, poctivosť, férovosť a ekologický prístup a vytvára elegantnú "slušnú" módu s vysokou dávkou profesionality. Je známy perfekcionista a svoje modely šije od č. 38 a vyššie. Nie je zástancom prehnanej štíhlosti, ale ani obéznosti. Z nadčasových módnych klenotov, akými sú hodvábne blúzky, sukne, nohavice, saká, bundičky, šaty, kostýmy, plášte, kabáty, či modely na spoločenské príležitosti, si zákazníčky môžu vybrať z tabuľkových veľkostí od č. 36 – po č. 42 práve ten svoj vysnívaný jedinečný model.
Svoje návrhy tvorí Richard Rozbora vo vlastnom ateliéri v Bratislave. Stále aktuálnu kolekciu pre rok 2018 (čítaj predchádzajúce články na blogu myamirell.com: Fashion Live – Slovak fashion event, day I., a článok Richard Rozbora – Rozbora Couture fashion show, kolekcia 2018) si môžu potenciálni zákazníci zakúpiť v Bratislave, v Prahe a vo Viedni. Všetky informácie a novinky sa dozviete na facebook stránke Rozbora Couture : https://www.facebook.com/RozboraCouture/