Luxusný módny dom Valentino sa toto leto predstaví na Španielskych schodoch v Ríme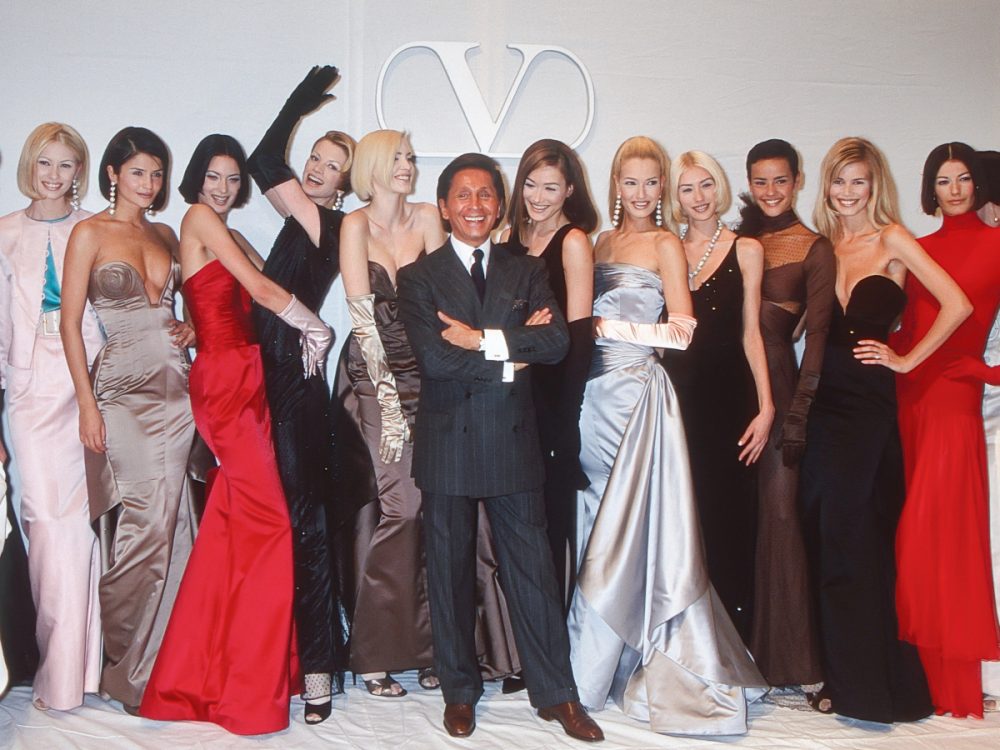 Legendárny taliansky módny návrhár Valentino Garavani, celosvetovo známy jednoducho ako Valentino, oslávil 11. mája 2022 svoje 90. narodeniny. Z úcty k okamihu, keď žijeme s hroznou vojnou, sa Valentino rozhodol osláviť ich veľmi tichým a pokojným spôsobom len s rodinou a priateľmi. Oslavu usporiadal formou súkromnej párty vo svojej vile na Via Appia Antica v Ríme.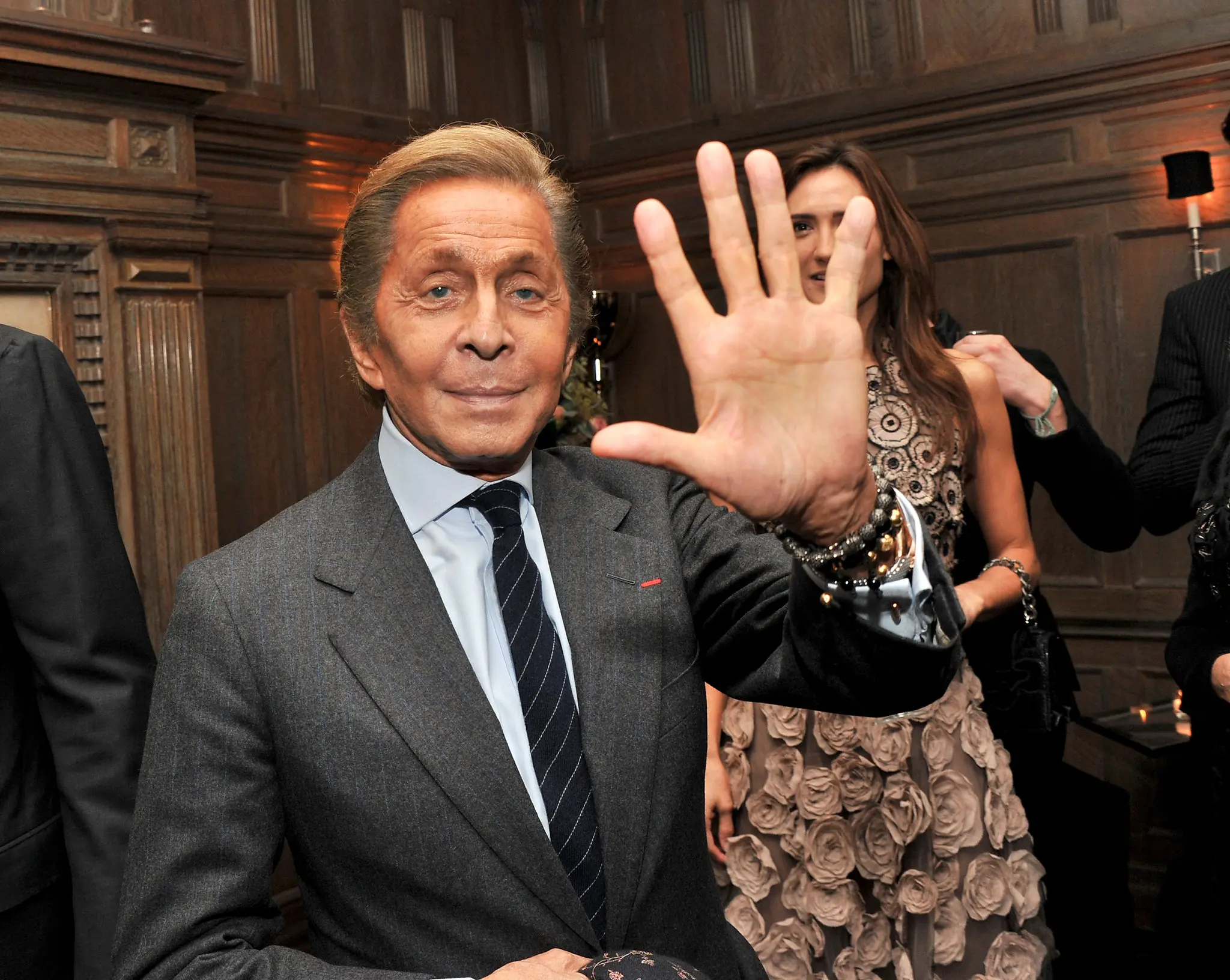 Okázalý dizajnér, ktorý sa narodil v roku 1932 vo Voghere v talianskom regióne Lombardia. Značku a spoločnosť Valentino, ktorá sa stala svetovo renomovanou známkou talianskej kvality a prestíže, založil v Ríme v roku 1959 po ukončení formálneho školenia v Paríži.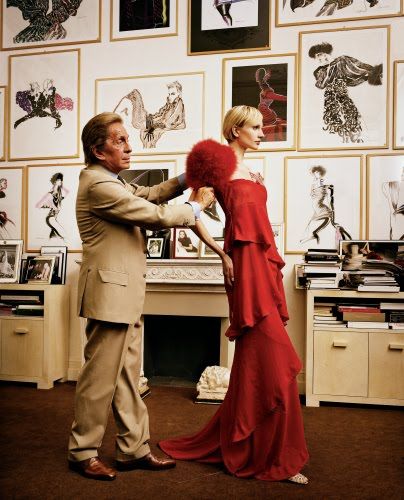 Jeho pomocníkom a partnerom, profesionálnym aj v romantickej rovine sa stal študent architektúry Giancarlo Giammetti, s ktorým sa zoznámil v roku 1960. Spoločne vybudovali celosvetovo uznávanú značku, ktorá sa preslávila svojimi povestnými "valentinskými červenými šatami".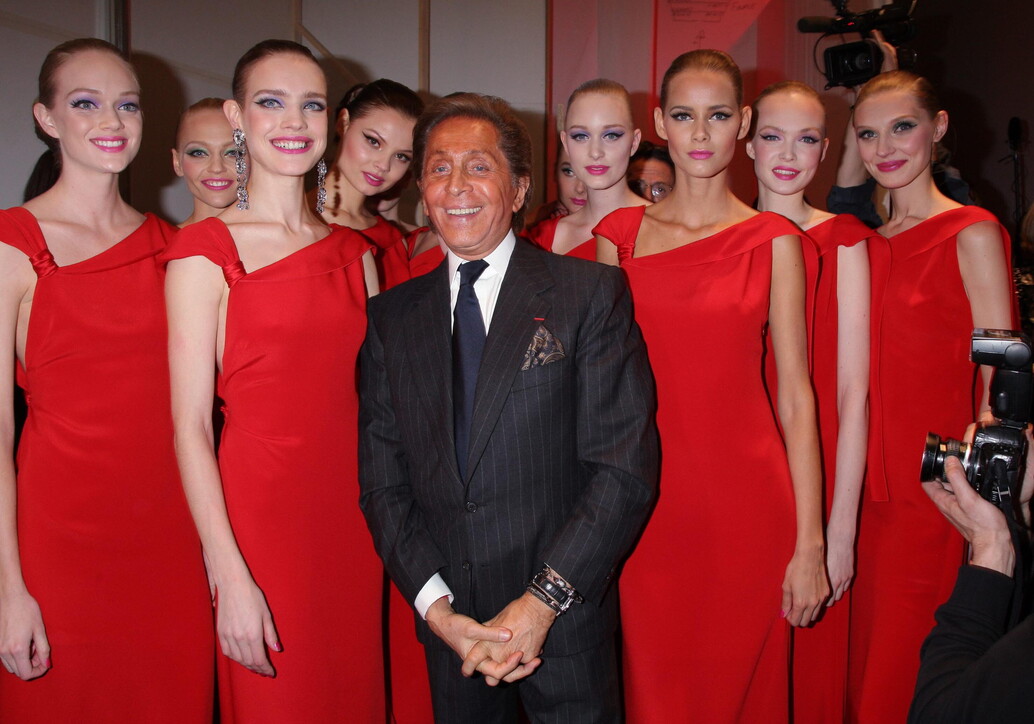 VALENTINO GARAVANI – "MYSLÍM, ŽE SOM SA NARODIL AKO KRAJČÍR"
"Myslím, že som sa narodil ako krajčír… Nič iné som v živote nedokázal". Valentino Garavani, posledný cisár módy, ktorý má dnes 90 rokov, to zopakoval v mnohých rozhovoroch. Keď mal 17 rokov, presvedčil svojich rodičov, aby ho nechali opustiť rodnú Vogheru, ktorá mu teraz do 5. júna venuje výstavu a aby ho nechali odísť do Paríža študovať na Chambre Syndacale.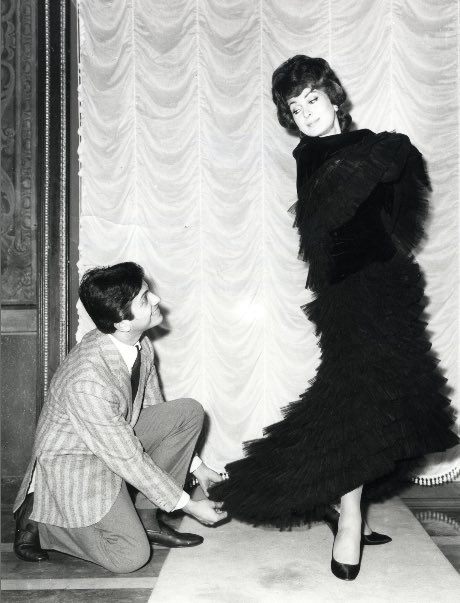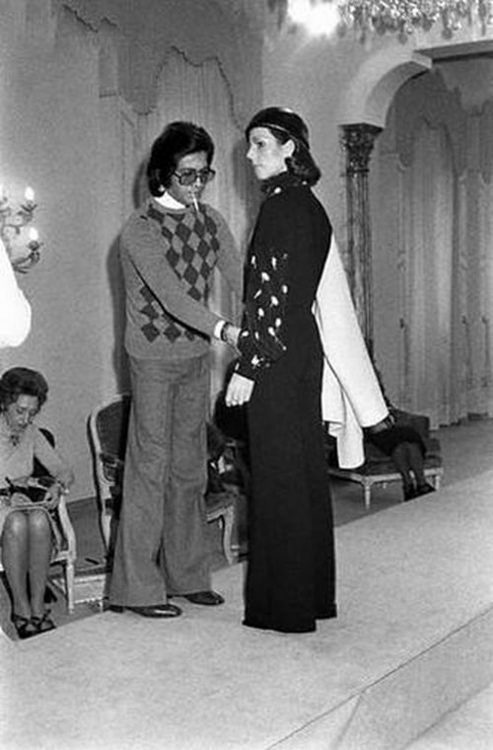 Ak sa však Valentino Garavani stal Valentinom, vďačí za to z veľkej časti Giancarlovi Giammettimu – priateľovi, spoločníkovi a partnerovi, ktorý bol vždy a je až po súčasnosť po jeho boku. "Dal mi slobodu a bezpečnosť. Nemyslím si, že bez neho by Maison bol rovnaký", často hovorieval Valentino. Stretli sa v Café de Paris na Via Veneto, 31. júla 1960. Valentino mal 28, Giammetti 22. Odvtedy až doteraz sú nerozluční partneri. Ten, kto vie najlepšie vyrozprávať príbeh tvorcu, je určite on.
Na otázku, čo si pamätá z ich prvého stretnutia sa Valentino vyslovil:
"Rozprával sa so mnou o móde… Študoval som architektúru a nič som o nej nevedel. Potom sa ma spýtal, či rozumiem po francúzsky. Odpovedal som, že áno, ale keď so mnou prehovoril, mlčal som, pretože francúzština, ktorú vyučovali kňazi v Ríme, bola celkom iná ako francúzština, ktorú vyučovali v Paríži. Trochu sklamaný povedal, Tak to nehovor. Odvetil som: Myslel som, že áno. Tak mi povedal, že odvtedy sa budeme spolu rozprávať len po francúzsky, aby som sa to naučil. A to robíme dodnes".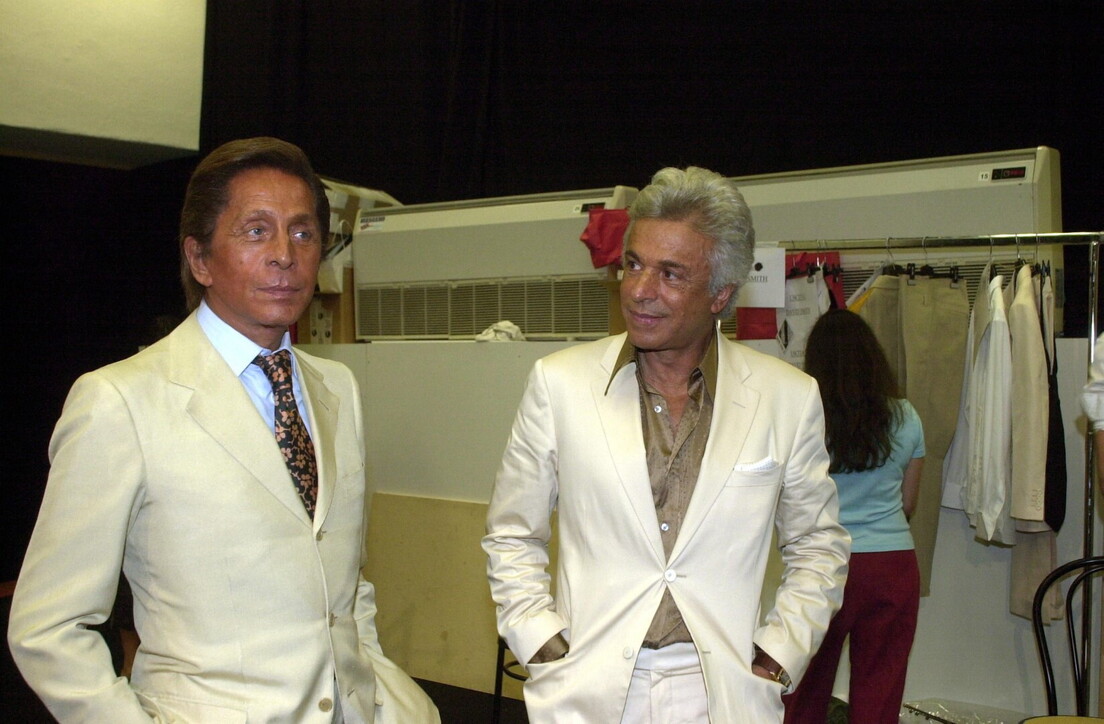 Valentino a Giancarlo Giammetti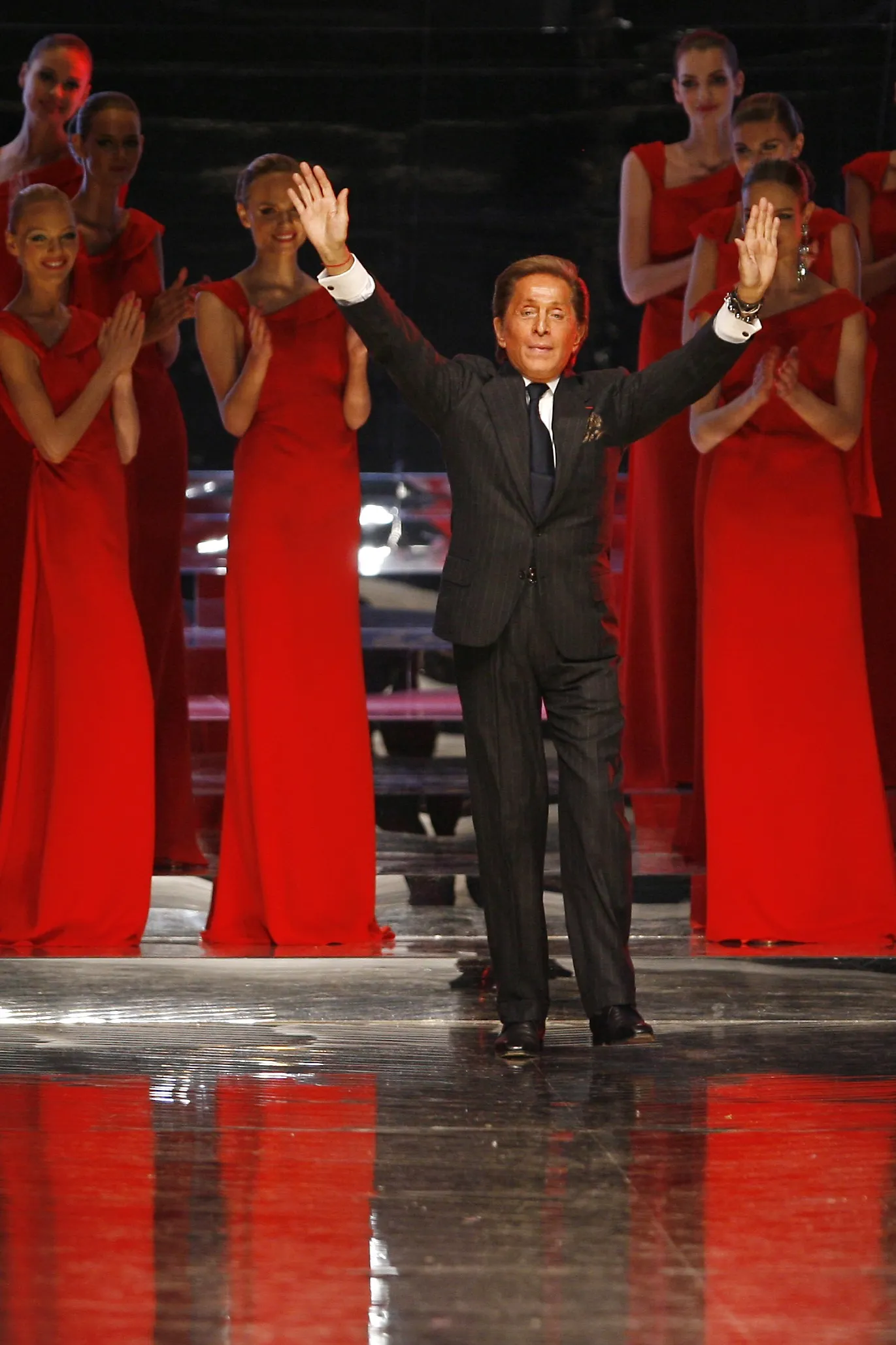 POLOVICA 60-TYCH ROKOV – VALENTINO SLÁVNY A OBĽÚBENÝ COUTURIER AJ U JACQUELINE KENNEDY, ELISABETH TAYLOR, AUDREY HEPBURN
Na začiatku Valentinovej kariéry, ako sa dizajnér vyjadril v mnohých rozhovoroch, nechýbala odvaha, energia, vízia a chuť uspieť, ale aj zabávať sa. Pracoval aj na iných miestach, Via Condotti a Via Gregoriana. Neskôr v Palazzo Mignanelli, kde mala značka Valentino prenajaté jedno poschodie, neskôr dve a potom všetky. Písal sa rok 1968, rok slávnej bielej kolekcie, vďaka ktorej sa Valentino stal slávnym a obľúbeným couturierom.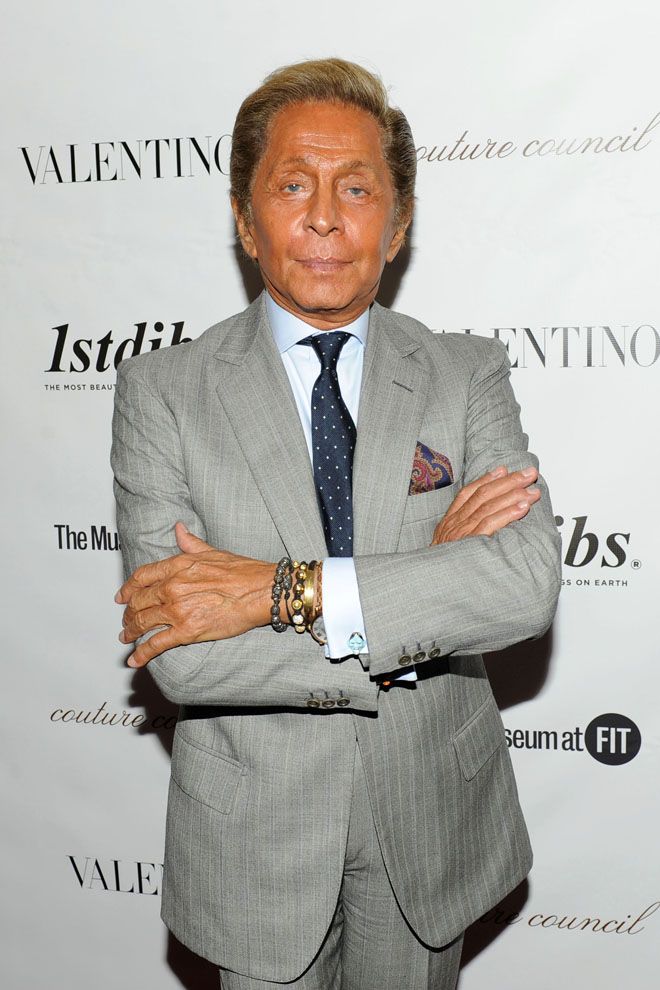 V polovici 60-tych rokov boli Valentinove výtvory obľúbené u niektorých z najznámejších svetových celebrít, vrátane Jacqueline Kennedy, herečiek Elizabeth Taylor, Audrey Hepburn, Sophia Loren i mladších herečiek Anne Hathaway.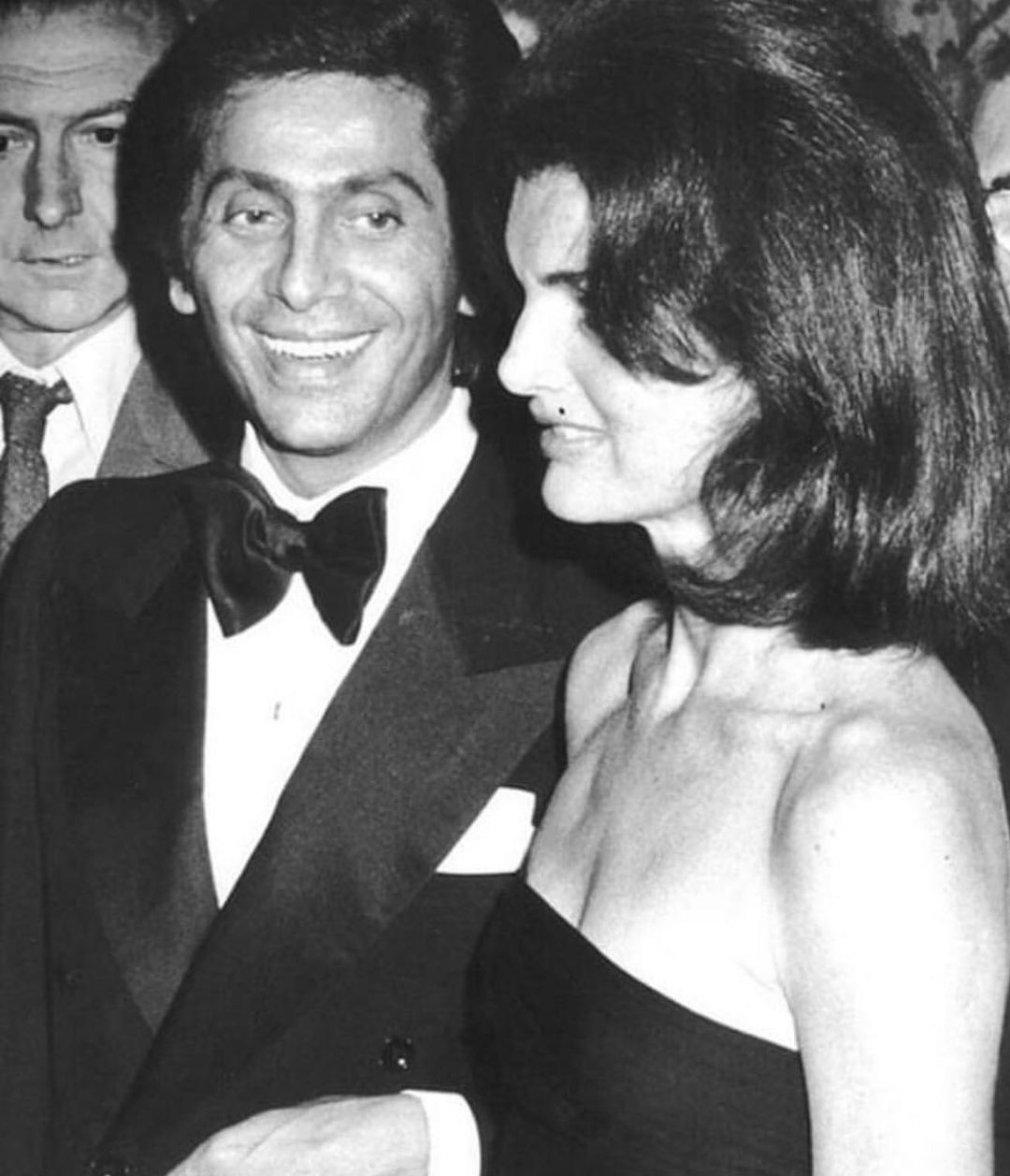 Slávna Jacqueline Kennedyová alebo "Jackie" Lee Onassisová ako sa prvá dáma spojených štátov v 60-tych rokoch nazývala, sa vydávala druhýkrát v šatách z dielne Valentino.
Jej vášeň pre módnu značku Valentino zahorela potom, ako dizajnér predstavil v roku 1964 svoju prú kolekciu Couture módy v Amerike, New Yorku, v hoteli Waldorf Astoria pre bohaté Američanky a hollywoodske hviezdy. Jacqueline sa však tejto šou nemohla zúčastniť, no Valentino zaobstaral pre prvú dámu Ameriky doslova domácu šou. Poslal jej modely, modelku a asistenta, na základe čoho si Jackie vybrala šesť modelov v čiernej aj bielej a jej vášeň pre módu talianskeho dizajnéra bola spečatená.
V roku 1968 vyšla dizajnérova preslávená "biela kolekcia", ktorej súčasťou boli aj "malé biele" čipkové šaty. Tie sa práve stali legendárnymi šatami, ktoré dizajnér daroval slávnej Jackie na svadbu s miliardárom Aristotelom Onassisom, čo ho raketovo posunulo vpred k svetovej dizajnérskej elite.
Valentinove exkluzívne modely, decentné, sofistikované a v tom čase formované s čistým aristokratickým šarmom sa zapáčili čoskoro bohatej smotánke z celého sveta a hollywoodskym hviezdam. Ako prvá si jeho modely zamilovala slávna Elizabeth Taylor, ktorá sa v Ríme vyskytovala kvôli filmu Kleopatra. Akonáhle Liz, dáma stvorená pre plátno s vášňou pre módu, objavila modely vtedajšieho dizajnéra, stala sa jeho vernou fanúšičkou, zákazníčkou a priateľkou. S róbou na slávnostnú premiéru filmu od Valentina , nemohla dizajnérovi urobiť lepšiu reklamu a okamžite mu zaručila príliv nových módou nadšených boháčiek zo zámoria, ktoré si taktiež jeho modely zamilovali. Valentino tak prerazil hranice Talianska a stal sa čoskoro svetovo uznávaným dizajnérom a známkou talianskeho decentného šarmu.
Jeho zákazníčky boli bohaté dámy, módne editorky ako editorka amerického Vogue Consuelo Crespi , herečky a slávne dámy sveta ako Jackeline Kennedy Onassis a mnoho ďalších stále pribúdajúcich fanúšičiek značky Valentino .
V polovici 60. rokov sa teda značka Valentino stala vyhľadávanou módou krásnych, úspešných a bohatých žien, celebrít z celého sveta a značkou kvality a prestíže. Vlastniť model z dielne Valentino bolo titulom do vyššej spoločnosti a reprezentáciou kvalitného talianskeho luxusu.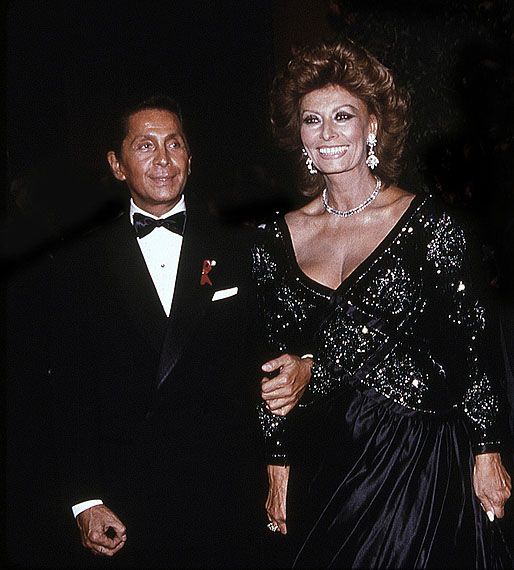 Valentino Garavani a talianska filmová diva Sophia Loren .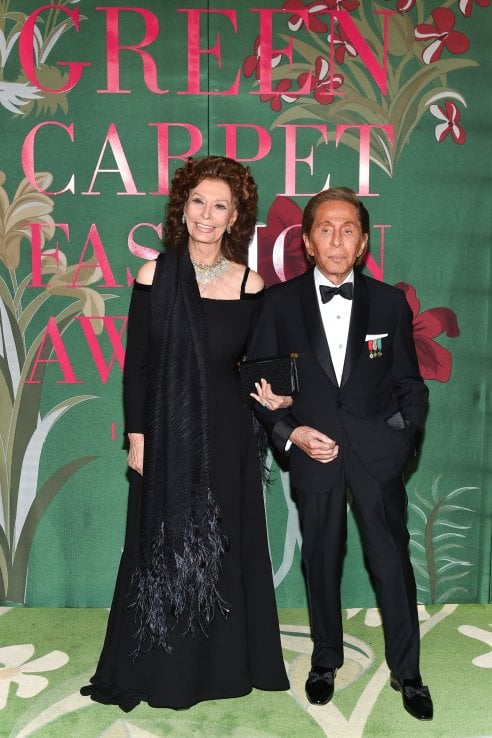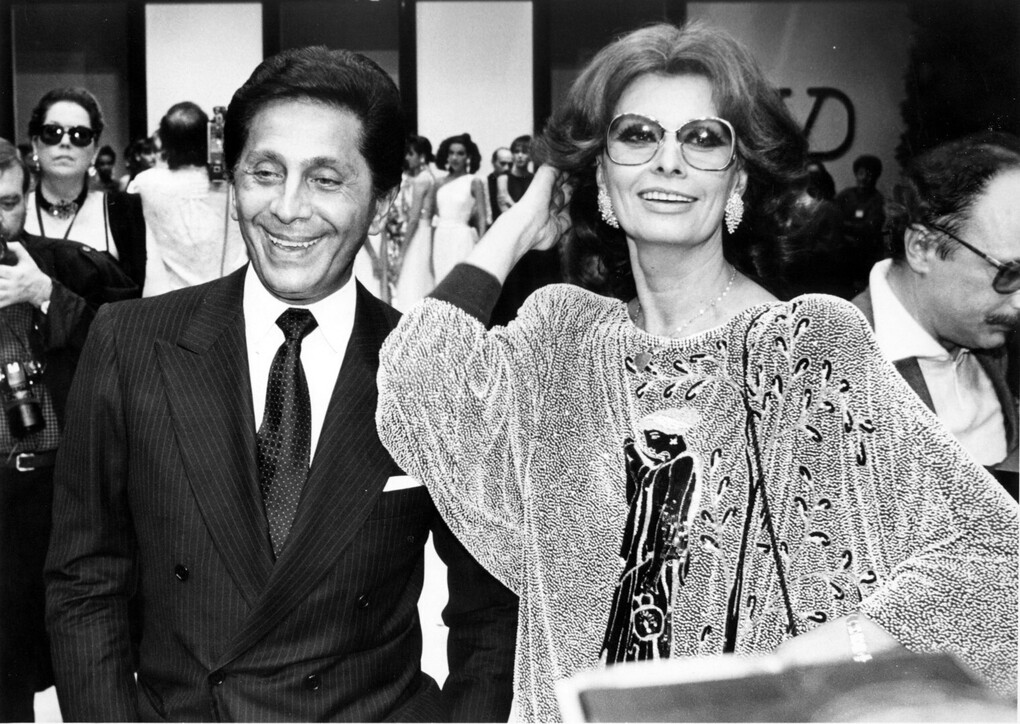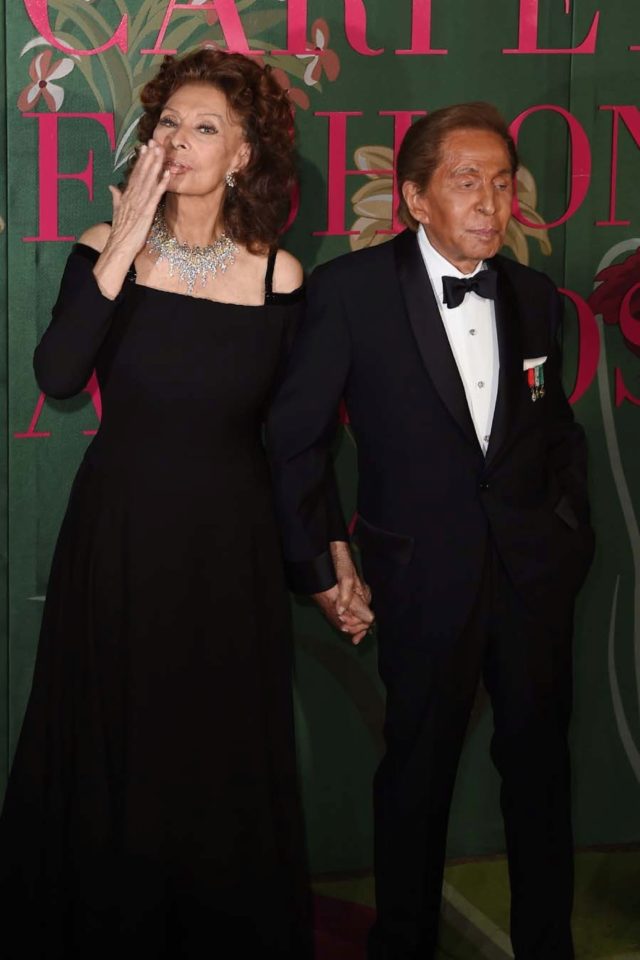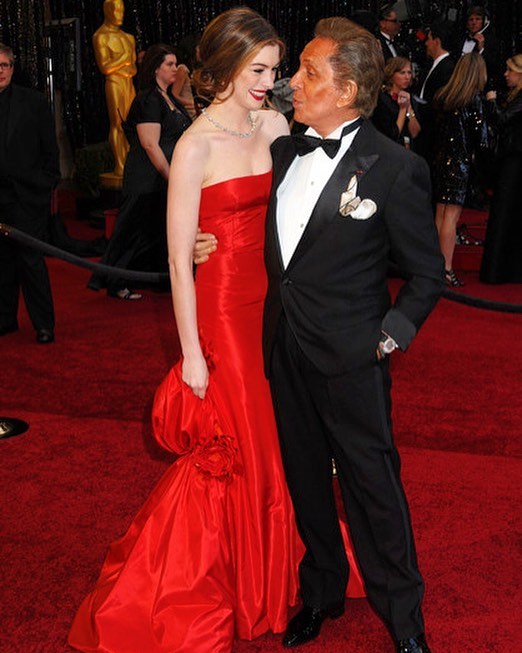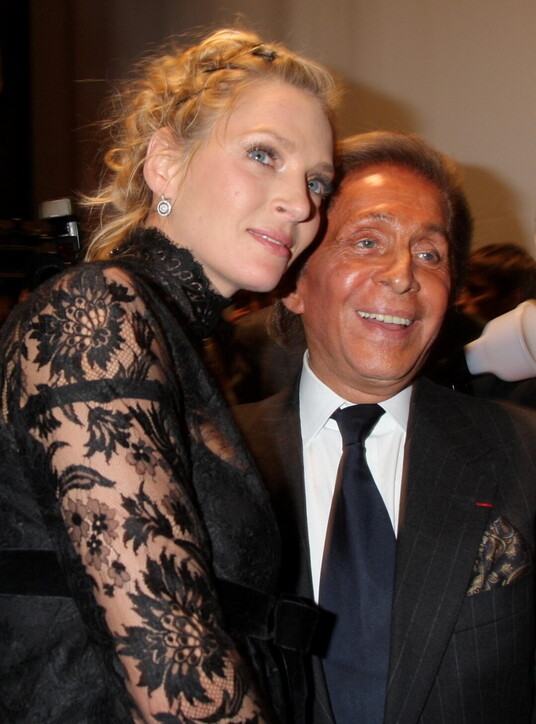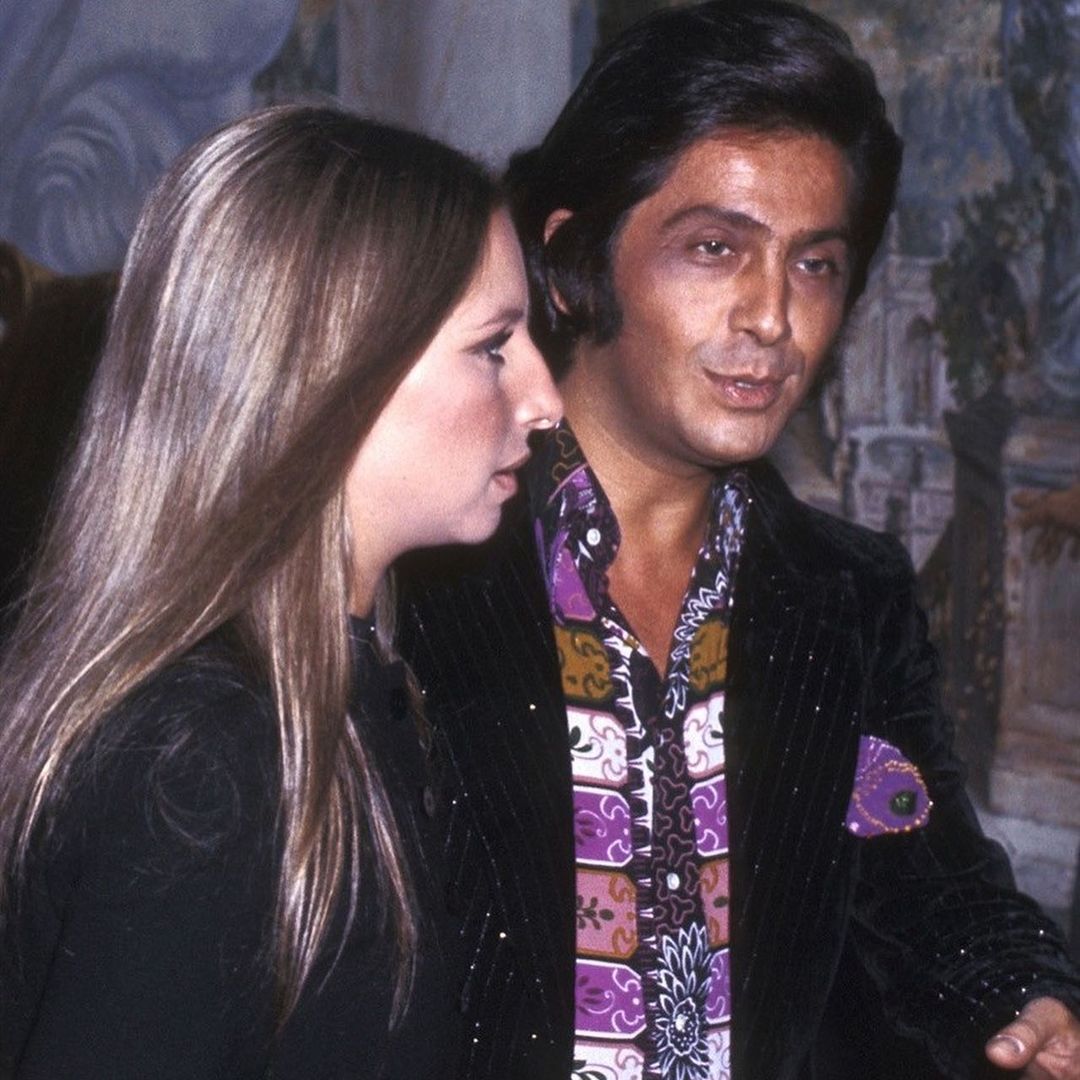 Valentino a herečka Barbra Streisand
VALENTINOVÉ VRCHOLNÉ DIELA – OD RÍMSKEJ OPERY SO SOFIOU COPPOLA PO NEWYORSKÝ BALLET
Od Rímskej opery so Sofiou Coppolovou až po NYC Ballet, Valentino navrhol kostýmy pre niektoré z najpamätnejších predstavení desaťročia.
Luxusný módny dom Valentino odhalí svoju kolekciu pre sezónu Jeseň/Zima 2022/2023 módnou prehliadkou na Španielskych schodoch, neďaleko historického sídla Valentina na Piazza Mignanelli, 8. júla 2022.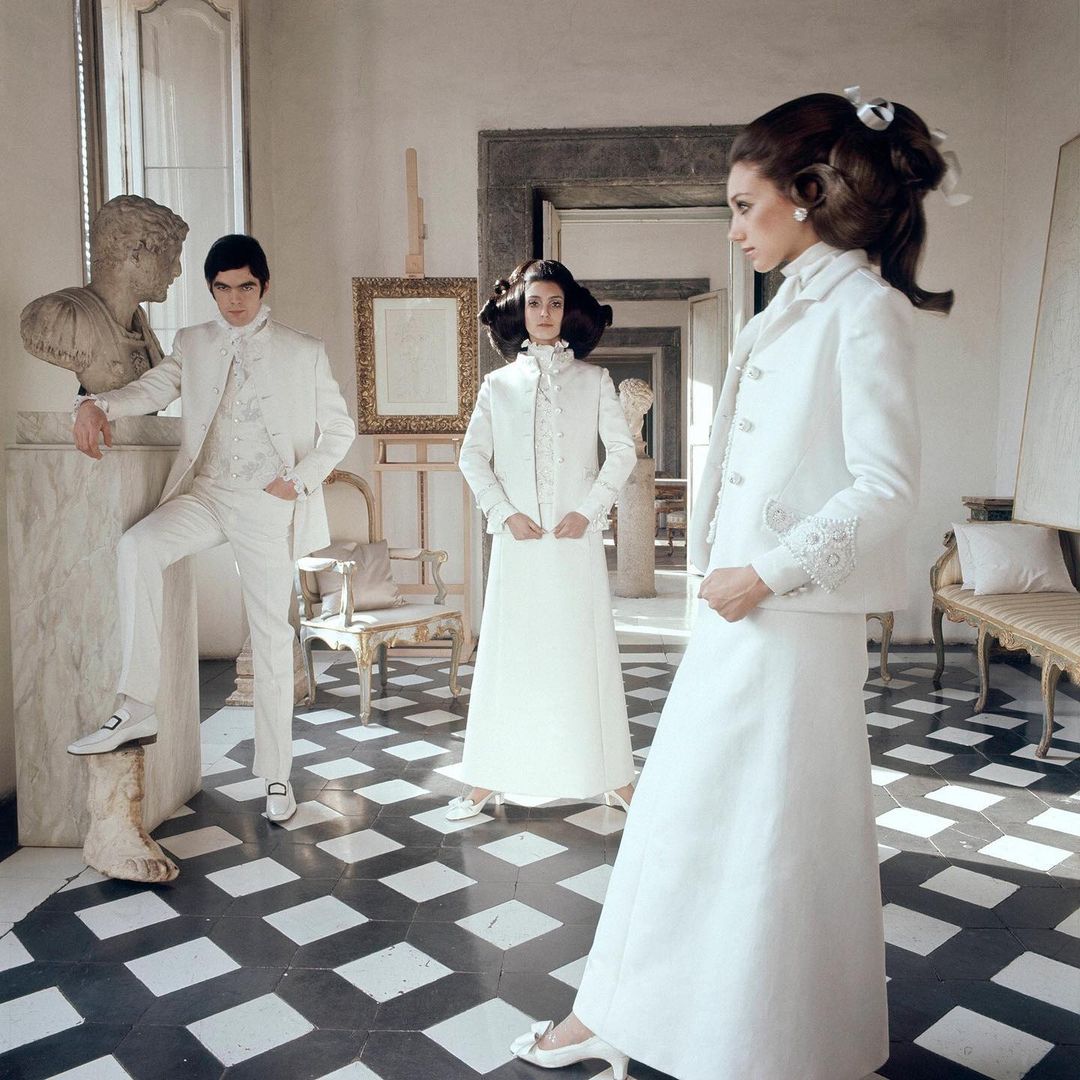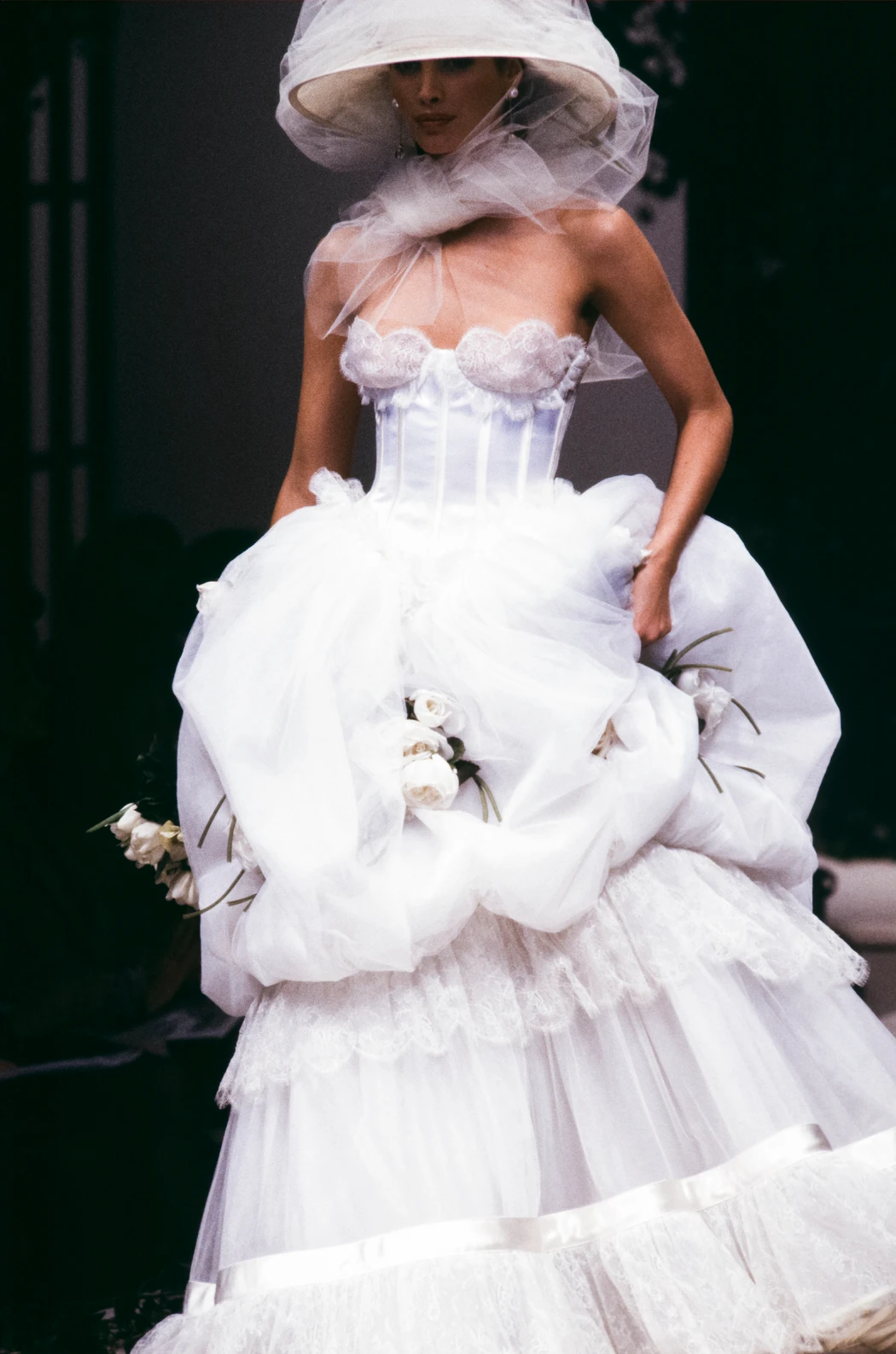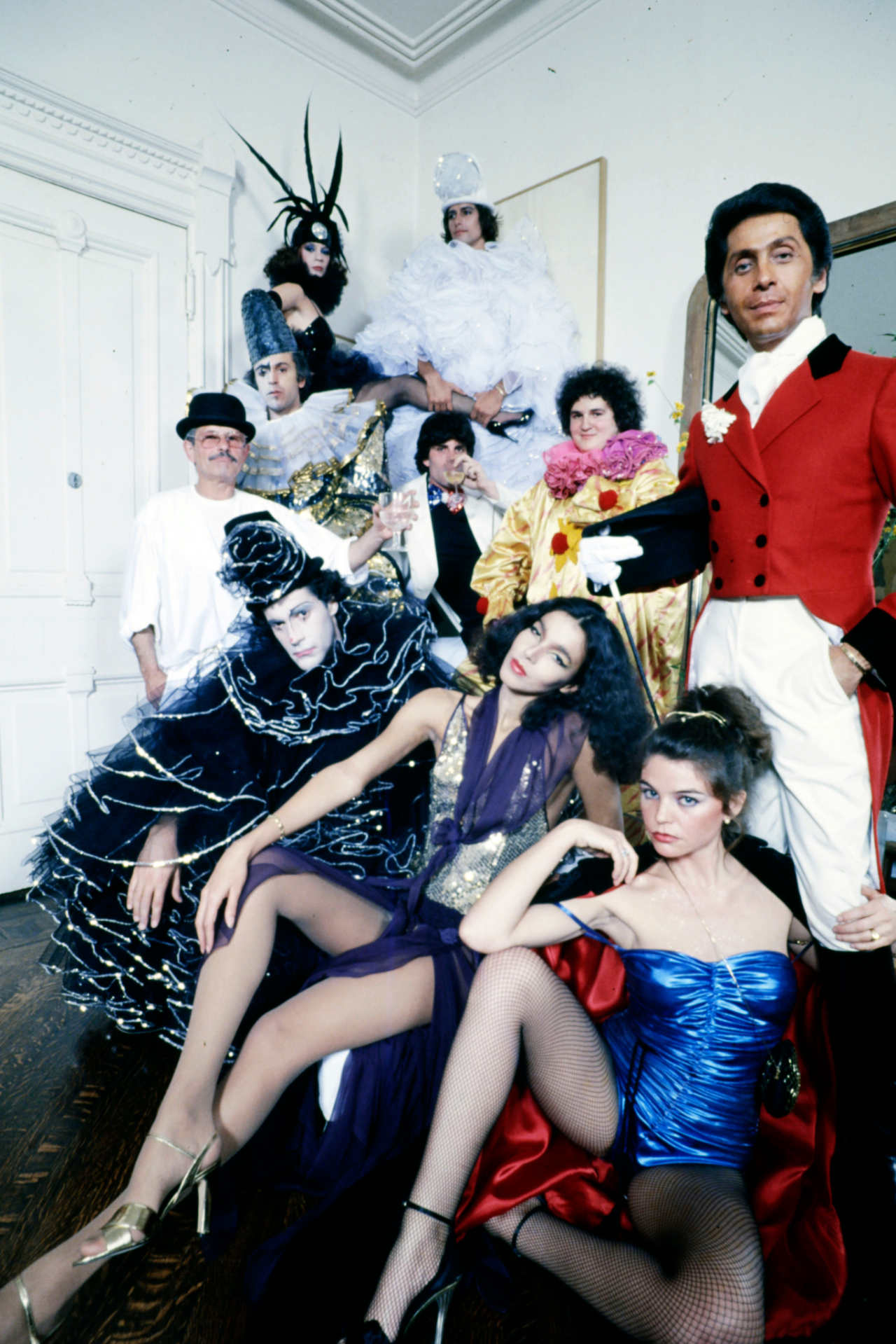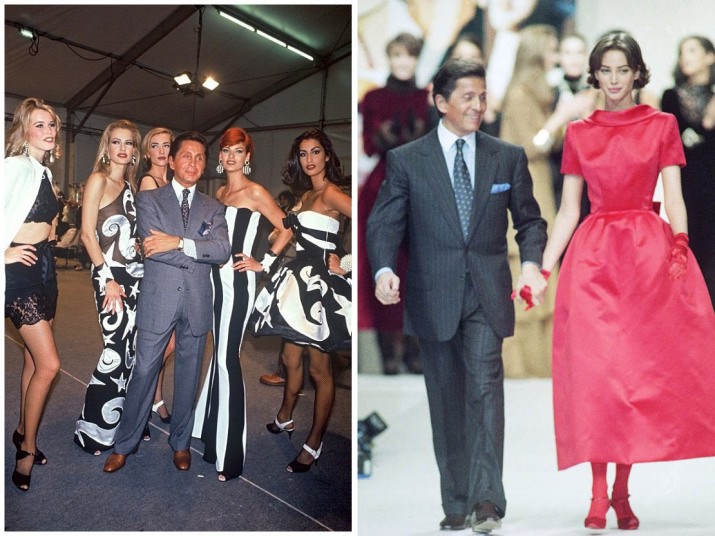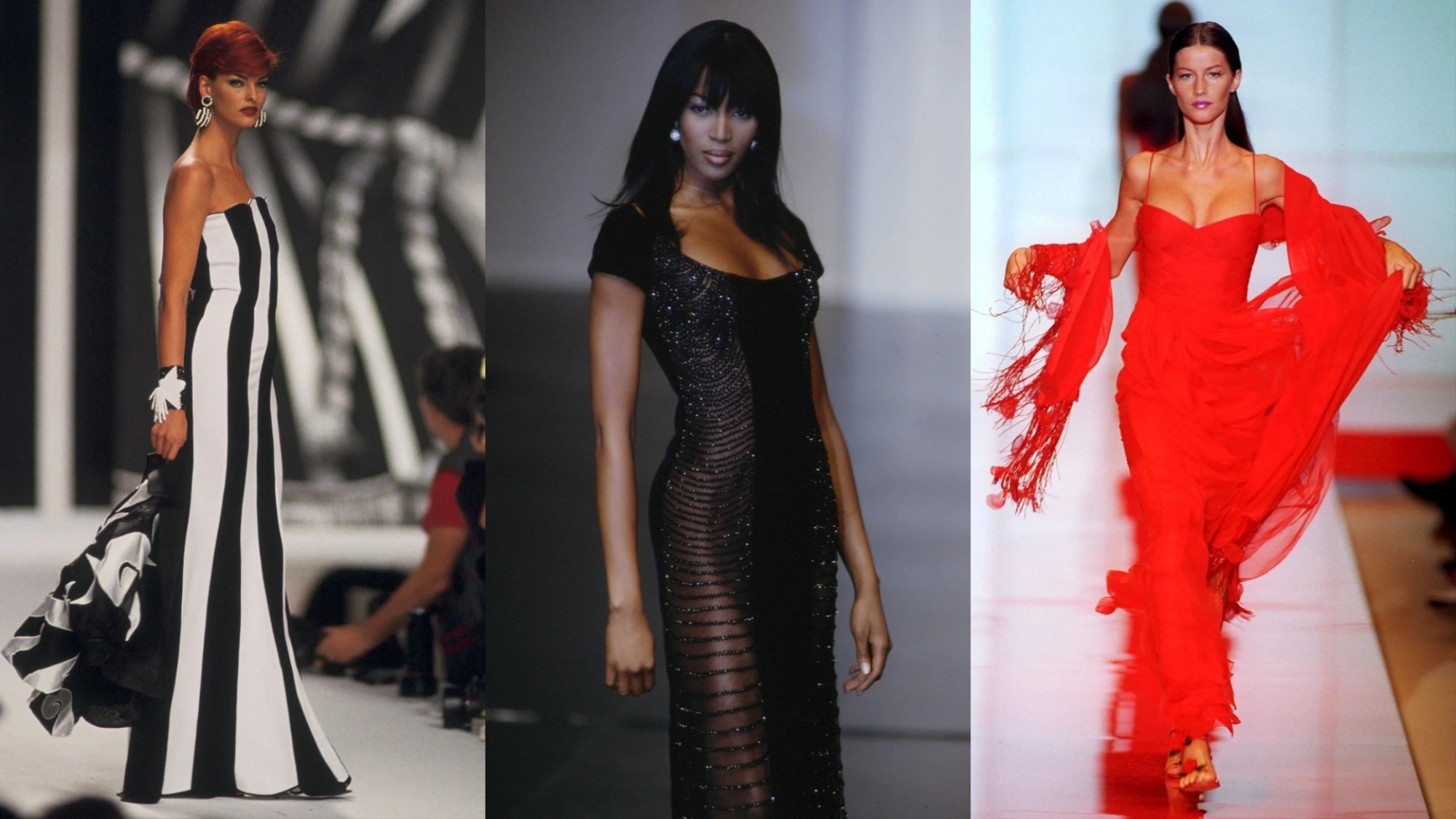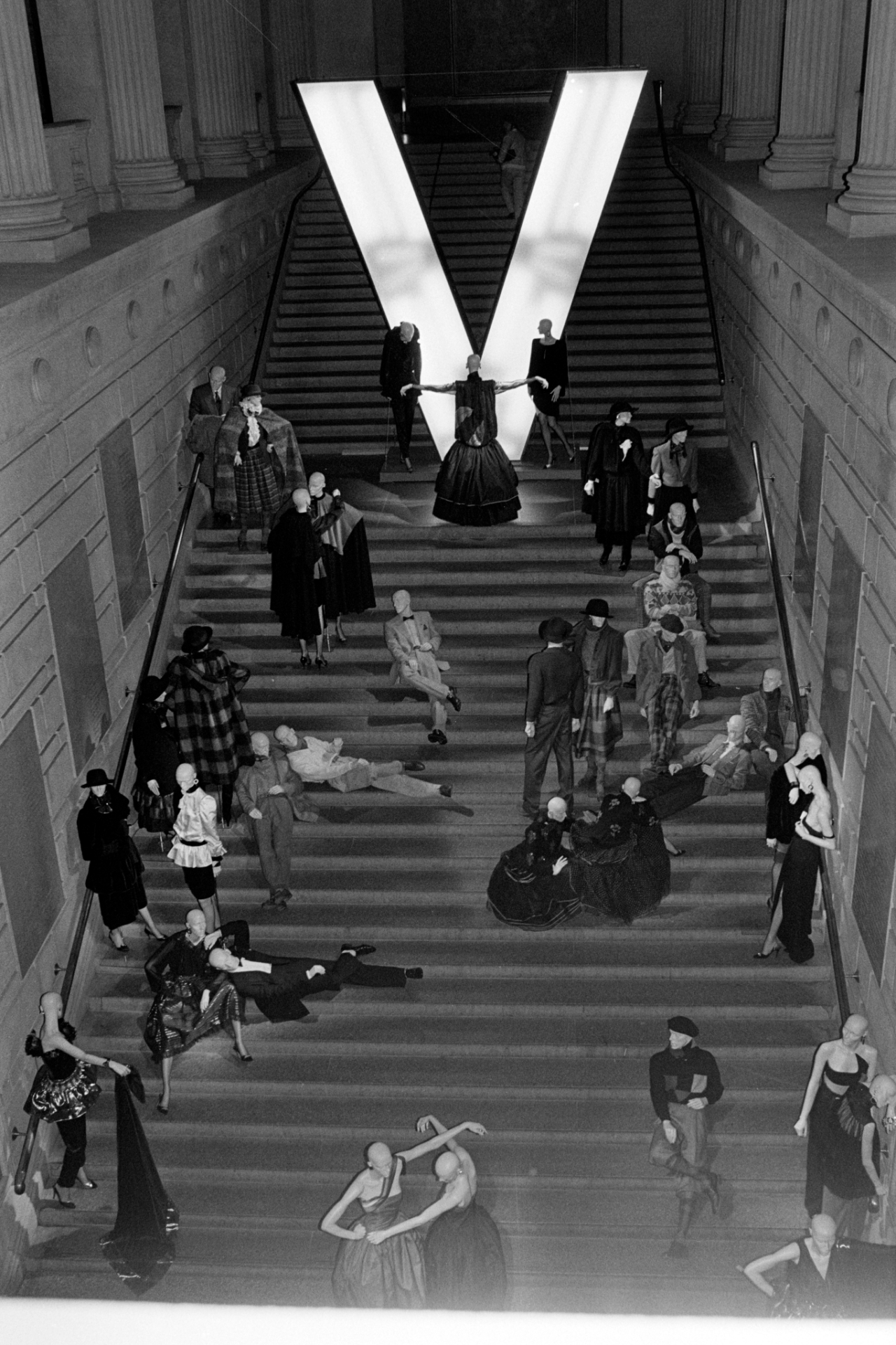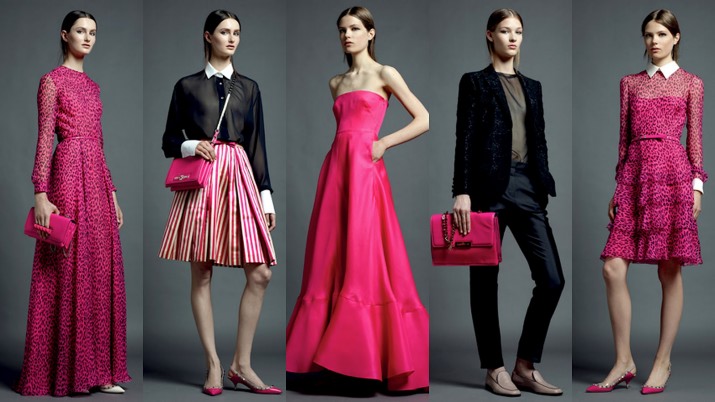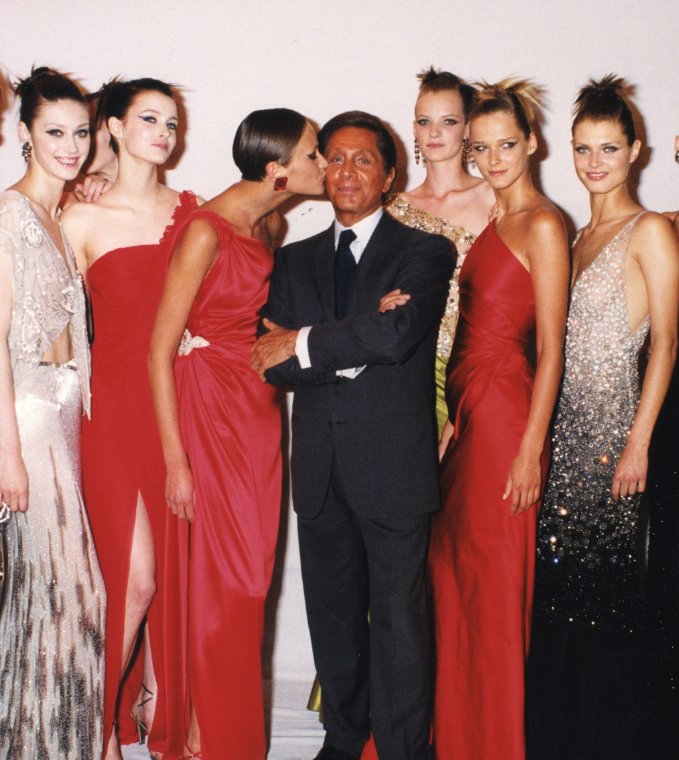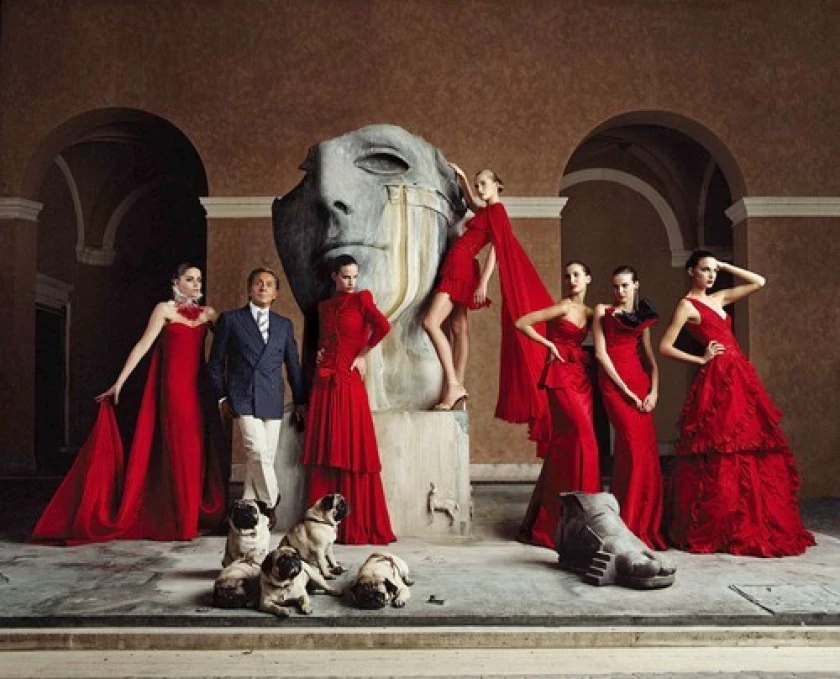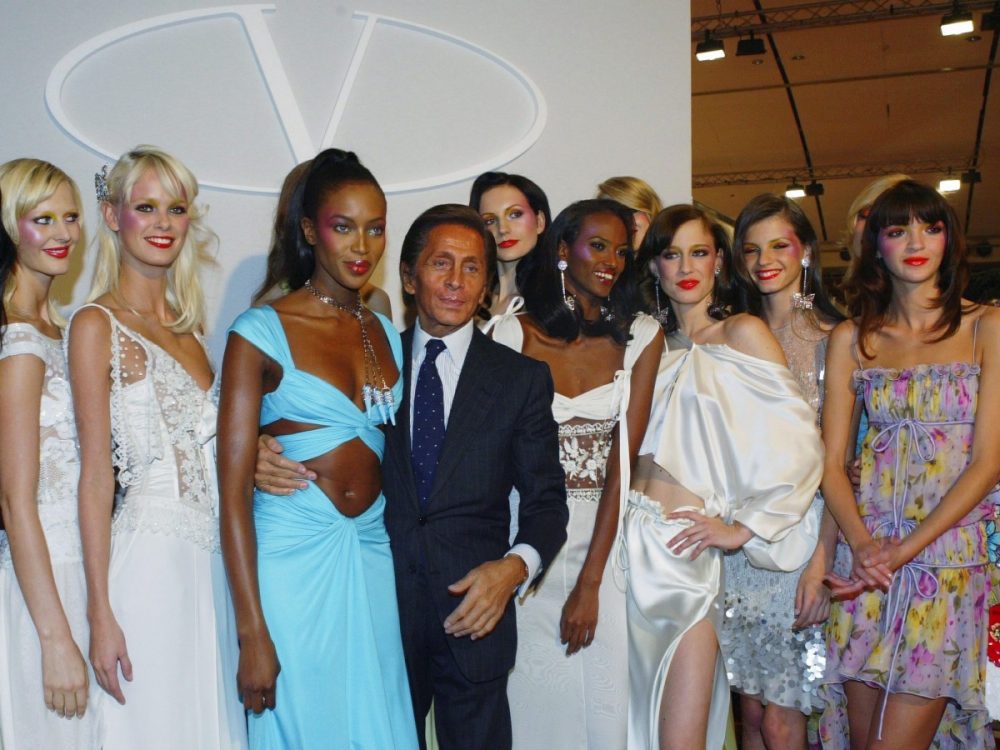 VALENTINO, KARL LAGERFELD a YVES SAINT LAURENT
Valentinove spomienky na velikánov módy , Karla Lagerfelda, ktorý predčasom umrel a Yves Saint Laurenta sú stále v jeho sviežej pamäti. Valentino strávil svoje roky mladosti od 18. do 22. rokov v ich blízkosti. Všetci traja pracovali v troch módnych domoch, všetci boli v známom klane Café Flore. S Karlom Lagerfeldom sa mladý dizajnér v priebehu rokov stretával častejšie, s Yvesom Laurentom len zriedka.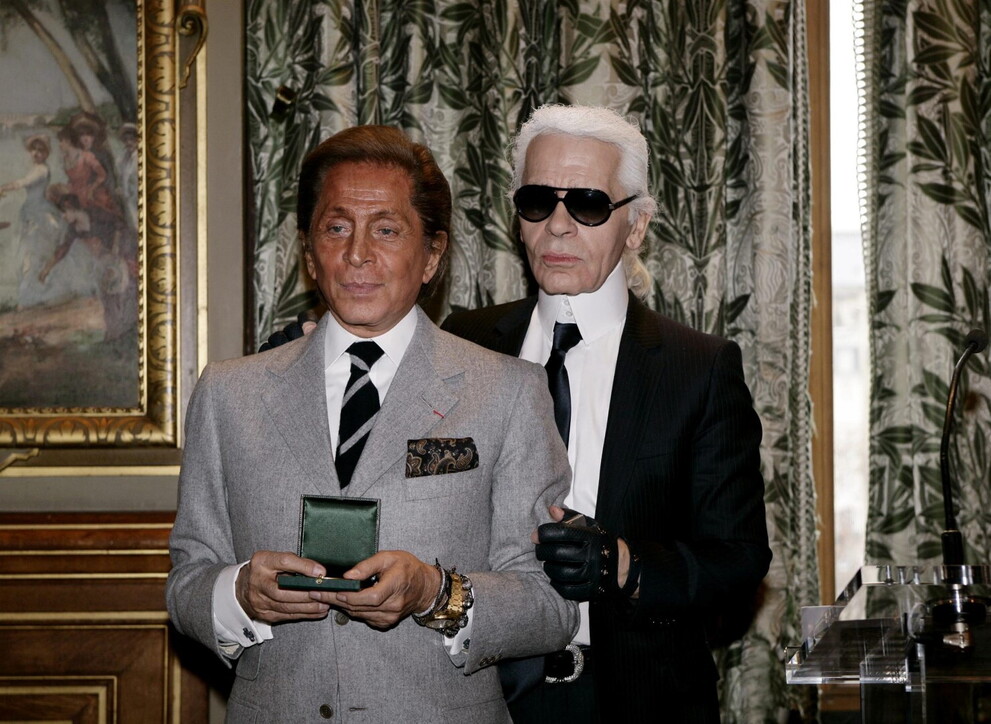 VALENTINO , GIANNI VERSACE A GIORGIO ARMANI
Hosťami mega párty oslavy Valentino značky v Ríme boli predčasom dizajnéri Giorgio Armani, ktorý tiež dovŕšil úctihodných 87 rokov a Tom Ford.
Valentino na ich adresu vyjadril milé slová: "Dvaja skvelí ľudia! Giorgio si je istý tým, čo robí a svojich klientov upokojuje precíznym, jemným, dokonalým štýlom. Tom je veľký vizionár, no vytvoril si aj svoj vlastný osobný štýl, vyrobený zo sexepílu, no elegantným spôsobom". Zaiste slová hodné obdivu a preskúmania celoživotnej tvorby aj týchto ďalších dizajnérskych mágov.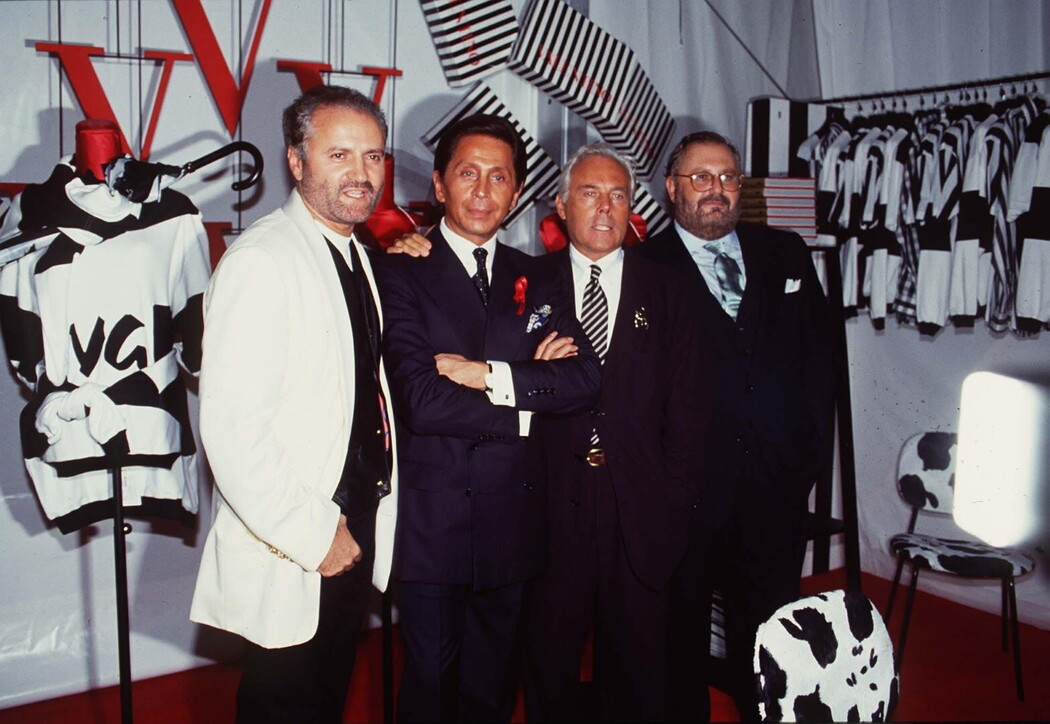 Legendárna fotka so žijúcim Gainnim Versace (vľavo) a stále tvoriacim Giorgiom Armani (prvý vpravo) .
Valentino spomenul aj svojich dvoch žiakov – Maria Grazia Chiuri a Pier Paolo Piccioli, na tému ktorých sa vyslovil pozitívnym hodnotením: "Úžasné ! , dokázali vytvoriť krásny príbeh vlastným spôsobom".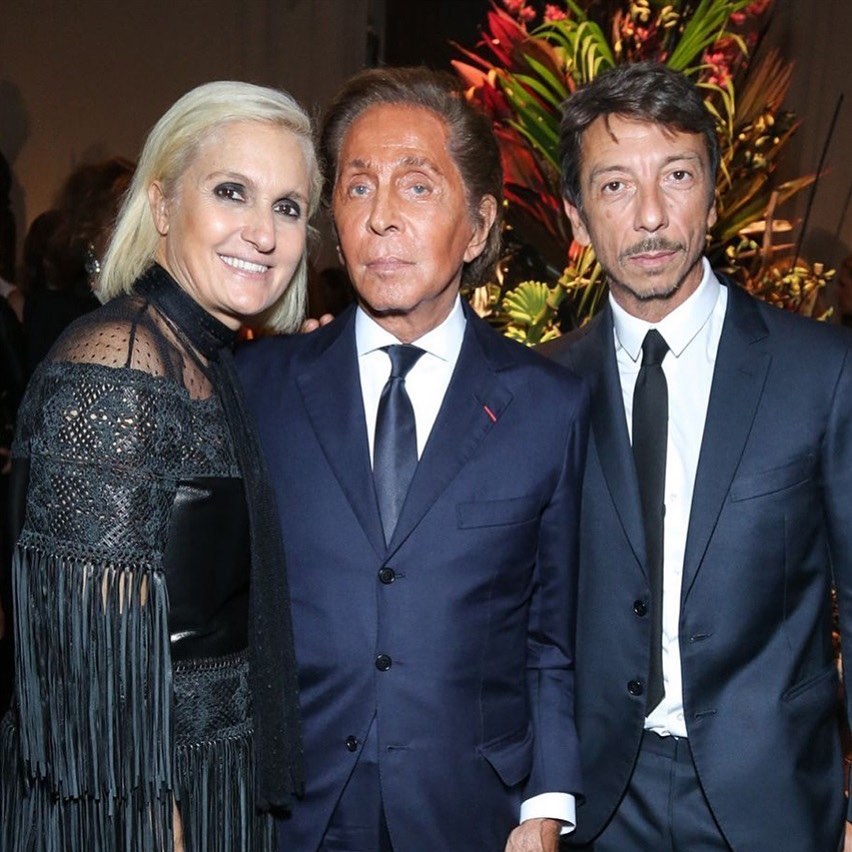 VALENTINOVO TAJOMSTVO
Taliansky dizajnér Valentino Garavani sa preslávil niekoľkými výrokmi a tajomstvo vryté do slávneho Valentino motta, ktoré odhaľuje jeho umeleckú dušu zasvätenú móde je len jedno: "Milujem krásu. Nie je to moja vina!"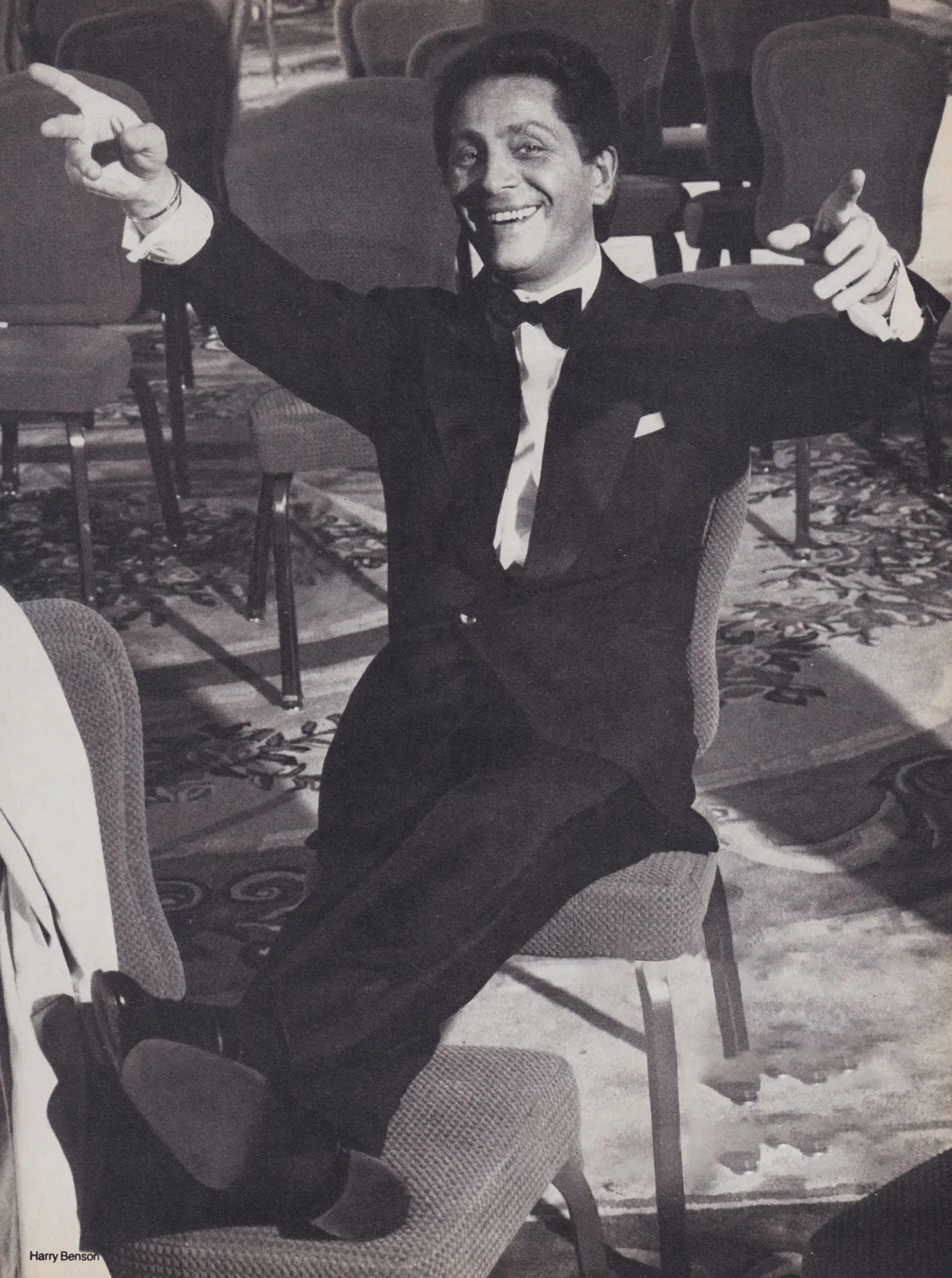 V roku 1998 Valentino a Giammetti predali svoju spoločnosť za približne 300 miliónov dolárov talianskemu konglomerátu HdP.
Na otázku čo sa v módnom biznise zmenilo k lepšiemu a čo k horšiemu Valentino Garavani v niekoľkých rozhovoroch, ktoré podával k výročiu svojich 90. narodenín odpovedal:
"Ako vo väčšine našich životov, zmeny boli postupné. Móda odráža túžby ľudí, ich vízie, ktoré sa musia stať našimi vlastnými. Našou úlohou nie je zmeniť náš štýl, ale prispôsobiť ho historickému momentu. Najhoršie na móde je, že niektoré značky neustále menia svoj štýl".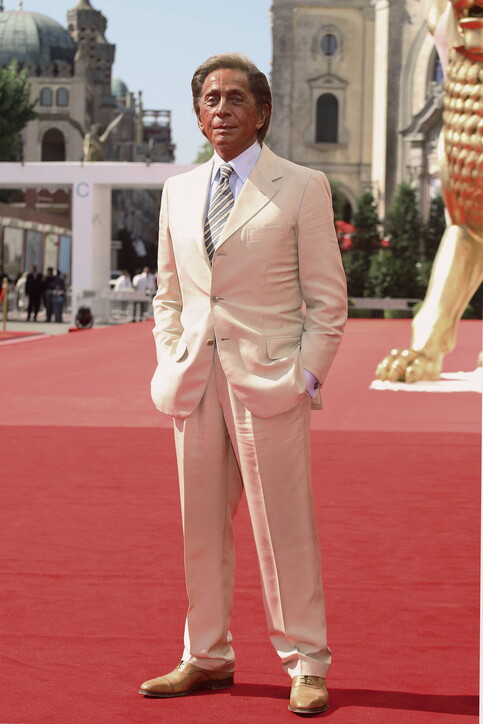 A ČO SA POSLEDNÉMU CISÁROVI MÓDY PÁČI NA DNEŠNEJ MÓDE ?
Valentino Garavani sa na túto tému vyslovil v rozhovoroch pre magazíny: "Veľmi sa mi to páči, ale nemám rád okázalosť módnych večerov v takej ťažkej chvíli, akou je súčasná vojna. Mali by sme rešpektovať bolesť druhých bez toho, aby sme ich urážali."
Na otázku, ako by zhodnotil tvorbu módneho domu Balenciaga sa Valentino v rozhovoroch pre módne magazíny vyjadril: "Zaujímavé, ale s malou budúcnosťou. Nemôžete navrhovať oblečenie na predaj tenisiek".
OBĽÚBENÁ DEKÁDA – 60-TE ROKY
Valentinova obľúbená dekáda boli 60. roky. Ako sa vyjadril: "Bola to malá revolúcia. Šaty boli vtedy úžasné, ale nie prehnané".
Valentino Garavani patrí ako aj ďalší jeho rovesníci a o čosi mladší súčasníci k starej klasickej škole. Tak svojím prístupom k životu, ako aj k dizajnu odevov. Svoje návrhy šiat vždy tvoril sám a kreslil škice. Spôsob komerčnej tvorby súčasných mladých dizajnérov ako sa neraz vyjadril nechápe : "Dnes len málo dizajnérov kreslí škice. Je veľmi dôležité byť schopný kresliť škice na papier a potom vysvetliť svoje vízie strihačom a krajčírom. Dnes všetci len riasia látky na modelke, to je nový štýl navrhovania."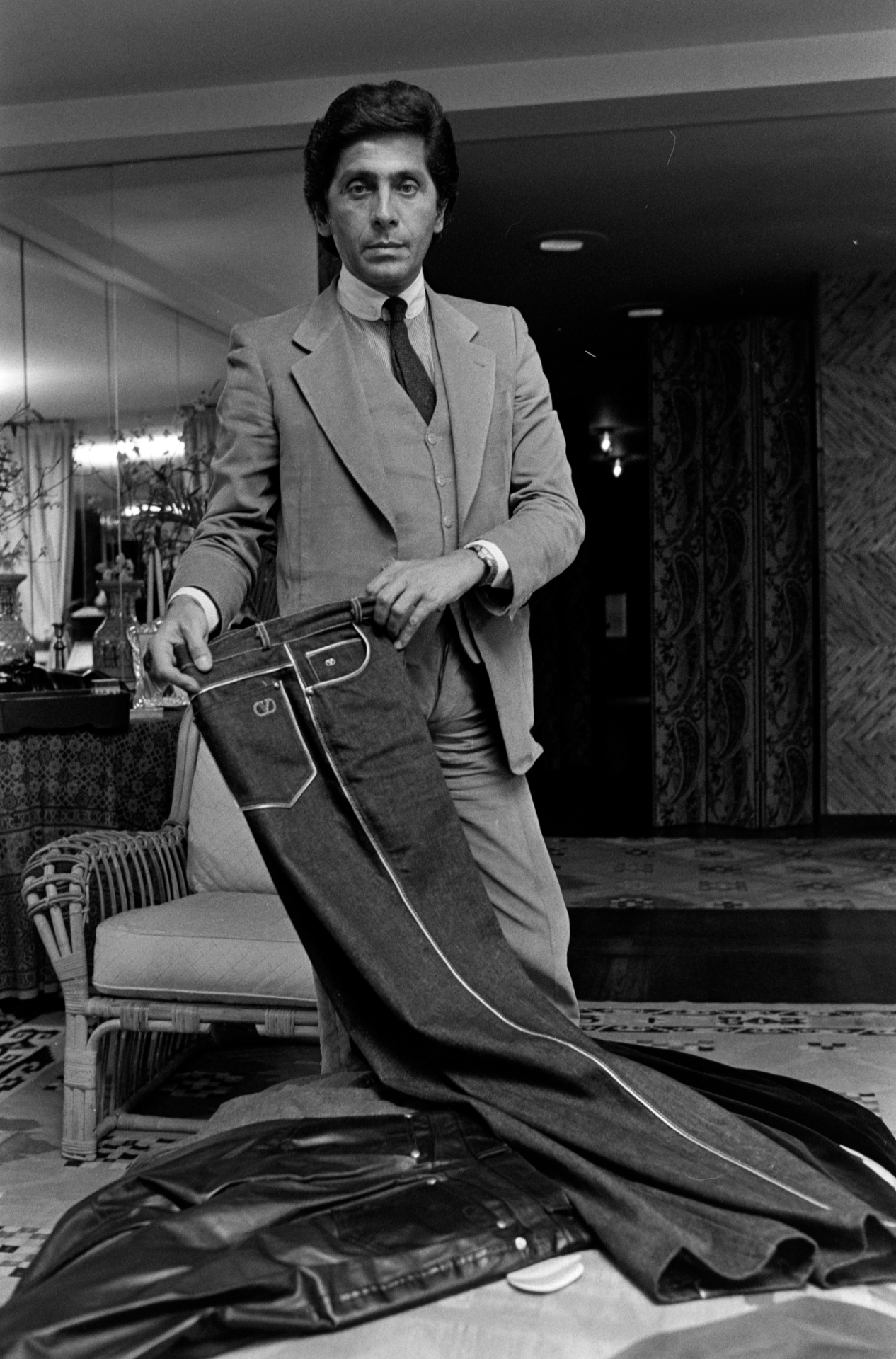 Taliansky dizajnér Valentino Garavani sa neprezentuje okázalo a v osobnom živote je vyznávačom starej školy. Svoje súkromie si prísne stráži a za celý svoj život sa nesprával tak, aby dával médiám inú zámienku ako prezentáciu jeho celoživotnej vášne k móde.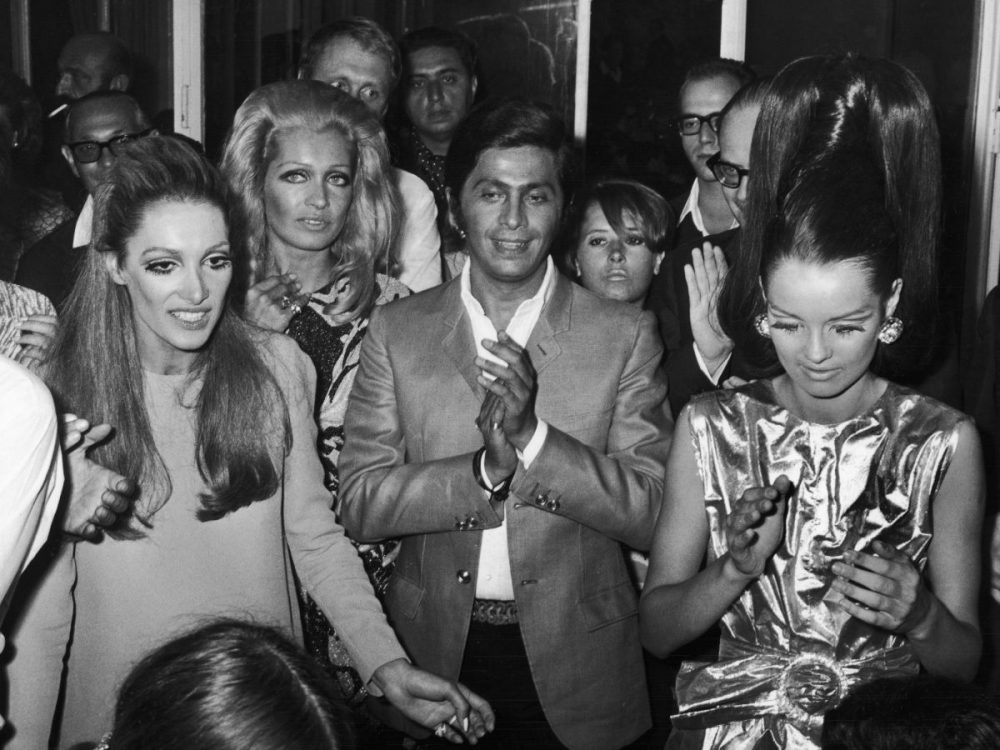 Pokračovanie článku si môžete prečítať v II. časti na tomto blogu v kategórii Fashion.
obrázky: © Courtesy via Getty Images, Vogue, Valentino, pinterest
Sledujte Facebook stránku: Mya Mirell Fashionista a Instagram: mya_mirell .