Valentino predstavil Haute Couture kolekciu Jeseň/Zima 2022 na Piazza di Spagna – 8. júl 2022, Rím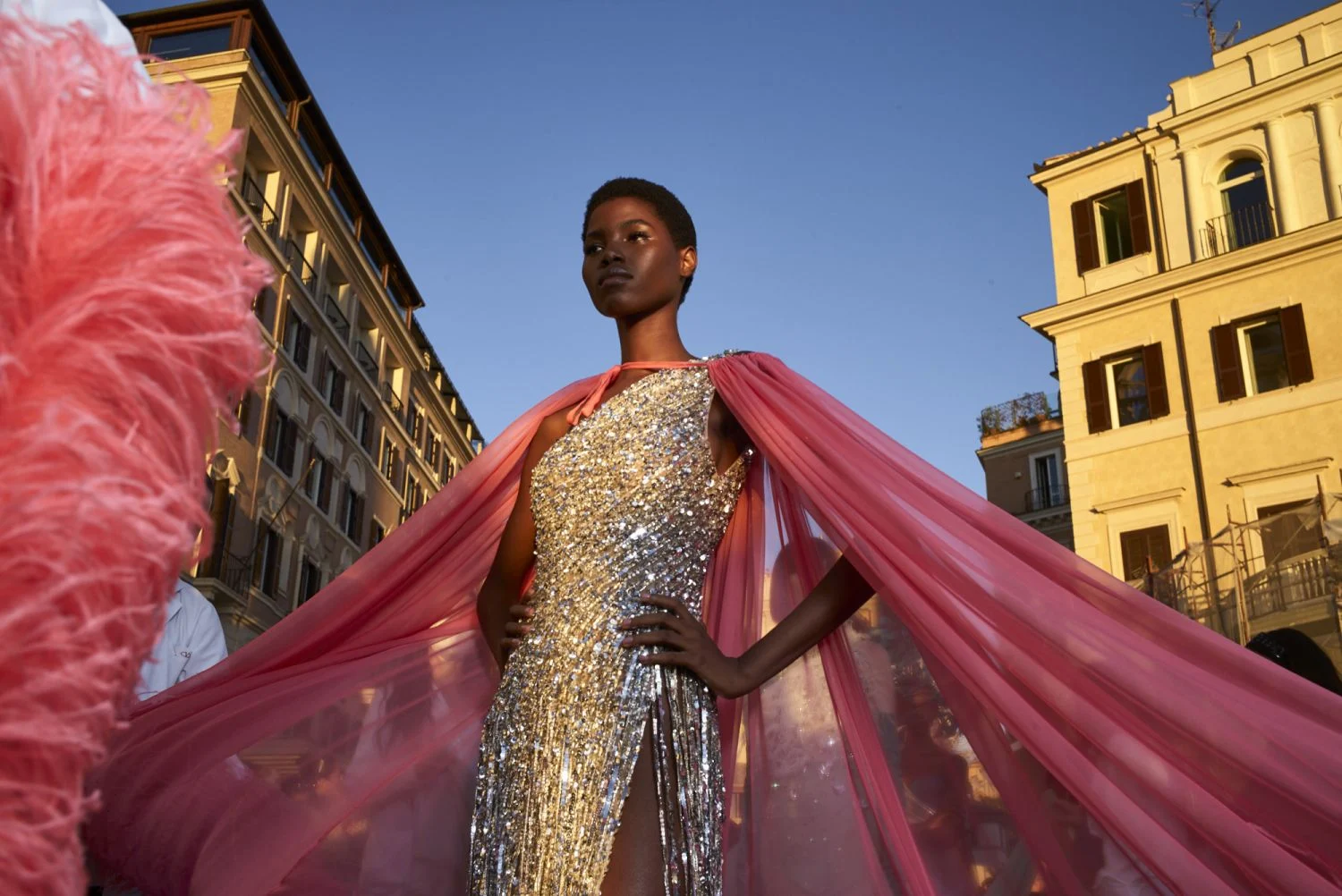 Taliansky módny dom premenil z večera 8. na 9. júla 2022 rímske Španielske schody na farebnú dúhu pri radostnej prehliadke kolekcie Valentino Haute Couture Jeseň/Zima 2022.
Valentino sa vrátil naspäť domov do Ríma, aby predviedol svoju najnovšiu kolekciu haute couture s názvom "The Beginning" – začiatok, ktorá zobrazuje "myšlienku krásy" ohlasovanej jej kreatívnym riaditeľom Pierpaolom Picciolim.
V piatok večer 8. a 9. júla 2022 sa módna sezóna pre Jeseň/Zima 2022 skončila s okázalou módnou šou značky Valentino, ktorý sa vrátil do svojho duchovného rodného mesta Ríma. Úchvatné predstavenie sa odohralo na ikonických širokých španielskych schodoch Piazza di Spagna, namiesto zvyčajného vystúpenia značky v harmonograme Paris Fashion Weeku.
Models present creations from the Haute Couture Fall/Winter 2022/23 collection by Italian label Valentino on Spanish Steps, downtown Rome, Italy, 08 July 2022. ANSA/ETTORE FERRARI
RÍM – DUCHOVNÉ RODNÉ MESTO ZNAČKY VALENTINO
Módnu značku prvýkrát uviedol na trh v roku 1960 taliansky módny dizajnér Valentino Garavani s malým obchodíkom na ulici Via Condotti. Postupne sa značka stala svetovo známou a obľúbenou u množstva celebrít. (čítajte o Valentinovi viac v histórii tohto blogu)
Súčasný módny návrhár značky Valentino, Pierpaolo Piccioli, nazval preto módnu šou Počiatok, pričom spojil všetko krásno z histórie so svojimi súčasnými víziami dizajnu.
Kolekcia Valentino, Jeseň/Zima 2022 vzdala hold dedičstvu a zakladateľovi módneho domu Valentinovi Garavanimu pri pohľade do budúcnosti. Pierpaolo Piccioli vedie týmto imaginárny rozhovor so zakladateľom značky prostredníctvom "zbierky momentov, tém, farieb, materiálov, znakov, línií, podľa mapy vkusu a sentimentu".
"Všetko začína odznova tam, kde sa všetko vždy začína: v Ríme, v Ateliéri, na mieste, kde výtvory a vynálezy ožívajú prostredníctvom rúk a príbehov tých, ktorí skutočne vyrábajú oblečenie, tých, ktorí svoj charakter vtláčajú látke manuálnou prácou, " dodáva módny dom. "Spôsob sa nezmenil. Dokonca sa nezmenila ani adresa. A predsa sa všetko zmenilo."
"Piazza di Spagna je symbolom umenia a histórie, ale pre nás všetkých je to aj náš každodenný život, pracovný kontext, zastávka metra, prestávka na obed, taxíky, dážď a slnko, káva," pokračuje Piccioli v nedávnom komentovaní tejto módnej šou. "Je to prirodzené rozšírenie Ateliéru, javisko našich príbehov, vitálne prostredie, ktoré odoberá a vracia všetku našu energiu a sny. Toto je začiatok, toto sme my."
VALENTINO – KOLEKCIA JESEŇ/ZIMA 2022
Valentino kolekcia pre Jeseň/Zimu 2022 je naplnená dramatickými siluetami a nádhernými ozdobami, ktoré sa isto čoskoro dostanú na červený koberec.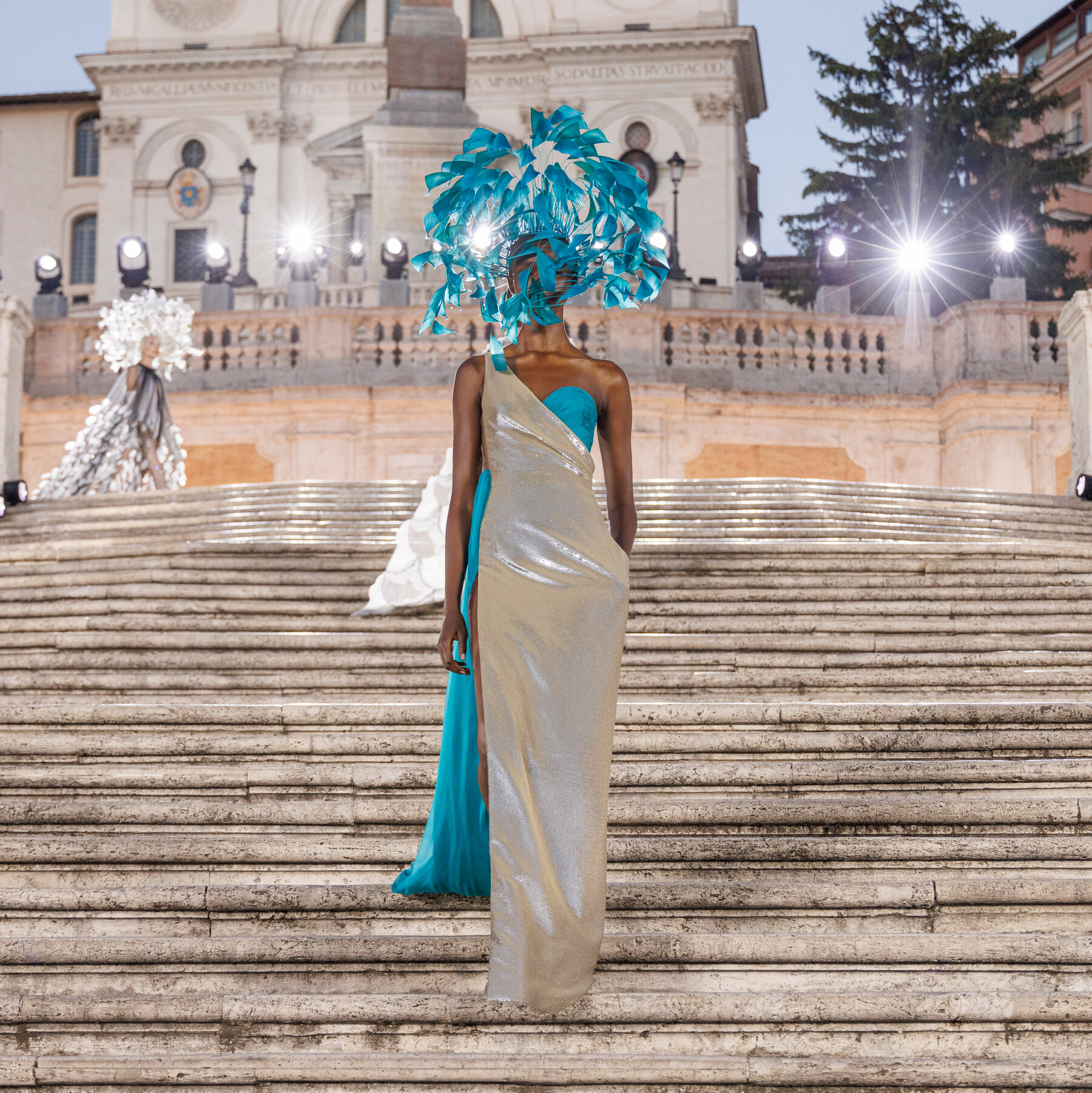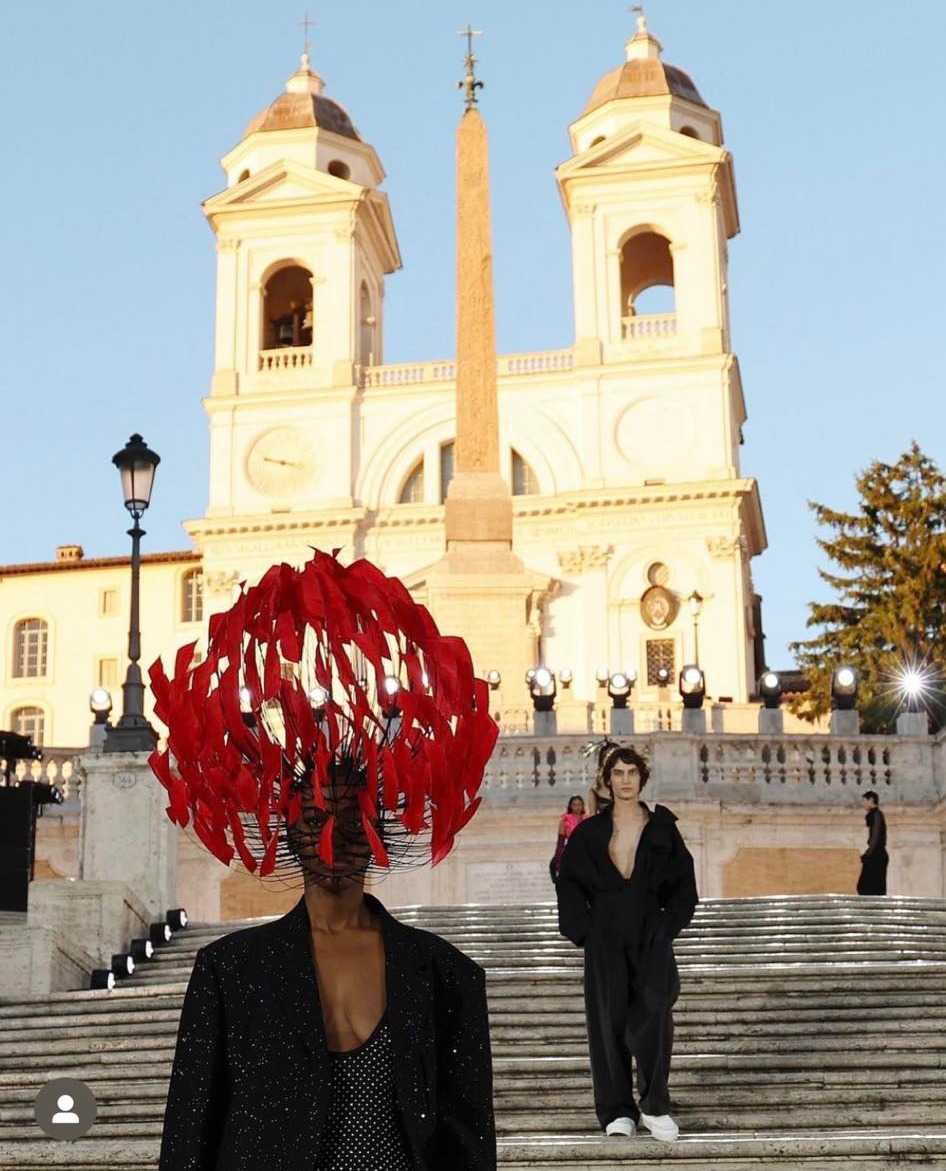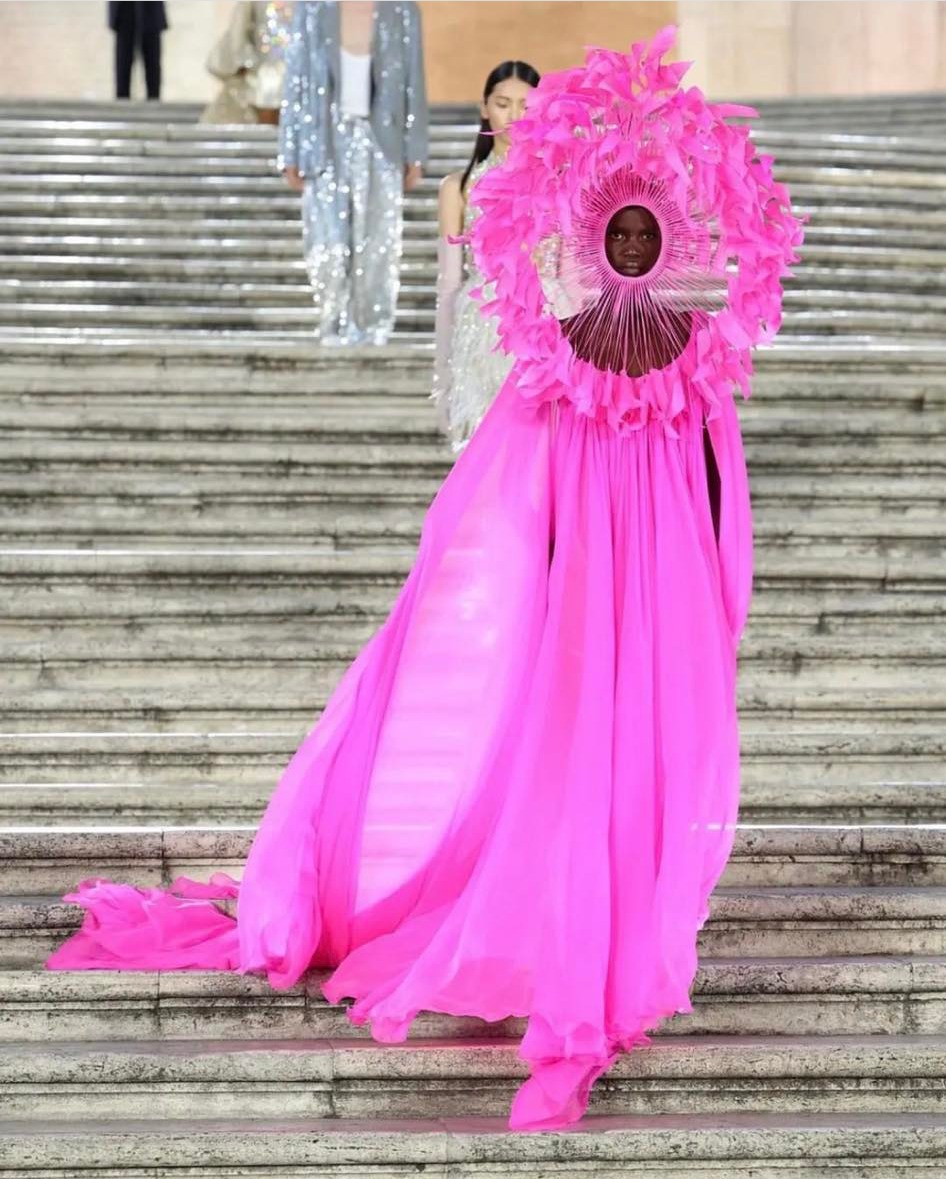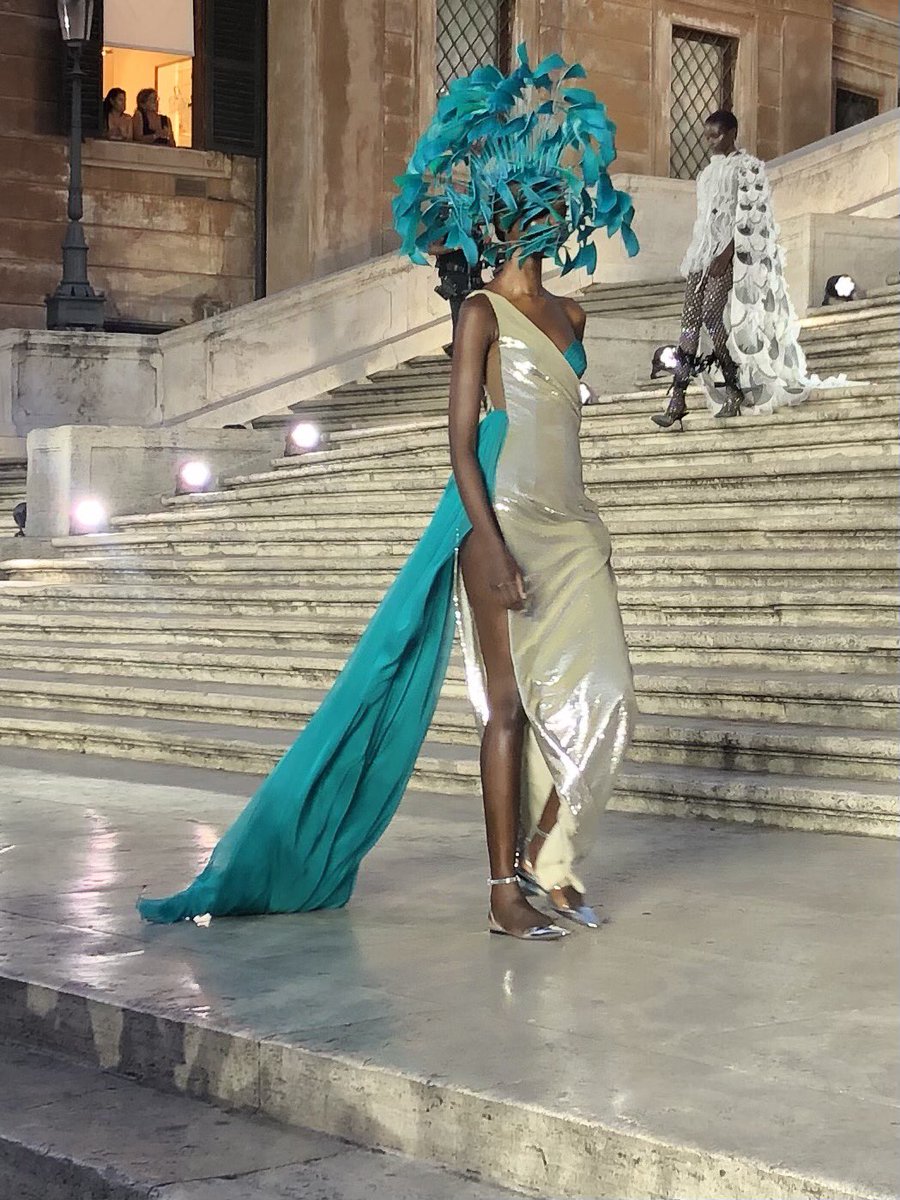 Valentino naservíroval kaleidoskopickú šou keď modelky opatrne schádzali po širokých schodoch Piazza di Spagna v širokých róbach pri emotívnom živom soundtracku Labrinth.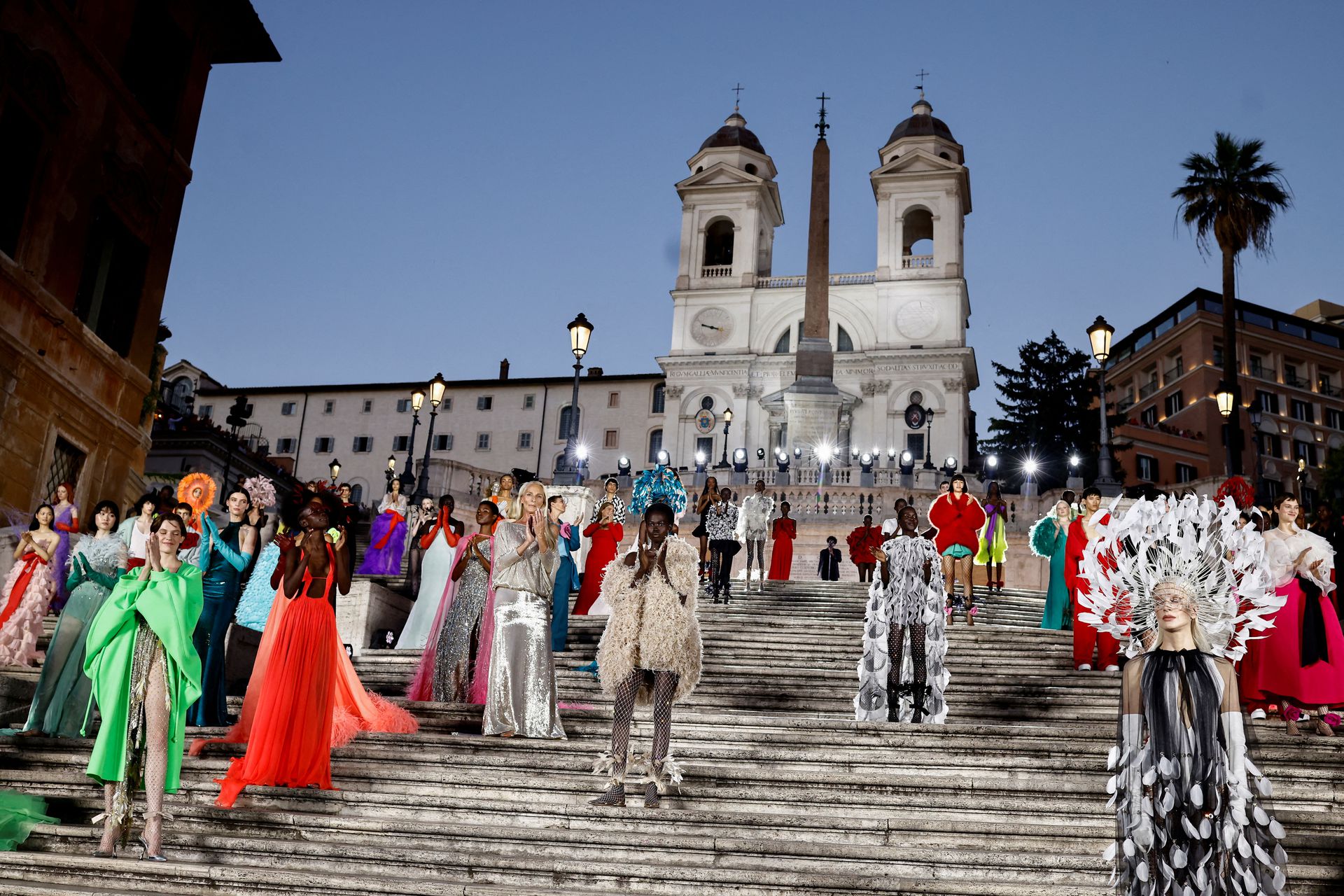 Modelky predvádzali kaskádové volánové šaty, ktoré boli unášané letným vánkom, 3D ruže a obrie mašle, ktoré sedeli na prsiach aj bokoch, nadýchané róby, pernaté klobúčiky pripomínajúce tie, ktoré svietili na hlavách modeliek na domácej prehliadke módy Jar/Leto 2018.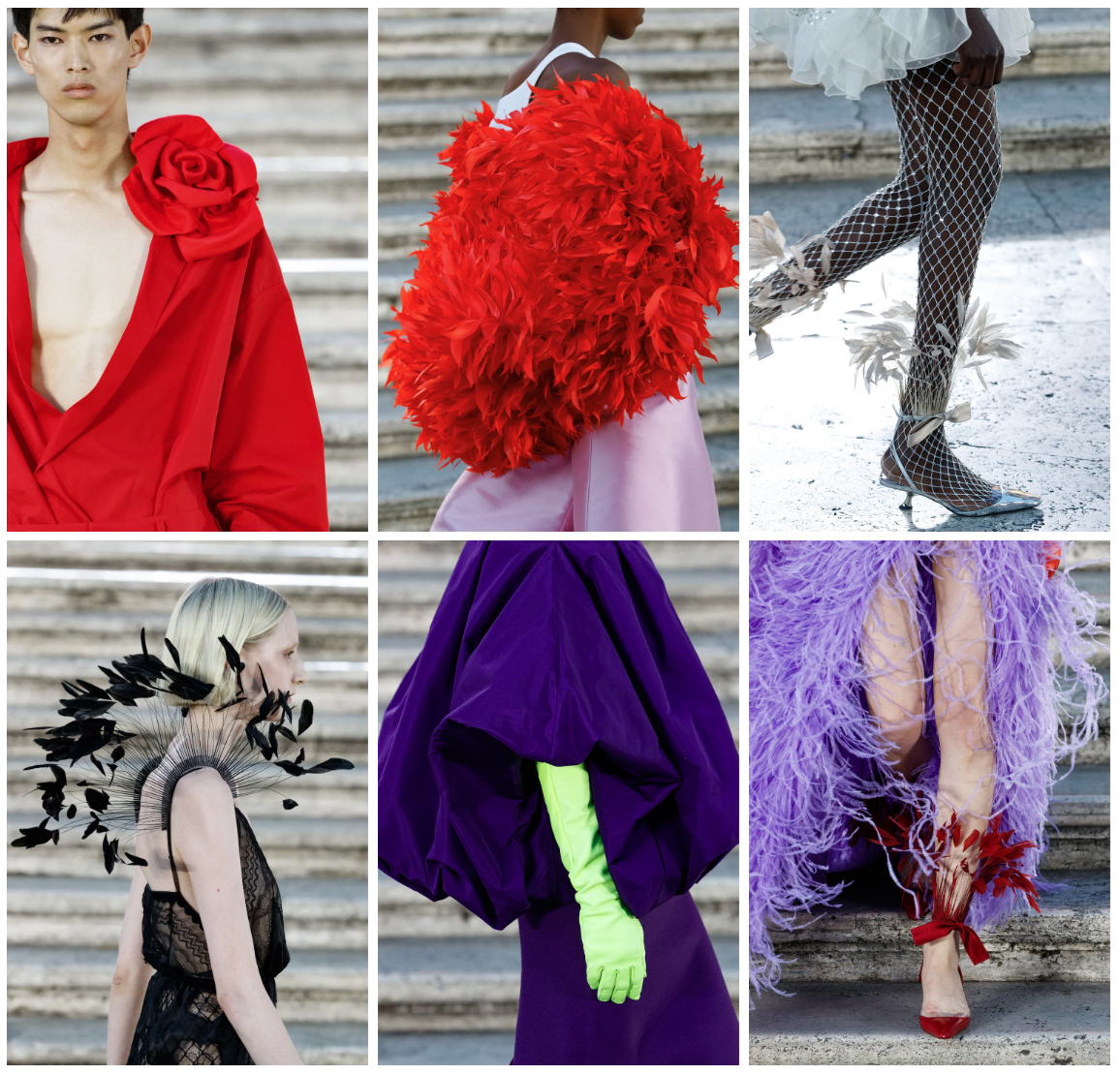 Mladistvým a mimoriadne zaujímavým modelom boli svieže priliehavé a polopriehľadné puzdrové šaty, z ktorých niektoré boli spárované s roztomilými krátkymi šortkami alebo trblietavými zakrivenými kabátikmi a objemné, rušné sukne, ktoré sa spájali s jednoduchými bielymi topmi, košeľami a kontrastnými vlečkami.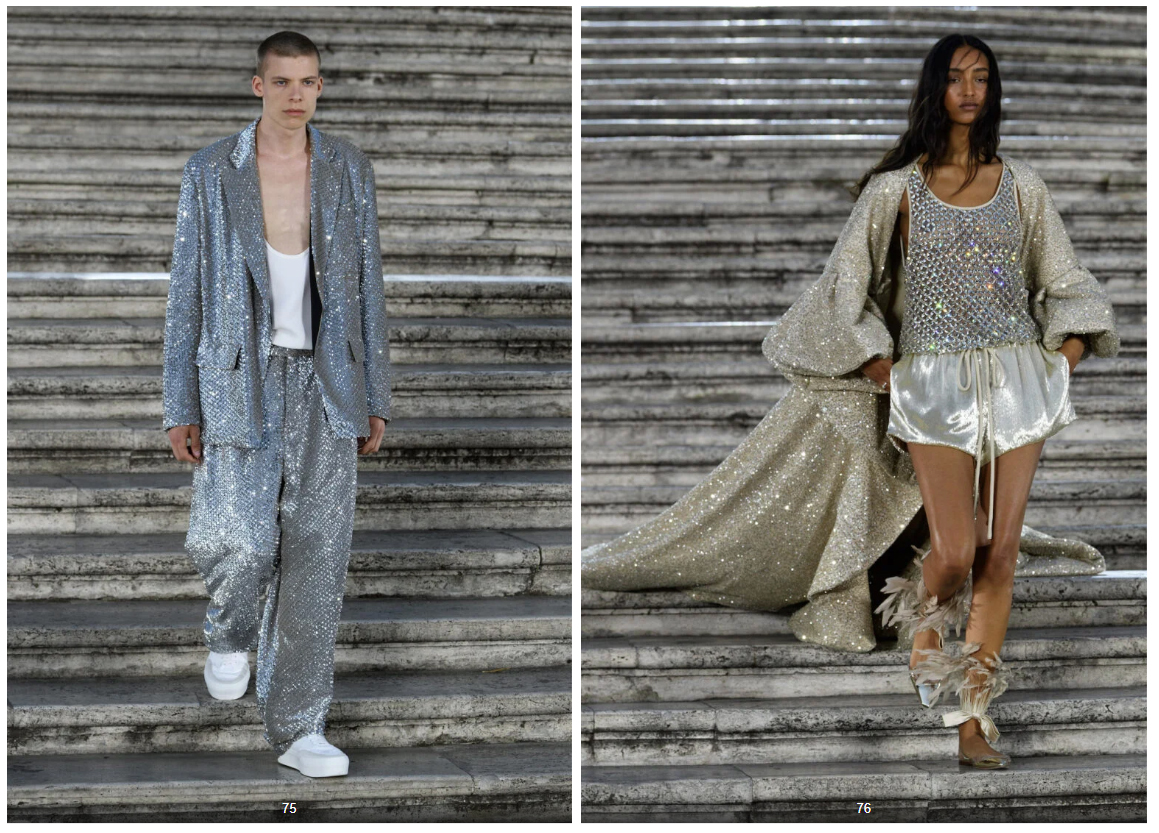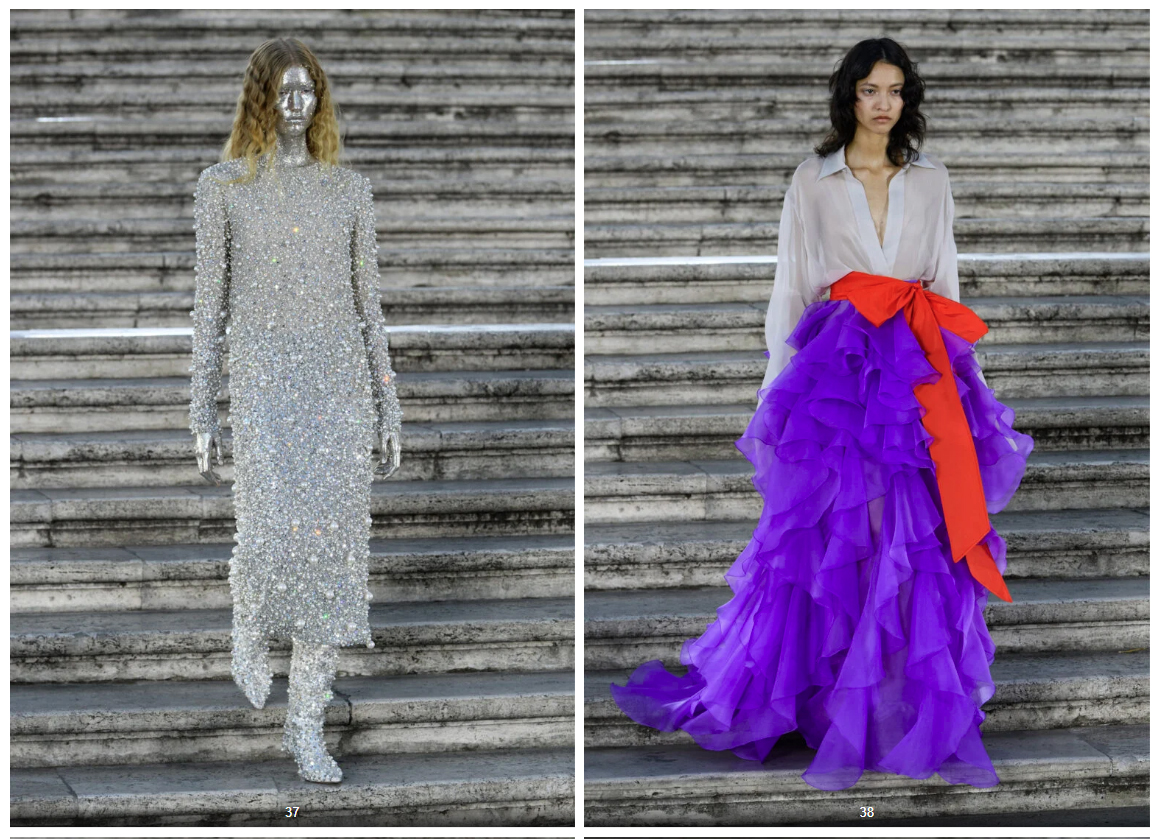 A zatiaľ čo pánske oblečenie bolo zmiešané rovnako ako minulú sezónu, hranice medzi pohlavím a ich šatníkmi sa stierali, modelky prezentujúce mužov vkĺzli do priesvitných šifónových rób a prsnatejších topov s dramatickými vlečkami zladenými s vlčími, voľnými nohavicami.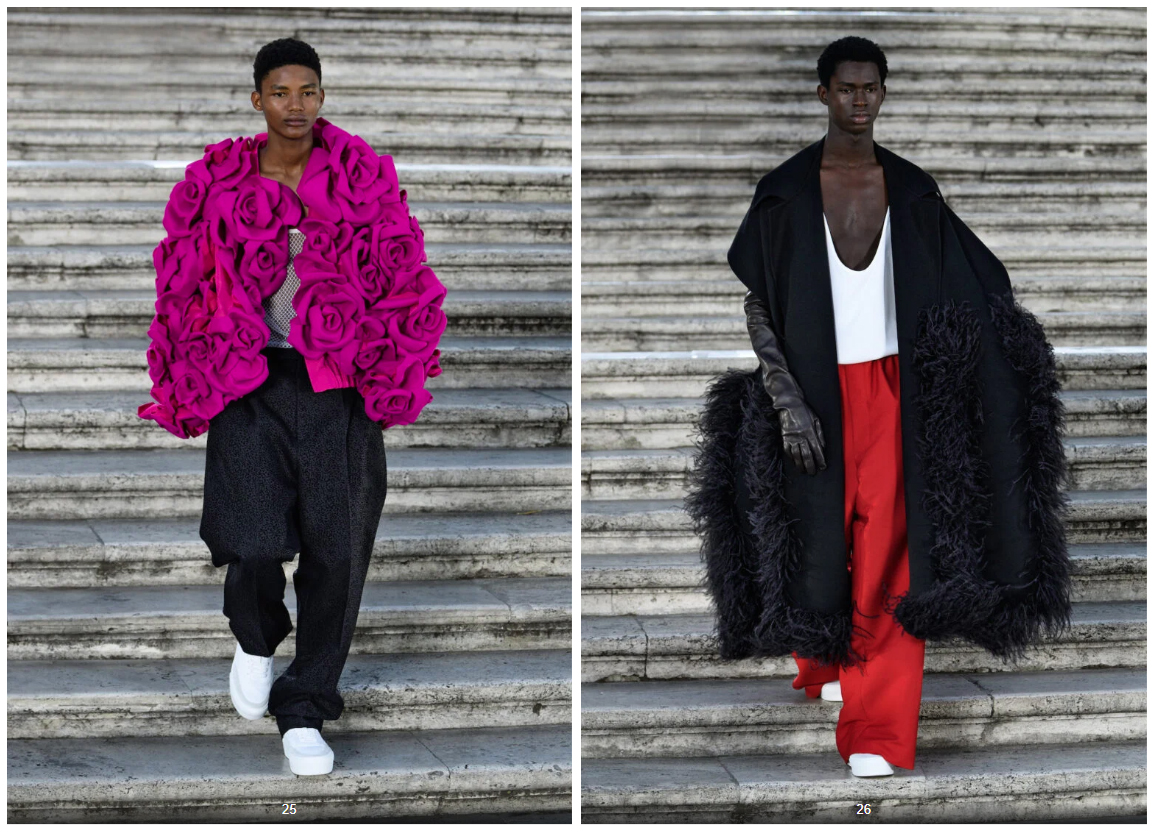 FARBA – KOLEKCIA VALENTINO, JESEŇ/ZIMA 2022
Farebné odtiene variovali od vyblednutej neónovej zelenej, oranžovej, horúcej fuchsiovej, sýto fialovej, pričom mnohé boli posiate kryštálmi trblietajúc sa v slabnúcom svetle súmraku, či zdobené pštrosím perím sa vlnili vo vánku.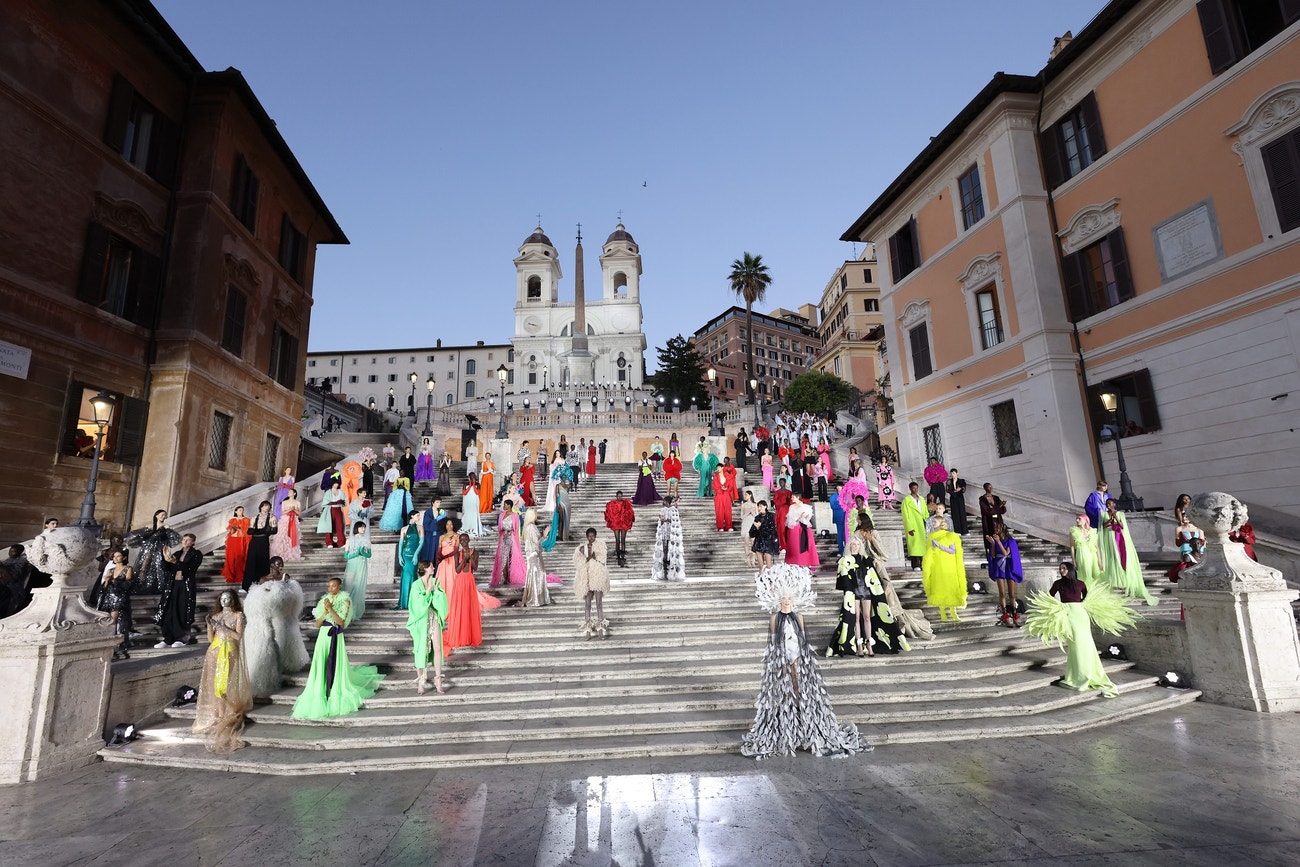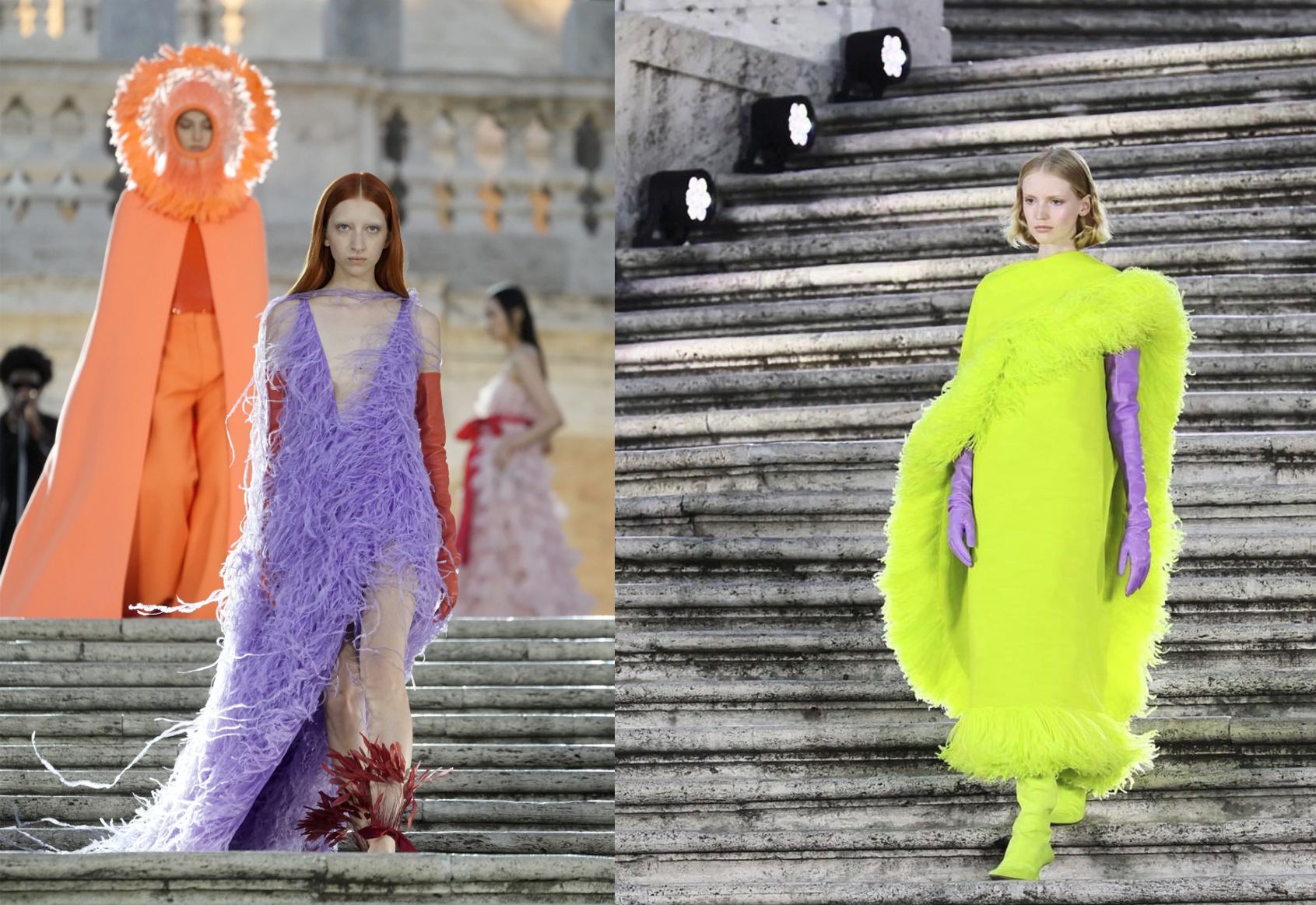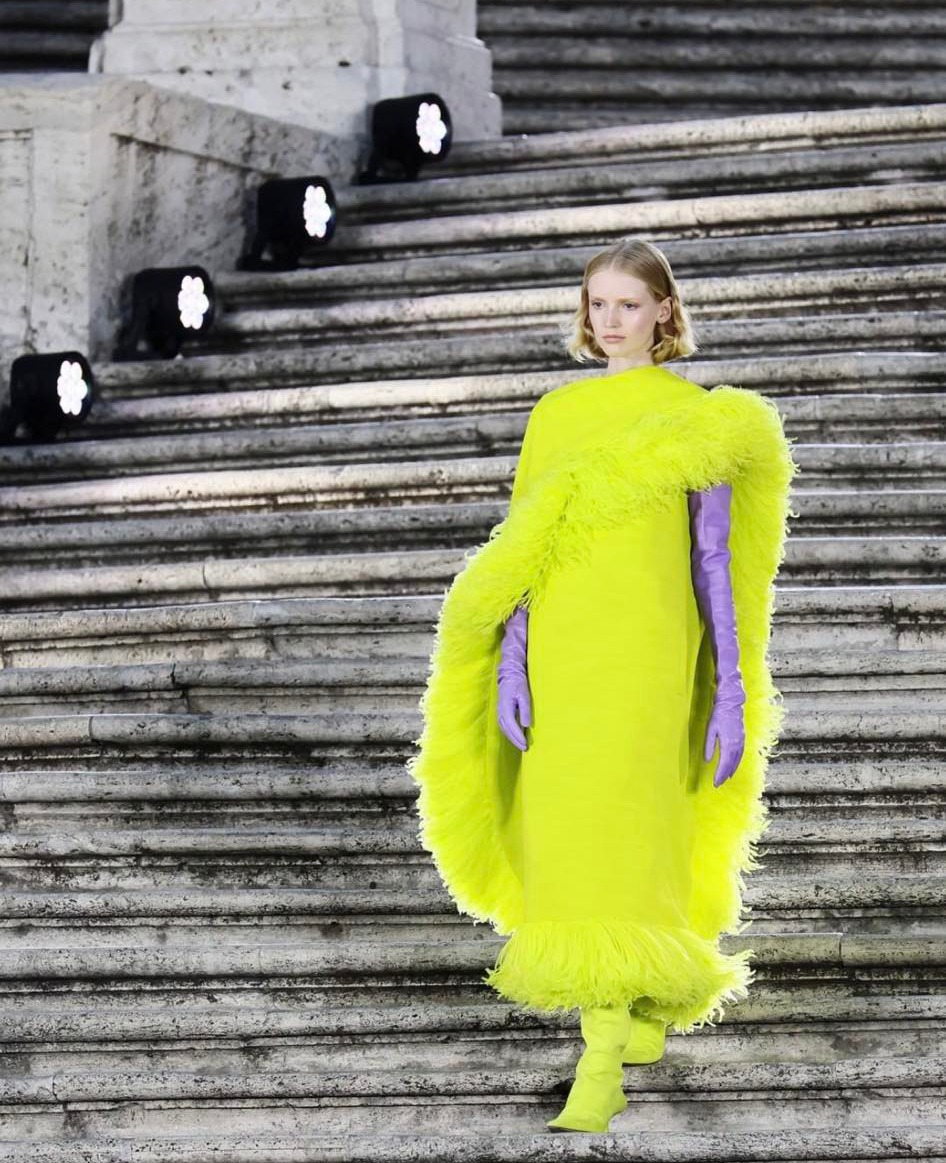 Ruža bola viditeľná na vzhľadoch v celej kolekcii vrátane nadrozmerných košieľ, na remienkoch topánok, róbach zametacích podlahy, ako brošňa na blejzroch, ale aj ako podprsenka v kombinácii s koordinovanými zdobenými sukňami a ako nadrozmerné potlače na kabáty po zem.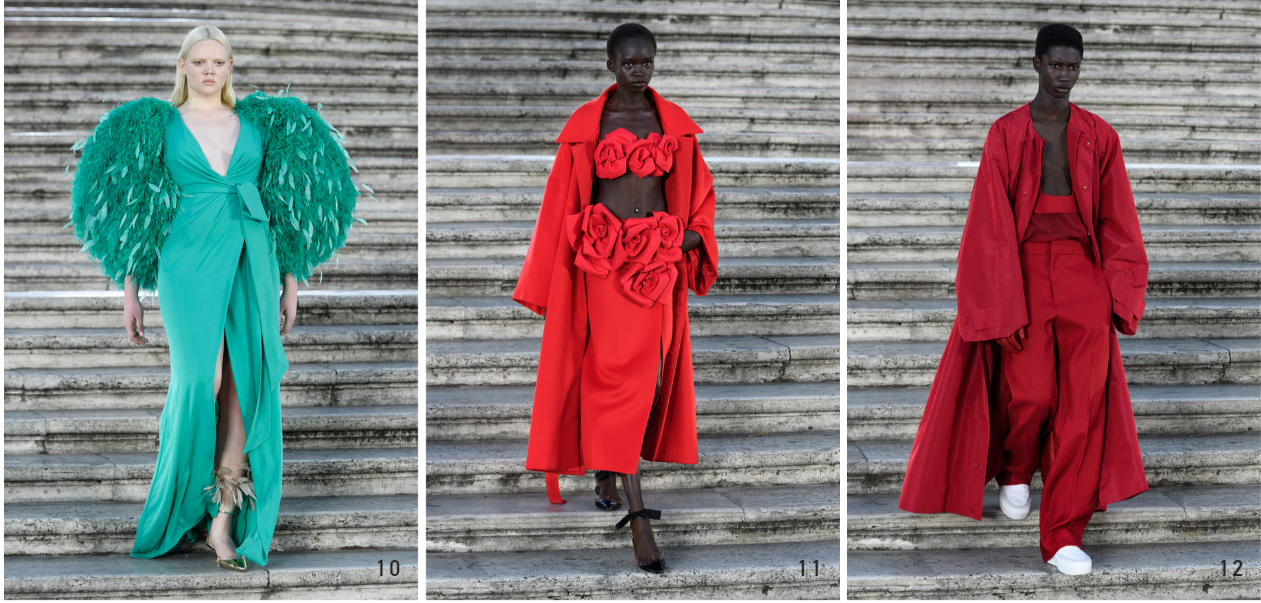 Kľúčovou témou kolekcie bol objem a textúra, pričom stále v ľahkosti, s vlniacimi sa volánikmi tylu a peria, ktoré sa opakovali. Na všetkom boli vyšívané pierka, od šifónových a organzových šiat až po plášte, plávajúce vlnité plášte, topánky a dramatické pokrývky hlavy.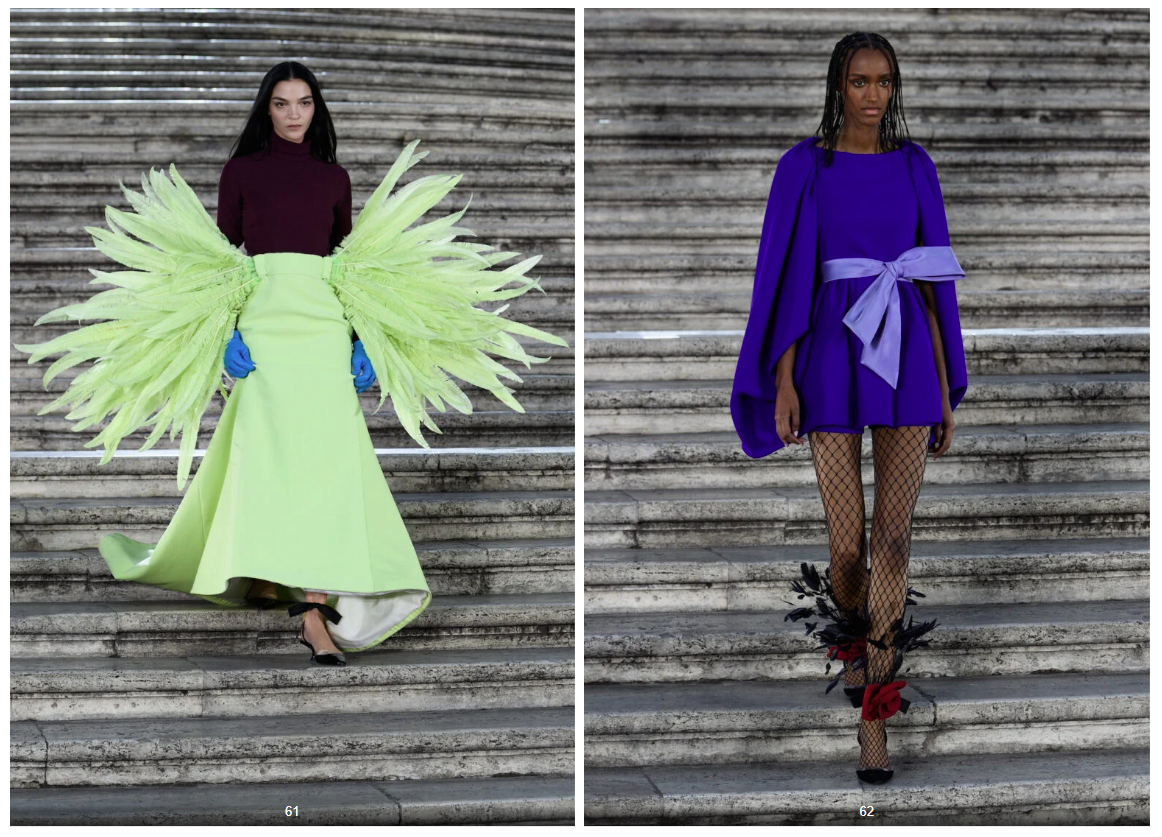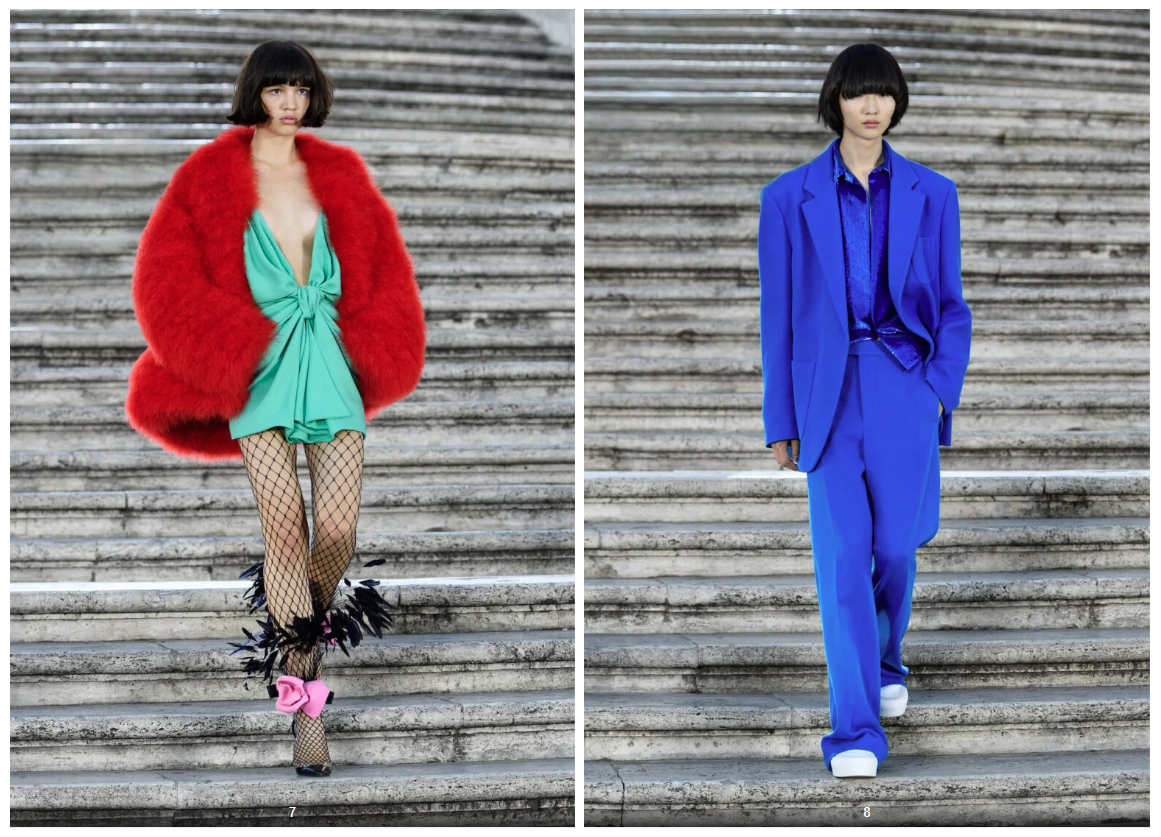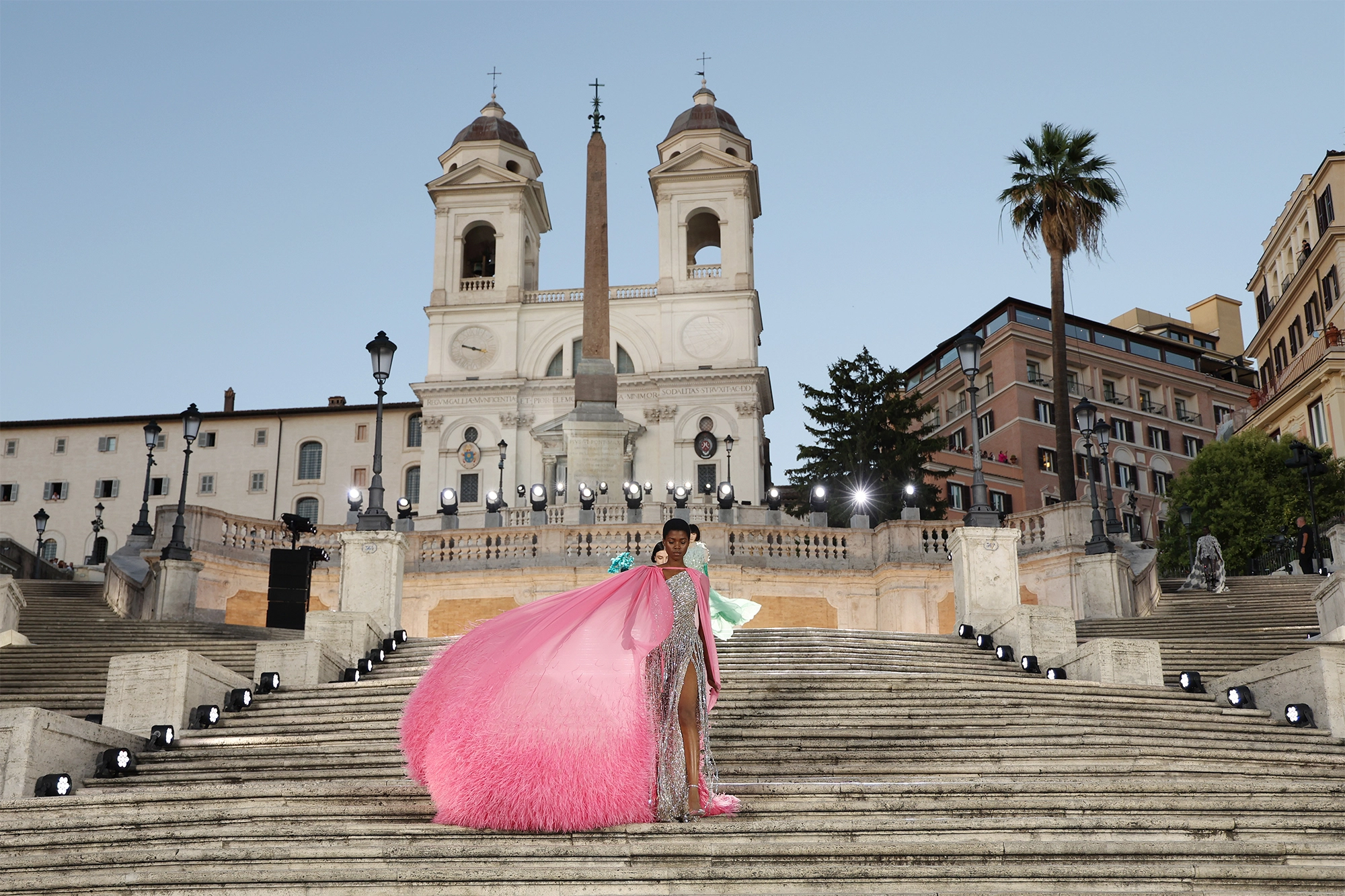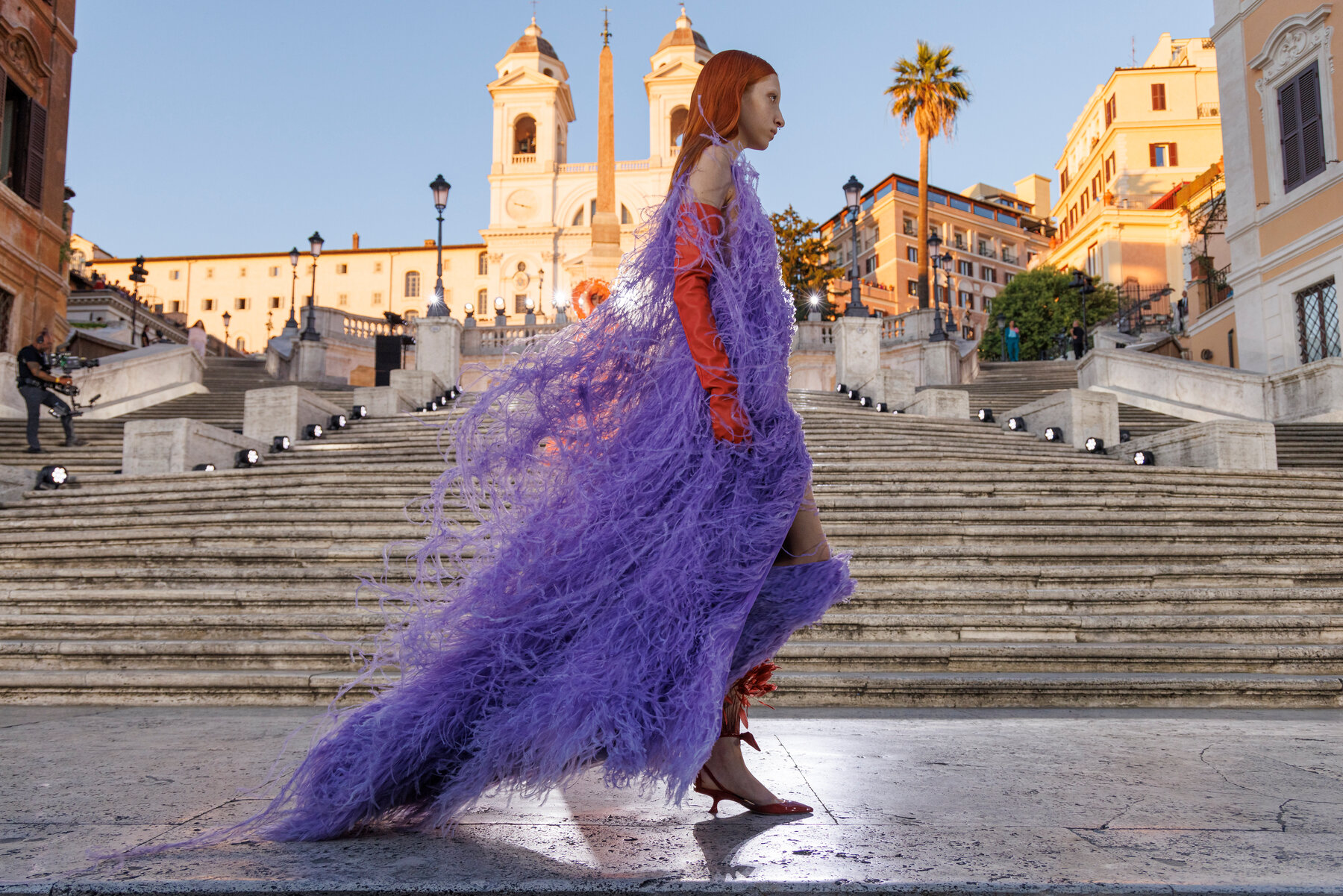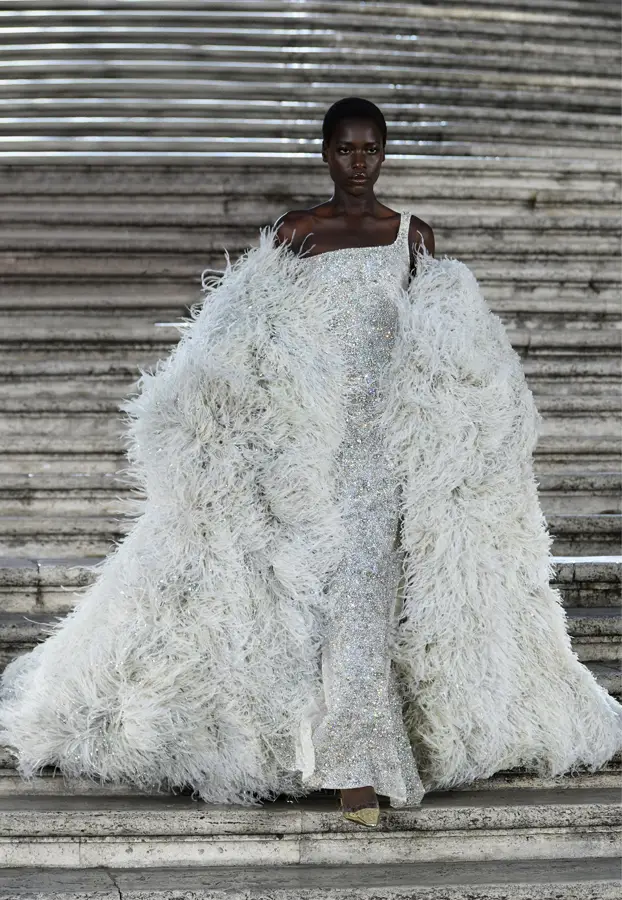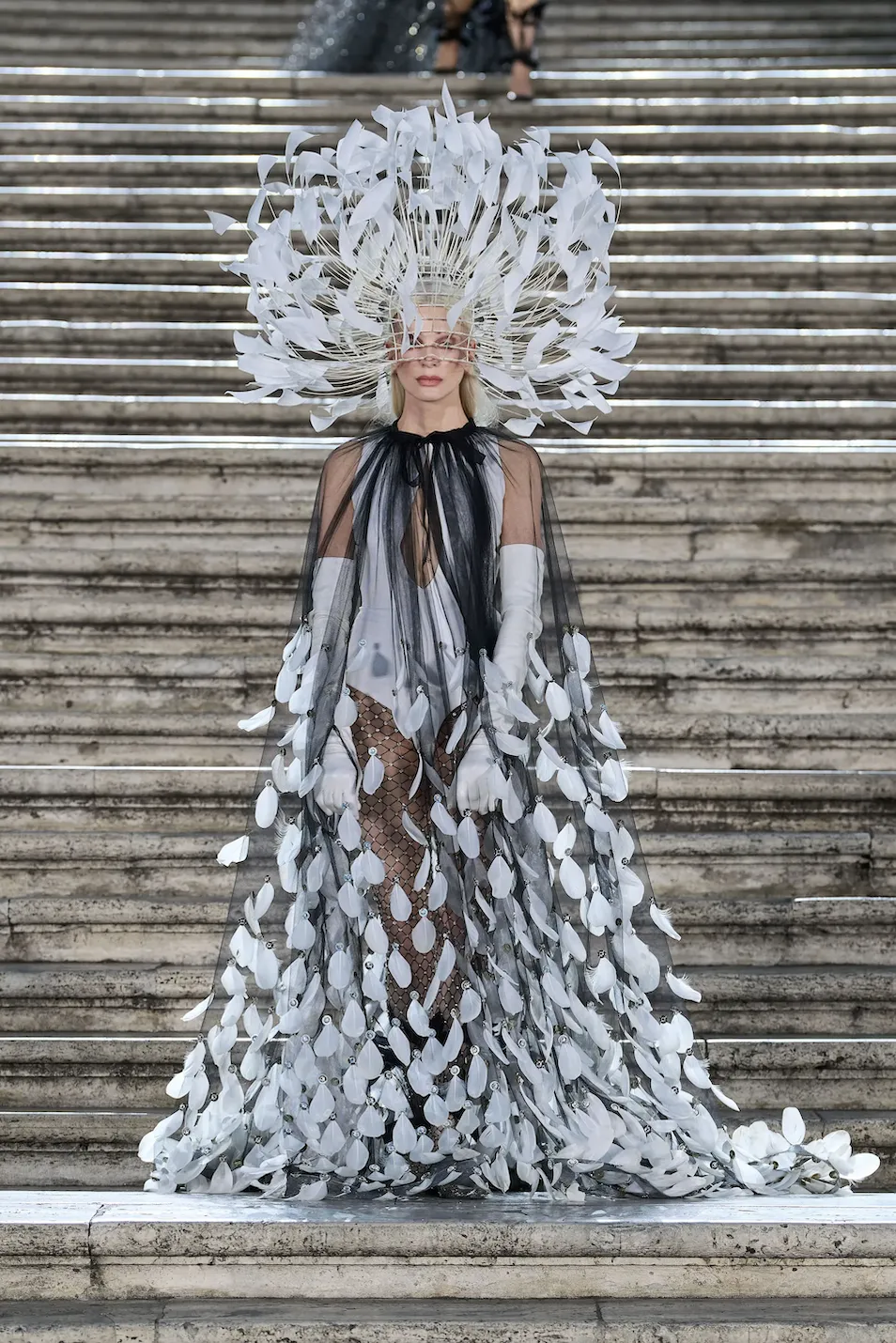 K radosti a dramatickosti kolekcie sa okrem farby a ikonickej Valentino ružovej, trblietavých strieborných a mochromatických vzhľadov, pridali aj pokrývky hlavy, masky a trblietavé farby na tvár, ktoré sme predtým videli na Couture show Valentina v roku 2019 v Pekingu.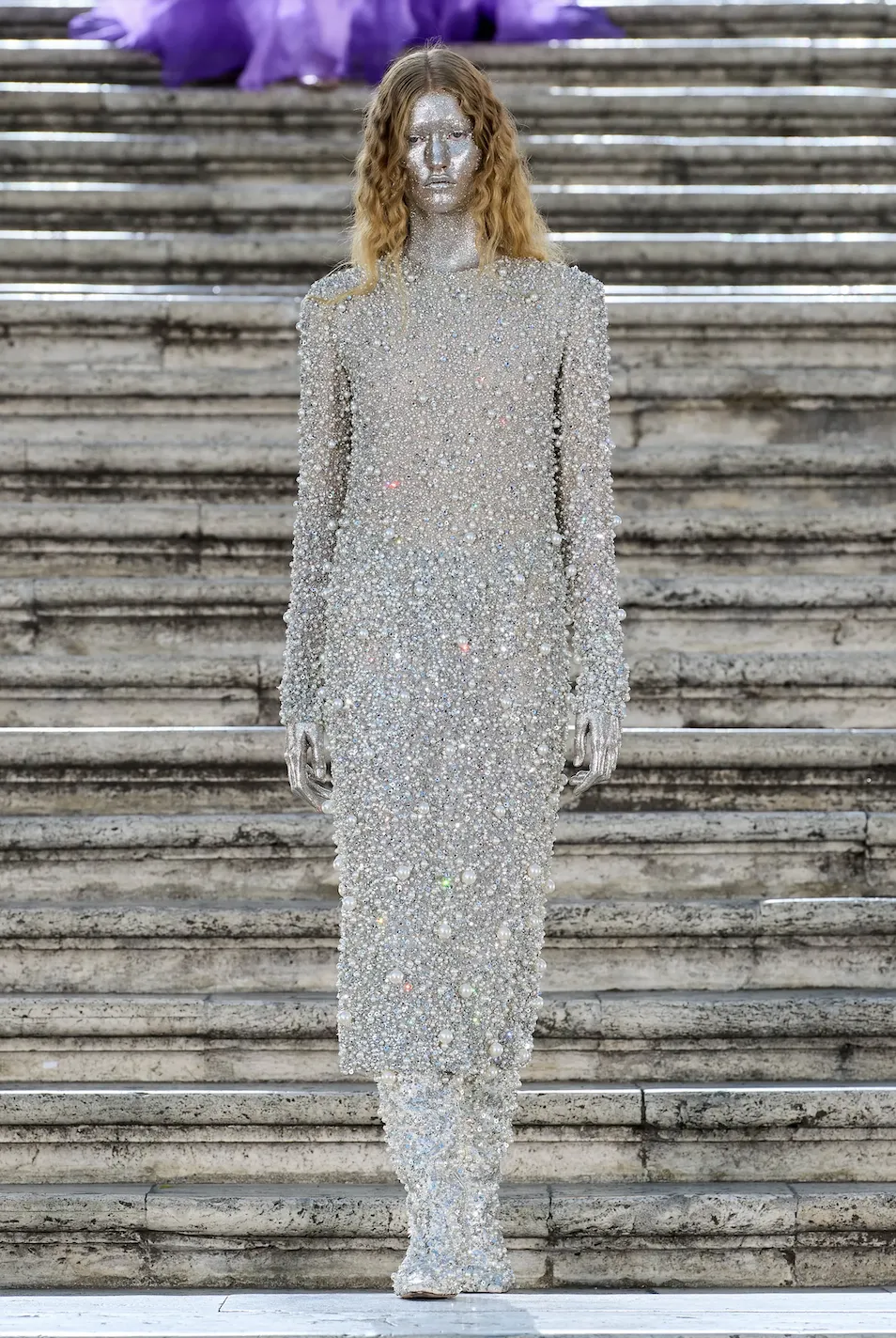 Módne looky ktoré definuje puristická, sofistikovaná estetika, pre ktorú je Piccioli známy, s čistými líniami a ležérnymi strihmi, boli doplnené couture úpravou so stretom zvláštnych farieb alebo extra rolkou látky.
Kolekcia Valentino, Jeseň/Zima 2022 bola výletom skrz obrovské archívy módneho domu do roku 2022, kedy ho viedol preslávený taliansky dizajnér Valentino Garavani.
Piccioli sa vyjadril, že kolekcia snúbi tradície módneho domu, ktorý založil zakladateľ Valentino Garavani, s jeho vlastnými súčasnými nápadmi na módu.
To neviedlo ku couture zostave naplnenej nostalgiou, ale skôr kolekcii naplnenej kódmi módneho domu s predstavou budúcnosti, obohatenej o prepracovanie ikonického vzhľadu z predchádzajúcich kolekcií Valentino. Bolo to vidieť na ikonických šatách "Fiesta" z vôbec prvého móla Valentino, ktoré Piccioli pretvoril z červenej kvetinovej róby bez ramienok na sako pokryté 3D ružami.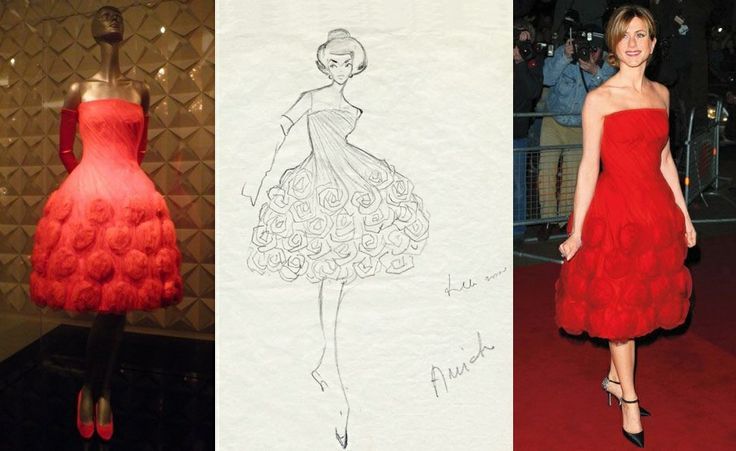 Na konci tohto skvostného módneho vystúpenia dizajnér Pierpaolo Piccioli a členovia jeho ateliéru zostúpili po schodoch za mohutného potlesku osobností ako Anne Hathaway, Andrew Garfield, Kate Hudson, Ashley Park a Ariana De Bose.
Módny dizajnér Pierpaolo Piccioli si ctí celý svoj team, pretože vie, že bez neho by nebol nikde. Dojímavým momentom na Piazza di Spagna v Ríme bol ateliér Valentino kráčajúci po schodoch žiariaci v bielych plášťoch.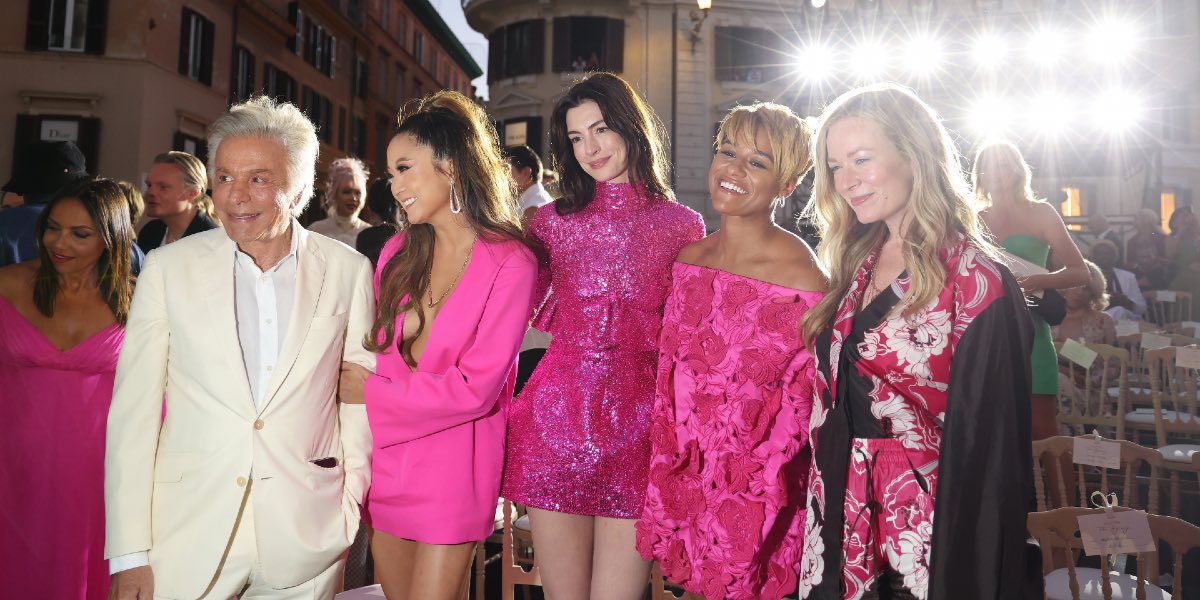 Celebrity oslavujúce módnu šou v prítomnosti životného priateľa talianskeho dizajnéra Valentina Garavani – Giancarlo Giammetti.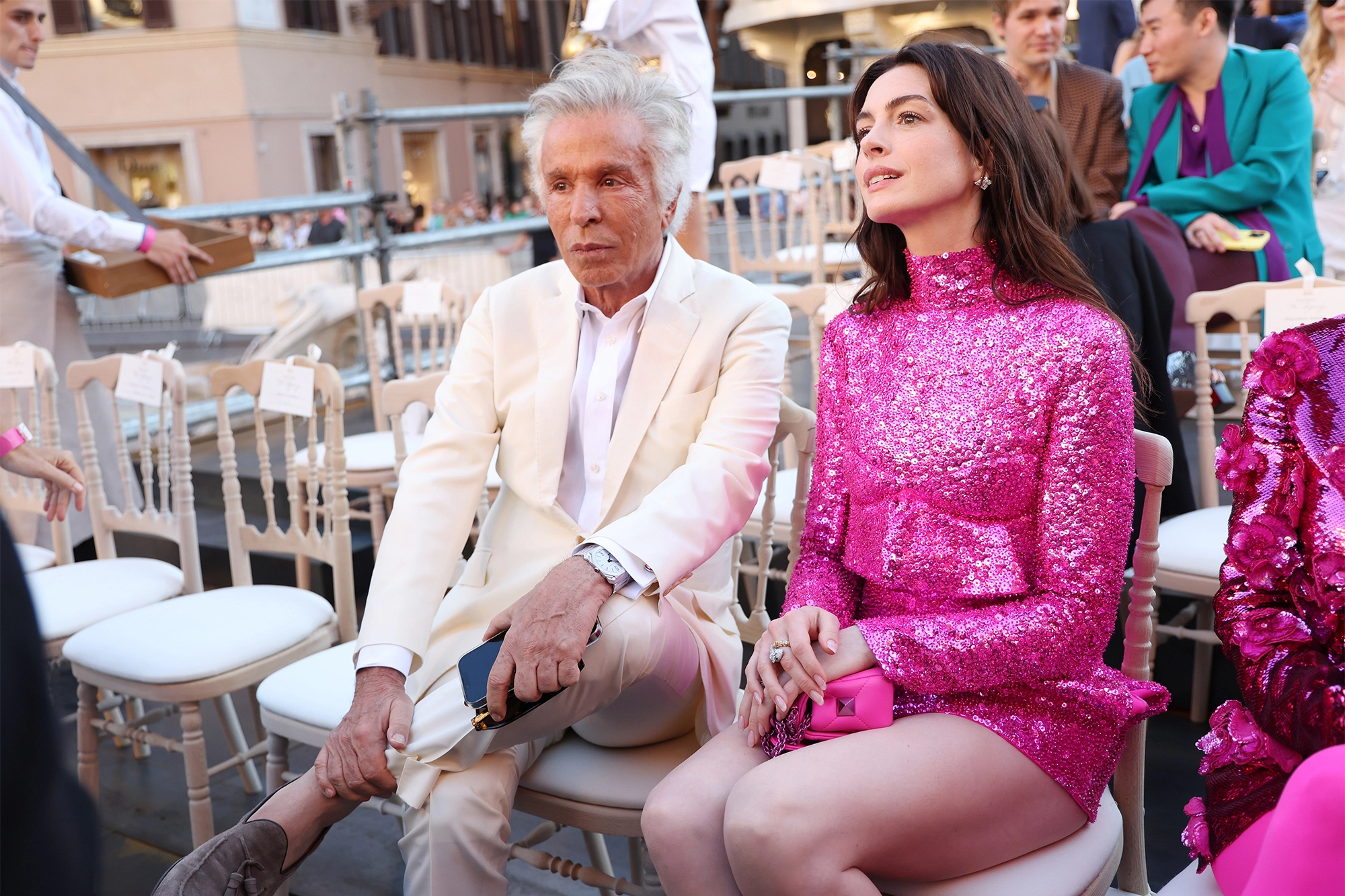 "Je to osobný príbeh, rozhovor s Valentinom, aby som ukázal, koľko z neho je vo mne," hovorí dizajnér Piccioli. Dodáva, že je to výmena okolo tvarov, proporcií, farieb – taká, ktorá je "vymyslená aj skutočná".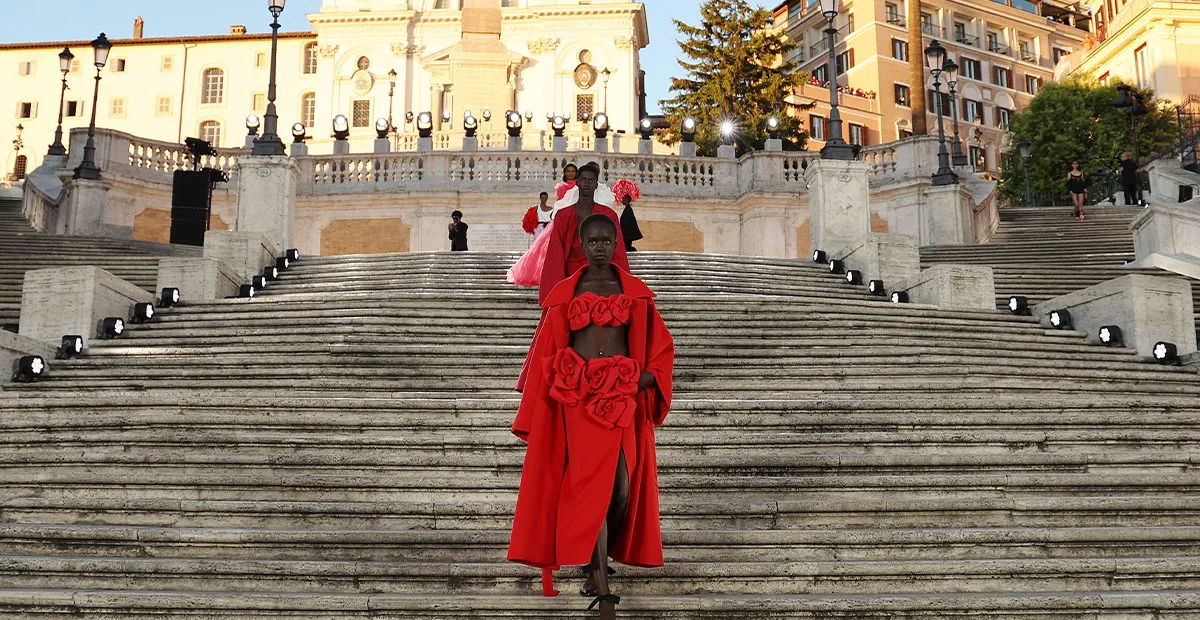 Bola to očarujúca šou, ktorá pokračovala dlhou ulicou Ríma smerom k divákom rozmiestneným po celej dĺžke móla.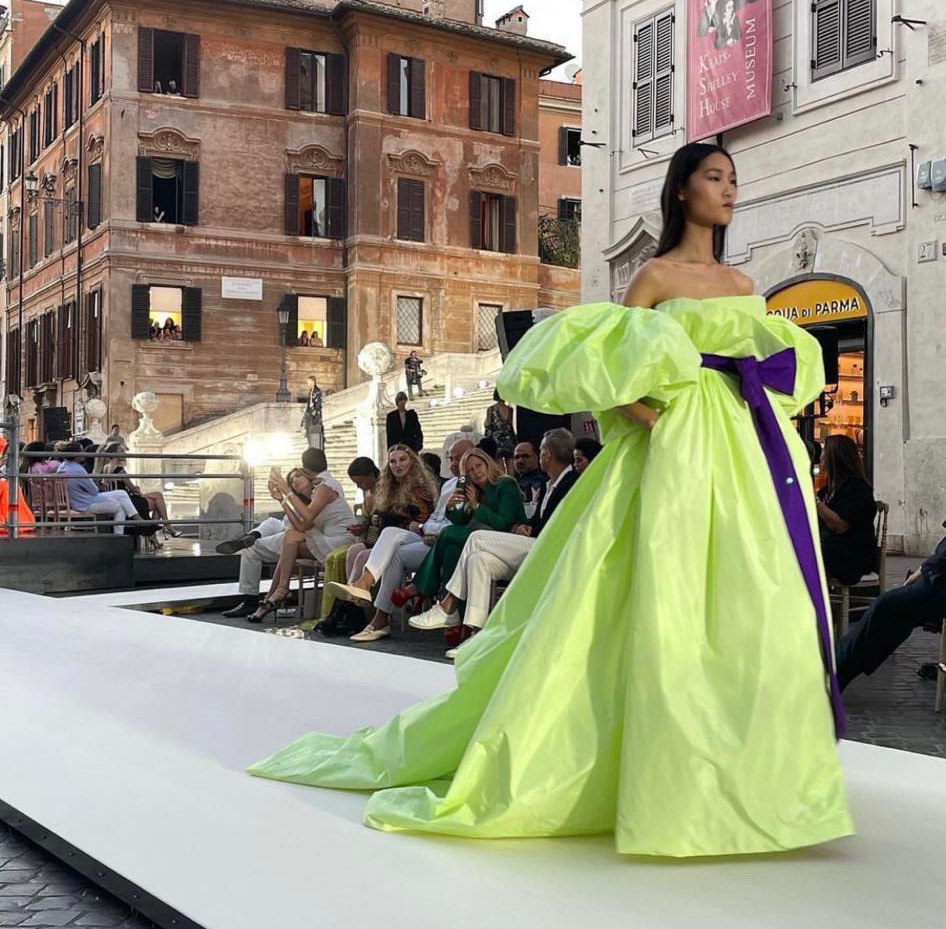 MYŠLIENKA KRÁSY – LIGHTMOTÍV KOLEKCIE VALENTINO, JESEŇ/ZIMA 2022
Myšlienka krásy bola jadrom kolekcie a Piccioli zabezpečil, že obsadenie modeliek prezentujúcich vzhľad bolo rôznorodé. Toto bola pravdepodobne jedna z najzaujímavejších prehliadok na móle, ktorá obsahovala rôzne tvary tela, etniká, vek a pohlavie, pretože dizajnér už nejaký čas snaží rozšíriť spektrum krásy.
"Krása pochádza z harmónie. Nie je to estetický príkaz, nepodriaďuje sa pevným kánonom ani pevným pravidlám. Krása je spôsob a je kľúčová pre spôsob, akým Maison Valentino funguje od svojho založenia," uvádza Valentino v poznámkach k výstave.
Prehliadky Pierpaola Piccioliho boli vždy skvele obsadené, no v posledných sezónach tento slávny dizajnér poriadne zvýšil latku. Novým krokom bolo zahrnutie väčších modeliek ako Jill Kortleve a množstva nových tvárí, starších modeliek ako Mariacarla Boscono do svojich nových prehliadok.
VALENTINO – OSLAVA DEDIČSTVA ZNAČKY
Ako inšpirácia poslúžilo mesto Rím bohatým kultúrnym dedičstvom. A Valentino je odhodlaný zachovať toto dedičstvo mesta Rím nažive – rozhodol sa financovať obnovu rozsiahlych rímskych verejných kúpeľov z 3. storočia Terme di Caracalla, ktoré boli zničené a tiež darovať nové palmy na lemovanie Španielskych schodov.
Bola to show, ktorá ukončila módny týždeň couture na vysokej úrovni. Kolekcia bola predstavená na 600-metrovom móle, na Španielskych schodoch, ktoré sú dominantou mesta Rím. Na vrchole Španielskych schodov sa nachádza pôvodný módny dom talianskeho dizajnéra Valentina Garavaniho, ktorý založil v roku 1959.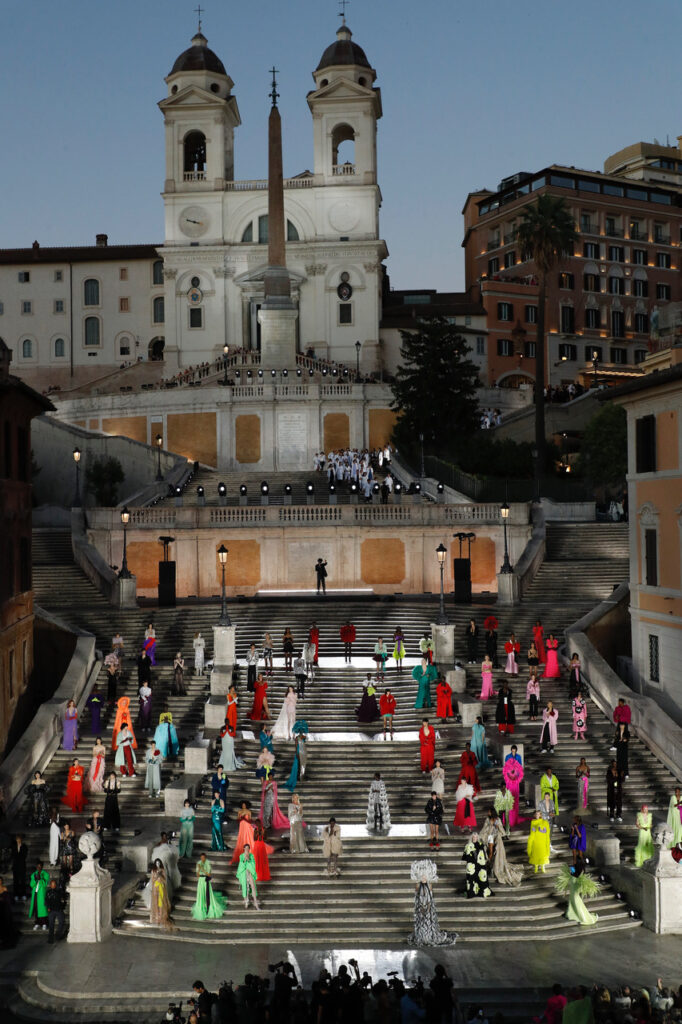 obrázky: © getty image, Shutterstock, Valentino, gorunway. com
Sledujte Facebook stránku: Mya Mirell Fashionista a Instagram: mya_mirell .