Versace – kolekcia Jeseň / Zima 2020 – 21, Milan Fashion Week, Móda Ženy, maximalizmus strieda nová éra štýlu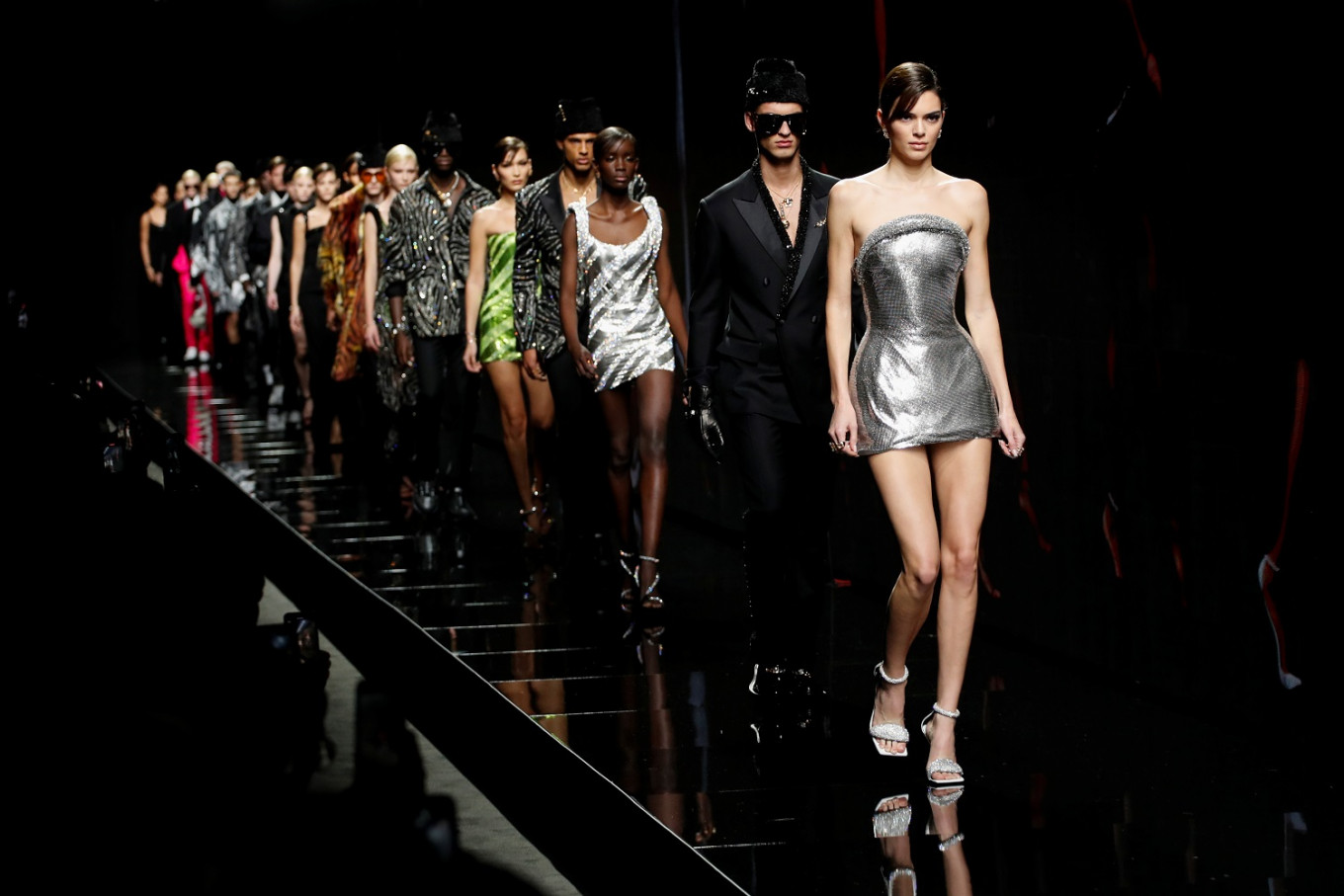 Taliansky módny dom VERSACE, založený v roku 1978, preslávený nezabudnuteľným Gianni Versace a náhlou šokujúcou smrťou, roky ohuruje svet elegantným a sexi dizajnom. Žezlo po smrti ikonickej legendy prevzala jeho sestra Donatella Versace, ktorá úspešne pokračuje v kreatívnom dizajne v šľapajách svojho brata.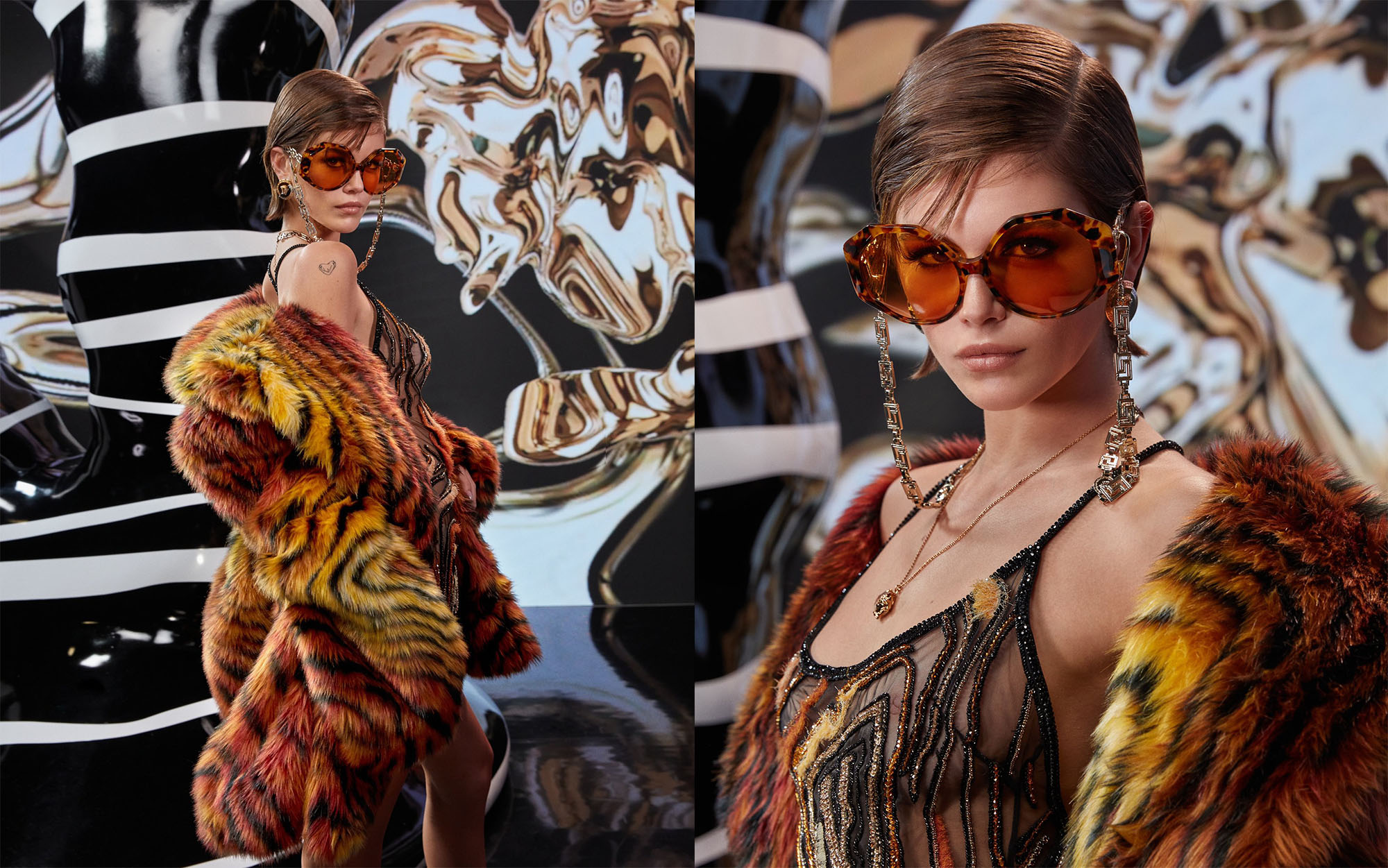 UMELECKÝ CHIC, LUXUSNÝ LOOK – VERSACE, JESEŇ / ZIMA 2020 – 21
Umelecký, chic a luxusný look, to je charakteristika novej kolekcie Versace pre sezónu Jeseň / Zima 2020 – 21, ktorá siaha od štruktúrovaných čiernych oblekov k výrazným, pop art inšpirovaným kúskom zmixovaných spolu s awandgardnými techwear modelmi.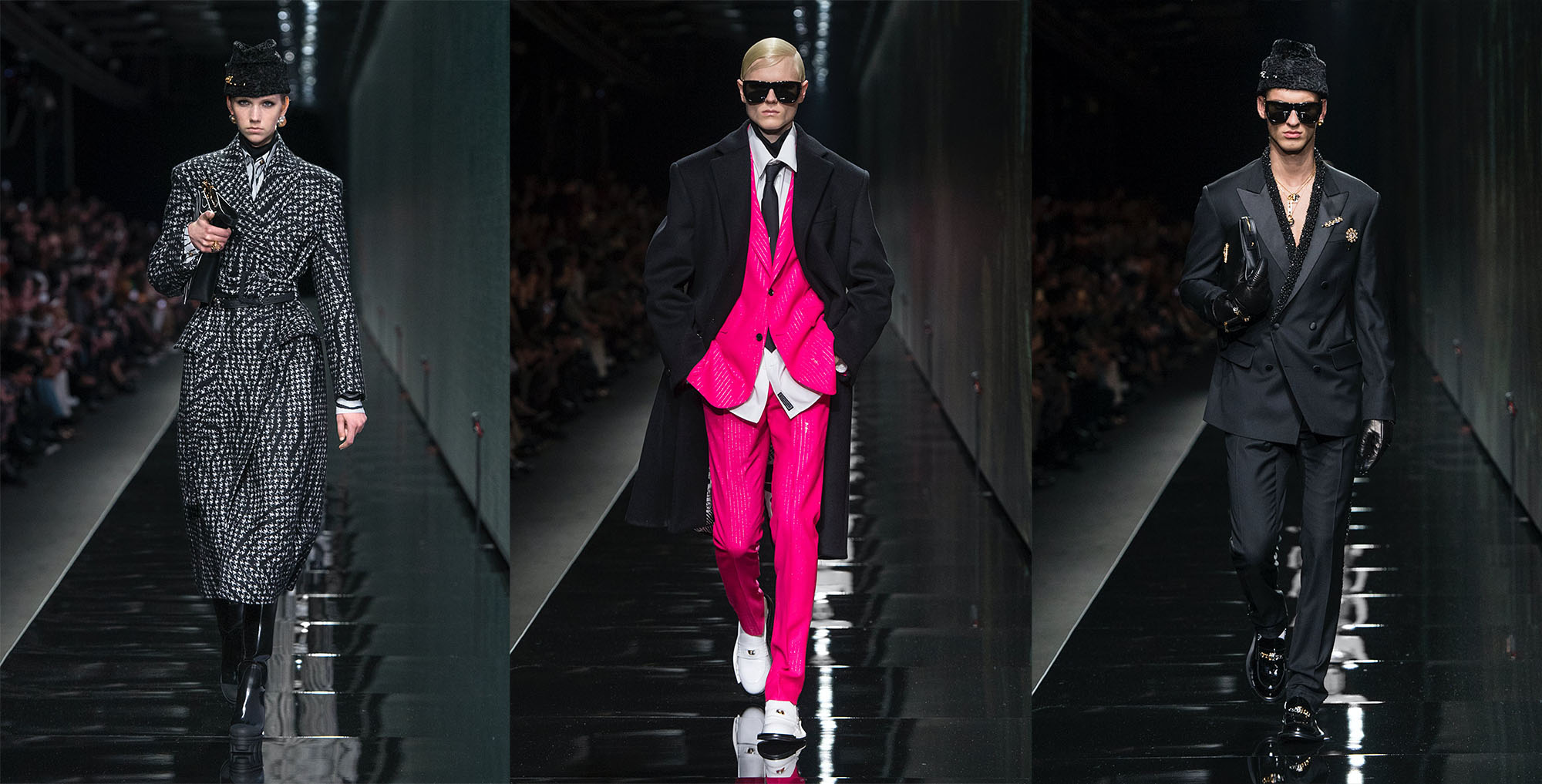 Po predchádzajúcom letnom ročníku, kedy Versace módny dom strhol pozornosť sveta a internetu vďaka hviezdnej Jennifer Lopez v sexi tropických ikonických šatách, bola módna show tentokrát mierne utlmená. Prehliadku však obohatili najzvučnejšie supermodelky a hypnotizujúce ukážky, ktoré fascinovali oko pozorovateľa. Videá s modelkami naživo si môžete pozrieť na Facebook stránke: Mya Mirell Fashionista a tiež na Instagrame: mya_mirell.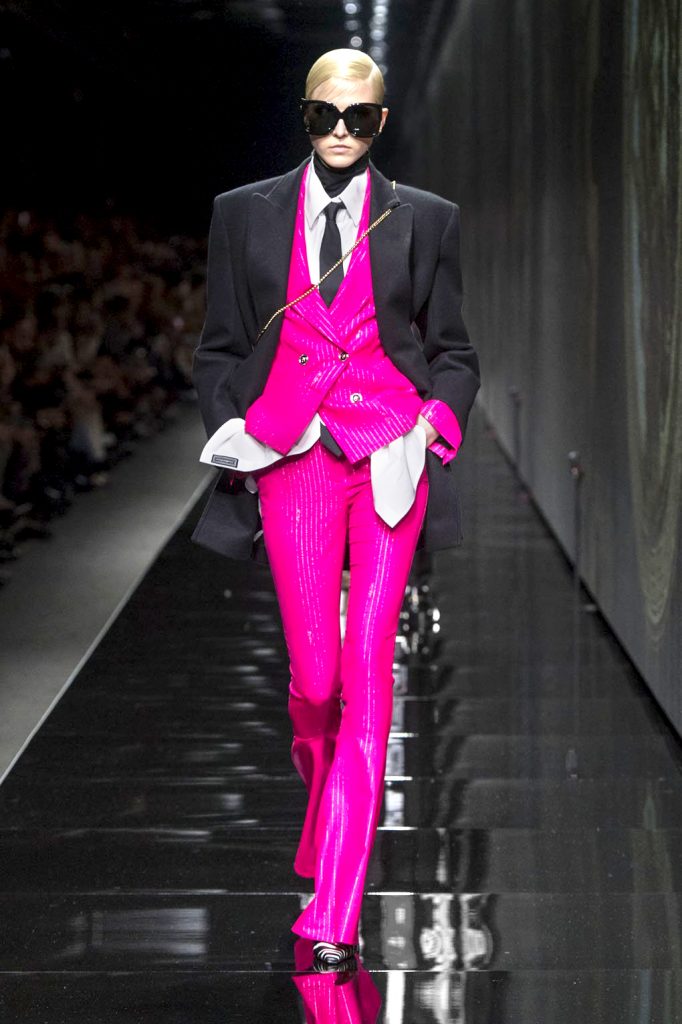 VERSACE – KOLEKCIA JESEŇ / ZIMA 2020 – 21, ZEBROVANÉ POTLAČE, ZVIERACIE POTLAČE, "V" OPTICKÁ ILÚZIA
V najnovšej dizajnovej nádielke Versace – Jeseň / Zima 2020 – 21, sa predviedli na móle zebrované potlače, divokosť s tvarom "v" s efektom optickej ilúzie po plejádu zvieracích potlačí skrz celú kolekciu.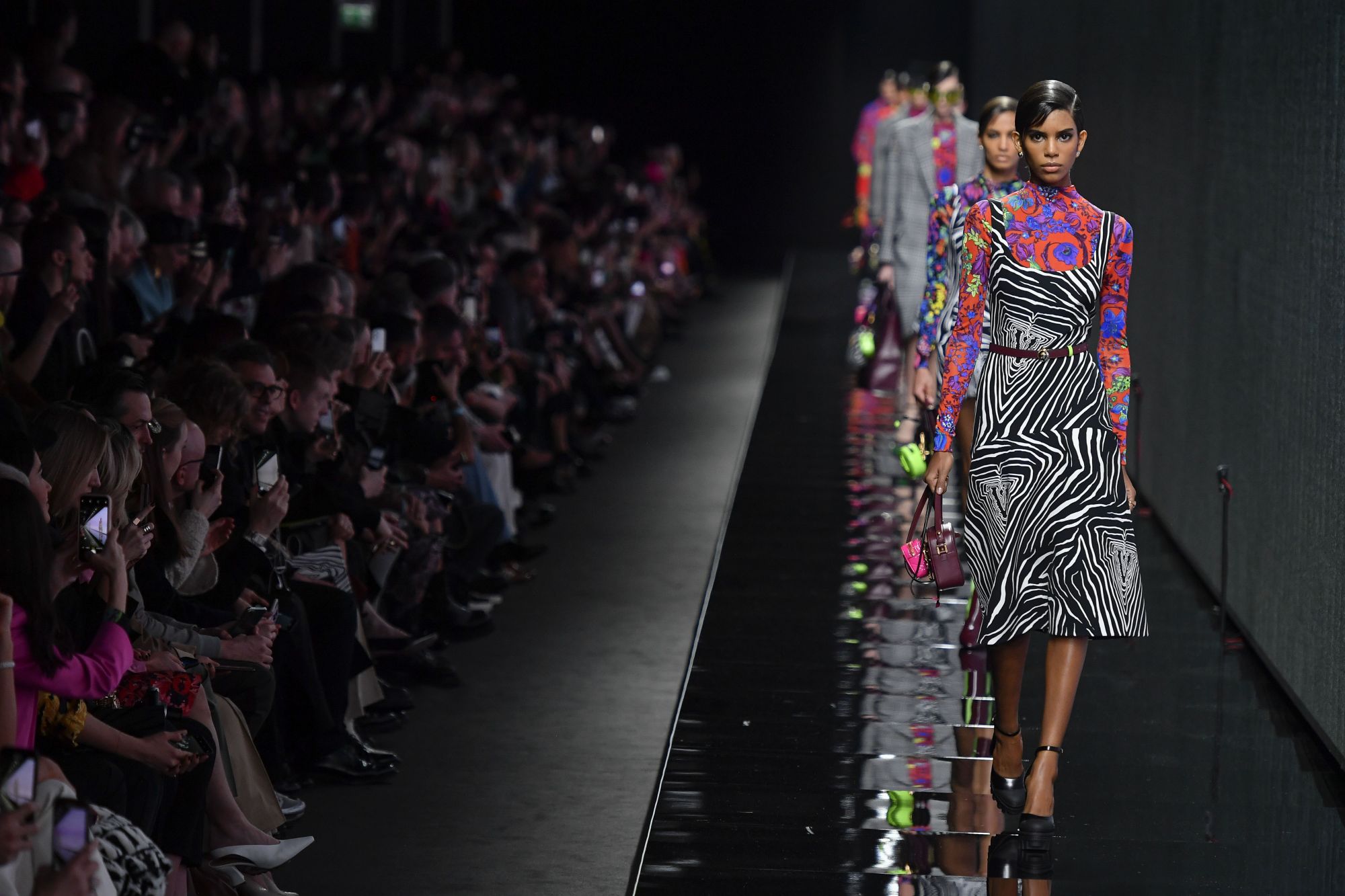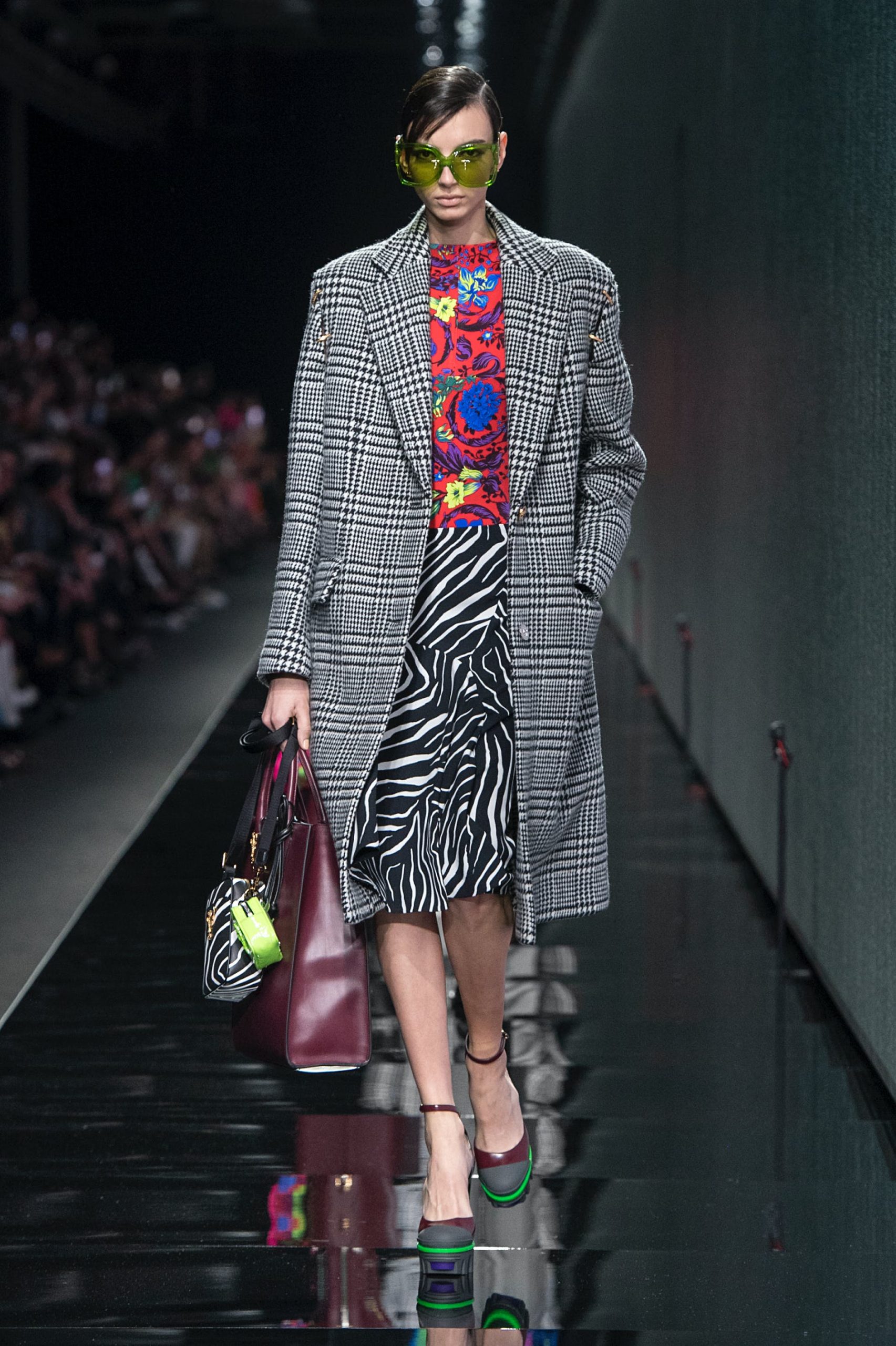 Donatella Versace svojou novou líniou kolekcie pre Jeseň / Zimu 2020 – 21 hypnotizovala dav s honosnými potlačami, pridala kožu, nechýbali ultra mini šaty a okorenila to zdravou dávkou iskrenia.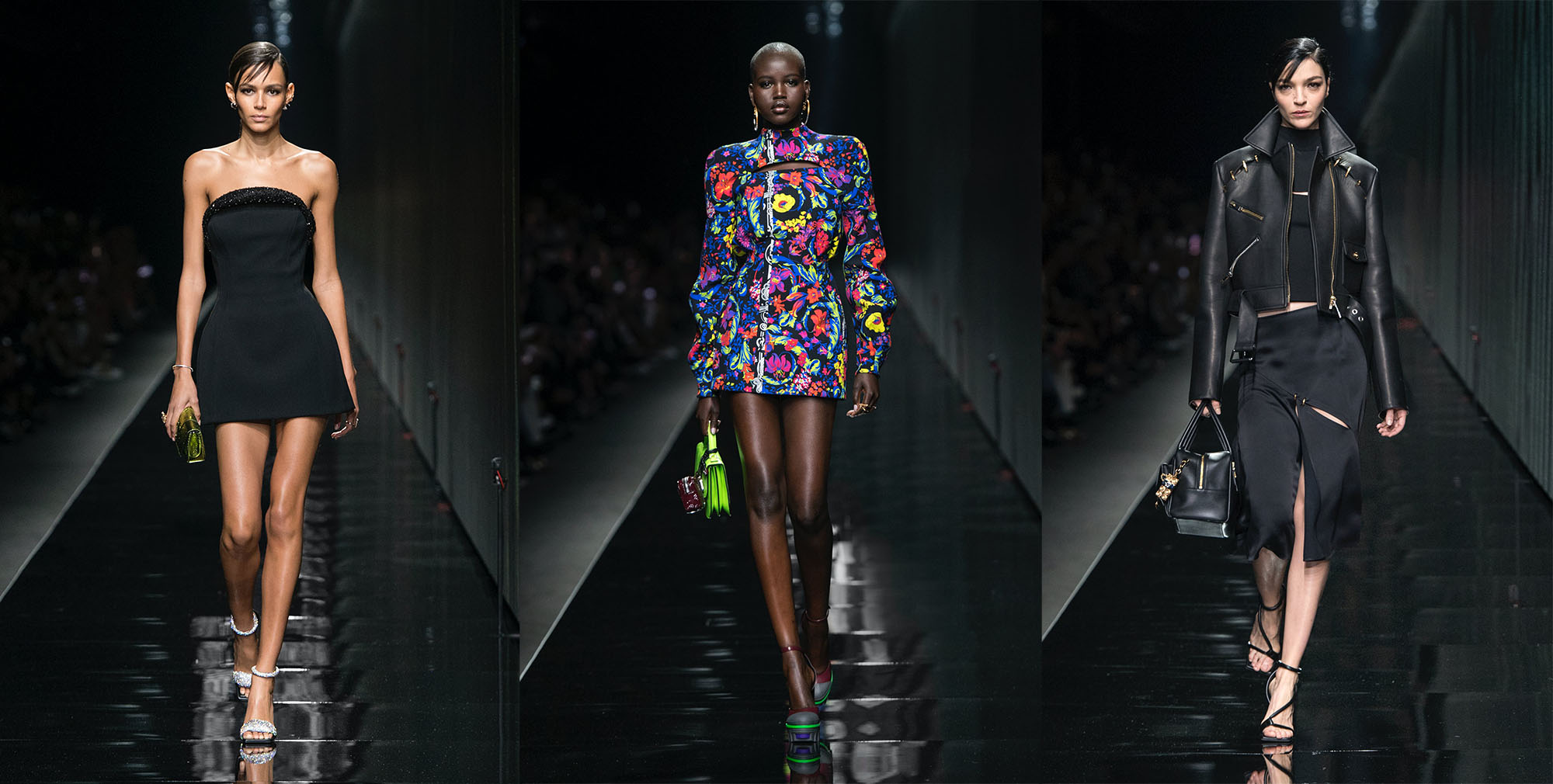 Na módnu show počas Milan Fashion Weeku, konanú v piatok večer, 22. februára 2020, prišlo ako obyčajne množstvo fotografov a novinárov, ktorí zaplnili námestie Piazza Lina Bo Bardi na maximum. Čakalo sa na slávne hviezdy, medzi ktorými najväčšie ovácie zožala modelka Emily Ratajkowski v neprehliadnuteľných Versace sexi mini červených šatách.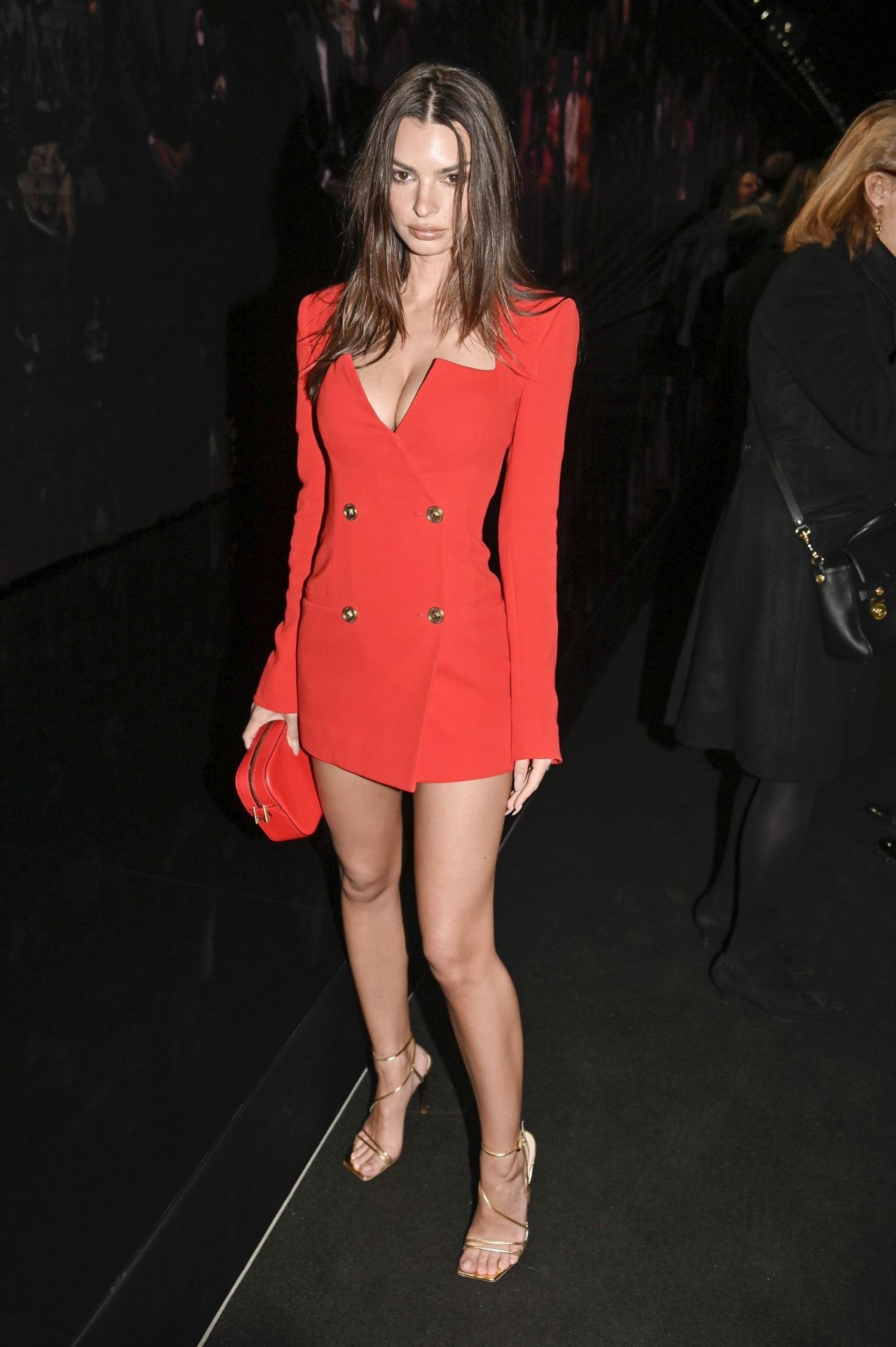 MONOCHROMATICKÉ ČIERNE LOOKY – NADPOZEMSKÝ EFEKT UNIFORMITY
Počas módnej show boli hostia usadení do priestoru s dlhým čiernym mólom a stenou, ktorá premietala ich projekciu na obrovskej obrazovke pred samotným začiatkom. Neskôr sa zrkadlá sa obrátili k hypnotizujúcim animáciám s Donatellou Versace, hlavnou hviezdou tohto všetkého. Dizajnérka sa rozhodla zahájiť módnu show projekciou rôznych portrétov svojej tváre predtým, ako séria platinových modeliek vstúpila na mólo v monochromatických čiernych oufitoch vytvárajúc nadpozemský efekt uniformity.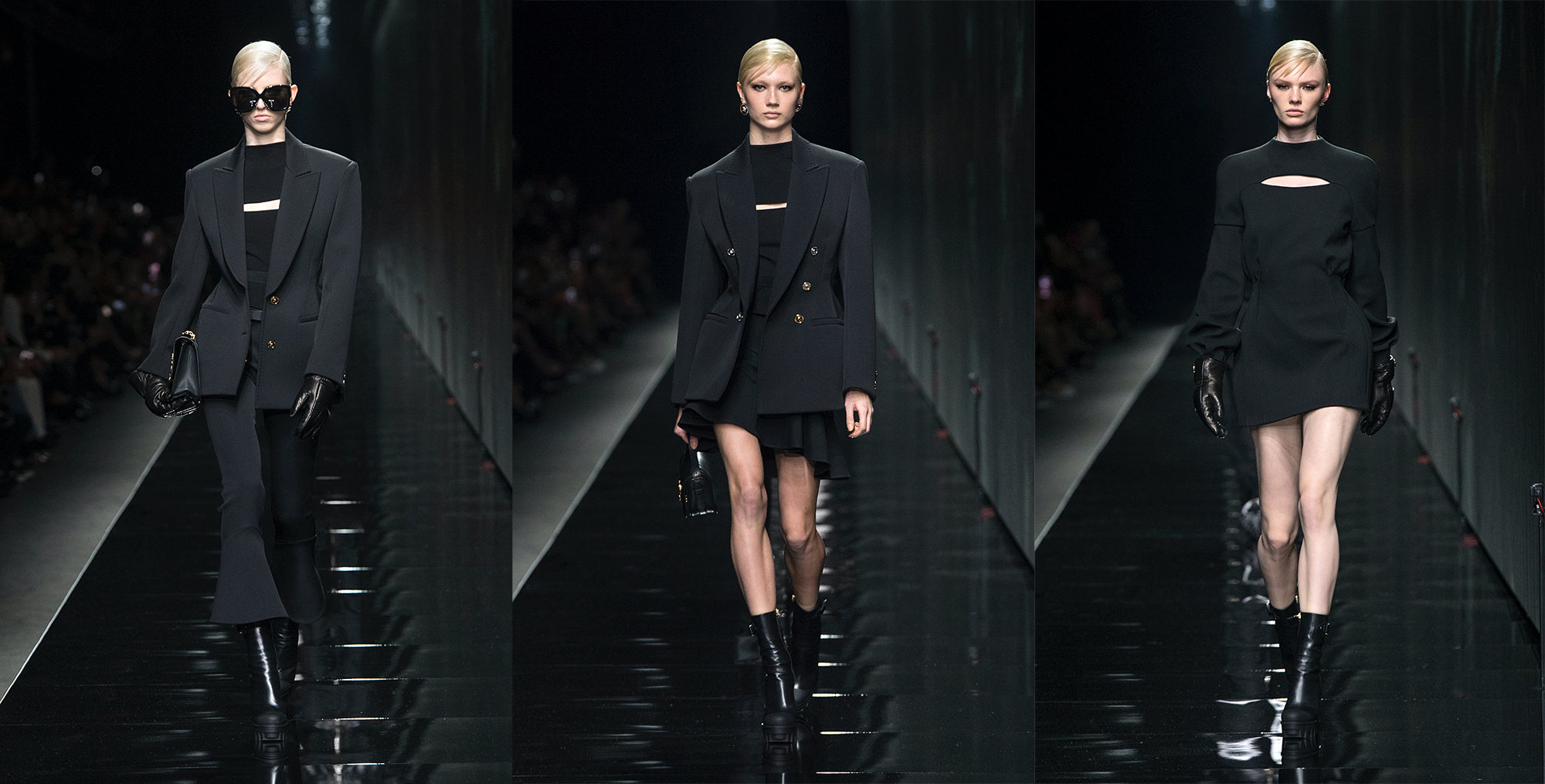 Čierne blejzre so silnými ramenami s gombíkmi tvaru hlavy zlatej medúzy oblečené na priliehavých mini šatách, krátkych nohaviciach nad členky s miernym rozšírením s tmavými čiernymi okuliarmi veľkých rozmerov, dokonale ilustrovali Versace značku a jej temný a nebezpečný, glamour štýl. V kombinácii s elektrizujúcimi ružovými kostýmami bol tento zámer dovedený k dokonalosti.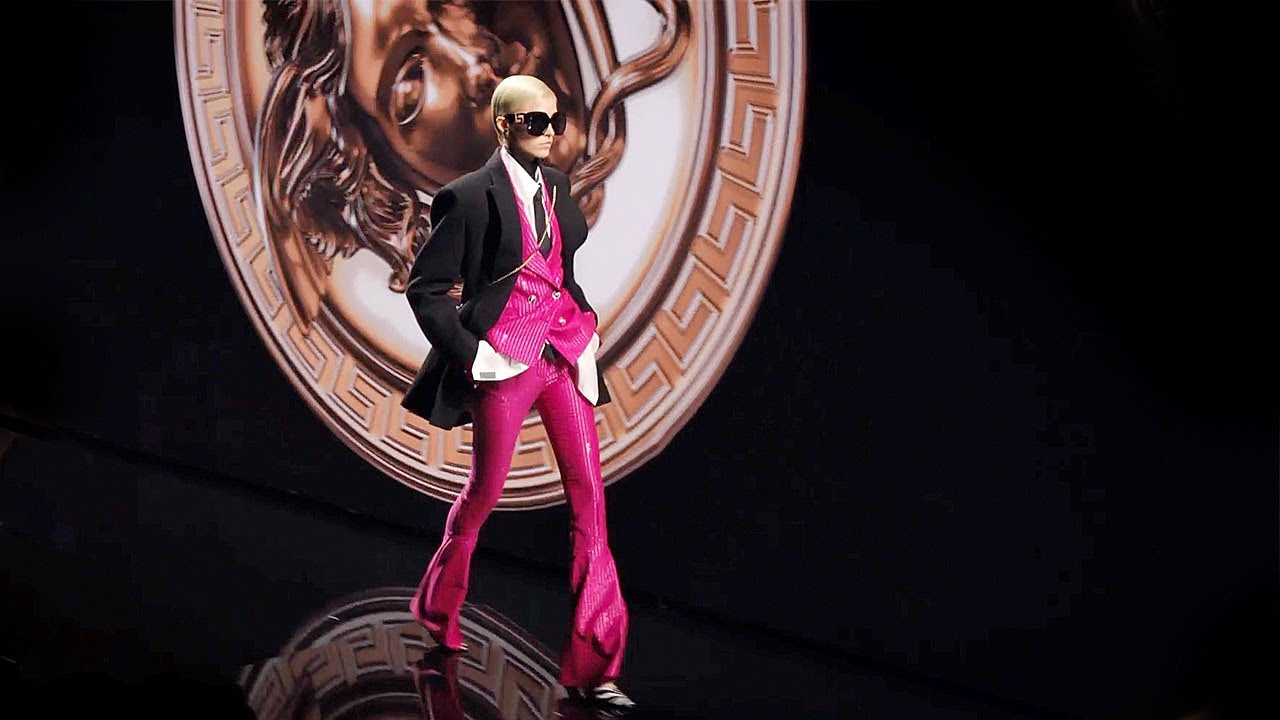 MONOCHROMATICKOSŤ VERZUS VERSACE MAXIMALIZMUS – NÓBL LOOKY, ATHLEISURE ŠTÝL, PLECHOVÉ MODELY, ČIERNE MINI
Monochromatickosť samozrejme v značke Versace nevydržala dlho, eklektická show prešla do predvedenia sérií drahých nóbl lookov.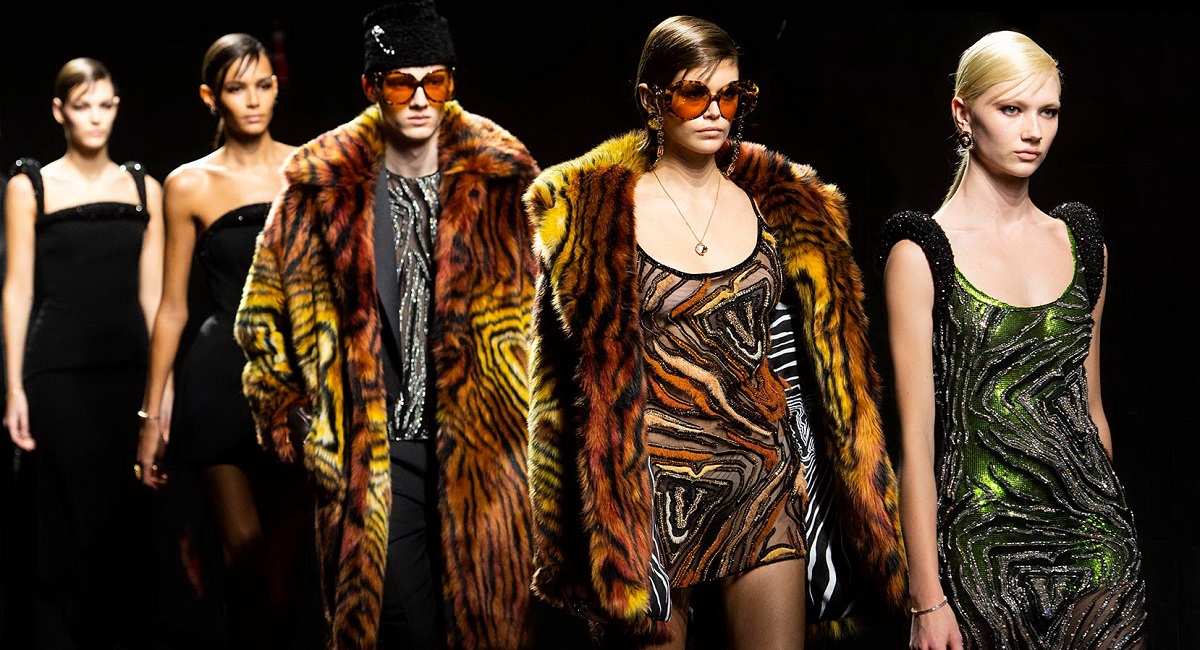 Prehliadka kolekcie pokračovala s aktualizáciami známych barokových potlačí ako aj krátkou a módnou cestou athleisure športovým štýlom s neobmedzeným prísunom búnd.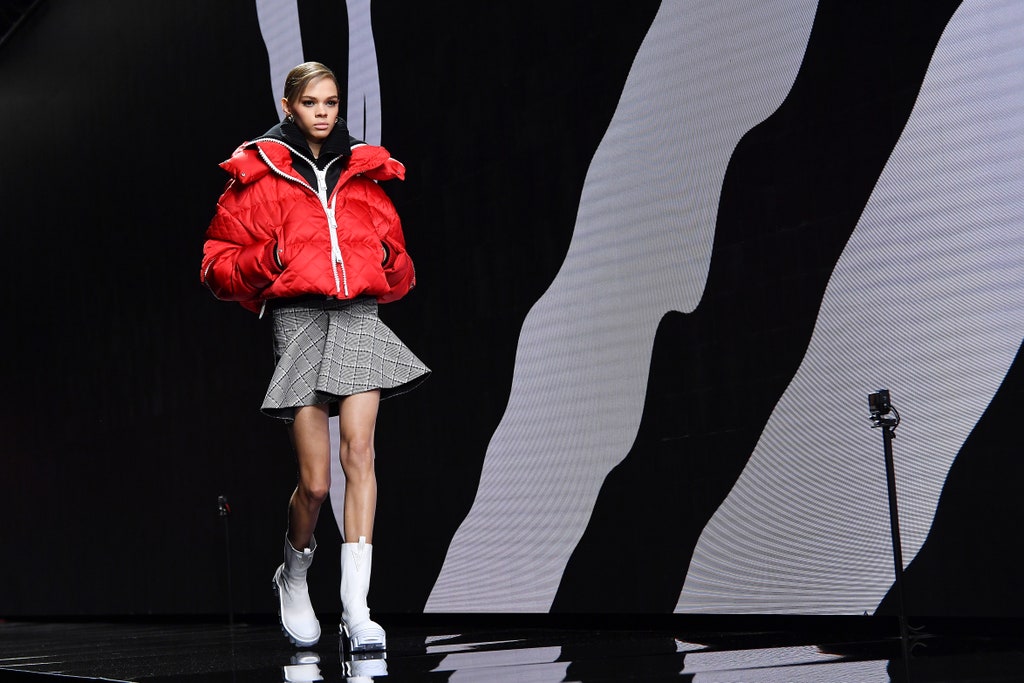 Pridali sa kovové sieťované plechové modely, nechýbali čierne mini malé šaty, všetko zdobené znakom Versace maximalizmu.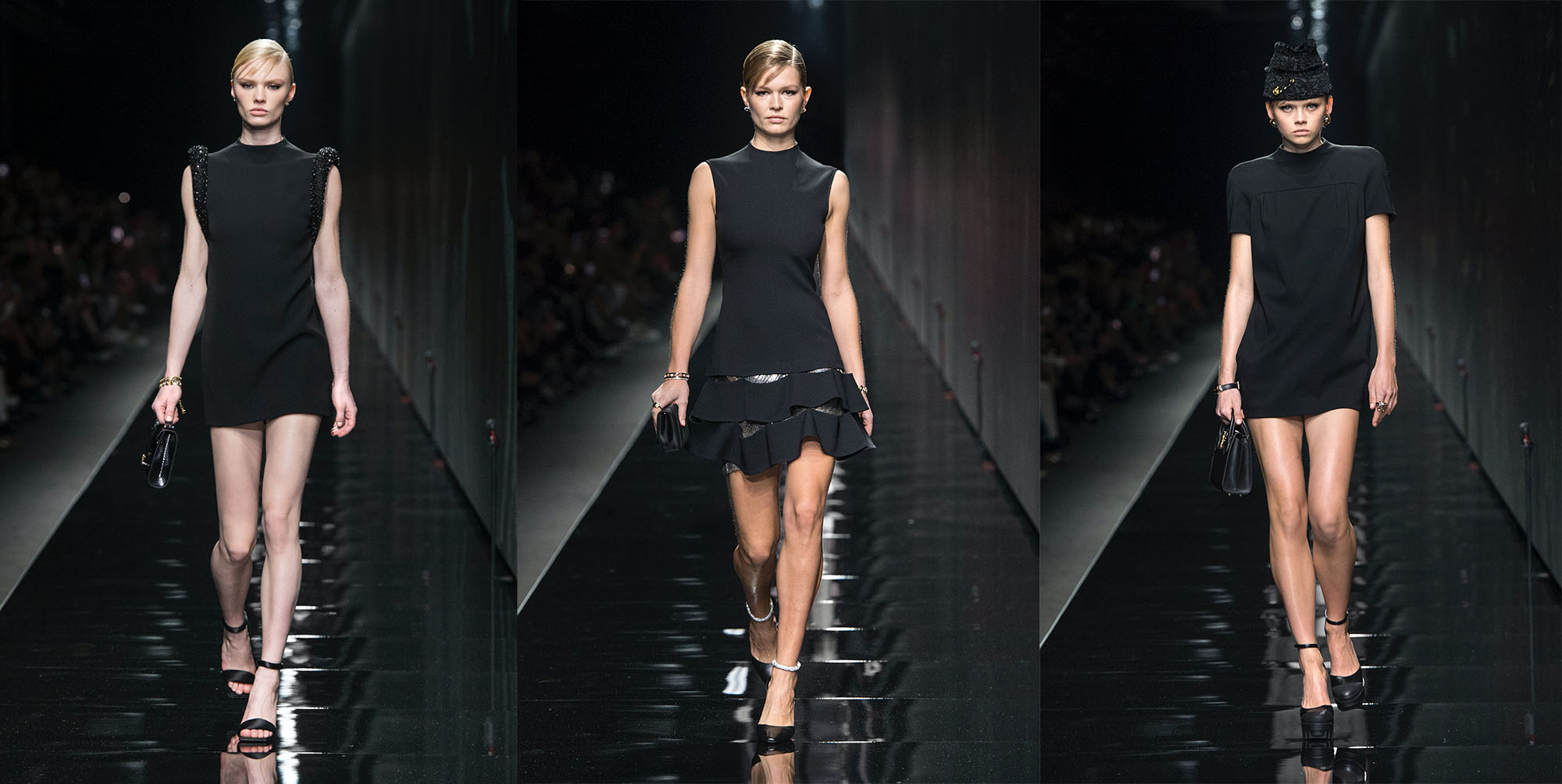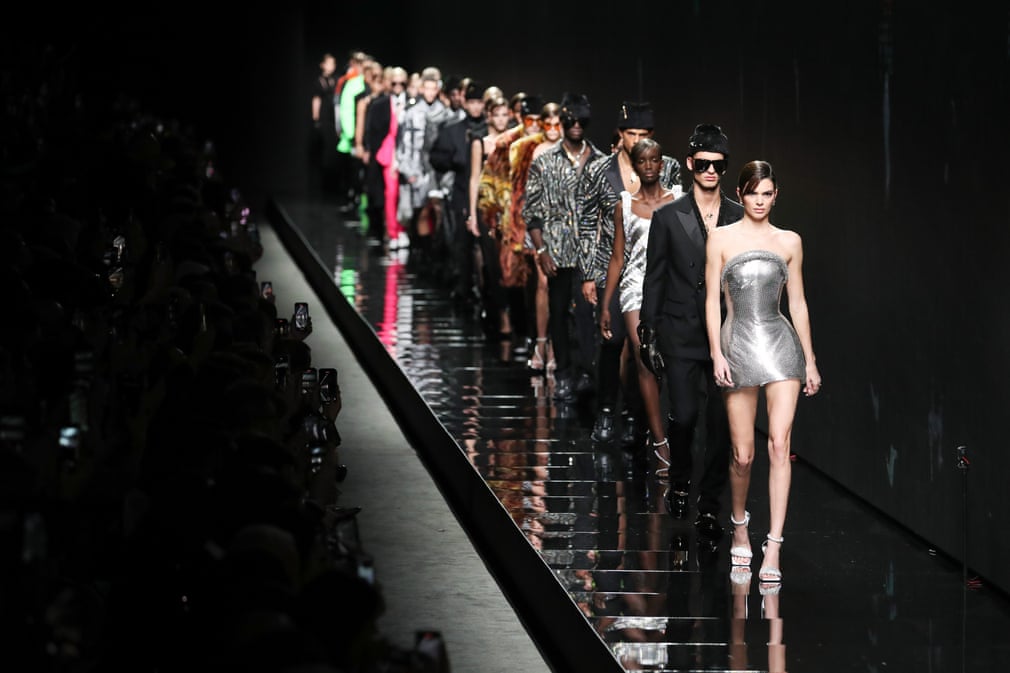 Donatella Versace kolekcia Jeseň / Zima 2020 – 21 bola plná výrazných potlačí, kovových sieťovín a večerných party šiat.
Supermodelky, aktuálne najžiadanejšie na svetových mólach, Kaia Gerber, Kendall Jenner, sestry Hadid, Irina Shayk a niektoré ďalšie zvučné mená , vyniesli na móle tie najskvostnejšie kúsky.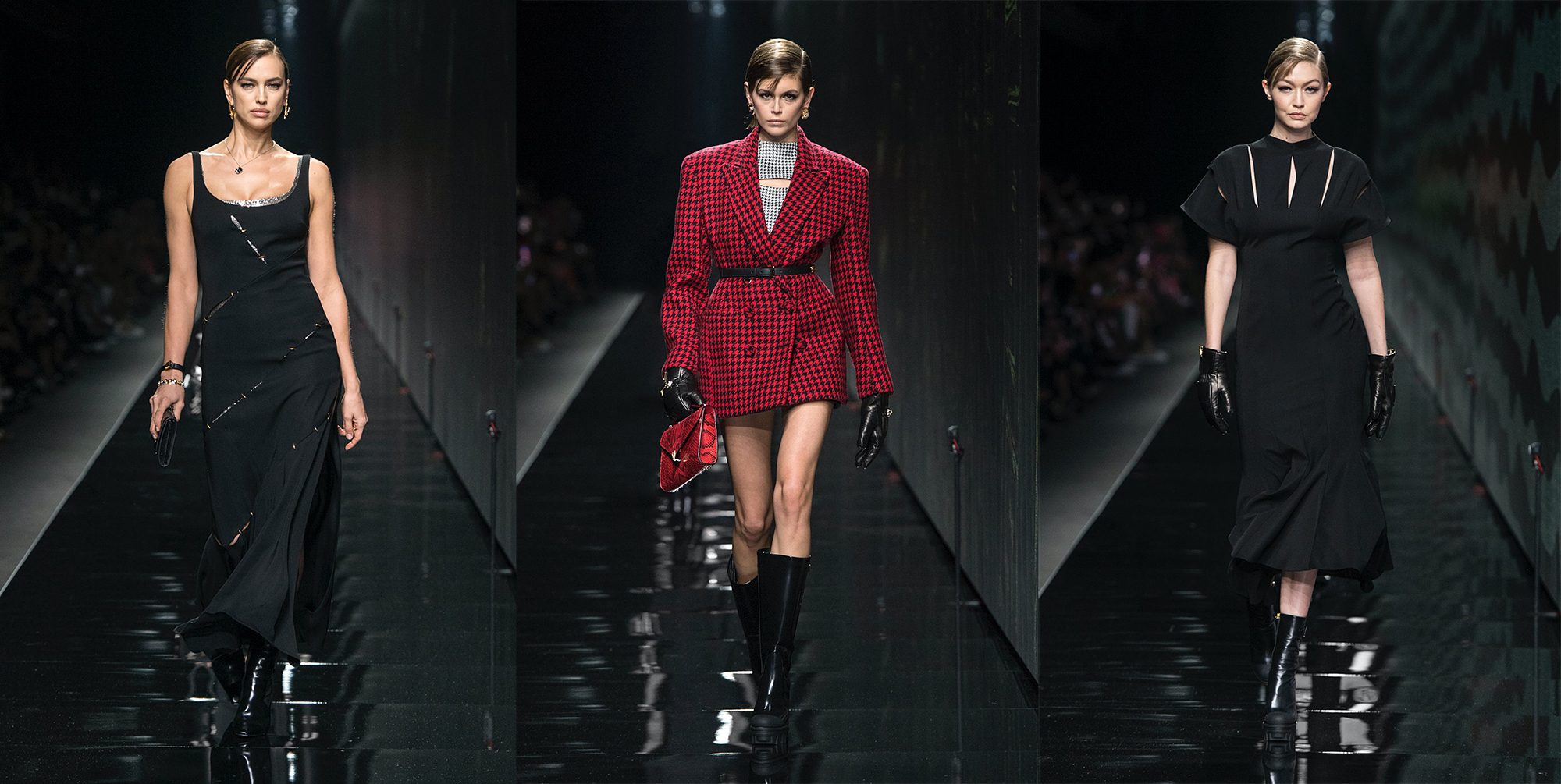 MAXIMALIZMUS STRIEDA NOVÁ ÉRA ŠTÝLU
Show končila flitrovými lookmi vrátane modelov z falošných kožušín s tigrovanými potlačami na priehľadných šatách s korálkami a flitrovými výšivkami. Ďalej na ultra mini slimových party šatách modelky Bella Hadid so zelenými pruhmi, ktoré vyzerali ako vyrobené z jedného pásu nelemovaného flitrového polyesteru.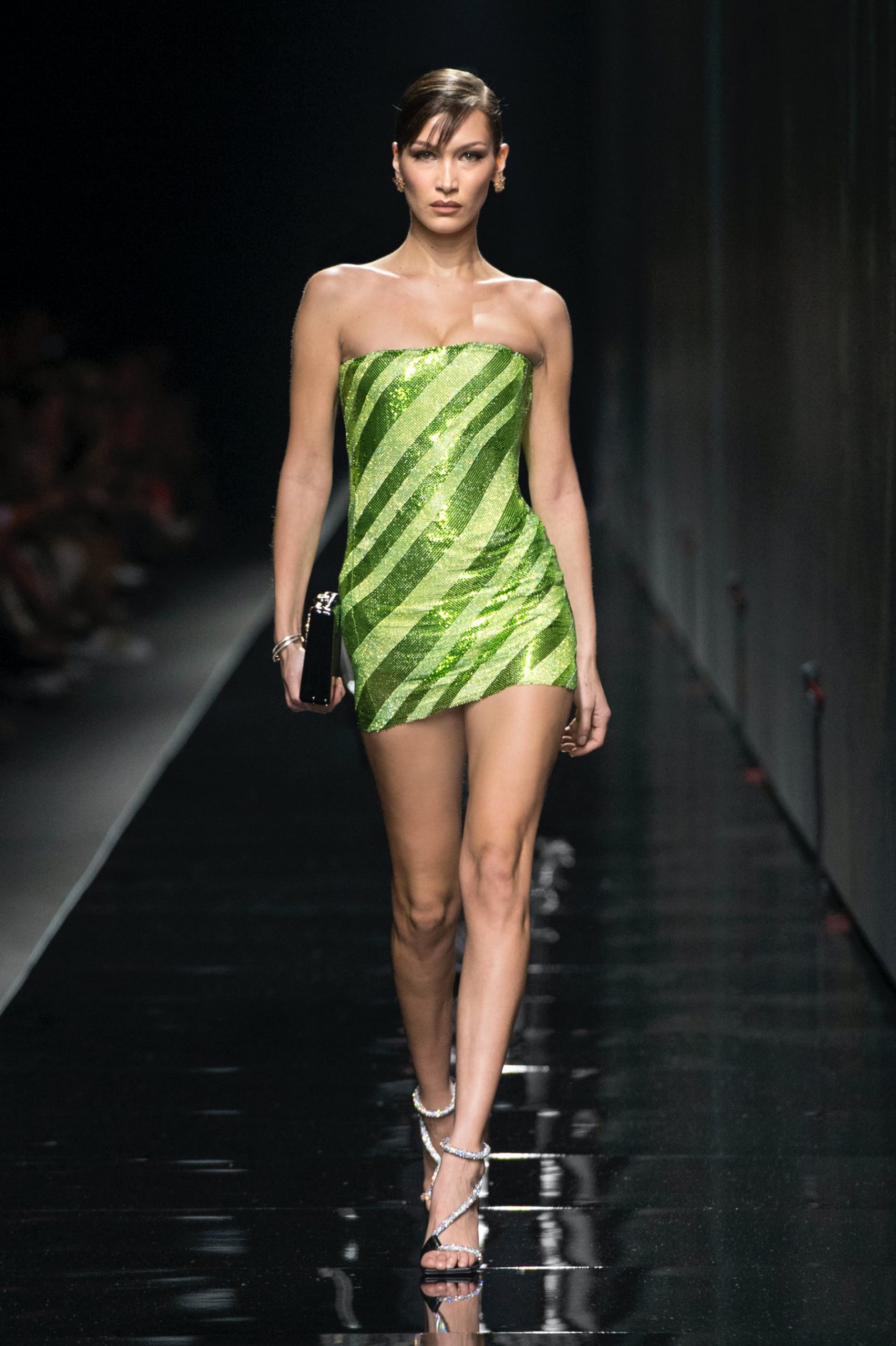 Modelka Kaia Gerber zažiarila v retro modeli – v kabáte nadmerného strihu so zvieracou potlačou, okuliaroch a slipových šatách so zdeformovaným "v" dizajnom, ktoré odkazujú na glamour éru z rokov 70. a 80.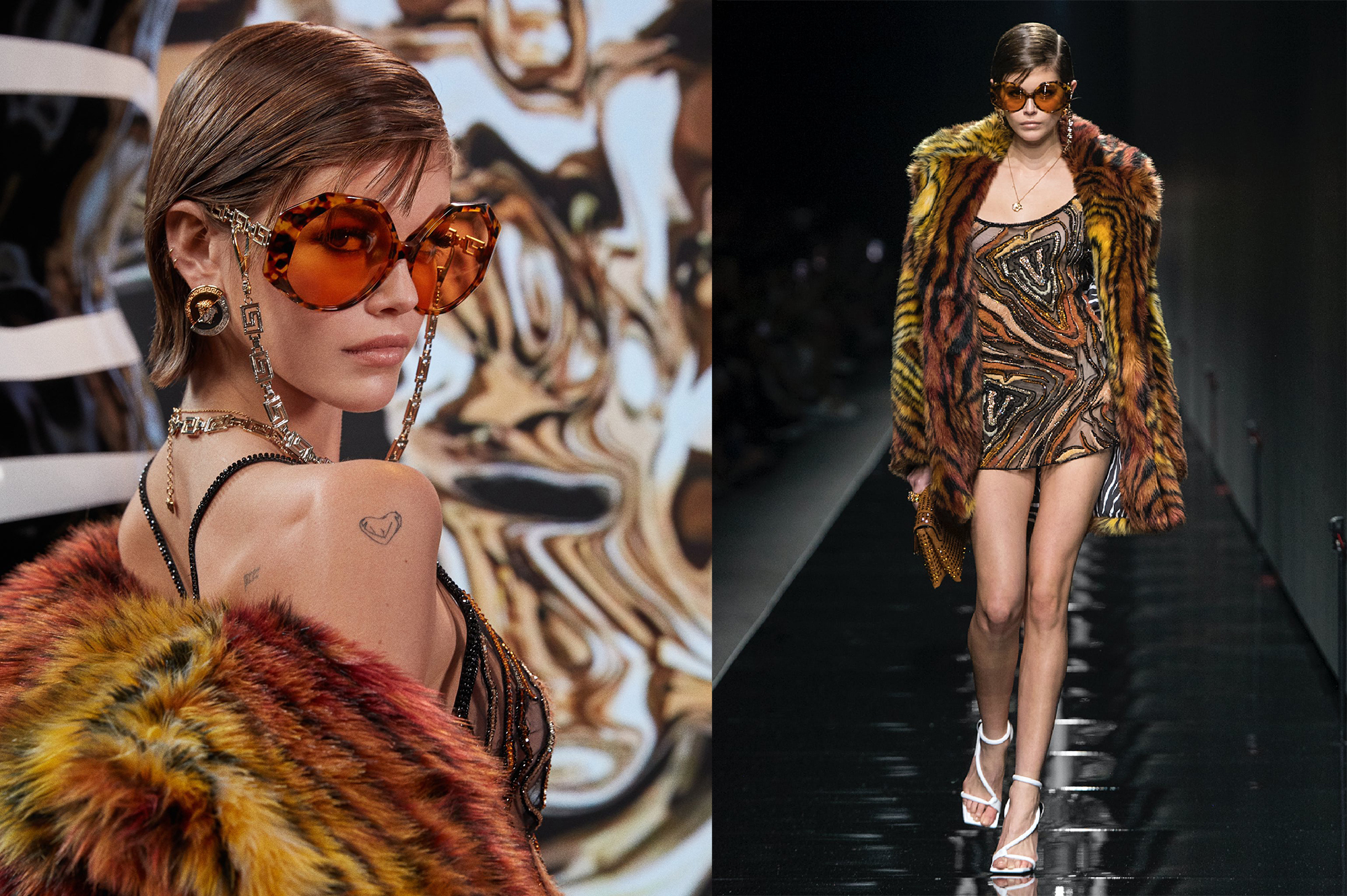 V kolekcii Versace – Jeseň / Zima 2020 – 21 bolo cítiť zjavne nostalgiu z radu dekád, ale spoločne s optickými ilúziami, maximalistická show vytvorila novú éru štýlu.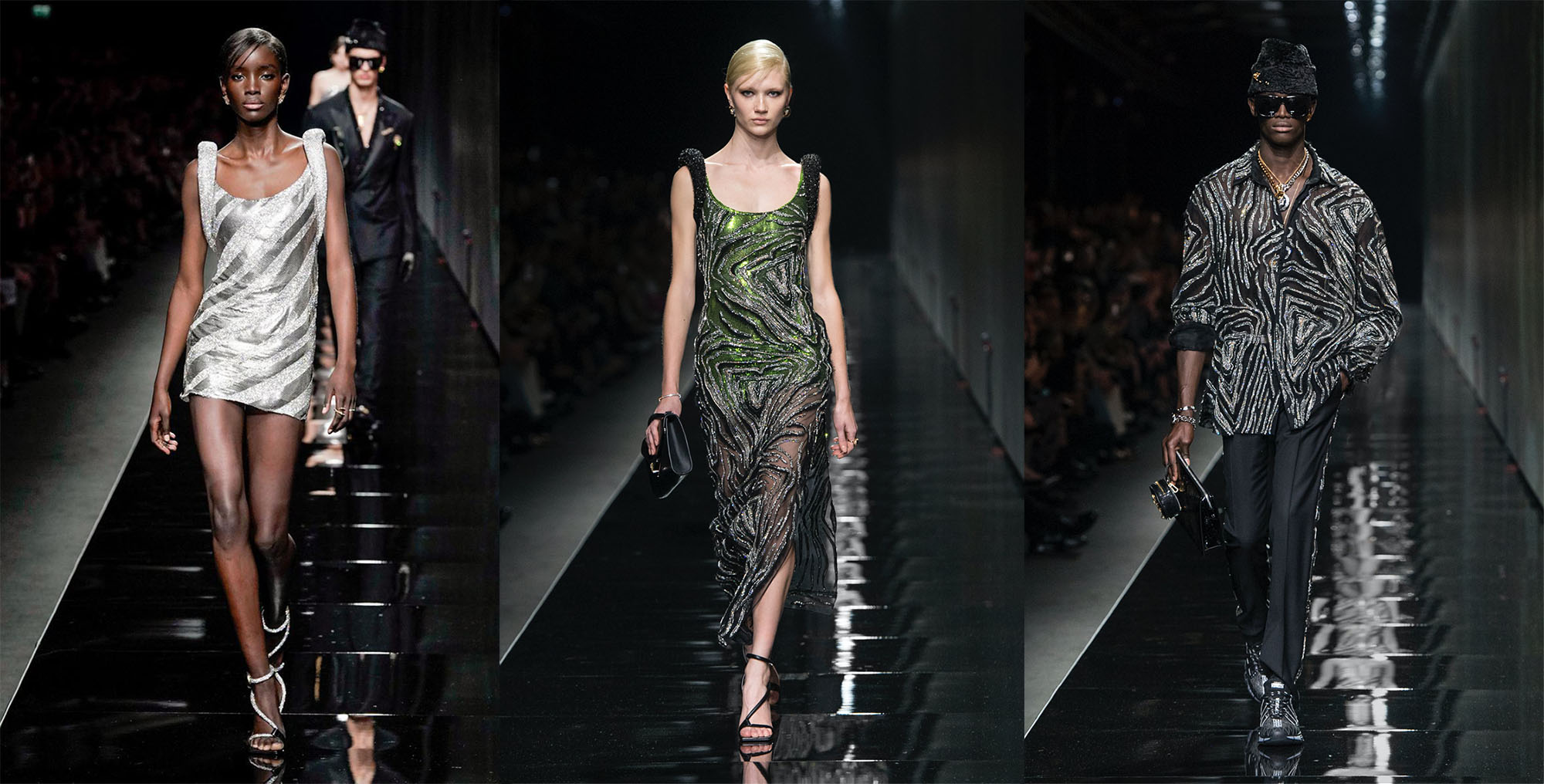 Neodmysliteľný maximalizmus charakterizuje značku Versace už isté obdobie, no pre zimnú sezónu módny dom zapustil korene do novej éry.
Topánky na vysokom opätku, spájaná, šitá a patchworkovaná riflovina, laserom strihané kožené šaty, zmenšené strihy bomber búnd a zvýraznené ramená a bedrá – to sú charakteristické znaky novej kolekcie Versace, sezóna Jeseň / Zima 2020 – 21.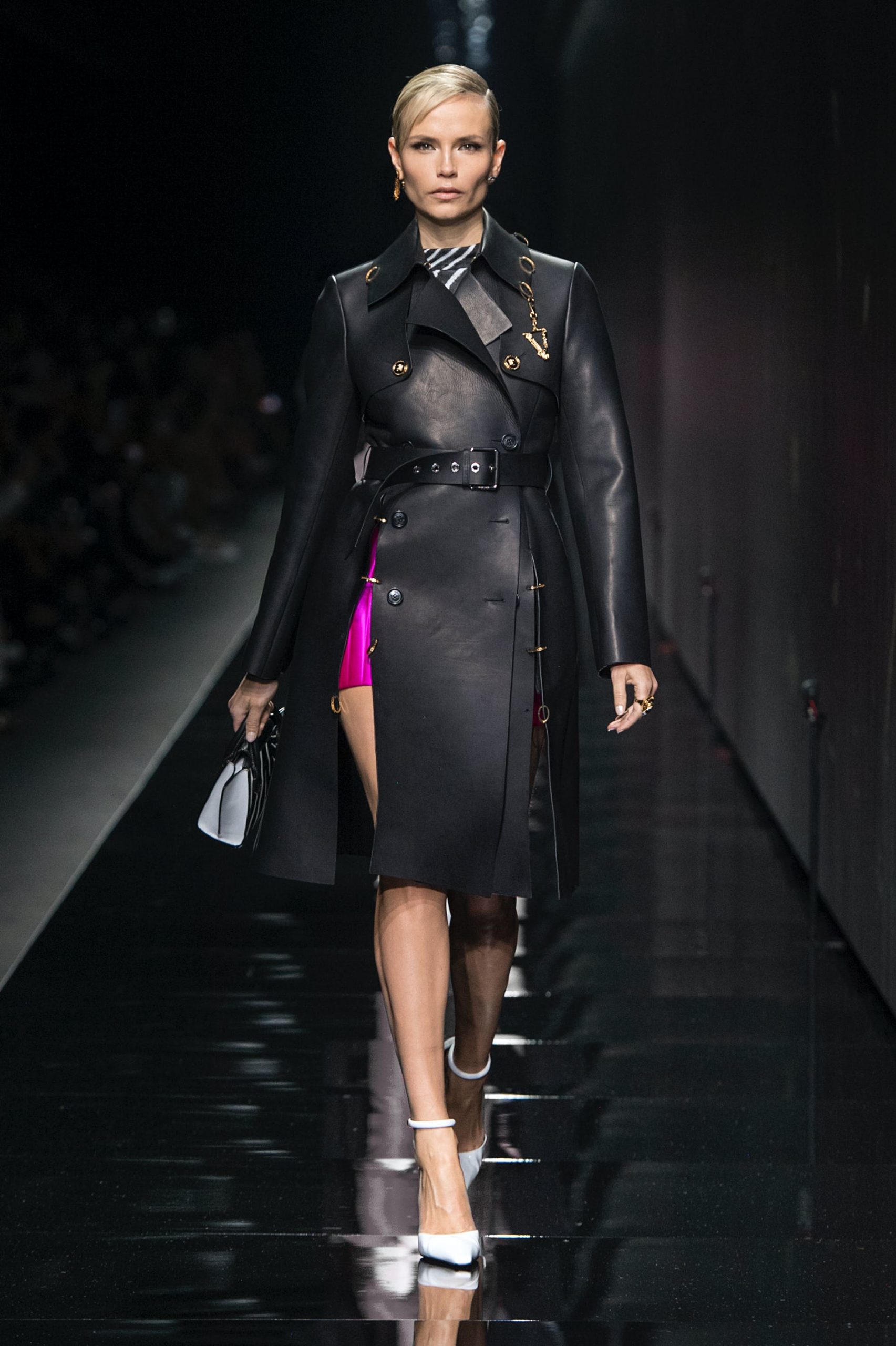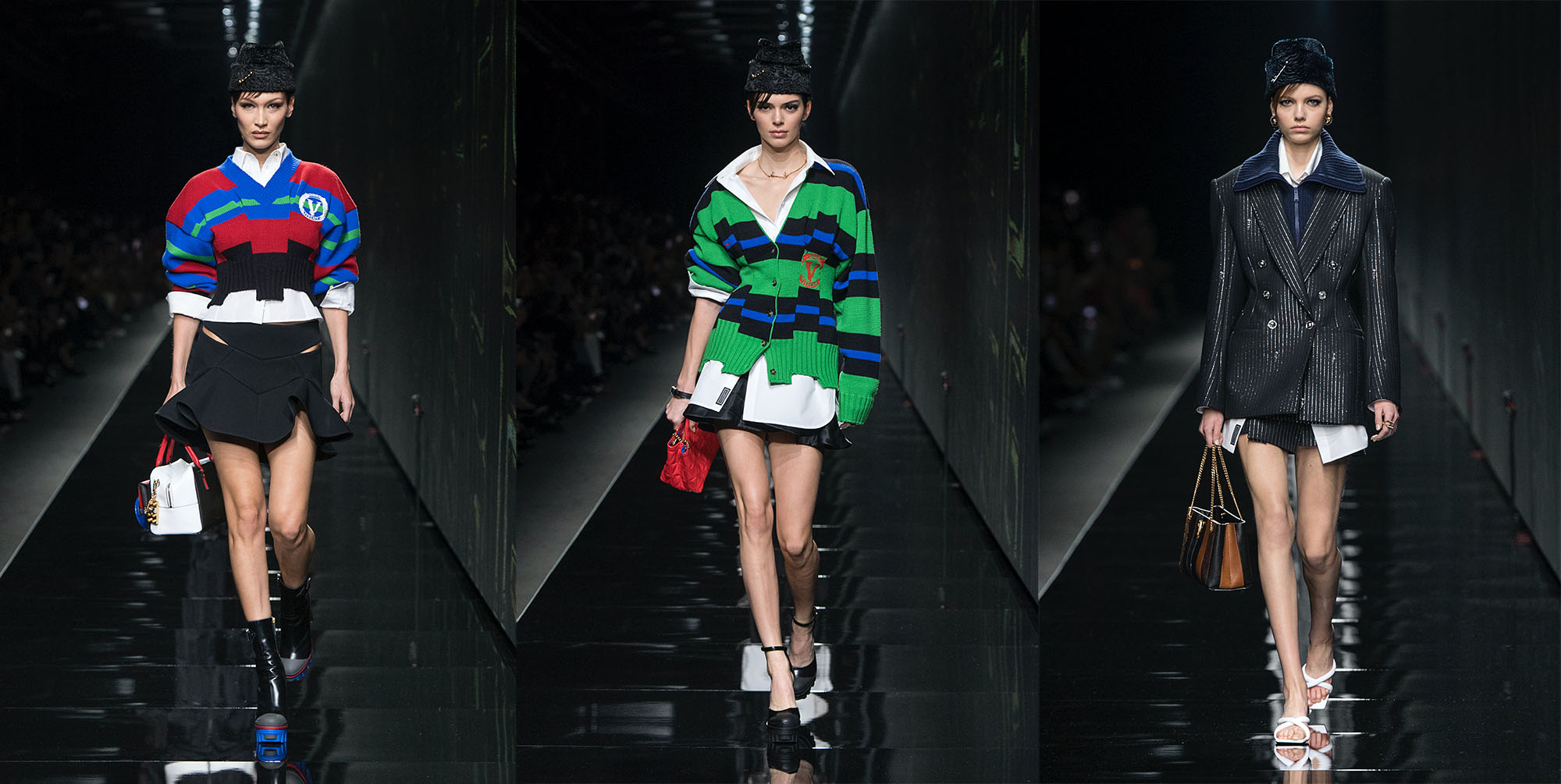 Módny dom Versace predstavil príjemný odchod z jeho posledných vydaní novou kolekciou určenou pre sezónu Jeseň / Zima 2020 – 21 , ktorá bola z veľkej časti vykreslená jednoliatou čiernou.
Je zjavné, že mini kabelky túto sezónu nikam neodchádzajú. Versace pre sezónu Jeseň / Zima 2020 – 21 priniesol sériu maličkých Virtus kabeliek, často spojených s väčšou verziou, ktoré sú rovnako zábavné a obľúbené.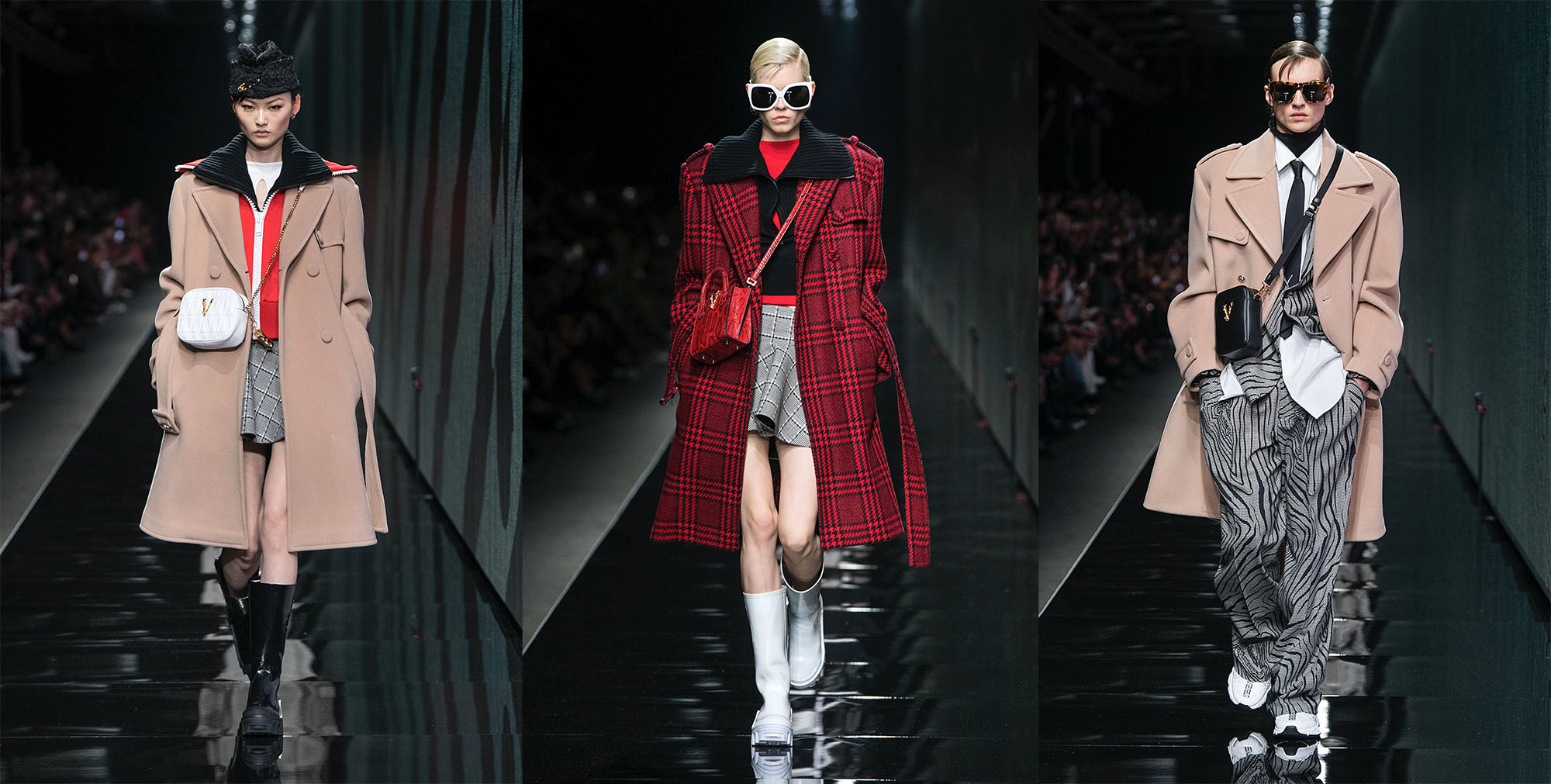 zdroj obrázkov: Vogue, getty images, Victor Boyko, Jason Lloyd Evans, Versace