Versace kolekcia Jar / Leto 2021, Milan Fashion Week, Móda Ženy – promenáda v mýtických vodách Atlantiku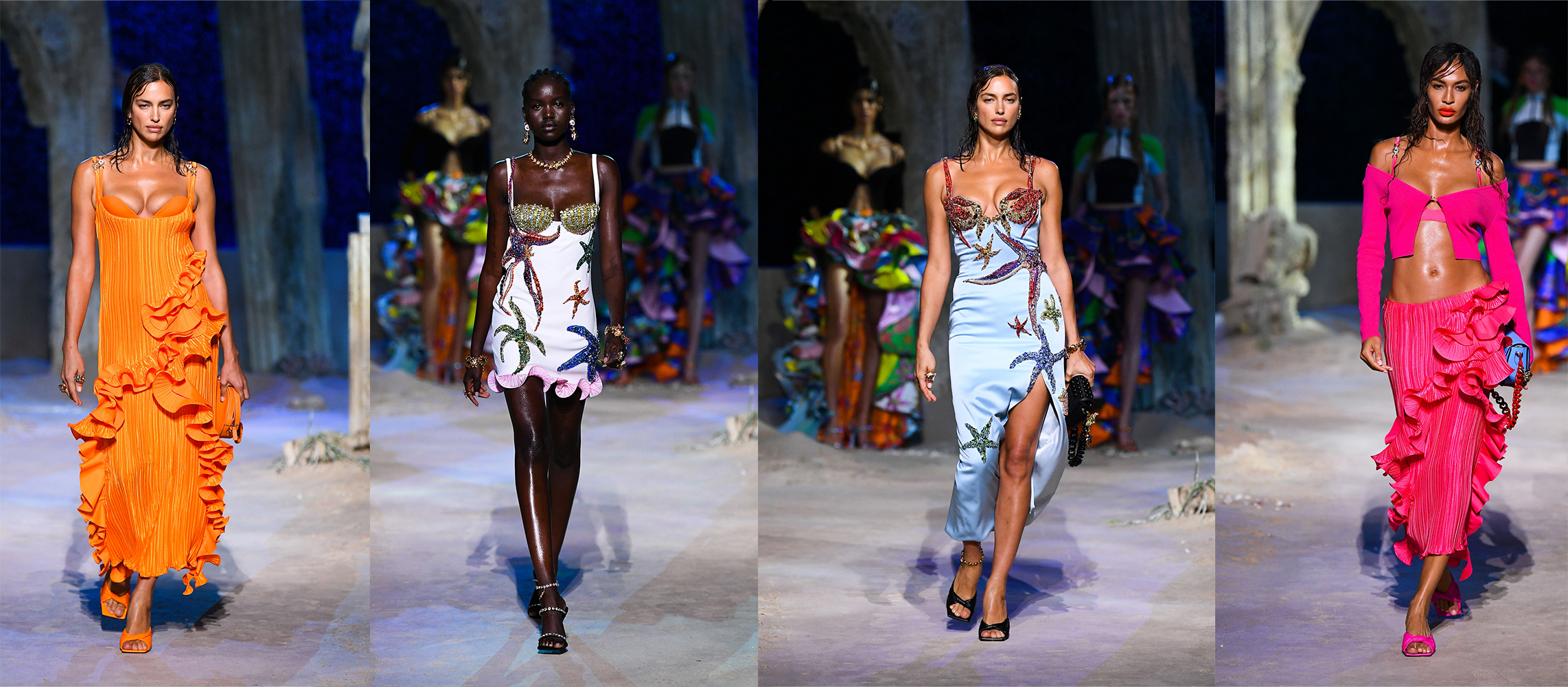 Súčasná situácia vo svete poznamenaná pandémiou koronavírusu spôsobuje neustále otrasy v biznise a to takmer v každom odvetví. Negatívne zasiahla celý módny svet, módne domy a značky, týždne módy nevynímajúc. Dizajnéri v zápase o udržanie sa na trhu a na módnej scéne sa súčasne snažia znovu postaviť na nohy módne dianie a prehliadky. Prebiehajúce týždne módy, ktoré sa tradične konajú aj v týchto mesiacoch a prezentácie kolekcií však nabrali novú tvár. Aj po roku a pol pandémie (od februára 2020) je v letnom čase v mesiaci jún 2021 na milánskej módnej scéne počas prehliadkového týždňa Móda Muži, vyčlenených len pár prehliadok konaných tradičnou formou. Ostatné módne show budú prezentované v online rovine.
MILAN FASHION WEEK, MÓDA ŽENY, JAR/LETO 2021 – REFLEXIA NA PANDEMICKÚ SITUÁCIU
Zatiaľčo New York Fashion Week zažil veľmi málo klasických módnych show a takmer žiadny street style, konali sa filmové a streamované módne prezentácie, Miláno sa snažilo znovuoživiť tradičný Milan Fashion Week. Pozrime sa na Milan Fashion Week a prehliadky kolekcií dámskej módy Moda Donna pre sezónu Jar/Leto 2021, ktorý sa konal v septembri 2020 a prehliadku talianskej luxusnej značky Versace.
Talianski dizajnéri počas Milan Fashion Weeku využili módne prehliadky kolekcií ako reflexiu na súčasnú pandemickú situáciu a svetový lockdown. Jednotliví návrhári na túto situáciu reagovali po svojom.
VERSACE KOLEKCIA JAR / LETO 2021 – PROMENÁDA V MÝTICKÝCH RUINÁCH ATLANTIKU
Donatella Versace, kreatívna dizajnérka módneho domu Versace, preskočila všetko a vzala divákov do hlbín oceánu. Módna prehliadka inšpirovaná podmorským životom mala z časti aj skutočné publikum, no tvorili ho zamestnanci značky Versace (negatívne testovaní na Covid-19). Show prenášaná prostredníctvom živého prenosu, live streamingu zobrazovala modelky v mýtických ruinách podzemného mesta Atlantiku s vlhkými vlasmi a všade prítomnými morskými motívmi.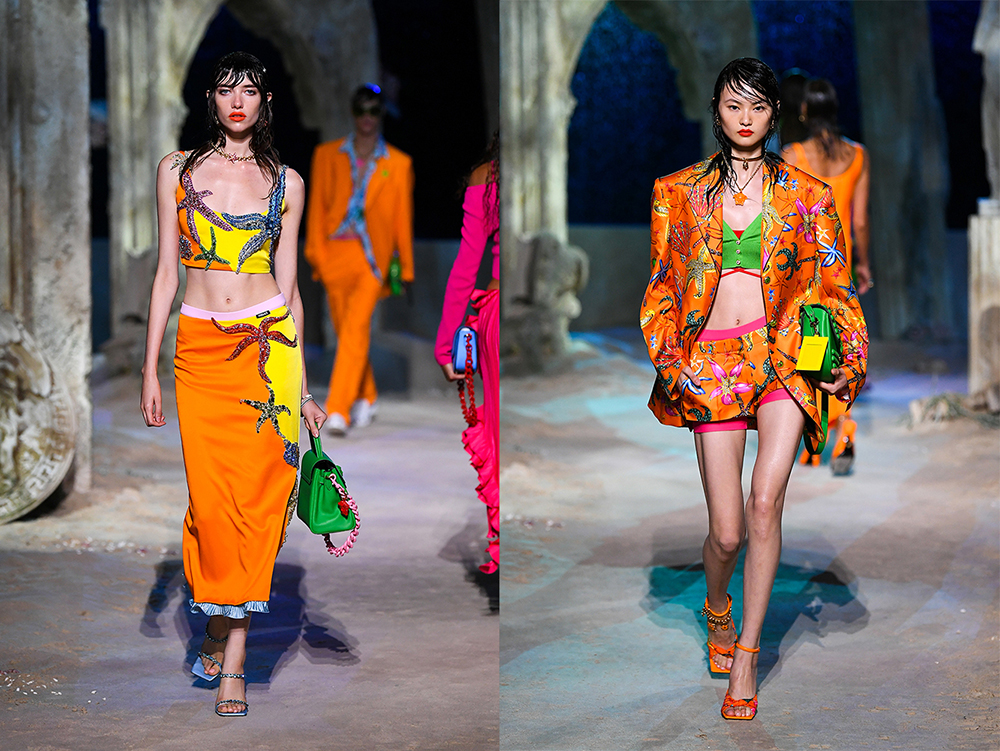 "Chcela som vytvoriť niečo rušivé, niečo, čo by bolo v súlade s tým, čo sa zmenilo vo vnútri nás všetkých." "Pre mňa to znamenalo snívať o novom svete. Svet tvorený praskajúcimi farbami a fantastickými stvoreniami a svet, v ktorom môžeme všetci pokojne spolunažívať. Táto kolekcia má pozitívnu dušu a je optimistická, zasnená, pozitívna … Toto je oblečenie, ktoré vám prináša radosť. "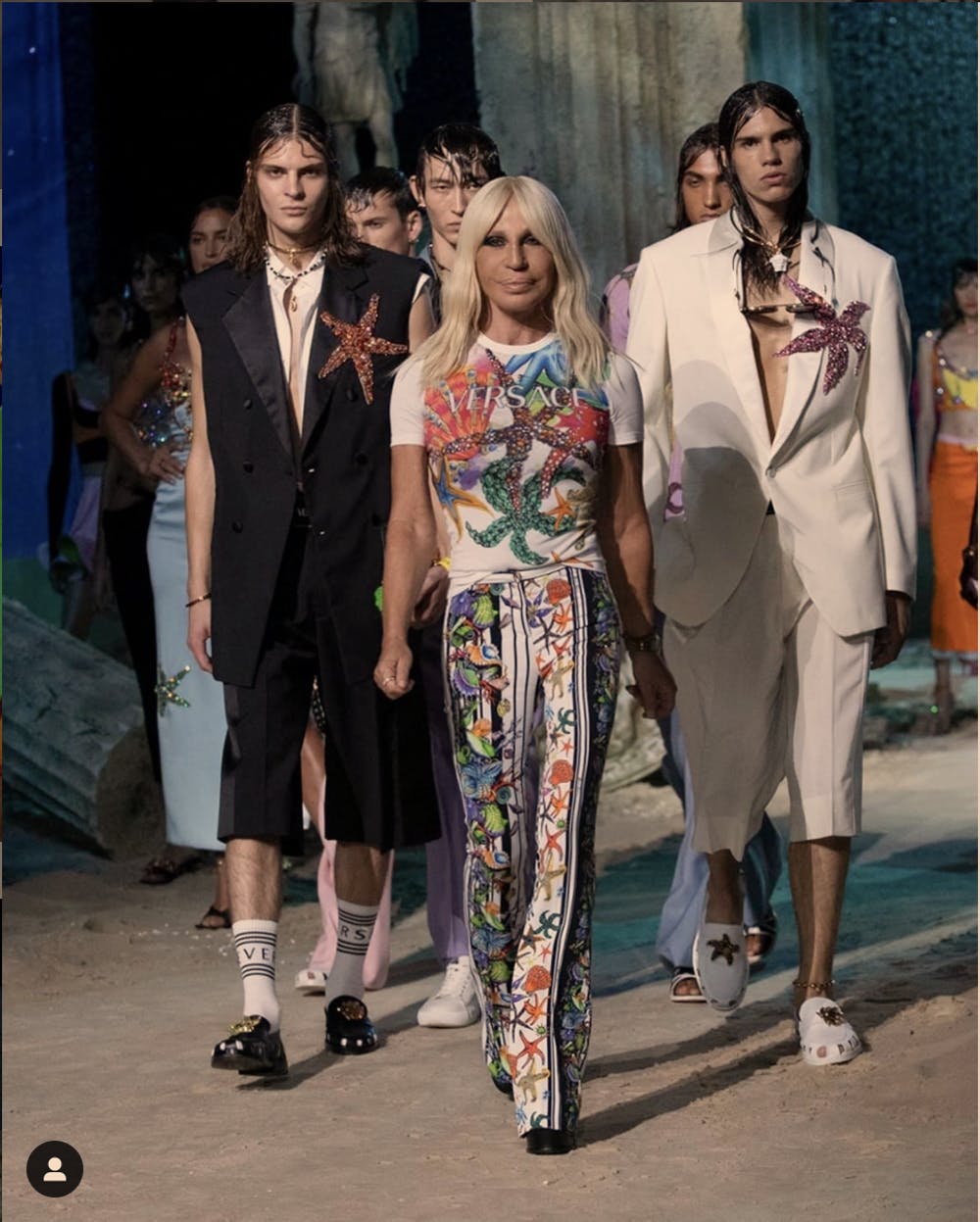 VERSACE JAR / LETO 2021 – PRIPOMIENKA KOLEKCIE GIANNI VERSACE 1992
Trblietavé hviezdice a mušle boli pripomienkou kolekcie Gianni Versace módnej show pre Jar/Leto 1992, prinášajúce nostalgický pocit do žiarivého nového dizajnu značky VERSACE pre nasledujúcu letnú sezónu 2021.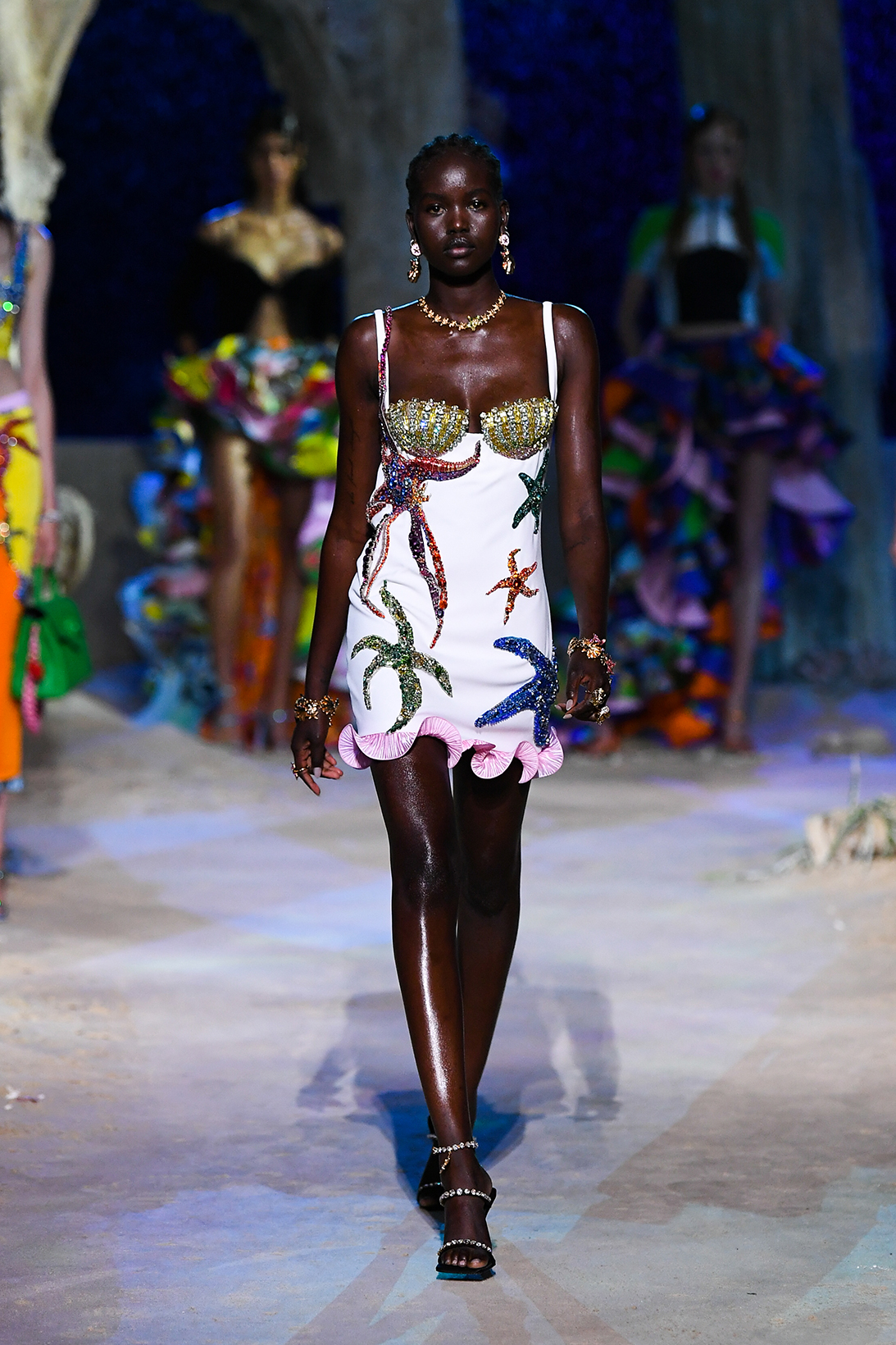 Modely vyrobené tak, aby vyzerali ako ligotavé morské tvory podčiarkoval styling modeliek – vlhké vlasy a orosená pokožka. Prehliadka kolekcie osadená do slabo osvetleného priestoru pokrytého pieskom lemovaného rozbitými rímskymi stĺpmi oživila námornú víziu pre Jar/Leto 2021 a vrátila taliansku módu tlač domu Trésor de la Mer, ktorú pôvodne navrhol Gianni Versace v 90. rokoch.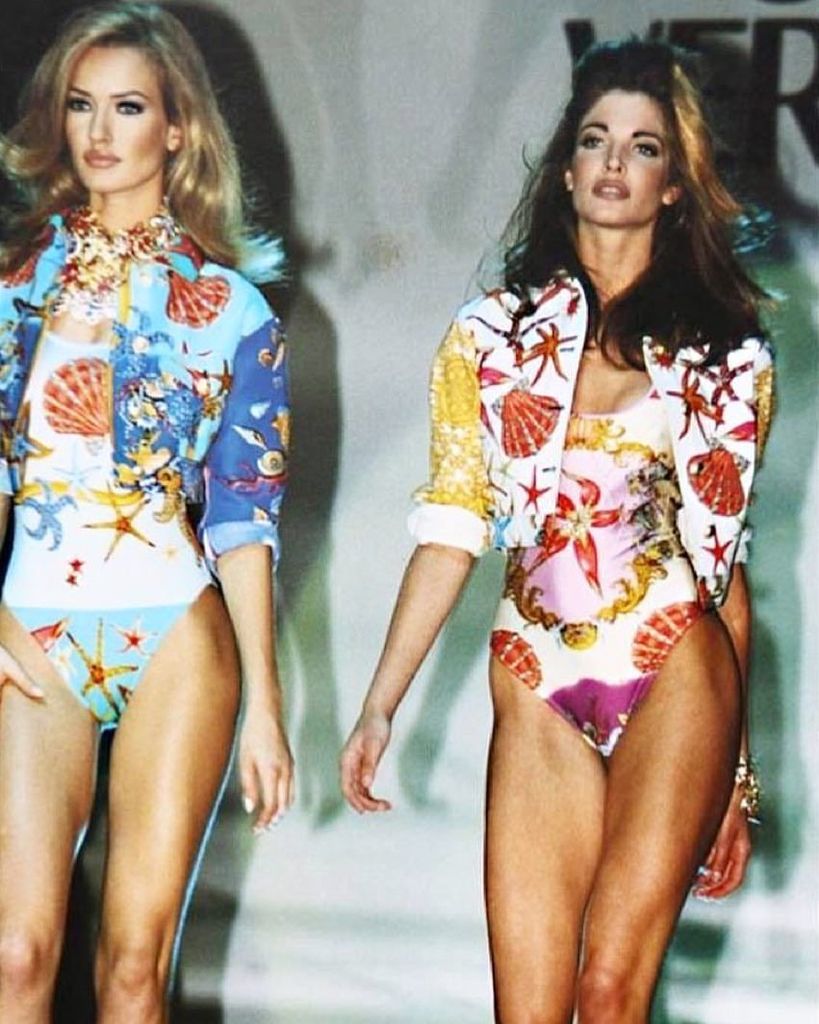 Modelka Cindy Crawford na ikonickej prehliadke Gianni Versace, Jar/Leto 1992 .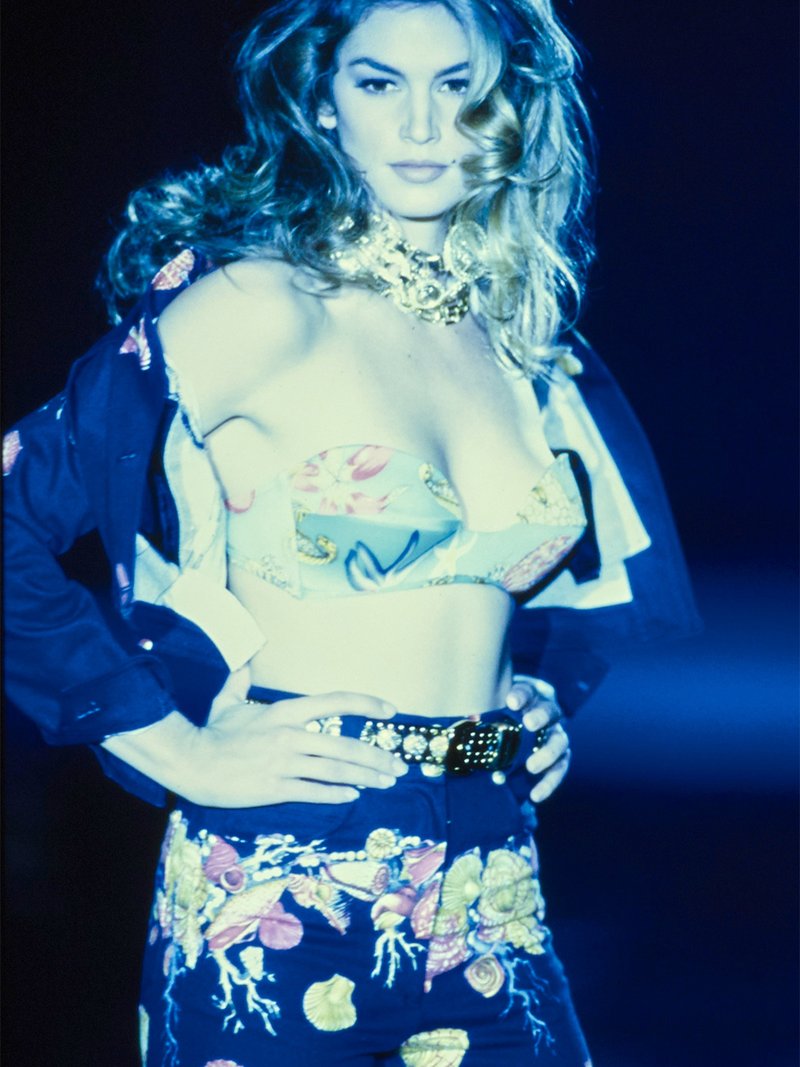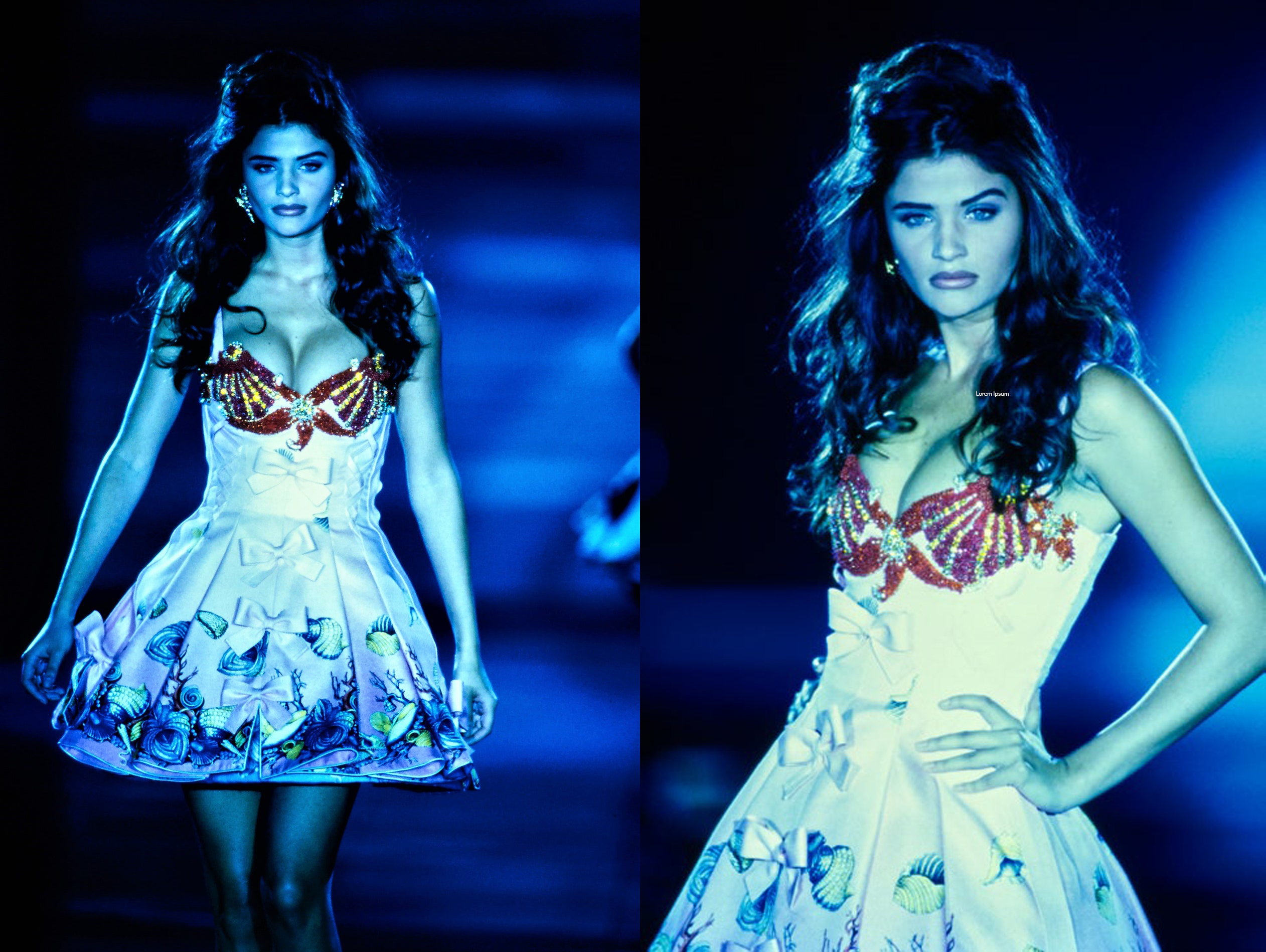 foto – runway magazine
Mušle a motívy hviezdic boli pretavené do kolekcie rôznymi spôsobmi, od vrcholov podprsenky pokrytých krištáľmi až po ozdoby na klasických čiernych blejzroch.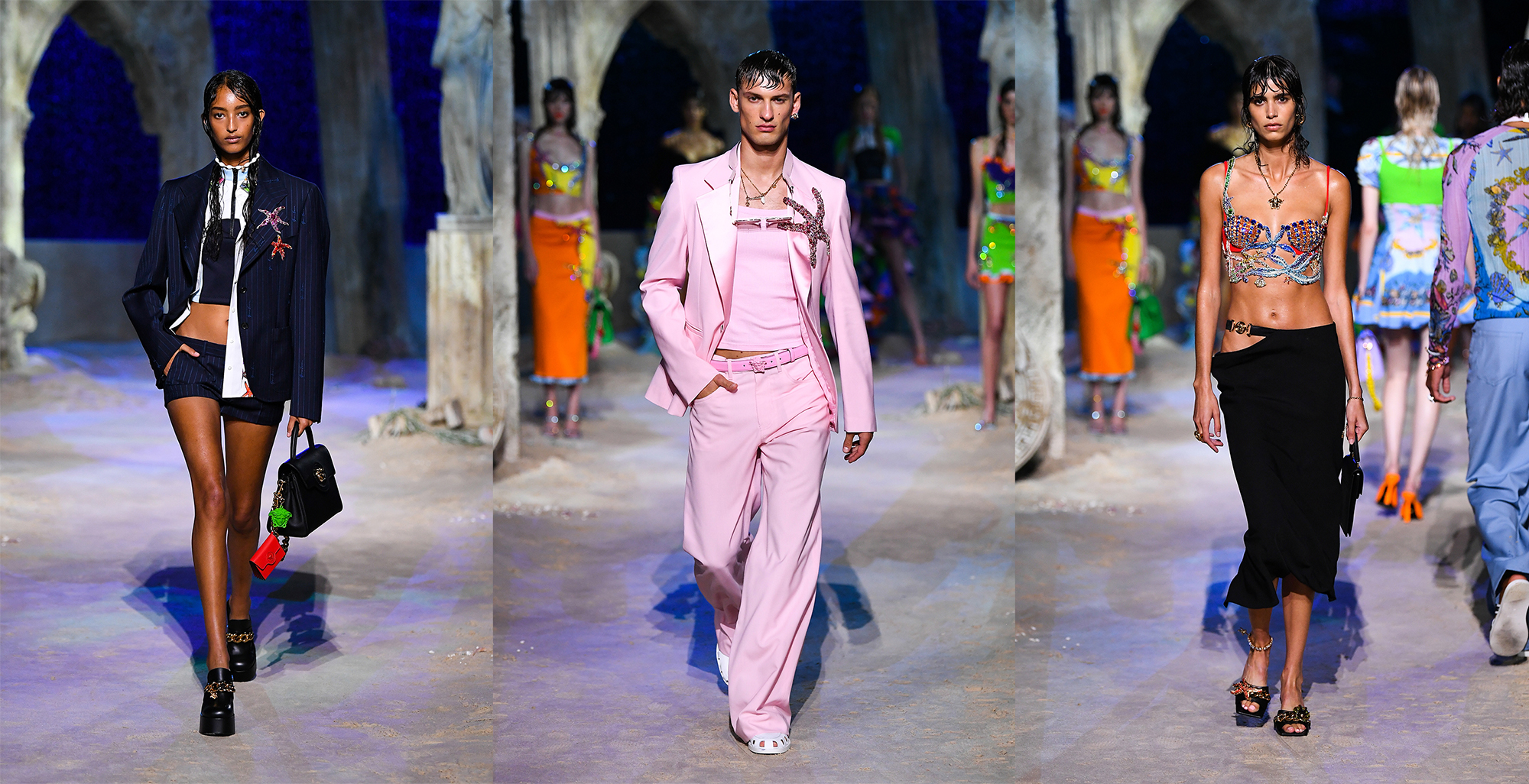 K odevom v línii inšpirovanej prvkami prírodného sveta patria šaty a šaty, ktoré majú lemovky Onda ovplyvnené vlnami oceánu.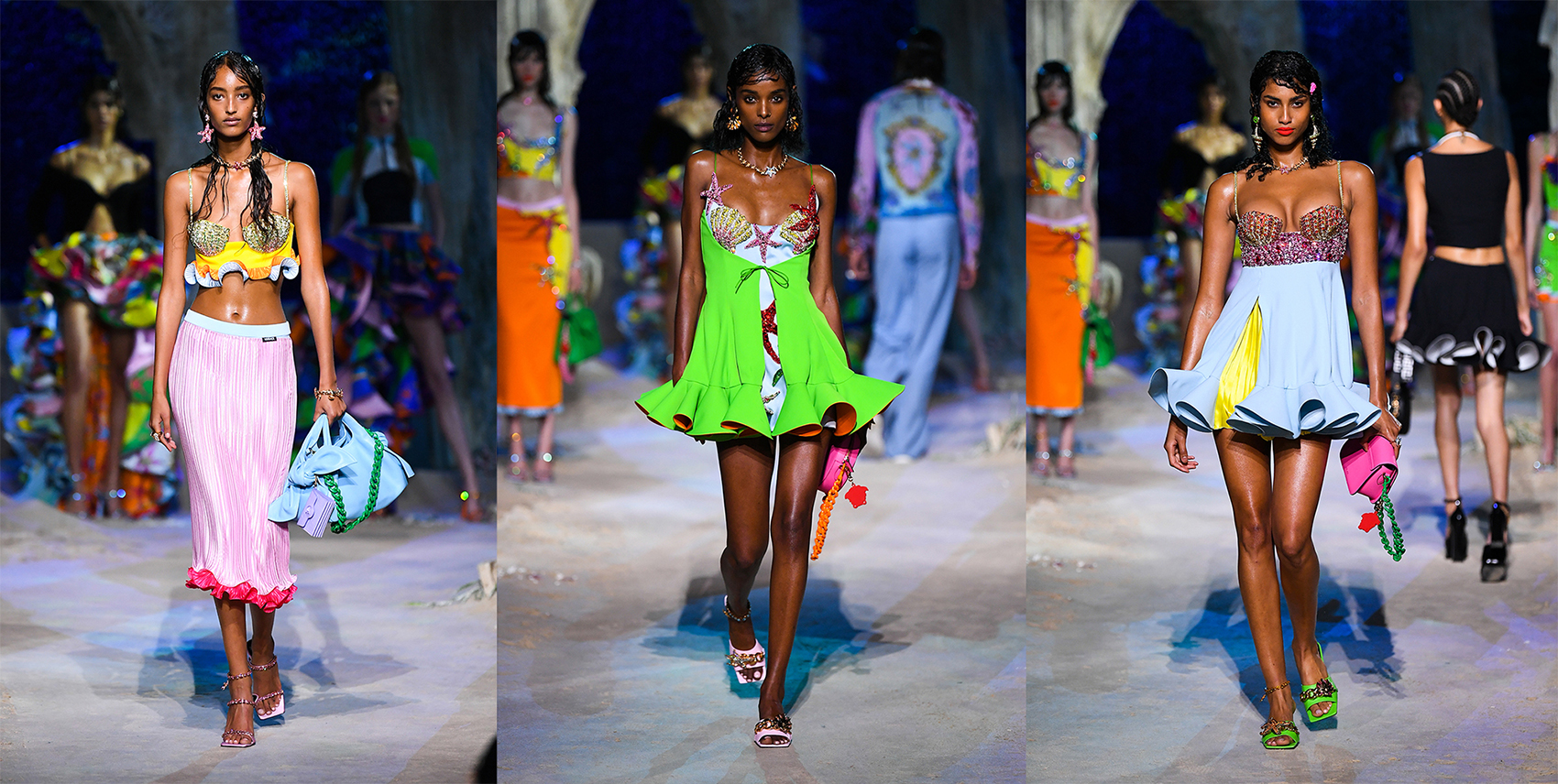 Morské vlnobitie tvorili v kolekcii mini sukne a šaty s lemom, športové kúsky inšpirované neoprénmi a neónové odtiene pripomínajúce farebné koralové útesy. Ak ťa Ariel neočarovala túžbou byť morskou pannou, potom to bude zaiste Versace.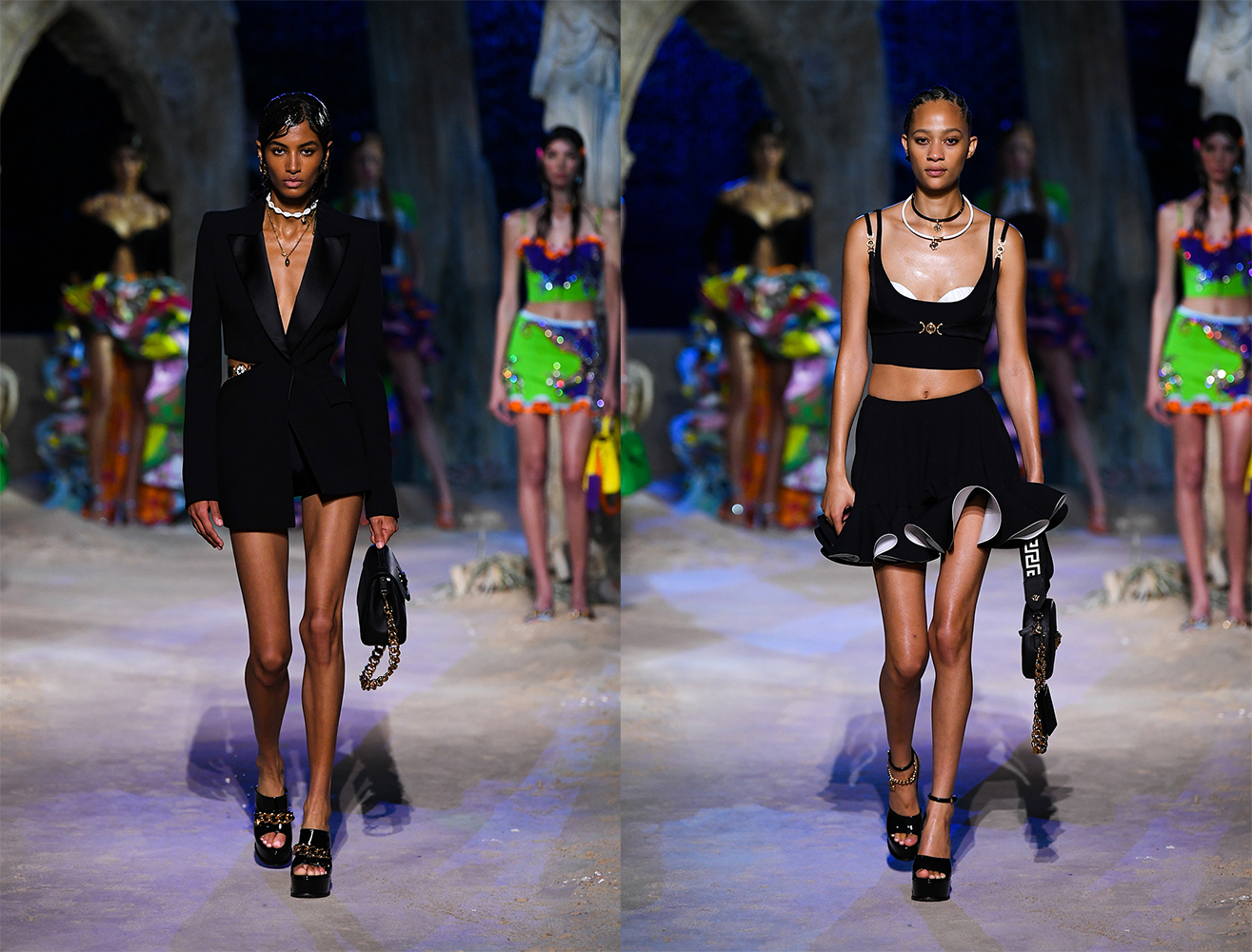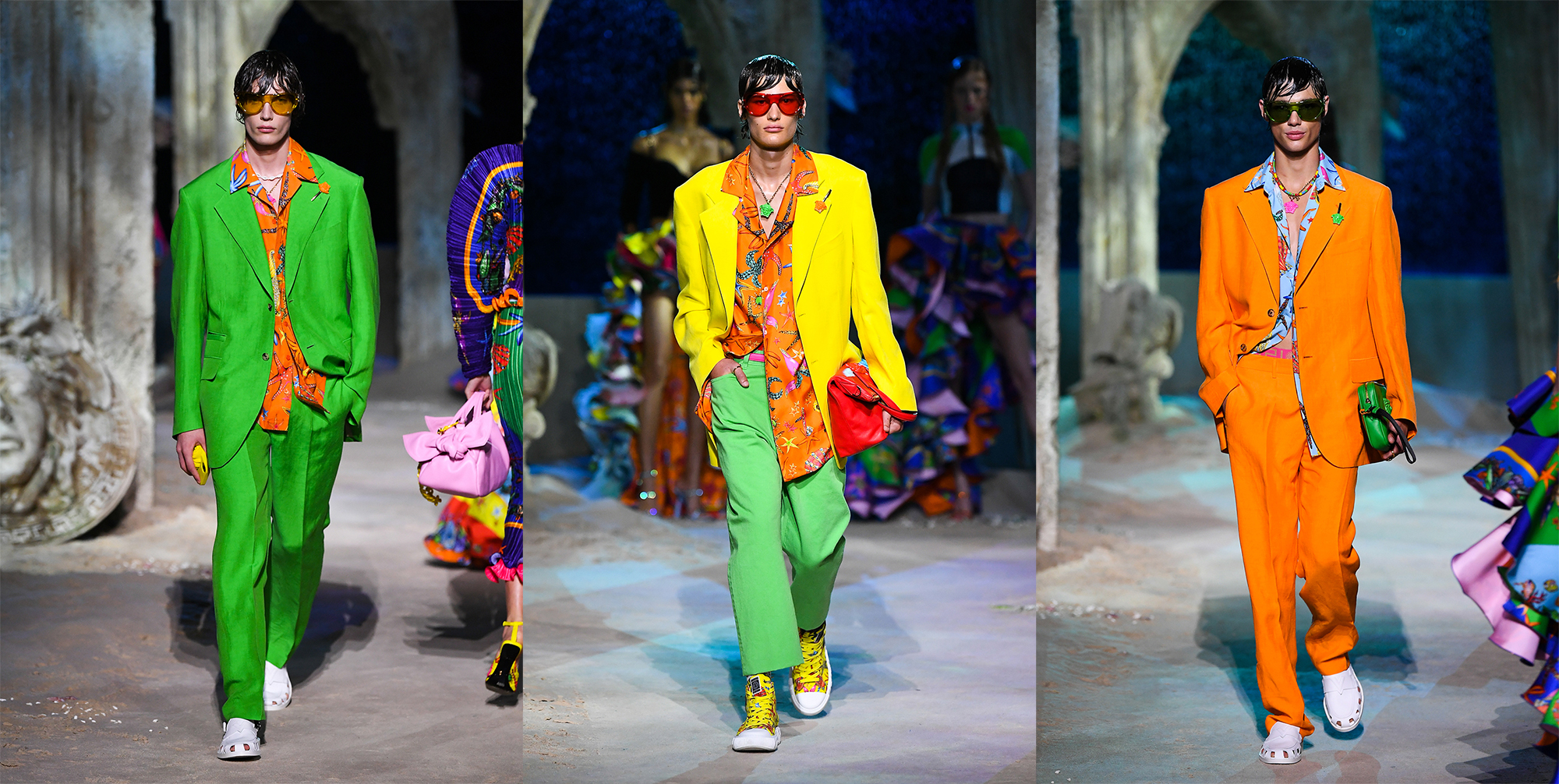 Indická kultová potlač Trésor de la Mer módneho domu prichádza v žiarivých odtieňoch a nachádza sa na dámskom aj pánskom oblečení.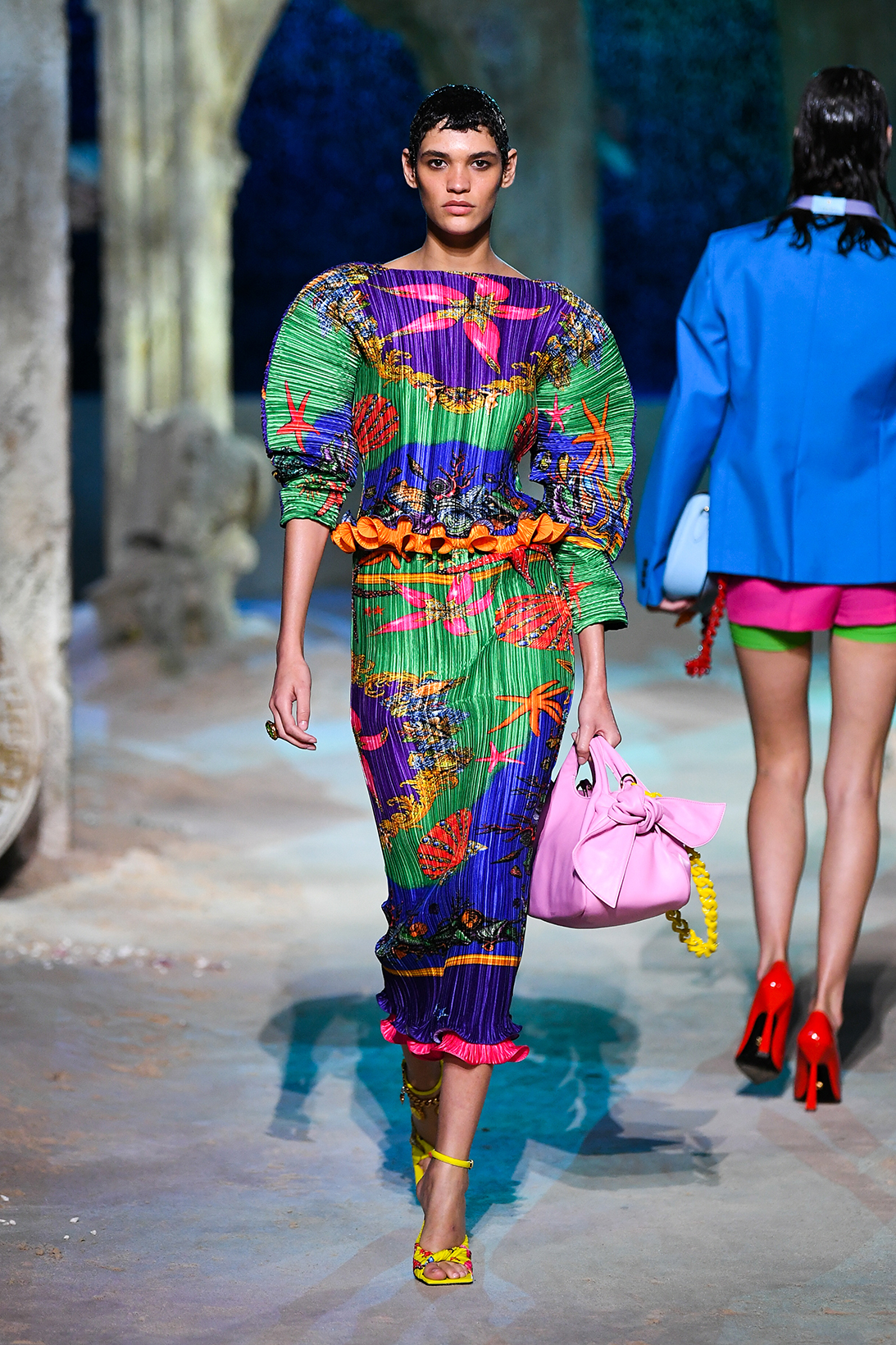 Prostredníctvom tejto kolekcie pre sezónu Jar/Leto 2021 vzdala dizajnérka Donatella Versace úctu svojmu zosnulému bratovi a ponúkla únikovú víziu pre leto 2021. (pod morom musí byť život zaiste lepší ako v súčasnosti na súši.)
Pravidelne predvádzajúce modelky pre Versace módny dom, Joan Smalls, Jill Kortleve a Irina Shayk kráčali po móle v plážových strihoch modelov v krikľavých farbách , s dúhovými pruhmi a volánmi, ktoré boli doplnené štíhlymi midi sukňami v štýle morských panien. Rovnako sa na móle predviedli nové tváre, modelky Alva Claire, Adut Akech a Precious Lee.
Plus size modelka Jill Kortleve v čiernej midi sukni so zaujímavým opaskovým detailom.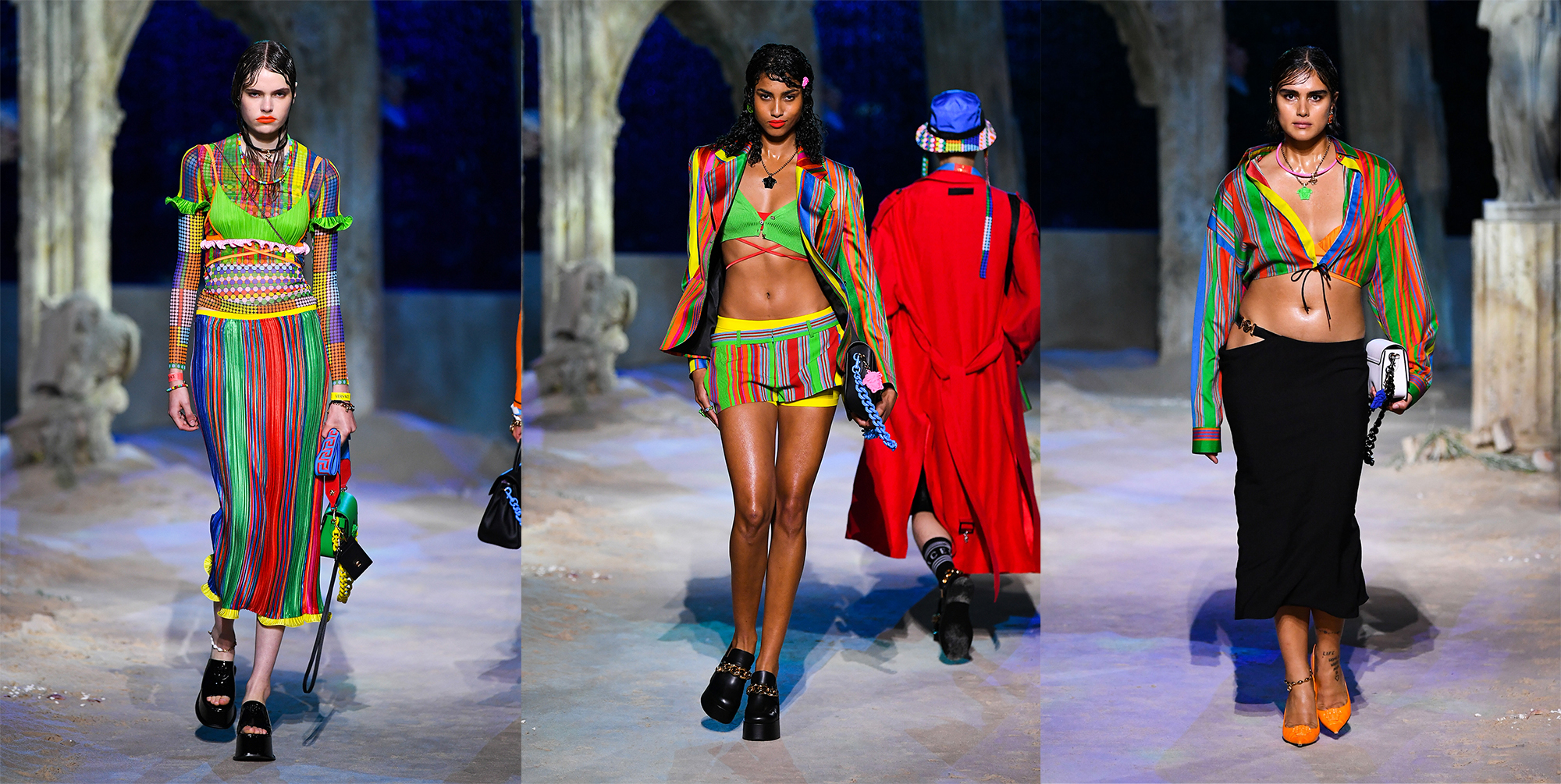 Ostrieľané runway modelky Joan Smalls v ružovom modeli a Irina Shayk v oranžovom ako morské panny ovenčené volánmi.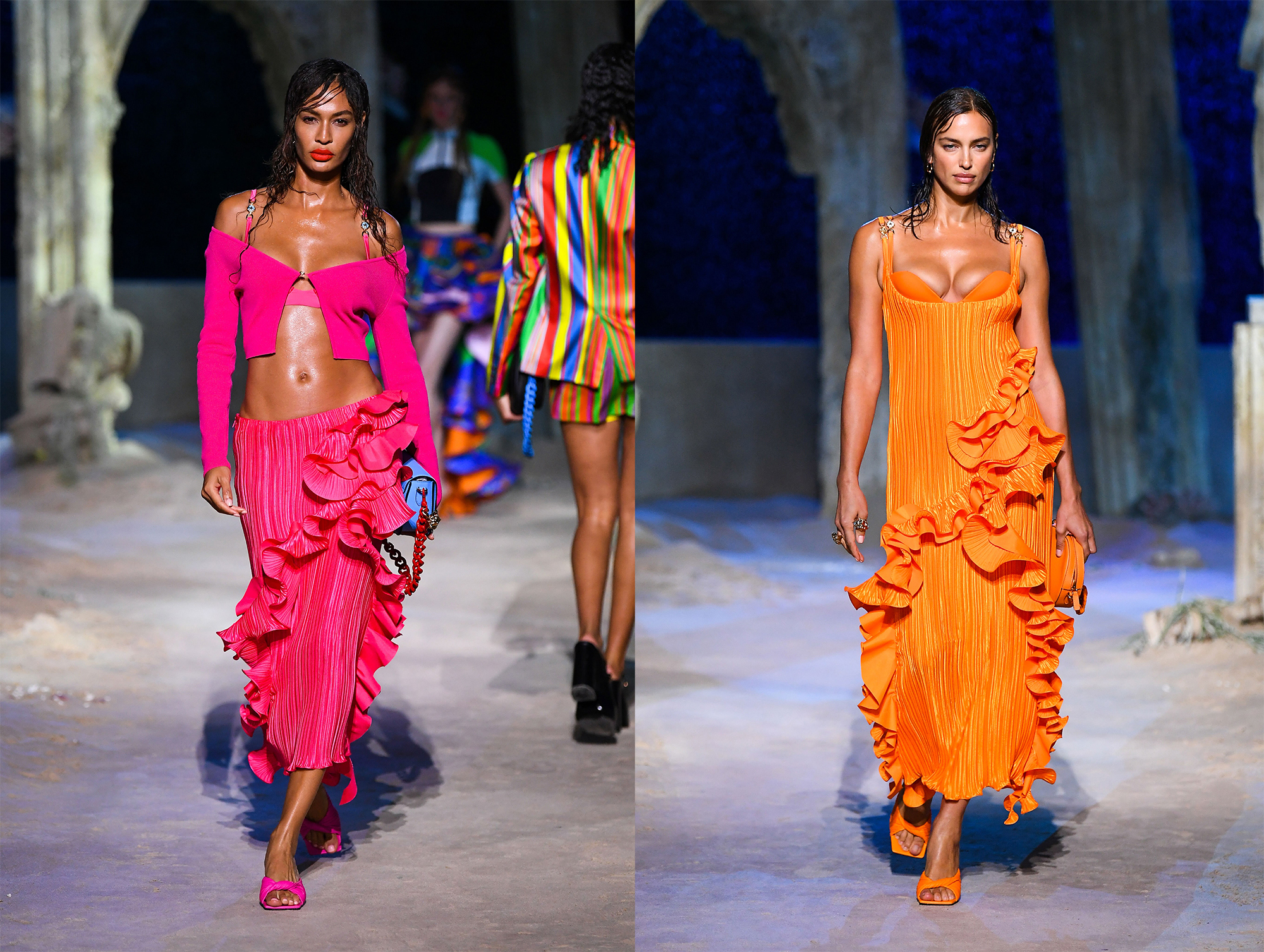 MATERIÁLY
V snahe znížiť množstvo odpadu a zachrániť planétu sú ponuky plážového oblečenia tejto kolekcie vyrobené z organických vlákien, ako aj z recyklovaného polyesteru a polyamidu. Túto sezónu oficiálne prichádza na trh rad kabeliek La Medusa, ktorý je vyrobený z pružnej kože a je k dispozícii v rôznych farebných prevedeniach.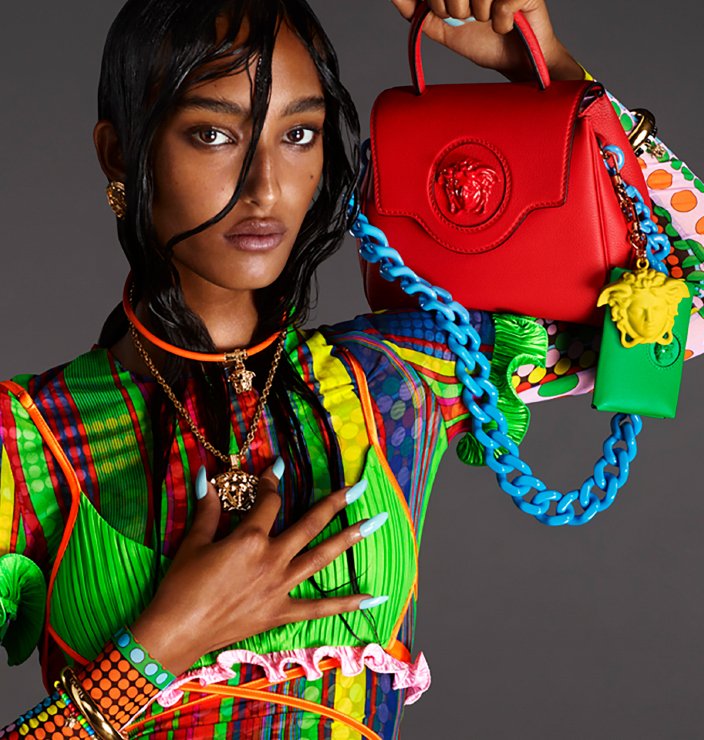 VERSACE TRENDY JAR/LETO 2021 – VYČNIEVAJÚCE PODPRSENKY
Pre nasledujúcu sezónu Jar/Leto 2021 priniesla talianska módna scéna nový trend a to podprsenkové topy, ktoré boli ponechané zrakom okolia v popredí a to v rôznych variáciách. Neónová hra prišla z dielne VERSACE , zatiaľčo elegantná čierna podprsenka bola predvedená počas Milan Fashion Weeku aj na prehliadke značky DOLCE and GABBANA.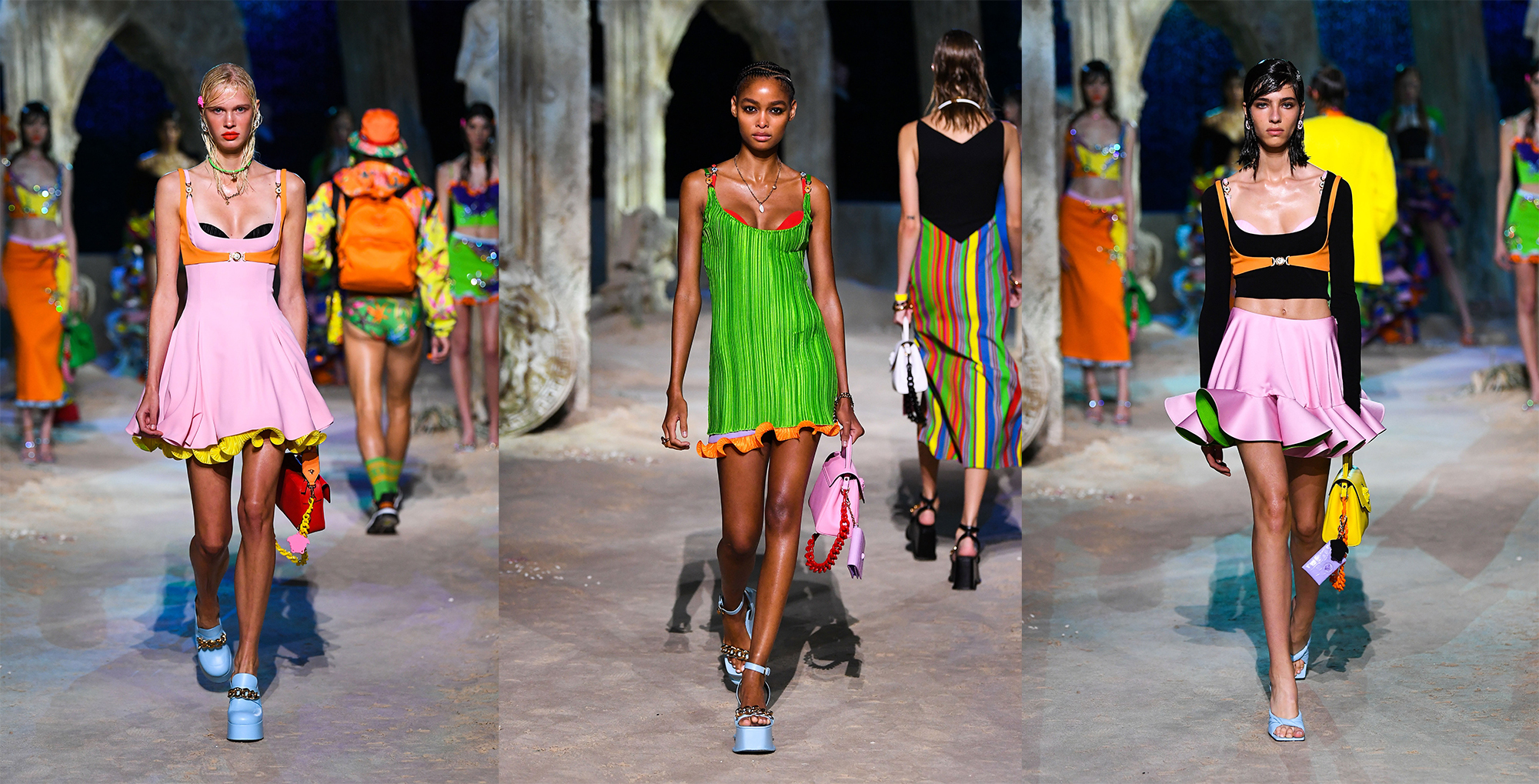 ZHODNOTENIE MILÁNSKEHO MÓDNE TÝŽDŇA V PANDEMICKOM ČASE – Mfw, september 2020
Každoročná módna udalosť, Milan Fashion Week, ktorá sa koná od roku 1958, hostila v letnej sezóne (v septembri 2020) niekoľko najslávnejších značiek v luxusnej móde. Sezóna Jar/Leto 2021, Miláno Móda Ženy bola výnimočne spojená s Módou Muži a predviedla rovnaké umelecké remeslo a majstrovstvo. Kolekcie sa rozvinuli na klasických prehliadkových mólach no tiež na nových formátoch v digitálnej rovine opätovne potvrdzujúcich bohatstvo talianskej módnej scény a nádhery.
Taliansky módny týždeň sa spomezi svetových módnych týždňov konaných v mesiaci september, október priblížil azda najviac k normálu a snažil sa módu tradične predviesť verejnosti. Pozvaní hostia používali ochranné tvárové rúška a na klasických módnych prehliadkach boli usádzaní v potrebných vzdialenostiach. Tie sa konali v menšom počte každý deň v kombinácii s online streamovanými podobami módnych prezentácií. Dizajnéri používali taktiež ochranné rúška, tie boli videné aj na modelkách počas niektorých módnych show, pričom tieto zakomponovali aj do svojich kolekcií ako nové prvky – v značke Marni, v značke Philosophy di Lorenzo Serafini boli ako prvok zladené spolu s rukavicami a v značka Valentino.
Septembrový týždeň módy, Milan Fashion Week, letná sezóna 2021 (09/2020) vyzeral tentokrát odlišne ako kedykoľvek predtým. Zatiaľčo niektorí dizajnéri sa snažili udržať svoj biznis nad vodou uprostred tejto neutíchajúcej pandémie, mnohí tiež zápasili s tým, ako odprezentovať svoje kolekcie v tradičnom čase módnych týždňov najefektívnejšou formou, čo sa nákladov a kreativity týka. Zároveň však pútavým spôsobom pre verejnosť, no za dodržania sociálnych odstupov podľa medzinárodne nastavených hygienických pravidiel. Úloha vcelku náročná vo všetkých ohľadoch a preto je táto doba a situácia nielen v módnom svete považovaná za jedno z najzaťažkávajúcejších období.
zdroj obrázkov: Versace, Vogue, pinterest
Ďalšie články o Versace letnej kolekcii 2021 , plavkovej kampani čítajte v pokračovaní na tomto blogu. Sledujte Facebook stránku: Mya Mirell Fashionista a Instagram: mya_mirell .
© AUTORSKÉ PRÁVA VYHRADENÉ