Vianočné a silvestrovské party looky zimy 2021-2022 – príklady outfitových inšpirácií v rôznych variantoch pre rôzne oslavné príležitosti
Jedinečný a absolútny spôsob, ako vytvoriť unikátny novoročný outfit a celkovú vizáž neexistuje a pri všetkých dnešných možnostiach a popusteniu uzdy fantázie, ani nesmie existovať. Žiaľ, aj tento rok, v ktorom obmedzenia v dôsledku pandémie koronavírusu mnohým zmenili plány, sa naše možnosti ako "zažiariť" a oddať sa party radovánkam oslavy príchodu Nového roka značne obmedzili.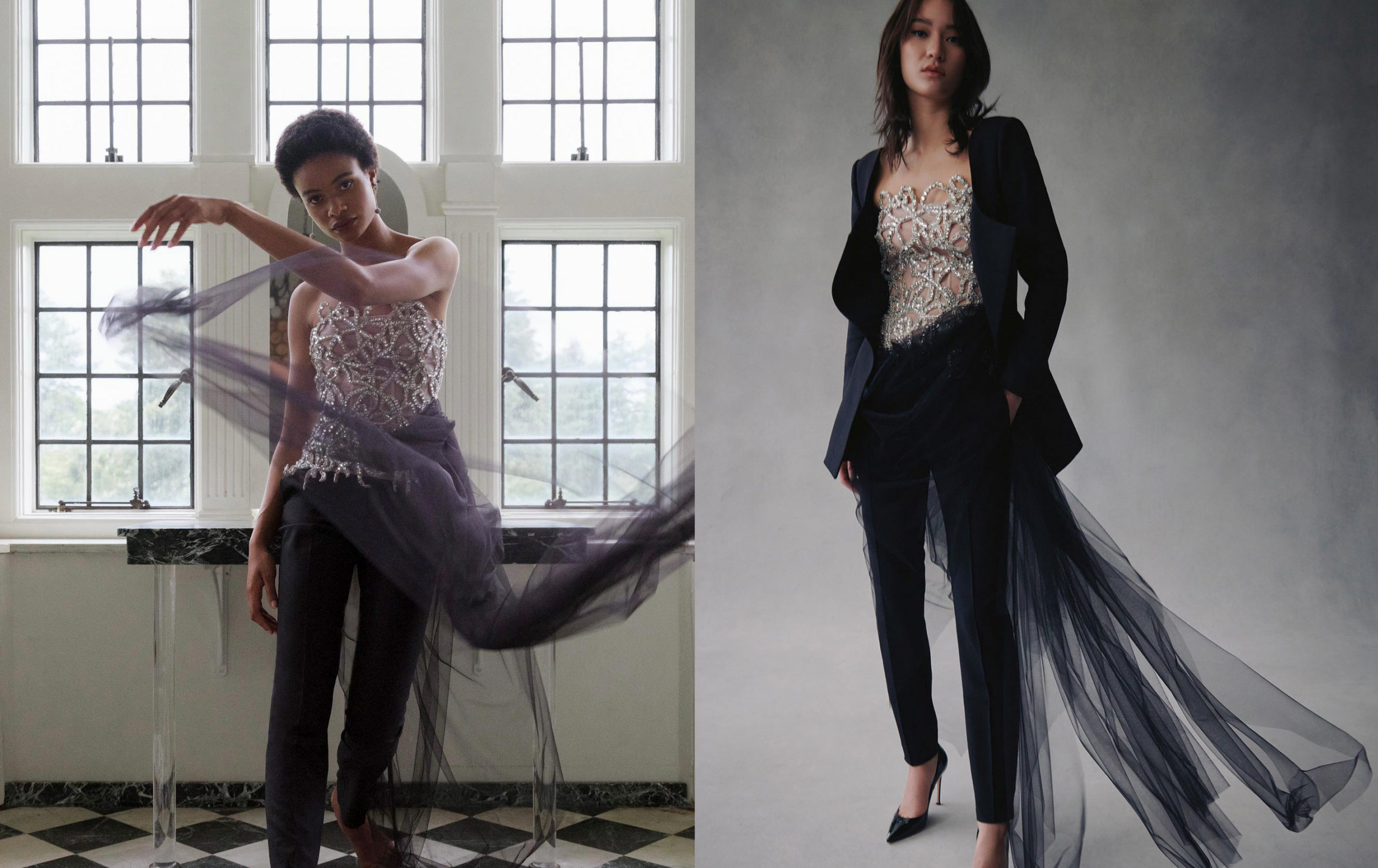 Pri vytváraní výsledného looku a party vizáže však najviac zavážia jednotlivé typy a "nuansy" ženských osobností. Každá žena je jedinečná a všetky dámy si zaslúžia obsiahnuť šancu zažiariť svojím vlastným spôsobom. V tomto sprievodcovi party vianočných a silvestrovských lookov preskúmame
niekoľko možných scenárov: od večere doma (s priateľmi a rodinou) , po dovolenku na horách (ale nielen na snehu), prechádzanie večierkami odolnými voči kráľovnej zime, po veľkolepé gala a Silvester party v meste.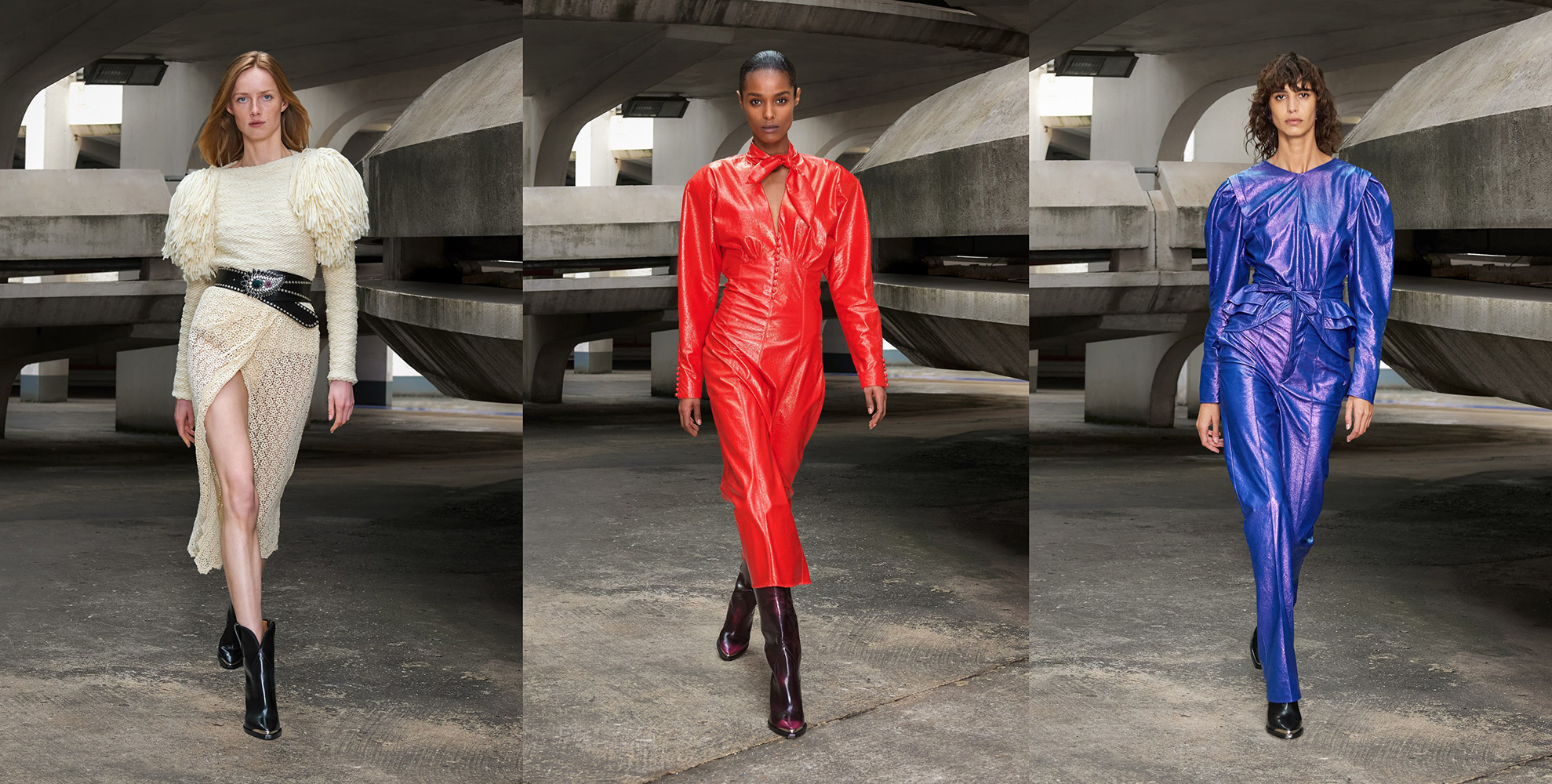 VÁŠNIVÝ A DISCO FLITROVÝ PARTY LOOK – SILVETER V MESTE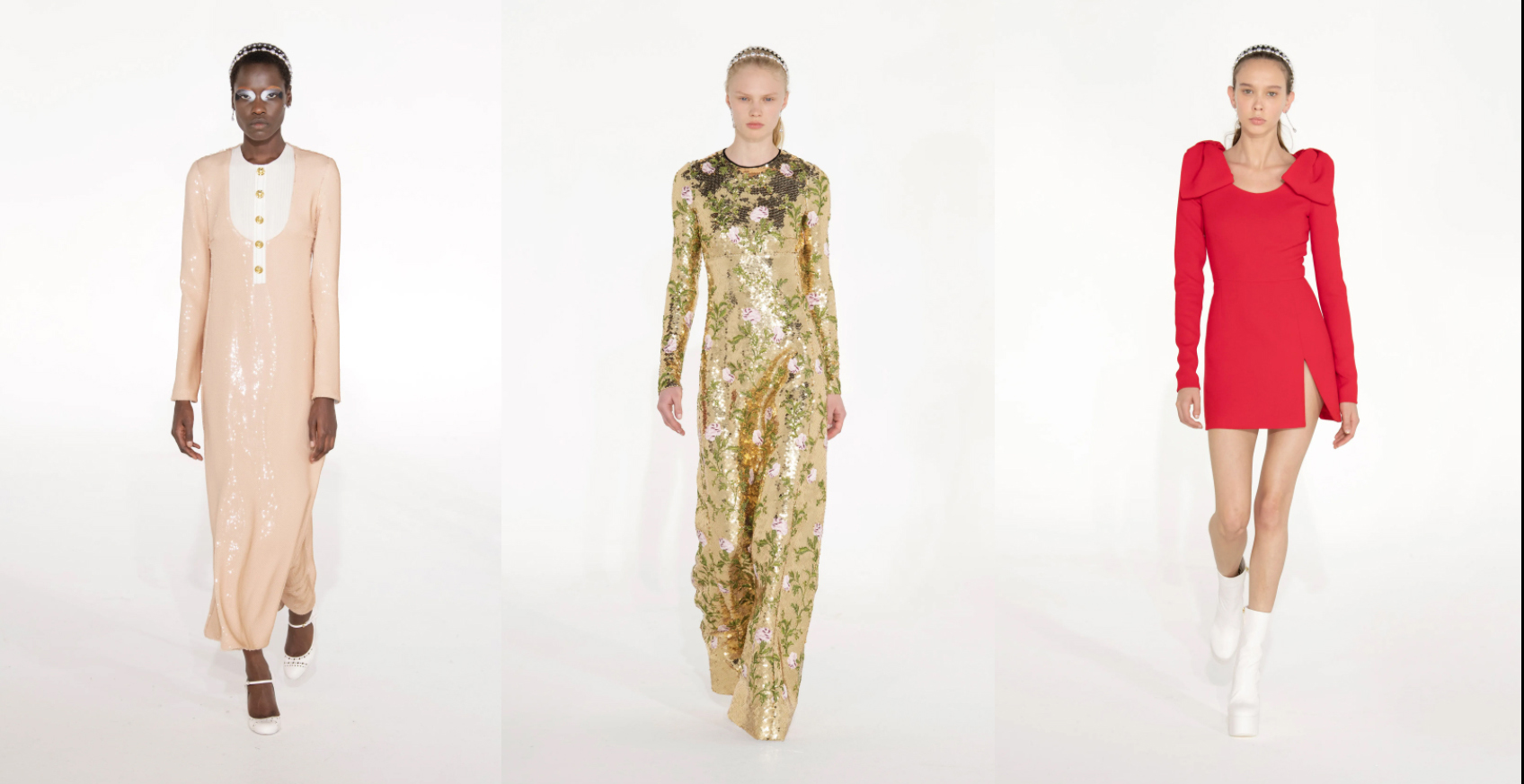 Tí, ktorí odjakživa oslavovali Silvestra v kluboch a na diskotékach, budú musieť tento rok pristúpiť na kompromisy, ale rozhodujúci bude duch a štýl. Inšpirácia, ktorá pochádza z módnych kolekcií pre sezónu Jeseň/ Zima 2021-2022, je predchodcom veľmi lesklých lookov v mene minišiat a kombinéz – napríklad zvonových nohavíc s podpisom Stelly McCartney, ktoré by zažiarili na malých párty s priateľmi.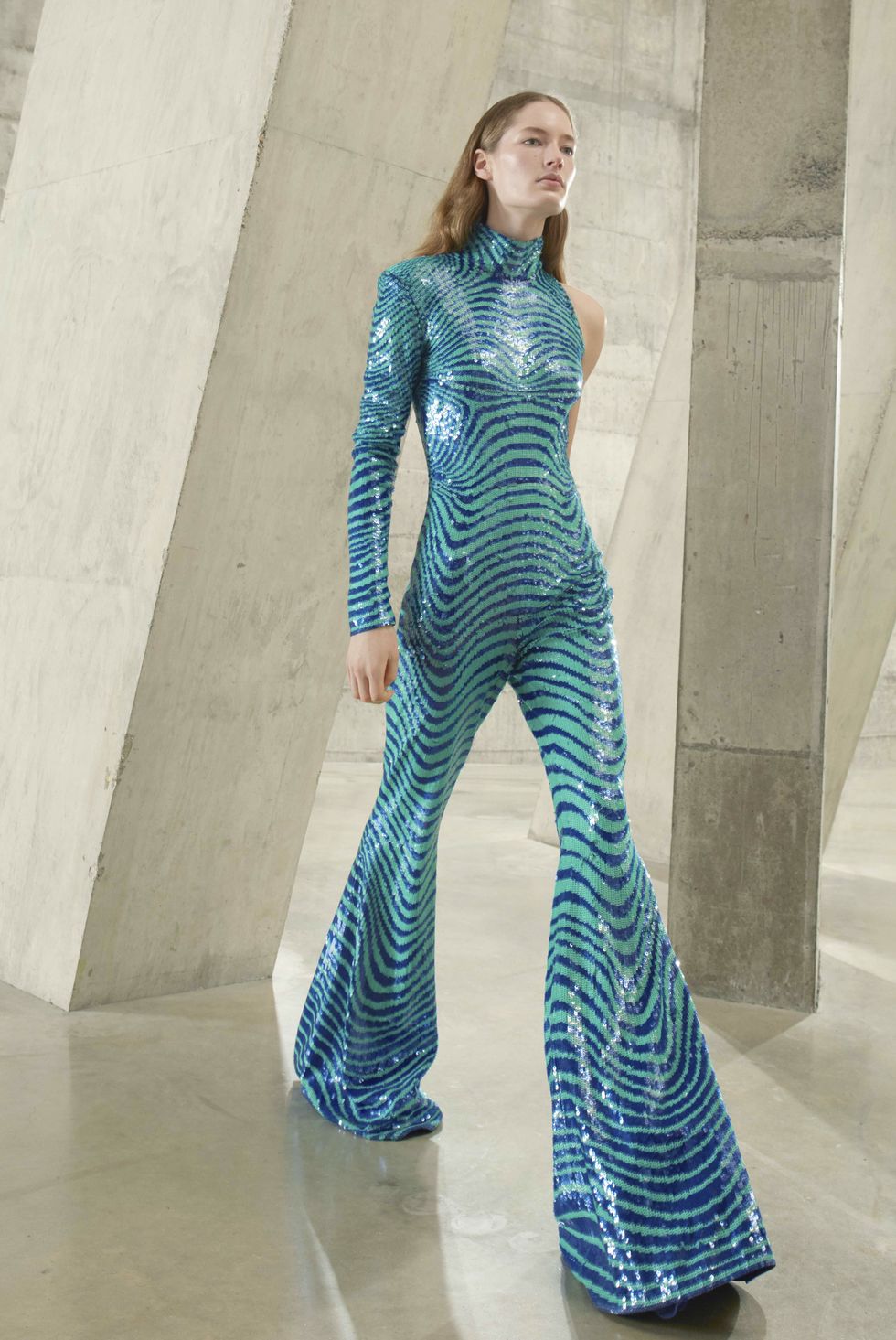 Stella McCartney – kolekcia Jeseň/Zima 2021 – 2022
Hudba, karaoke, tanec a zábava len čakajú na to, aby dali život metalickým trblietavým lookom – metalickej košeli, ktorú predviedla na móle módna značka Sportmax a zlatým sexi minišatám od talianskej luxusnej značky Versace.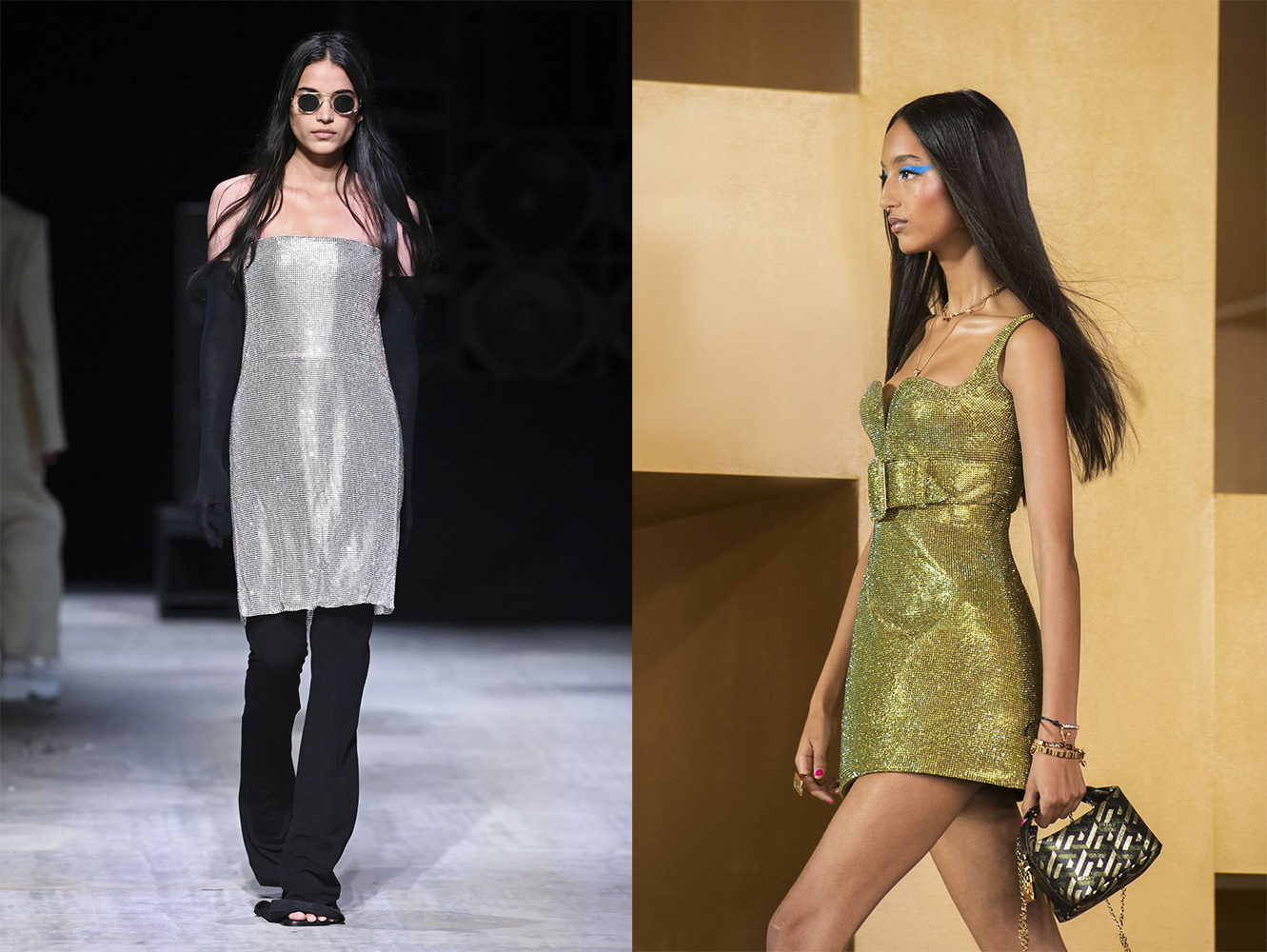 Sportmax, Versace – party vzhľady, sezóna Jeseň/Zima 2021 – 2022
Vášnivý disko a party look patrí aj veľmi zmyselným priesvitným priehľadným materiálom. Horúce áno dajte talianskej značke Blumarine, ktorá predviedla červenú priehľadnú vášeň.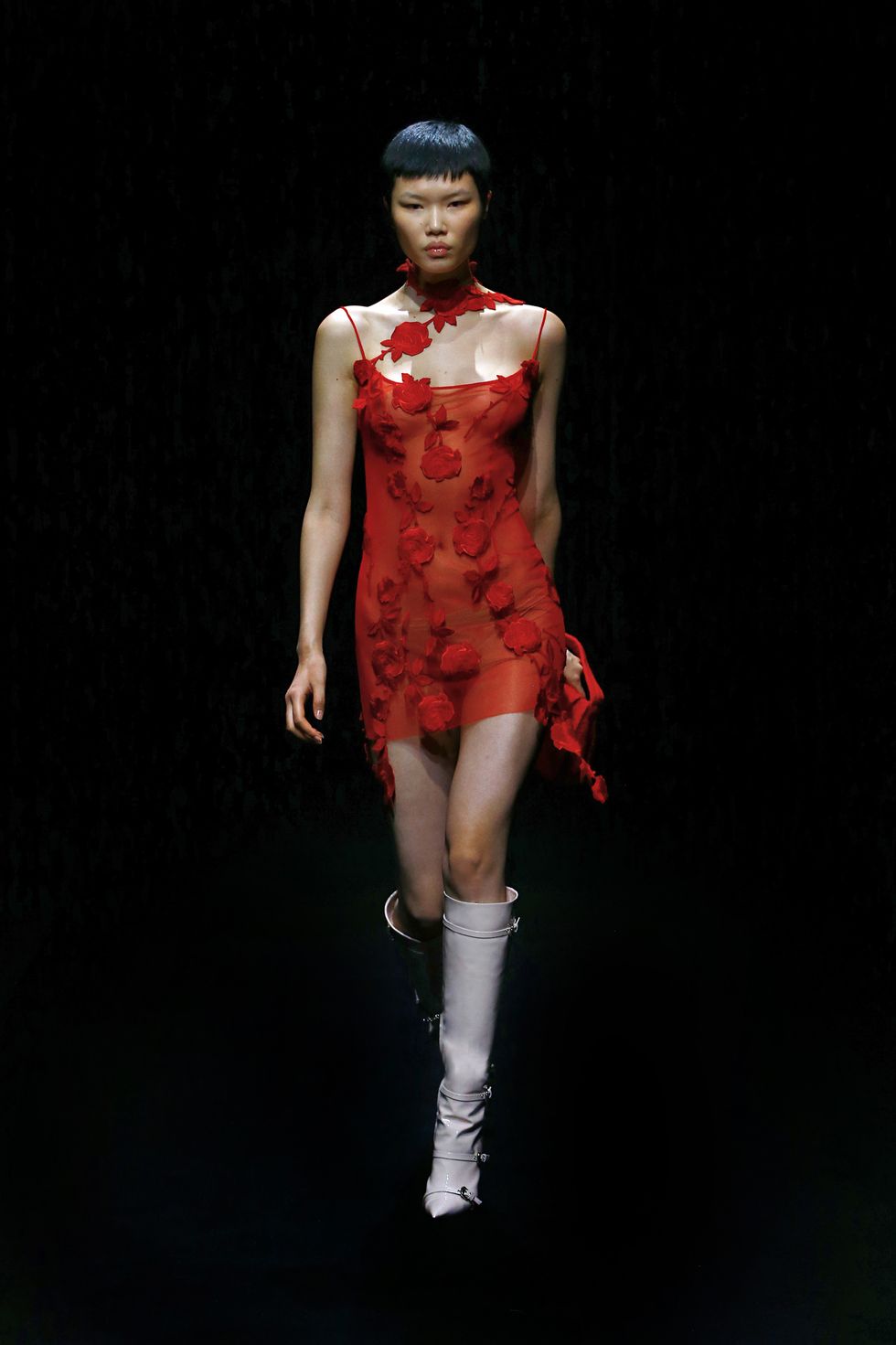 Rovnako flitrovým šatám vo farbe vína od talianskej značky Genny a farby zelenej jagavej trávy new yorkskej značky s venezuelským pôvodom Carolina Herrera.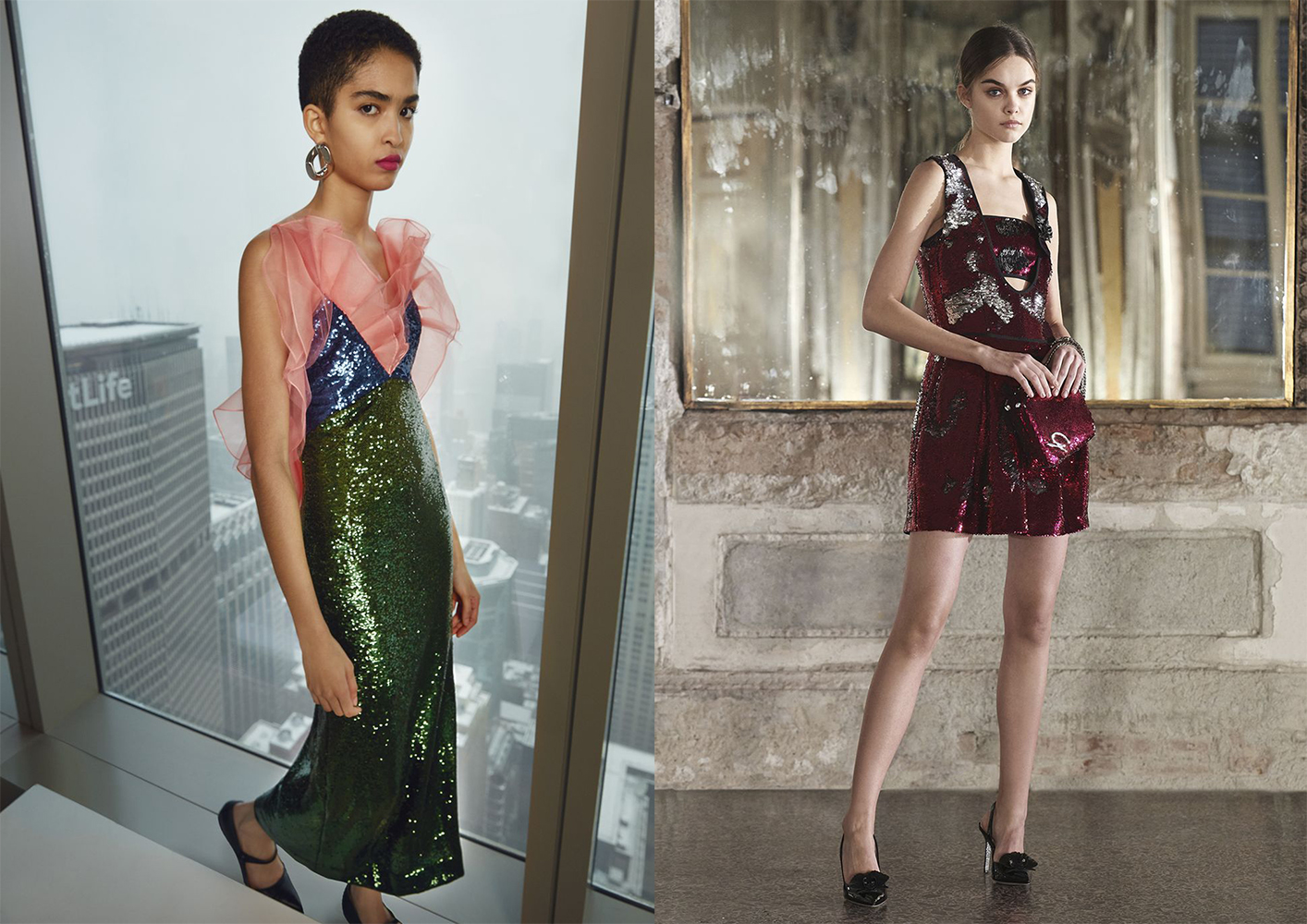 Vášnivý look pre Silvester v meste sa môže inšpirovať aj ďalšími módnymi dizajnérskymi trendami Zimy 2021-22, ktoré mysleli na outfity ako stvorené pre každú dámu. A nebudete sa musieť vzdať ani pôvabnej "elegancie". Módna značka Louis Vuitton nás napríklad túto zimnú sezónu učí, ako môže bomberová bunda ostať vo svojom perfektnom vzhľade aj v kombinácii s krátkymi šatami zlatej farby, ktoré sú jeho pánom.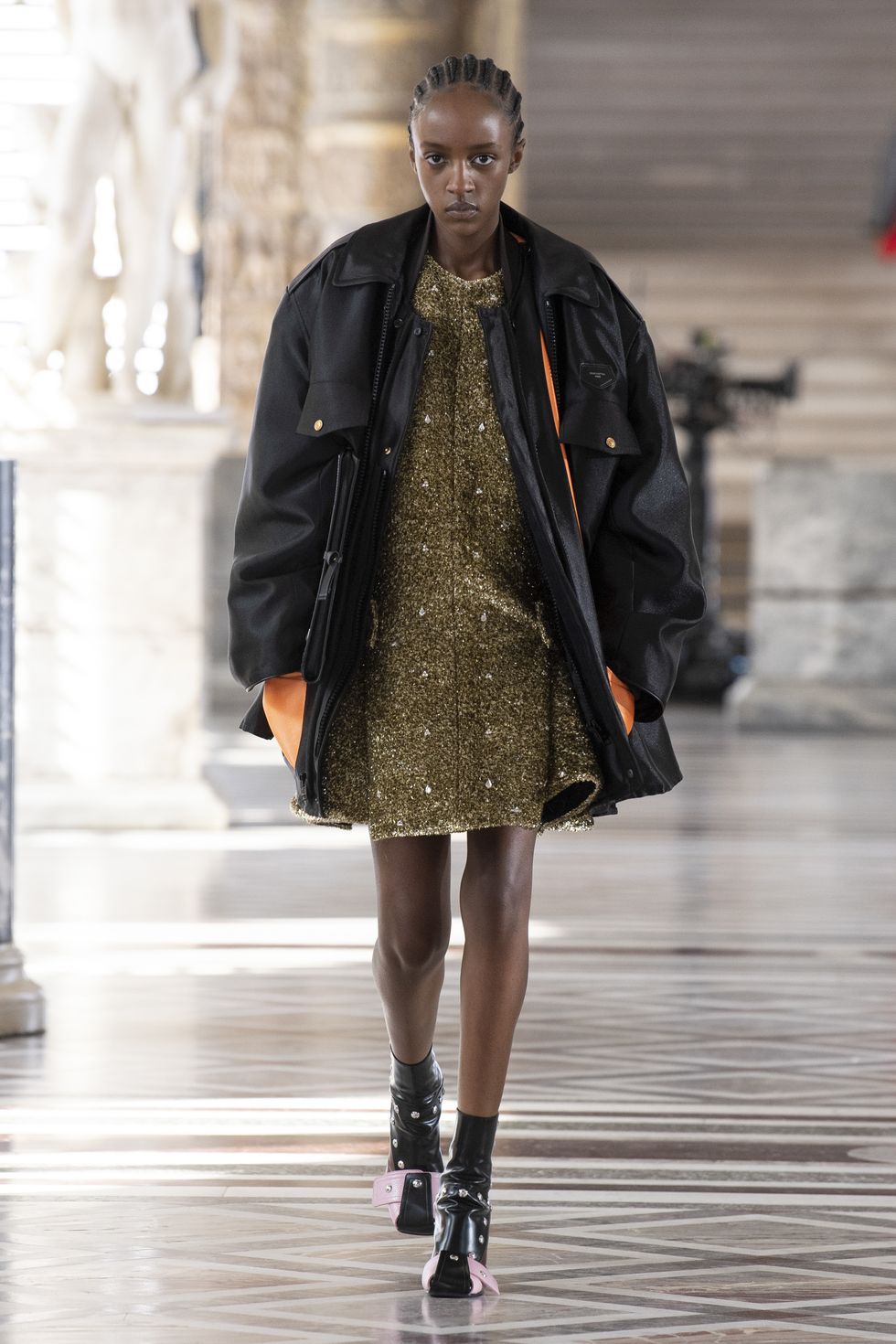 Burberry a Balmain nám na druhej strane ponúkajú lekcie o tom, ako nosiť trenčkot v totálnom zlatom kľúči – doslova štýlovú lekciu o hodnote liateho zlata.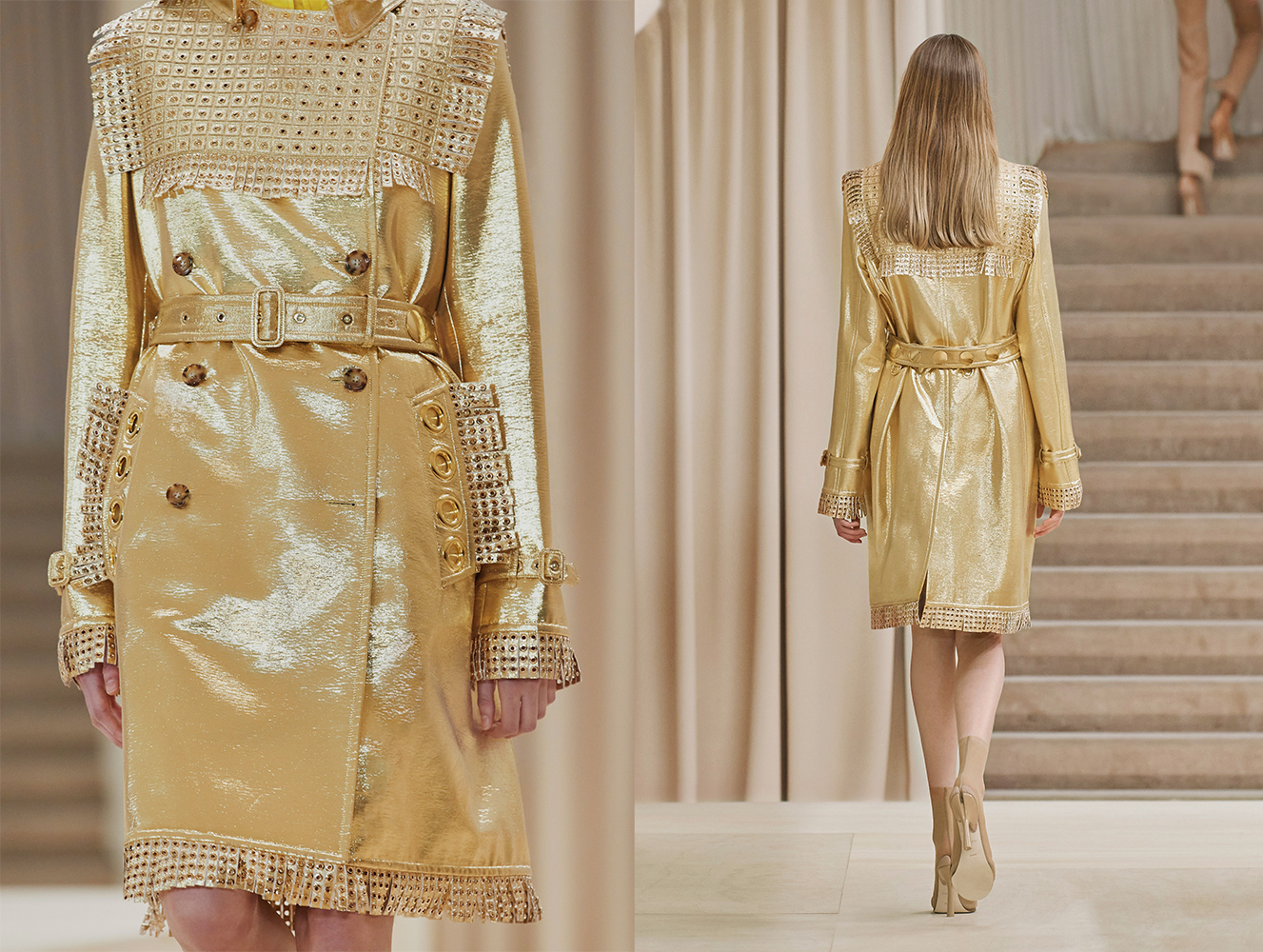 Burberrry – kolekcia Jeseň/Zima 2021 -2022
Burberrry – kolekcia Jeseň/Zima 2021 -2022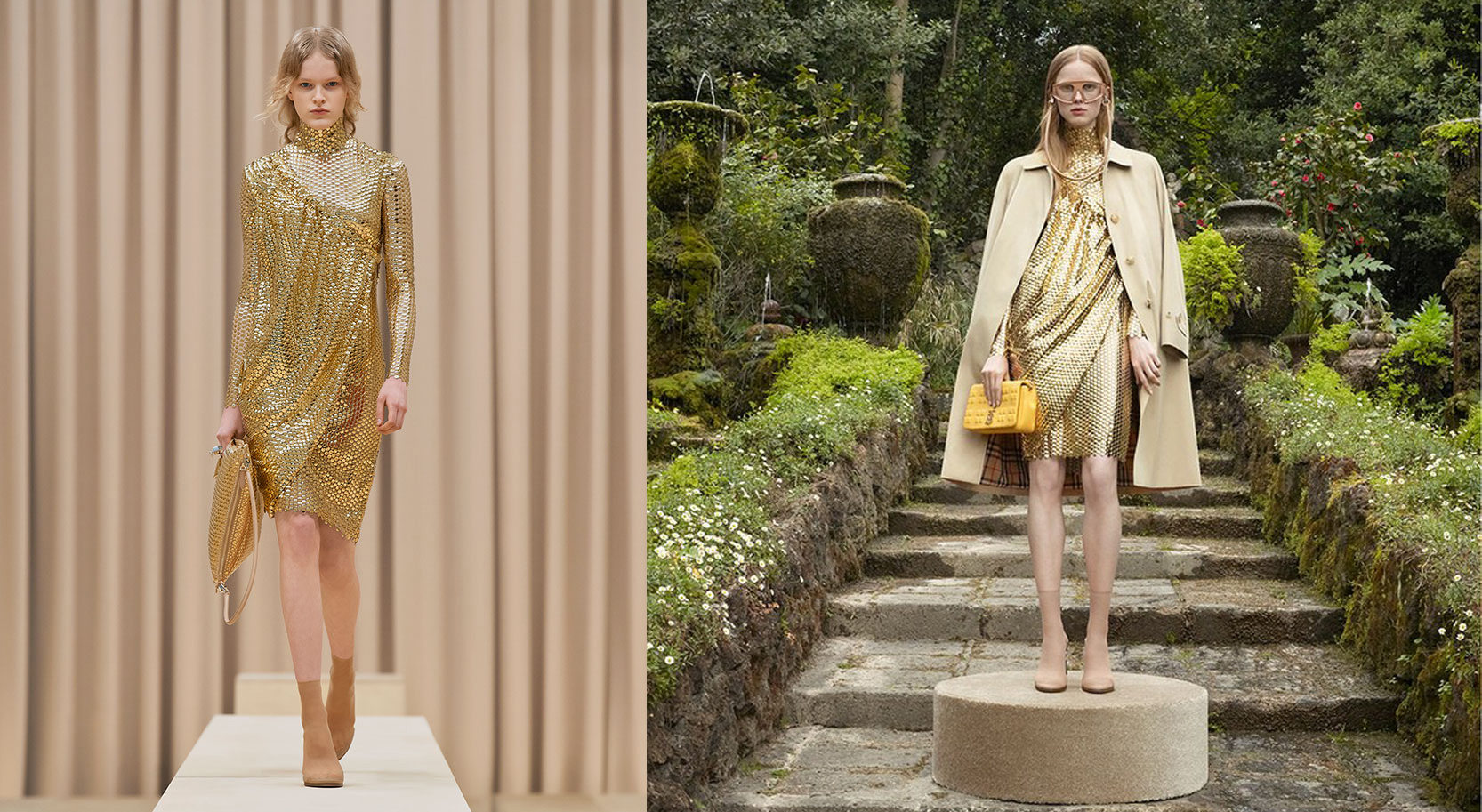 Burberrry – kolekcia Jeseň/Zima 2021 -2022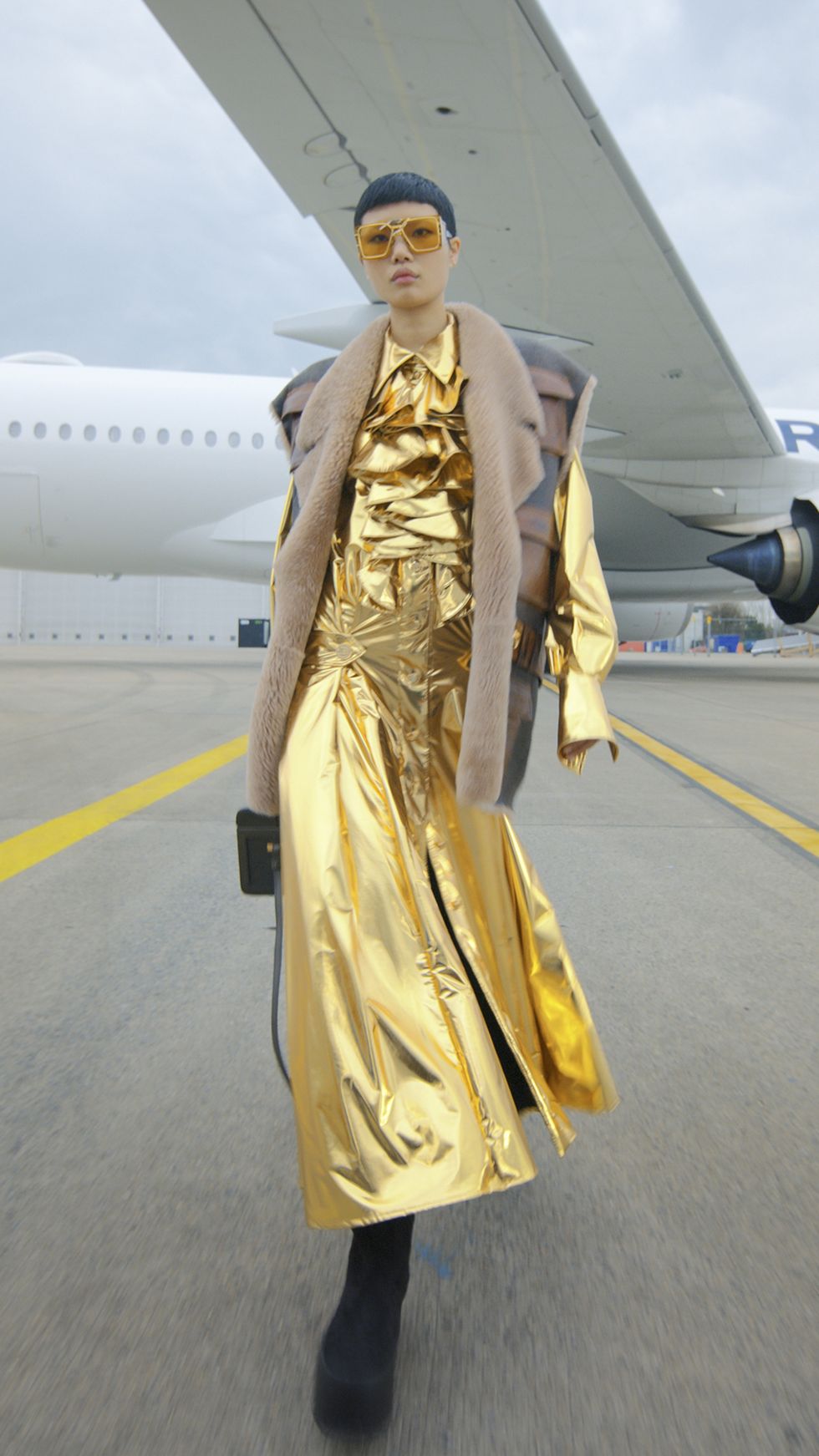 Balmain – kolekcia Jeseň/Zima 2021 -2022
Zlatú praktickú party nádielku v podobe zlatého trench coatu priniesla pre sezónu Jeseň/Zima 2021-2022 značka Chanel. Skombinovať ho môžete pokojne s čiernym klobúkom s teplými ušiankami.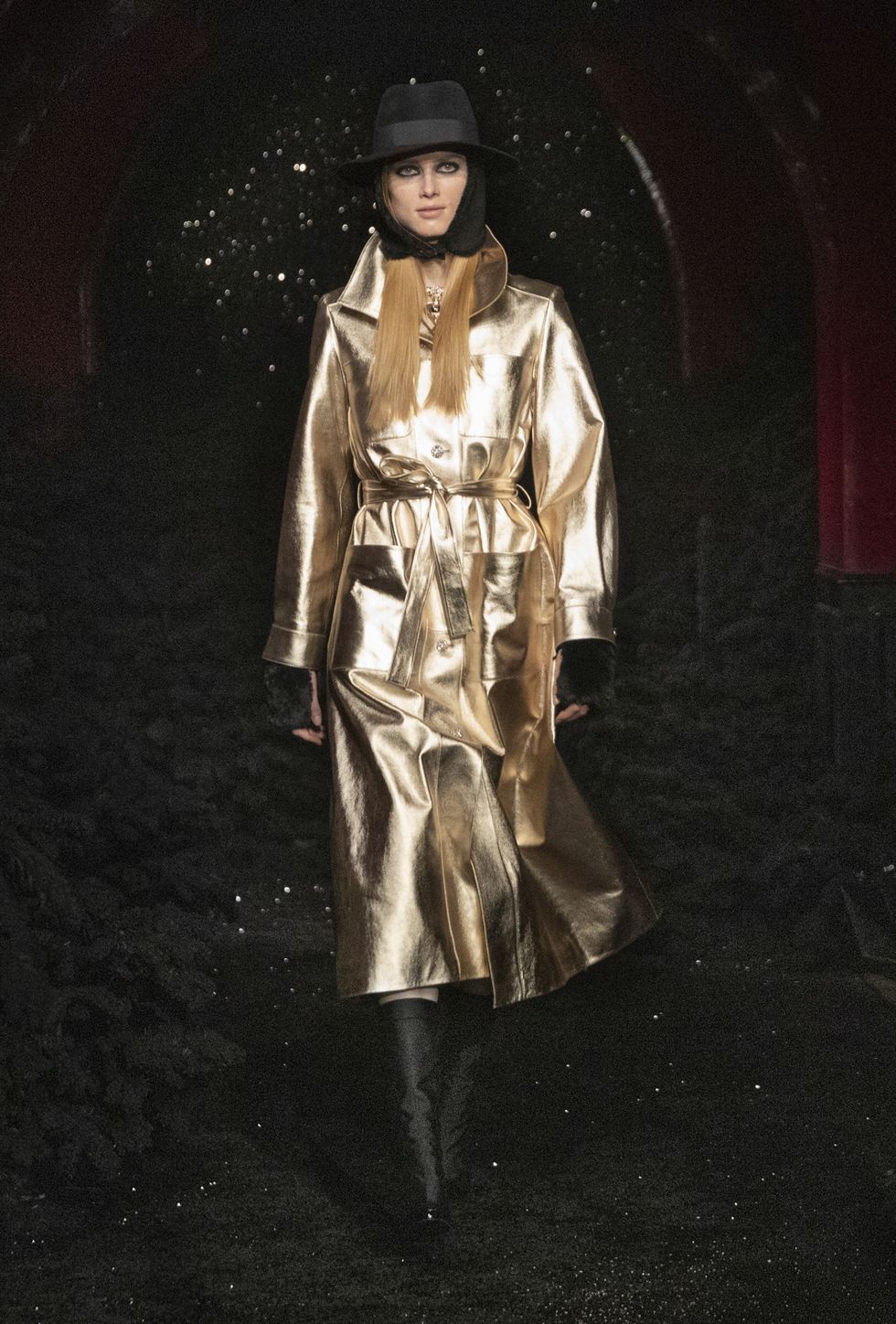 Spojenec silvestrovského looku v meste zostáva vrchný odev a titul "must have piece" (absolútny vychytávkový kúsok sezóny) je flitrový kabát od talianskyje značky Prada ,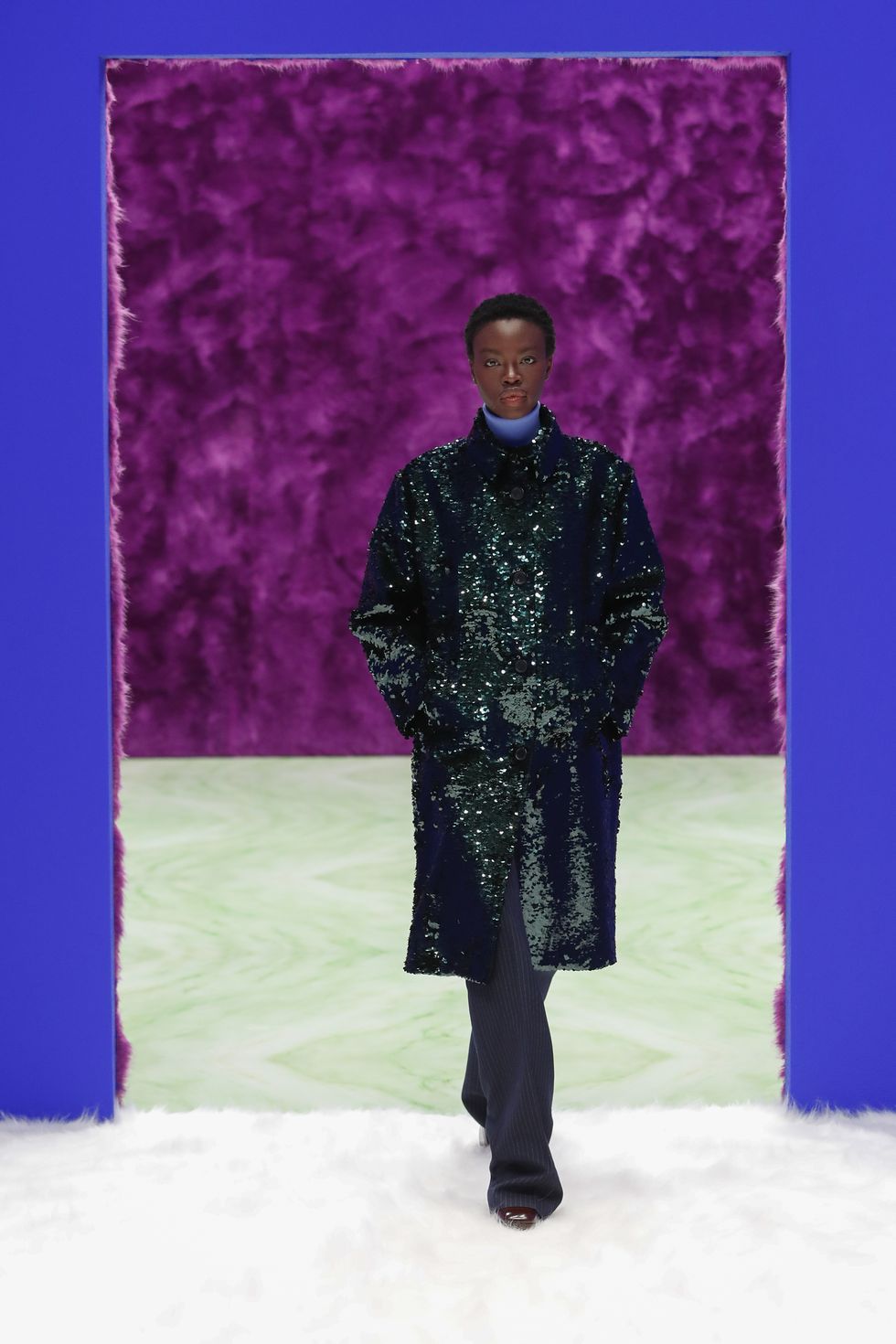 a maxi oversized páperová bunda od Toma Forda.
PARTY LOOK NA SILVESTROVSKÚ VEČERU DOMA – POVAB A ELEGANCIA SO ŠTIPKOU PRAKTICKOSTI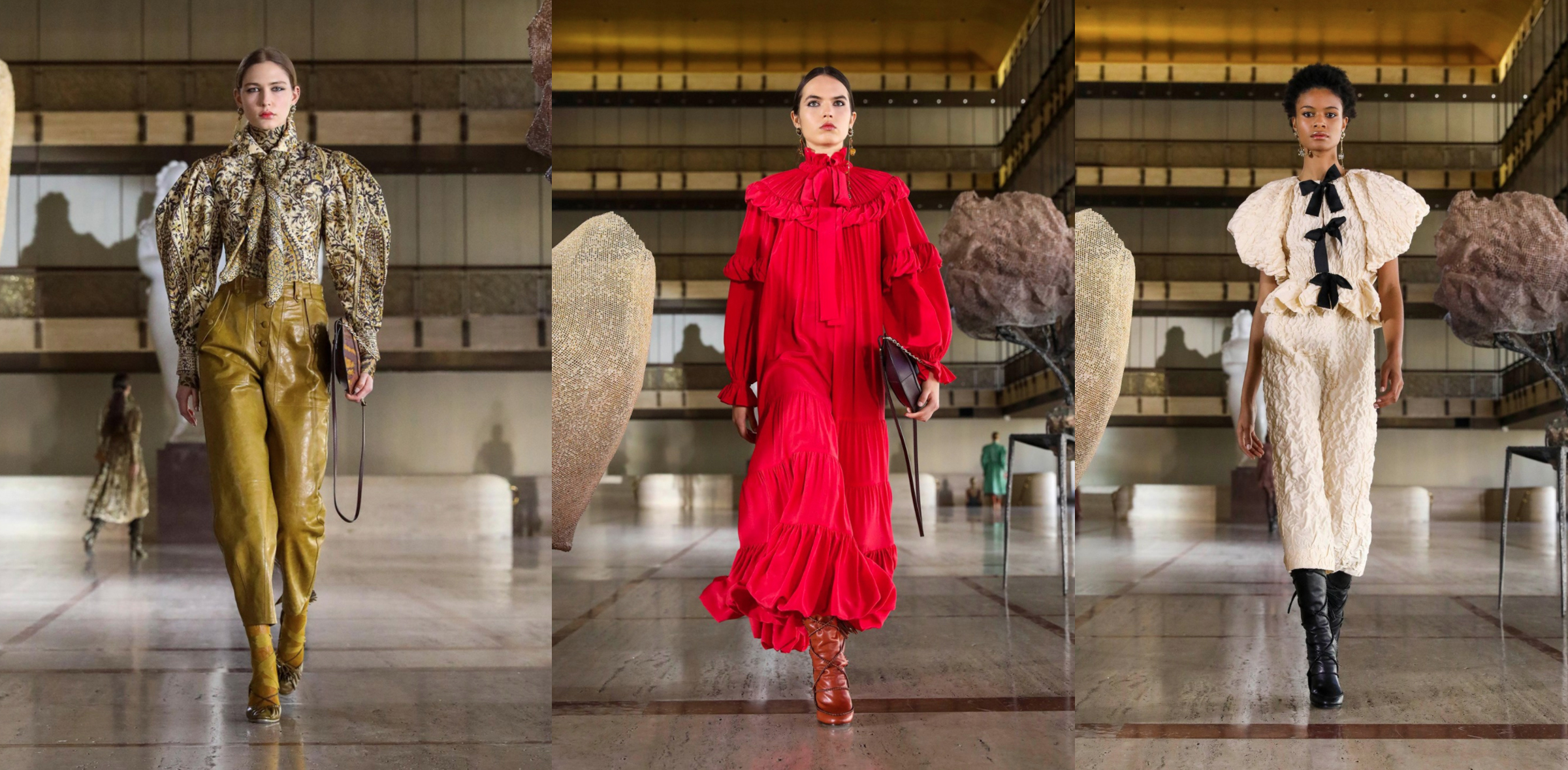 Kde je domov, tam musí byť pôvab. Party oslavný vzhľad na silvestrovskú večeru u vás doma si vyžaduje eleganciu, no s väčšou dávkou praktickosti. Áno dajte červeným šatám a to presne tým, ktoré kraľujú módnym kolekciám Jeseň/Zima 2021-2022 – tie od módnej značky Ulla Johnson so svojimi volánmi a volánikmi vytvoria dominantnú náladu,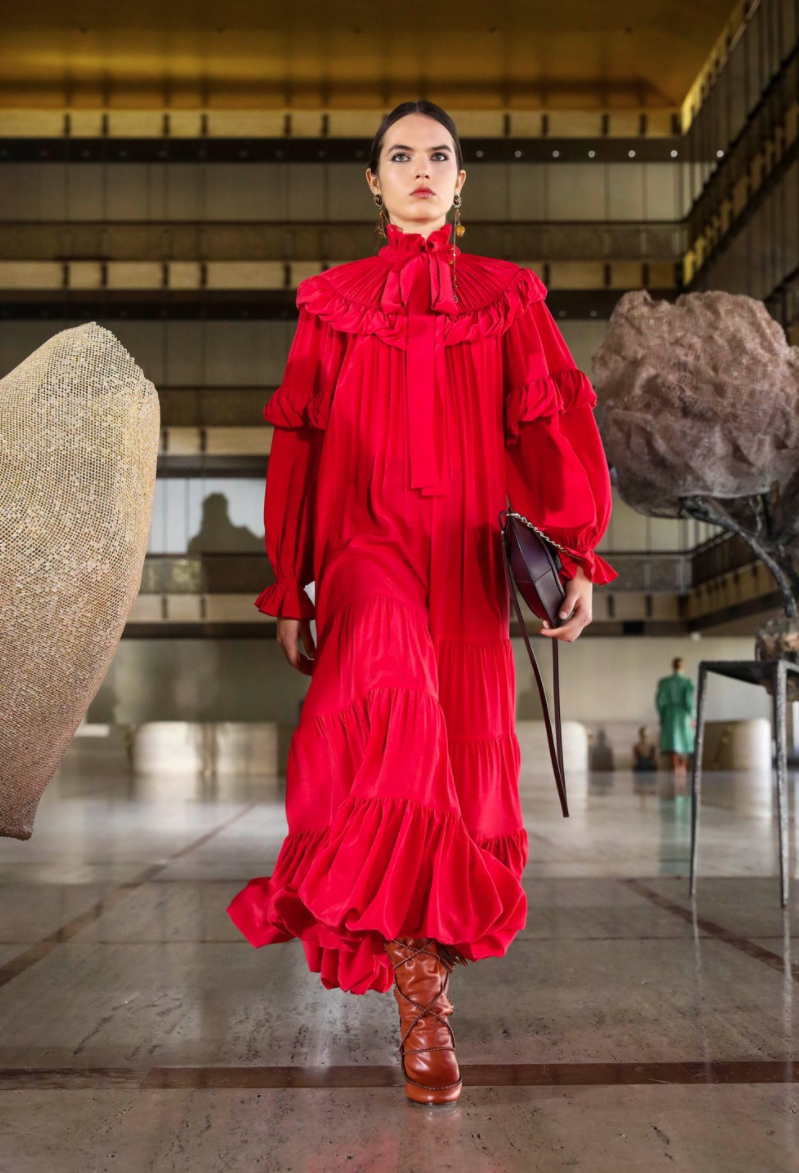 pri Chanel značke pokojne skombinujte minišaty s čiernymi čižmami, alebo siahnite po fuchsiovo červenom sexi strihanom nohavicovom komplete s odhaleným bruškom.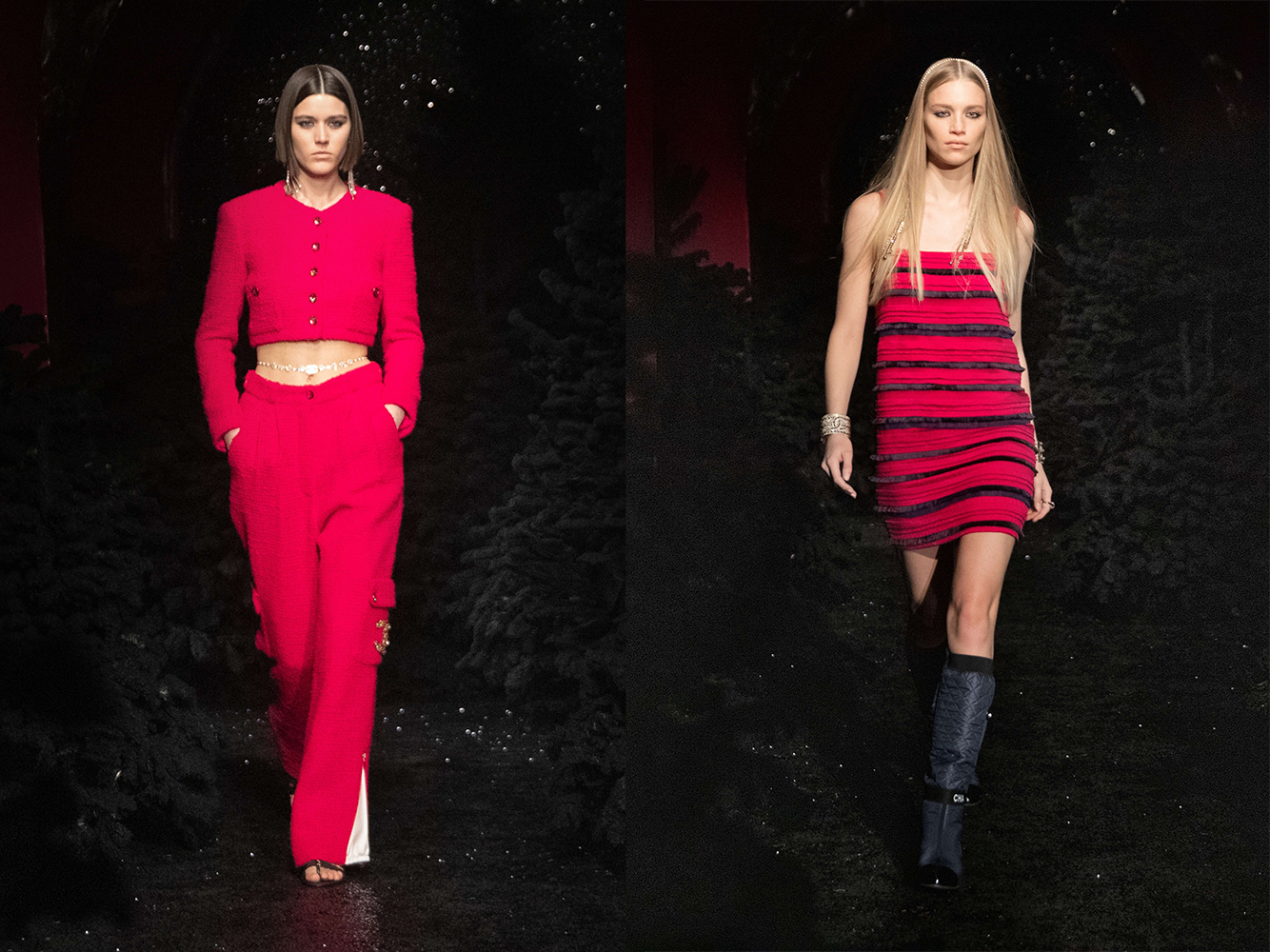 Isabel Marant vyzýva k tomu, aby sme outfitu dodali osobitosť a objavili kožený trend.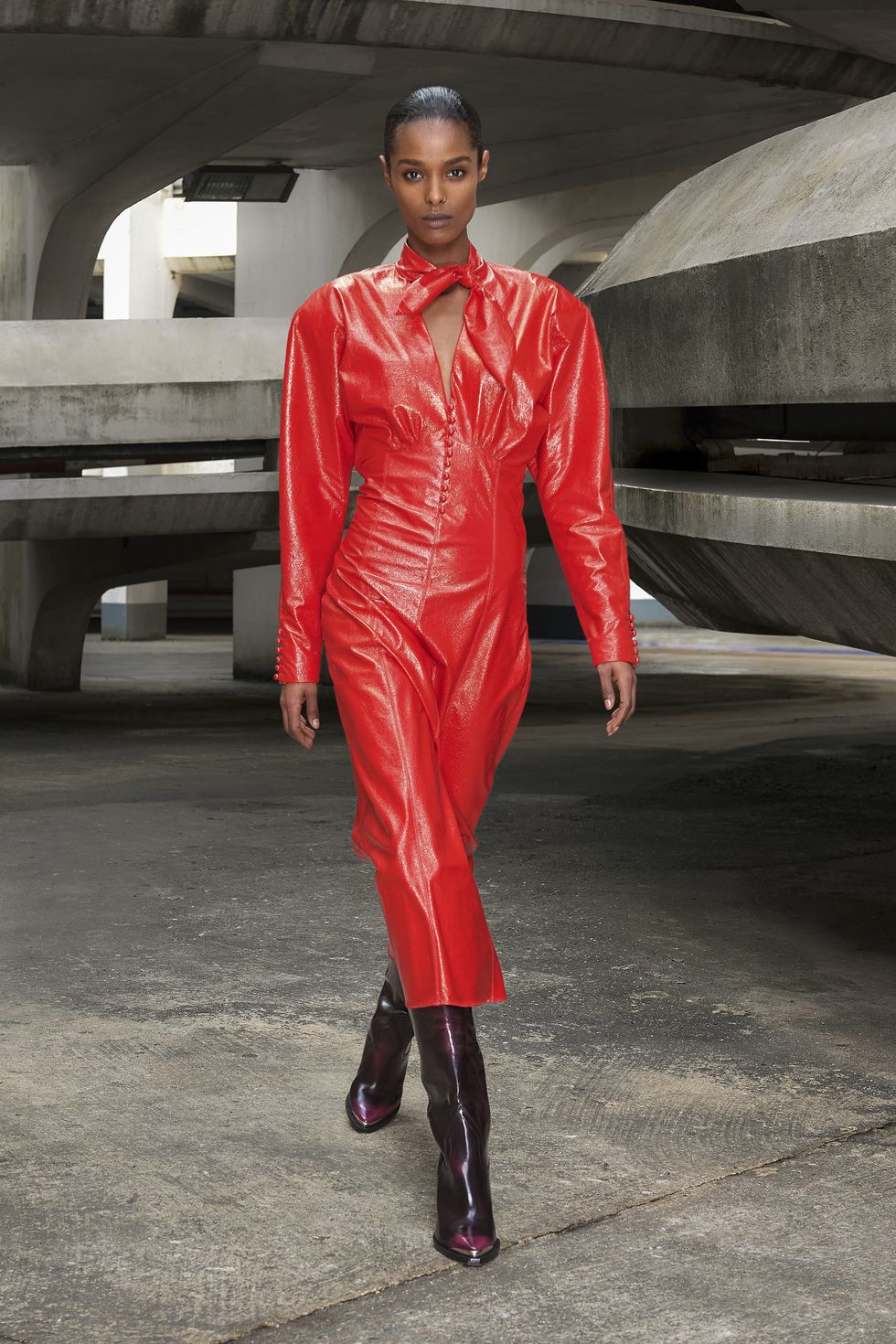 VEĽKOLEPÉ SILVESTROVSKÉ GALA
Najlepšie na silvestrovskom gala večierku je výhovorka, ba priam nutnosť vytiahnuť zo šatníka tie najvzácnejšie a najhonosnejšie dlhé šaty. Zamatové príjemné šaty, ako ich navrhol kráľ talianskej módy Giorgio Armani, sú tie najkrajšie a najpohodlnejšie, aké si človek môže priať.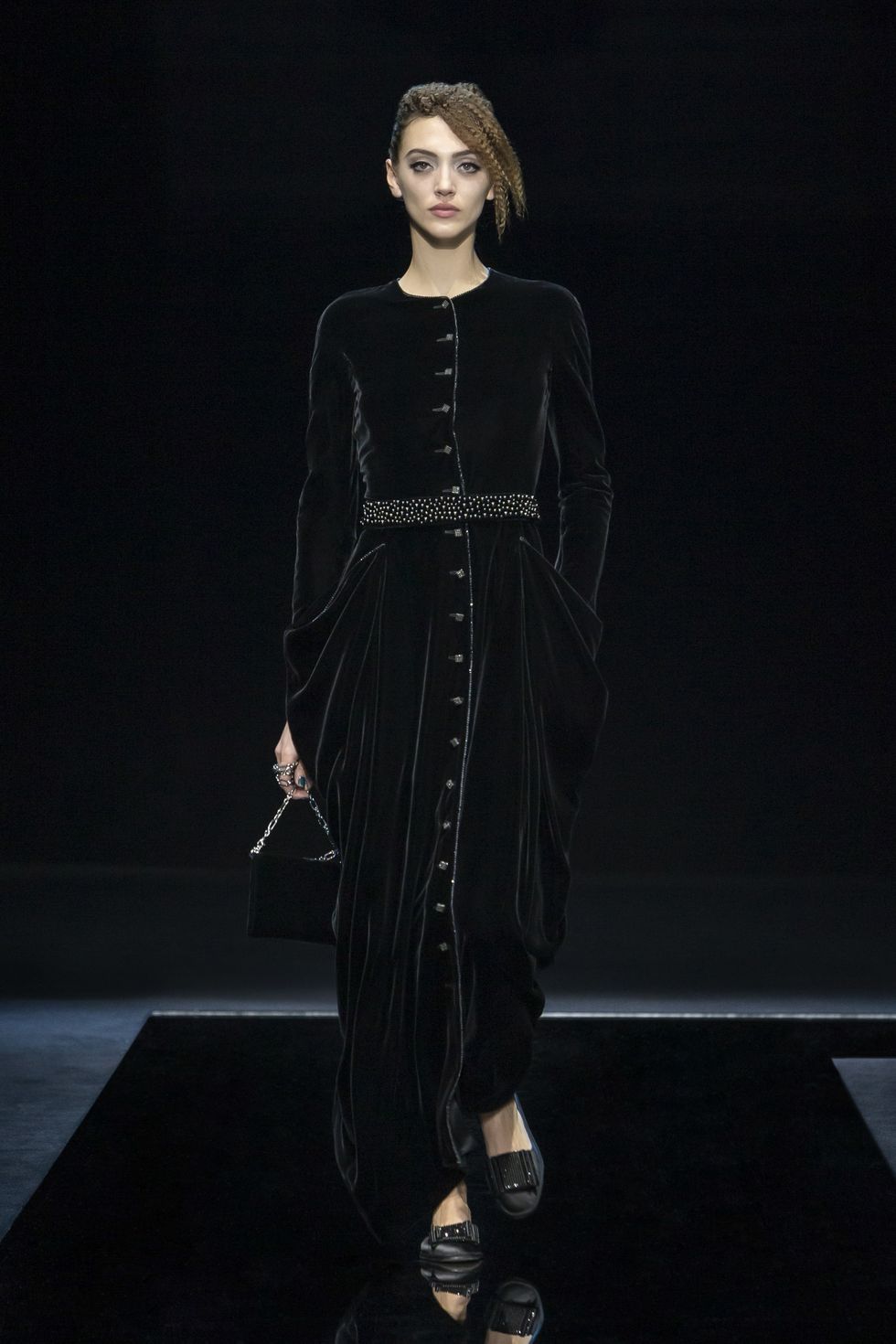 Vrstvené tylové závoje namiesto toho charakterizujú šaty so živôtikom v tvare srdca, ktorý na móle pre značku Dior predviedla kreatívna riaditeľka Maria Grazia Chiuri.
Alebo opäť flitre a nádielka flitrov vo farbách – hlasné áno dajte najbujnejším farbám, kde okrem typickej a tradičnej zlatej od talianskej dizajnérky Alberta Ferretti,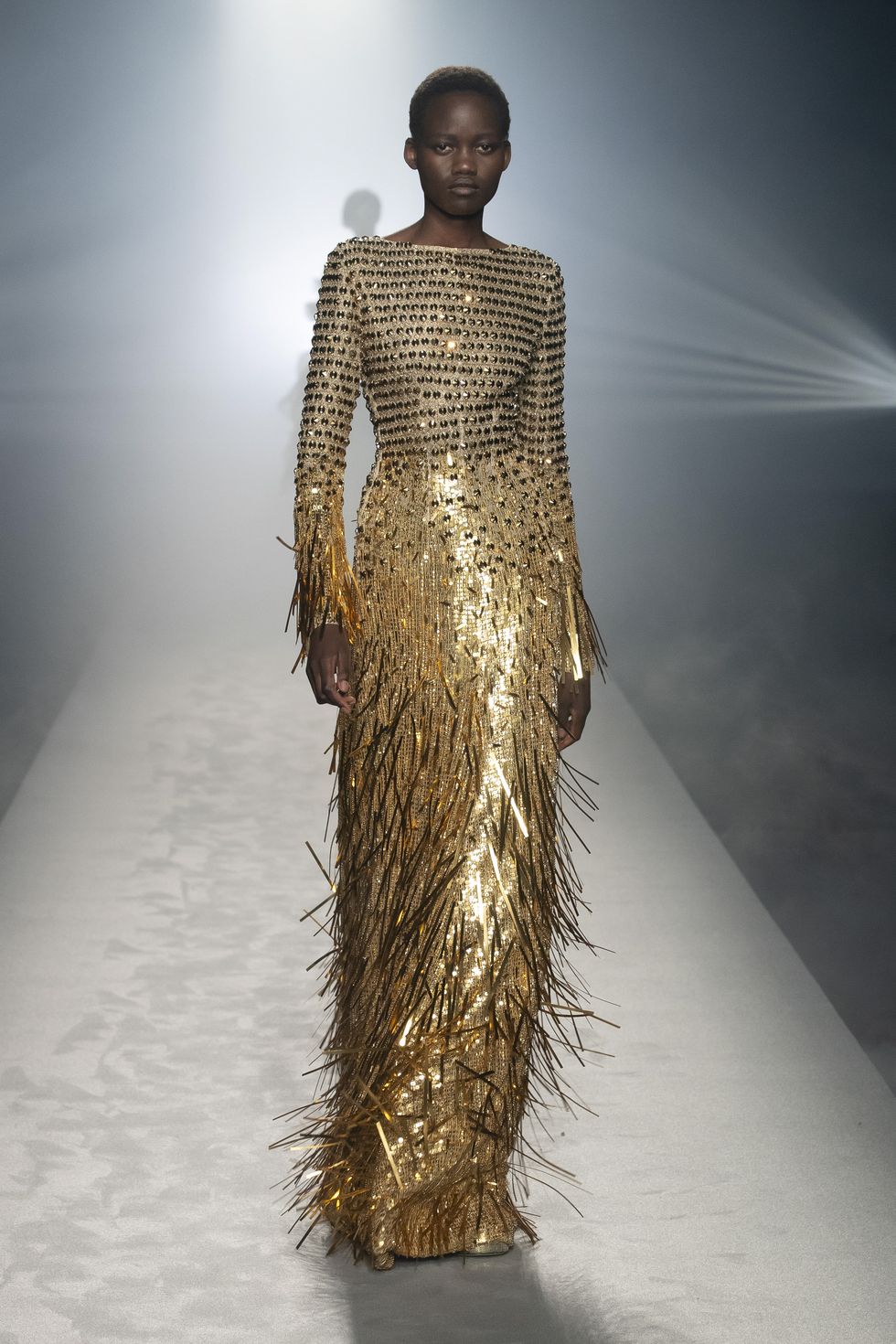 patrí vianočnému a silvestrovskému času kráľovstvo farieb červenej a smaragdovo-zelenej. Tá sa nádherne vyníma na šatách z kolekcie od Elie Saab, ktoré sú v skutočnosti nohavicovým overalom.
PARTY SILVESTROVSKÝ LOOK NA HORÁCH
Kufor na dovolenku v horách je už zbalený a túžobné pohľady na Nový rok na snehu už nemôžu čakať. A práve medzi ľadom, vločkami a rosou predstavila talianska dizajnérka Miuccia Prada svoju zimnú kolekciu Miu Miu 2021-2022. Minišaty posiate krištáľmi sa spájajú s teplými čižmami a mäkkými pokrývkami hlavy.
A medzi bielou vlnou od talianskeho dizajnéra Salvatore Ferragamo a maxi pelerínou od Chloé vyniknú looky so zavinovacím efektom.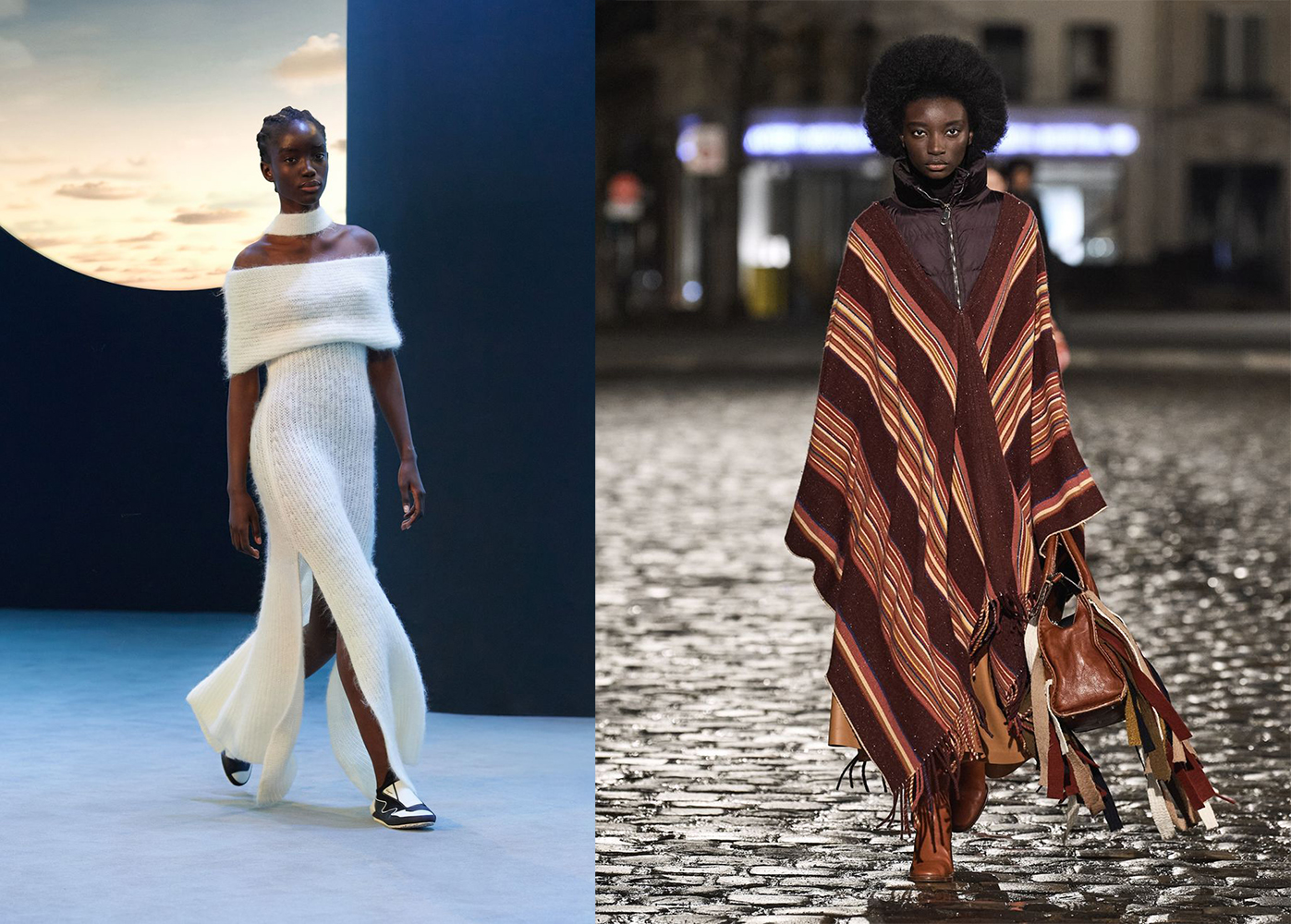 Zabalte sa, rozmaznávajte nadmernými odevmi, ako to učia maxi páperové bundy značiek Balenciaga a Marc Jacobs. Len sa nevzdajte svojej chic duše, pretože táto nám bude robiť spoločnosť aj v budúcom roku 2022.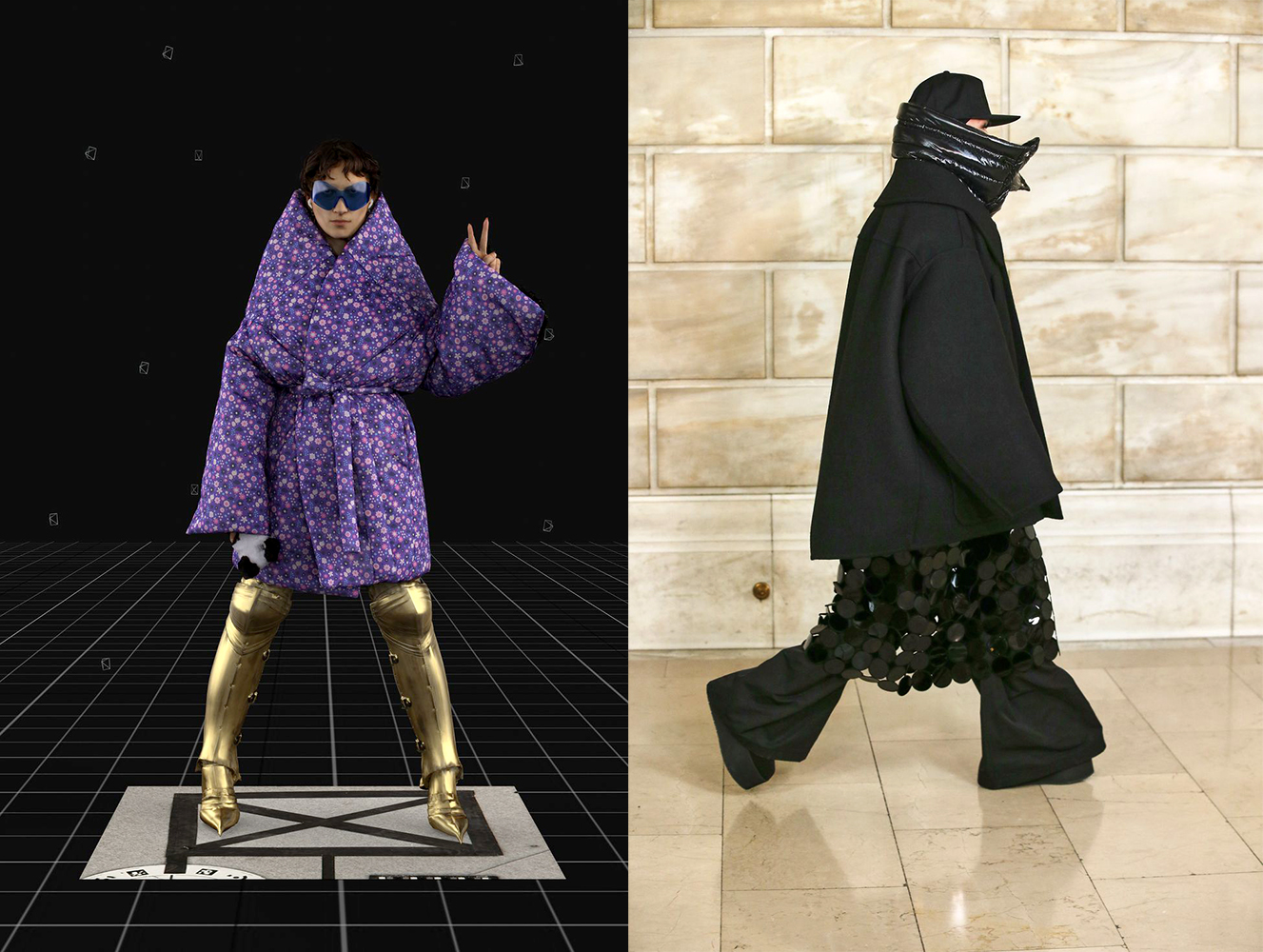 Balenciaga a Marc Jacobs – kolekcia Jeseň/Zima 2021 – 2022
obrázky: © Imaxtree, pinterest
Sledujte Facebook stránku: Mya Mirell Fashionista a Instagram: mya_mirell .