Yves Saint Laurent – Paris Fashion Week, nová kolekcia dizajnéra Anthony Vaccarello pre sezónu Jeseň / Zima 2020 – 21
Parížsky týždeň módy predviedol s nadšeným očakávaním módnu nádielku dizajnérov zvučných mien a zimnú sezónu prehliadkového maratónu ukončil 4. marca 2020.
Najnovšia kolekcia značky Yves Saint Larent vyniesla 66 lesklých farebných lookov predvedených počas utorkovej noci 25. februára 2020. Pôsobivý walking modeliek sa odohrával na bodovo osvietenom temnom móle upravenom do 3D oblúkového tvaru.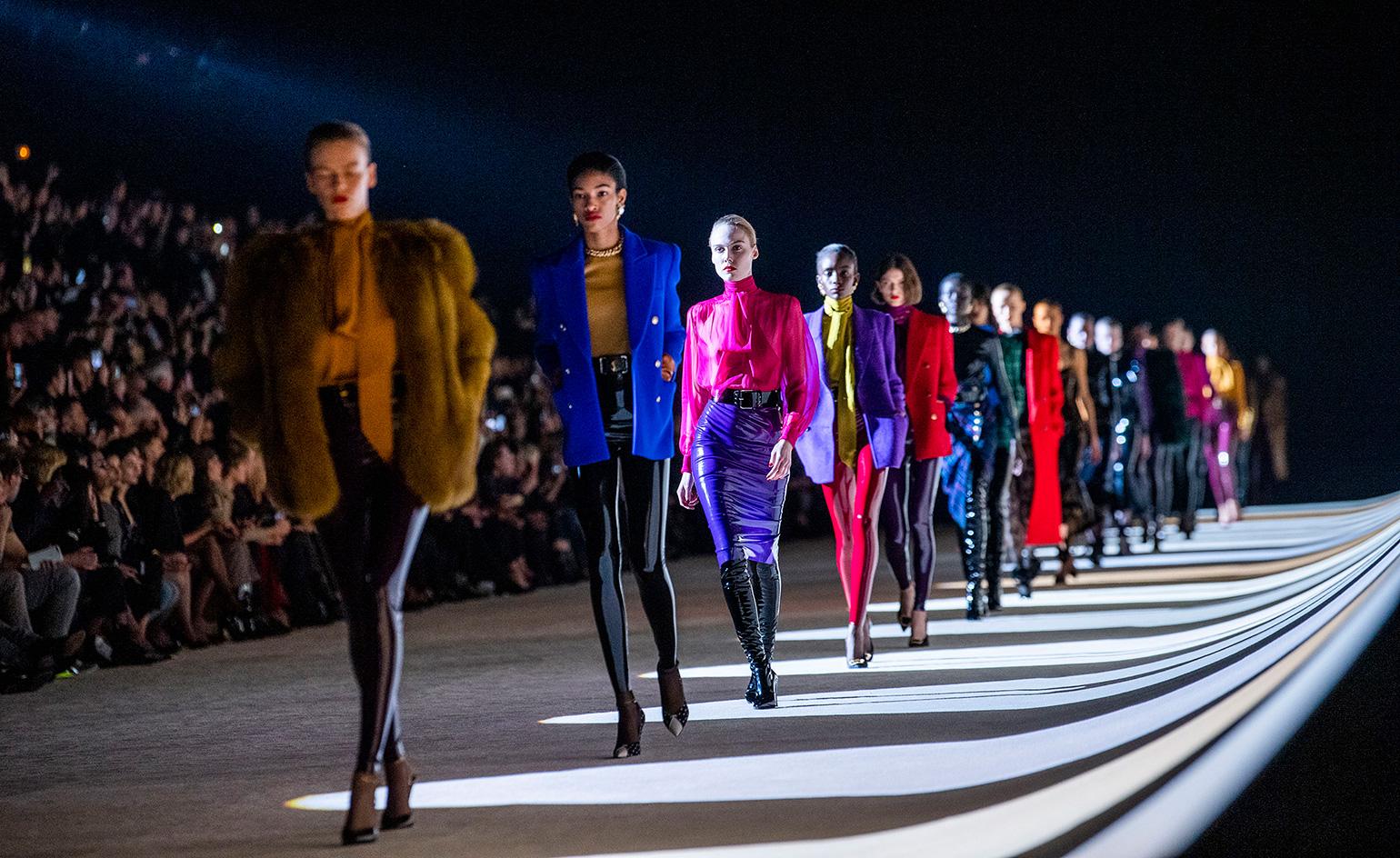 Každý predvedený model osvetľoval pri chôdzi modeliek bodový reflektor.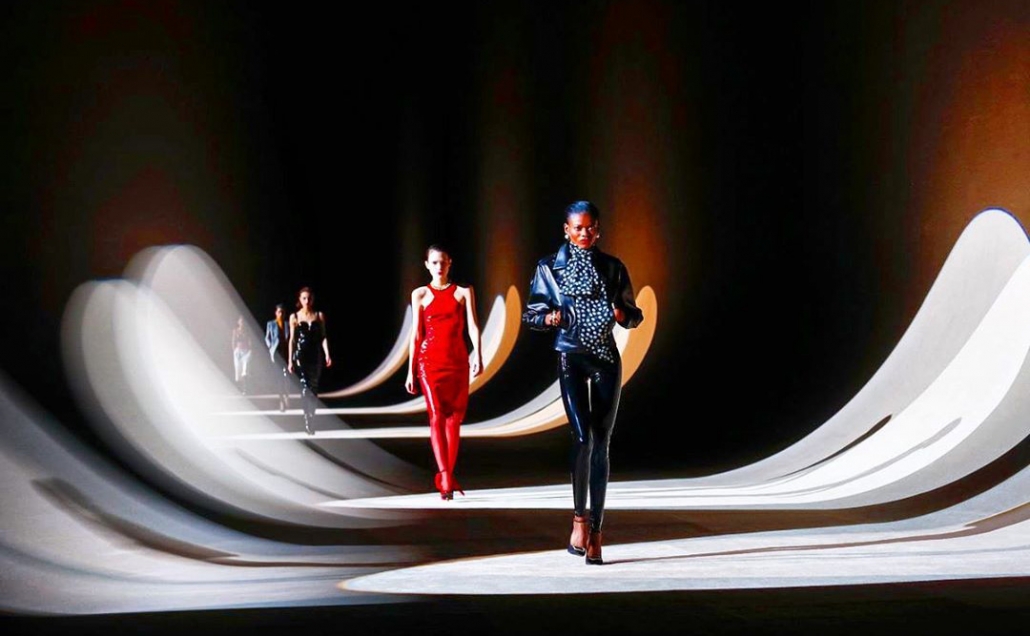 Dizajnér značky Saint Laurent , Anthony Vaccarello, predstavil v kolekcii pre sezónu Jeseň / Zima 2020 – 21 ženu silnú s poriadnym sexeapealom.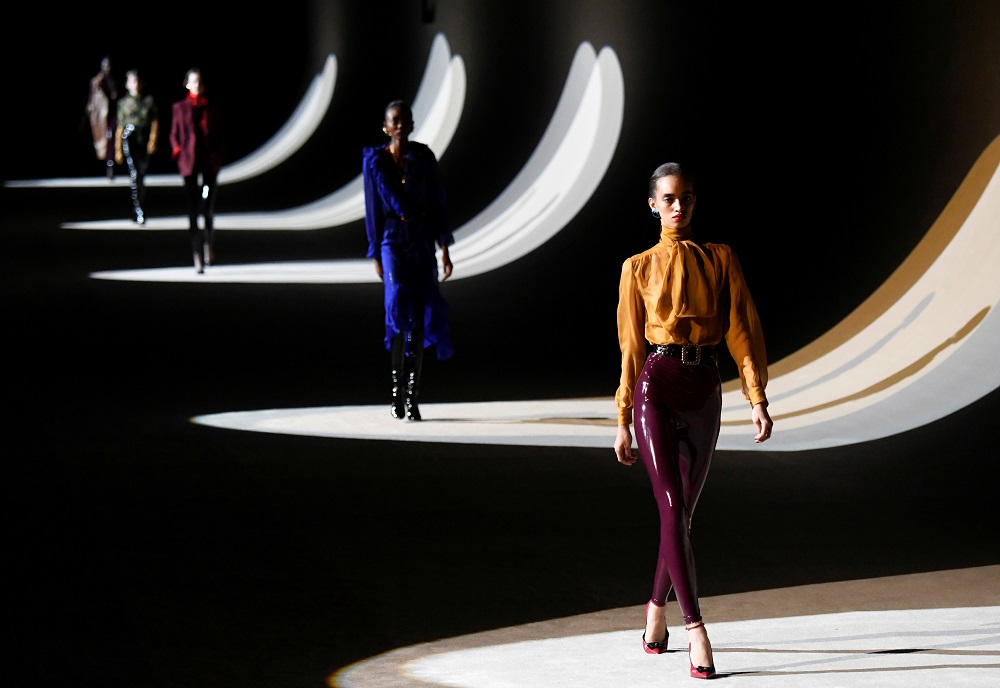 Žena Saint Laurent rada riskuje, oblieka sa do čipky, kašmíru a latexu.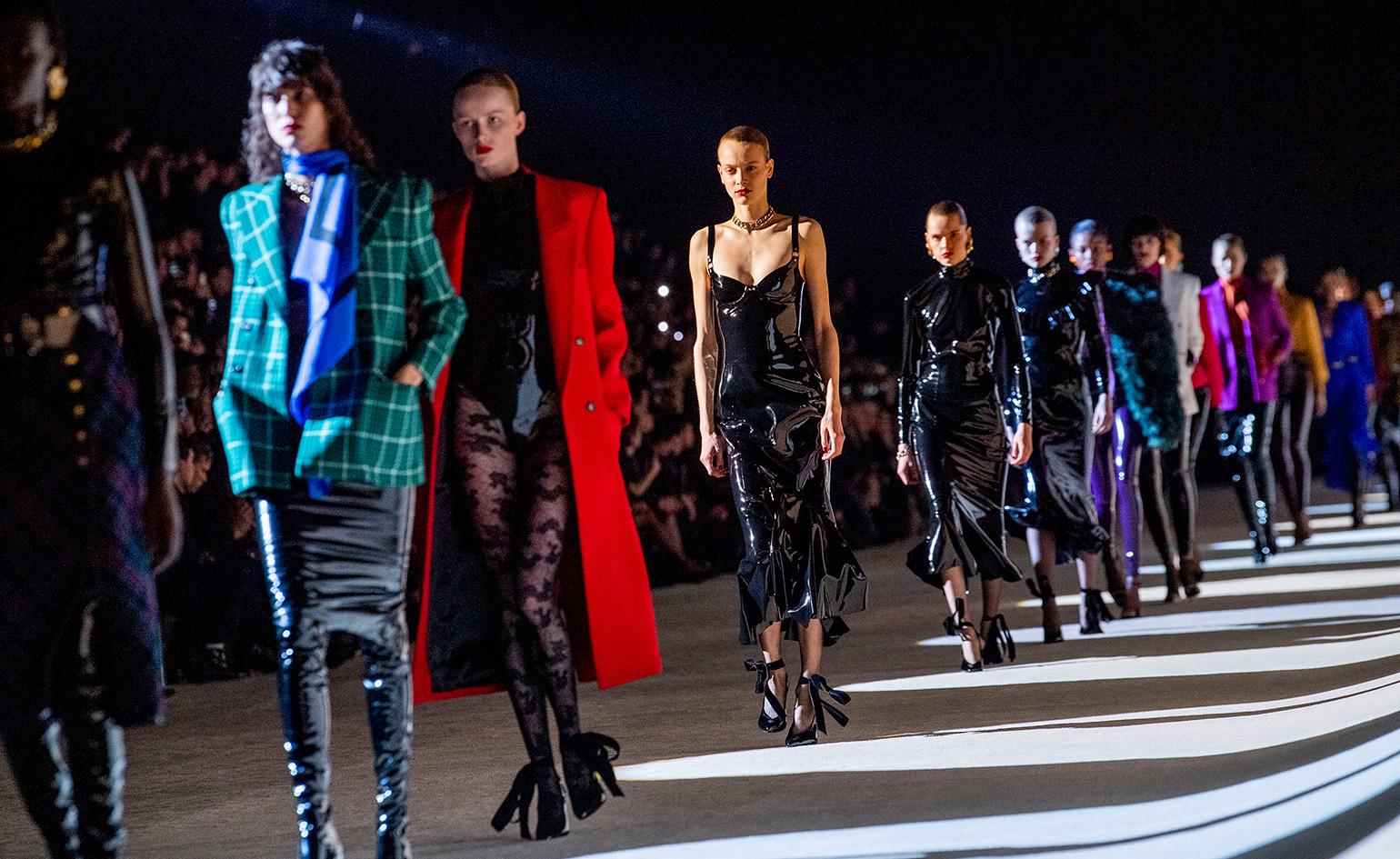 Neobyčajne lesklé, super obtiahnuté legíny vo farebných škálach, obtiahnuté vysoké čižmy z latexu hrajú prím v najnovšej kolekcii Yves Saint Laurent Jeseň / Zima 2020 – 21.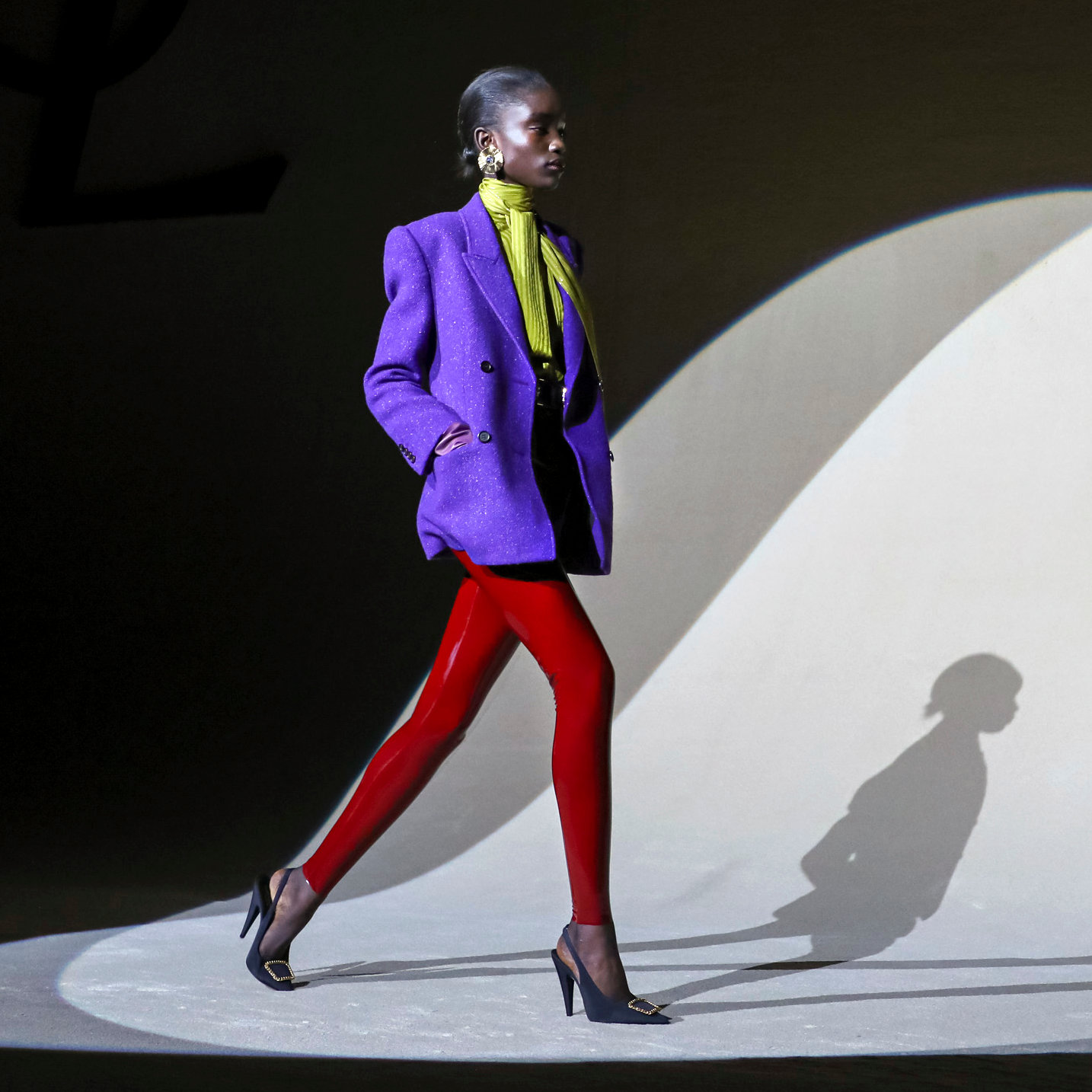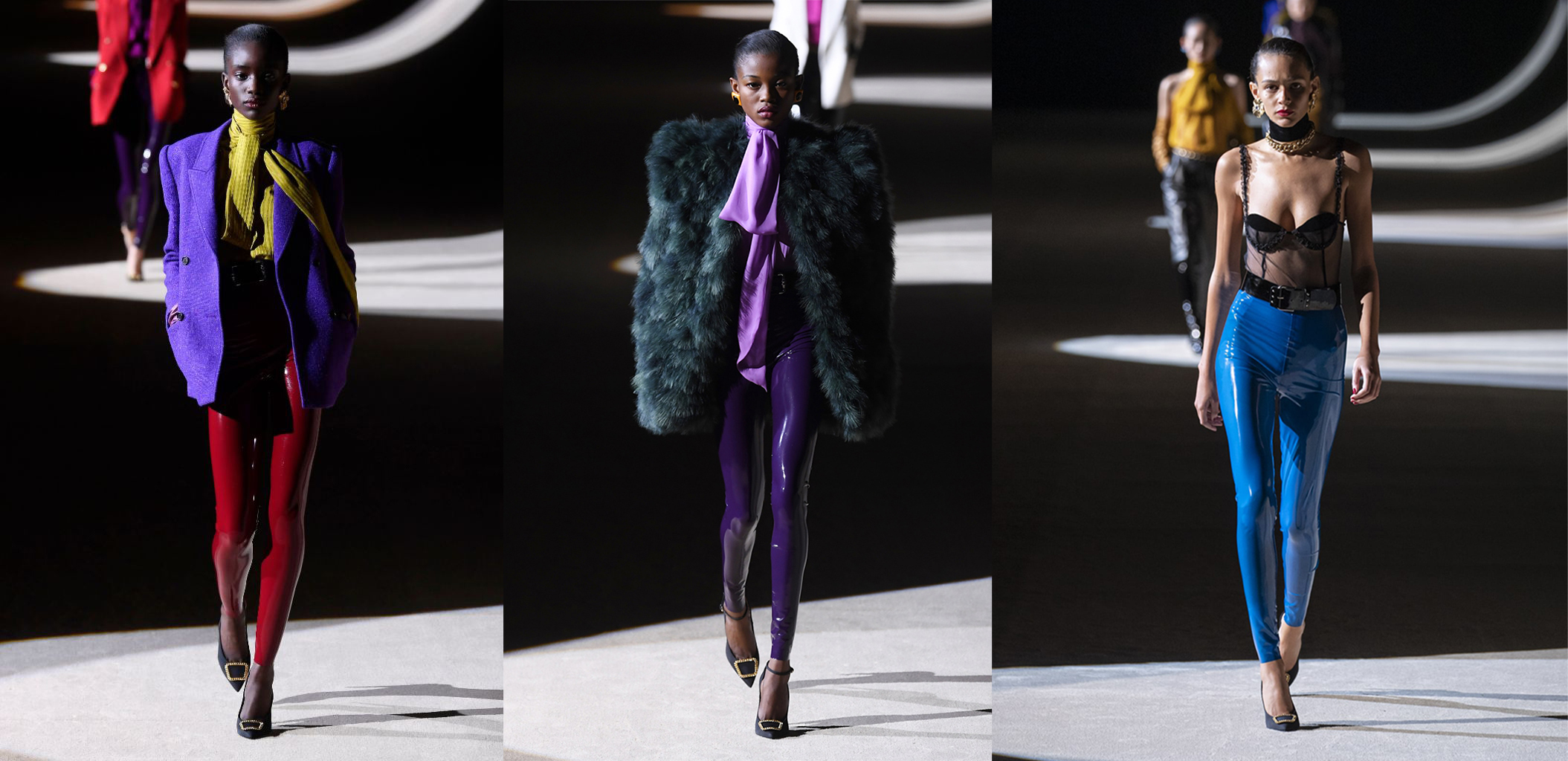 Saint Laurent chic štýl je vždy zrodený z nedokonalosti.
MESTSKÁ ELEGANCIA Z ROKOV 90-tych
Červené flitrové šaty a latexové čižmy, to je elegantný look sebaistej ženy Saint Laurent pre Jeseň / Zimu 2020 -21.
Dizajnér Anthony Vaccarello vytiahol archívne materiály od pepita, bodiek a leopard vzorov, ktoré spolu s výraznými farbami kontrastovali s lesklými textúrami latexu. Mestská elegancia z rokov 90tych, je charakteristickým light motívom najnovšej kolekcie Saint Laurent, Jeseň / Zima 2020 – 21 .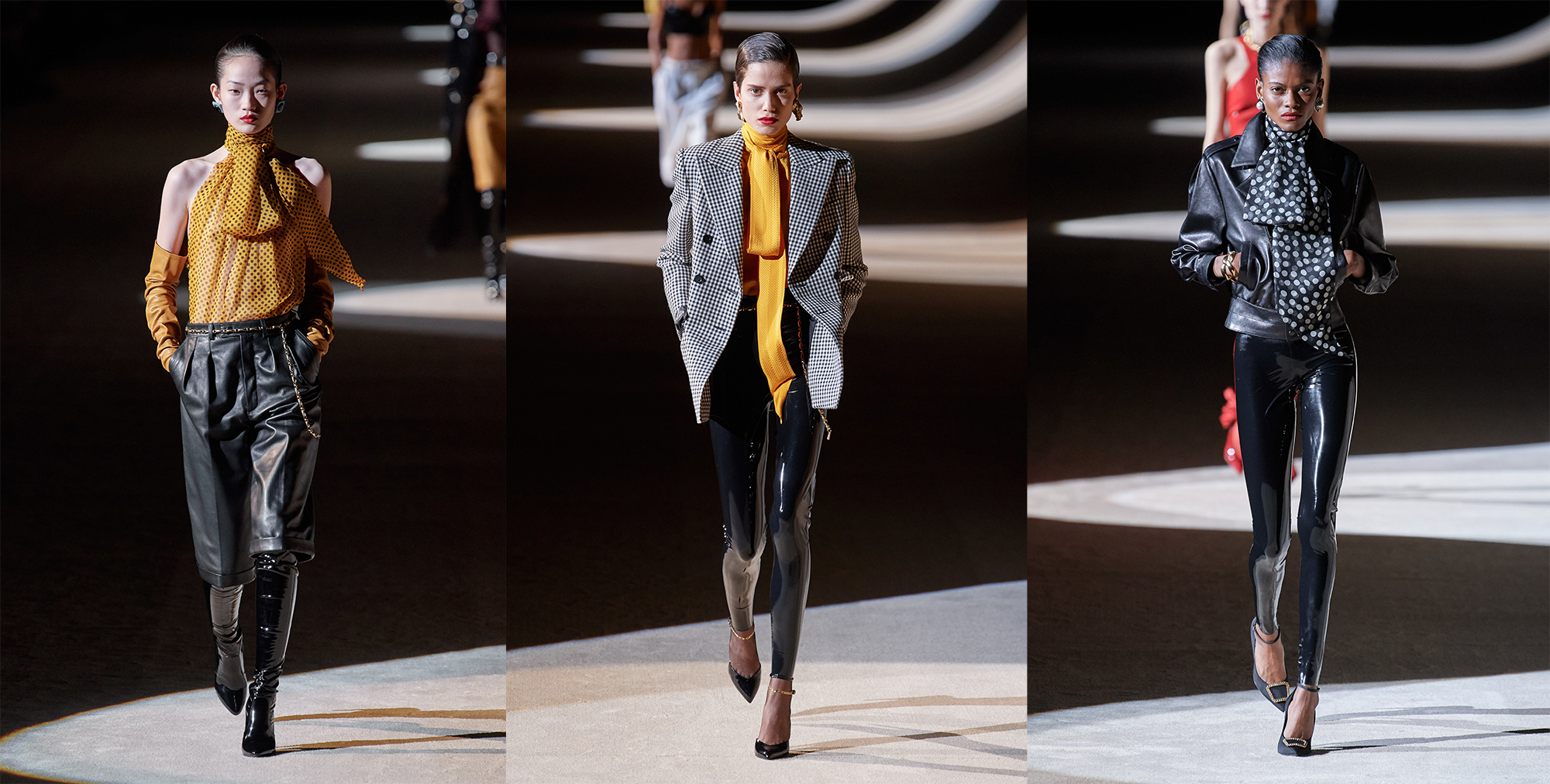 Yves Saint Laurent look Jeseň / Zima 2020 – 21 dopĺňal matrixový čierny trench coat, saká s dvojradovým zapínaním so širokými vypchatými ramenami a bundy.
Farby kolekcie Jeseň / Zima 2020 – 21 evokovali éru 90. rokov Yves Saint Laurent a dokonale ju znovu oživili.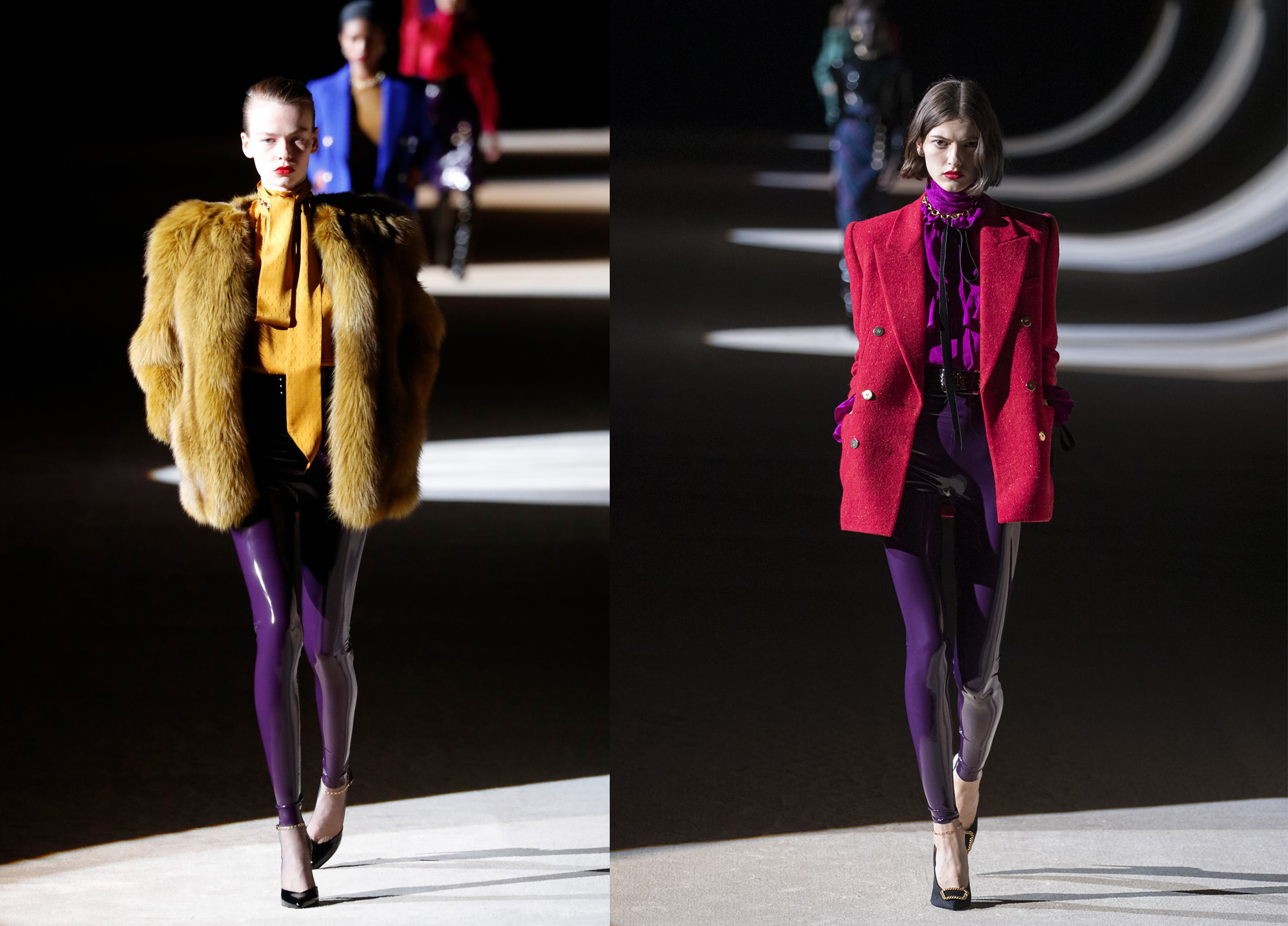 Široké pole vzorov a farebných odtieňov, od kráľovskej modrej, žiarivej červenej, žltej, šedého kára, sklenej modrej a iných farieb zdobilo bundy a saká spolu so zamatovými goliermi a zlatými gombíkmi.
Modelky s dynamickou vzpriamenou chôdzou a rukami vo vreckách žiarili idúc za sebou na dramaticky nasvietenom temnom móle.
Blazer s nesmrteľným károm a latexová nohavicová sukňa doplnená lesklými čižmami, to je najnovšia kolekcia Yves Saint Laurent, Jeseň / Zima 2020 -21.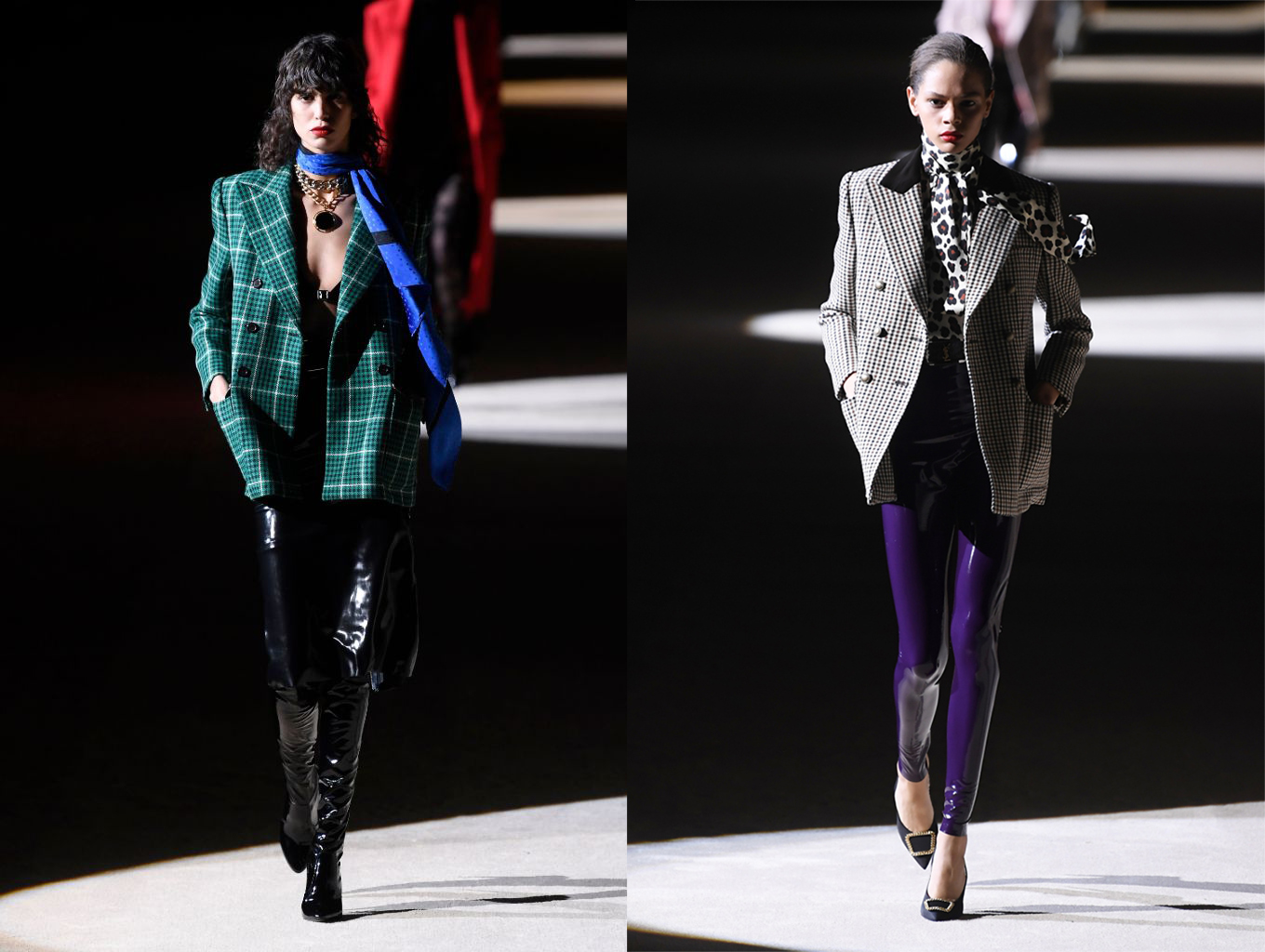 "Chcel som nájsť balans medzi ovládaním a uvoľnenosťou, rozpätie medzi disciplínou a radosťou, ktoré definujú modernitu Saint Laurent. Pre Saint Laurent, elegancia je zviazaná, ale rovnako idúca so zvrátenosťou, jedna bez druhej by mohli byť iba obyčajným malomeštiactvom alebo vulgárnosťou. Bol som veľmi ovplyvnený týmto pnutím túto sezónu, prinútilo ma to narušiť znaky, ktoré sú príliš konvenčné." Vyjadril sa o kolekcii dizajnér Anthony Vaccarelo.
NOVÝ KLASICIZMUS
Latexové blúzky a ceruzkové úzke sukne vzadu so zipsami zosilnili myšlienku nového klasicizmu.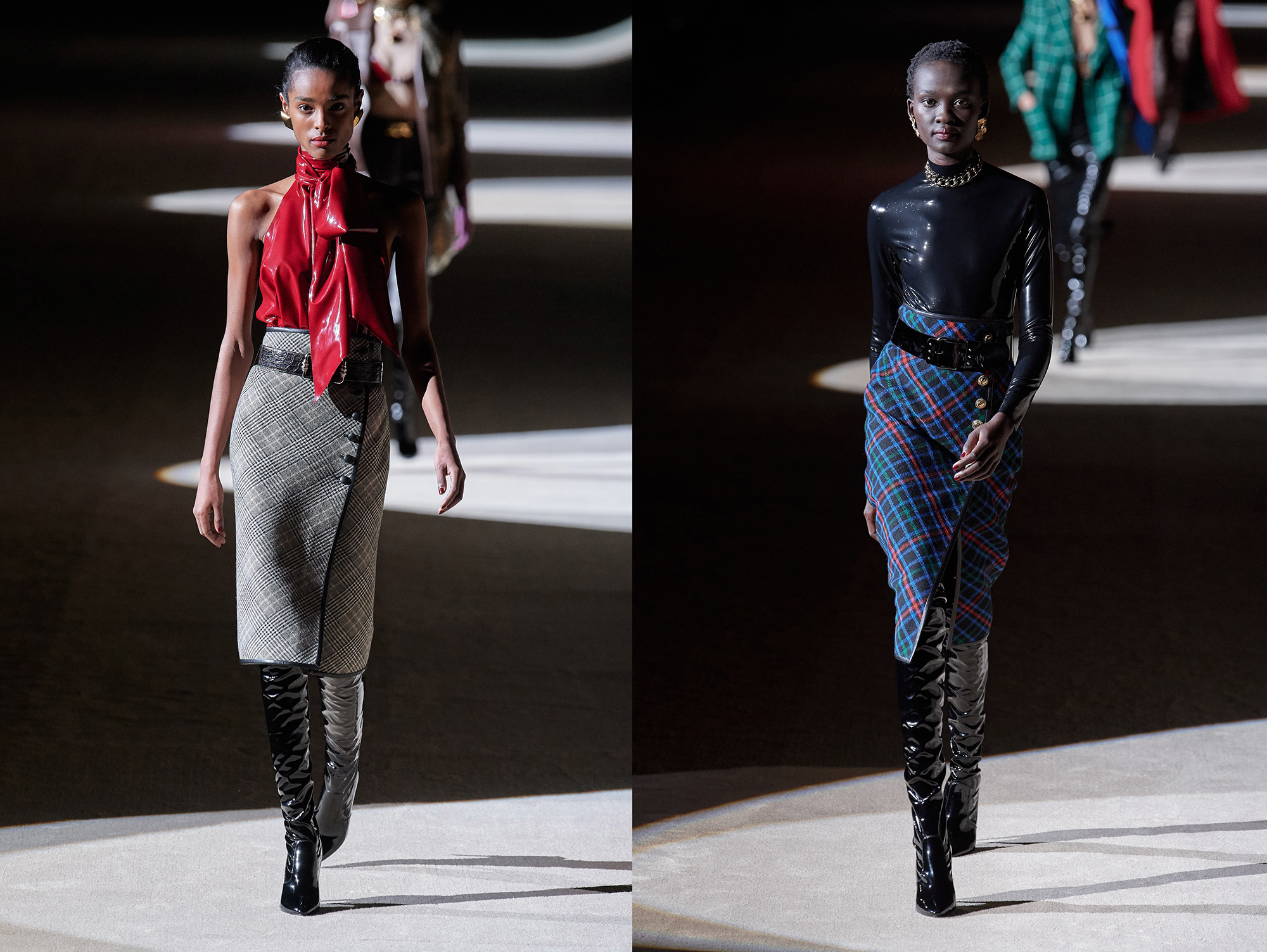 Zdobené mašľami podľa prebiehajúcich trendov, nariasenými goliermi, stuhami a utiahnutými manžetami sa stali novými dekoratívnymi prvkami.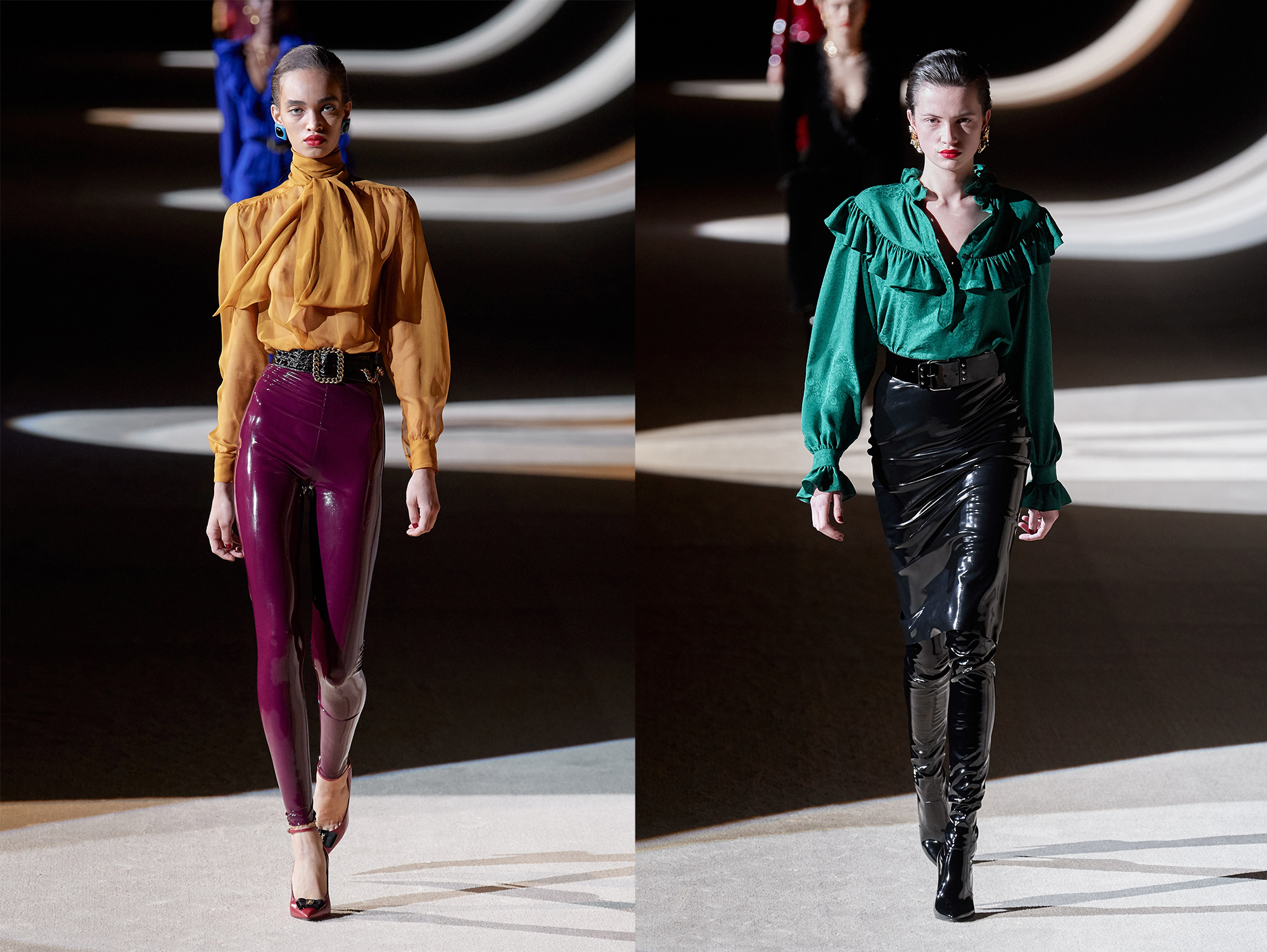 Blúzky s viazaním na mašľu pri krku, nohavicové sukne a členkové bodkované lodičky boli vzájomne zmixované v najnovšom looku ženy Yves Saint Laurent opradenom fetišom. Zvlášť výrazný model vyjadrujúci tento štýl tvorila latexová blúzka bez rukávov s hlboko vykrojenými časťami a viazaním pri krku, look evokujúci mačaciu ženu – Catwoman.
"Moja žena má silu urobiť to, čo si zaumienila, nie je submisívna" , vyjadril sa v zákulisí dizajnér Anthony Vaccarello.
Poriadna nádielka ženského sexapealu, vibrácií a provokatívnej drsnosti so štipkou fetišu bola vtlačená do modelov tesne upnutých na telo s korzetmi, presvitajúcimi blúzkami a odhalenými bradavkami. Žeby reflexia na drsnosť doby a vzťahov, ktoré zažívame ?
Tesné úzke modely, obtiahnuté sukne dali zabrať aj samotným modelkám, z ktorých niektoré na móle zápasili s chôdzou vo vysokých podpätkoch. V závere show pri finálnej promenáde zvládla jedna modelka prejsť knísavou chôdzou celé mólo v zle zašnurovaných lodičkách.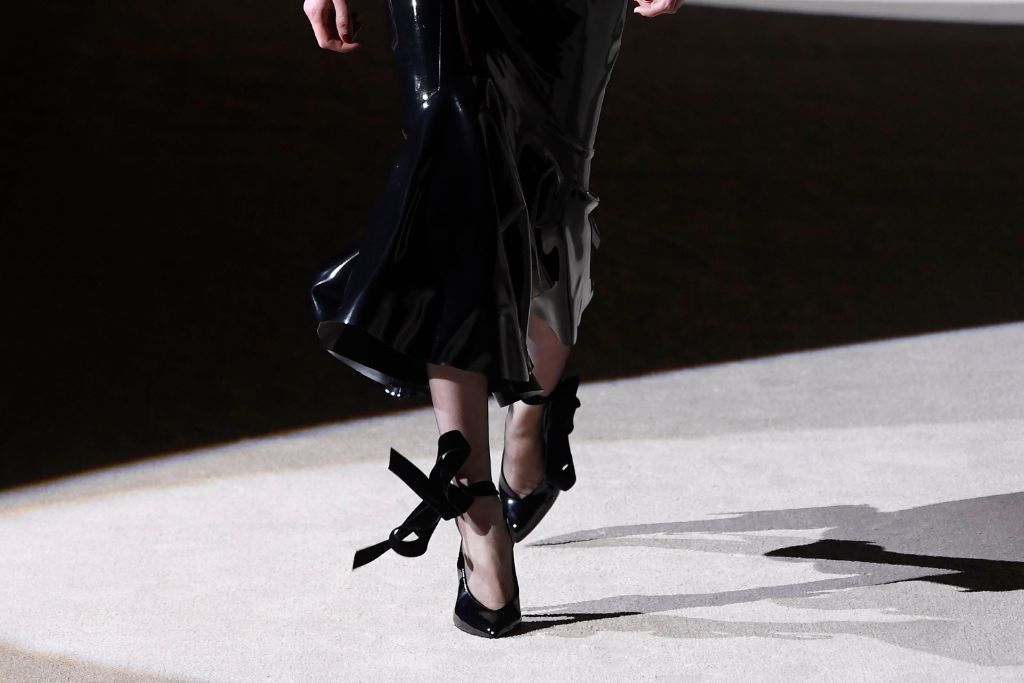 zdroj obrázkov: Schutterstock, Vogue, getty images
Sleduj ma na :
2 Instagramy: myamirell ,
mya_mirell
Facebook: Mya Mirell Fashionista,
Mya Mirell